If you want an outdoor wedding, one in a meadow, or even on the grounds of a country home, hiring a marquee or tipi is a great option. It creates a room outside and also protects in case it rains! Some venues will organise it for you, but sometimes you can sort this part out yourself which is often the best option to keep costs down. Today we share 5 things you need to consider when booking a marquee written by Clare from Boutique Marquees.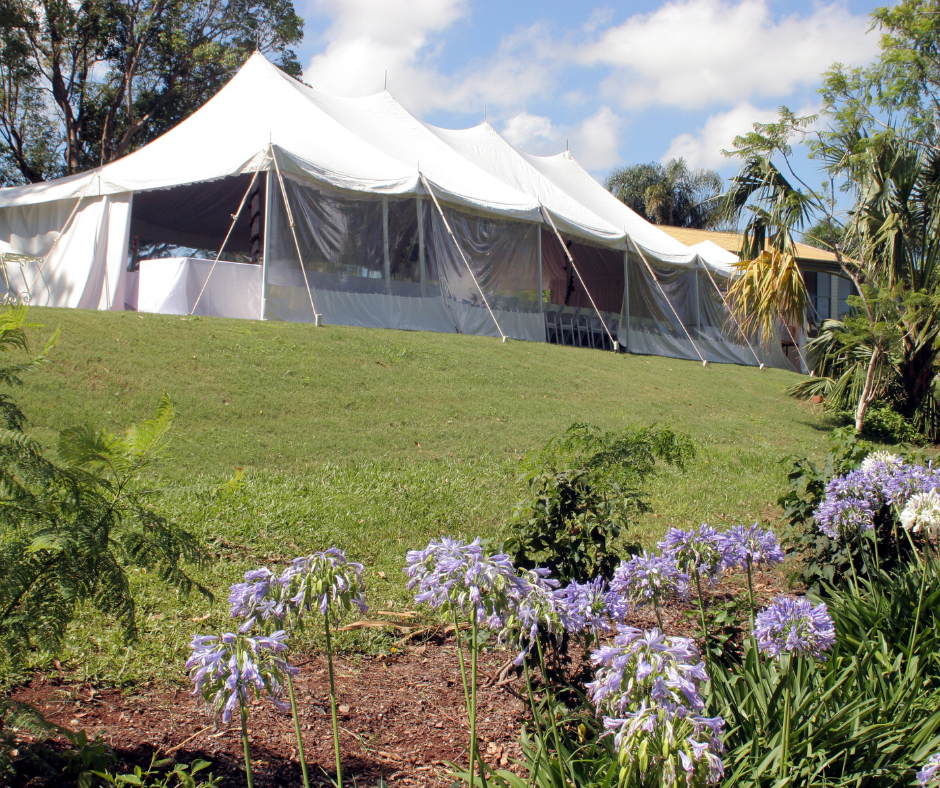 CHOOSE A VENUE FIRST
Your first step to hiring a marquee for weddings is identifying and choosing a venue. A marquee can be transformed in various different ways to suit your style, theme and aspiration, but the venue and setting are still crucial for holding the marquee. What do you want surrounding your marquee? From an open field to more sheltered woodland, or farmyards and country houses, a marquee can be located in various venues.
The venue will also determine the marquee which you can hire since traditional marquees can not go on hard ground, such as concrete or courtyards, as they require guy ropes to hold them up. So in this instance, a frame marquee would be required. Therefore if you have a certain image in your head of how you want your wedding venue to look, you may need to do some research into what ground your marquee will require.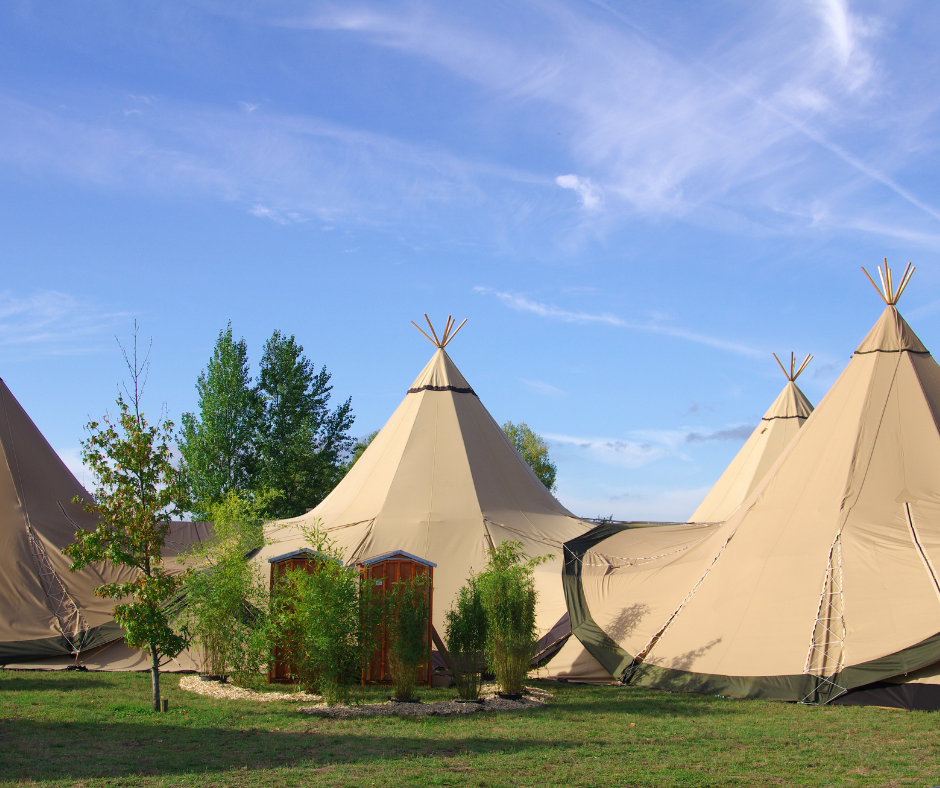 CONSIDER THE PRACTICAL THINGS
There's a lot to think about when hiring a marquee. Depending on your venue and how well equipped it is, it's likely you will need to consider all or some of the following:
Is there an electricity and water supply?
If not, you will need to think about hiring a generator for lighting, music/band, catering and anything else where power will be required. If there's no water supply, you will need to check with your caterer, bar hire and toilet hire whether this will be a problem.
What services will you need to provide, such as toilet hire, bar hire and catering?
Some venues where you are just hiring the land will require you to provide all services and facilities, together with the marquee. You will therefore need to consider hiring in things such as toilets, a bar and a caterer. You might also need a catering tent in addition to the marquee so your caterers have a dedicated space for preparing and serving food that is located close to where your guests will be eating.
How much external lighting, if any, does the venue have?
Even during the summer months, it's likely to be dark by 9 pm and if you are envisaging having any sort of outside catering and seating, don't forget lighting! There are all sorts of options such as fairy lights strung in trees or festoon lights on shepherd's crooks, all of which will ensure your guests can see what they are eating!
What is the access to the venue?
This is a major consideration and things you need to think about include where guests will park, will a walkway needs to be set up with lighting and signposted to the marquee, will your marquee company be able to gain access easily and any other suppliers too? If you have any disabled guests attending the wedding, will there be a suitable way for them to reach the marquee?
When can the marquee go up?
Some venues have restrictions on this. As a general rule, we like to give customers as much prep time as possible and set up our marquees on a Wednesday or Thursday for weddings held on a Saturday. This allows plenty of time to set up any furniture and to decorate the marquee.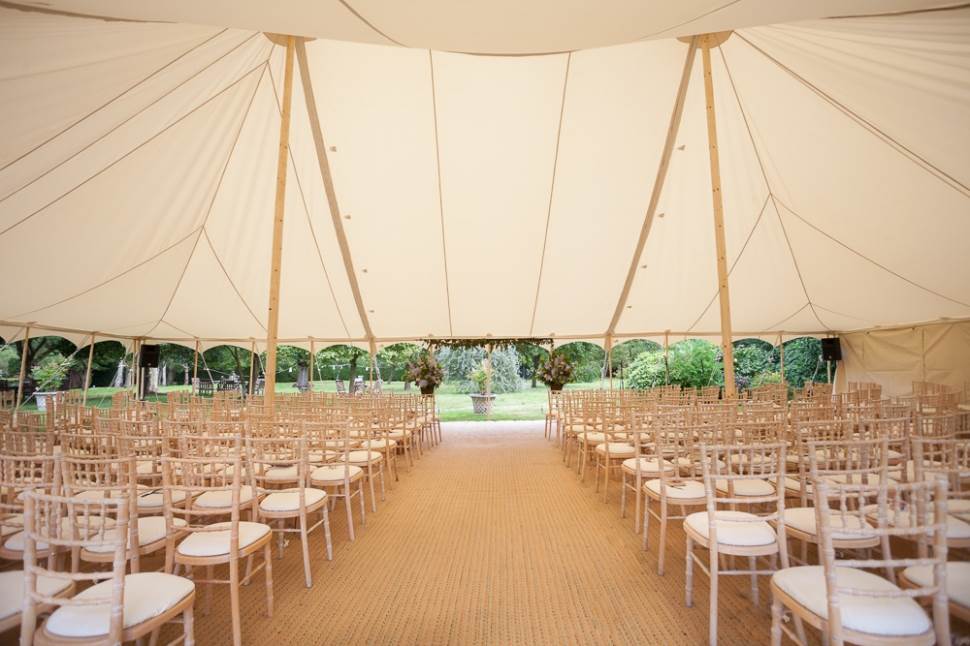 HOW LARGE DOES THE MARQUEE NEED TO BE?
It is a good idea to have in mind how many guests you intend to invite, as this determines the size you will require, although often the venue's outdoor space will determine this for you!
Also consider the features you wish to include inside as that too will affect the size, for example, dance floors, tables, chairs, toilets, bar and chill-out areas and large decorations. Discuss these options with your marquee company to ensure you book one that is big enough for your dream wedding.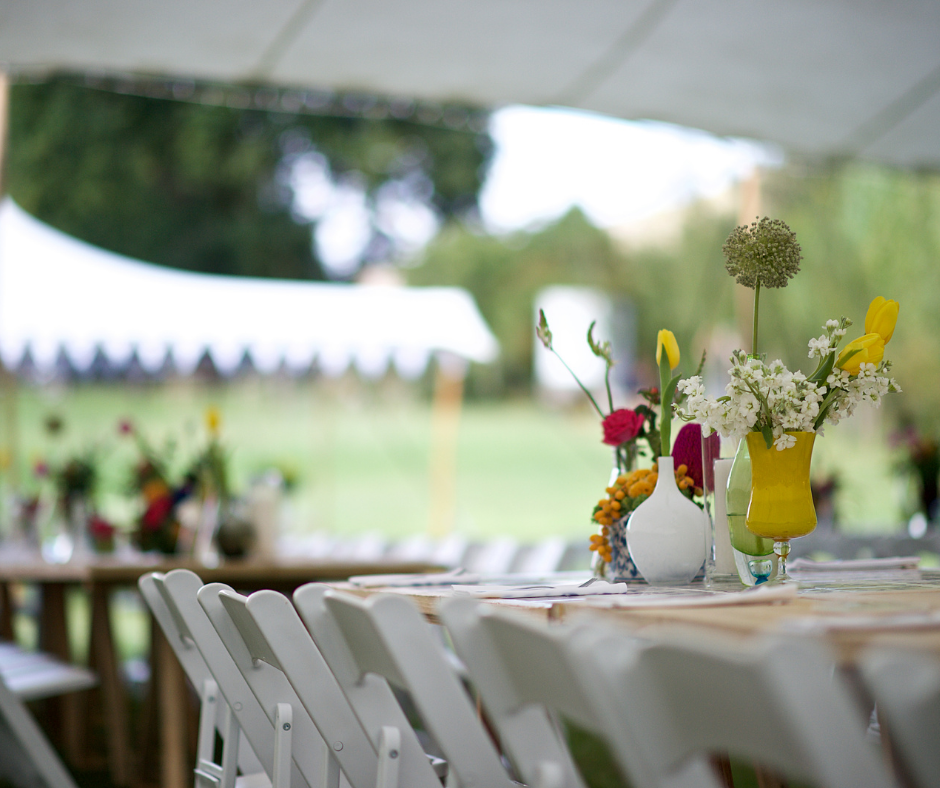 Most hire companies should be able to provide you with a floor plan to determine how everything will be set up. They also should offer site visits free of charge in order to measure the available space, check the access as well as the suitability of the ground for our marquees.
Of course, we all dream of our guests enjoying a drinks reception outside in the great British sunshine, but if this isn't possible you might want to consider where you will house guests in inclement weather. A slightly larger one would provide this space or you might consider hiring a smaller party marquee for shelter from the elements.
WORRIED ABOUT THE WEATHER – READ OUR TIPS HERE.
SHOP AROUND FOR THE BEST DEAL
It's likely you will want to get several quotes to compare, however, when contacting hire companies make sure you provide as much information as possible. Think about what else you require other such as furniture, bar, dance floor, toilet hire, generator etc. It's always a good idea to get a like for like quote and ask how old the marquee is you have been quoted. Canvas ones in particular need a lot of TLC to keep them looking fresh. Have a look at different websites and images to see what you are looking for, for example, marquee hire websites, Pinterest, Instagram and blogs.
ENJOY THE EXPERIENCE!
Marquees are a blank canvas for you to decorate and put your stamp on as you wish, so have a look at what's around for some marquee inspiration. There are so many options available when it comes to style, caterers, music, drinks and in fact every element of your wedding day when opting for a marquee as your venue space, you can really create a celebration unique to you as a couple!
Huge thanks to Boutique Marquees for sharing all these practical tips with us – visit their website here.
IF YOU FOUND THIS USEFUL WHY NOT PIN IT?