Your wedding day is about love and celebration, but also happiness and laughter! To celebrate World Laughter Day we have celebrant Juliette Williams with us today, who shares her expert advice on how to add humour to your wedding ceremony and bring laughter to your wedding day. She offers bespoke and unique ceremonies based around you, so if you're a couple who want a humorous ceremony, look no further and make your guests laugh their socks off!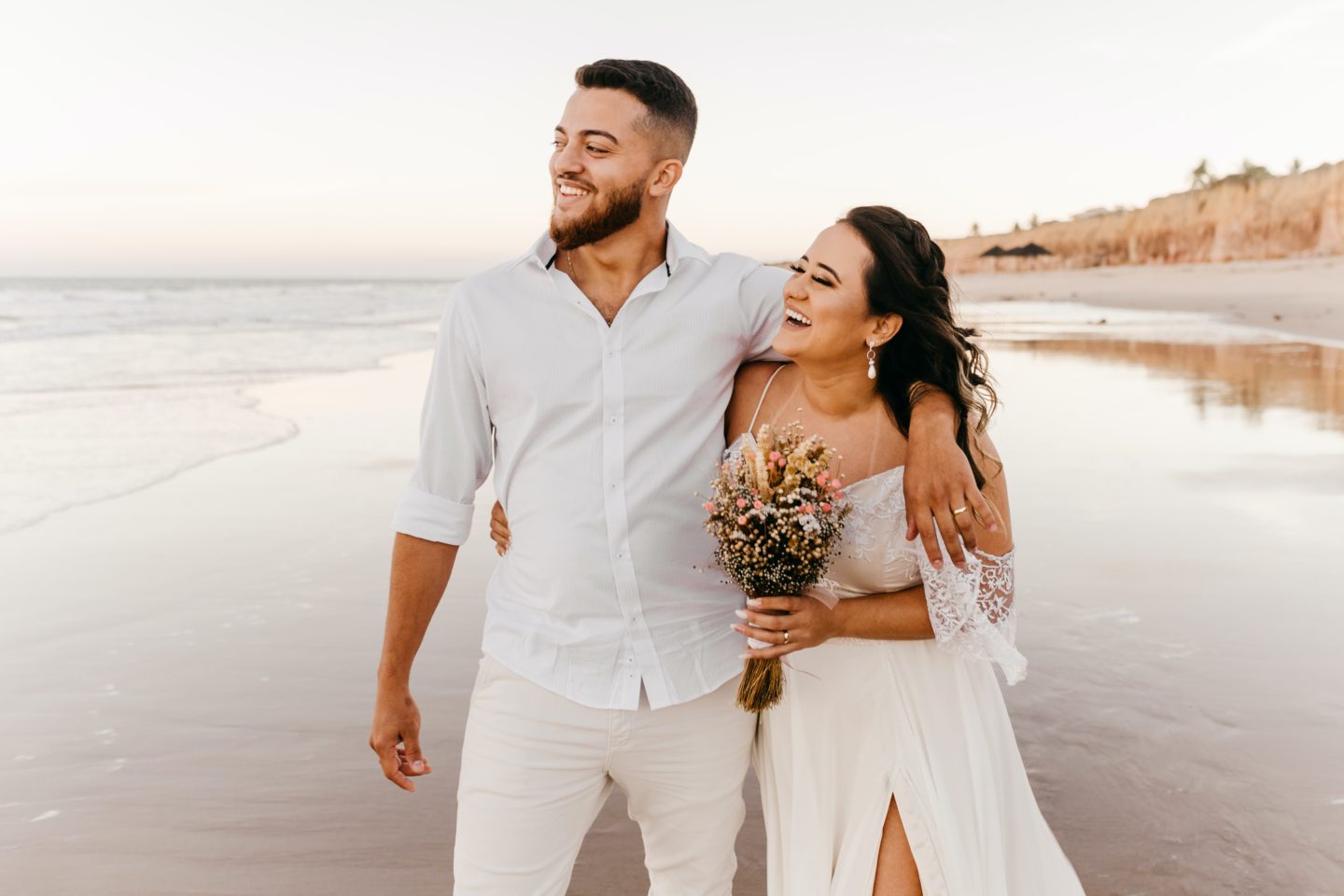 Your Celebrant
A celebrant officiating at your wedding ceremony will have got to know you over the months before your wedding. You will have filled in couples' questionnaires and spent time together chatting about who you are, what you are like as a couple, your life, your dreams, your inspirations. Your personalities will be at the forefront of your ceremony and if you want to add humour, this is absolutely the best way to do it, as a celebrant will write a ceremony that completely and utterly reflects you both. Your own personalities, your 'in jokes' with friends and family, your sense of humour, all will be woven into your wedding ceremony and even your vows if you want. Whatever you want, goes, and the fun starts when you book the right celebrant for you and start talking!
To quote Bridget Jones – "I love you just the way you are" which is always a good starting point for a few funny lines …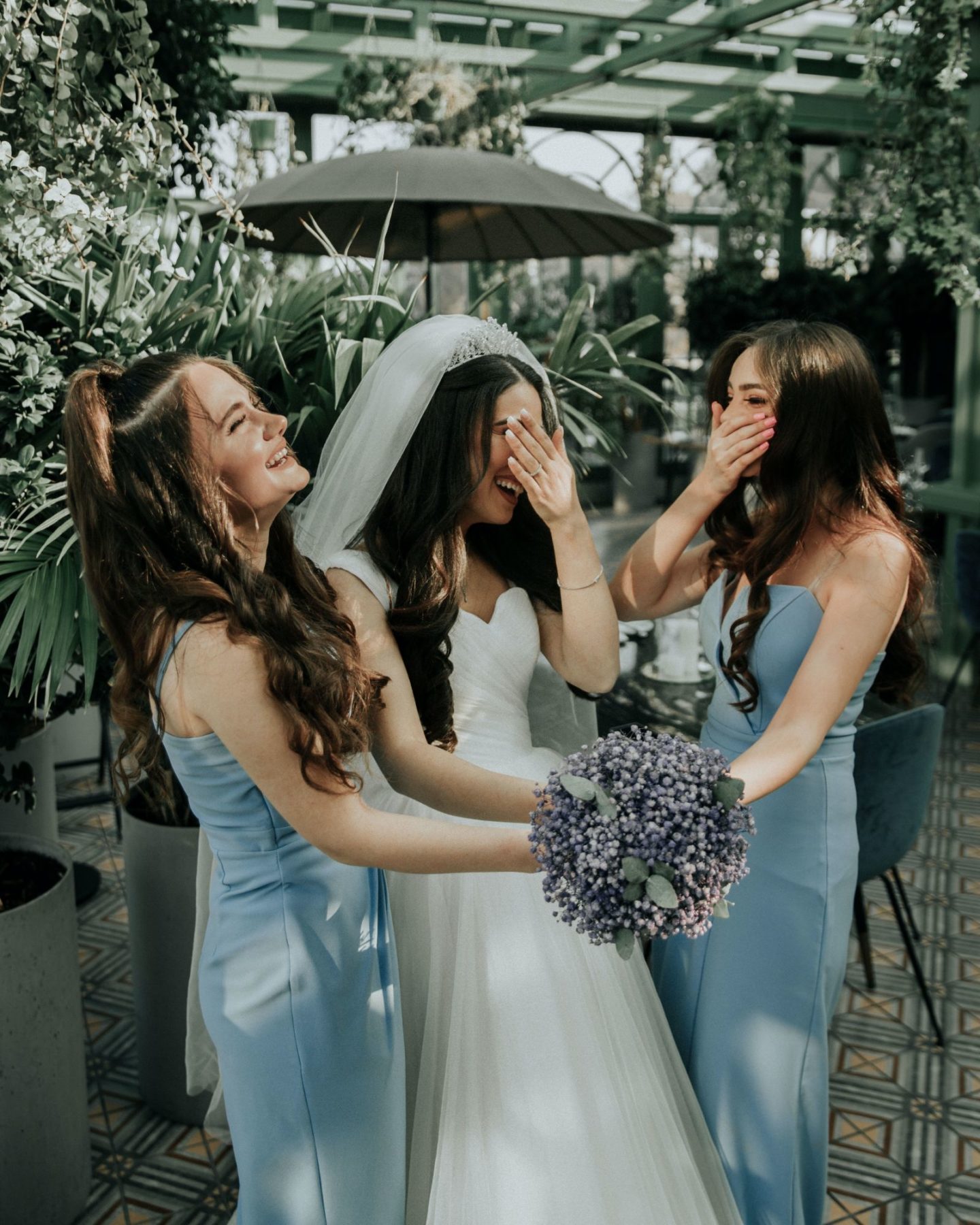 The Venue
Why not hold your wedding in a comedy club? If laughing out loud is what you do together, check out the venues where live comedy is held and see if you can have your wedding ceremony there? You could hire the MC and have them welcome your guests to your 'show', they could warm them up, so your guests are relaxed and in the mood for a laugh when you arrive for your wedding. Not for the faint-hearted, a comedian 'plant' could be hired for the ceremony to sit amongst your guests and heckle (nicely!) as you say your vows! A microphone would be a great prop on the stage and could be passed between you as a double act.
Theme
Themed weddings are never out of fashion and never not on-trend. Why? Because many couples share a passion for a certain time in history, a sporting activity, or a hobby like baking or brewing, and want that reflected during their wedding ceremony. However, if your joint passion is something which will make your guests chuckle, why not go with incorporating it into your wedding ceremony? Star Wars fans, "Yoda the one that I want to marry!", lightsabers arches as you walk out? Or how about Disney fans? Disney films and characters are literally packed full of classic one-liner … Or for 1950s fans, the film Grease has so much comedy value, with the pink ladies as bridesmaids?
Vows
Not everyone feels comfortable writing their own vows and feel self-conscious talking about their feelings in front of other people. Keep it real and make your vows amusing and recognizable to your guests. Think about the silly little things that can annoy you about your partner and turn that into humour "I vow to always let you watch the football (even when Downton Abby is on the other side) if you always pick up the dog poo in the garden" or "I vow to trail around car boot sales in the freezing cold if you occasionally promise to not leave the towels wet on the bathroom floor". Keep it personal and authentic, so you and your guests get the joke (and keep it clean!).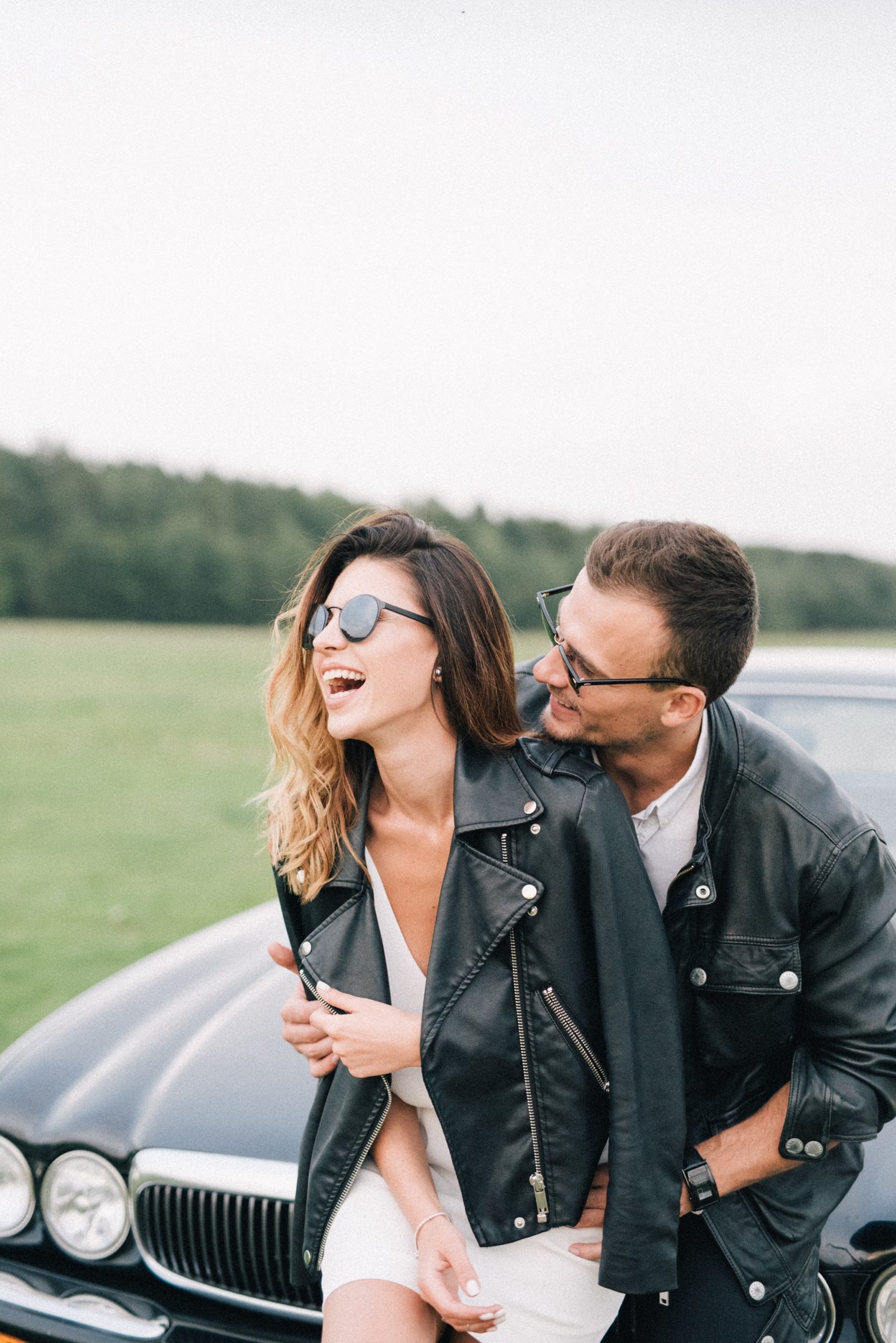 Hire a Professional Entertainer
Increasingly couples are looking for alternative fun ways to entertain their guests. Why keep this just for the reception? A contemporary magician can use a variety of magic tips to keep your guests guessing what's coming up next and laughing at their antics. Rings can appear from behind someone's ear, vows and prompts in the ceremony can be pulled out of a pack of cards, for example, "who gives this person to be married" with a deck of cards, and a random guest chooses the one which says who it is.
Or how about a caricature artist sketching the ceremony as it unfolds?
The Written Word
Poetry, song lyrics, film quotes, readings from literature. All are traditional, deeply symbolic, and personal ways to incorporate feeling into a wedding ceremony. Yet, this could easily be a way of adding humour to your ceremony as well. There are literally hundreds of funny poems and readings. Look at the poetry of Edward Lear, AA Milne, Monty Python, John Betjeman, Ronnie Barker or my all-time favourite:
Celia Celia – Adrian Mitchell 1932 –
When I am sad and weary,
When I think all hope has gone,
When I walk along High Holborn
I think of you with nothing on
IF YOU LOVED THESE IDEAS AND WANT TO SAVE THEM PIN THEM TO YOUR WEDDING BOARDS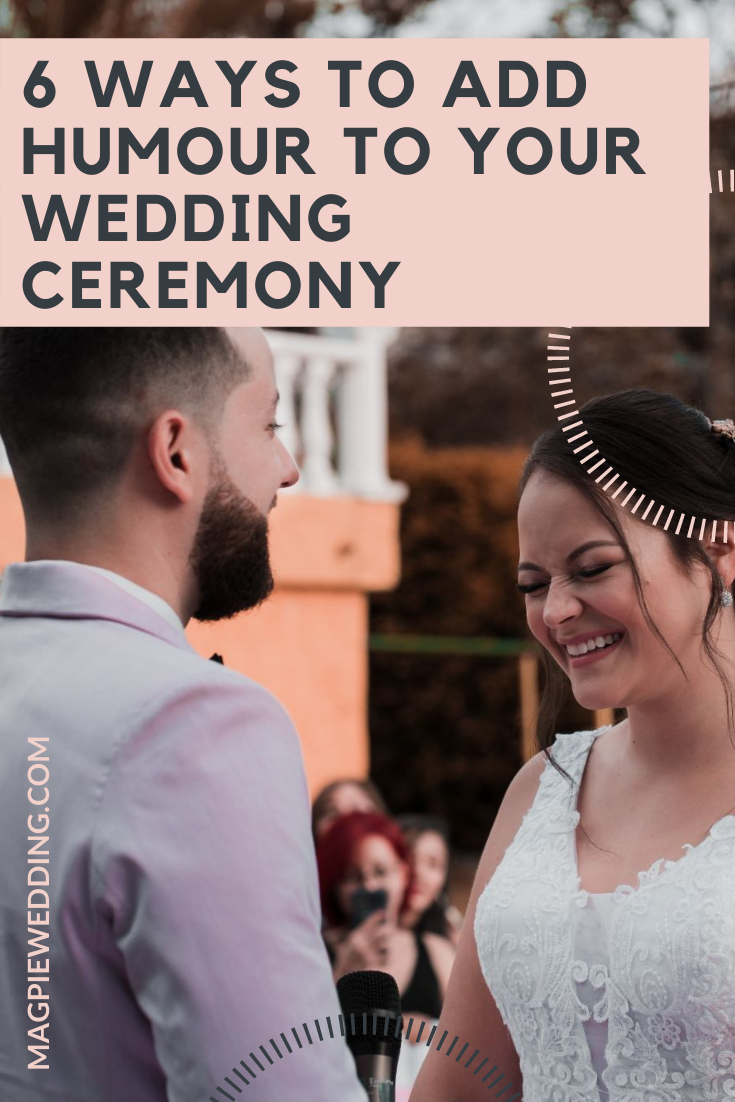 If you loved these ideas to add humour to your wedding ceremony you may also find like;
5 Reasons Why You Need An Online Wedding Gift List- Expert Advice with Zankyou Weddings
How to be body confident on your wedding day – Real Life Advice with Lina Orsino-Allen
Wedding Advice: Luxury Bridal Prep Tips and Inspiration at Canary Riverside Plaza London