Some bridal prep tips for you today along with some super chic inspiration for the morning of your wedding day! Created by Steve of Steve Mulvey Photography, Michelle Cardwell of Kernwell Photography, and Rachel of Rachel Williamson Hair and Make Up and shot at Canary Riverside Plaza, London it's full of advice and of course beautiful details that can be applied to your own big day. We catch up with the team to find out all about it…
"The morning of a wedding can sometimes be stressful. There is the nervous excitement, but also the logistical aspects of the day – hair and make-up, getting dressed, transport – all while in the background your wedding is being set up, and guests gathering. We wanted to provide tips and inspiration for how brides can make the most of the morning and really, just have a fab time the
morning before their wedding!"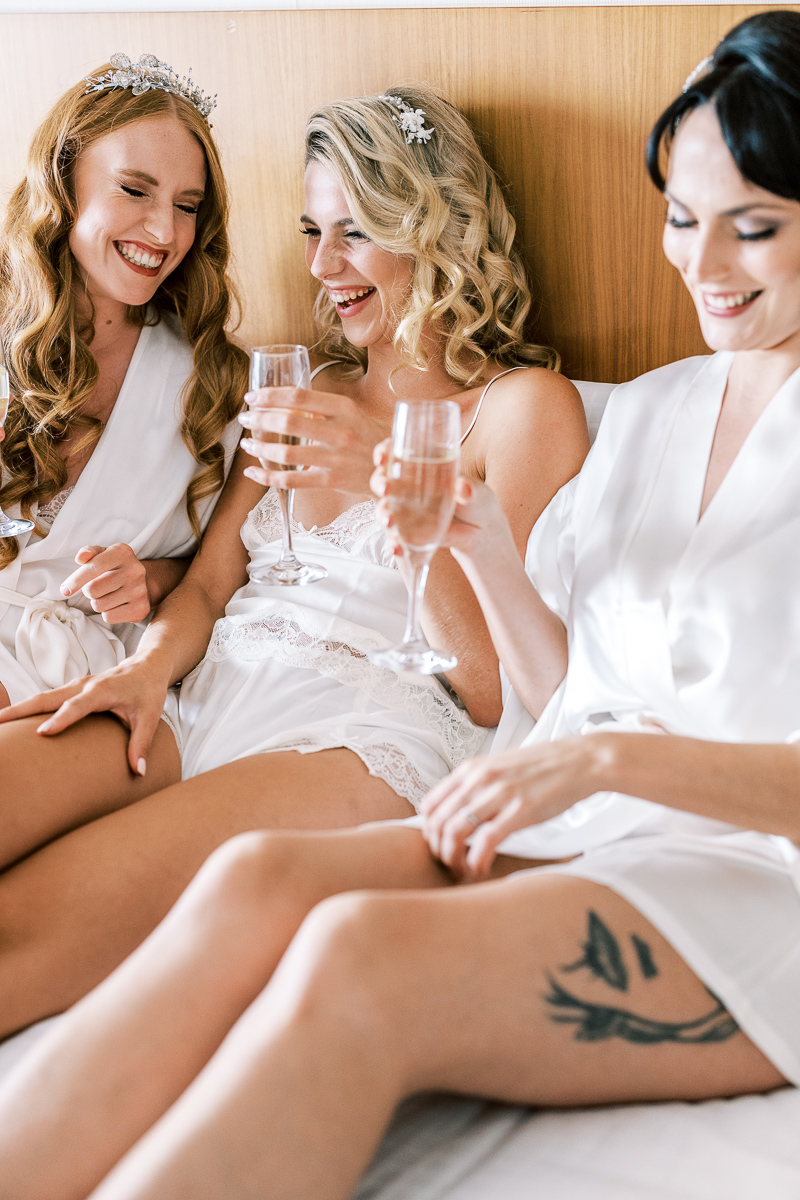 How Can a Couple Turn Their Theme and Ideas Into Reality?
"One of the best things you can do to lay the foundation for a relaxed morning is to have a wedding planner/day-of-coordinator to look after all the logistics of the day in the background. Many venues include a day-of-coordinator, so be sure to check if the venue can help with this. Short of that, we recommend having a family member of close friend help take on looking after the schedule for the day. That will make sure the couple has time to relax and enjoy the morning with their bridesmaids, bridesmen, groomsmen and groomswomen!"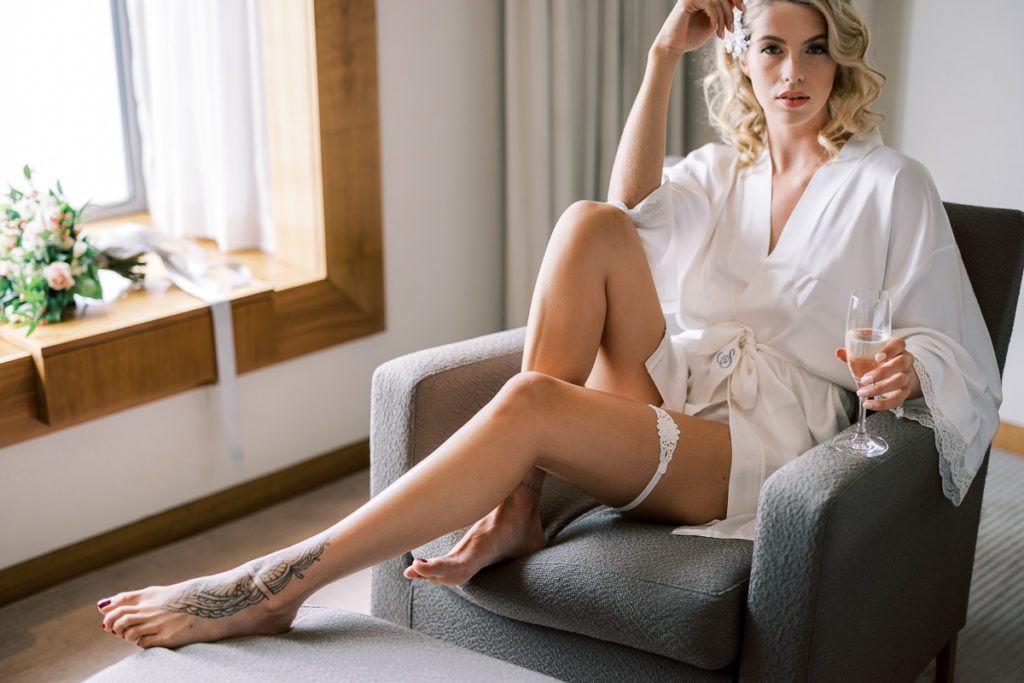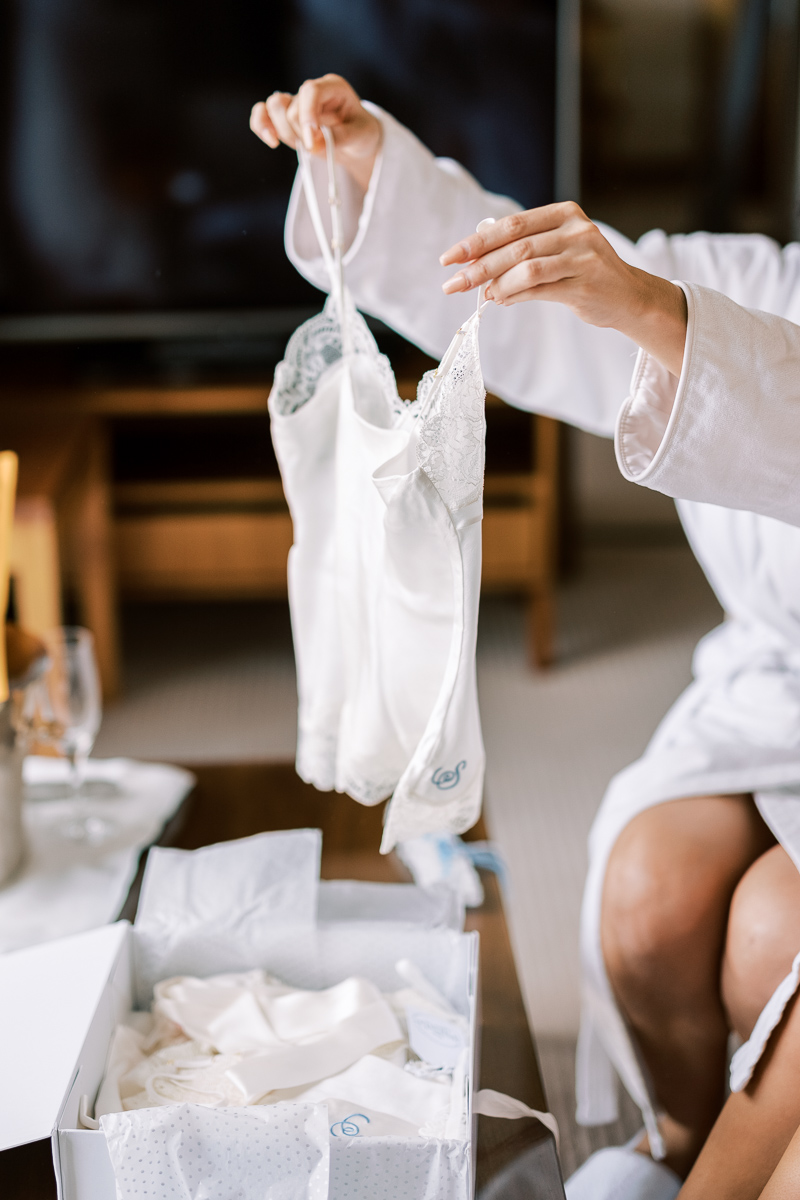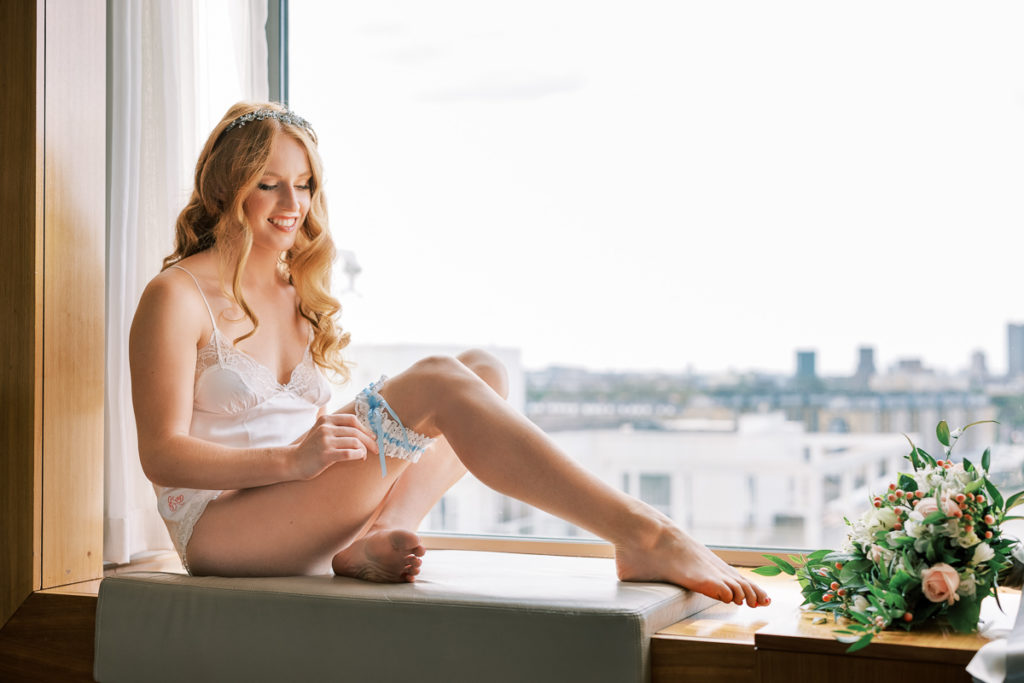 What Type of Wedding Would this Venue Work For?
"This was shot in the Canary Riverside Plaza Hotel, in one of their luxury suites. It has stunning views of the Thames, as well as the city of London. Having a suite meant that the bridal party could have hair & make-up in one area, while retaining the bedroom for changing and downtime. For a bridal party, this space makes a huge difference on the day as it allows for areas to relax and chill. It is also featured large windows, which provide fantastic light for getting ready photos. It would work for any wedding, particularly those where the couple is looking for clean, modern and uncluttered images."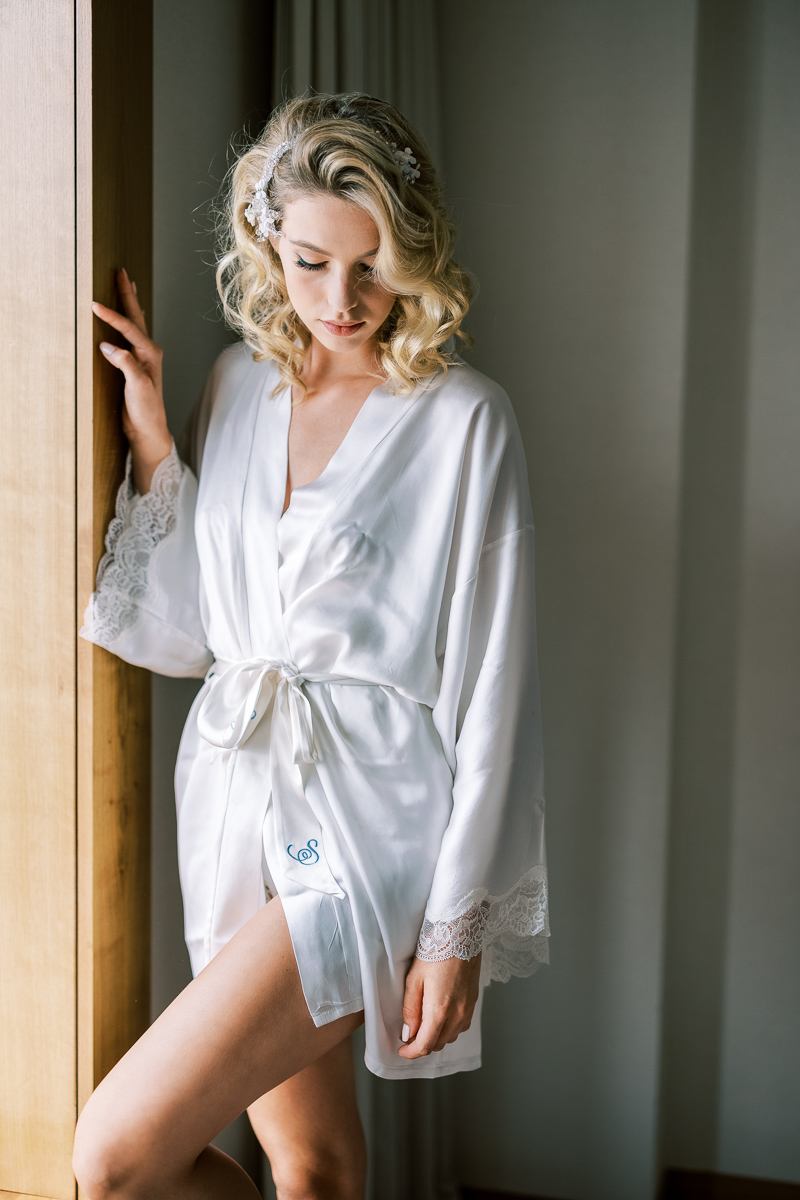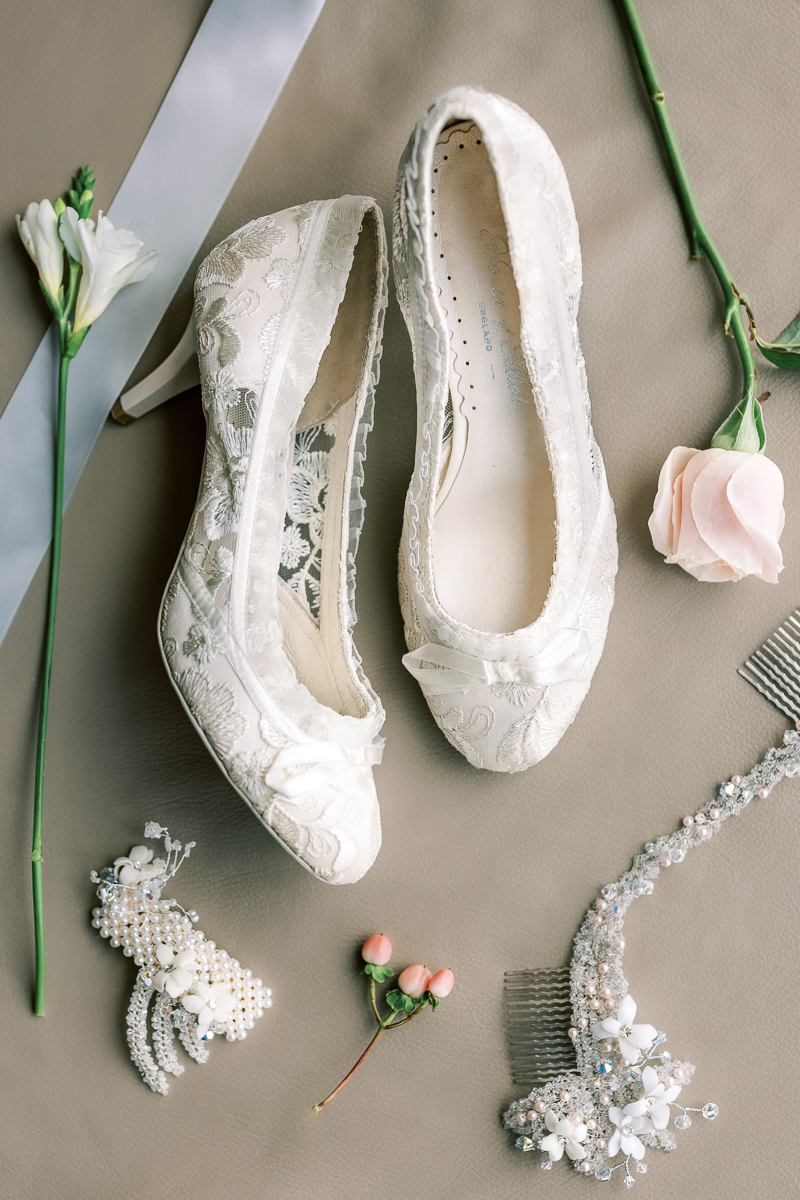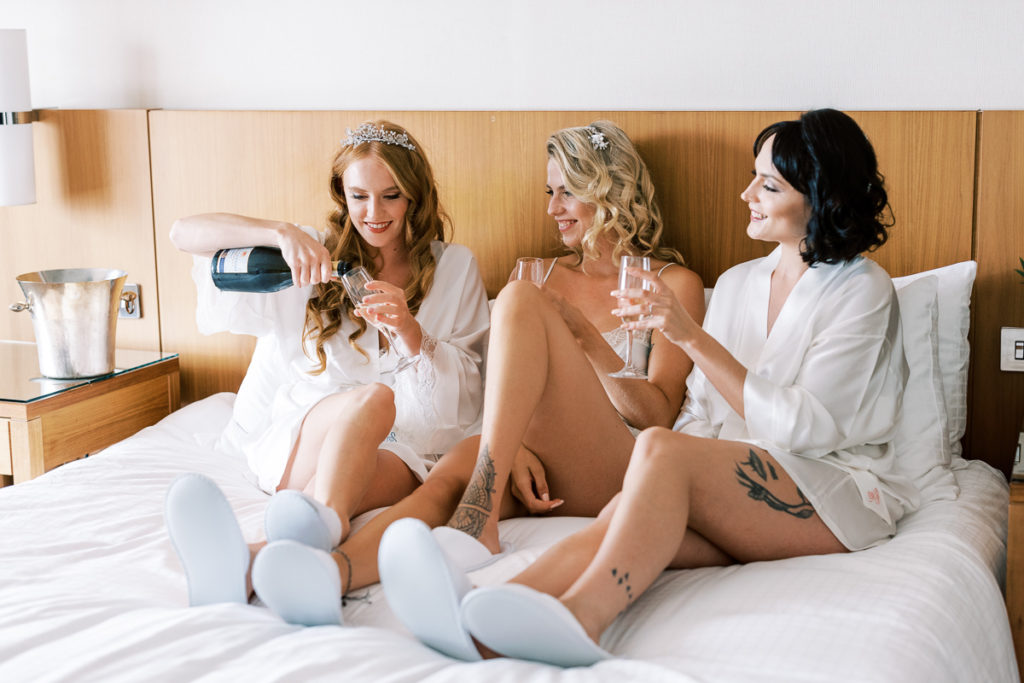 What Are Your Top Tips For Getting The Most Out of the Wedding Day Prep?
Location, location, location. Bridal prep will be more relaxed in a spacious and clutter-free space. A hotel suite or a hip Air bnb can make the morning feel like a spa retreat. Look for a place with bright natural light for beautiful bridal prep photos as well. Don't forget to factor in the travel time to the venue as well!
Have a pamper. Having a hair & make-up artist will make the day go much smoother, not to mention make everyone feel and look their best. Pop open a bottle of bubbly (or two) but remember to stay hydrated and eat before the ceremony.
Treat your bride tribe. These gals and guys have been through the thick and thin of wedding planning with you. Share the love with a heartfelt thank you card and, if you can, a small gift, perhaps something to wear while getting ready or during the ceremony. Or something they can use year-round, like some cool shades.
Plan in downtime. The day is going to be busy enough – some time to relax and calm nerves will help get in the right head space. Chill out, play games or reminisce with your bride tribe. This time is also great contingency to have in your schedule, in case anything falls behind schedule on the day!
Don't forget to have fun! Take some silly selfies together to remember the day. Break in your wedding shoes with a power walk — it will prepare you for your walk down the aisle. Practice that bouquet throw (careful, don't destroy it pre-ceremony) and get your photographer to capture all those moments with your bride tribe that you'll want to remember forever.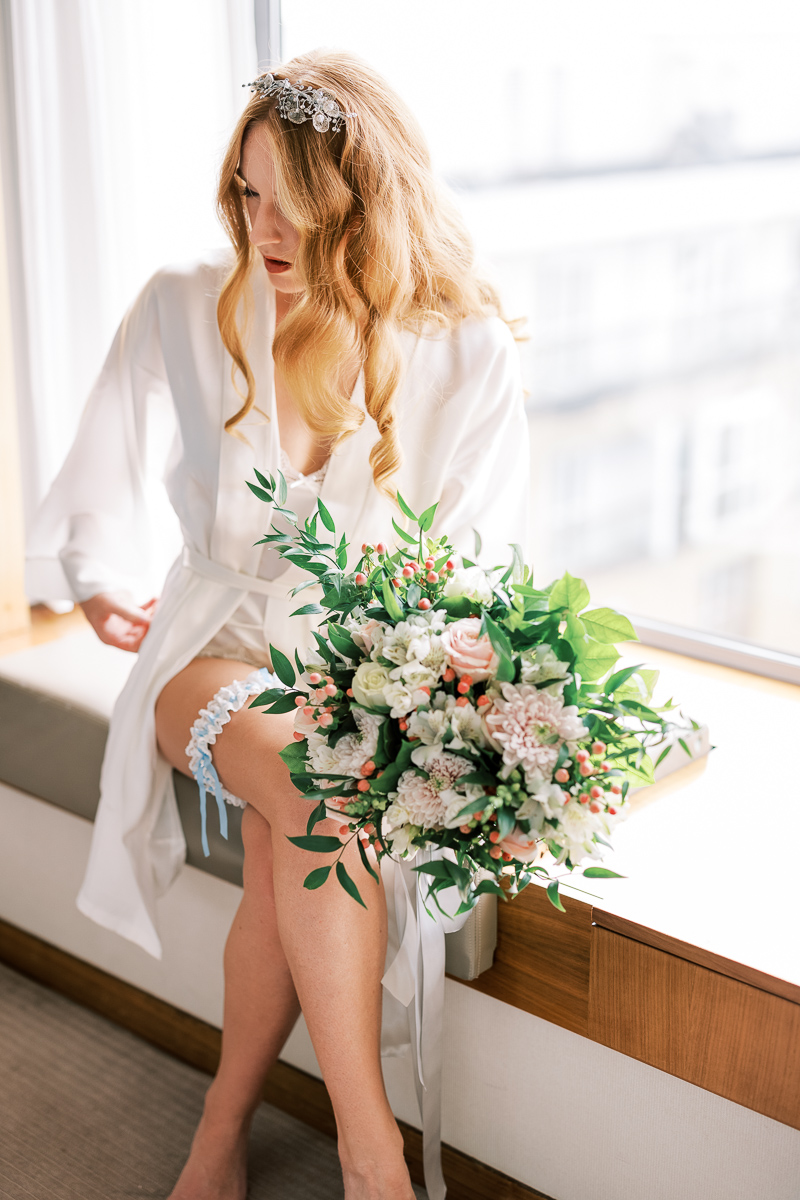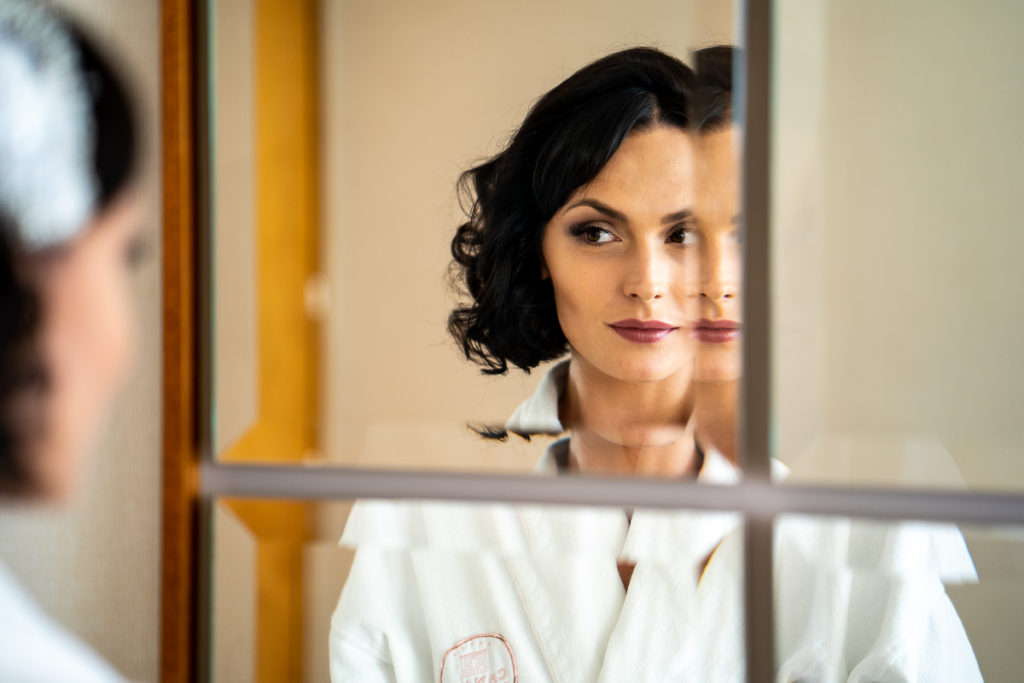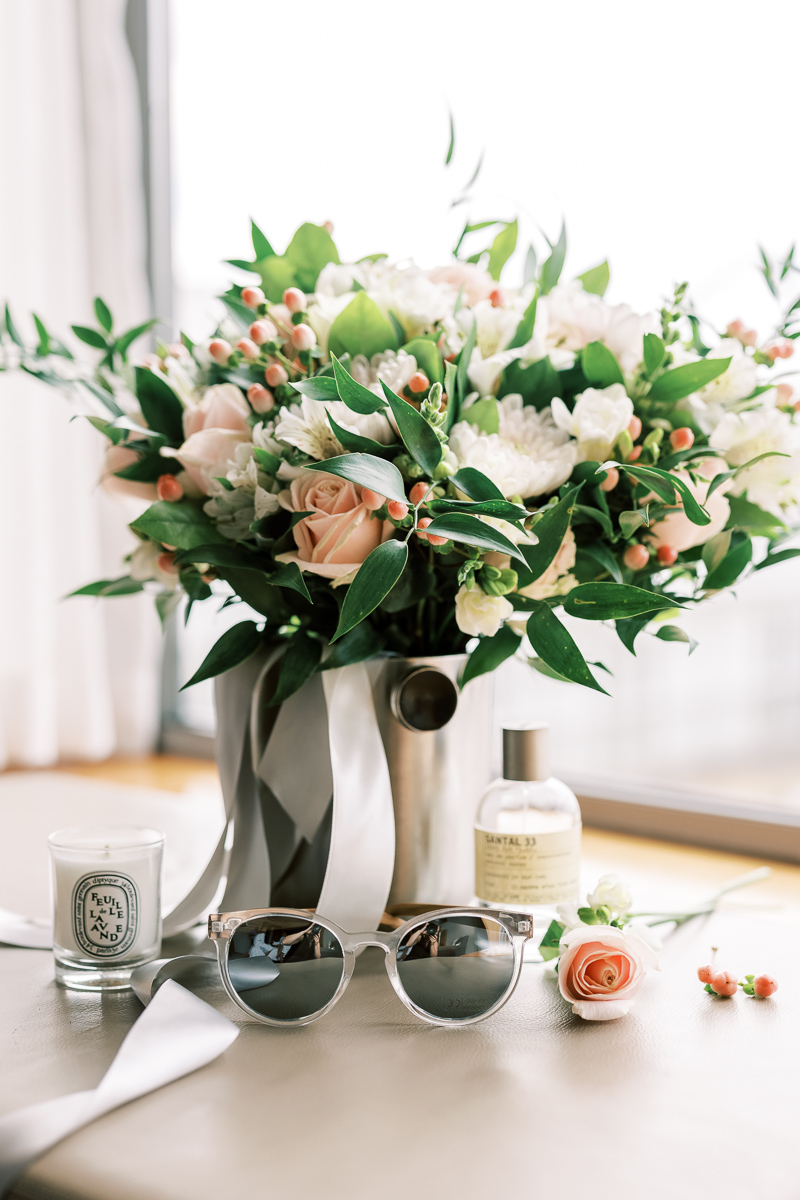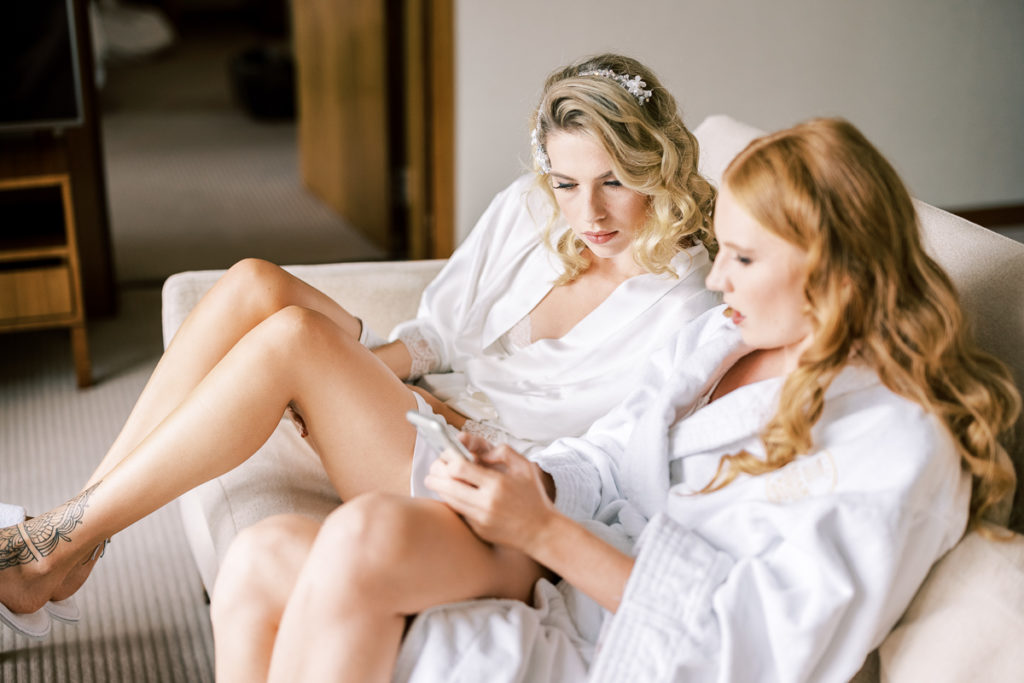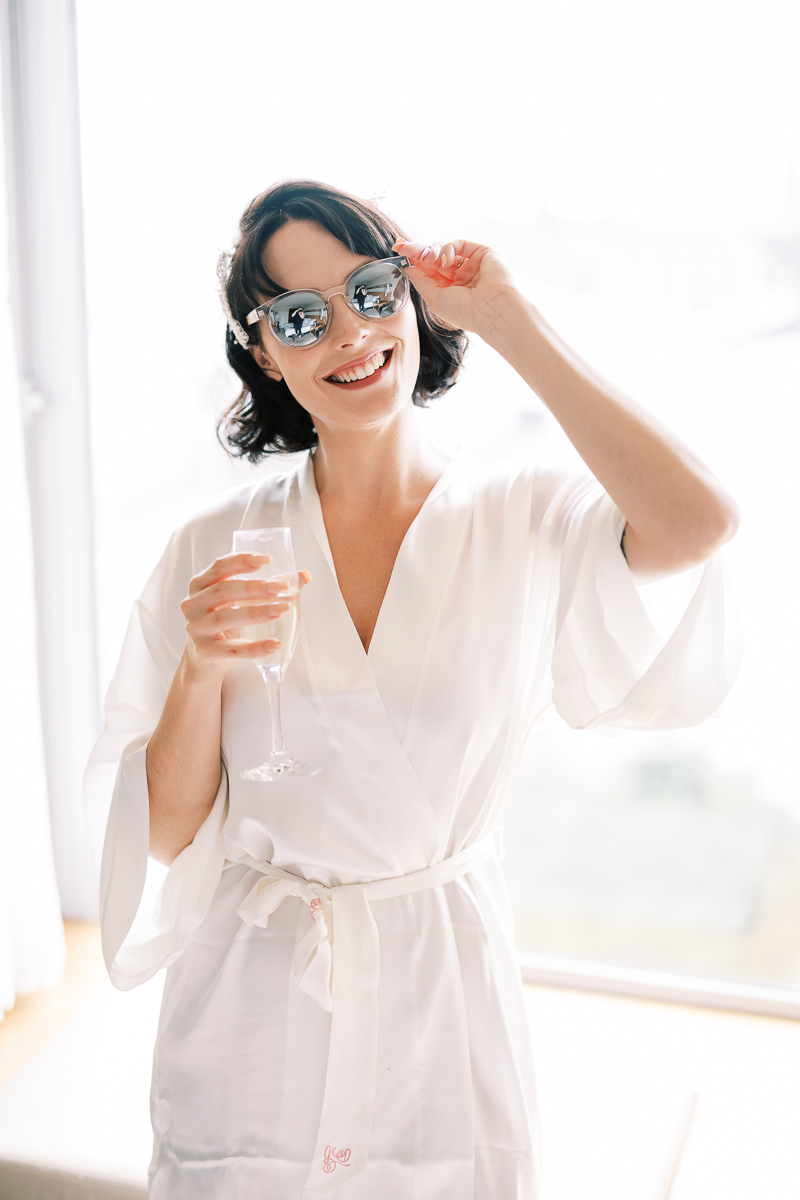 "Our bride is modern and confident– she's rocking a blush dress to stand out from her bridesmaids in white. Her wedding has a fun, relaxed but luxe feel to it. As part of getting ready, she's bought her bridal party small gifts of robes, sunglasses and hair pieces to make them shine next to her on the day."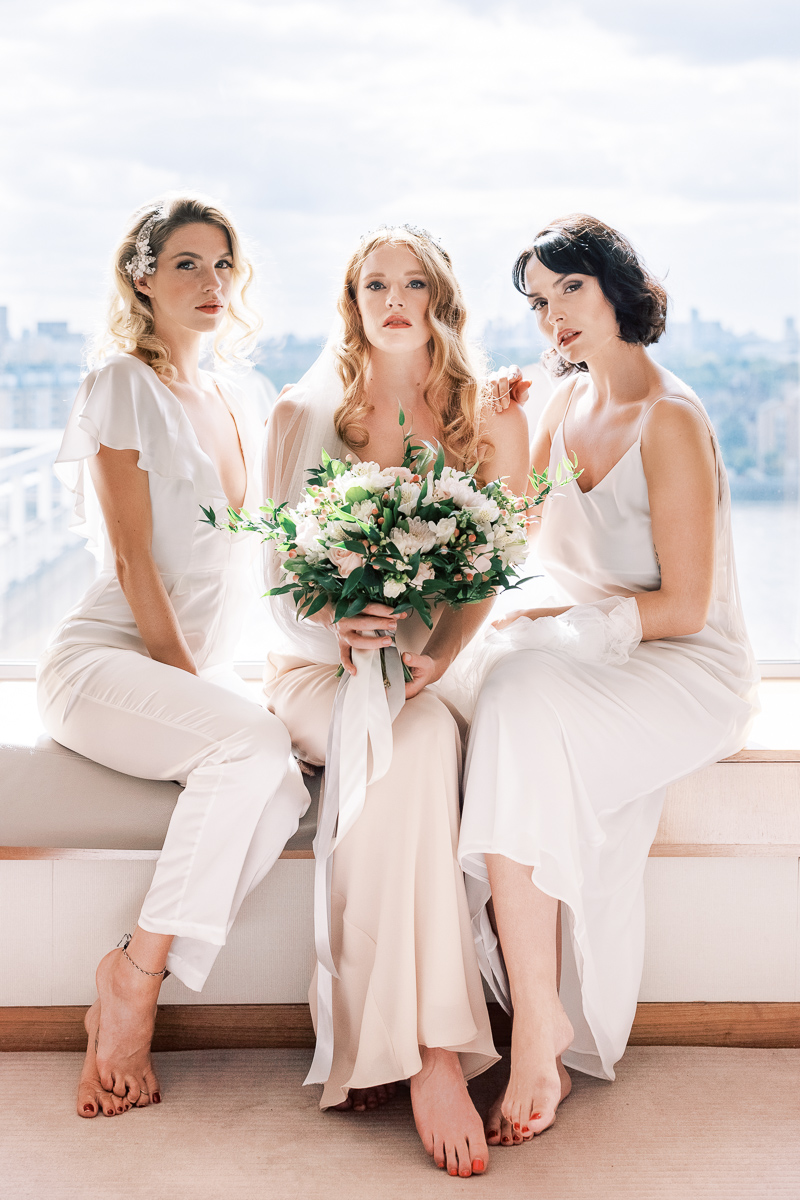 "We had two photographers on the day, with different but complementary styles. We both shoot in a fine art style. Michelle aims for a mixture of posed editorial shots and natural, relaxed documentary photography, while Steve's work is contemporary, with a focus on emotion and technically stunning images. Michelle is a hybrid photographer, who shoots both analogue film and digital images. To achieve her colours, she shot one roll of analogue film to capture skin tones and colour, then matched the digital images to the gorgeous film colours."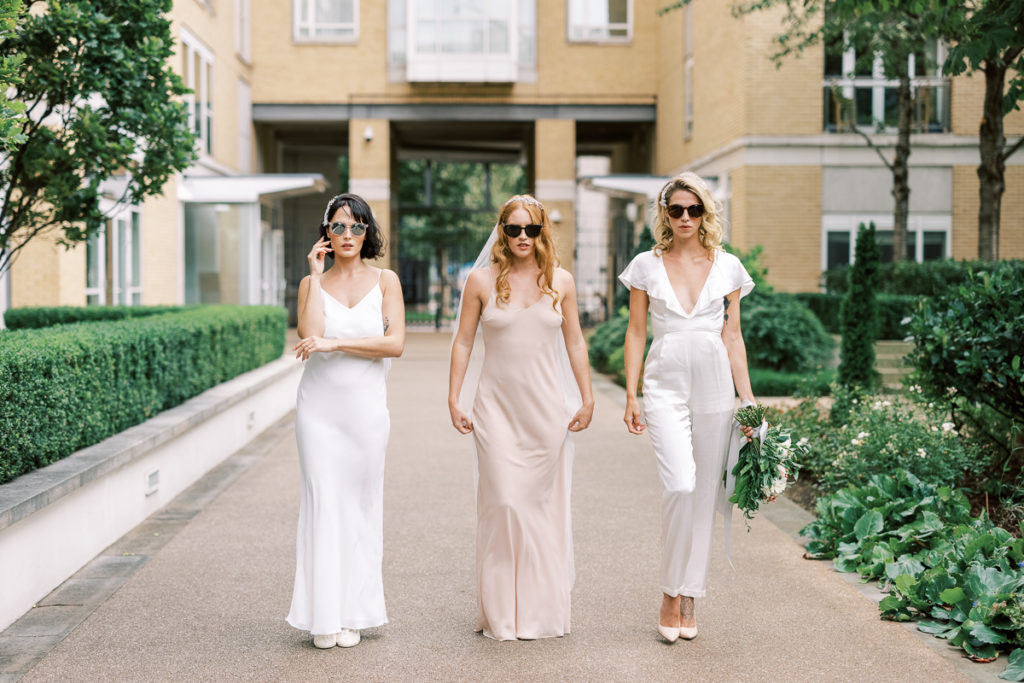 "Lisa Lyons chose three contemporary bridalwear designs from her made to measure collections, perfect for a luxurious London hotel wedding. The jumpsuit was a sumptuous, lightweight ivory silk satin. Brides and bridesmaids love the option of a jumpsuit or trousers as it is a versatile option for a day to evening look."
"The other designs she chose for the bride and bridesmaid were bias cut slips. These styles were are made in figure skimming crepes, in nude and ivory colour palettes which are still massively on trend for weddings.The designs have tassels and fringing and these design elements add a more modern bohemian vibe to the wedding entourage, perfect for a glamorous city wedding."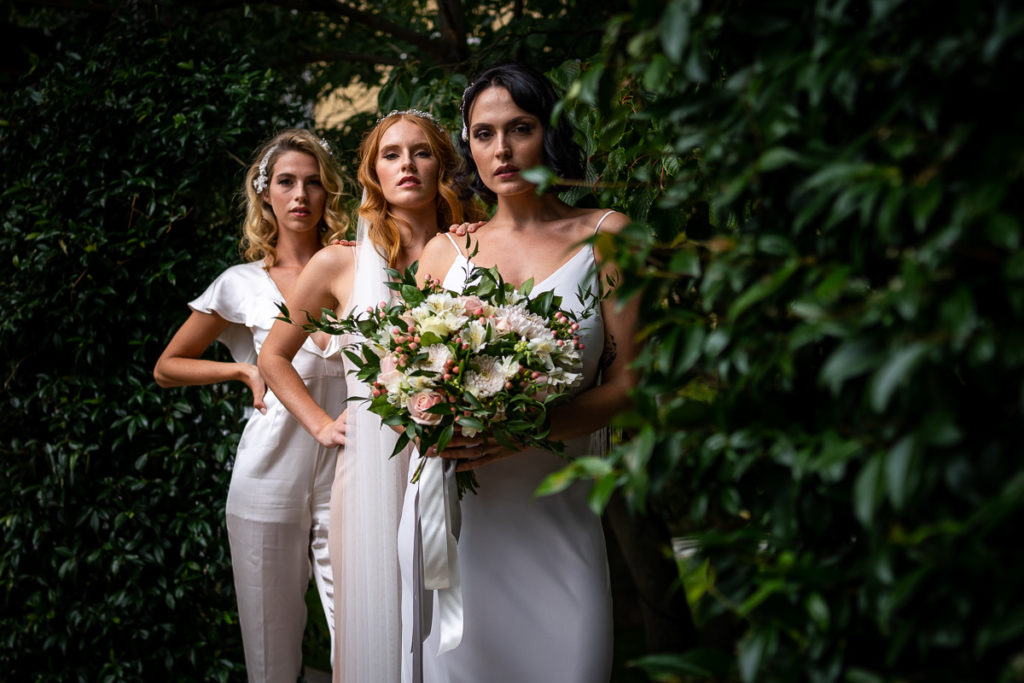 Florissa Designs says; "Your bouquet is the ultimate finishing touch to your look and style. With so many options available, they are a great opportunity to showcase your style. I love working with different colours and textures. For couples who are still in the process of choosing their colour palette, I would advise to start with a base colour. This is the colour that will be used to tie everything together from your florals to your stationeries or your bridesmaids dresses. Once you have your base colour, you can then select between two or three complementary accent colours. These colours will add dimension and texture to the whole theme and make everything visually seamless."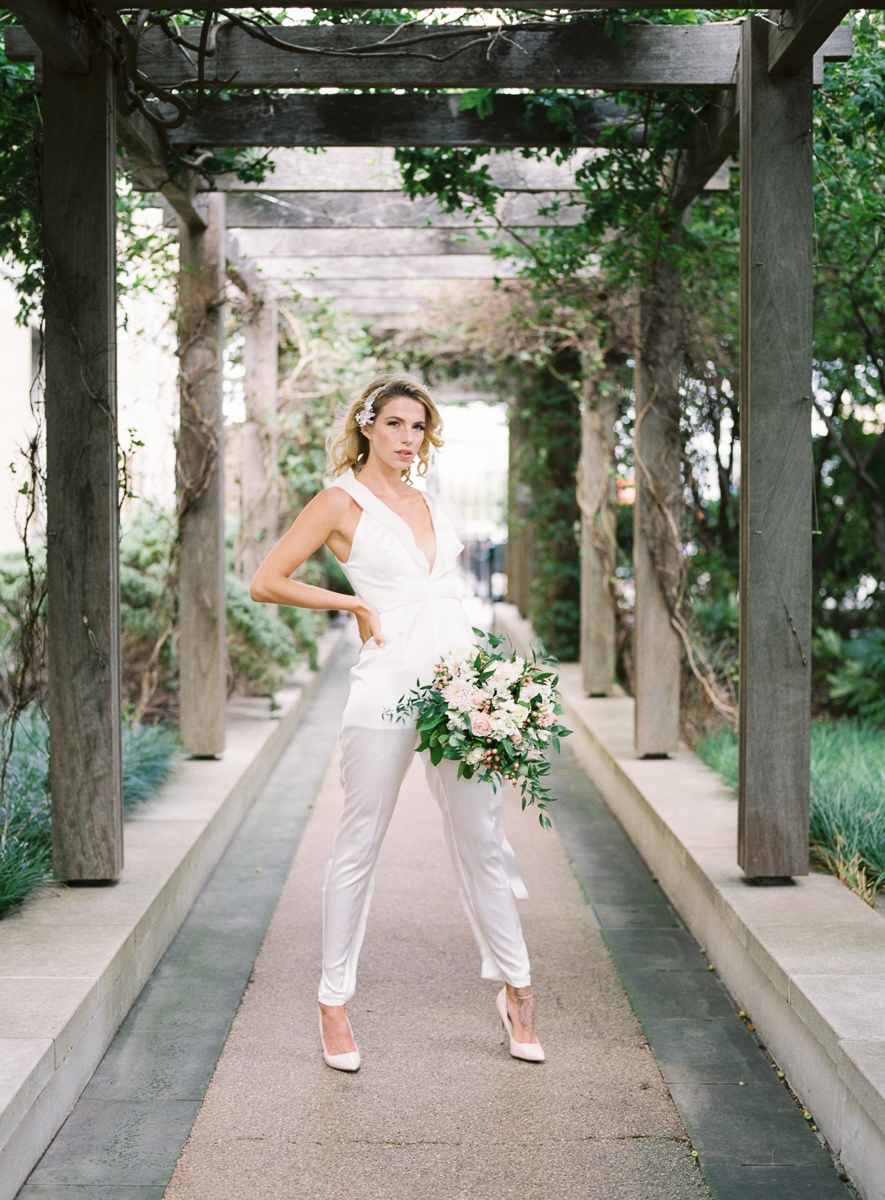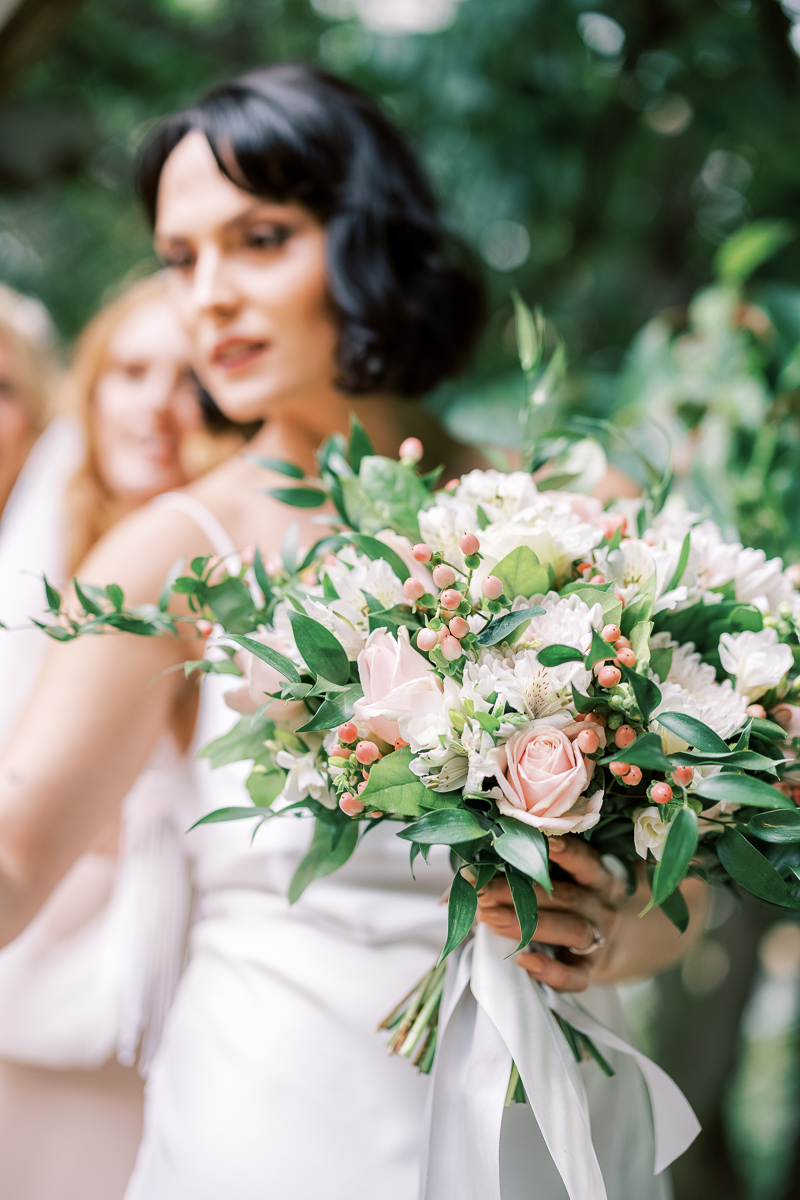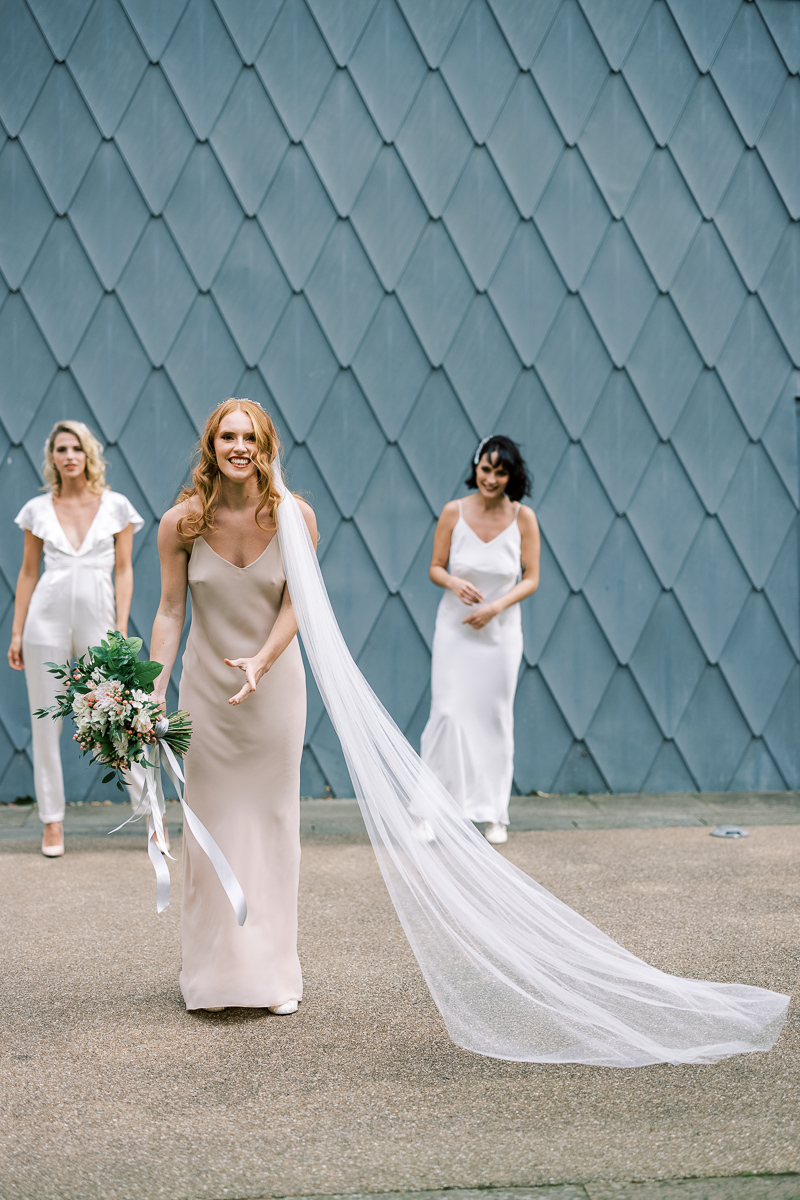 Rachel Williamson Hair and Make Up; "Have a pamper. Having a hair and makeup artist looking after you and your besties will help the day will go much smoother, making sure everyone looks and feels their best. Keep the look classic and timeless- a fluttery lash, rosy cheek, subtle glow and natural lip will ensure that you and your besties will look back at the images in 20 years time in fondness, not mirth!"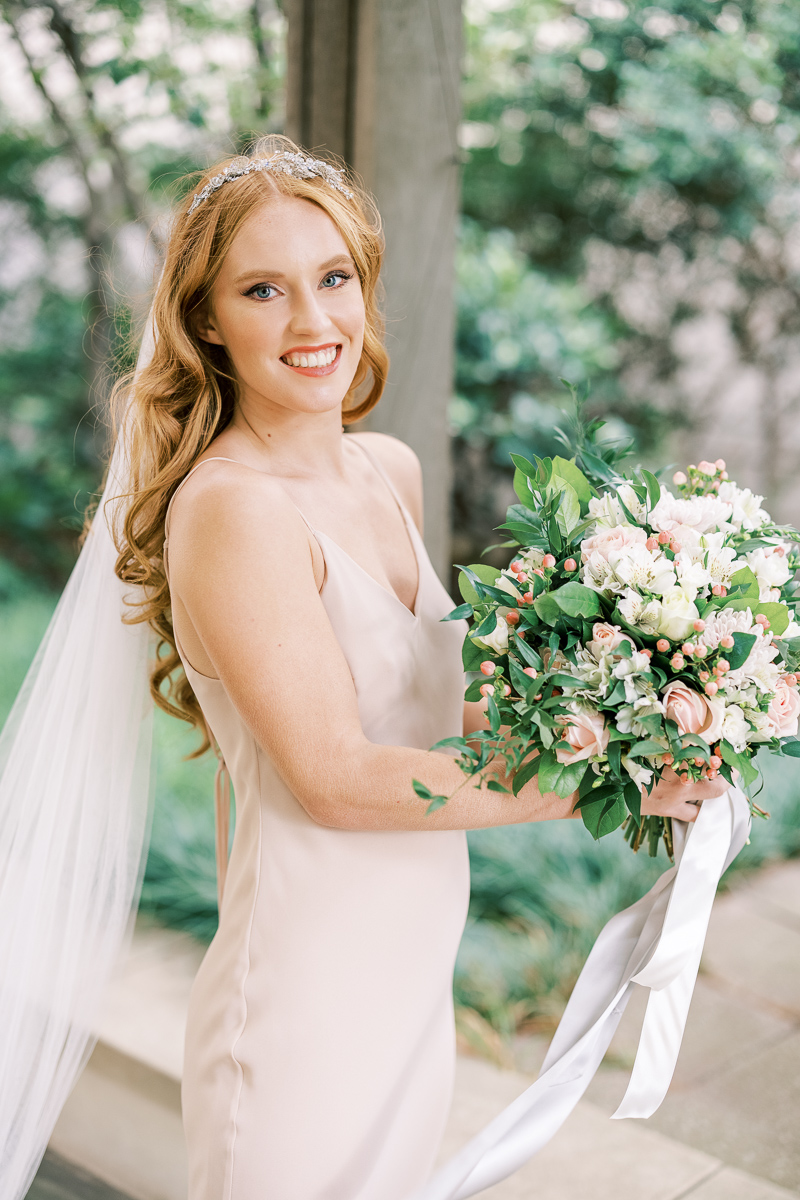 Rebecca Anne Designs says; "Ensure you leave time to enjoy adding the final touches. Even the most modern bridal styles can incorporate the tradition of a veil. The special sentiment of this bridal accessory deserves time and attention for your bridesmaids to help place it beautifully in your hair."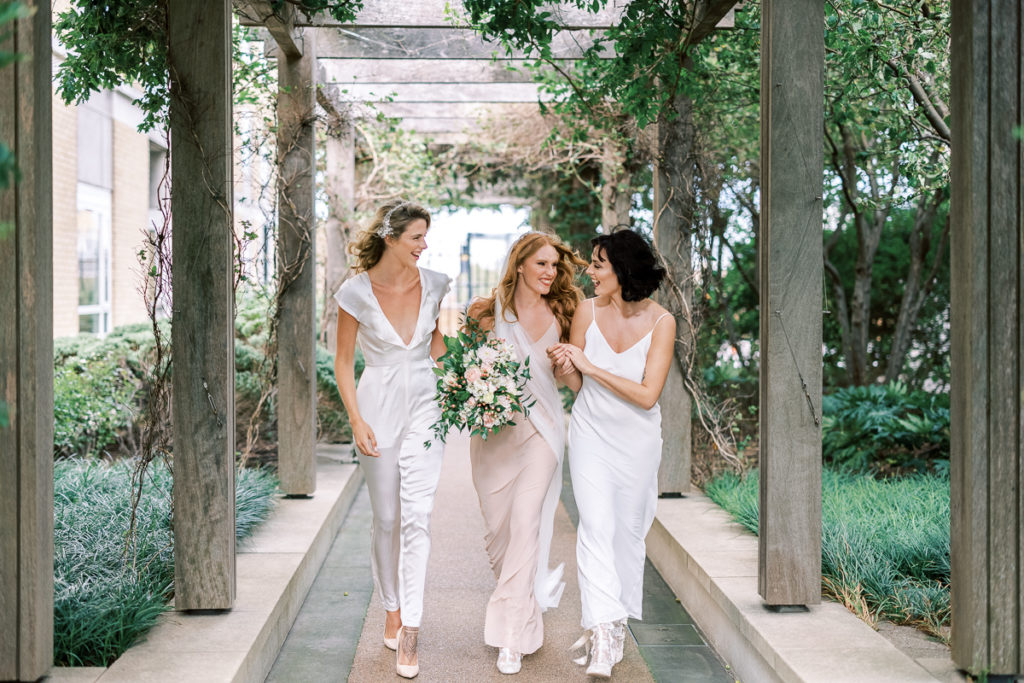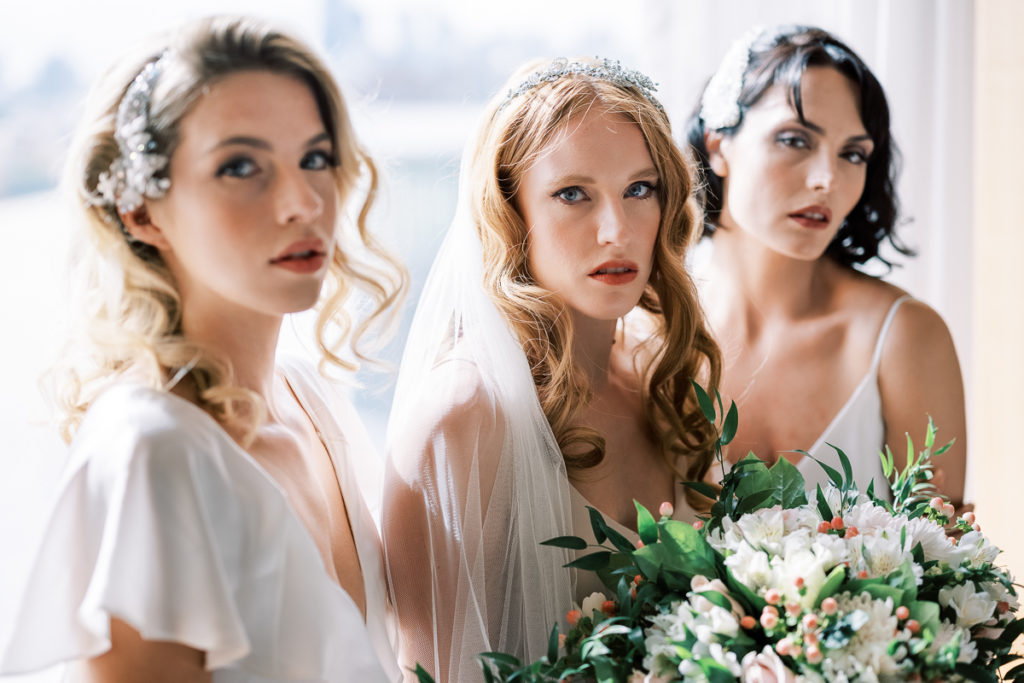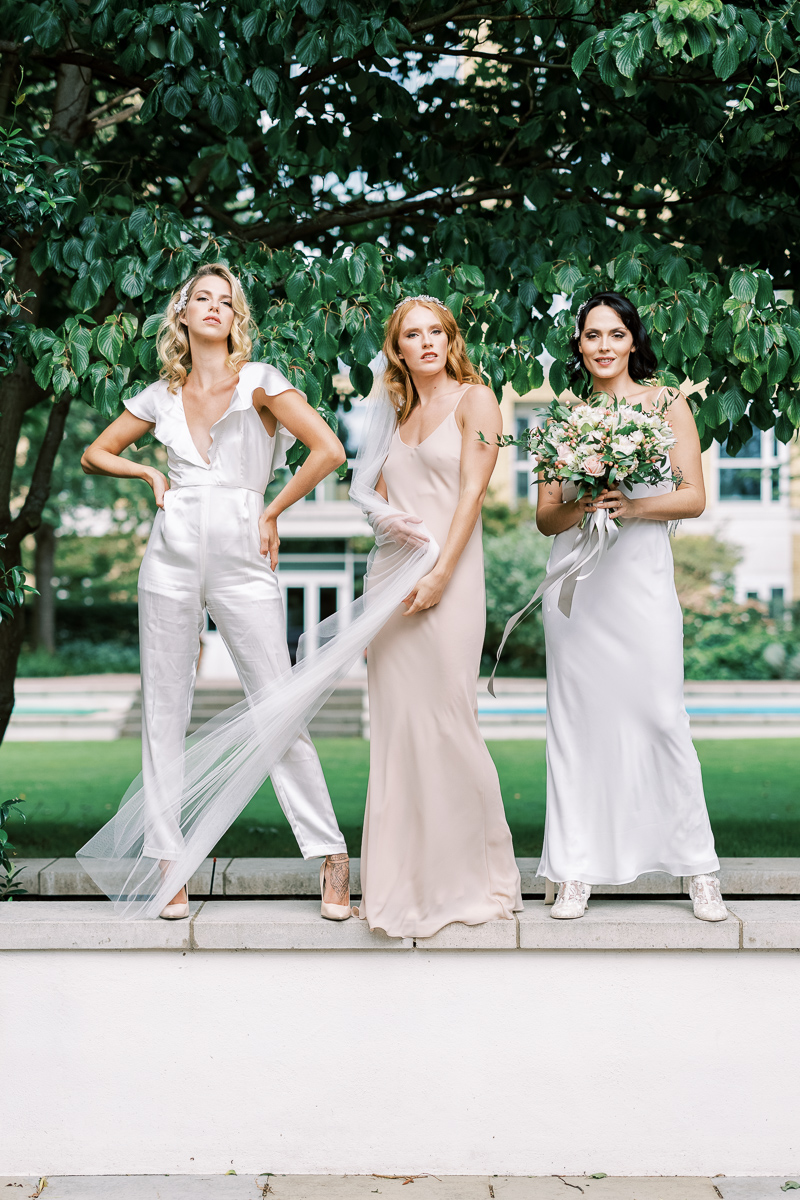 Rune Silk says; "The wooden sunglasses look simply awesome on these ladies. You can really see that they compliment the look and the setting in which they are featured. We have provided our sunglasses to several wedding couples, which are usually given as gifts to both groom's men and the bridal party alike. These have made for some awesome photo opportunities, especially when everyone is wearing the same sunglasses! It really does look cool!"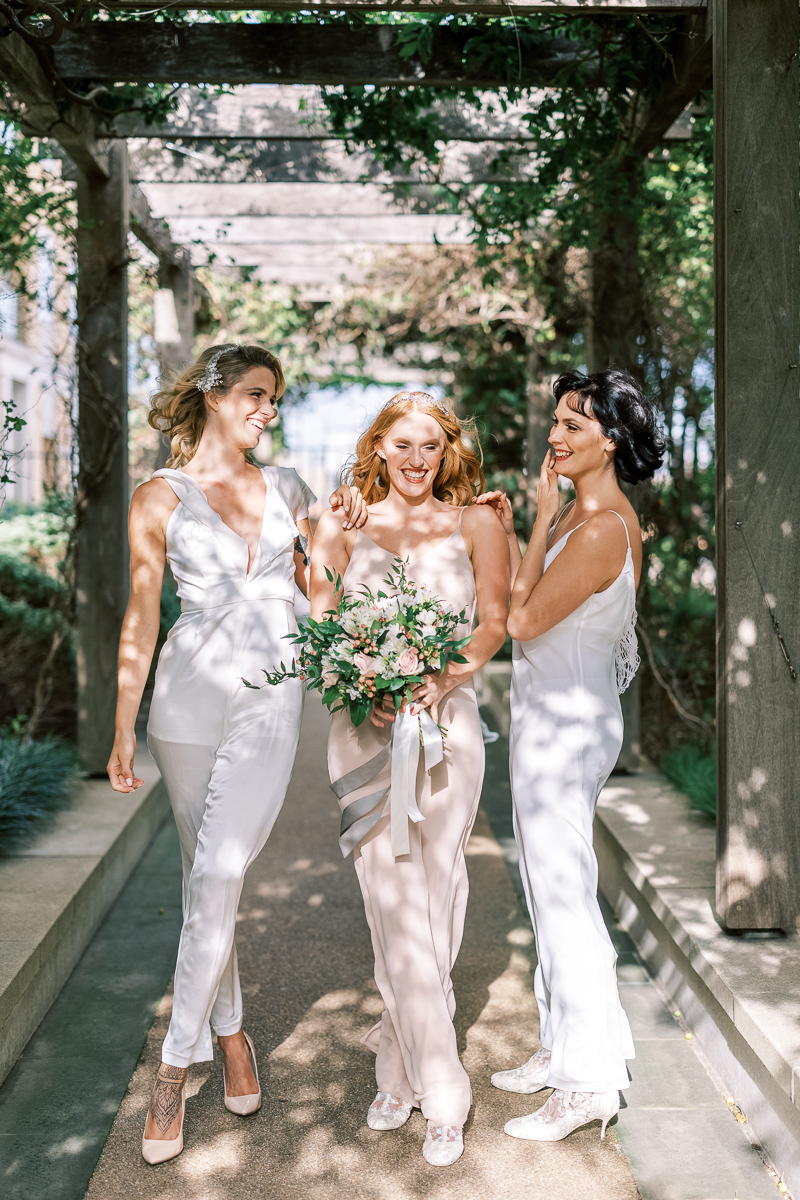 House of Elliot says; "House of Elliot designs and makes luxurious handmade lace wedding boots which as well as being a beautiful and unique wedding boot, also offer Brides a totally unique experience as lacing them up is just as wonderful as wearing them. Taking a moment to yourself before the big day is a fabulous opportunity to capture some beautiful getting ready bridal shots and our lace boots offer the Bride the perfect getting ready moment! The feeling of putting on our lovely lacey boots is just as wearing them, that's why we call them 'Lingerie For The Legs'."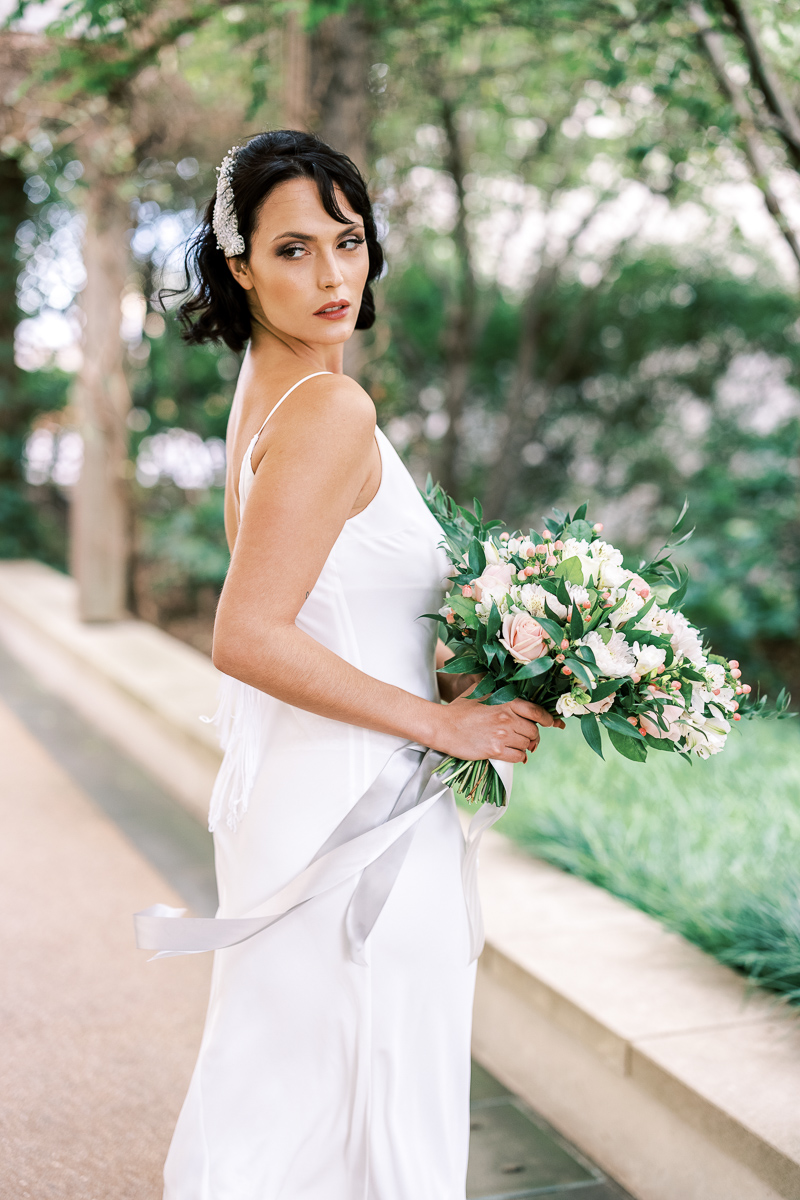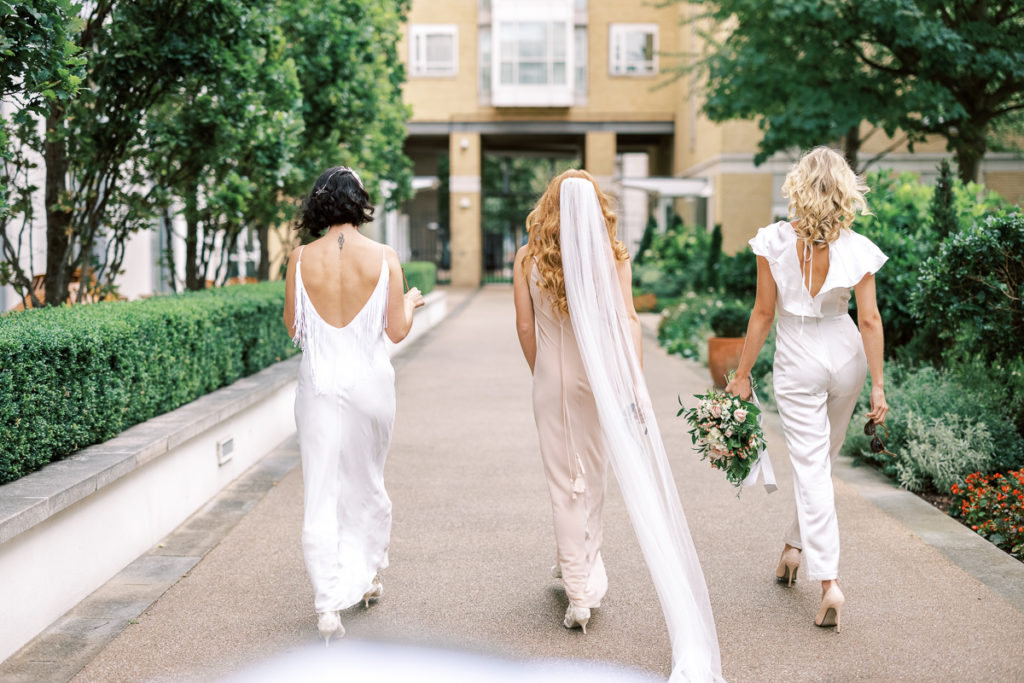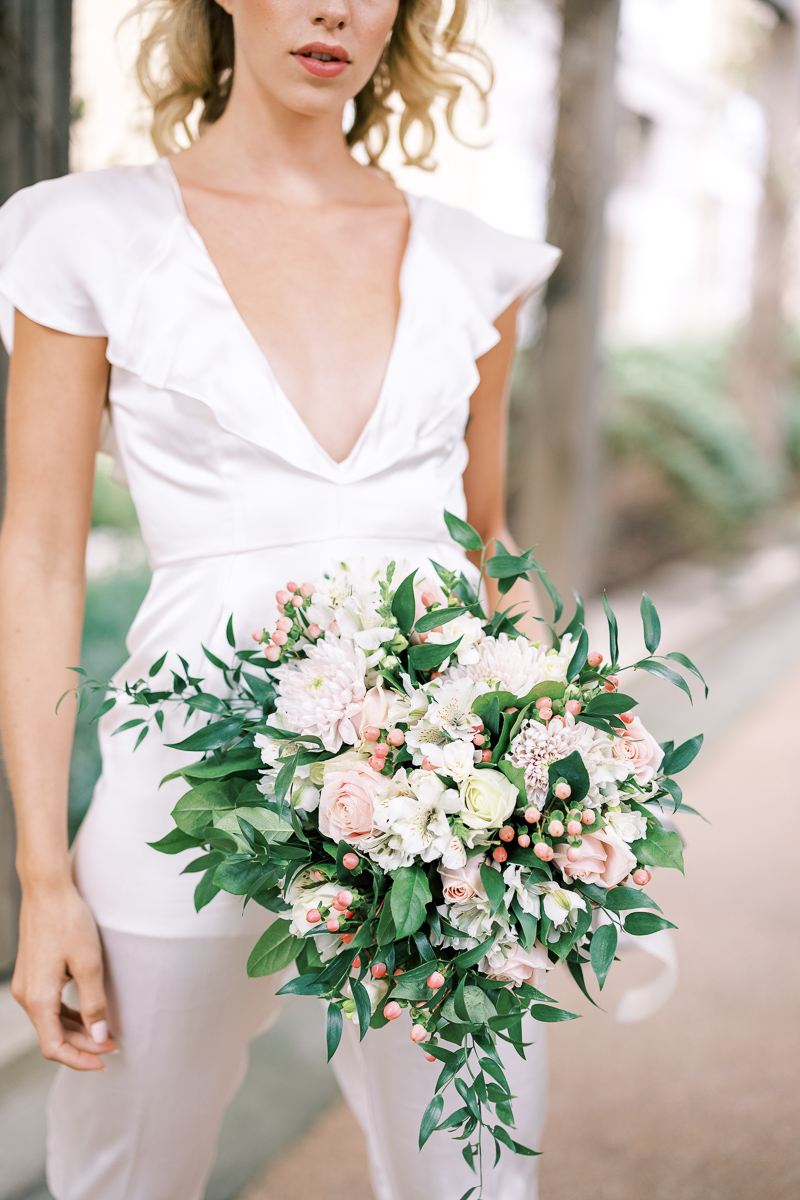 Ritz and Sass says; "Our design process makes it so important to co-ordinate with the hairstylist and personality of the bride. We designed pieces that have a delicacy within a statement piece and a versatility which made them perfect to be worn in different stylised ways, capturing the fun loving yet glamorous looks. Who would have thought that crochet can look so fun and chic with a modern vibe, designed with soft wire to compliment the simplicity of attire lines with satin lace and crystal. All our items are a girl's best friend with comfortable ease."
The Nottingham Lace Garter Co says; "At the Nottingham Lace Garter Company, we love to make beautiful bridal garters from traditional and luxurious materials to make a bride feel confident and super special on her wedding day. Our silk lingerie is embroidered with brides monogram, and is not only the perfect accessory for bridal prep, but can be worn long after the wedding day."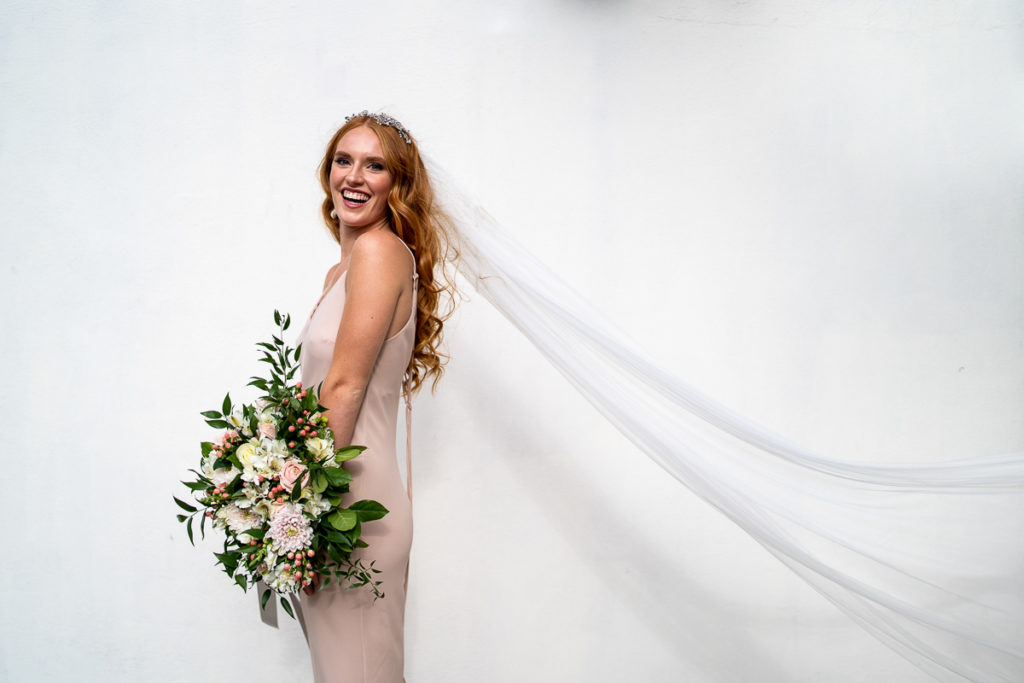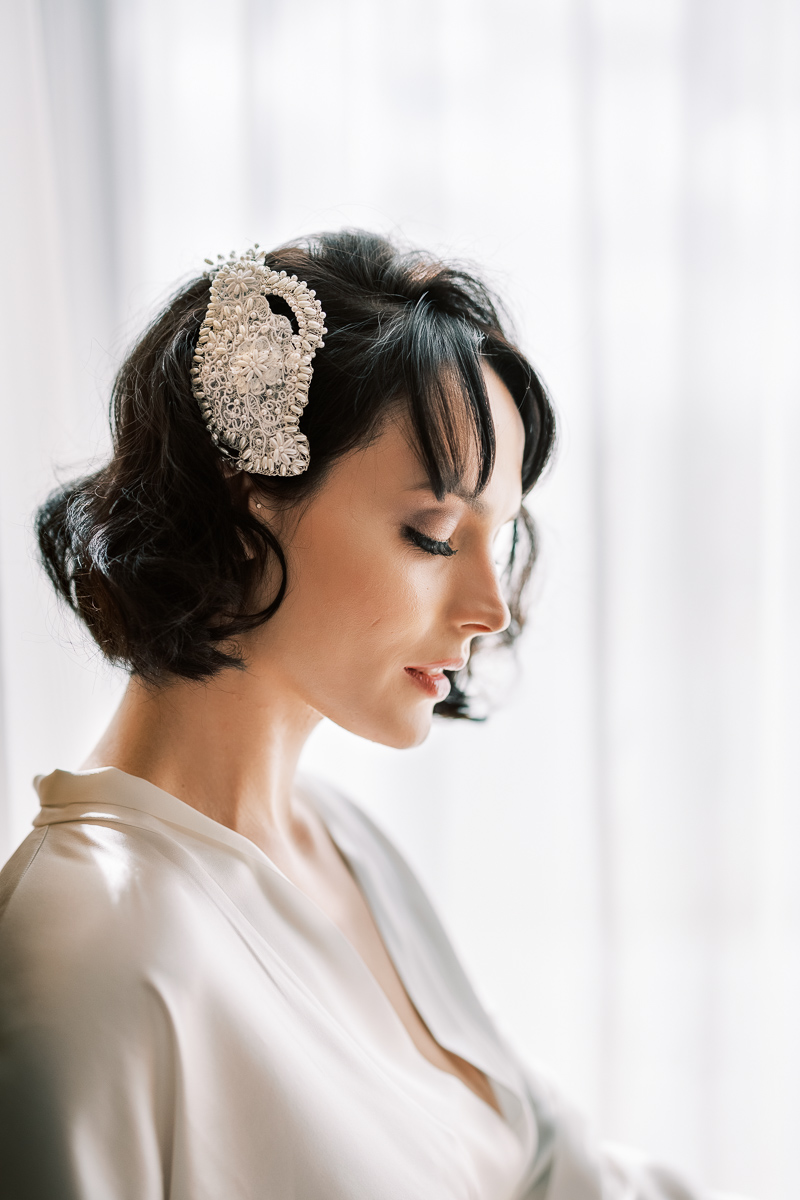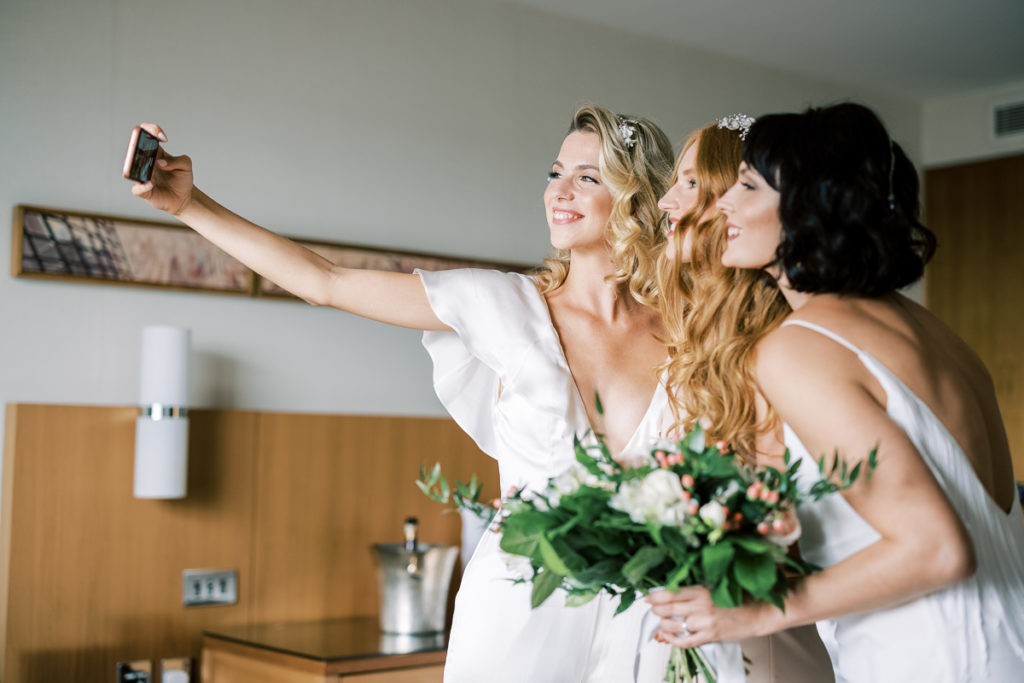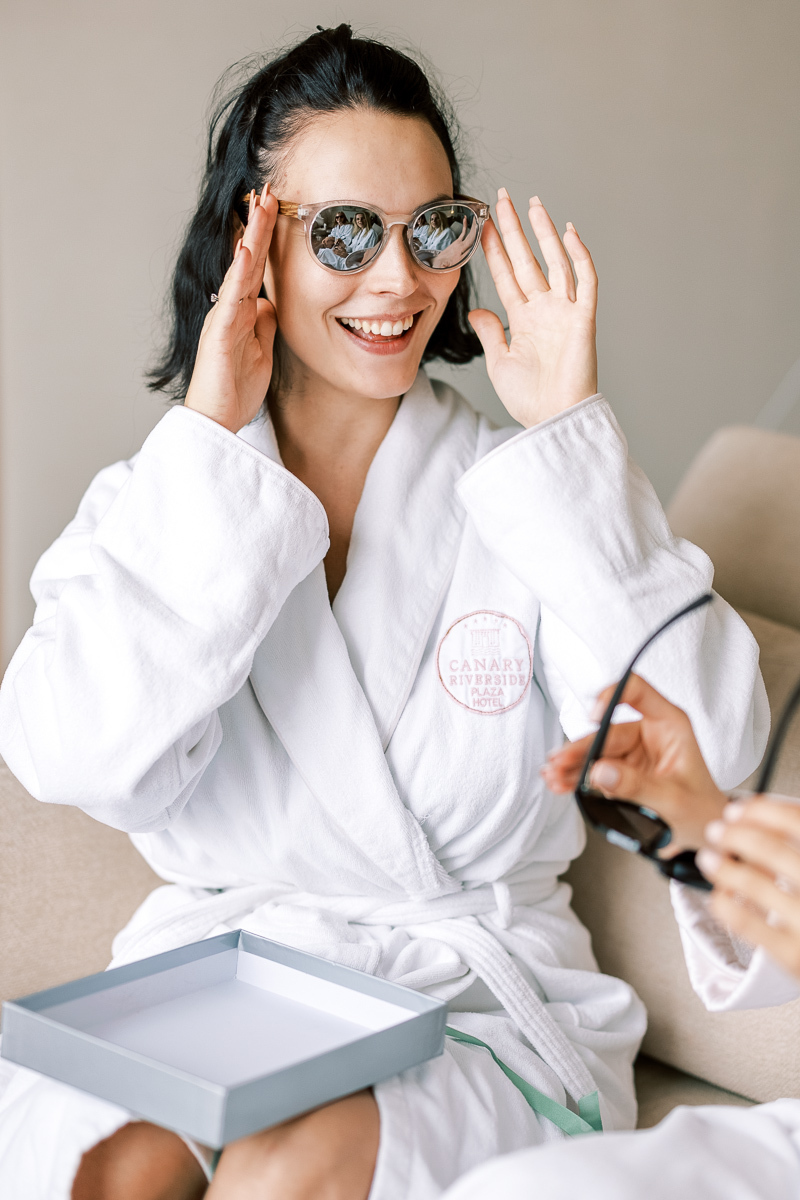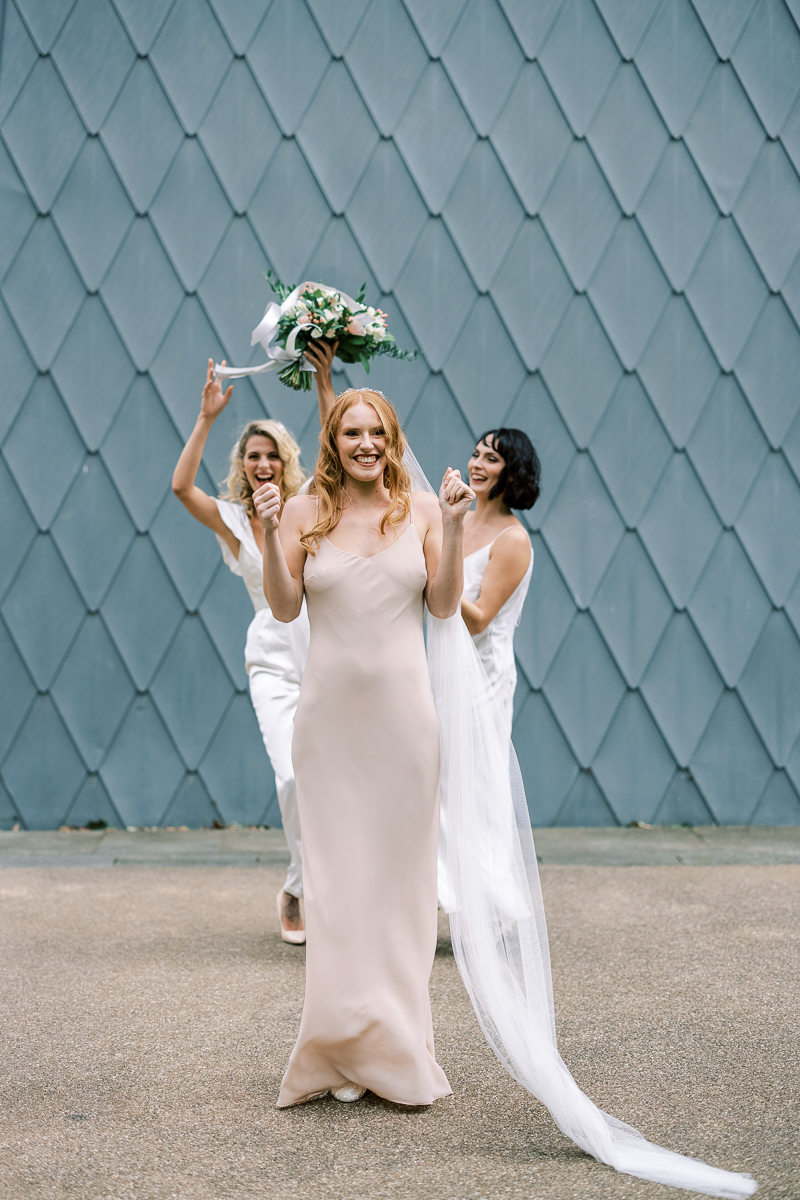 The Team – Luxury Bridal Prep Tips and Inspiration at Canary Riverside Plaza London
Photography – Steve Mulvey Photography @stevemulveytog / Photography – Kernwell Photography @kernwellphoto
Hair & Makeup – Rachel Williamson Hair and Make Up @bridesbyrachelwilliamson / Model – Georgia Bliss @gblisss / Model – Francesca Fleur @francesca_fleur / Model – Laura Harwood @lauraxharwood / Venue – Canary Riverside Plaza @canaryriversideplaza / Bridal dresses – Lisa Lyons Bridalwear @lisa.lyons.bridal / Bridal veil – Rebecca Anne Designs @rebeccaannedesigns / Sunglasses – Rune Silk @runesilk / Hair pieces – Ritz and Sass @ritzandsass / Robes, Garters, and Lingerie – The Nottingham Lace Garter Co @nottinghamlacegarterco / Shoes – House of Elliot @houseofelliotlaceboots / Bouquet – Florissa Designs @florissadesignsevents
IF YOU LOVED THIS BRIDAL PREP INSPIRATION WHY NOT PIN IT TO YOUR WEDDING BOARD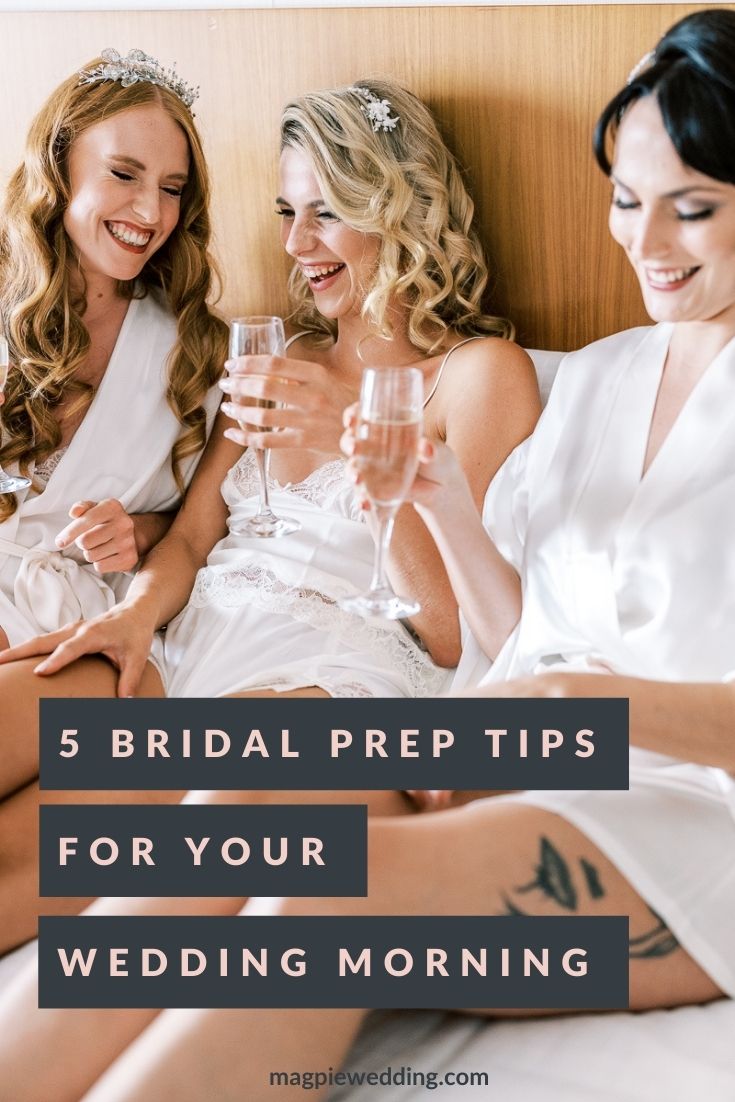 If you loved these Bridal Prep Tips you may also like;
Where Should People Sit At Your Wedding? Our Top Tips for A Successful Wedding Seating Plan
Lakeside Boho Wedding With Floral Bridal Jumpsuit At Kentfield Estate, Kent
Dog Wedding With Doggy Ice Cream Reception at The Lost Village of Dode Kent