We recently were invited to Confetti's Style It Like A Pro press day to see their new ranges and learn some tips for wedding styling. Kirsty from The Vintage Teacup Hire Company went along for us and shares her experiences as well as a fab competition to win a £50 voucher to spend for your wedding!
"If there is such a thing as a one-stop wedding shop then Confetti is probably it. They boast an online shop stocking everything from bridal shoes and handbags to favours, confetti and wedding décor alongside a forum which is home to more than 400,000 unique users offering advice on all aspects of planning including fashion, moodboards and DIY tutorials.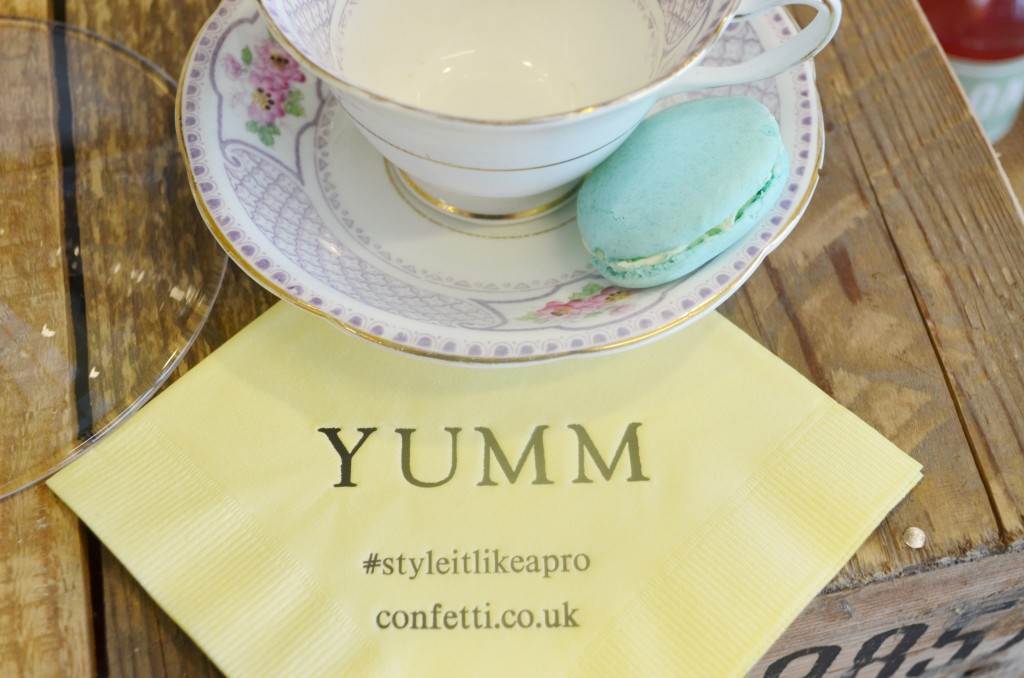 So, it was with a little trepidation that I boarded the train to go to #styleitlikeapro to meet the styling gurus behind such an industry-leading brand. (I even hastily painted my nails on the train to match my dress and, as will become apparent, my teacup!) However, when we finally met Sadia, Anyonita and Lucy they were very down to earth, extremely friendly and if anything as nervous about meeting us 'bloggers' as I was about meeting these styling queens.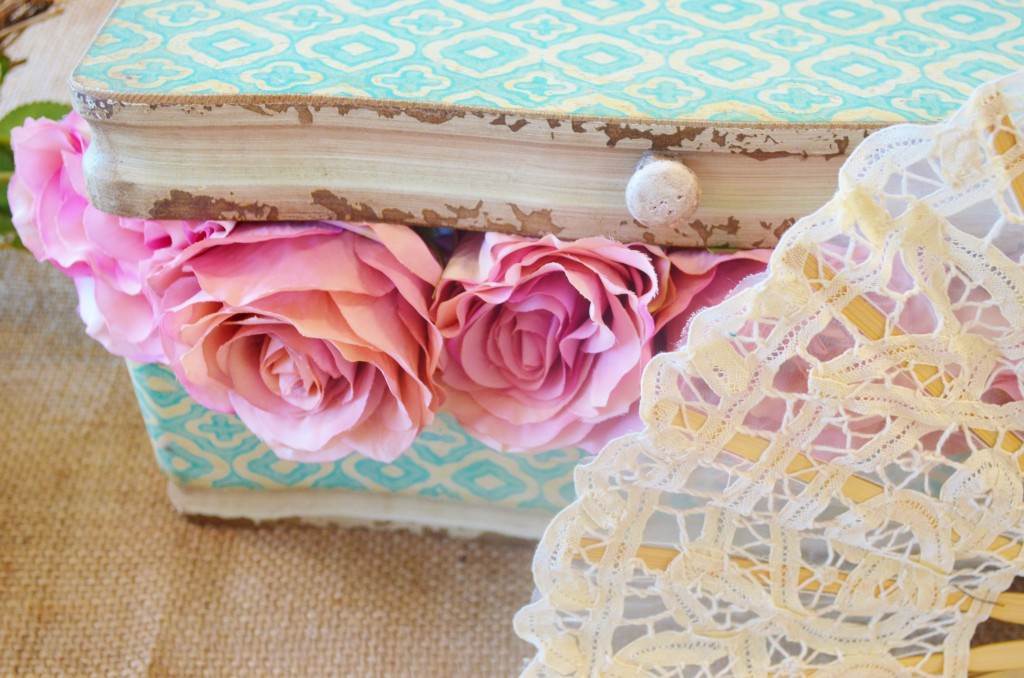 The room was laid out with props from the Confetti range with three table centres along the front of the room. Sadia, our stylist, had chosen three themes to talk us through. Her favourite was 'industrial' with galvanised metal and chalkboard paint being the main materials. The second theme was shabby chic and the third theme was woodland.
Sadia taught us the basics of setting up a display in any of the themes. She suggested starting with a colour scheme and then, using props and decorations from within that theme incorporating three key elements: height, detail and texture.
In the industrial theme Sadia demonstrated how the height was achieved using the metal box, while detail was added with a lantern and a glass vase. Finally the texture came from the flowers which softened and added contrast to the harder metal and glass materials.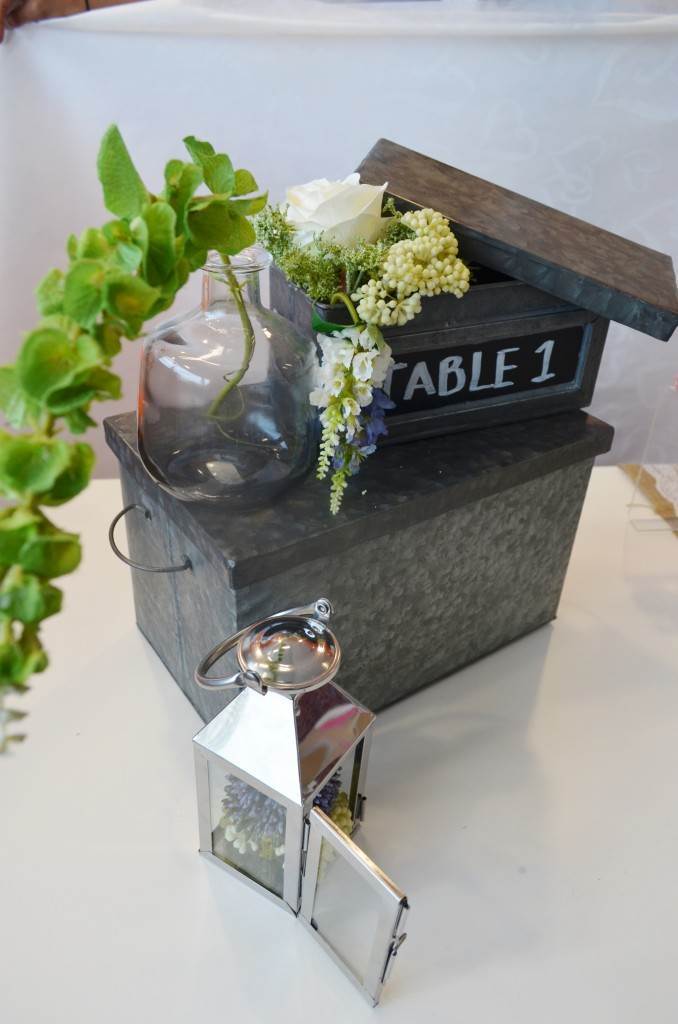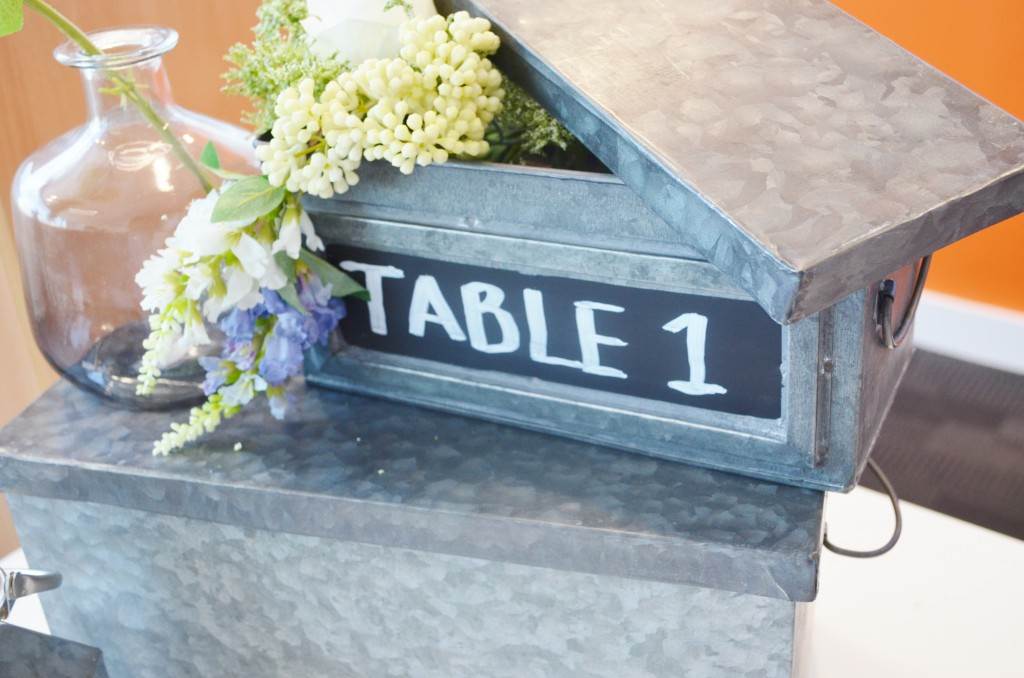 If your taste lends itself to more than one theme or a combination of themes, Sadia suggests mixing and matching within a narrow colour palette. She demonstrated how adding a lace fan from the shabby chic theme worked even with the industrial centrepiece because the colours remained neutral and did not change the colour palette that was used in the main feature.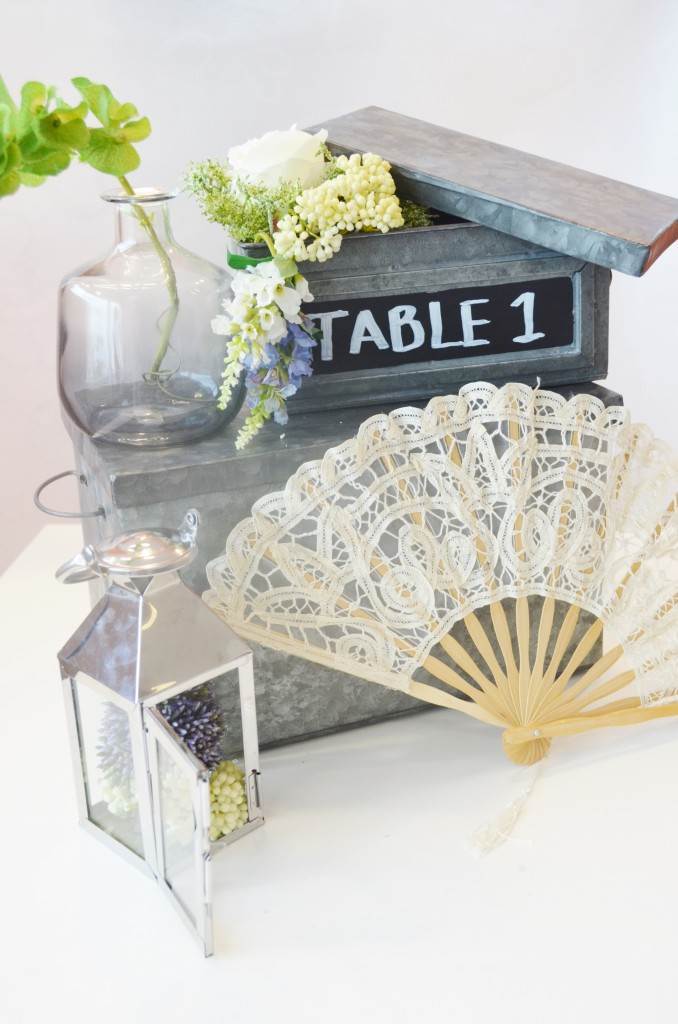 We were then shown how these rules could be applied to other wedding decor such as a drinks bar or a tableplan. We sampled pink lemonade in pretty milk bottles while seeing how the drink dispenser was stood on top of a crate to add height, with a cake stand of pretty macaroons to add detail and floral paper straws to add texture.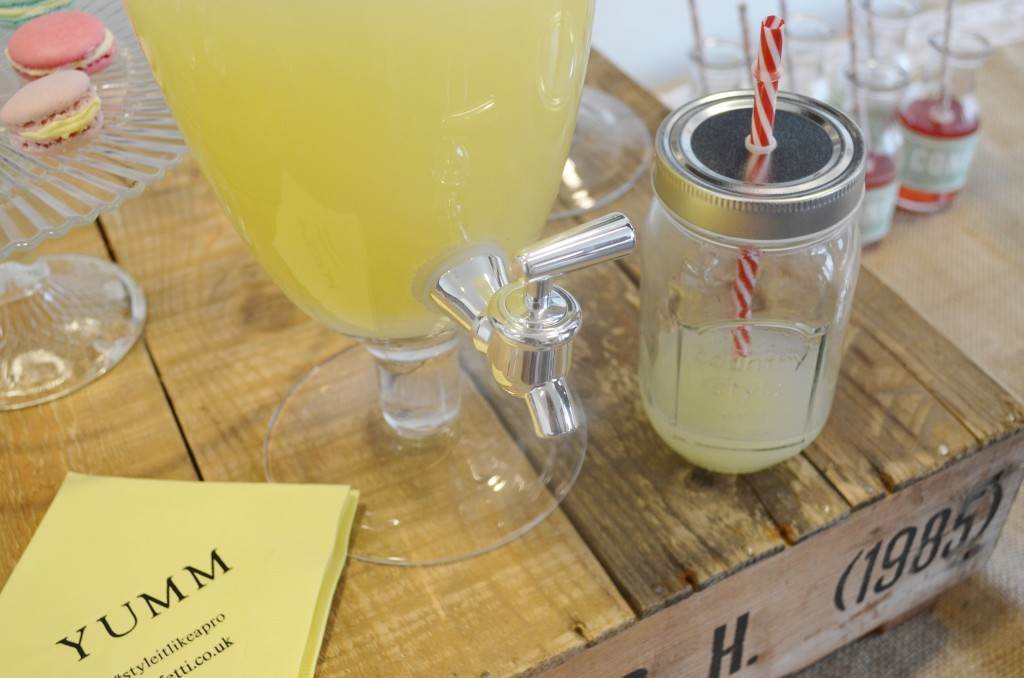 Not one to miss an opportunity I used the aforementioned teacup which I had taken along from my own props and sneakily added it into the Confetti display. I loved the colour contrast of teal and purple with Confetti's wooden box against my purple teacup and a lovely coordinating macaroon. Which of course I snaffled up shortly afterwards!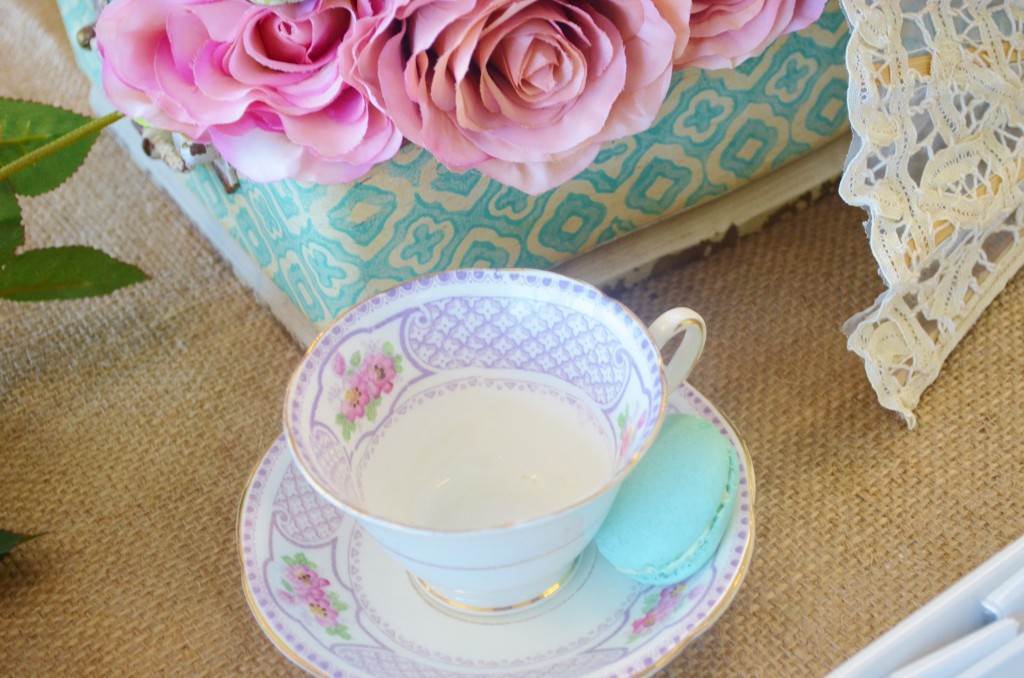 Anyonita told us about emerging trends that they are seeing at Confetti, the most popular being the DIY bride. They are keen to offer a number of DIY products which allow brides to customise and handcraft some of their wedding items from the Confetti range and gave us hints and tips on repurposing items from water bottle labels to aisle runners. You can even find a number of DIY tutorials on the Confetti website to help you repurpose items to make them your own.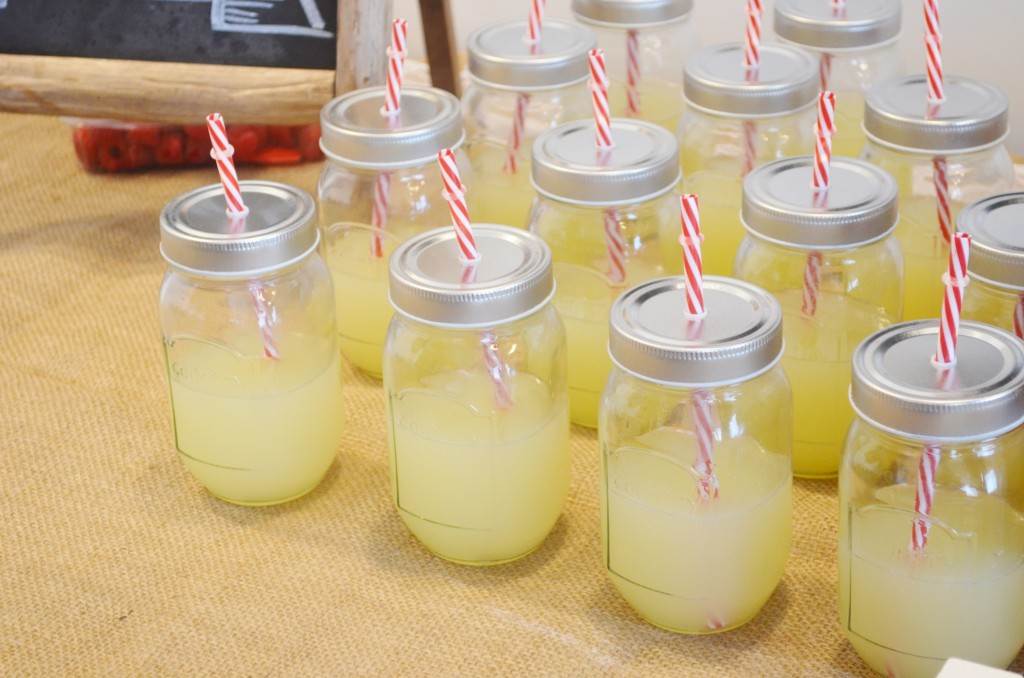 I particularly liked the salt and pepper pots which were displayed as part of the woodland table centre which Sadia suggested could also be used as cake toppers. How cute would two hugging bears be on the top of whimsical woodland cake?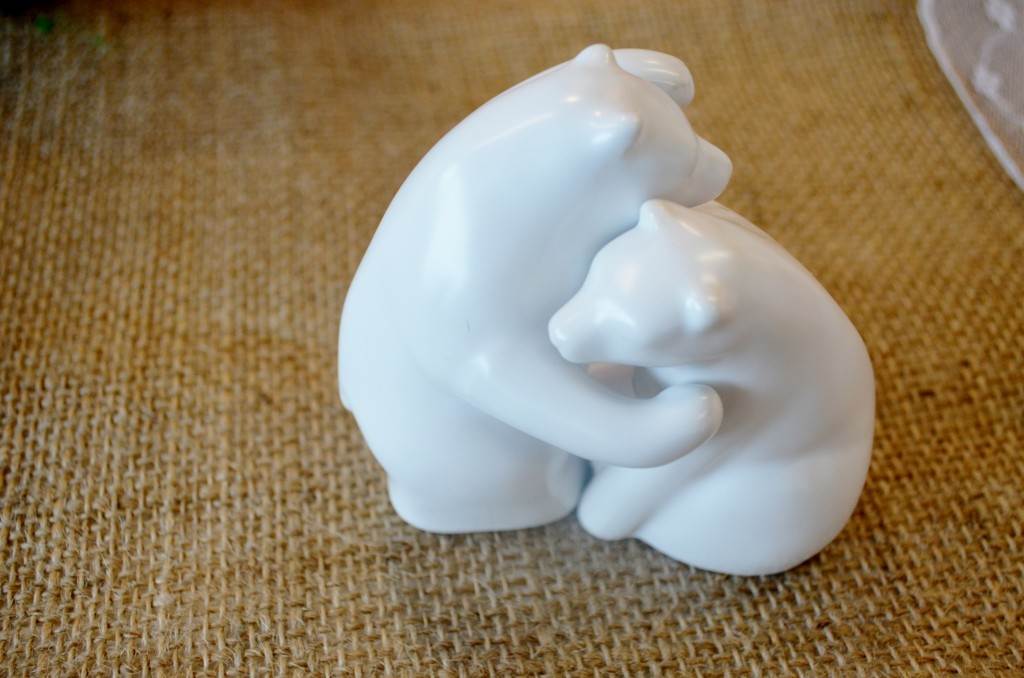 Anyonita explained that the 'Confetti' branding they had added to the milk bottles was achieved using a product available on their site marketed as a water bottle label. They come in a range of designs and add personalisation to a wedding. If you are looking for a quick and easy DIY project that even the least crafty bride can master successfully then this has got to be one of the easiest with a really professional looking result.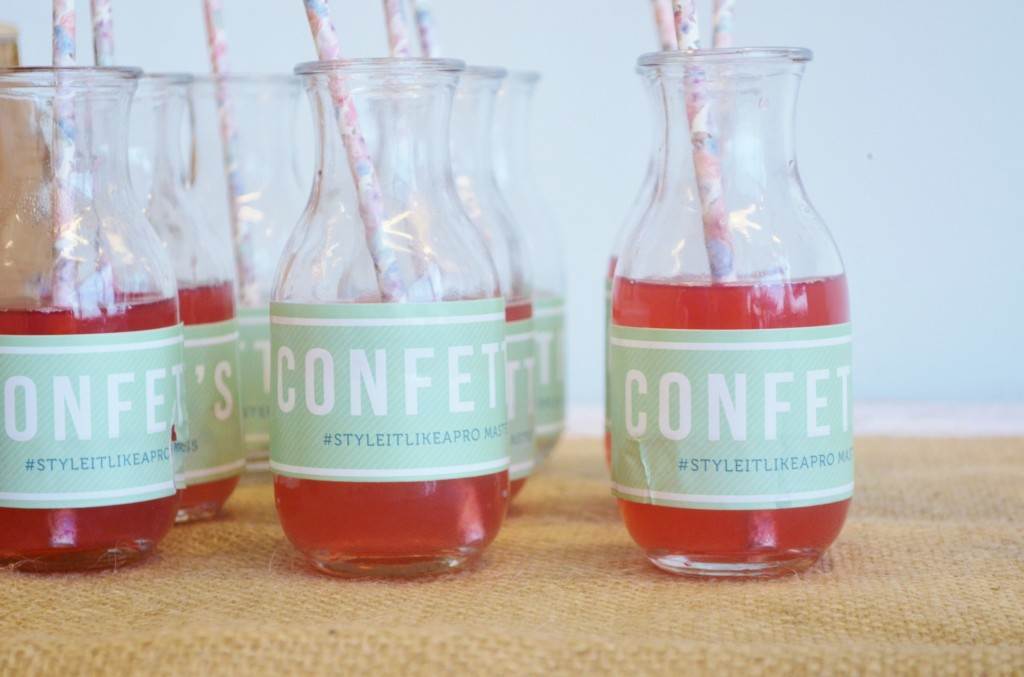 We were encouraged to think outside the box when looking at the products in their catalogue. With this in mind Sadia was very accommodating in allowed me to destroy one of their products – a bird twine reel – just to check that the twine could be unravelled (it can). I now have visions of table plans, photos or guest messages pegged to the twine as it meanders through a vegetable patch at a rustic outdoor farm wedding.
The Confetti Team were clearly proud of their products. They explained that more than 75% of the products on their site are designed, developed and produced in-house. This means that the majority of items on the website are exclusive to Confetti.
If you are impressed by Sadia and the teams work then I encourage brides-to-be to enter the competition to win a wedding worth up to £40,000. It includes macaroons from Anyonita which, having taken a few home with me for on the train, I can promise were worth it!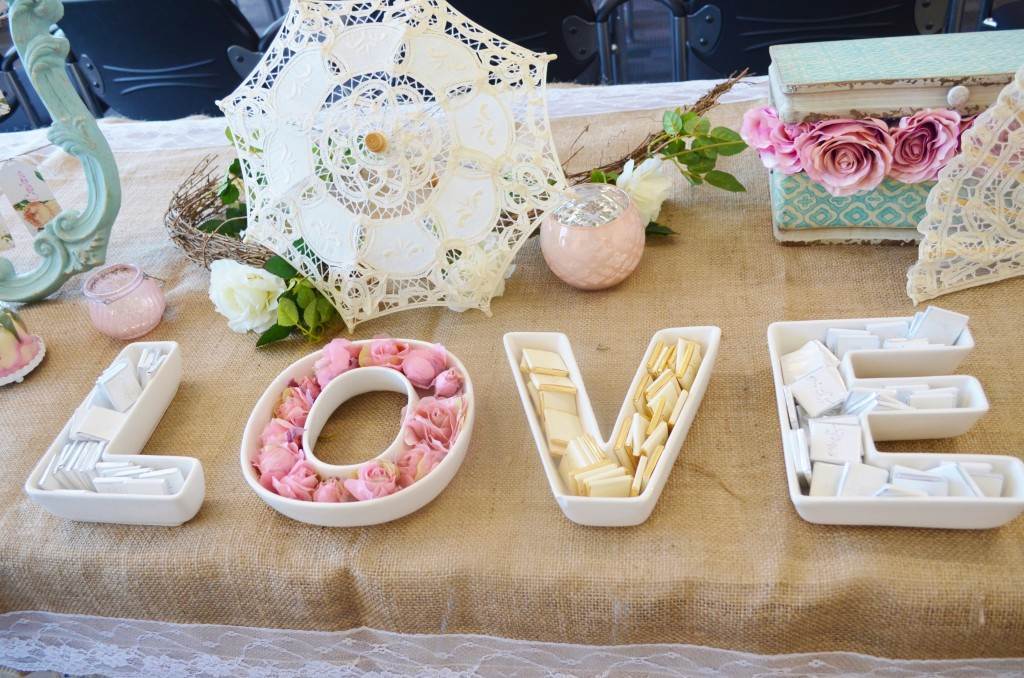 Kirsty xx
While we can't give away a whole wedding here at the National Vintage Wedding Fair, we are giving one lucky bride to be a £50 voucher to spend at Confetti.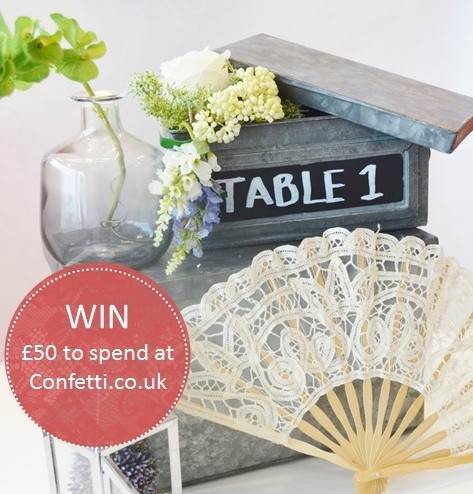 To be in with a chance of winning simply:
Follow our Instagram page @nationalvintageweddingfair and regram this image to your followers, tagging in ourselves and @confettiwedding
Winner to be announced Sunday 19th July, Competition closes midnight on 18th July. Good Luck!