Christmas is upon us and in keeping with the festive season we have some true Christmas wedding inspiration at Arreton Manor, with a dress that is quite literally Christmas! Here we catch up with Bridal Designer Karen Dornellie of Dornellie Bridal Studio and the rest of the team who tell us all about how and why this shoot was created…
"The shoot was initially organised to gain some images of my latest Christmas Tree Wedding dress, which I make every year for a huge charity event we hold here on the Isle of Wight.
Its a festival of Christmas trees and a weekend of festive activities revolve around it in Brighstone and surrounding villages."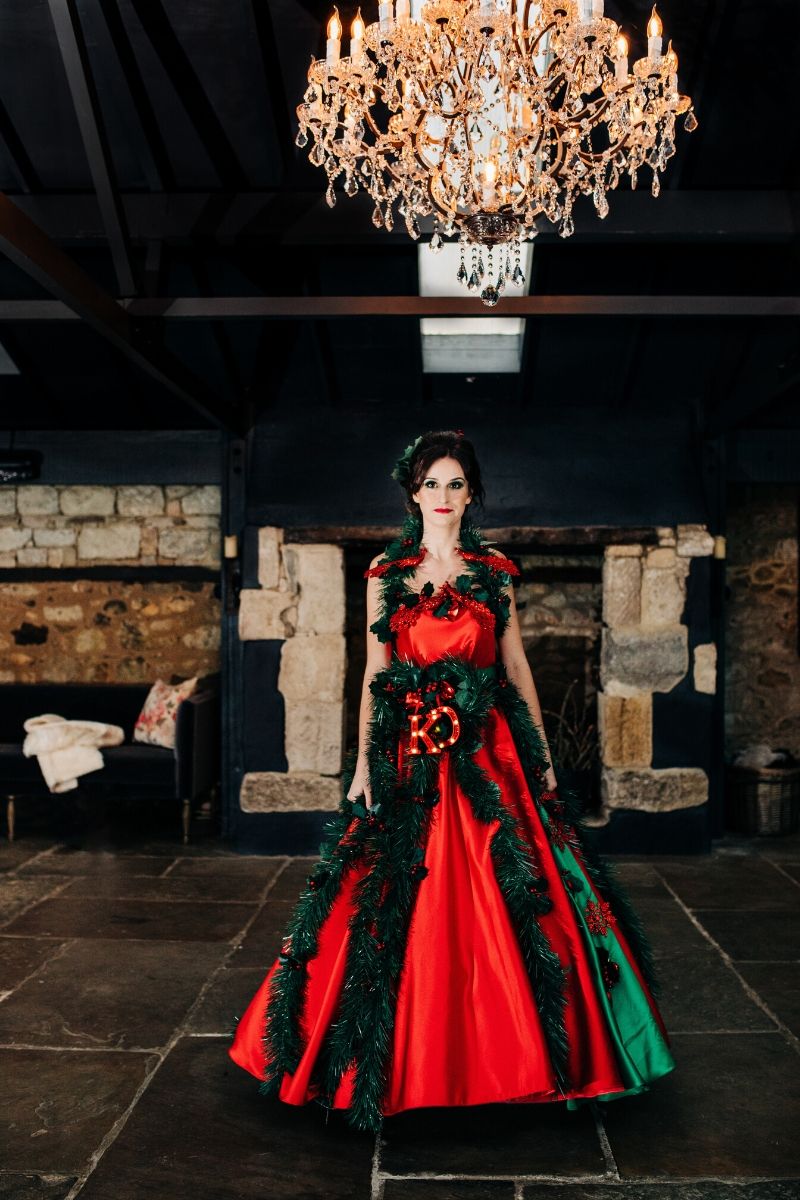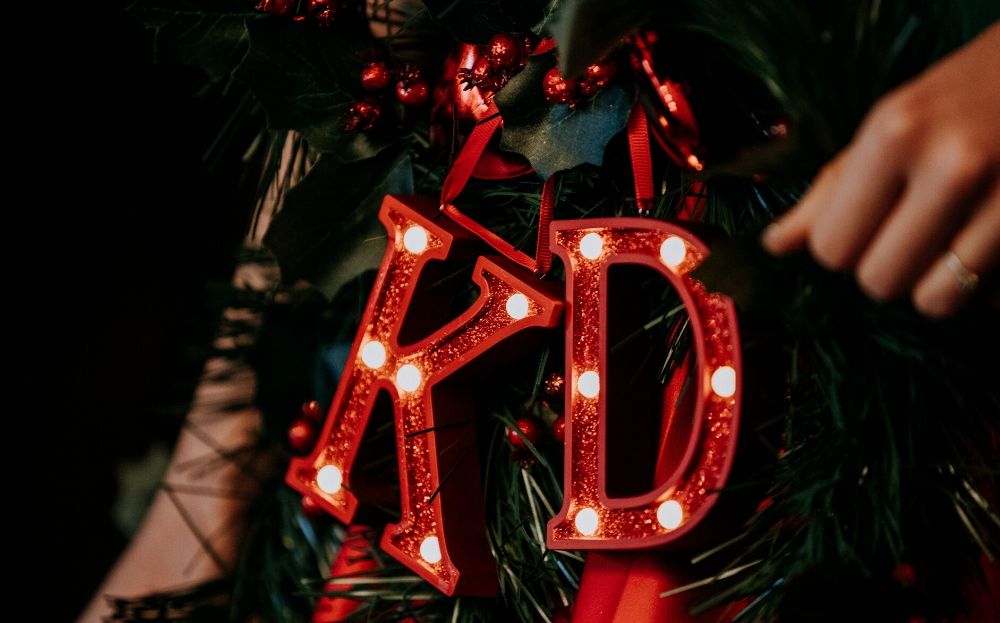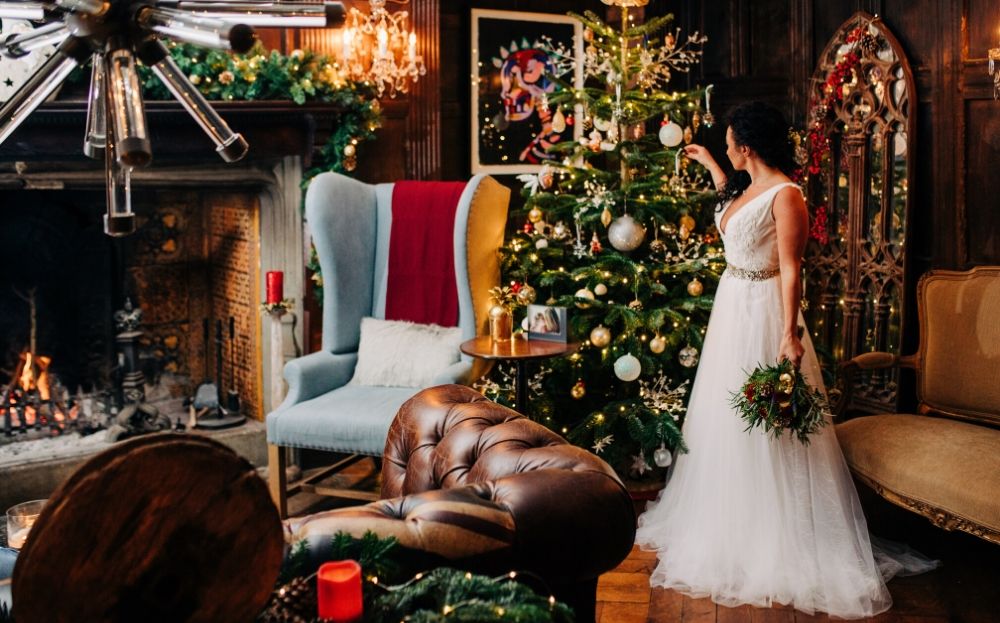 Bridal – The Dornellie Bridal Studio
"This year I wanted to have a very traditional theme with red and green satin, Christmas tree fronds, red glitter hearts and snowflakes and some peacocks…….can't stay too traditional. I asked the fabulous Proper Vintage to help me create a shoot to really show this off. They approached Nathalie of the stunning Arreton Manor to ask if we could use her house and grounds for it. At the same time she asked if it was possible to capture some winter shots for her promotional use with a more traditional wedding dress inside the manor."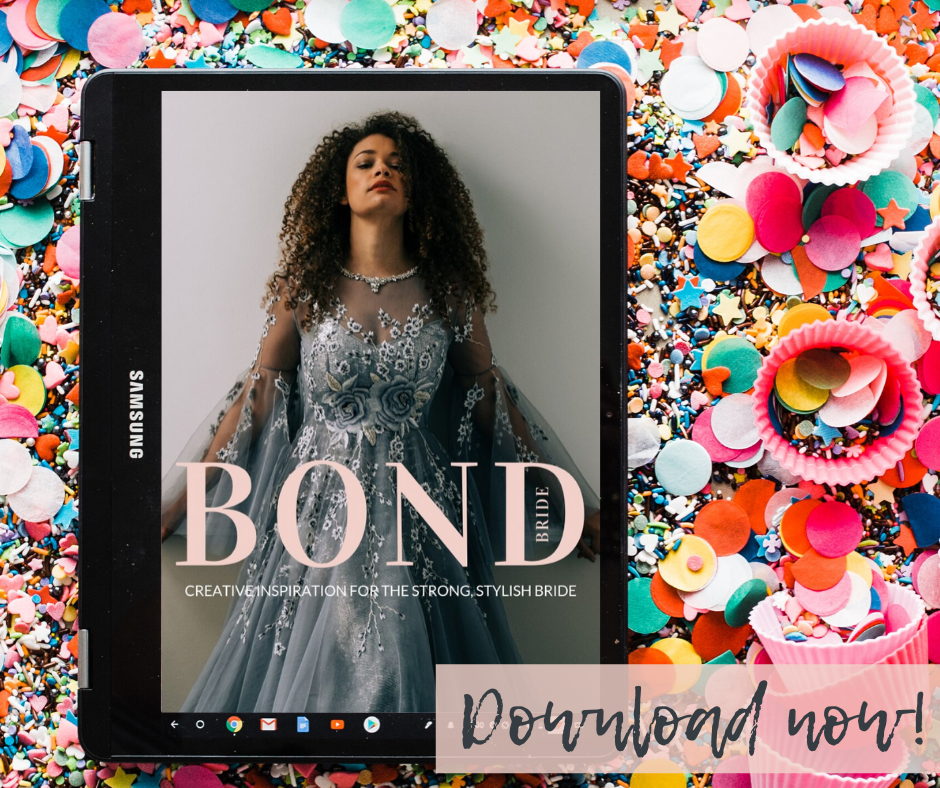 "This was the perfect opportunity to show another gown in this wonderful setting. I chose a dress that I haven't made, but is part of my current collection in The Dornellie Bridal Studio. Pale ivory with tulle overlays and a unique graphic lace under layer, plunge neckline, glass bead detailing and an added crystal belt for extra Xmas sparkle. On a chilly but bright Sunday afternoon we gathered to capture both dresses"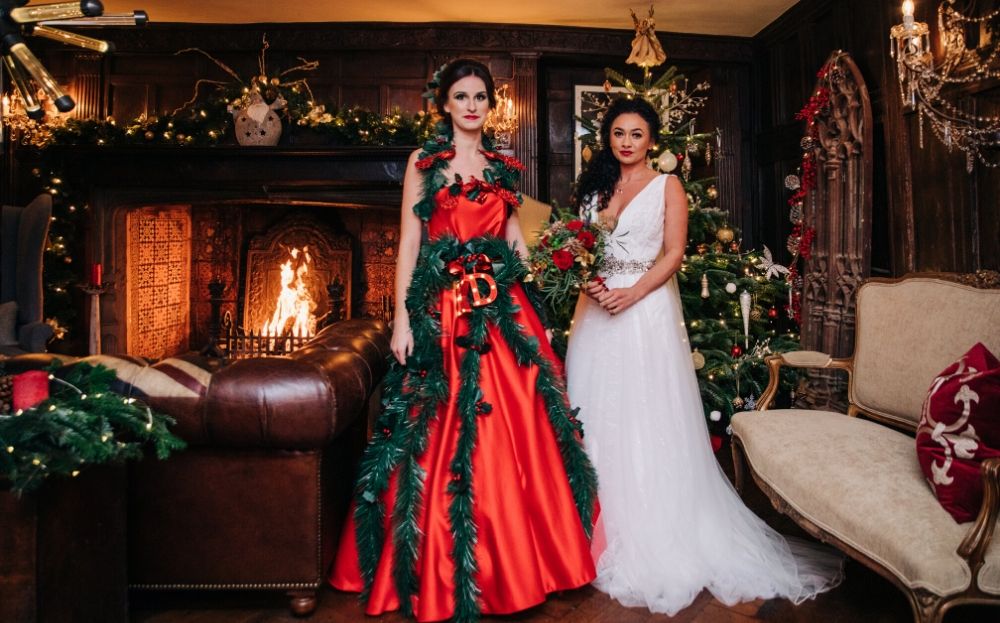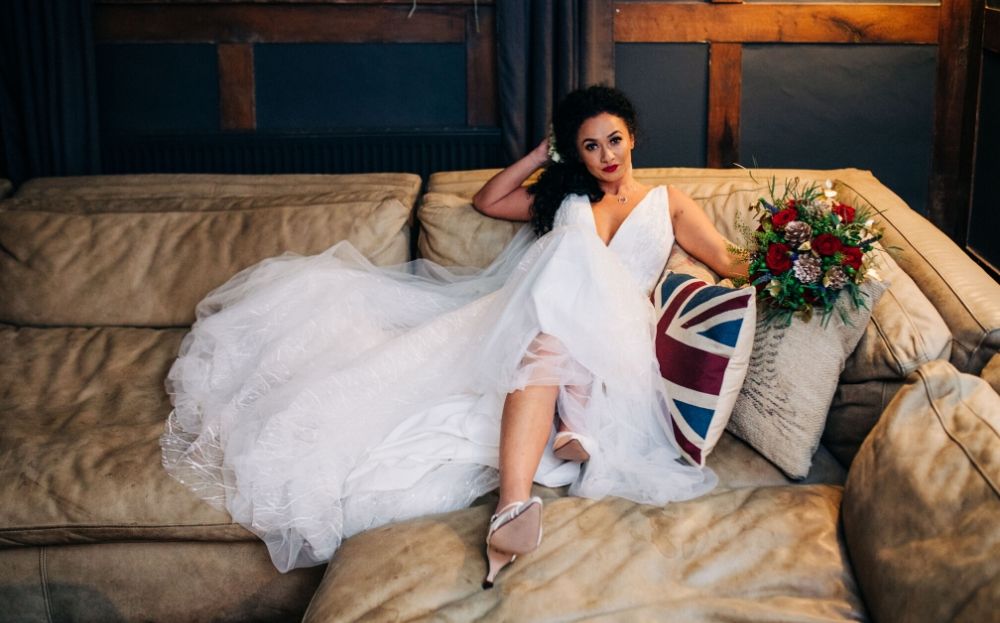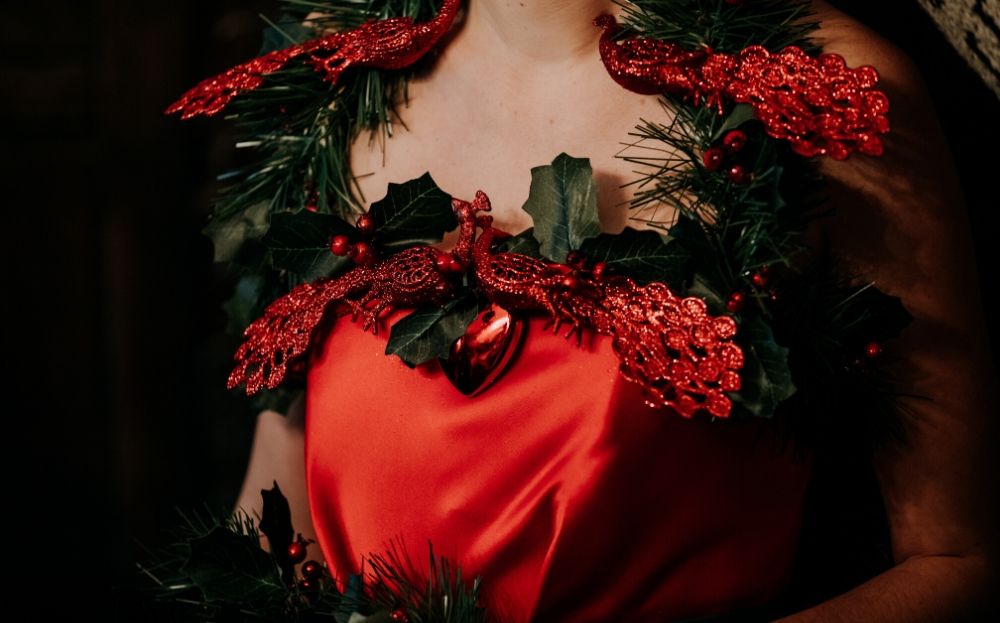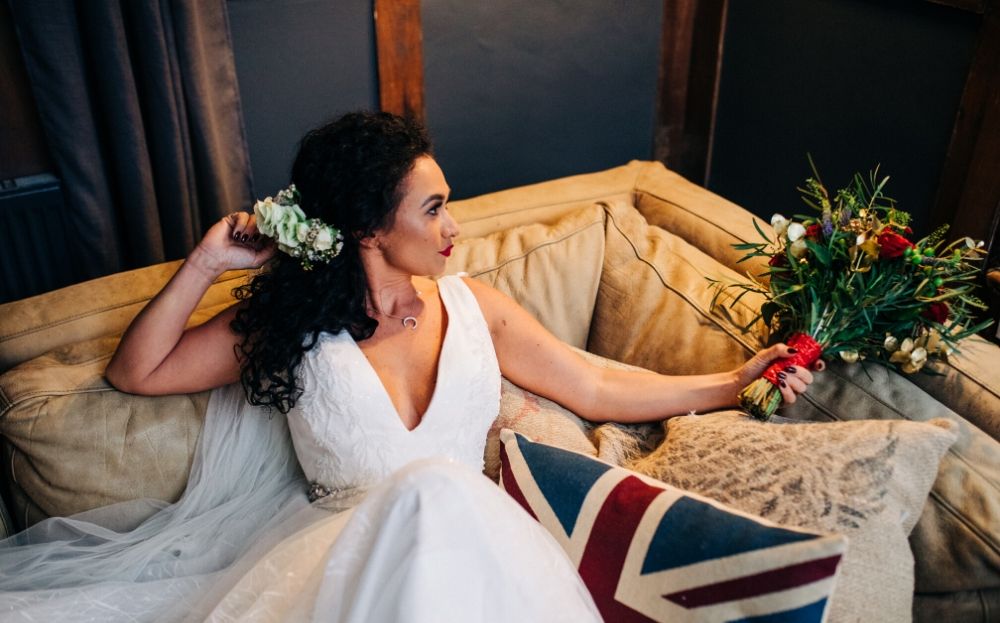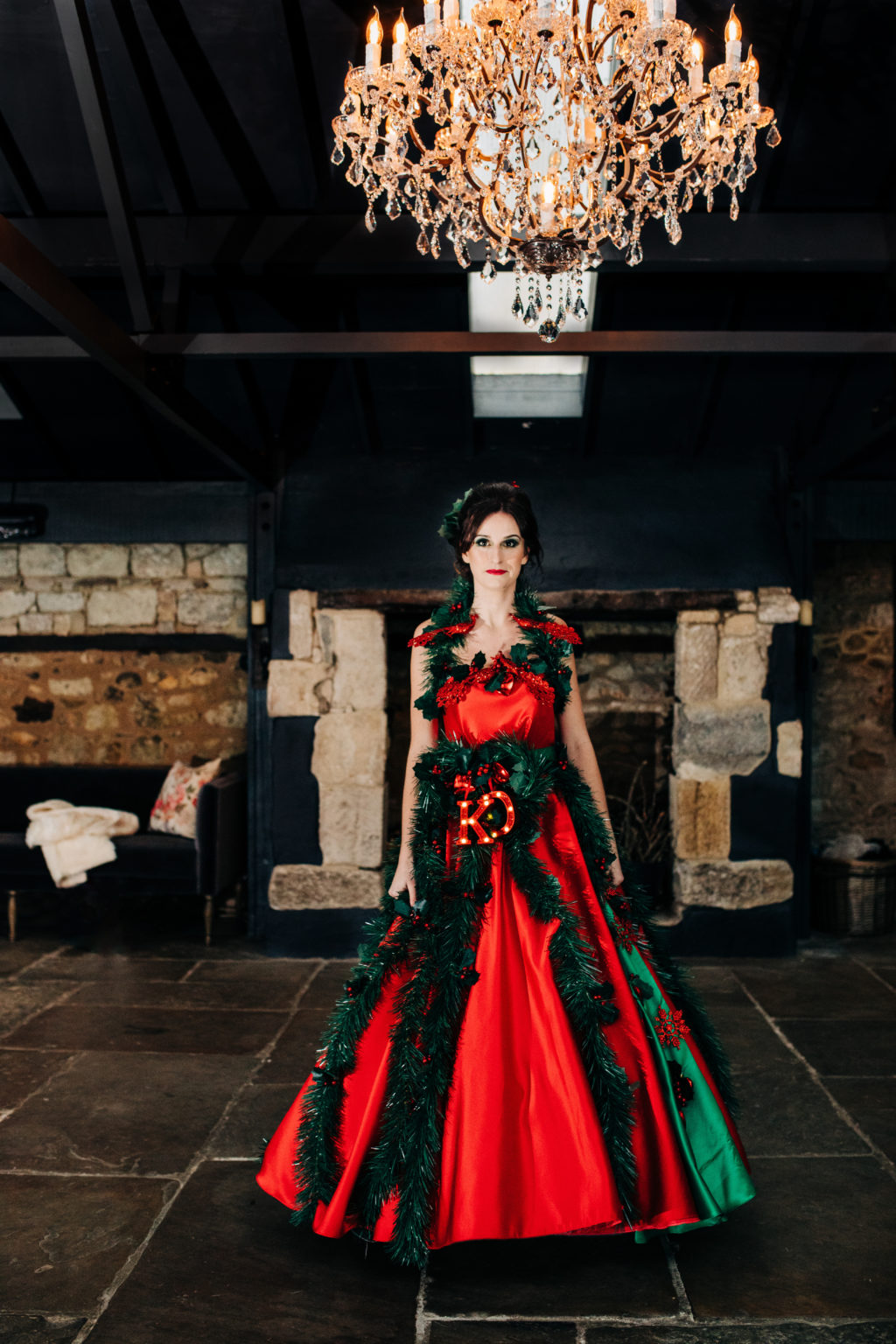 Stylist – Proper Vintage IOW
"Arreton Manor is nestled in down land within 4.5 acres of gardens. Dating back to 872 AD and even mentioned in the Domesday book, the Manor has been owned by at least 8 monarchs. Now a private residence this hidden gem offers a unique and exclusive location for weddings and events. With acres of gardens for a marquee wedding and it's own events room "The Terrace room" with a bar you really are spoilt with this stunning venue. The current owner invited Proper Vintage IOW for a visit to get to know the venue and see how they could help with future weddings and events."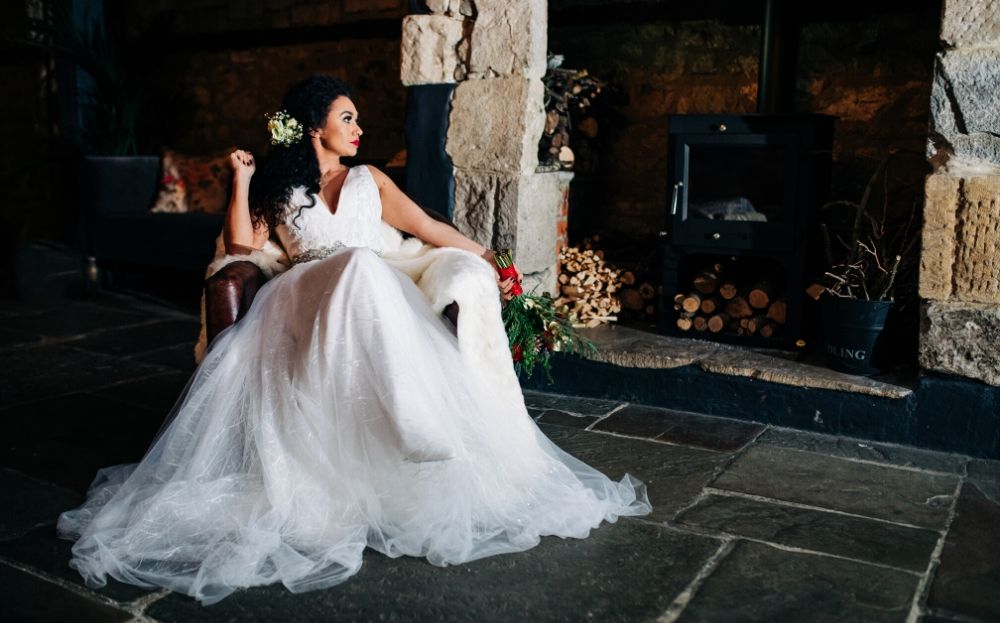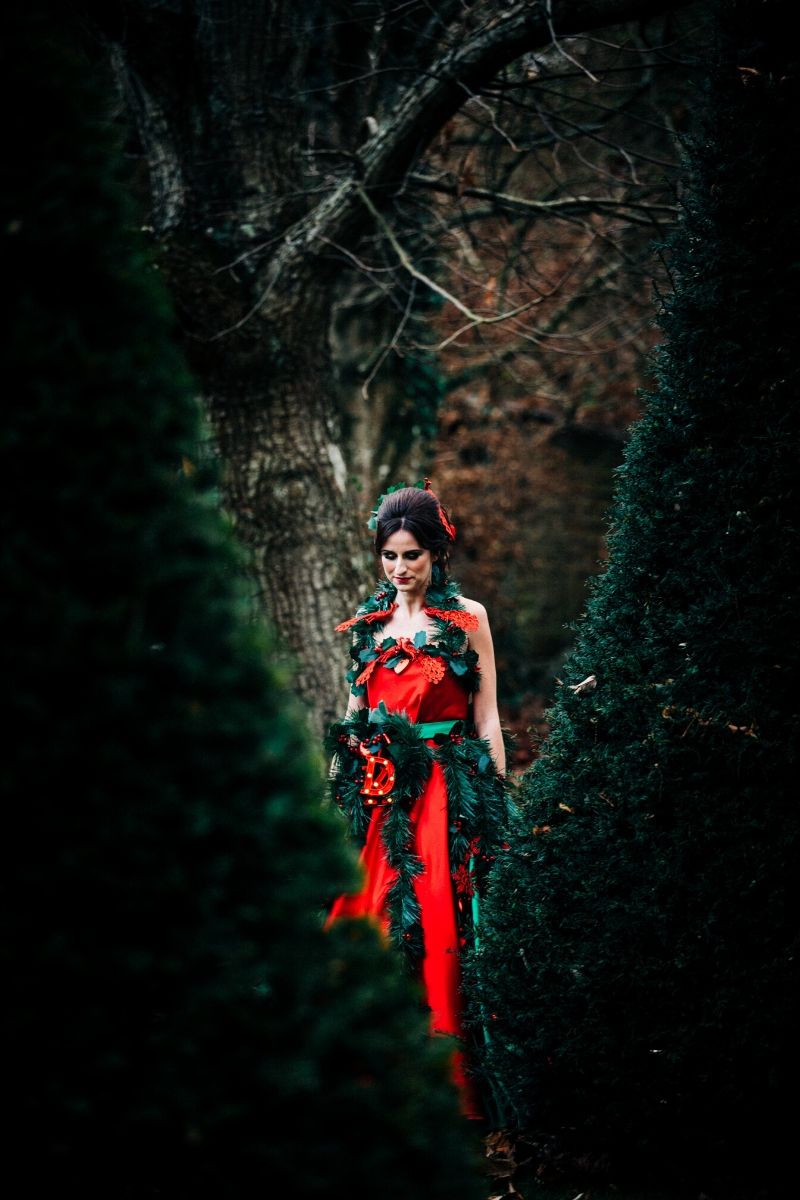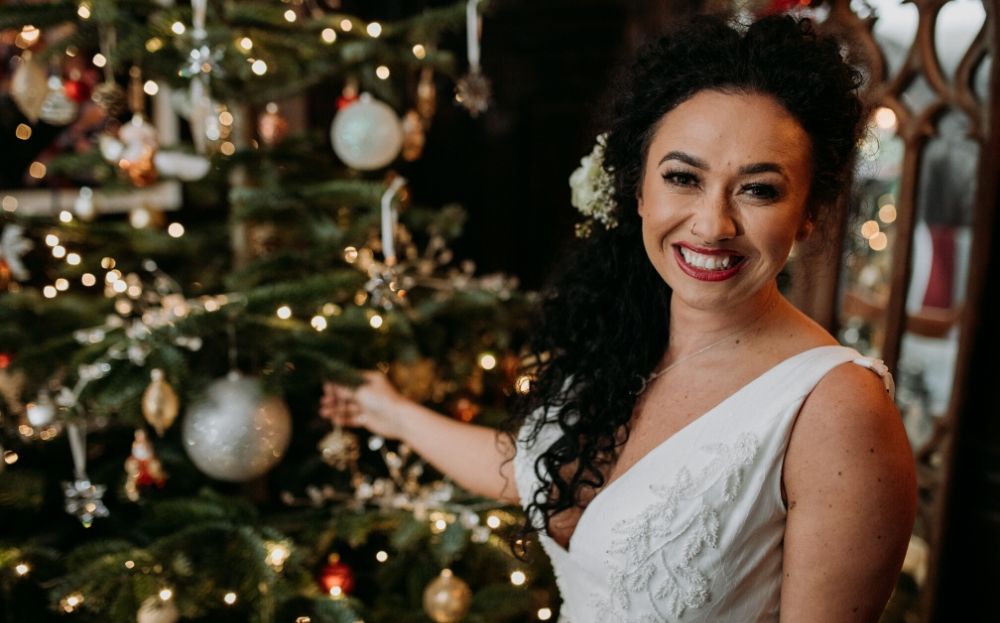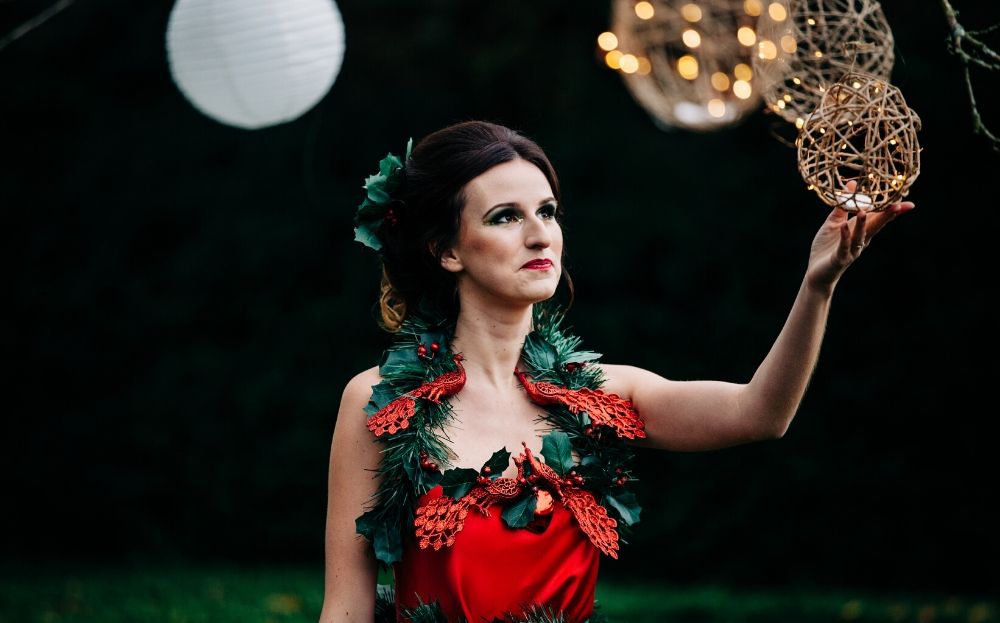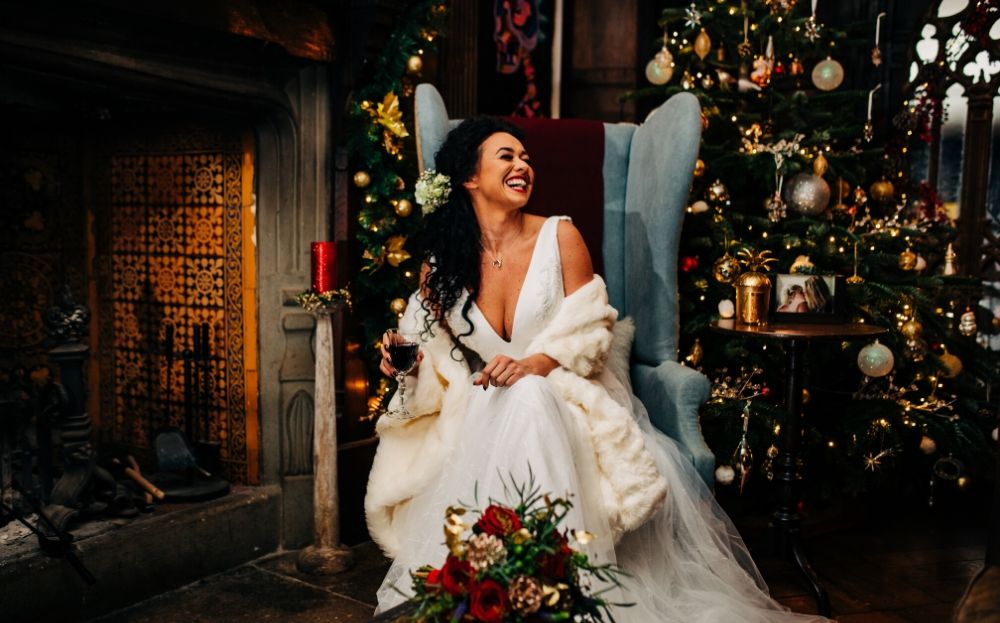 "Knowing the venue would be perfect to showcase a winter wedding, Proper Vintage called on Karen to provide another dress to show off. The venue and dresses were in place, styling ideas were sorted. Proper Vintage called in their trusted glam squad, the Style Sisters and SJ Jones Photography who they had been very eager to work with and the shoot was on. A glorious sunny but chilly December day greeted the team and the results were stunning."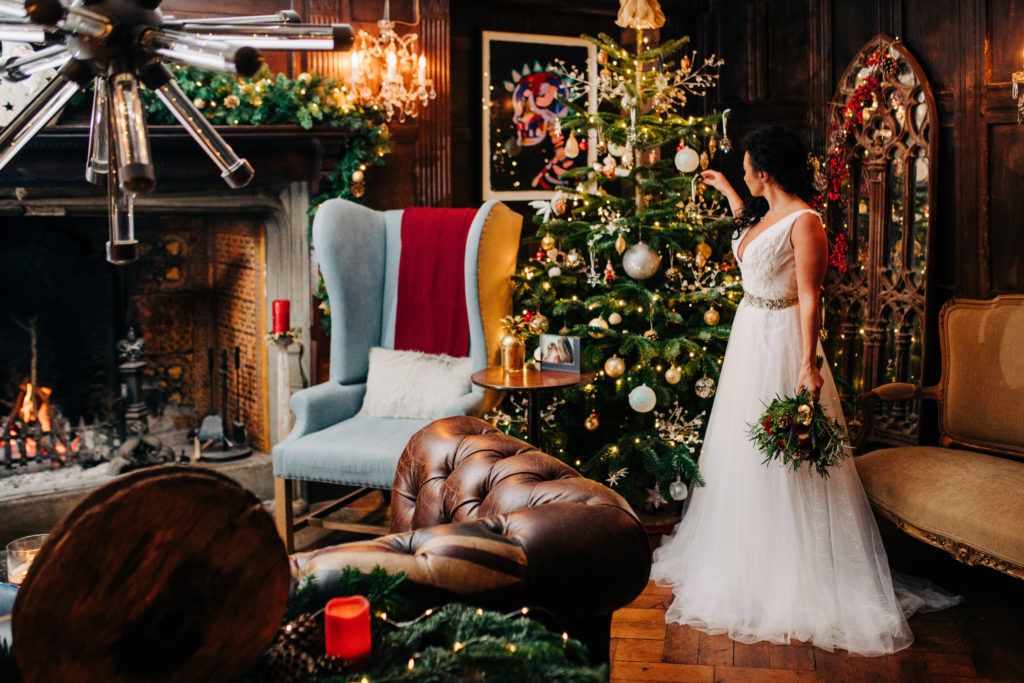 Hair and Make Up – Style Sisters
"For the Christmas dress we wanted to incorporate the decoration throughout the hair and makeup. We added a hair piece to be able to give that Rapunzel, princess vibe and twisted some ribbon throughout the plait to add colour. A decorative peacock was clipped on the side, along with some holly which pulled everything together. With the makeup, the eye shadow had to be matched to the colour scheme so greens and golds on the eyes along with some glitter for Christmas sparkle. We pulled the look together with some ruby red lips. BRIDAL – For the bridal look we wanted an elegant glam look. The hair was pinned to the side with a selection of fresh white and cream roses added to give a nice contrast to dark hair. The makeup was kept neutral on the eyes with browns and a light shimmer on the lid finished with wispy eyelashes. The skin was glowy and fresh with a subtle blush to the cheek. We finished the look with a red lipstick to tie in with the bouquet and Christmas surroundings."
\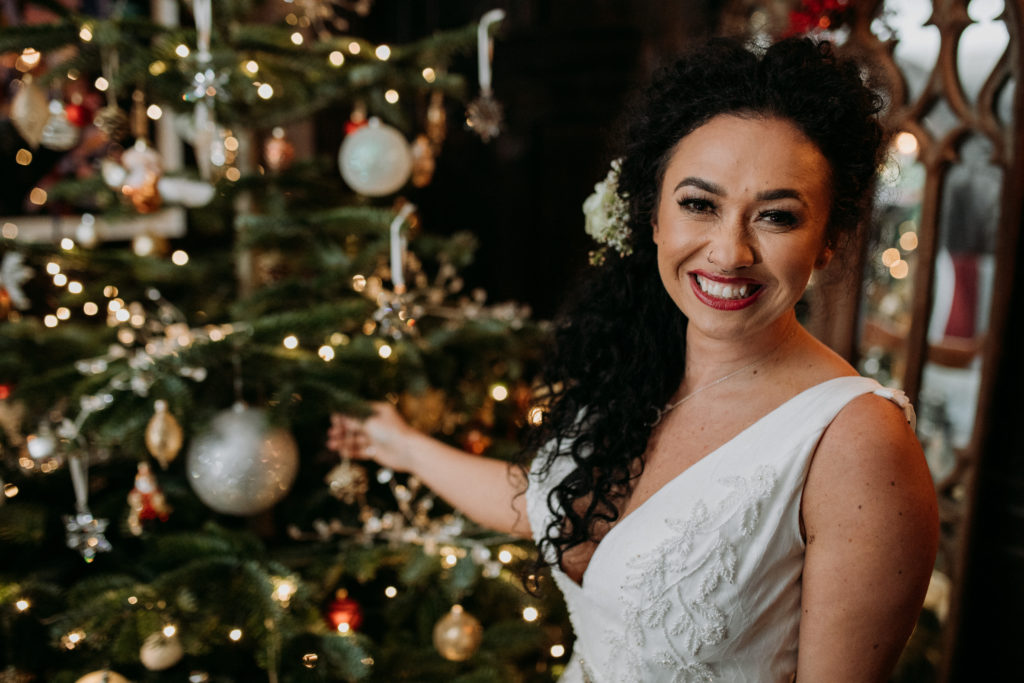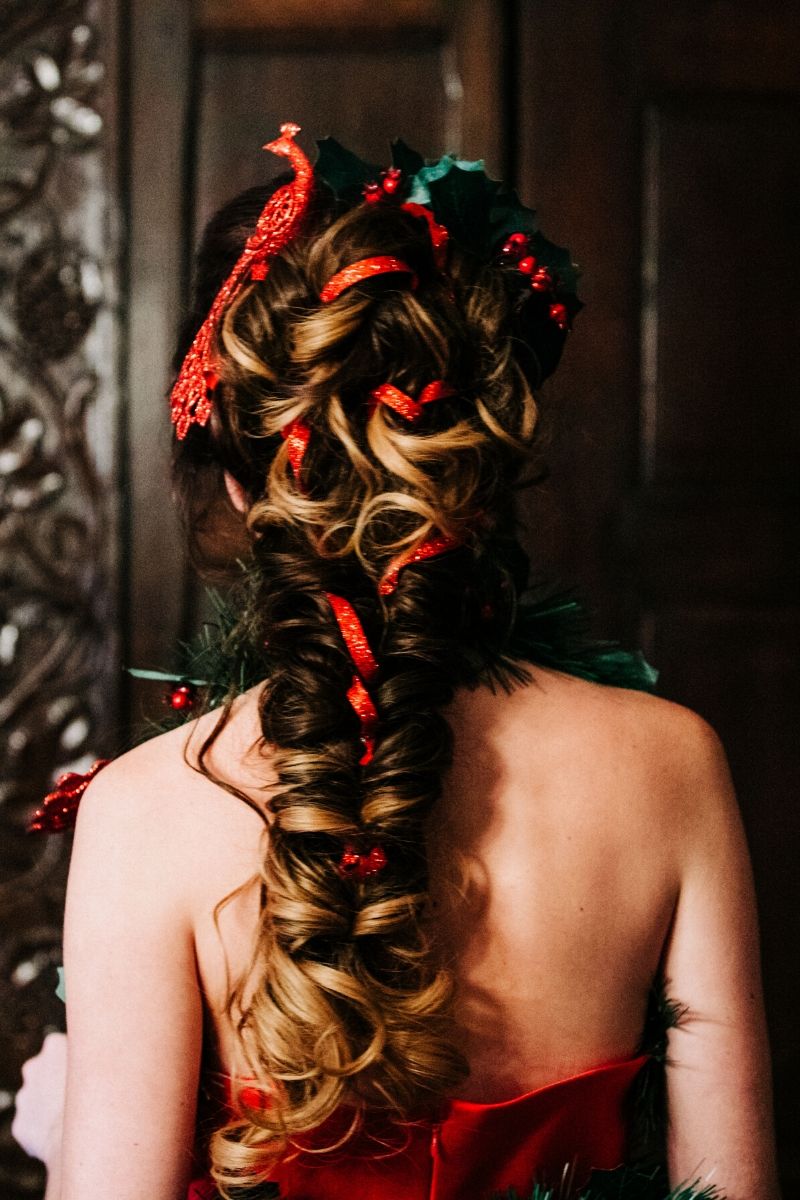 Flowers- J&K Floral Designs
"The Christmas bridal bouquet included gorgeous red Naomi roses, green Hypericum berries, purple Veronica and mixed foliage's. The gold eucalyptus and pine cones really made the bouquet scream Christmas and complemented the white dress perfectly"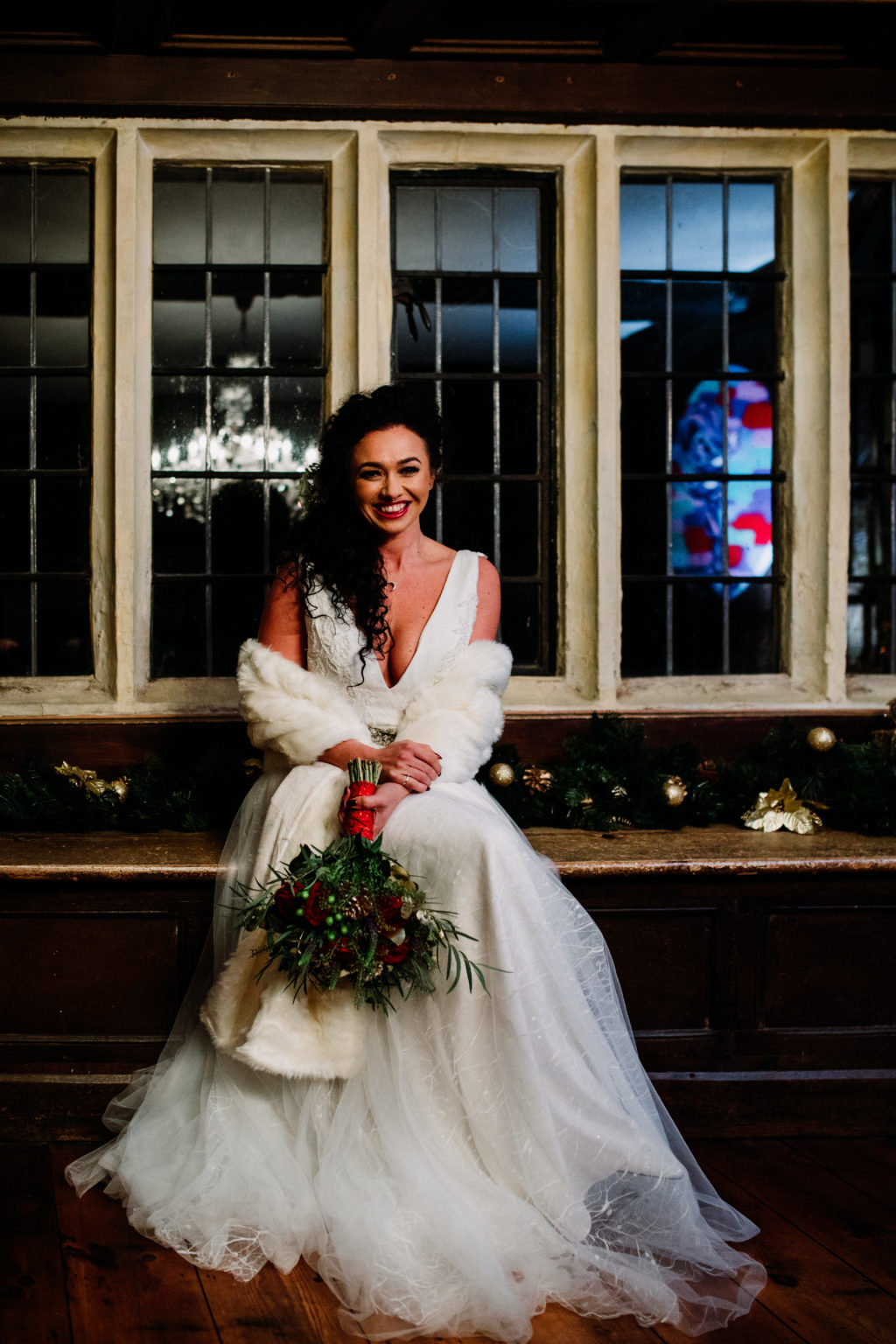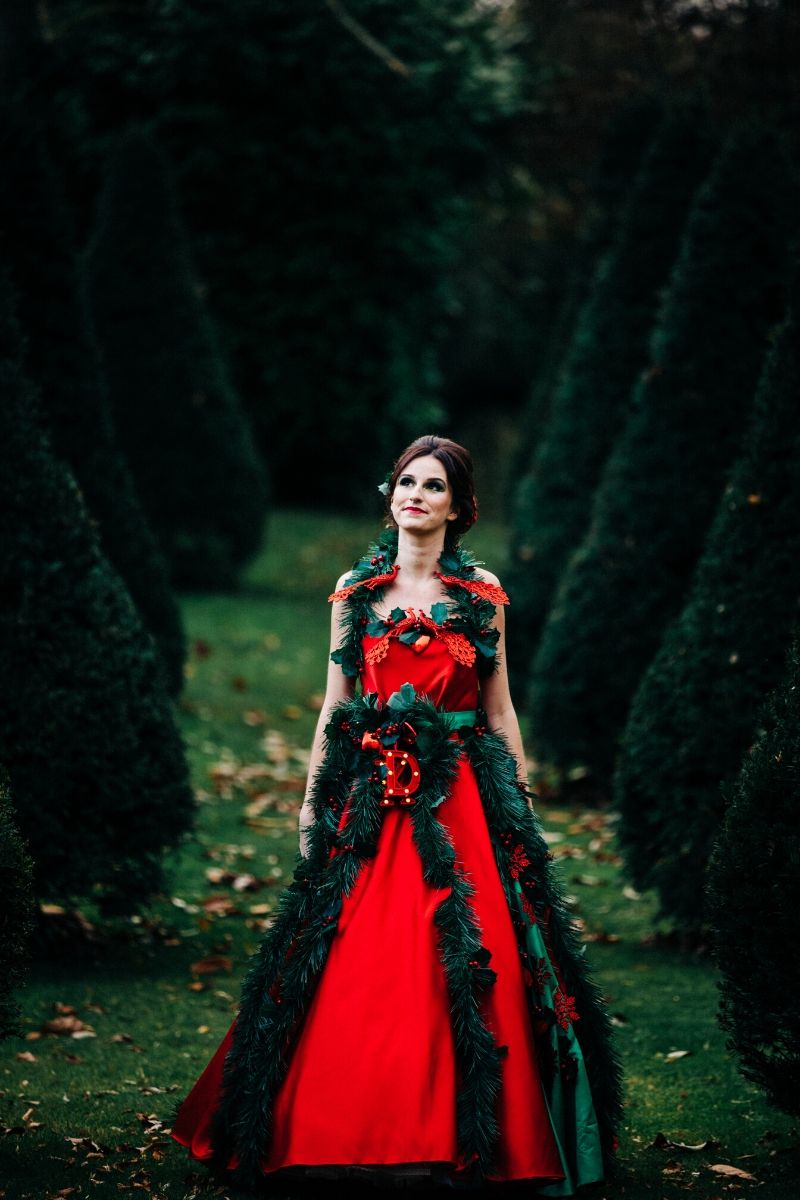 Photography – S J Jones Photography
"The main vision for the shoot was really down to the team at Proper Vintage and centered around Karen's beautiful dresses and the incredible historical location they had chosen, so will let them elaborate on the details. From a photography point of view I approached the session like I do any wedding. I am very much a documentary style photographer and prefer to capture real moments and emotion. For the red dress I looked for locations around the manor grounds that would really make the colours pop and create an interesting backdrop. I tried not to give Sophie too much direction to allow the session to flow quite organically, but for her to imagine a whimsical, Alice in Wonderland style setting, and she did a fantastic job."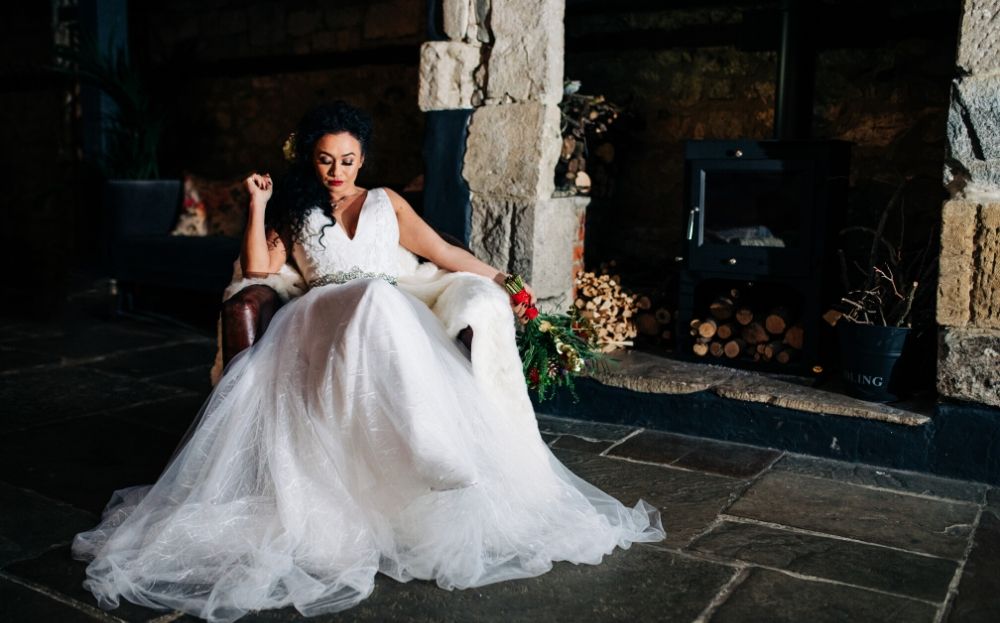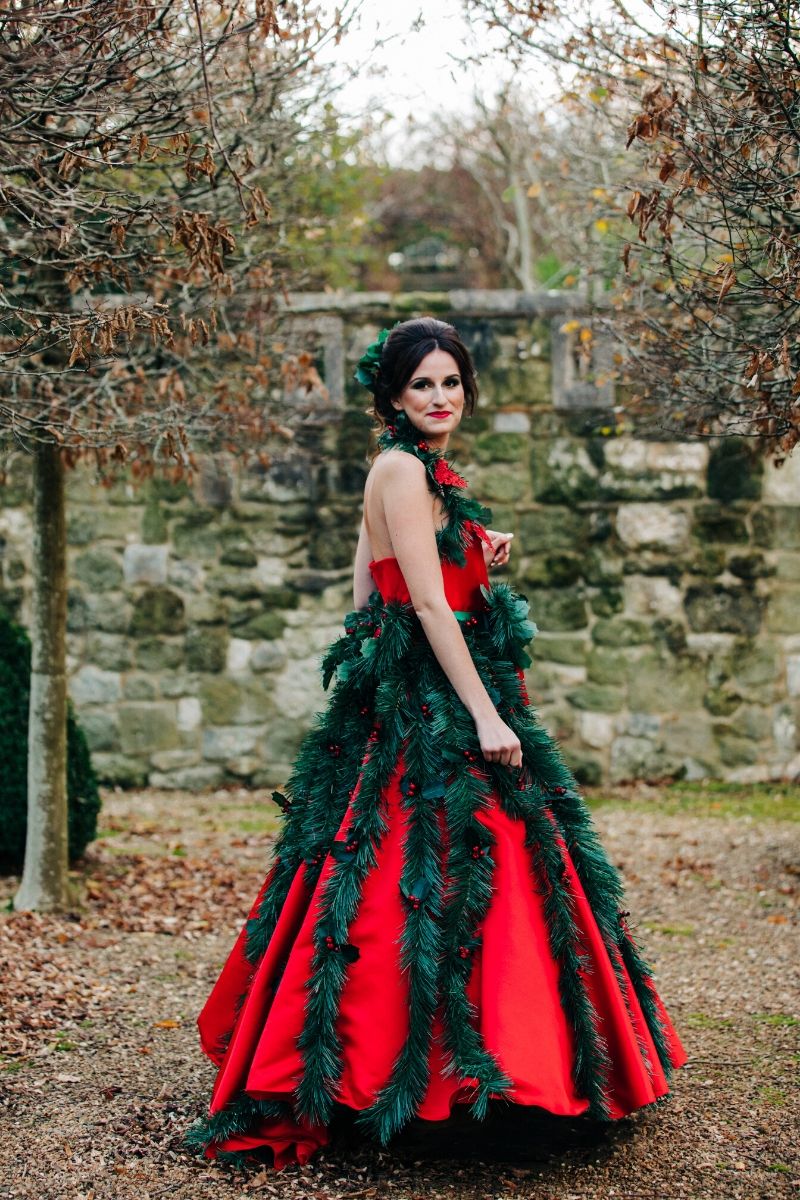 \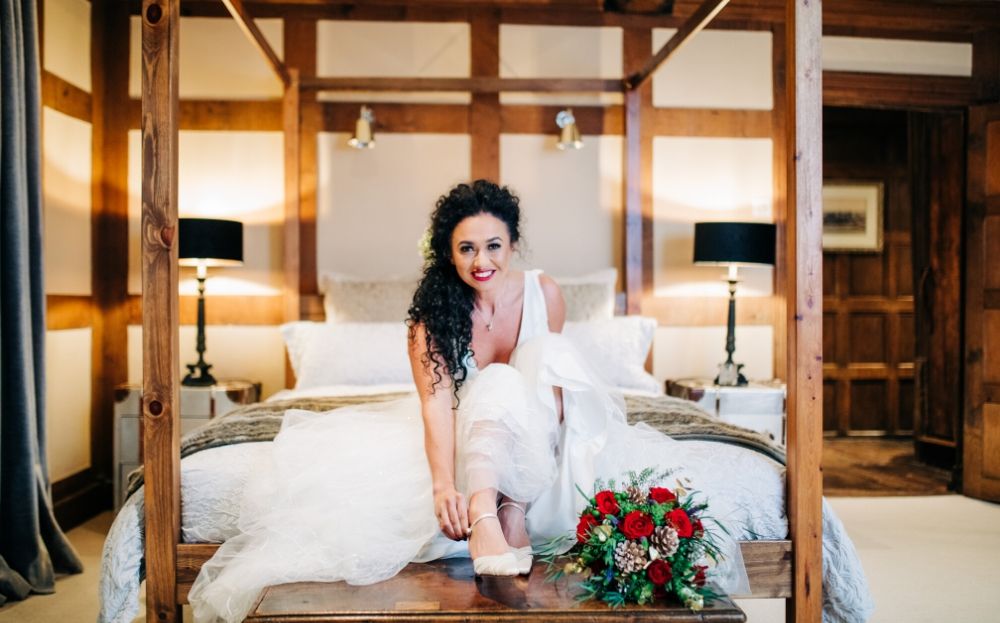 "With Cassie and the white dress I wanted to create something timeless and classic that had a vintage feel but a bit of a contemporary twist to it. Showcasing the different rooms of the manor & the design pieces and artwork within really helped to accomplish this. Technically shooting indoors and during the winter is always a challenge. But I used off camera flash and blended it with ambient light to create some romantic, contrast and dramatic images. All of my photos are taken using the Canon 5d mkIV, which has incredible low light capabilities and is fantastic at capturing the detail in these difficult situations. When I take on a styled shoot, I make sure to use the same techniques and equipment available to me at an actual wedding, so that what couples see in these images can also be achieved on their day."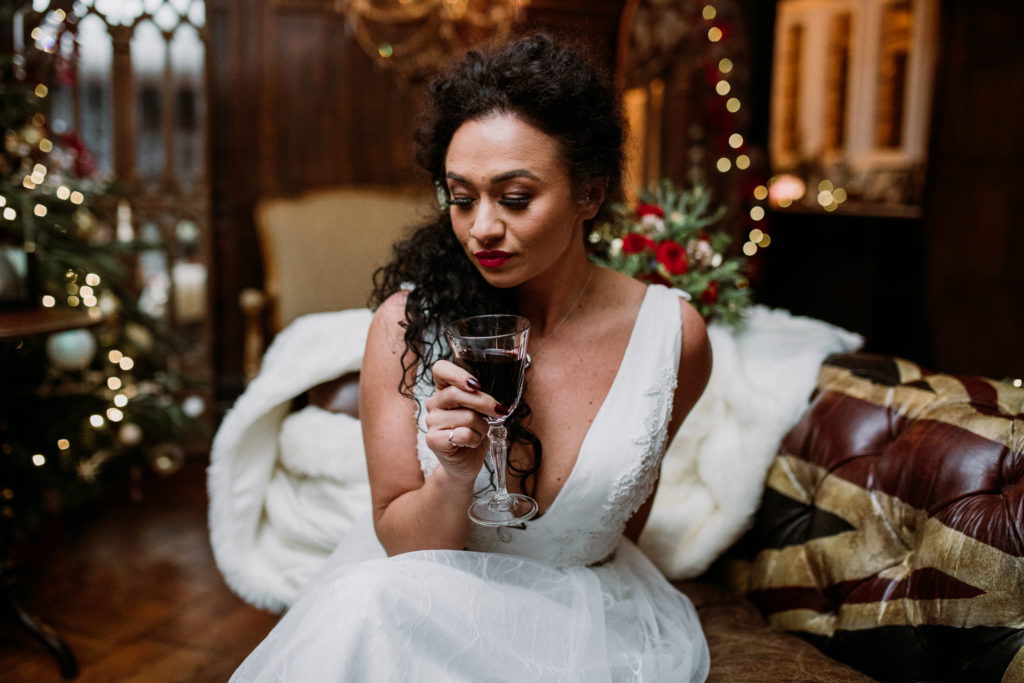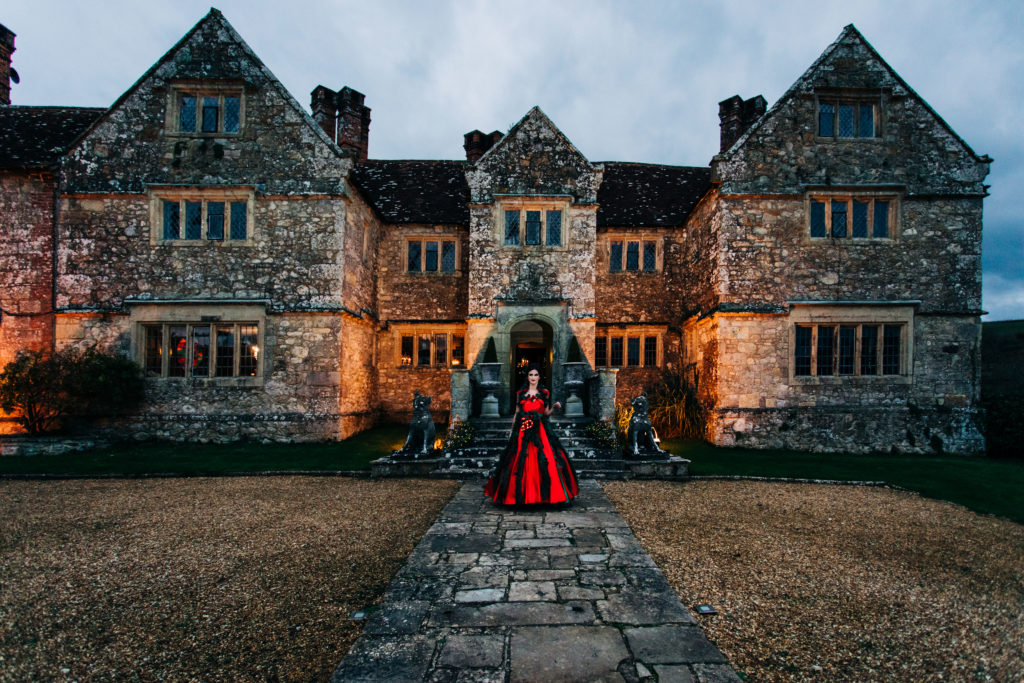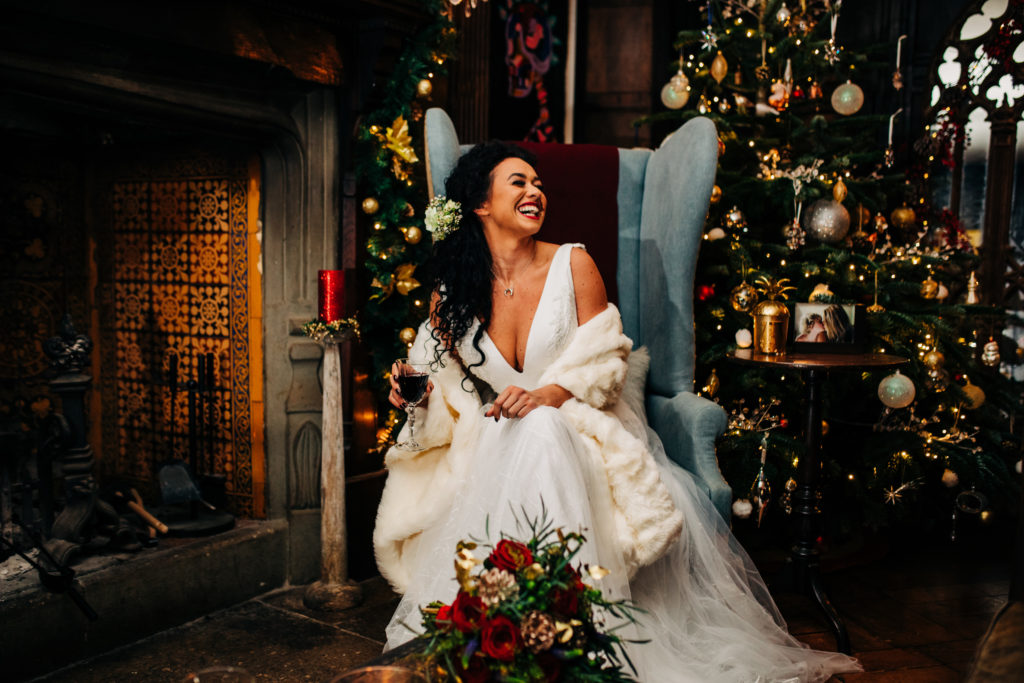 The Team – True Christmas Wedding Inspiration at Arreton Manor, Isle of Wight
IF YOU LOVED THIS LOOK PLEASE PIN IT!