How many of you are stuck when it comes to bridesmaid gifts? We hear you, there's so much choice out there sometimes it's hard to find the perfect gift for your tribe. Whether your bridal party is big or small it's always nice to acknowledge your bridal party on the lead up to, and on, your big day. It doesn't have to be an extravagant gift, as we all know it's the little things that count; give her something something fun, something useful, or something she will cherish for years to come. We've rounded up our top ten bridesmaid gifts to surprise her with…
(This posts contains affiliate links – see our Disclaimer for more details)
Retro Style Pins
Whether you use for the hen do or the wedding morning we love these retro style pins, after all if you're part of the bridal party you want to have a title and these are perfect for doing just that, they're fun, stylish and perfect for the whole of your crew!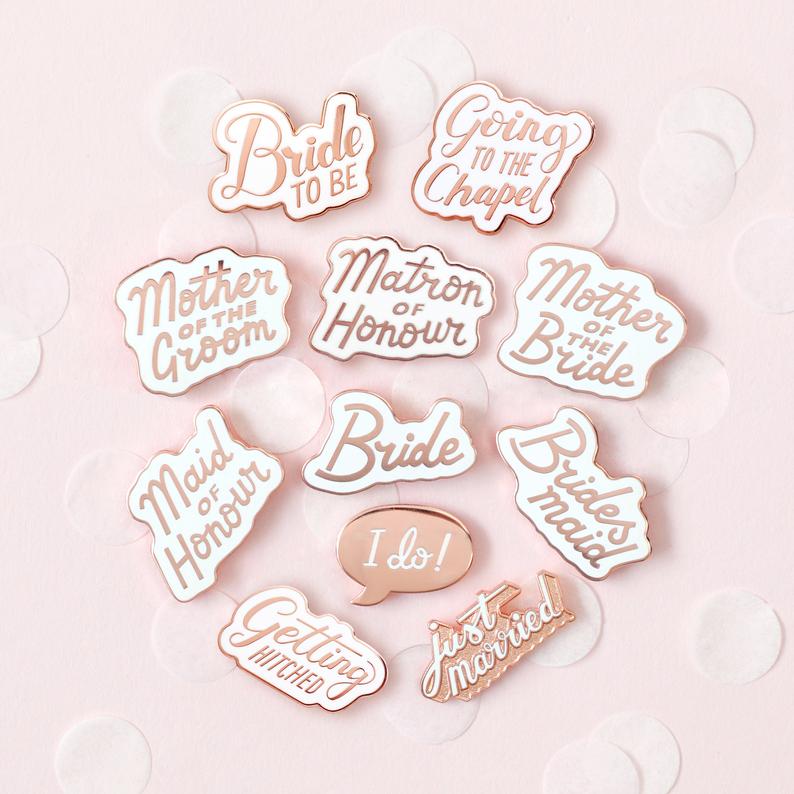 Gift Sets
If you're looking for something a bit more luxurious these beautiful gift sets are for you. Full of useful personalised items, pamper sets for the morning of the wedding and jewellery they cover it all when it comes to treating your bridesmaids. We especially love the personalised beach hat, perfect for a summer wedding, wedding abroad, or for a hen do.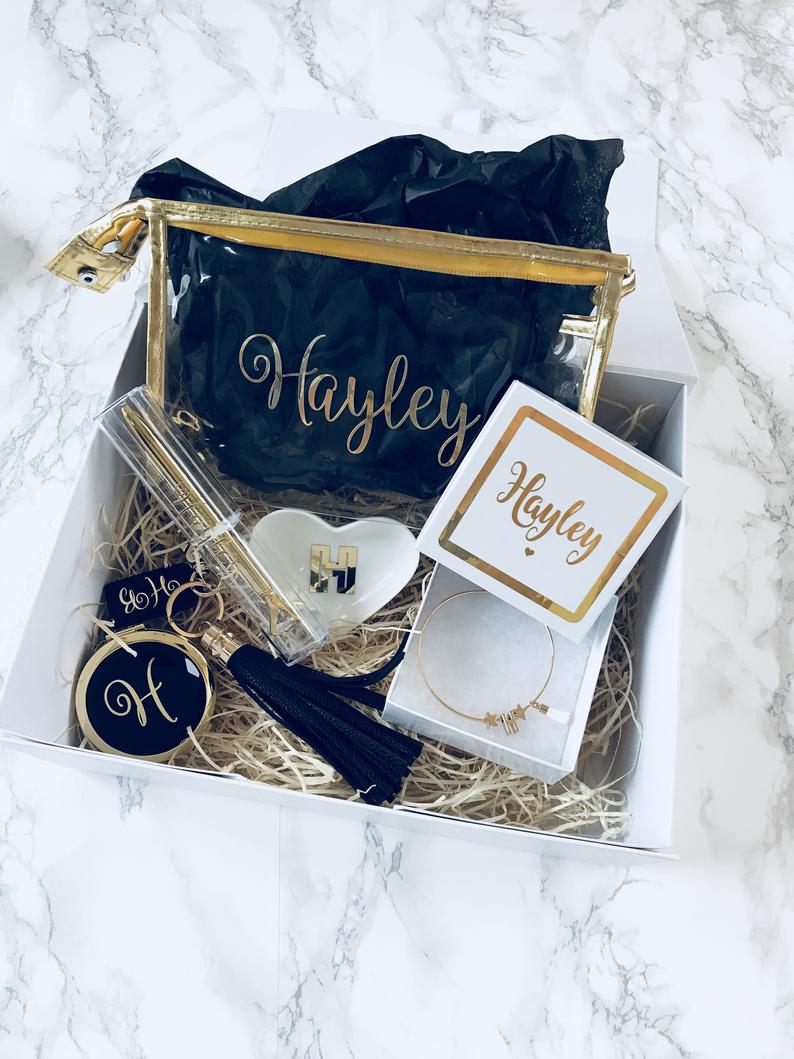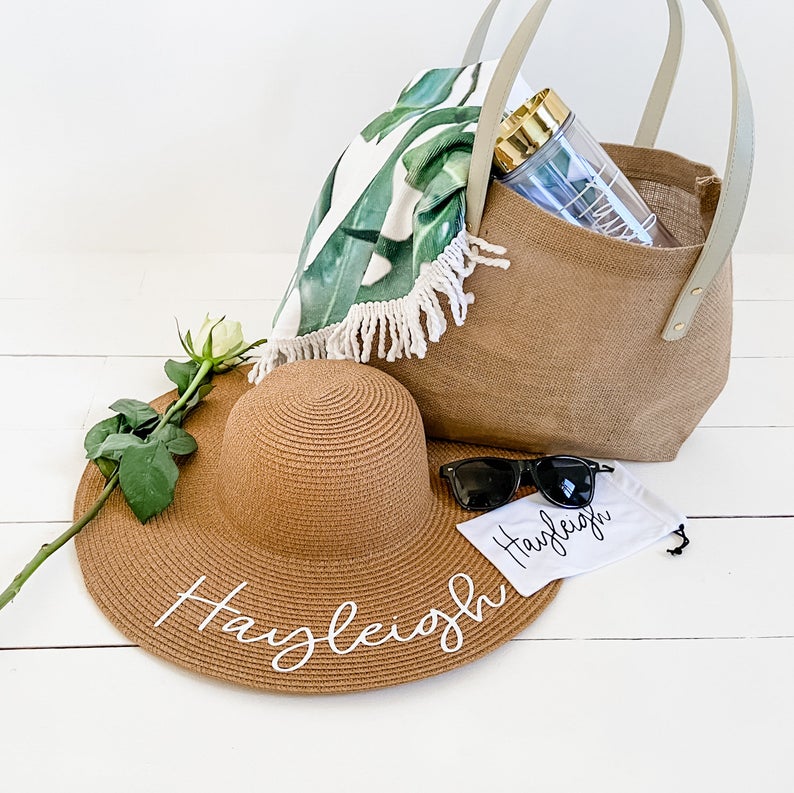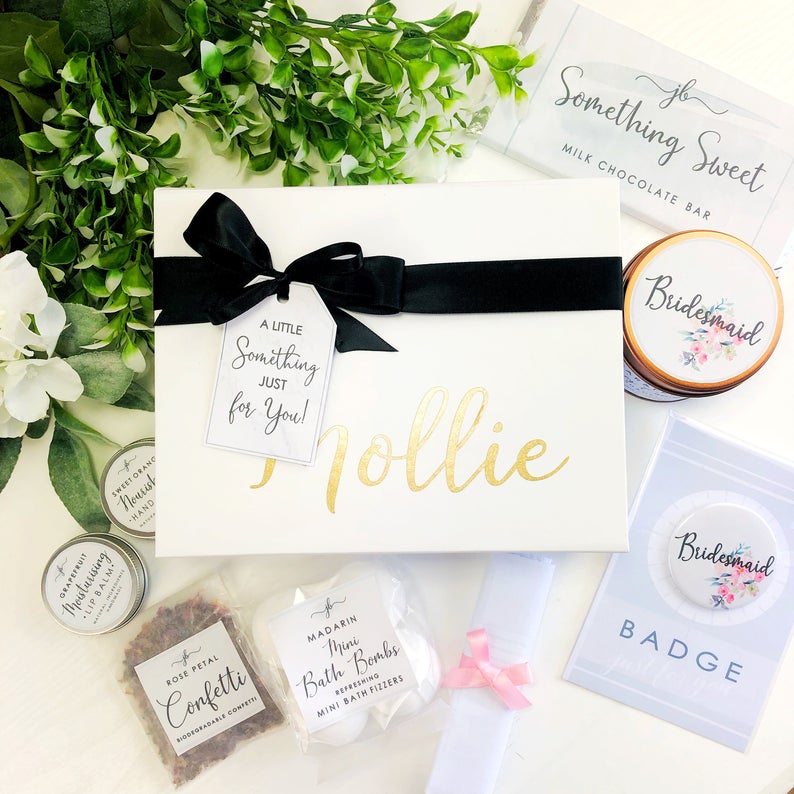 Personalised Leather Pouches
Chic and stylish, these leather pouches with your bridesmaids names on are a great gift, they can be used as matching bags for on the wedding day, and they're perfect for after the wedding to use as a clutch bag or make up pouch.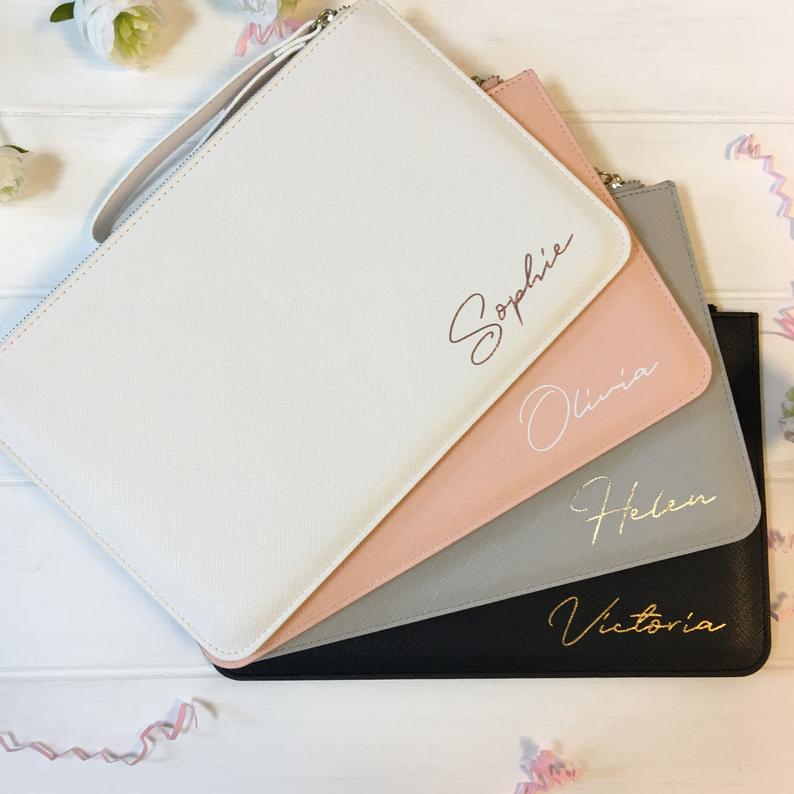 Slogan Tees
If traditional, personalised trinket boxes and delicate necklaces aren't your bridesmaid's vibe; don't stress! There's options that will suit all personalities and characters.Slogan tees, the versatile gift and you can find a print or slogan that matches your bridal party perfectly, rock n roll gals, no nonsense tribe or friends obsessed, they're perfect for the morning of the wedding!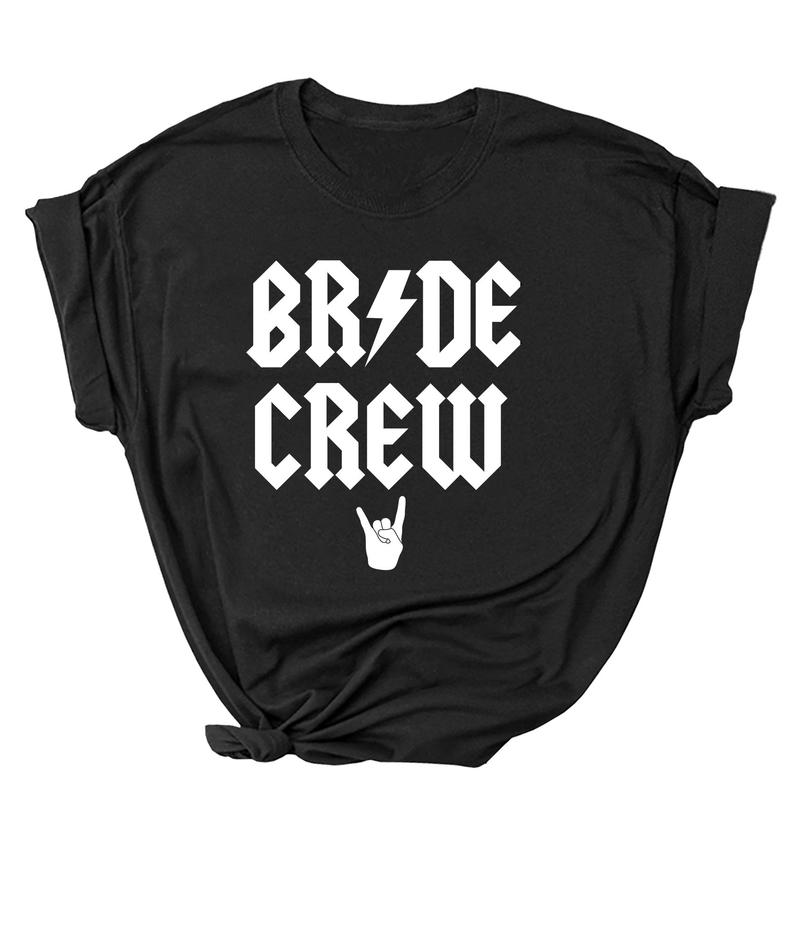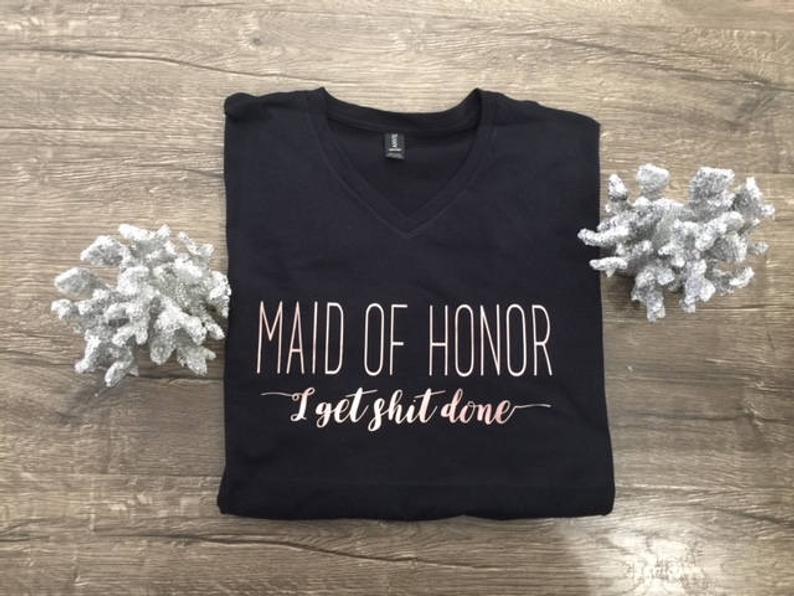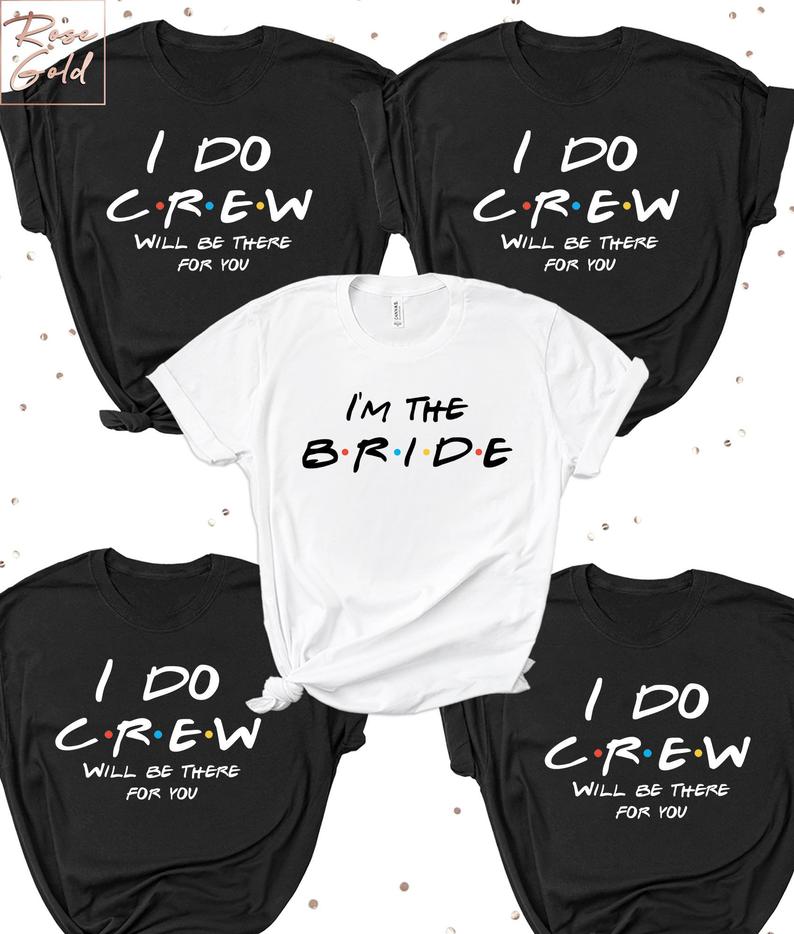 Bridesmaid Dressing Gown
A little bit of luxury for the morning of the wedding, these silk dressing gowns will make sure your style game is on point! They come in a variety of colours meaning you can match your theme or mix it up with a different colour for everyone!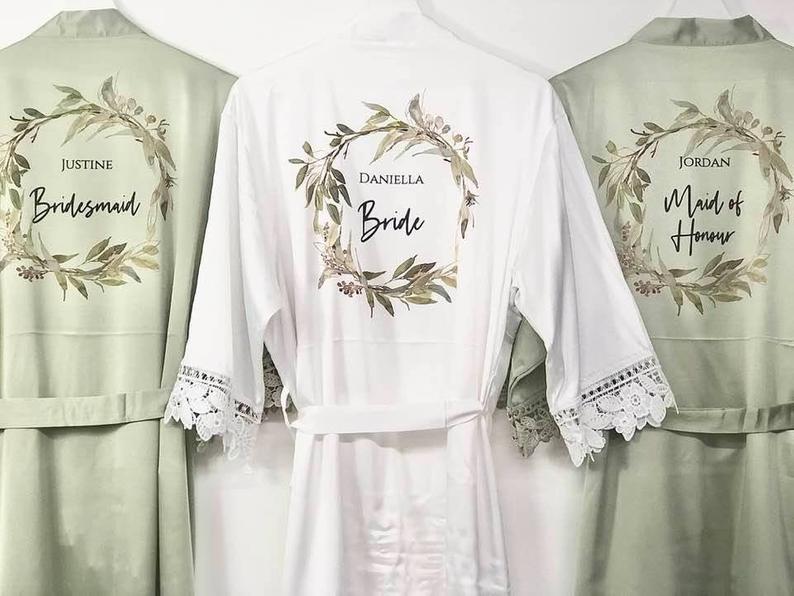 Personalised Totes
A useful gift that your bridesmaids will love you for! Perfect for separating all your bridesmaid essentials for the big day, and can be hung over bridesmaids dresses so they don't get mixed up. Who doesn't love a personalised tote bag when it comes to real life activities, and of course as they're reusable, they are Eco friendly too… win win!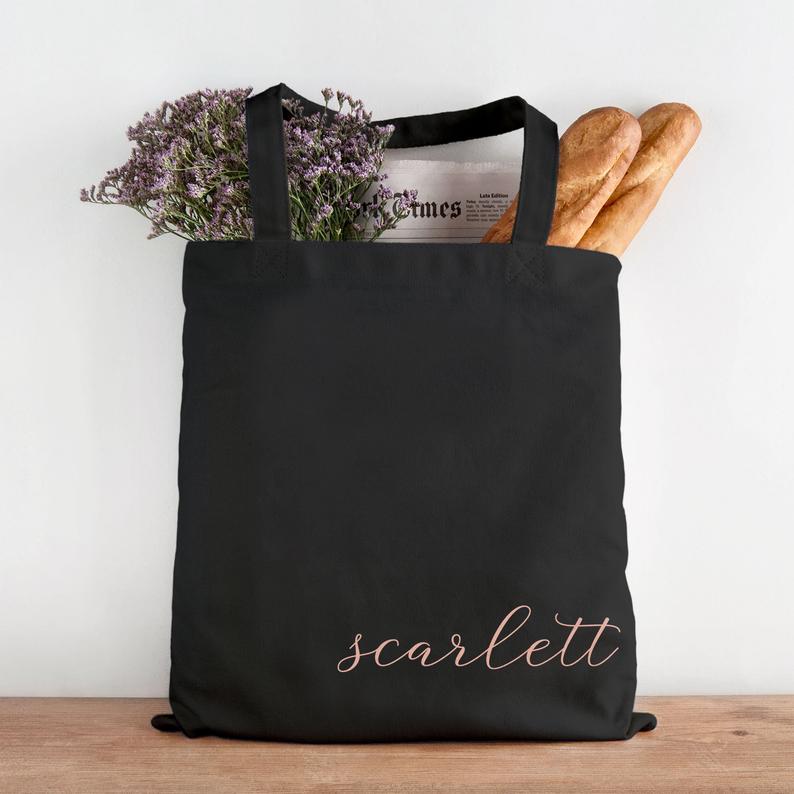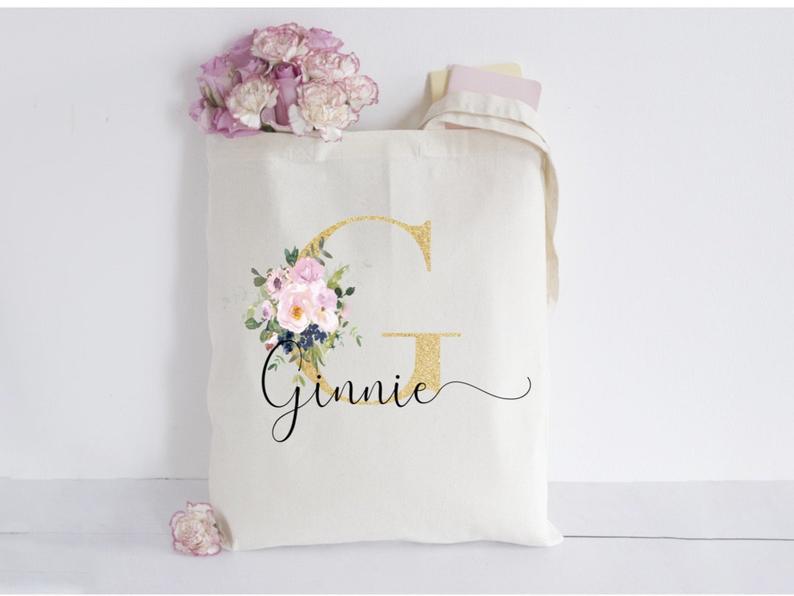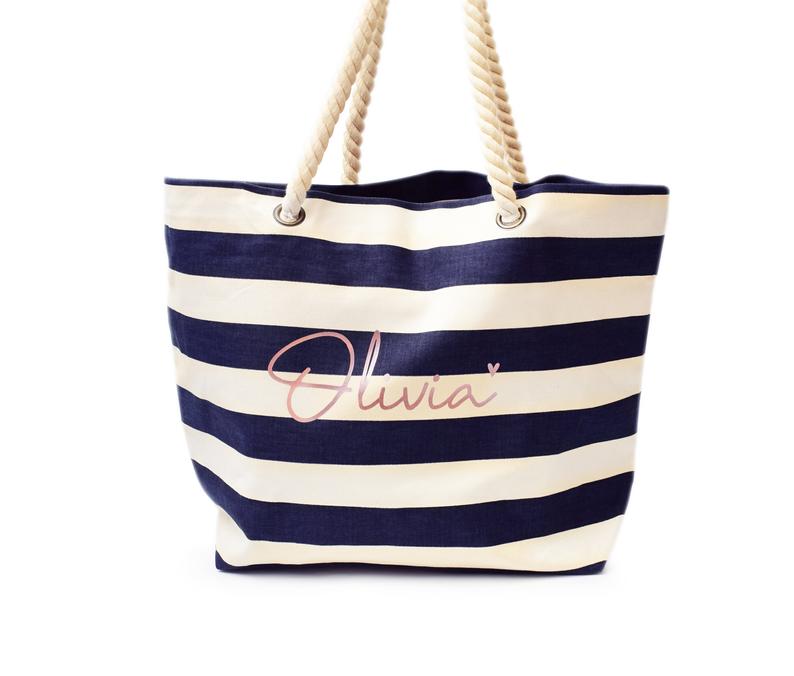 Cami Set
What better way to start the wedding morning than handing your bridesmaids a super chic cami set to wear! We love this one by Bespoke by Jade, get it personalised with each of your bridesmaids initials, and it comes in a range of colours too!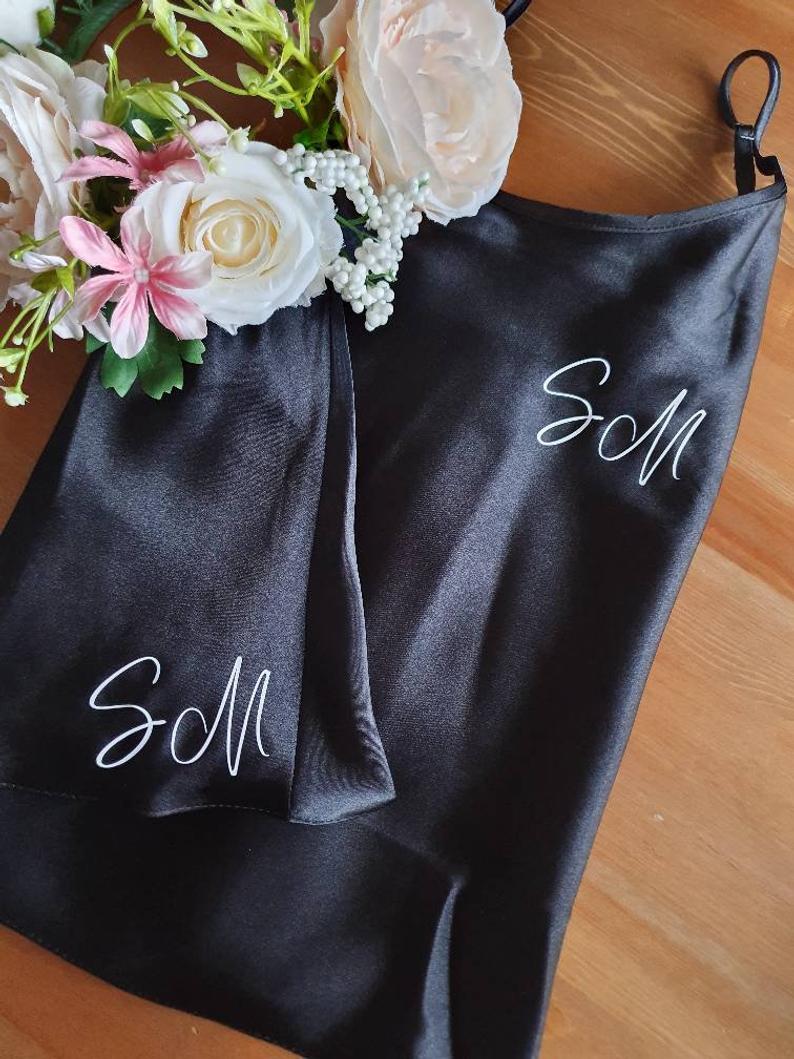 Create Your Own Hampers
Perfect if you can't find a hamper that's right for your bridal party. These beautiful name boxes by Amy Lucy Designs are great for creating your own, they come in a variety of sizes and colours for your personalisation, fill it with candles, chocolate, personalised gifts and a hand written note… the perfect gift unique to them.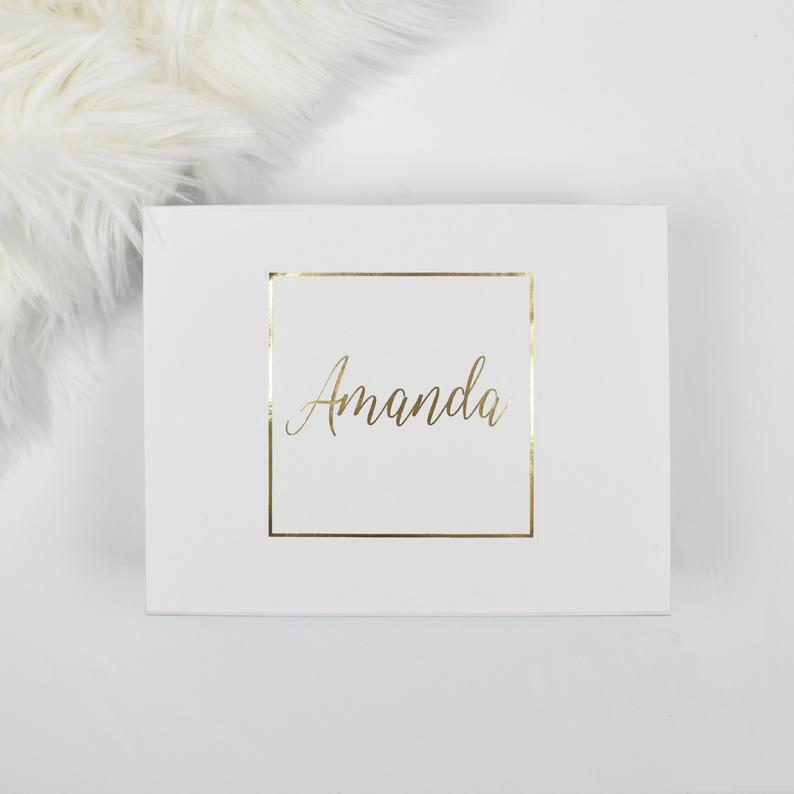 Name Necklace
Channel your inner Carrie and Sex and The City vibes with a personalised name necklace, these can be worn on the big day and are a gift your bridesmaids can cherish as a reminder of your big day! We love this one by My Custom Gift.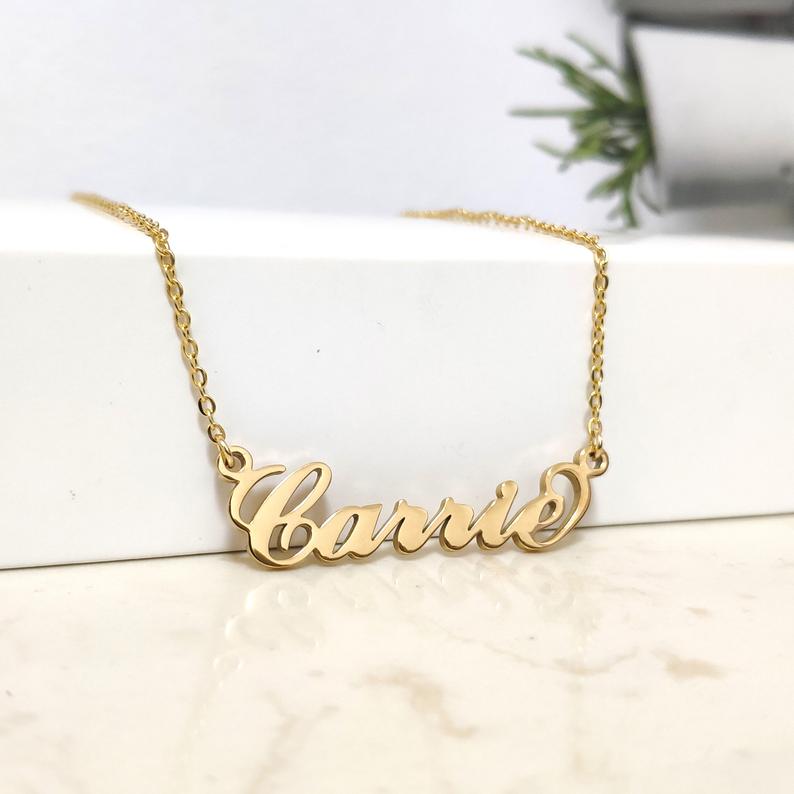 Candles and Confectionery
If your looking for something small, or things to fill your bridesmaid hamper with then candles and confectionery are perfect. We absolutely love these mini soy candles, this personalised sweet filled chocolate bar and this luxury handmade fudge, the perfect little treats for your maids.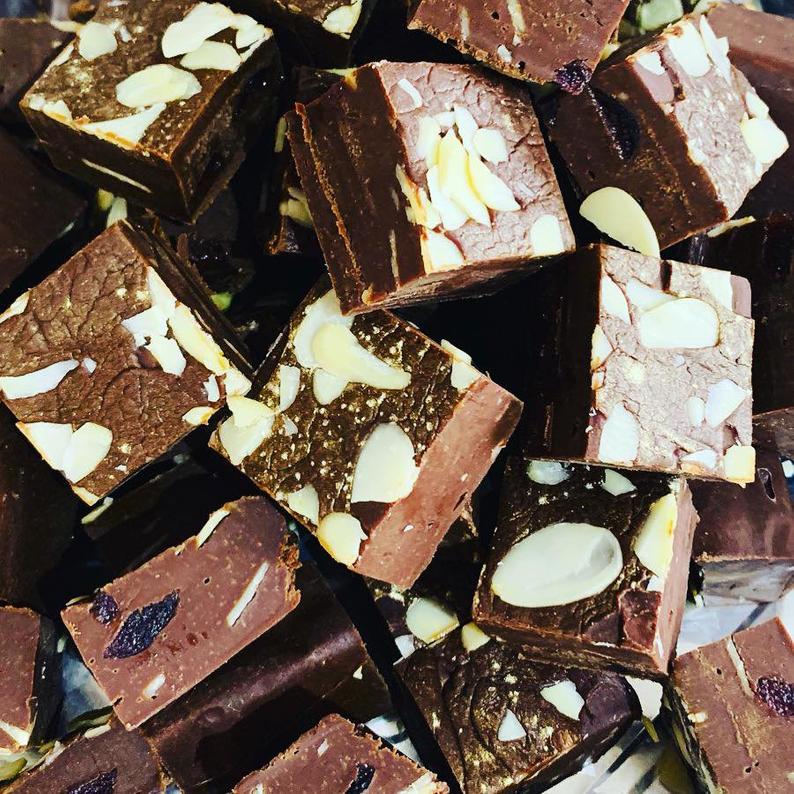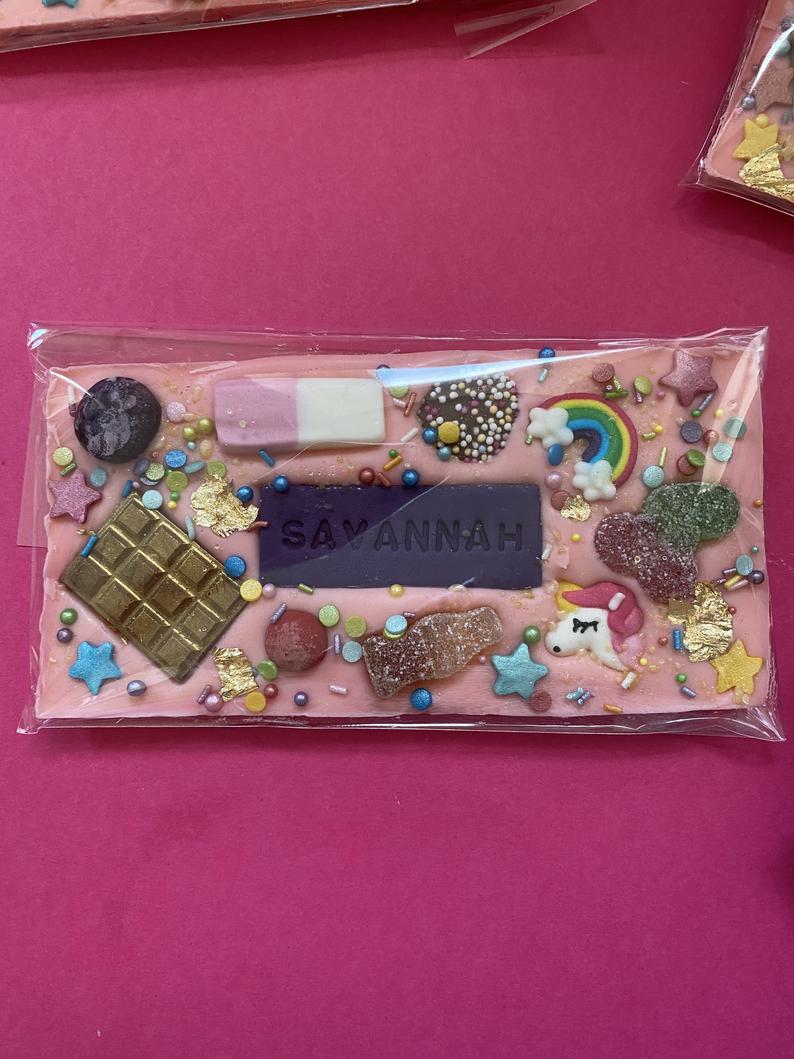 If you're looking for more gifts for her check out the Etsy handy gift guide for her or if your looking for more bridal party gift ideas you may also like
Father of the Bride – Our Top Ten Picks For You Wedding Day
Mother of the Bride – Our Top Ten Picks For Your Wedding Day
5 Reasons Why You Need An Online Wedding Gift List- Expert Advice with Zankyou Weddings