Selecting the perfect wedding ring is one of the most important decisions for any bride. Wedding rings symbolise eternal love and commitment while serving as a daily reminder of the special bond shared with one's partner. With countless options to choose from, finding the perfect wedding ring can be overwhelming. If you require urgent help, we have a selection of tips below for you as the bride that can assist in your quest and ensure you find your dream wedding ring.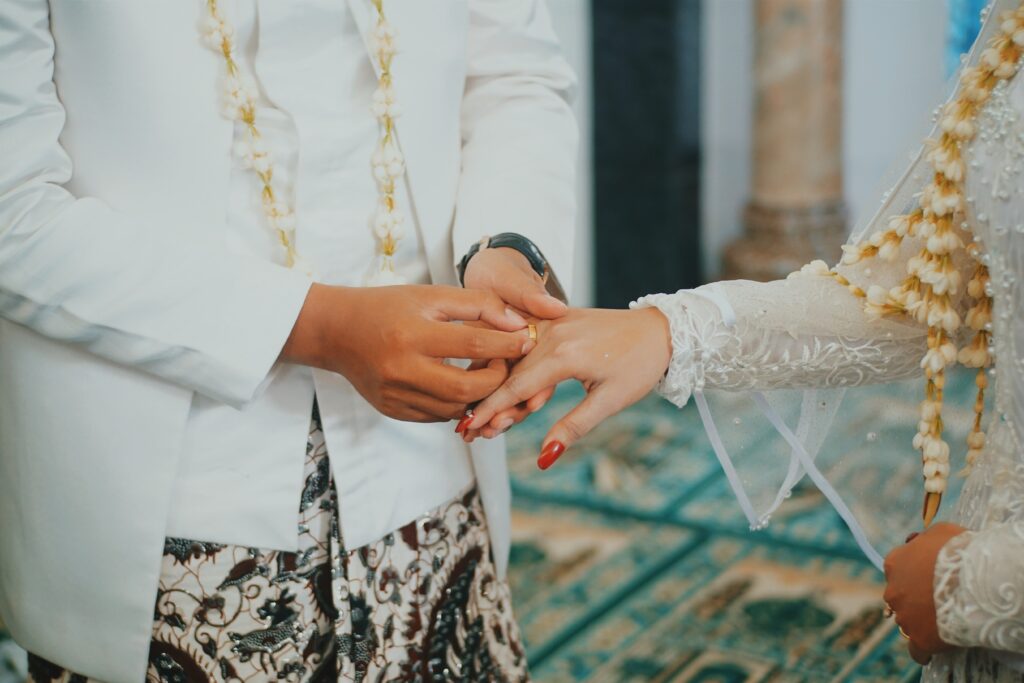 Be Mindful of Cost
The wedding industry typically generates £14.7bn each year. Before embarking on your search for the perfect wedding ring, it's important to be mindful of cost. In the UK, the average amount of money couples splurge on a wedding ring can exceed £1,000. Although, this doesn't include any money spent on other jewellery you may purchase to wear on your big day. Traditionally, the groom pays for the bride's wedding ring and vice versa, so you will need to come together, discuss your options, and have a budget in mind that's financially viable for both parties. Having a set budget can help in narrowing down your options and ensure you land on a wedding ring that doesn't break the bank. Just remember, your wedding ring is a symbol of love, meaning it's the sentimental value that truly counts.
Understanding Ring Sizing Basics
Ring sizes are measured using a standard scale. In the UK, lettered sizes are normally used, ranging from A to Z+6. One of the most accurate ways to establish your ring size is by visiting a reputable jeweller. They will have a set of ring sizes that they can place on your finger to find the ideal fit. Ensure you pick a time when your hands are at a normal temperature. This is because fingers can shrink or swell slightly depending on the weather or physical activity. For consistency purposes, it's advised to get sized multiple times on separate occasions.
Explore Your Personal Style
Your wedding ring should reflect your personal taste and style. Therefore, take time to explore different materials, designs, and gemstones to find a wedding ring that resonates with you. Maybe you are drawn to timeless and classic designs, or you may prefer something more unique and distinctive. Have a look at your day-to-day jewellery choices to get a better sense of your personal style. Whether it's vintage-inspired or bold and glamorous, knowing your preferred style can be a major help.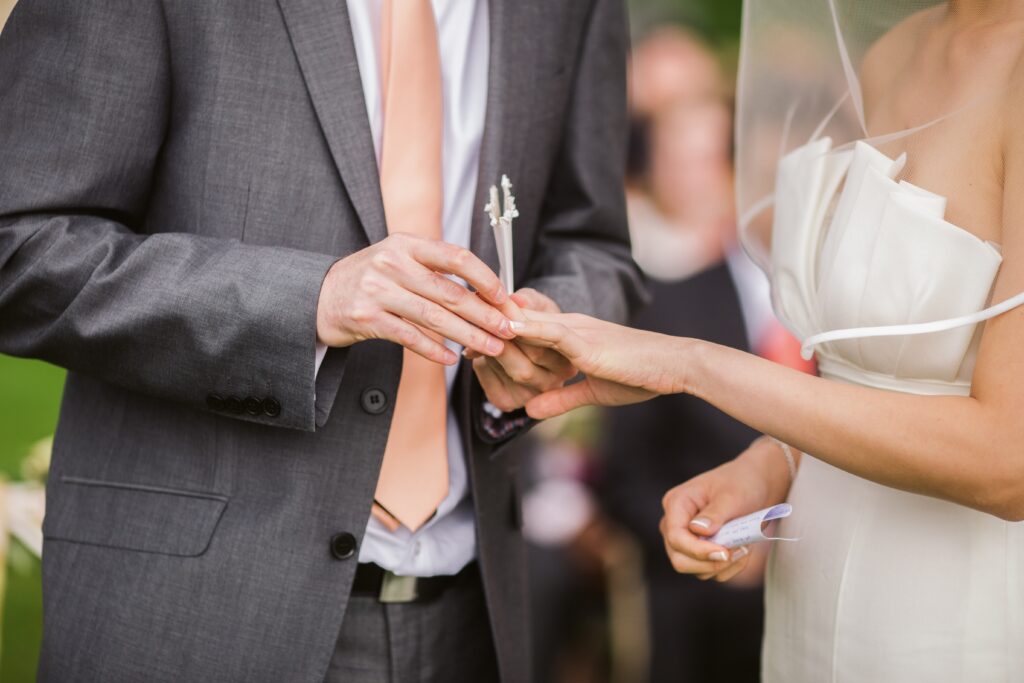 Pick the Right Metal
Wedding rings are available in numerous metals, with each having its own unique characteristics. Gold is the most popular metal for wedding rings, while other options include platinum and titanium. If you are drawn to a diamond wedding ring, you must familiarise yourself with the 4Cs. These are colour, clarity, cut and carat weight. Each of these factors determines the quality and value of a diamond. For example, the cut of a diamond impacts its sparkle and brilliance, while colour refers to the presence of any colouration.
Prioritise Comfort
Although aesthetics plays a pivotal role, it's imperative to pick a wedding ring that suits your lifestyle. Soon-to-be brides who lead an active lifestyle or work with their hands frequently should opt for a ring with a low profile and durable materials. Comfort is the number one thing to bear in mind. After all, you will be wearing your wedding ring every day.
Shop Together
With both of you preparing to wear wedding rings, this presents as a delightful opportunity to engage in the wedding planning experience together. While you have the option to go out in person and try on wedding rings in-store, you may prefer to hit the web instead. Take Lorel Diamonds for example. They have a wide collection of wedding rings to choose from and offer free delivery and a 30-day return policy.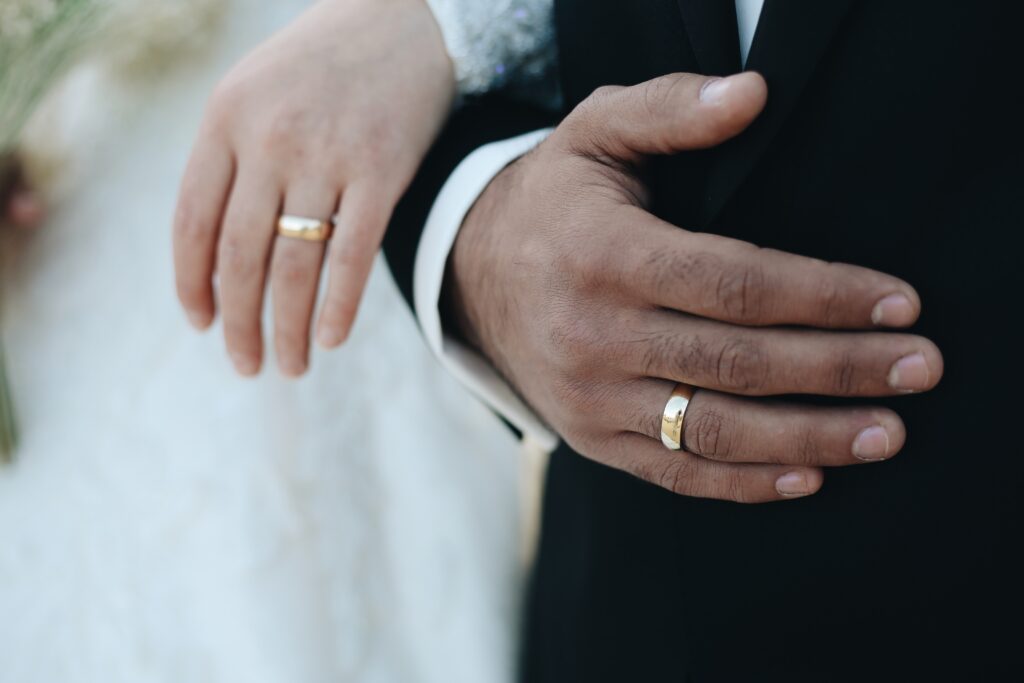 Bear Your Engagement Ring In Mind
Picking the perfect wedding ring to accompany your engagement ring requires careful consideration for most brides. As both rings will be worn on the same finger, it's important for them to either complement or match each other in regard to metal and style. Also, you need to ensure the shape of both rings harmonises well. For instance, if you have a large diamond engagement ring, a standard-shaped wedding ring may not fit correctly and could cause discomfort.
Look Into Personalising Your Wedding Ring
One current trend in wedding rings is some element of personalisation. Many couples opt to write a sweet message or engrave it with their name, wedding date, or initials. If you want to add a personal touch to your wedding ring, ensure you pick one that is wide enough to accommodate your message. Take time to decide what you would like to engrave on your ring, as once it's been placed, it's there forever!
Take Your Time
To finish things off, we must stress the importance of not rushing into choosing a wedding ring. Remember, this is going to be the one piece of jewellery that you'll wear on your finger for the rest of your life. To make sure you find your dream wedding ring, you mustn't rush the process. While it may take time and a lot of searching, our handy tips should help make the decision process that little bit easier.