The Castlefield Rooms, Manchester was the perfect location for this city chic, modern wedding inspiration and if your looking for a city centre location for the big day then look no further, it's open plan space with industrial decor is perfect for the modern couple. With tropical florals, disco balls, bridal jumpsuits and velvet suits this styled shoot is sure to give you lots of inspiration for the big day! Accessory designer Heidi Reid of Glorious by Heidi and photographer Catherine Kerr of Boho Chic Weddings were the brains behind the shoot and here we catch up with them and the rest of the team to find out how this modern, chic wedding at The Castlefield Rooms was created…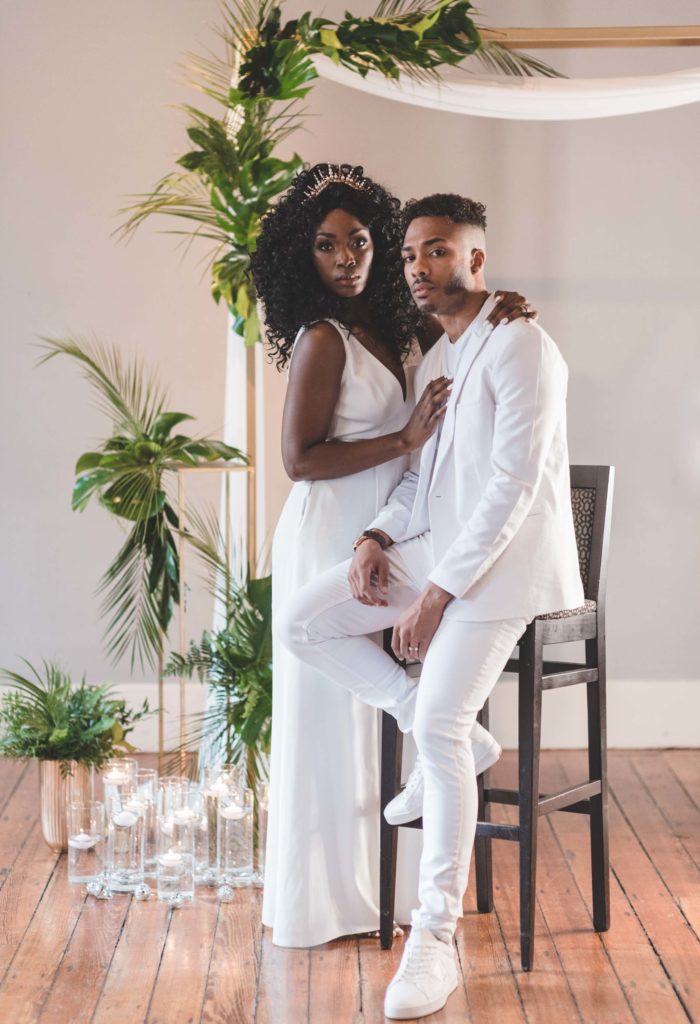 "Photographer Catherine Kerr and I had bonded during a conversation about how much we loved jumpsuits and were particularly excited by their inclusion in the 2019 bridal collections from Catherine Deane, Charlie Brear and Jenny Packham. Being a pair of 70's babes ourselves our jumpsuit talk led us to getting passionate about style icons of that era that knew how to rock a jumpsuit. Bianca Jagger; Grace Jones, and Debbie Harry, were all women unafraid of a strong look, breaking with the traditions of classically pretty, blonde, American women and striding out to make their own style statements. Catherine and I felt that with more modern brides considering the jumpsuit for the wedding day outfit it was time to embrace the essence of 70's style in a styled wedding shoot, and where better to start than with the spirit of the infamous Manhattan nightclub, Studio 54?"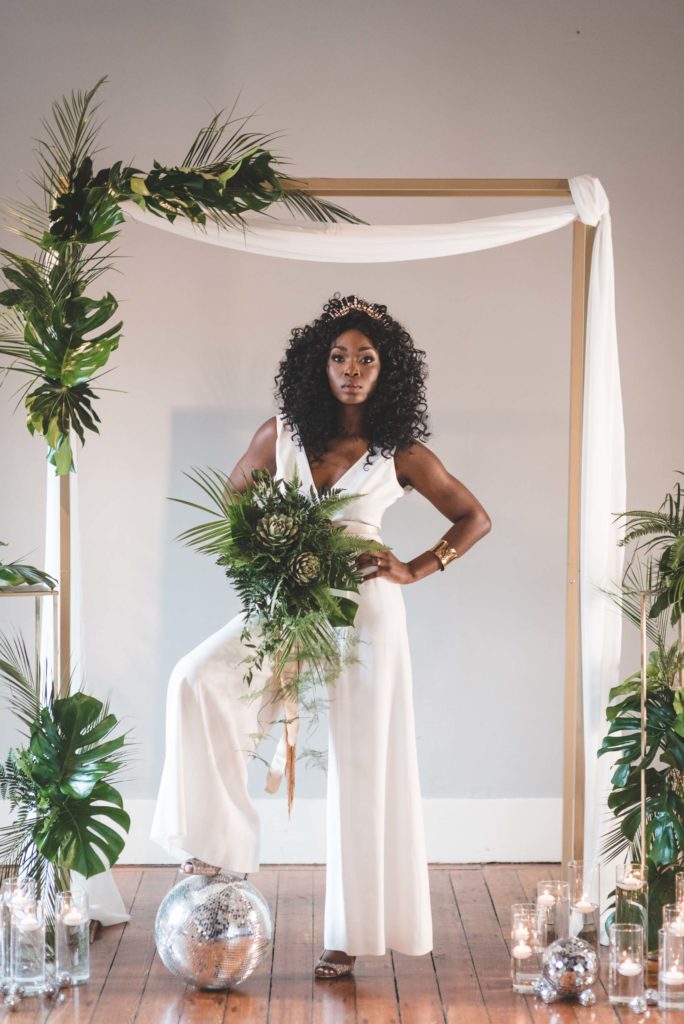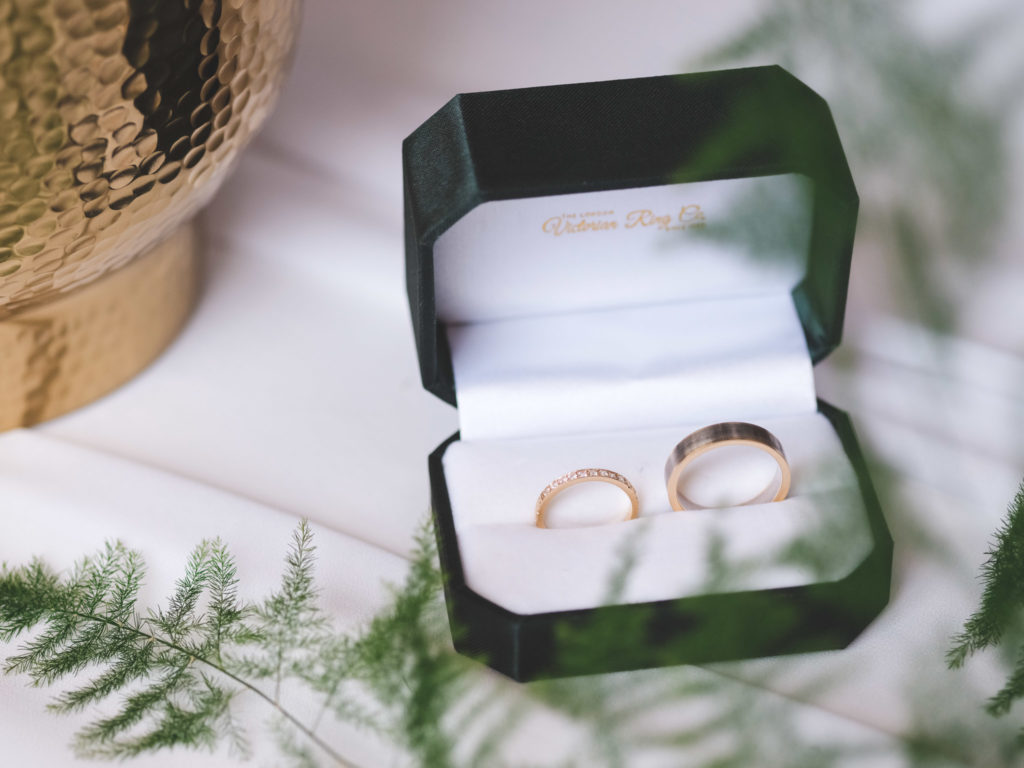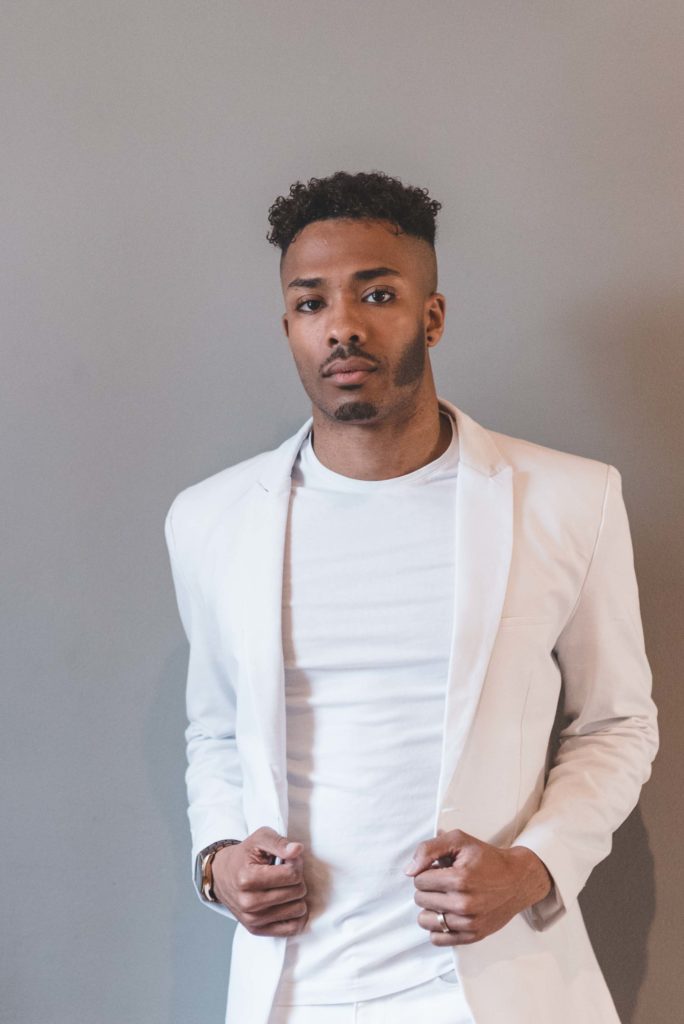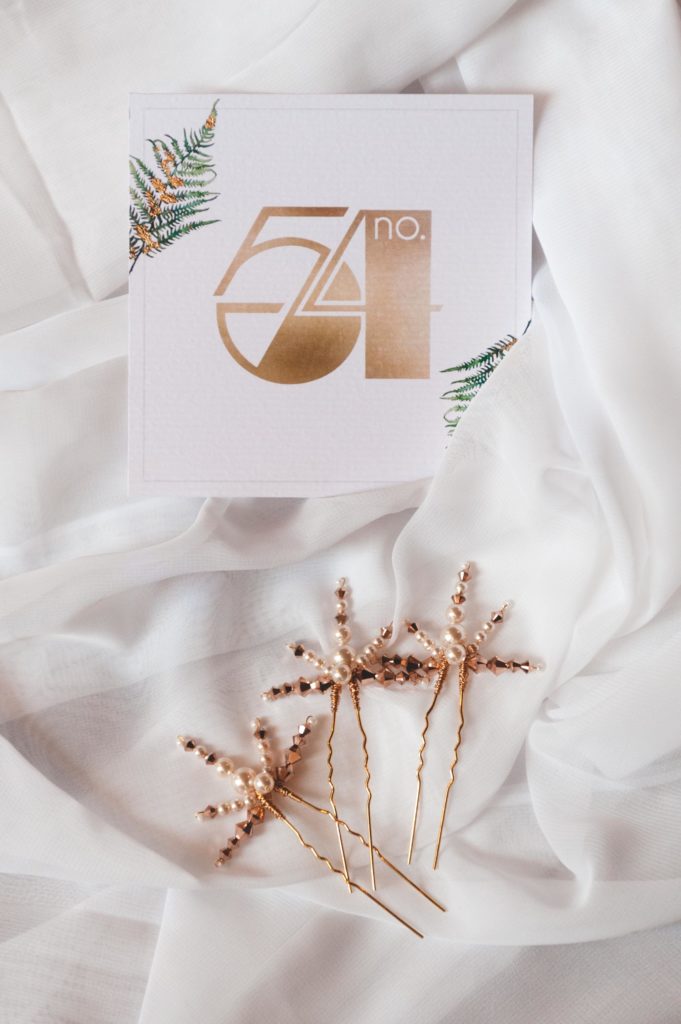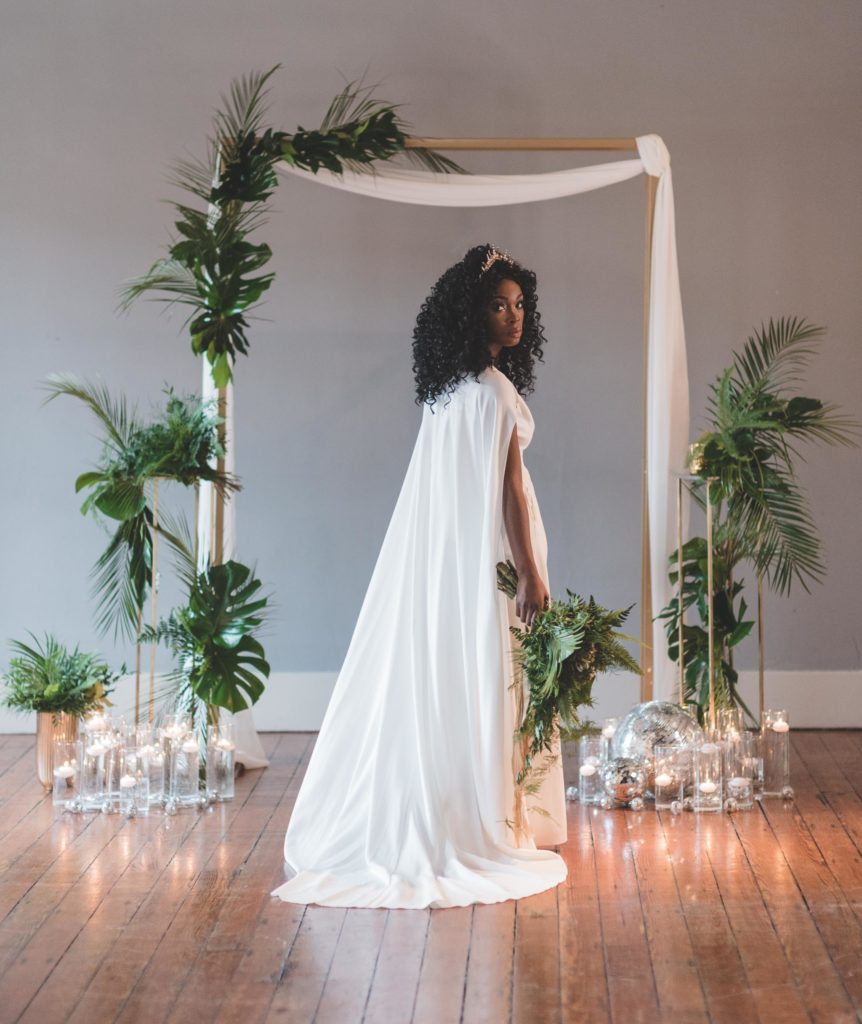 "The style of 70's icons Bianca Jagger, Grace Jones, Debbie Harry and Diana Ross; the spirit of the infamous Manhattan nightclub Studio 54; the super stylish wedding of Solange Knowles in her divine Stephane Rolland couture jumpsuit, to husband Alan Ferguson; and the bridal jumpsuit itself."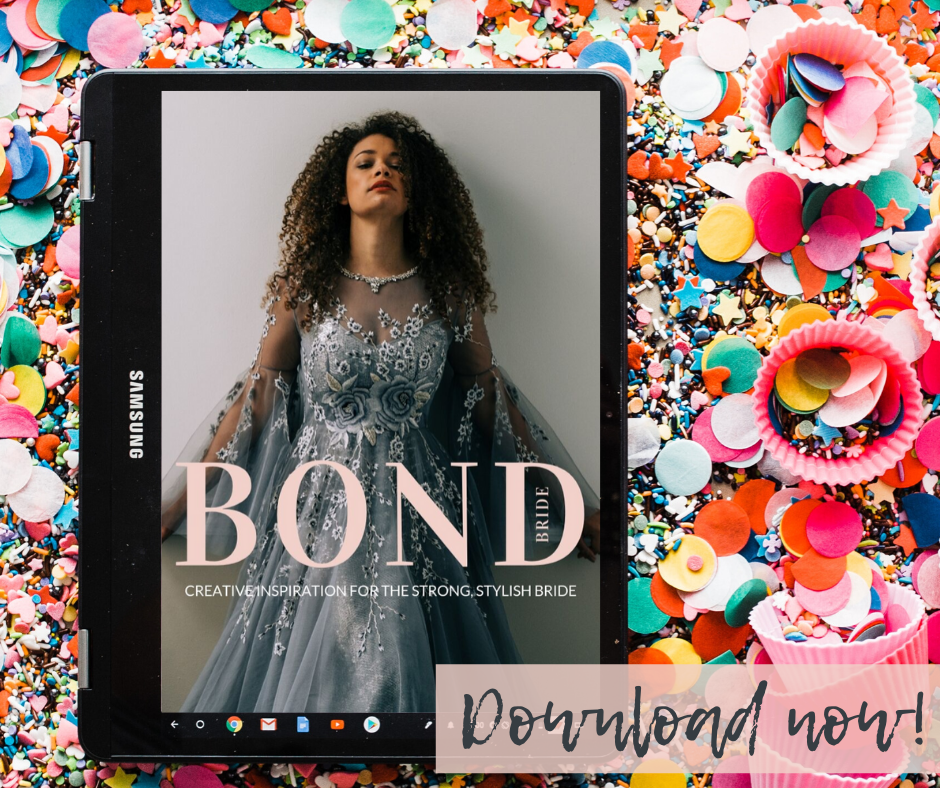 DOWNLOAD BOND BRIDE MAGAZINE ISSUE 2 HERE
"We chose to shoot at The Castlefield Rooms in Manchester, favouring it's clean lines and it's urban backdrop next to the Manchester canal. Catherine and I felt that this was the kind of venue that would appeal to a couple planning a wedding that breaks with the tradition of brides having to wear a dress, and grooms not wearing white. We also liked that situated as it is in Manchester's rejuvenated outdoor events venue, the Castlefield Bowl is a place where the people of the North West people come to party, fitting our Studio 54 vibe very nicely."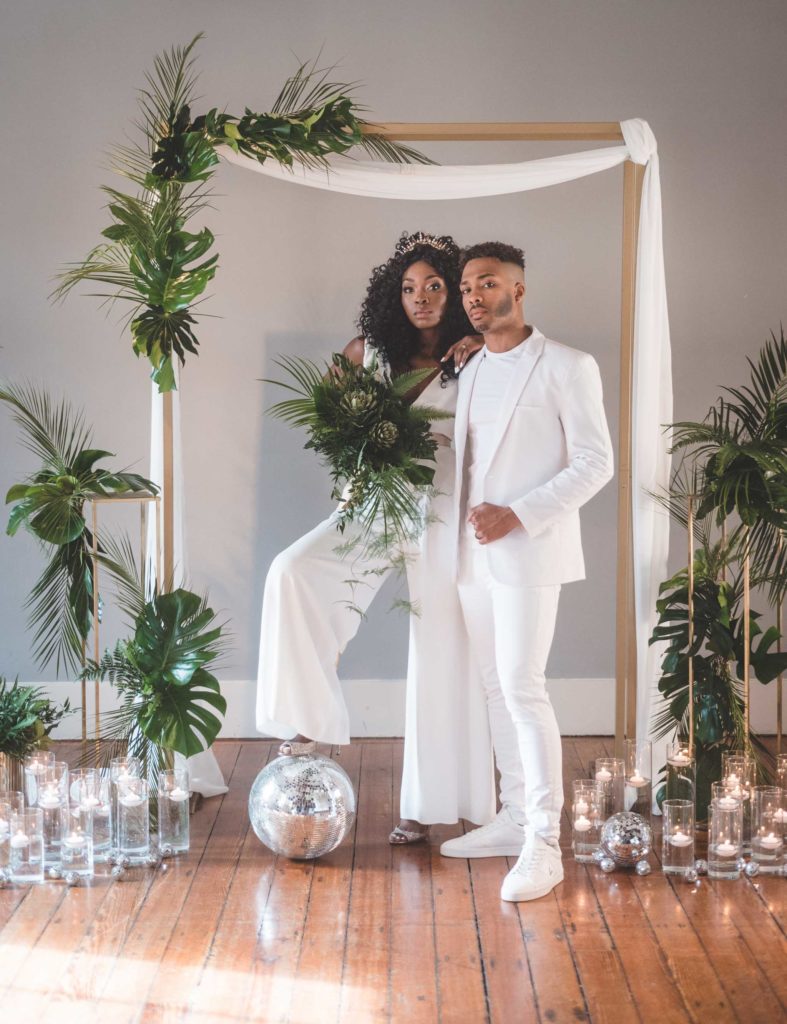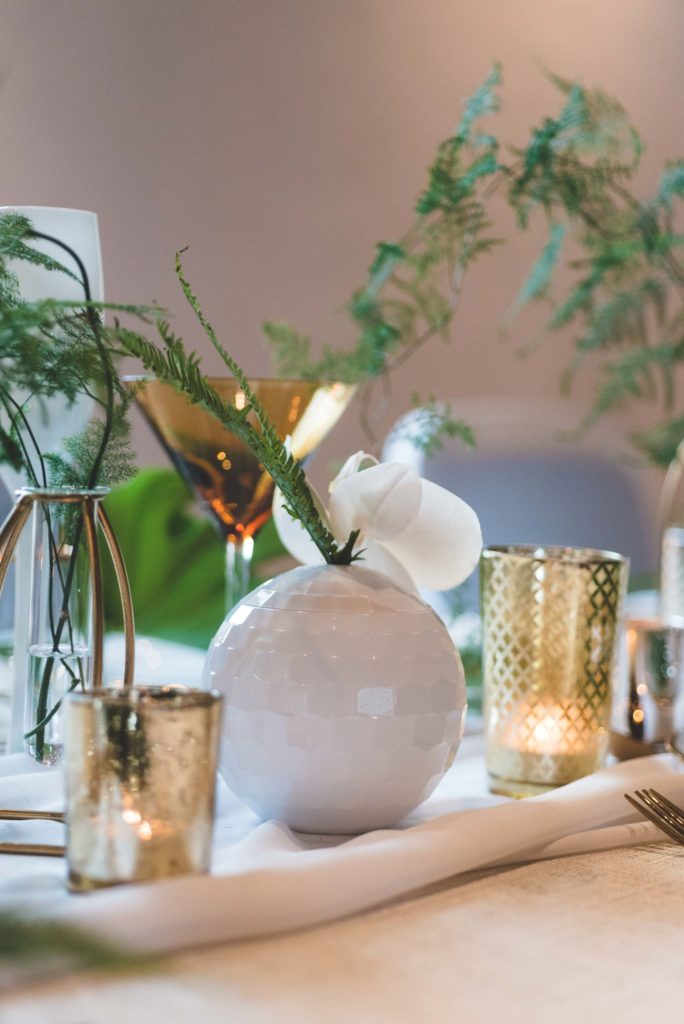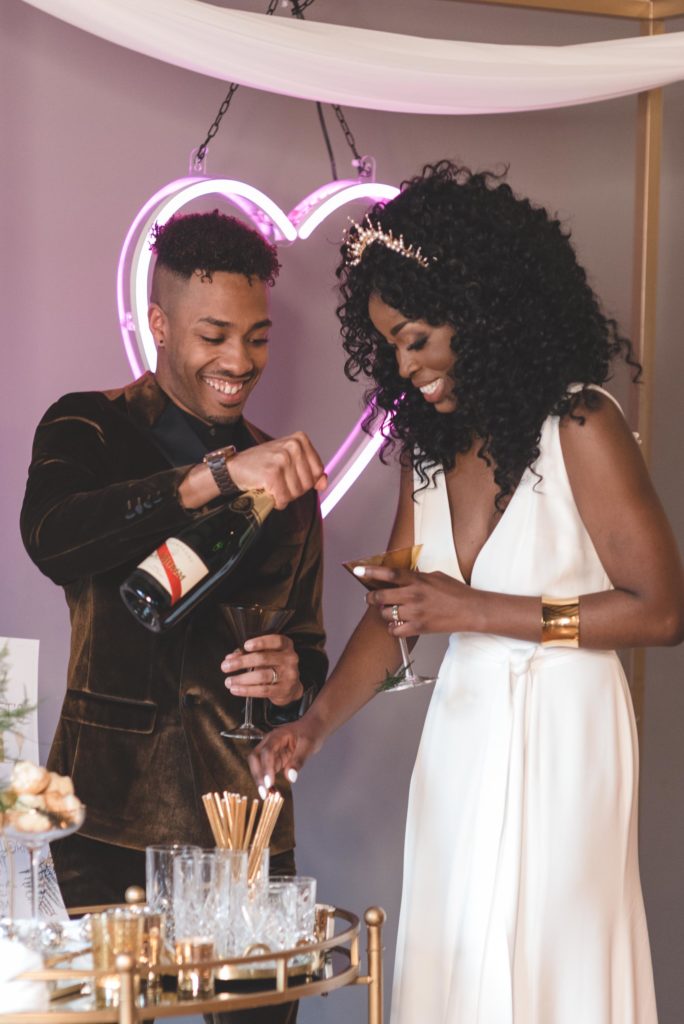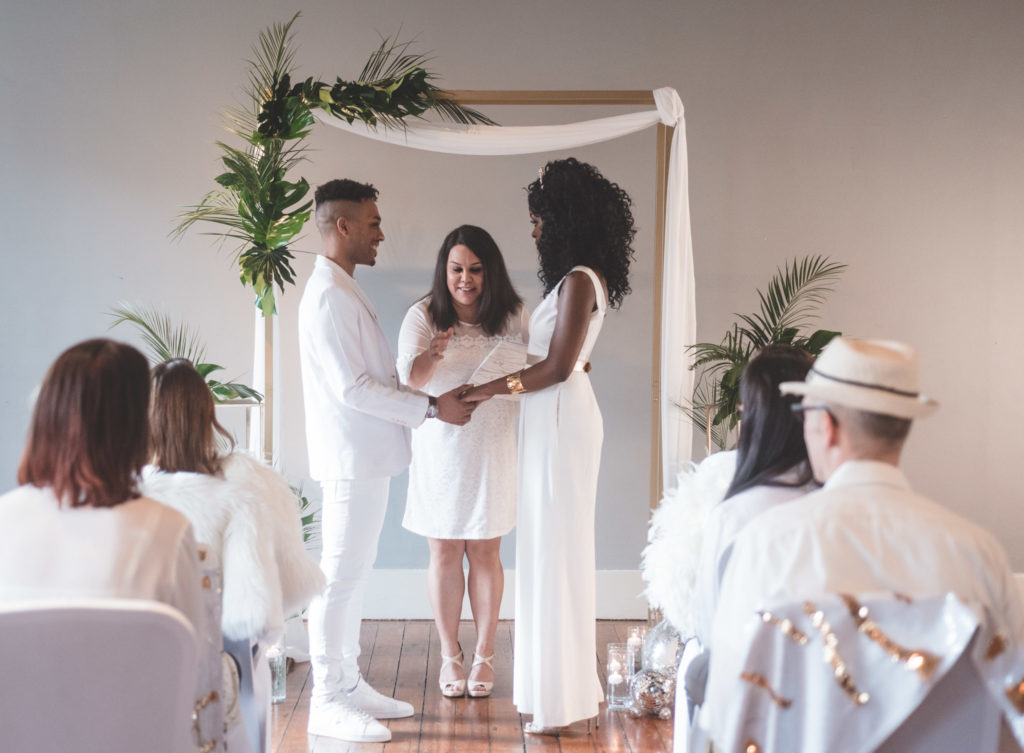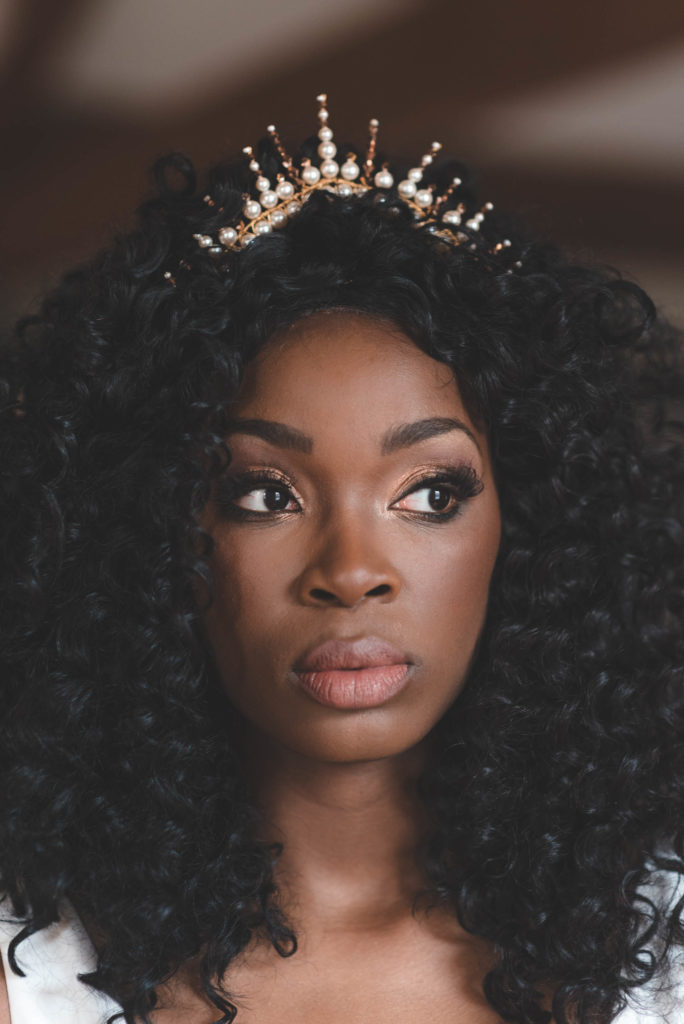 Styling – Emily K Weddings
"Catherine and I both admired Emily K Wedding's ability to interpret a brief, and also knew her as someone who was fun to have around. This was important to us as we wanted the atmosphere on shoot day to be a joyous one with a Studio 54 playlist banging away in the background and a team of talented, positive professionals on board. Our mood board for the shoot embraced the inclusion of mirror balls, and Monstera leaves in the styling, but by working with wedding planner Emily we worked to keep the rest of the styling parred back, steering our final look firmly towards sleek chic rather than towards the garish end of kitsch. Our colour palette of white, green and gold, allowed us to include nods towards the golden age of disco without letting them become overbearing and drowning out the simplicity of our Charlie Brear bridal jumpsuit. "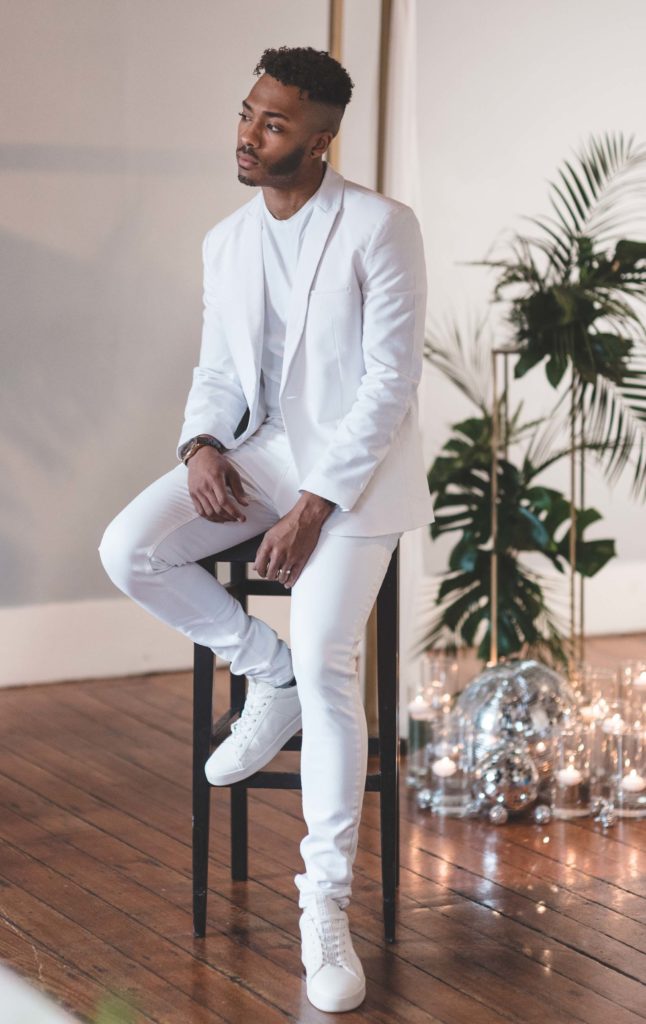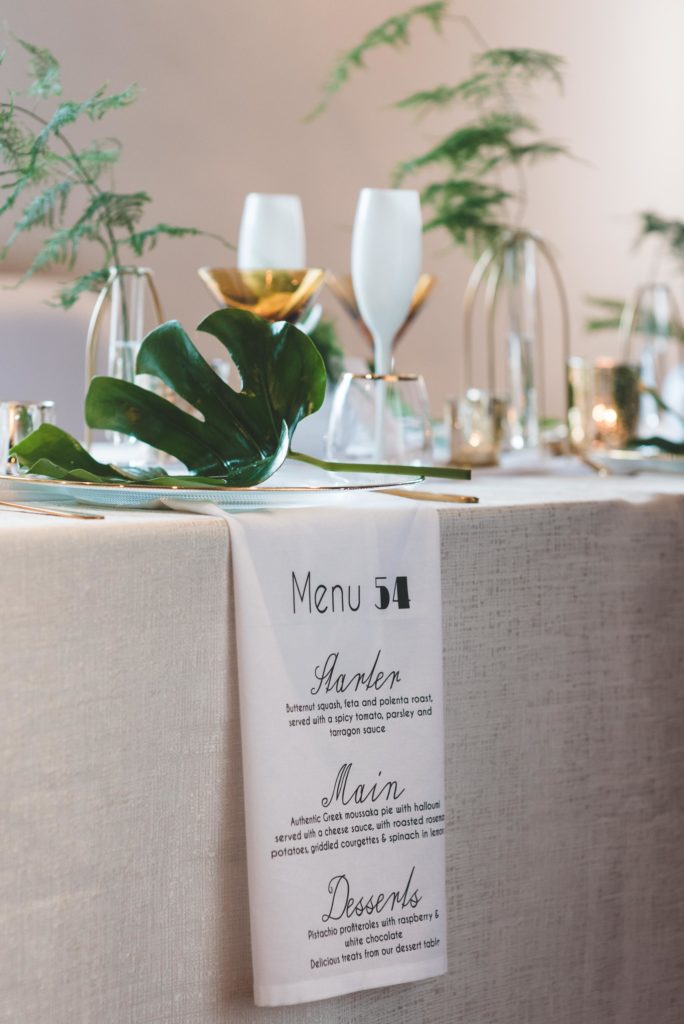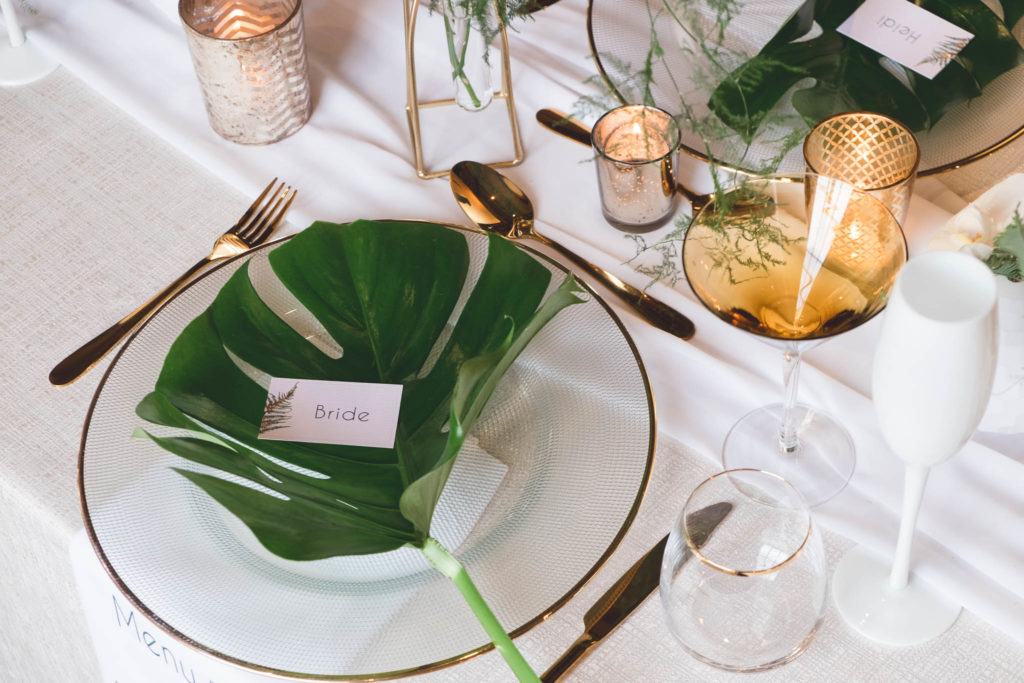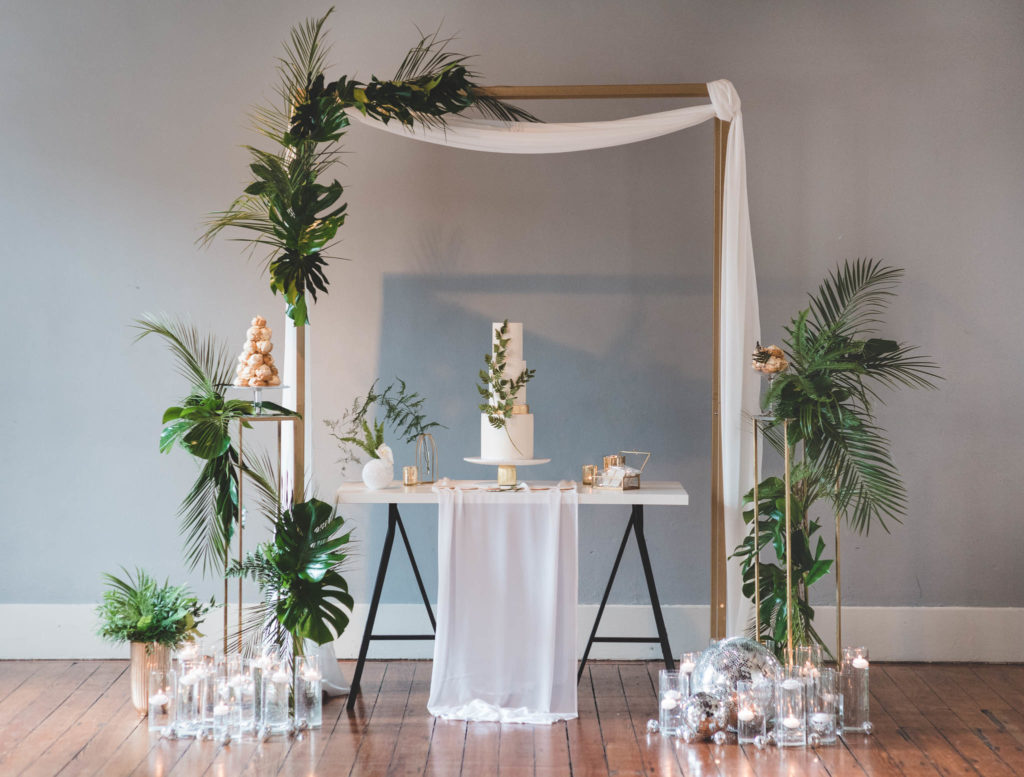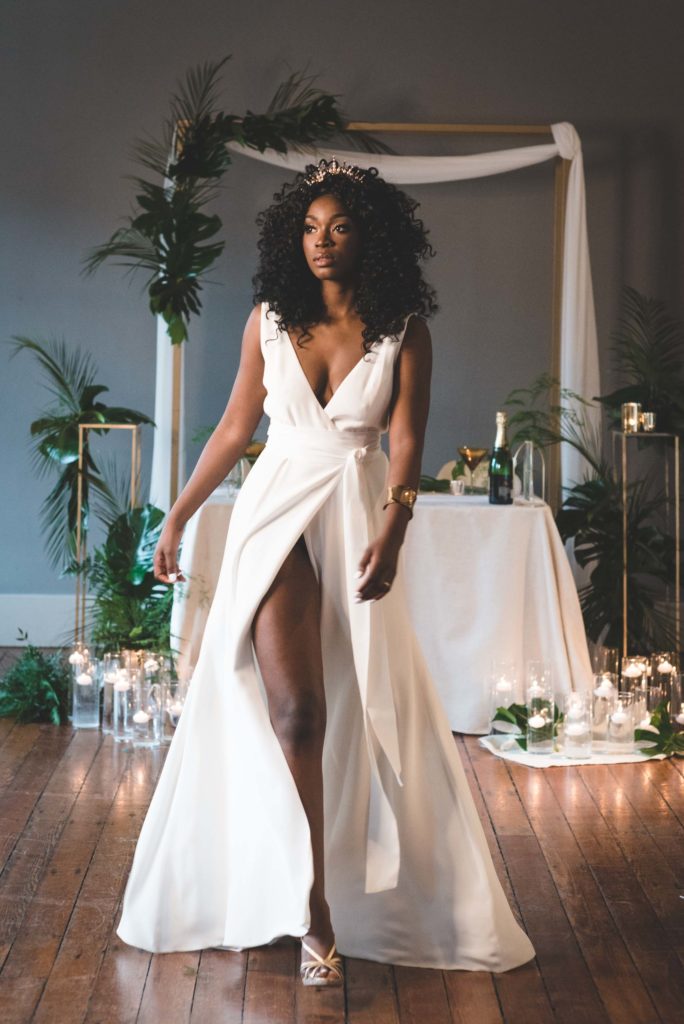 Bridal – Charlie Brear
"From the outset we had our hearts set on the Charlie Brear 'Carson' bridal jumpsuit. With signature clean lines, luxurious crepe fabric, and a fresh modernity to the cut, the jumpsuit hit our brief head on, and it's simplicity allowed Heidi of Glorious by Heidi to design something decadently modern-day-disco for the hair accessory. We were very fortunate to be able to source the Carson jumpsuit direct from the designer, while Charlie Brear stockist and award winning bridal boutique The White Closet, joined us on the day to fit the bridal wear to our model to absolute perfection, and to supply the Charlie Brear Pallas gown with it's super sexy, deeply plunging neckline for our daytime to evening bridal look."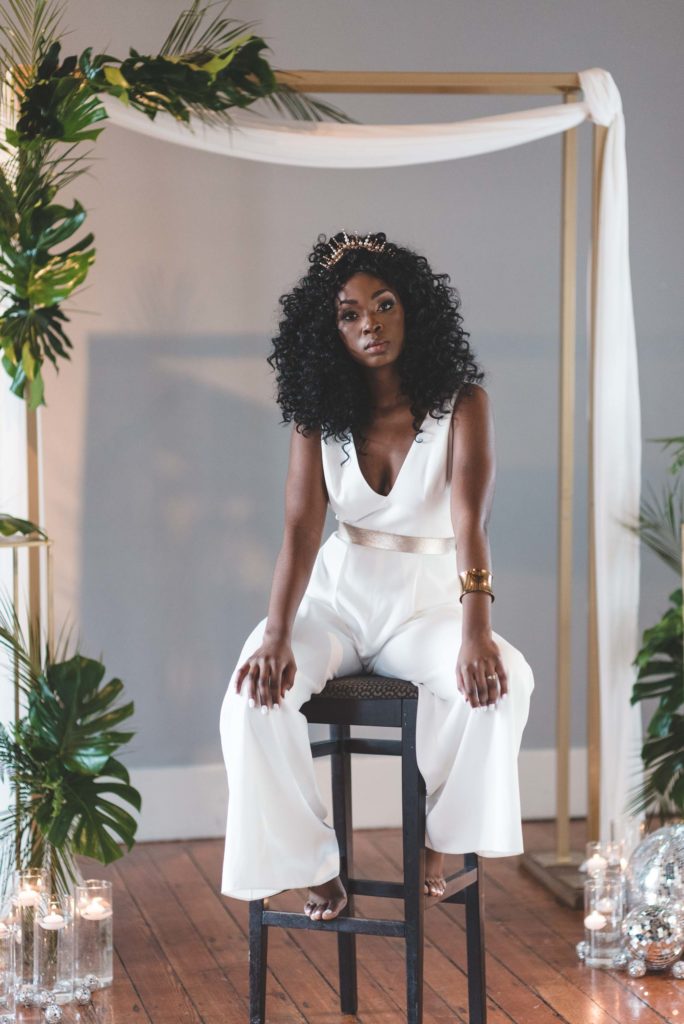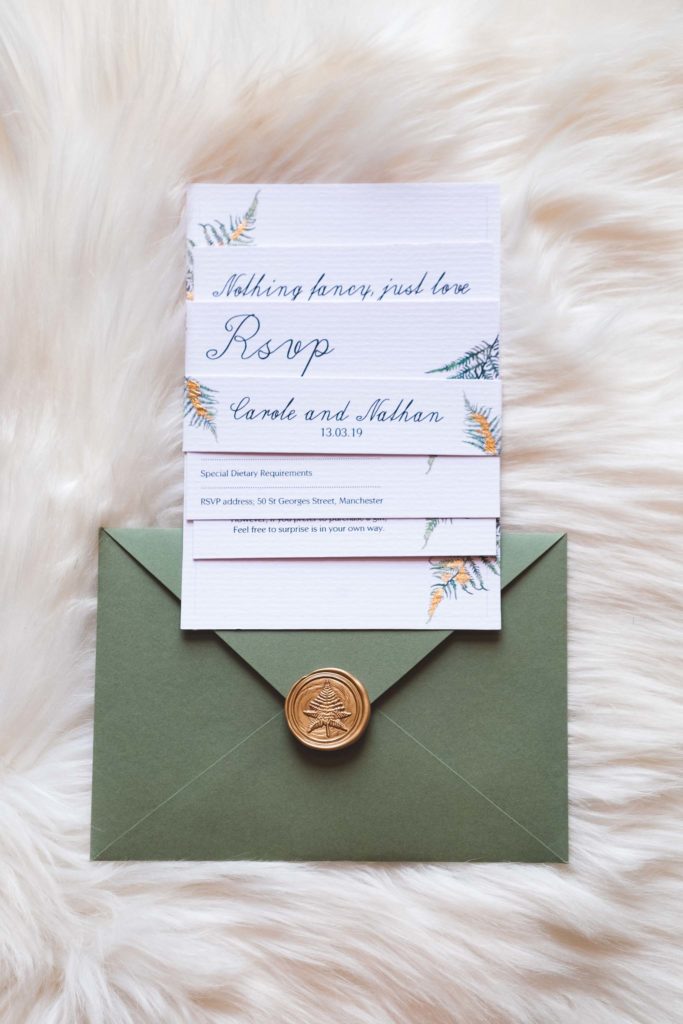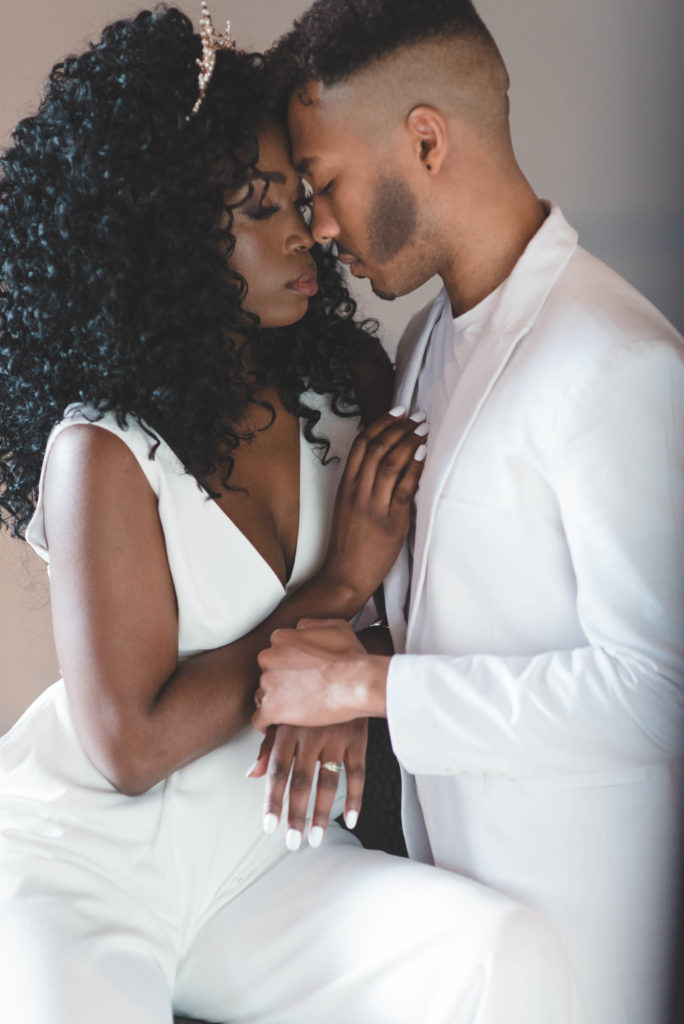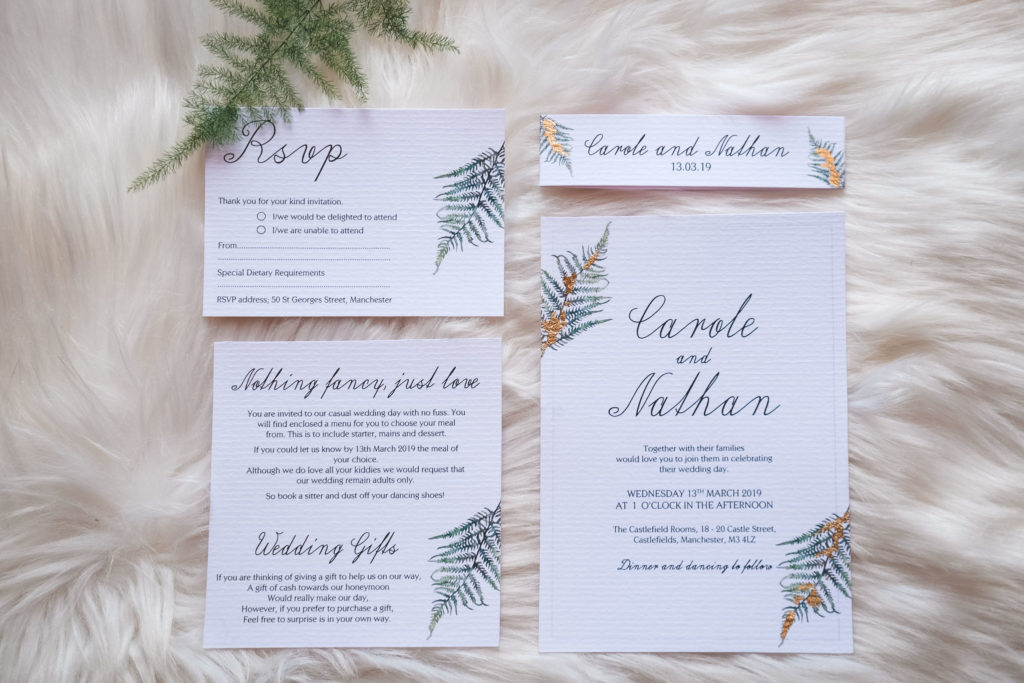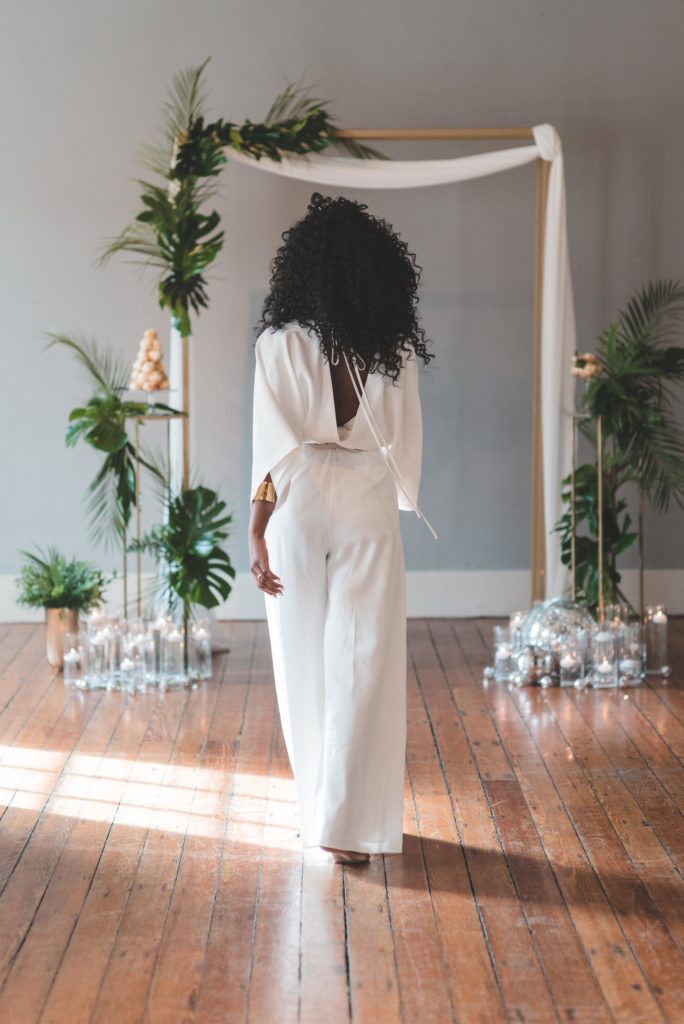 Flowers – Wildfire Floral Co
"Ferns, alongside our disco tribute glitter balls, a touch of neon lighting, smoked Martini glasses, Monstera leaves all kept within the palette of whites, greens and golds, made sure trend setting florist Sam Williams – now of – kept her styling a long way from 70's kitsch, and all the way to 70's chic. Sam's bridal bouquet of pure green kept the core styling stripped back relying on a ton of texture to draw the eye, and boy did it deliver on that front!"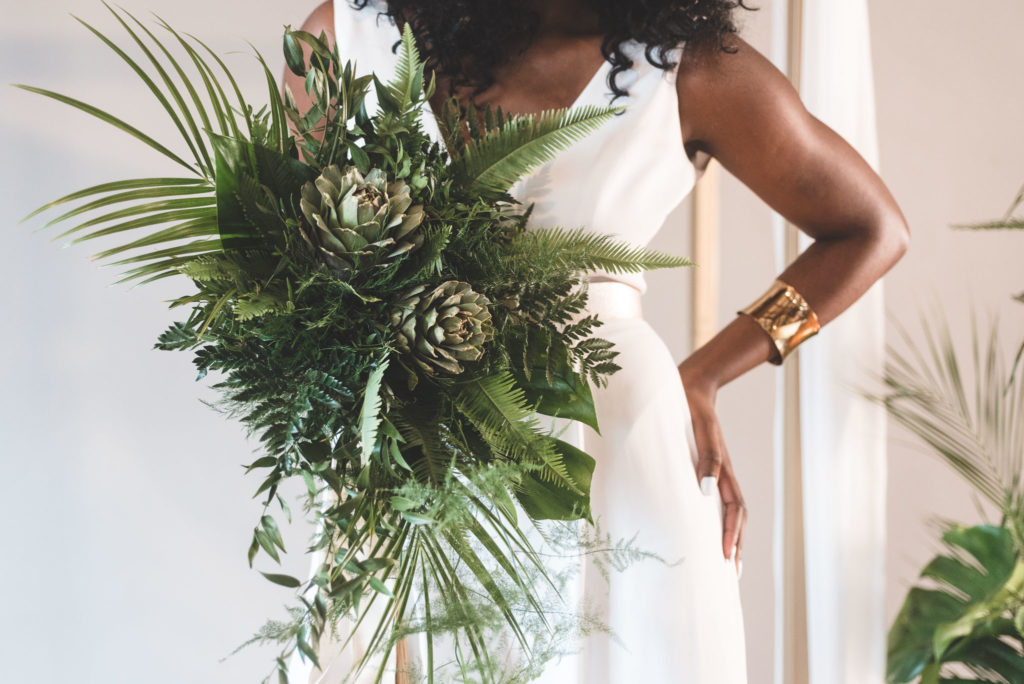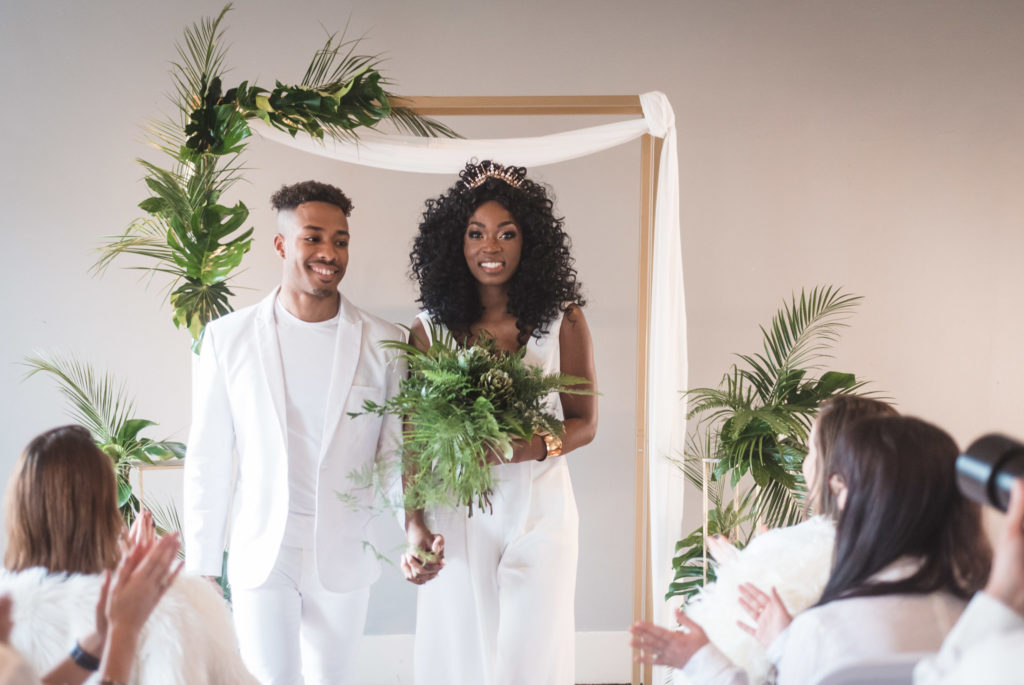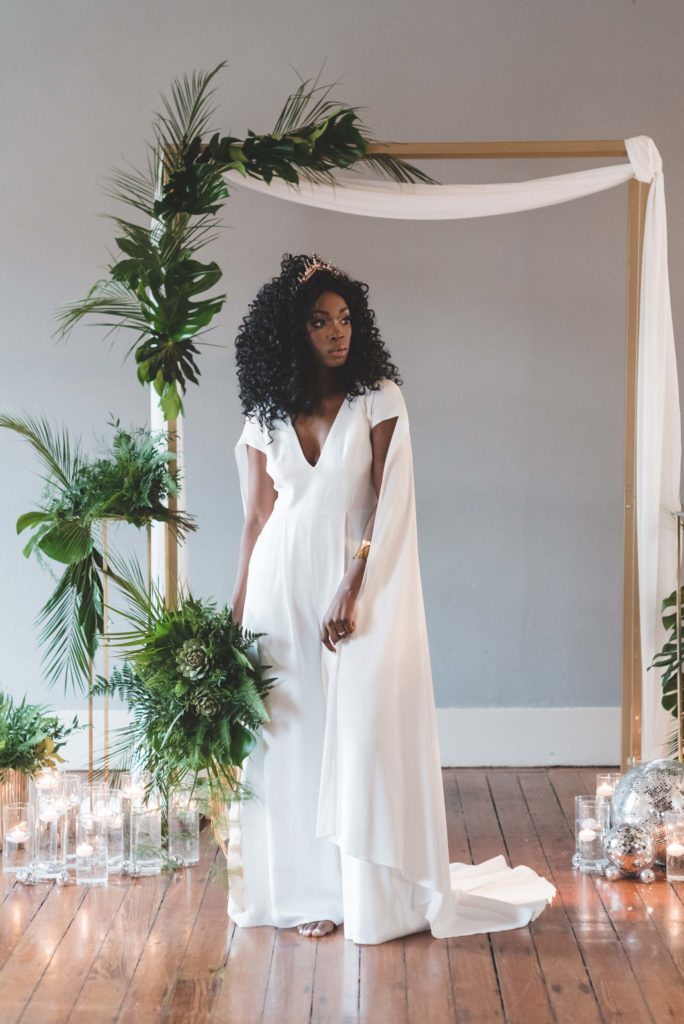 Cake – Marie Antoinette Cakes
No Studio 54, 70's styled wedding shoot would be worth it's salt without Profiteroles! Marie Antoinette Cakes did the honours on this front bringing this out-of-favour desert bang up-to-date by steering clear of cloying whipped cream for the filling, opting instead for a deliciously light, salted caramel crème pâtissière. Stylishly arranged in gold rimmed goblets set amongst 70's styled smoked glass elements, this modern take on a classic favourite looked fabulous set against the tall elegance of Marie Antoinette's three tier wedding cake with gold and green accents to tie in with the rest of the style palette.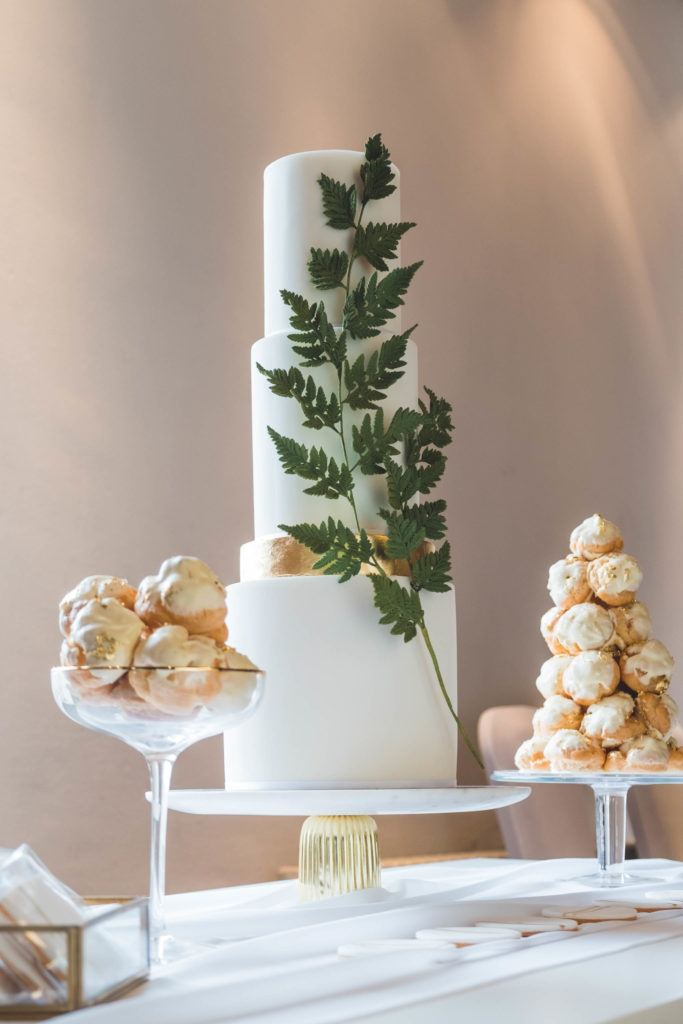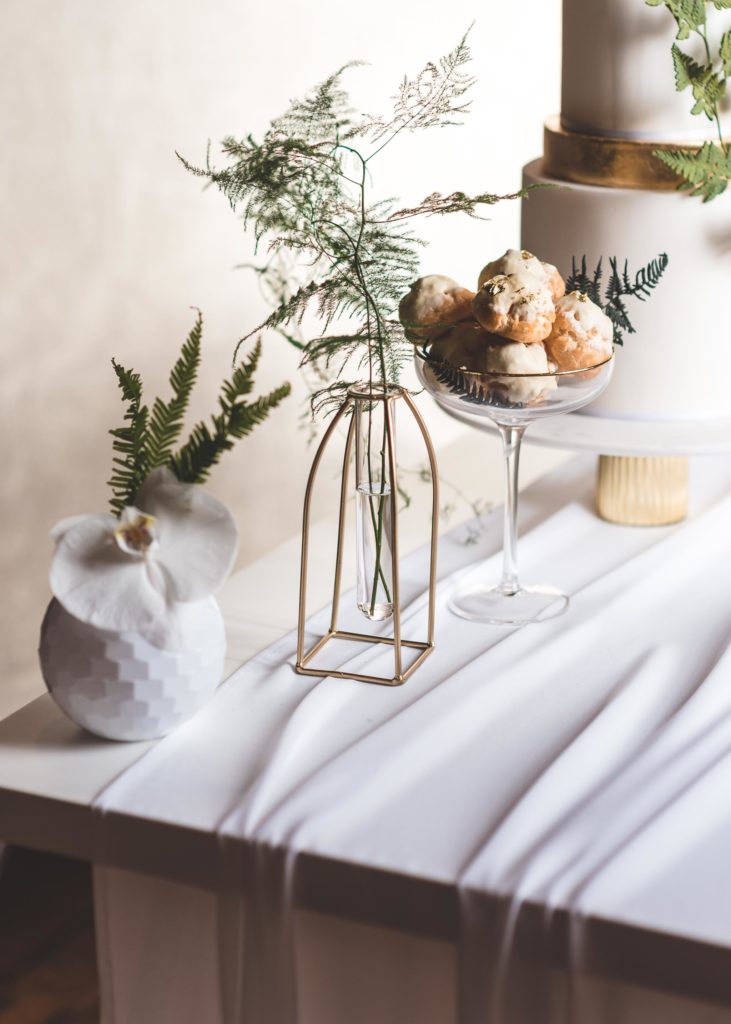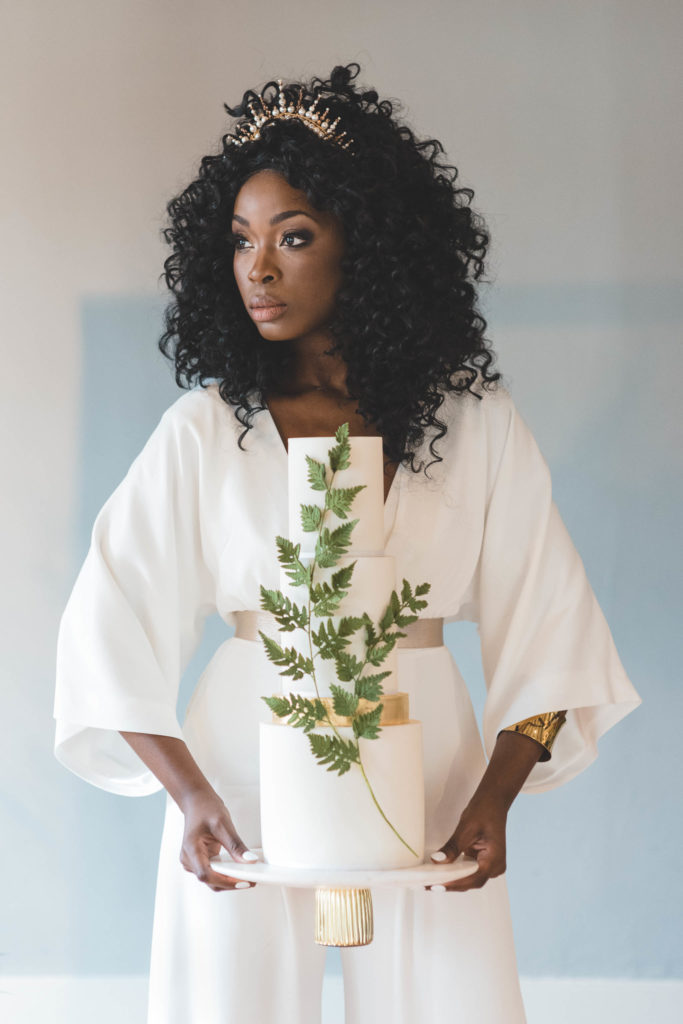 Hair and Make Up – Jen Eachus Bridal
Hair and make up artist Jen Eachus went for golden tones and relaxed hair to create this stunning look for model Carole Kikeba. We were keen to steer clear of glitter or any of the other stereotypical disco elements for our bridal hair and makeup, and by keeping things unfussy we were able to channel that Bianca Jagger 'I don't need to try too hard' swagger.
Headpiece- Glorious By Heidi
"Designed by co-creator of the shoot Heidi of Glorious by Heidi, the Amina headpiece with it's glittering metallic spires and bold aesthetic reflects the spirit of a bride who chooses to wear a jumpsuit on her wedding day. The Amina headpiece can also be worn as a statement necklace for later in the day when the lights go down and our dancing Queen hits the dancefloor!"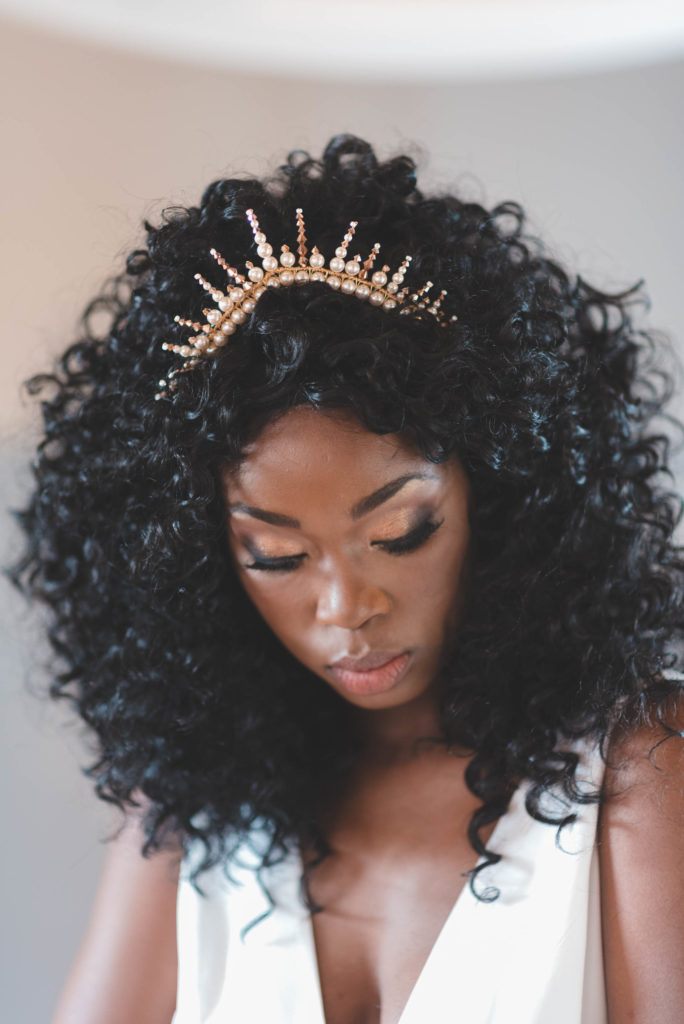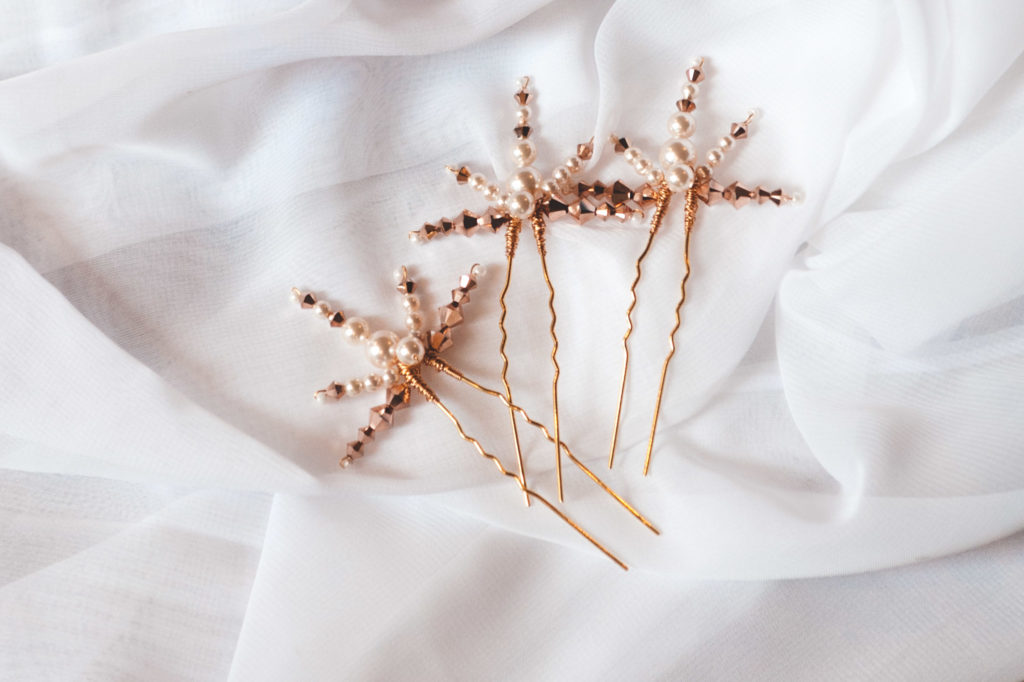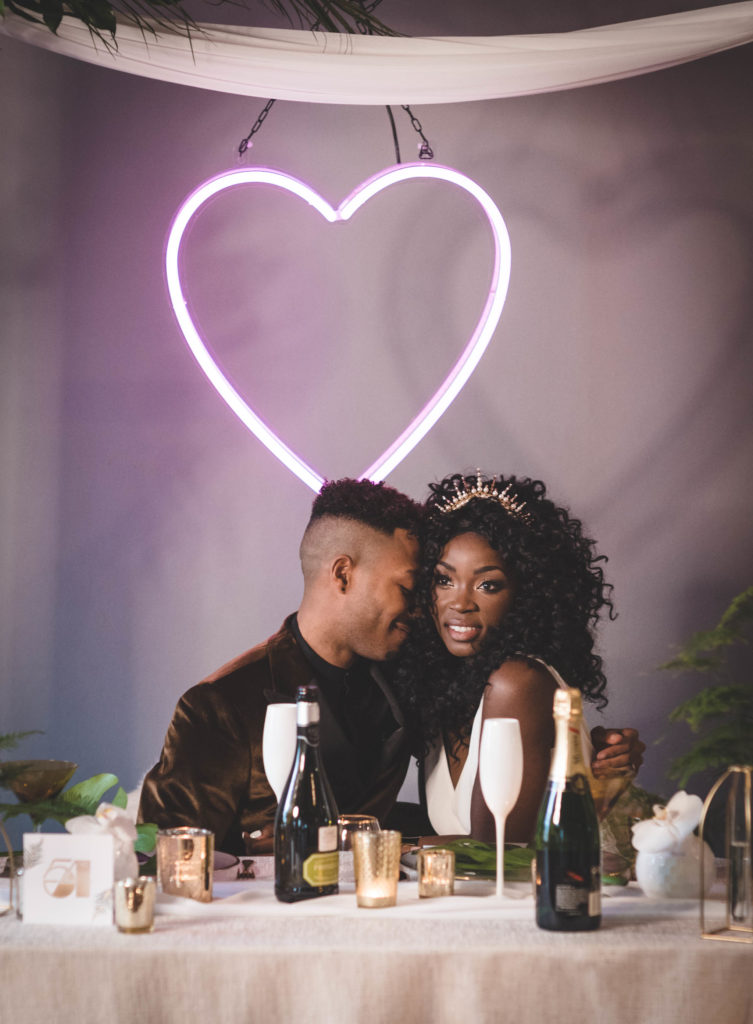 Videography – Love Two Film
Bruce of Love 2 Film videographers captured the spirit of the day perfectly at The Castlefield Rooms, providing us all with a wonderful, moving momento of the day, just as all good wedding videography should!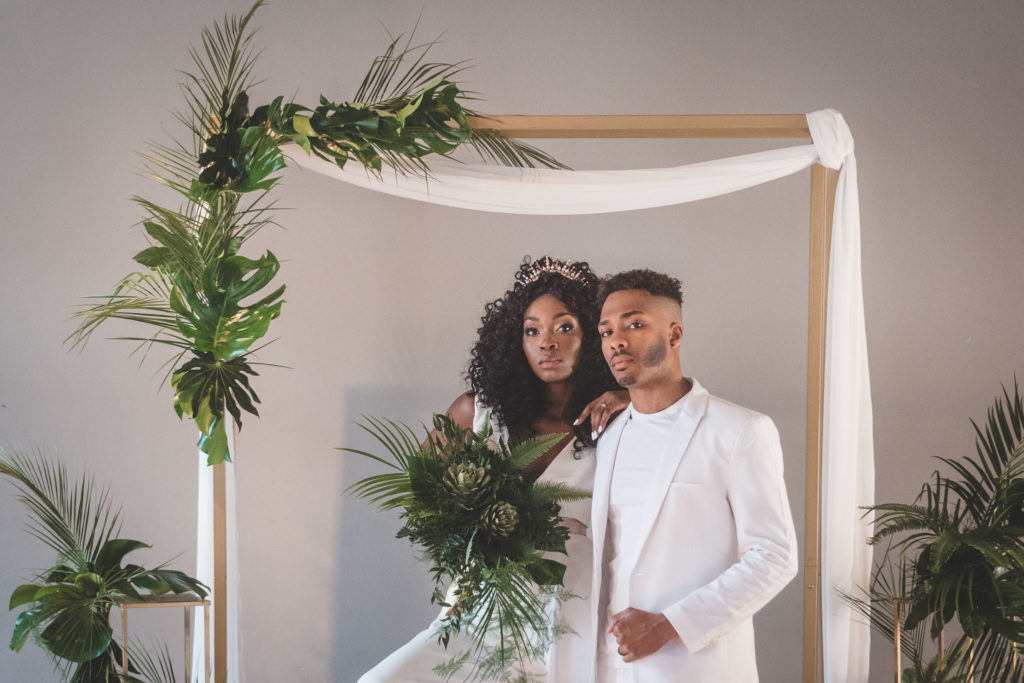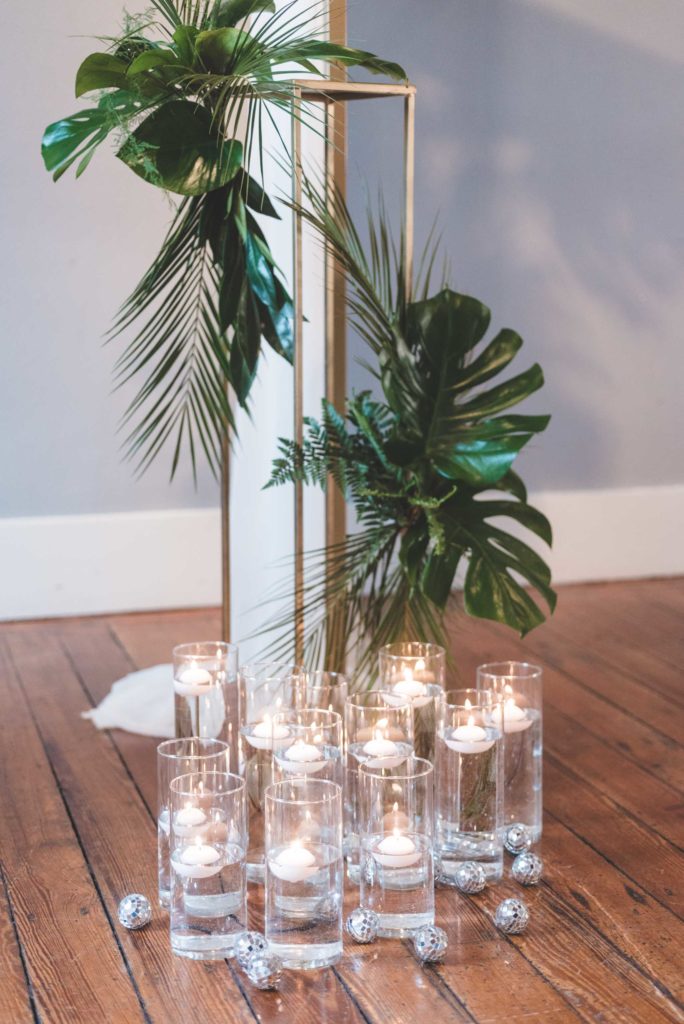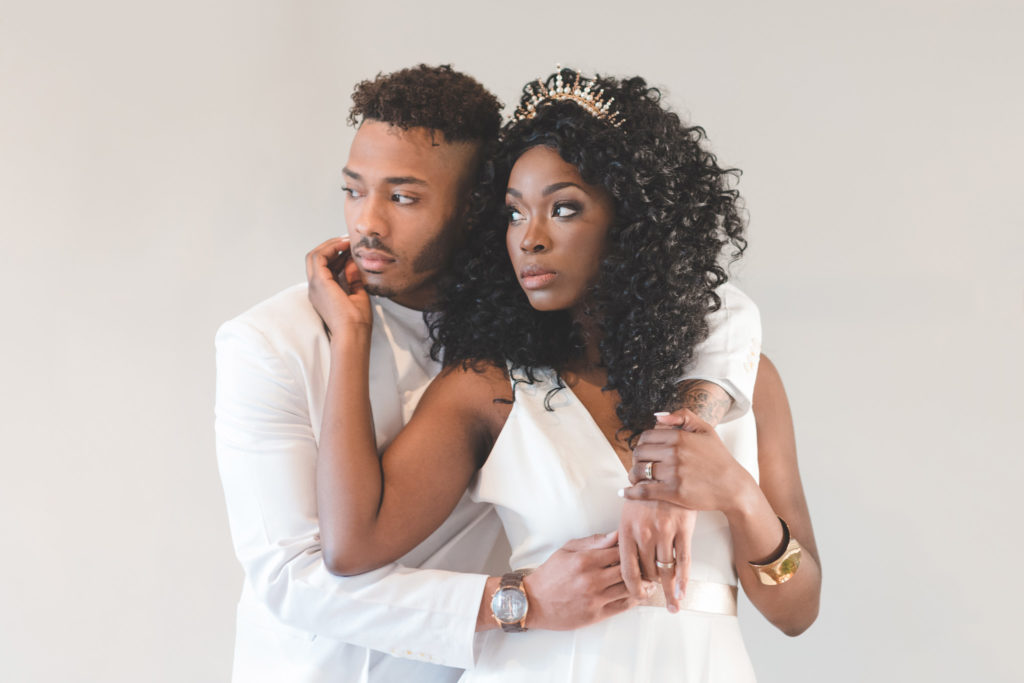 Shoot Concept, Planning & Photography: Boho Chic Weddings @bohochicweddings
Shoot Concept and Planning: Glorious by Heidi @gloriousbyheidi / Styling: Emily K Weddings @emilykweddings / Hair and Make Up: Jen Eachus Bridal @jeneachus_bridal / Florals: Wildfire Floral Co @wildfirefloralco / Cake & Deserts: Marie Antoinette Cakes @marieantoinettecakes_uk / Stationery: Papercutt Designs @papercutt.design / Neon Light: Love Lights the Way @papercutt.design / Linen Menus & Handkerchief: Extra Special Touch @extraspecialtouch / Videography: Love Two Film @lovetwofilm / Candles: Savon Claire @savonclaire /Celebrant: Celebrant SJ / Models: Carole Kikeba @simplybycarole Nathan McKenzie @nathan_cryo / Shoot Assistant: Jessica Creasey @riverwillow_hair/ Bridal Designer: Charlie Brear @charlie_brear / Bridal Wear Stockist: The White Closet @thewhitecloset
IF YOU LOVED THIS LOOK PLEASE PIN IT!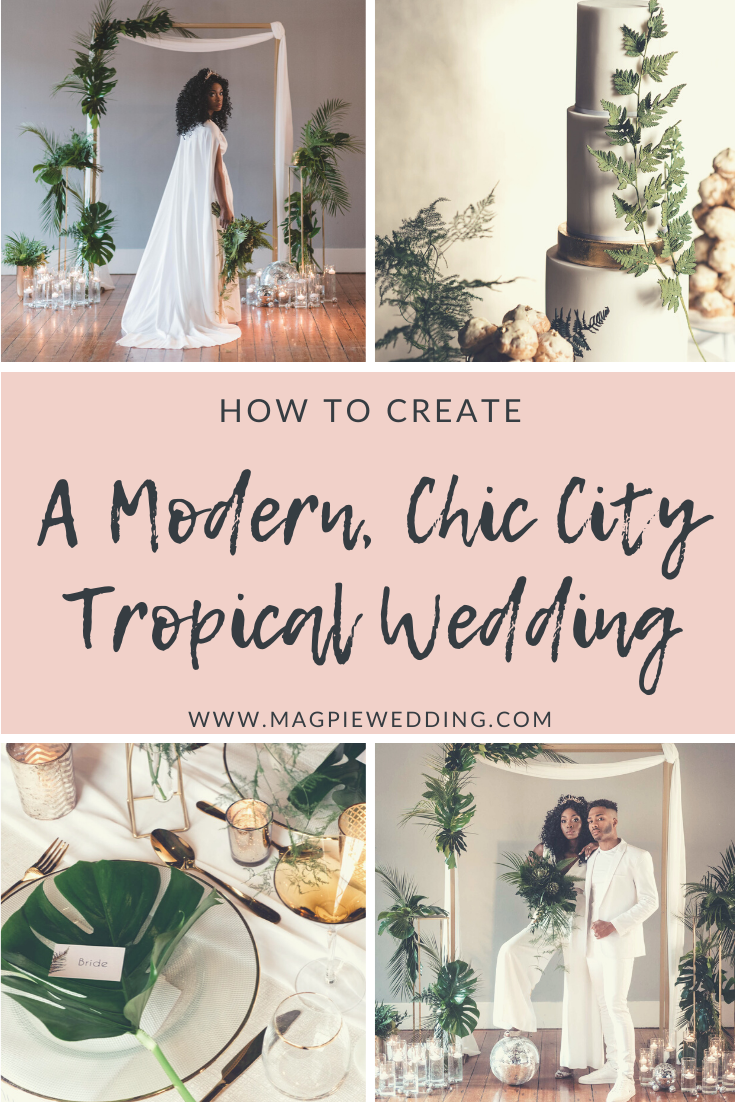 If you love this City Chic Wedding At The Castlefield Rooms you may also like;
Tropical Neon Wedding Inspiration with Colourful Jungle Vibes
Las Vegas Wedding Meets Manchester After Party- Part Two