Are you currently planning a destination wedding? This rustic-luxe inspiration set at Borgo Garzolini in Friuli Venezia Giulia, Italy is full of beautiful romantic details with a laid-back vibe. The region where the villa sits is known for its epic landscapes, fine wines and beautiful vineyards, a hidden gem that's perfect for your Italian vineyard elopement. Wedding planner and stylist Jessica Fasciano of The Italian Dream created this contemporary shoot and inspire couples planning their dream destination wedding, we catch up with her and find out the details of the day…

Inspiration
"While designing our romantic modern glam shoot in the Italian region of Friuli Venezia Giulia, well known for being the land of vineyards and fine wines, I wanted to incorporate a modern and glam vibe to the styling while using a gorgeous historical villa in order to create a temporal bridge between the elements. Surrounded by expanses of vineyards and extraordinary views, Villa Garzolini is a hidden gem that keeps all the authentic historical vibes well attached to the incredible pastel frescos on its walls. From that point of view, the same colour palette has been translated into a table setting that melts that history with a contemporary feeling, in order to create a bridge between modern couples and ancient mansions. Photographer Rachele Mosolo captured the emotions and the love between this stunning couple. Every shot is a documented feeling that transports an emotion to whoever looks at her pictures.
By bringing together the Italian charm and a colour pop we wanted to give the ancient villa a twist in order to inspire couples to go their own way when planning their big day. An unexpected touch can give character and personality to the decor while telling the couple's story and making it unique and meaningful for them and their guests."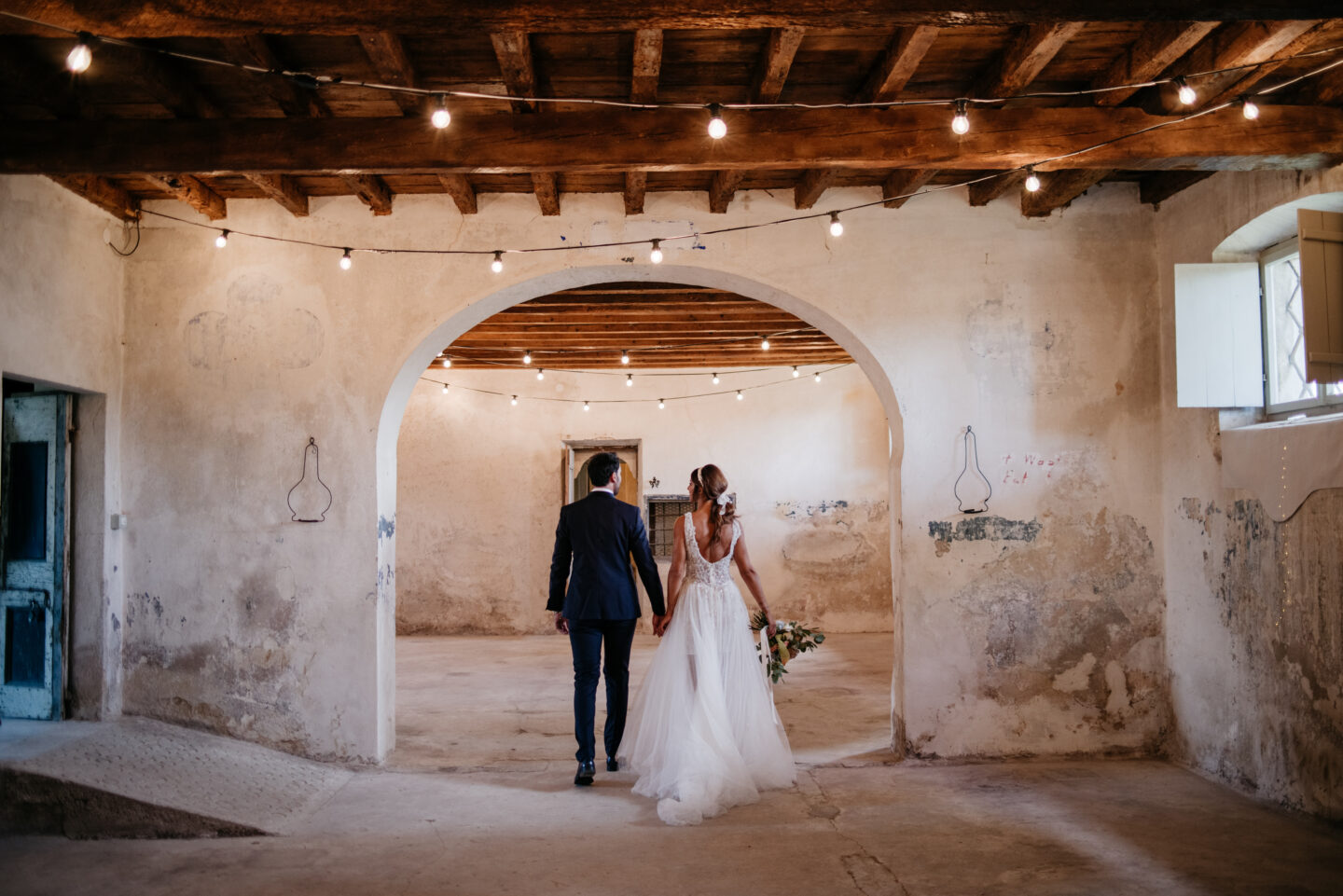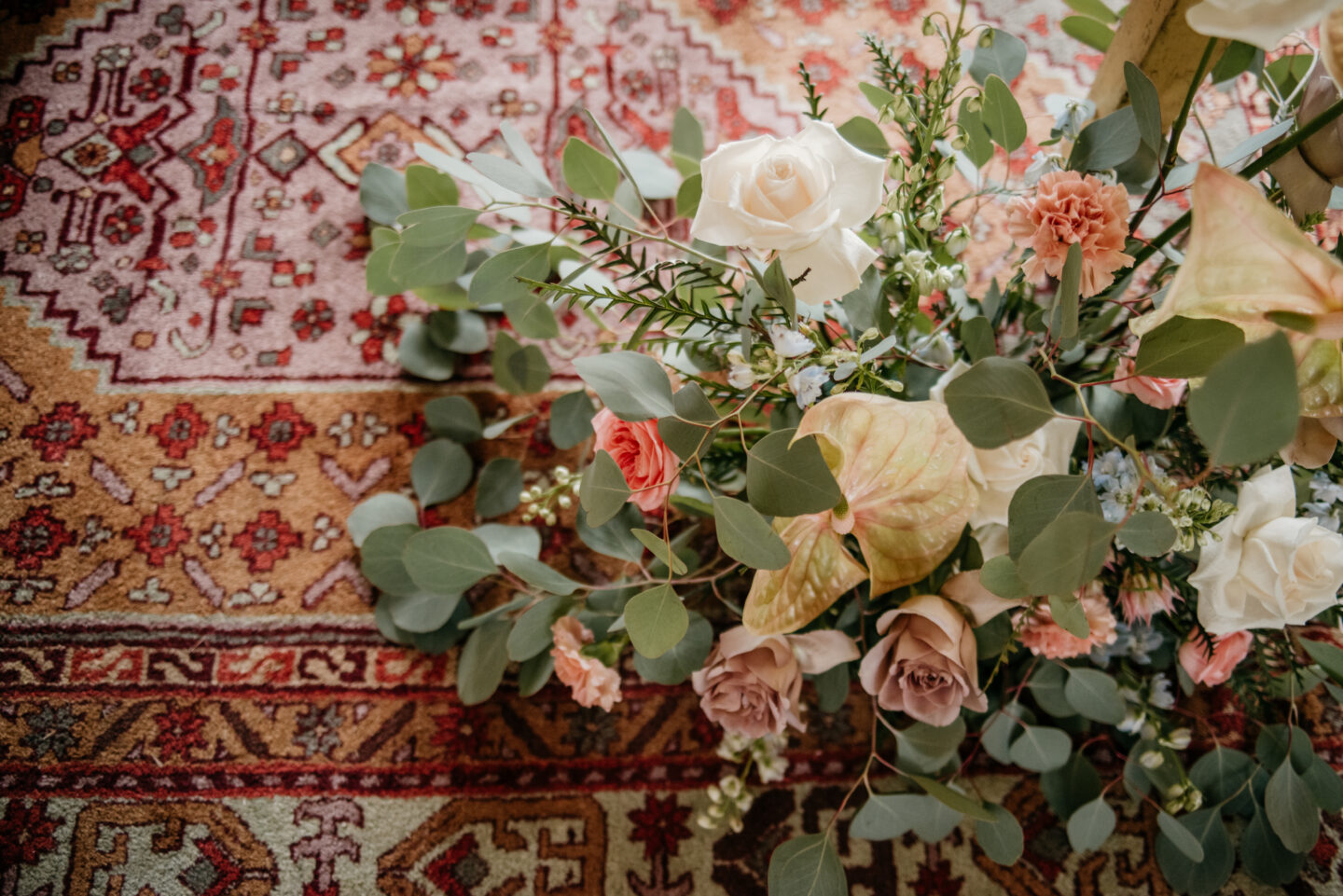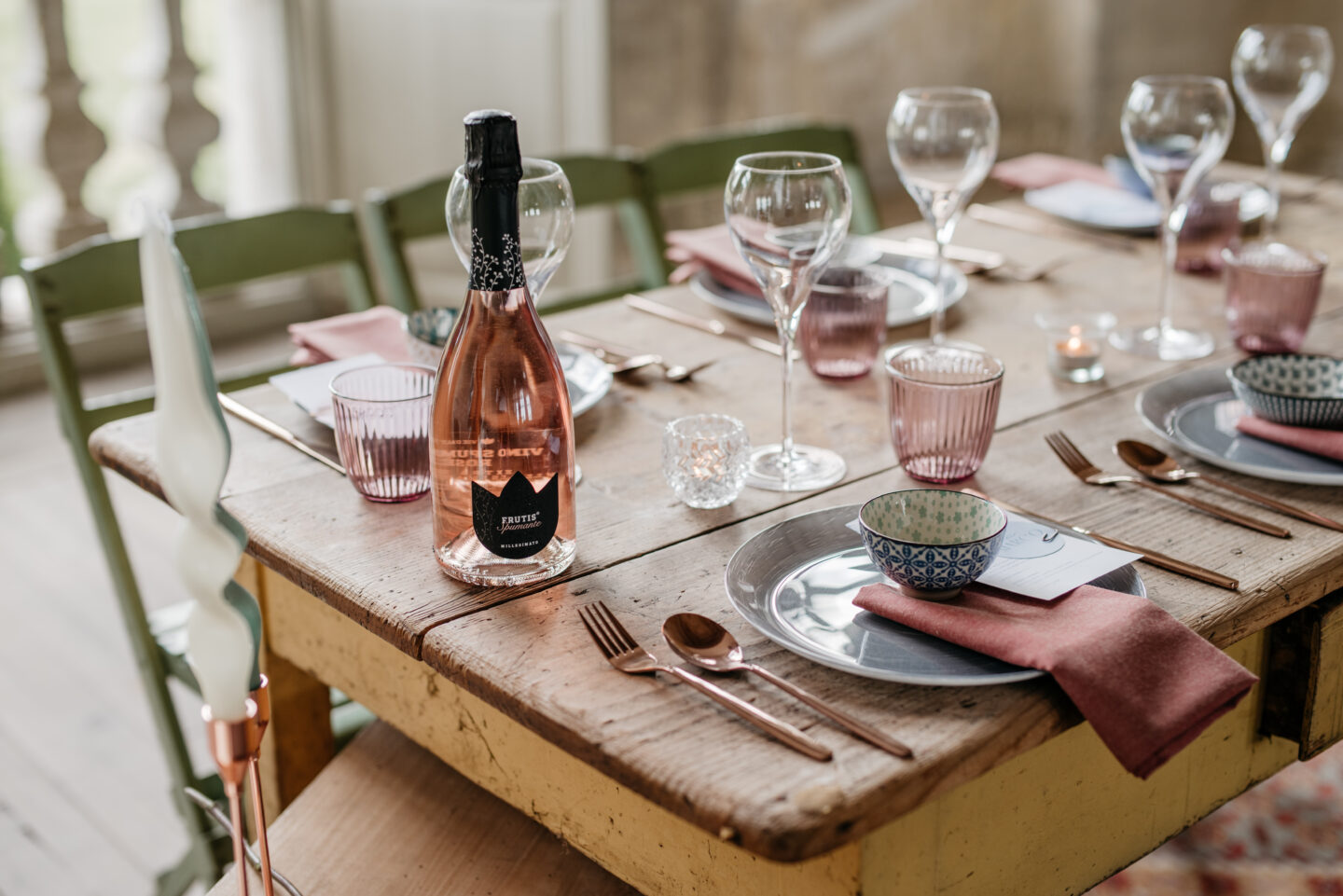 Location
"In terms of destination, the location we picked is quite unknown – Tuscany, Como and Amalfi are usually the main ones when talking about Italy. Friuli Venezia Giulia, however, is an Italian region that has it all – seaside, hills and mountains in a very tiny amount of territory that is still to be discovered in terms of tourism. A cheaper but equally beautiful alternative to the ones mentioned above that you should consider for your Italian wedding!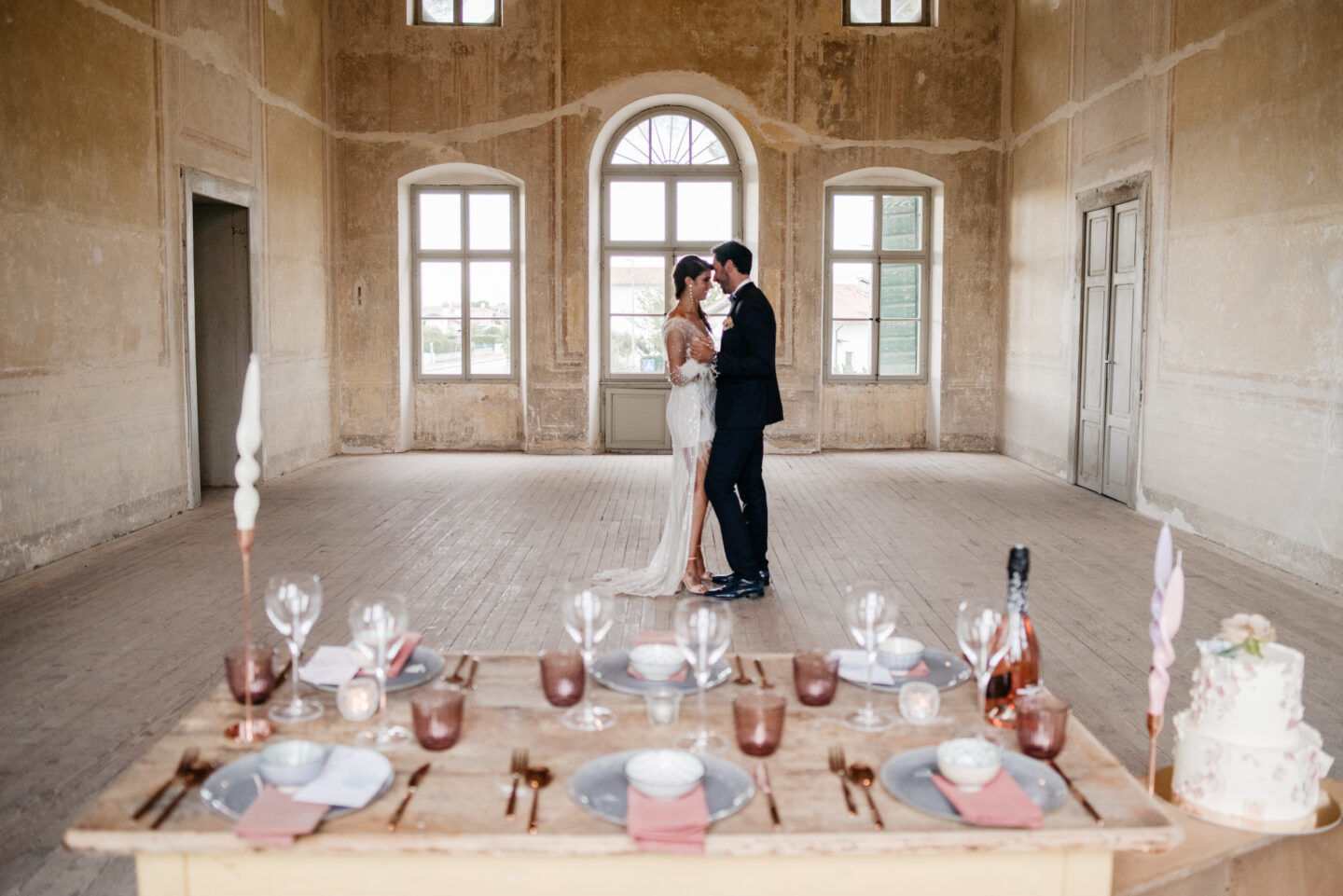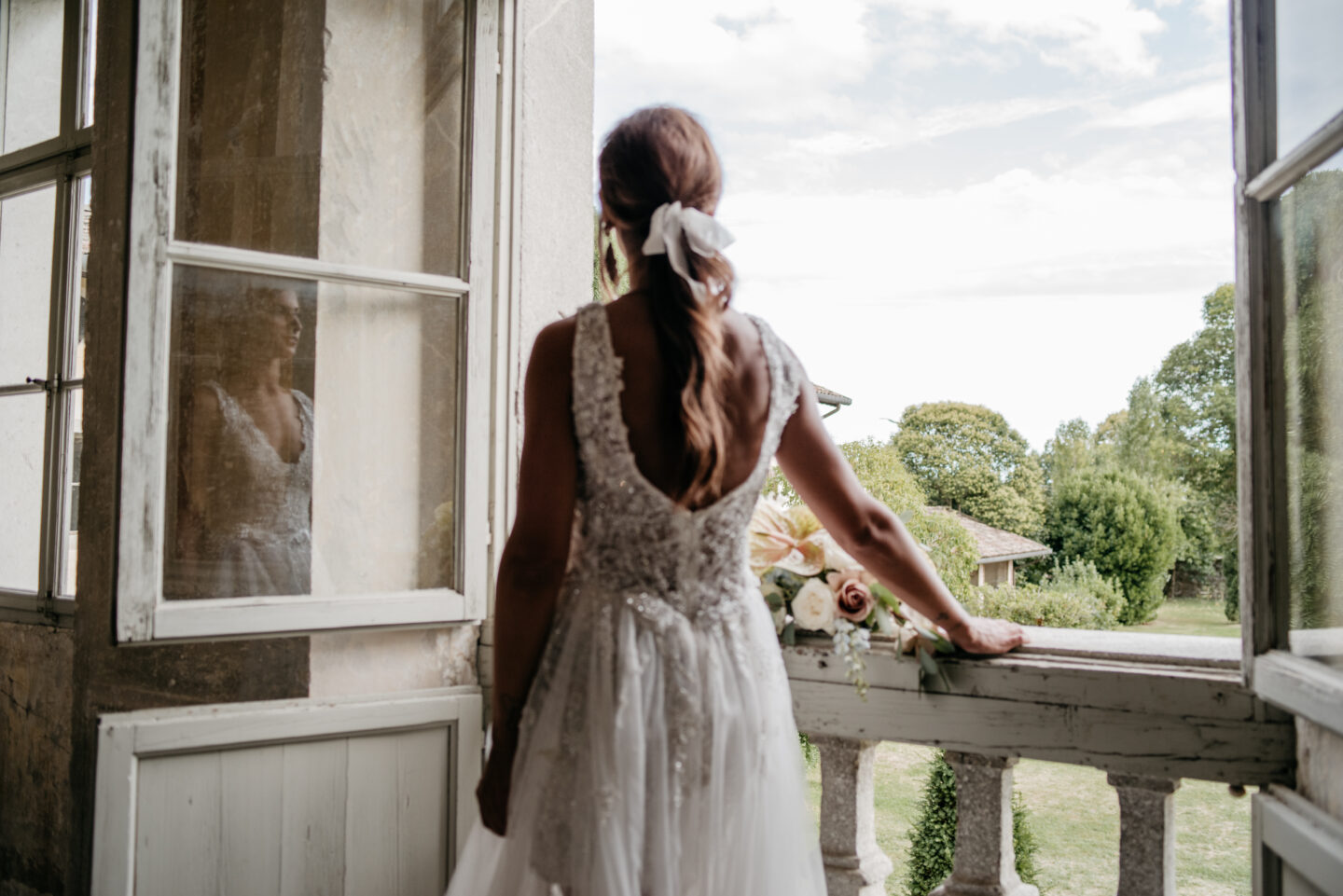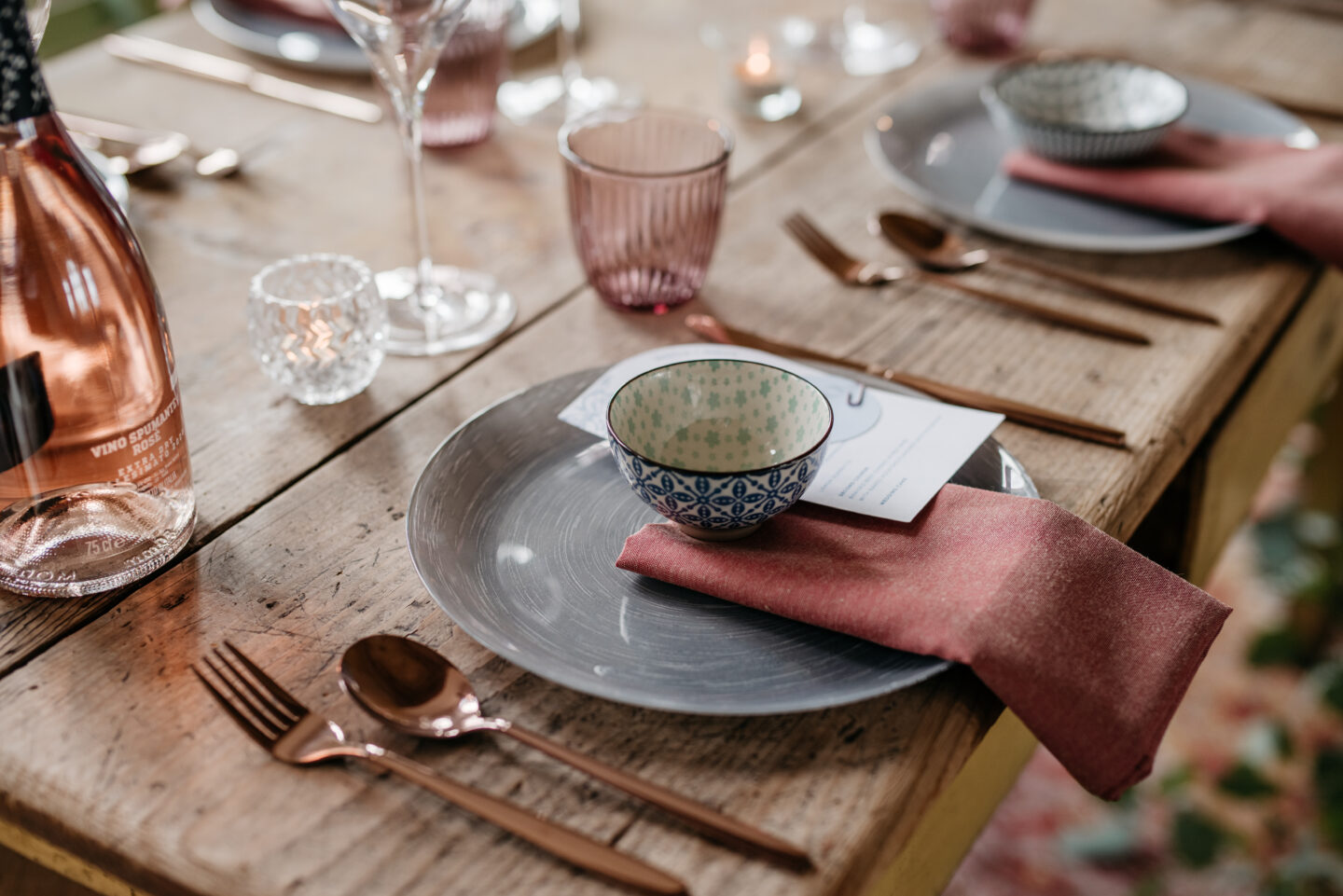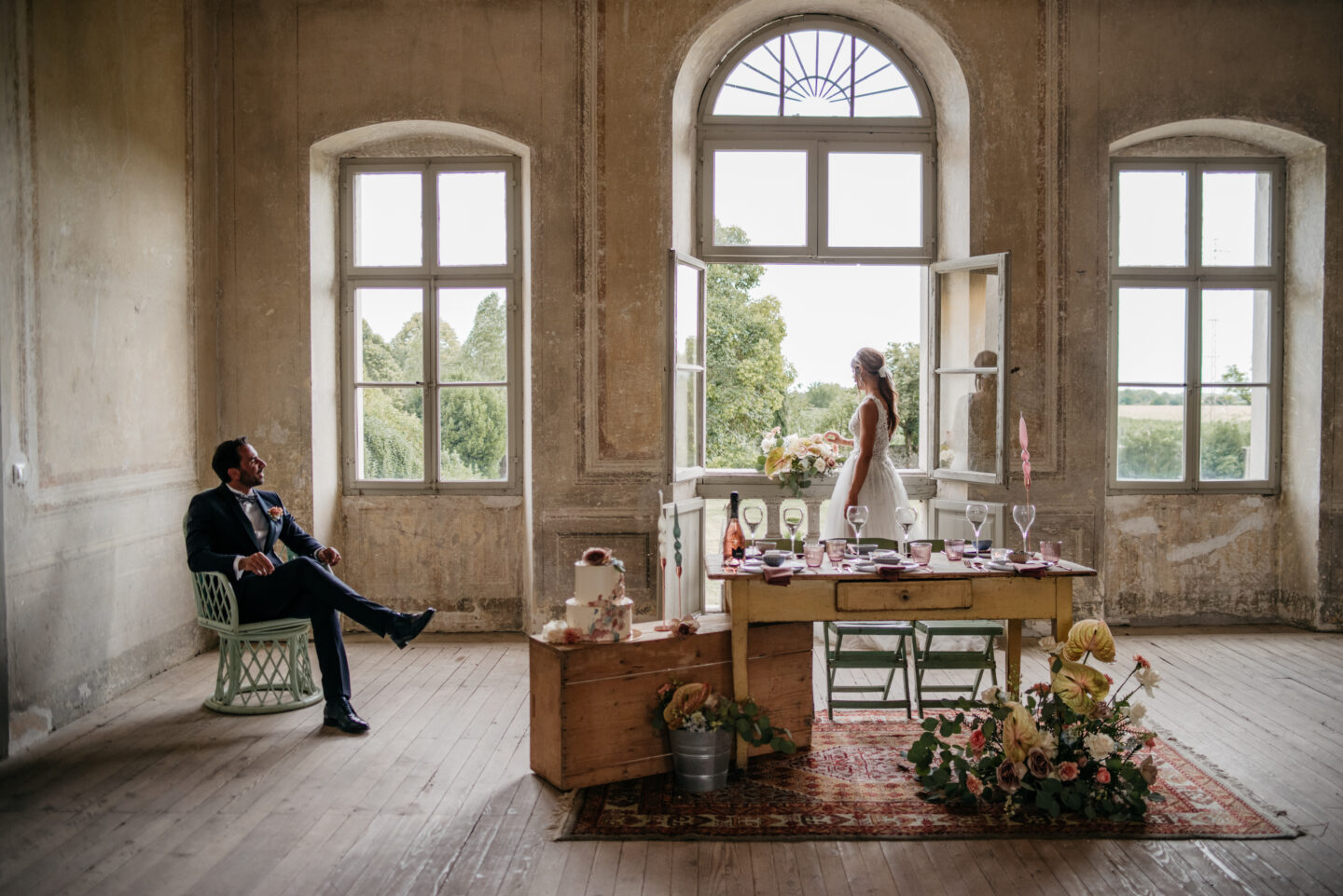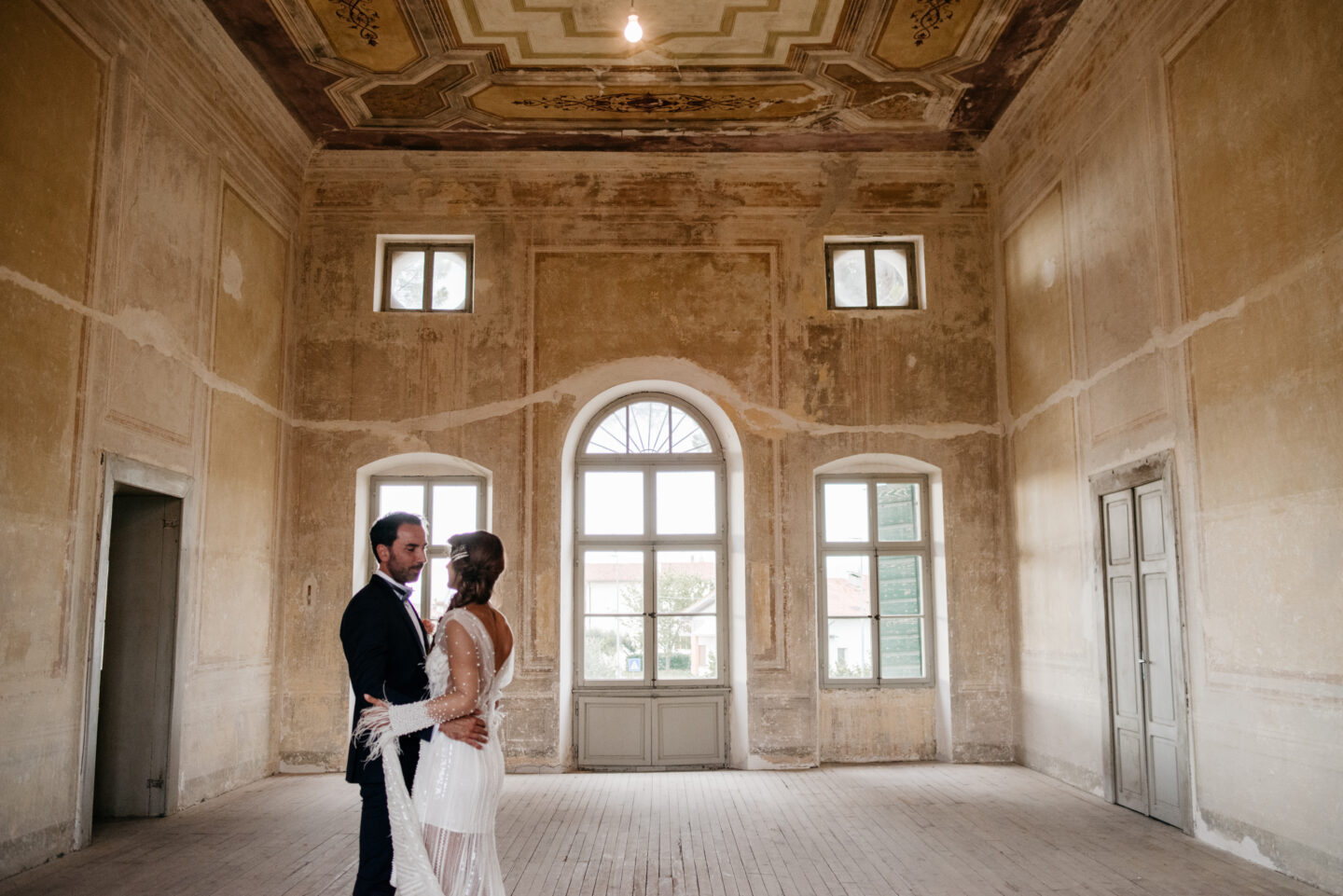 Styling
Peach, Teapot blue and Lemon Zest are the main Pantone colours on the palette, which can be found throughout the different settings as well as on the gorgeous wedding cake and the florals that enrich the decor. The modern table decor represents the young couple in the same way that the rustic elements do it with the Villa – a proper bridge between Present and Past.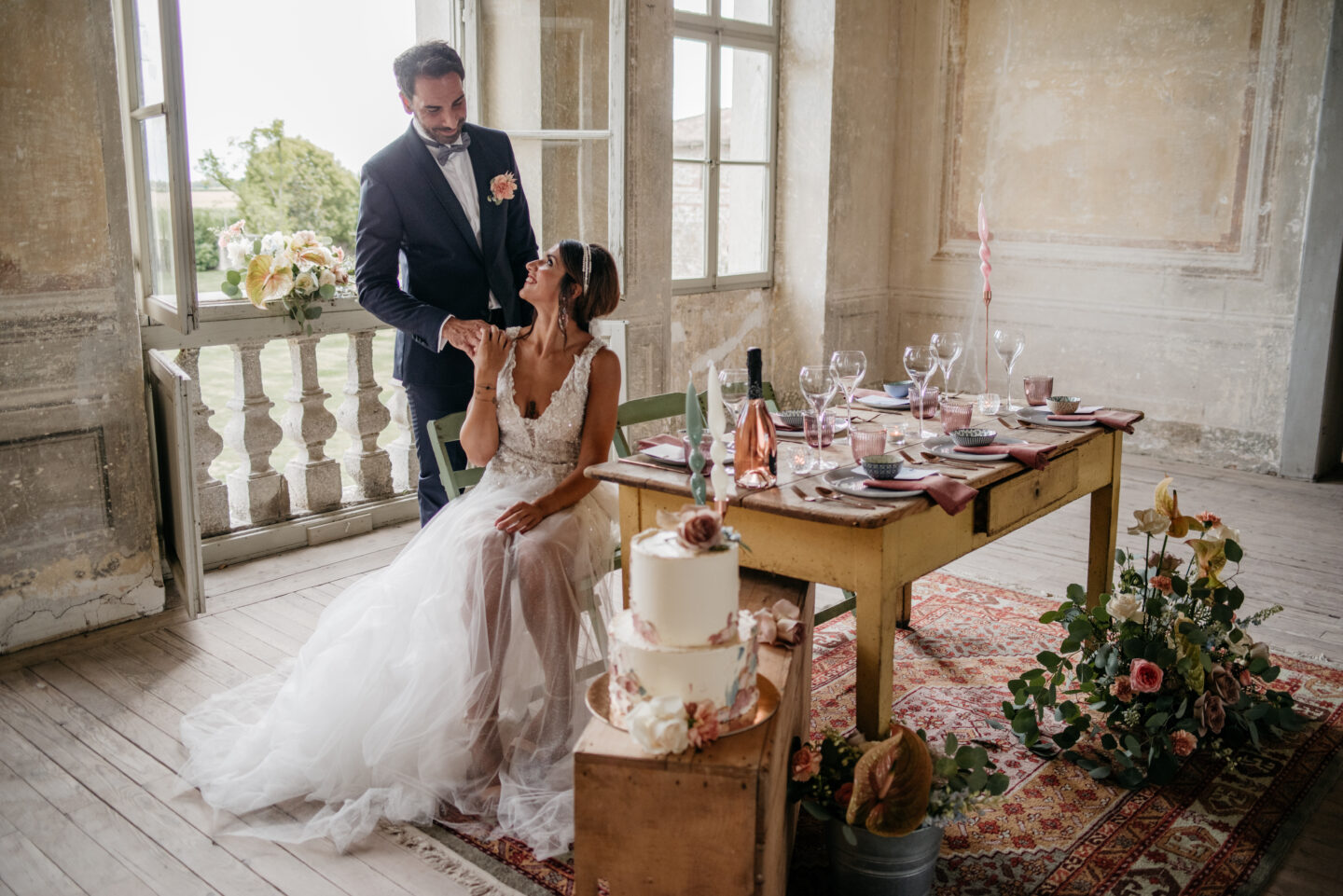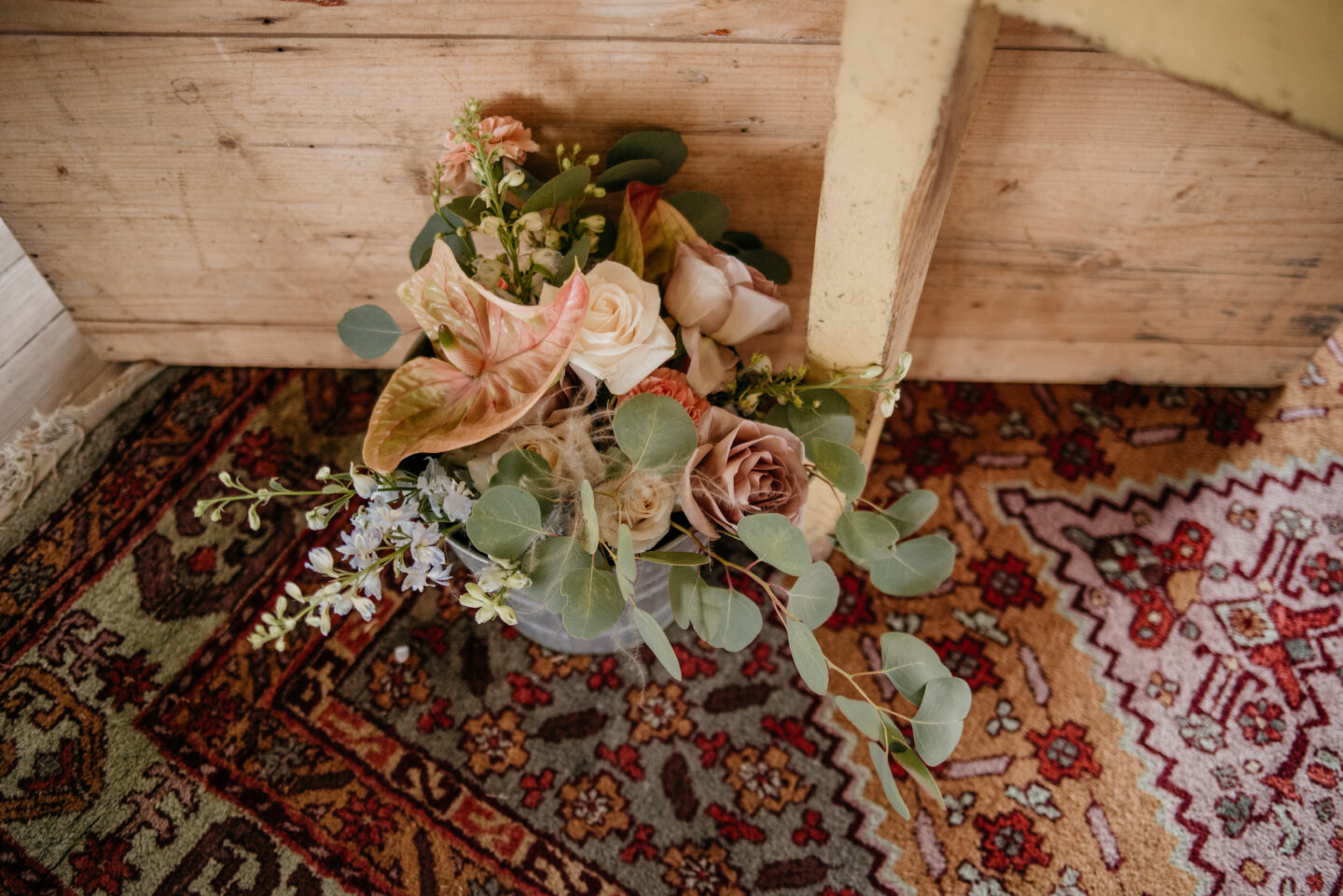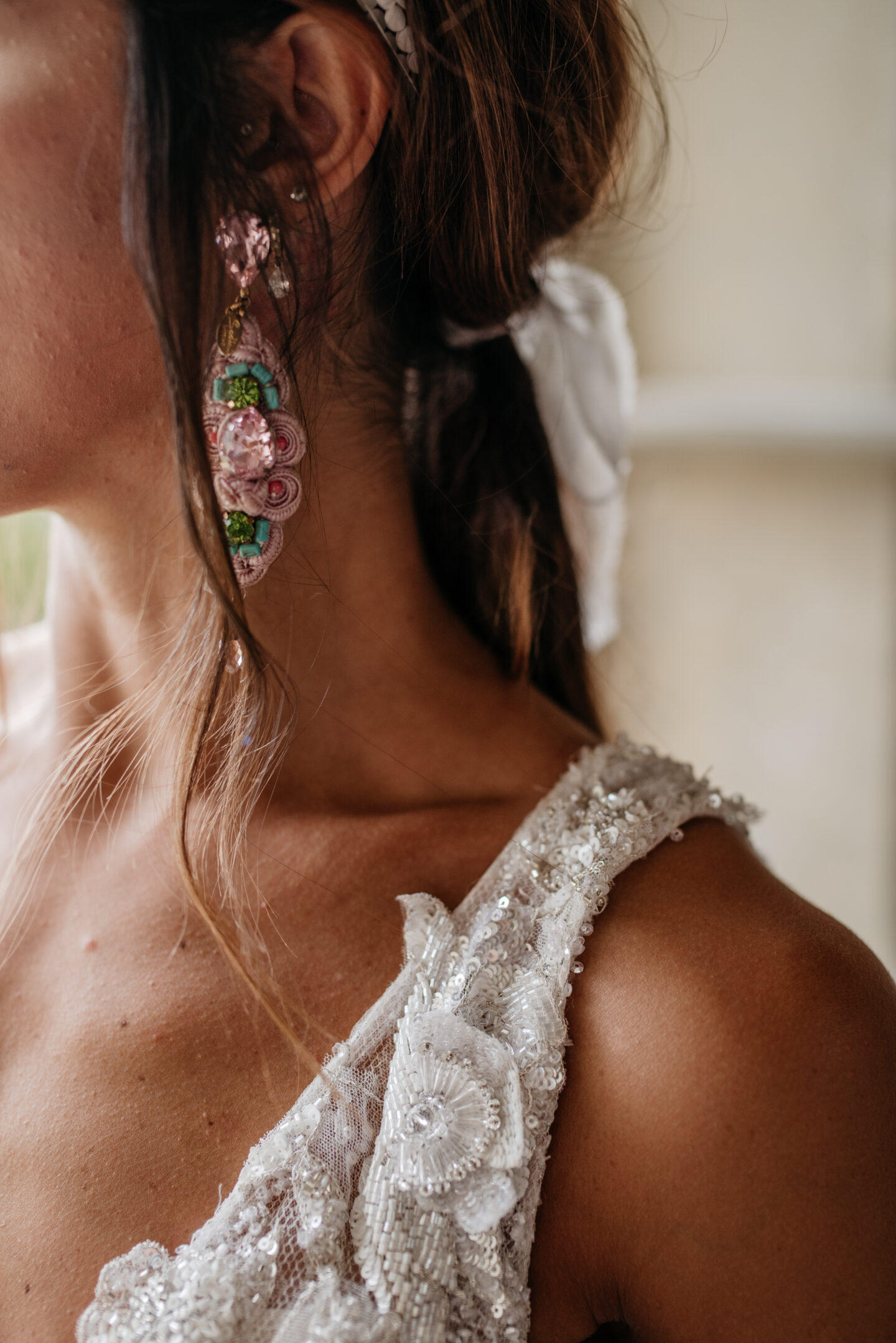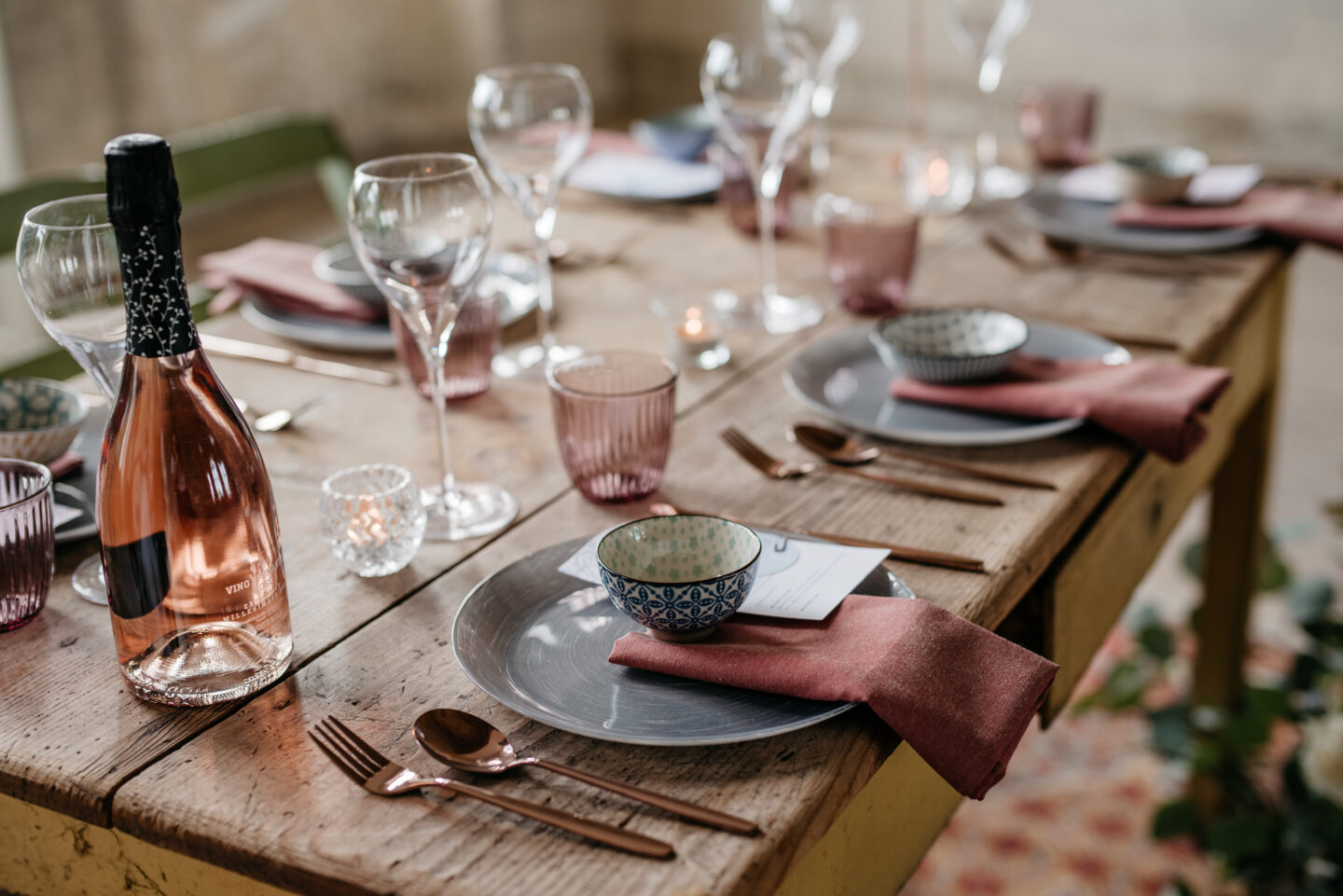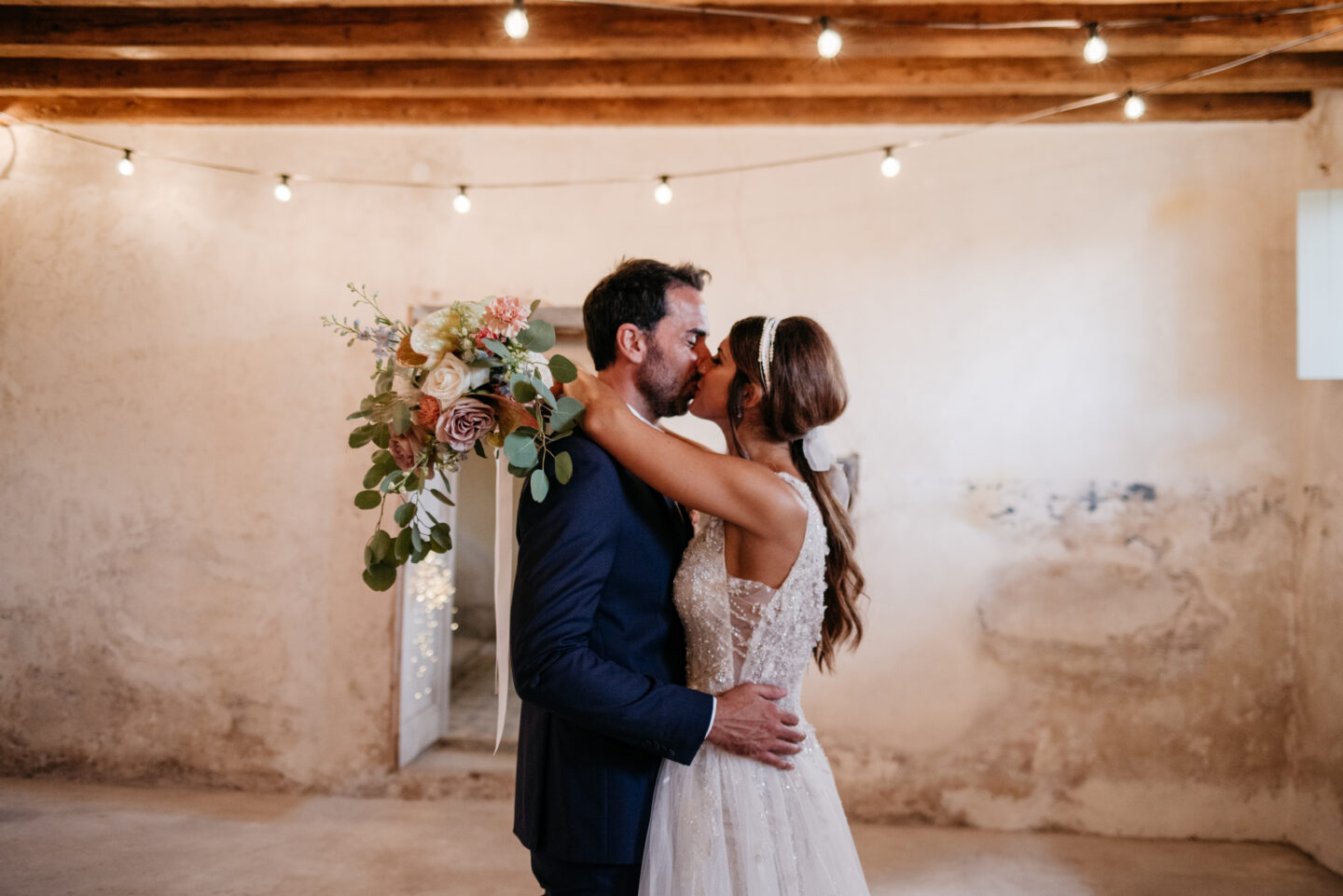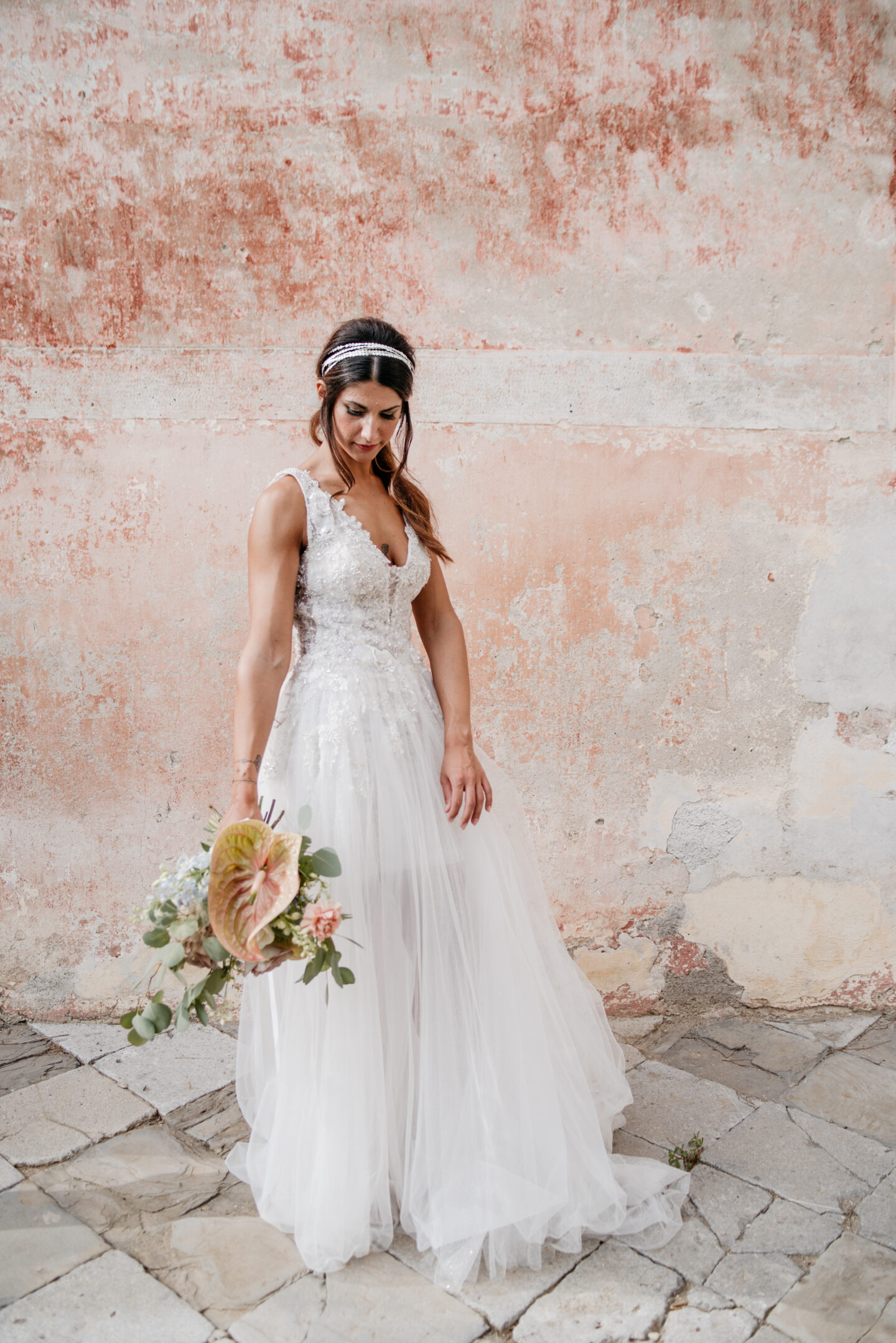 The Details
"A sweet romance with a hint of character is what we wanted to achieve – a beautiful sustainable paper made headpiece by Paperthink and two stunning dresses by Miramode have been chosen for Jessica who represents the icon of a modern contemporary bride with a sweet but glamorous attitude. The first look is a romantic low-back gown, perfect for a dreamer who is living her special day in the best way. The second outfit is a statement one, where pearls and feathers make a perfect fusion in a Great Gatsby style – a very unique piece with a WOW factor!"
The gorgeous stationery set created by Greta – Invitù Design is young and fresh with a sassy twist. The tassels and the rounded edges work beautifully with the pastel tones – definitely on trend!"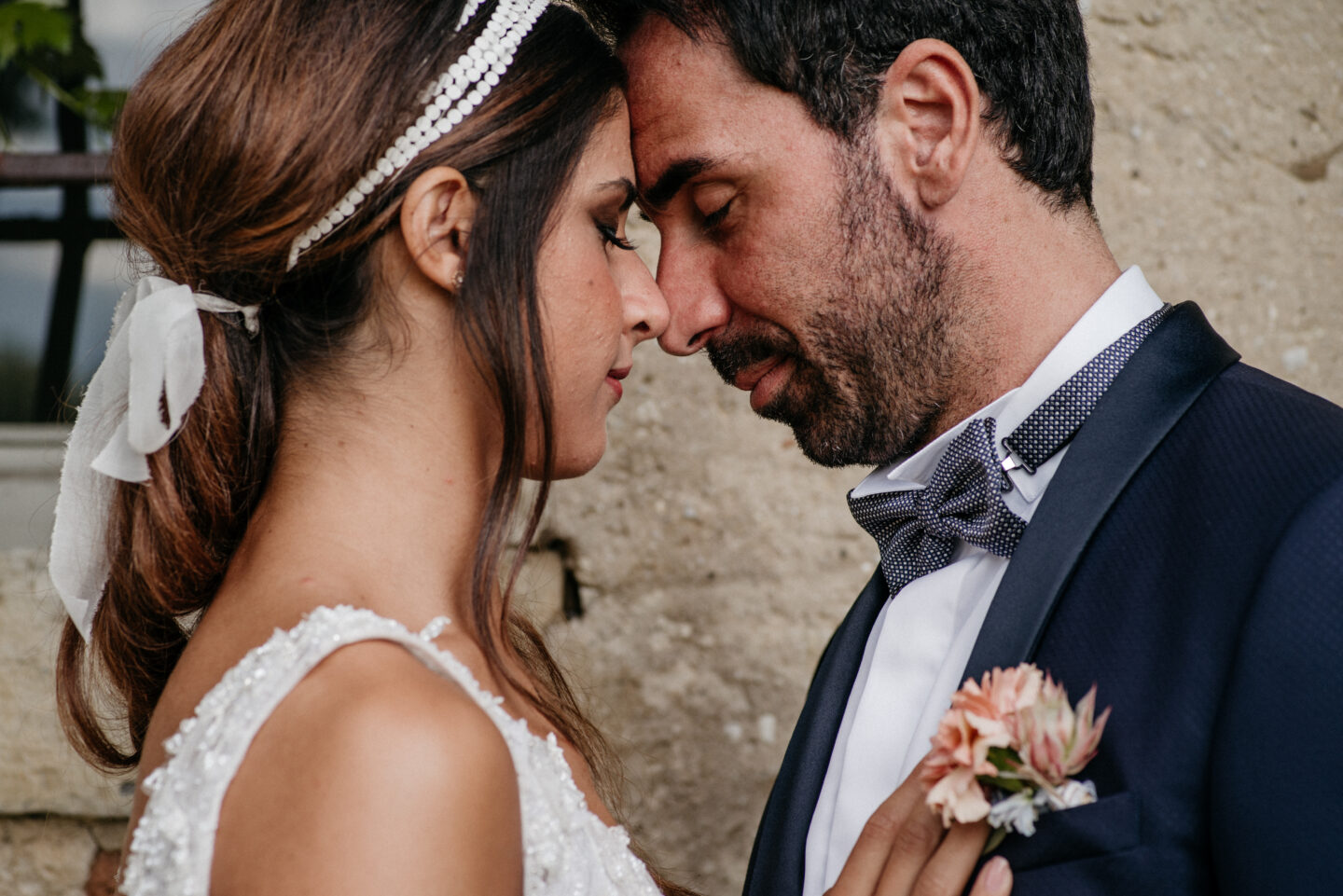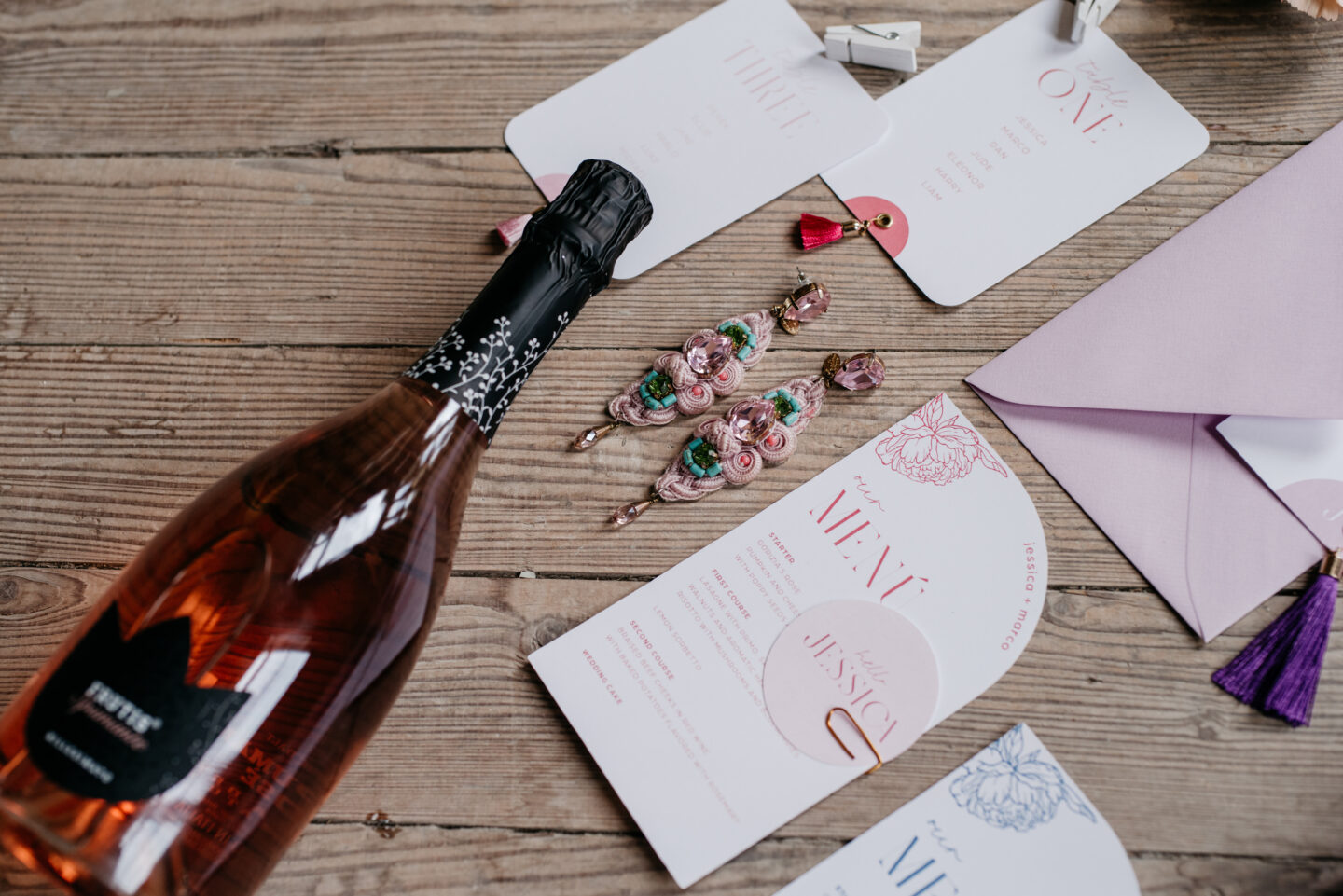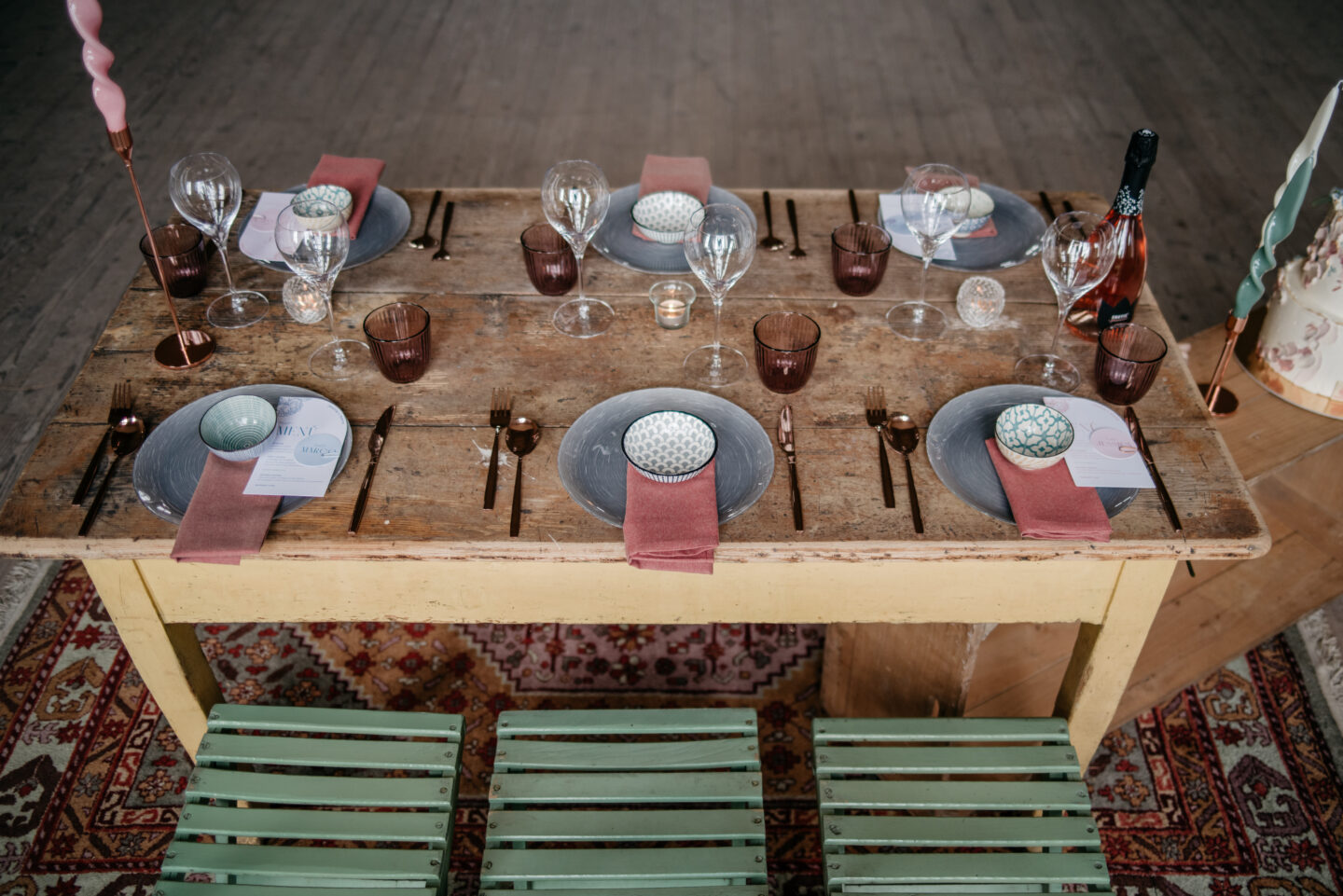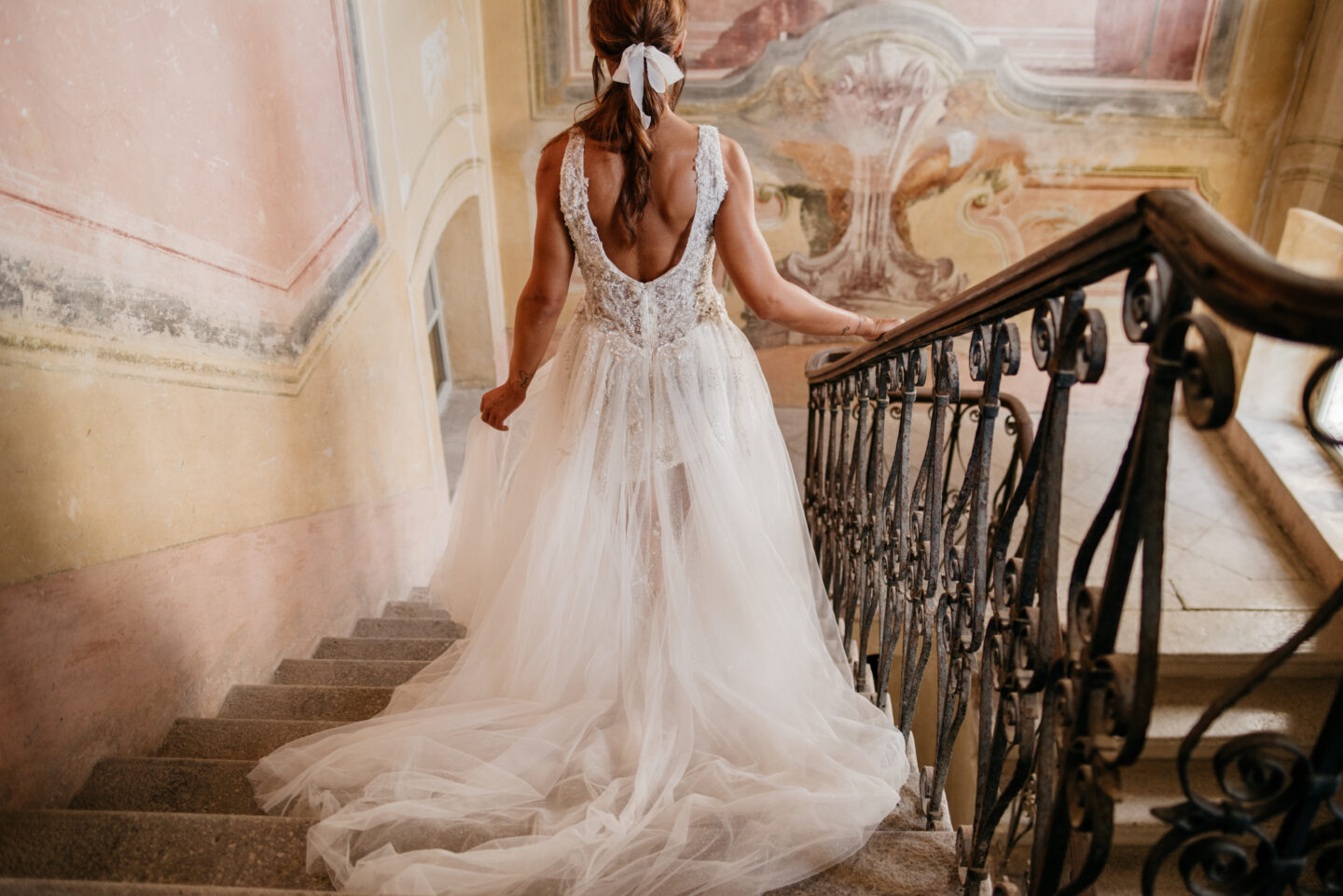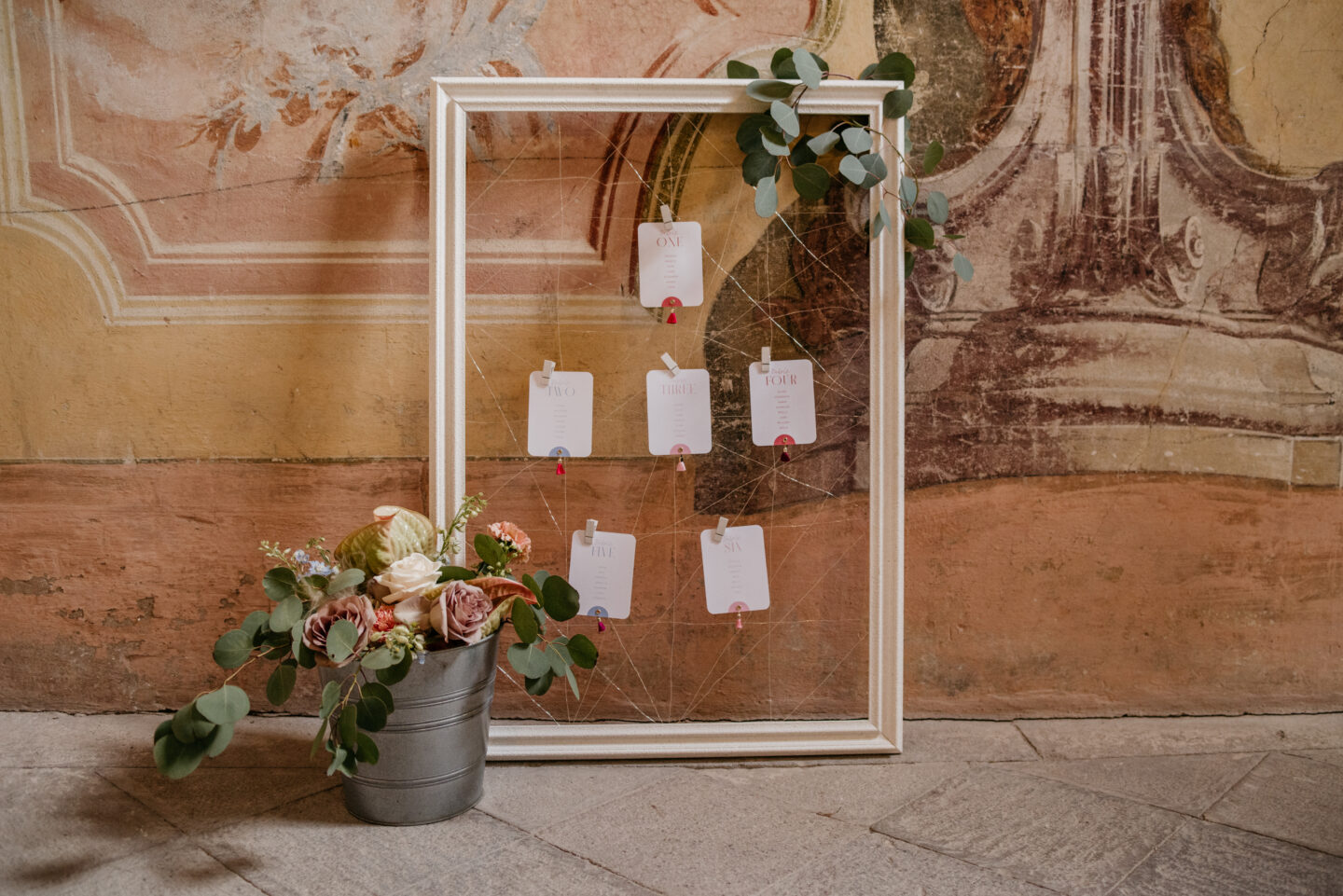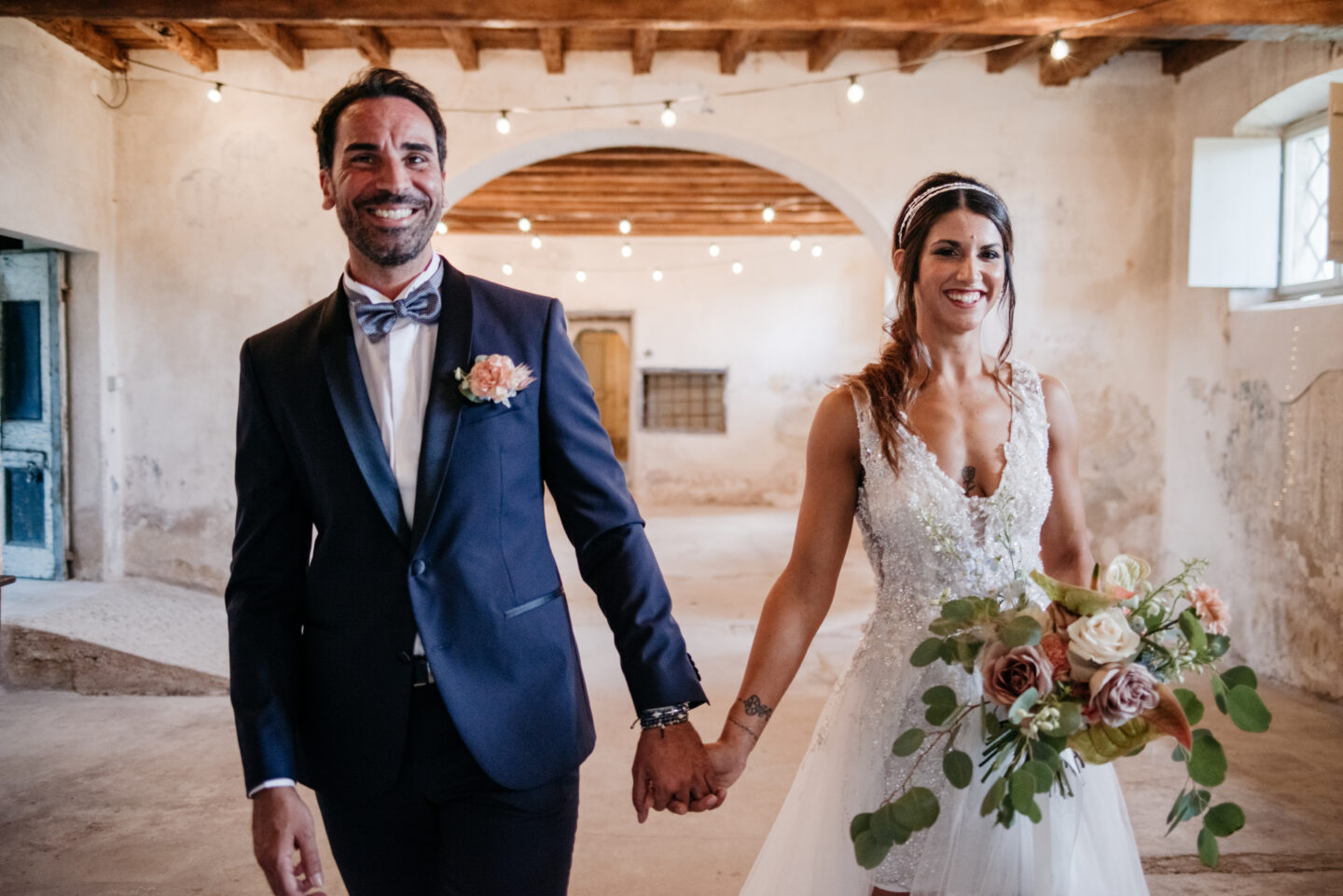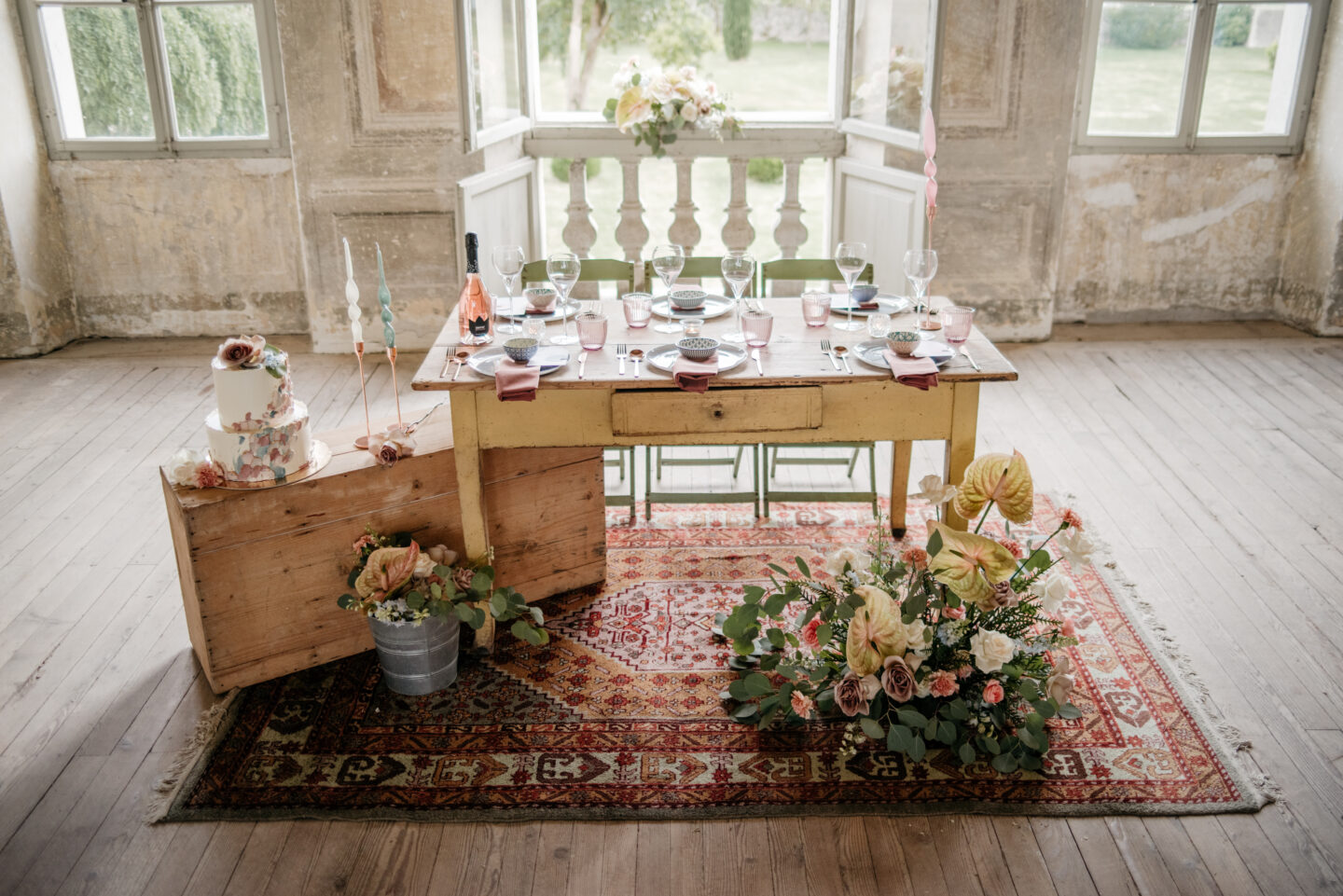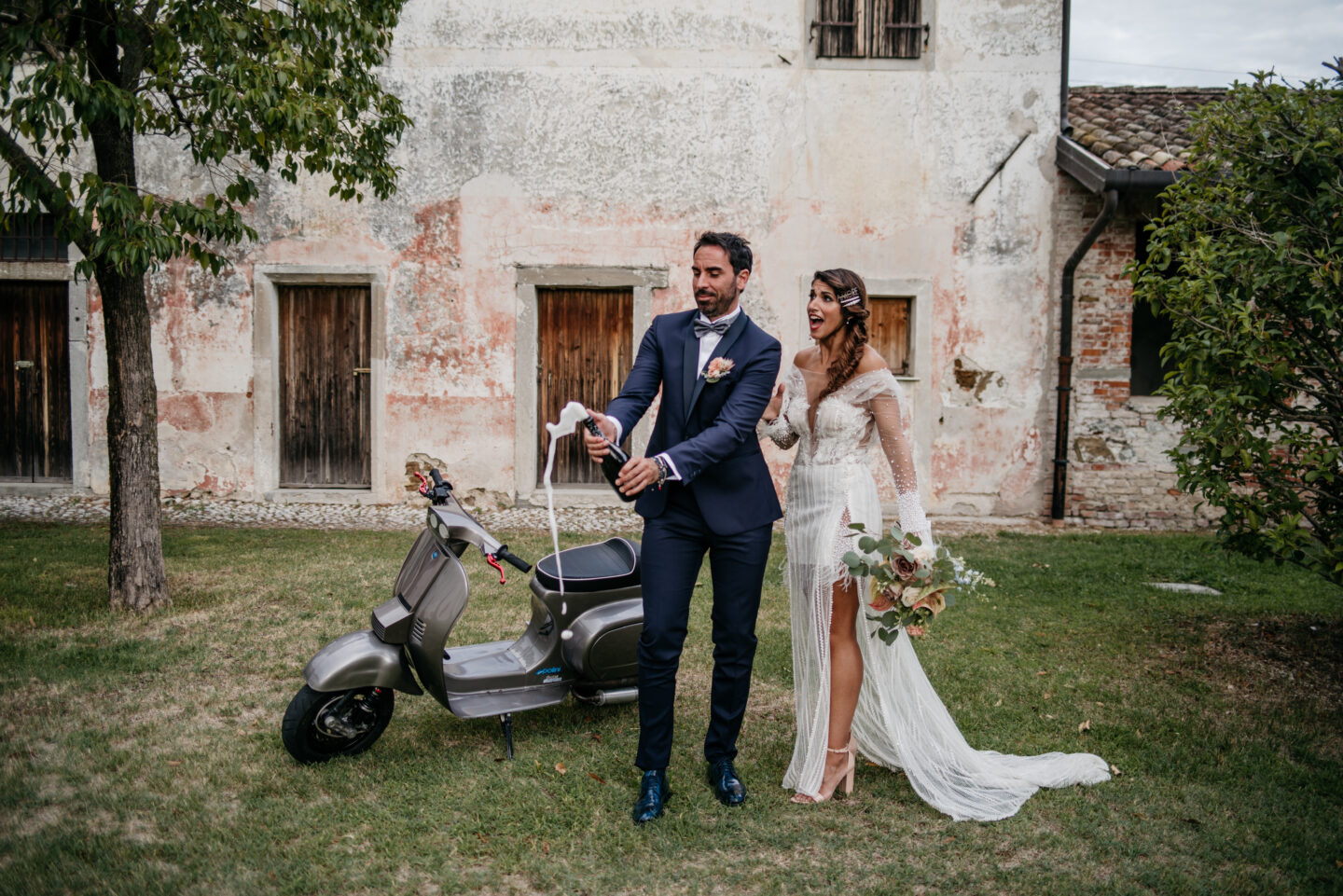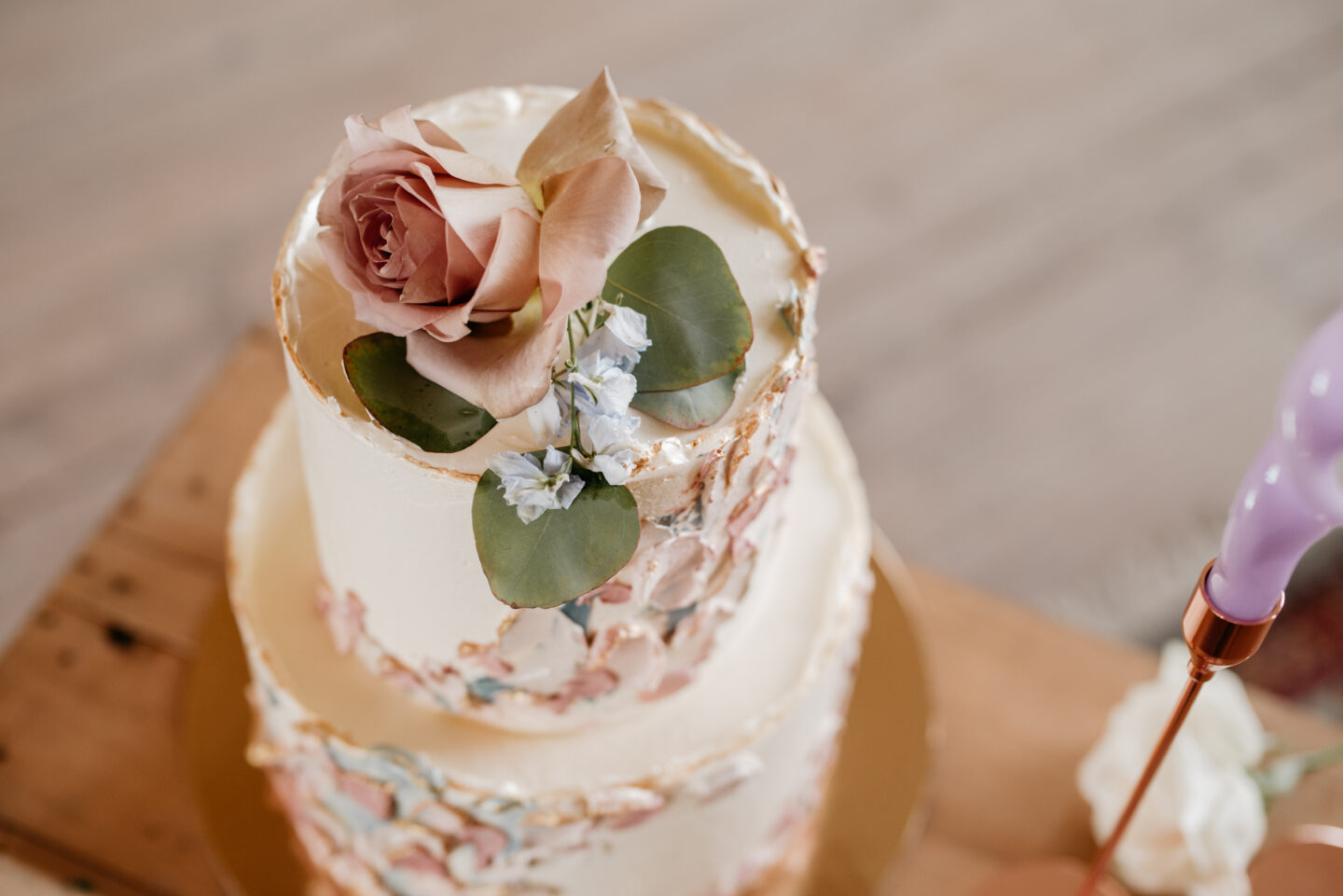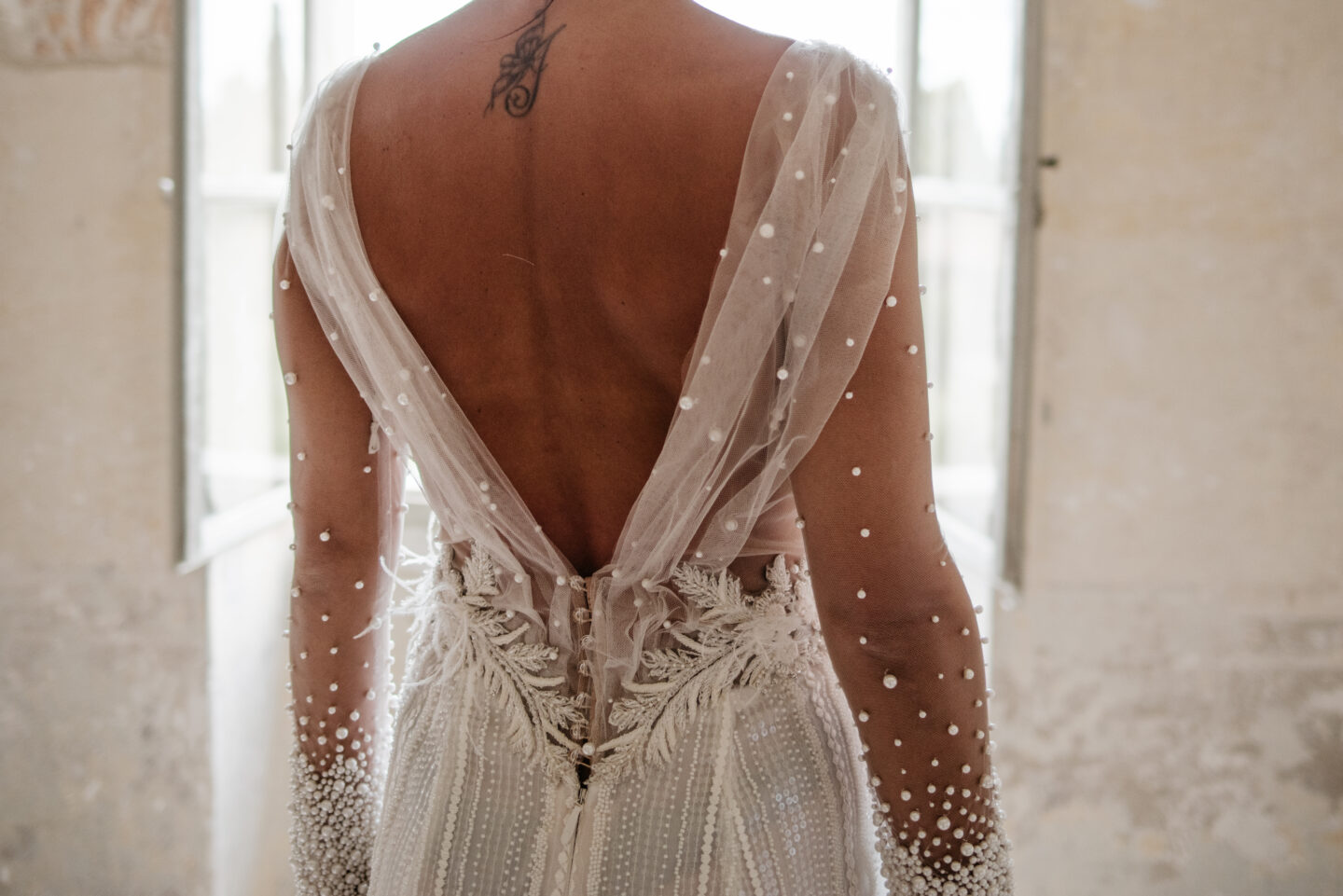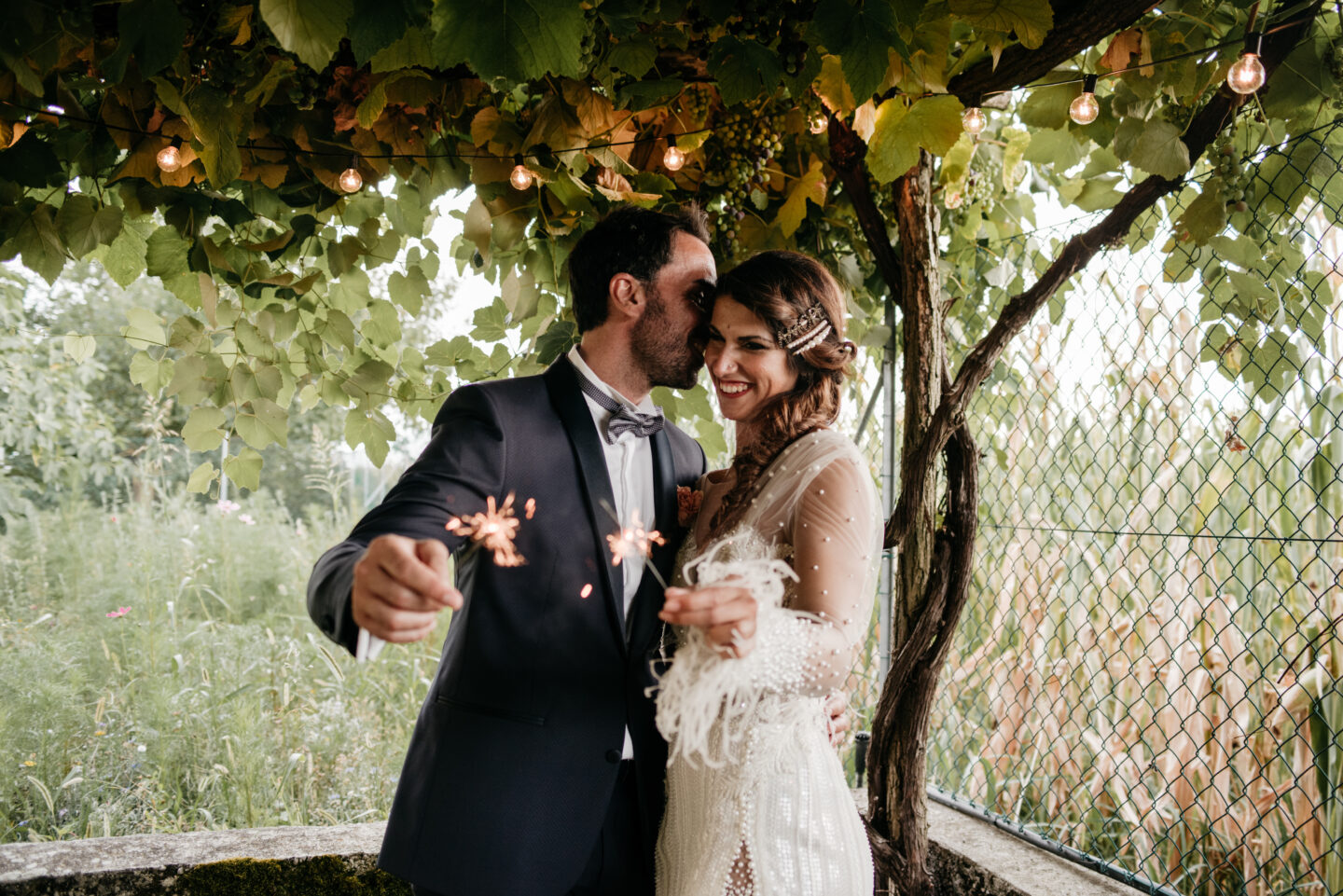 The Team – Italian Vineyard Elopement With Luxury Vibes at Villa Garzolini
Photographer Rachele Mosolo @rachelemosolo
Venue Borgo Garzolini @borgo_garzolini / Dress Miramode @miramode_udine / Styling/Stylist Jessica Fasciano The Italian Dream @the_italiandream / Florist Fioribrì @fioribri_floral_design / Hair Pettine a Coda @pettine_a_coda / Makeup Maria MC MUA @mariamc_makeupartist / Cake Dolcemente Sara @dolcemente_sara / Hairpiece Paperthink @lauragpaperthink / Videography Jimmy Gaiart @jimmygaiart_weddingfilms / Stationery Invitù Design @invitu.design / Candles Cereria Graziani @cereriagraziani / Wine Vie D'alt @viedalt /
Vespa @ludovico_benati / Couple Jessica – @jessicamaurig and Marco @marco_c_leo
IF YOU LOVED THIS VINEYARD ELOPEMENT PIN IT TO YOUR WEDDING BOARDS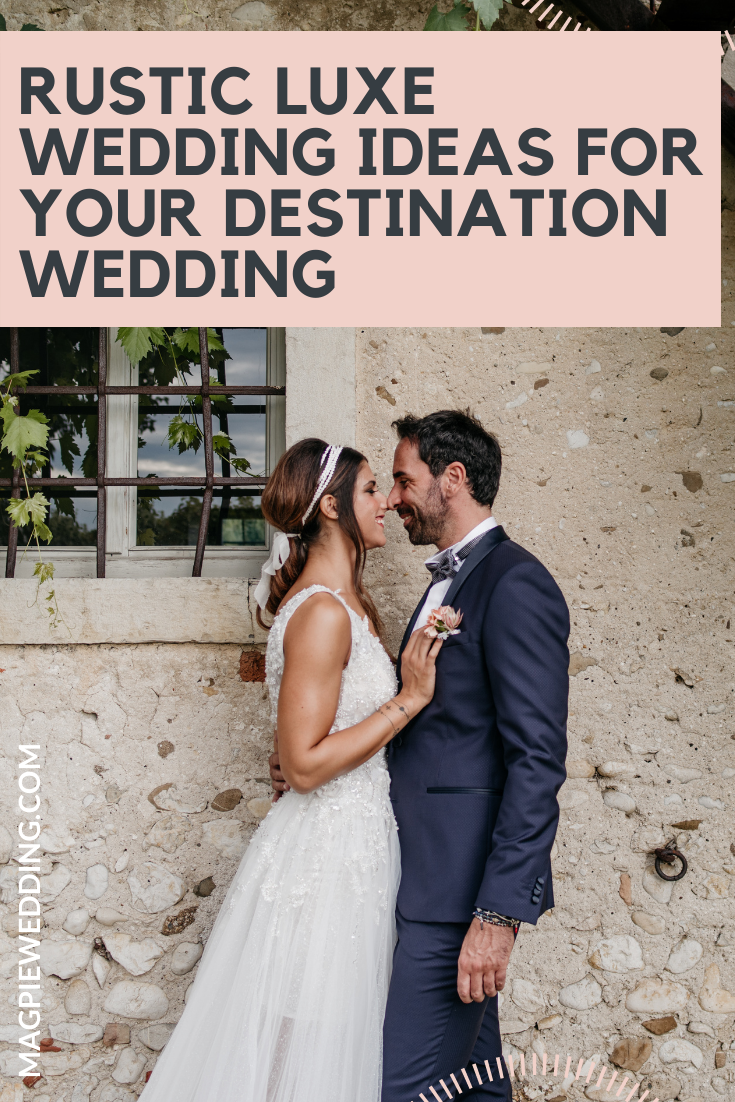 If you loved this Italian vineyard elopement you may also like;
Romantic Vineyard Wedding Inspiration At Sarabah Estate Winery, Australia
Romantic Vineyard Wedding with Bespoke Dress and Rustic Luxe Styling