Most people won't think of Morocco and the city of Marrakesh as a great honeymoon destination but we at Magpie Wedding are here to tell you all about it and share how it makes a really romantic destination for a mini moon or even a romantic getaway with so many things to discover and do. We were invited to stay at the Riad Spice late last year to see how amazing Marrakesh honeymoons can be; it's a 16th century property, lovingly restored by a British couple Mike and Lucie, set in the centre of the Medina (the central and original part of the city) near to the markets, boutiques, palaces and restaurants. They offer the most beautiful rooms and suites for the night as well as 3 day packages including a pamper break with Moroccan treatments and massages, perfect to de-stress before or after the wedding.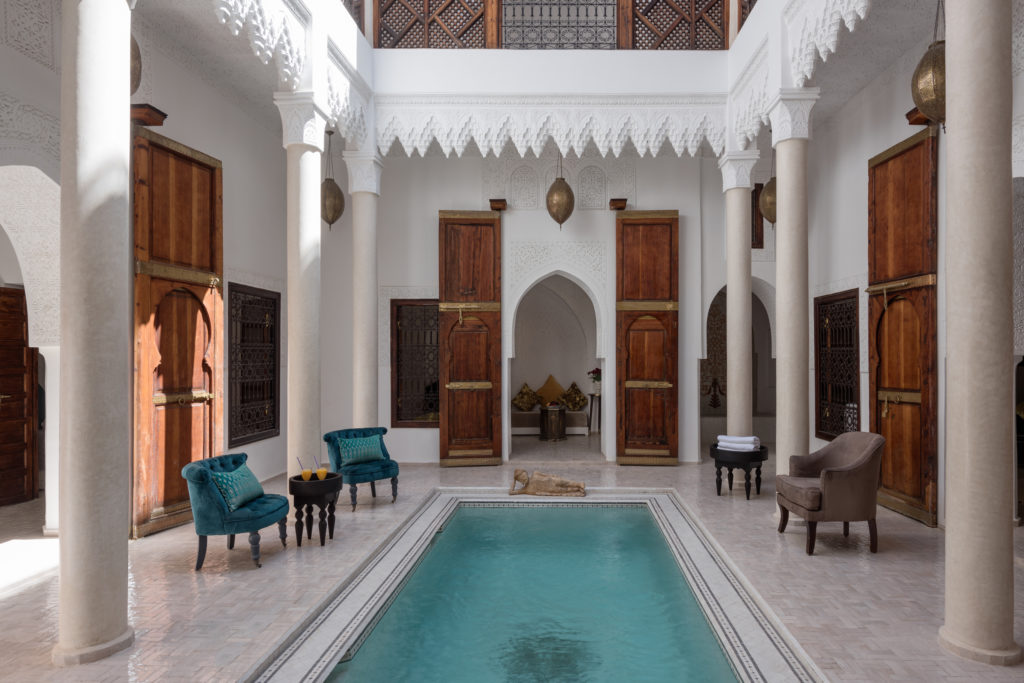 What makes this Riad (and their others – they have 4 in the Medina) feel so romantic from the offset is that it feels secret, like you are in a hideaway that no one else knows about. You walk down a small alleyway, up to a large, old wooden door – with no signage at all. On opening, the stunning interior is revealed; mosaic floors, coloured glass lanterns, archways, and intricate plaster detailing on the walls. There is a central pool with an open roof, and low slung furniture all around covered in jewel coloured velvets and the odd pom pom. You feel like you are somewhere magical, and as it only has ten rooms and a team that really want your stay to be perfect, you feel special – which is how you should feel on a honeymoon right? The bedrooms are suites with sofas, ornate furniture, and more plush velvet!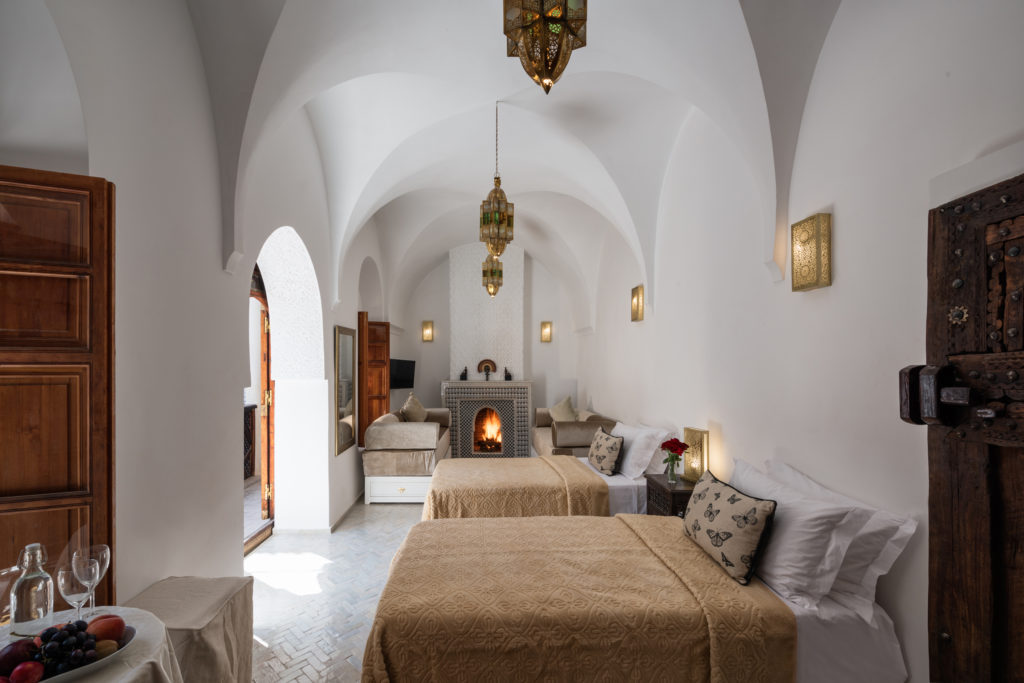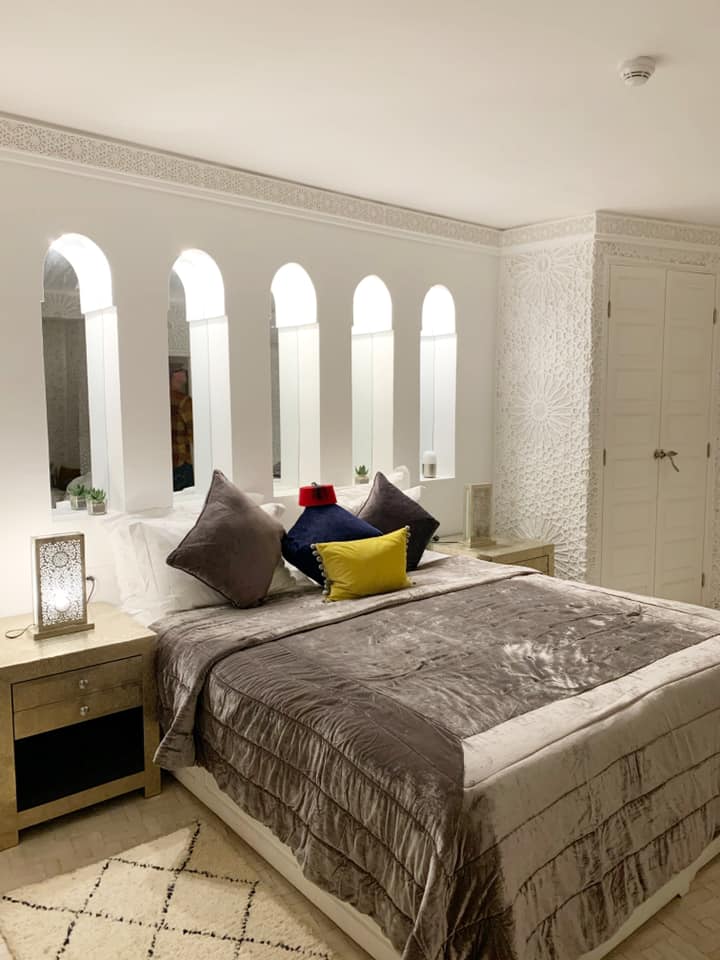 But how about Marrakesh as a whole? Yes it is super busy, vibrant and somewhat noisy but there are little oases of calm dotted (behind more closed wooden doors) that once you discover them, you have an overriding sense of calm washing over you. And this is what makes it perfect for a honeymoon; you get the shopping, the culture and the romance all in one. And add that it is only 3.5 hours away from the UK and the budget airlines go there – it is also an affordable and practical choice.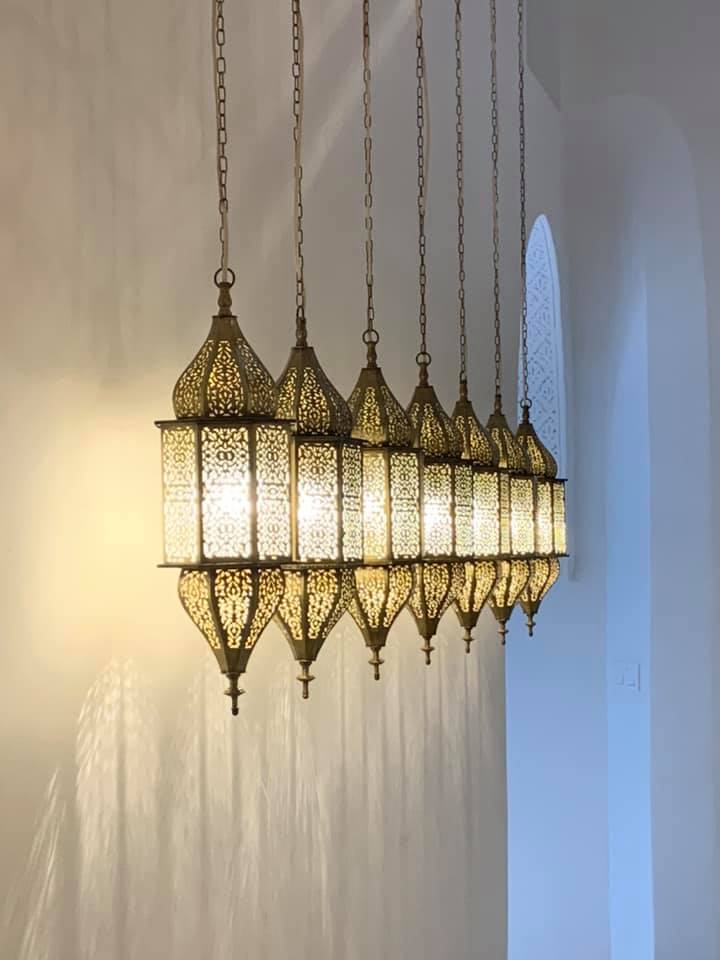 Where to stay?
There are few large hotels outside of the medina that offer all inclusive or B&B stays which are great for families but this means you have a long walk or taxi ride into the centre and if it is summer time, it is hot! We suggest staying in the centre in a Riad (like a guesthouse) because this way you really experience the city and its culture. Like the Riad Spice, they offer a place to retire back to throughout the day, whether it is for the never ending mint tea, the roof terrace for a bit of sunbathing or some food.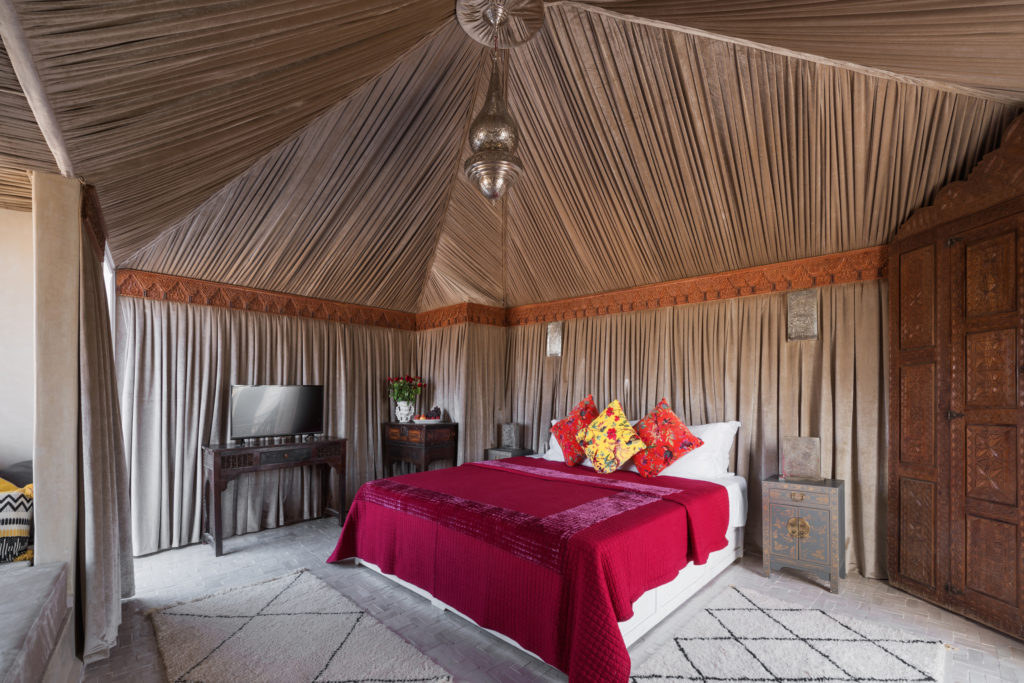 Where to visit?
Two places stand out to me as must go to places – the Secret Garden and Majorelle Gardens.
The Secret Garden or Le Jardin Secret dates back to over 400 years ago, and was rebuilt in the 19th century. However it hadn't been maintained since the 1930s until now; it has totally been restored and is truly beautiful. Divided into two mains spaces – the Islamic garden and the exotic garden, you can peacefully walk around discovering the planting or sit on one of the many benches and relax. There is a cafe on site too. When you are inside, it is hard to believe that just a few metres away is the super busy city!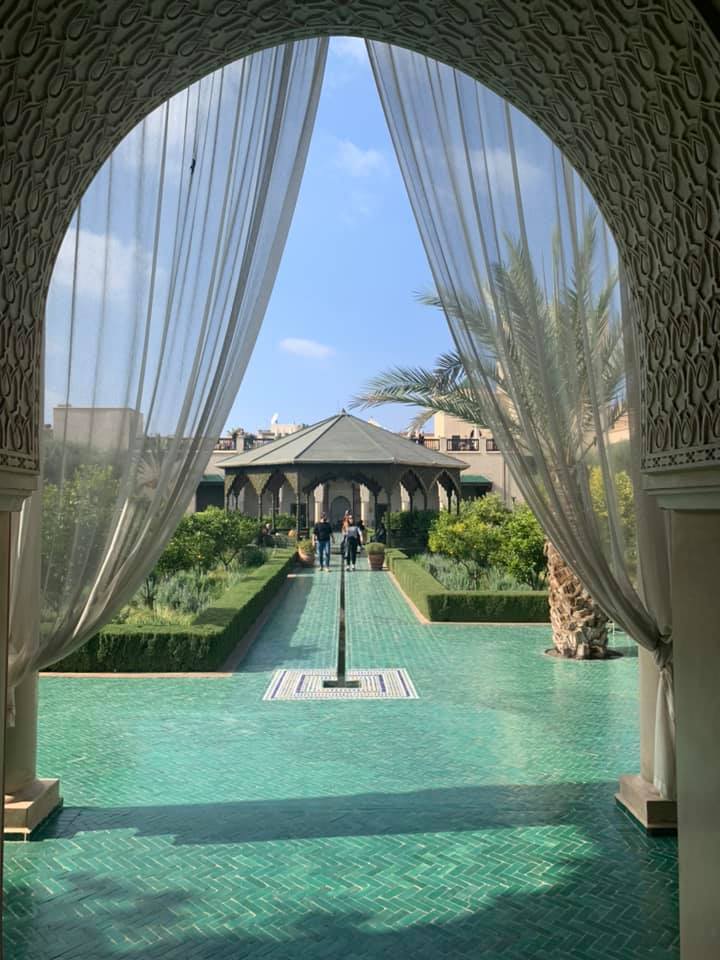 The Majorelle Gardens are a 20 minute walk outside the Medina, and is another serene space. It took 40 years to build; with palm trees, pools with lillies and many a terrapin too. But for me the real wow moment is seeing the blue and yellow house, once owned by Yves St. Laurent – it now inspires other architects with its shape and indeed strong blue. You will love it!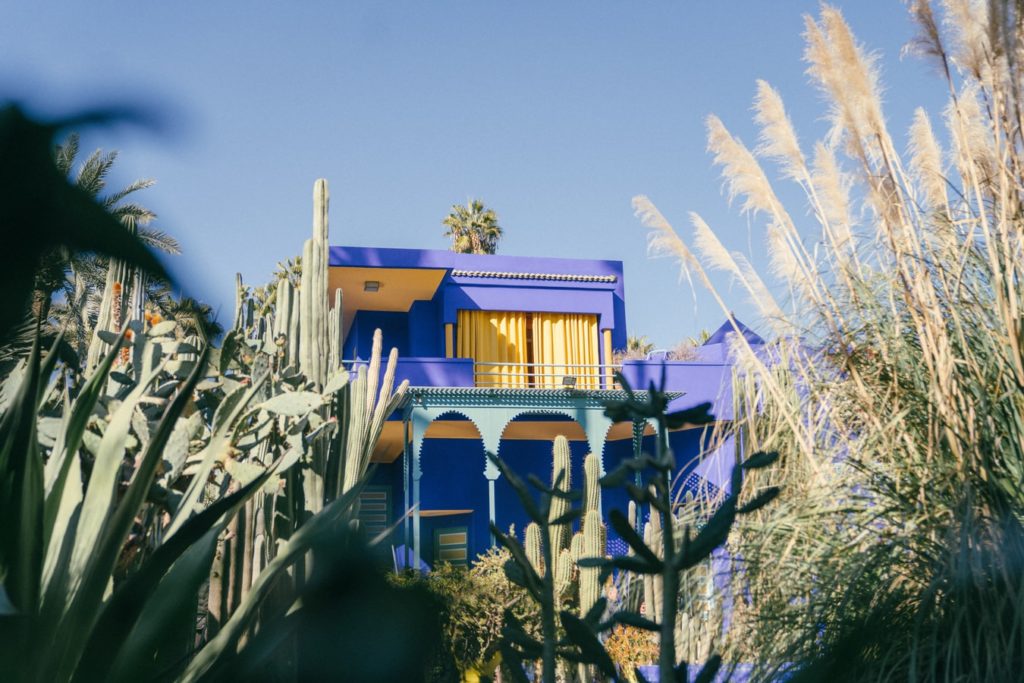 There are also palaces you can visit, some in ruins, where you can see more of the glorious Moroccan architecture and mosaic tiles.
Where to eat?
There are so many restaurants and cafes you will be spoilt for choice. The Riad Spice team have created a handy app with built in GPS (so you won't get lost!) but also, recommended places to eat and visit. Through this we discovered some great places, both traditional and contemporary. DOWNLOAD THE APP HERE.
We loved Le Trou Au Mur for its fusion of European and Moroccan food as well as its contemporary interior. We also enjoyed eating and the mocktails at the tropical feeling Le Jardin (humous to die for) and the Souk Cafe for traditional cuisine. The Riad itself serves food and cooked us a tasty vegetable tagine with cous cous.
It isn't the best for vegans to be honest – I ate a lot of flat bread and dips with tagines which were perfect for 3 days, but for fish and meat eaters the choice is huge.
Morocco is a muslim country so there is not a lot of alcohol, in cafes, bars and shops but there are some licensed places to enjoy a tipple. Again this is where the app came in handy – through it we found an amazing 1920s French restaurant and bar called Le Fondouk with glass chandeliers, dark wood, geometric shapes and beer!
Where to shop?
Marrakesh is shopping central! There are so many stalls within the souks where you can find leather bags, clothes, home furnishings, rugs and souvenirs but it can be overwhelming. We suggest paying a guide to take you round who can help you with haggling and advising on the best places to shop. The Riad can sort this out for you or you can simply use the app.
There are a few artisan boutiques and co-operatives springing up which offer an alternative, and peaceful place to shop!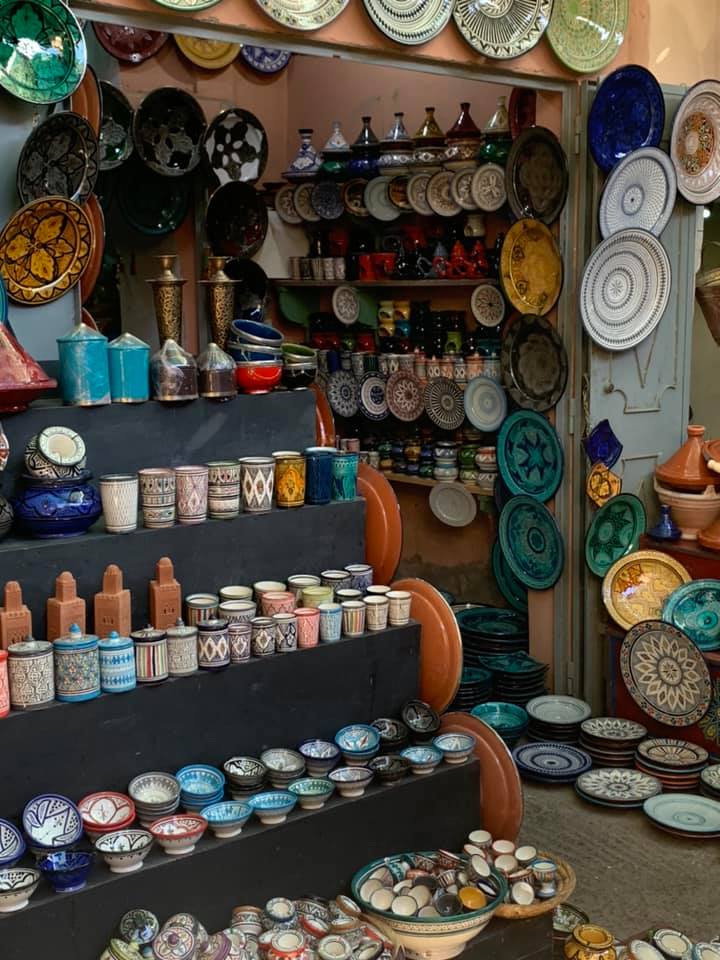 Practical Advice
The Riad Spice offers a taxi service to collect you from the airport which is great – and helps you to find your bearings straight away.
It is a Muslim country so bear this in mind with the clothes that you bring. Pack something to cover up such a shawl to be respectful but will also help shield you from the sun.
They love to haggle – it is part and parcel of the shopping experience. Have fun with it, but do remember that when you are haggling over 50p which is nothing to you, that it is everything to them.
The Riad Spice can help if you want to buy any larger items with transportation – speak to the team before you buy anything.
It is situated near the mosque (as are all Riads and hotels) and they call for early prayer, early! If you don't want an early start, bring some ear plugs!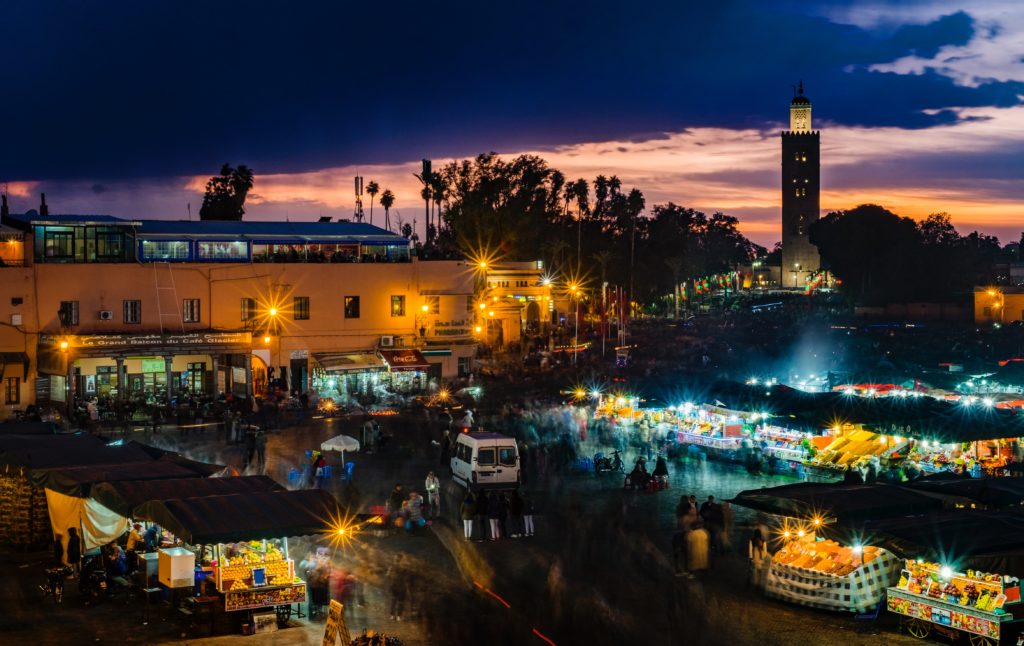 Overall, it is a hidden gem for romantic getaways and perfect for anyone who doesn't want to lie on a beach for their honeymoon. It is also perfect for people wanting to take great photos (I became a little obsessed over brightly coloured tiled walls) We simply love the city and can't wait to go back.
Huge thanks to the Riad Spice and their team for a lovely stay which was gifted as a press trip. All comments and reviews are true and our own opinion.
IF YOU LIKED THIS BLOG, PIN IT!