Our love for make-up is on the agenda today with our top wedding make up trends for 2020. If you love your make-up, finding something stand out for the big day may be top of your list! With so much product out there it's easy to find a look for both you and your wedding vision perfectly. From brights to a dewy glow, make-up artist and teacher Jenny Buckland shares her wedding make up trends and her top tips for creating an on trend wedding look.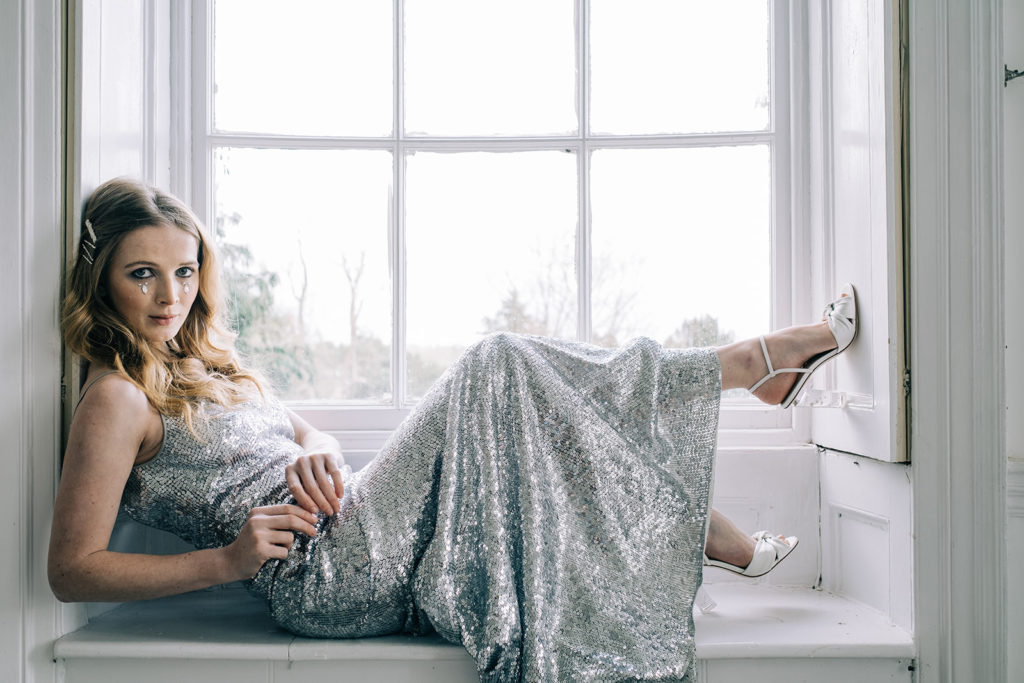 Dress: Bowen Dryden
DEWY GLOW
Dewy or "lit from within" skin is created by using fine layers of make-up rather than one heavy layer. Prepare the skin with a primer such as the Becca backlight; this will create a radiant glow and help minimise pores. Laura Mercier tinted moisturiser will give you an illuminating finish building on the primer which comes in different tints to match your undertone. Adding some highlighter in the spots the sun usually hits the face will add some extra dewy glow: I like the Delilah aura highlighter as it contains different tones, is milled beautifully so its powder is fine and can be swept on in small amounts. Instead of using a powder brush, switch to a domed eye-shadow brush to avoid applying too much and looking sweaty! Finally, finish with a setting spray such as Milani who make it dewy- spritz some of this over your face from a distance and you're good to go.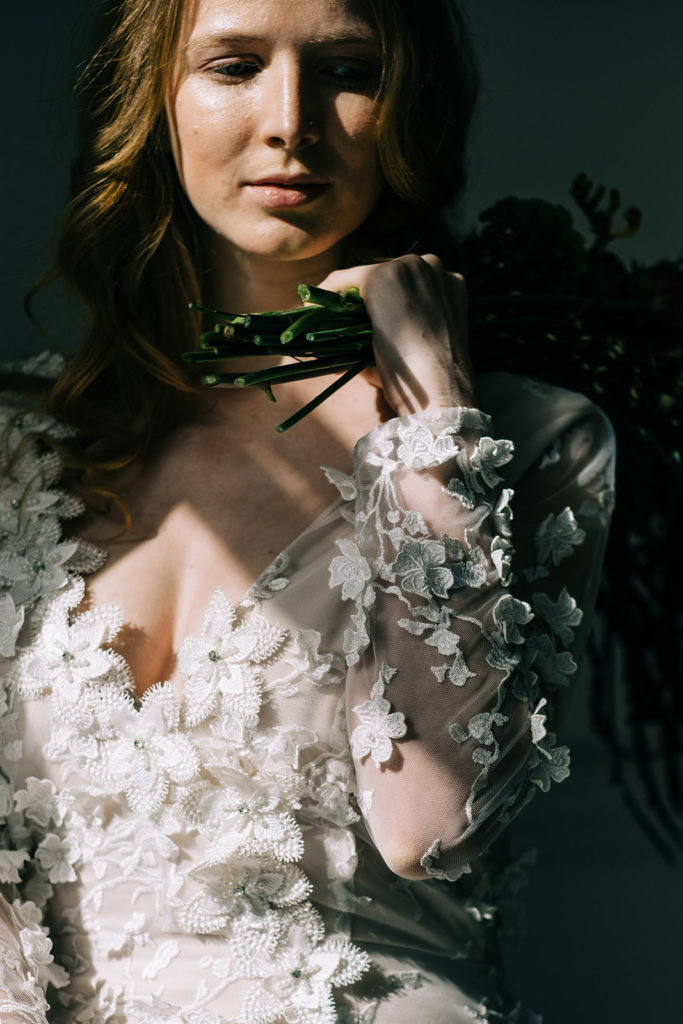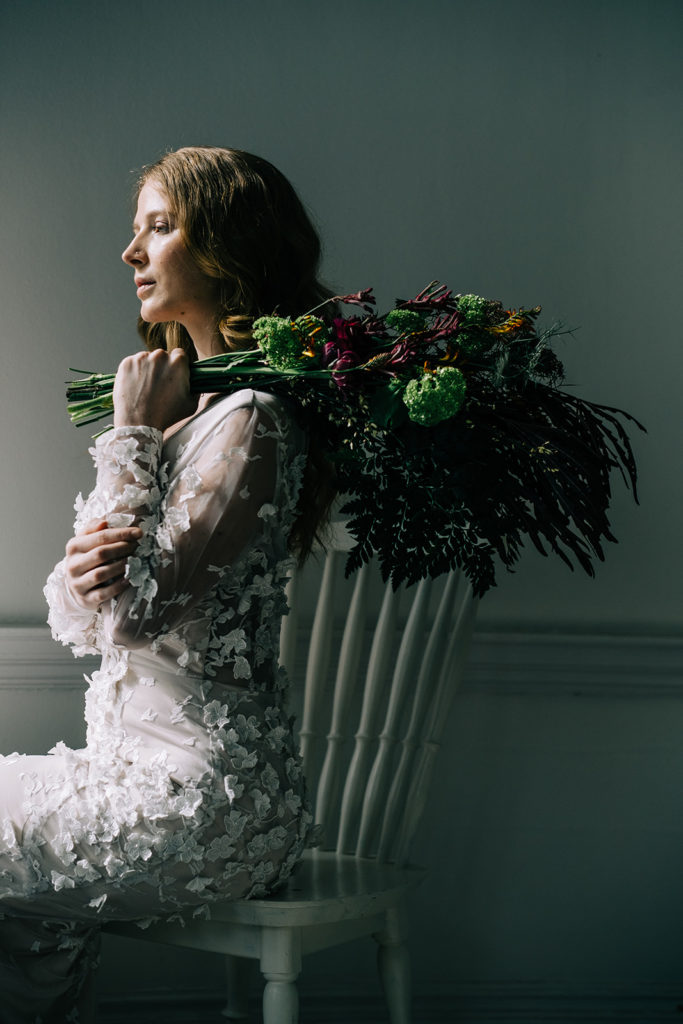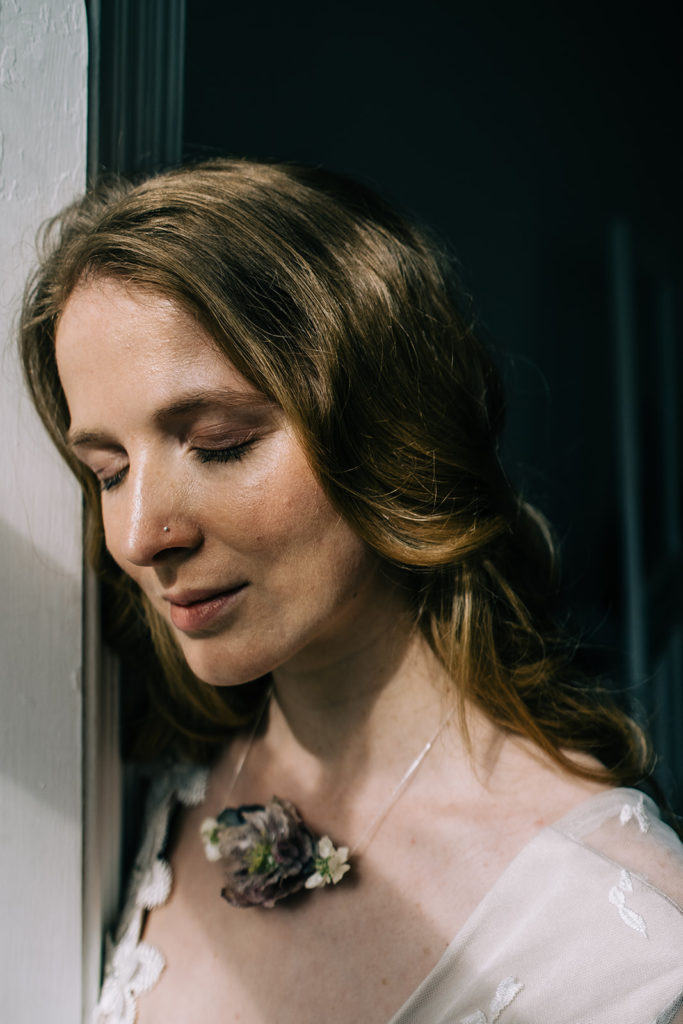 Dress: Stephanie Moran Couture / Necklace: Adorn By Ashley
BAT FOR LASHES
This popular catwalk trend will give you extreme over the top lashes, whether it be bright, feathery or just extreme lengths. Seen on Lady Gaga and Lizzo, you can go theatrical with this look or keep it understated.
You can choose an array of lashes from most make-up counters; the key is to make sure you trim them down to fit your lash line. The most common complaint from my clients is that lashes never stick and the glue goes every where. You need to run a small amount glue along the trimmed lashes and let it dry before applying along you lash line. The glue goes tacky and will adhere right away. I prefer to use a dark glue however if you use clear it will take a good few minutes to turn clear once it is dry so you will see some glue residue for a short time. If you're new to applying lashes, try with a smaller pair first. Why not buy different lashes and customise them yourself to create your own look.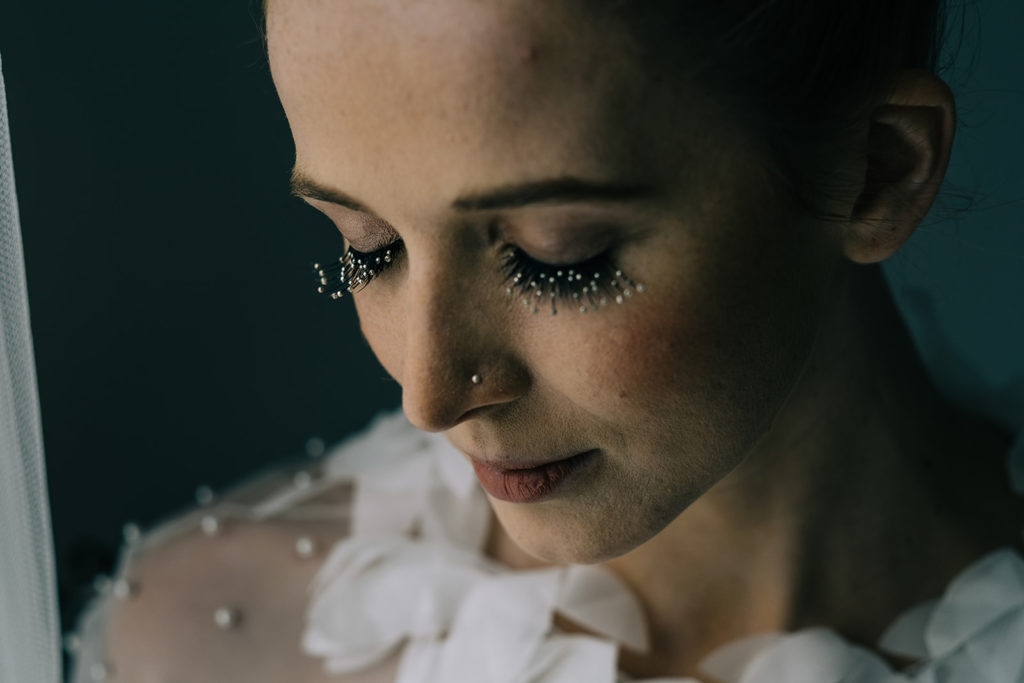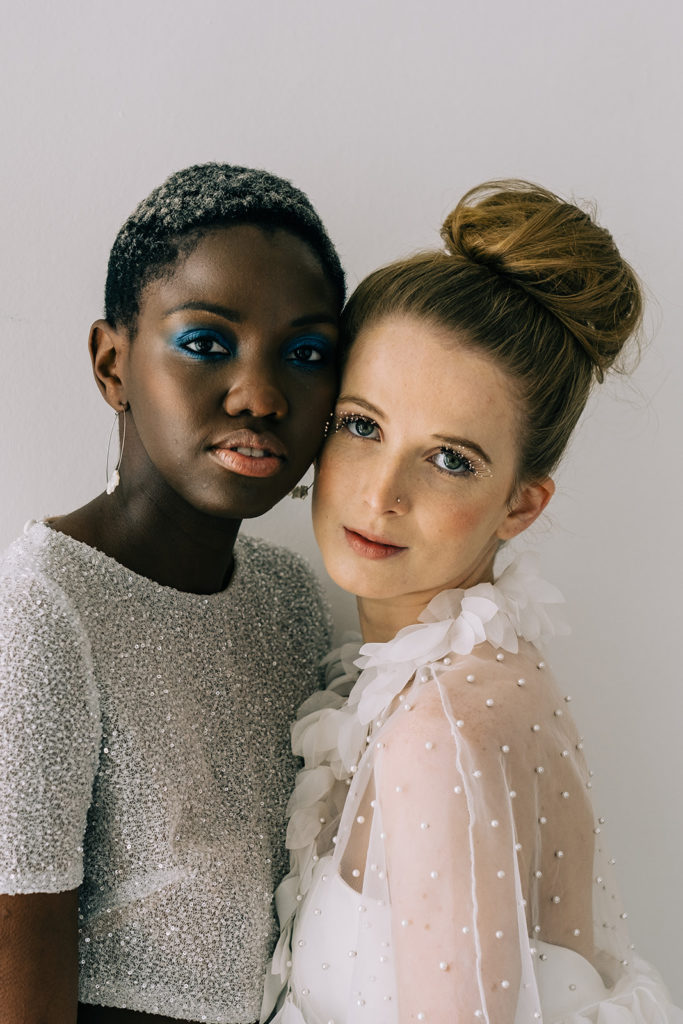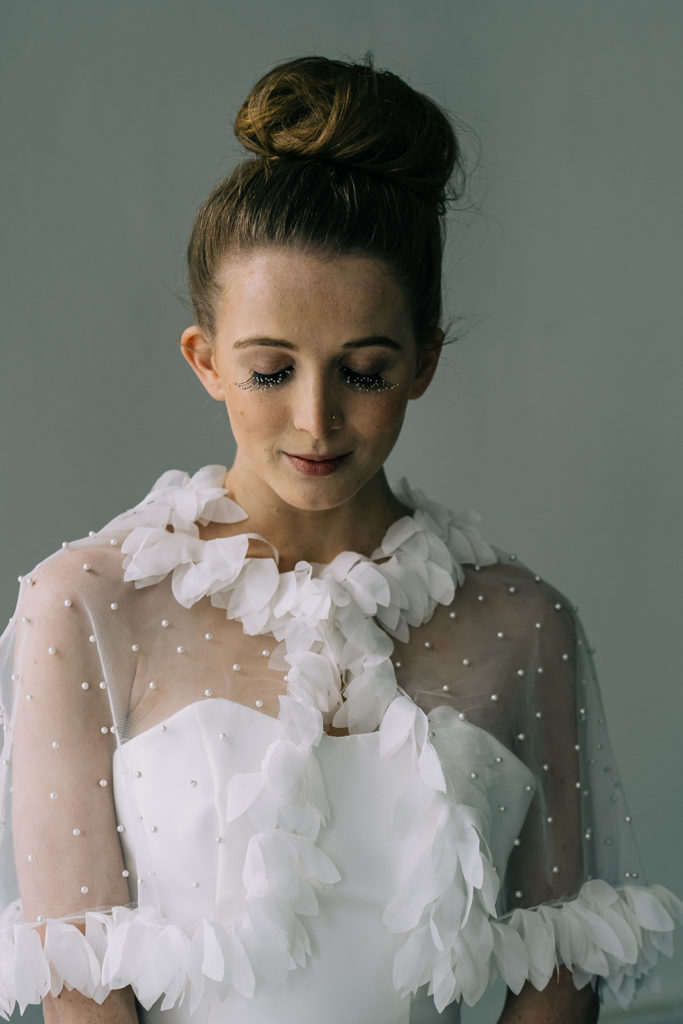 Top: The Wedding Workshop / Cape: Stephanie Moran Couture
SOMETHING BLUE
You don't have to have blue eyes to make this trend work, in fact metallic blue will work on all eye colours. The Huda Beauty sapphire eyes pallet will give you a hit of blue that is perfect to create this look. A mixture of matts and metallic creams will enable you to create the look from one pallet!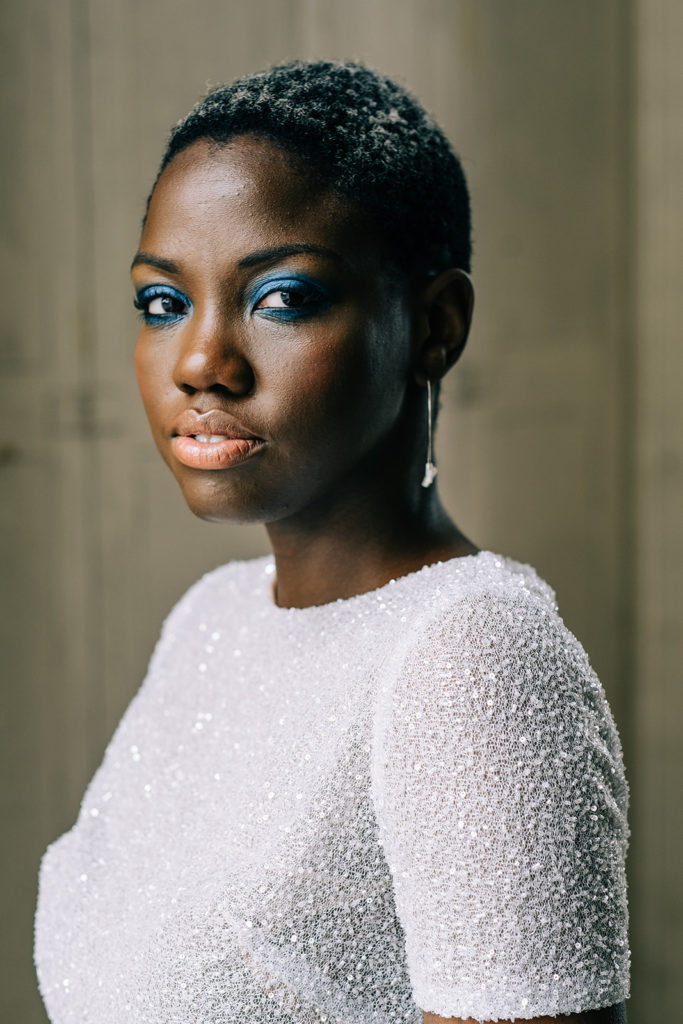 Preparing the eye will help the longevity of this look and minimise any creasing in the eyelid. First, prime the lid using NYX waterproof eyeshadow primer. A thin layer over a clean lid will be perfect. Metallic eyeshadows tend to be of a cream consistency and work better if applied with a finger (a clean finger!). Your finger will warm up the cream meaning it will glide over the lid and leave a great payoff of pigment. Once the primer has dried, take a sweep of the metallic cream shadow over you lid. Keep the application with your mobile eyelid and avoid touching the brows. To make sure the cream stays in place use a domed eyeshadow brush to pat a small amount of the bright blue shadow from the same Huda pallet, tap off excess and pat this over the cream shadow to ensure it stays in place. Finish with black eyeliner on the water line or go for a contrasting turquoise to change the look up.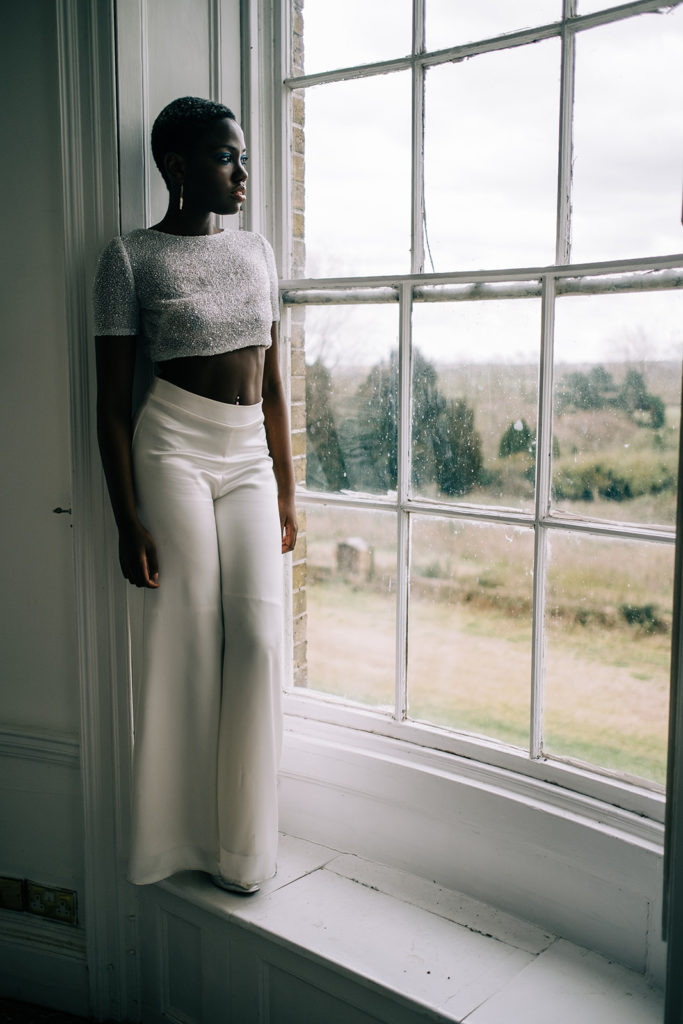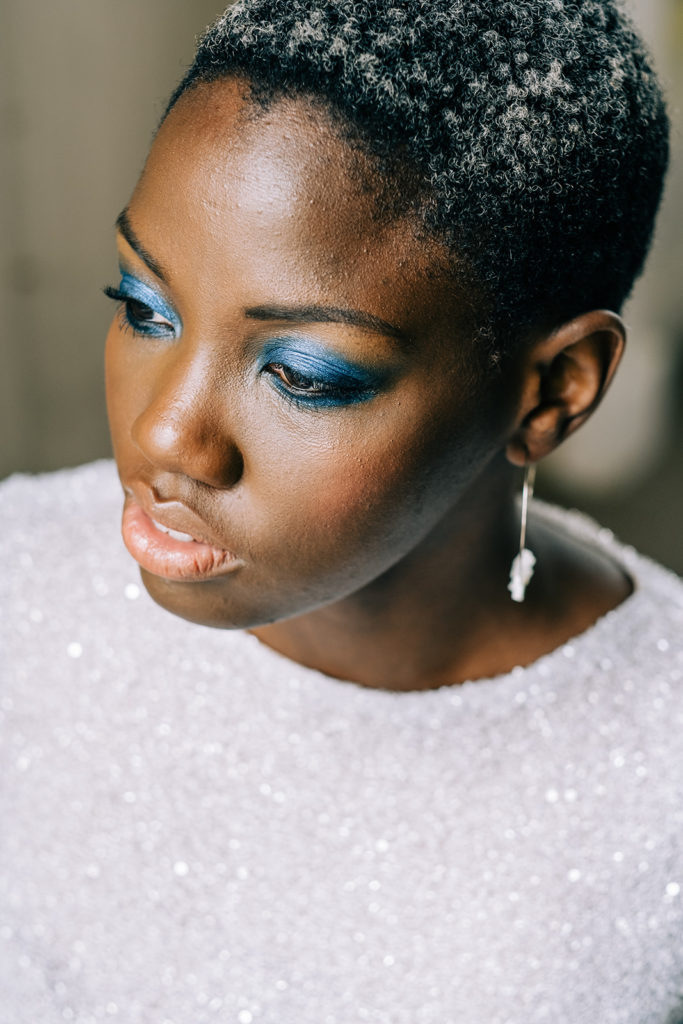 Top/Trousers : The Wedding Workshop / Earrings: Ashley Wilde Bridal
GOTH VIBES
The key to any great looking lip is to prepare your lips to remove any flakes use a toothbrush with some lip balm to gentle buff away any flaky skin. The lip balm will help to add moisture and will prevent your lips from drying out. Blot the lips to remove any excess lip balm.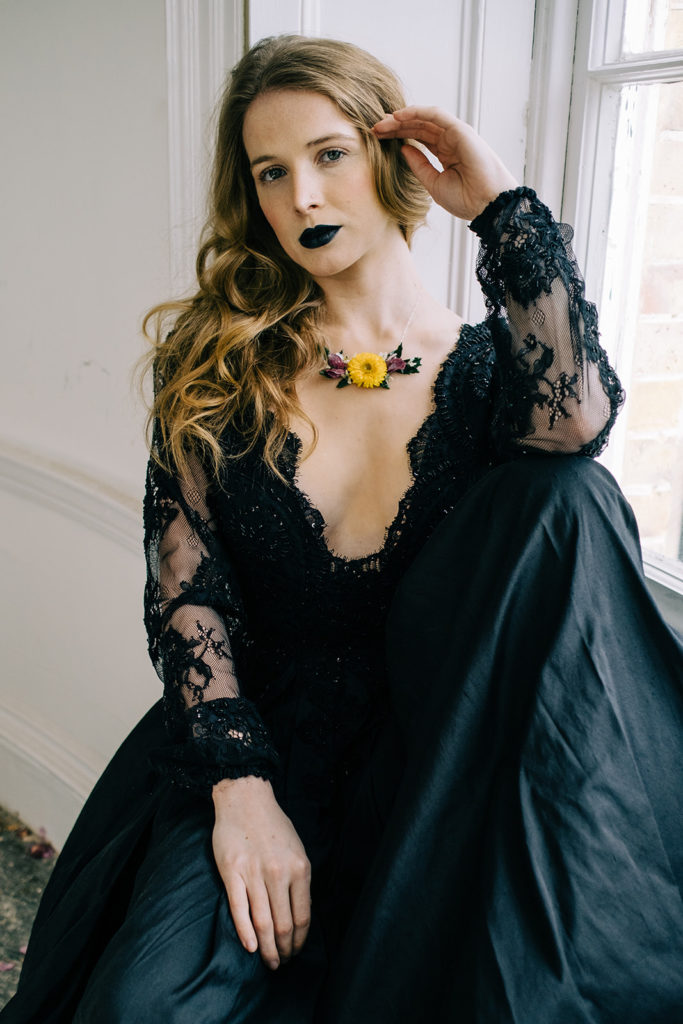 I used a black eye pencil in place of a lipliner as it will give the same effect so long as the pencil is not to hard. Lining your lips will prevent the dark colour moving into the skin around the lips and help it stay in place longer. If you have uneven lips you can bring the pencil out of the lip line slightly to create a fuller looking even lip. Darker colours of lips tend to show any imperfections so you can correct these quickly and easily by using a lip pencil. One you have the outline, then fill in the whole lip area with pencil which gives the lipstick a great base and deeper intensity of colour. The main reason I do this is that if your lipstick does wear, you will have colour all over the lip and not just an outline!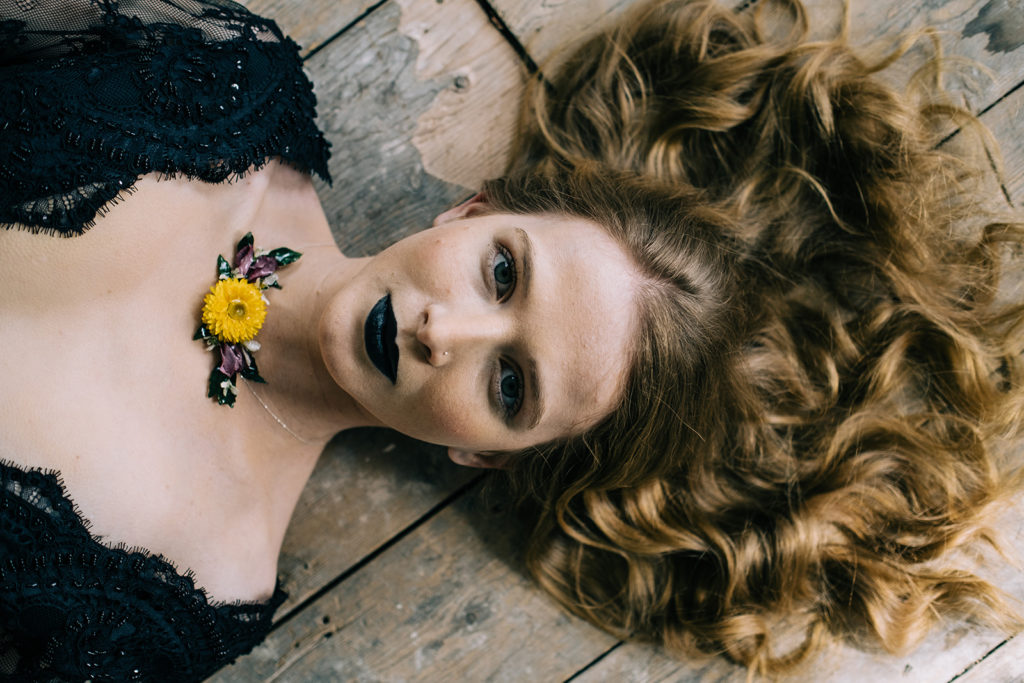 My favourite matt black lipstick is Illamasqua matt lipstick in pristine. This highly pigmented lipstick will help you pull of this trend with ease. For precision use a lip brush to help enhance the lip line you have already created with the pencil. The 'my line and curve' from My Kit Co will help apply the lip colour with ease. You can of course apply direct from the bullet if you prefer, just be careful you don't go over the lip line and if you do, have some 'my on point mini buds' from My Kit Co to touch up.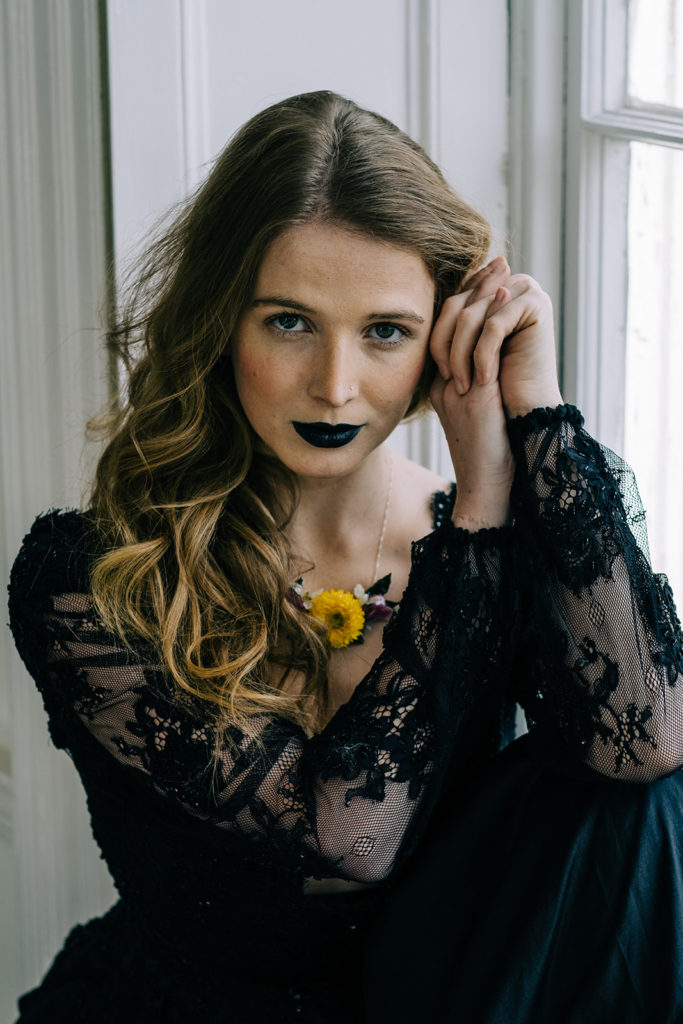 Dress: River Elliot / Necklace: Adorn By Ashley
GLITTER ADORNMENTS
Adding festival vibes to your make-up look is easy, fast and fun. You can add as little or as much as you like. Use a cosmetic glitter as it designed for the face meaning it is finely milled making it friendly for your face. The Lottie.London glitter is bio-degradable and comes in a glass bottle making it easy to recycle. You can co-ordinate the glitter with your outfit or go for an array of colour.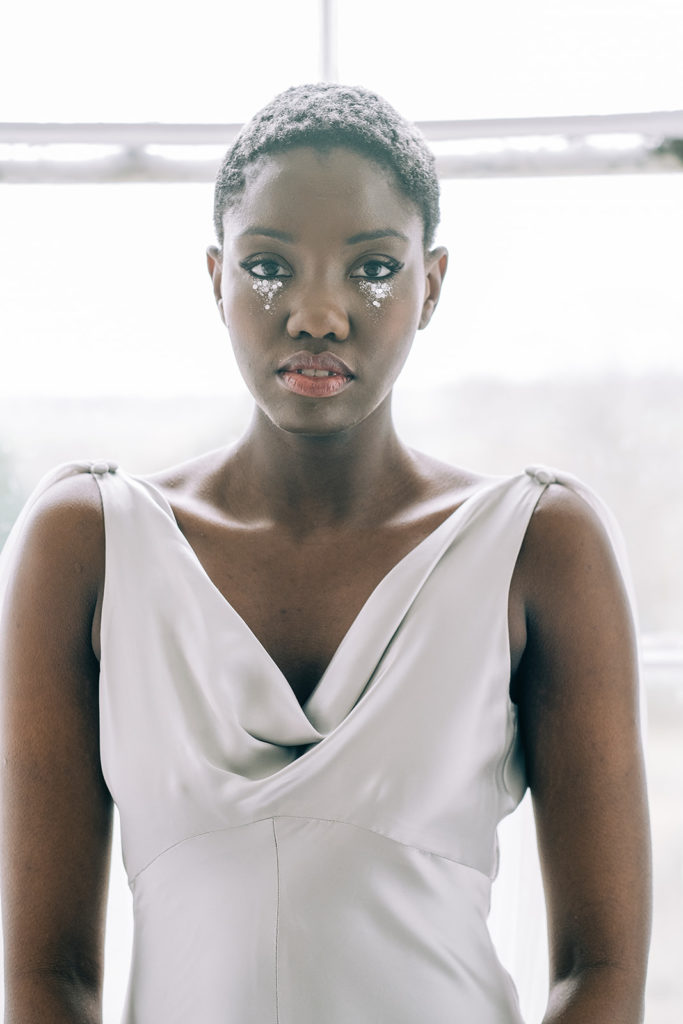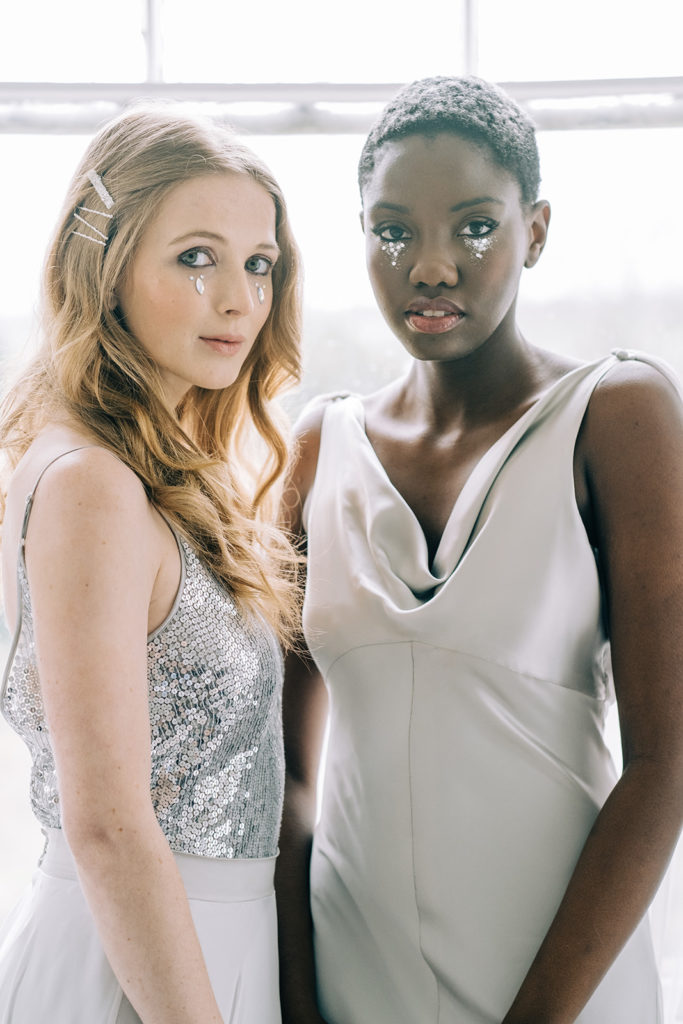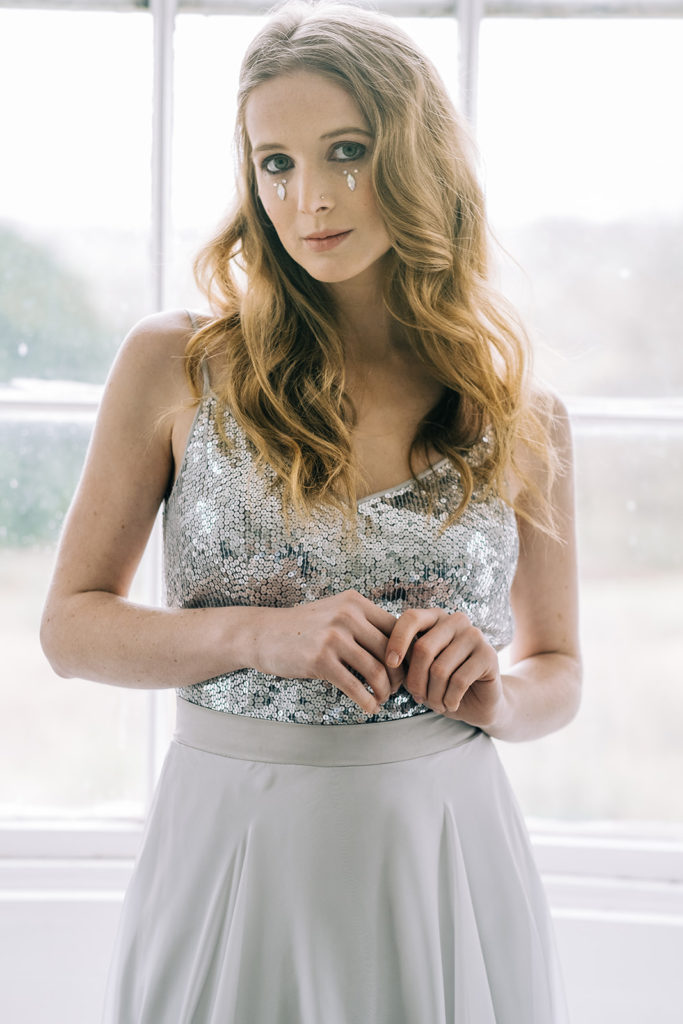 Using a glitter glue will give the glitter further staying power you want. You can also use a glitter balm or gel. My preference is a glue as they are safe for the skin and will keep your glitter in place so you can party the night away without any worries. I use the NYX glitter glue, the small tube means you only use what you need. Apply a thin layer on the skin where you want the glitter to adhere to. Work quickly before the glue dries and you are good to party.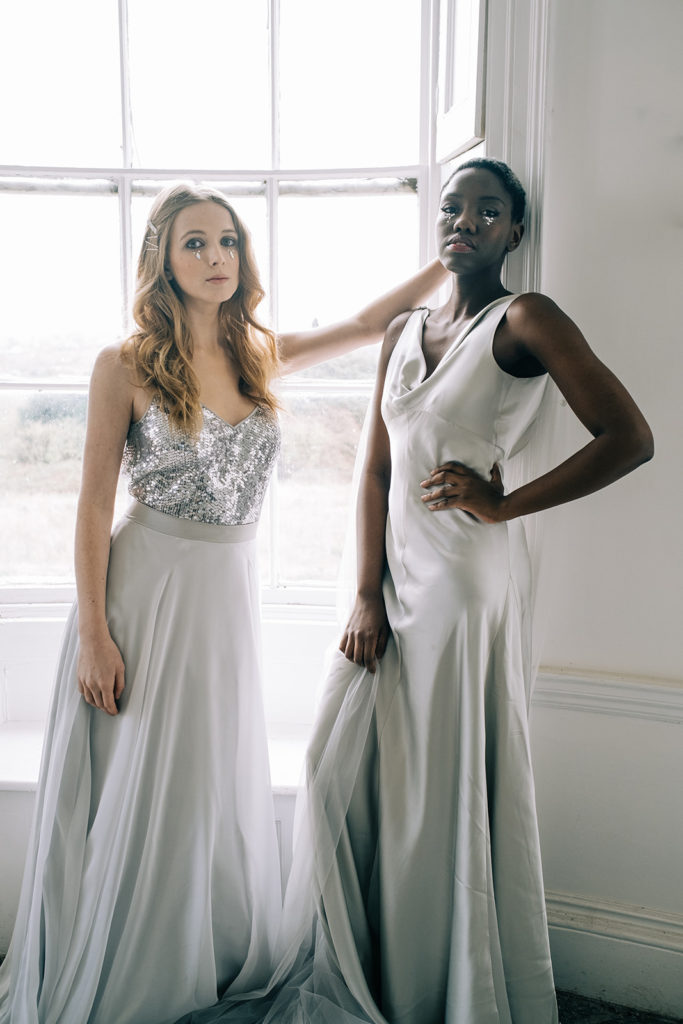 Dress: Marie Chandler Bridal / Skirt: The Wedding Workshop
Gems come in packs that you can stick straight on to the skin. However, they do not stick well over lots of make-up. You may need to expose the skin a little so peel off the backing and press to apply. If you want them to be extra secure, then you can also put a little glue on the back on the gem, press and hold on the skin for a few minutes to keep in place. This is useful if it is hot!
The Team- Our Top 2020 Wedding Make Up Trends For The Chic and Stand Out Bride
Photography – Lee Allison
Hair and Make Up – Jenny Buckland assisted by Sian Revell / Flowers- VV Raven / Headpieces – CC Milinery / Models – Emma Johnson / Emma Cargill / Chishimba Cabole / Cathy Wilson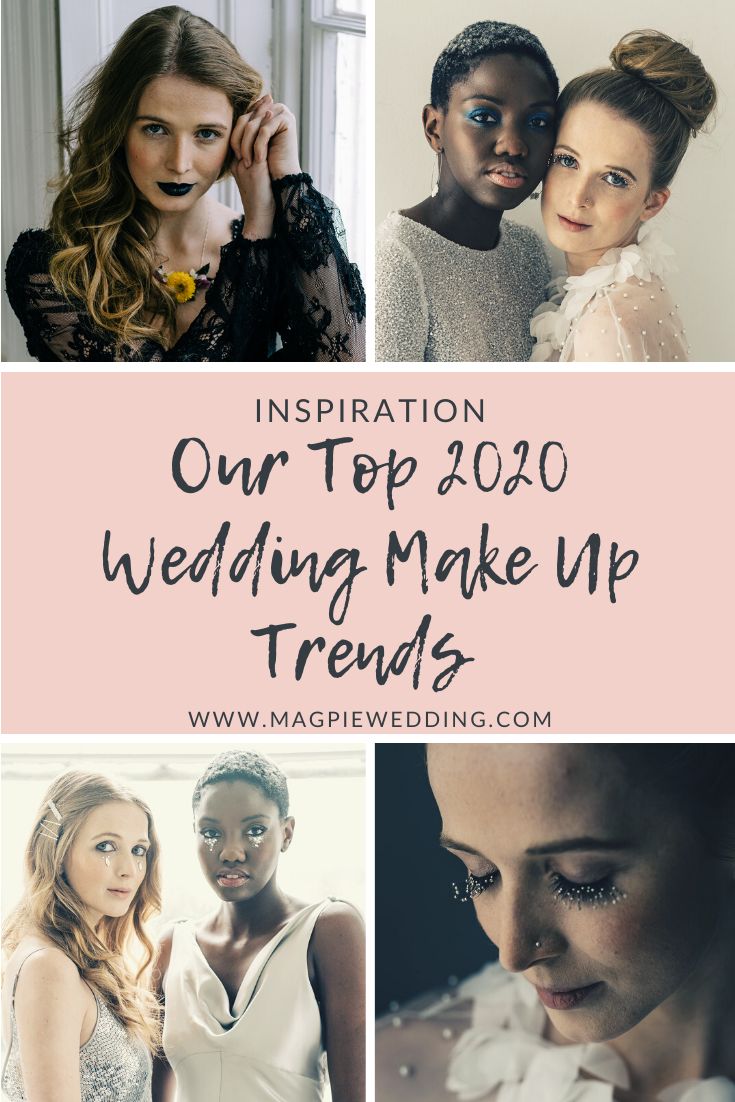 If you love our 2020 wedding make up trends you may also like…
Our Top Bridal Trends For 2020 Brides Who Want Something Stylish and Unique
The Wedding Cake Trends That Your Guests Will Love