For many couples, dogs are cherished members of the family and hold a special place in their hearts. Including your furry friend in your wedding photos not only adds an extra touch of cuteness but also immortalises the love and joy they bring to your life. In this blog, we'll explore five adorable and creative ways to incorporate dogs into your wedding photos, making your big day even more memorable.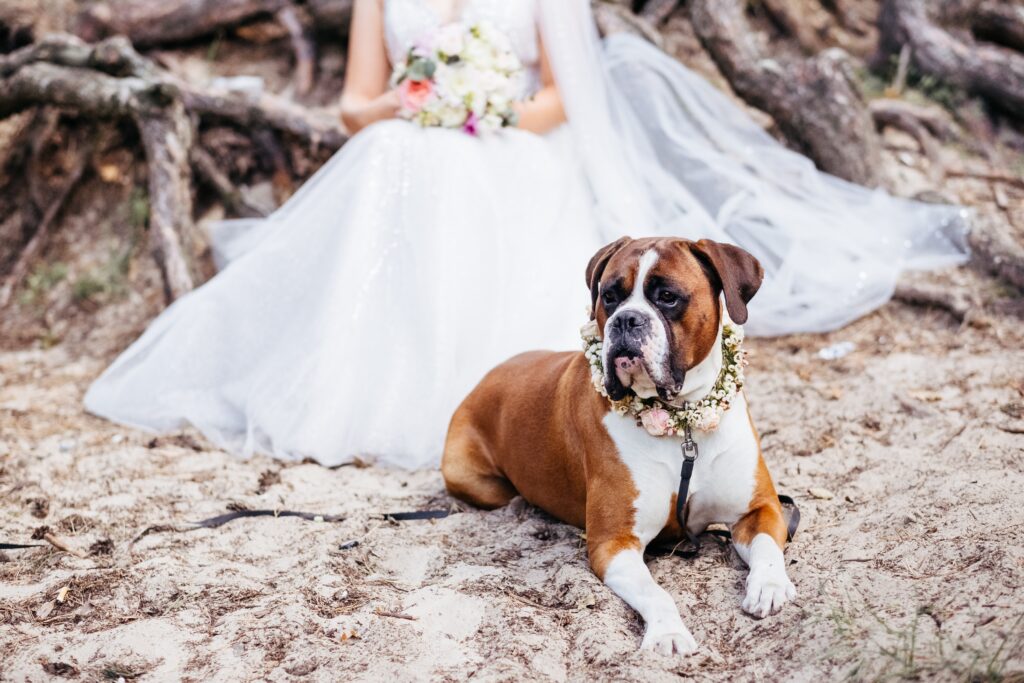 Posing with the Bridal Party
Envision a heartwarming photo of you, your partner, and your bridal party, all striking a pose with your furry companion by your side. Whether your pup is holding a floral wreath or sporting a bow tie, this group photo will be an unforgettable representation of love and camaraderie on your wedding day.
Adorable Save-the-Dates
Announce your wedding date in a fun and unique way by featuring your dog in your save-the-date cards. Dress them up in a sign or bandana that says "Save the Date" or "Our Humans Are Getting Married." This sweet and lighthearted touch will surely bring a smile to your guests' faces.
A Walk Down the Aisle
Include your dog in your processional, and have them walk down the aisle with your ring bearer or flower girl. Train your pup to carry a small basket with flowers or rings for a heart-melting moment as they accompany your loved ones to the altar.
Puppy Love First Look
Imagine the look of delight on your partner's face when they see you for the first time on your wedding day, with your adorable dog by your side. Incorporate your pup into your first look photos, capturing the joy and excitement of the moment with the whole family together.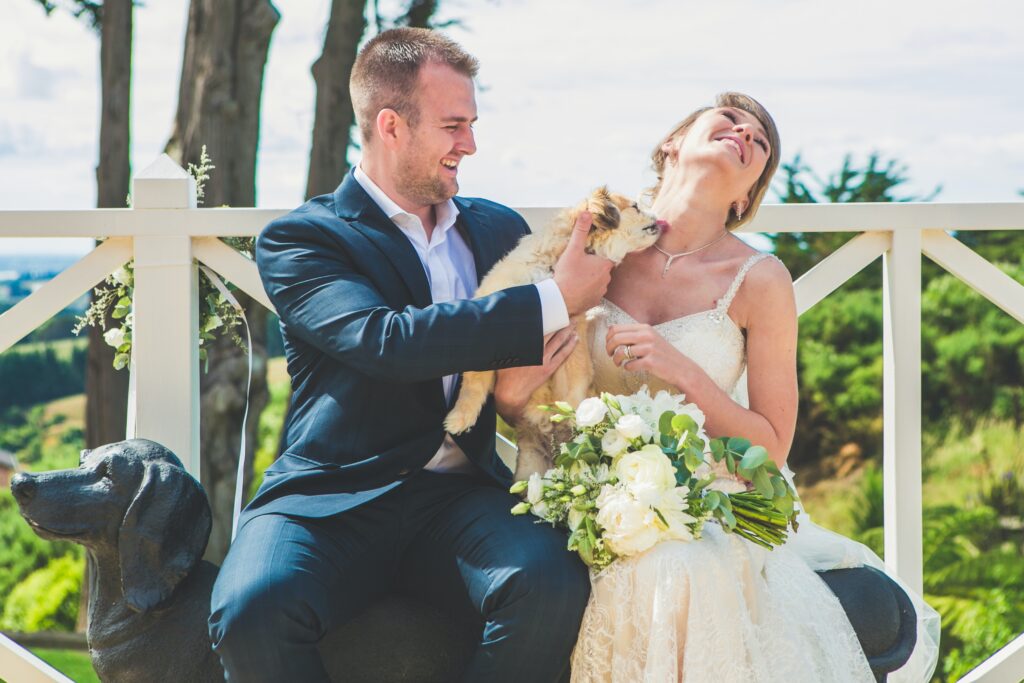 Picture-Perfect Portrait
Create a captivating portrait of you and your partner with your furry companion in the spotlight. Whether it's a candid shot of you all cuddled up or a more formal pose, this photo will epitomise the love and bond you share as a family.
Furry Flower Pup
Have your dogs wear a floral collar or a small flower crown to match the wedding theme. Capture heartwarming shots of them amidst the wedding flowers or even posing alongside the bride's bouquet. This adorable addition will add a touch of natural beauty to your photos.
Paws in the Sand
If you're having a beach wedding, take advantage of the sandy shores and have your dogs pawprints captured in the sand next to yours. This symbolic image signifies the joining of your two families and creates a lasting memory of your special day by the sea.
Doggy Ring Bearer
Train your pup to deliver the rings during the ceremony. Attach the rings securely to a small pillow or cushion carried by your dog as they make their way down the aisle. This heartwarming moment will surely be a highlight of your wedding photos.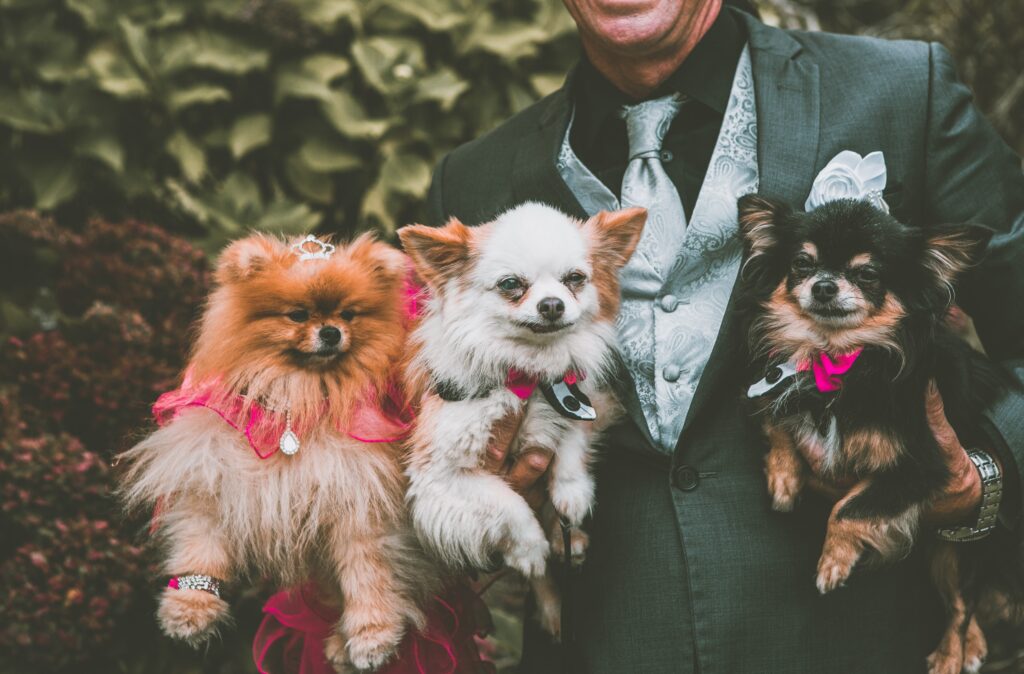 Doggy Family Portrait
Gather your immediate family, including your furry friend, for a heartwarming family portrait. The joy and love shared between you and your dog will shine through in this cherished keepsake.
Sunset Stroll
As the sun sets on your magical day, take a stroll with your partner and dogs along a picturesque pathway. The warm, golden hues of the setting sun will create a romantic and enchanting backdrop for your wedding photos.
We've got some extra tips from Sam Lloyd at Chapel House Estate:
"As a complete dog-friendly wedding venue we absolutely welcome dogs (and all other pets) with open arms – we know our furry friends play a huge part in our lives and that should also be true for your wedding day and photographs! Our top tips for incorporating them in your photos would be:
Speak to your photographer ahead of the day – let your photographer know with enough time that on your photo list, you would like some shots with your pet – they will know the venue and space meaning they can plan for the best pooch pictures!
Treats treats treats – get your guests or photographer to have some treats to hand to really perfect the ultimate pet pose!
Not just posed – we don't recommend getting all posed pictures with your dog, try to get some candid shots with guests engaging with them as the bride and groom enjoy time with friends and family! "
Incorporating dogs into your wedding photos not only adds a touch of cuteness but also captures the essence of your love as a complete family unit. Remember to consider your dog's comfort and hire a professional photographer experienced in working with pets to ensure smooth and enjoyable photo sessions.
IF YOU LOVED THESE IDEAS THEN WHY NOT PIN THEM?