Flawless Moissanite creates beautiful ethical jewellery and stunning engagement and wedding rings for your wedding day. With offices in London, New York and Dubai they are an online retailer that ships their products globally, to you! With a vintage modern style, they create pre-made pieces or you can buy single-shaped moissanite to use to create your own. They're an ethical brand that offers gems that are completely traceable and eco-friendly, without having to compromise on quality or style. Let's take a look and find out a bit more about this inspiring brand…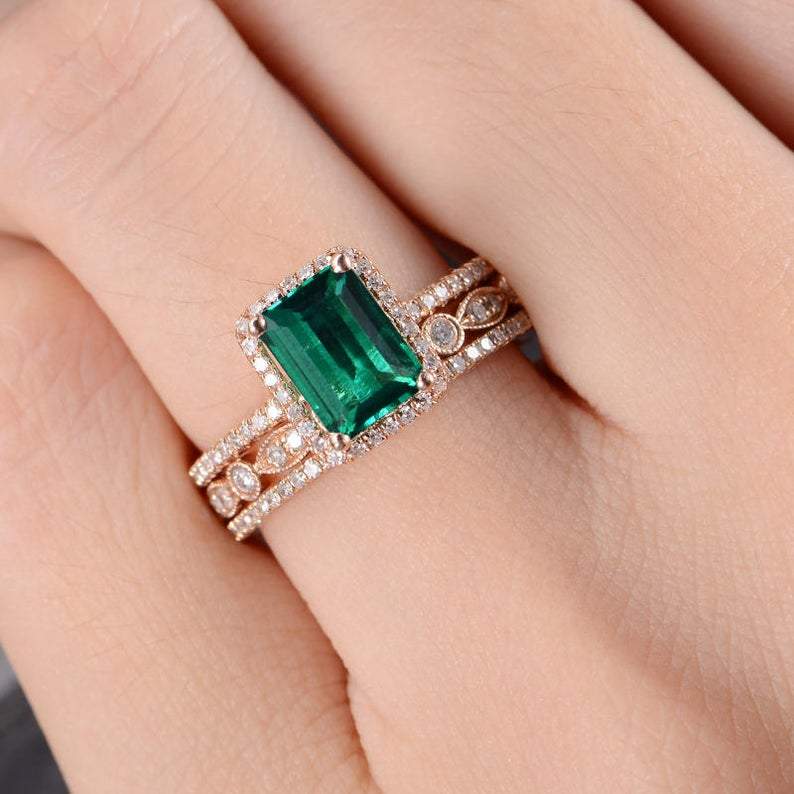 Vintage Style, Emerald And Moissanite Bridal Ring Set
"Flawless Moissanite is a luxury online jeweller producing high-quality, moissanite jewellery specialising in fabulous engagement rings. The jewellery can be made in white, yellow or rose gold as well as platinum.
They source the very best quality moissanite and use top craftsmanship to create a collection of unique designs – from vintage styles to contemporary pieces. Whether you're looking for a simple, classic solitaire or a more extravagant, colourful piece Flawless Moissanite can help. They also offer a bespoke design service if you want something totally unique to you. Keeping up with bridal trends, each piece offers unrivalled quality at an exceptional price.
The two main benefits when considering buying from Flawless Moissanite are, firstly, all their gems are lab-grown, so it is not harmful to the environment as no mining is involved, as well as avoiding any issues with conflict trade. Compared with natural gemstones, moissanite's origins are both traceable and completely eco-friendly, so you have peace of mind knowing exactly where it comes from. In addition, they only use recycled gold.
The second massive benefit is the cost. When compared to natural diamonds of the same size, moissanite is up to 80% cheaper – so you get a lot more bling for your buck! They give us mere mortals the chance to own a beautiful rock that doesn't break the bank."
0.45ct Vintage Style, Round Cut Moissanite Halo Earrings/Art Deco Style, Round Cut Moissanite, Engagement Ring With Halo / Vintage Style, Emerald And Moissanite Bridal Ring Set
What are your design influences?
"Our jewellery designs are inspired by many things, but one huge influence that we always come back to is iconic vintage styles. Researching different periods and the history behind the designs allows us to create contemporary pieces that beautifully reflect the different eras. These classic designs never go out of style and which makes them perfect for an engagement ring to be worn for a lifetime. Of course, trends come and go but ultimately, selecting an engagement ring will come down to personal taste, so we offer a wide choice of ethical, sustainable and affordable jewellery something for everyone."
Edwardian Style, Oval Cut Moissanite & Opal Engagement Ring
Who is your typical couple?
"We strive to create pieces that are accessible to all couples looking for something special in a wide range of styles. We don't have a typical customer, as such, but one thing many of our customers do have in common is increased environmental awareness, and questioning where their jewellery comes from. Now we're more aware of the negative impact on the earth with traditional mining, as well as the risk of not knowing if you're buying blood diamonds – people are demanding to know the origins of their jewellery.
All our gems are created in a lab and the gold used is recycled, which massively reduces the negative environmental impact and means you know exactly where your rocks came from. We see this greener mindset reflected in the whole of wedding planning and it's a growing trend.
Something else some of our customers have in common is they're increasingly budget-savvy. Now more than ever, we're seeing people thinking more carefully about how they spend their money and buying a moissanite engagement ring means you can still have a high-quality, beautiful ring, that will last a lifetime, but at a much more reasonable cost than more traditional options."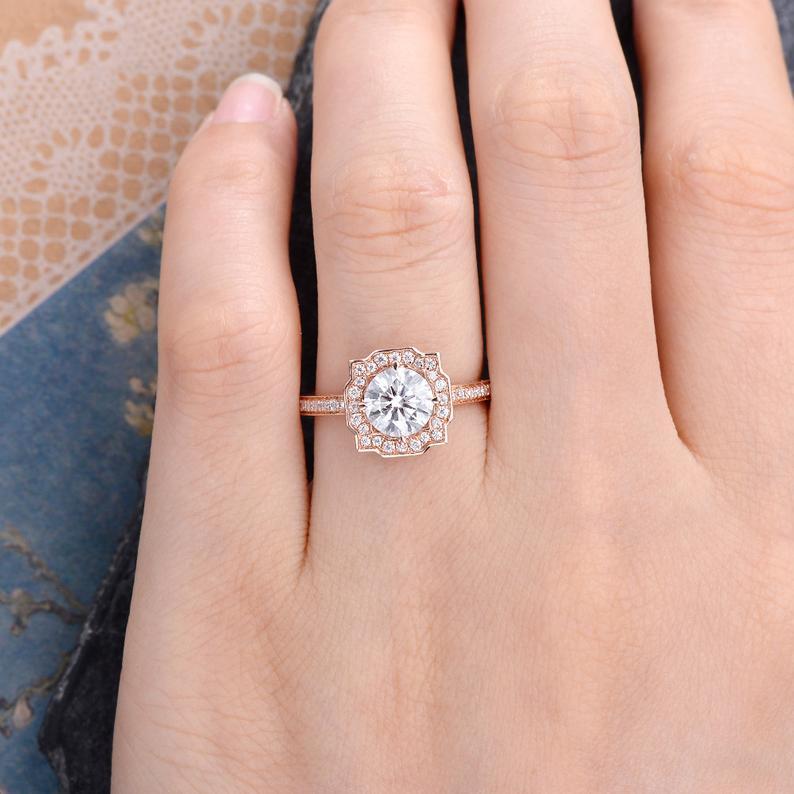 Art Deco Style, Round Cut Moissanite, Engagement Ring With Halo
How important is being sustainable?
"Being sustainable and ethical is at the heart of Flawless Moissanite. There are many negative impacts associated with traditional diamond and gold mining and we don't want to add to this. We offer gems that are completely traceable and eco-friendly, without having to compromise on quality or style. Traditional mining can damage the land and have an impact on the whole area, causing the loss of habitats and deforestation. Unethical practices can lead to toxic bi-products leaking into local waterways, causing pollution, and posing a danger to both humans and wildlife.
Our goal is to offer shoppers a choice, a way to get the ring of their dreams, knowing its production's had as little negative environmental impact as possible. We also support the 'One Tree Planted' initiative, which means for each purchase, we donate 20 trees to support global reforestation."
1ct Round Cut Moissanite, Classic Halo Pendant
What are you most proud of so far?
"Concentrating on supplying moissanite engagement rings, in a world where traditional diamonds had been the norm since the 1940s was a risk. We had to trust our customers would believe in our vision and come on the ride with us. Thankfully, we're living in a time where people are confident to follow their own path and don't feel the need to follow traditions if they don't want to. They aren't afraid to ask questions and create their own new trends. The fact couples have embraced moissanites along with us makes us very proud."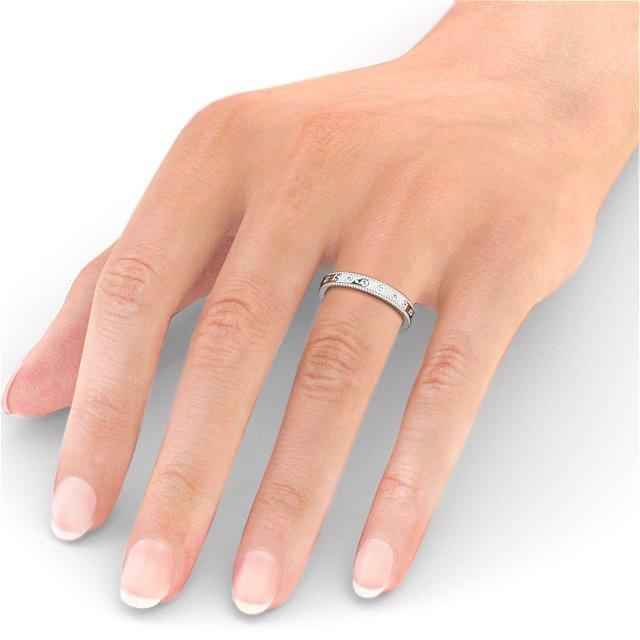 Round Cut Moissanite Eternity/Wedding Ring With Milgrain Edge
What is next for you and your company?
"Going forward, we want to make more people aware of moissanites as fabulous stones in their own right – not a diamond stimulant. A moissanite is a rare, natural mineral, first discovered in fragments of a meteorite that fell to earth. At first, scientists thought it was a diamond, but soon discovered it was made from silicon carbide – a diamond is made from carbon. Because they're so rare, scientists create them using a thermal growing process in a lab, with each stone taking around 3 months to produce.
Unless you're a diamond expert, you wouldn't notice the differences as moissanites are also colourless, but they rank higher than diamonds on the refractive index, meaning they are even more sparkly! And be prepared to be dazzled as they give off a fiery rainbow sparkle, unique to moissanites. They're the second hardest mineral which means they are durable enough to last a lifetime and are available in the same cuts and settings as diamonds.
And we want everyone to know this! We want to offer more couples the choice and positively promote moissanites. One day we hope moissanites will be as known as rubies, emeralds and sapphires. We also want to help remove any stigma around lab-grown gems. Traditionally mined diamonds are undoubtedly stunning, but like anything else we extract from the earth, the supply is finite and we encourage everyone to explore sustainable alternatives."
Art Deco Style, 0.20ct Moissanite Pendant
And… anything else you would like to share with us?
"When it comes to engagement rings, there's a huge choice and while certain styles will always be en vogue – such as classic solitaires and vintage-inspired designs – we do see certain styles growing in popularity. The biggest surge we're seeing right now is coloured gems as the main stone.
Celebrities such as Jennifer Lopez, Megan Fox, Catherine Middleton and Katy Perry all have stunning, colourful rocks in their engagement rings, which will be influencing this. Plus, we see many more couples comfortable breaking the rules and doing their wedding their way. We also supply stunning lab-grown stone emeralds, sapphires, morganites, tourmalines and more, from subtle hues to bold shades.
When it comes to vintage-inspired designs, we're seeing art deco-style rings seeing a resurgence at the moment. These unique designs perfectly reflect the characteristics of the era – the simplicity and love of modernity – with their geometric and symmetrical designs – the style is instantly recognisable and truly stunning. Browse our Vintage collection to see the full range."
Round Cut Moissanite Eternity/Wedding Ring With Milgrain Edge /Round Cut, Double Row, Moissanite Wedding Ring / Round Cut Moissanite, Wedding/Eternity Ring
Website: Flawless Moissanite
Instagram and Facebook: @flawlessmoissanite
IF YOU LOVE FLAWLESS MOISSANITE JEWELLERY, PIN IT TO YOUR WEDDING BOARDS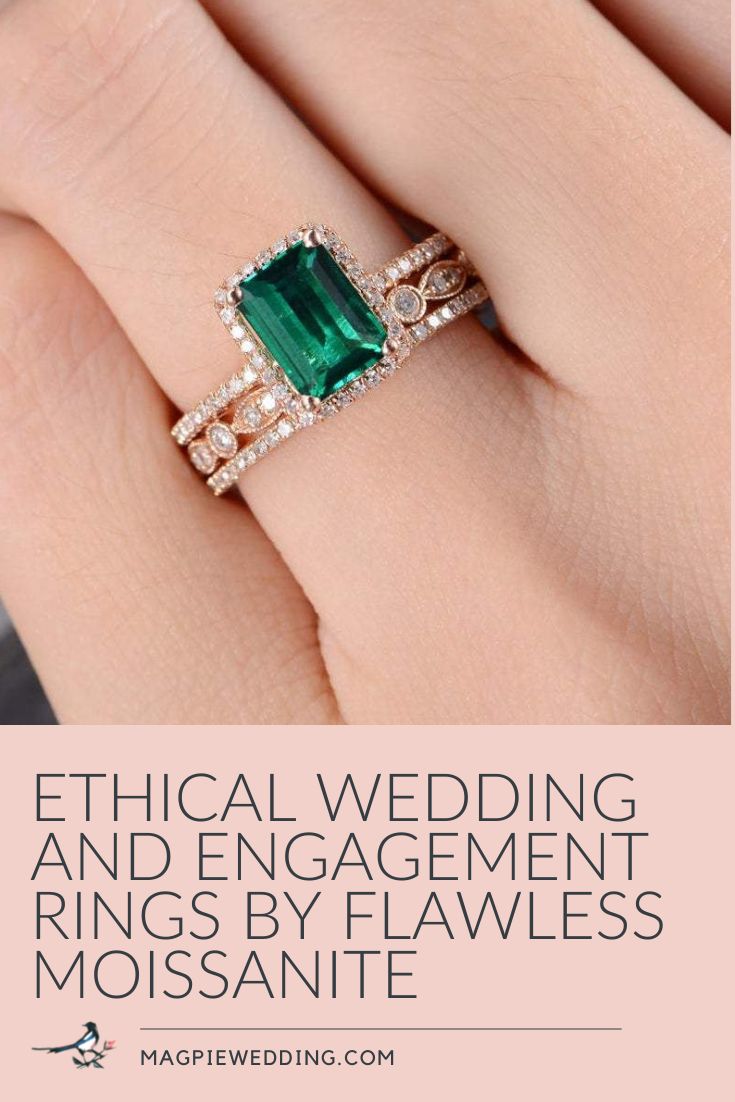 If you love this ethical wedding jewellery you may also like;
Ethical Weddings – 10 things to consider when choosing ethical flowers
Designer Spotlight: Ethical British Bridalwear By Frock Goddess
Finding A Sustainable, Eco Friendly & Ethical Wedding Venue
This is a collaborative post.