Planning a wedding involves making numerous decisions, and one crucial choice is determining the time of day for your celebration. While daytime weddings have their charm and are the norm, there's a certain allure and enchantment to an evening wedding. The romantic ambiance, twinkling lights, and the opportunity to create an intimate and magical atmosphere make it a popular choice for many couples. In this article we will explore how to have the perfect evening wedding and discuss important considerations compared to a daytime affair.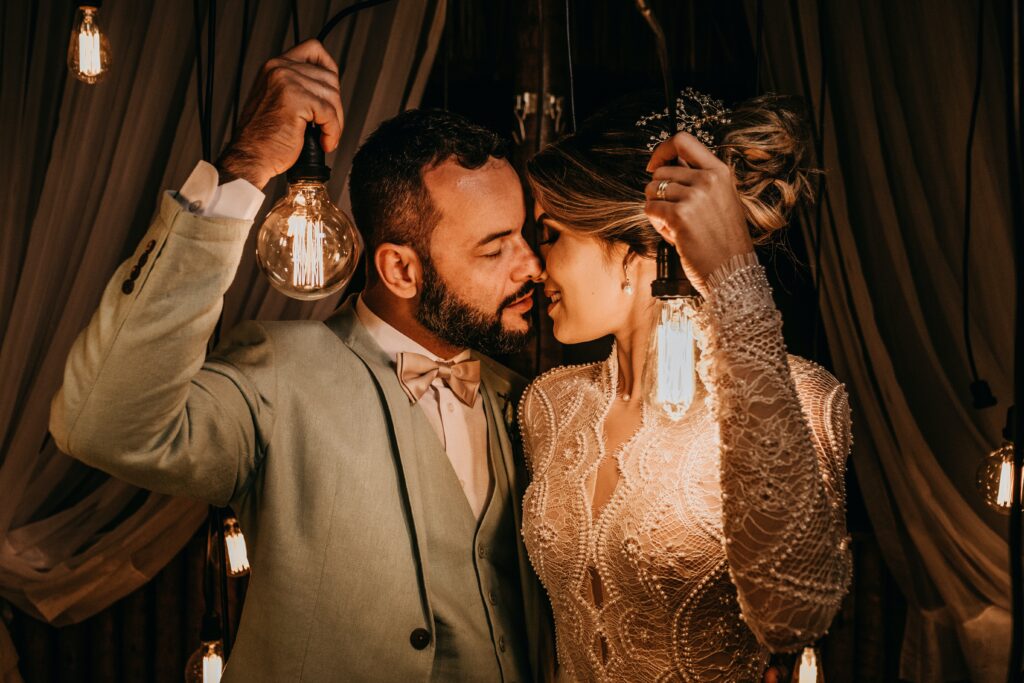 Setting the Scene
When planning an evening wedding, the setting plays a significant role in creating the desired atmosphere. Look for venues that offer stunning lighting options, such as chandeliers, string lights, or candles. Outdoor spaces with well-placed outdoor lighting can also contribute to the magical ambiance. Consider venues with beautiful sunset views or picturesque backdrops to add to the romantic charm of your evening celebration.
Lighting Design
Lighting is key to setting the mood for an evening wedding. Work closely with your wedding planner, stylist or venue to create a lighting design that enhances the atmosphere and highlights key elements of your venue. Dimmed or soft lighting can create an intimate and romantic ambiance, while strategically placed spotlights can draw attention to focal points like the ceremony area, dance floor, or cake table. We love the idea of outdoor waterproof candles which you can display in groups around your venue – perfect for an outdoor evening wedding.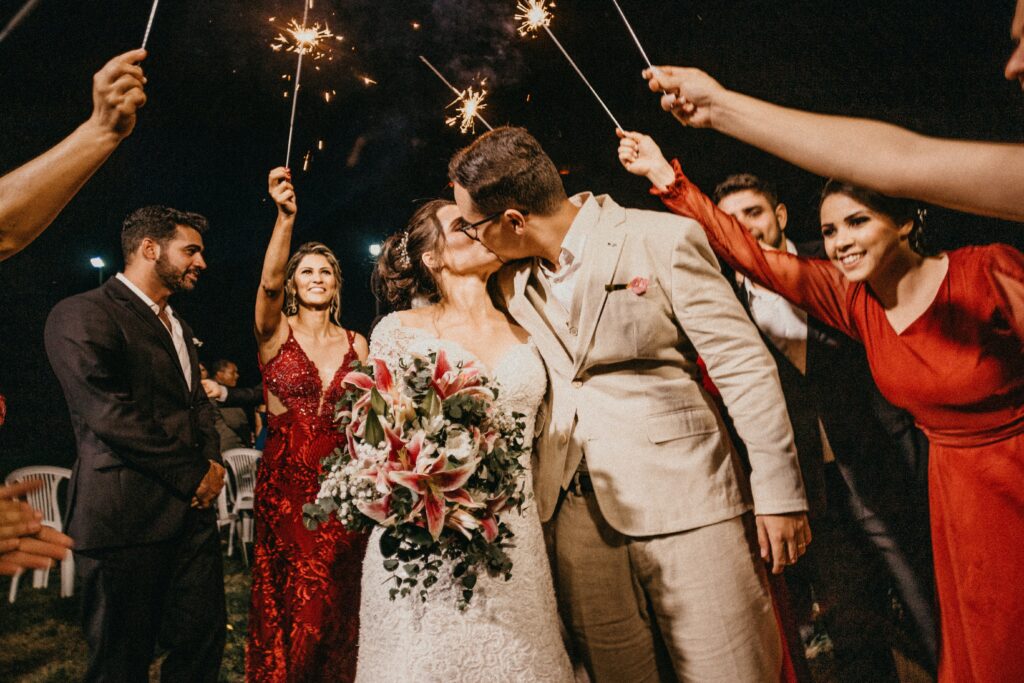 Décor and Colour Palette
The evening lends itself well to certain colour palettes and décor choices. Opt for deeper and richer colours that complement the time of day, such as burgundy, navy, or emerald green. Metallic accents like gold or silver can add a touch of glamour. Incorporate luxurious fabrics like velvet or silk for table linens or drapes to enhance the overall elegance of the evening wedding. Play with candles, fairy lights, and lanterns to create a warm and romantic atmosphere.
Weather Considerations
As evening weddings often take place outdoors or extend into the evening hours, it's essential to consider weather conditions. If your wedding is during a cooler season, provide cosy blankets or heaters for your guests' comfort. On the other hand, if it's a summer evening, consider offering fans or creating shaded areas to keep everyone cool. Consult with your venue or a wedding planner to ensure you have the necessary arrangements in place to accommodate different weather scenarios.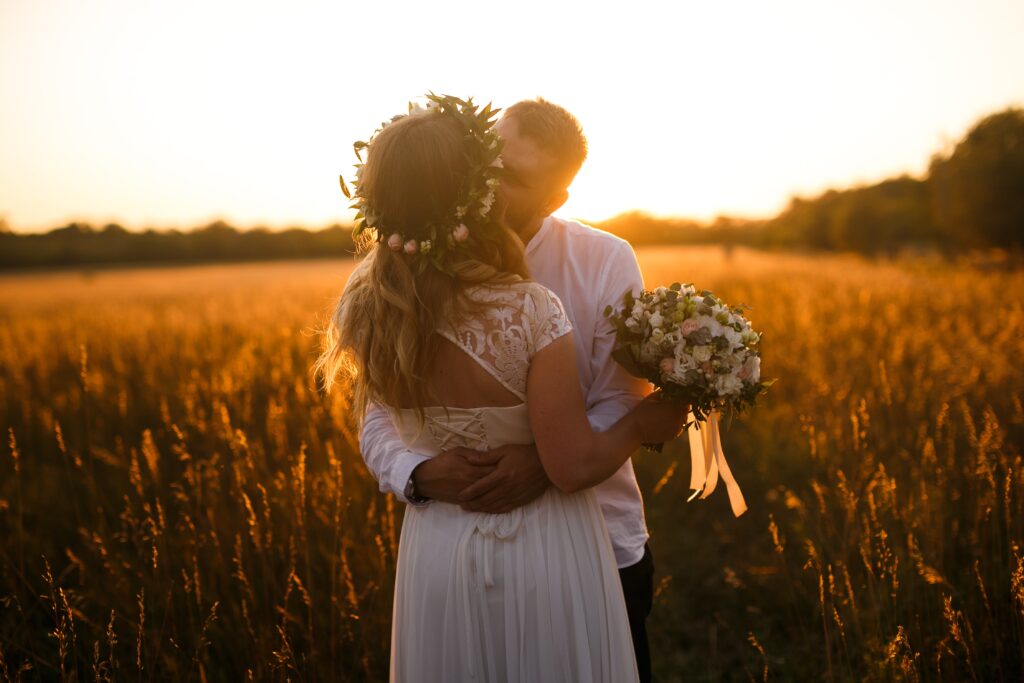 Catering and Refreshments
Compared to daytime weddings, evening receptions often call for different menu options. Consider serving heartier dishes or incorporating creative food stations that offer a variety of cuisines and flavours. Cocktails and signature drinks can also add a touch of elegance to the evening celebration. Ensure your catering plans align with the timing of the reception and provide late-night snacks or a dessert buffet to keep your guests energized throughout the festivities.
Entertainment and Music
An evening wedding offers a unique opportunity to create a lively and unforgettable party atmosphere. Hire a skilled DJ or live band that specializes in evening entertainment to keep your guests dancing into the night. Discuss your musical preferences and create a playlist that includes a mix of upbeat songs and romantic ballads. Consider incorporating special effects like fireworks or sparklers for a memorable grand finale.
An evening wedding can provide a magical and enchanting experience for you and your guests. By carefully considering the setting, lighting design, décor, weather preparations, catering options, and entertainment, you can create the perfect evening celebration. Remember to consult with your wedding planner, venue coordinator, and other suppliers to ensure all details are thoughtfully executed.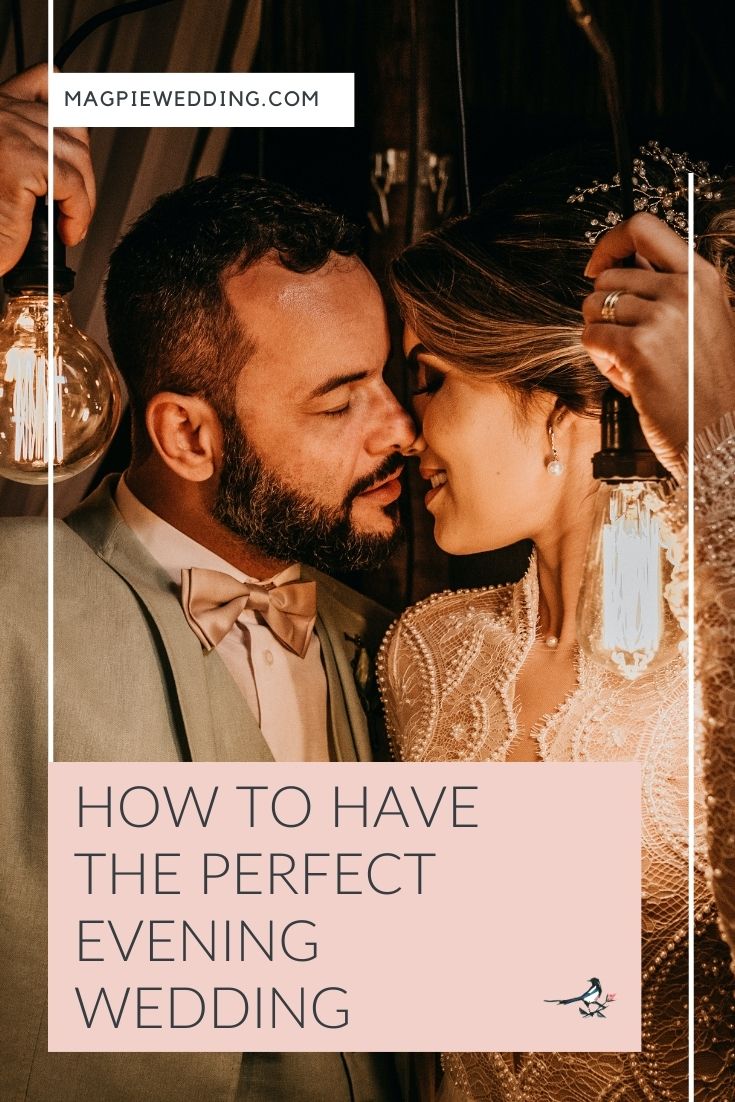 This is a collaborative post