Looking for a way to give your suit the wow factor on your wedding day? We've got you! Our top picks of contemporary bow ties will leave you with a quirky and unique way to express your personality and make your suit your own when it comes to the big day! Here are our top 10…
(This post contains affiliate links)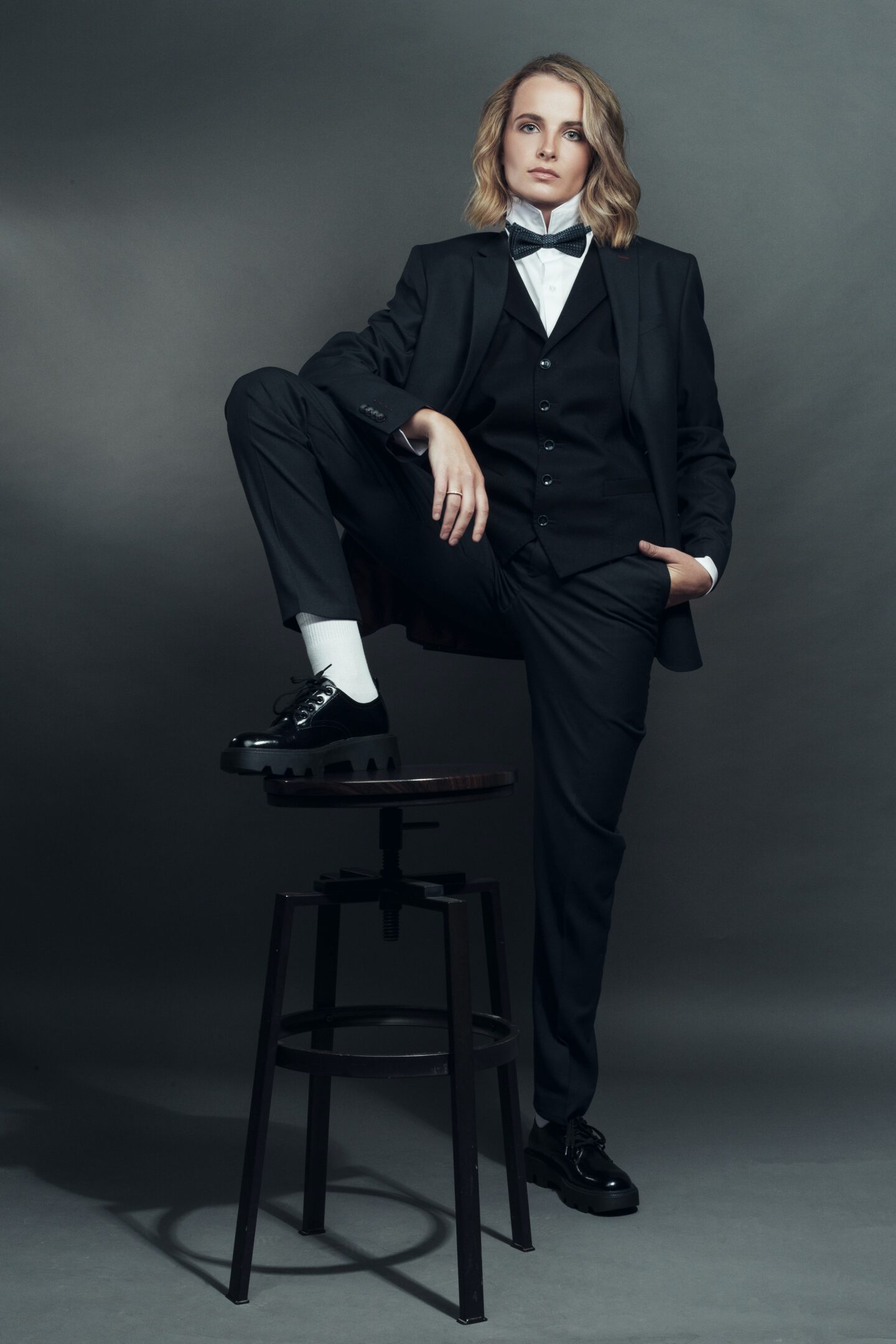 Palm Tropical Bow
This Palm Leaf Green Tropical Bow would be perfect for a destination wedding and would be even more perfect with a cool linen suit for a laid-back wedding day vibe. Each bow tie comes in its own recycled, hand-stamped presentation box, with personalised note cards available with every order, making it a great gift too! This beautiful bow tie has been lovingly handmade in Nottingham, England using a green palm leaf print soft cotton and it comes as a large butterfly pre-tied bow tie or a self-tie that both have adjustable straps!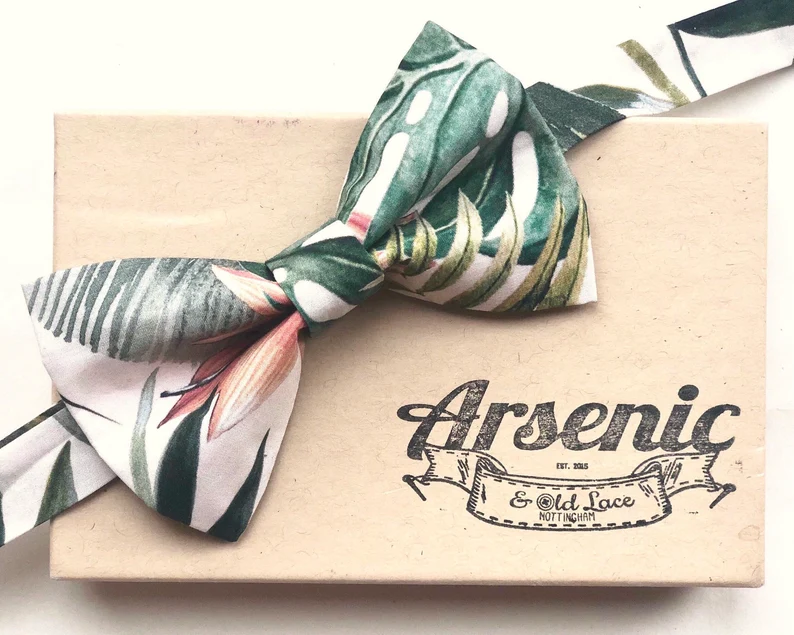 Leather Bow Tie
Be super suave with this Leather Bow Tie with personalised initials. Perfect for you and the rest of your wedding party as gifts too! It's hand-cut and made from natural cow leather. It's a unique way to add some personality and personalisation to your big day and it comes in a range of colours too!

Green Wool Necktie
For a more traditional look, this beautiful Moss Green Tie Set is perfect. It comes with a pre-tied bow tie, tie and pocket square so if you wanted to change your look for the evening reception you can still stay on theme with the wedding! It's the perfect vintage look for your wedding day. They also offer children's sizes so your pageboys/girls can match too!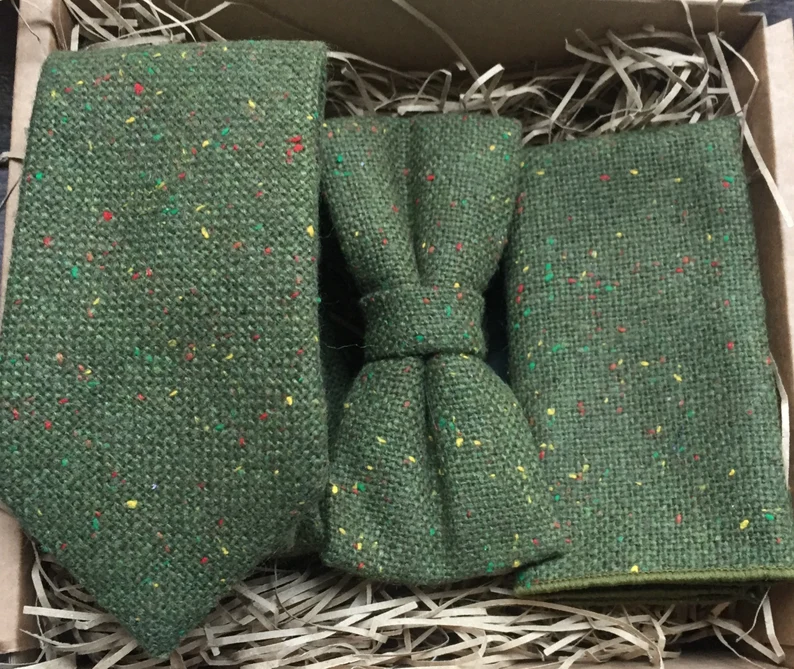 Handmade Pheasant Feather Bow Tie
Made from ethically sourced feathers this beautiful Feather Bow Tie will definitely add the wow factor to your wedding day outfit. They come in a range of feather combinations, ask for details and sit on a perfectly tied black satin bow. Great for a black tie wedding!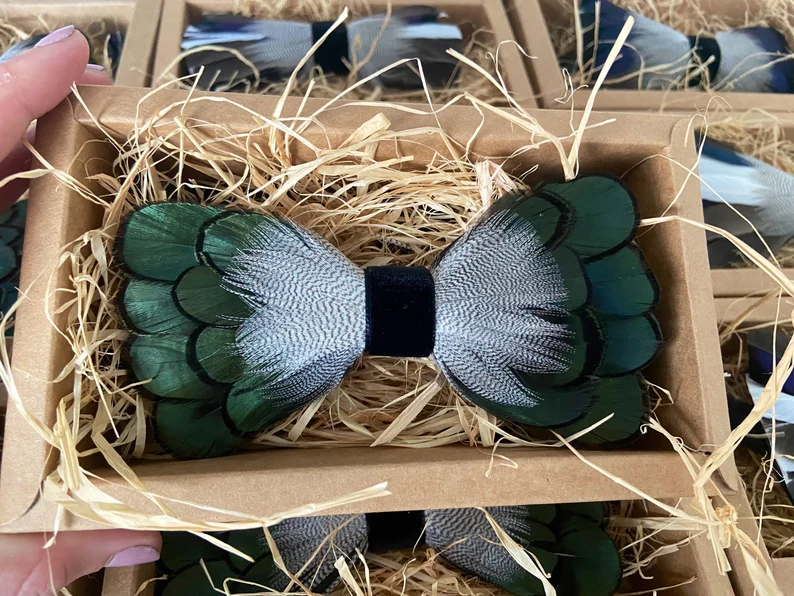 Metal Tipped Bow Tie
A stunning design with a touch of luxury this Diamond Bow Tie has gold or silver-tipped edges and comes in a variety of colours, meaning if you love it, you can match your bow tie to the theme of your wedding. It comes pre-tied with an adjustable strap fitting up to a max neck width of 18 inches but can be made wider upon request.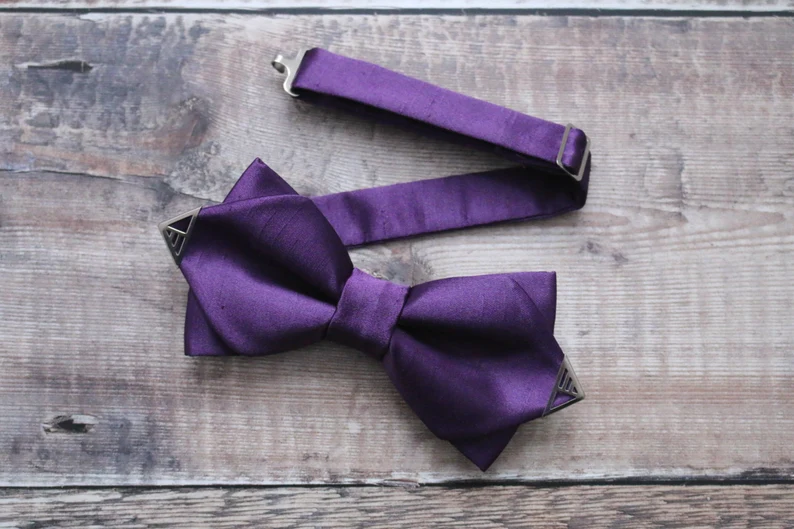 Gold Floral Bow Tie
Handmade in Nottingham this Gold Floral Bow Tie uses beautiful mustard, ochre, gold, floral printed soft cotton. It comes as a large butterfly pre-tied bow tie or a self-tie, both have adjustable straps. Each bow tie comes in its own recycled, hand-stamped presentation box, with personalised note cards available with every order making it perfect for gifting. This company will also send you swatches so you can colour match too!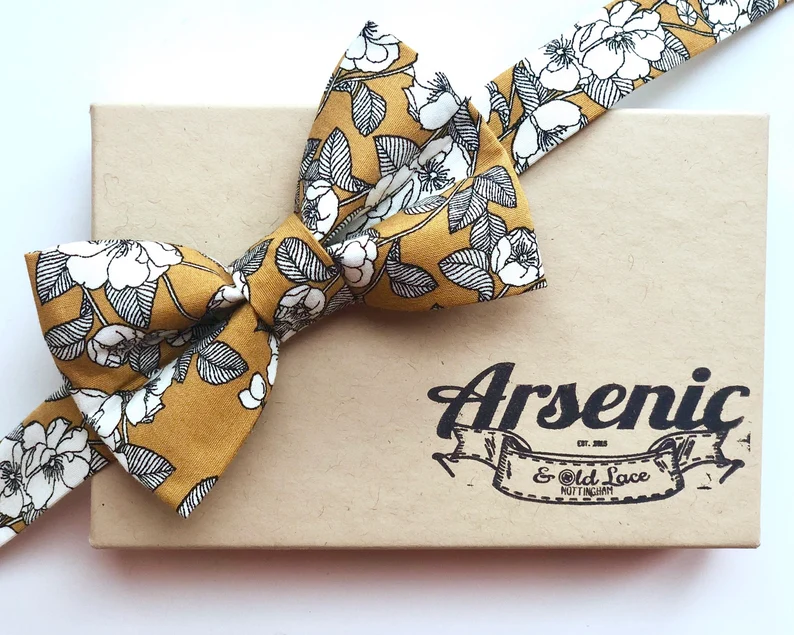 Holographic Bow Tie
Fancy a little bit of sparkle on your wedding day? This Holographic Bow Tie is black glitter encrusted and made using finer grade glitter for even more sparkle! Each bow tie is handmade using the best high-quality materials, they are extremely sturdy and will never lose their shape, all designs come with a black satin adjustable neck strap that will fit any neck size. Customisations are also available on all their designs. Go check them out!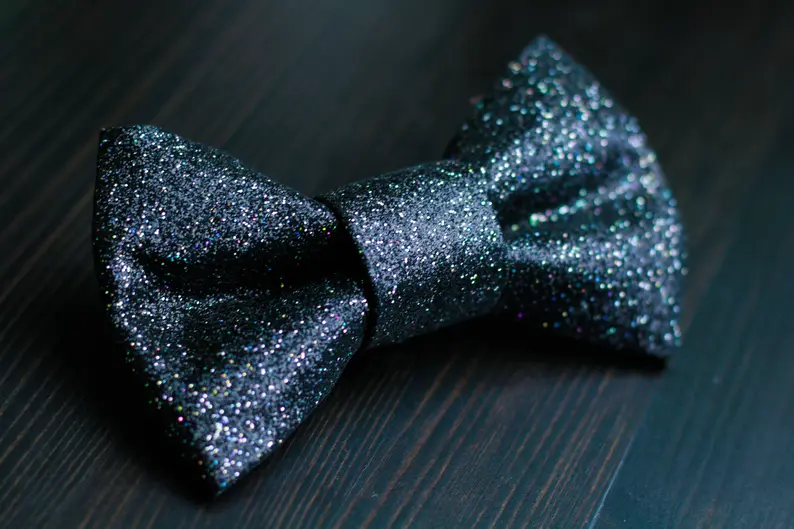 Floral Liberty Bow Tie
A classic liberty print will always add style to your outfit. This Liberty Bow Tie with bright red and yellow details would sit perfectly with a dark suit and would make a cheery addition to a spring or autumn wedding. A matching tie, pocket square and cufflinks are also available in this print, so if you're looking for a matching look it's perfect!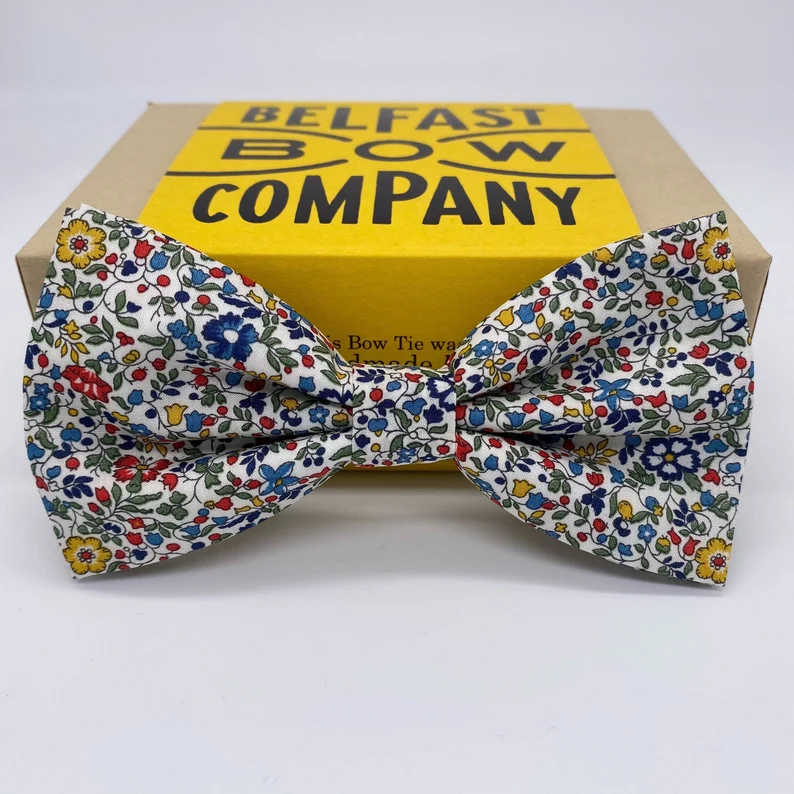 Clocks Bow Tie
Add a splash of old-time elegance with this Clocks Bow Tie. It comes packaged in a beautiful gift box and with a pre-tied or self-tie option. They are handcrafted in limited numbers and other matching items are available. This company also offer a bespoke service for bow ties, ties, pocket squares, cummerbunds, cravats and flat caps too!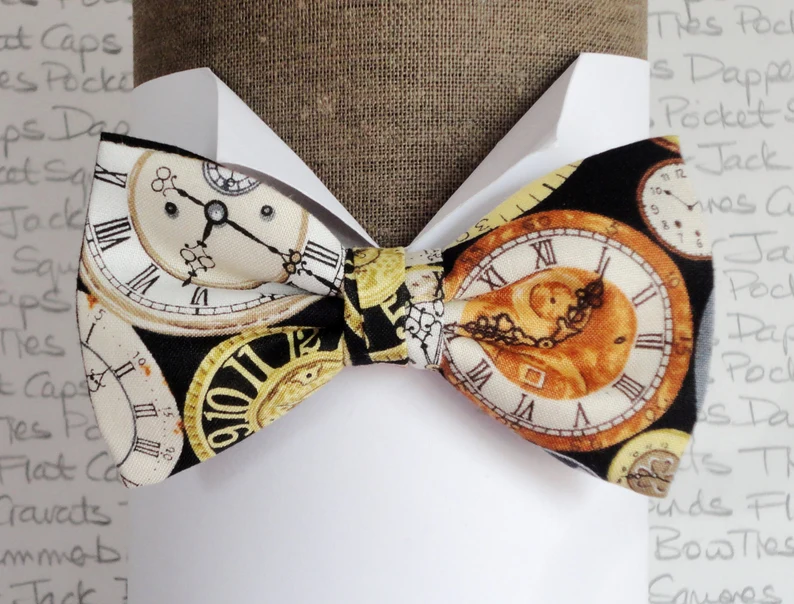 Boho Blooms Bow Tie
Another beautiful design from the Belfast Bow Company, this Boho Blooms Bow Tie is made from a premium cotton fabric with a large wild & whimsical floral print. The combination of blush pink, rich dark green, cool peach & soft orange will lend itself to both tailored and more relaxed looks. It has a matching tie, pocket square and cufflinks too!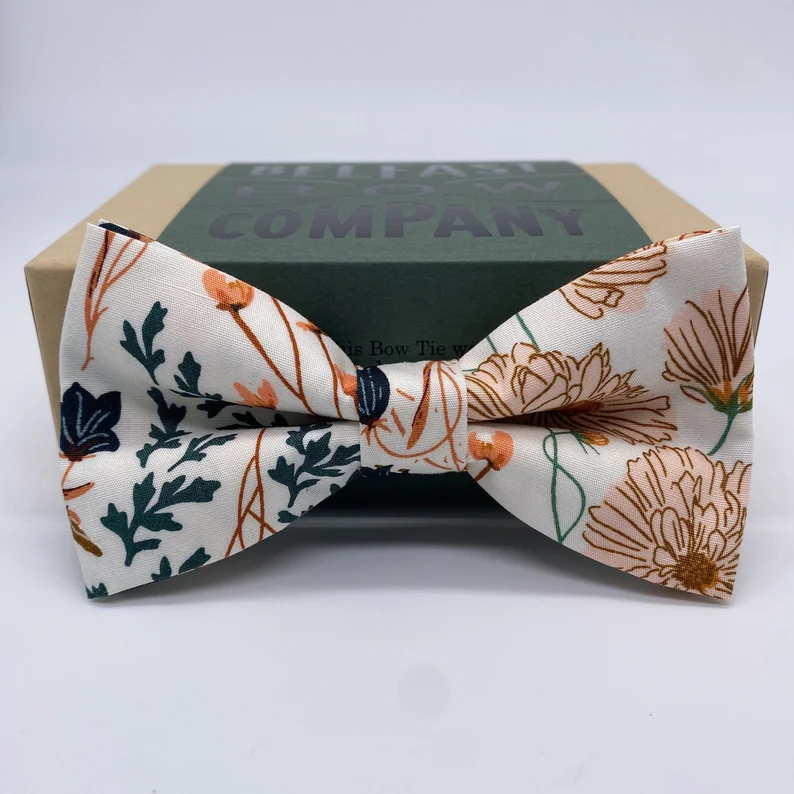 (This post contains affiliate links)
IF YOU LOVED THESE CONTEMPORARY BOW TIES PIN THEM TO YOUR PINTEREST BOARDS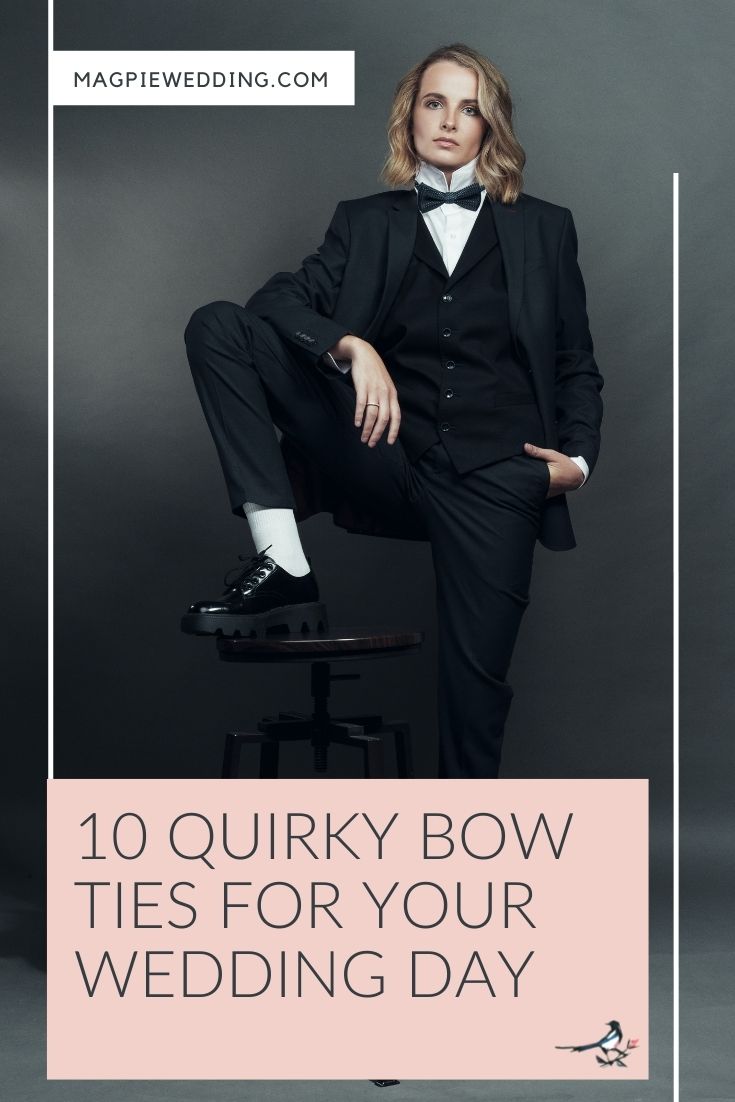 If you loved these contemporary bow ties you may also like;
A Groom's Guide For Dressing Well For The Big Day
Nottingham Lace Wedding Garter with Delicate Pure Silk Blue Bow
Should You Wear A Cravat Or A Tie With Your Wedding Suit?