Infinity Diamond Jewellery is a luxury, online jeweller, based in the UK and is a real hidden gem! They specialise in the whole range of bridal jewellery, made from the most stunning lab-grown moissanite, simulated diamonds and coloured gemstone, which they ship worldwide. The brand focuses on supplying the most beautiful sustainable engagement rings, with collections ranging from vintage inspired classics, right through to the most contemporary designs – offering something for everyone! Let's find out a bit more about this exciting brand…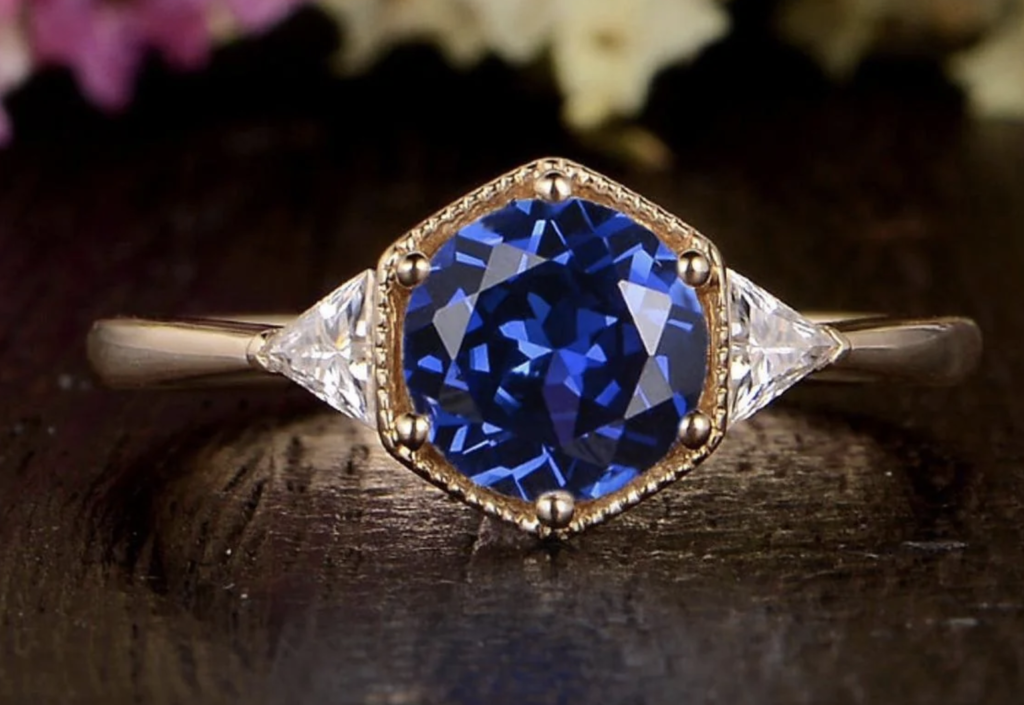 Sapphire, art-deco style engagement ring
"We sell a wide range of lab-grown precious stones including diamonds, emerald and sapphires – but the most popular stone our customers love by far, is our dazzling moissanites. If you're not familiar with them, they're the most sought after stone for engagement rings right now. And there's good reasons for this. Firstly, the price – a moissanite is around a tenth of the cost of a traditional mined diamond – so you can get a much more reasonably priced ring, which is still super-impressive.
Not only that, but even the Gemological Institute of America (GIA) rates moissanites superior to diamonds in overall appearance, so there's certainly no compromise when it comes to sparkle. For many, choosing a moissanites is a greener option because they're guaranteed to be 100% conflict free. And in addition to this, we use recycled gold, so no harmful mining is involved with the making of our jewellery. We find this seems to align more with modern couples, who express that because their engagement ring is such a meaningful piece, knowing its provenance is even more important.
Thankfully, long-gone are the days of being expected to spend 3 months salary on the ring! We strive to offer fabulous engagement rings for all budgets. Not only are our lab-gems more affordable, but they also fit with the values of our customers, who are much more environmentally conscious and really care where their jewellery comes from."
What are your design influences?
"We have a whole section on the website dedicated to our gorgeous vintage designs. We created this range inspired by our favourite eras which are Art Deco and Edwardian – which we think really was the golden age of jewellery design. And our ideas don't just come from past jewellery designs, you'll also see echoes of the architecture and fashion reflected in these timeless styles."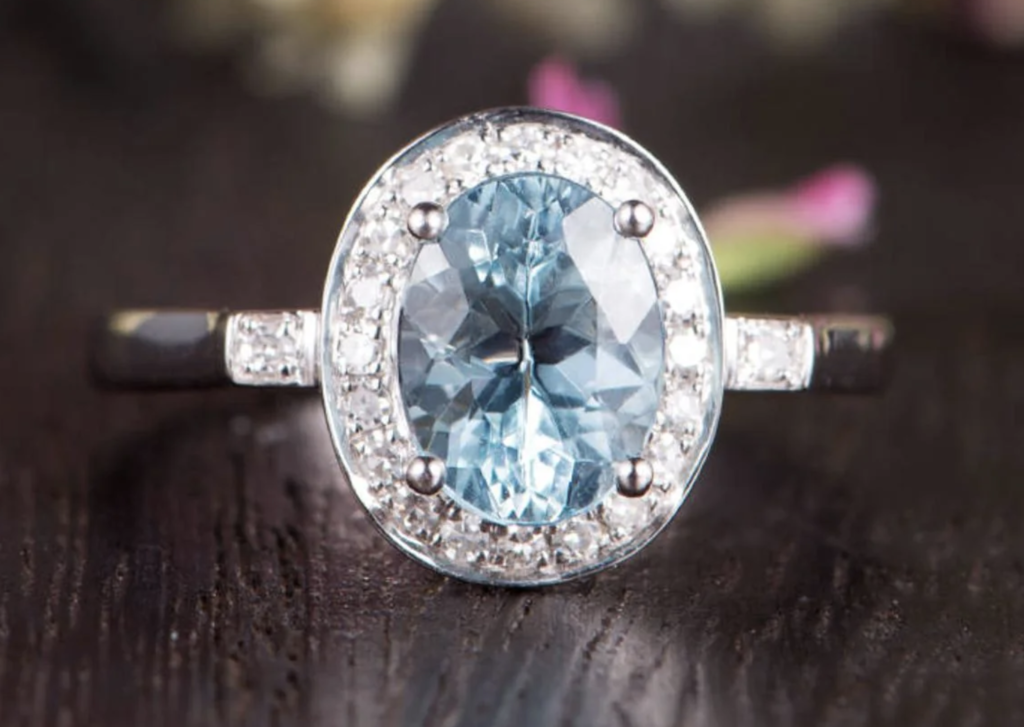 Vintage style aquamarine engagement ring with halo
Art deco style, sapphire and diamond necklace
"These fabulous pieces never go out of style, which is exactly what you want when you plan to wear your ring for the rest of your life! We're also aware that antique styles aren't everyone's cup of tea, so we spend as much exploring more contemporary forms, again keeping the people who love our jewellery in the front of our mind. Offering affordable and environmentally friendly jewellery for everyone is our mantra!"
Who is your typical couple?
"That's a tricky one to answer because there are many different types of people who love our jewellery – from all walks of life, all ages and from all over the world. One thing they all have in common is that they're all savvy shoppers who don't want to pay more for their jewellery than they need to, but still want good quality. Another commonality they share is that they care about the planet and want to make a greener choice wherever they can".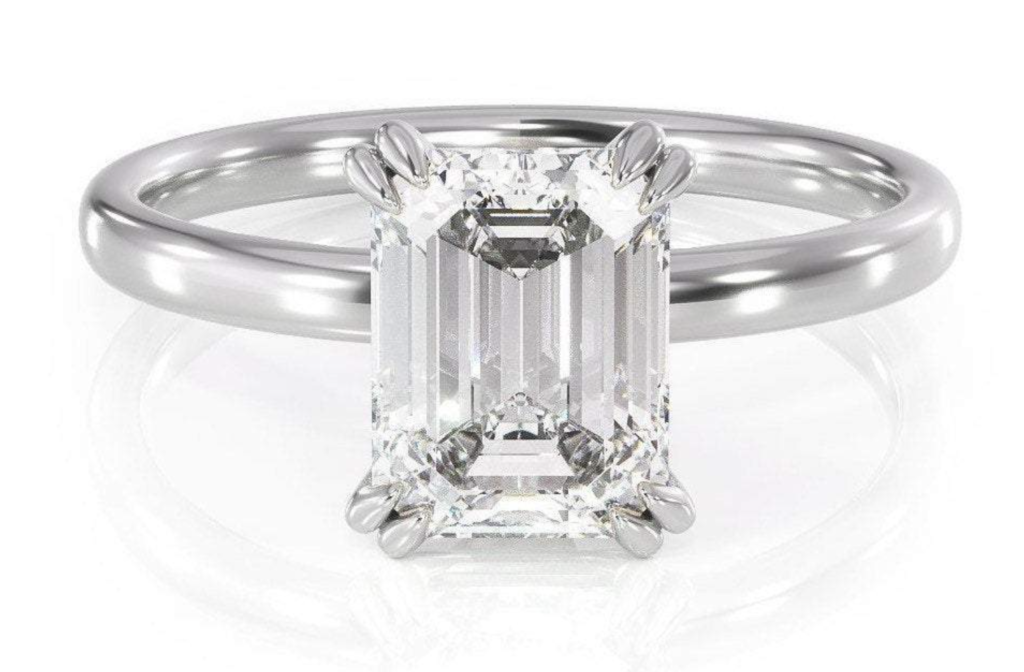 Emerald cut moissanite engagement ring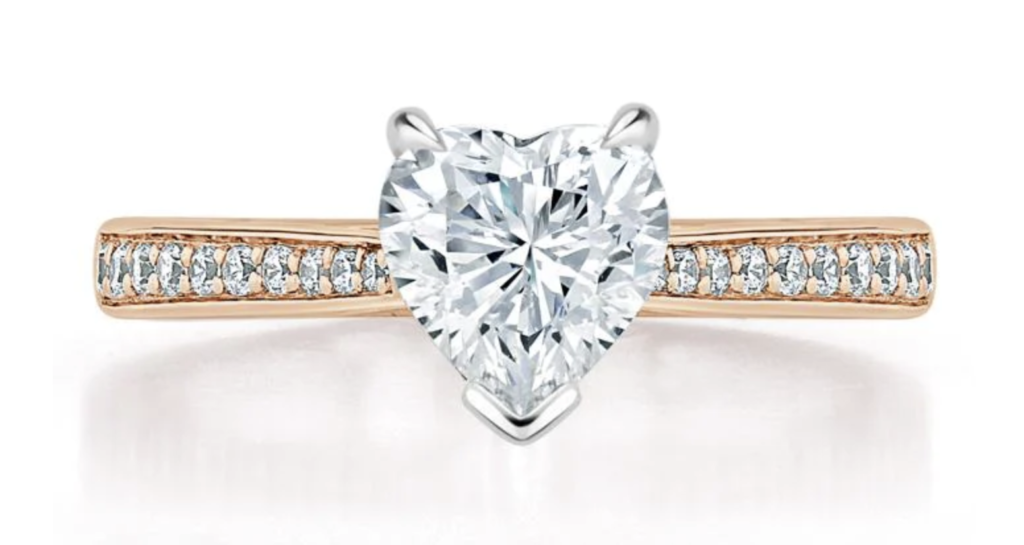 Heart shaped moissanite engagement ring
How important is being sustainable?
"It is super important to us to ensure we're as sustainable and ethical as possible, throughout the whole process of creating and supplying jewellery. We know that mining precious stones and metals from the earth is not sustainable in the long term, so we're taking a different path. But this isn't our only driver.
Supply beautiful, high quality designs, in a range of styles
Offer a range of affordable ranges at prices to suit all budgets
Strive to be as sustainable and environmentally friendly as possible
All our gems are lab-grown and we use recycled gold, which eliminates the need for mining which can have various negative environmental impacts. And we also support the 'One Tree Planted' which means we donate a tree for every purchase made."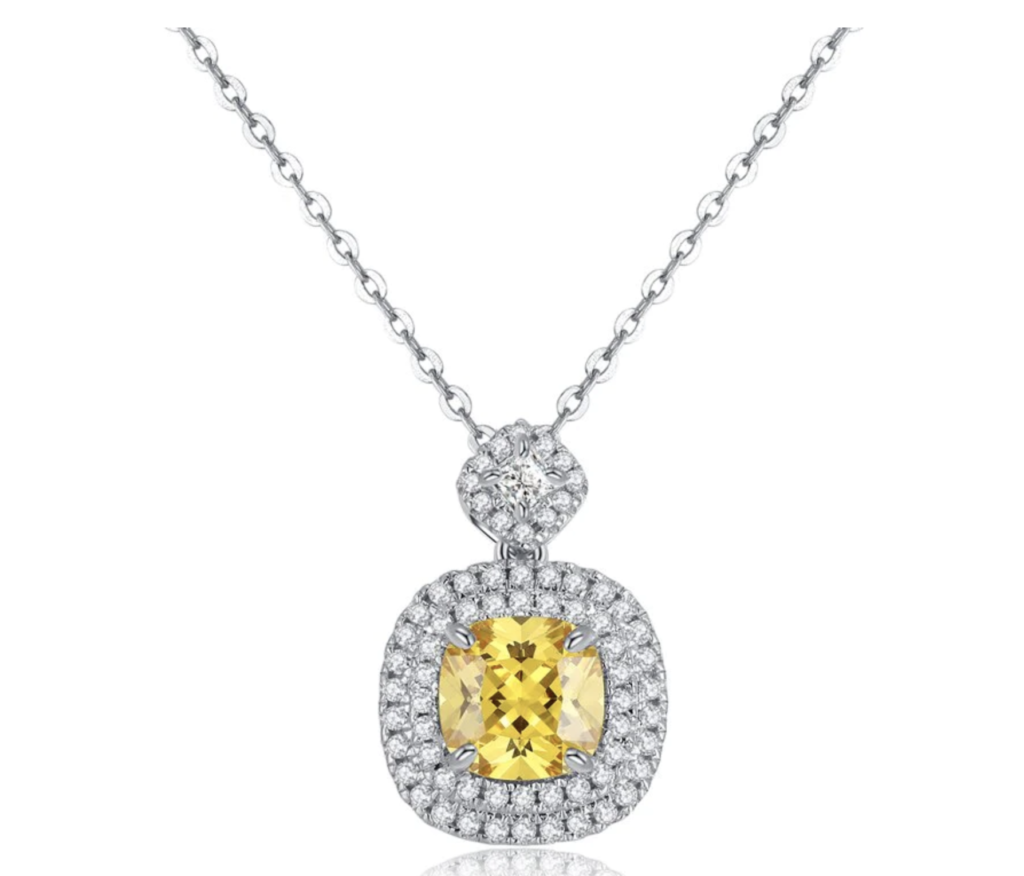 Cushion cut yellow diamond necklace with halo
What are you most proud of so far?
"When we first started the business, it felt like it would be easier to just supply just lab-grown engagement rings as we knew there was a demand for this, but we felt it was important to offer more than that. We have worked hard to offer a full range of bridal jewellery for everyone, not just the bride. We've got all members of the wedding party covered, including the mother-of-the-bride and the wedding rings for both the bride and groom. And it was important to us that we could offer products to complete the whole look, including gifts for the bridesmaids."
"We have the most gorgeous collection of bridal earrings starting from just £40, which include moissanites, sapphires, emeralds, yellow diamonds, rubies and more. We're able to offer jewellery at such unbeatable prices because they're lab-grown and keep an eye out for the amazing offers. We have everything from subtle studs, to eye-catching drops!"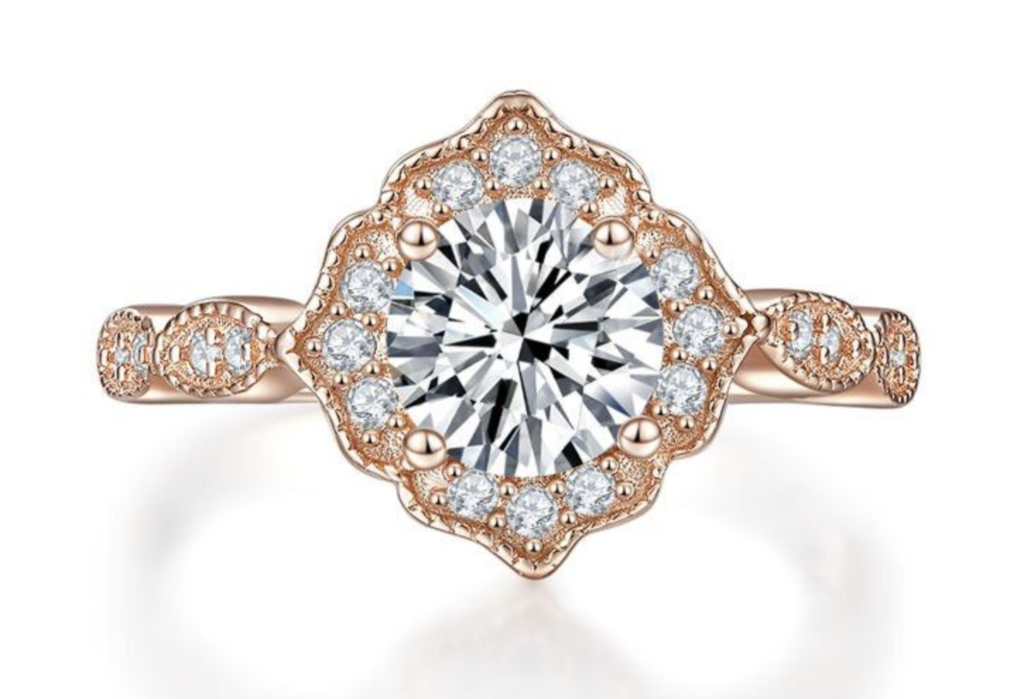 Round brilliant cut simulated diamond with halo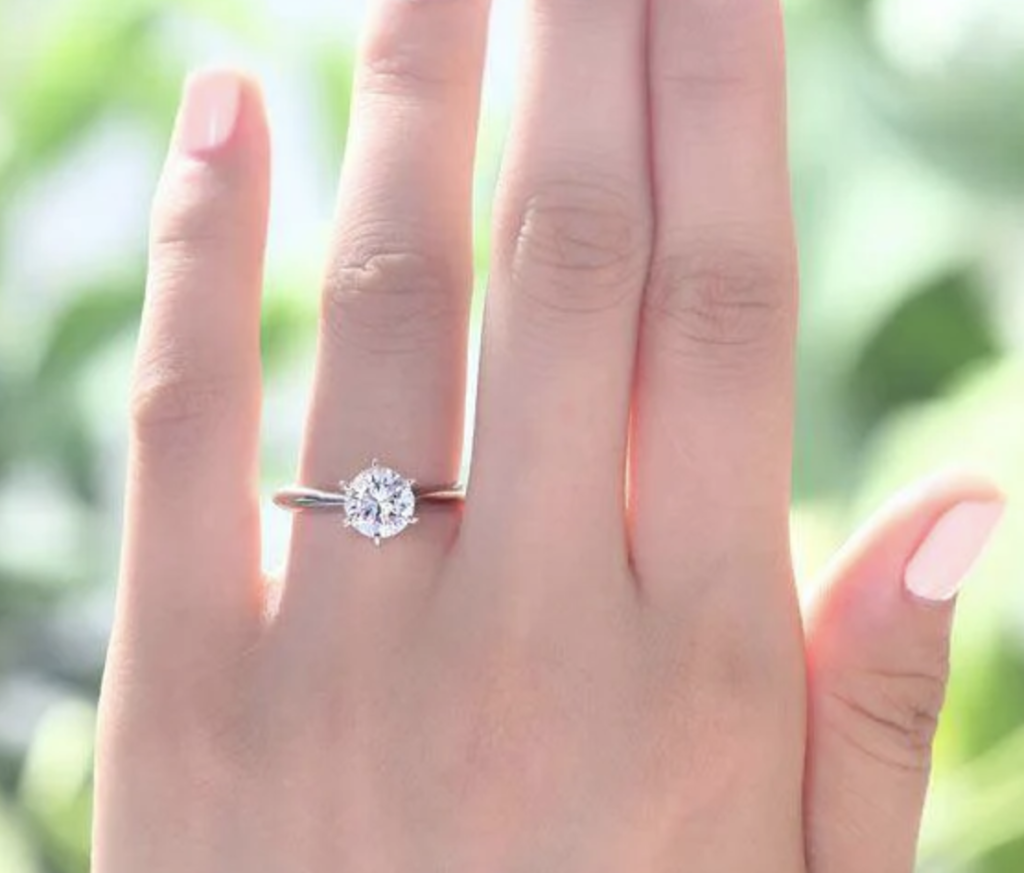 Round brilliant cut, lab-diamond simulant engagement ring
What's next for you and your company?
"We are working on some exciting new designs! We have been massively inspired by the growing trend of coloured engagement rings and will be adding more options to this section of the website over the next 12 months. We currently have a rainbow of options including: aquamarine, blue sapphire, ruby, emerald, blue topaz, morganite, amethyst, citrine and white topaz in our precious gemstone section. "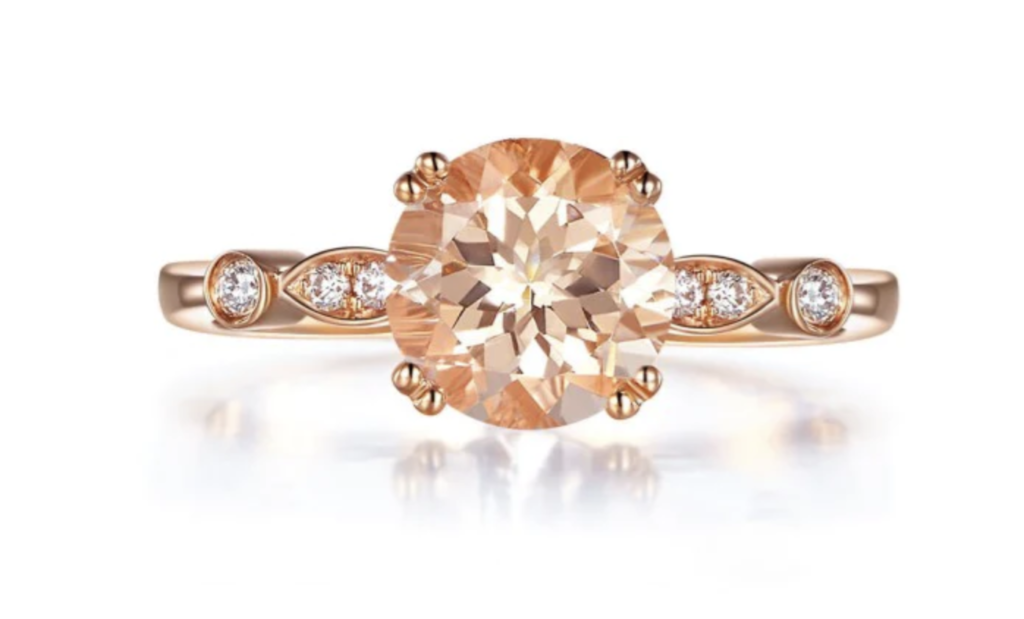 Round cut morganite engagement ring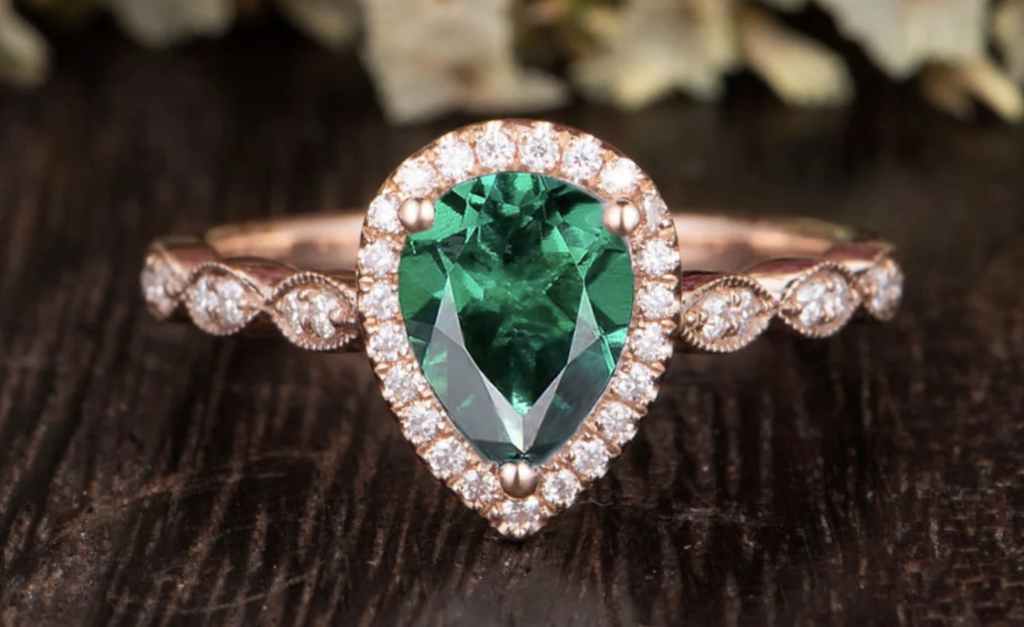 Pear cut emerald engagement ring, with halo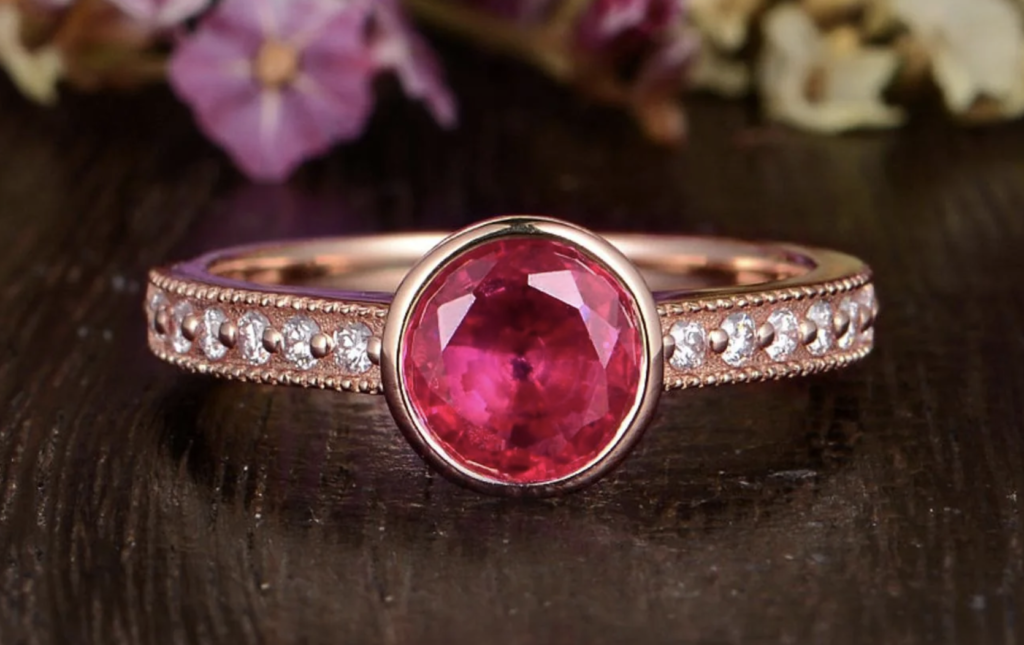 Round cut ruby engagement ring
And… anything else you would like to share with us?
"Although we strive to keep our jewellery affordable, we still offer finest quality moissanite jewellery. We source D-E-F coloured moissanite stones, which is the best colour you can get. Because our gems are lab-grown, there's a level of control over the process, which means they have less inclusions and flaws, making them the highest quality available. The quality of the colour, teamed with excellent cuts and the lack of flaws means the stones are the best available. We don't feel it's fair that anyone should miss out on the ring of their dreams, just because they may not have as big a budget as others and we're proud that our simulated diamond collection offers just that."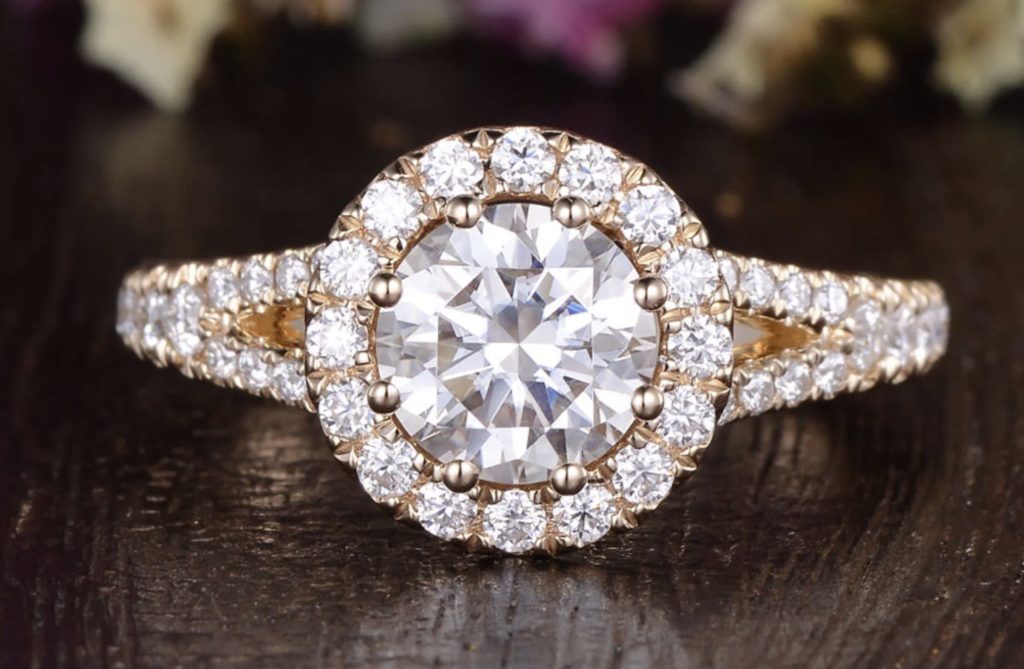 Round cut moissanite engagement ring with halo
"We just adore coloured stones and are all about offering the best alternative options for engagement rings. We offer vibrant and exciting jewellery designs, all crafted here in the UK. Because we understand the significance of bridal jewellery, every piece is crafted to the highest quality, with the best craftsmanship and materials. To give our customers complete peace of mind when it comes to such an important purchase, we offer a lifetime warranty on all our moissanite stones. In addition, our moissanite jewellery is covered with a 12 month warranty which covers any issues with the setting."
IF YOU LOVED THESE RINGS, THEN WHY NOT PIN THEM?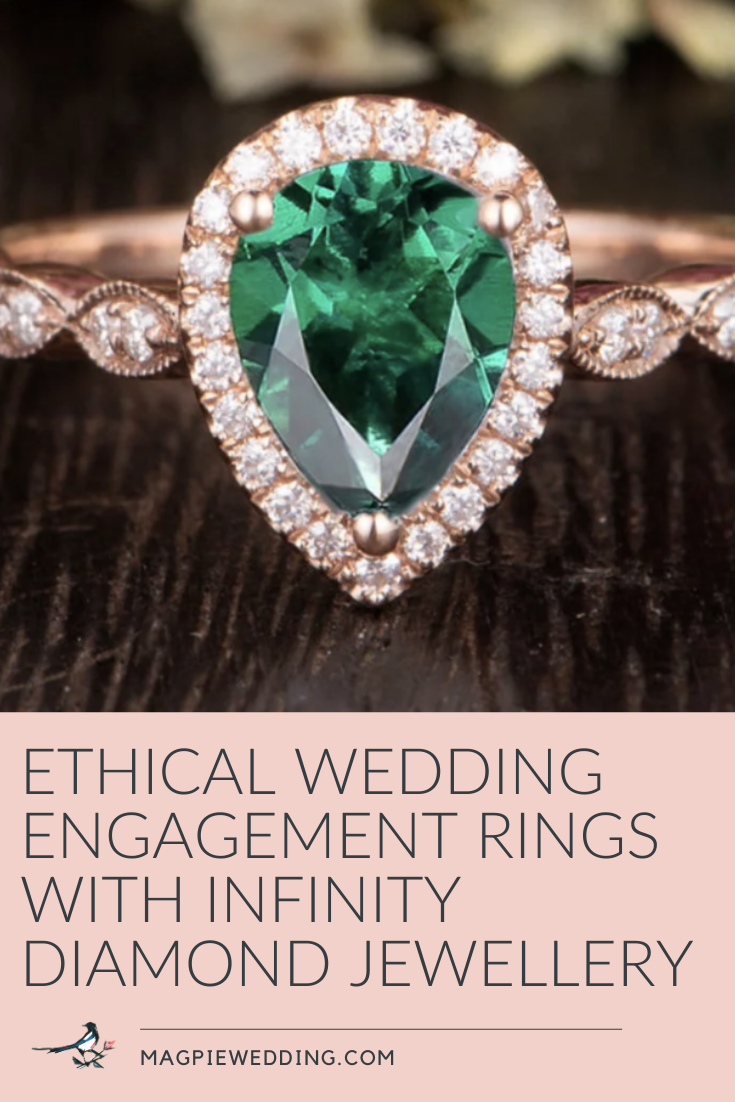 This is a sponsored post