You know we're always here for the ethical details and this beautiful multicultural autumn wedding is full of them! With copious amounts of personality added, April and James tied the knot in an early autumn ceremony at Miskin Manor, near Cardiff. With a chance meeting through friends who were flatmates, their love blossomed and April is here to tell us the story. From proposal to planning she chats to us about how they merged influences from both their cultures to create a day that was unique to the two of them…
The Proposal
"While we were on a bluebell photoshoot to celebrate moving to the South, James proposed with a Welsh lovespoon as a surprise. He'd been planning with my best friend to get the design of the lovespoon right for a while and was presently surprised himself that the artist was able to get it to him early and just in time for the photoshoot. Of course, we did get a ring afterwards and chose a design that had a twisted band design that matched the lovespoon."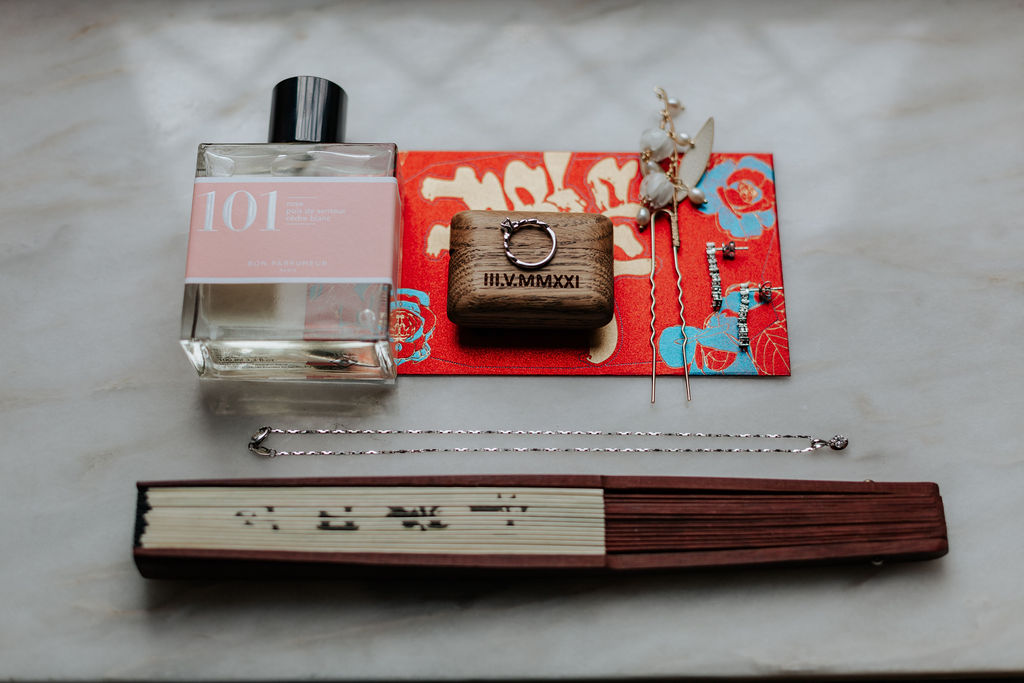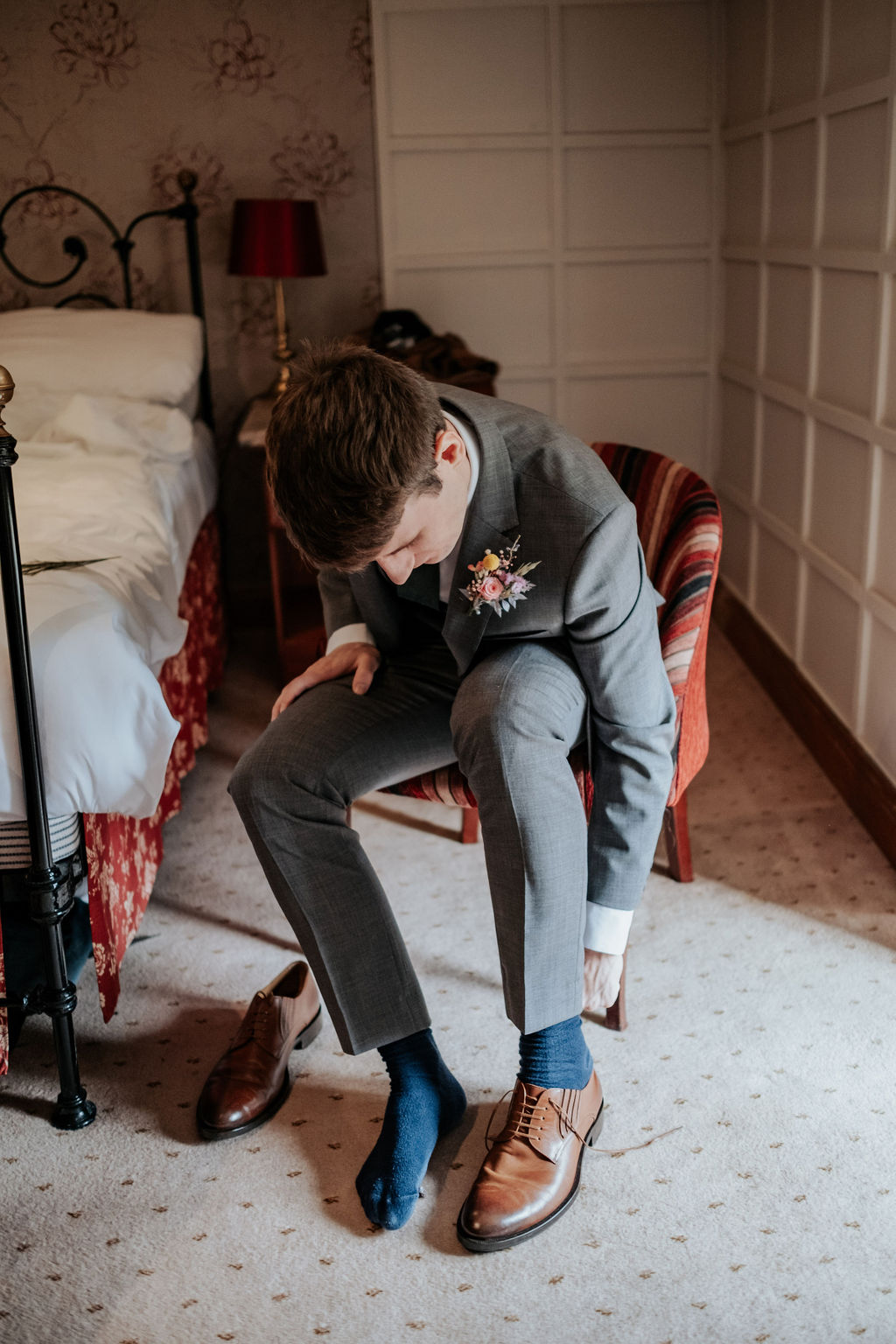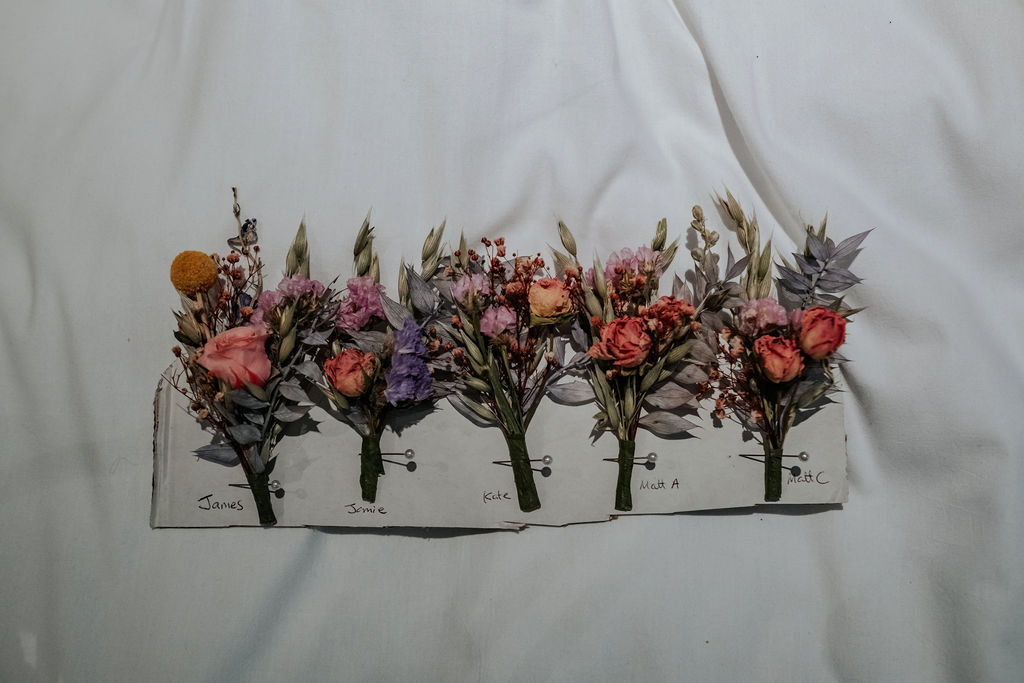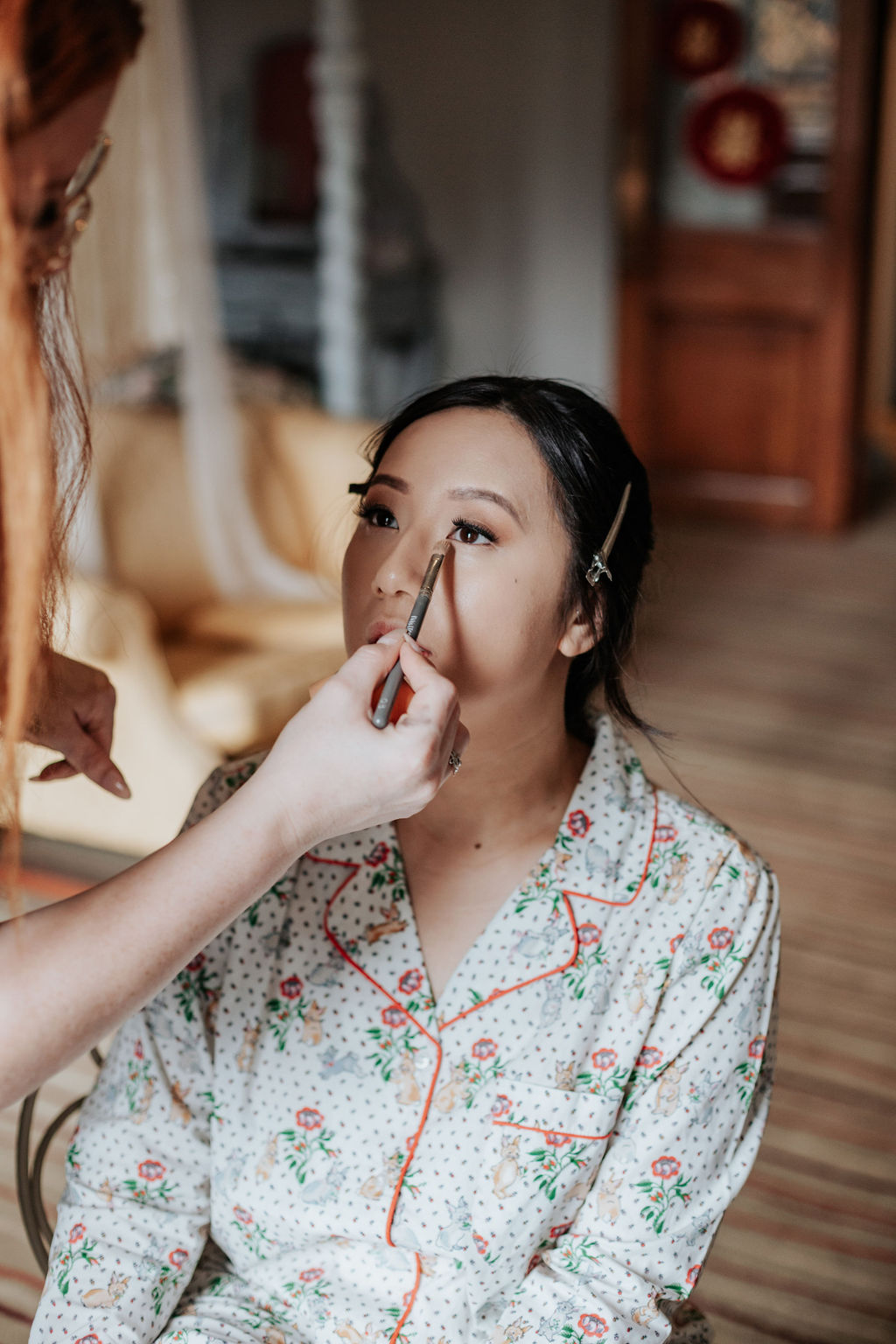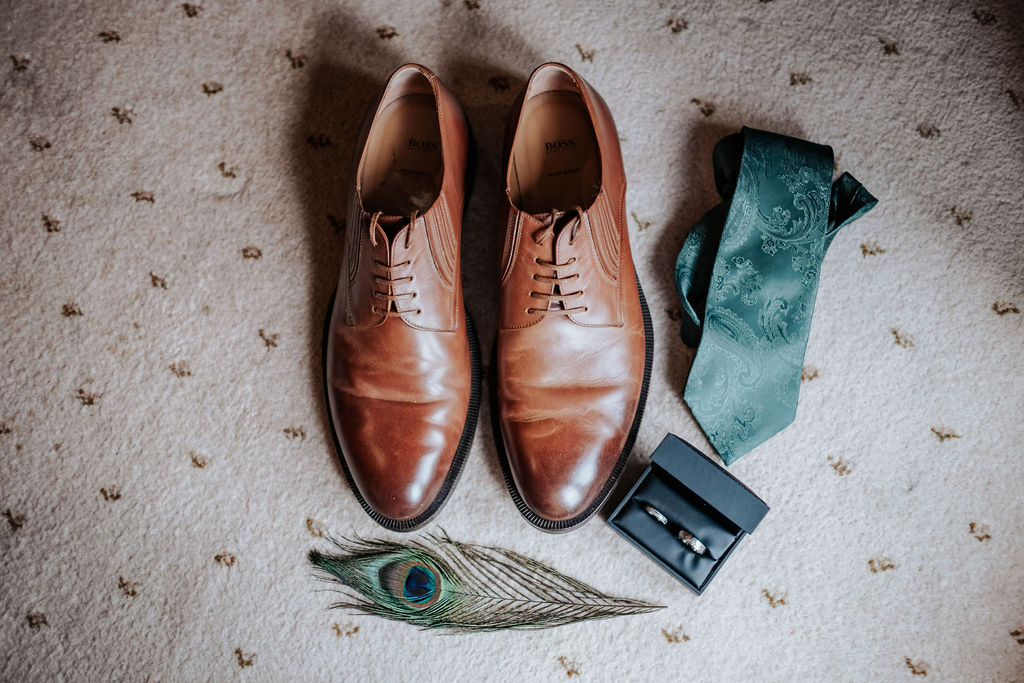 Planning The Wedding
"As we're a mixed couple, there were influences from both our cultures but we also wanted to step away from traditions that didn't have a meaning for us. For us, it was important that our wedding reflected our personalities, interests and values of coming into the marriage as equals rather than including elements which are "expected" from a wedding. Some examples include, James' sister being a groomsmaid, and having our parents walk down the aisle before we walked in together so that we are "following in their footsteps" of a happy marriage as both of our sets of parents have been happily married for many years."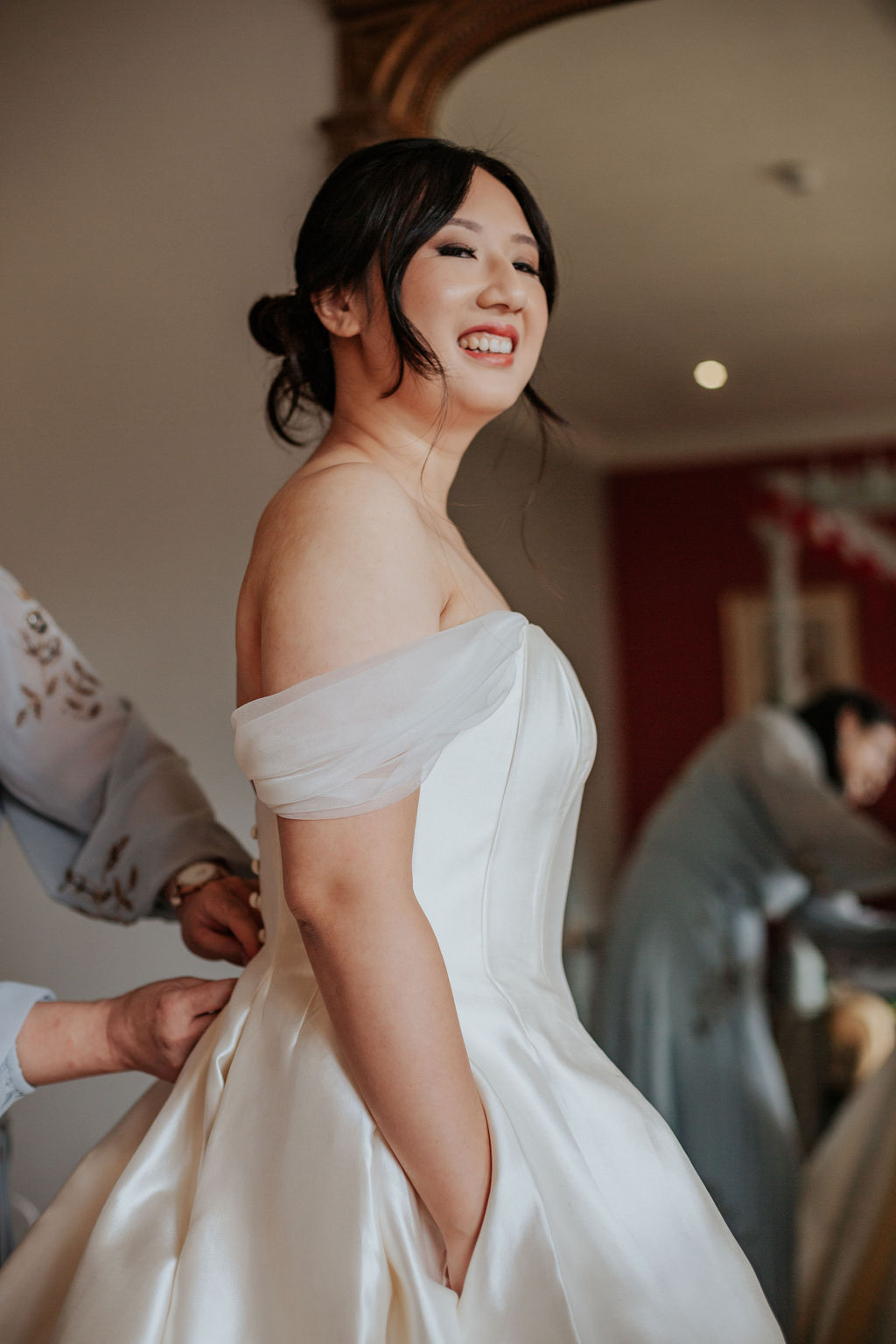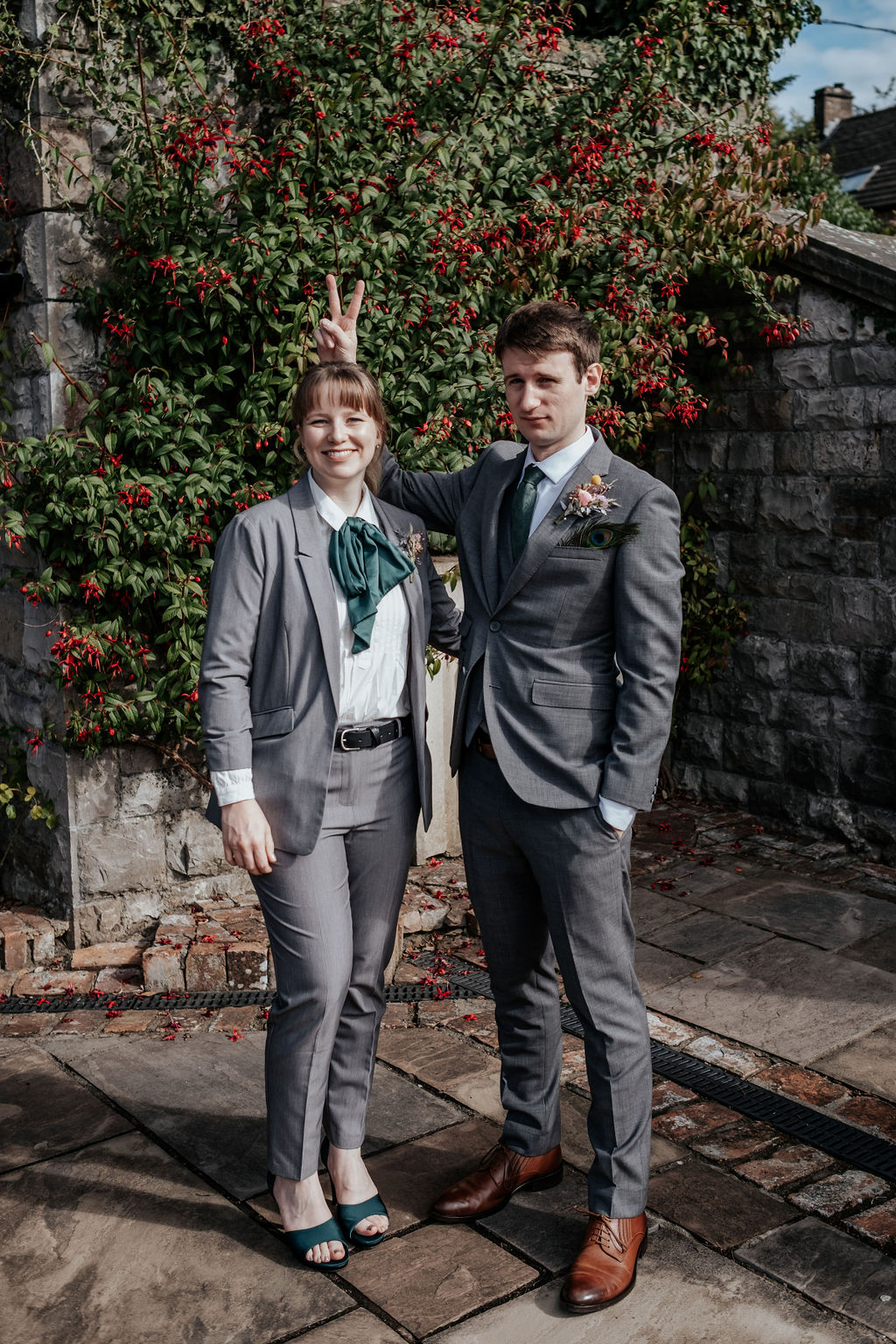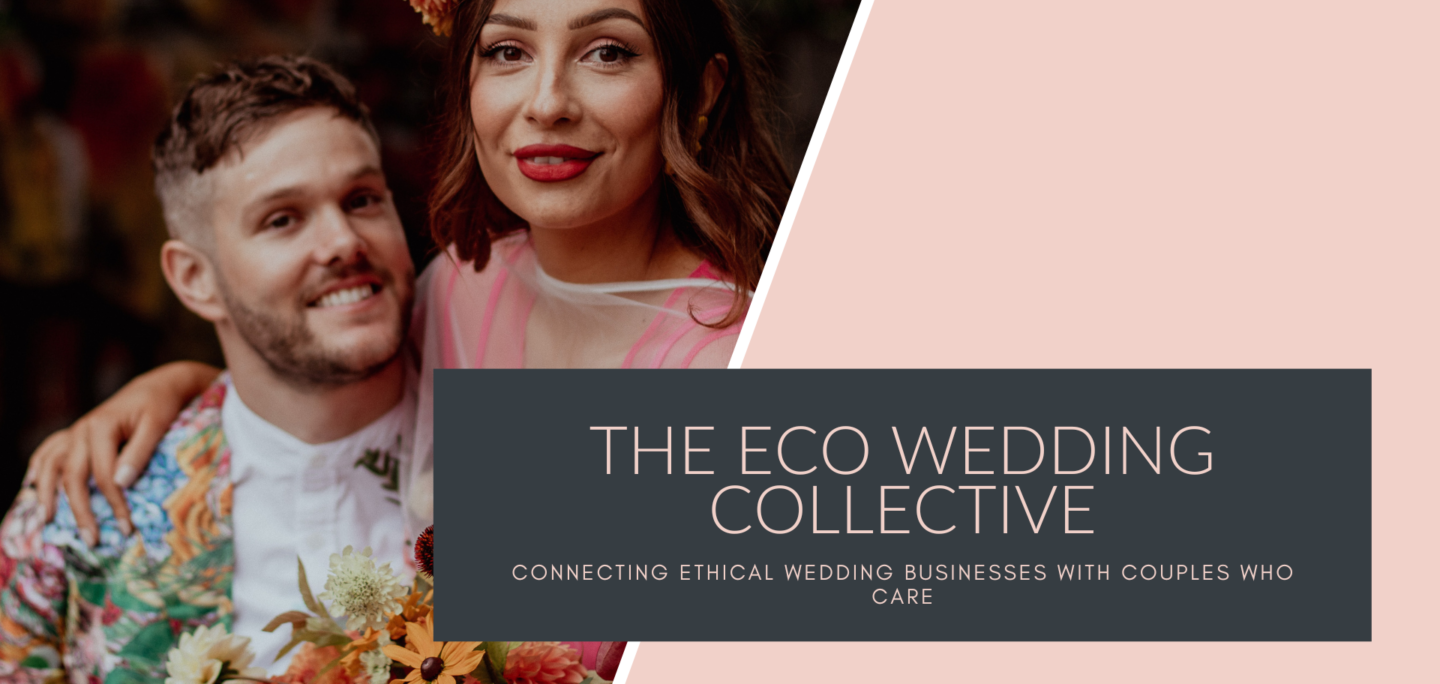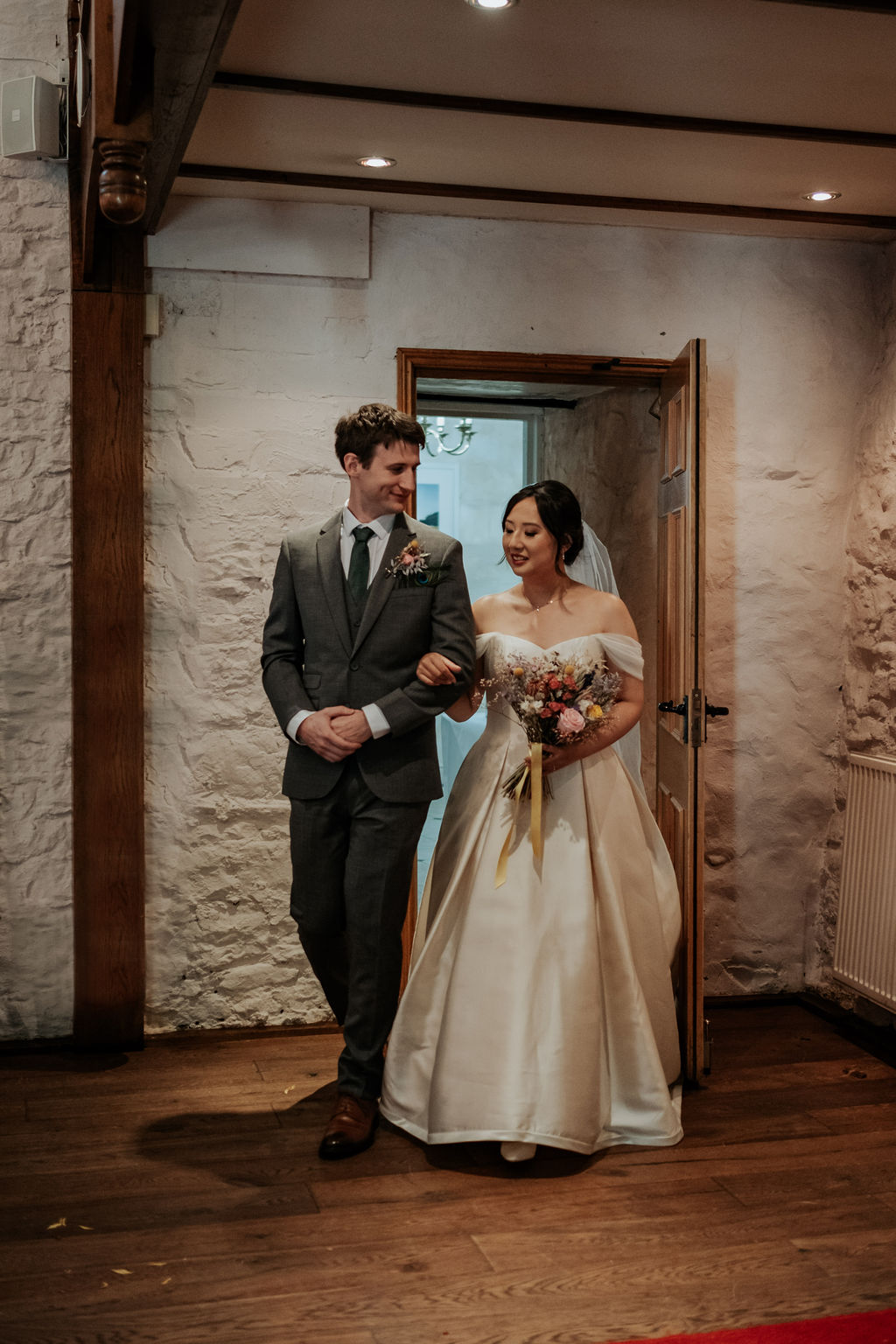 The Venue
"Miskin Manor is a lovely country manor which is only half an hour away from where I grew up and where my parents are still based. When we went to see other venues, we didn't feel that they had the personality and historic grand-ness which Miskin had, we love museums and historic houses so we could pretend to be Lord and Lady for the day! We hardly had to decorate as the venue already had beautifully curated pieces both in the ceremony room and adjoining dinner hall. Of course, the stellar Welsh hospitality and being within our budget was a bonus!"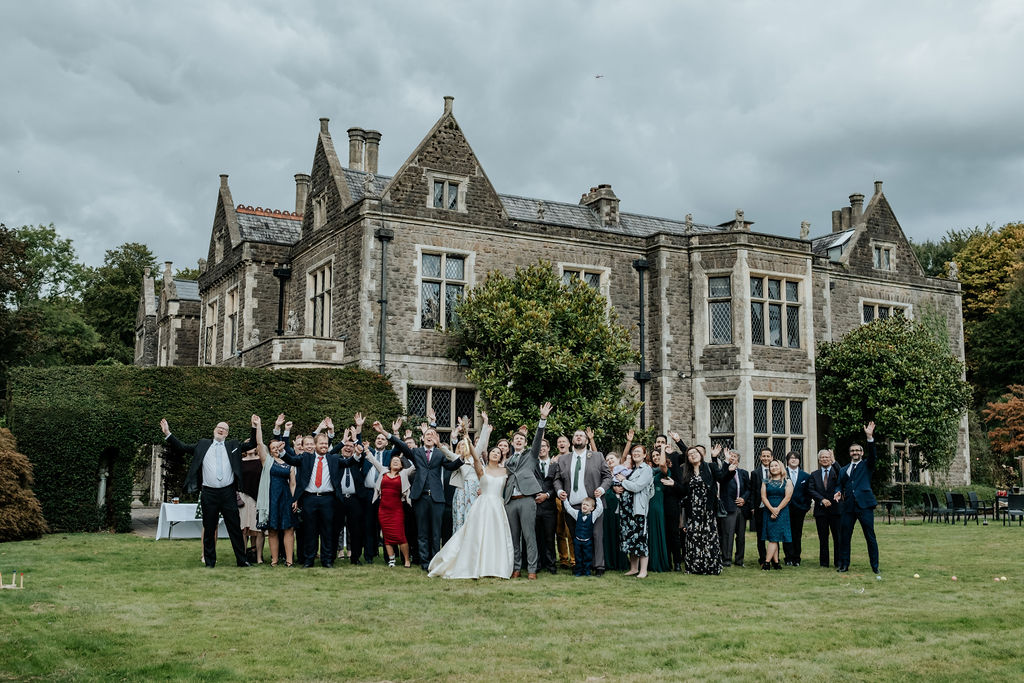 The Dress
"I definitely think I stressed too much about the dress. Wedding dress sizes and materials are so different from what's worn day-to-day and often the only available photos are on tall, slim models. Just go to a bridal store and see it in person, feel the materials, and don't be afraid to go alone if you think you will feel pressured by an audience. There will be a bit of getting more naked than usual in front of a stylist but they're not there to judge you!"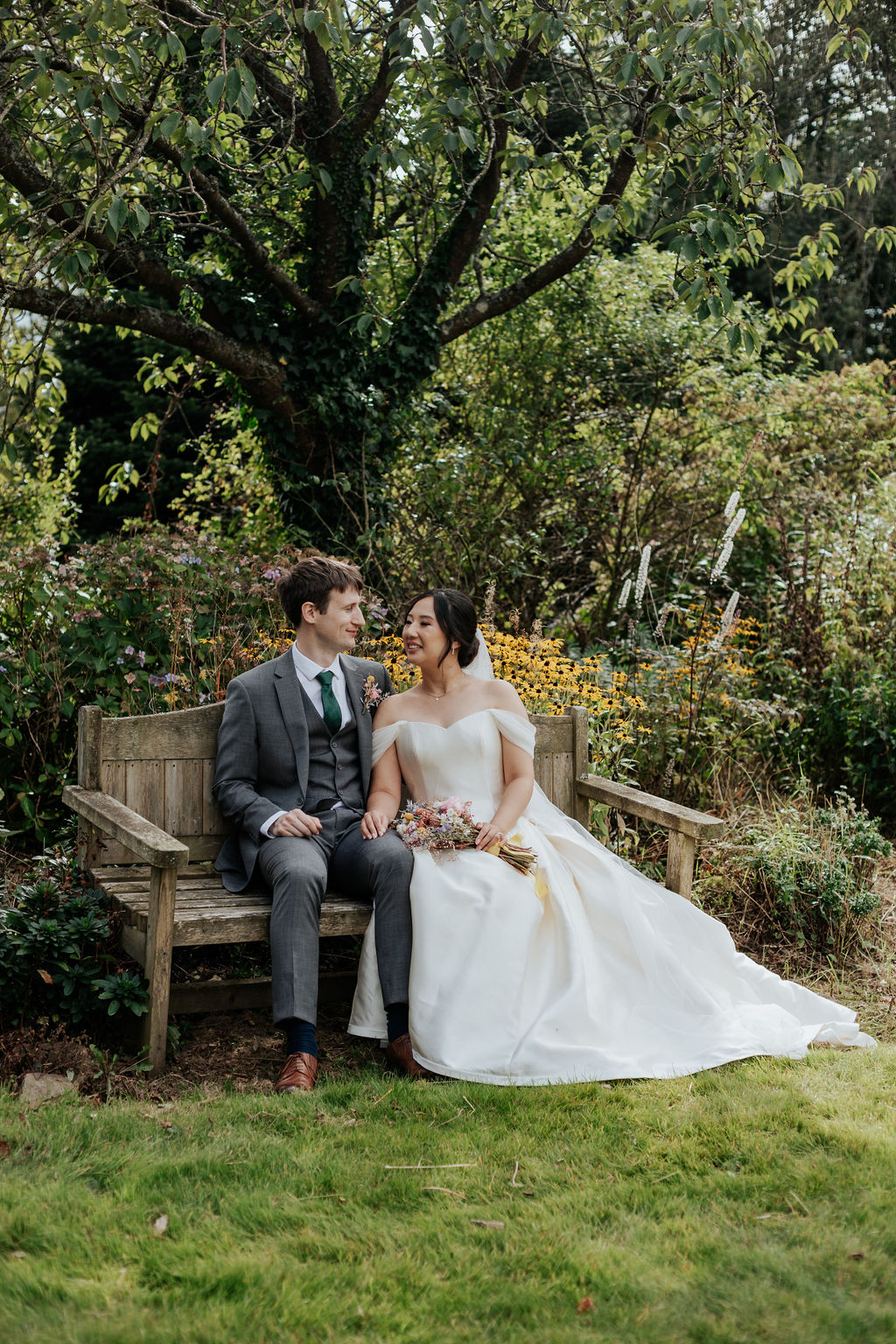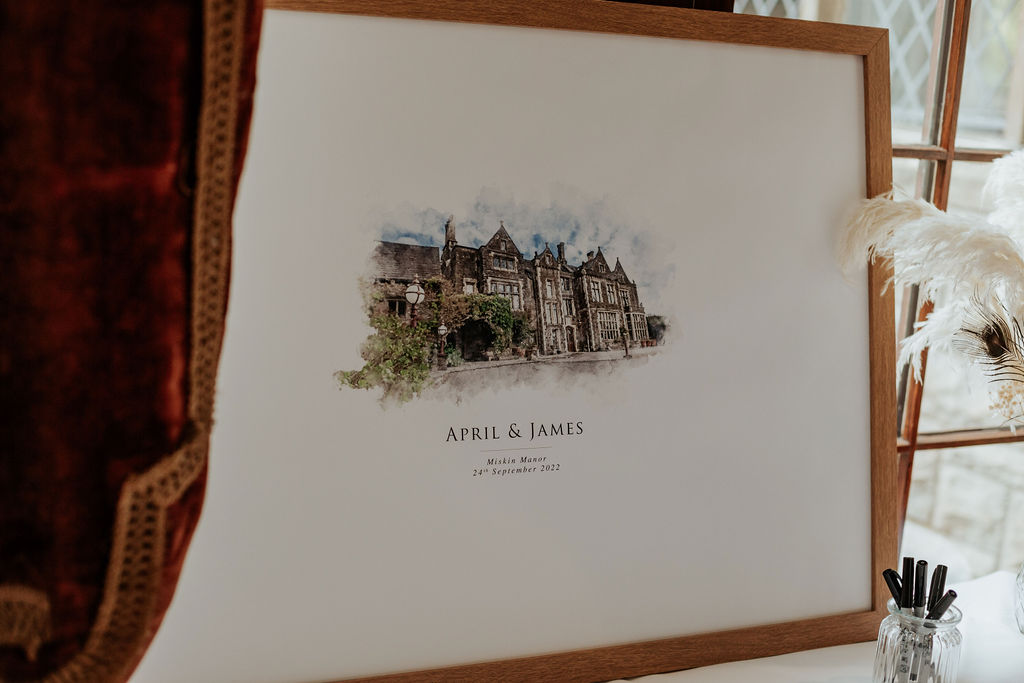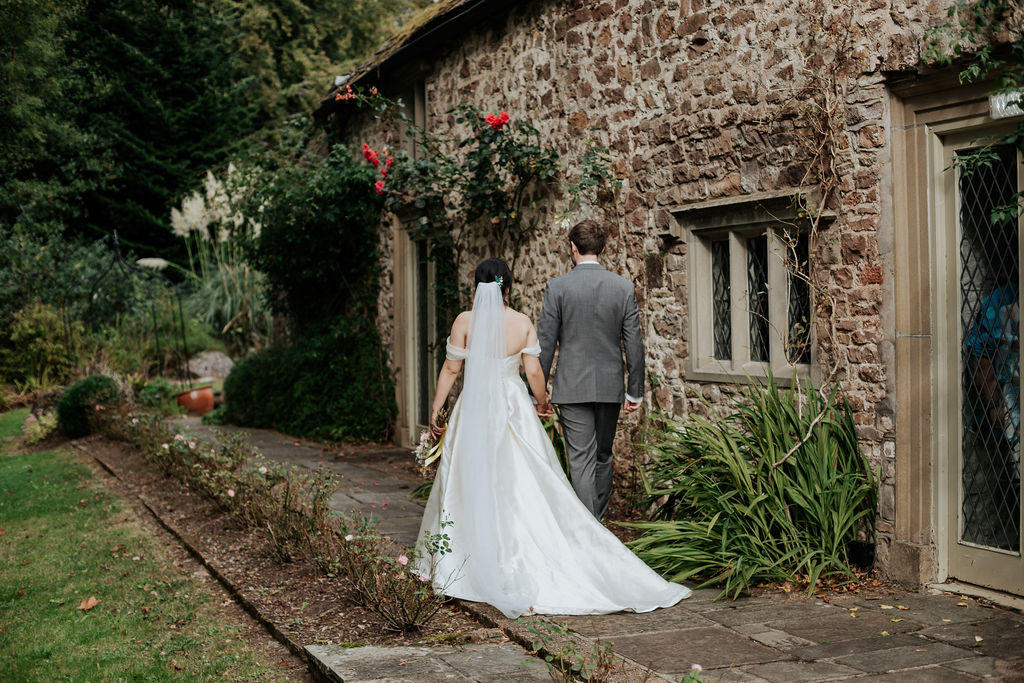 The Suit
"Slaters was fantastic at helping us find the right suit. The staff were knowledgeable and had so much patience. They showed us options for hiring traditional tailcoats but also stylish suits that can be re-worn again and how to style them. I encouraged James to splash out and get a Ted Baker suit. After all, it's his wedding too so he deserves to feel special and he certainly felt in his words "beautiful enough" to submit this entry to your feature.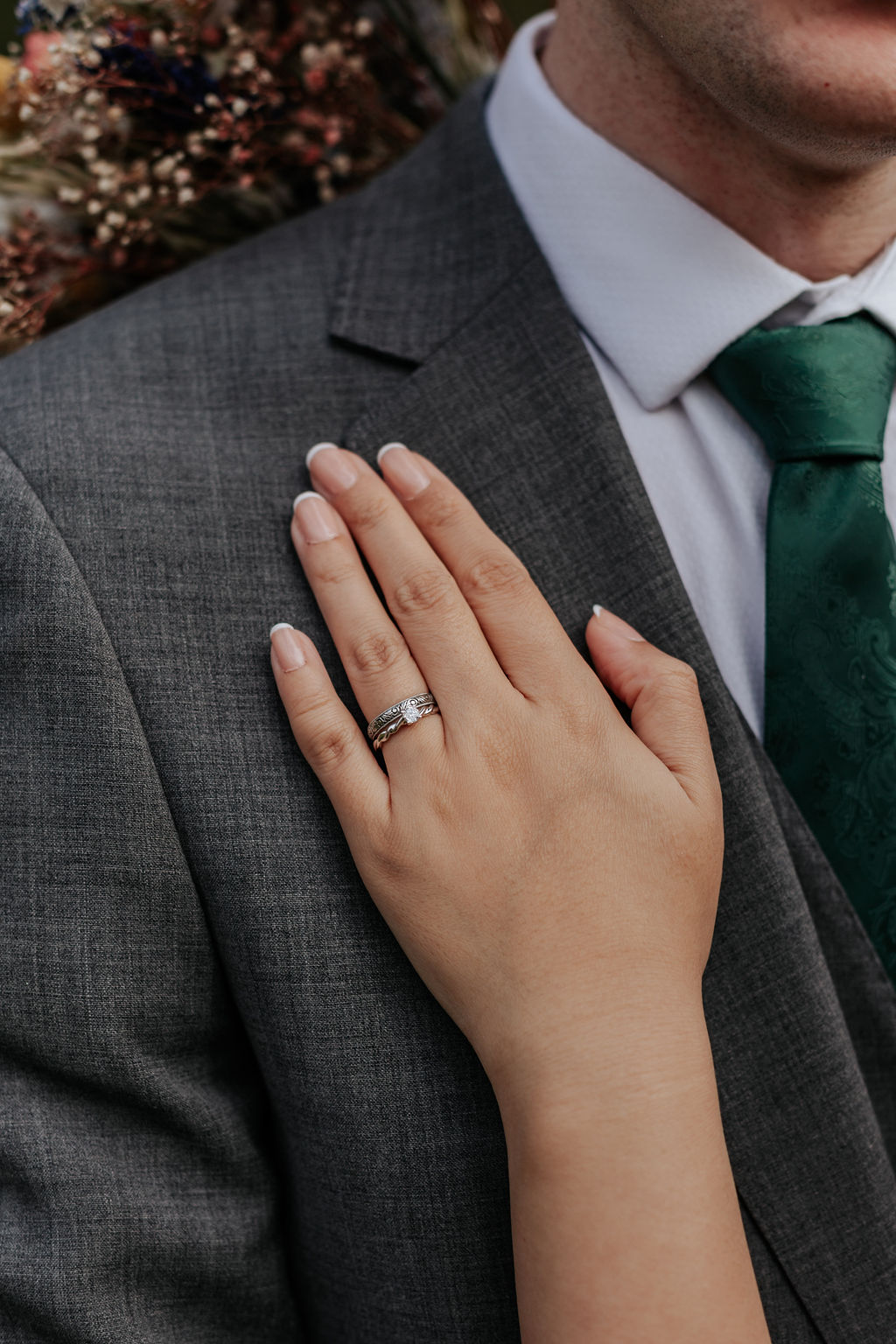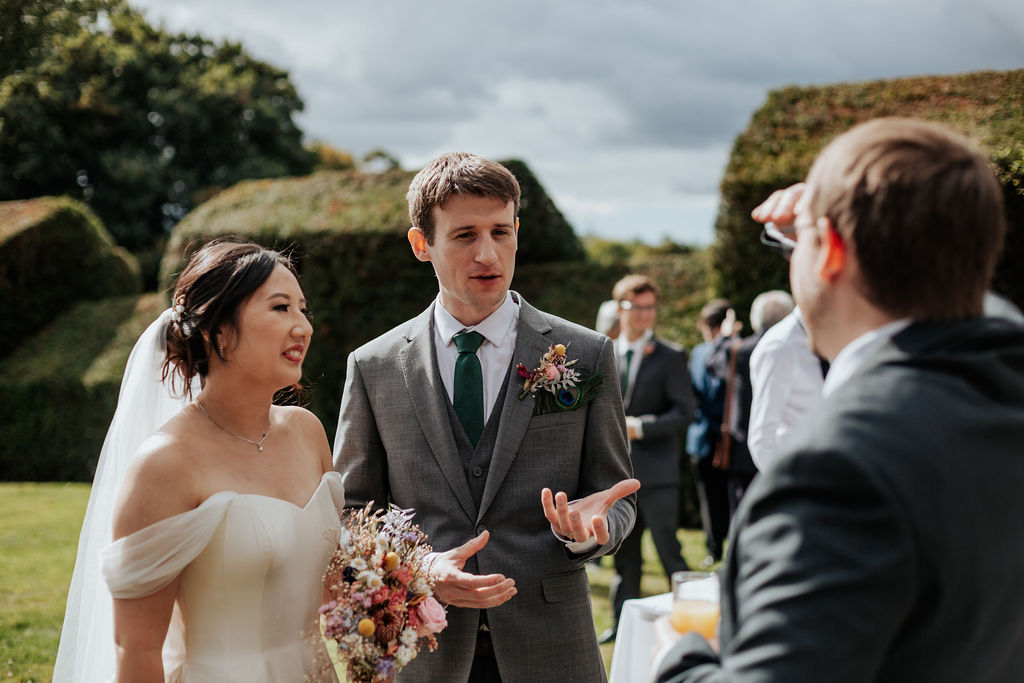 Bridesmaids and Groomshumans Outfits
"We wanted our bridesmaids and groomshumans to look coordinated but also show their own personality. Additionally, everyone had vastly different body types, hairstyles, and ethnicities so dressing them identically would take that away! For the bridesmaids, I specified what colour I wanted and that I would like them to be in full-length dresses. For the groomshumans, we said we would like them to wear a grey suit and we would supply the matching ties. Sustainability is important for us so we really wanted everyone to be able to choose something that they would wear again. In fact, three people chose to wear something they already owned that met the specifications!"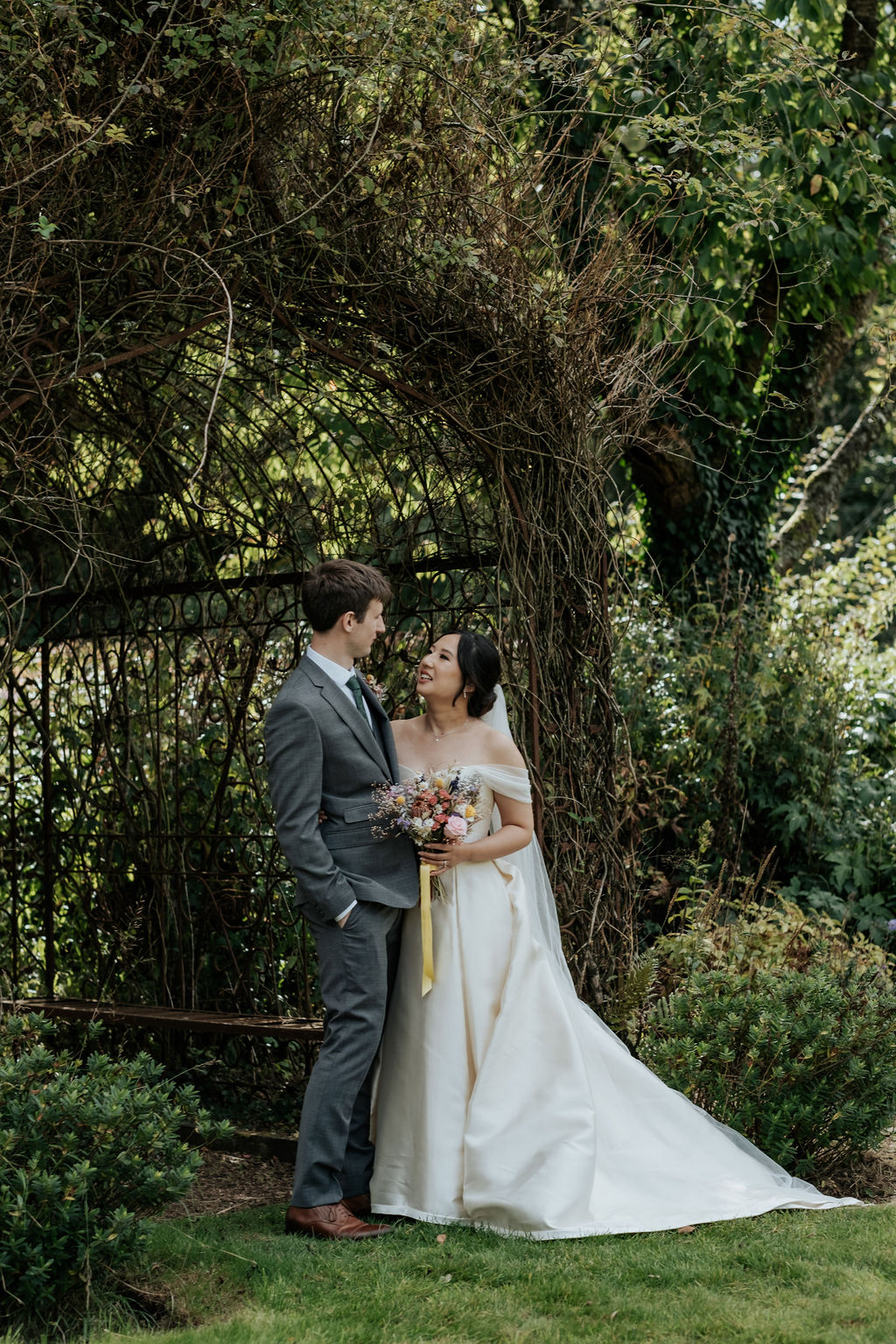 The Details
"Our cake was by Let Them See Cake who were featured in BBC's Hot Cakes. We then added Hello Kitty and Dear Daniel figurines in traditional Chinese wedding attire as our toppers. We chose to have dry flowers as they can be kept for a few years and double as home décor. A lot of our friends and family still have a piece of our wedding on display when we visit them! I used a professional florist for the bouquets and button holes but our table flowers were from a mixture of flowers we have been gifted for birthdays, celebrations and just for the house, in the lead-up to our wedding. We got to enjoy the flowers in their fresh form and learnt a new skill in preserving them! Finally, for stationary it was all designed and printed at home. As our friends and family are based all around the world, their invitations were all sent digitally. We included photos from our engagement photoshoot with Jodie in the invitations and on-the-day stationery. Originally we were going to name our tables after our favourite museums but changed it to places we have lived together, showcasing our history, all the way from when we moved out of our family home to the top table which is the first home we bought in the same year we got married…. and we have lived in a lot of rental properties!"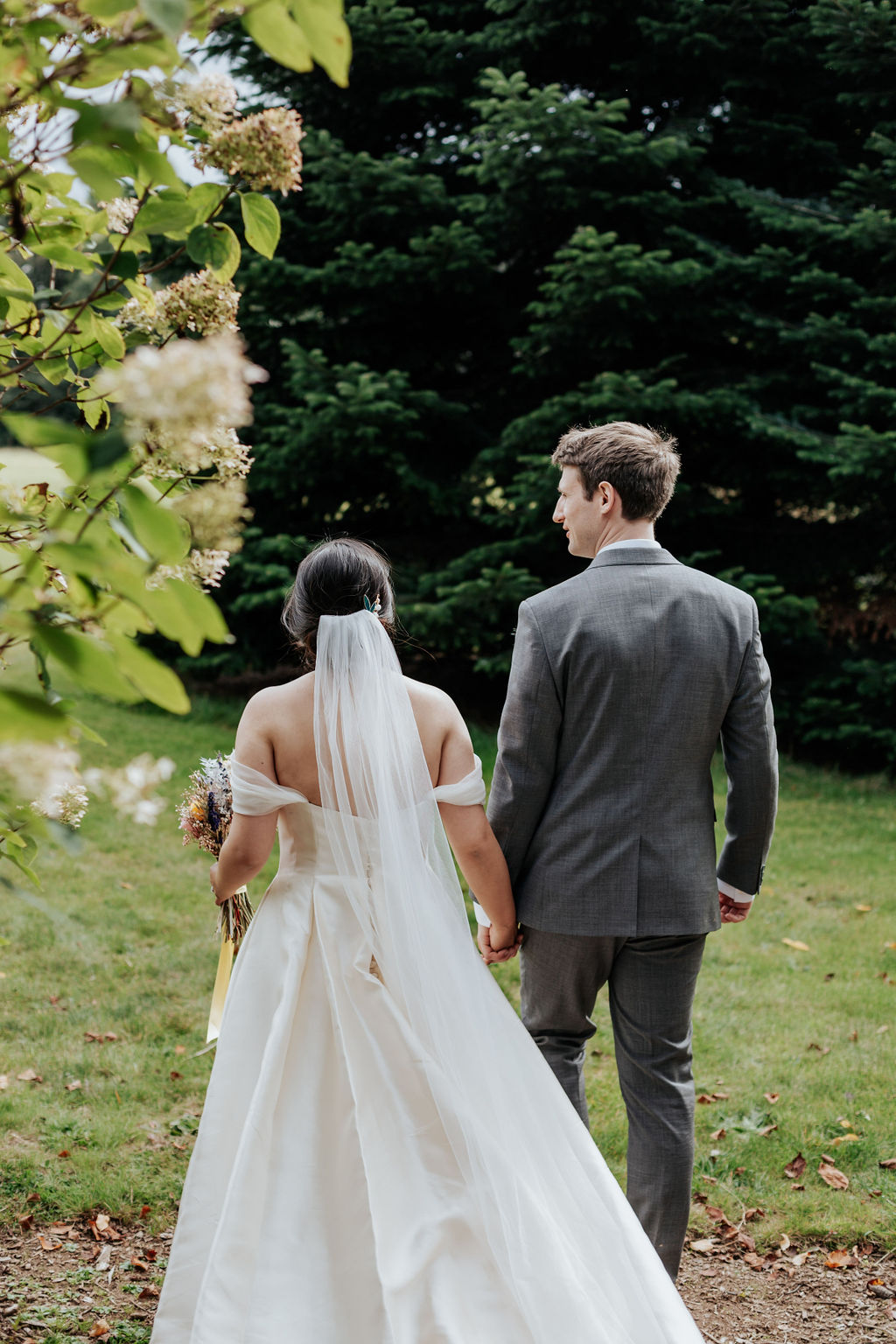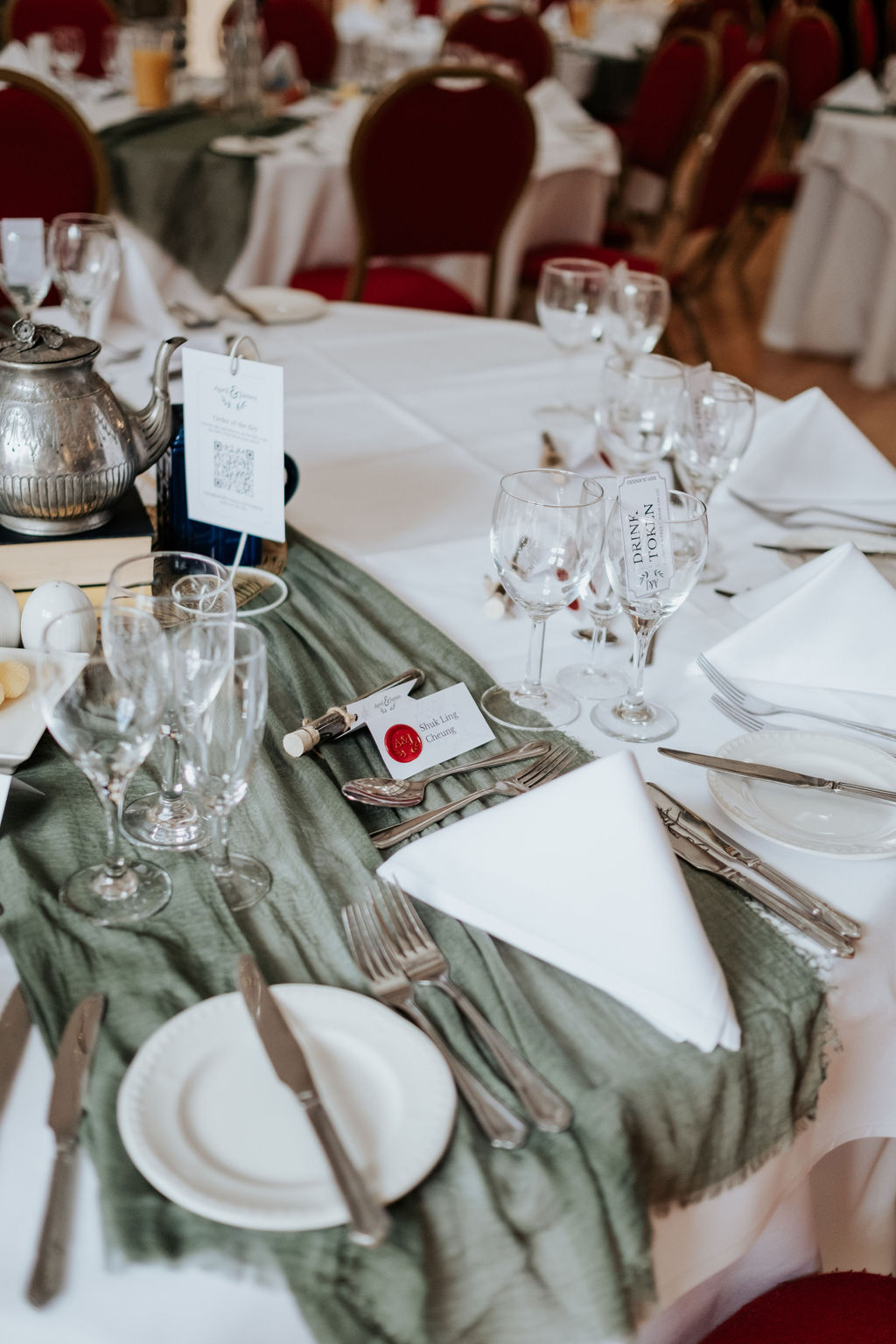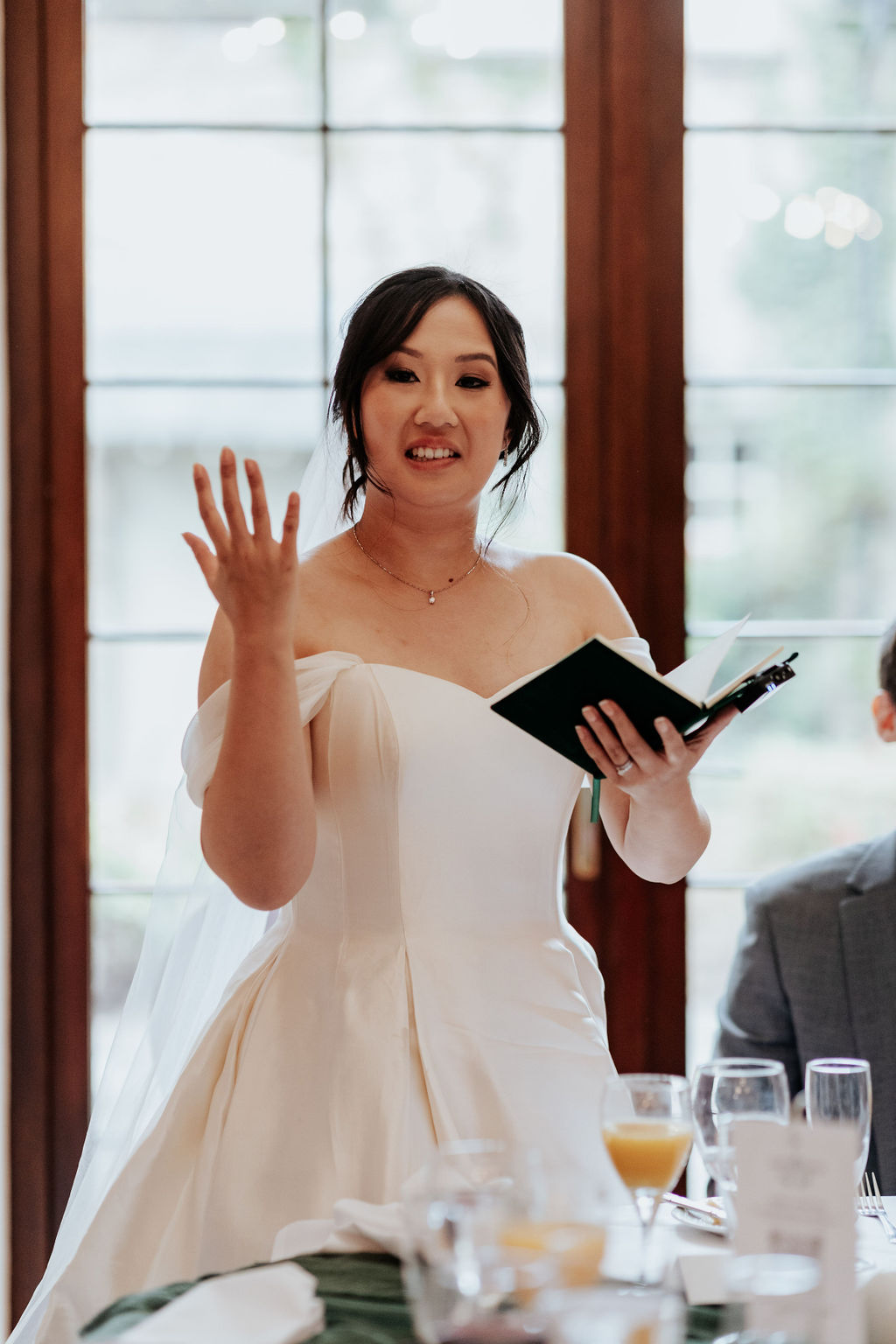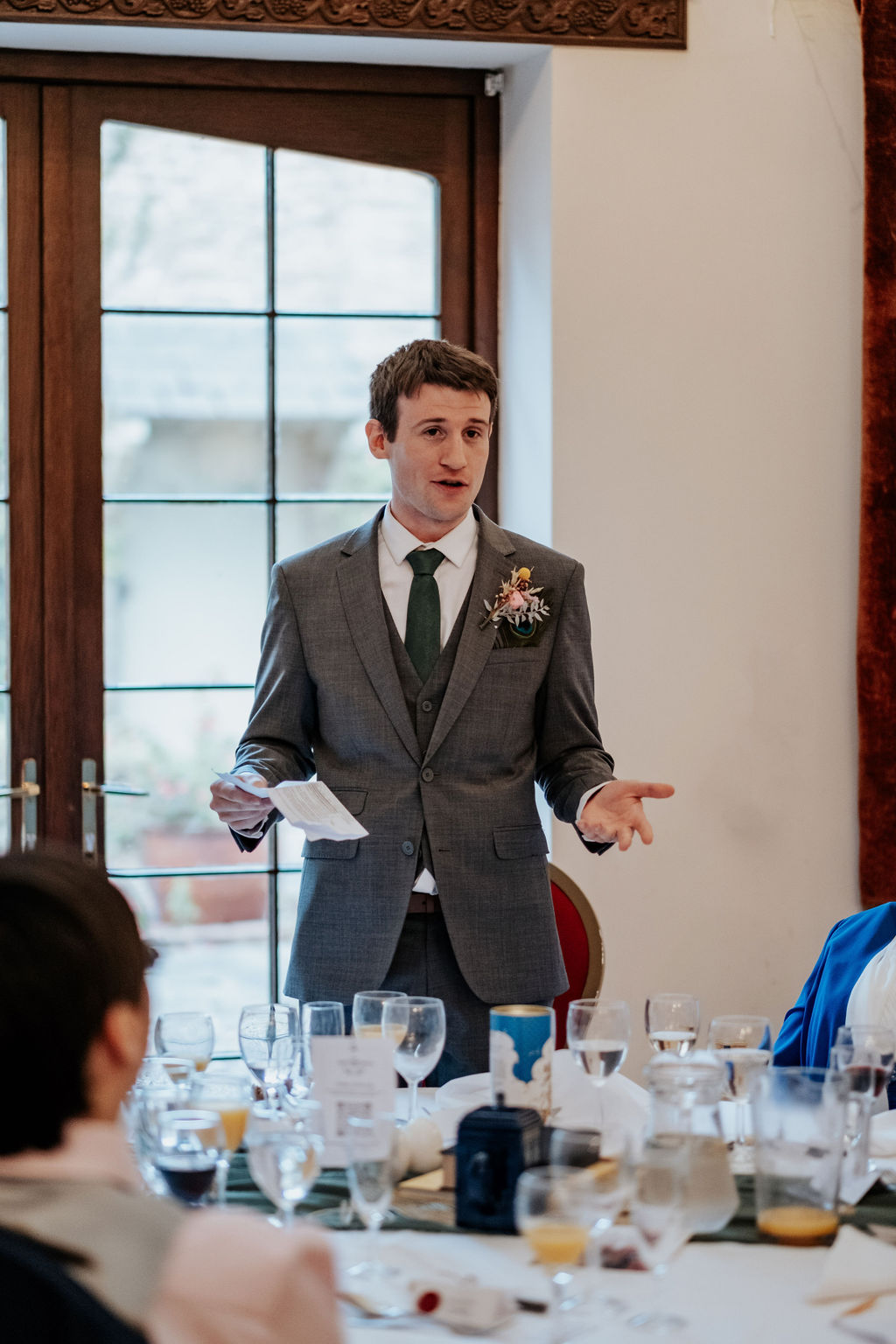 Sustainable Elements
Dried flowers
Digital invitations and a website to host information (being a marketing professional means I already had a head start),
My dress was an ex-display dress rather than ordering a brand new one.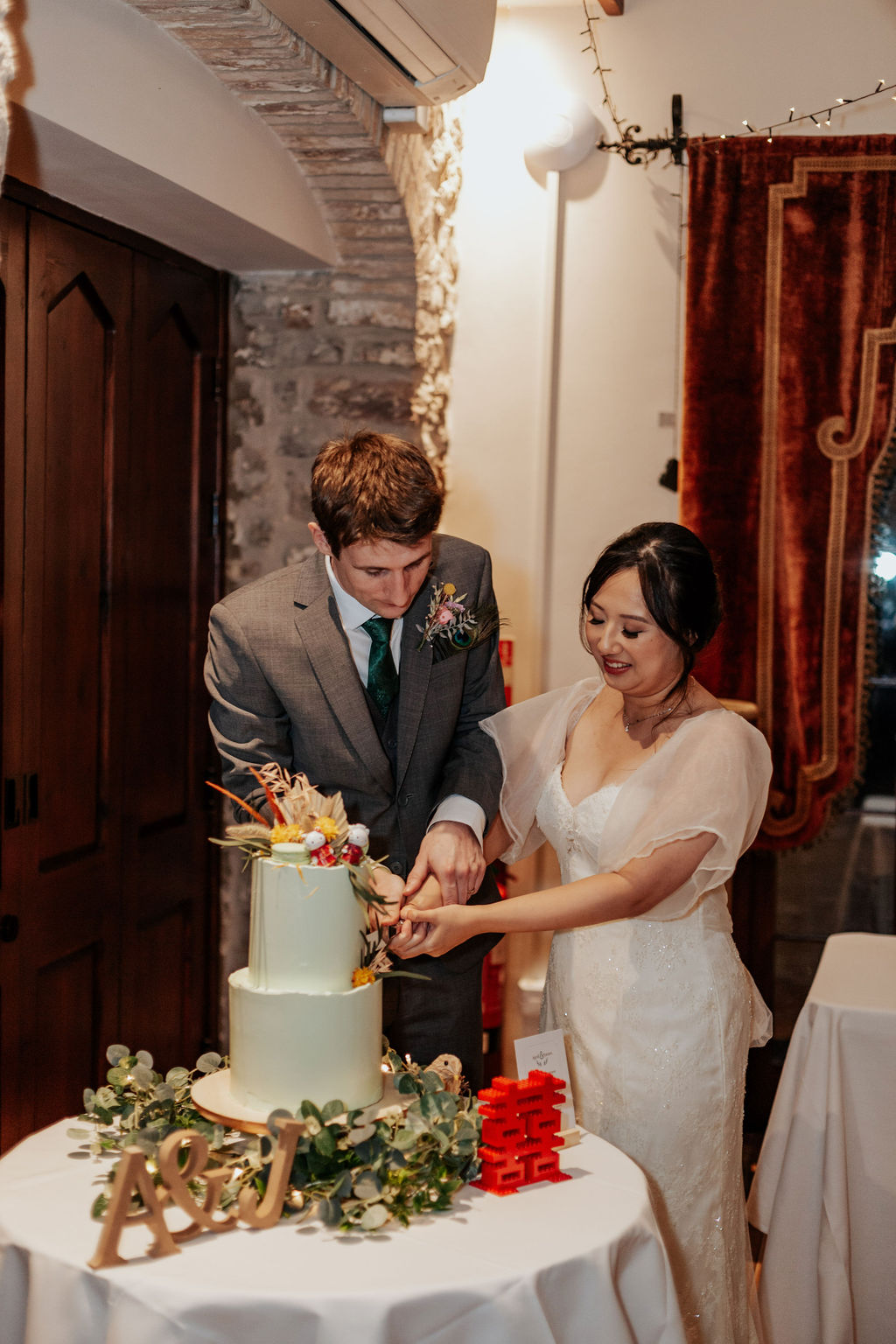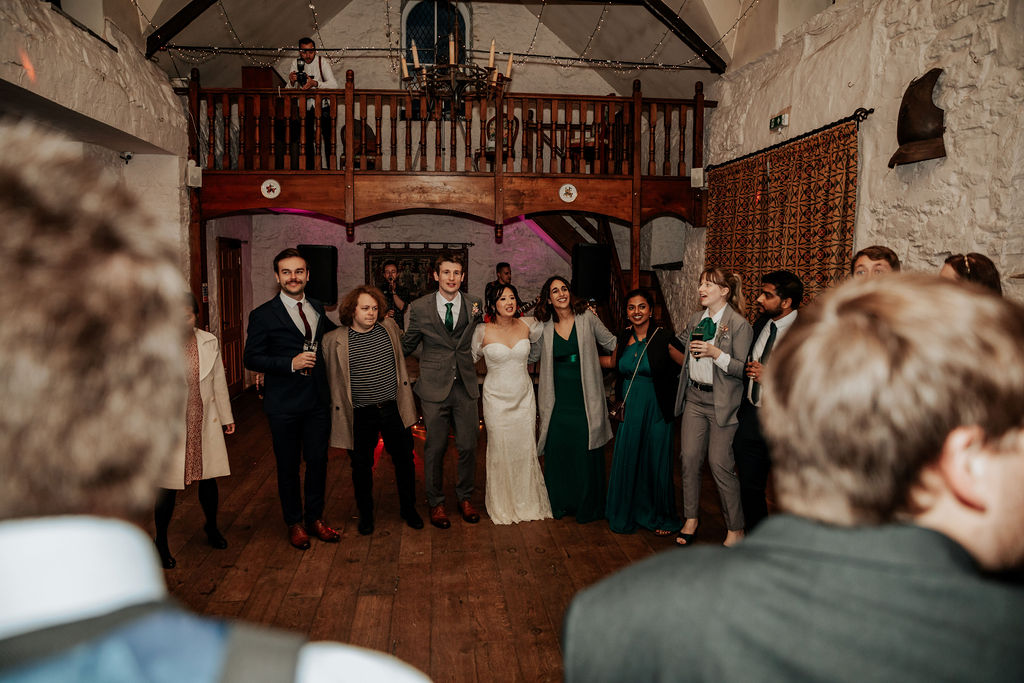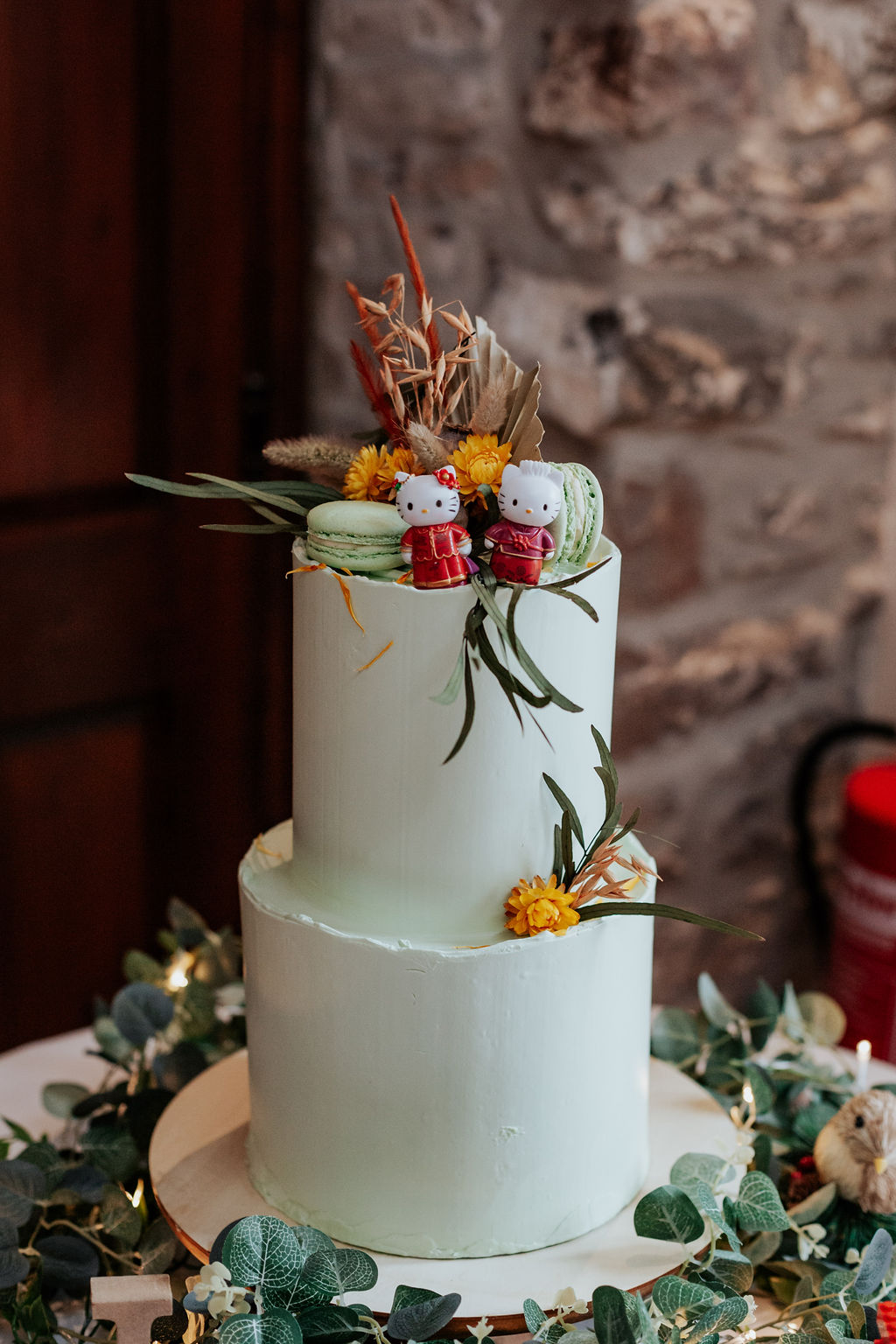 The Best Part of The Day and Words of Wisdom
"Being able to see all of the important people in our lives come together to celebrate with us. Great food was a bonus! My words of wisdom? There are bound to be challenges along the way, nothing kills romance like unsolicited wedding advice! But remember why you decided to get married and stay true to your unique personality."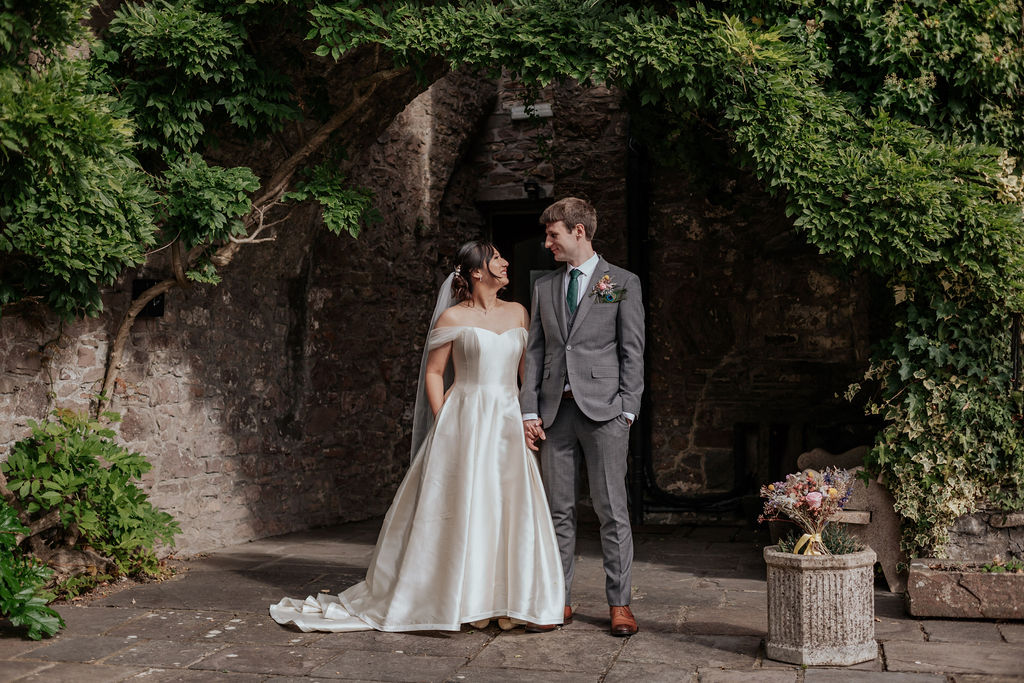 What Are You Most Looking Forward to About Being Married?
"Well, not much has changed (and it shouldn't) but we are enjoying calling each other husband and wife!"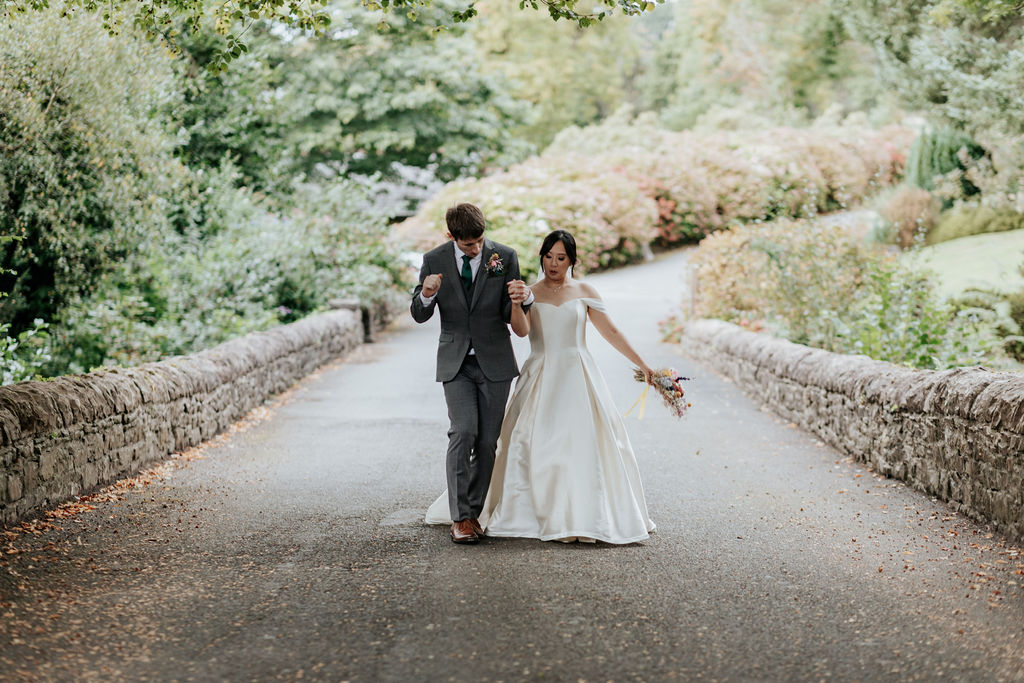 The Suppliers – Multicultural Wedding With Ethical Details At Miskin Manor Wales
Photographer Jodie Mitchell @jodiemitchellweddings
Venue Miskin Manor @miskinmanorhotel /Groom suit and accessories Slaters and Hugo Boss / Florist The Botanical Bunch @botanicalbunch / Hair and Makeup Georgina Bray HMUA @georginabrayhmua / Cake Let Them See Cake @letthemseecake
IF YOU LOVED THIS MULTICULTURAL WEDDING INSPO, PIN IT FOR LATER!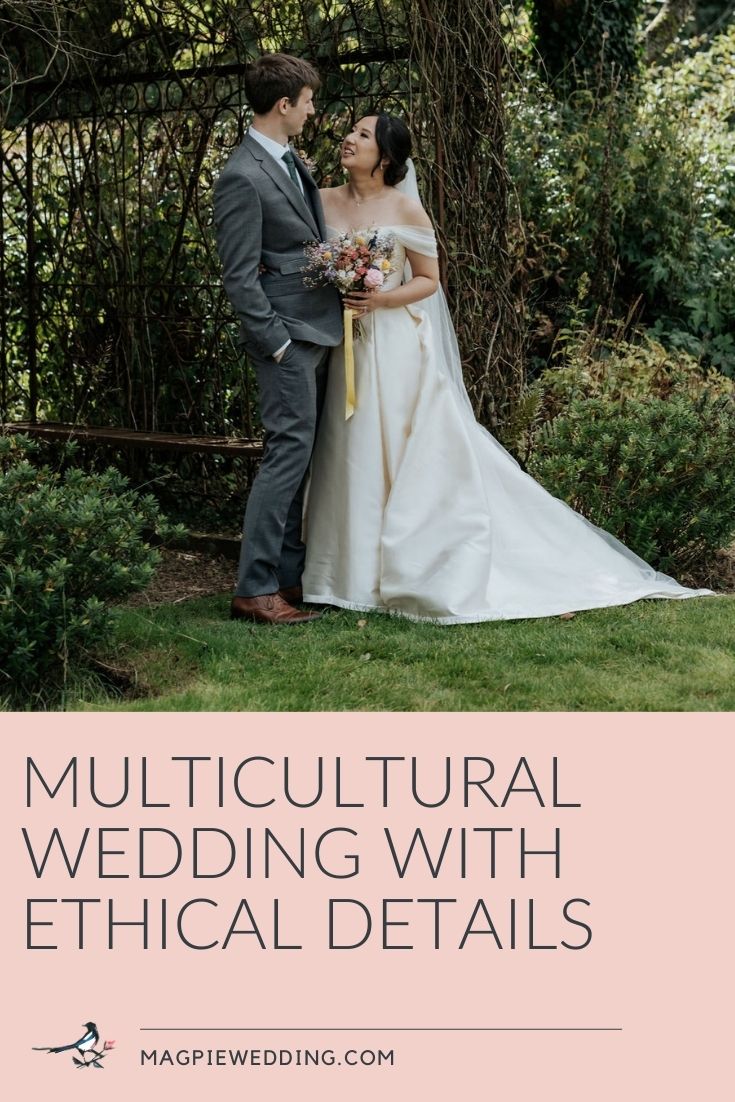 If you loved this multicultural wedding you may also like;
Multicultural Wedding Inspiration at Dorney Court, Windsor
Multicultural Wedding With Traditional Indian Dress In West London