Today's wedding has such a lovely feel to it. Obviously all weddings are filled with love but today's one oozes it – both the bride, Claire and the groom, Tom look so happy and loved up. It is truly beautiful and don't get me started on her 1970s vintage dress and stunning full length veil. The images are all by Esme Mai Photography.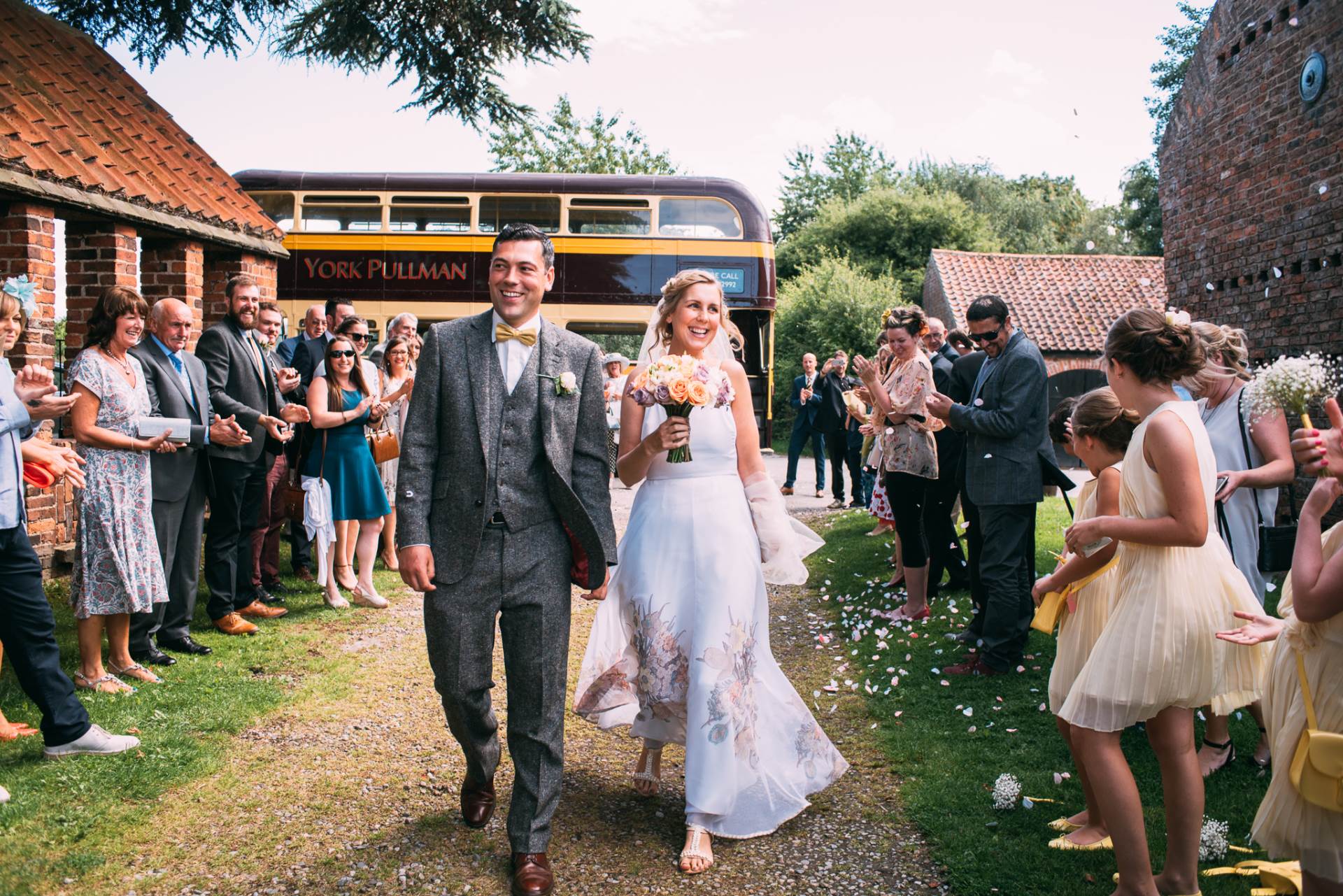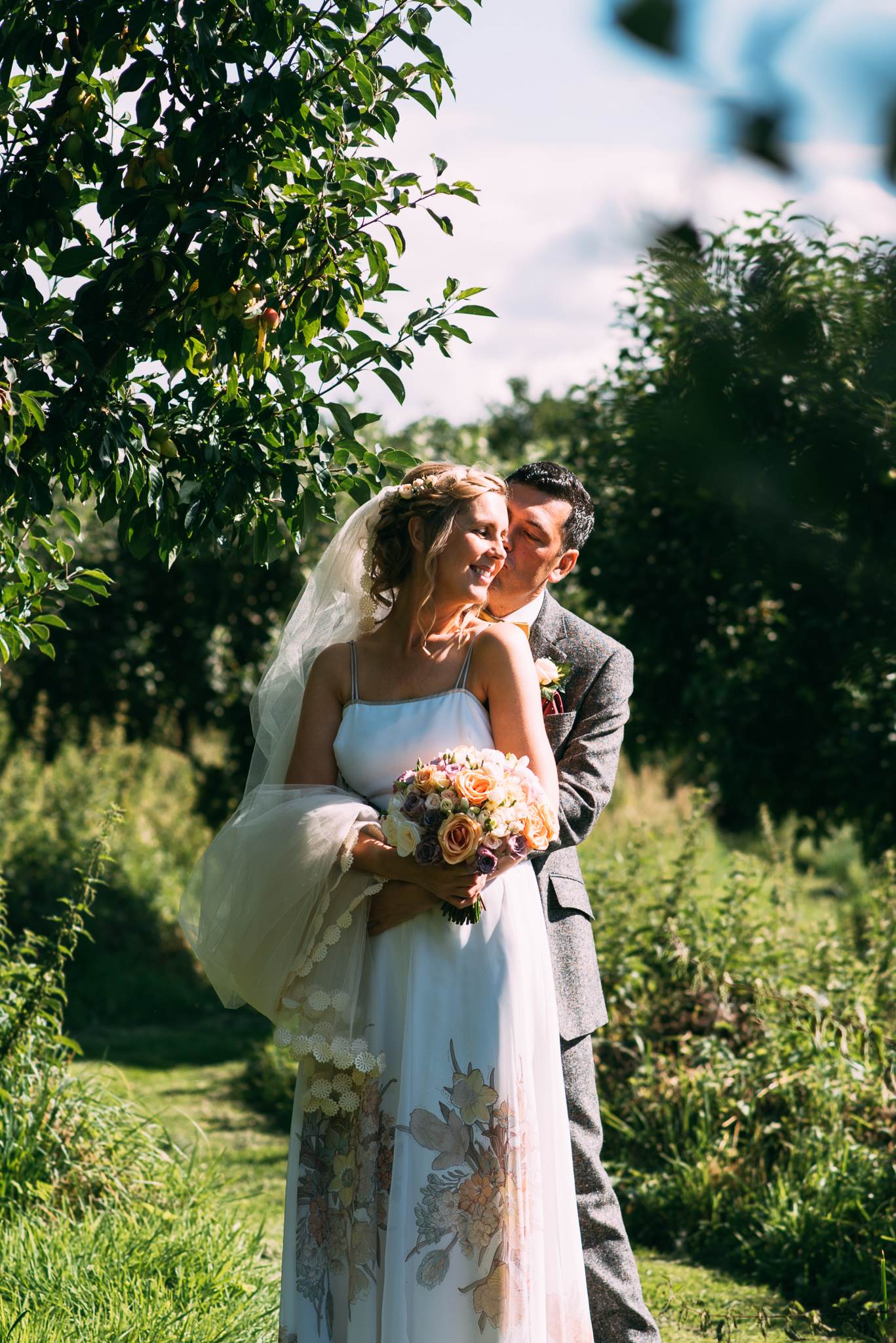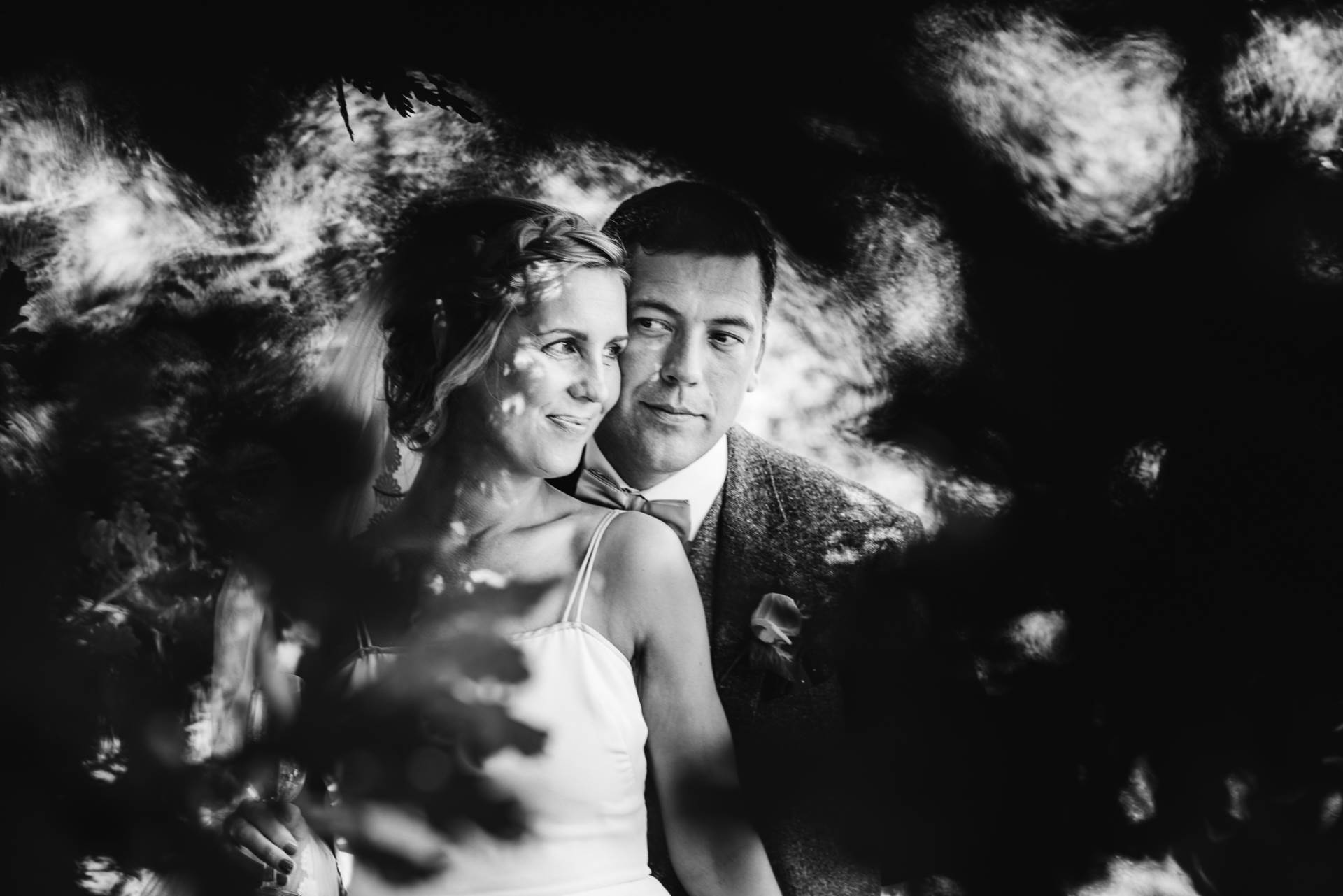 I caught up with the happy couple to find out more about their day.
"Tom got down on one knee and proposed in front of our Christmas tree on Christmas Eve 2014. We had 6 months to plan our wedding, which in hindsight isn't much time. This was made more difficult by also planning a 3 week honeymoon, travelling around South India. We enjoyed the planning on the whole but also found it quite stressful, especially towards the end.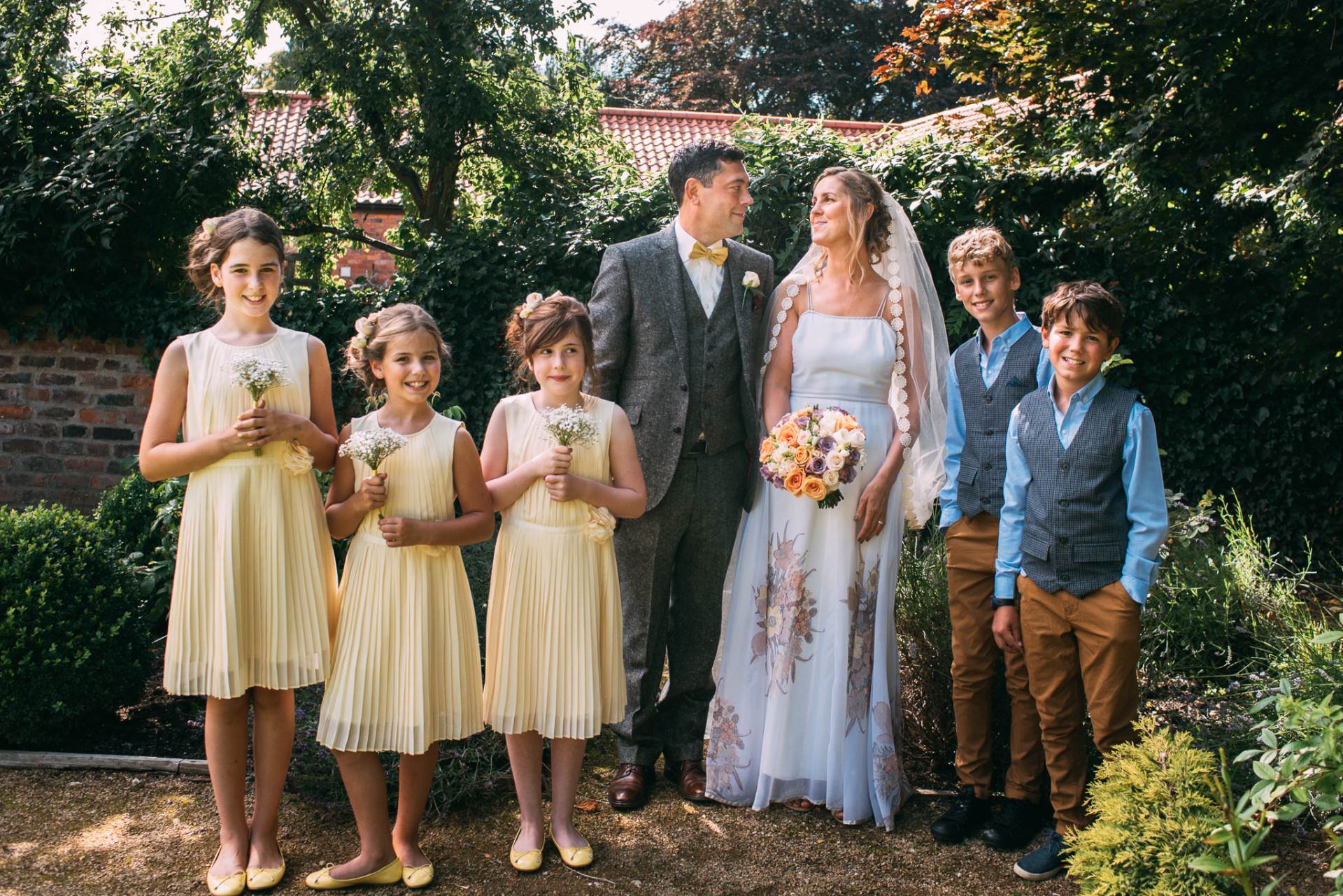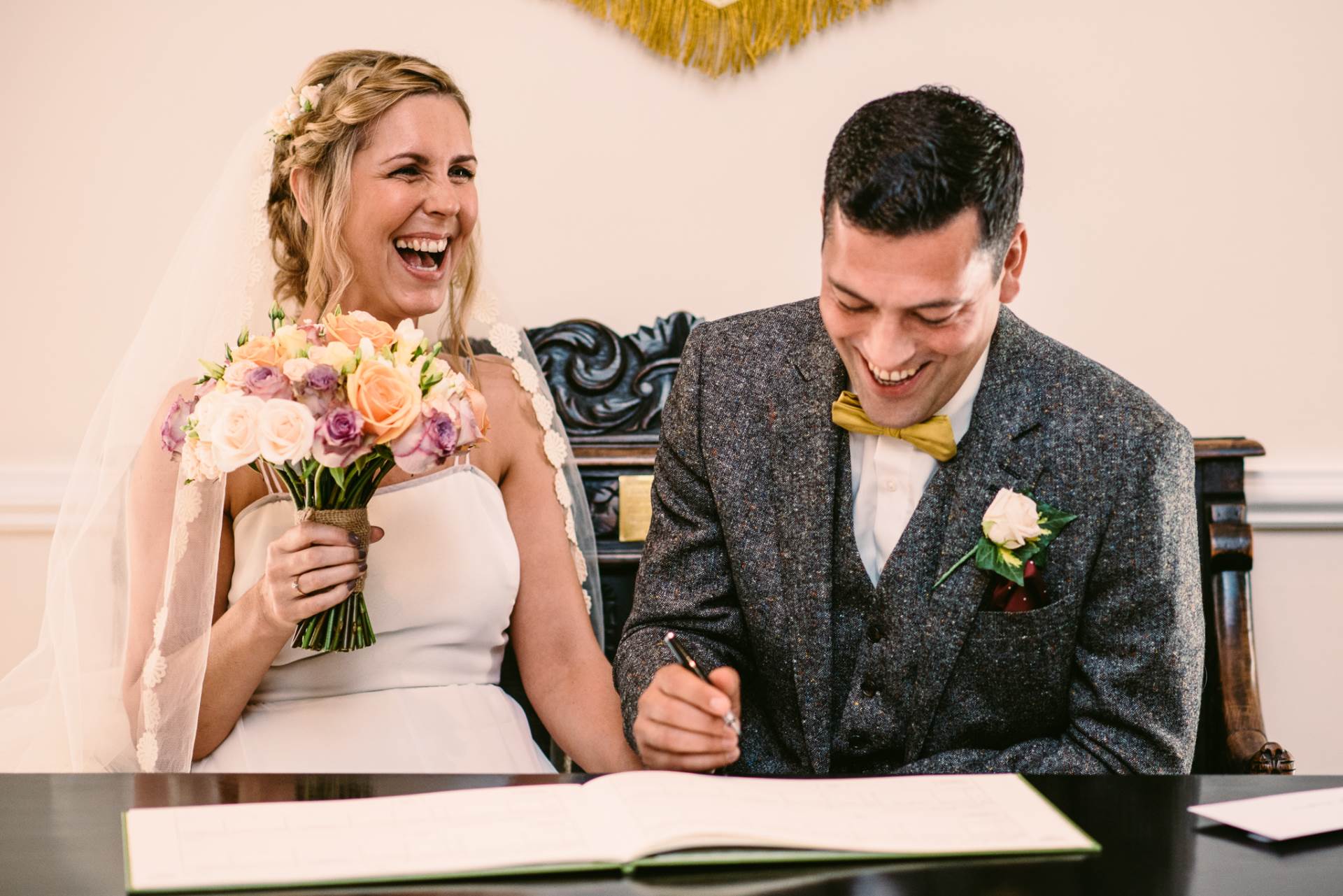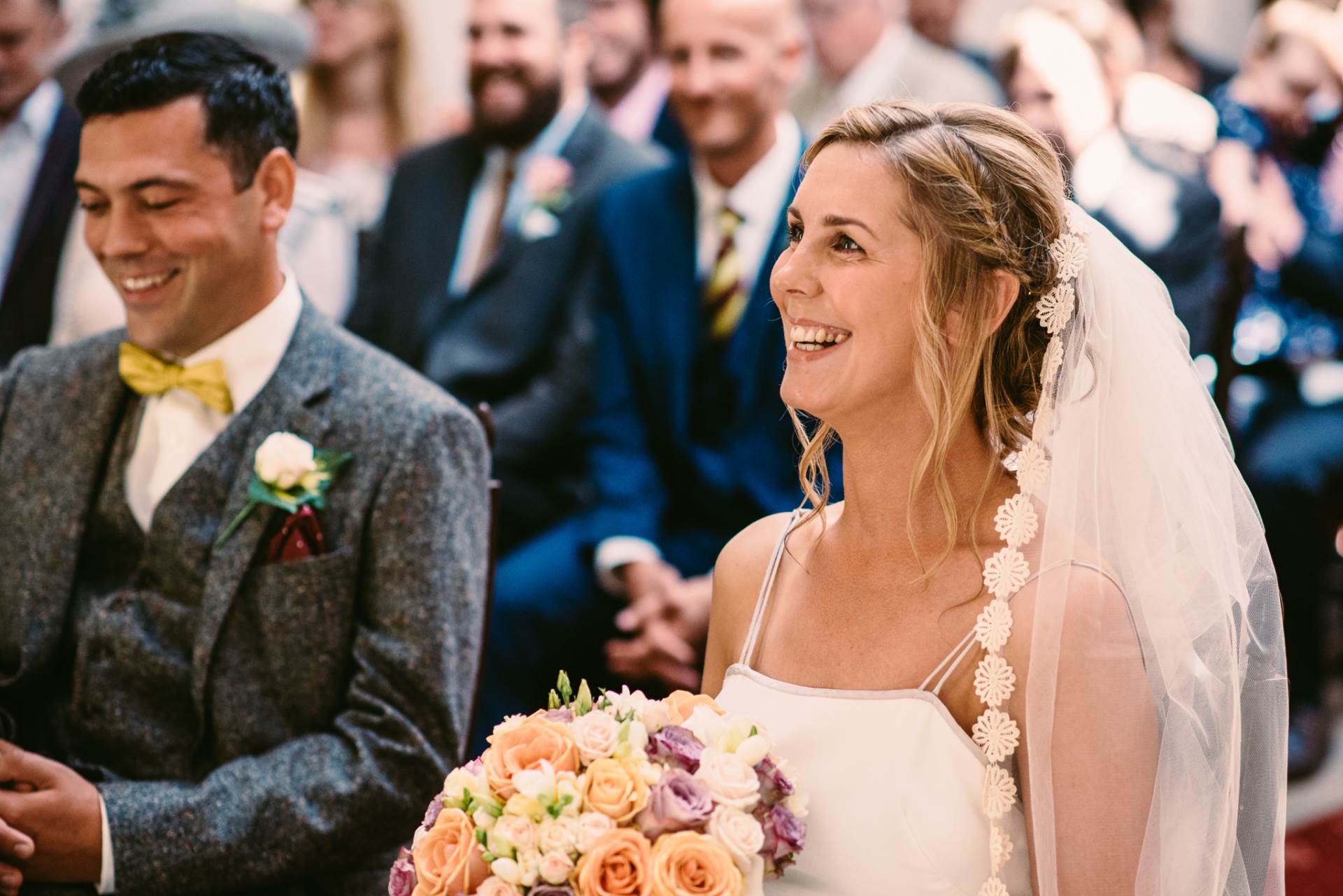 Tom's a blues musician and loves all the old stuff, so we knew that the music and style was going to be an important part of our wedding. We've always loved vintage style and we wanted a village hall wedding. Something inexpensive, informal, lots of buntIng and home made touches.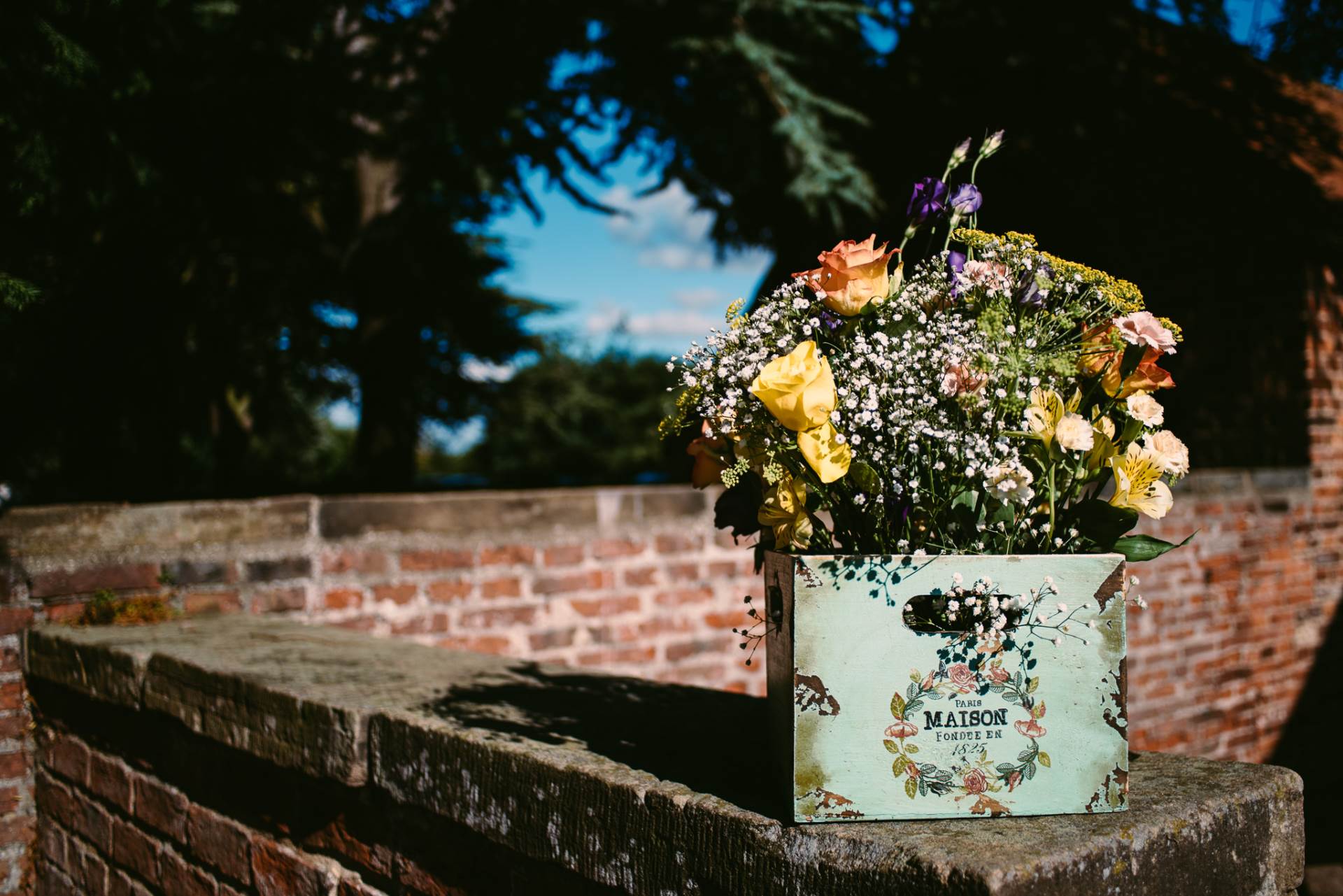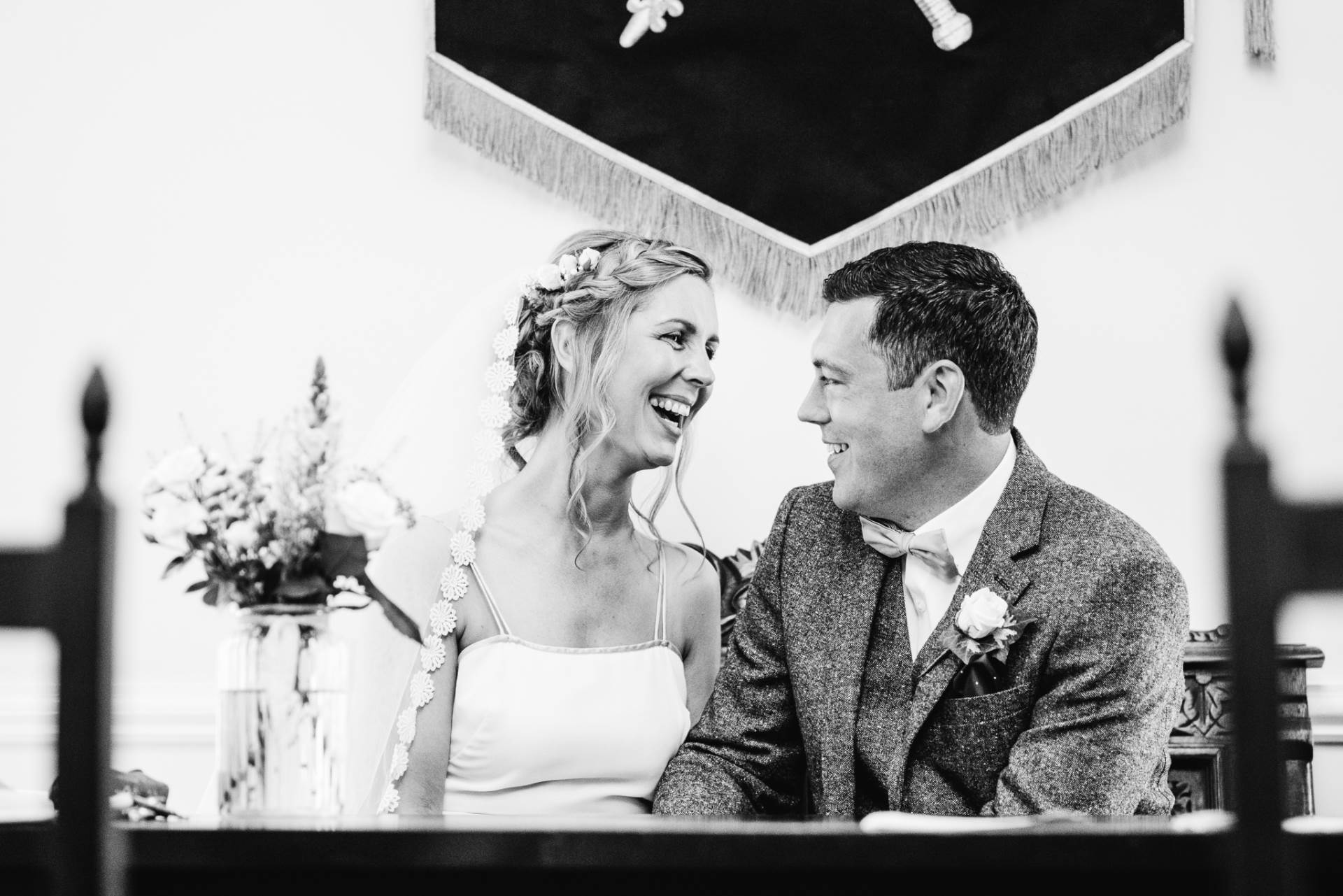 We originally wanted to cater the day ourselves or ask our guests to each bring a dish, although the logistics proved to be a bit difficult. Ultimately our caterer proved to be worth her weight in gold!
We started doing our research and visiting various village halls around the York area. During our online search we saw a wedding blog that featured Tithe Barn in Poppleton. We knew straight away that that's where we wanted to get married. However, due to this venue being in a quiet, residential area, they are only allowed to put on a short number of events each year where music is allowed, and even then it is acoustic only. They didn't have any remaining slots that year which would have enabled us to have any music at all.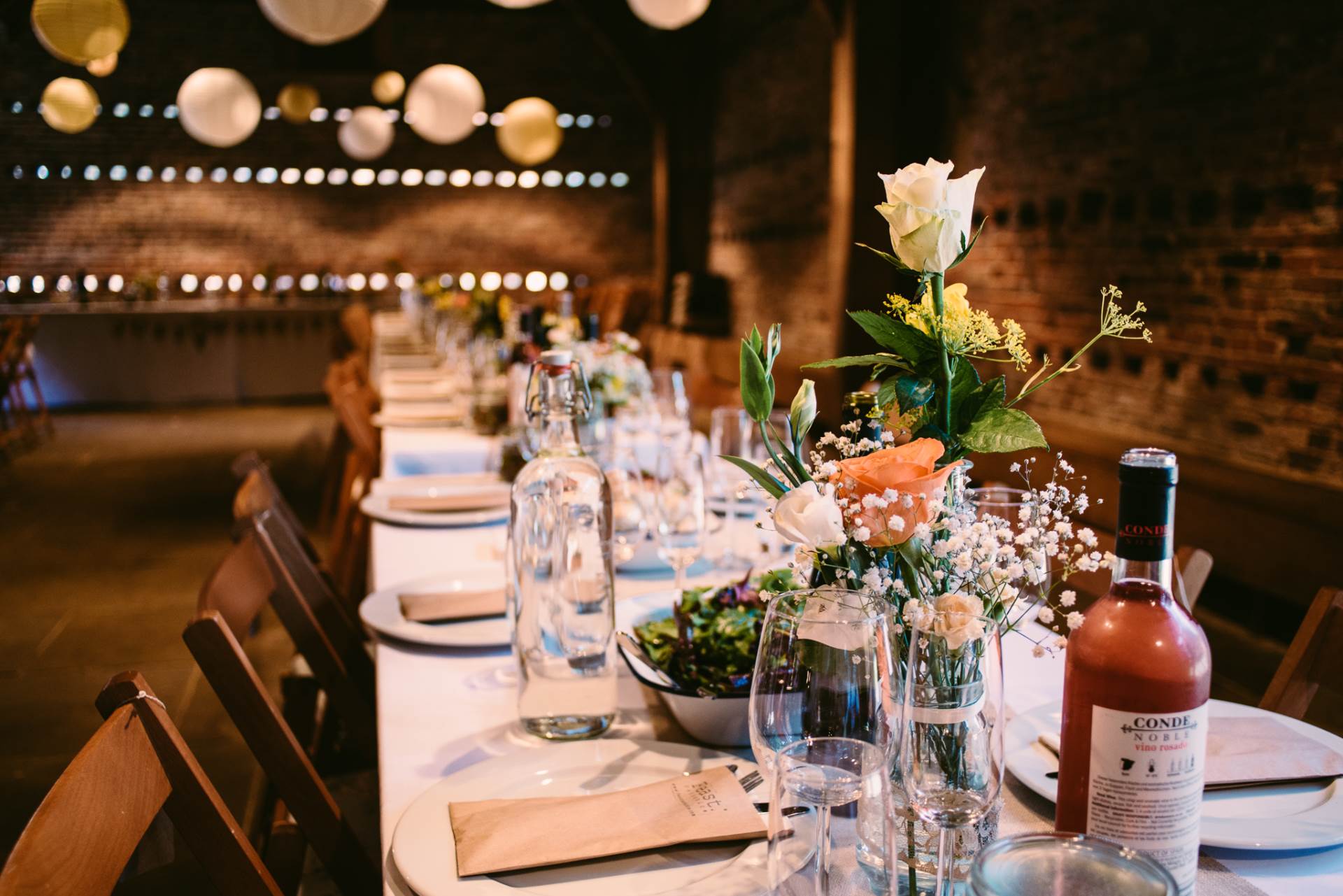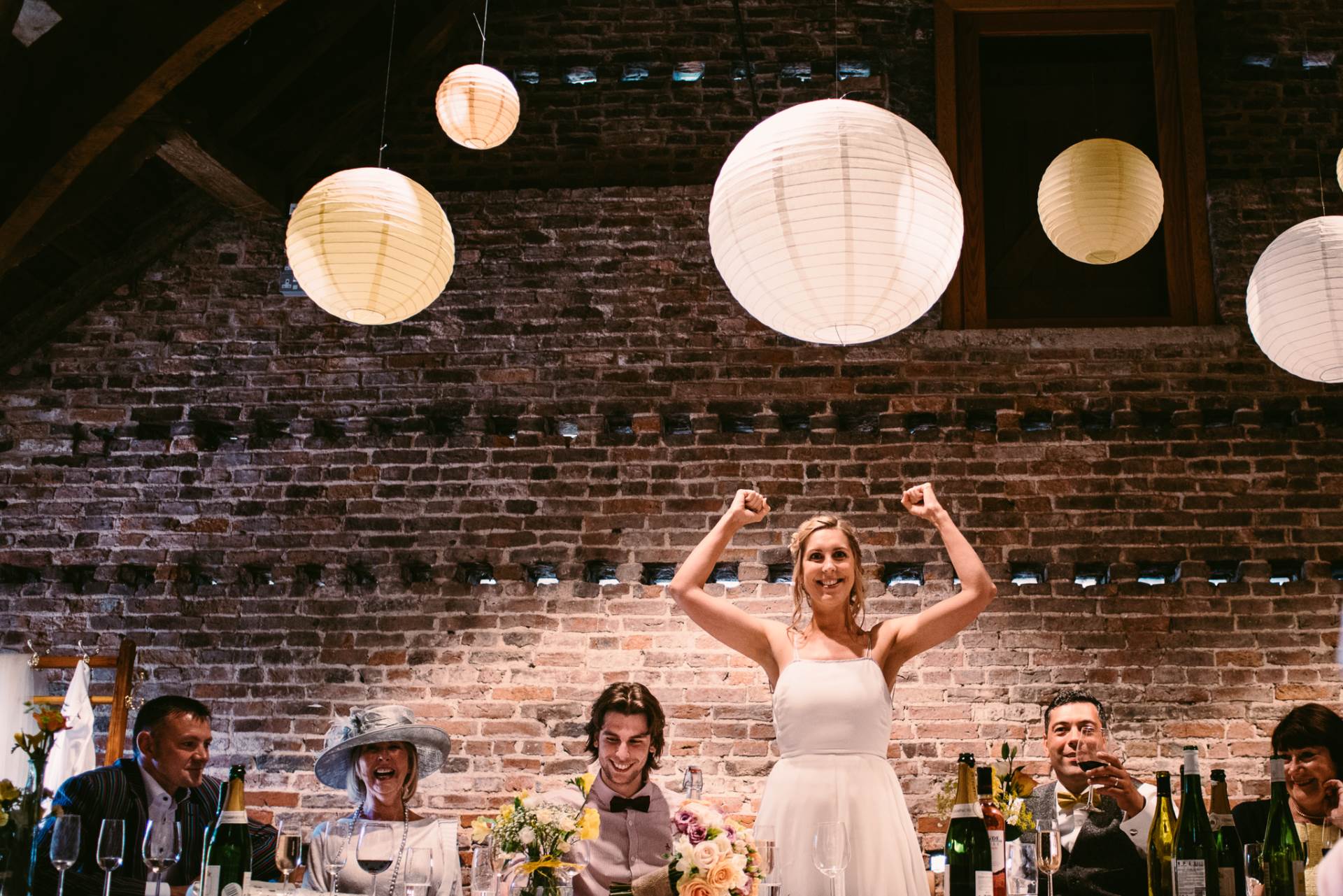 We spent some time trying to work out how to incorporate this beautiful venue into our day and eventually came up with the idea of having 3 venues: York Registry office to hold the ceremony, Tithe Barn, Poppleton for the drinks reception and wedding breakfast, and Folk Hall in New Earswick for the evening reception. We provided a lovely vintage bus to transport our guests to each venue.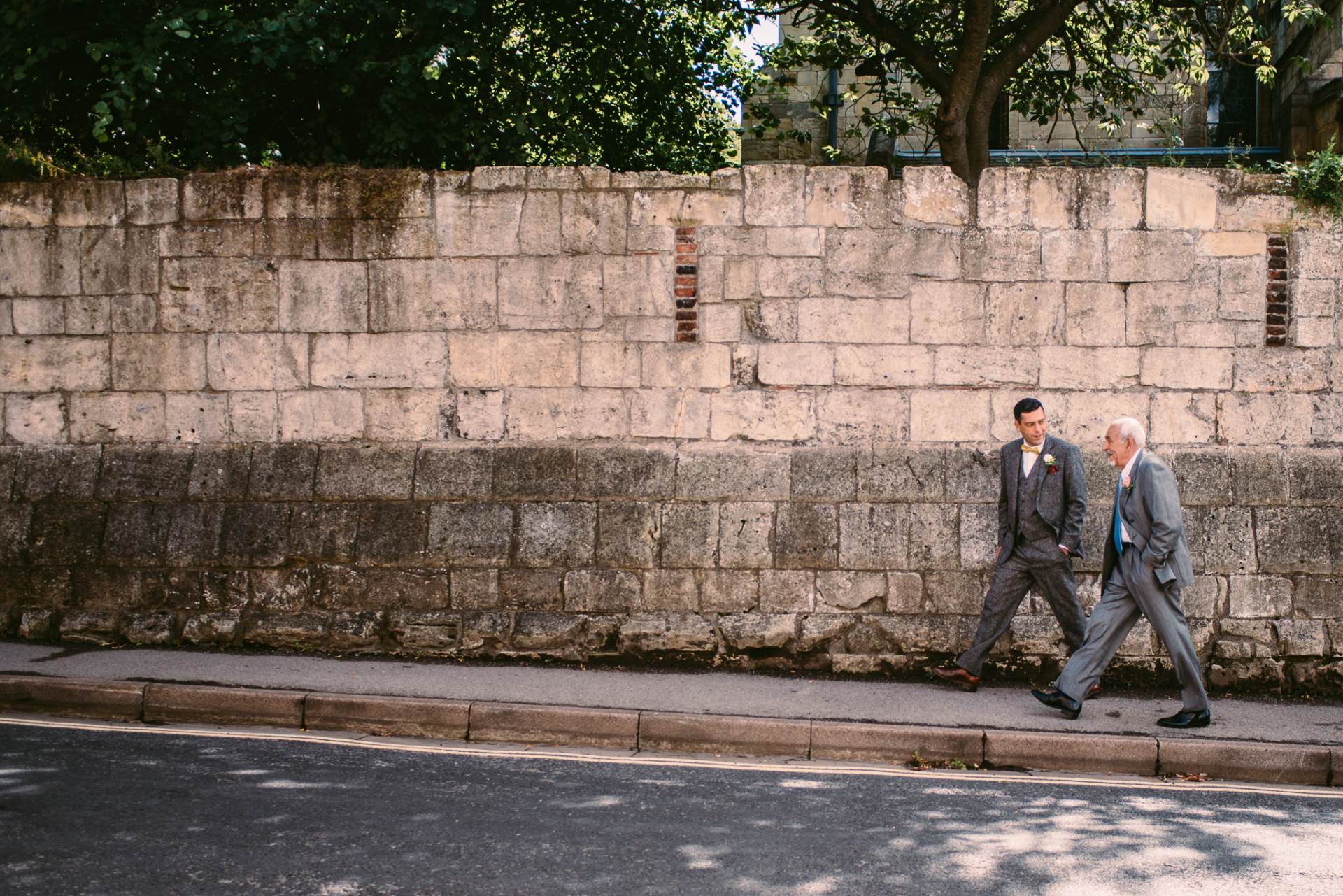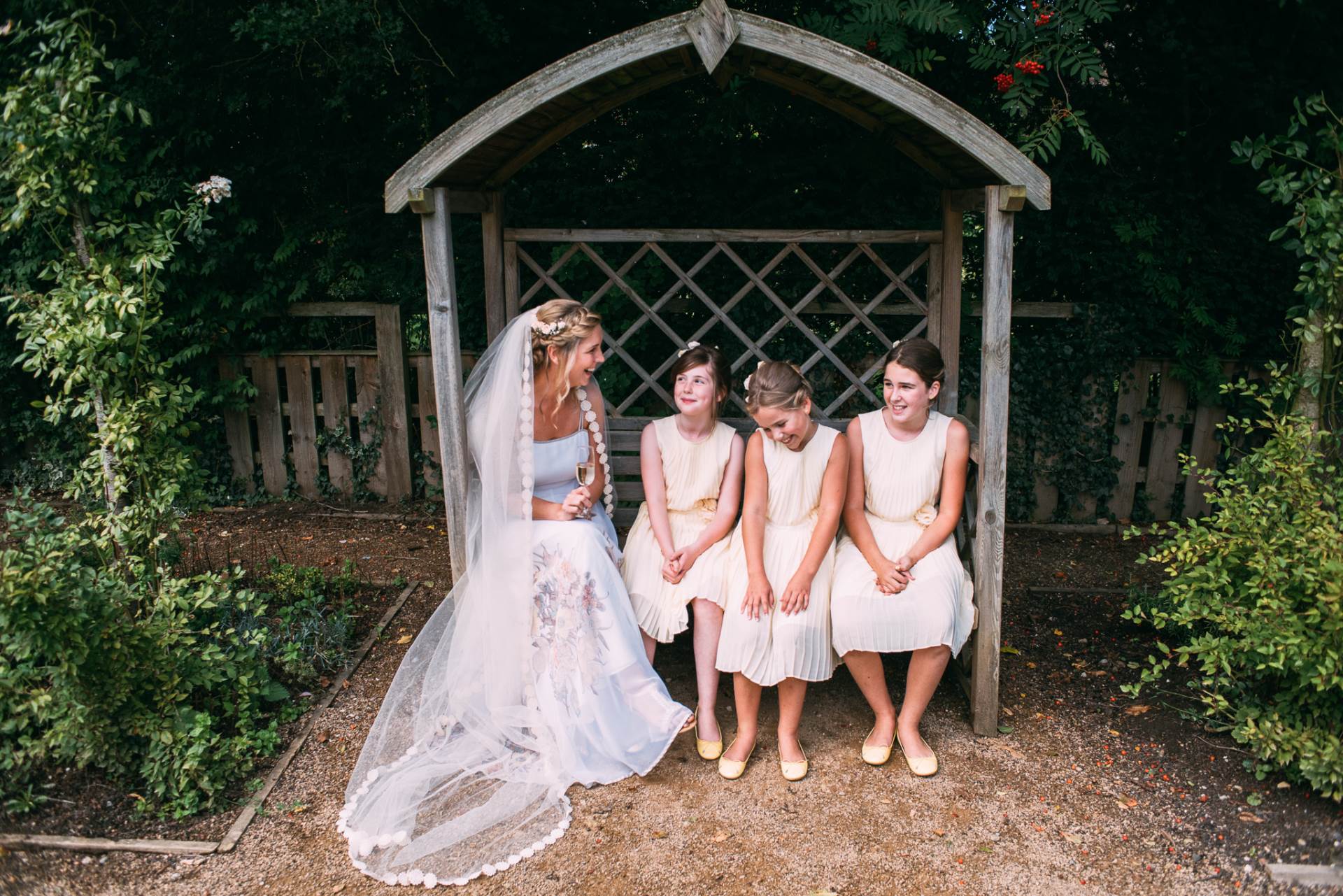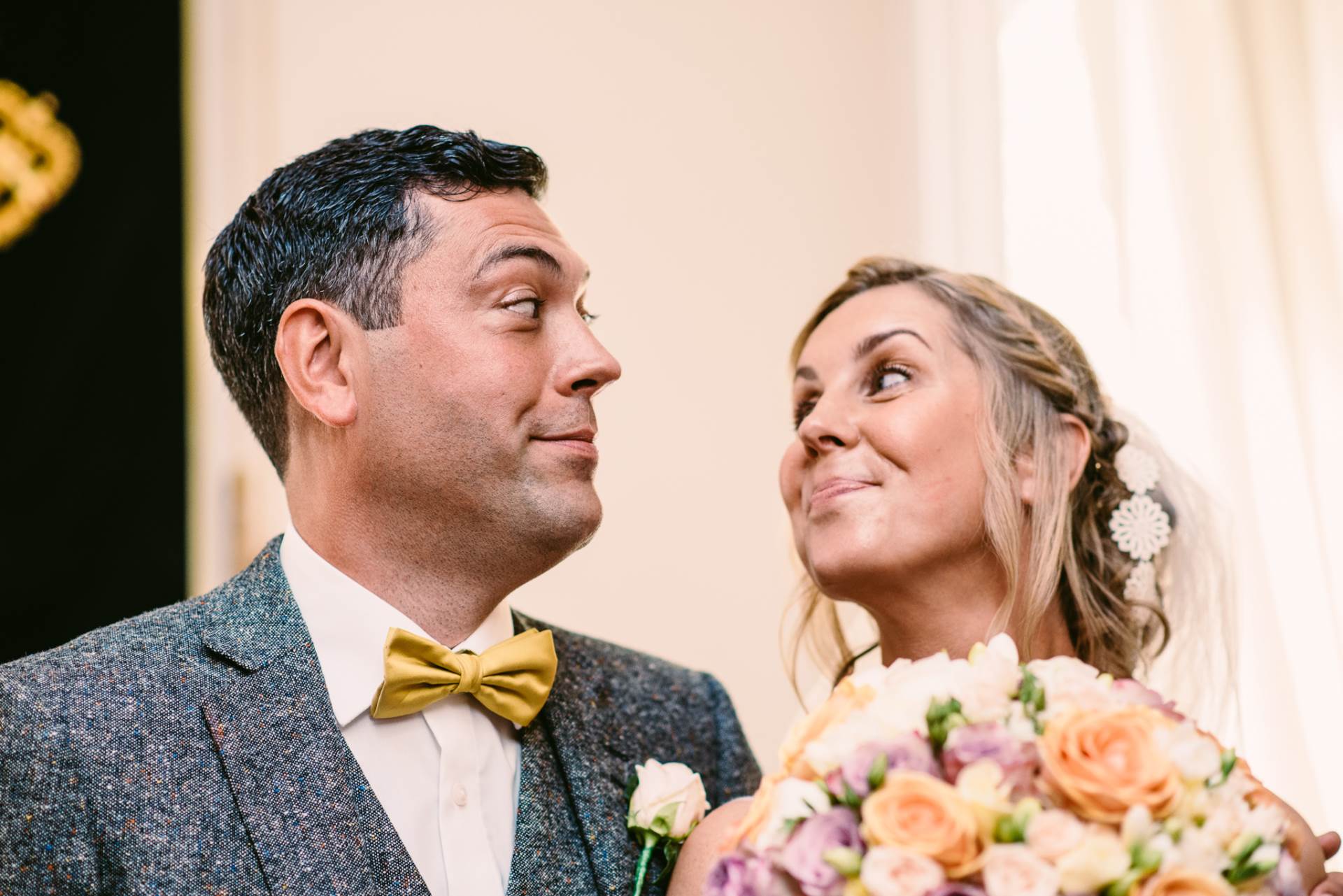 I knew I wanted a vintage dress, or at least vintage style. I tried on a few new dresses but none of them were 'me'. To be honest I'd never really imagined myself in the big white dress so the whole thing filled me with dread! When I arrived at Glory Days Bridal shop I instantly felt relaxed and knew this is where I wanted to buy my dress.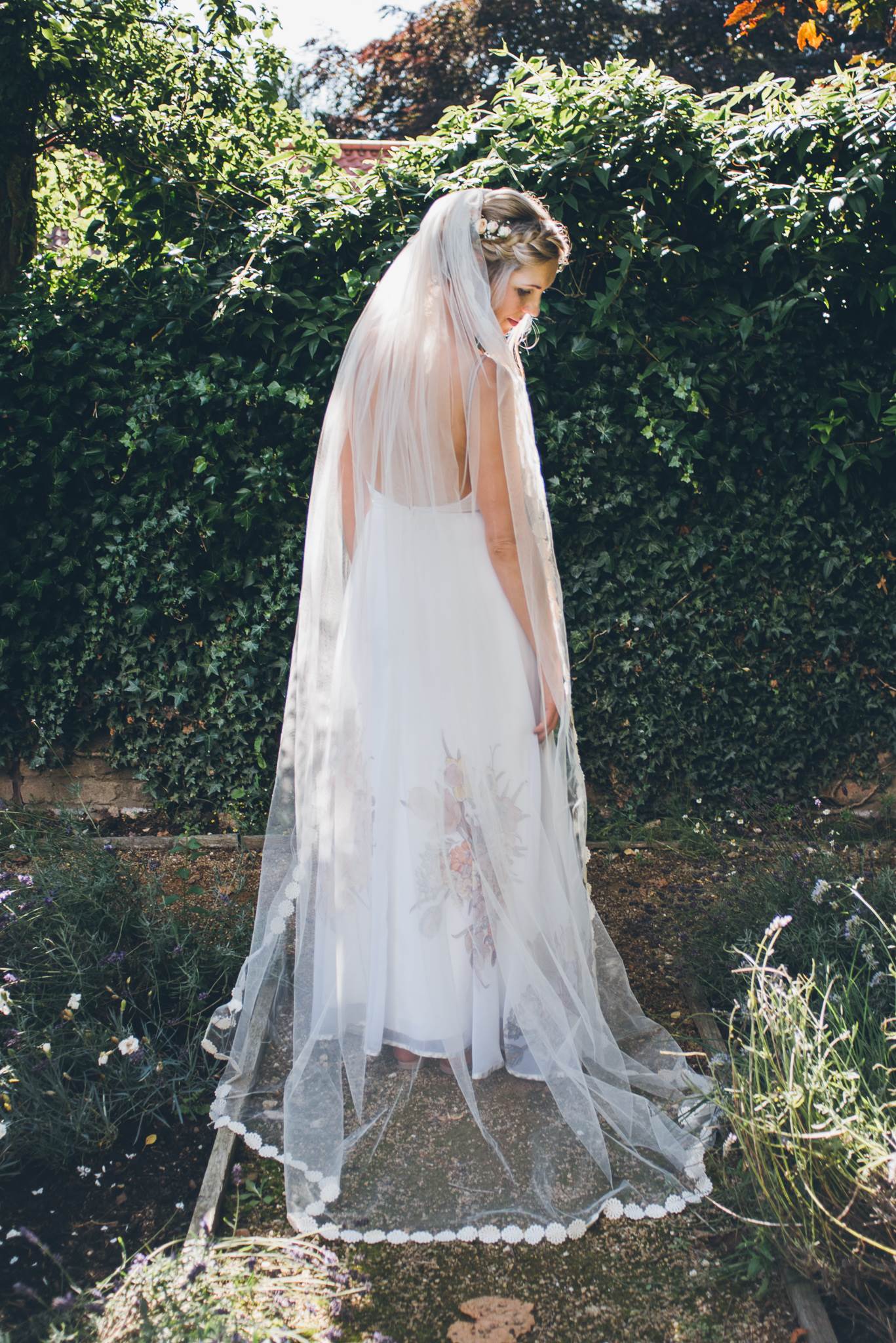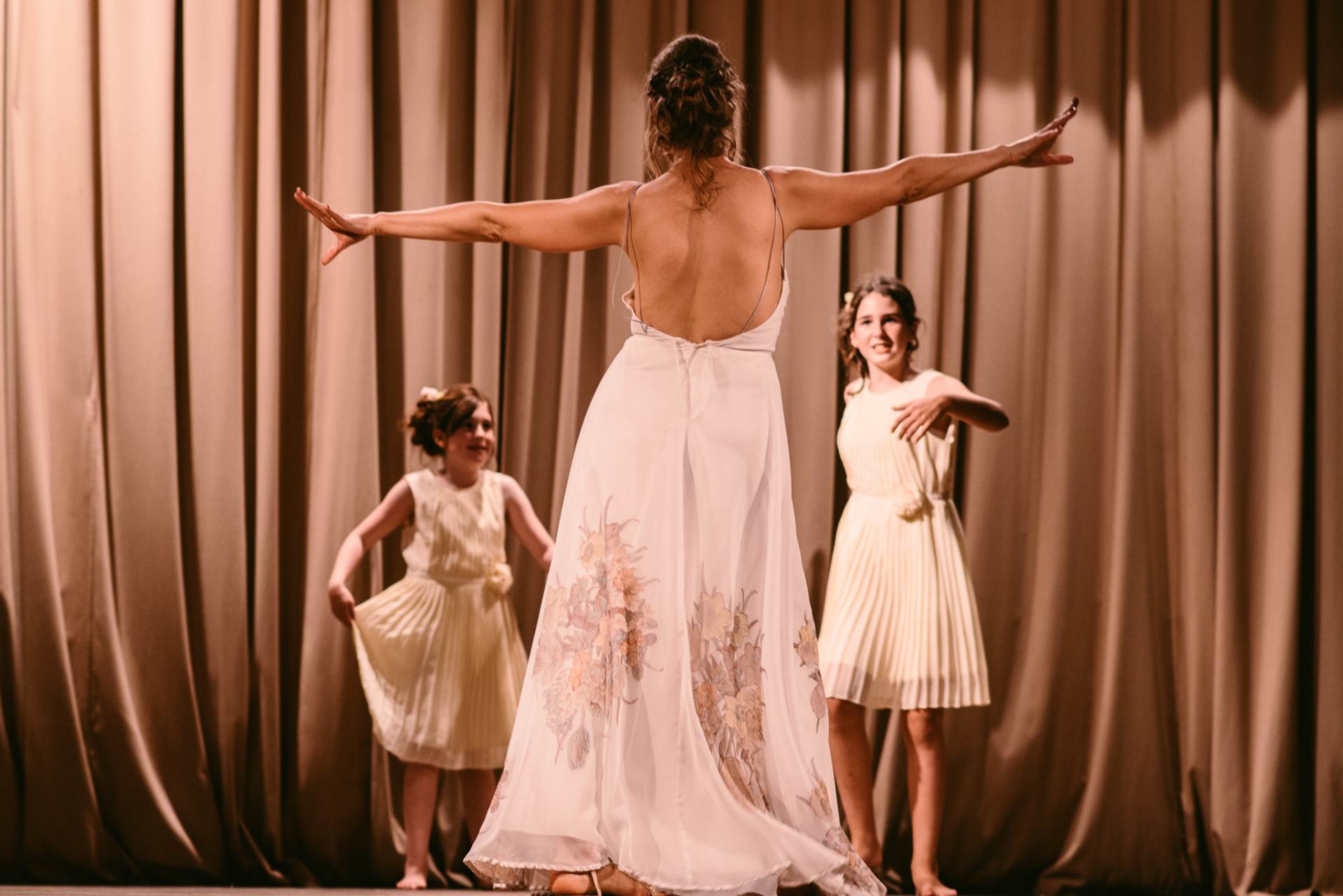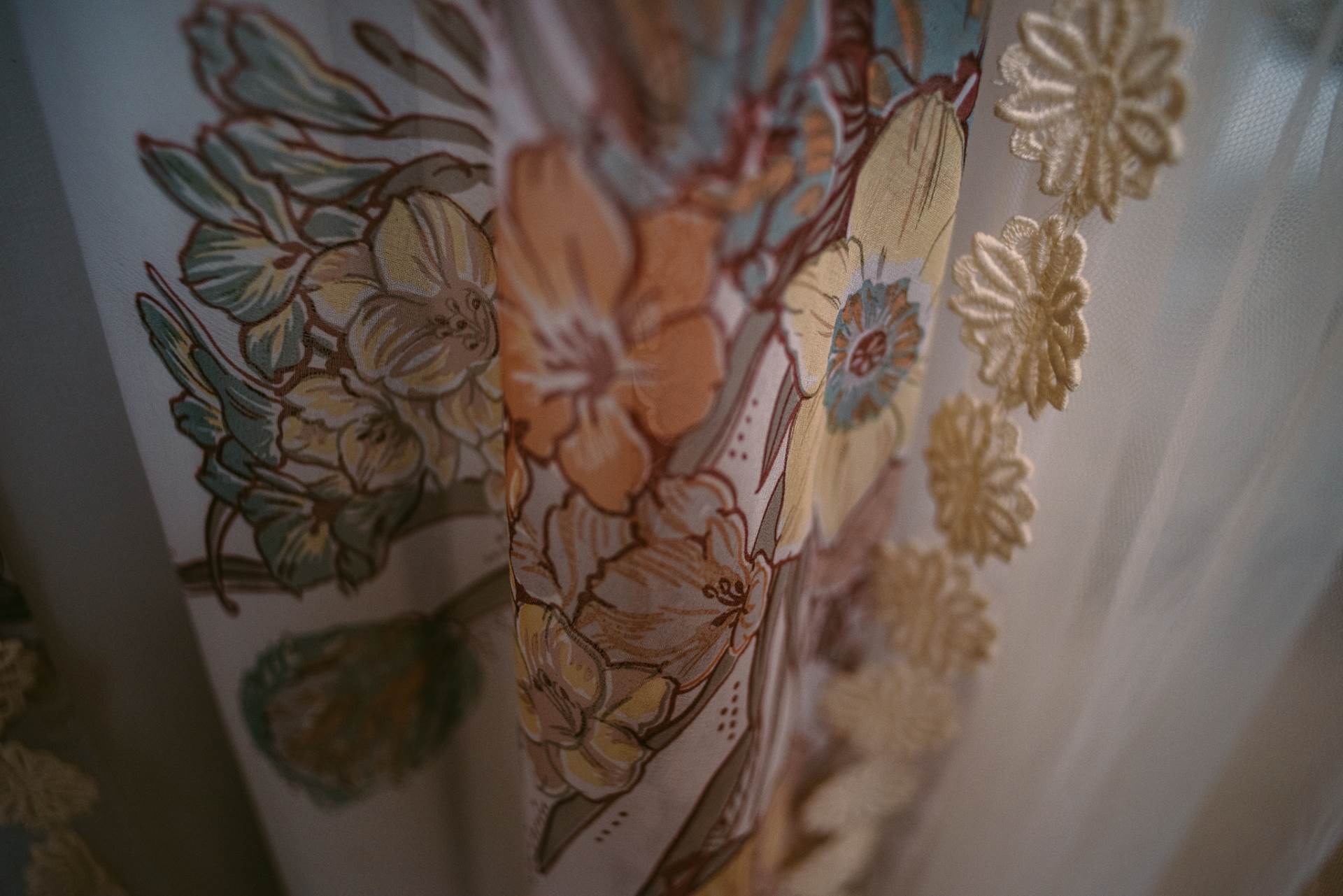 I spent an enjoyable morning trying on styles from several decades but ultimately opted for an early 1970's long floaty dress and a vintage veil from the 1960's.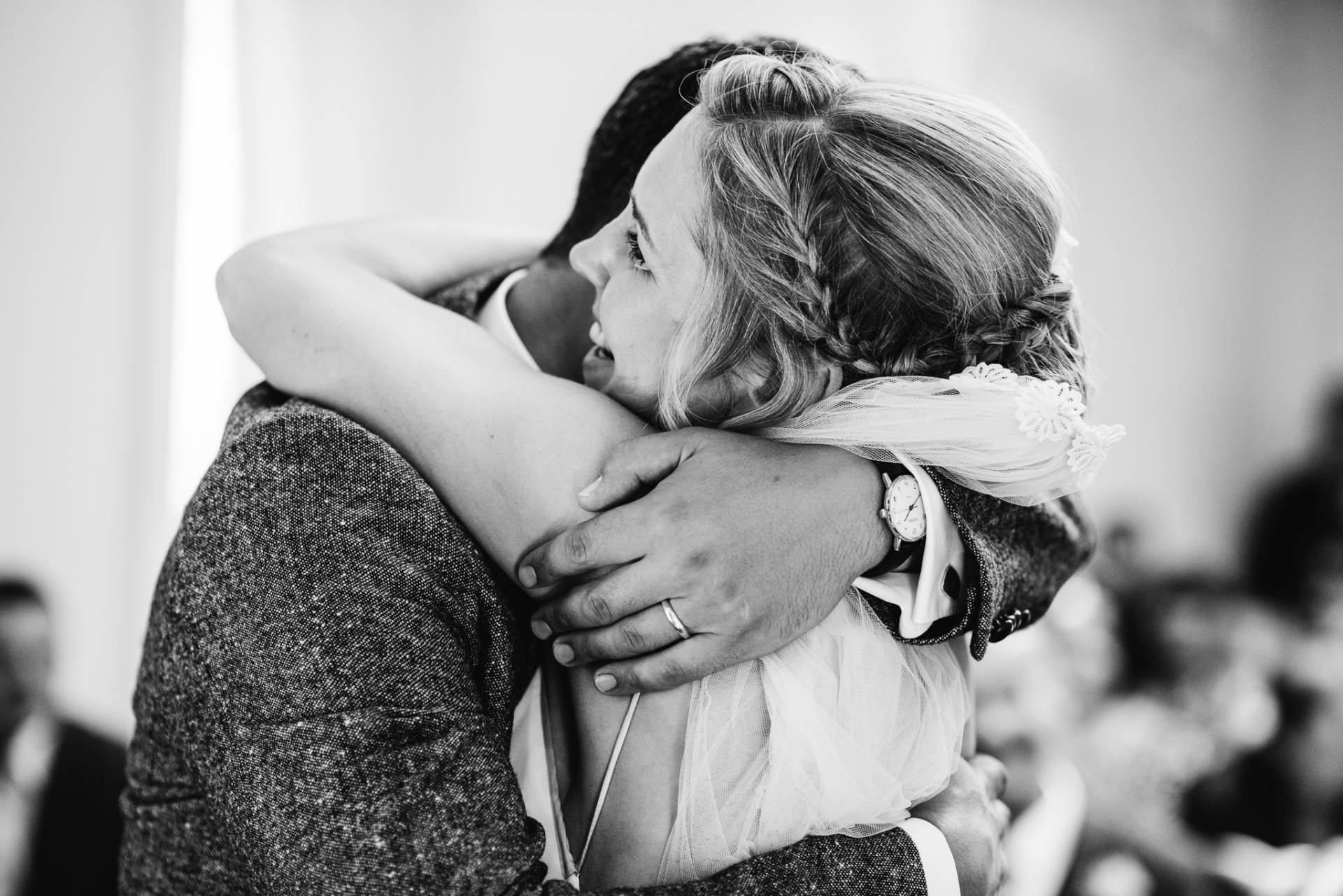 Tom bought a 3 piece grey Donagal tweed suit from Clarksons of York. He matched this with a gold bow tie, also from Clarksons and found a pocket square from a company selling them on Amazon. He wore a pair of Loake Epsoms which he already had.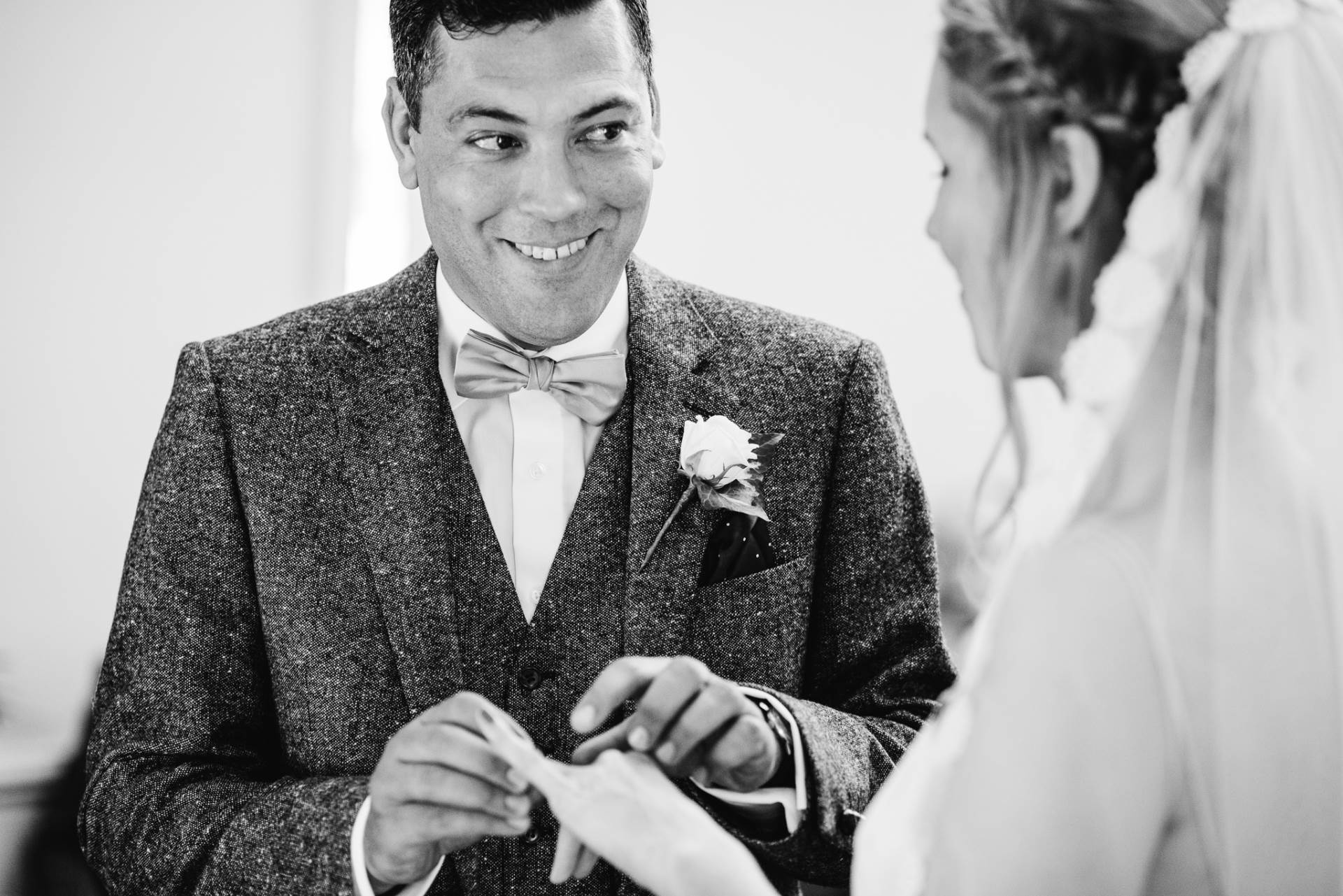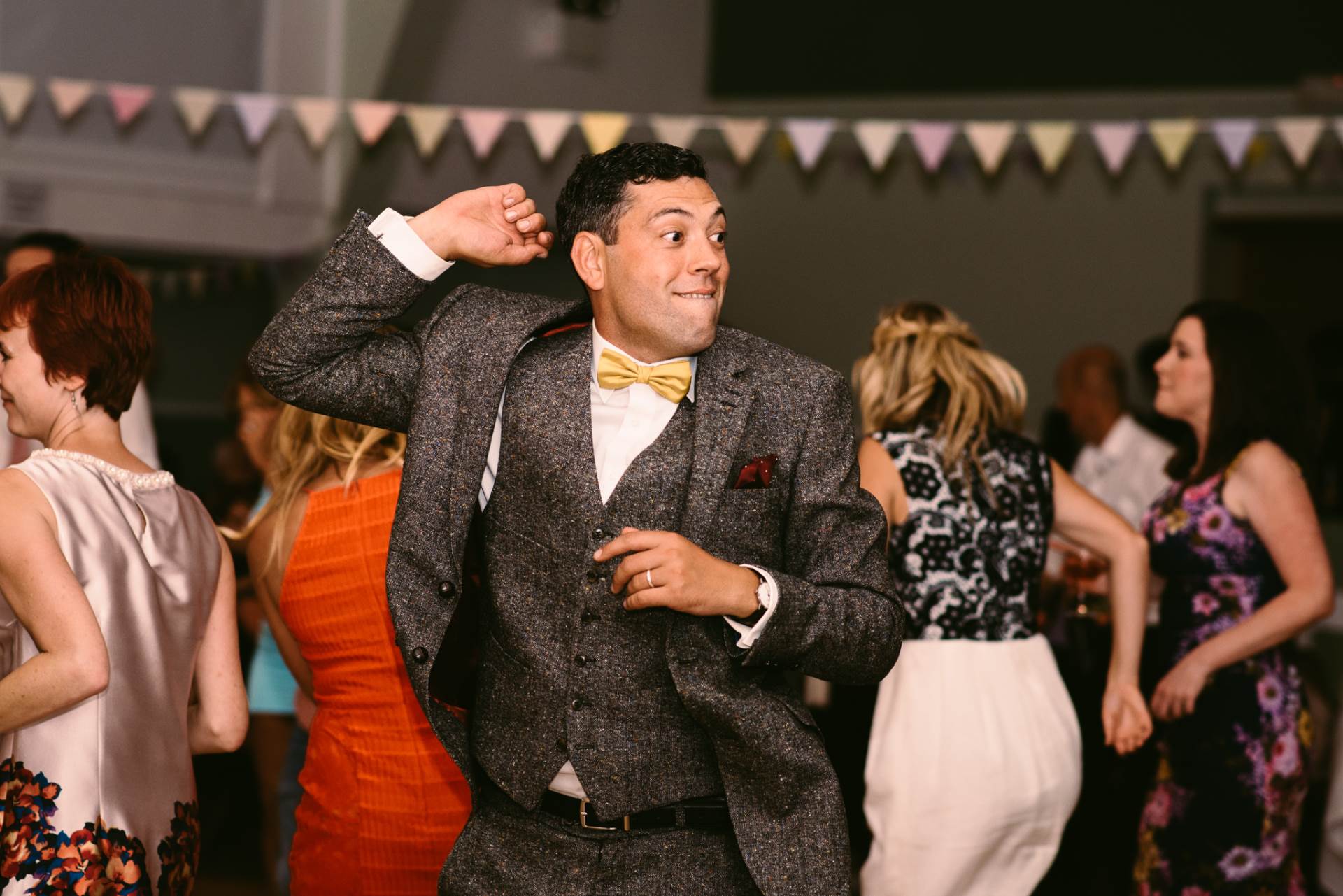 Our bridesmaids were 2 of my nieces and Tom's niece. Tom's dad was the best man and my son gave me away, so it was a real family affair.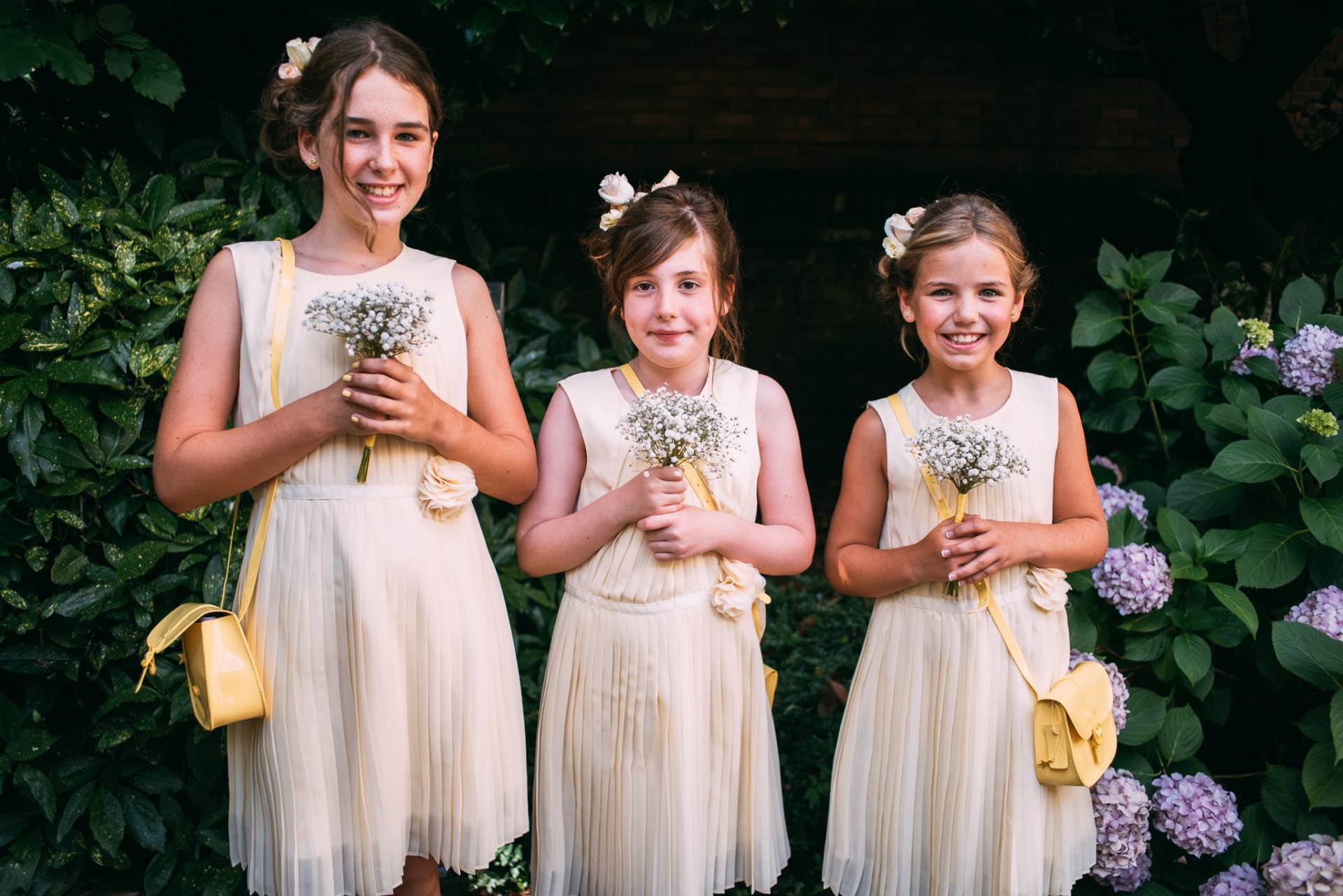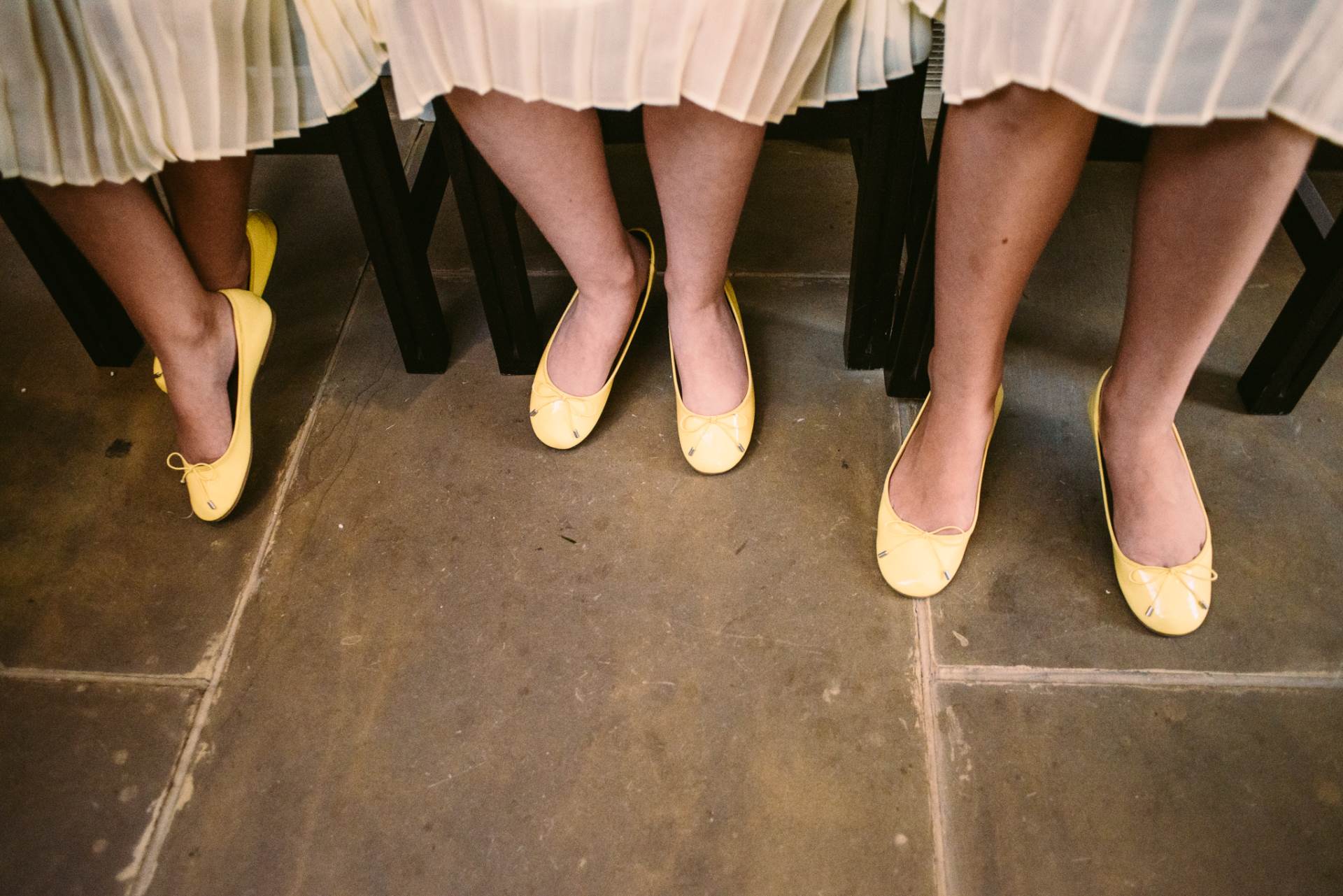 Apart from the bouquet and the men's button holes, which were done by a florist, the rest of the jobs were distributed amongst the family. The flowers for the bridesmaids and the venues were done by my mum. She also made the bunting for the barn and helped with various table decorations.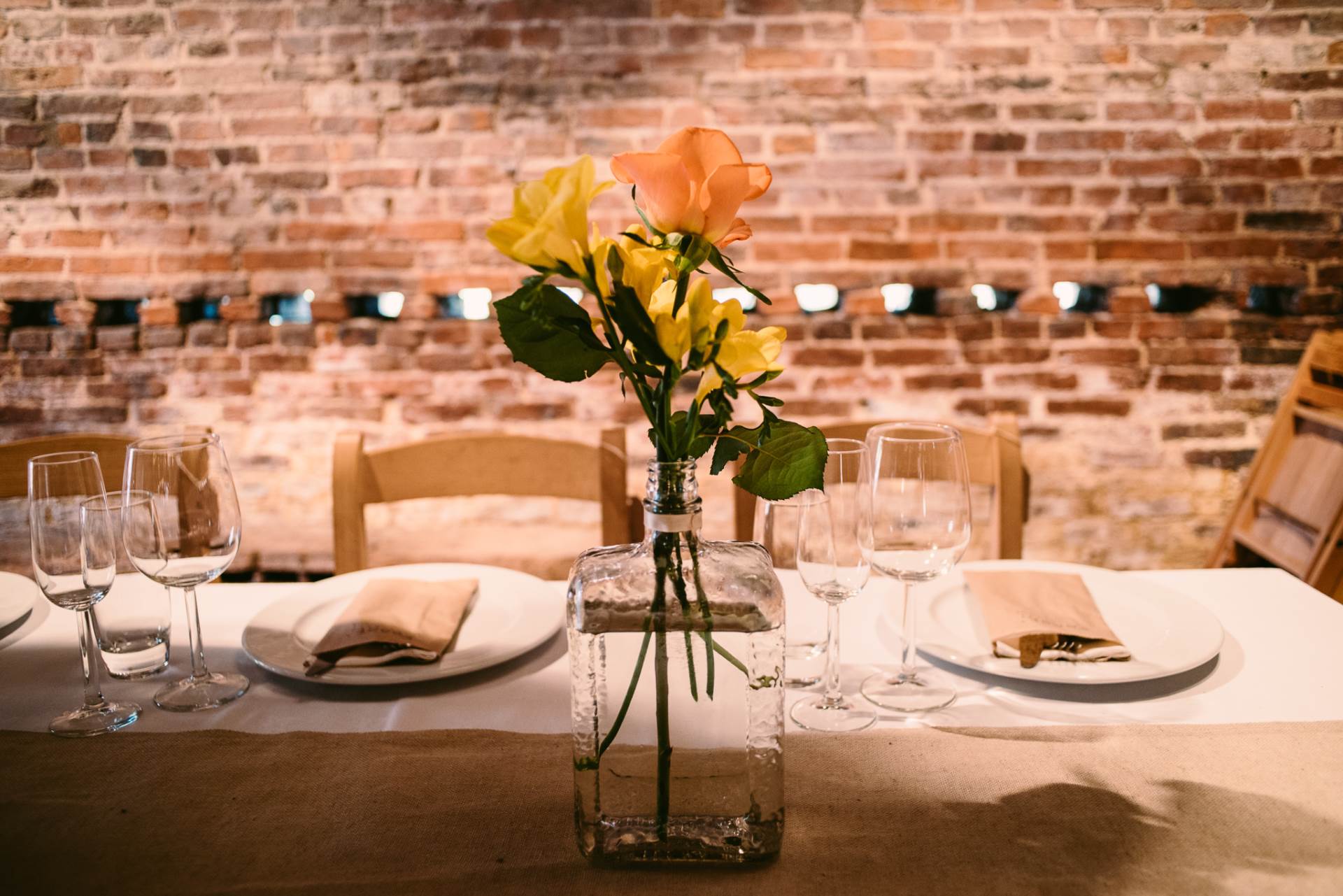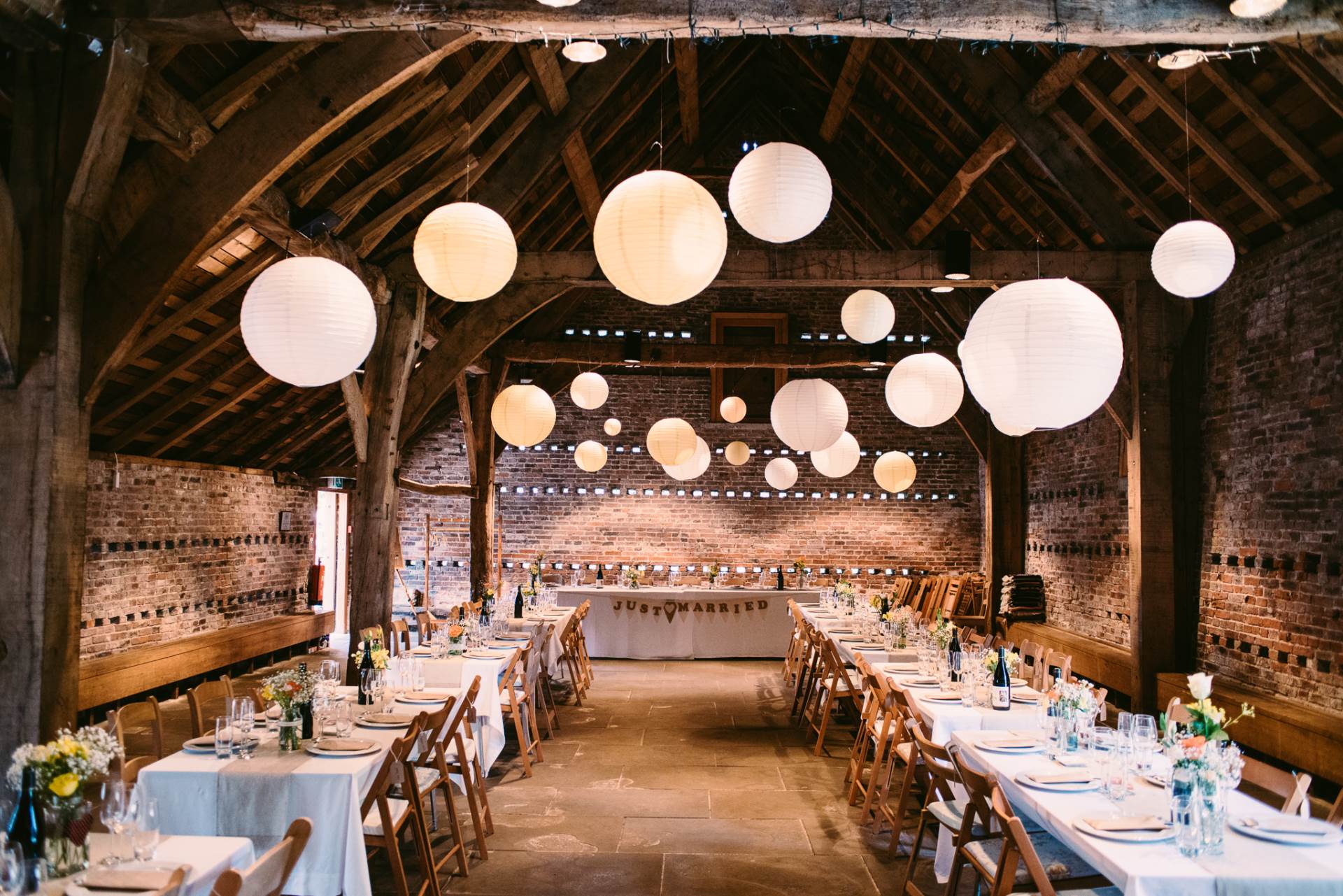 She also made the table runners and the cakes. Tom's mum made the bunting for the evening reception. Our friend designed our invitations, my sisters in law did the food and goodie bags for the kids' tables and we made everything else ourselves. Everyone was happy to pitch in and we really couldn't have done it without their help.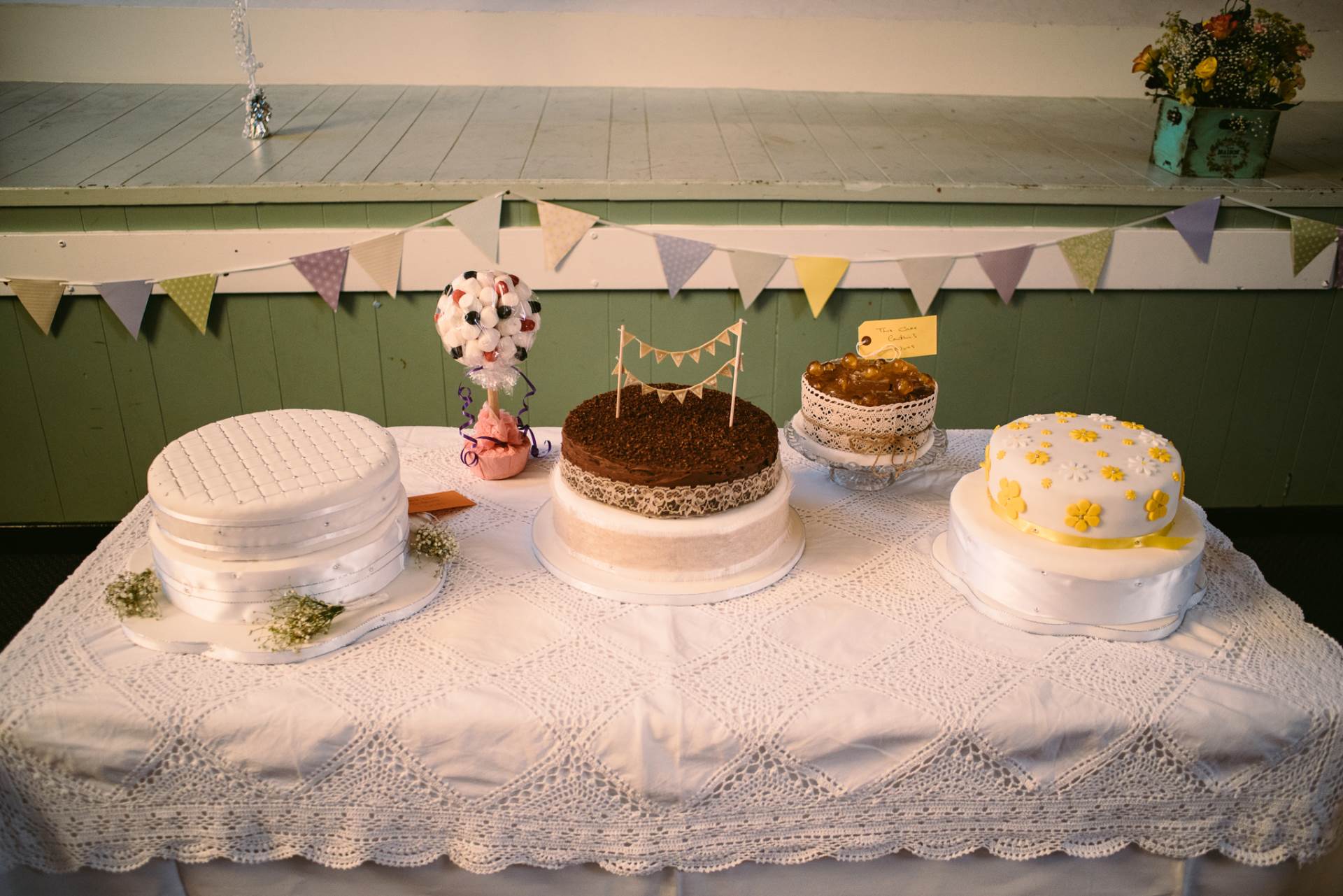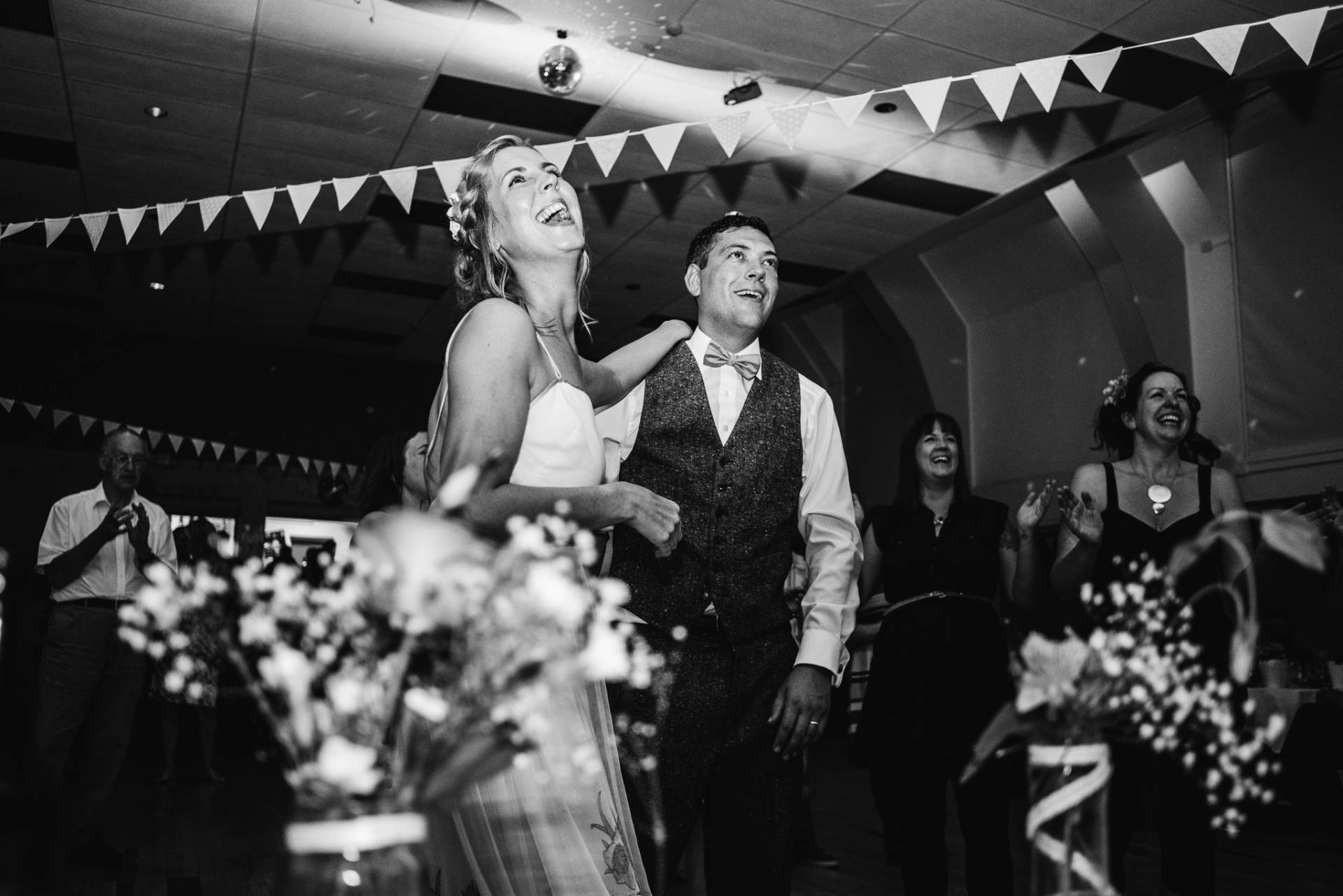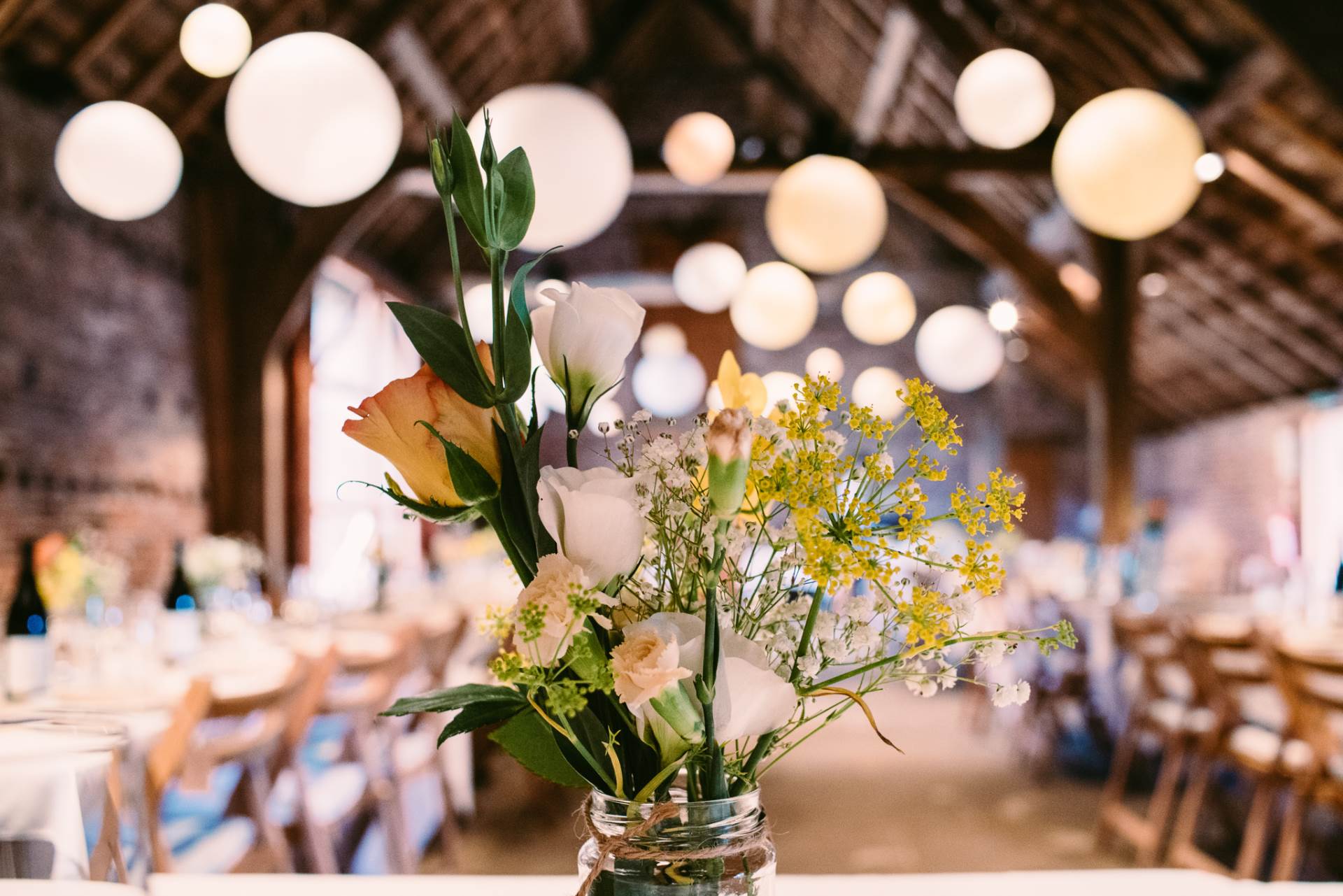 It's very hard to choose a favourite part of the day as we just loved it all. For Tom, although the ceremony was the bit he was most nervous about, it was actually his favourite part. We wrote our own vows and our close friends did readings for us. That helped make it more personal and certainly very emotional.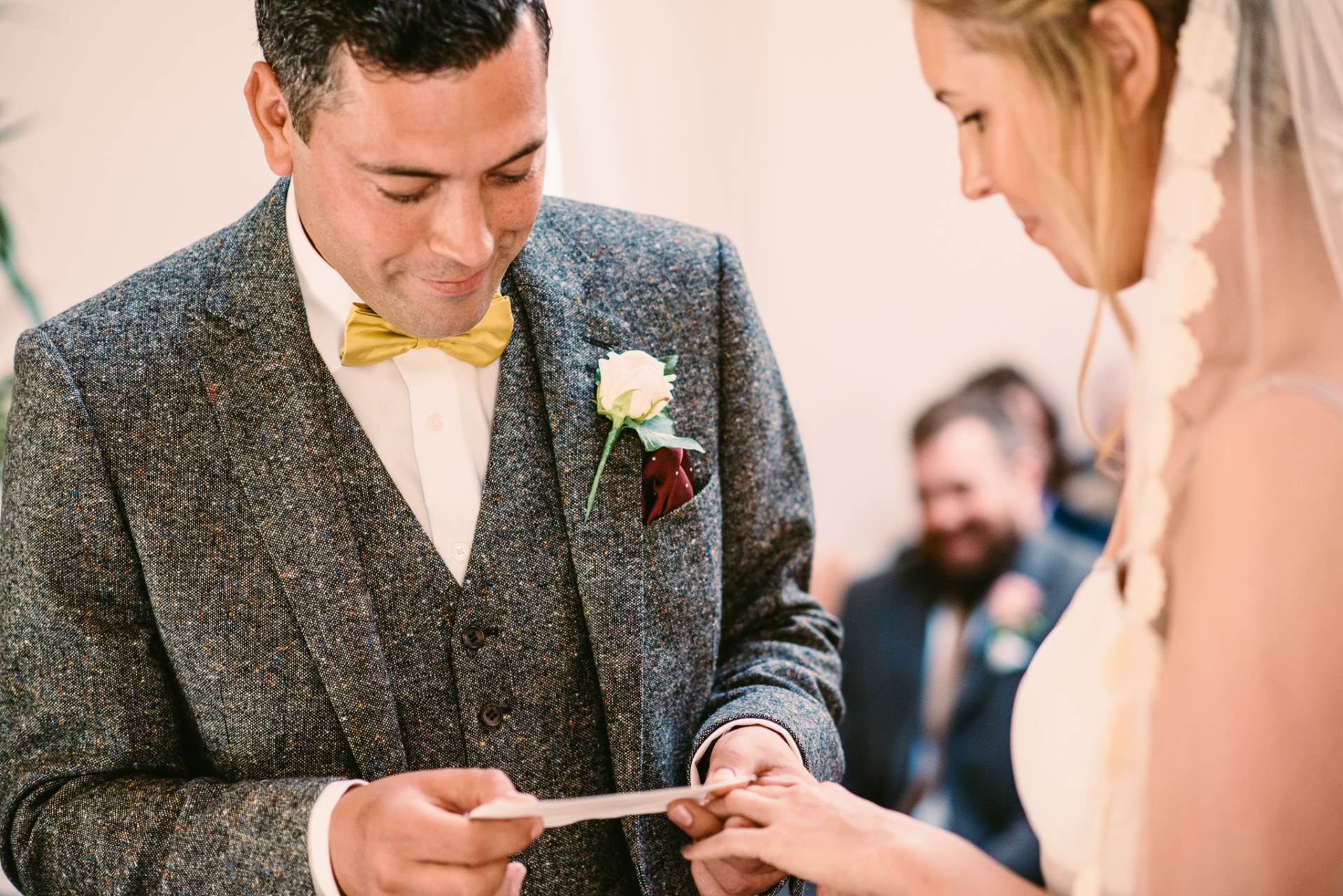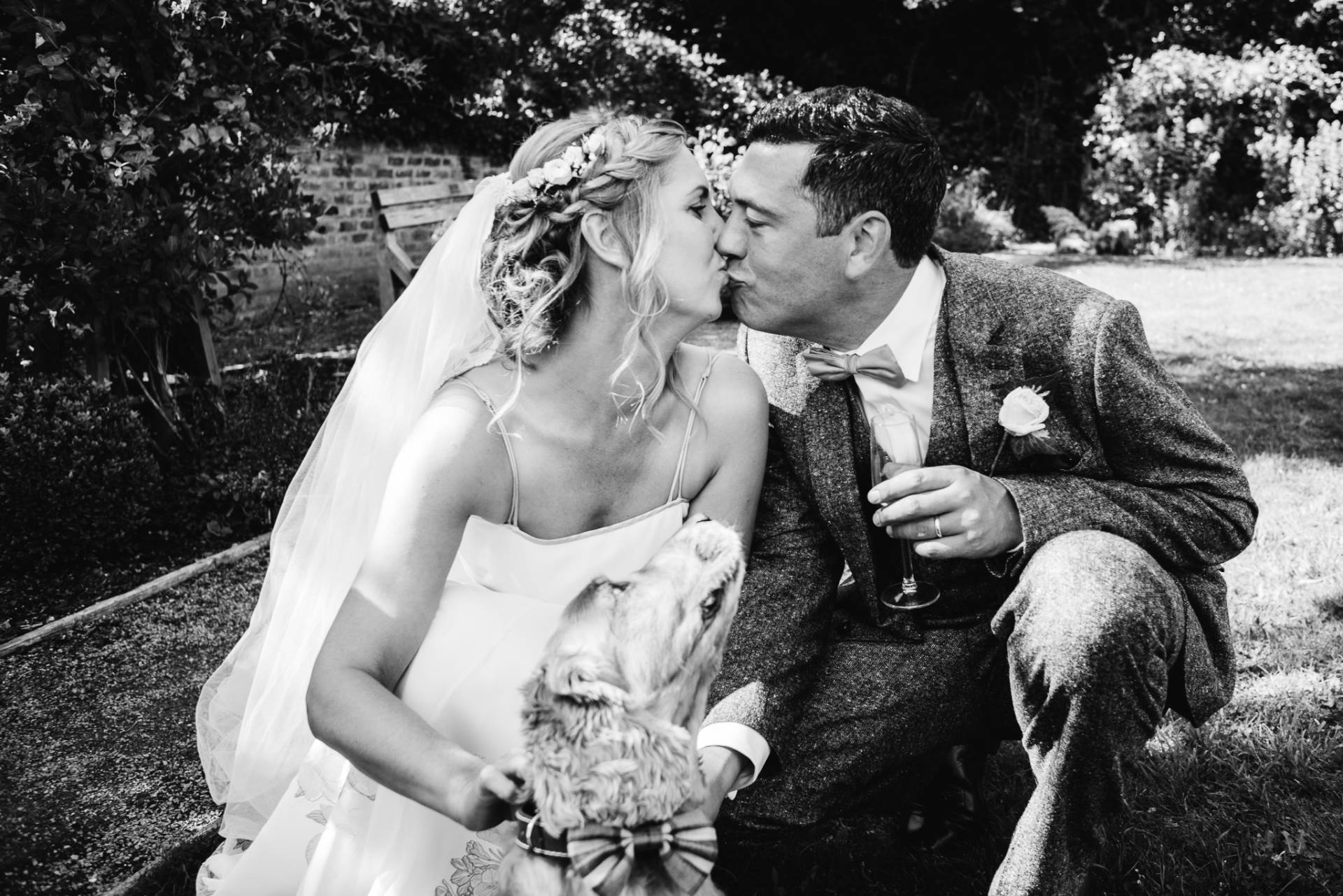 As for me, the part of the day spent at the barn was her favourite bit. The weather was glorious and the barn was just so beautiful. The catering surpassed all expectations and although that was one of our biggest expenses it was worth every penny. Tom's dad lives in France and provided all of the wine and champagne, and there was plenty of it!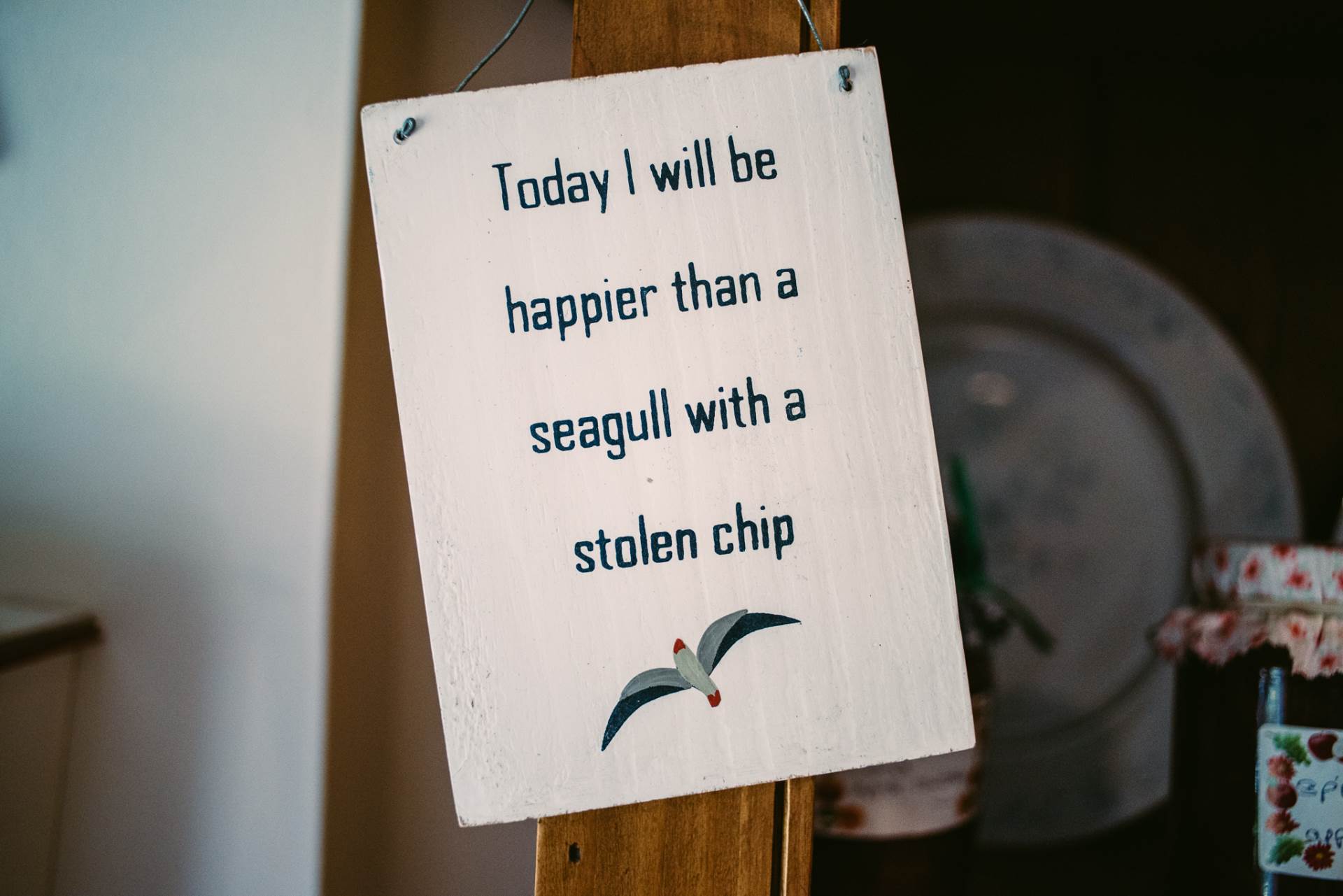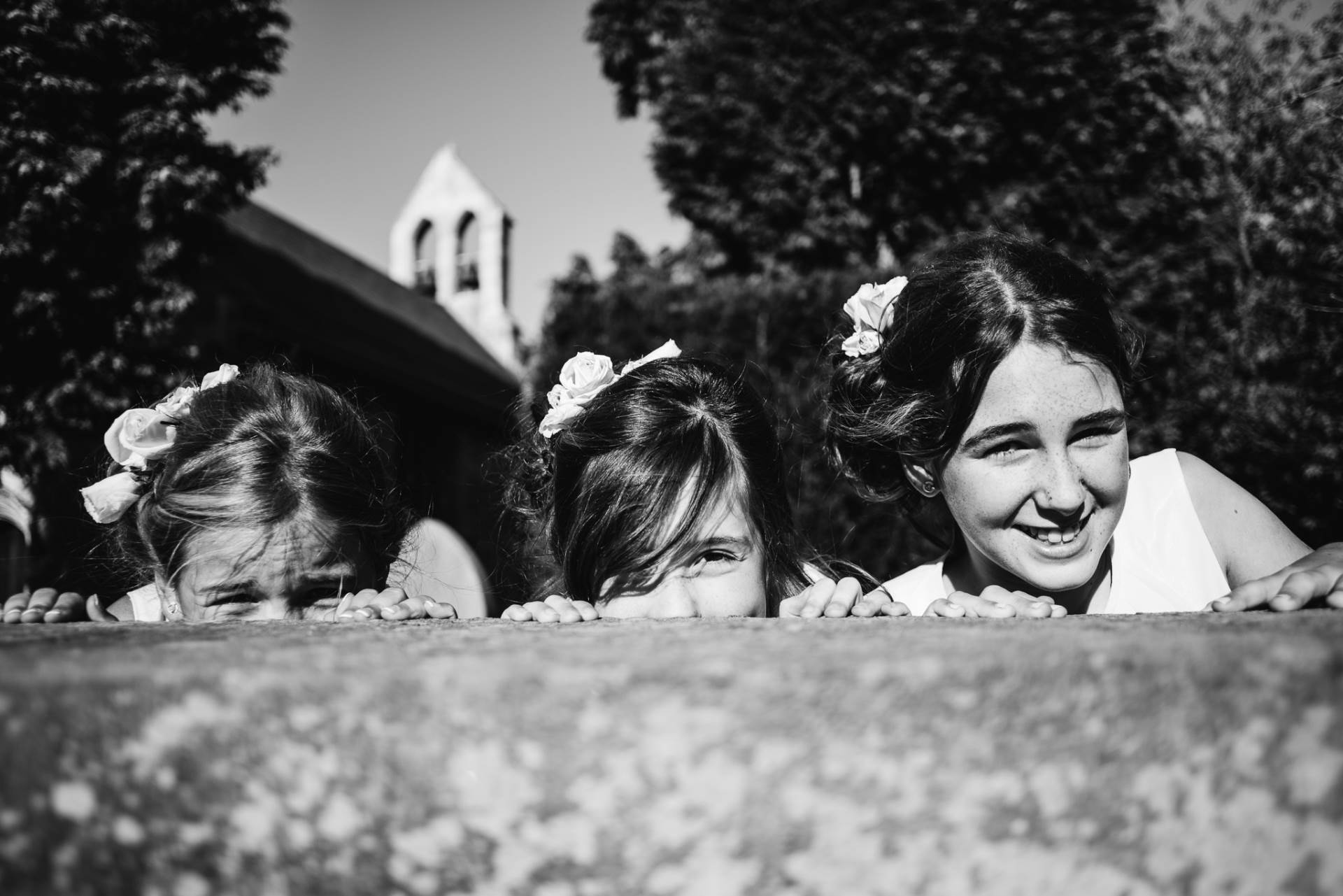 There was never really any doubt that we would go for vintage. Tom describes himself as a bit of a throwback, saying that he prefers everything from a bygone era, including music and styles from the 1930's right through to the 1970's.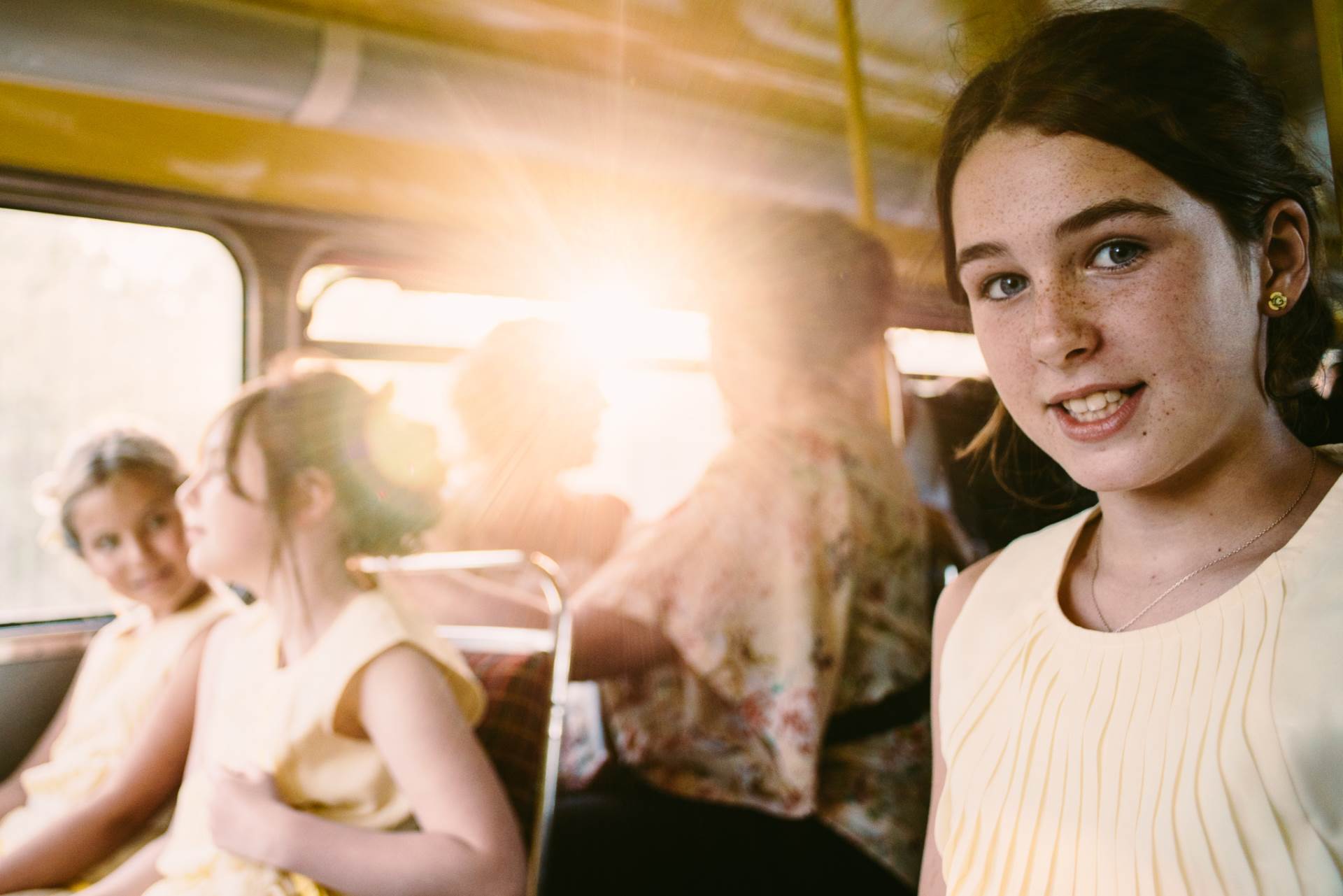 Advice for other brides and grooms… have a budget and stick to it. I kept a spreadsheet to keep on top of all costs which helped keep them on track. Also, remember to enjoy it. The planning can get quite stressful towards the end, especially if you're doing a lot of the work yourselves. Remember to delegate as much as possible. Family and friends are usually more than happy to help and we found that they enjoyed being a part of our day. There will be times where you'll wish you'd eloped but believe me, it will be amazing on the day.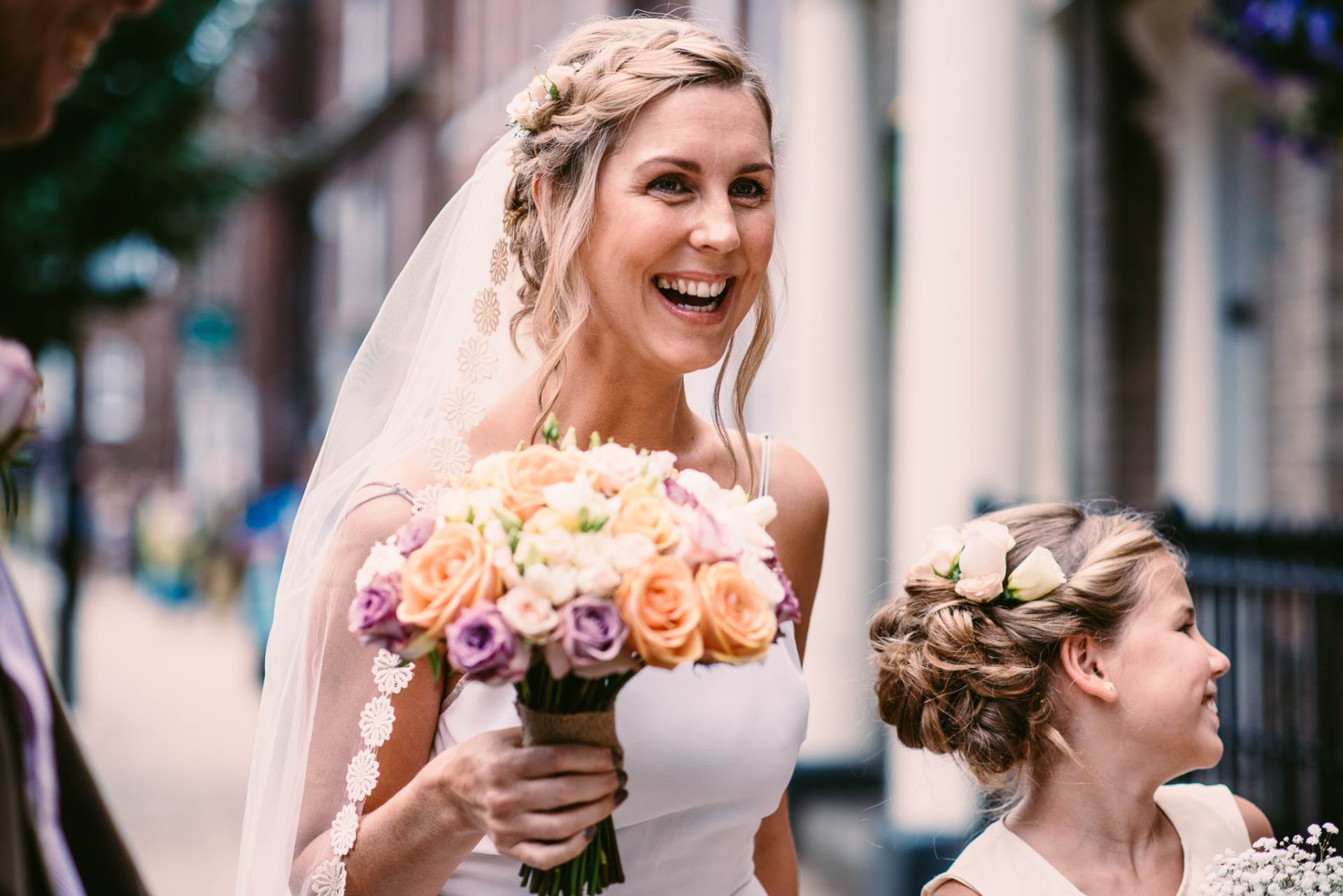 Suppliers:
Dress: Glory Days Bridal
Accessories : Veil from Glory Days Bridal.
Bouquet and button holes: Le Fleur Floral Design
Suit and tie: Clarksons of York
Bridesmaids dresses: BHS and their shoes and bags from Zara.
Venues: York Registry office
Tithe Barn Poppleton:
Folk Hall, New Earswick, York:
Bus – York Pullman
Catering – Feast Yorkshire
Photography – Esme Mai Photography
Band: No Time for Jive.