Lockdown life as we now know it, has put many marriages and celebrations on hold but for Morwenna and David, there was no holding back. They opted for an intimate civil partnership in the beautiful Boxted Hall, surrounded by their loved ones; with a weekend of celebrations, good food, and a relaxed fun vibe. Their relationship bloomed from an online meeting, and they sealed the deal by combining the things they love in a ceremony that was perfect for them. We catch up with them to hear all about their intimate wedding at Boxted Hall…

How Did You Meet?
"We are an online success story! We went for our first date at a pub in Norwich and ended up spending the whole night walking around Norwich and talking until 6am."
The Proposal
"After deciding that we wanted to become civil partners after it was brought into law for opposite sex couples, we worked on designing the engagement ring together with a designer in London, Michelle Oh. I didn't want a traditional diamond ring, so we went for a beautiful deep blue spinel and two aquamarines. It was important that the gems be ethically sourced and that the gold for the band was recycled. I didn't know when the ring arrived though, so David lured me into the garden under the pretense of planting vegetable seeds. After sewing some lettuce seeds, he asked me to dig a hole in one of the corners for the tomatoes – when I dug down I uncovered a box with the ring inside. There was quite a bit of dirt under my nails by the time the ring went on, but it was a perfect moment!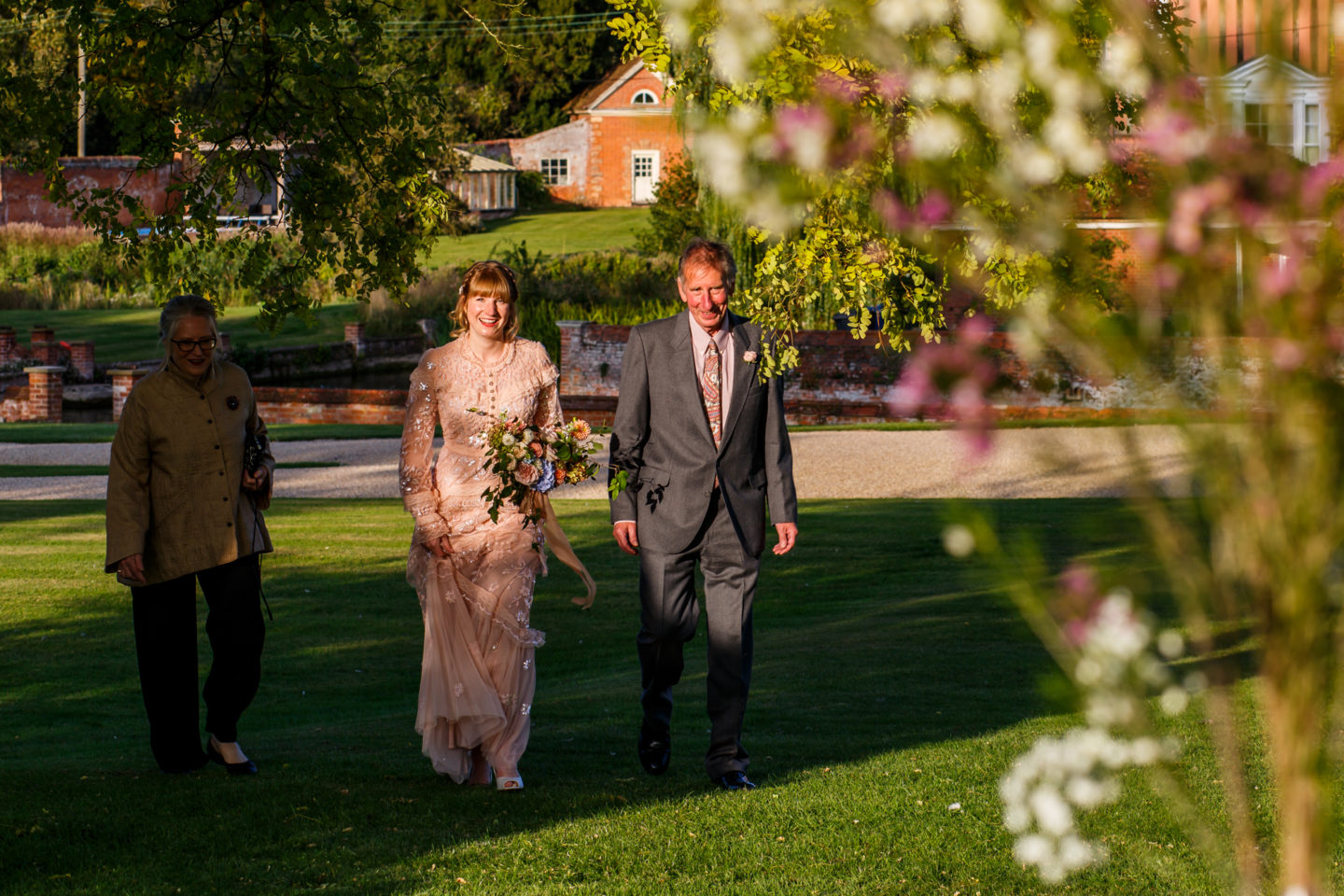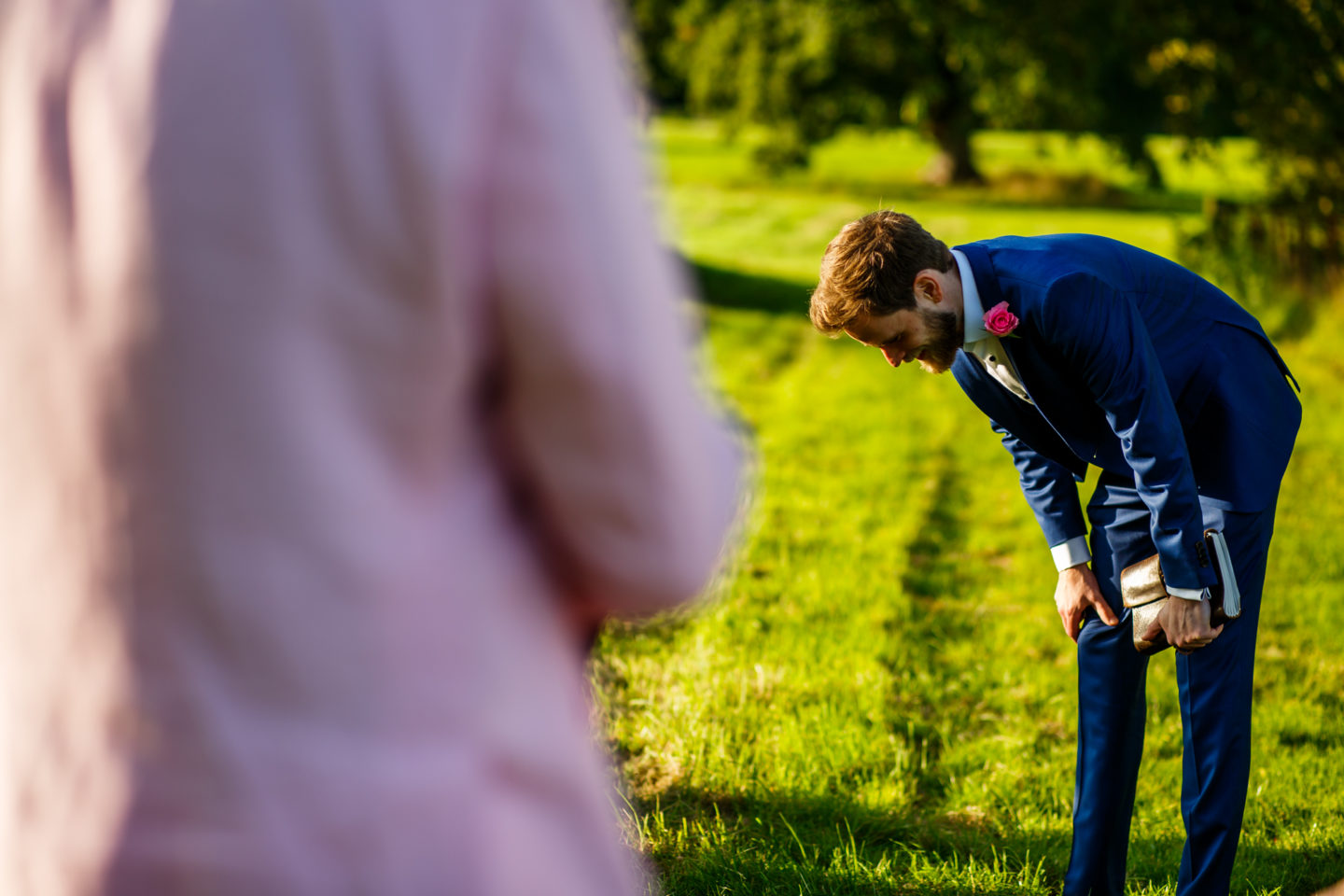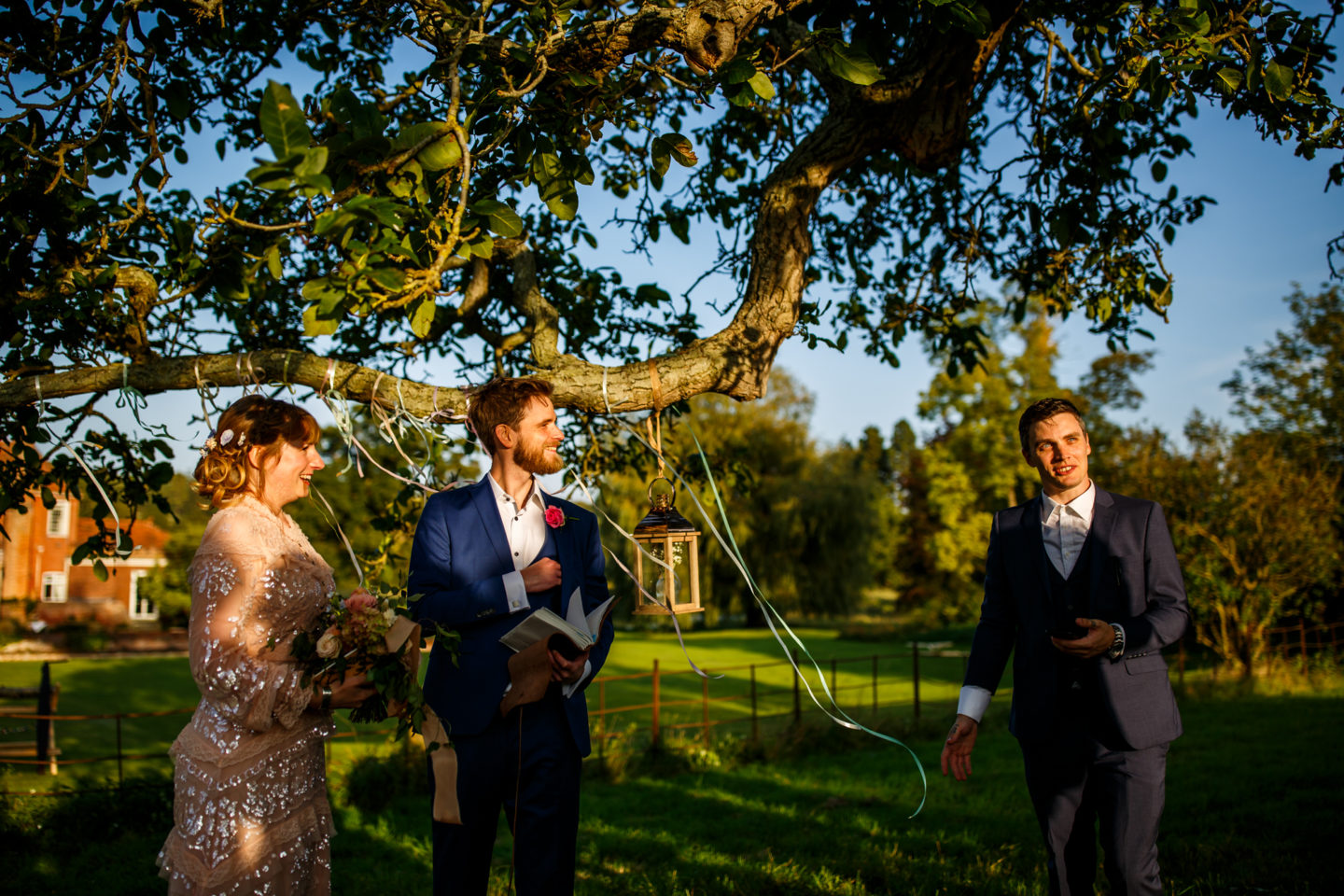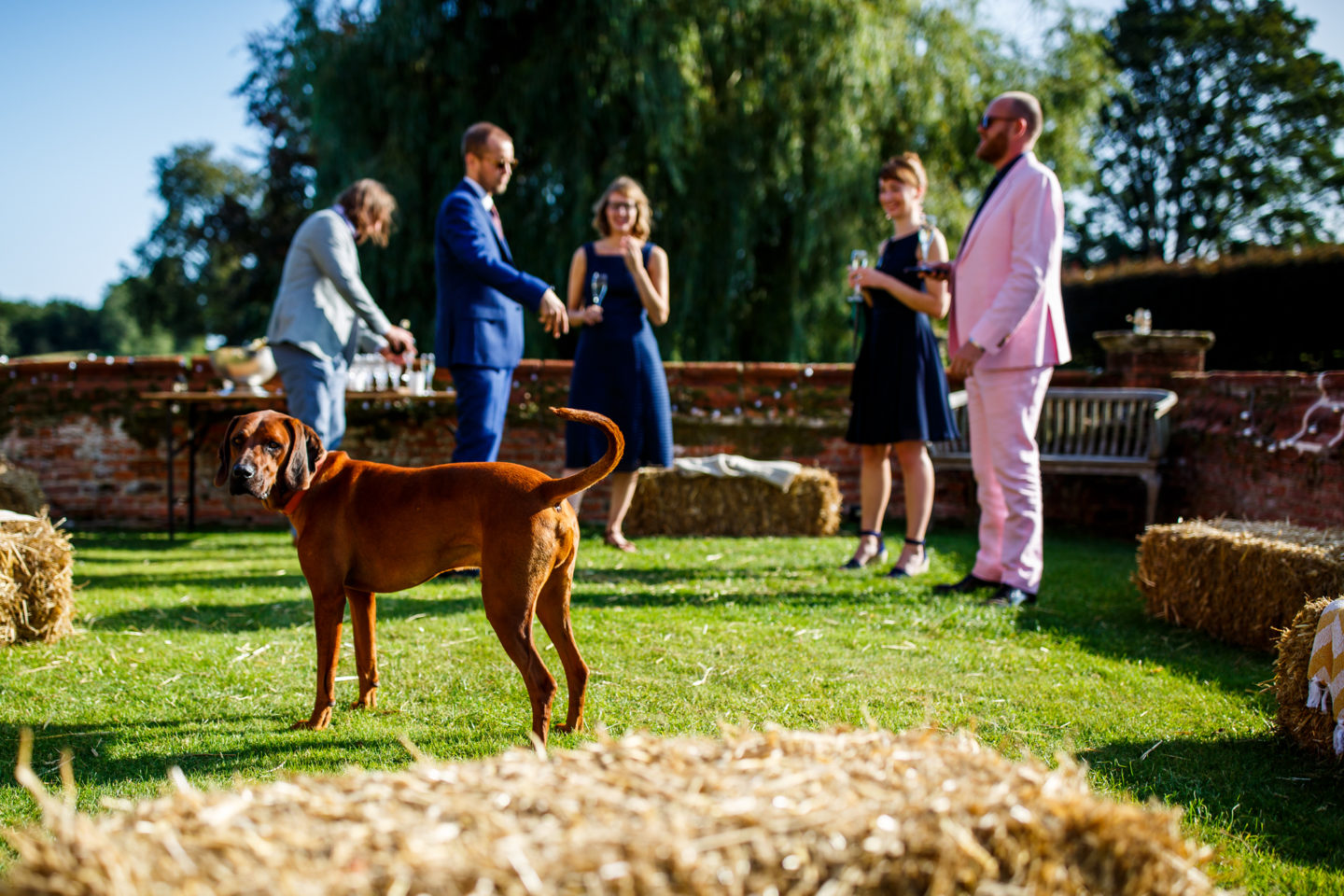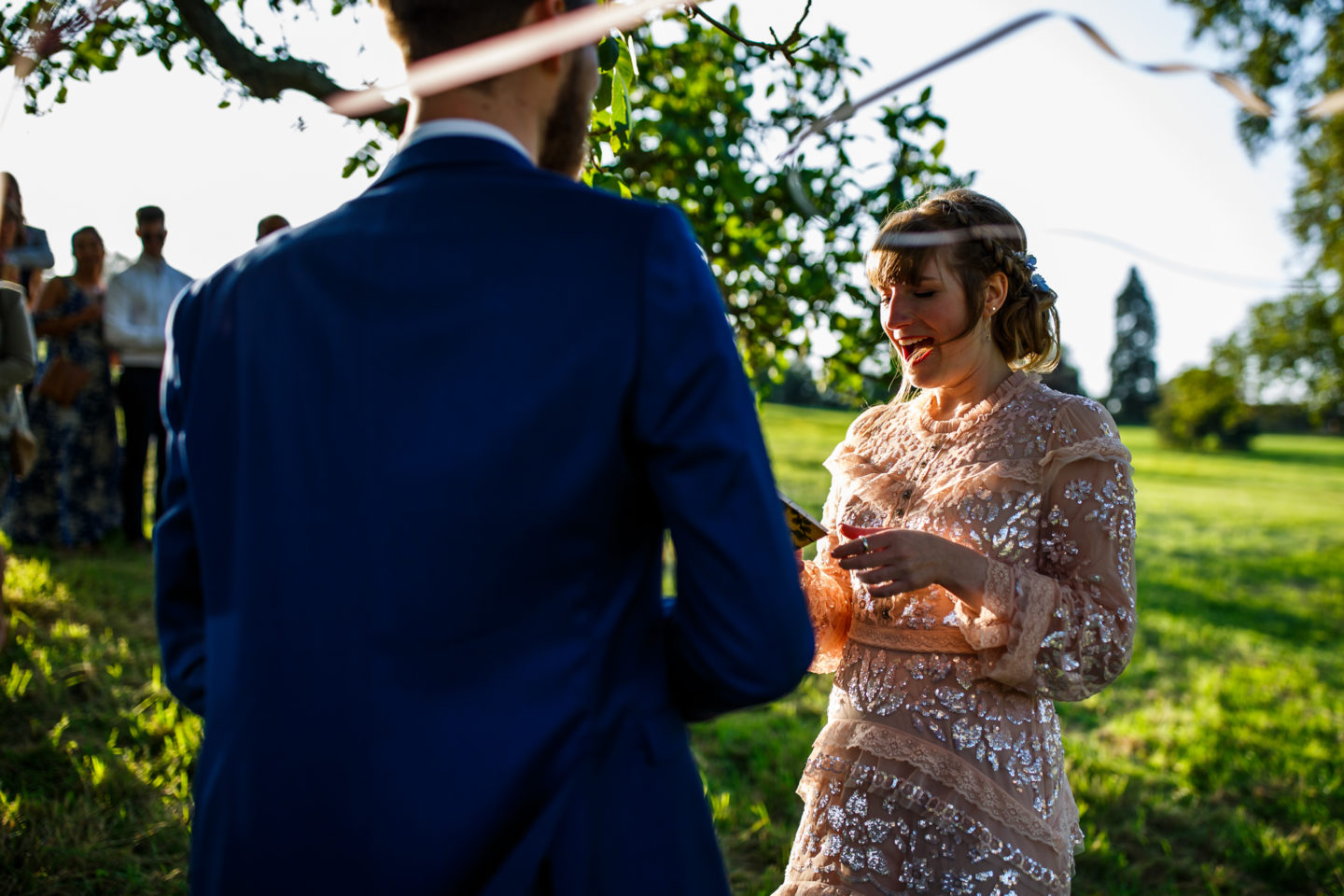 Planning The Wedding
"We had several discussions about how a big white wedding wasn't for us and we wanted a civil partnership instead. This was important to us as it felt modern and equal. We had wanted a small celebration with just our parents and closest friends. As it was booked for September, there was nothing we could do but keep our fingers crossed and hope we were out of lockdown by then. When lockdown ended and the restrictions came in for under 30 guests, it was a close one, but we just scraped through! We were also lucky enough to miss the further reduction to 15 guests by one weekend. The venue, caterers, florist, hair and makeup stylist and photographer were all so reassuring, considerate and supportive.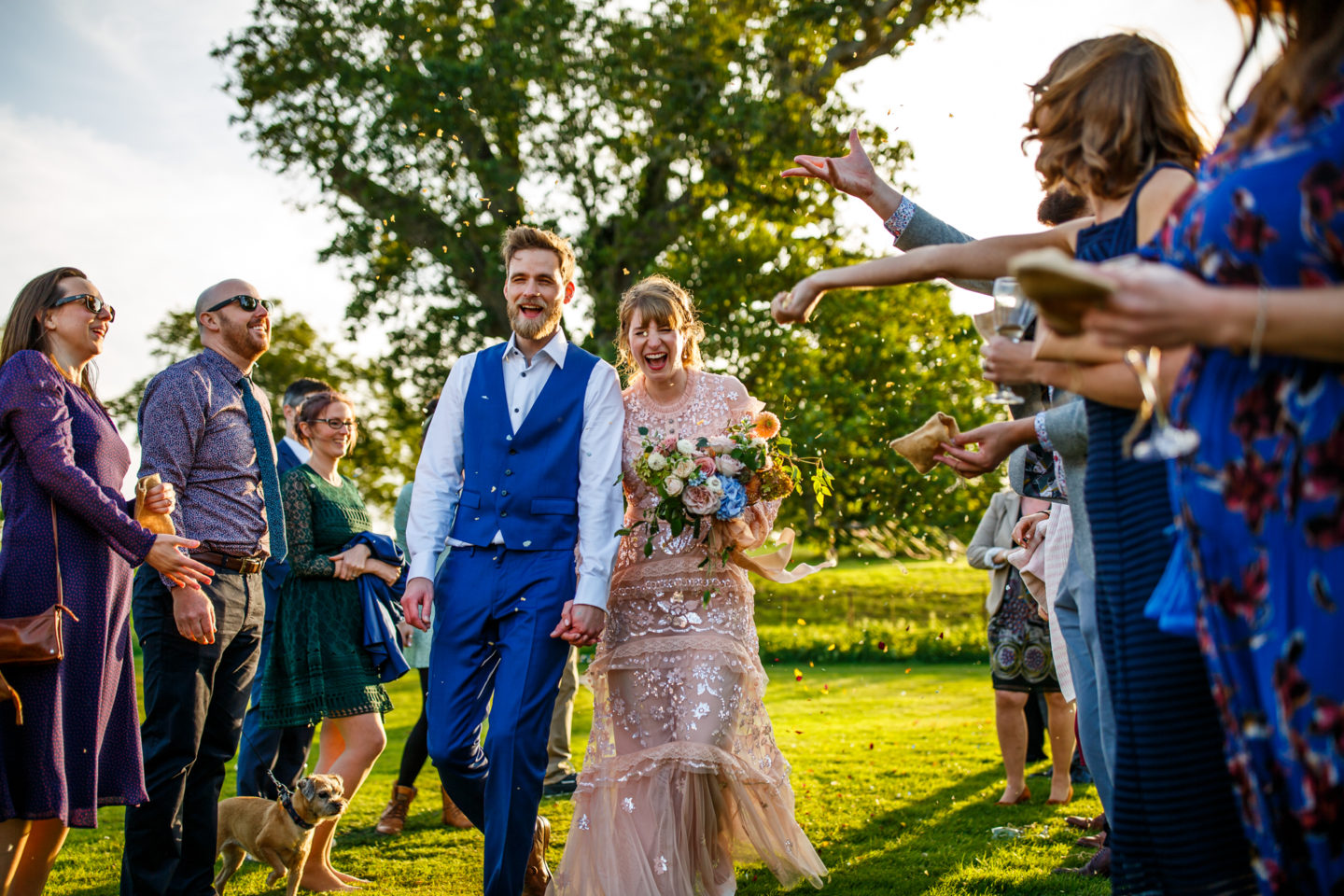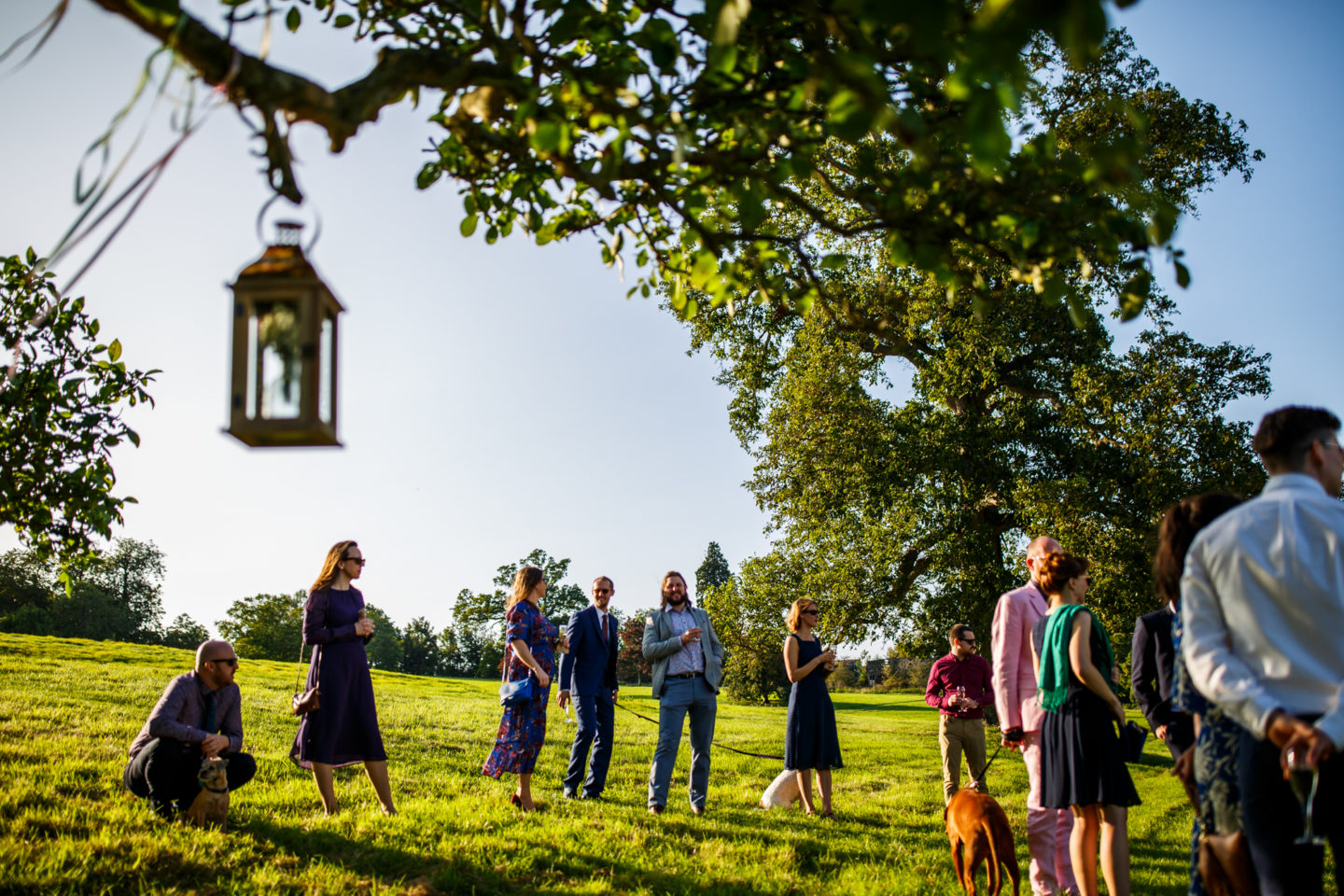 The Location
"We fell in love with Boxted Hall as soon as we drove up to it and saw the beautiful hall surrounded by a moat and fields. We wanted a house that could accommodate all of our guests so that it would feel like a relaxed (if somewhat grand) weekend in the country with friends and dogs. We had the most spectacular weather to set off the house and brought in archery for the Saturday. The owner was fantastic and made sure we had everything we wanted from straw bales to candles. There was even a swan!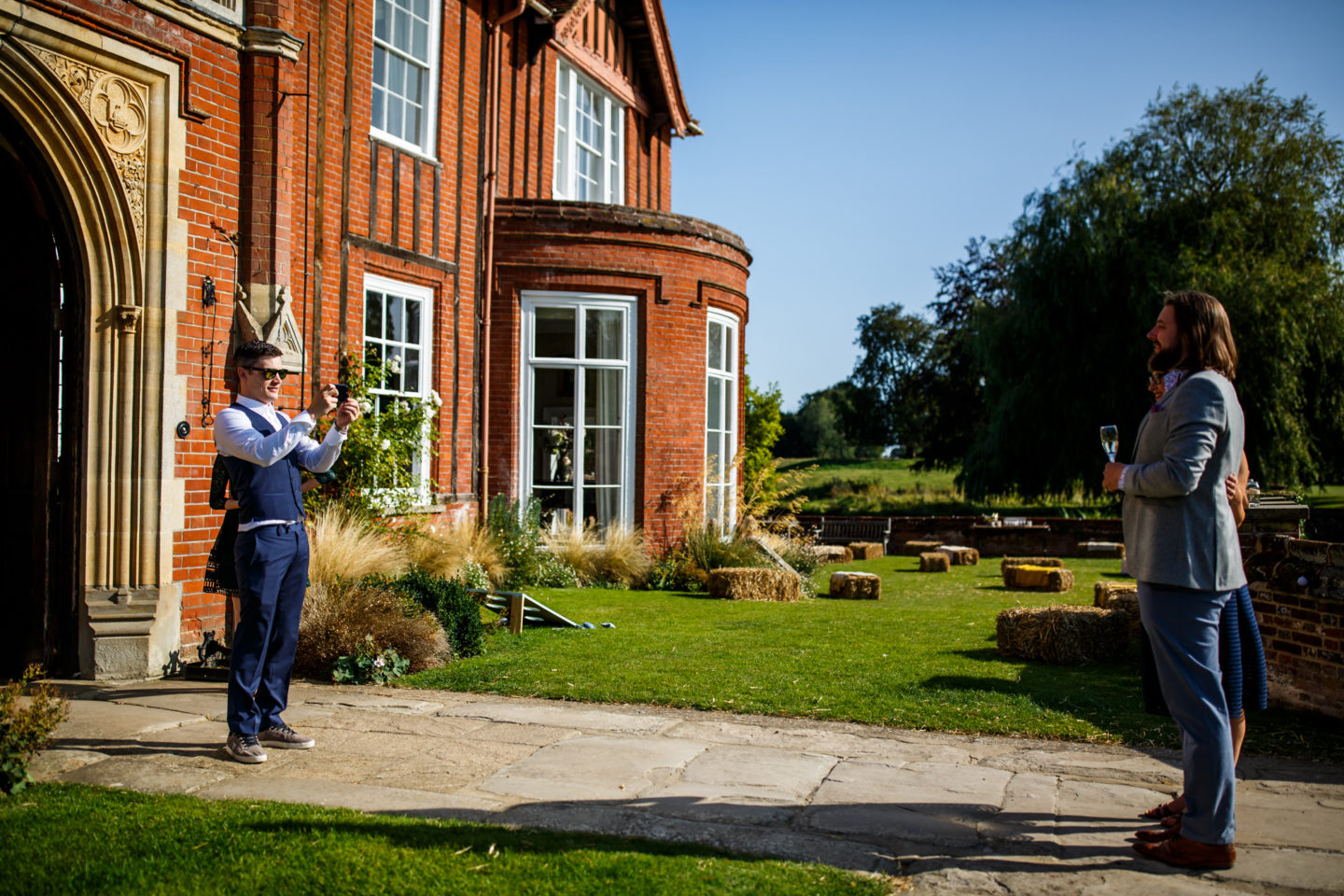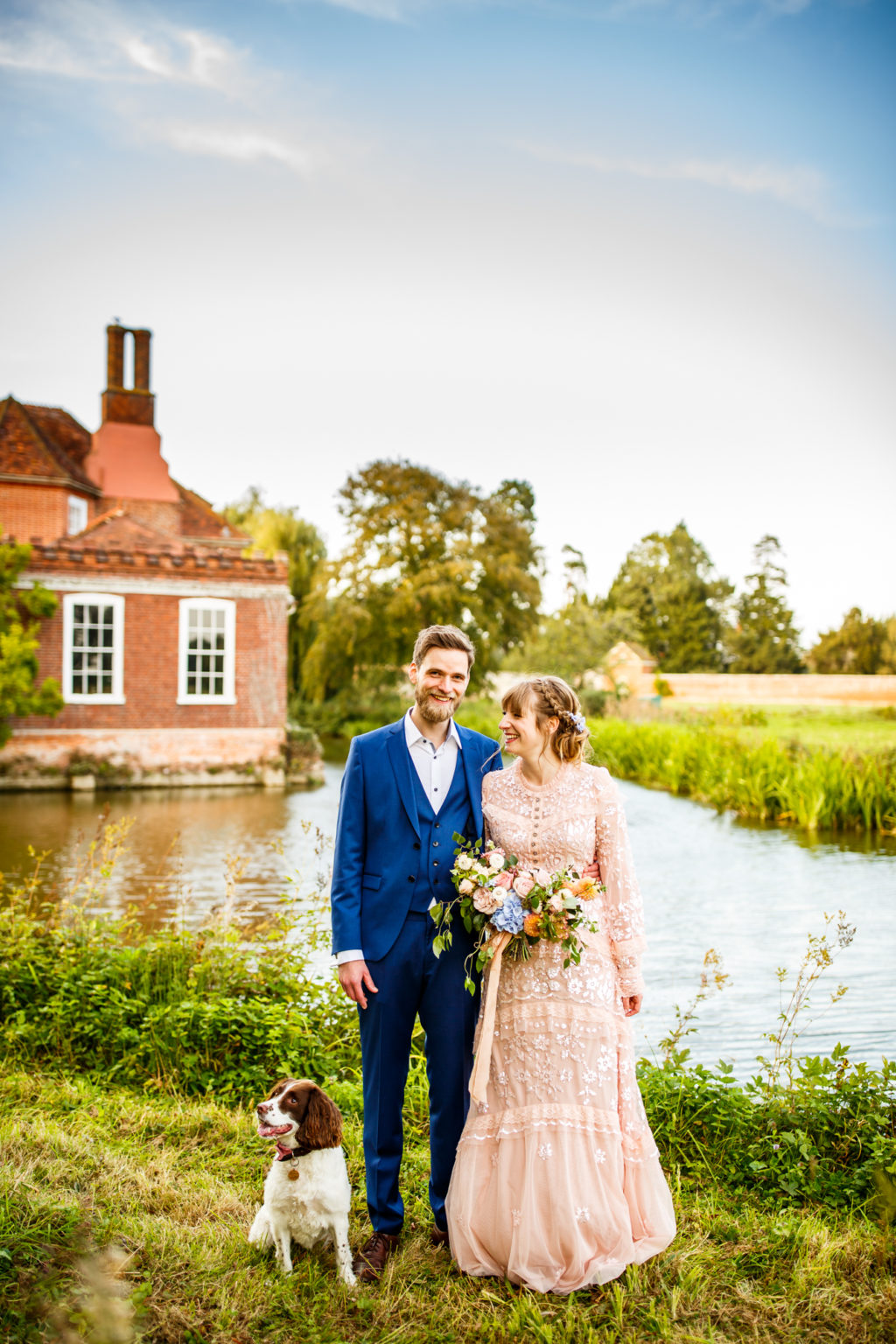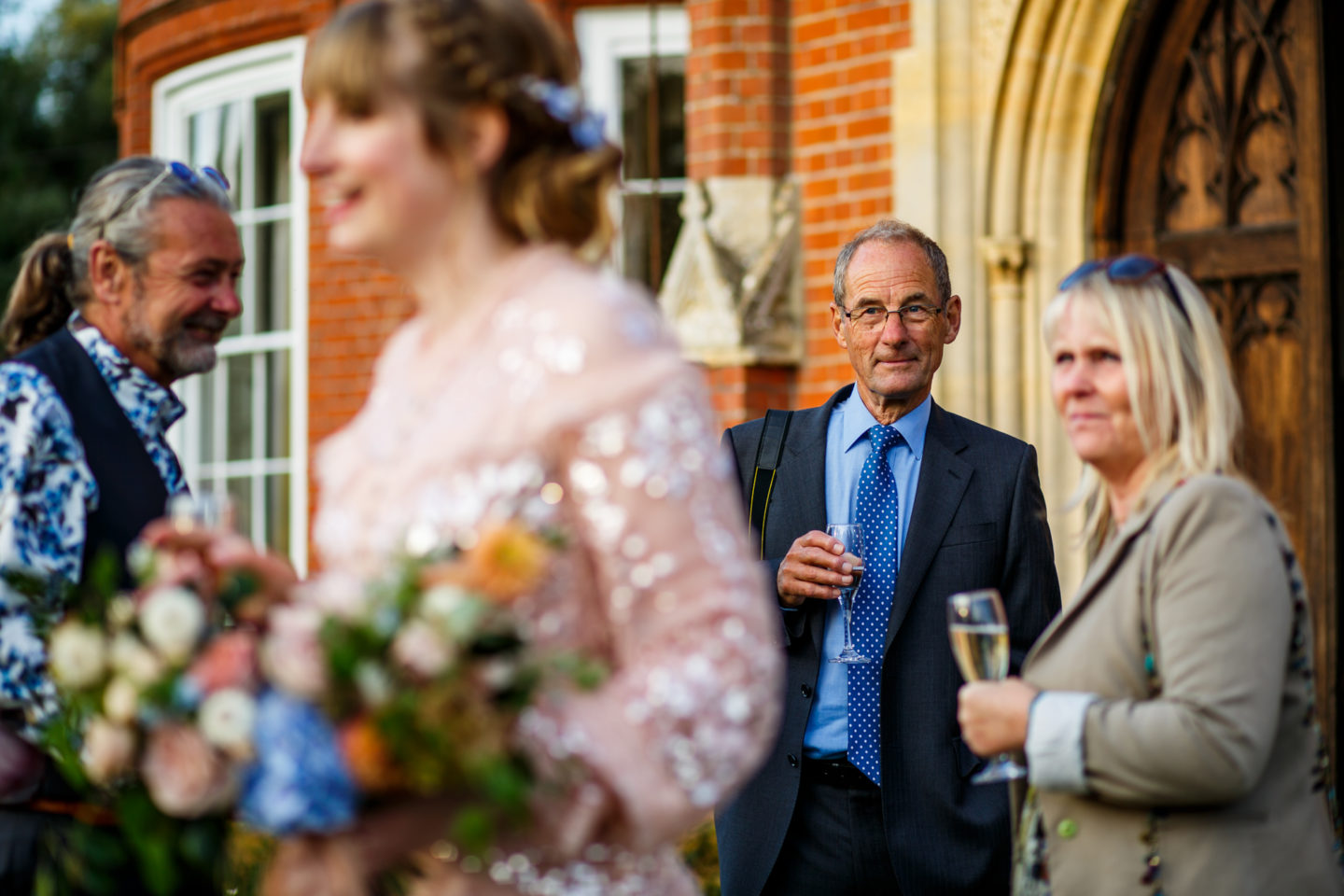 The Dress
"While I didn't want a white dress, I definitely wanted something I would feel special in. I went for the Ava dress from Needle and Thread because it felt Edwardian inspired and felt gentle and demure while also sparkling brilliantly in the sunlight."
The Suit
"Born in Germany, David seems to be the perfect size and shape for Hugo Boss. We wanted a suit he could wear again, but also one that was bold enough in colour it would feel different from an everyday work suit. He went without a tie, keeping in touch with the laid back and informal energy we were going for."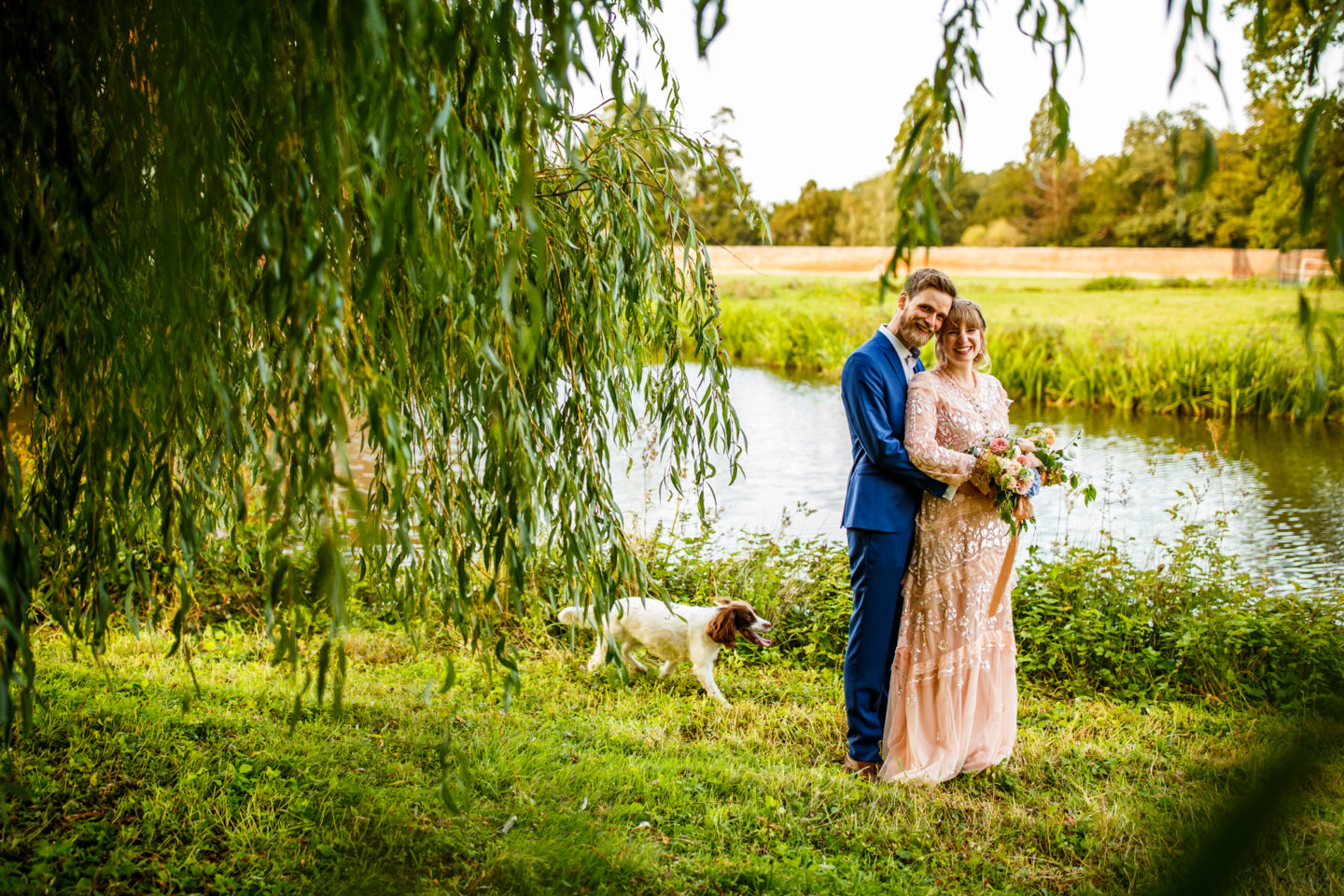 The Details
"For flowers, I wanted natural looking, whimsical garden blooms in pastel pinks and blues that would complement our outfits. Katy did an absolutely amazing job and I've pressed some of the flowers to frame. We didn't have a cake – instead we opted for fairy cakes inspired by the ones my granny used to bake when I was a child, and donuts because…well, donuts! Rather than a sit-down meal, we had a bbq on the lawn with straw bales which worked out well for social distancing in the end!"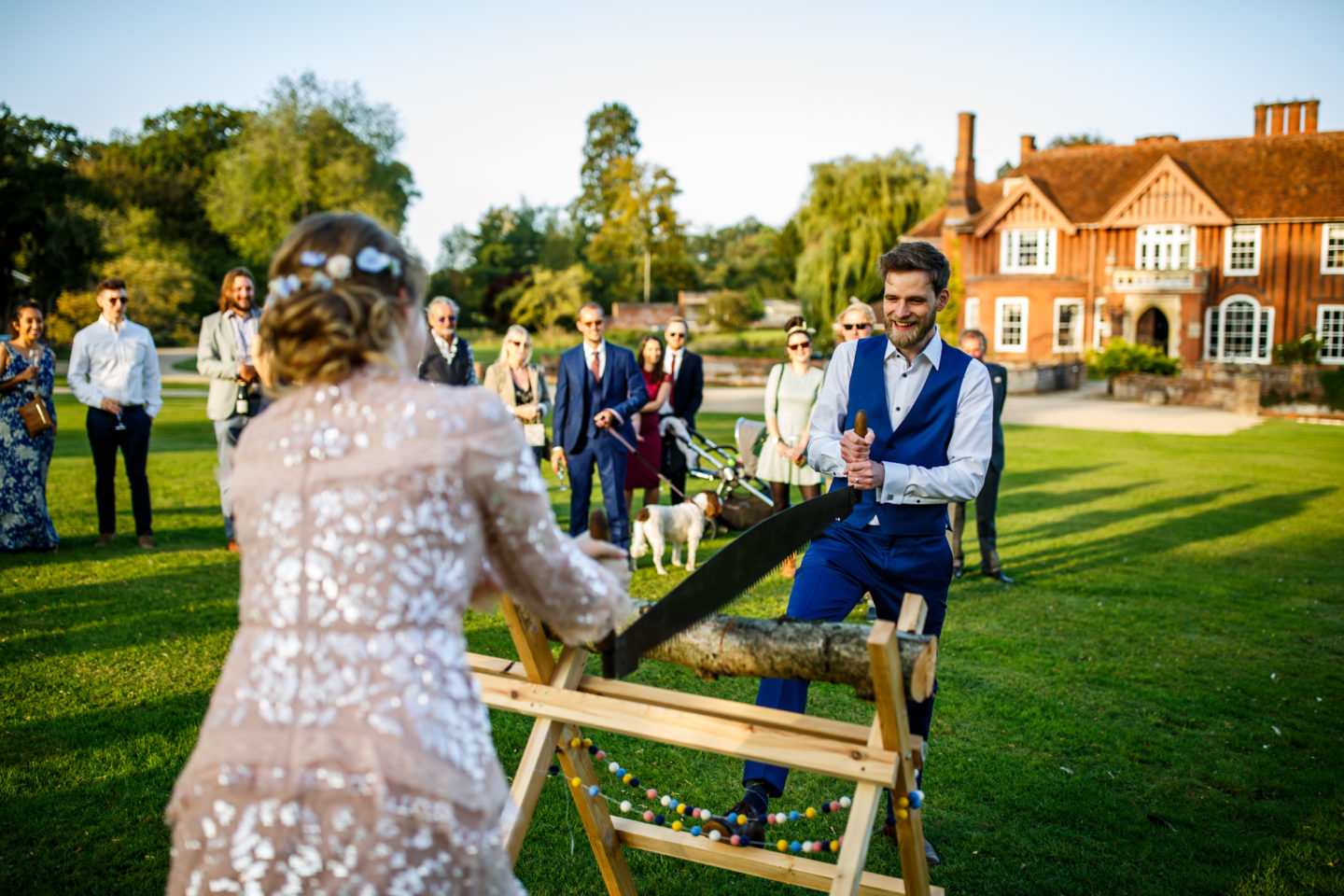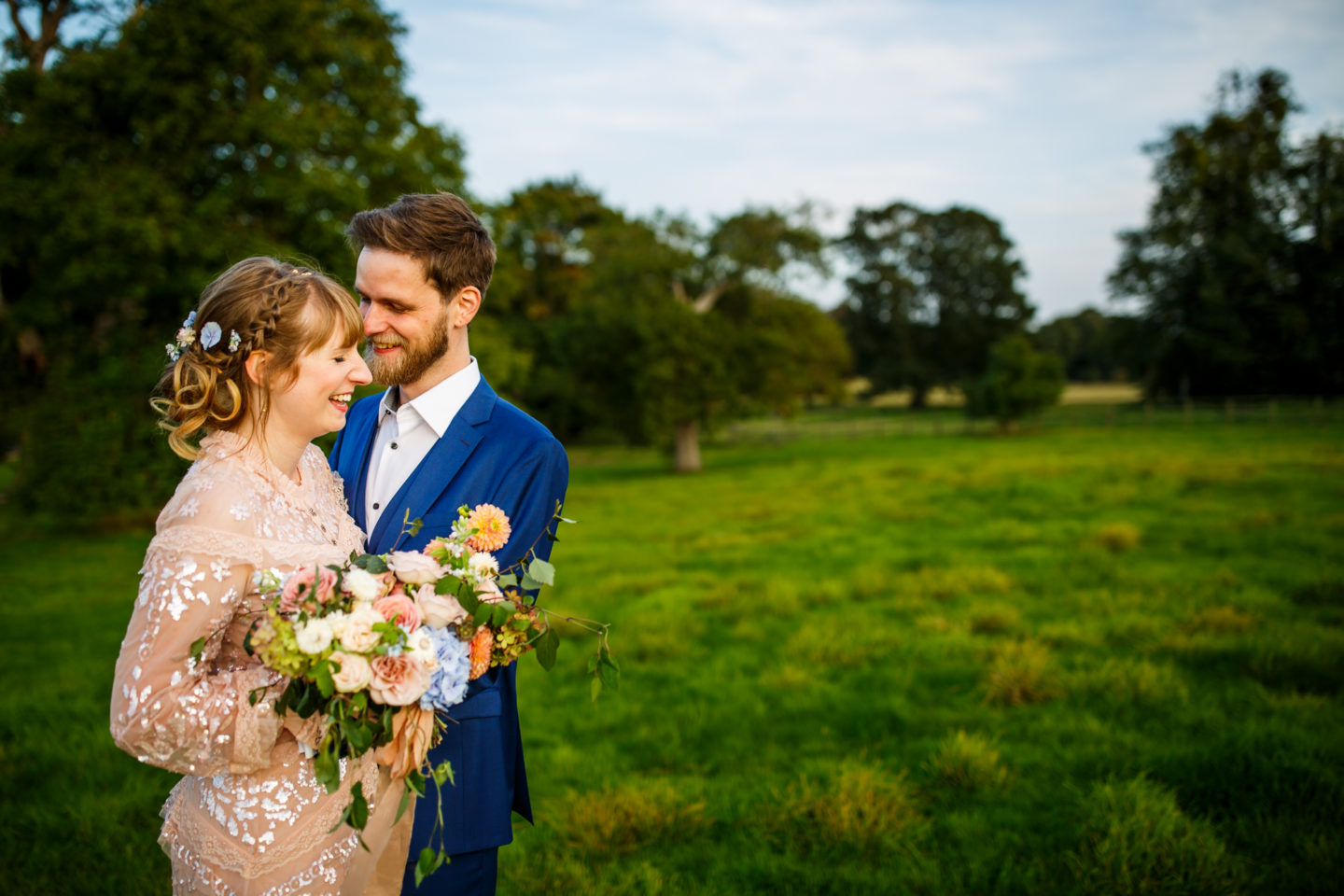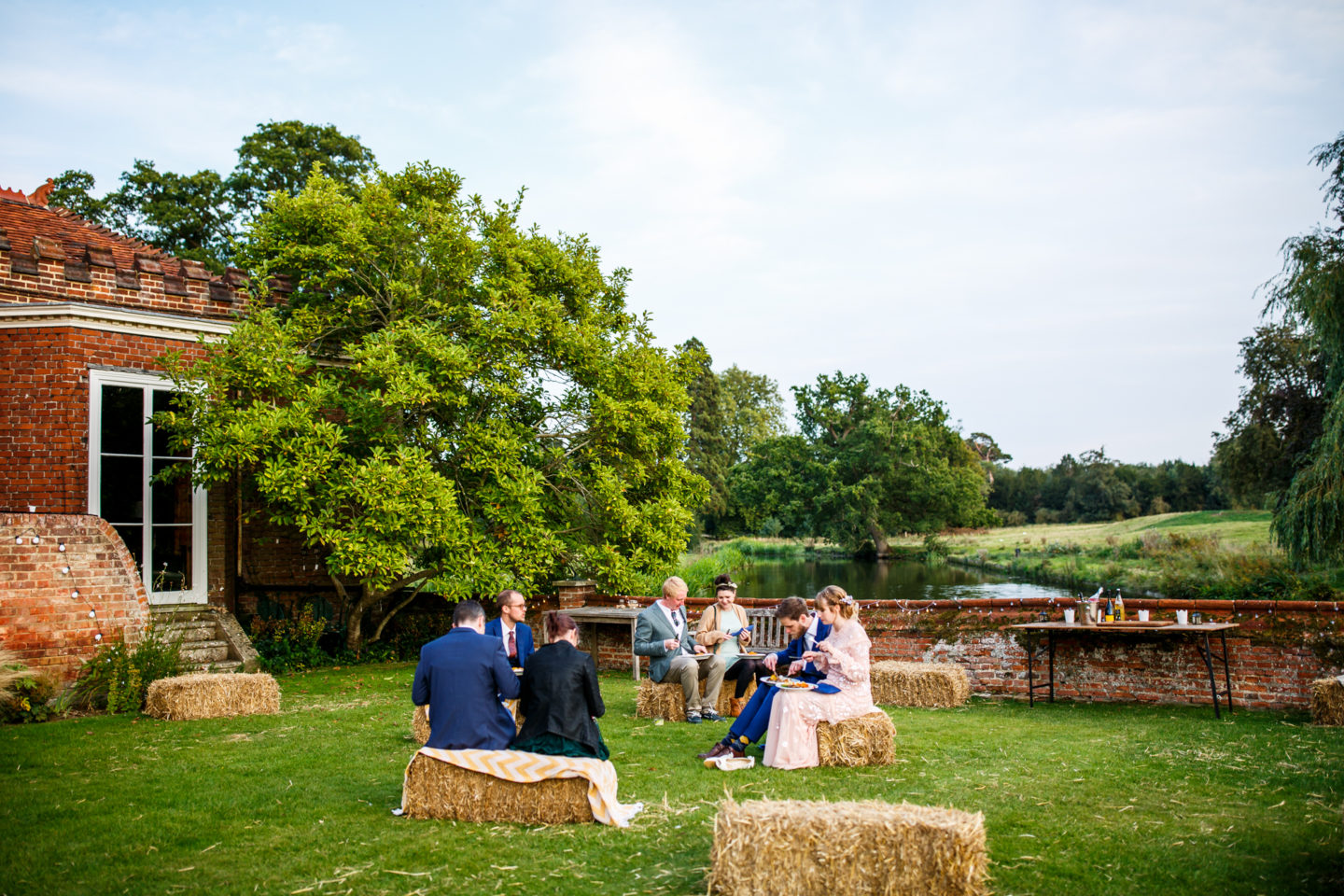 Ethical Elements
"It was important to us to select caterers local to Boxted Hall, and an independent florist and hair and makeup stylist who were local to Norwich. The makeup was also all cruelty free, which was really important to me. We also wanted to support an independent jeweller for the rings who would let us be involved in designing an ethical custom gemstone ring and bands. The confetti was dried petals making it biodegradable. Our outfits can be worn again and my dress was by a British designer. We also bought bottles of wine and prosecco from Adnam's (local to Norfolk) and an independent wine shop in Norwich called Harper Wells.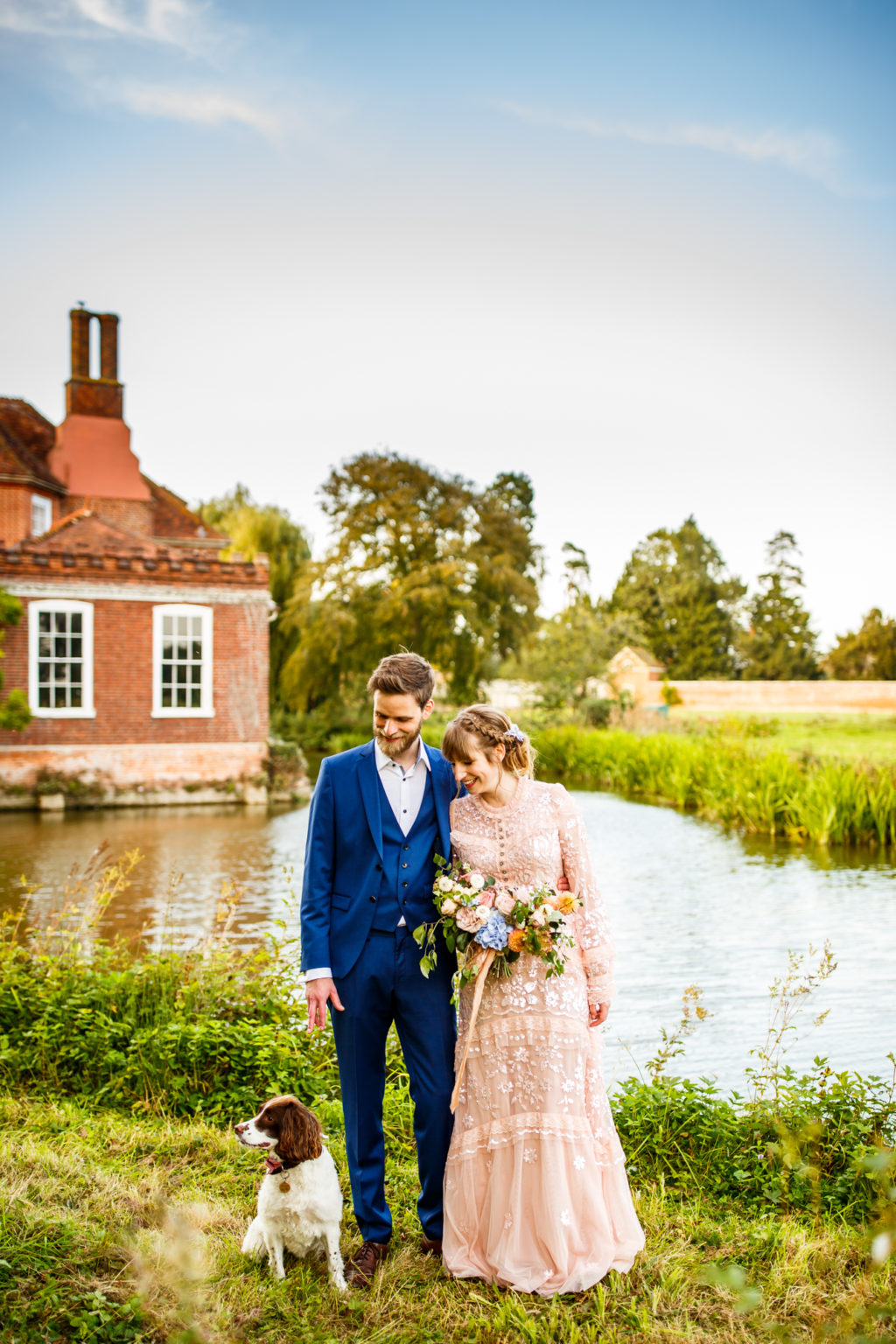 The Best Part of the Day
"Standing under the oldest walnut tree in Europe from which our friends and parents had tied ribbons and saying our personal vows to each other. Oh and our lovely springer spaniel, Alma, was our ring bearer!"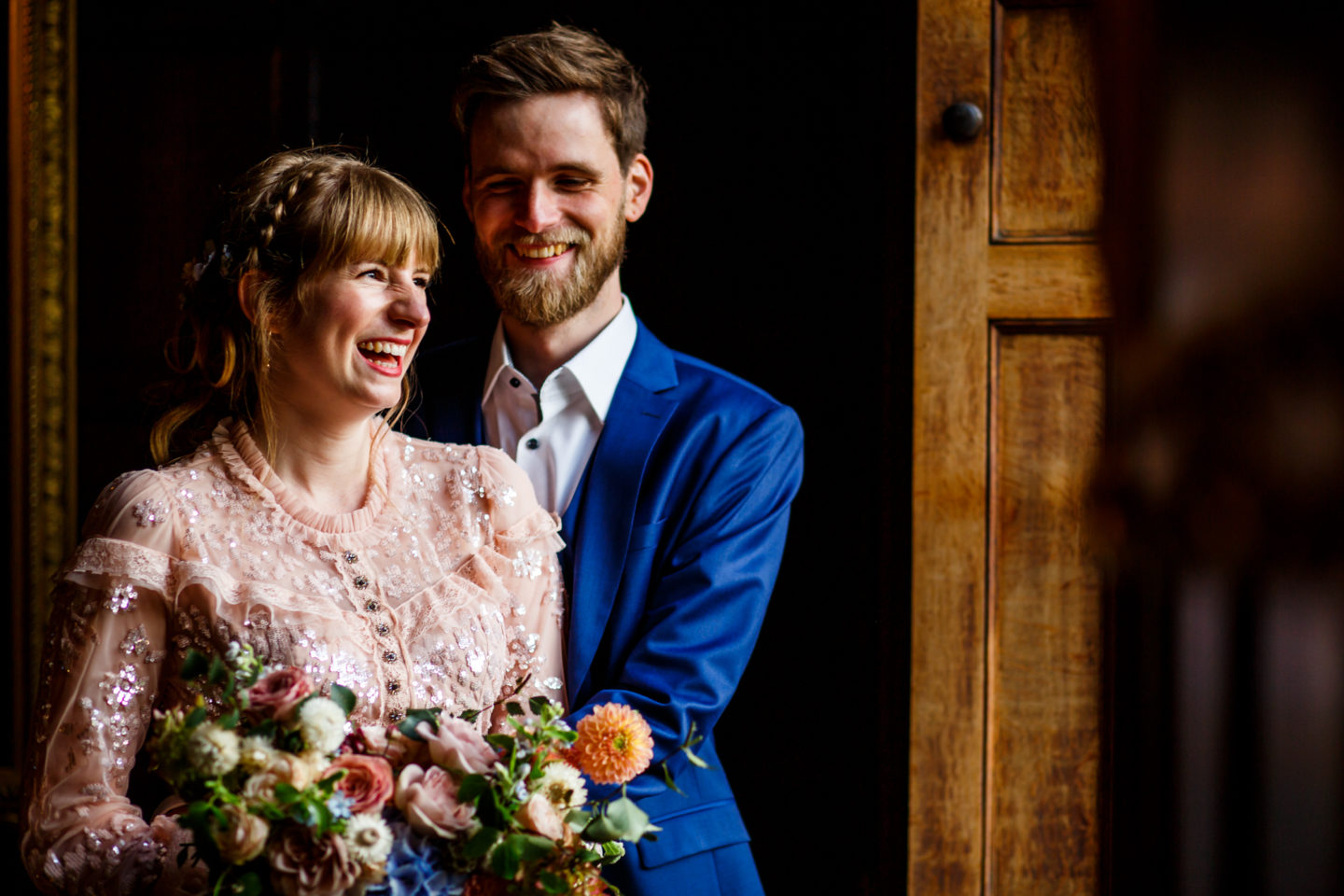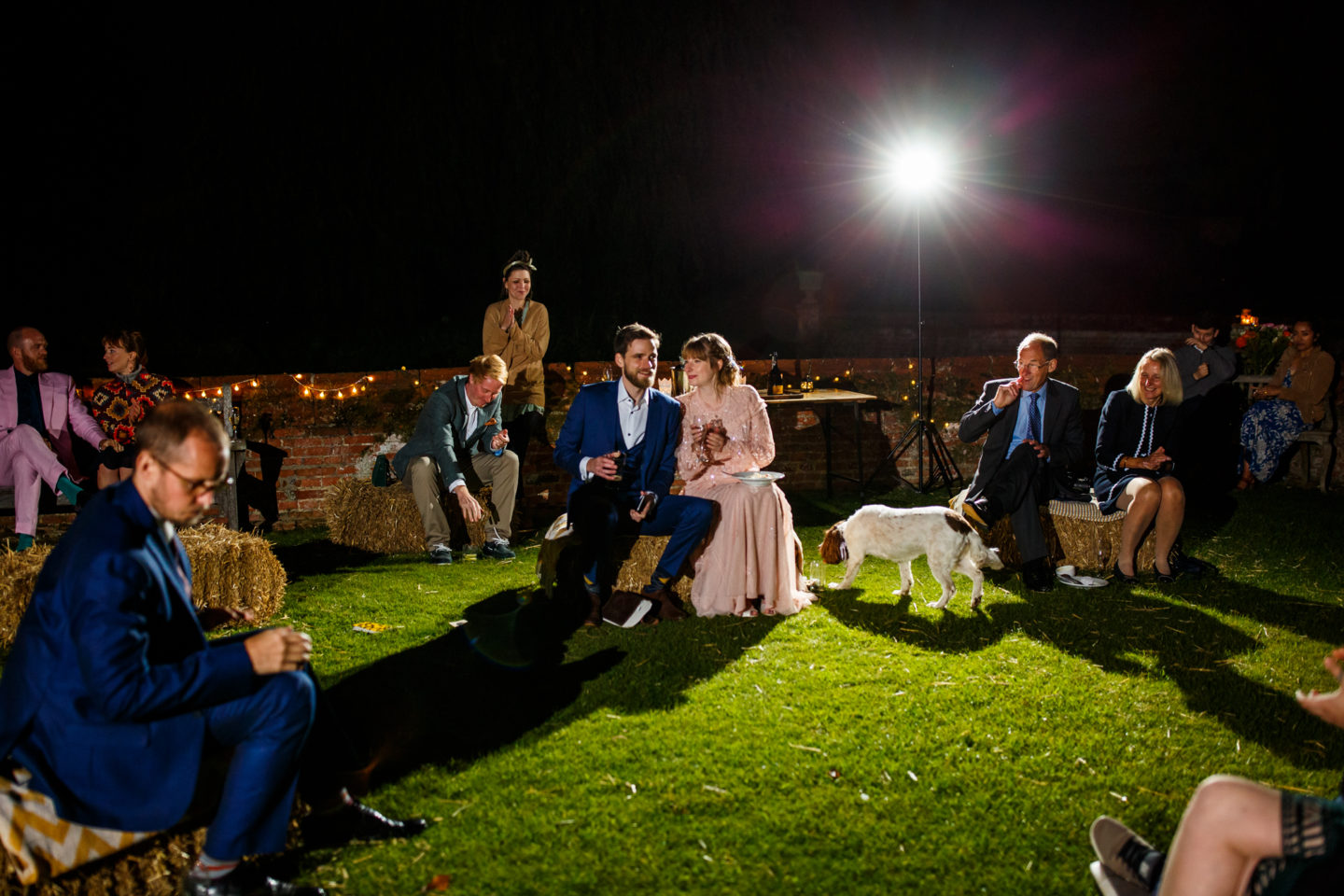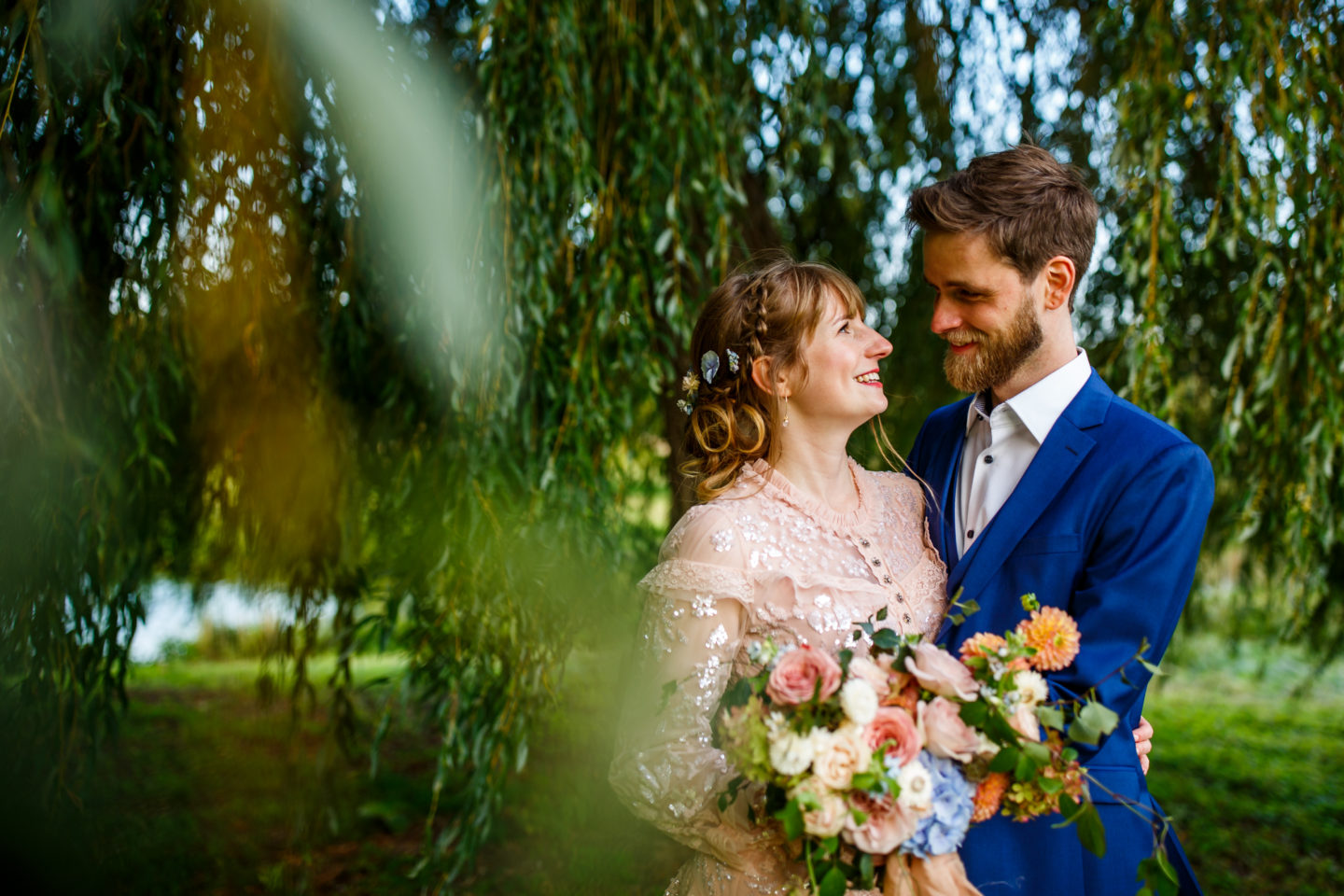 Words of wisdom
"An intimate celebration with the people closest to you as a couple made the whole day feel so magical – we were surrounded by such deep love and were able to spend quality time with all of our favourite people. Don't overcomplicate things. As long as you experience the day together and focus on what's important – that you are celebrating your commitment to each other – it will be special."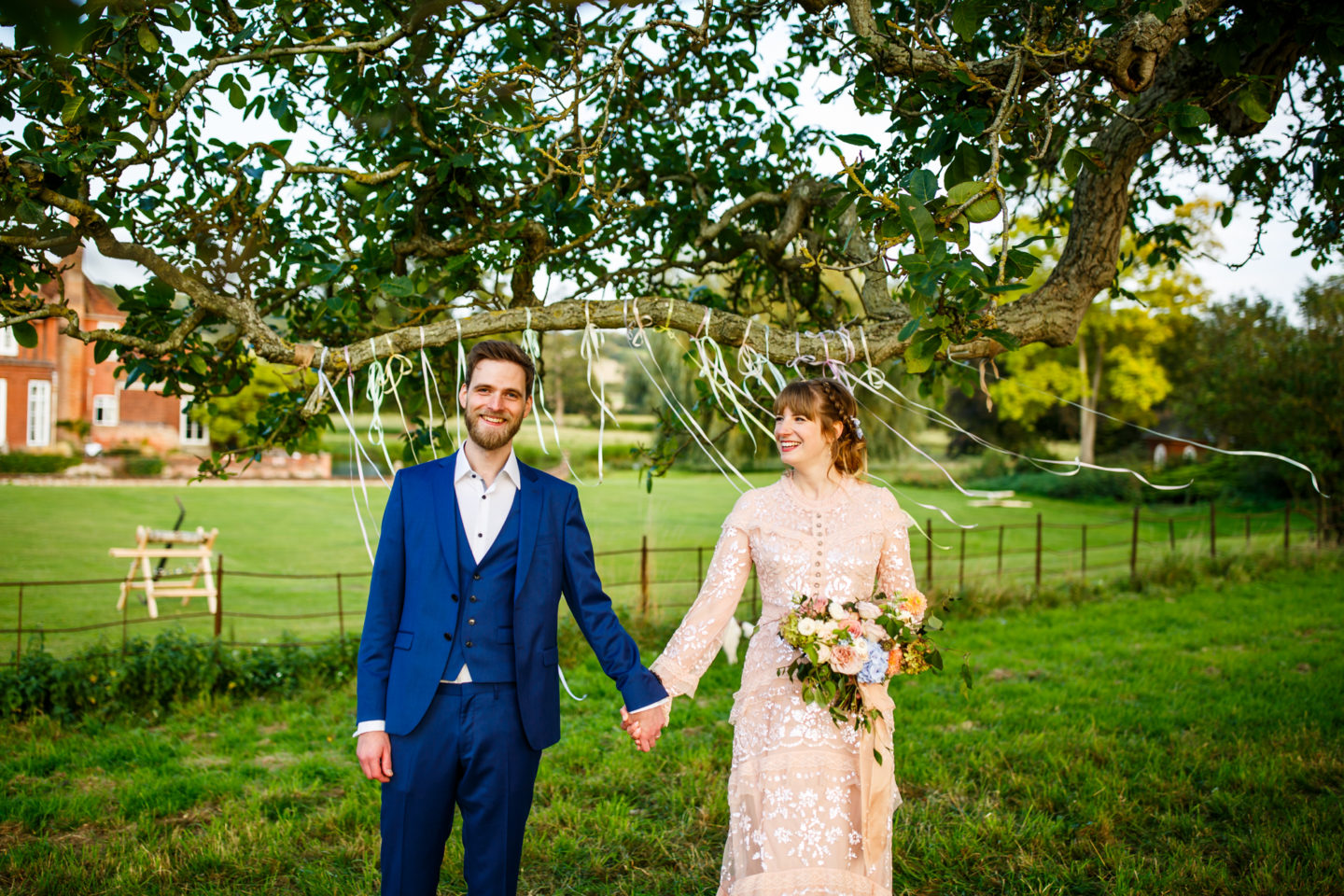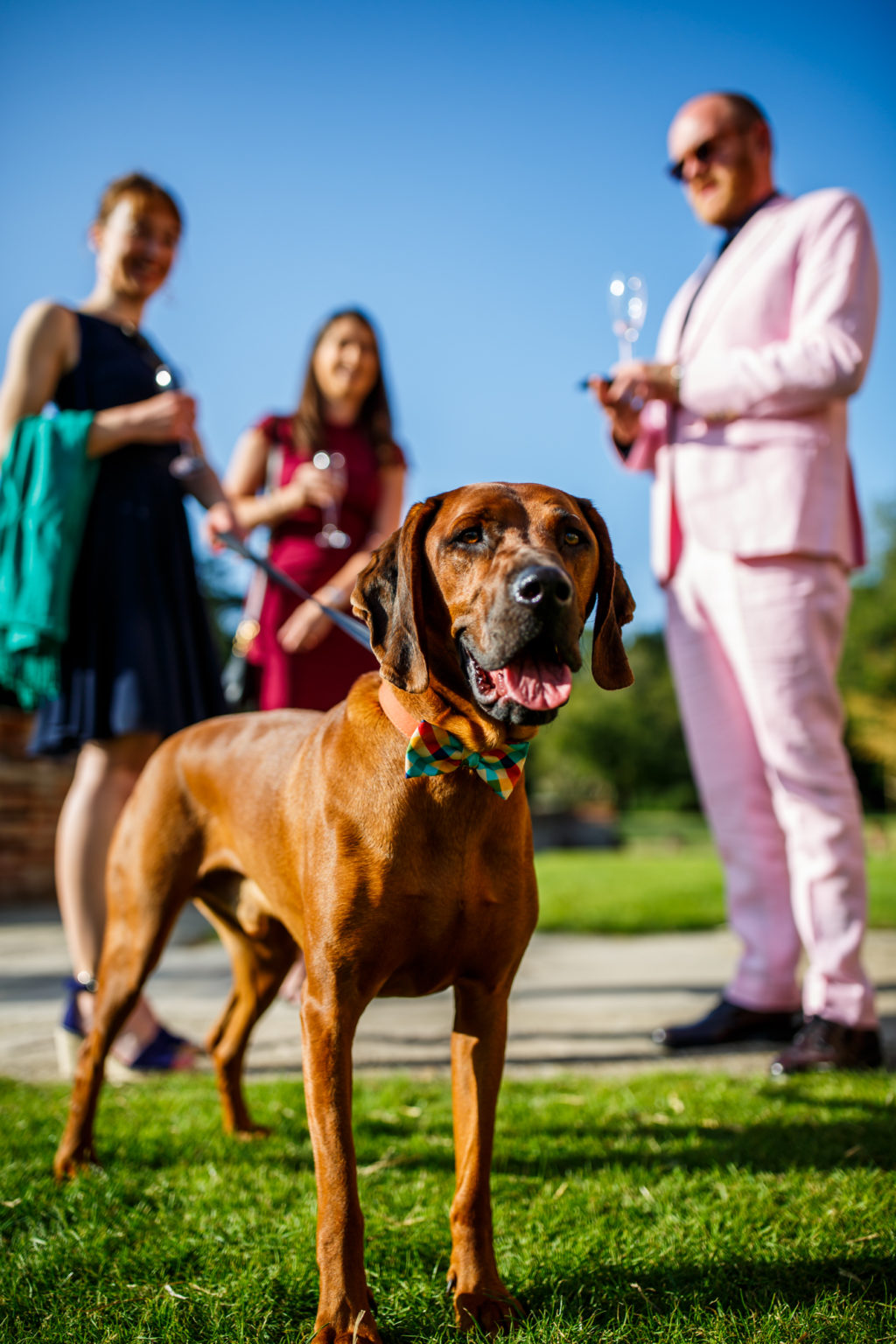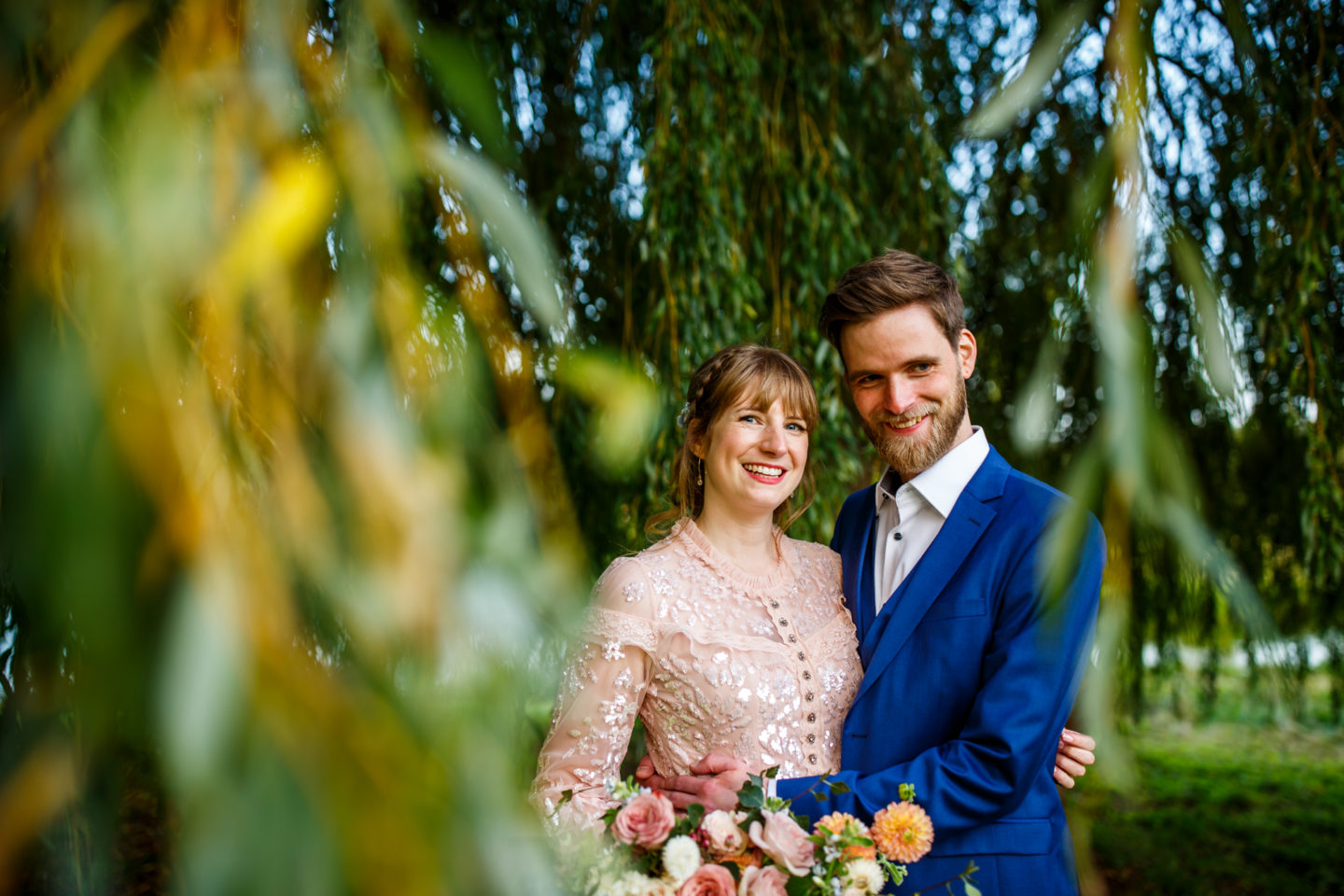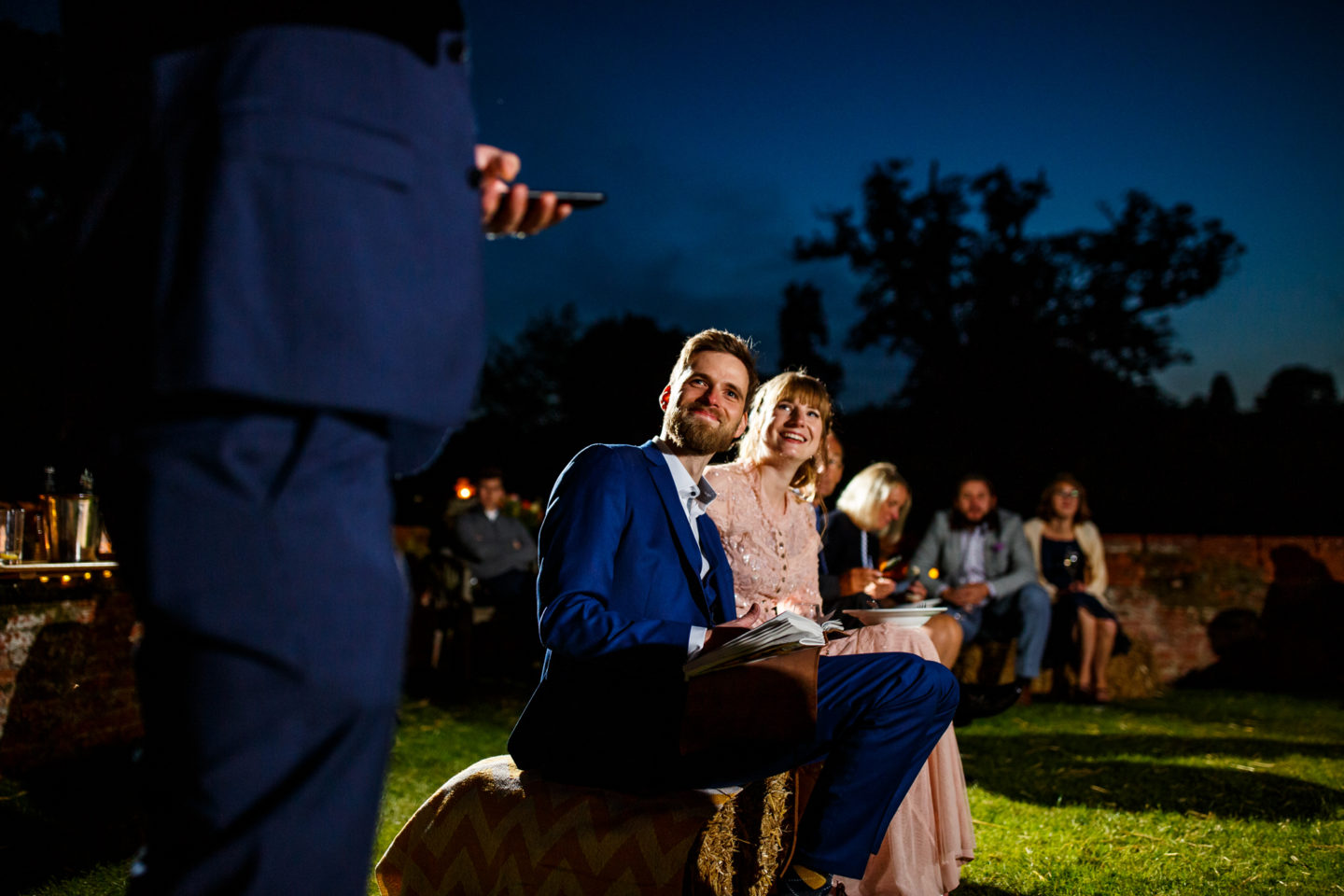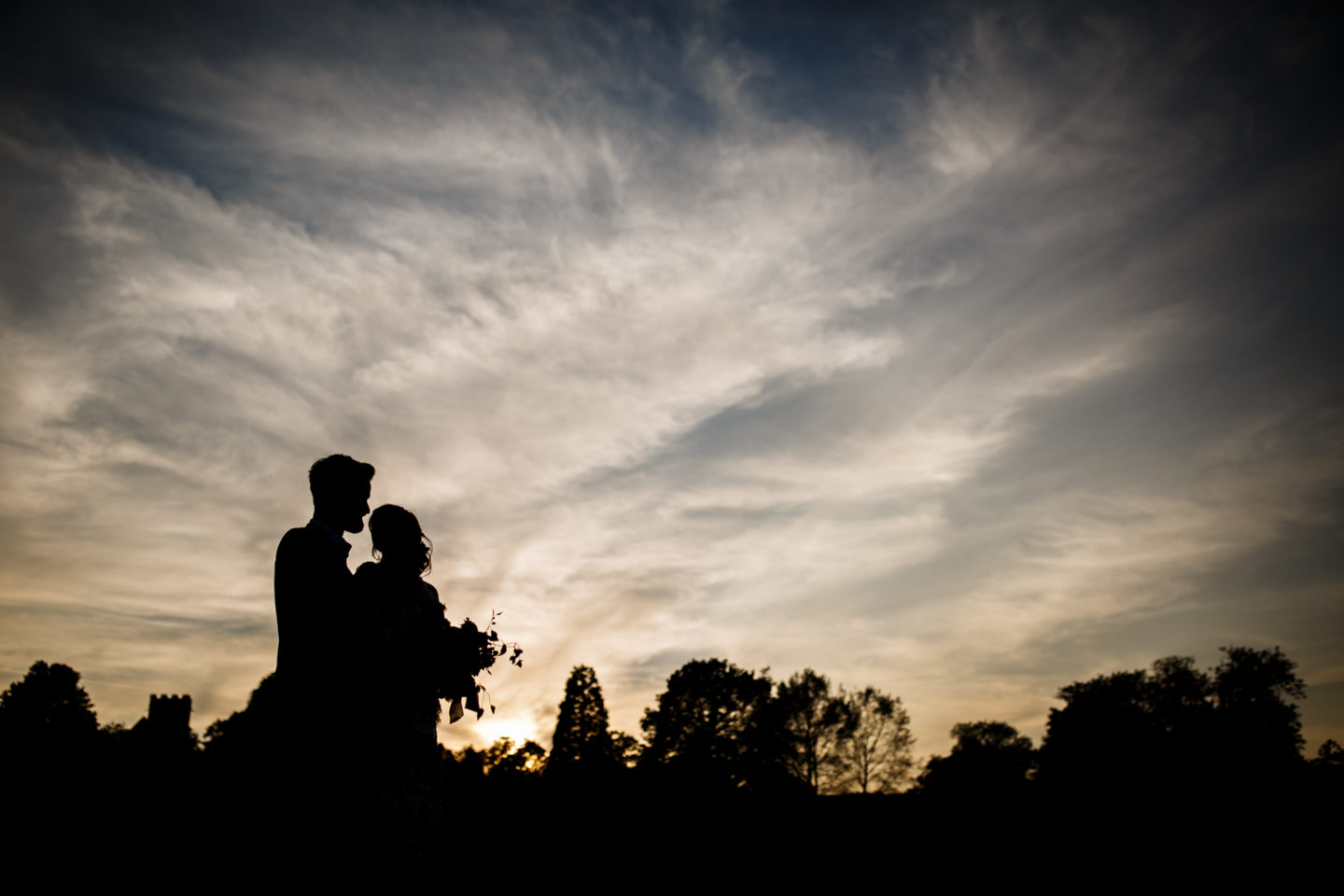 The Suppliers; An Intimate and Ethical Civil Partnership At Boxted Hall, Suffolk
Photographer John Woodward Photography @johnwoodwardphotography
Venue Boxted Hall / Dress Needle and Thread @needleandthreadlondon / Florist Bracken and Twine Flowers @brackenandtwineflowers / Makeup/Hair Flamingo Amy @flamingoamy / Grooms Suit Hugo Boss @boss / Venue Boxted Hall @boxtedhall / Caterers The Food Station / Archery Explore 4×4 @explore4x4 / Rings – Michelle Oh @michelleohjewellery
IF YOU LOVED THIS BOXTED HALL WEDDING PLEASE PIN IT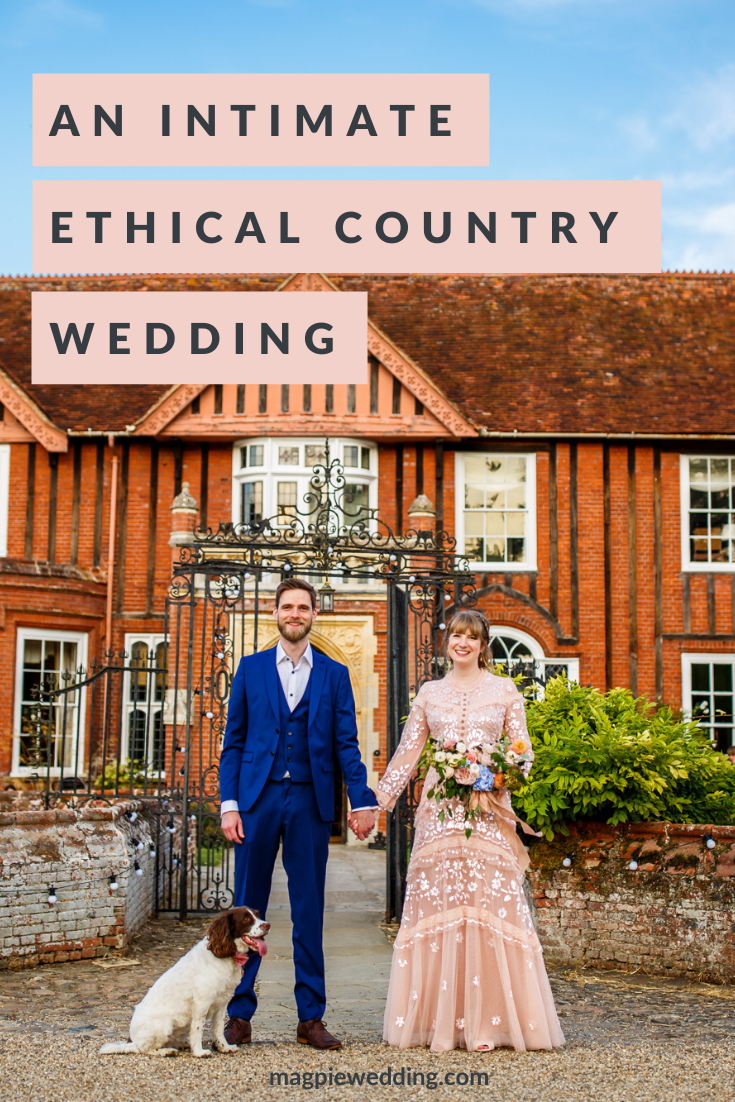 If you loved this Boxted Hall Wedding you may also like;
How To Style A Halloween Wedding In A Luxe Autumnal Way
Luxury Seaside Inspired Wedding Inspiration at The Gaiety Bar, Southsea
Romantic Pastel Coloured Wedding With Blue Wedding Dress At Bishop's Palace Wells, Somerset