We have vintage, DIY, local suppliers, family heirlooms and eco-friendly elements, with the sustainable wedding of Gemma and Phil today! This wedding has it all, including alternative style and tons of personality. It is a true reflection of how you should do your wedding day; your way, no exceptions. Gemma and Phil's wedding was perfect for them, just the way it should be and here we catch up with them to find out all about how they created their alternative sustainable wedding!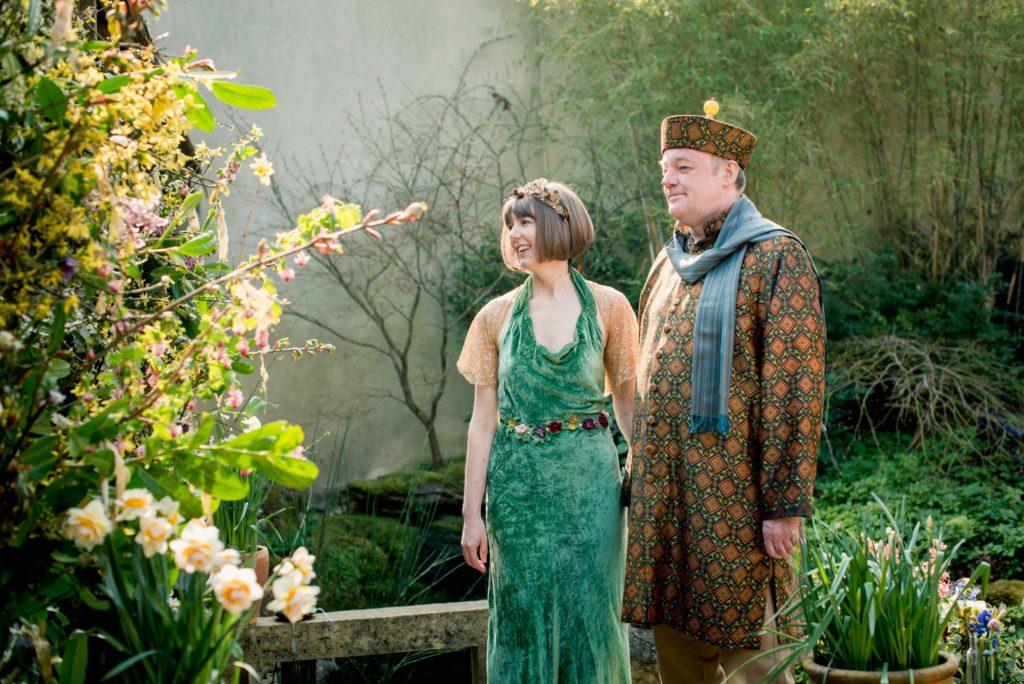 How Did You and Phil Meet?
We were both working as personal assistants for a young man with lumbar dystrophy, I used to do painting and drawing with him and he did music sessions with Phil. We connected over shared interests and similar ethics, mainly as we were both vegetarian, into meditation and caring for animals – Phil had an old, rescue dog and I used to join them for walks and looked after him when Phil was away. After a while I left to work as a studio assistant for Damien Hirst's company Science but we kept in touch and over time our friendship blossomed into something more.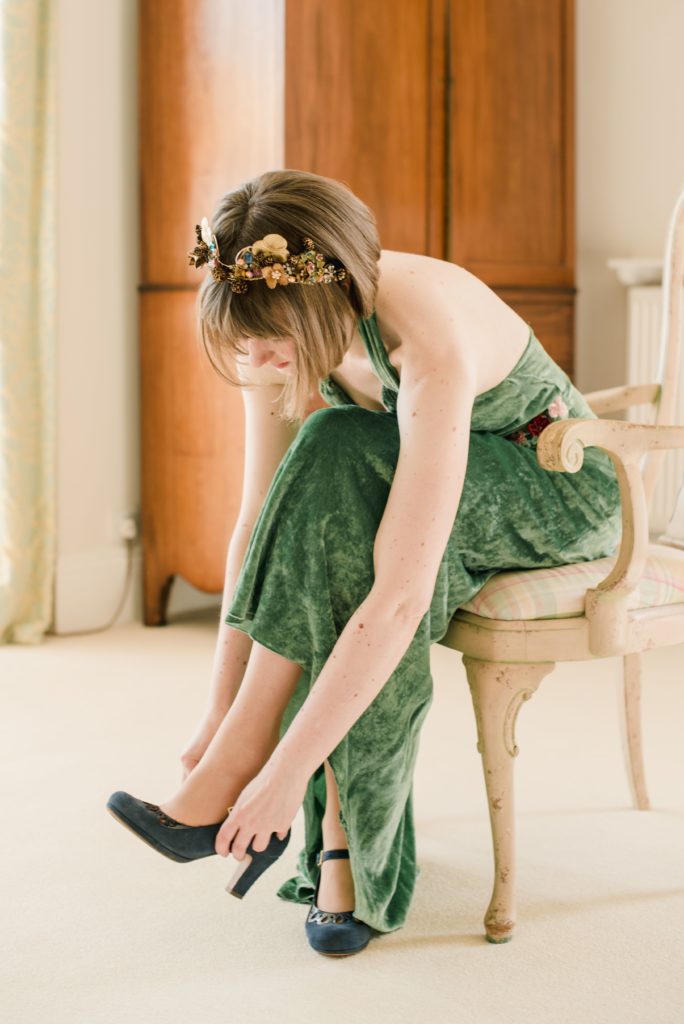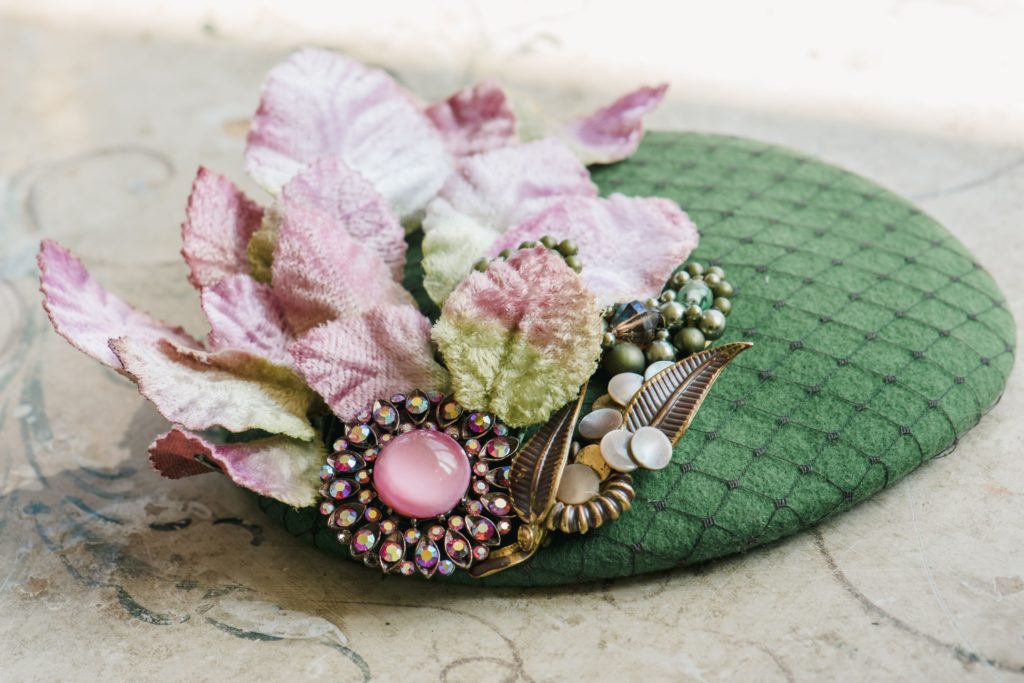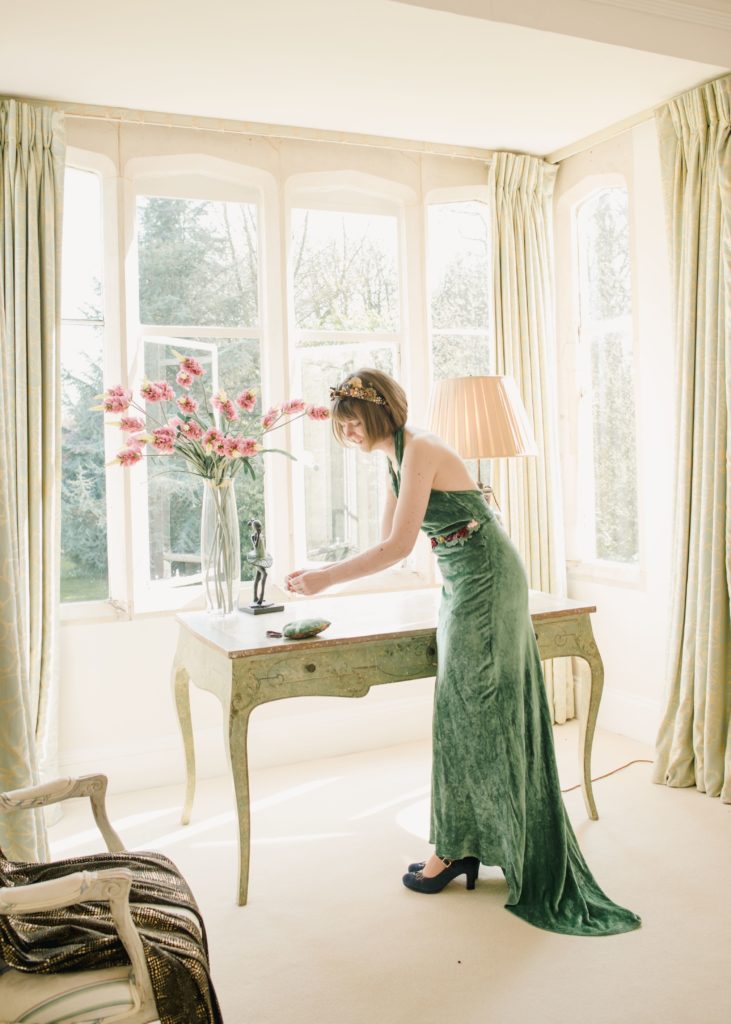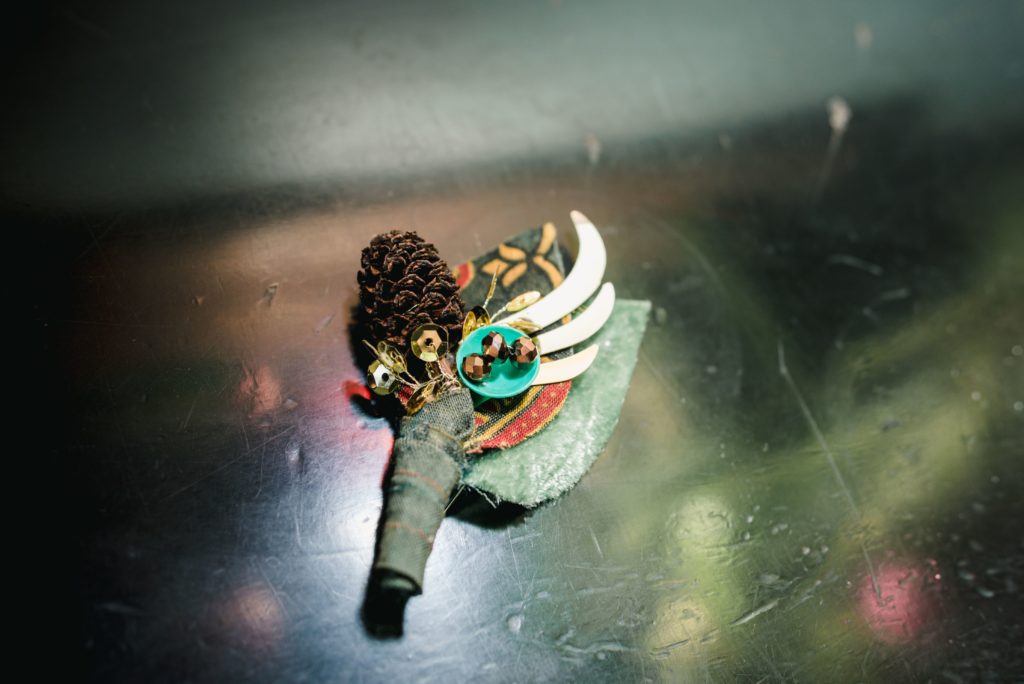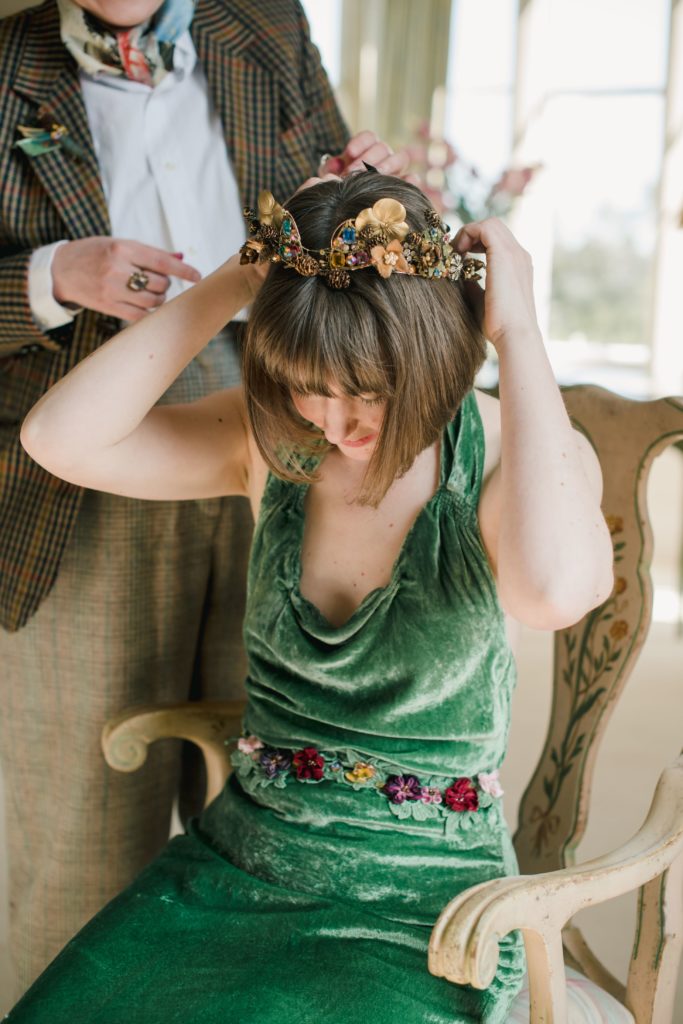 The Proposal
"We were on a spa day at a local hotel, and were relaxing in the bar drinking tea when Phil joked that we could get married there as they had a wedding package deal on offer with Groupon! I played along with it, then when I realised he wasn't joking I said he had to ask me properly. He didn't have a ring so he fashioned one out of a paper napkin and of course I said yes"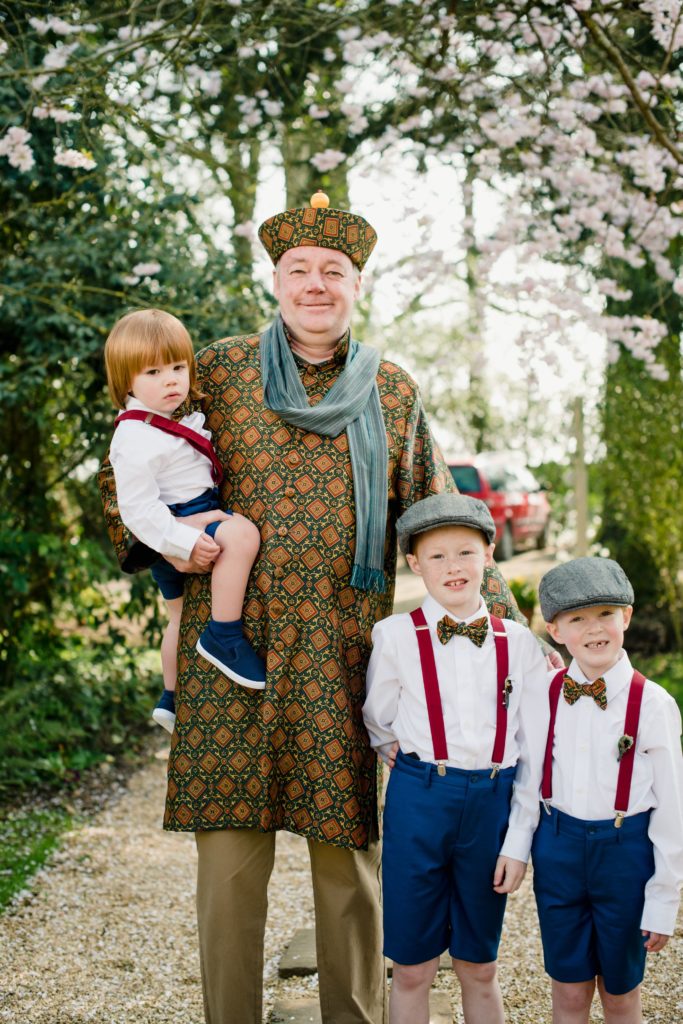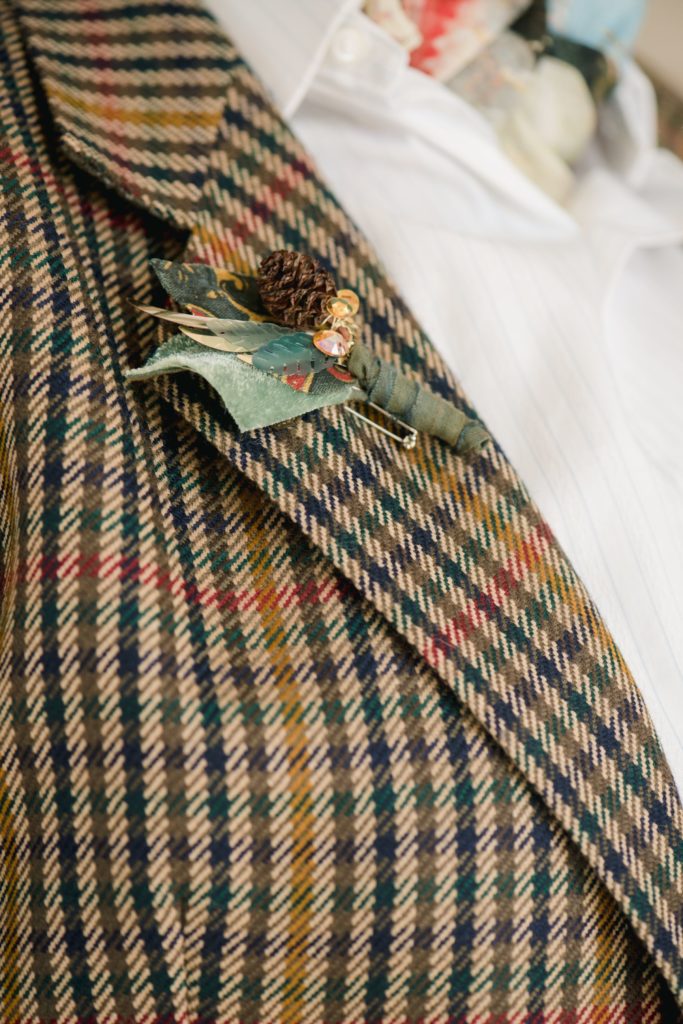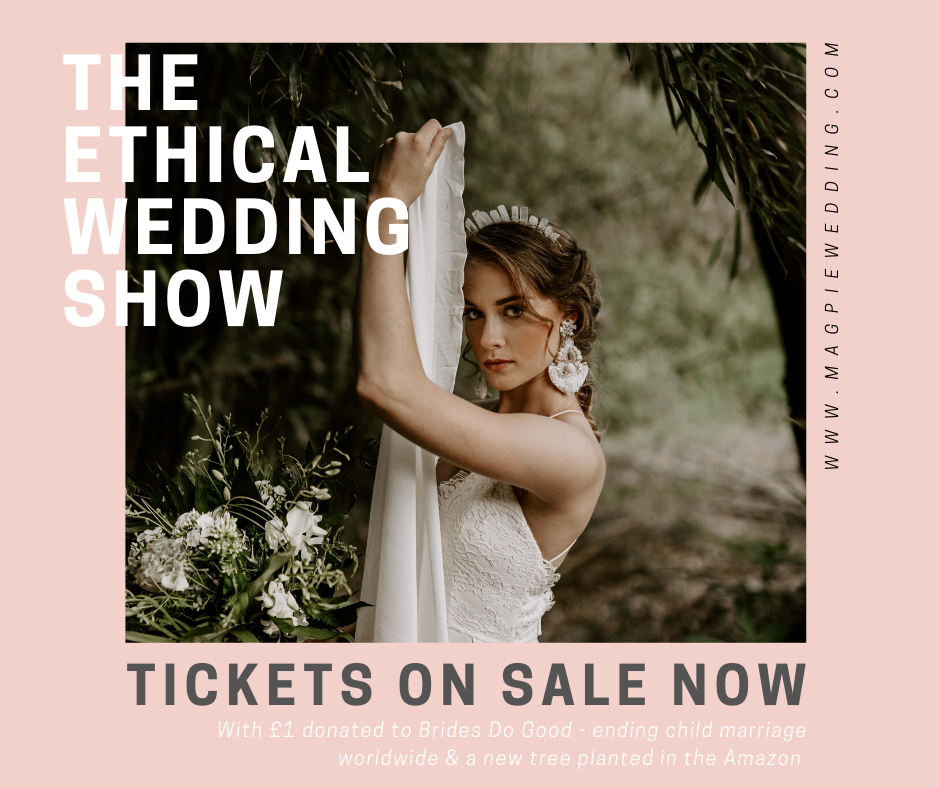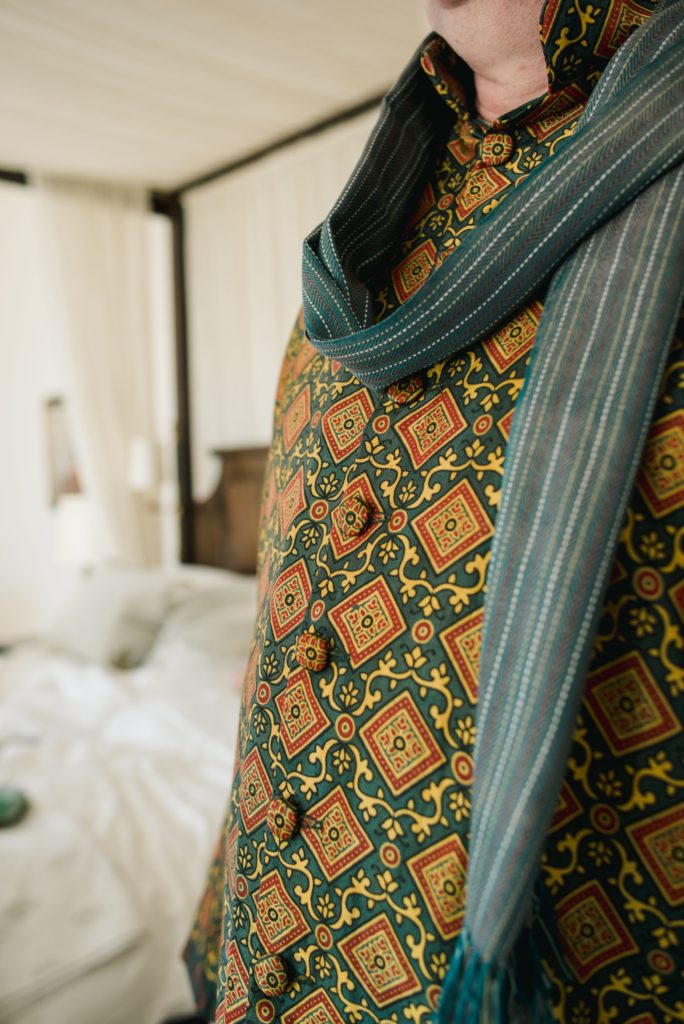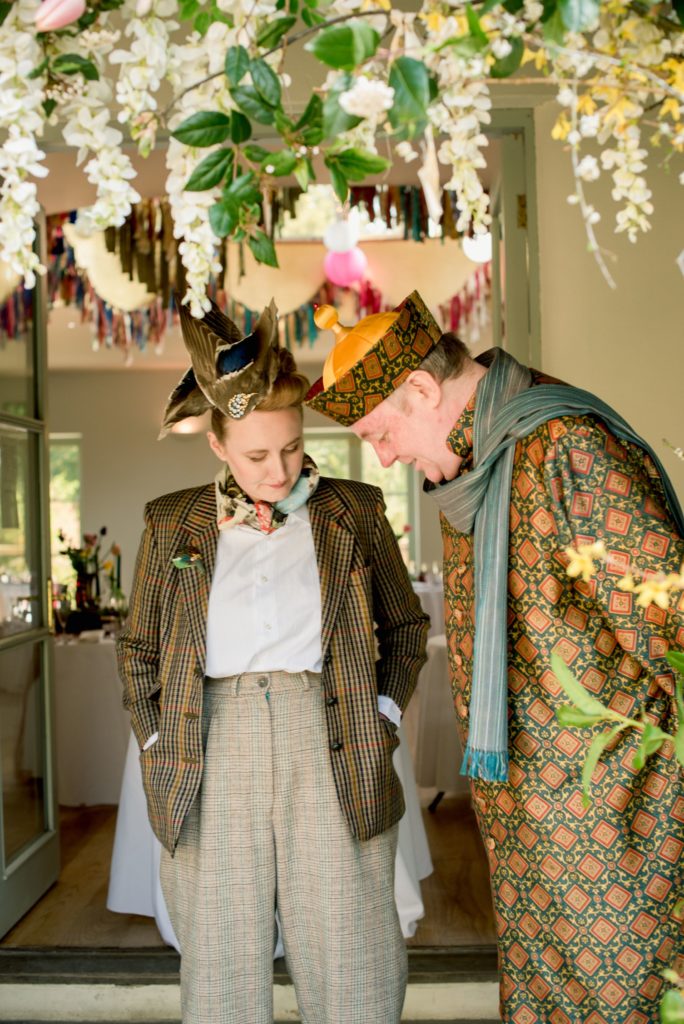 Planning the Wedding
"My engagement ring was custom made by a silversmith friend, Elaine Day Jewellery, cleverly re-using a rose gold band that belonged to my granny. It incorporates motifs that have meaning to us, including leaves, berries and a hedgehog. The nature theme continued with our invitations, designed by my friend and illustrator Wendy Milner. It featured a Magpie, as I am a creative magpie who likes sparkly things, and a Crow as Phil's home town is Crawley, which means Crow's Wood. When it came to choosing themes for the wedding day we knew we wanted to include natural elements and lots of jewel colours, plus yellow in memory of my granny who passed away last year."
"There's also a nod to one of our favourite authors, sci-fi and fantasy writer Michael Moorcock, and his book Dancers at the End of Time. The tables for the wedding breakfast were named after characters from this book."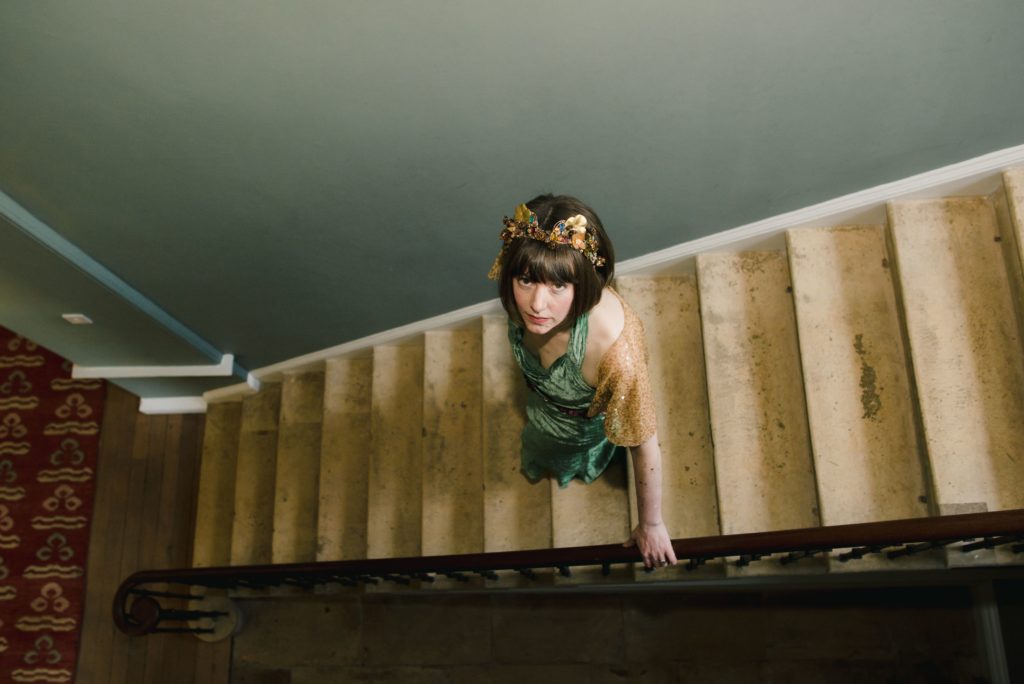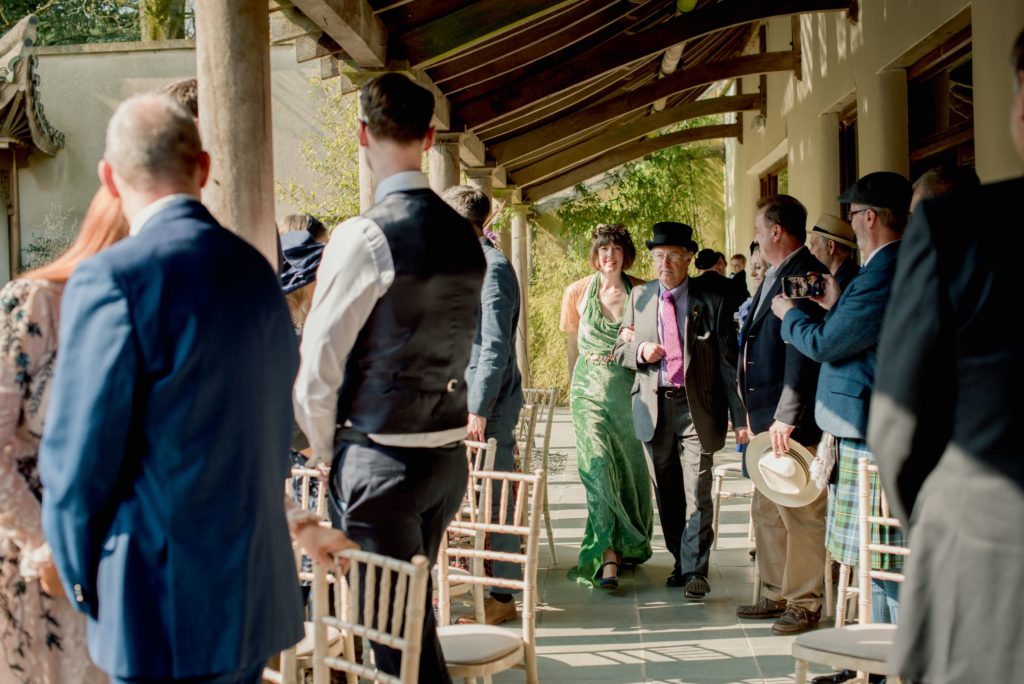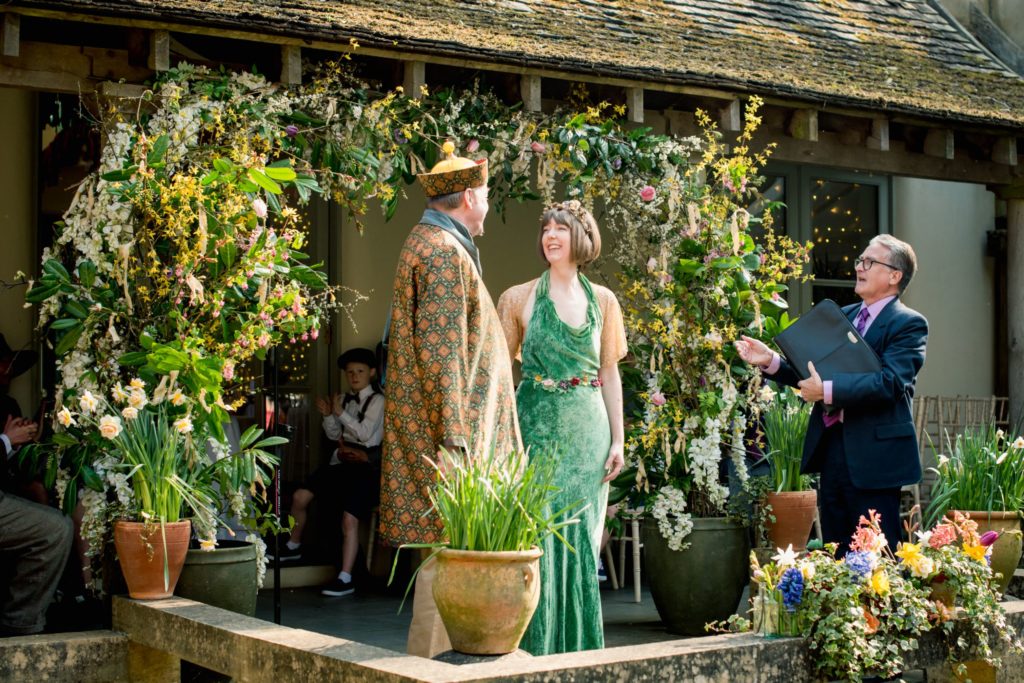 The Location
"Once we had decided we wanted to have all our close friends and family at the wedding, and have the ceremony and reception all in one place, we knew we wanted it to be at Matara as we both have strong connections to the place. Phil had known about it for many years and used to walk around the grounds and sit and meditate in the walled garden. The first time I went along too I was amazed how beautiful and peaceful it was. It really is a unique venue, there's plenty of space to explore and relax, it feels like a home from home. Plus all the architectural features, eclectic décor and Buddhist iconography meant it reflected both of us perfectly."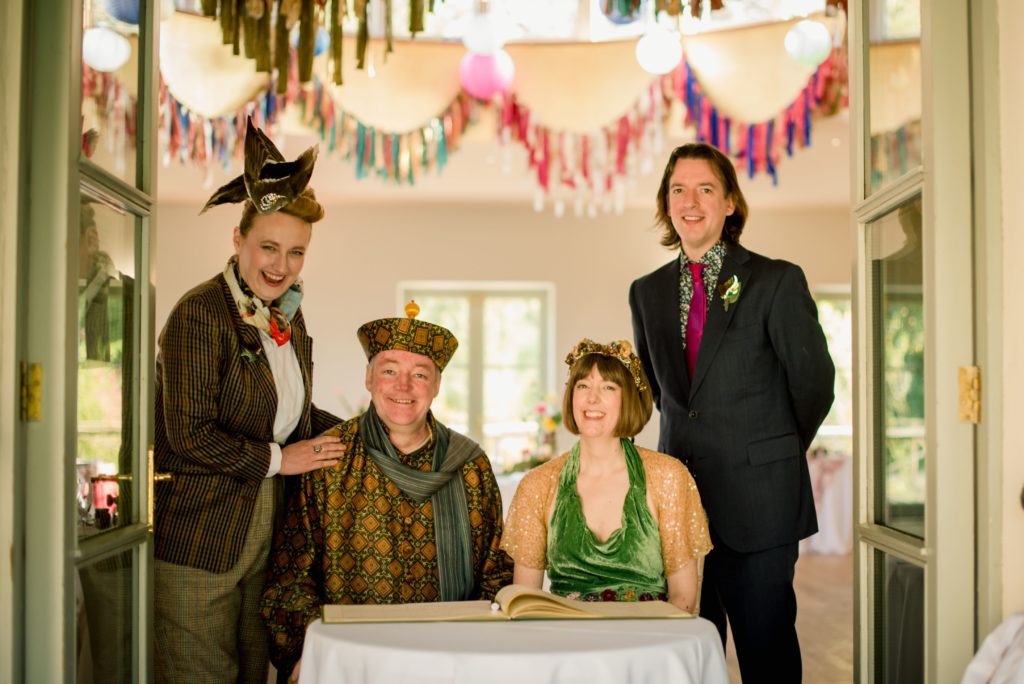 "Matara have their own in-house catering team, who source their fresh ingredients locally. They have a good choice of vegetarian and vegan menu options too, which is what we wanted for the wedding breakfast and evening buffet. We hired the house for some of our guests to stay onsite too, which meant we could make a weekend of it and have a good catch-up, and we all got ready there on the wedding day morning."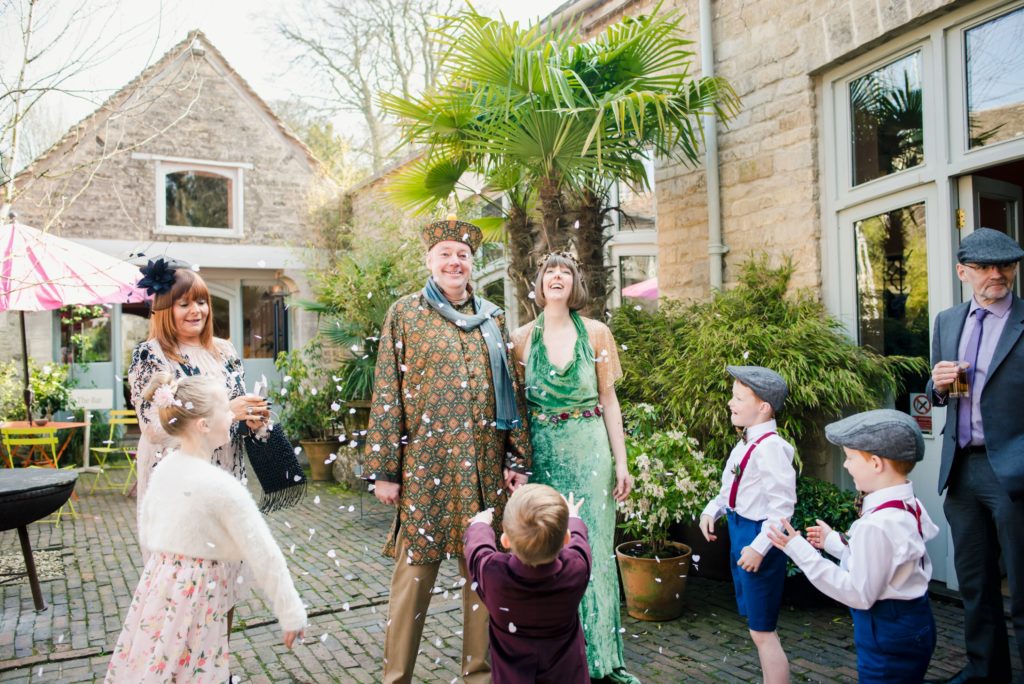 The Dress
"I collect and wear a lot of vintage clothing, the 1930's is my favourite decade, so it seemed natural to me to look for a gown from this era. A friend found an original silk velvet 30's wedding gown for sale locally and when I went to try it on it was a perfect fit, so I knew I had to have it. I planned to dye it, but for ages couldn't settle on which colour or how to do it, until I met Babs Behan from Botanical Inks who inspired me to use natural plant based dyes. Just 2 weeks before the wedding there was a fire on the industrial estate where my studio is and where I was storing the dress. The area was evacuated and there was toxic smoke filling the air, as the Autocraft workshop next to us was ablaze. Terrified of the dress suffering smoke damage, or worse, we managed to convince the firemen to go into the studio and rescue my dress. Luckily it was fine!"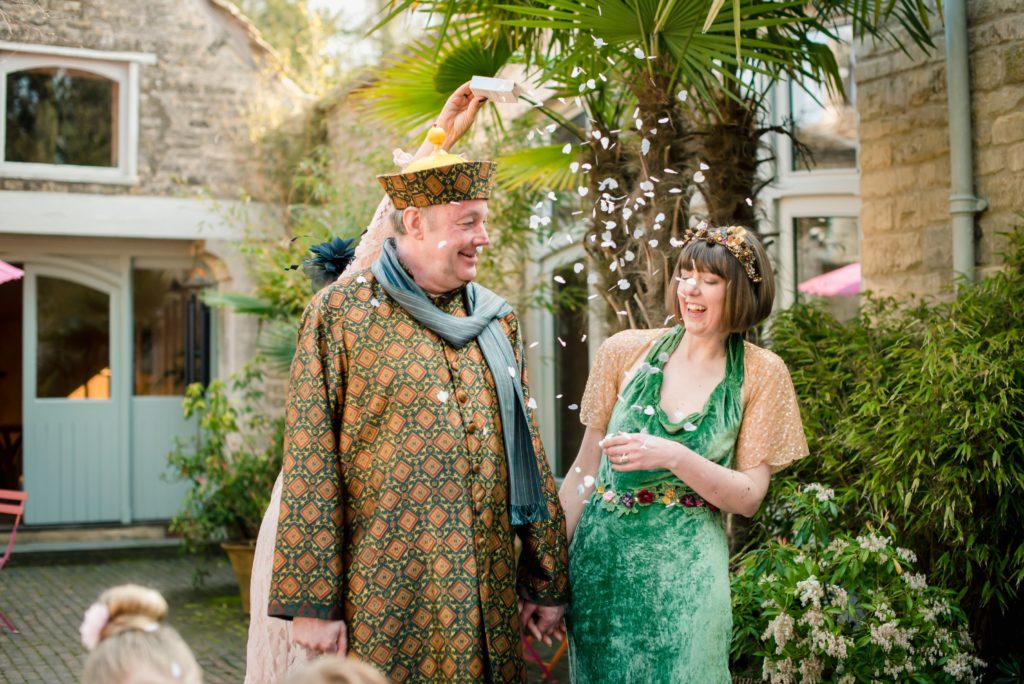 "My friend Jan Knibbs gave me a selection of her hand made ribbon flowers which I used to make a belt for an extra pop of colour. This ended up being assembled the night before the wedding, and sewn onto the dress just half an hour before the ceremony! The shoes were my 'something blue', purchased second hand from ebay. I made my own tiara using vintage diamante and little fir cones and seed pods, some of which were collected from the grounds at Matara. I also had a full length cloak with a hood, which I hired from Cotswold Costumes.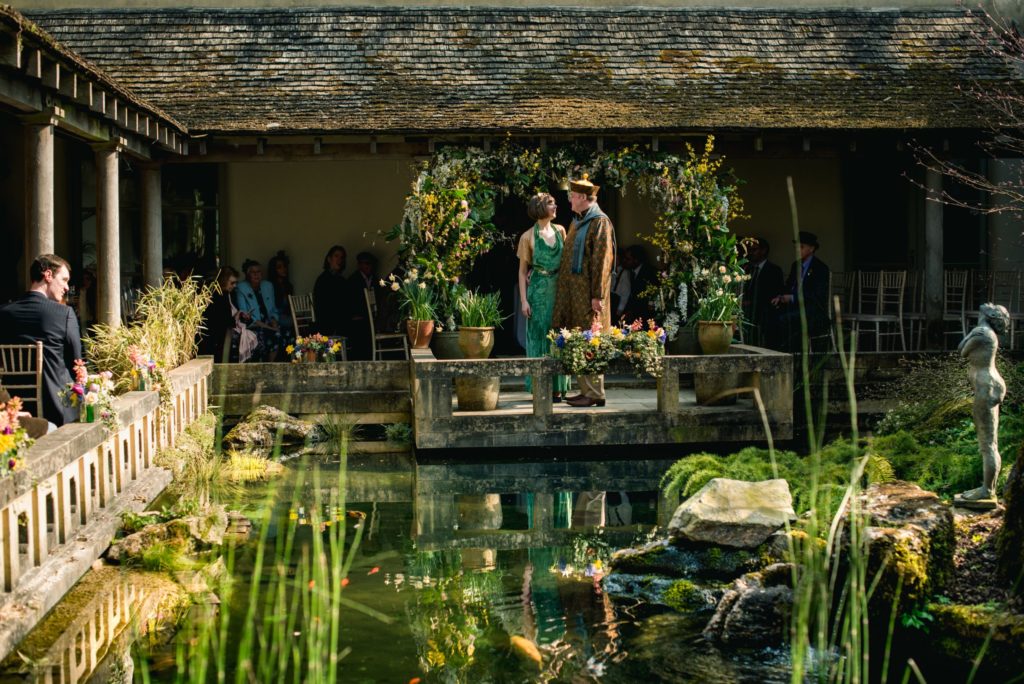 "My little gold sequin cape was something I already had, which I grabbed last minute on my way out of the door on the morning of the wedding. For the evening I changed into a jump suit from Violet Flamingo Bespoke, a British designer I discovered on Instagram, which I paired with a mini felt hat from my own millinery collection."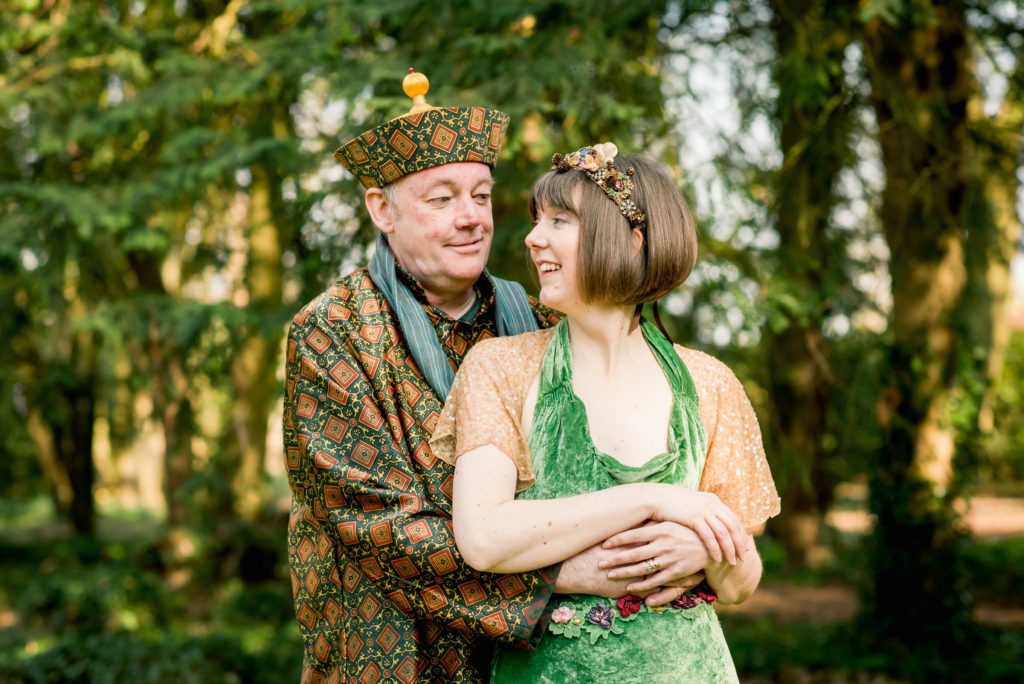 The Suit
Phil has always liked traditional Indian robes, and in particular the long line jackets. He spent some time living and working in Hong Kong, which was where he felt a strong connection with Buddhism so Phil's outfit was a nod to his spiritual beliefs. The jacket was tailor made by local designer Emily McNair, using fabric from Artique, a local shop which sells Asian antiquities. Once we had the jacket the hunt was on to find a suitable hat, in the end we found a emperor's hat which I recovered in left over fabric to match the jacket. The finishing touch was a bespoke hand woven silk scarf by Nick of Leto & Ariadne."
The Bridesmaids
"I knew I wanted my best friend Nick to be my mate of honour, we met on the first day of our textiles design degree course and have been partners in crime ever since. This naturally led to us asking Phil's grandsons to be our page boys, I made them bow-ties from the fabric offcuts from Phil's jacket, and they had little buttonholes to match too."
"Phil and his best woman Uta collaborate together on music projects. I made Uta's headdresses and she had a pair of trousers tailor made by Monique Kyriacou. We didn't want to tell anyone what to wear so they all chose their own outfits, the only stipulation was they had to have a hat!"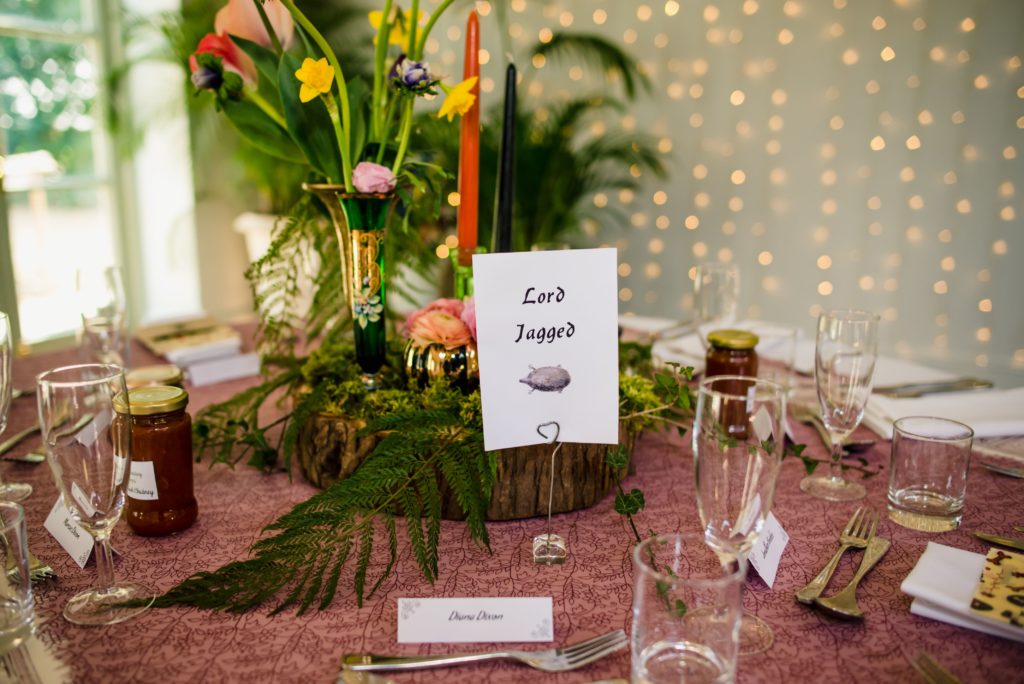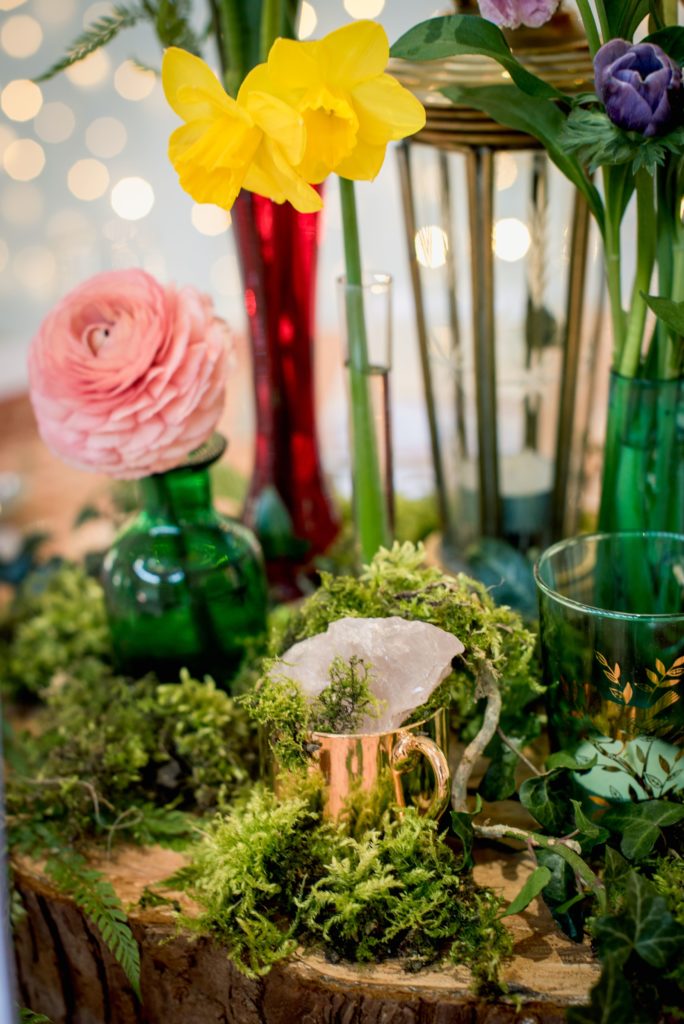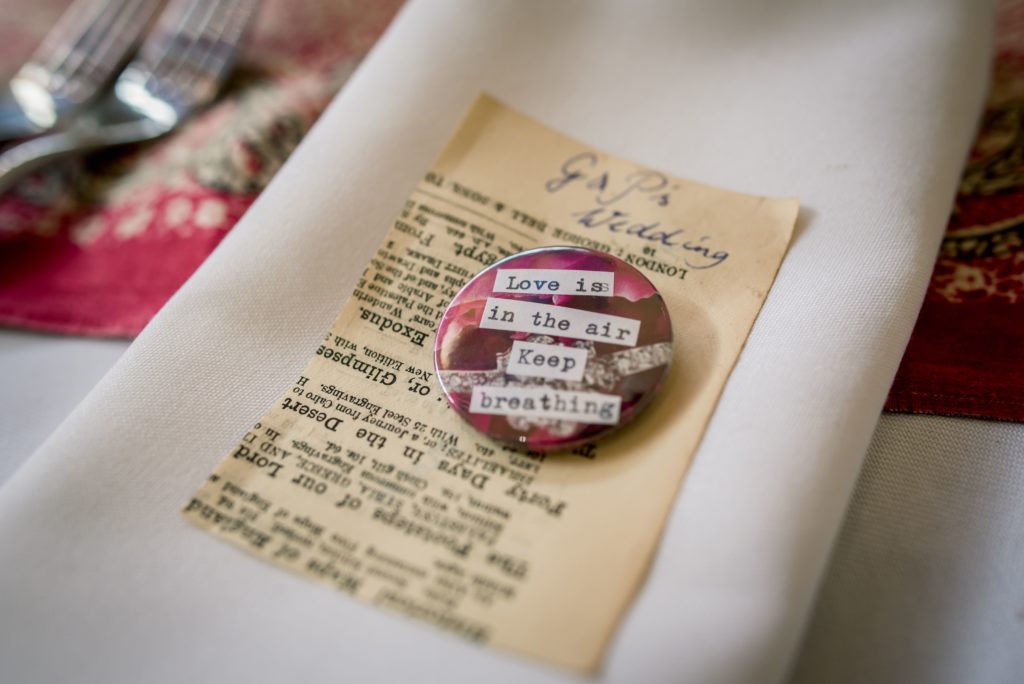 The Details
"We wanted to use products and suppliers that were local, seasonal and sustainable. Weddings can be expensive and wasteful, so we were conscious to spend our money carefully and support businesses that reflected our ethics. It made sense to use British grown spring flowers, which led us to The Cotswold Posy Patch, who grow their own blooms. My mum also grew lots of daffodils and narcissi for us, which flowered at just the right time! Nick styled them all with extra foraged foliage and blossom, we used old jam jars and thrifted vintage glass bottles around the karp pond and in the reception rooms were vases which my mum collected for us including Portmerion and Devon Ware, regional places that had special meaning for us."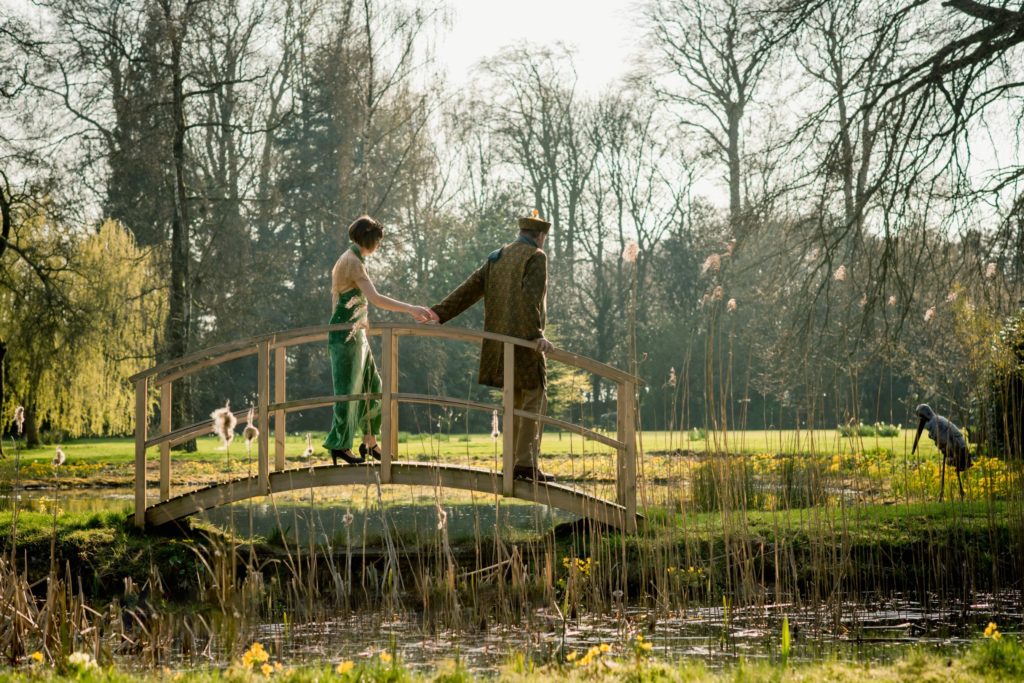 "The cake was made by Shani of Hampton Cakes, the bottom tier was Phil's favourite Victoria sponge with strawberry jam and the top tier was coconut and lime as I love citrus flavours. Shani uses organic, local and fairtrade ingredients including flour from Shipton Mill and free-range eggs from Sherston. The cake toppers were sugar crystals, which echoed the real crystals in the table centres. Around the base of the cake Shani wrote some lovely words for us, which resonated throughout the day 'more beautiful than the moon, more radiant than the sun and more precious than diamonds is love."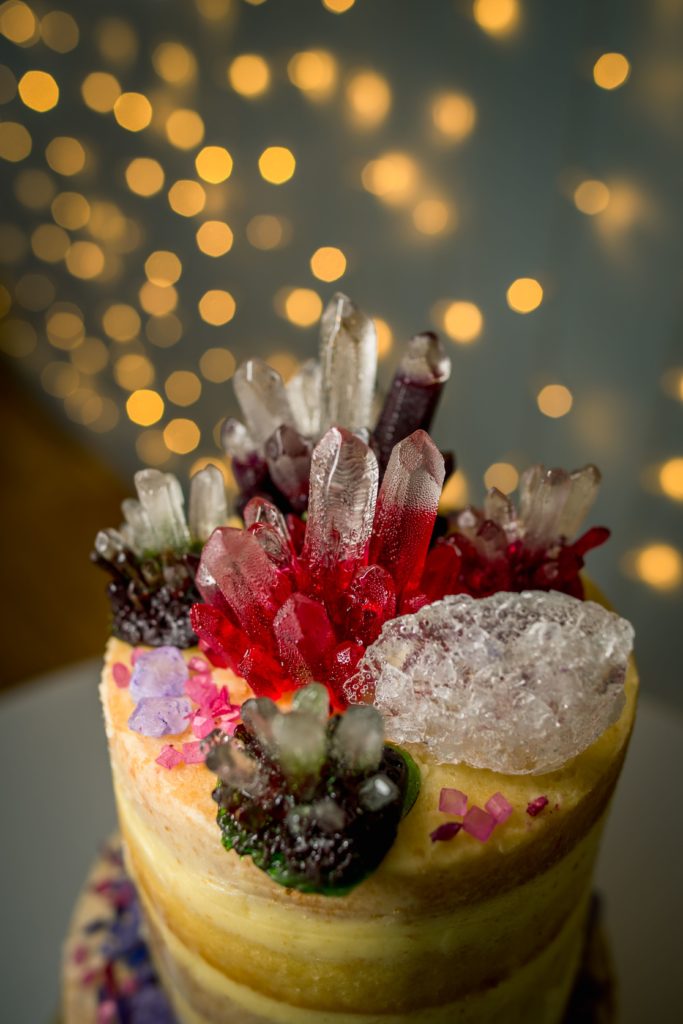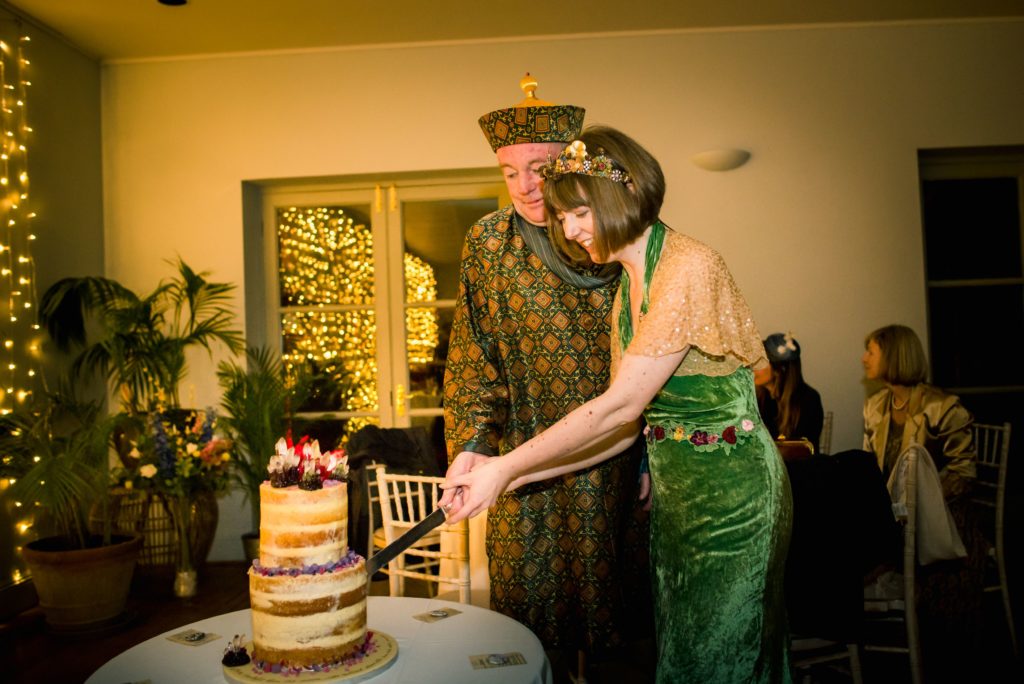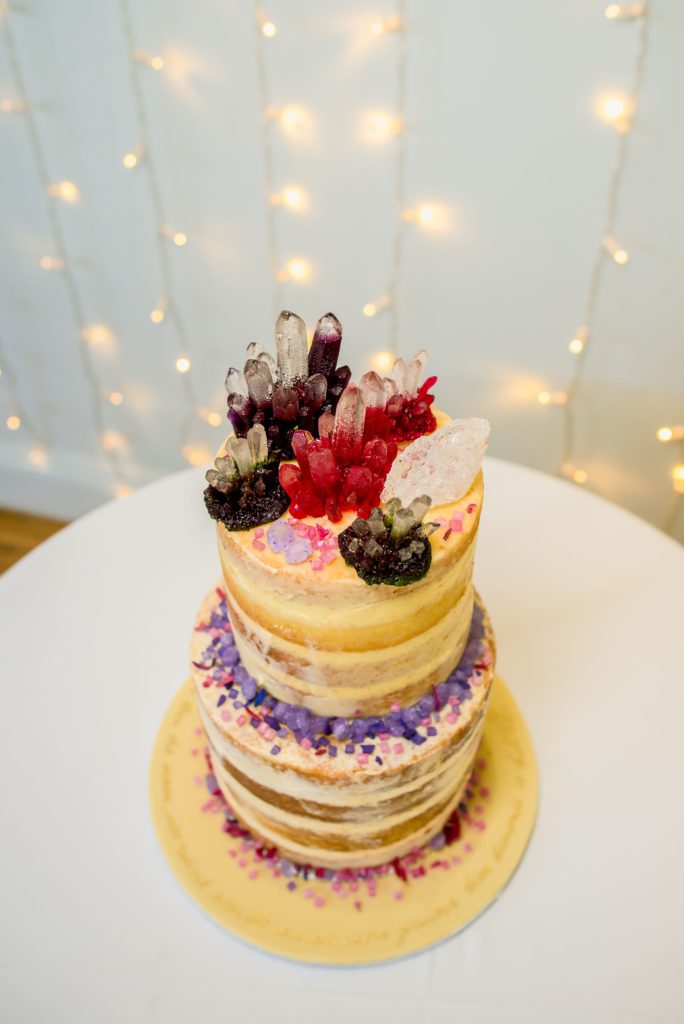 "The table centres were supplied and styled by Jilly of Delight Vintage Tea Set Hire. Jilly has an extensive collection of glass and table ware which worked perfectly with our colour scheme, and she brought in lots of moss and ferns, foraged from friends and family's gardens, the overall effect was like a little enchanted woodland glade in the middle of each table. I sourced some vintage saris which we laid over the white table cloths to tie the colour scheme together, and the wood slices were hired from another local florist, Louise Pritchard. The garland bunting was made by Nick and I, using up-cycled material and thrifted fabric from the Vintage Mary stall at our local Friday market, all knotted onto old climbing rope! It took us days to make but is a lovely, lasting reminder of the day and references my background in and love of textiles and colour."
"As well as making my own tiara I also made headdresses for Uta, a little hat for my sister Victoria which incorporates needle felted clouds and a toy aeroplane, as her husband is a pilot, and I customised a hat for my mum, over dyeing and re-trimming a hat she had bought 9 years ago to wear to Victoria's wedding."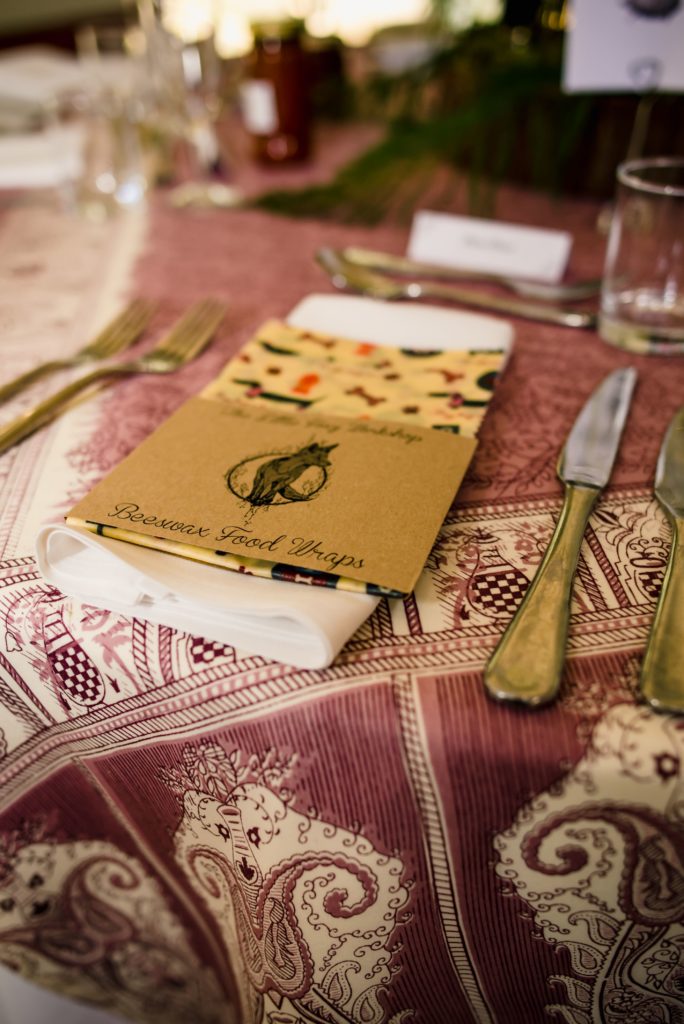 "Phil typed up and printed the table place names and seating plan, which was assembled in the morning using string, mini pegs and an old picture frame. The wedding favours were beeswax food wraps, home made apple and beetroot chutney, made using Uta's tried and tested recipe, and pin badges made by Uta which said 'love is in the air keep breathing'. Phil wrote and produced the music for the ceremony, including background tracks for when the guests were arriving as well as a special wedding march and Gemma and Phil's wedding song for us to walk out together to."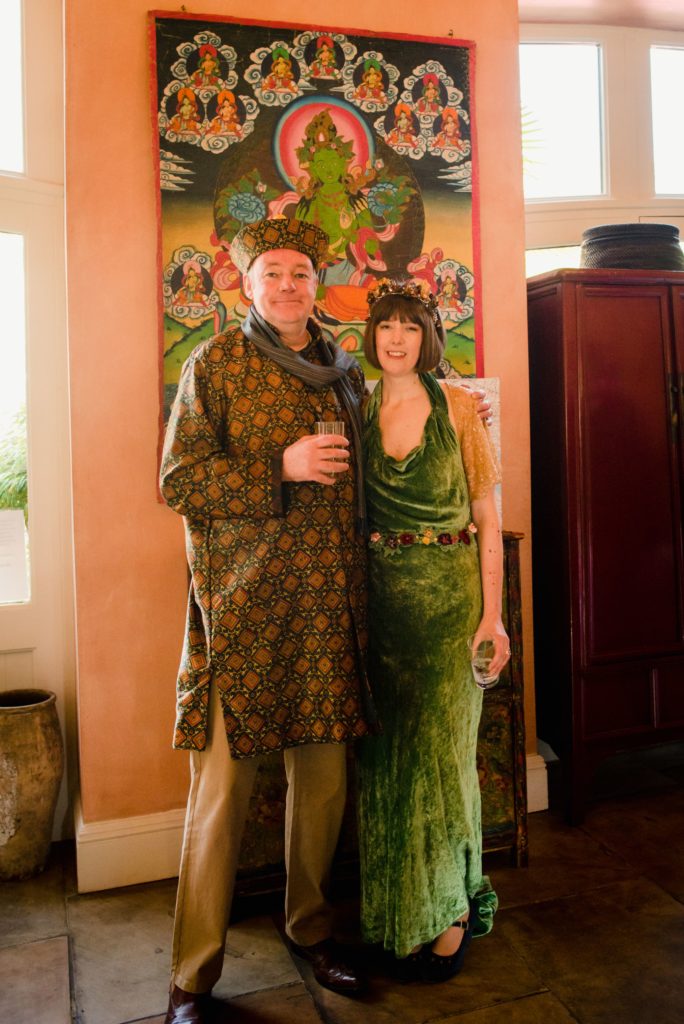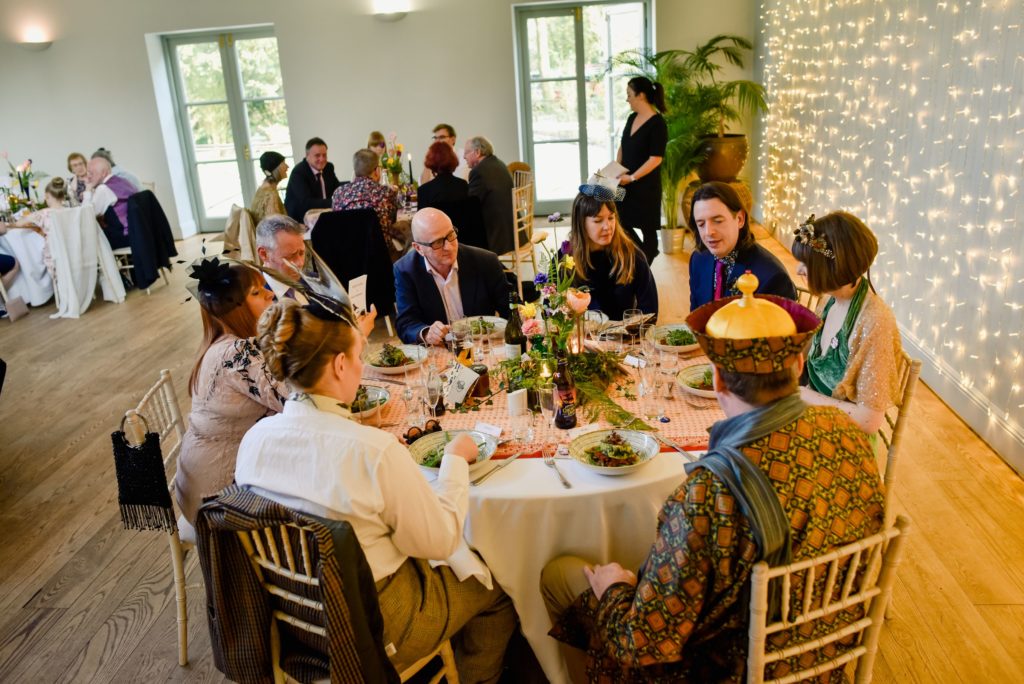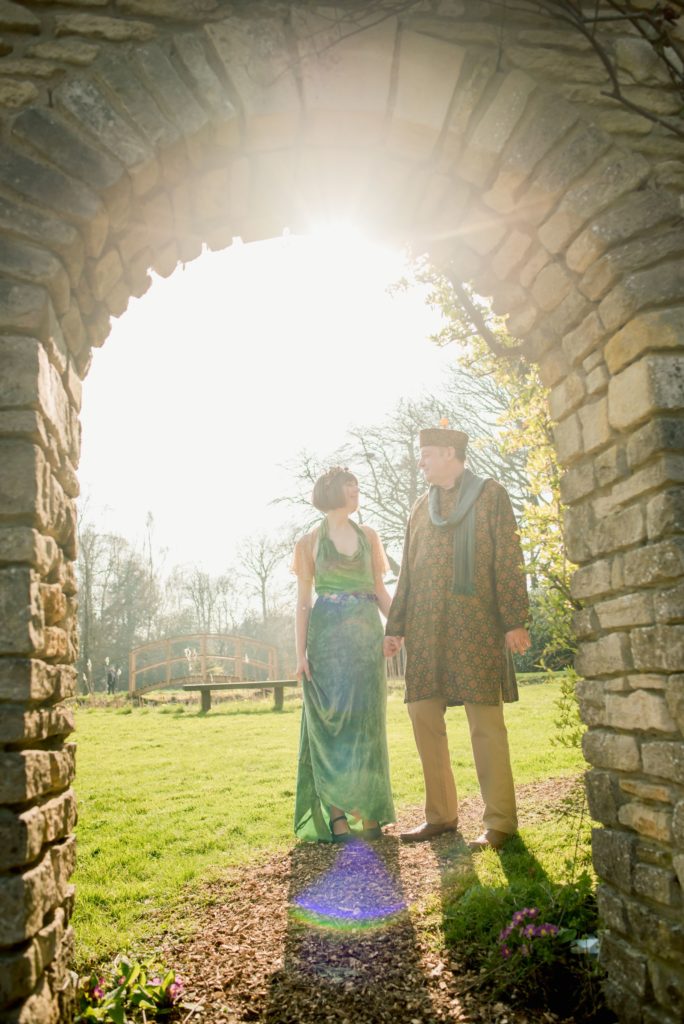 The Best Part of the Day
"We enjoyed every minute of the day but the best parts were meeting with and chatting to our guests as they arrived, both in the day and evening. It was so special seeing everything and everyone come together, all our friends and family united to celebrate our wedding day, we felt truly blessed. And the sunshine helped too!"
Why Choose Vintage
"Choosing vintage means you get something really special and unique, beautifully made from the best quality materials. Vintage clothing usually has generous seam allowances as they were designed to last, to be taken in or let out as the wearer required over the years, so it can be easy to get a garment altered and tailored to fit you perfectly. It is an ethical choice, the fashion industry is one of the world's biggest polluters and often uses cheap labour in unsafe working conditions, so by sourcing second hand you are opting out of this cycle of exploitation. It can also be a more affordable option, and a vintage garment will hold it's value so you can always re-sell it afterwards! It also made sense to go with vintage for the table centres as this meant each one was different and as we hired, rather than buy, the individual items would be re-used again and again, bringing joy every time. The overall effect was beautiful and opulent, which would have been much more expensive to achieve if we'd had to buy it all new."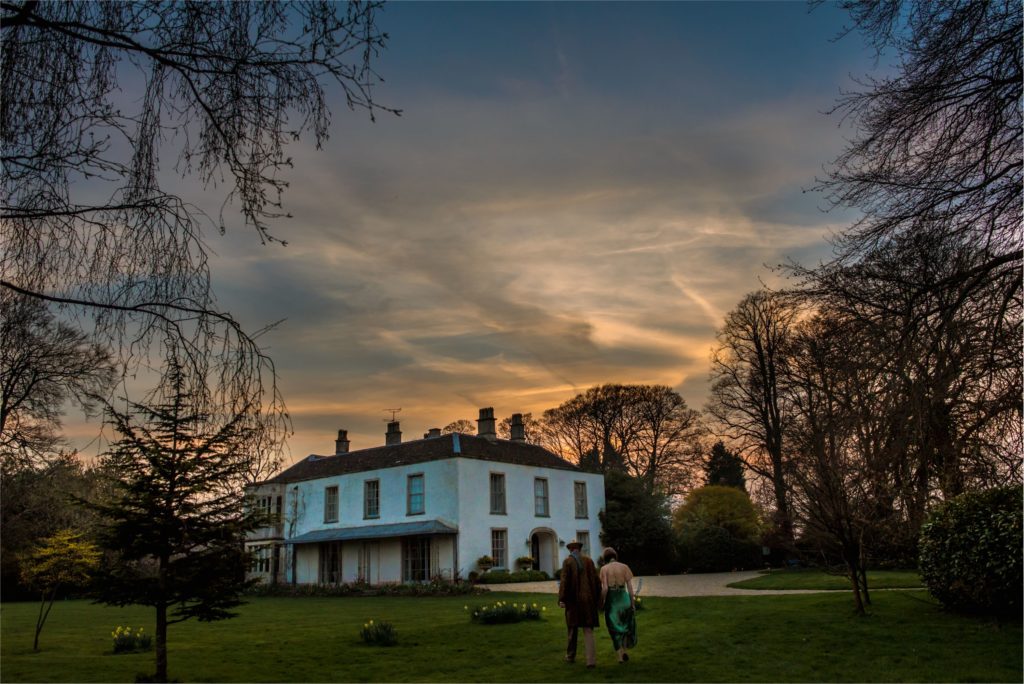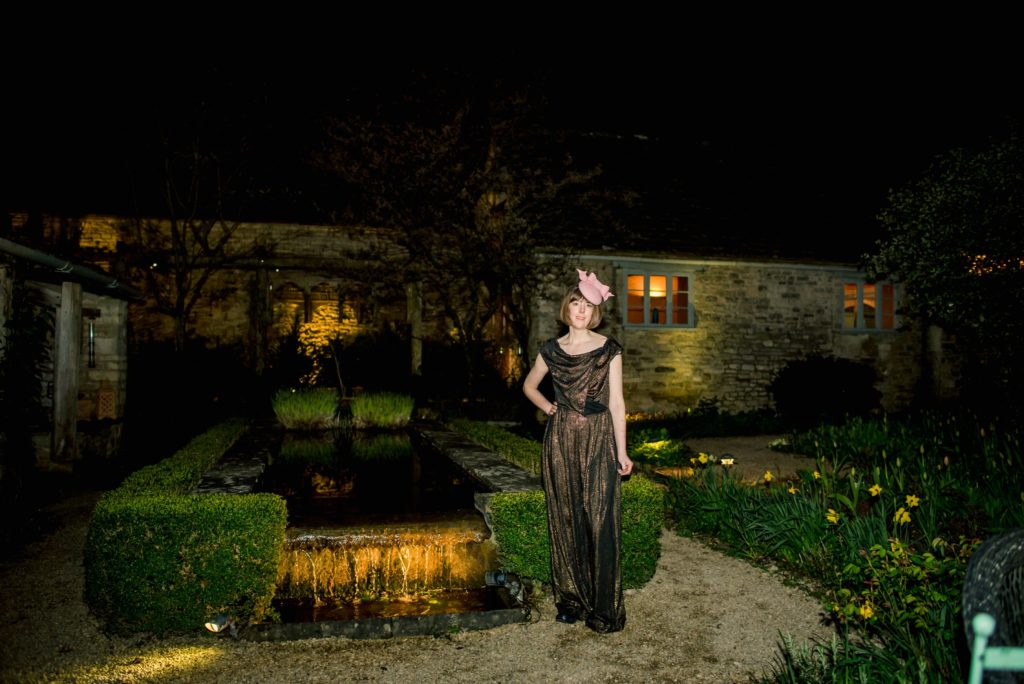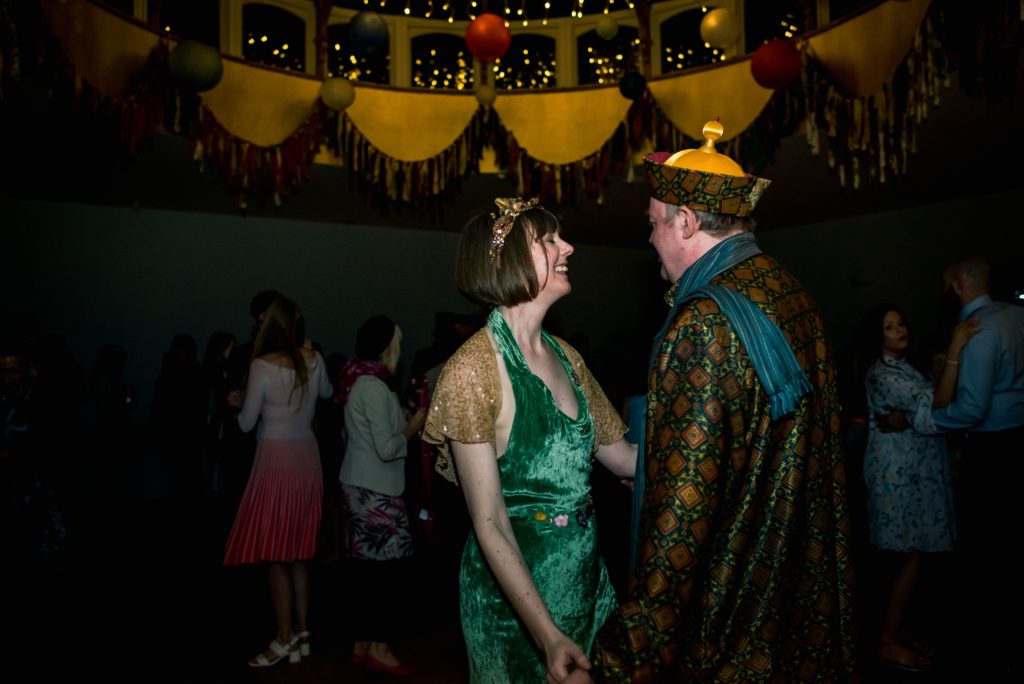 Words of Wisdom
"Most people love a wedding and are happy to help out if they can, so if you have friends and family whose skills you can call on then don't be afraid to ask! The more you can share out jobs and delegate roles the more they will feel invested in the day and it makes the planning easier for you. On the flip side, this can mean giving up some control so this approach is not for everyone, especially if you are a perfectionist!"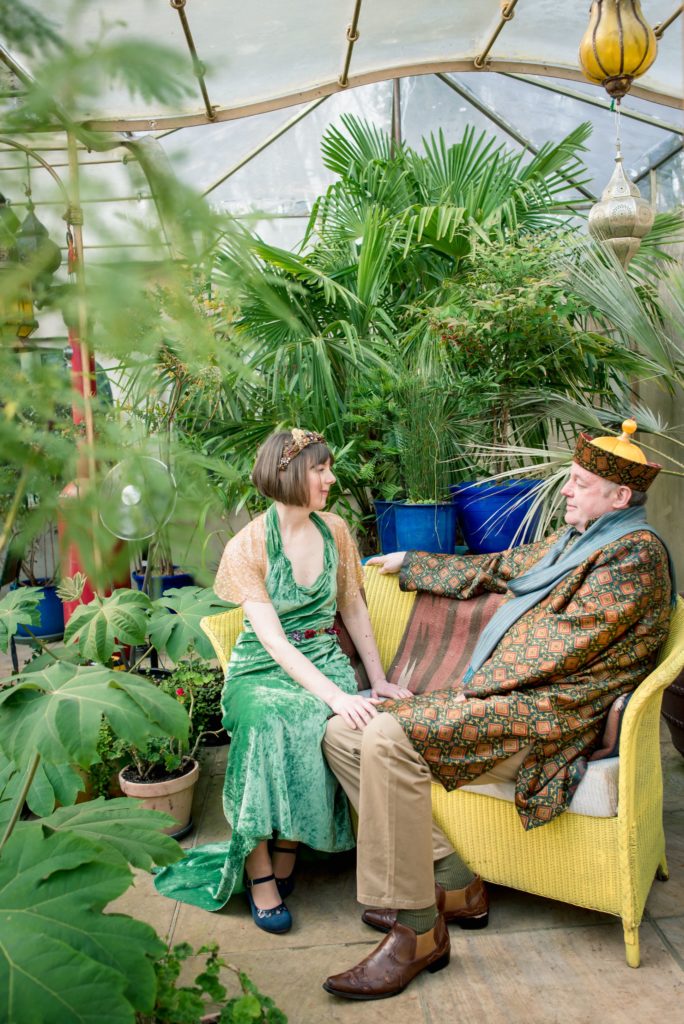 The Suppliers- Eclectic DIY Sustainable Wedding With Alternative Style
Photographer – Camilla Reynolds Photography @camillareynoldsphoto
Venue – Matara @mataracentre / Dress – from Hannah Wyman at The Textile Treasury / Dress dyed with botanical dye as per directions from Babs of Botanical Inks @botanicalinks / Evening outfit – jumpsuit from Violet Flamingo Bespoke @violetflamingobespoke / Ribbon flowers (on belt) by Jan Knibbs of Atelier 19 @atelier19chelt / Cloak with hood, hired from Cotswold Costumes @cotswoldcostumes / Bride's tiara and evening hat, Uta's headdresses, Victoria's hat, button holes & bowties all made by the bride –Gemma Sangwine Millinery & Headwear @gemmasangwine / Florist – The Cotswold Posy Patch @cotswoldposypatch / Make up – Aine Thomas MUA @ainethomasmua / Hair – Juta Zorubiene Bridal Hair @jutazorubiene / Grooms suit – Jacket by Emily McNair @emmiemcnair / Groom Silk scarf by Leto & Ariadne @letoariadne/ Best Woman trousers by Monique Kyriacou/ Stylists – Delight Vintage Tea set Hire @delightvintageteasethire / Magician – Warren Singer Magic / Rings – Elaine Day Jewellery/ Invitations by Wendy Milner / DJs – Pav Kyriacou @pavlos.kyriacou Rebecca Black @rebecca__tomlinson / Music for the Wedding – Produced by Phil
IF YOU LOVED THIS LOOK PLEASE PIN IT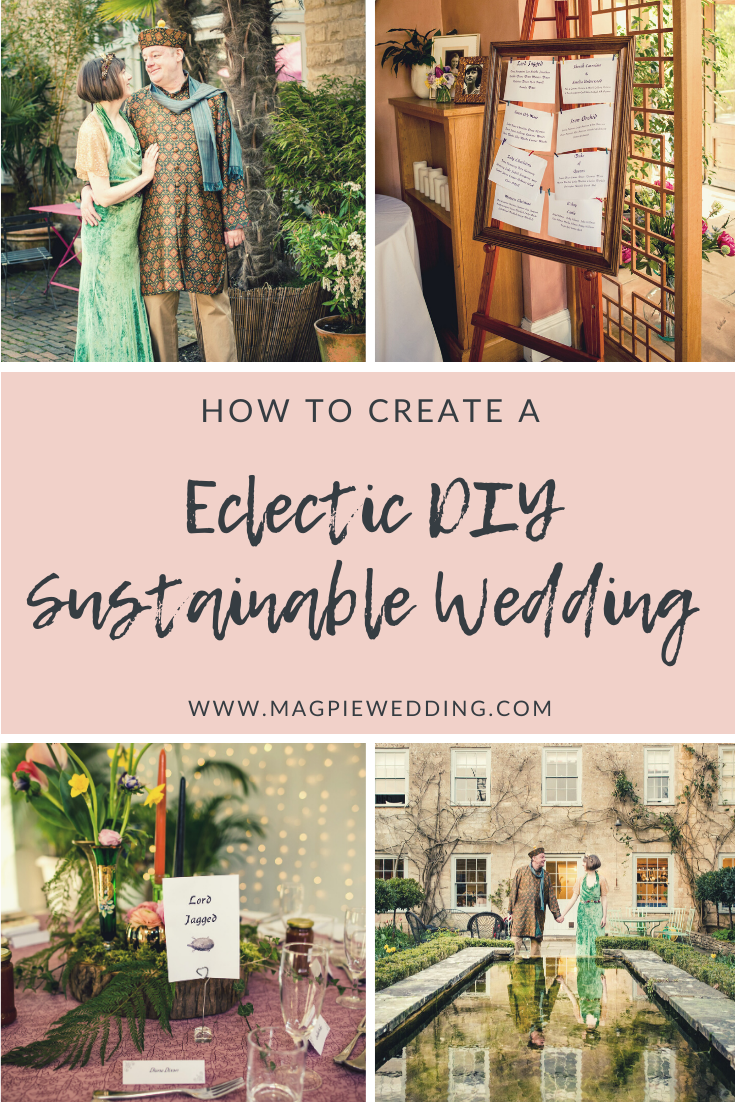 If you love this Eclectic DIY Sustainable Wedding you may also like;
Your Eco-Friendly Cake Maker Checklist – How To Have A Sustainable Wedding Cake
A Winter Outdoor, Ethical, Eco-Friendly, Tea Party Wedding at That Amazing Place, Essex.
10 Sustainable Wedding Ideas – With Our Free Ethical Wedding Guide