Outdoor setting… vintage tea party… ethical elements… three big ticks for todays styled shoot set at That Amazing Place, Essex. With wintery vibes, gorgeous velvet and fur capes, and blue hues galore, it's perfect if you're looking for some on trend Pantone Colour of the Year inspiration. With the concept and coordination by Vicki's Floral Design, Enchanted Bridal Boutique, and Charly Mae Photography we catch up with them to find out how this ethical tea party, at That Amazing Place was created.
"Let's bring the 'Inside outside?" Why not? We don't want to be traditional, we want exciting, playful & informal! Even in the winter months wedding décor can look amazing outside. Think fallen leaves, lichen laden branches, moss covered stones, crystal glowing dewy cobwebs, frosty breath in the air and glorious crisp sunrises & sunsets. Let's incorporate the nature that surrounds us, fir cones, ferns, foliage, succulents, light up the night sky with lanterns and candle, wrap up warm with faux fur wraps and blankets and soak up the atmosphere. We wanted to engage couples to break traditional wedding venues and decor, focusing on elements that are environmentally friendly, organic and reusable, and locally grown where possible. All the floral designs from the asymmetric arch to the foliage table garland were made foam free, using seasonal British foliage (with the exception of the white asparagus fern). We wanted to show that you can enjoy your wedding by using the countryside, the secret garden or a neighbour's field. We enclosed the wedding breakfast table within the small orchard in the Secret garden, therefore making it more personal and intimate, great for the smaller, budget friendly weddings."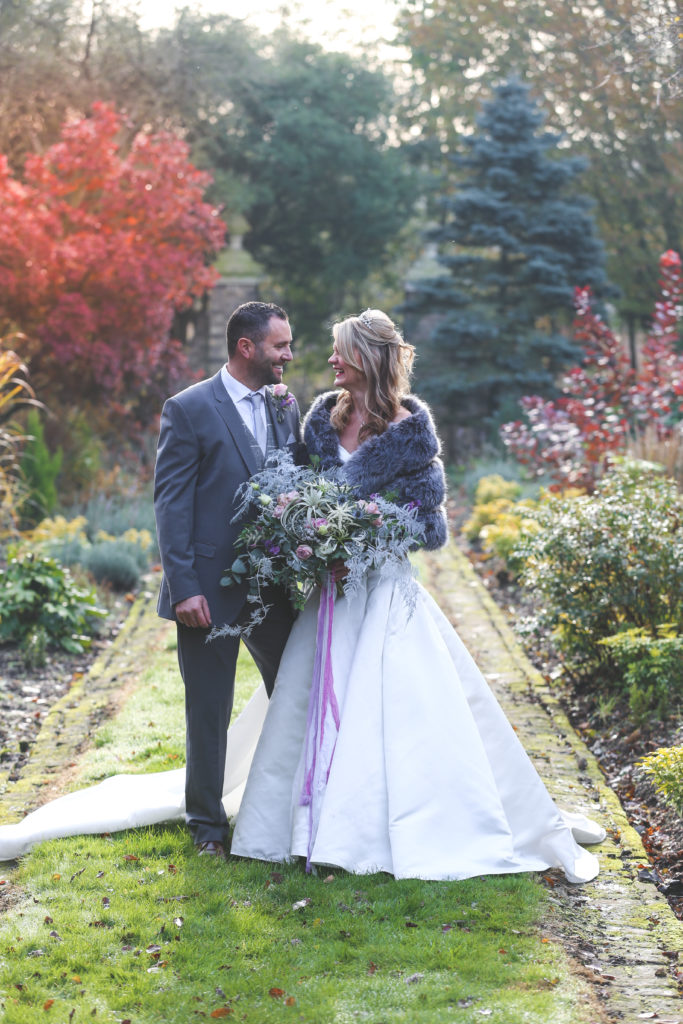 Photographer: Charly Mae Photography
"Bringing the inside, outside was a complete treat for a photographer like myself. I love using natural light to create the scene in it's purist form. It was a crisp day with a blue feel to the air. The sun was creeping in when it could and this was great to work with allowing opportunity to play with back light and gentle sun rays. I also felt I was on the set of a glamorous fantasy wedding elopement in a secret garden. It's exciting when you get to shoot rich pane-tones such as deep blues, greens and shimmering greys. It's great when you work with a team who have the same vision."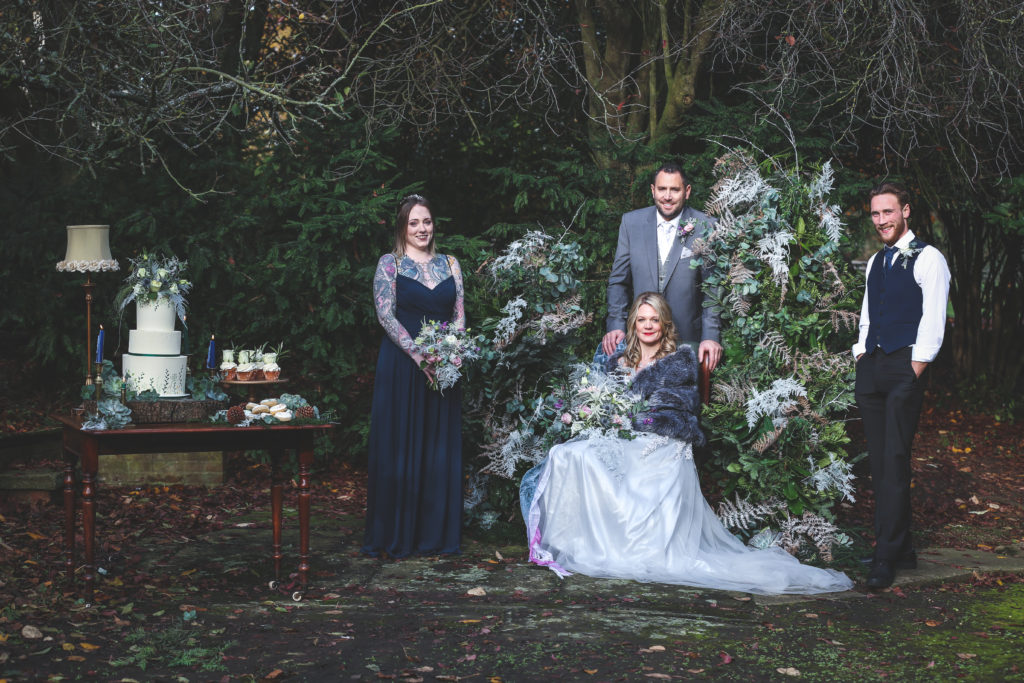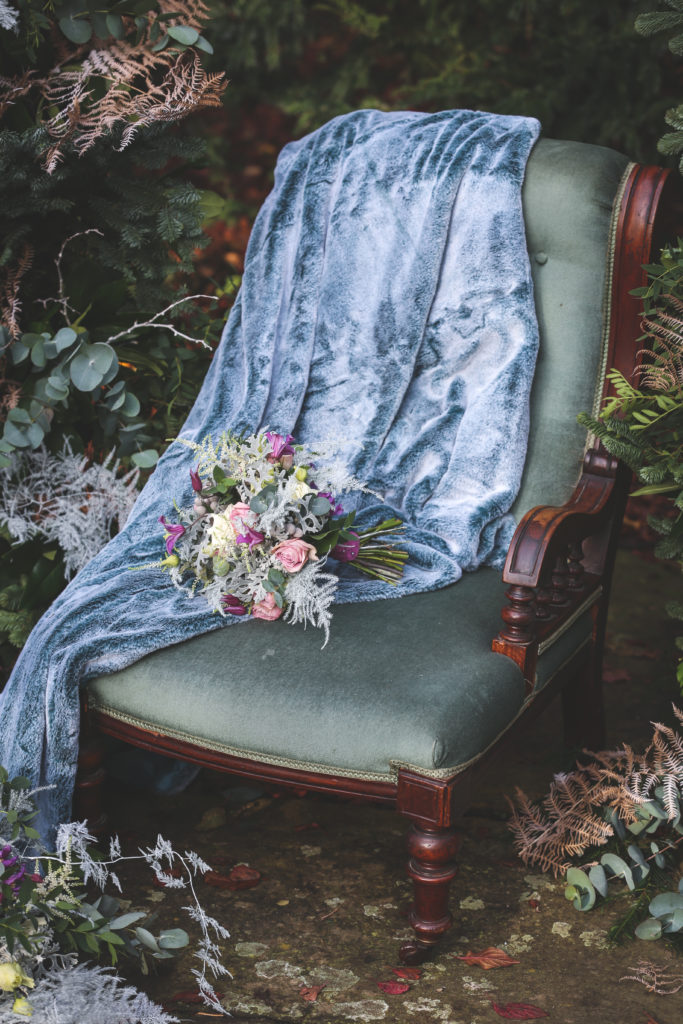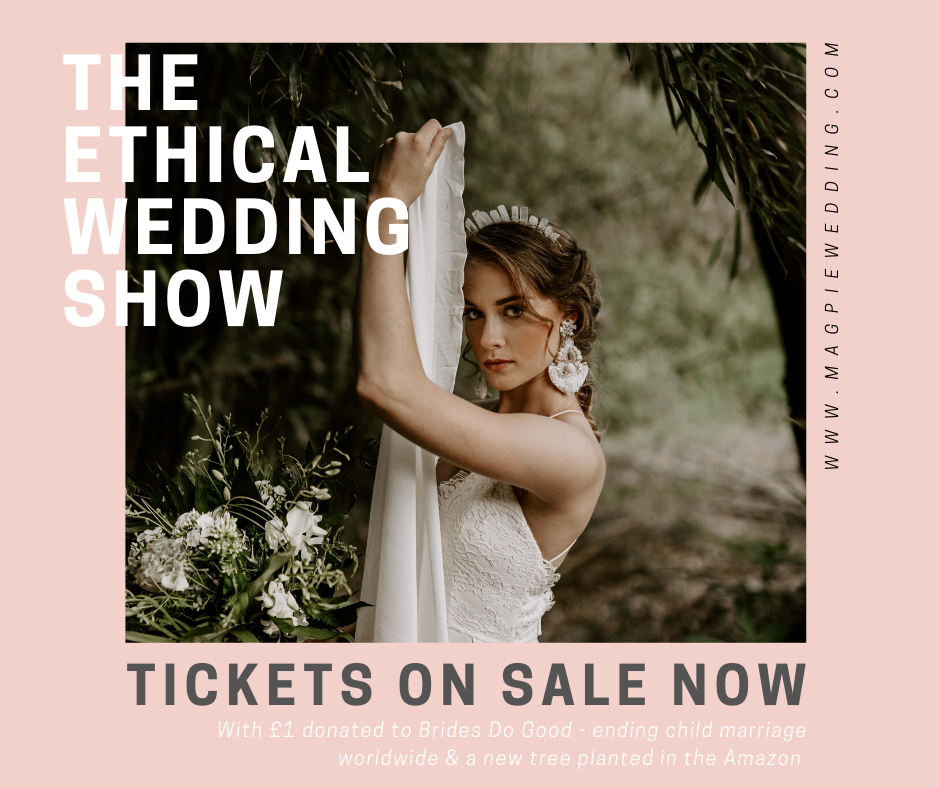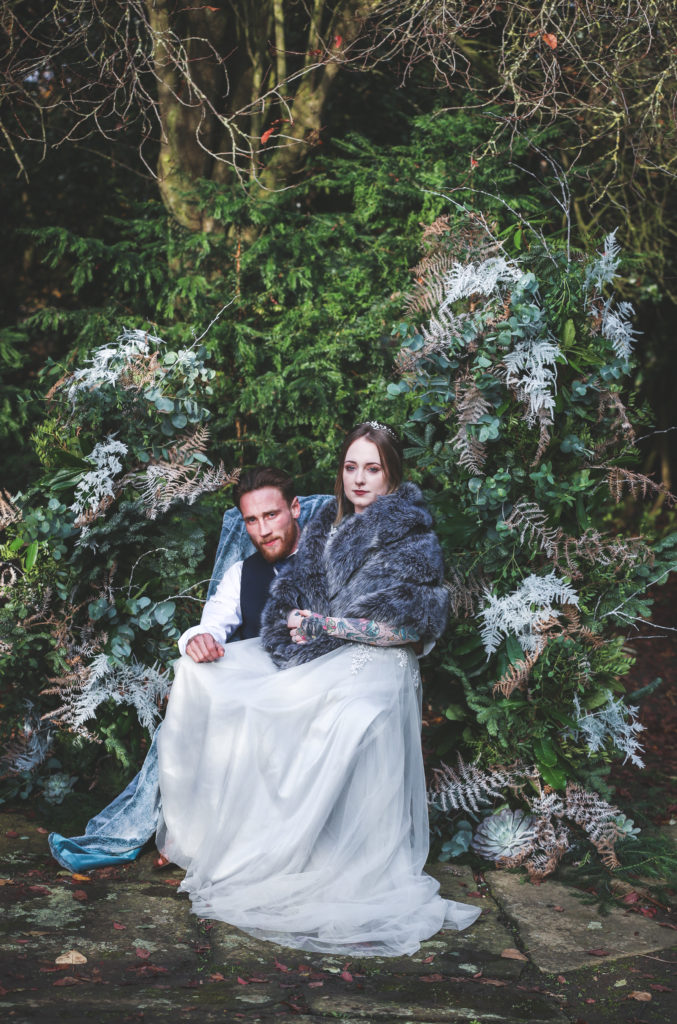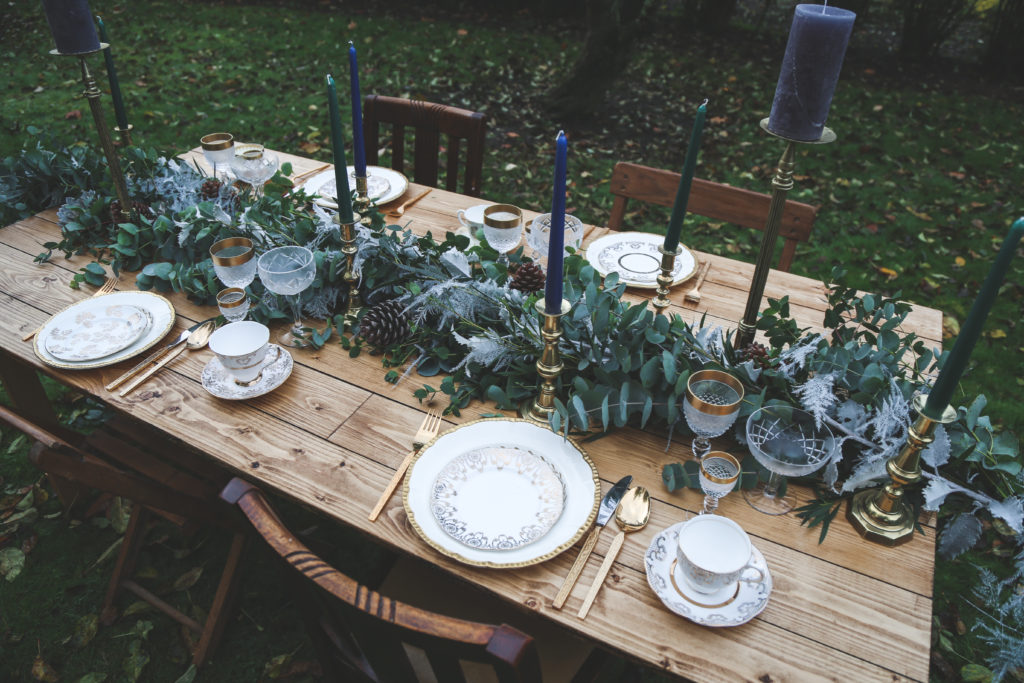 Florist: Vicki's Floral Design
"The flowers & colour palette were based on our wintery theme and the blue/grey green/ blue purple that I anticipated would compliment the 2020 Pantone colour, at the time of the shoot not yet released. The bridal bouquet was made in a dramatic asymmetric, loose style, full and flowing with striking blue Eyringium thistles, hard Brunia berries, spiky Tillandsia air-plant, white ferns and lilac roses which complimented the grey of the bridal gown and blue/ green of the bridesmaids outfits. Abundant foliage for the asymmetric arch had British grown varieties of green/grey Eucalyptus, Silver Senecio and foraged dried Bracken added texture & interest whilst encompassing the foraged, reuse/recycle, dried materials which has been very popular in 2019 and will be for 2020. The table scape continued the foliage theme with a full eucalyptus and white fern garland, interspersed with succulents that could then be replanted after the shoot/ wedding or given as gifts."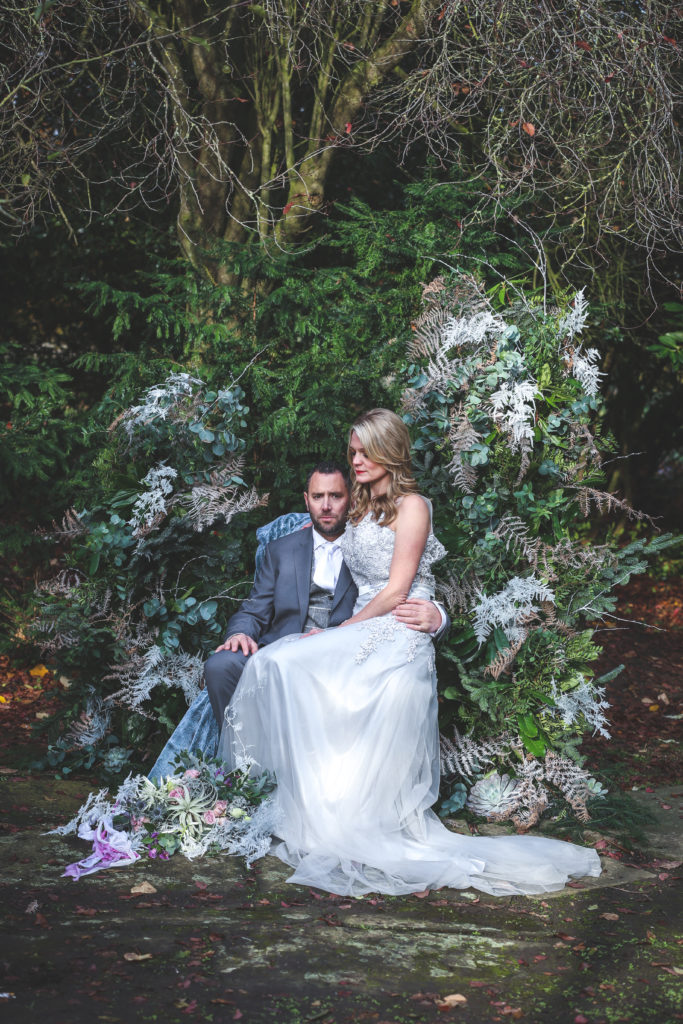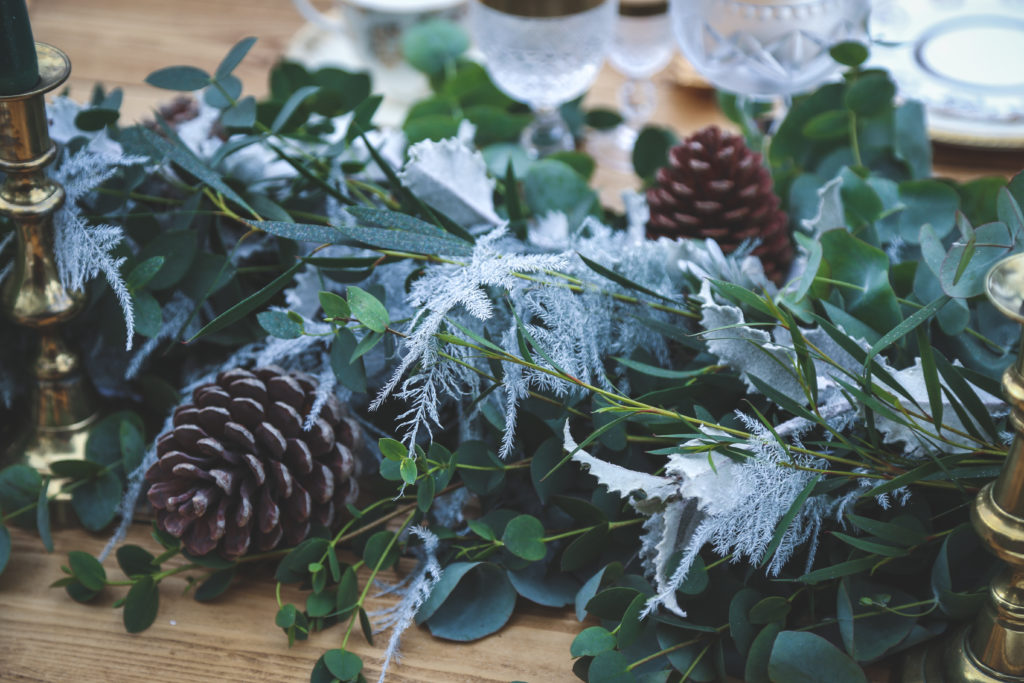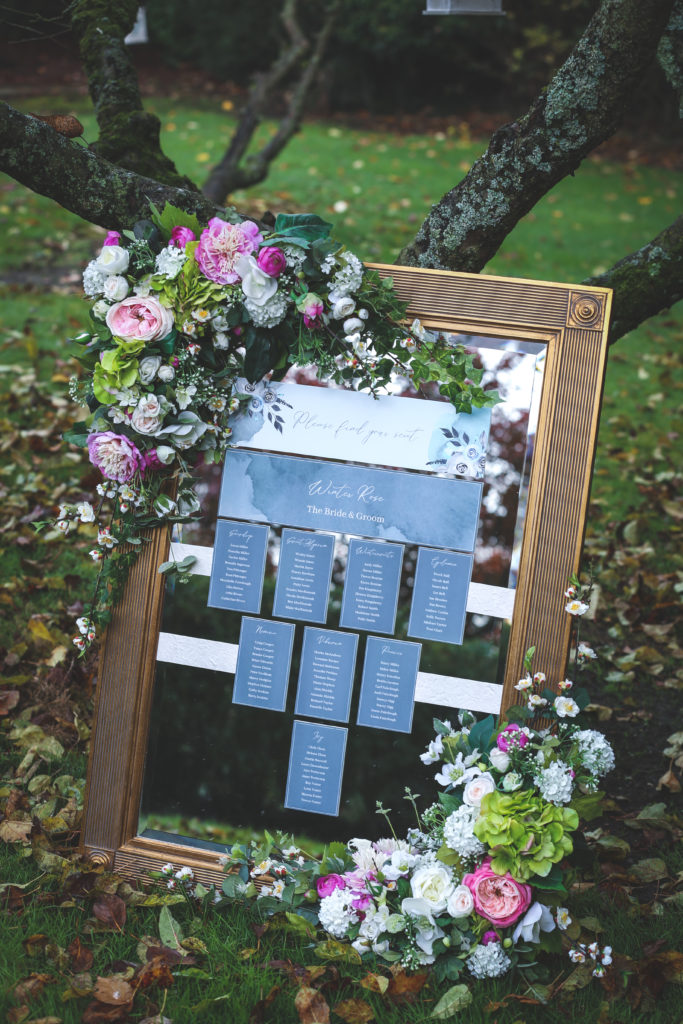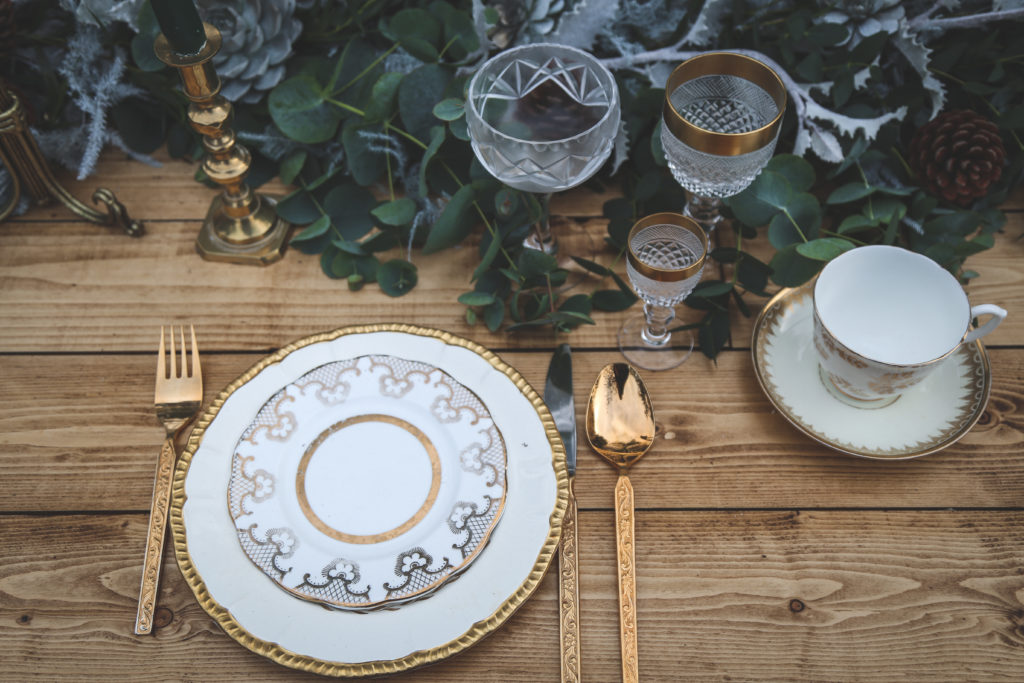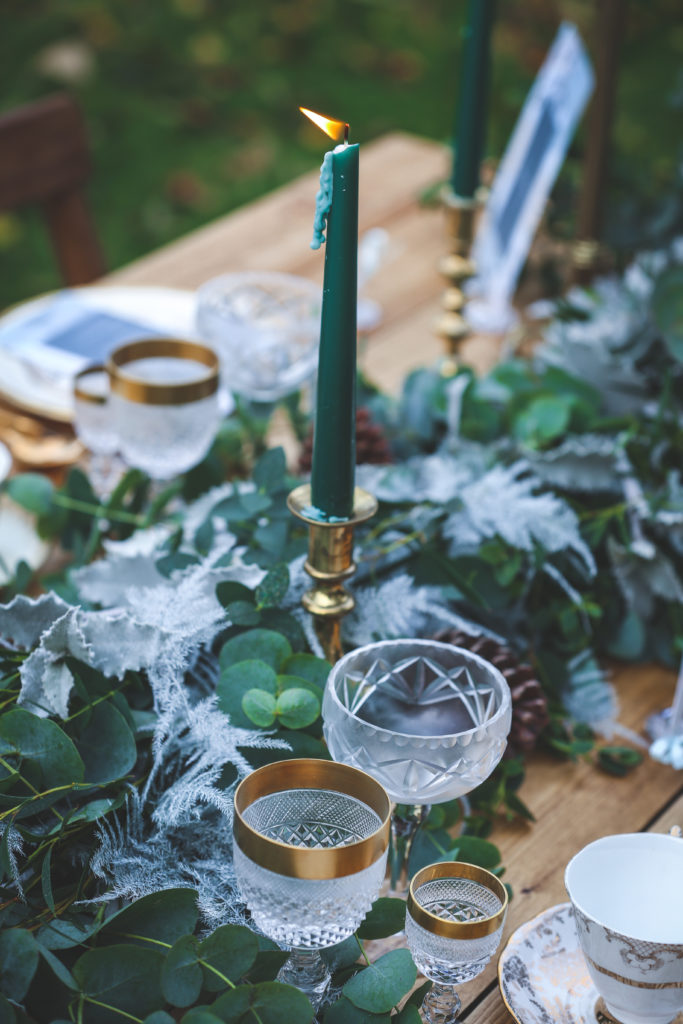 Styling
"All the props from the vintage Victorian nursing chair, Victorian folding table, antique crystal champagne & wine glasses, china crockery, faux fur wraps, candle sticks and gilded mirror were purchased from either antique shops, charity shops or eBay, why buy new when you can recycle or up-cycle? Let the old have new life, then sell or give to others to reuse. The focus for the 'dining area' was intimate and personal, a trend which is becoming more popular as a way of bucking the traditional wedding of inviting many, many guests, and a way of reducing escalating wedding costs."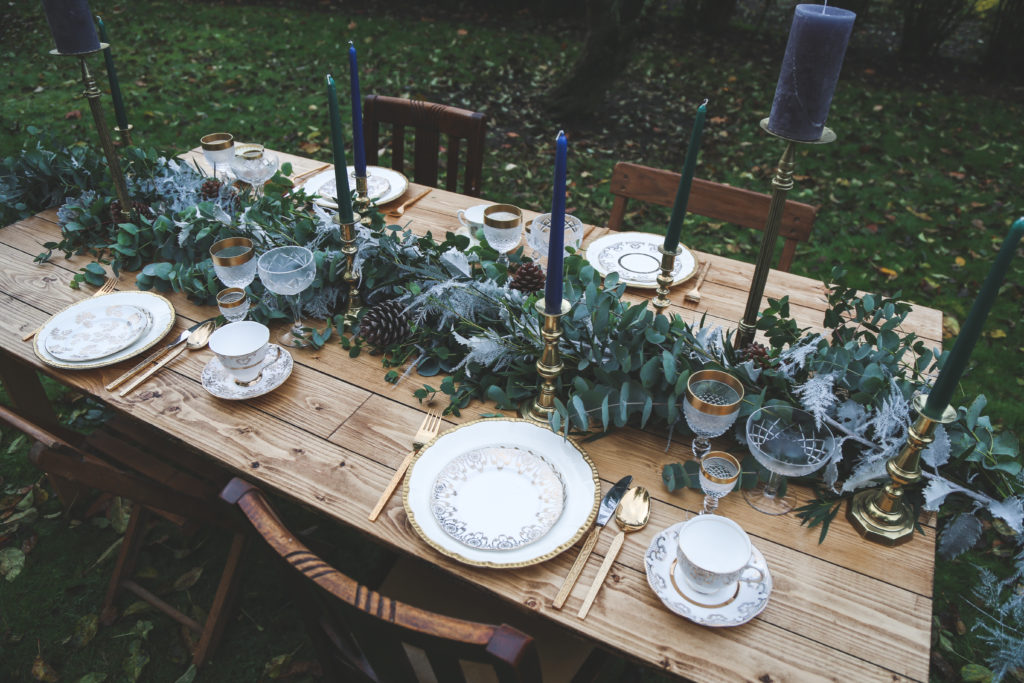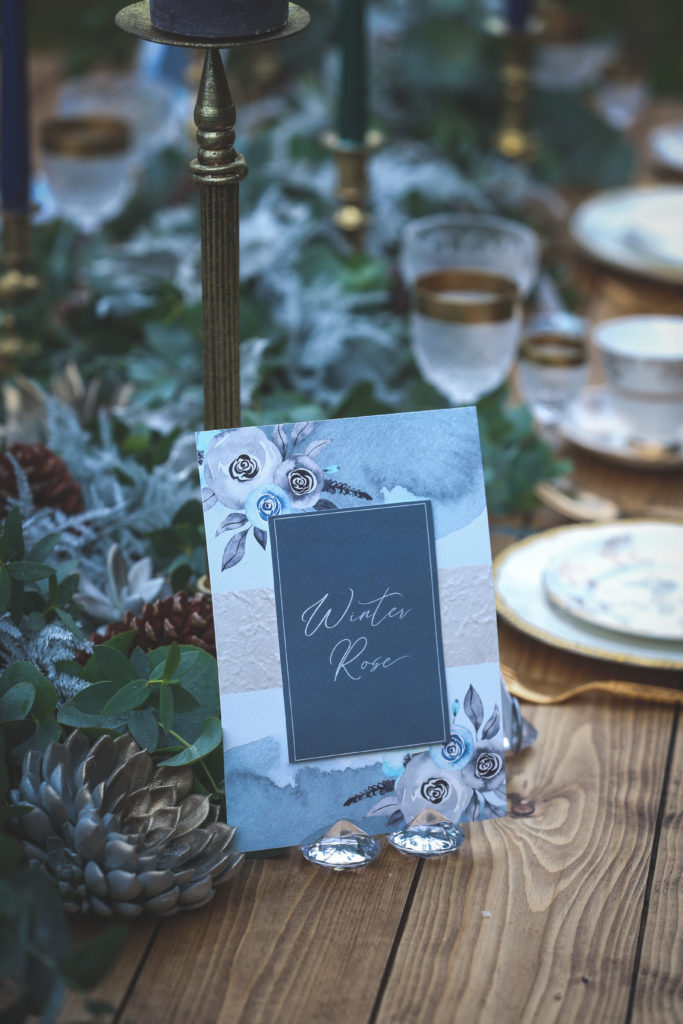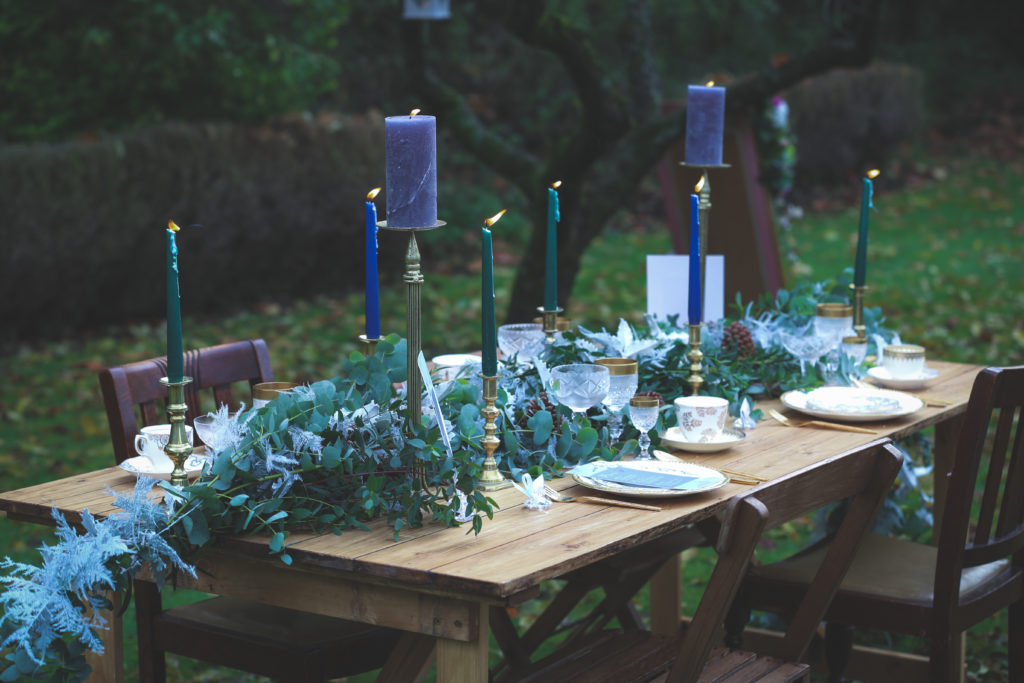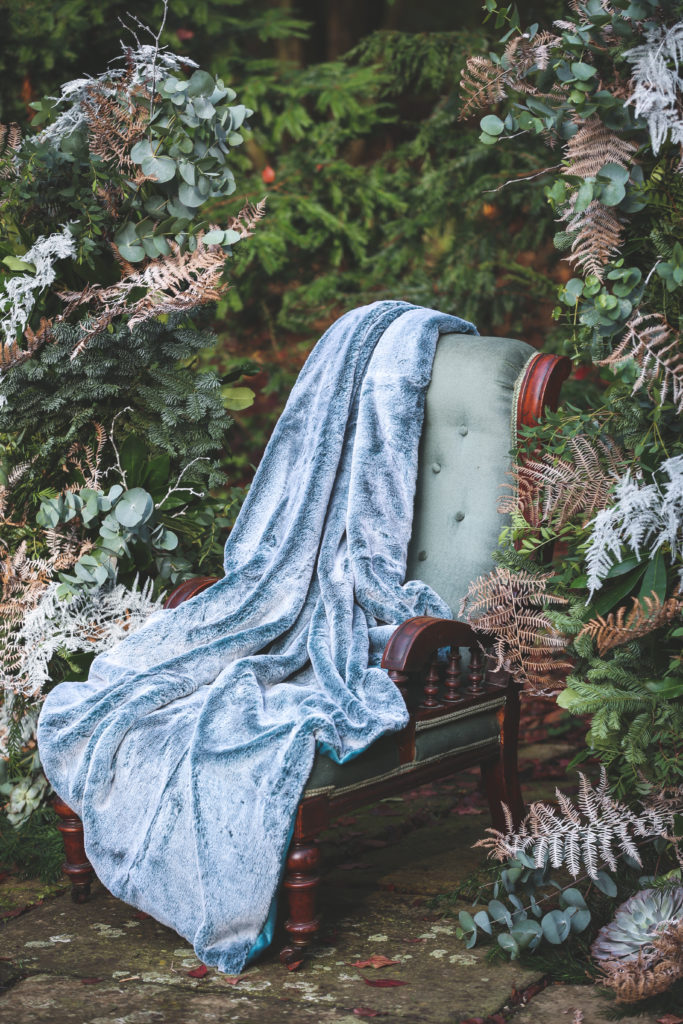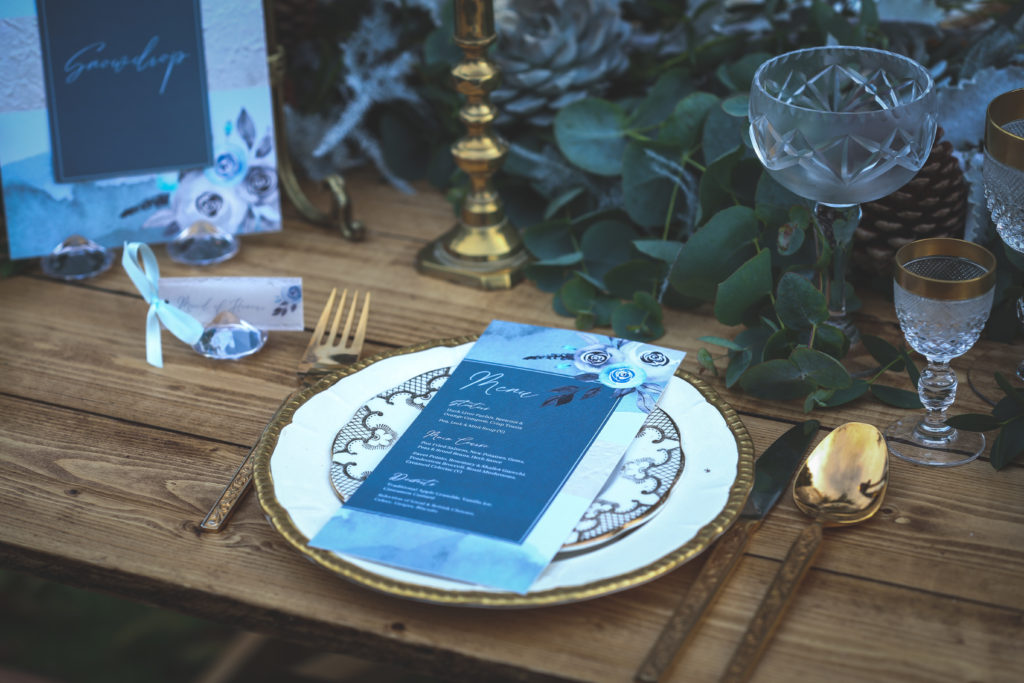 "We wanted our colour scheme to reflect suggested colour trends of 2020, by focusing on 'sea and sky' colours and cooler, therapeutic tones that will inspire the couples (sequently now released: pane-tone® CLASSIC BLUE), and felt this also fitted the crisp, frosty winter feel of the shoot. Therefore we have created an 'Enchanted Garden' scene with bride, groom and intimate bridal party to showcase our vision of 'Let's bring the Inside outside'."
Bridalwear: Enchanted Bridal Boutique
"Seasons, do we have seasons now or do they merge into one? We are finding that brides rarely choose a dress based on the season of their wedding day, and winter weddings are becoming more and more popular. The inspiration of this shoot was a crisp misty chill on a winter's morning, with the low sun glinting through the wild foliage. We incorporated Pantone colours, muted grey's, and soft ivory to compliment the romantic beauty of the surrounding nature."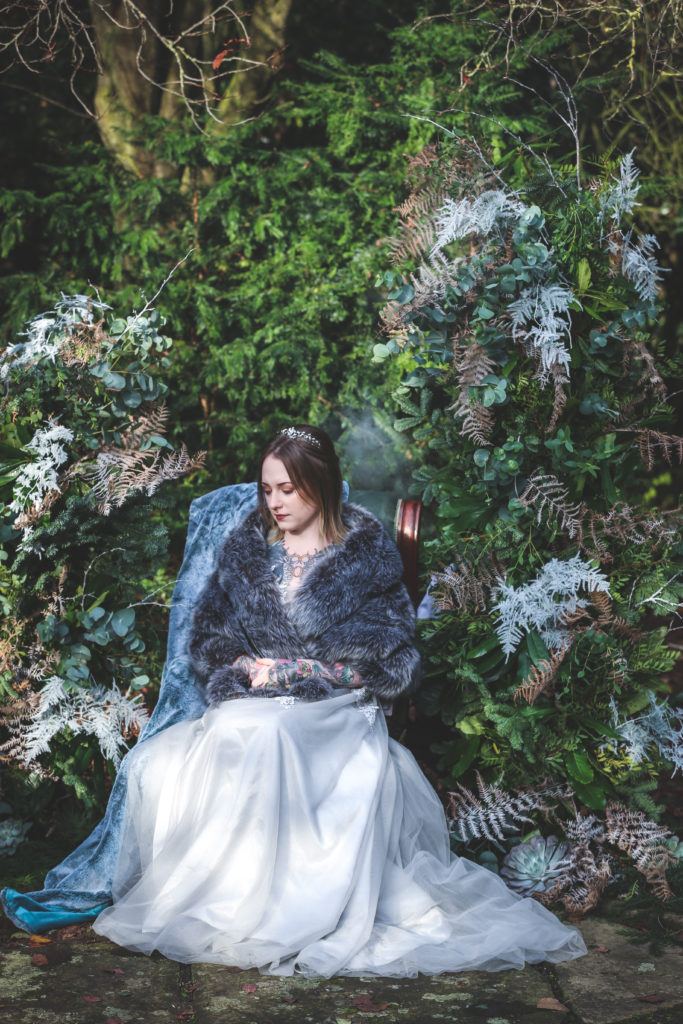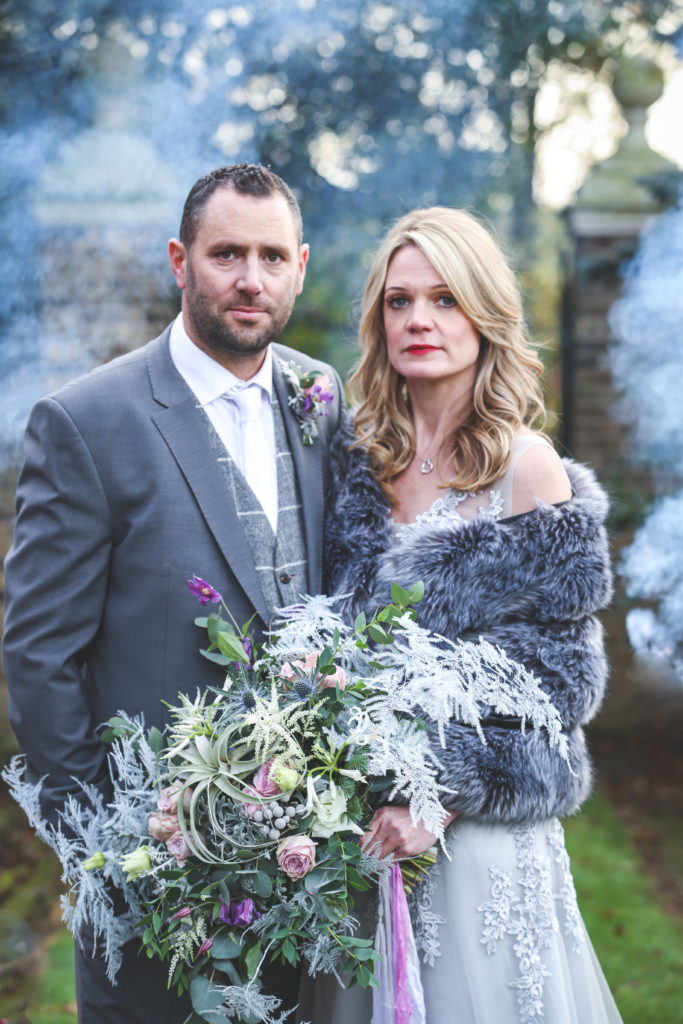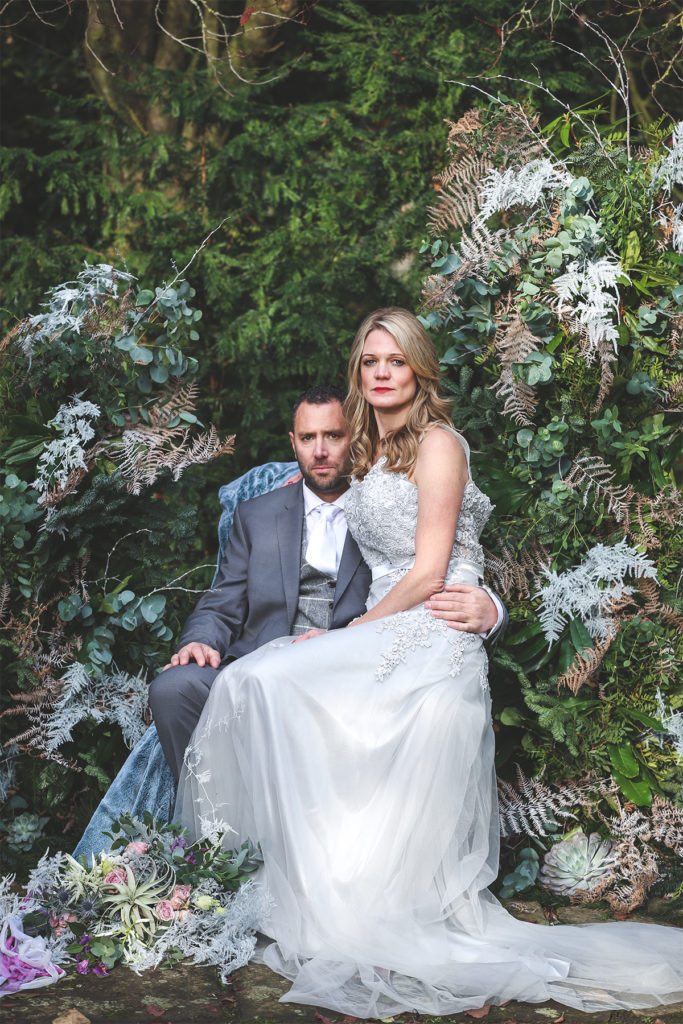 "Our bride wore a stunning satin ball gown full of simple elegance, with a soft grey luxury faux fur shawl, a perfect combination for a bride that loves nature. In comparison a timeless gown with a hint of unconventional style, was the inspiration in our muted silver sequinned gown which looks breathtaking with the complimentary textures and shades of the atmosphere on the day."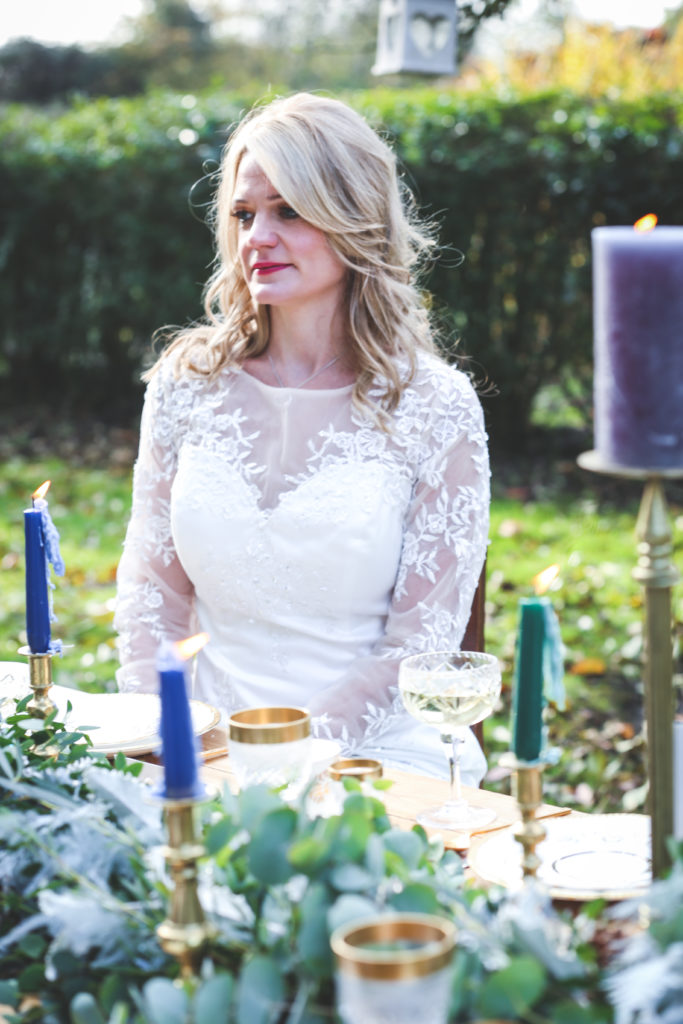 Hair Stylist: Tres Beau Hair Boutique
"I am a wedding hair stylist who is creative, patient, calm and passionate about hair! Your hair is your crown and your wedding day couldn't be the more perfect time to show it off., There is something magical about a crisp winter wedding and i created the perfect style to capture the theme and mood of the day, the inspiration for this beautiful shoot was class and romance and raw nature, so I created soft loose curls in a modern glossy colour shade, which complimented the dress and mood perfectly. When it comes to wedding hair I always consult with the bride as to the style of dress and their personality, everything should flow and be totally natural to compliment the day."
Make up Artist: Laura Cartwright Make Up
"I wanted to create a luxury Winter Wedding look with a touch of seasonal glamour. Creating a healthy and glowing skin was my main aim, using cruelty free and vegan products that are predominantly British is important to me to help minimise the impact on the environment. I used foundation to allow the skins natural tones to shine through, this was complimented with a flush of colour to the cheeks and a rich mysterious berry lip to bring it all together. The venue is very calm and rustic, so I was excited to use tones on the eyes to compliment the model's complexion and dress. As the photoshoot progressed, I smoked out the eye with some dark gel liner for a bit of extra drama, showing how a daytime look can easily be transformed into a going out/ evening look suitable for any winter wedding"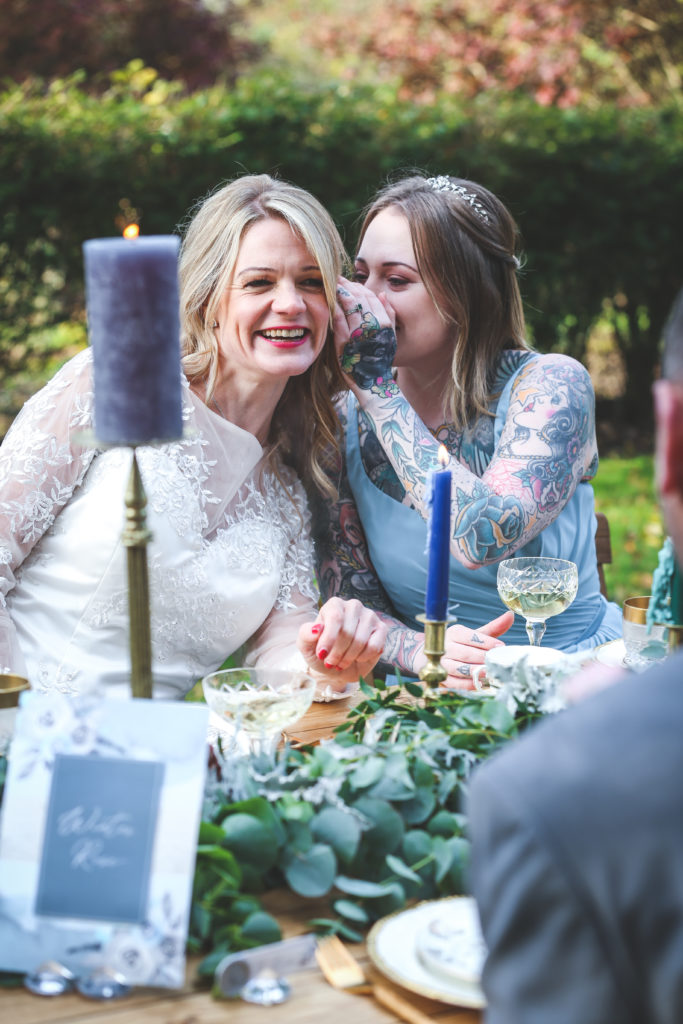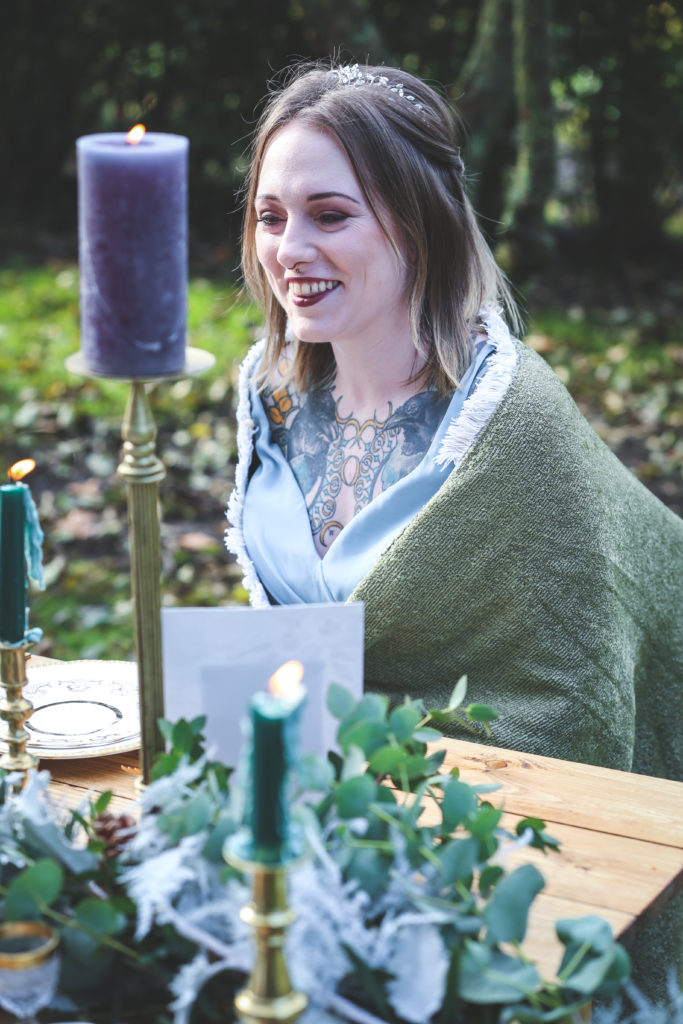 Wedding Planner: Blujon Events
"Assisting with the set up for this 'inside-outside' themed shoot, the carefully chosen props really enhanced the romantic, Goth like feel of the day. The garden set up included three main areas and an adjacent grassy walkway. From the mismatched place settings, dripping candles and beautiful foliage, the wedding table set the scene. The armchair setting with the luxurious silver throw, complimented the natural colours of the canopy foliage along with the raw wooded area for the cake display. Adjusting dresses, holding wraps, creating smoke effects for a mystical look and checking last minute details completed this stunning enchanted shoot."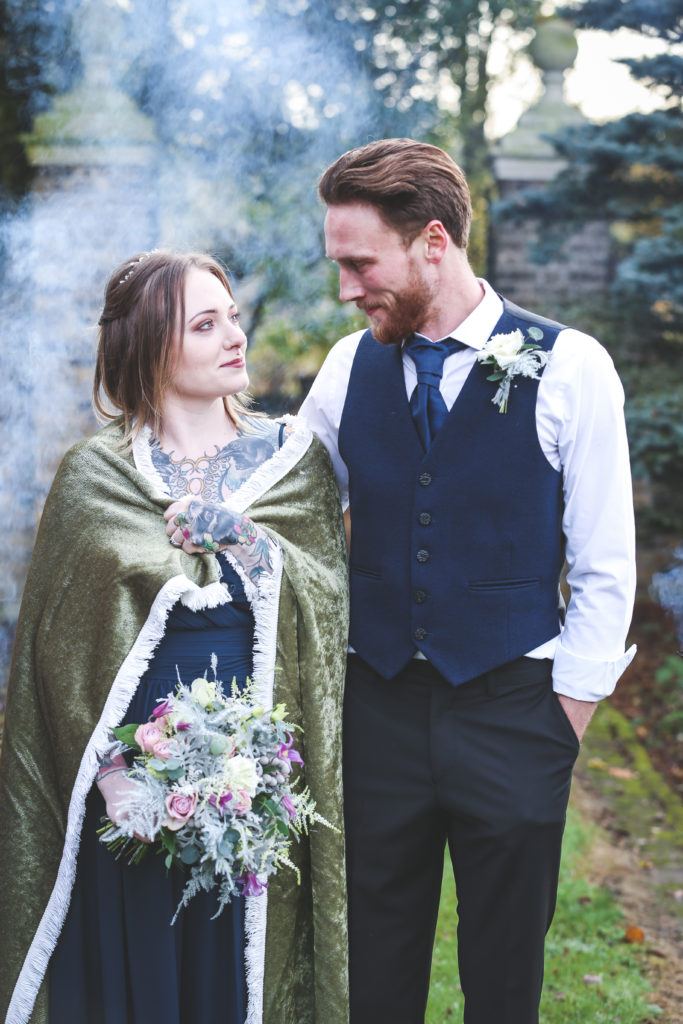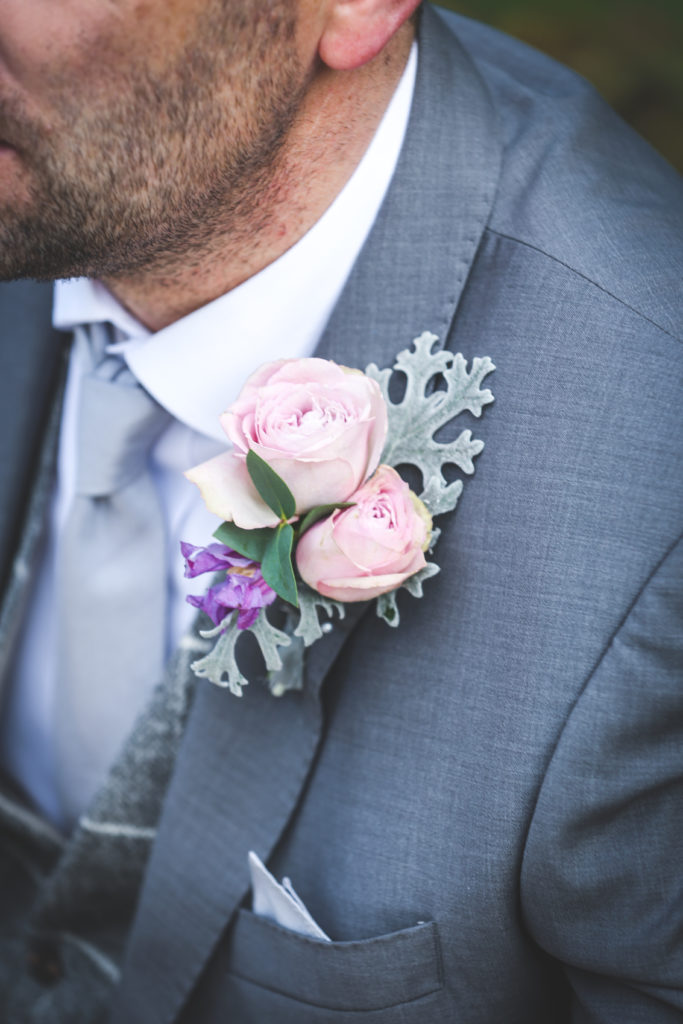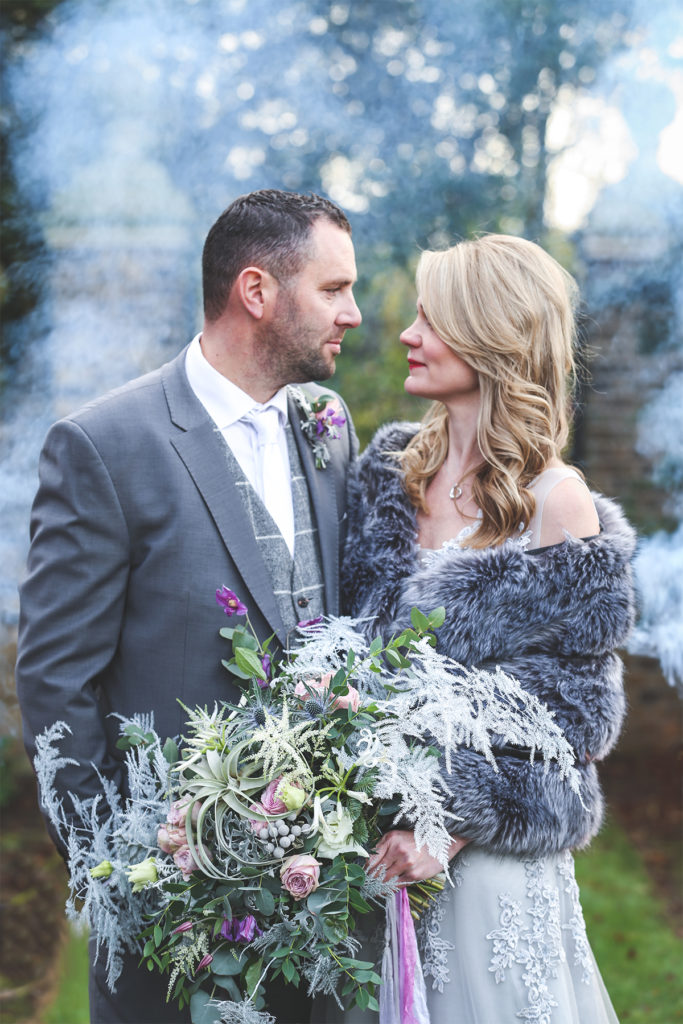 Suits: Harrisons Formalwear
"We all worked as a team combining colours and styles. Myself, Mel and Vicky worked with a style that would compliment each the groom and bride. Our suit was a mineral grey with a tweak of Tweed that would pop with the outdoor enchanted theme."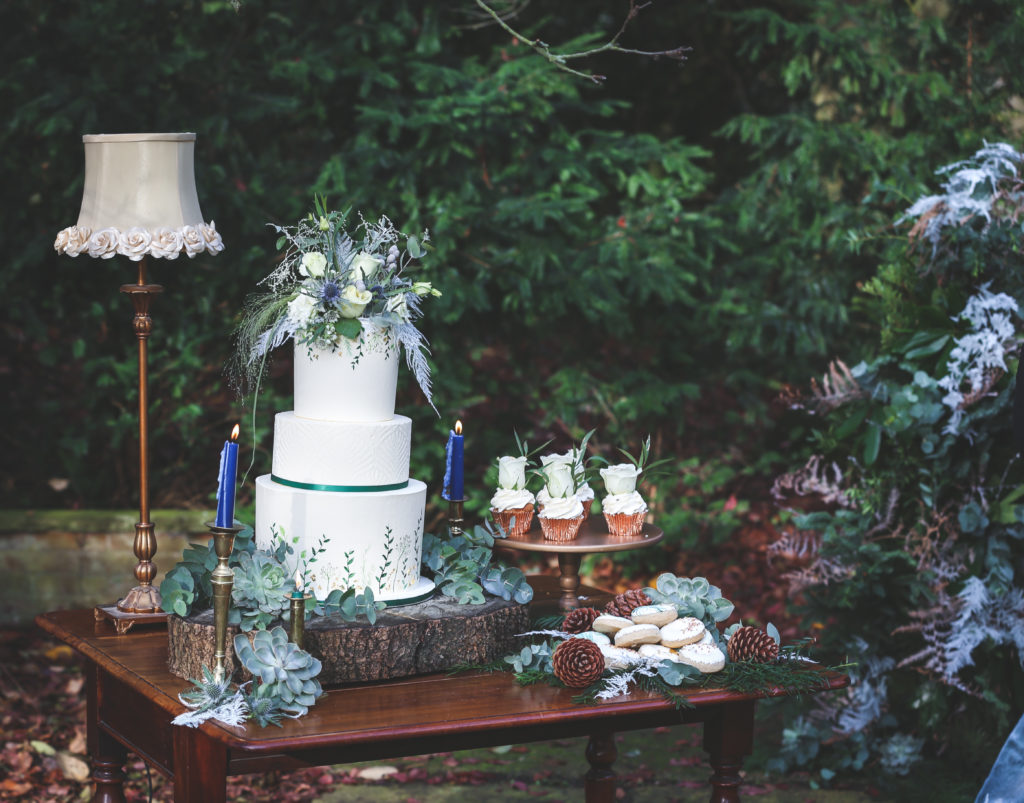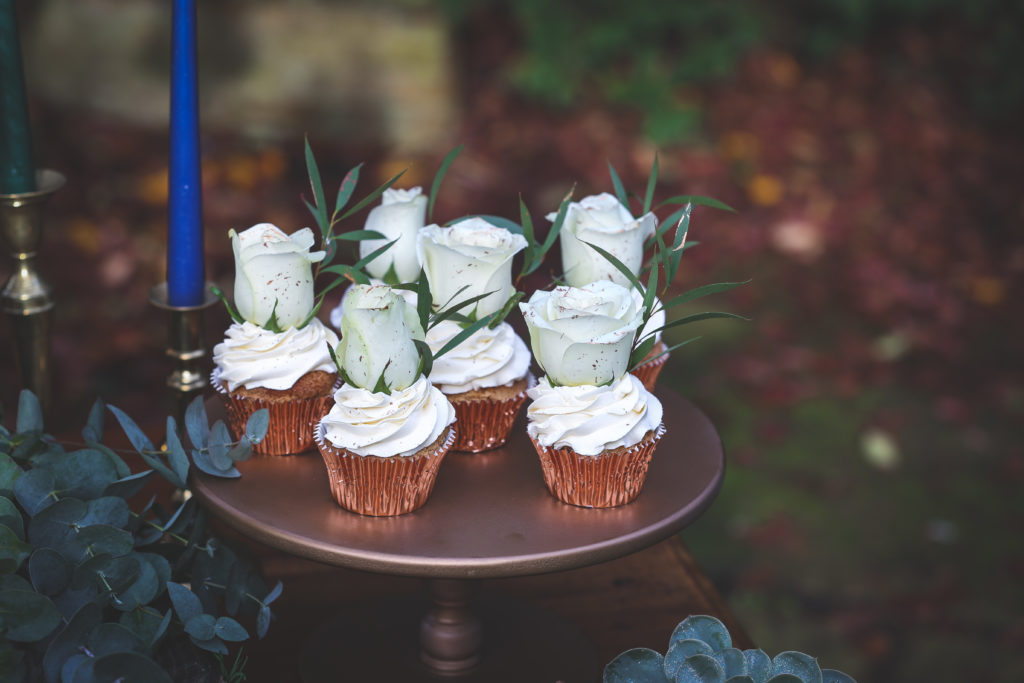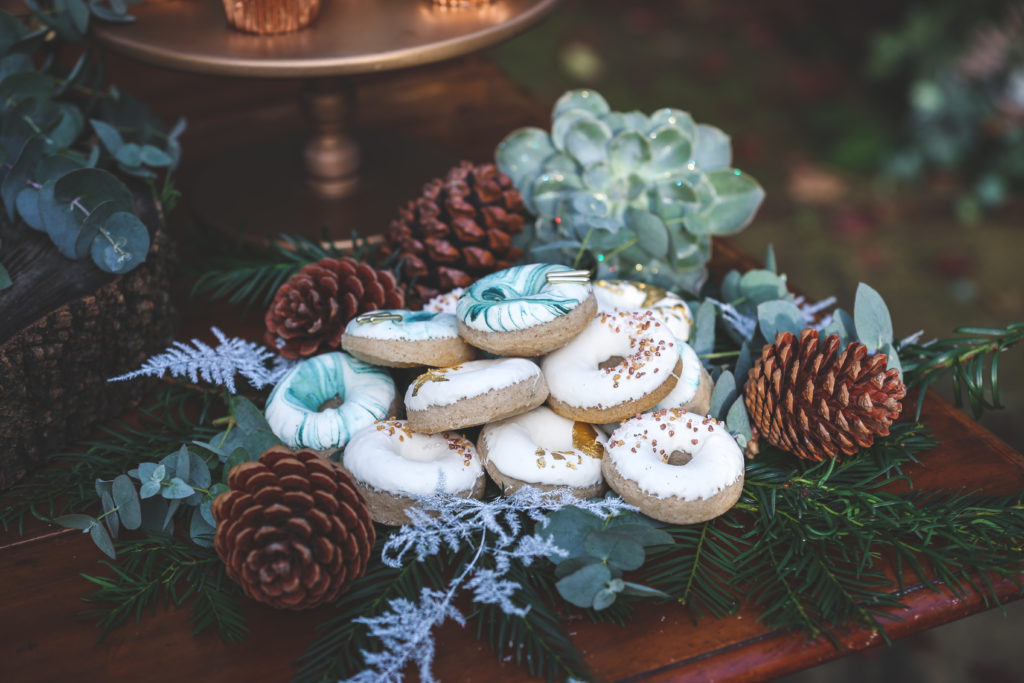 Cake: Butter and Boo
"When I was told the brief 'bringing the inside out' I couldn't have been more thrilled. Most of my inspiration comes from nature and this shoot was great for letting that theme really take over. I wanted the cake to feel very rustic and free but with a touch of elegance which was achieved through the use of use of gold leaf and rich toned foliage and thistles. The arrangement on the top of the cake was designed to feel very organic and wild to match its surroundings. I believe it is so important to style your cake correctly on your big day and a dessert or grazing table helps to create a more interactive focal feature for your cake. I wanted this dessert table to look like a grand feast at an opulent wedding but in a natural wild setting."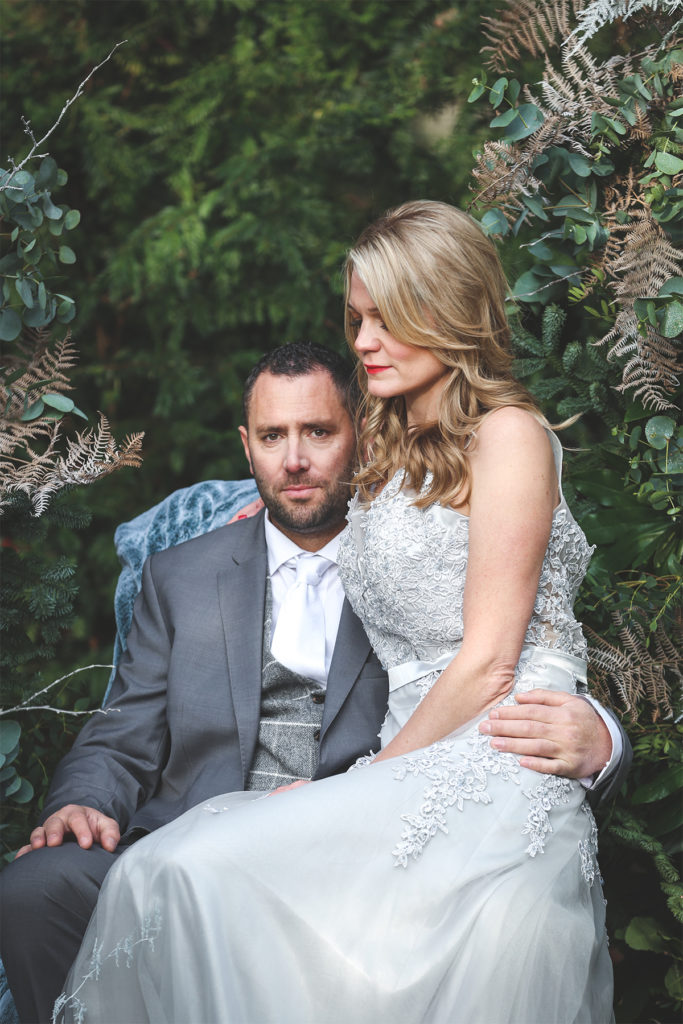 The Suppliers: Outdoor Ethical Tea Party Wedding With Classic Blue Hue Styling
Photography: Charly Mae Photography @charlymaephotgraphy
Venue: That Amazing Place @thatamazingplace / Styling, props, flowers & foliage: Vicki's Floral Design @vickisflowers / Wedding Dresses & Shrugs: Enchanted Bridal Boutique @enchanted_bridal_boutique / Cake and grazing table: Butter and Boo @butter_and_boo / Stationery & table plan: Sally Creates @sallycreatesstationerydesign / Wedding breakfast table & chairs: True Nature Events @truenatureevents / Bridesmaid dresses & tiaras: Gail's Crystal Designs @gailscrystal / Make up: Laura Cartwright Make Up @laura.cartwrightmakeup / Hair: Tres Beau Hair Boutique @tres_beau_hair_boutique / Menswear: Harrisons Formalwear @harrisons.formalwear / Wedding planner: Blujon Events @blujonevents / Models: Rowena, Zi Dutton, Jody Mitchell, Karen
IF YOU LOVED THIS LOOK PLEASE PIN IT!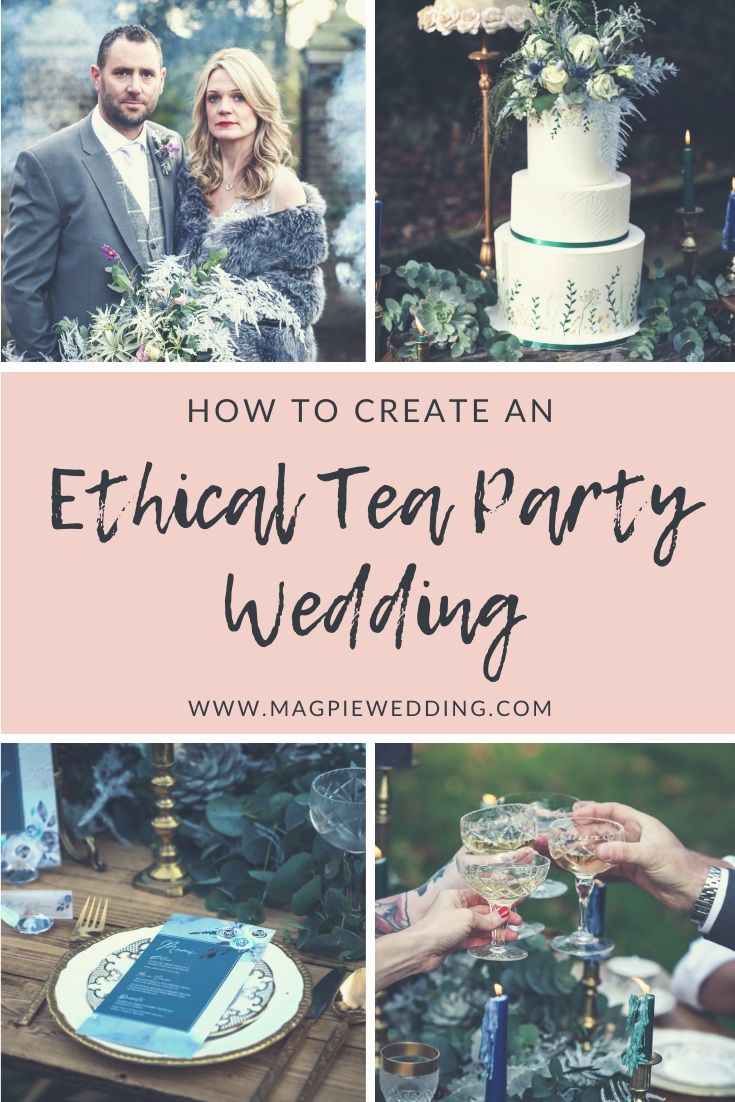 If you love this Ethical Tea Party Wedding at That Amazing Place you may also like;