Dark, dreamy and full of beautiful styling touches for today's wedding inspiration, set at Bradbourne House, Kent. Coordinated by Poppy Greenhalgh from The Glitzy Balloon Company we see how a white wedding dress isn't always the better option, with a bespoke gown, black and pink theme and statement balloons, we're sure, if you're looking for some alternative Gothic wedding touches, this shoot will not disappoint! We catch up with the team to find out all about this divine shoot at Bradbourne House.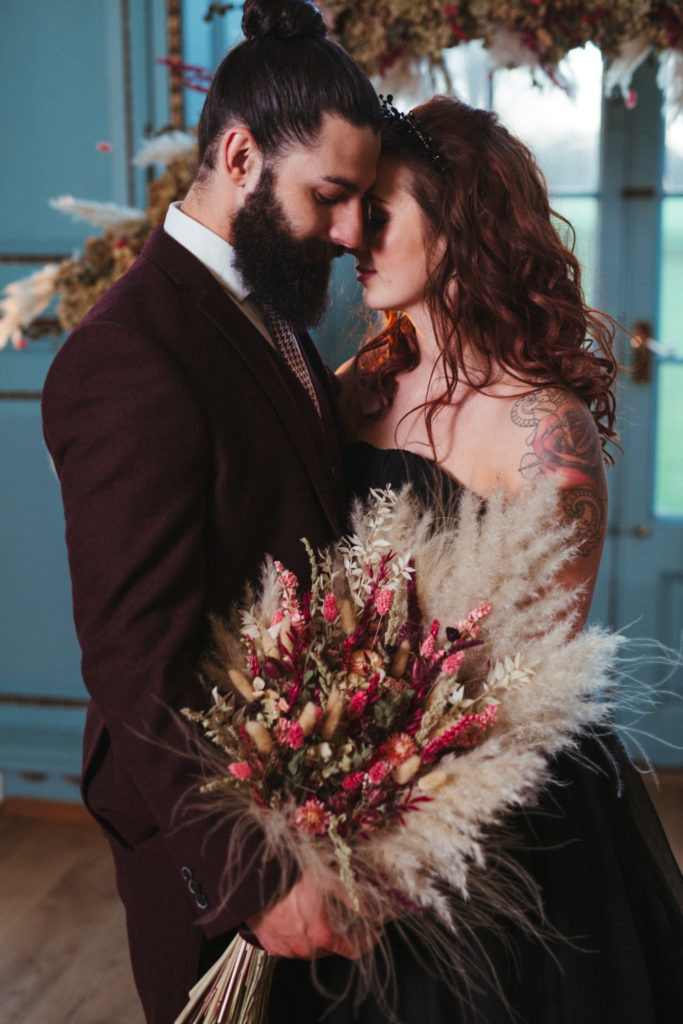 "When organising this photoshoot, I really wanted to embrace rich, bold colours, I wanted to give real couples some out of the box wedding inspiration, as after all we don't all want that white wedding dress look, do we? I wanted to create a real statement piece with my balloons, I want couples to know that balloonists can decorate more than just a demi arch or a full arch at a wedding and a piano is a perfect example. Part of being a luxury balloonist is using and creating opulent custom colours, it's like mixing paint to create beautiful muted shades, so I did this and used lots of deep coloured florals cascading from the piano.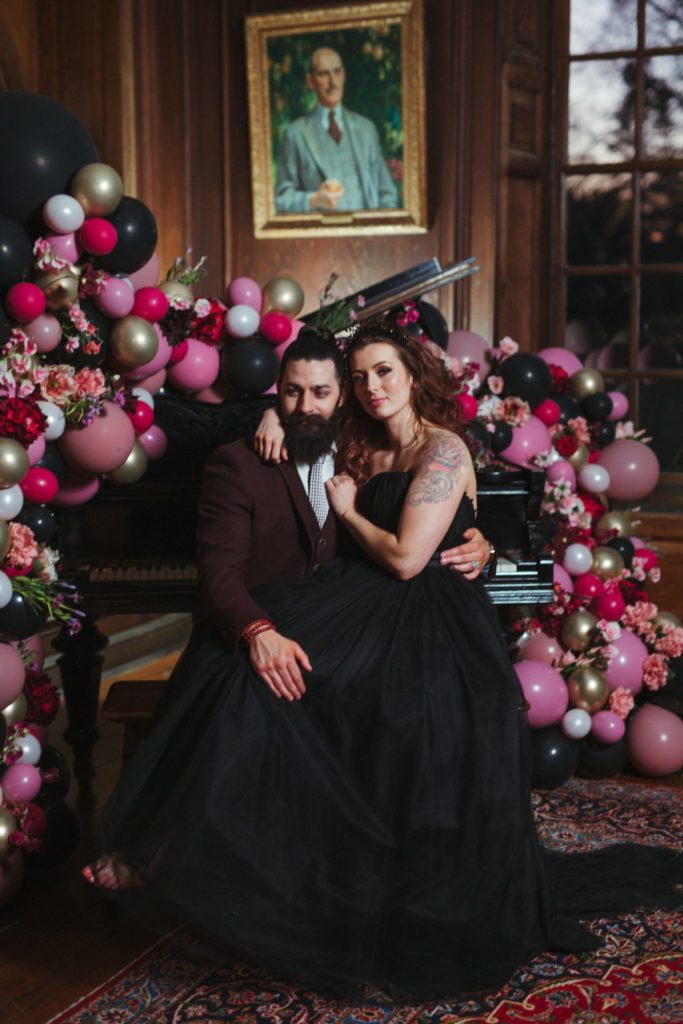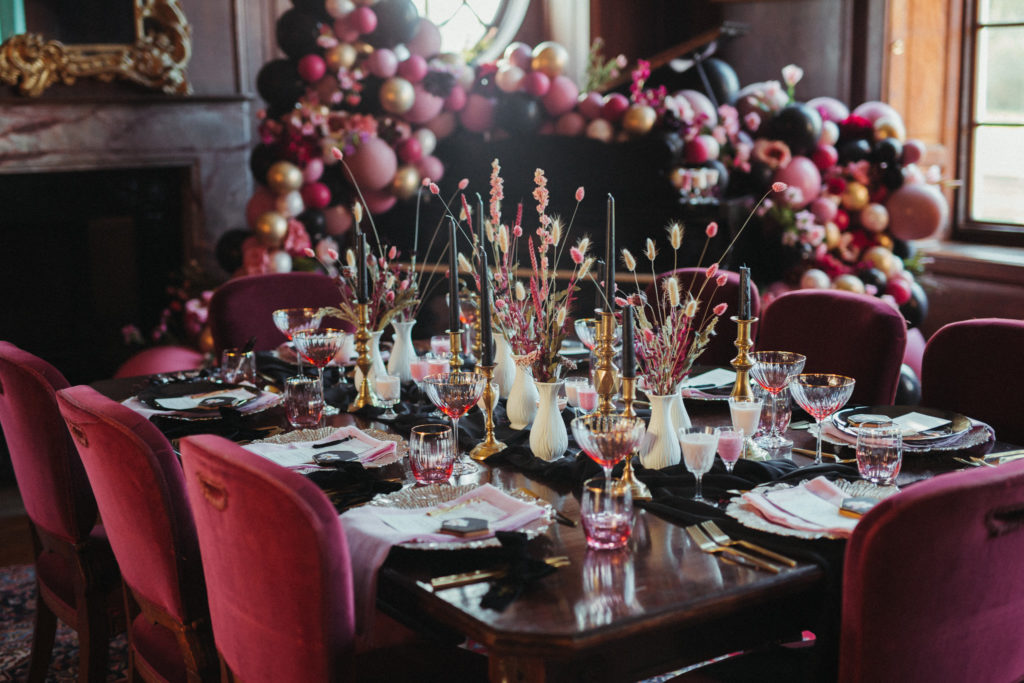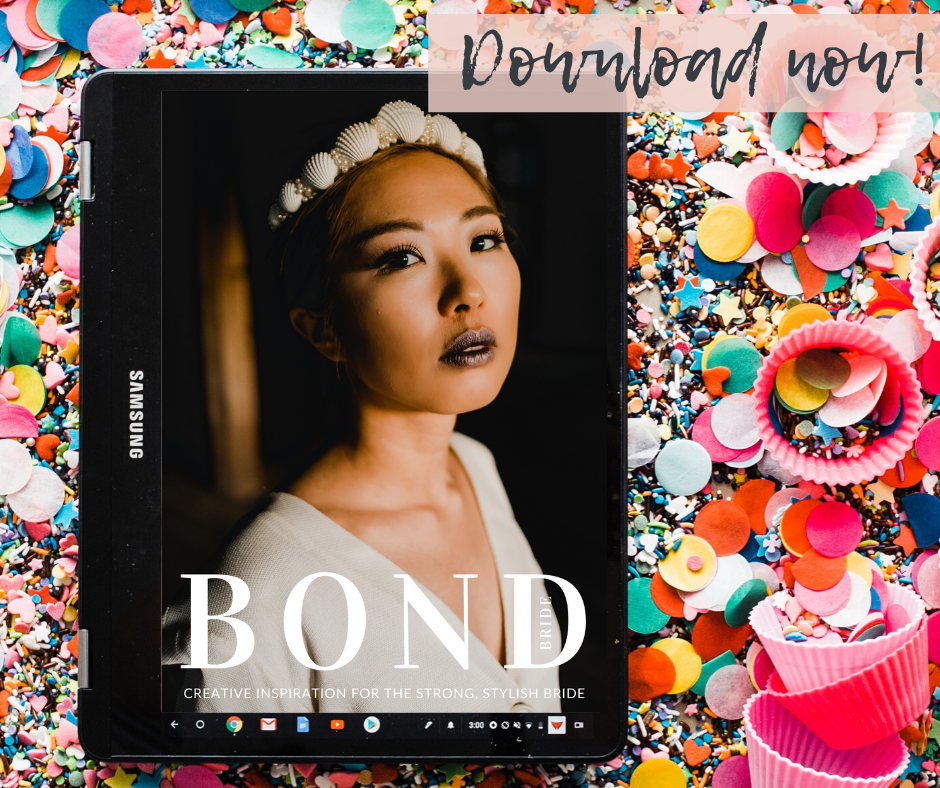 DOWNLOAD BOND BRIDE MAGAZINE ISSUE 3 HERE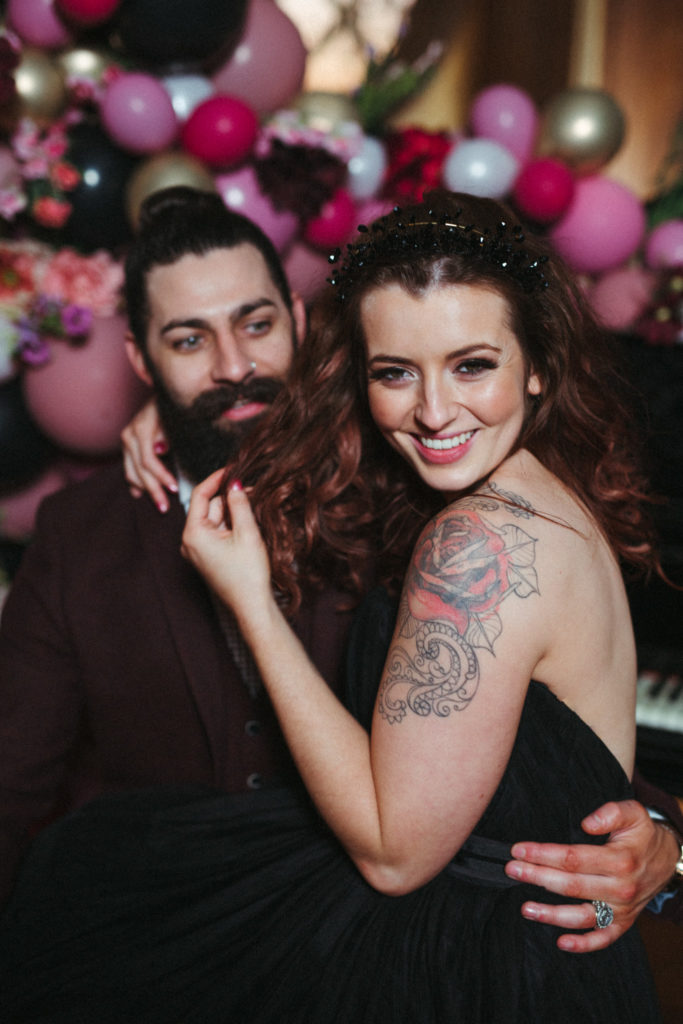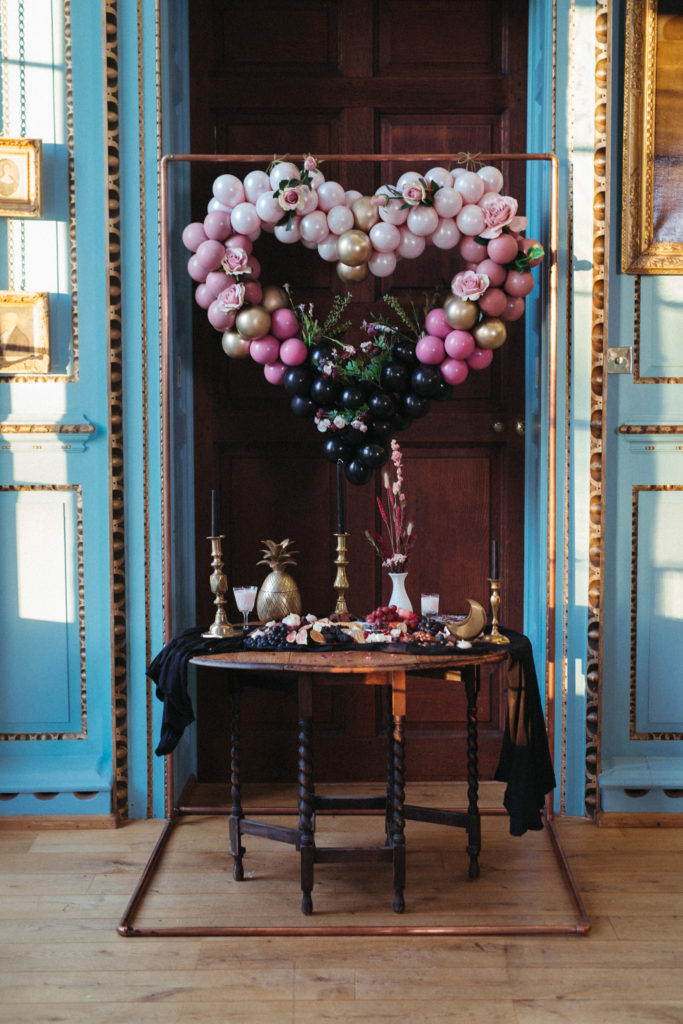 "Bradbourne House a Grade 1 listed building set in 20 acres of parkland, in the village of East Malling, Kent, originally built in Tudor times was perfect for our shoot."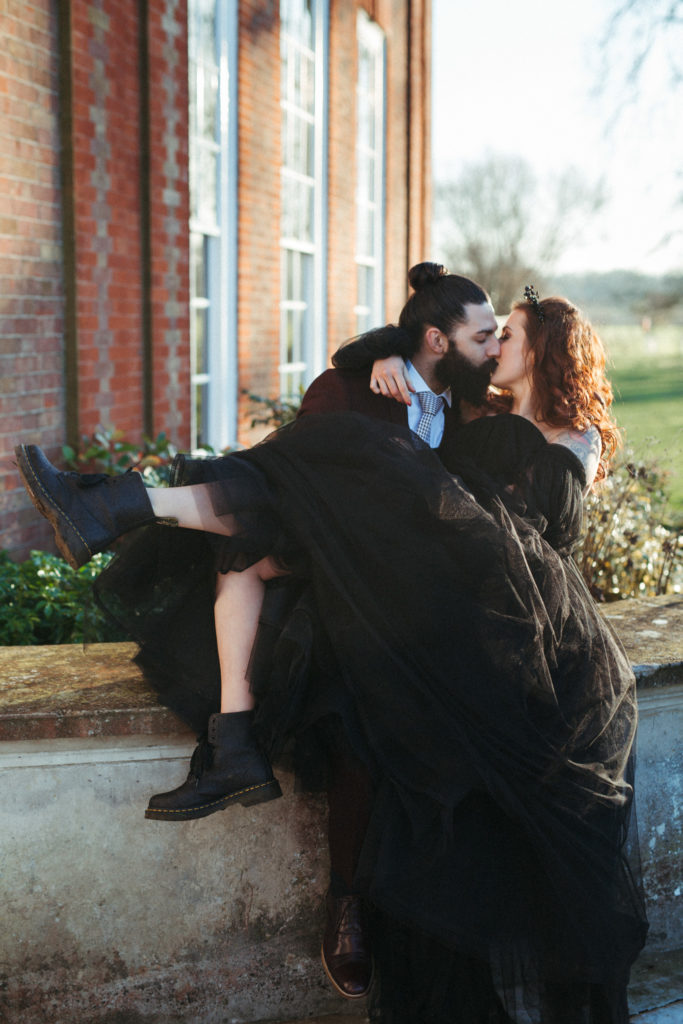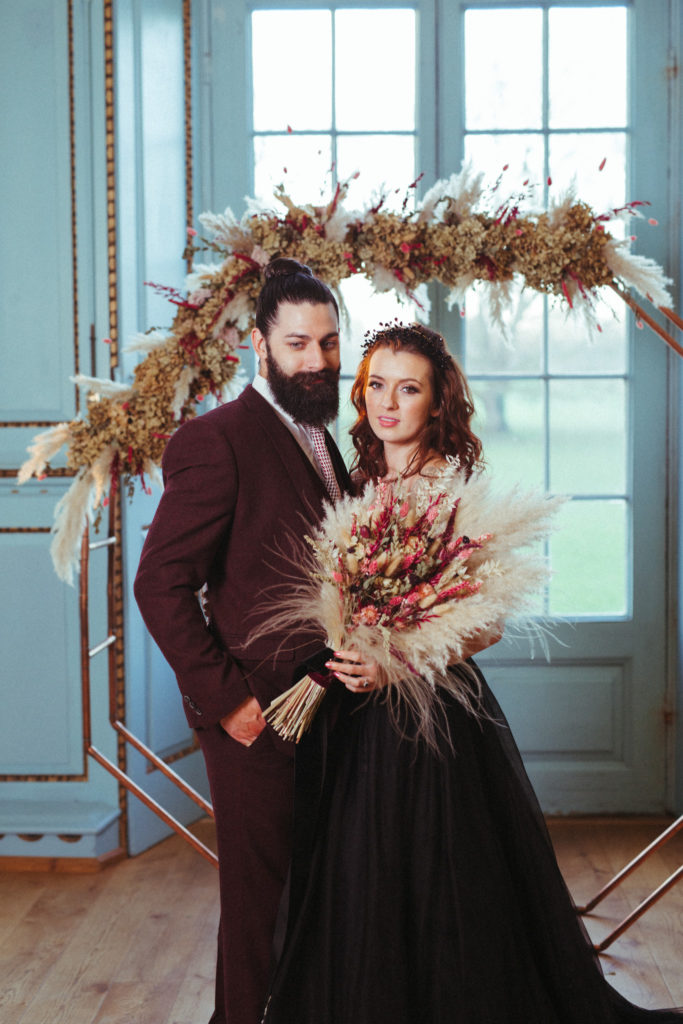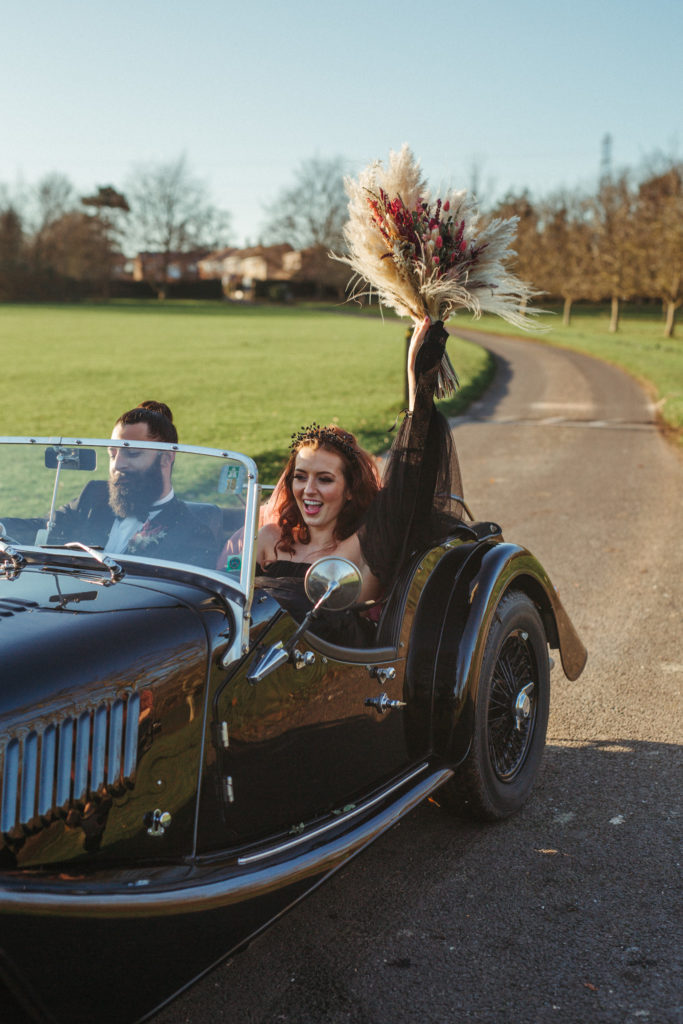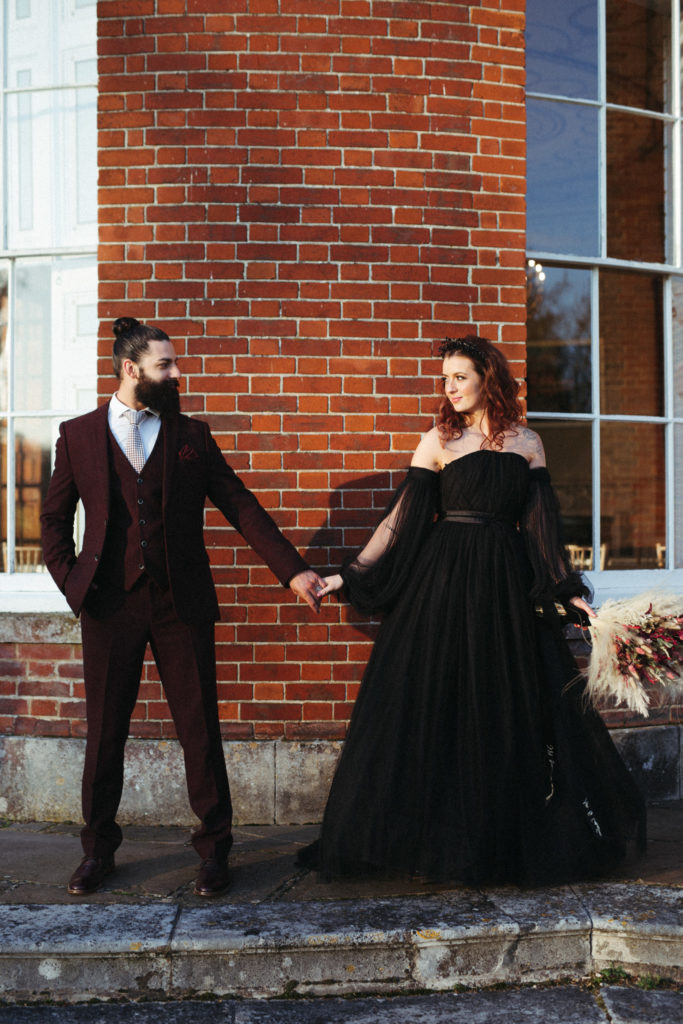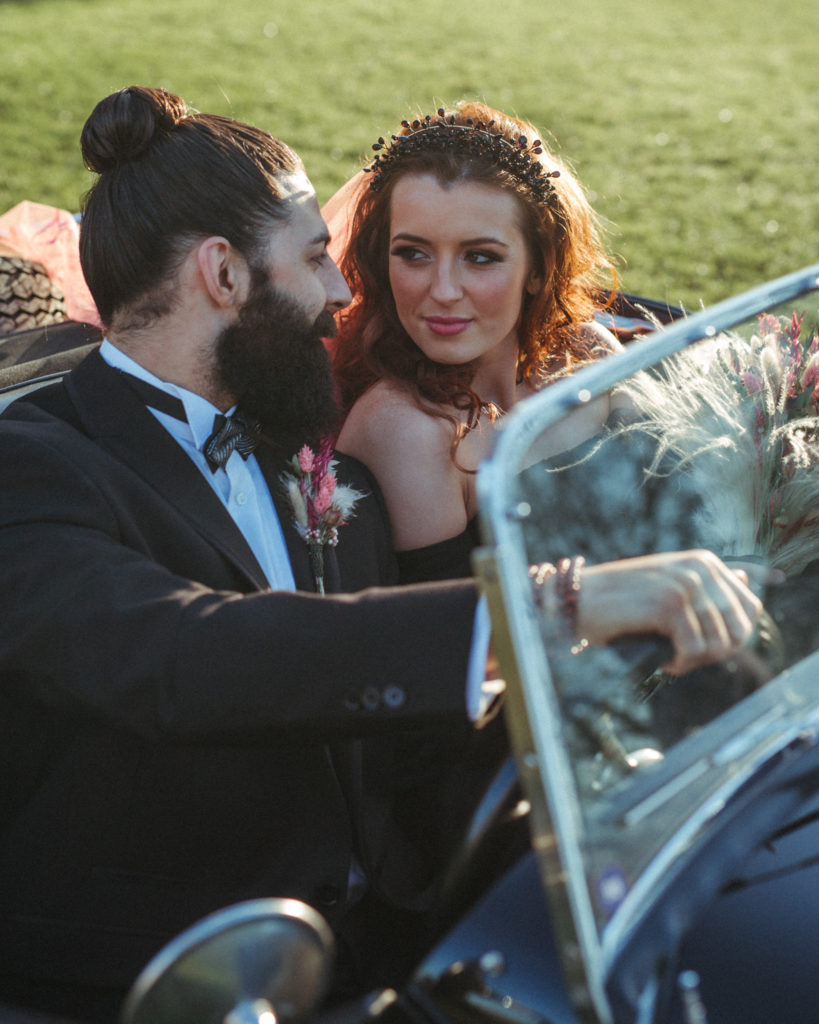 Photography – Bitta Veres
Bitta Veres With the imagery I attempted to capture every detail while sticking to the usual in part editorial, in part portraiture and in part documentary style that I deliver to clients. In terms of colour grading I wanted the images to come across as filmy look, with sort of high-end matt magazine kind of feel to them. Consistent with my portfolio and complementing the gorgeous glam black wedding dress, along with the rich colours in the details provided by all aforementioned suppliers – I thought that this look represented the general feel of the entire day we spent together making this beautiful vision come to life. The decoration and styling together with the bridal gown and the gorgeous suits for our groom were a joy to photograph, and the chemistry between our Caroline and Avi was just every photographer's dream to capture.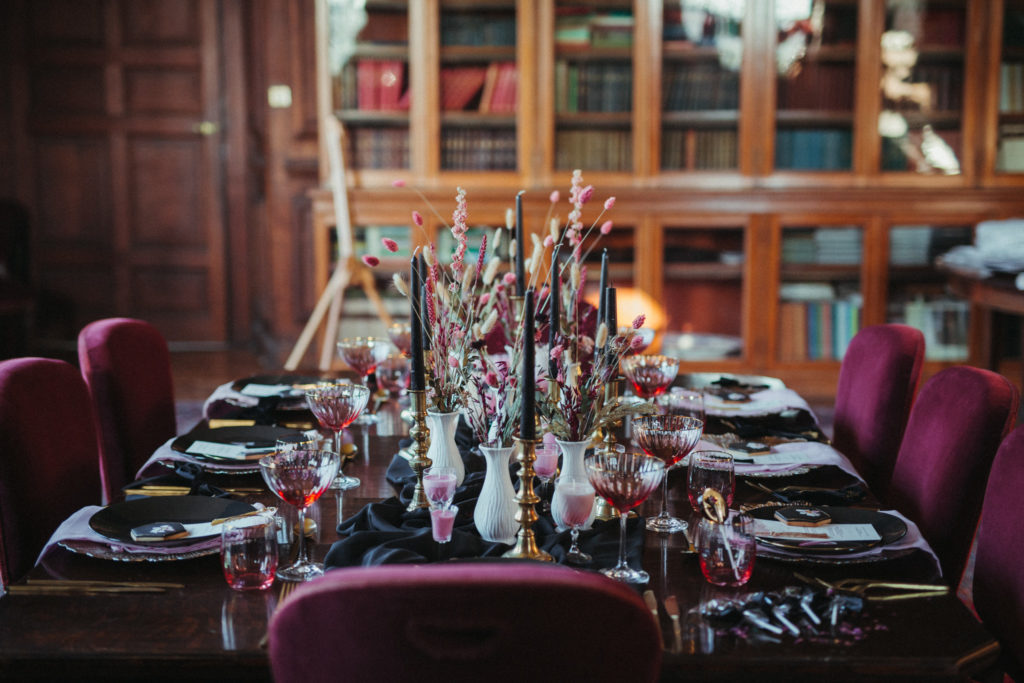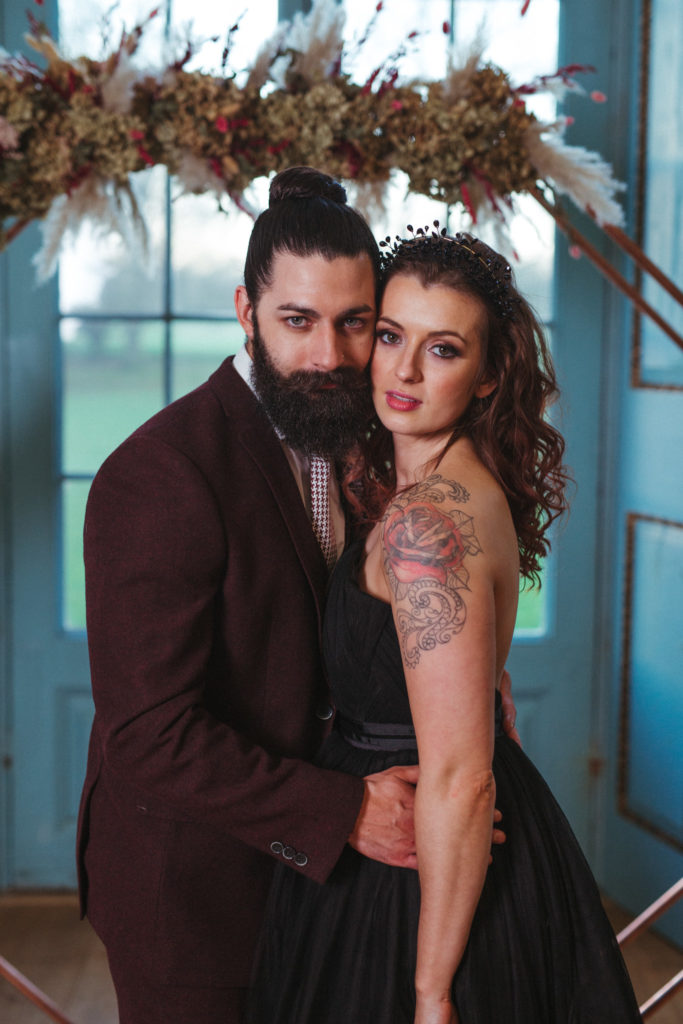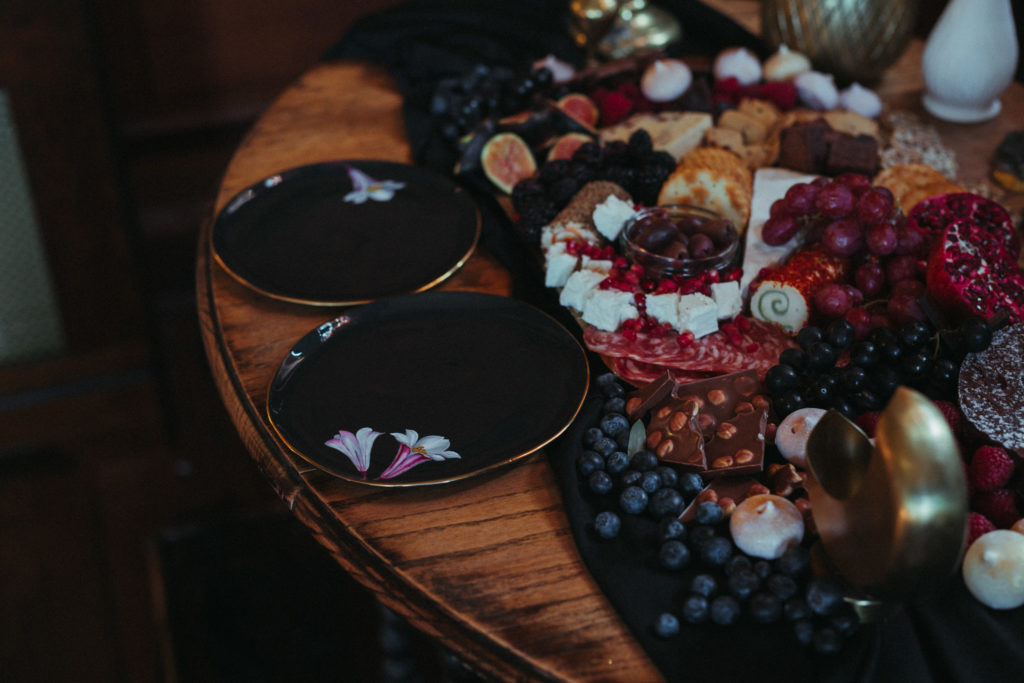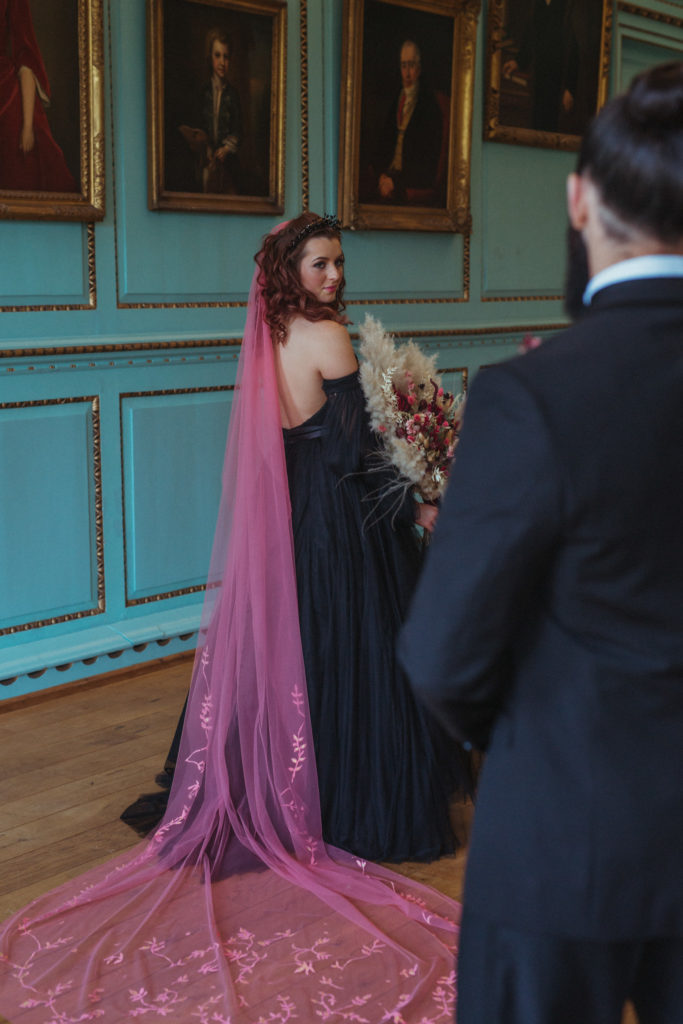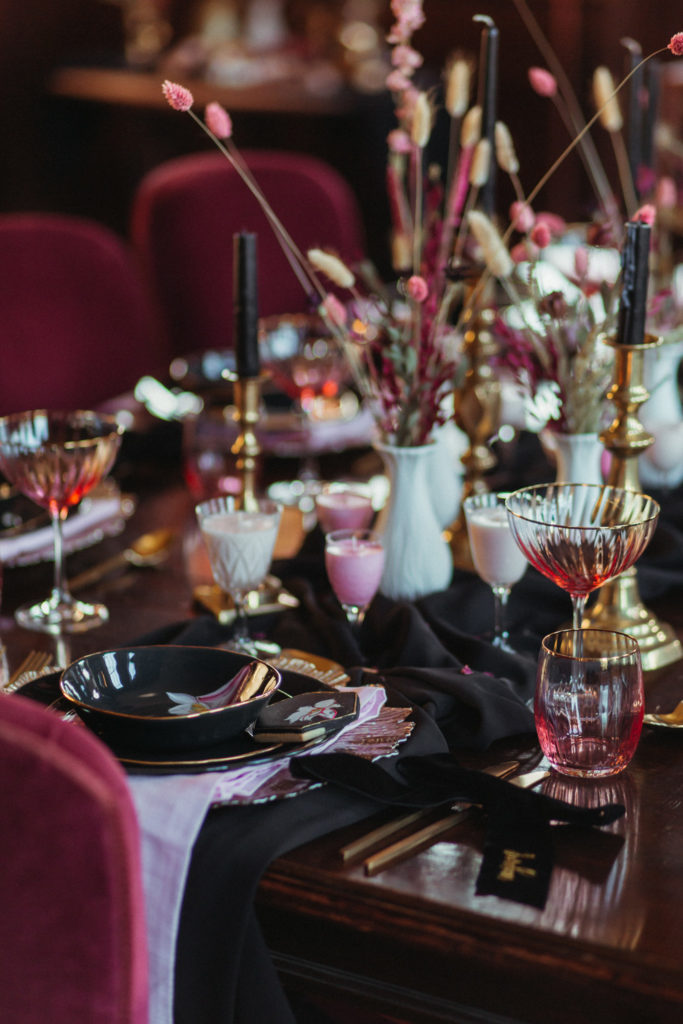 Stationery – RR Weddings Design
"To make sure the stationery complimented the feel of the shoot I chose a pink watercolour wash and a large dose of floral illustrations to soften the pink and black colour schemes, although dramatic and bold I wanted the invitations to show a more romantic feel. Wax seals and hints of gold were used to bring a touch of elegance, which worked especially well with the table display and wedding favour cookies which complimented each beautifully."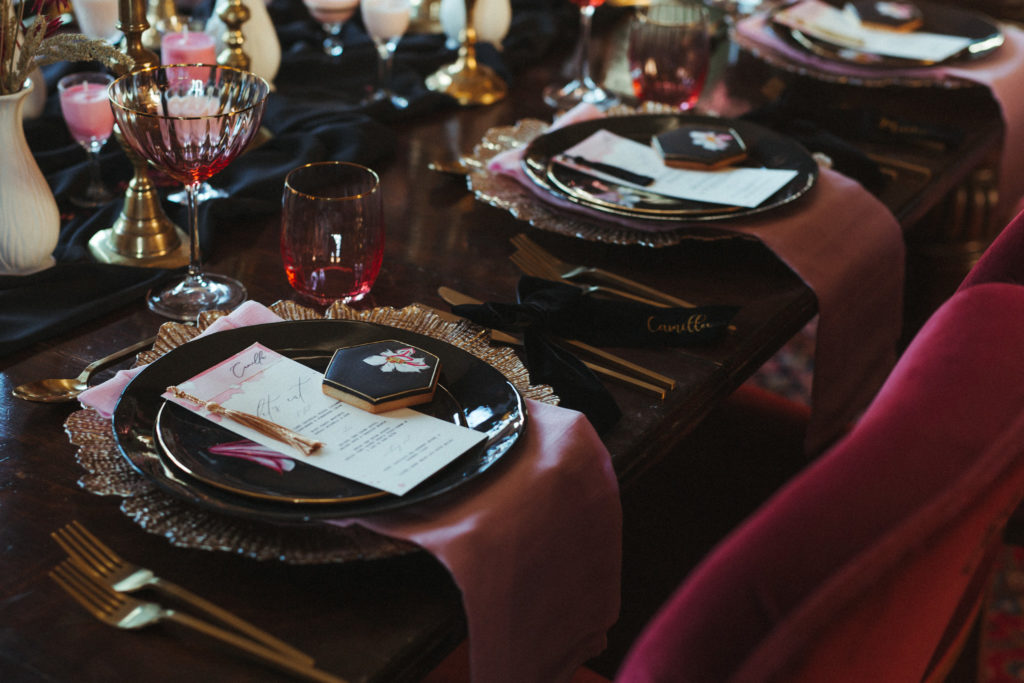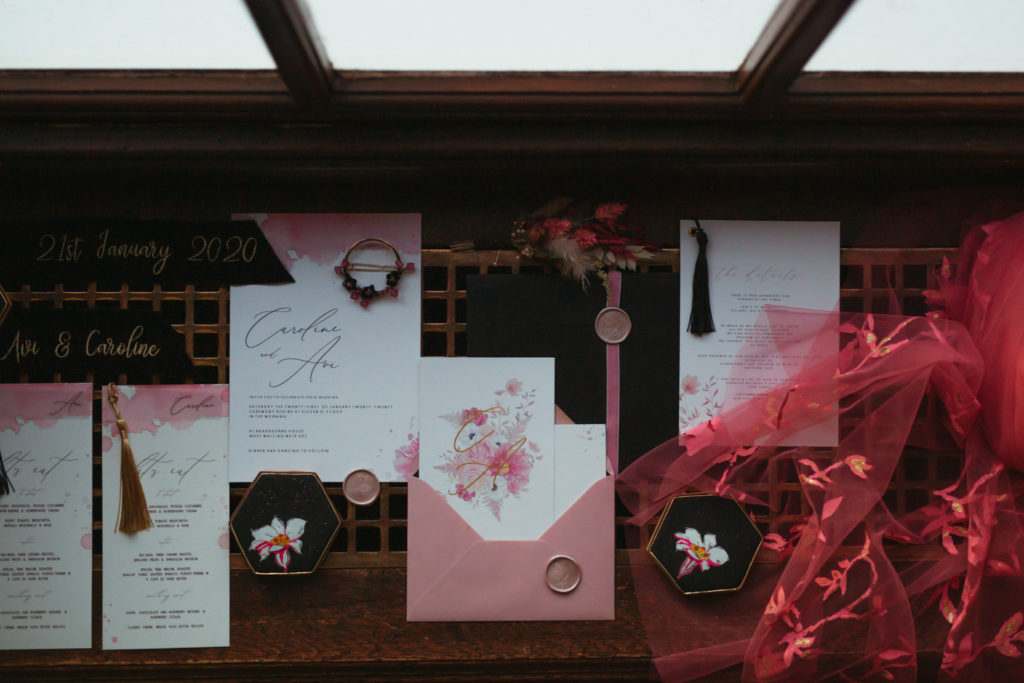 Bridal – Lisa Lyons Bridal
"I was asked to make a bespoke wedding dress with a twist. It had to be black and have the option of two 'looks' I created a soft tulle ballgown with low back, dramatic but elegant. It had detachable full sleeves and grosgrain and velvet ribbon trim detail."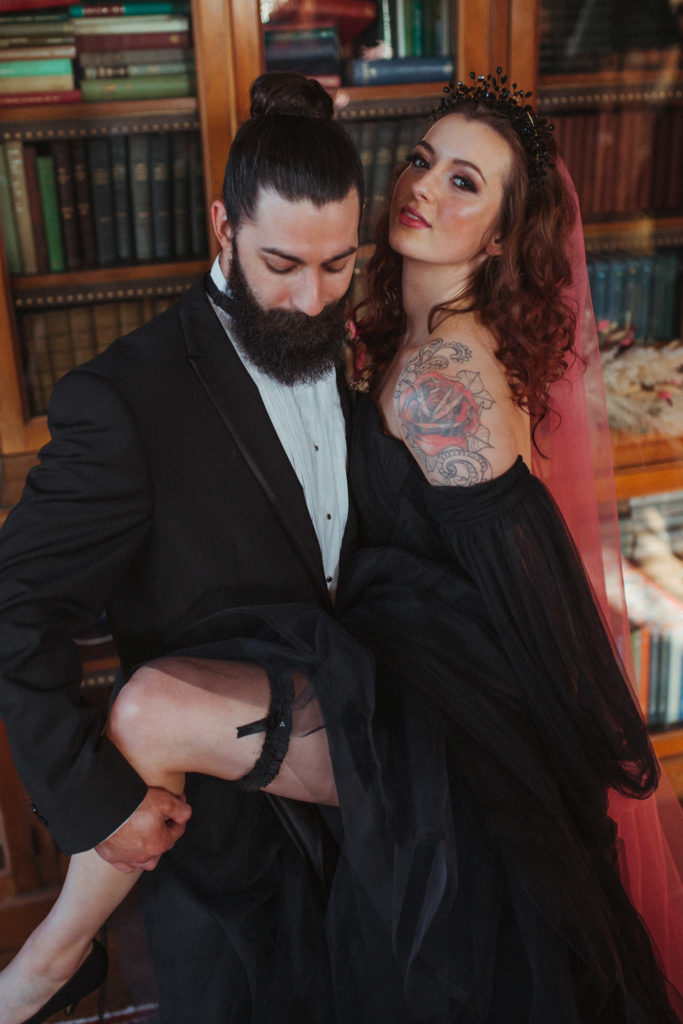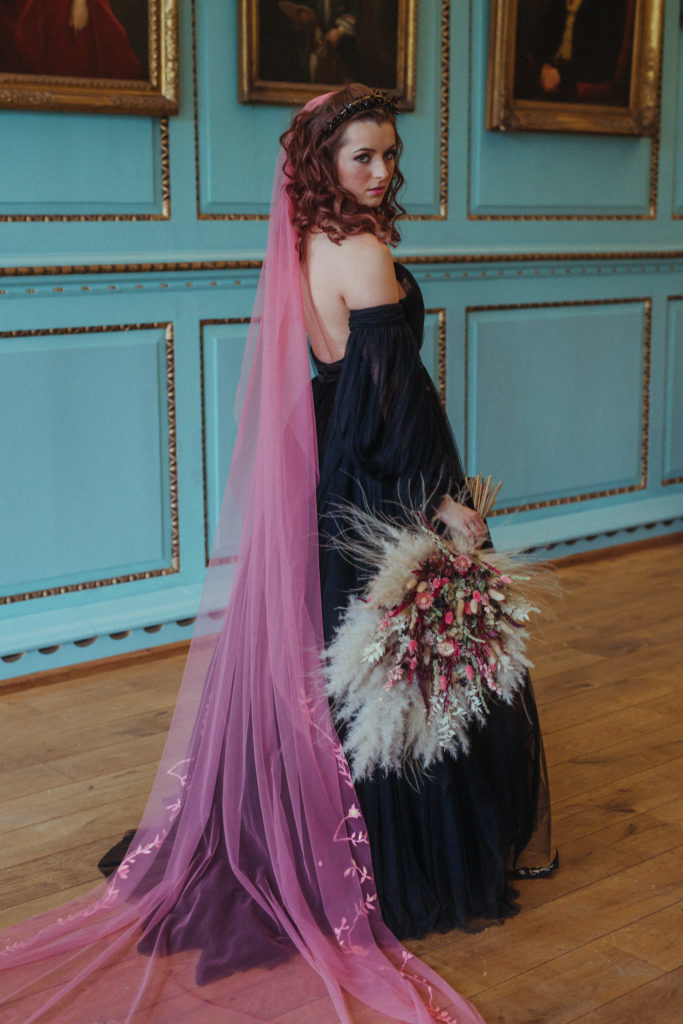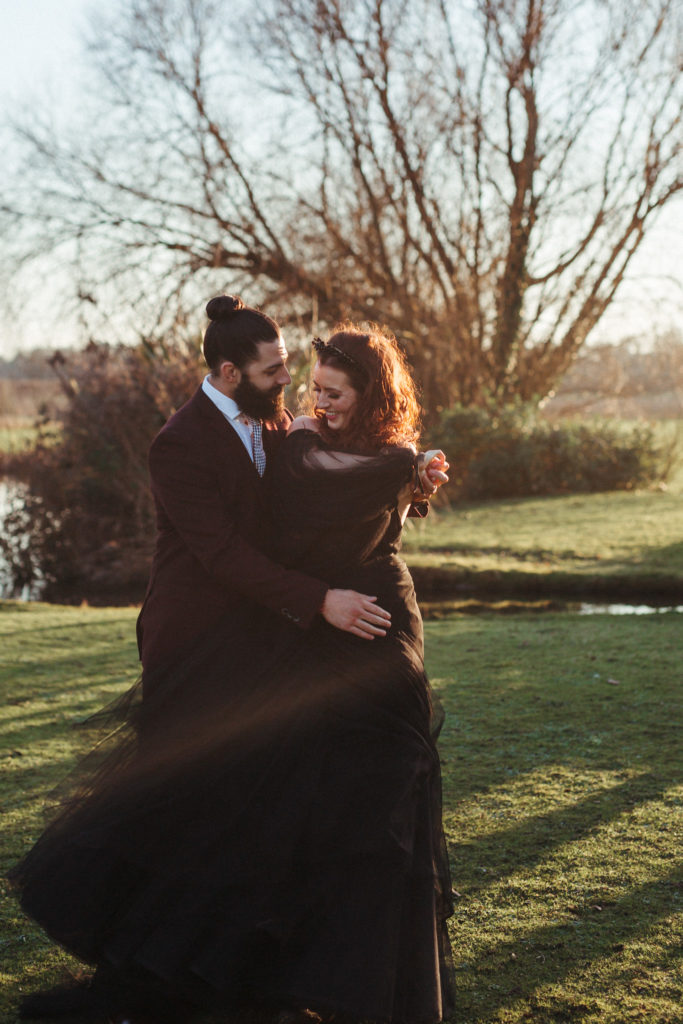 The Vintage Glassware Company
"The stunning pink & gold glassware is from The Vintage Glassware Company, a glassware hire company specialising in beautiful vintage and vintage inspired glassware. The pink & gold glasses were picked from their coloured glassware range for its luxurious deep pink tones to perfectly offset the darker pieces of tableware.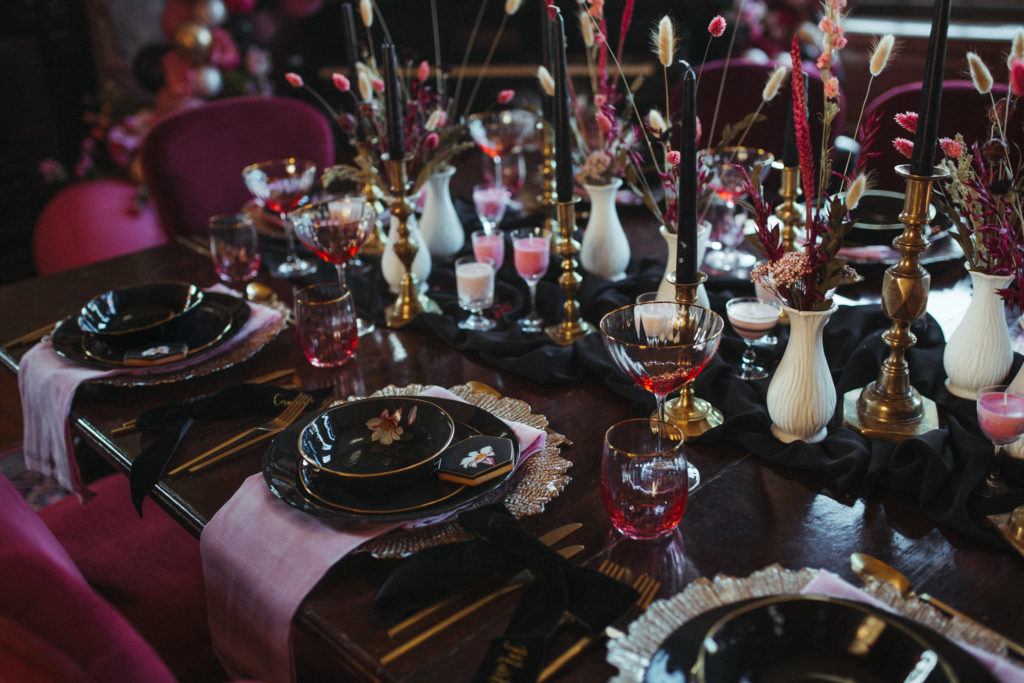 Headwear – Honey V Tiaras
"With such a decadent theme I wanted to make a veil that would mirror the glamour without making it too gothic. The perfect solution was a deep rose cathedral length veil. I loved the idea of trailing foliage along the edge, and to achieve a delicate look I hand painted the design. By highlighting the detail with shimmering gold leaf, the veil became opulent and luxurious."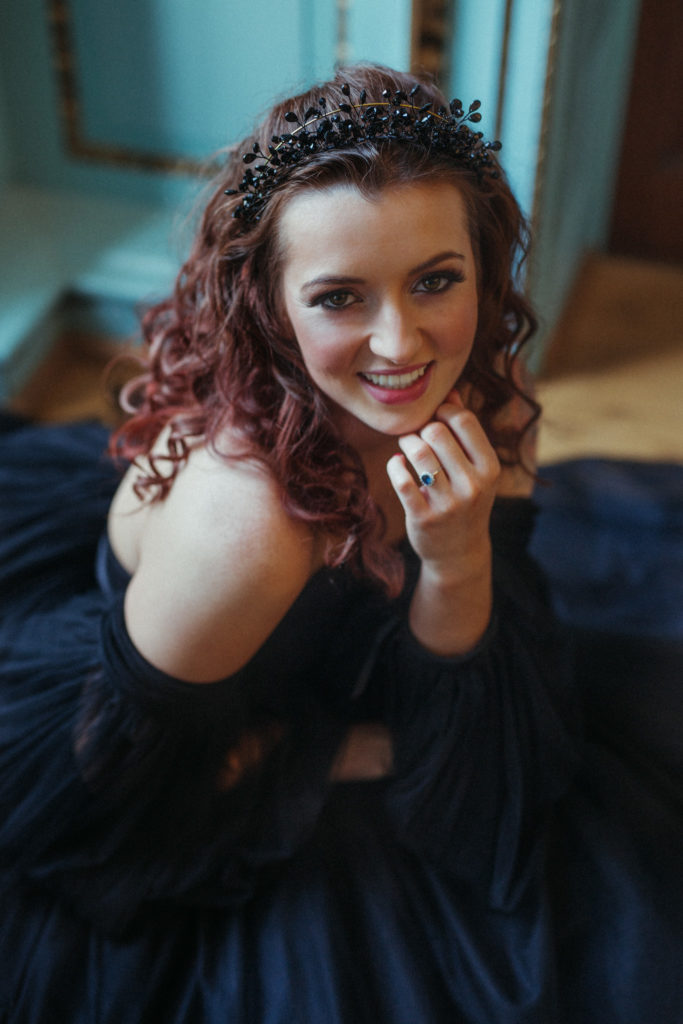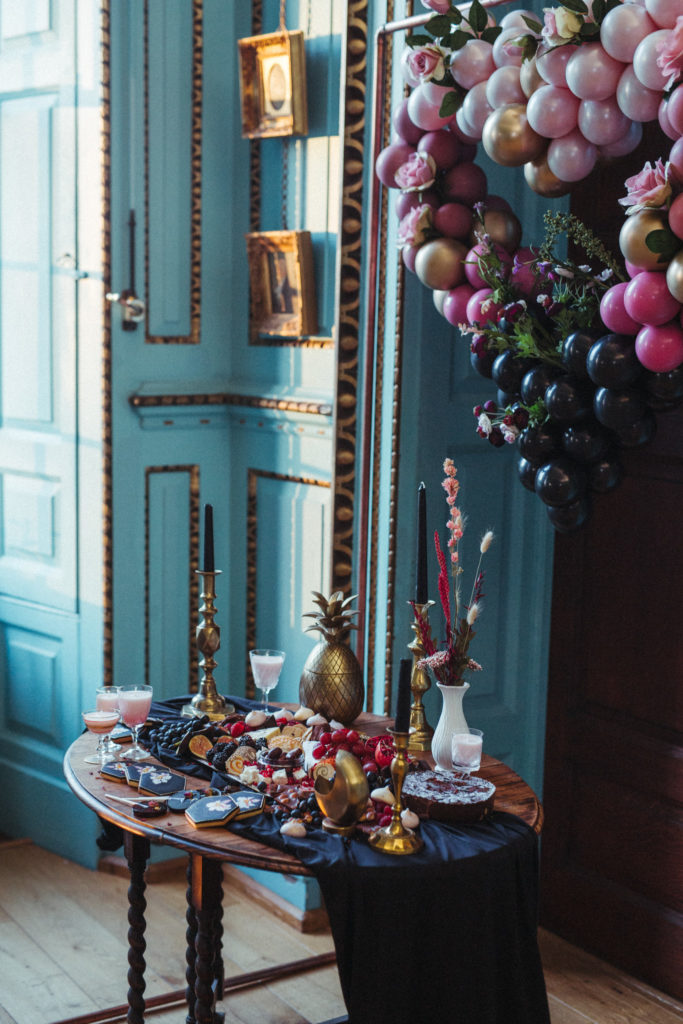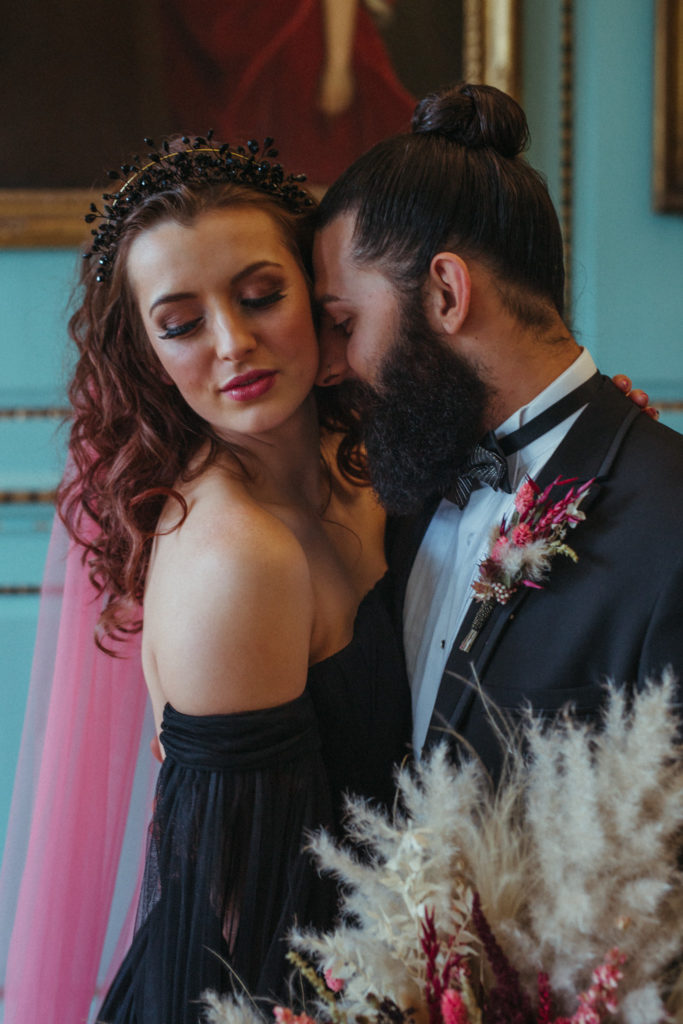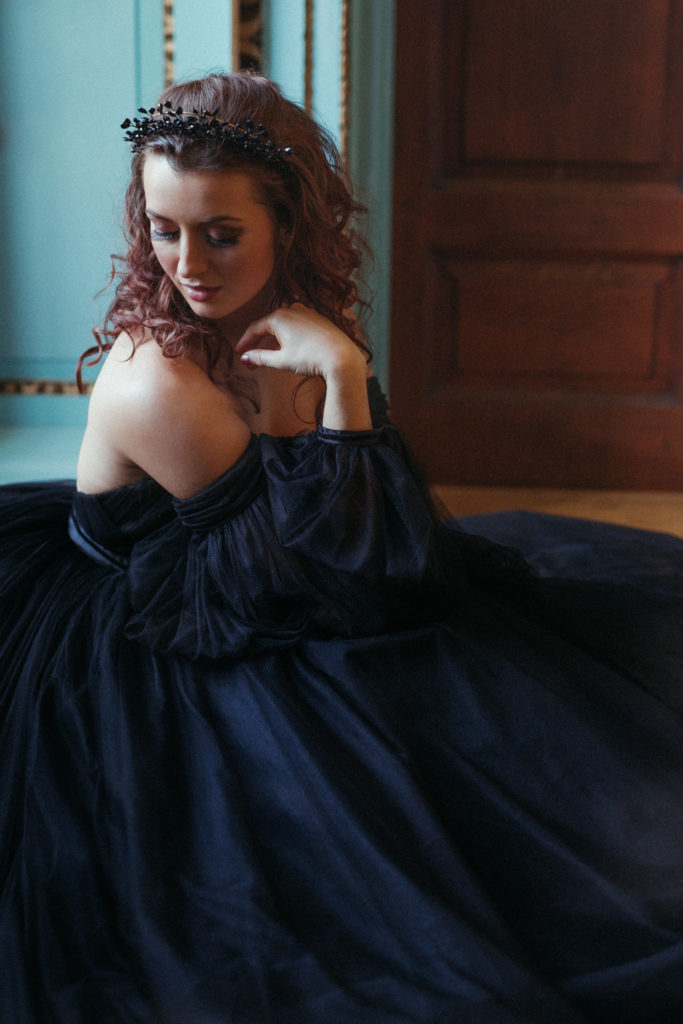 "The deep rose complimented the beautiful floral work whilst keeping it fresh and vibrant. To set this off perfectly it had to be a halo. I kept the gold frame at the top of the crown visible, to allow it to glisten through the sparkling jet Crystals adding a touch of innocence. The delicate beading mirrored the foliage on the veil, giving height without appearing heavy. A rose and black crystal circular hair clip linked the bridesmaids look, with a tiny tulle bow for the flower girl."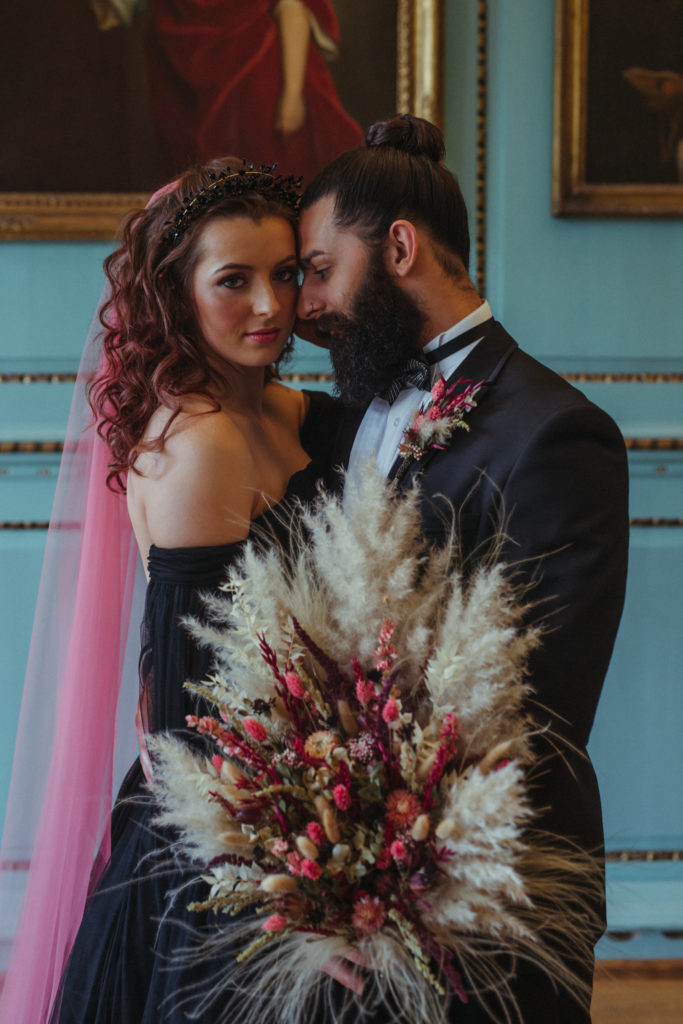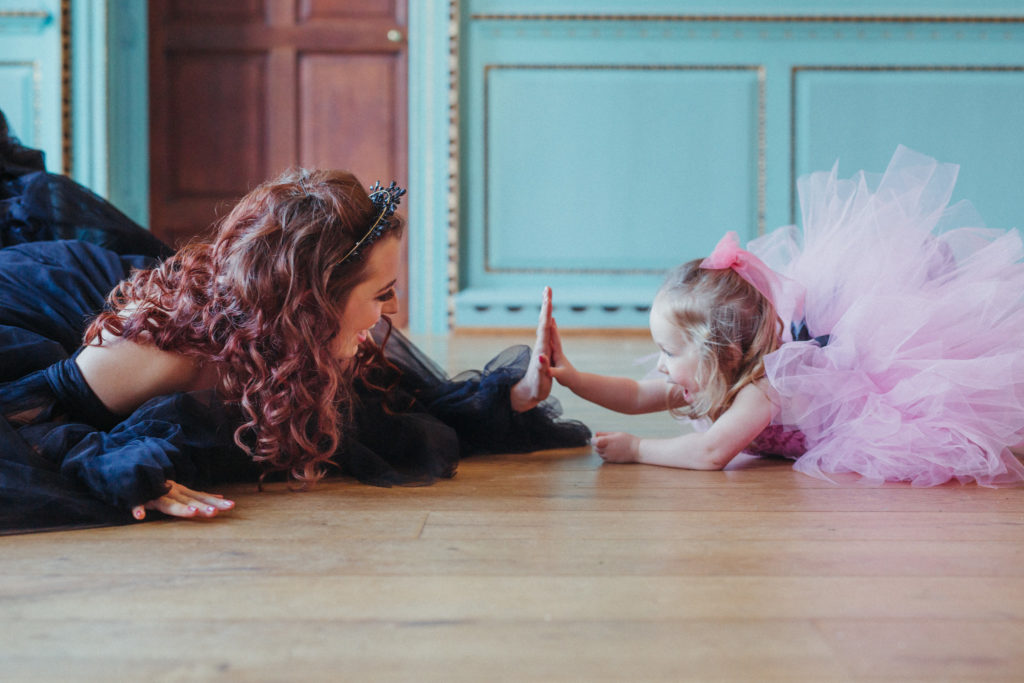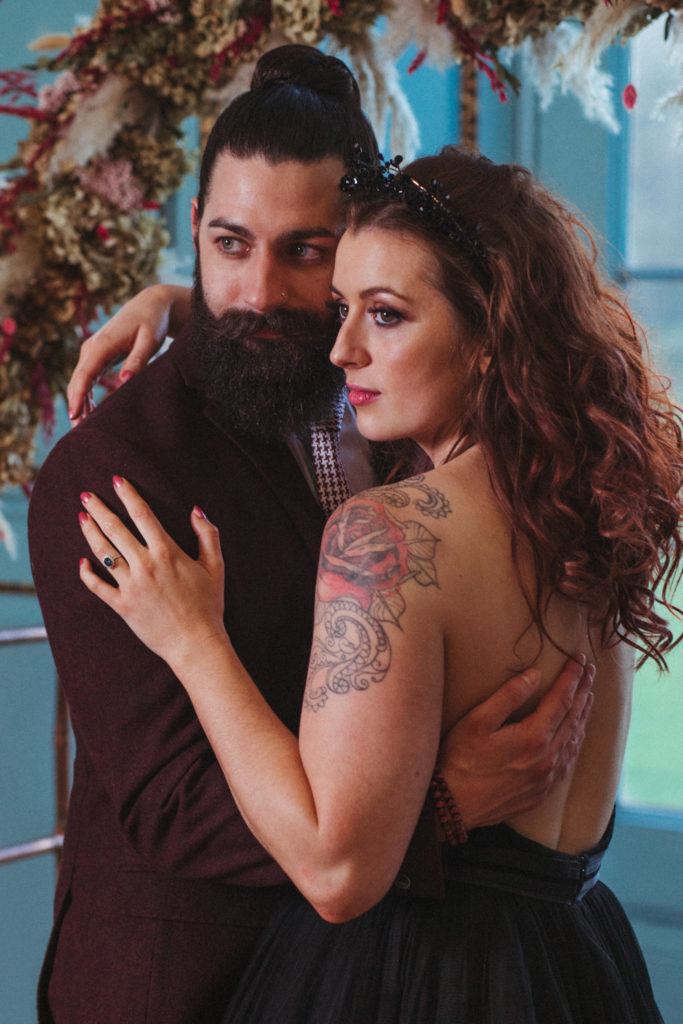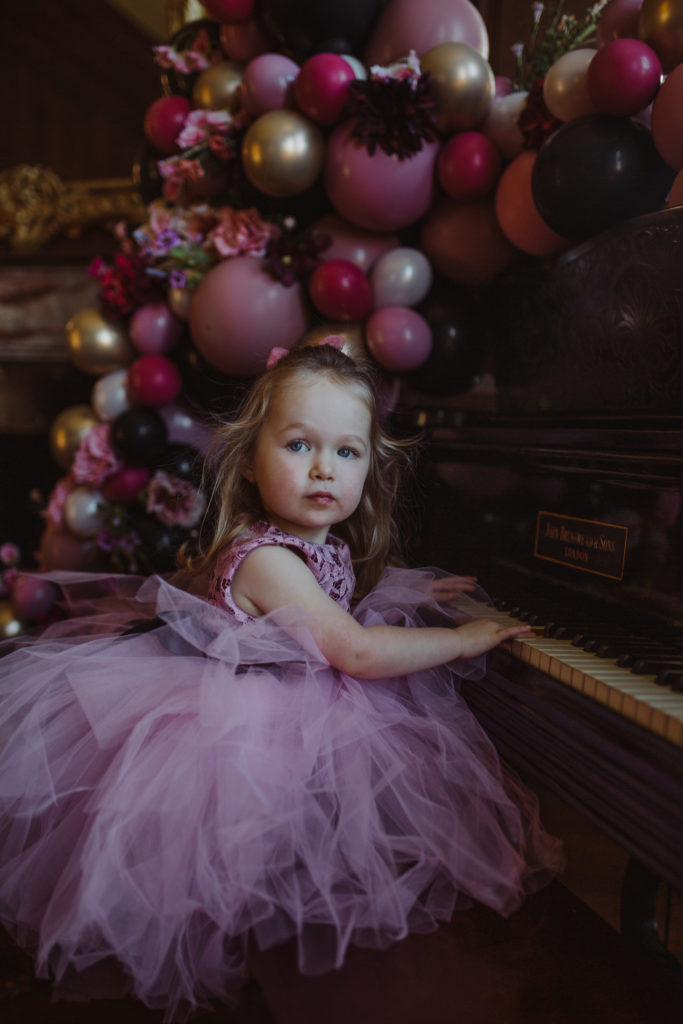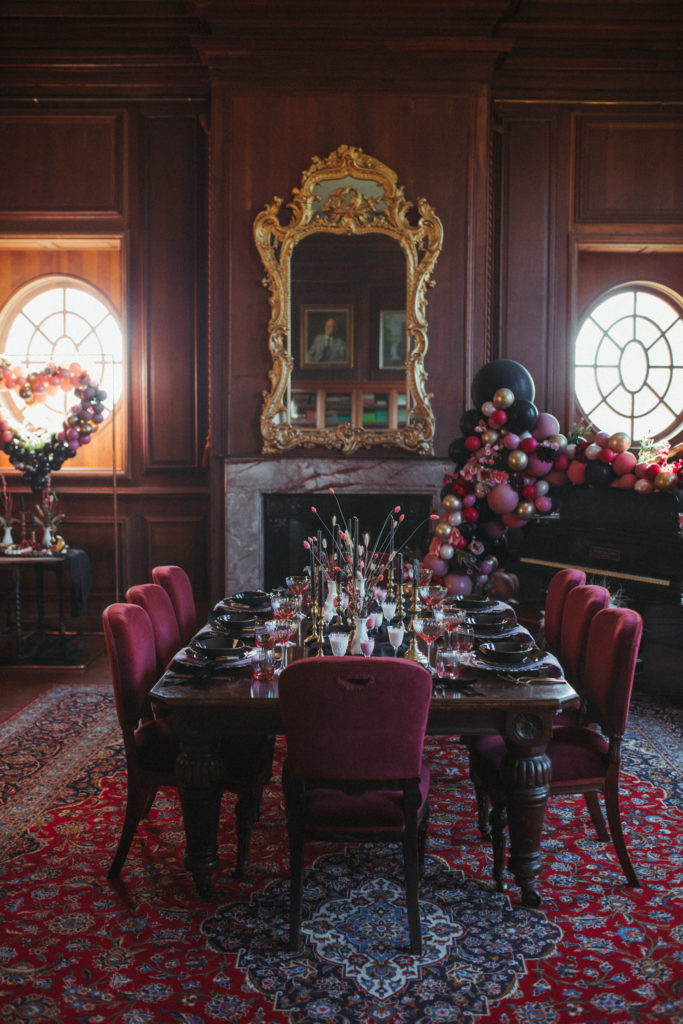 Cake – Cobi & Coco
"Often becoming a centrepiece at the reception, your wedding cake is an important detail and goes a long way towards completing the look and feel of your big day. The rise in alternative wedding cakes has grown in popularity as brides look for more unique ways to wow their guests."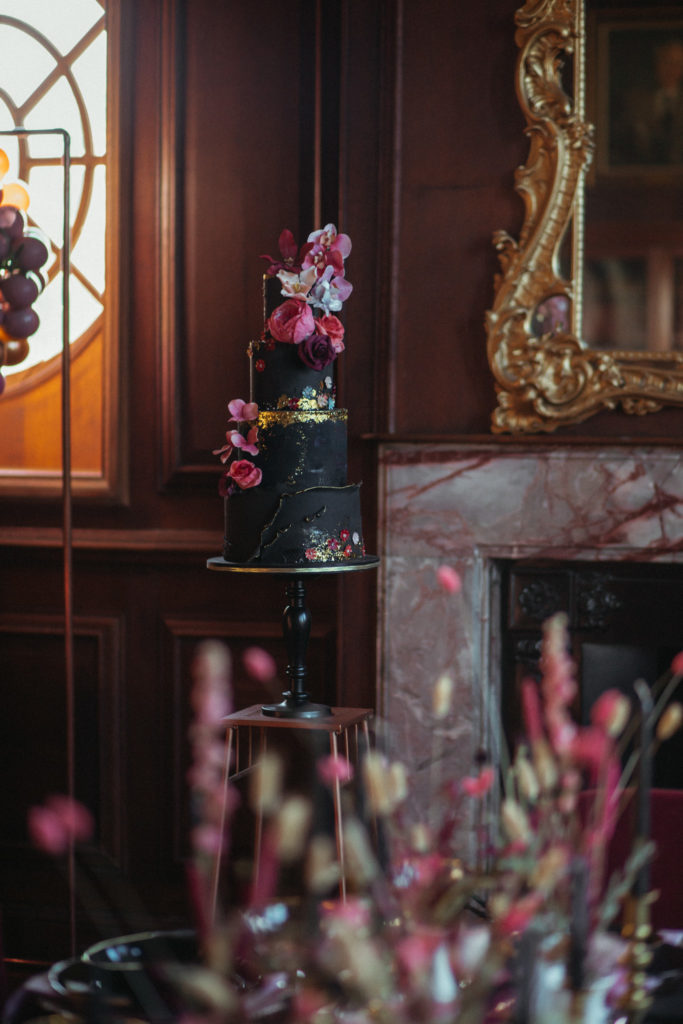 "A dark canvas for your wedding cake will make many colours really pop. Cobi & Coco used edible gold leaf, handmade sugar Orchids and Roses to decorate this cake making the colours pop against the dark background. Adding textured ruffles and flower cut outs to add more drama, interest and elegance. Whether you fully embrace the trend or prefer to stick to a simpler approach, black wedding cakes are most definitely a trend to watch."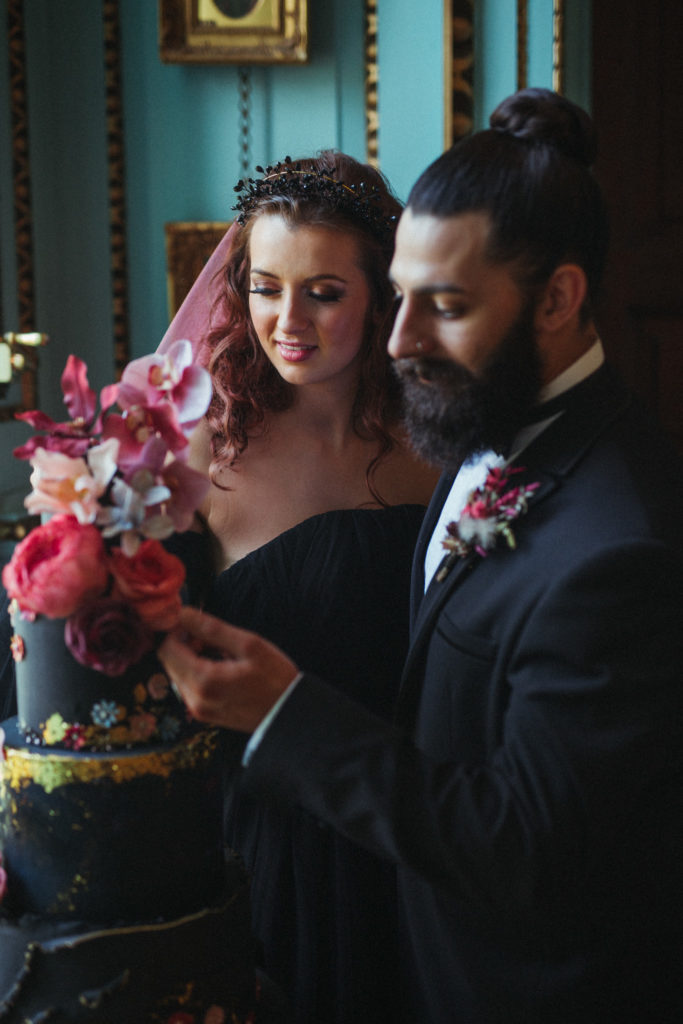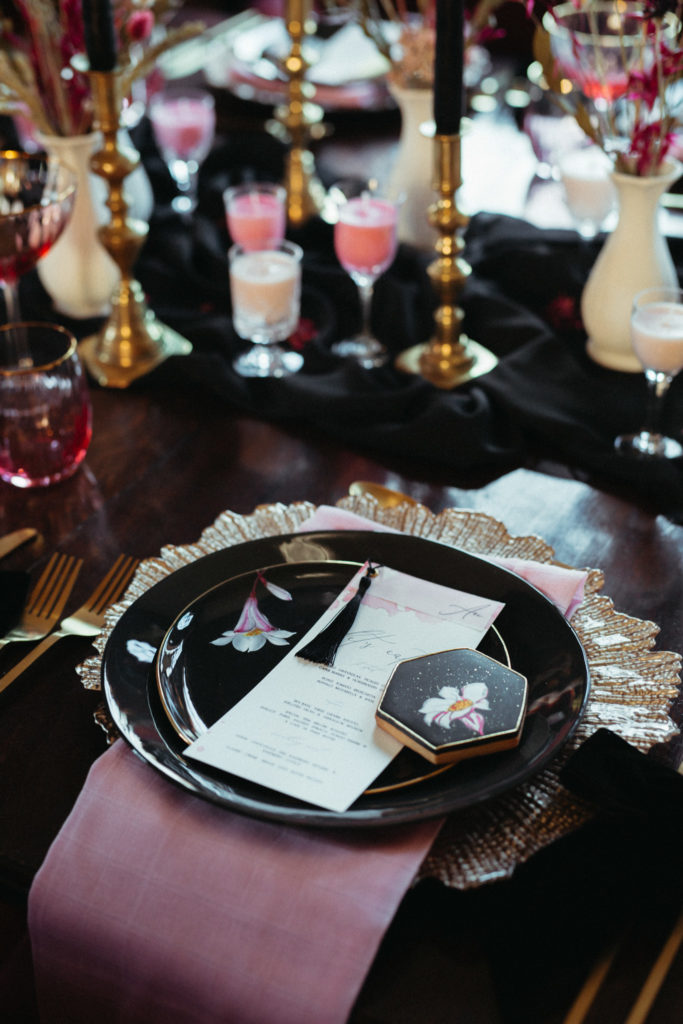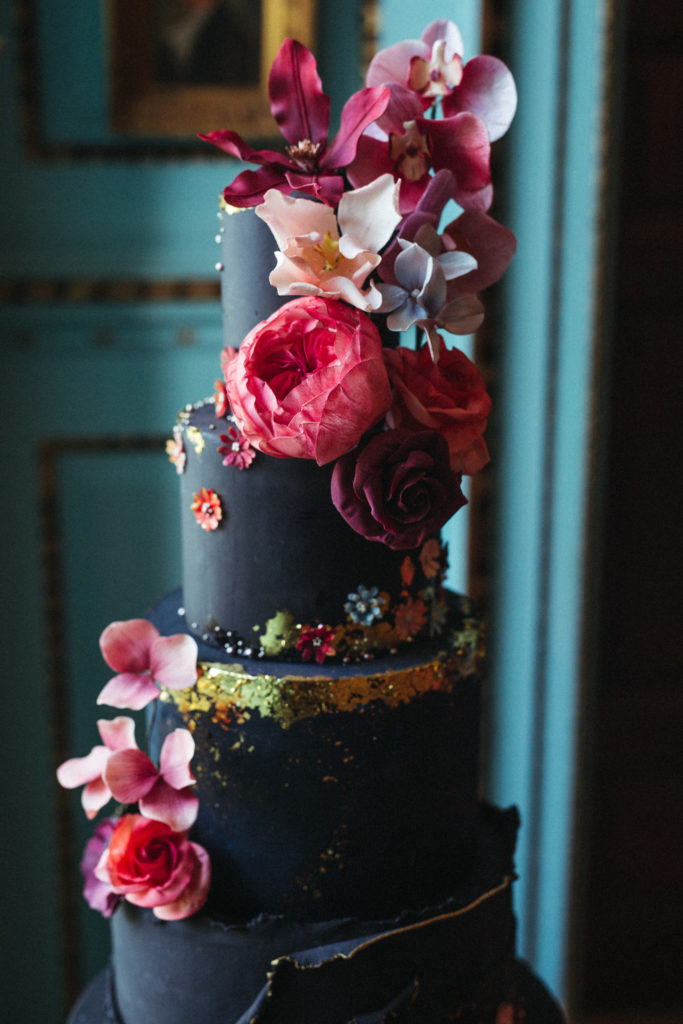 Confectionery – Cookie Town
"I make each individual cookie by hand from scratch. Each meticulously crafted in the wedding/party theme style. For this particular shoot, I used inspiration from the plates used on the table. To achieve the look, I used the "wet-on-wet" technique that is very popular with cookie makers at the moment."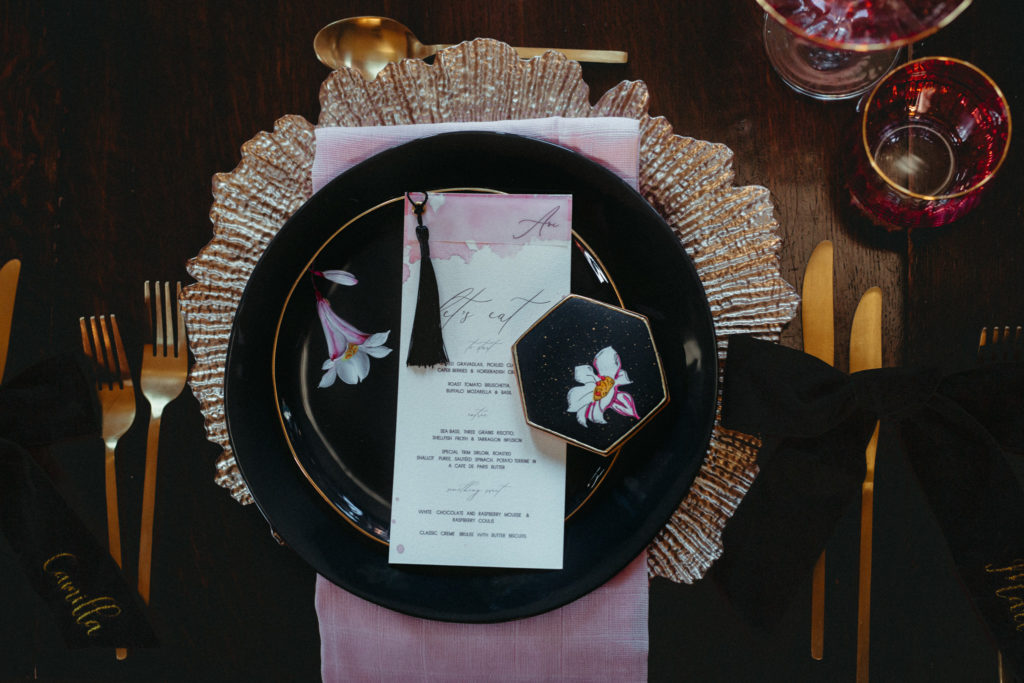 Models – Avi & Caroline
"We loved the idea of a slightly gothic shoot. We have quite a rock and roll aesthetic so this shoot seemed perfect for our personalities! Having looked at the suppliers social media feeds, this really prompted us to take part. The dress was absolutely stunning, the balloons were breathtaking and even the little details such as tableware and lollipops added something really special. The photographer and videographer were clearly very talented too and know how to capture a moment.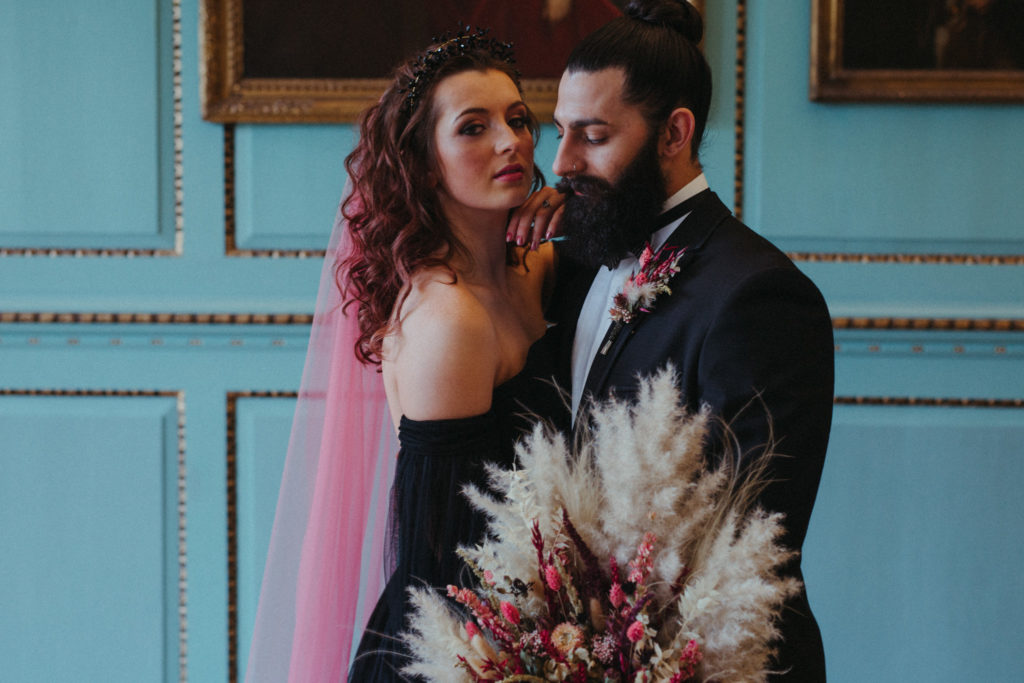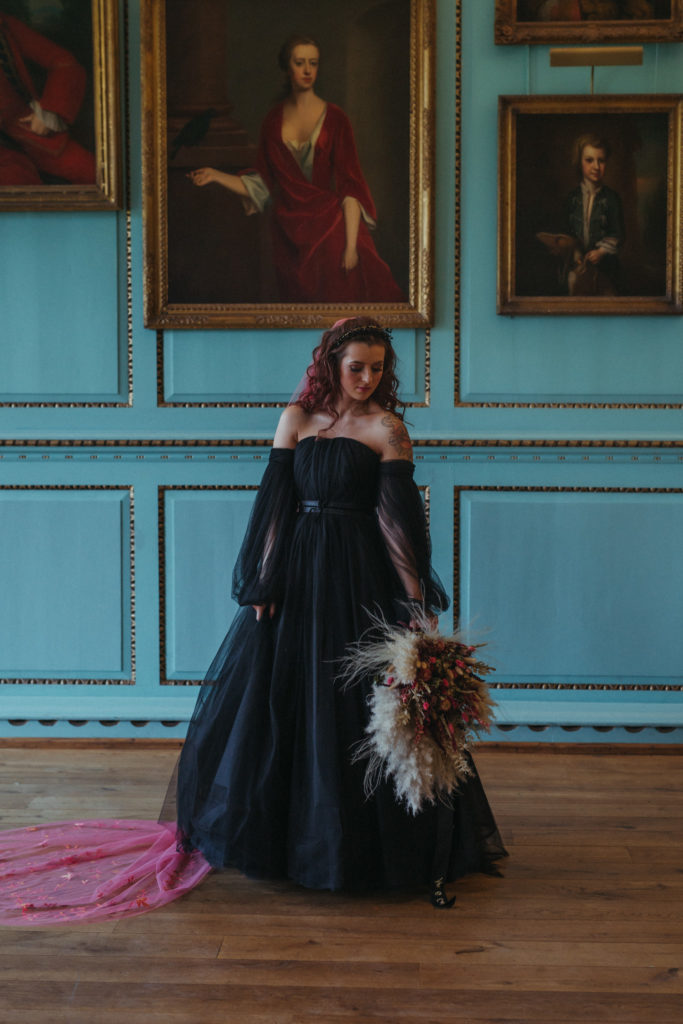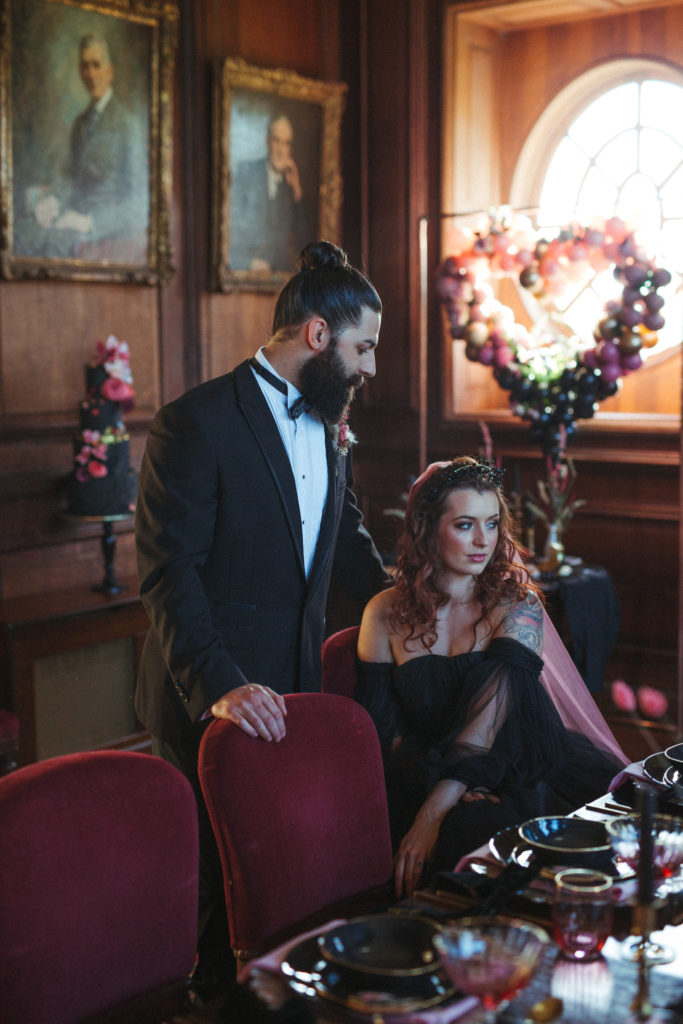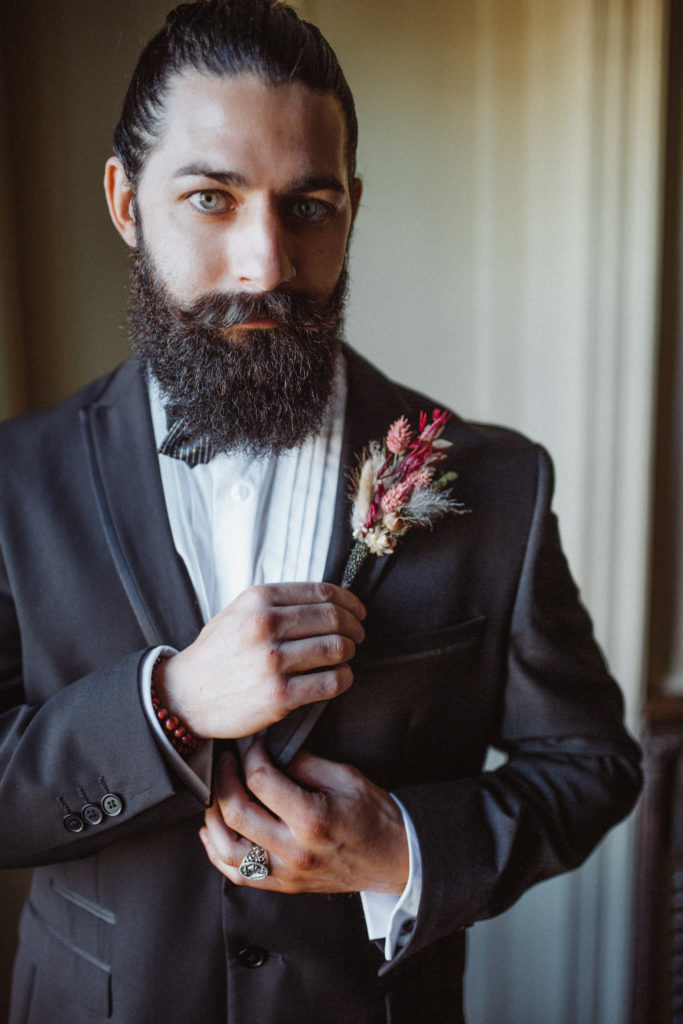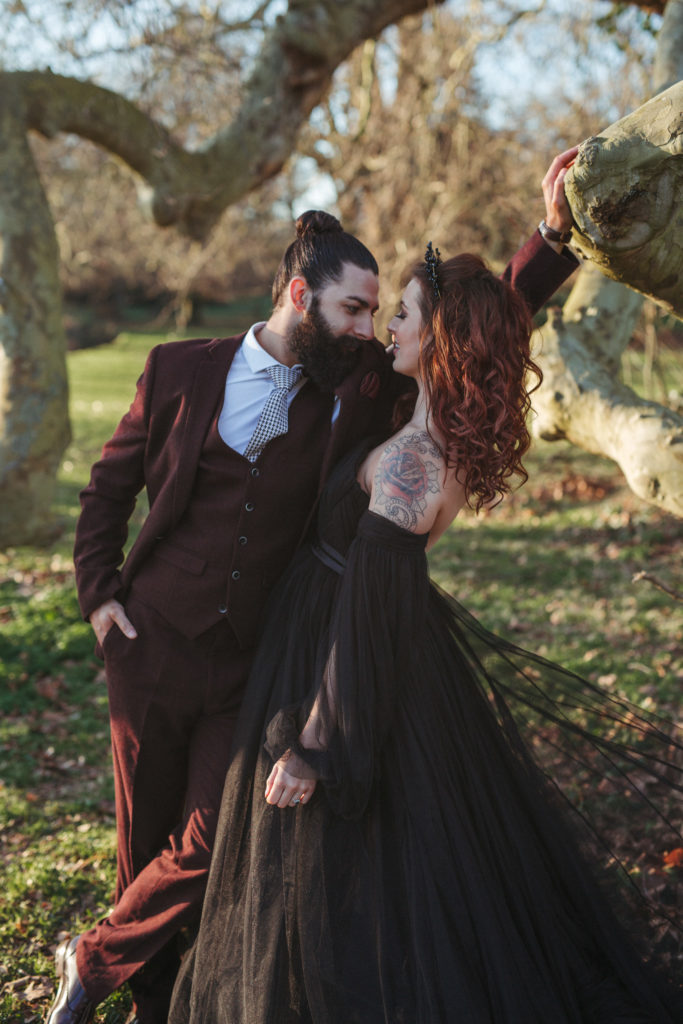 Videography – Meros Productions
"I set out to do something different and all stars aligned for this shoot. From being approached and given the brief, I immediately had the vision in mind of the direction to take it. I take this into every wedding, understanding the day/style/story. I wanted to have drama, a little character to the couple. This came from playing music on the day that was similar to song I was to use for the final film, putting them in to that "badass vibe". Music is always tricky to get right, getting the shots that will match rhythm and pace of the song is so important for story making. Getting the best shots, don't take yourself seriously, enjoy the moment, think of the memories being captured. Like myself, I just like having fun alongside the photographer and bounce off each other to get the best shots."
The Team – Modern Gothic Wedding With A Black Dress at Bradbourne House Kent
Photographer – Bitta Veres @by_bittaveres
Videographer – Meros Productions @meros_productions / Venue – Bradbourne House @bradbournehouse / Vision, Shoot Production, Balloons & Styling – The Glitzy Balloon Company @theglitzyballooncompany / Floral Design & Styling – Bohotanical @bohotanical / Cake – Cobi & Coco @cobi_and_coco_cakes / Stationery – Rebecca Richards Designs @rebeccarichardsdesigns / Groomswear – Tux N Tails @tuxntailsborehamwood / Wedding Dress – Lisa Lyons Bridal @lisa.lyons.bridal / Head Dress – HoneyV @honeyvtiaras / Handmade Crockery – Erika Albrecht Ceramics @erikaalbrechtceramics / Glassware & Cutlery – A Touch of Vintage @atouchofvintageuk / Models – Avi & Caroline @aviandcaroline / Hair & Makeup – Gilly Hair & Makeup @gillyhairandmakeup / Hair & Makeup – Marianne Hair & Make Up Design @marianne.hair_makeup_design / Prop Hire – Boho & Bloom @bohoandbloomprophire / Cookies – Cookie Town UK @cookietownuk / Personalised Ribbons – Extra Special Touch @extraspecialtouch / Lollipops – Willow & Boo @willowandboo / Candles – Lost & Found @findcandles / Vintage Car Rental – Brands Hatch Morgan @brandshatchmorgans / Flower Girl Dress – Melies Tutus @meliestutus
IF YOU LOVED THIS LOOK PLEASE PIN IT!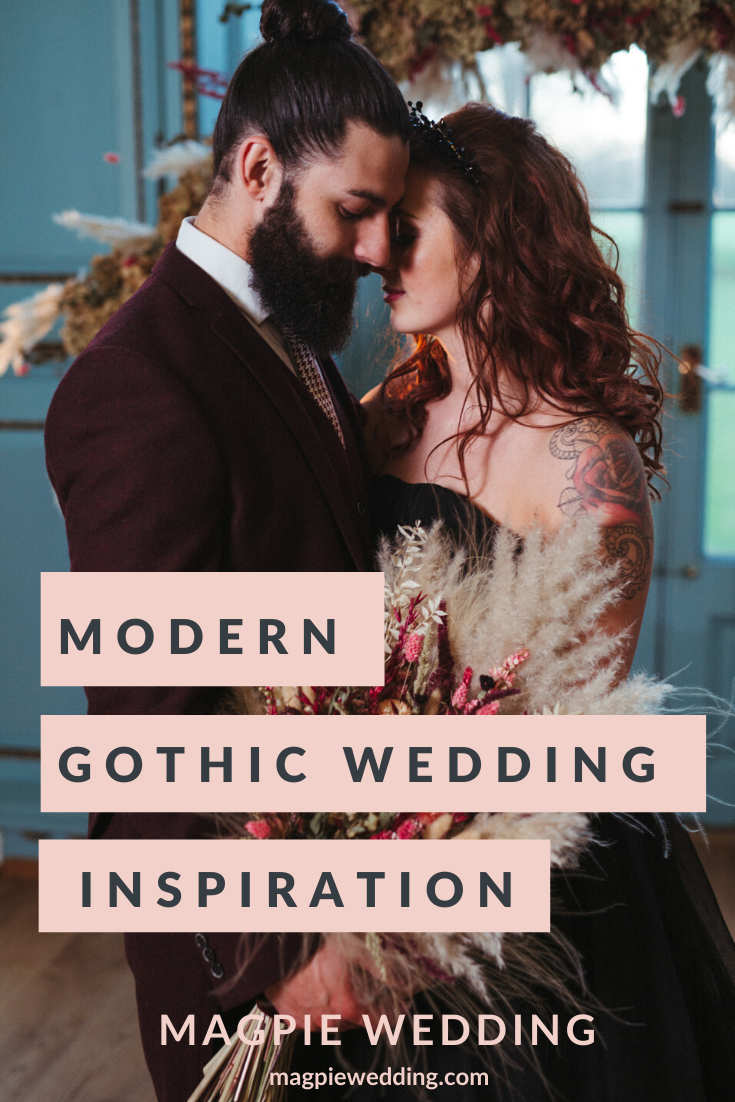 If you love this Modern Gothic Wedding at Bradbourne House you may also like:
Alternative and Relaxed Rock Wedding Inspiration at The Greyhound Hotel, London
From Marriage Matters to Wedding Wellbeing – Magpie Wedding's Values For 2020
Should You Wear A Cravat Or A Tie With Your Wedding Suit?