Australian couple Sophia and Kyle, like many, waited what felt like an age to tie the knot but their beautiful Australian destination wedding proved it was worth the wait! From a chance meeting to a sunrise proposal, they have a wonderful love story. If you're planning your own destination wedding or are here for the monochrome styling there's lots of yummy inspiration for you. Bride Sophia tells us all about their wedding at Quat Quatta in Melbourne, Australia…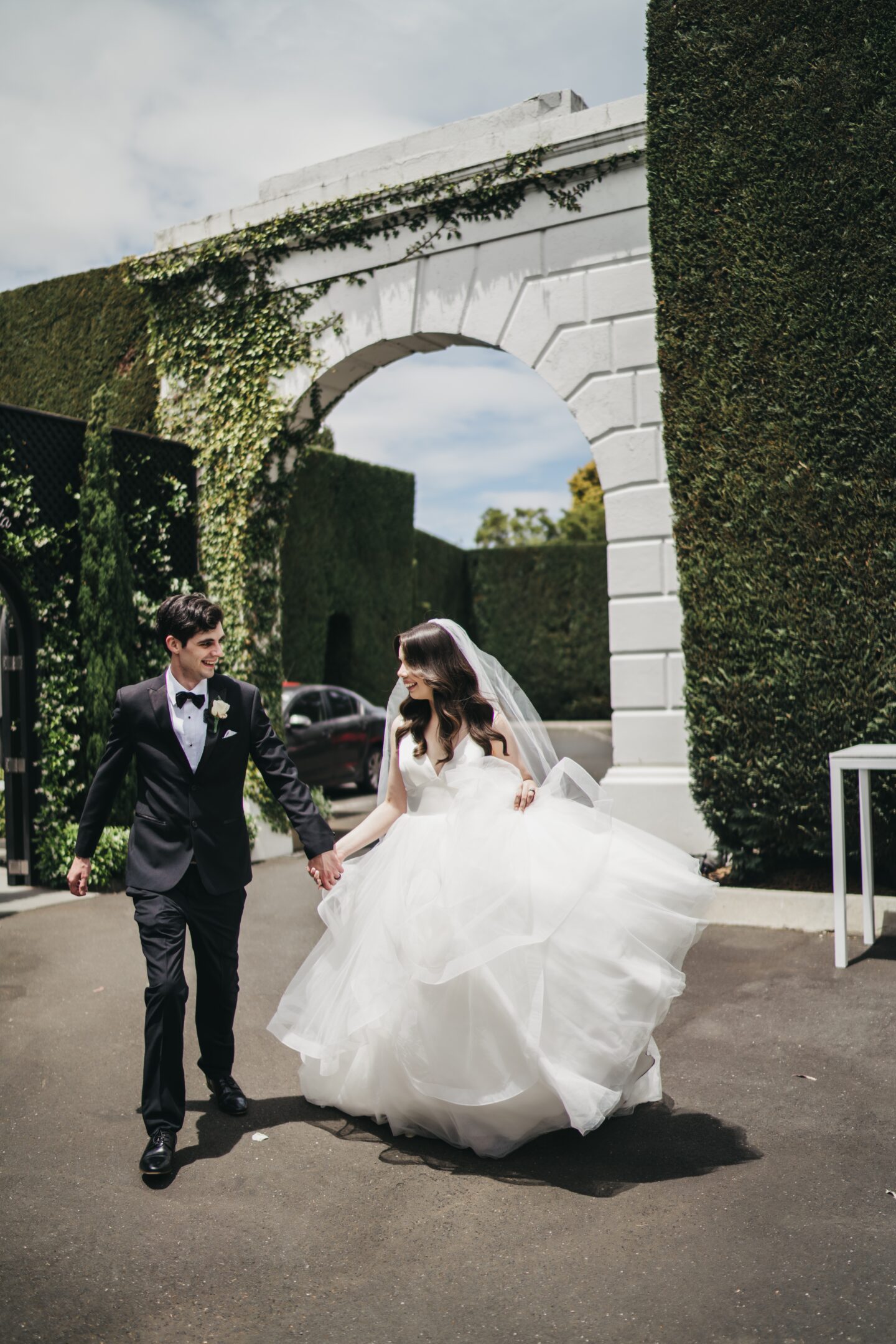 How Did You and Kyle Meet?
"It was truly a miracle! I lived in Melbourne and Kyle lived on the Gold Coast. The chances of us meeting were slim. However, we both got invited to a Christian camp in Sydney. We nearly didn't go, but we both felt like we should go for some reason. Thank goodness we did! When I first met Kyle, we instantly hit it off as we could bond over architecture, and we made each other laugh. I was charmed by his sweet smile from the moment we met."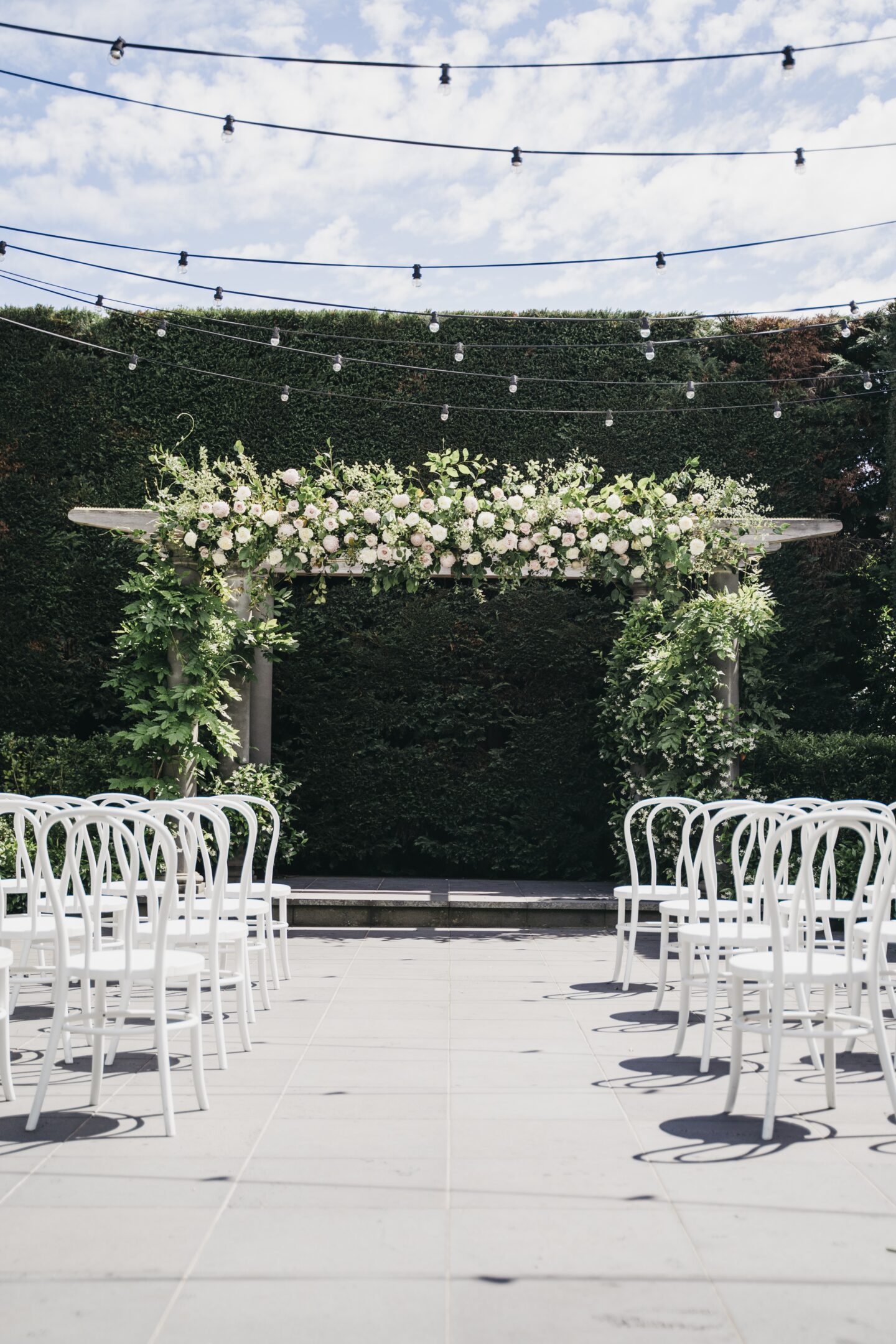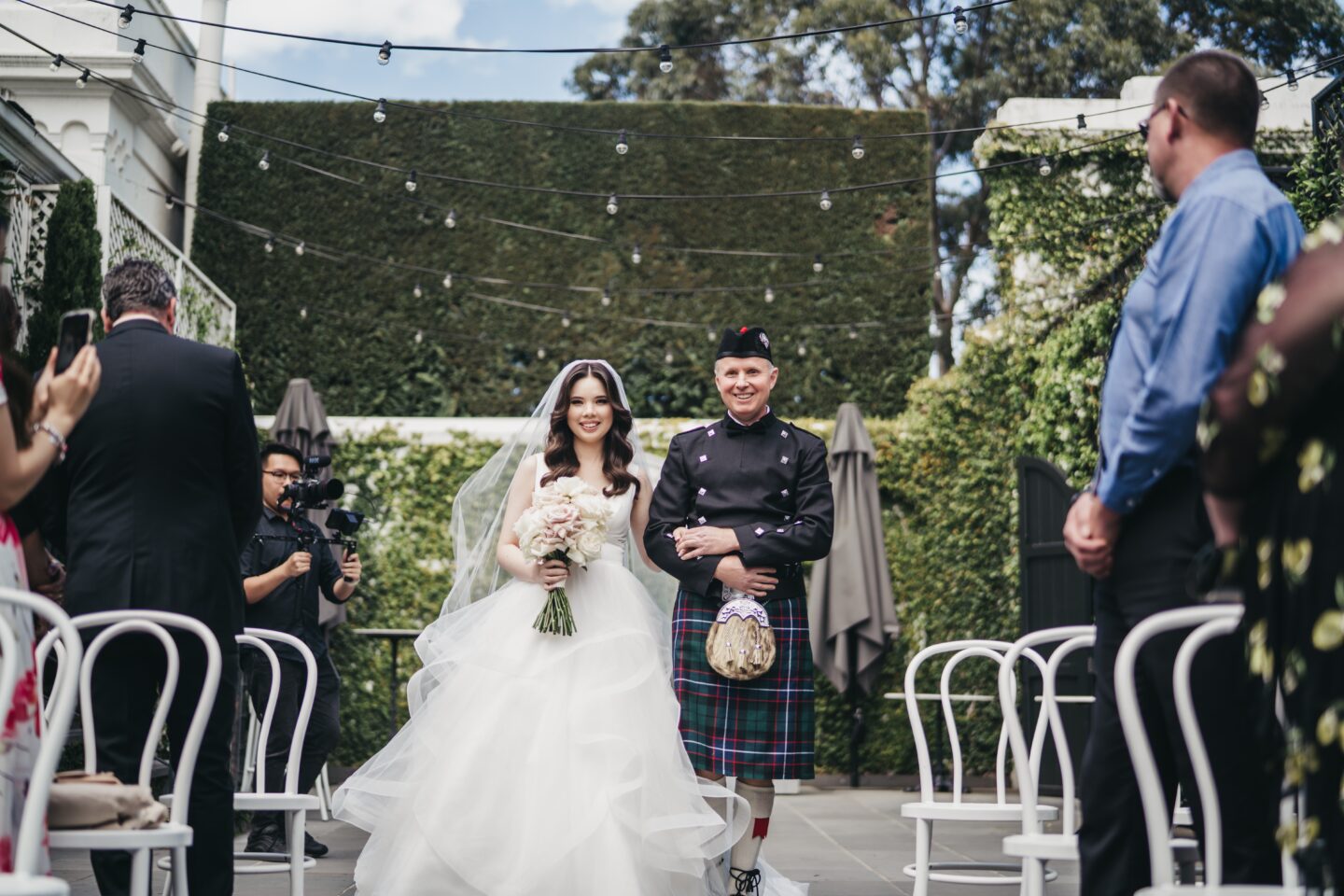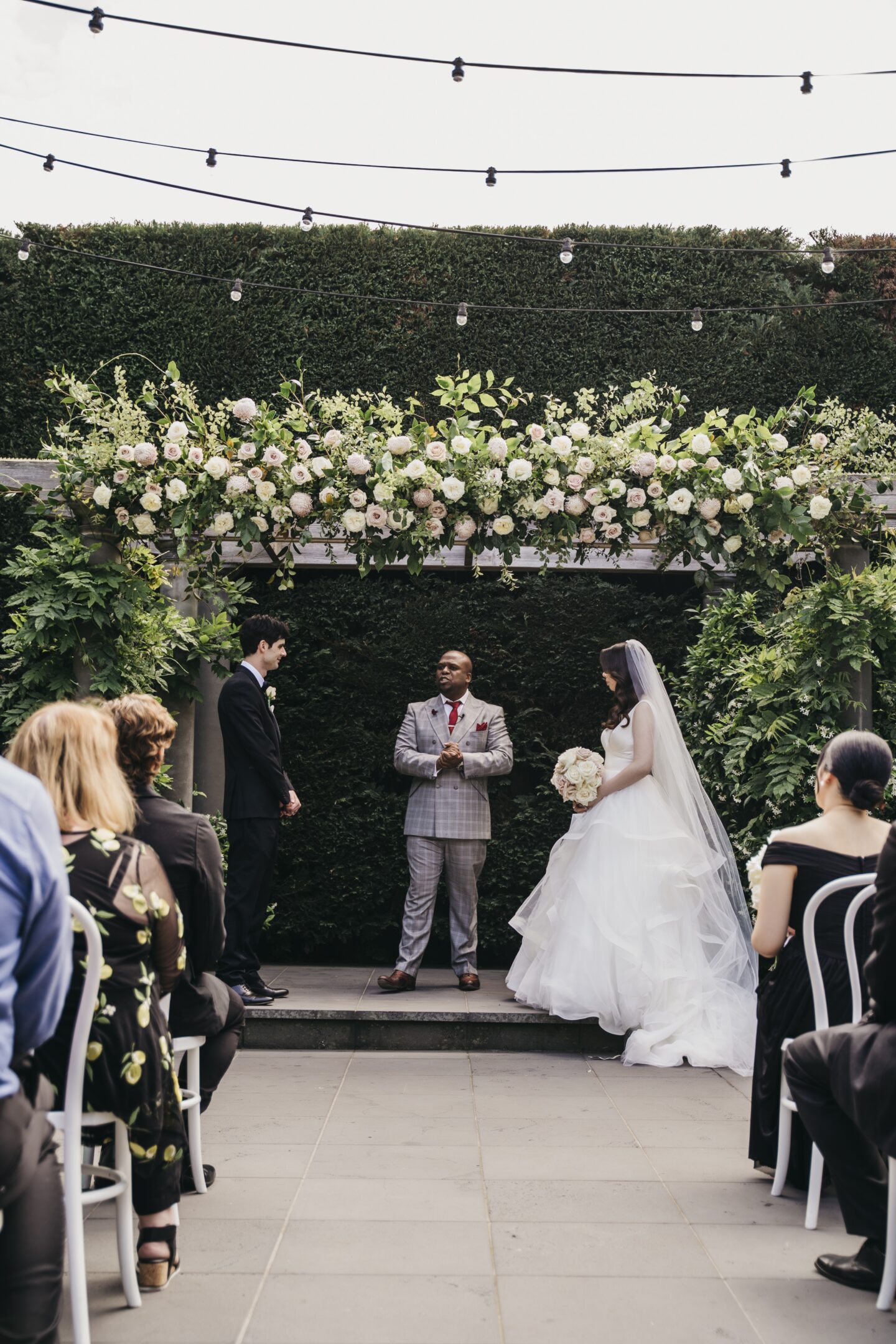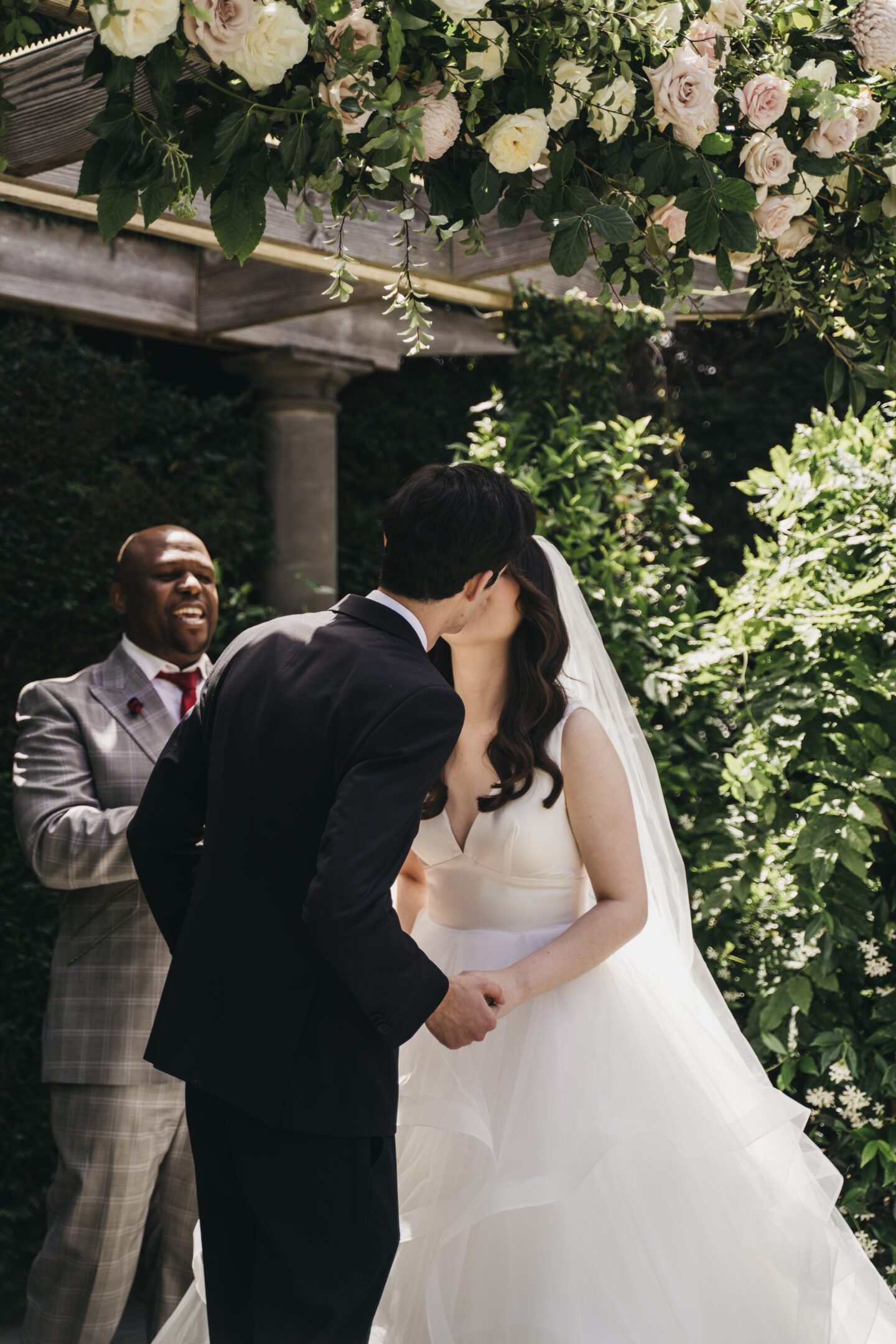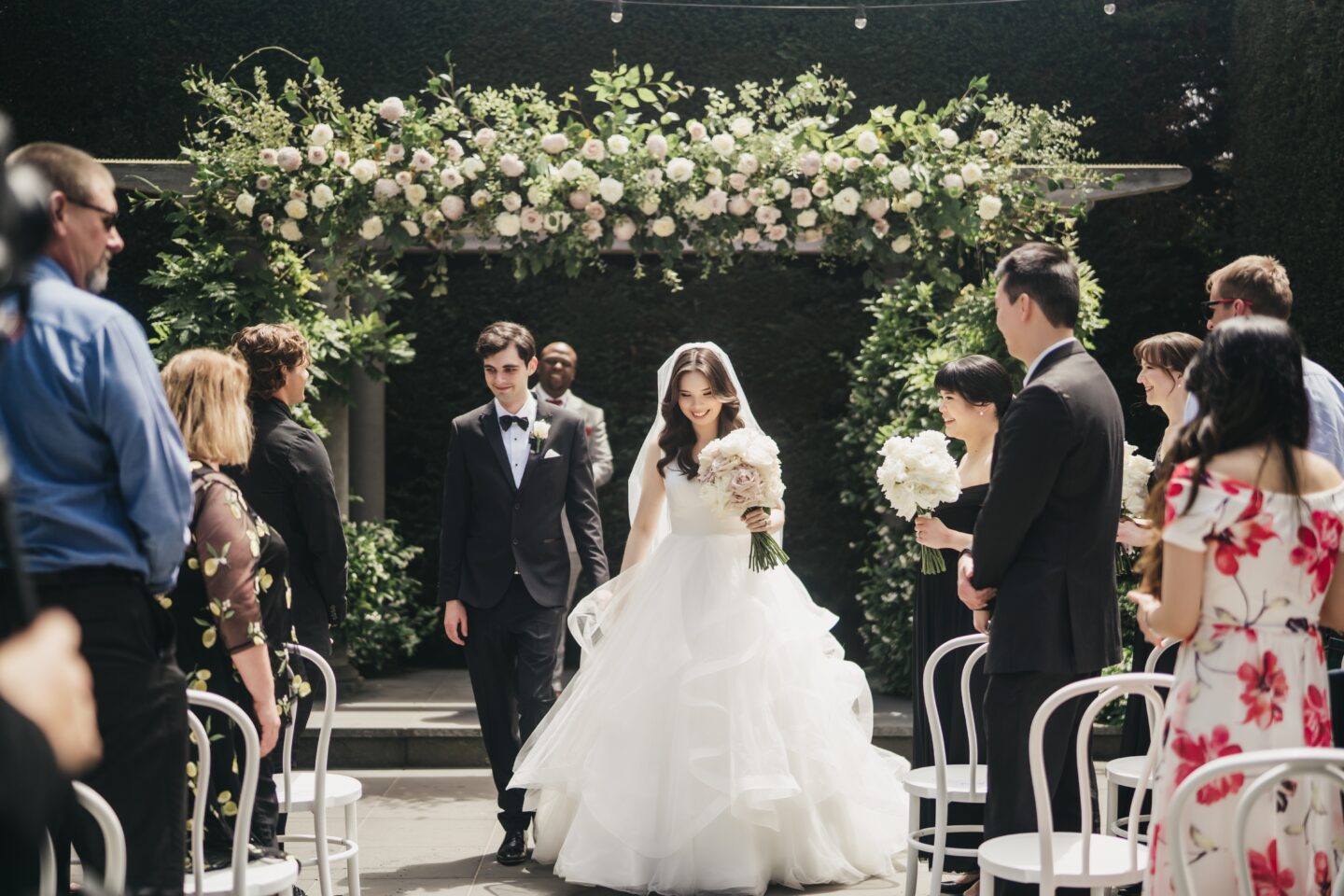 The Proposal
"As we lived in different states, we had a long-distance relationship. It is definitely challenging! We would fly in when we can to see each other. We knew there was something special about this relationship, as we had both never been so in love! We had truly found 'the one'. At the time, Kyle was not working so he was thinking he might need to get me a less glamourous engagement ring for now. By pure coincidence, my grandmother rang me up. She told me that she really loves Kyle, and she would like to pass down my great-grandmother's engagement ring to me. It was so random, as she had no idea that Kyle and I were thinking of getting engaged. We had no idea if I would like the ring, or if it would fit. However, it was a perfect fit… and I was obsessed with it! Wasting no time, the next early morning Kyle drove me to a beautiful mountain peak. We watched the sunrise together, he got down on one knee and proposed. Of course, I said yes!"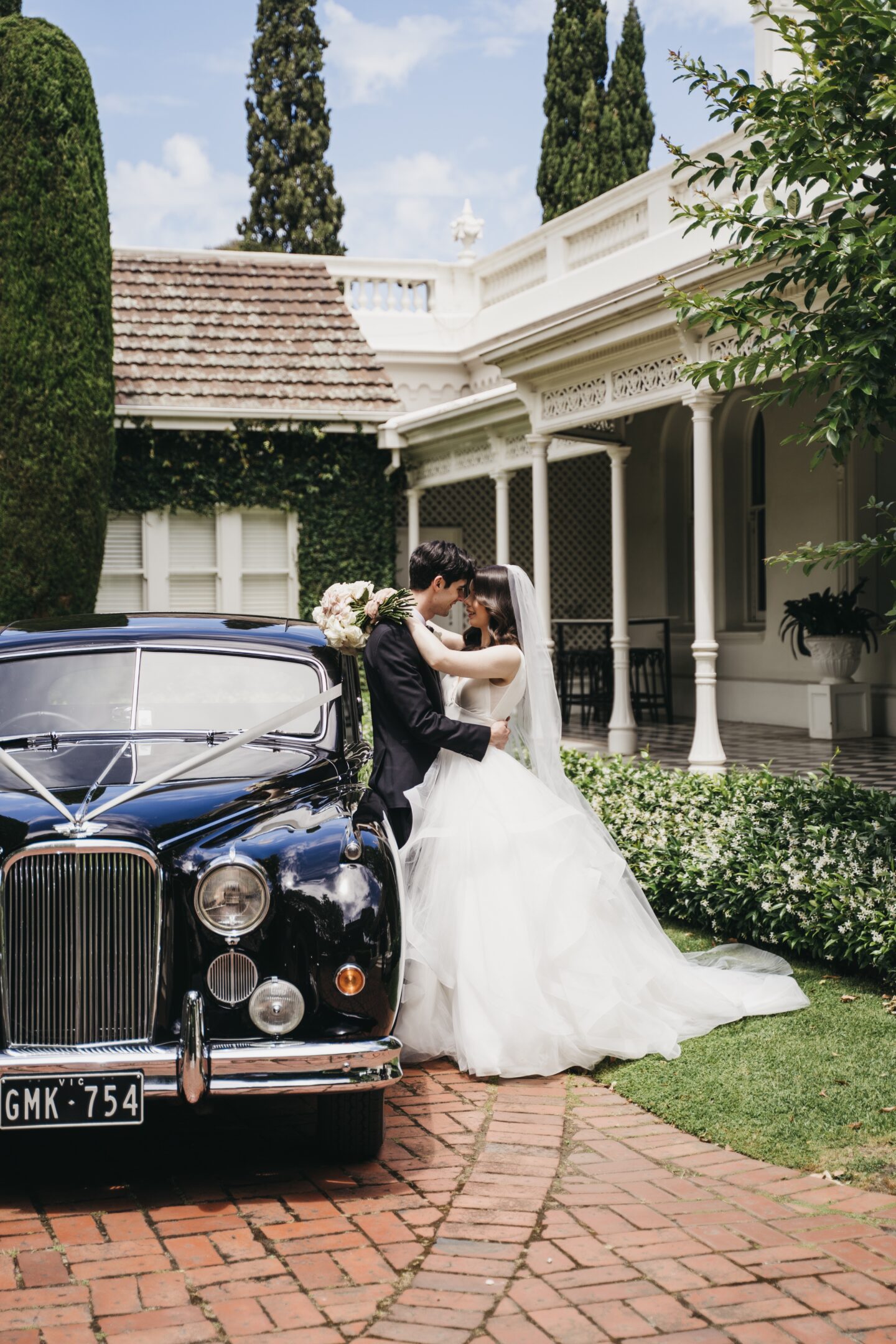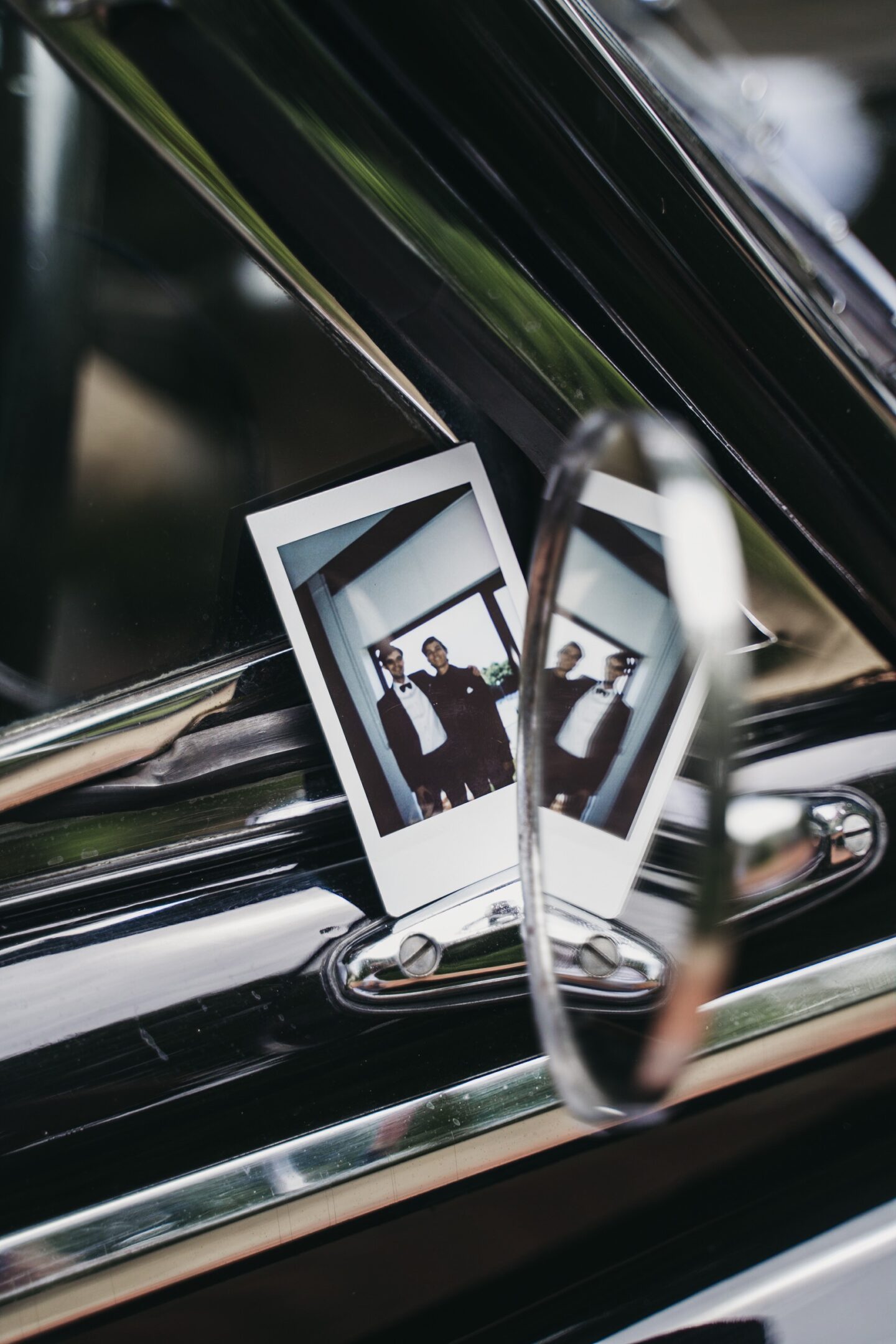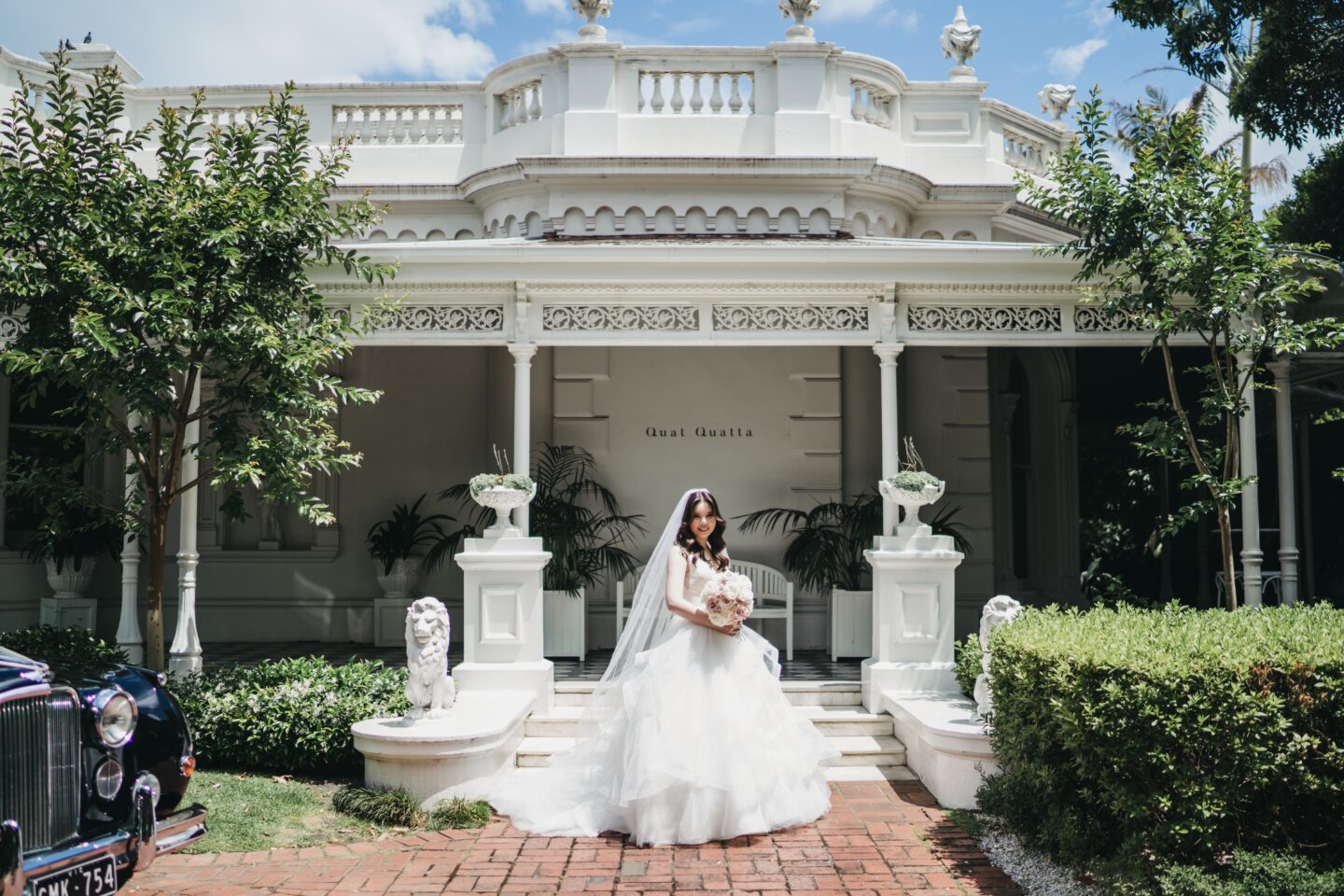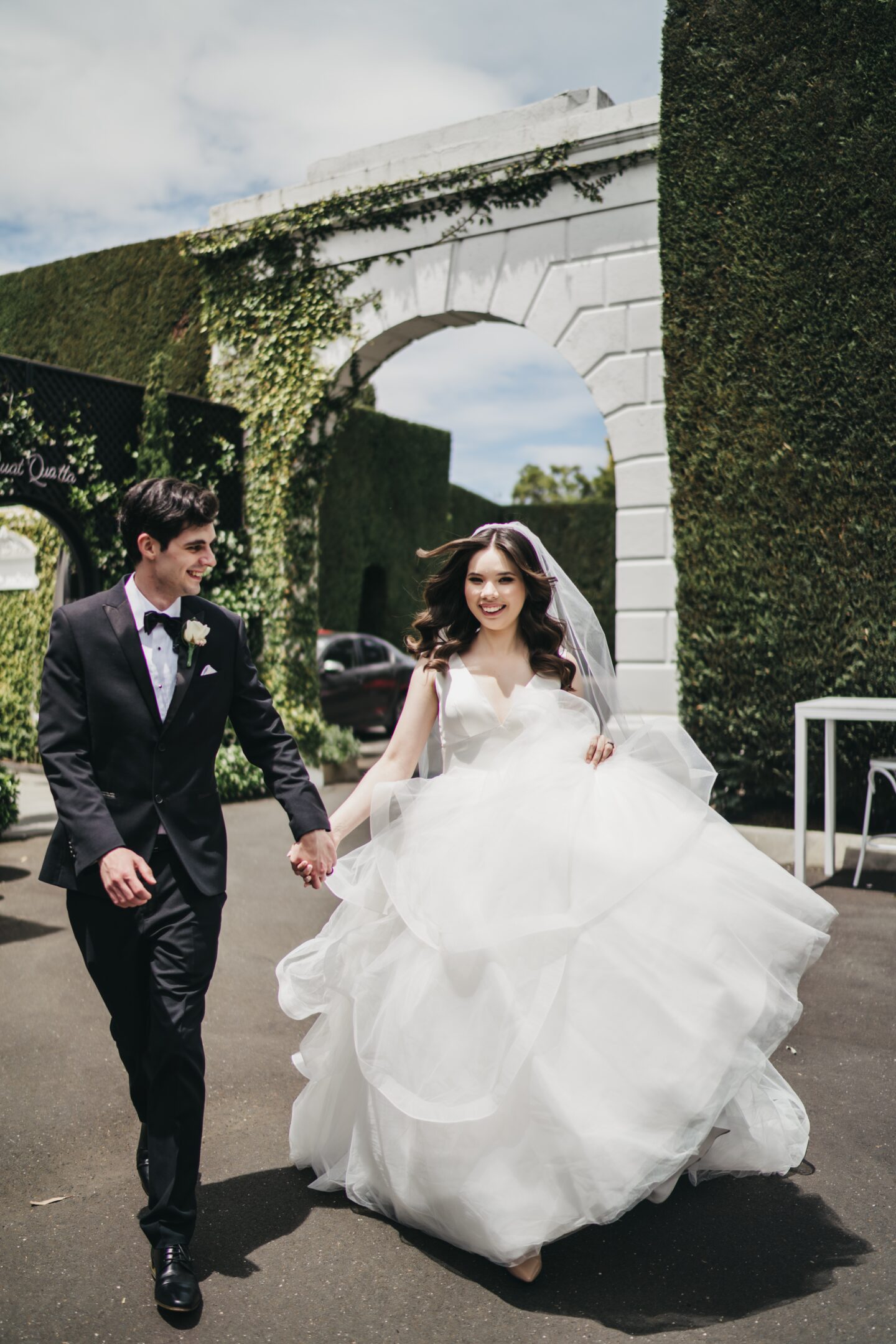 Planning The Wedding
"The wedding was held at the small heritage venue (Quat Quetta), which was built in 1890. We used the courtyard for an outdoor ceremony and the inside for the reception. We wanted a romantic, elegant, classic, and timeless wedding. The colour palette for the day was white, black, blush and rose gold. My bridesmaids wore simple, off-shoulder, full-length black gowns by Oleg Cassini. The reception was styled with varying levels of glass pillar candles and large rose bouquets (with hand-peeled petals). Each guest had their name laser-cut out of rose gold mirror acrylic for their place cards. We also had custom made ruby and white raspberry Belgium chocolate bonbonnieres, which were presented in a white box and finished with a white ribbon. We also had two matchings rose gold mirror acrylic stands for the rose gold Cakeaway bags (yes, we made that up for rose gold foiled takeaway cake bags) and the wishing well. We also included matching rose bouquets by the Cakeaway station."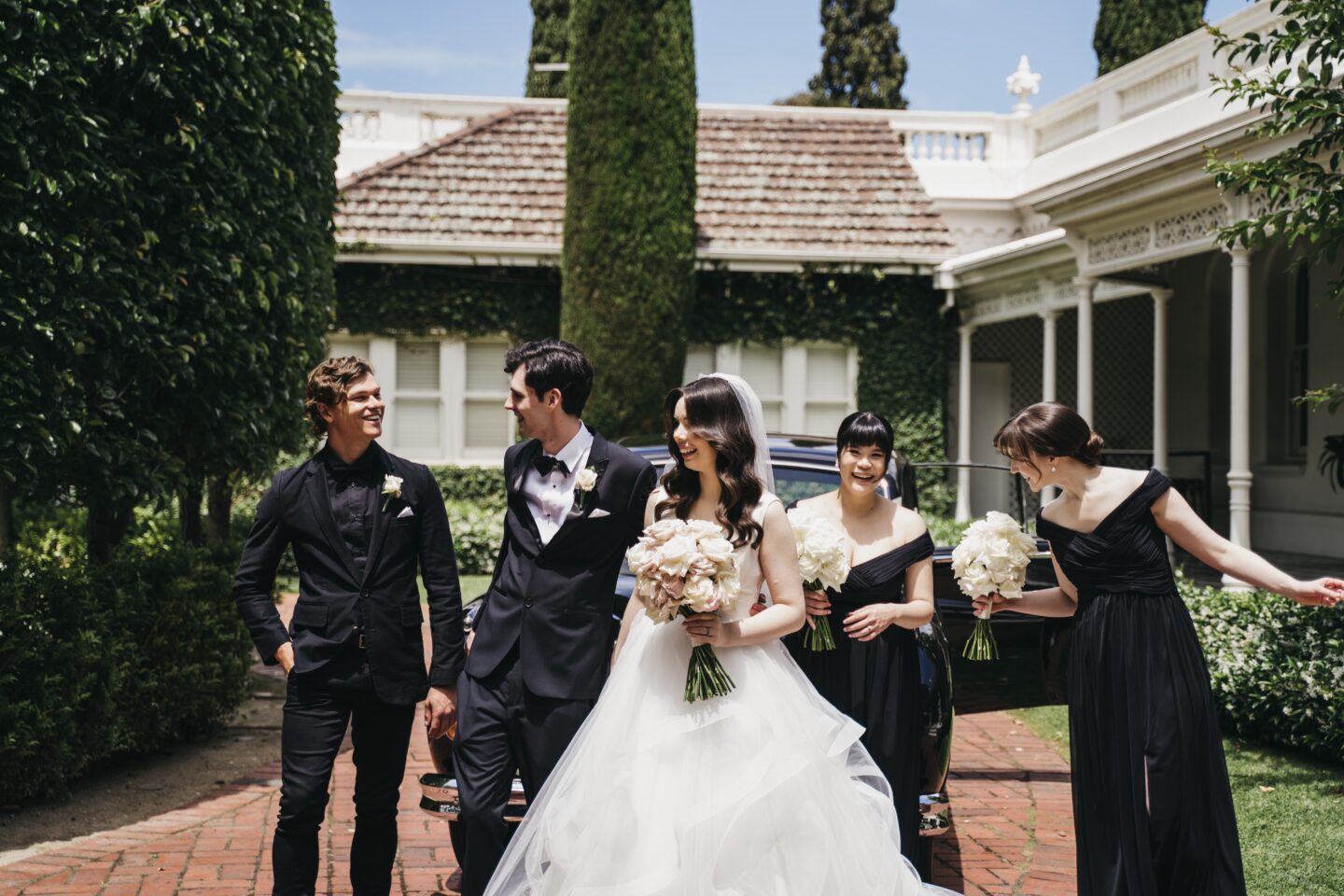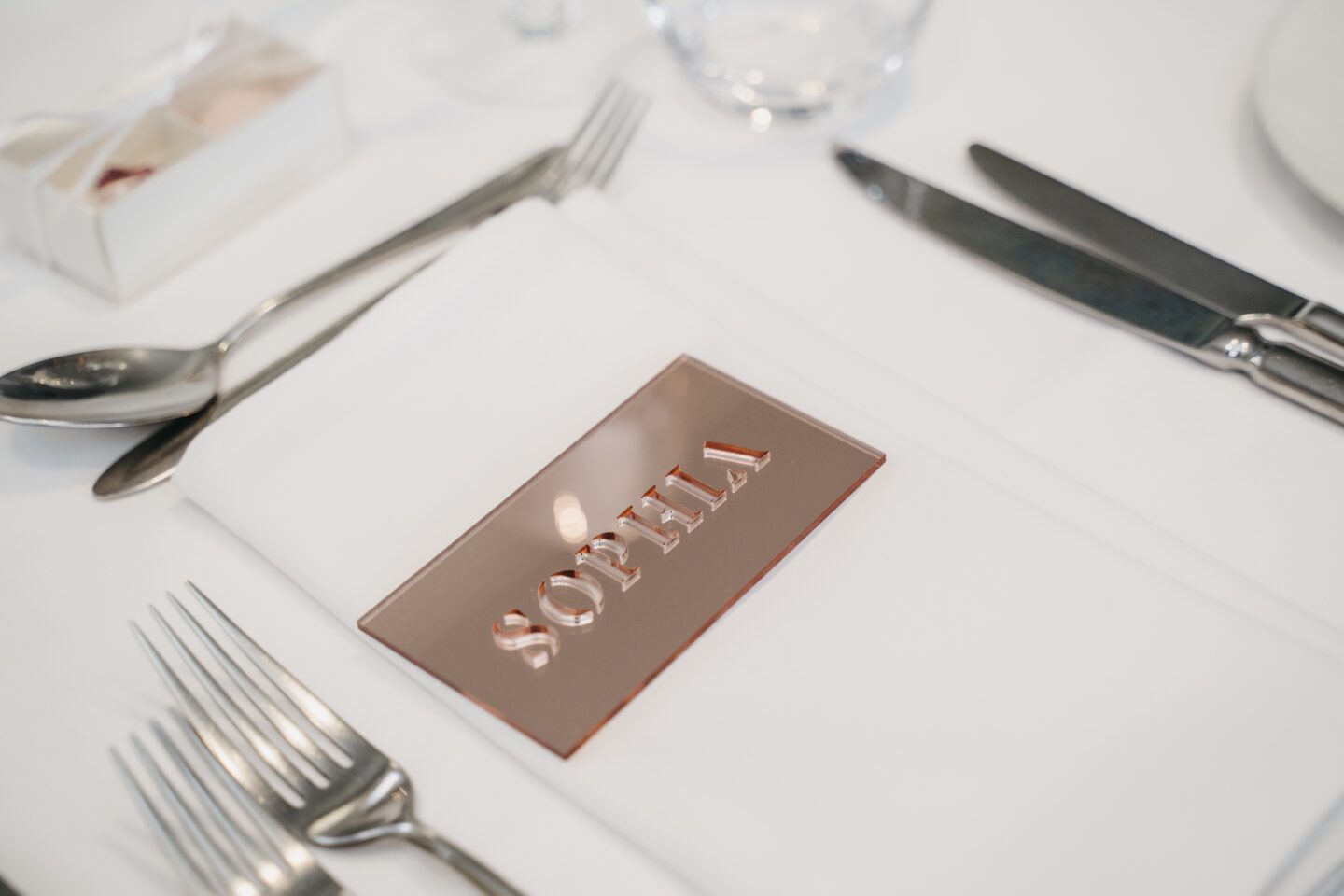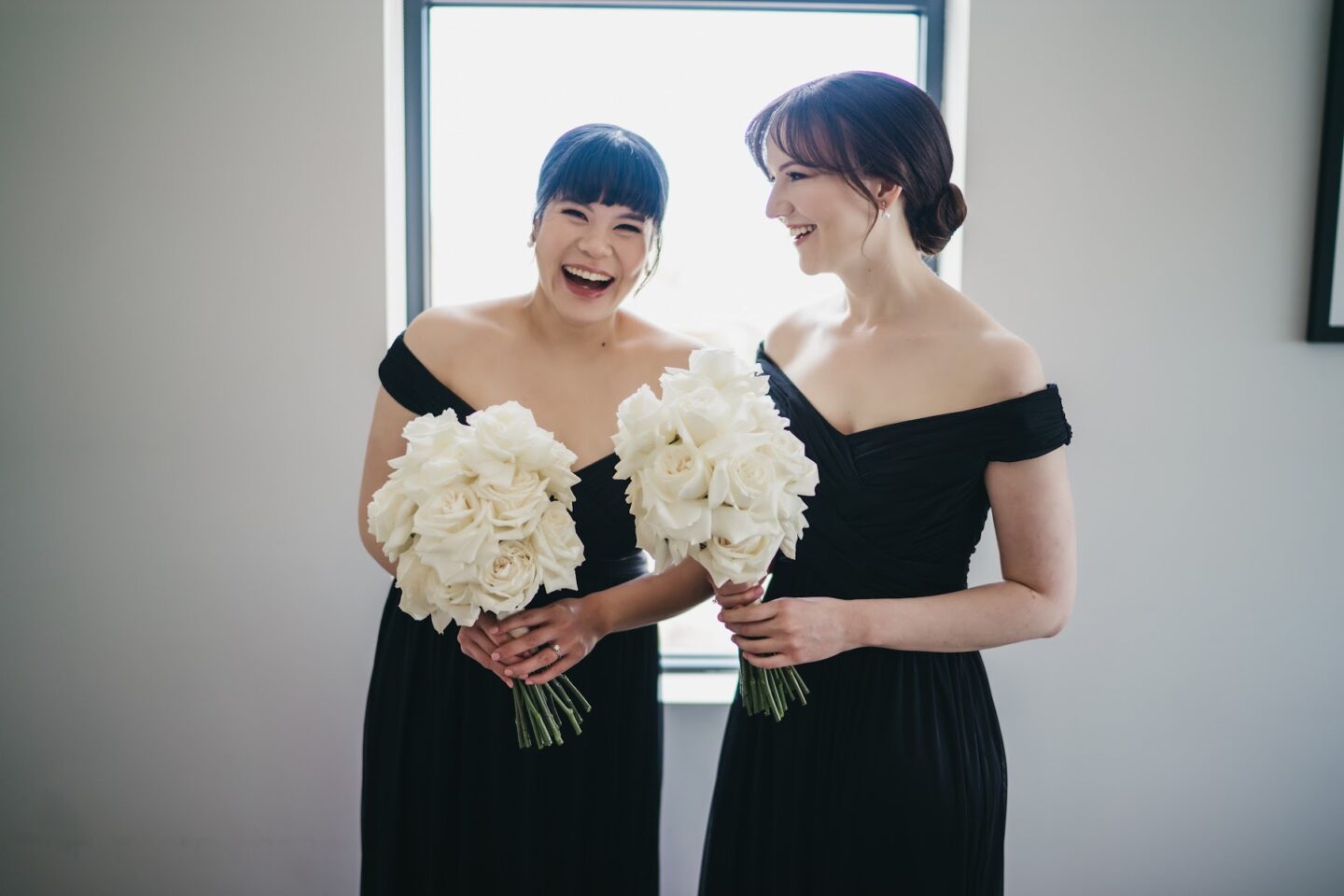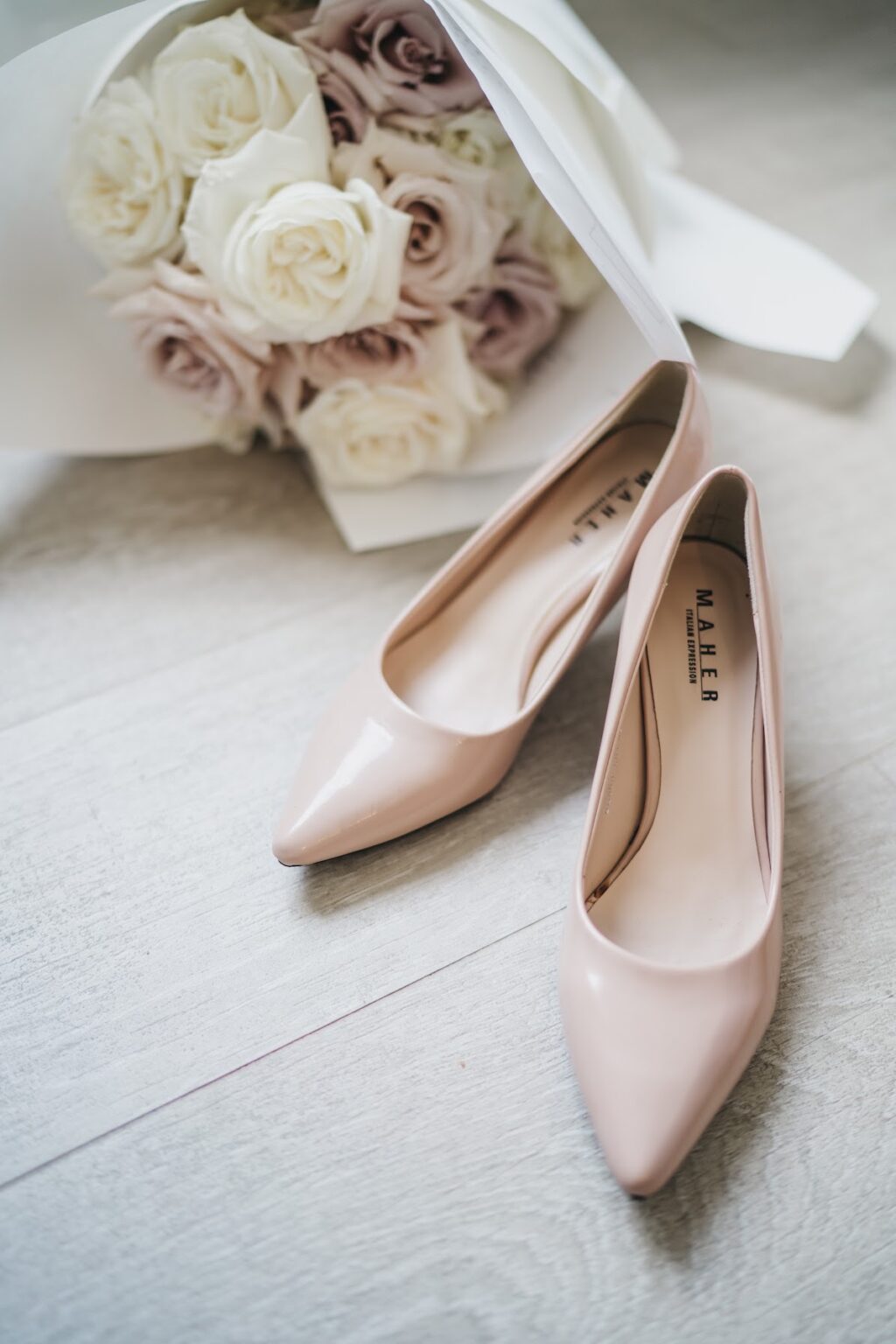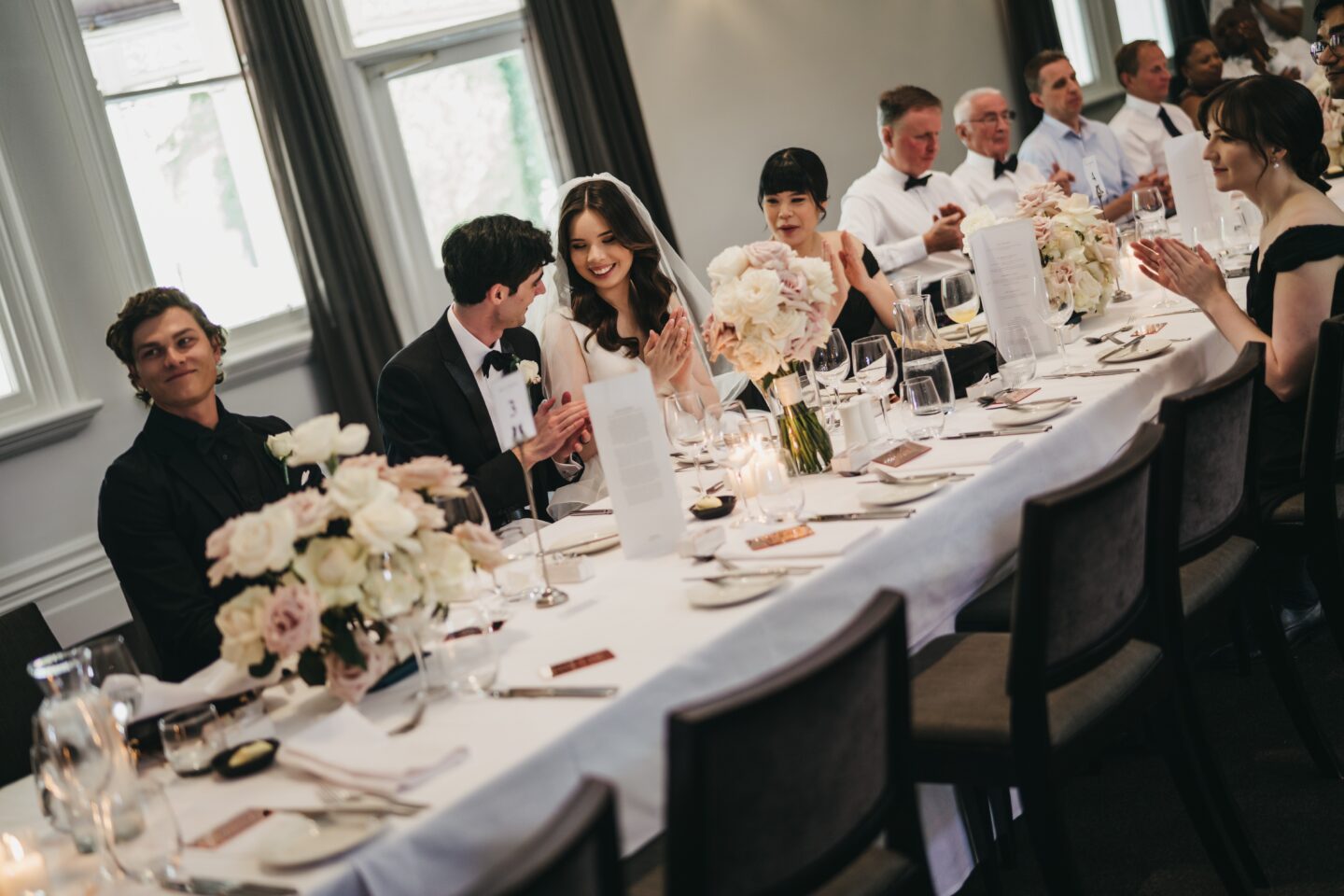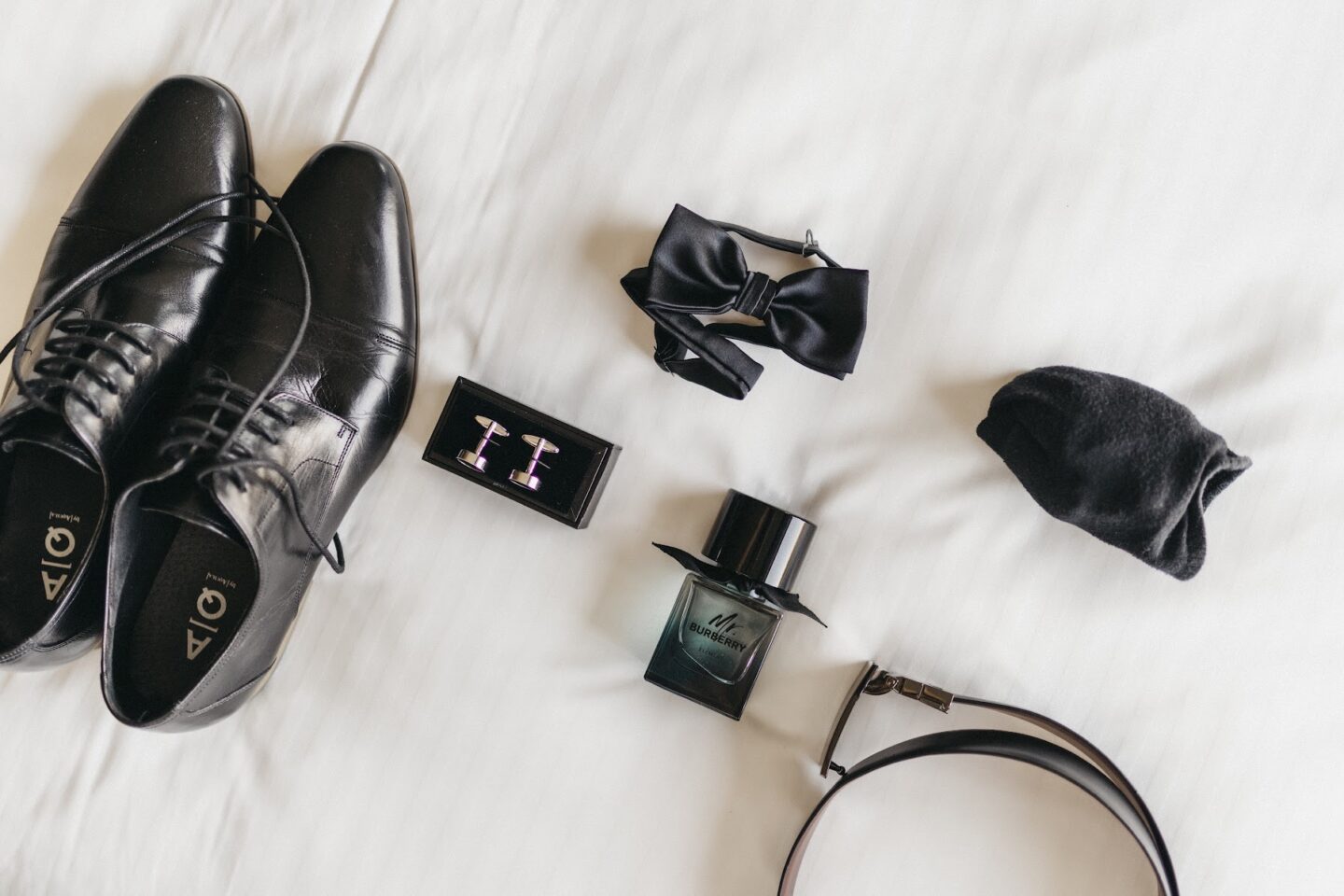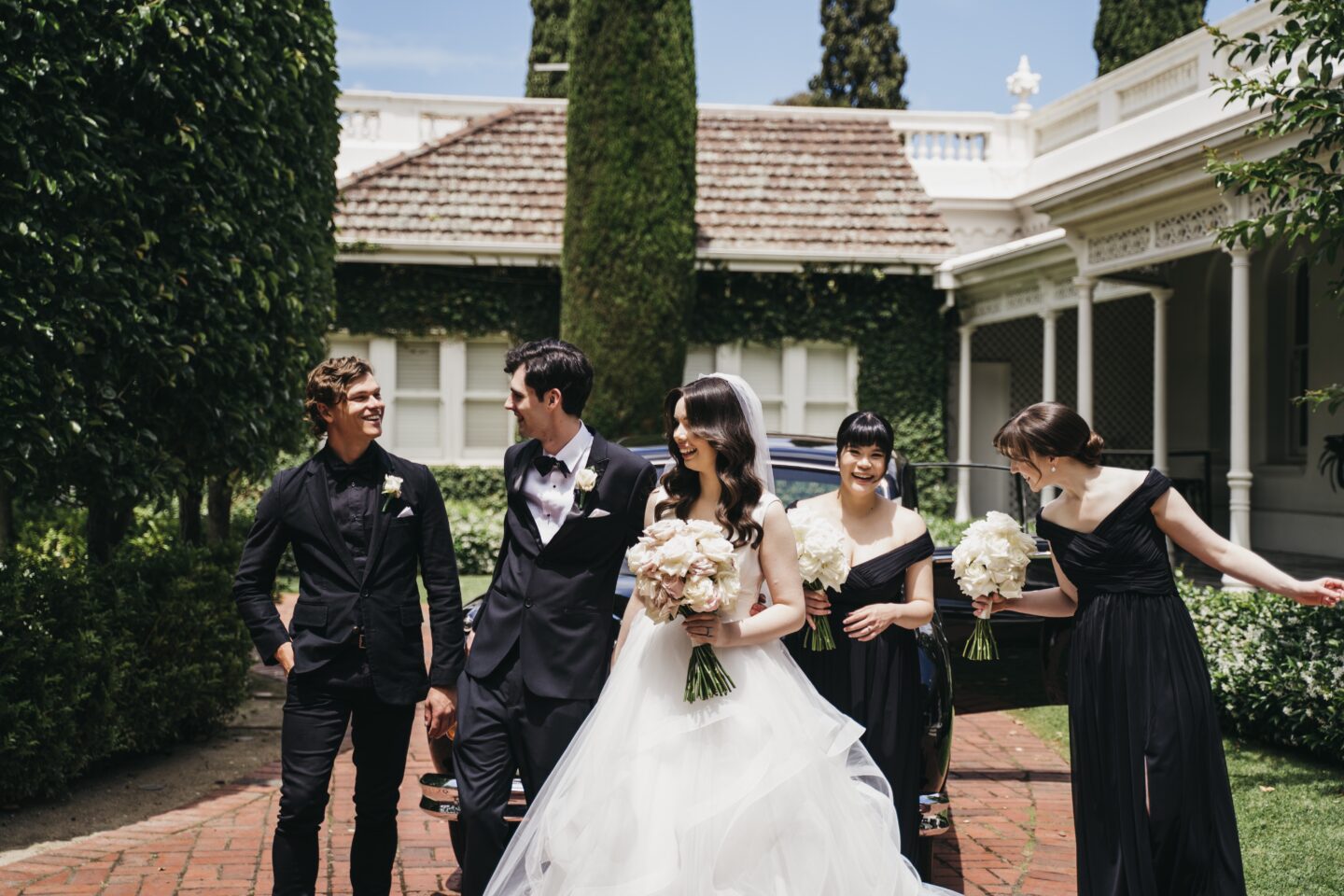 The Details
"I found my dream dress at Christina Rossi. The gown was not something I had in mind, but when my stylist suggested it, I was excited to give it a go. As soon as I tried it on, I knew it was the one! It has a timeless and elegant feel with the simple bustier, combined with the couture glamour of a large, layered gown. As the dress made such a statement, I chose a simple, full length and sheer veil to match and wore vintage earrings, as it was the "something borrowed" from my mother. We also used a 1955 Jaguar MKVII Sedan for our wedding transport. Kyle wore a black tuxedo with black stud cuff rings.
"Our three-tier cake with blush buttercream was adorned with a strand of white orchards (white choc and raspberry mud + lemon curd with vanilla mud flavours). For the ceremony, we filled the entire arch with gorgeous blush and white florals, which tied in perfectly with the reception."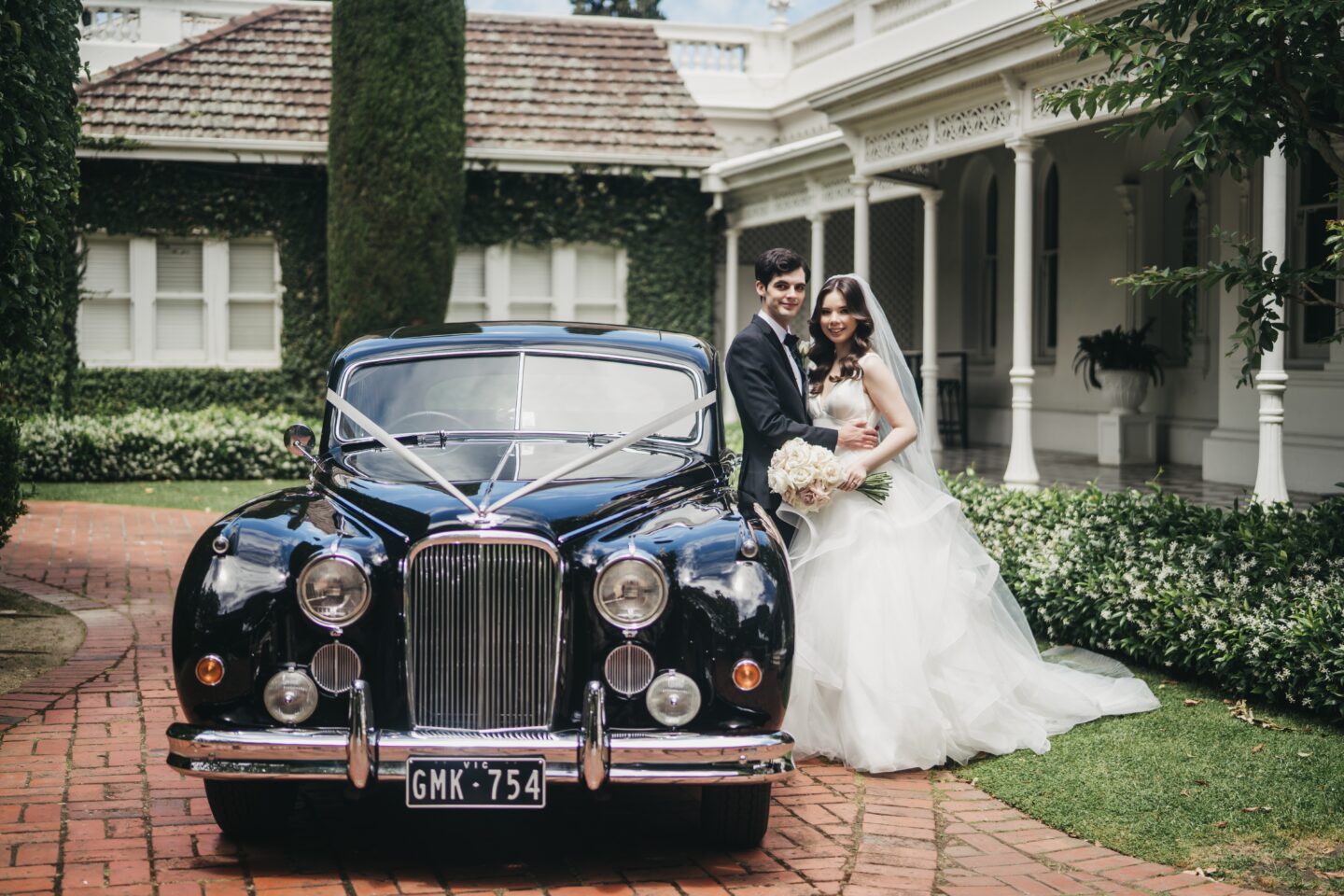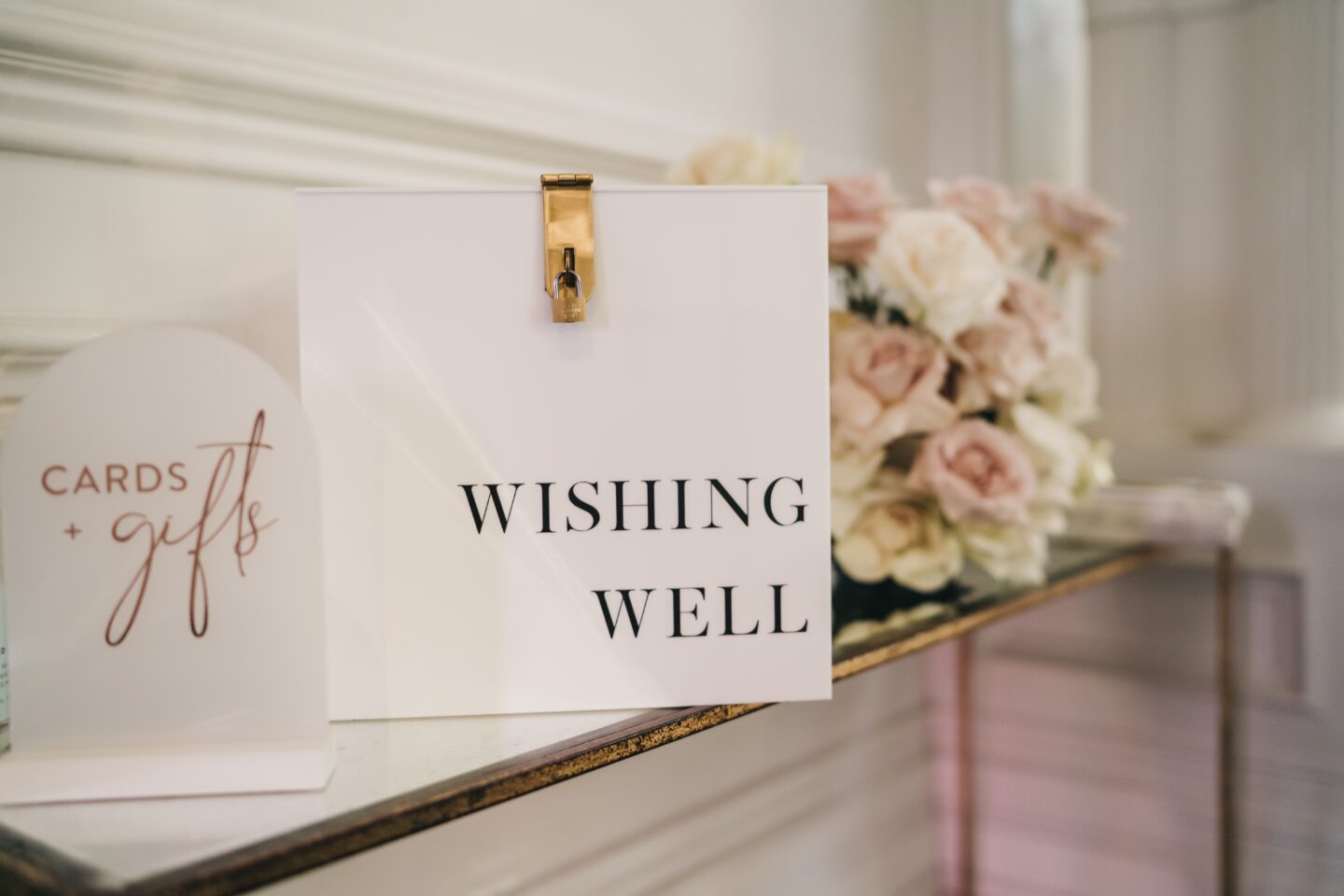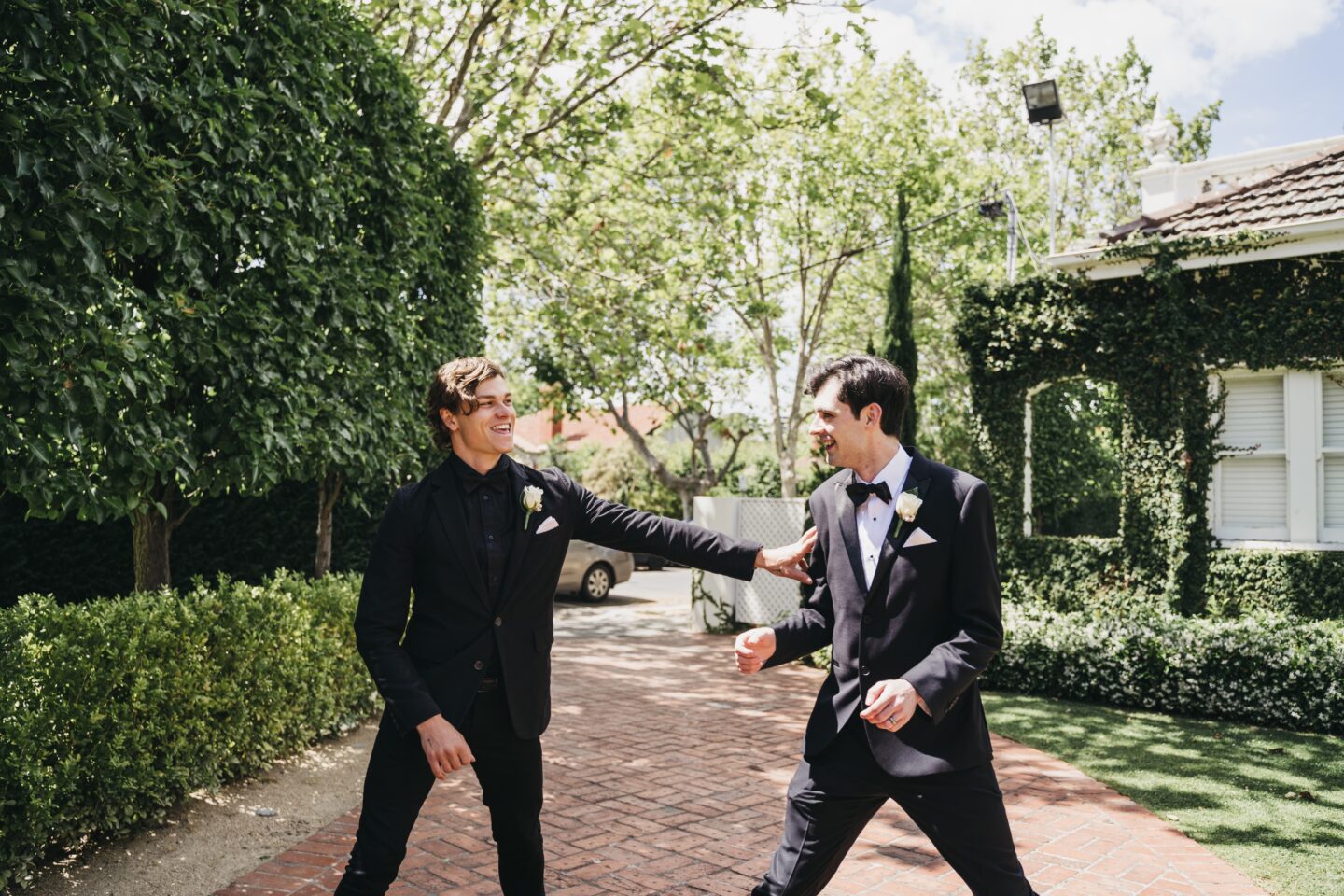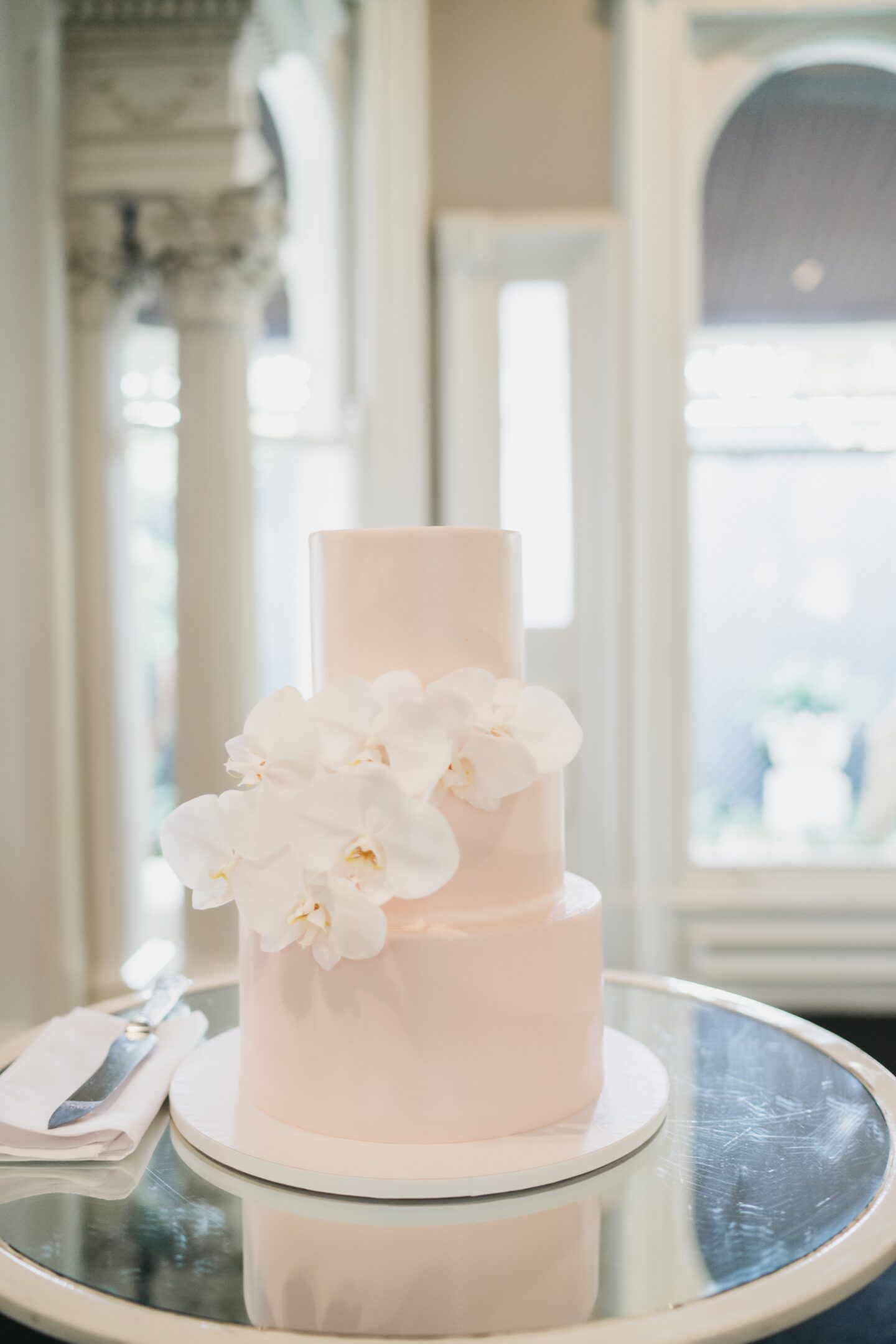 The Best Part of The Day
Sophia says; "I think it was walking down the aisle and seeing Kyle looking at me tenderly. I also enjoyed looking down the long reception table and seeing all our loved ones enjoying themselves."
Kyle says; "It was the ceremony. My favourite memory was seeing Sophia walk down the aisle and hearing her vows."
What are you both looking forward to the most about being married? "Being together all the time! It's like a sleepover with your best friend that never ends… Can't wait to share many memories and milestones together."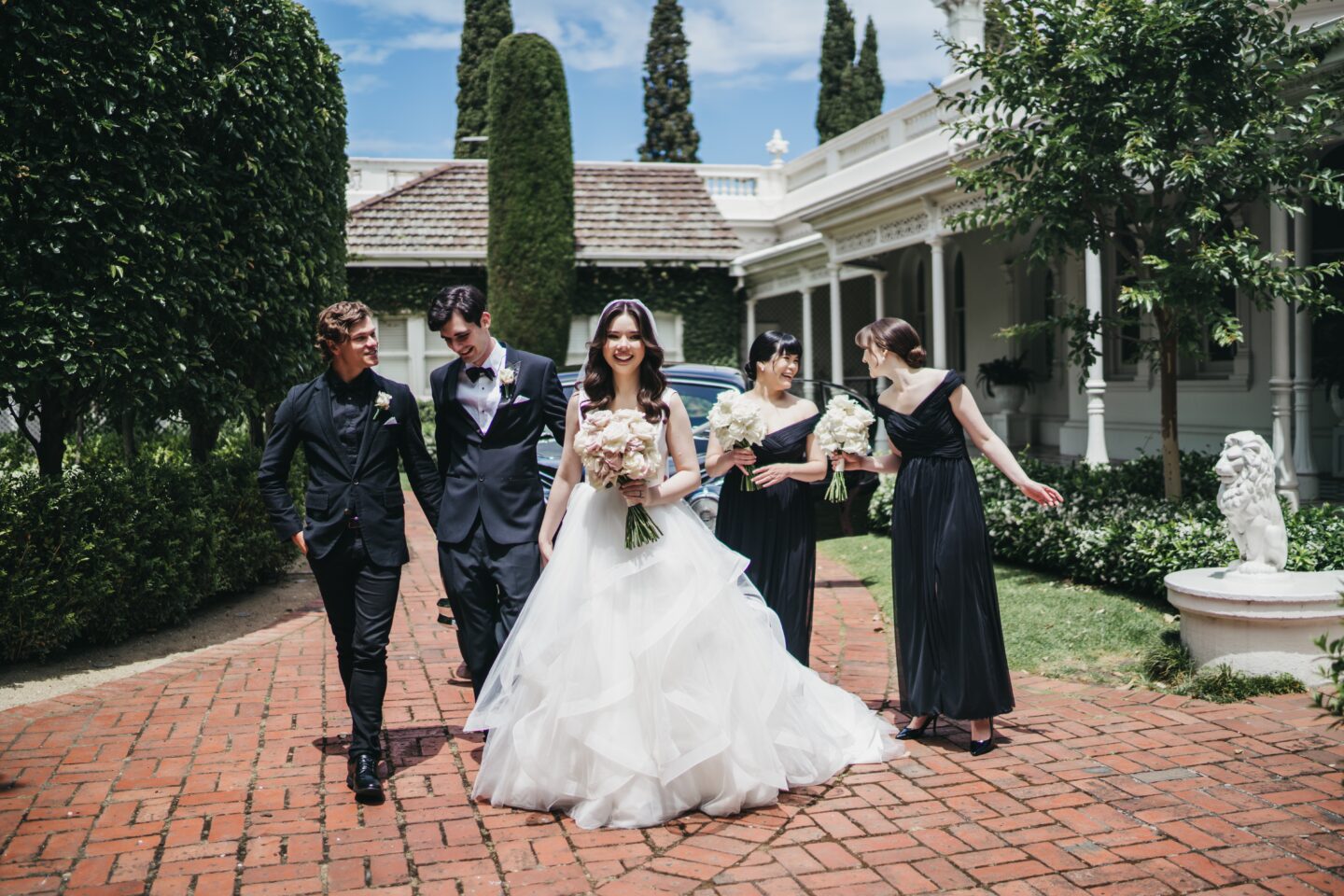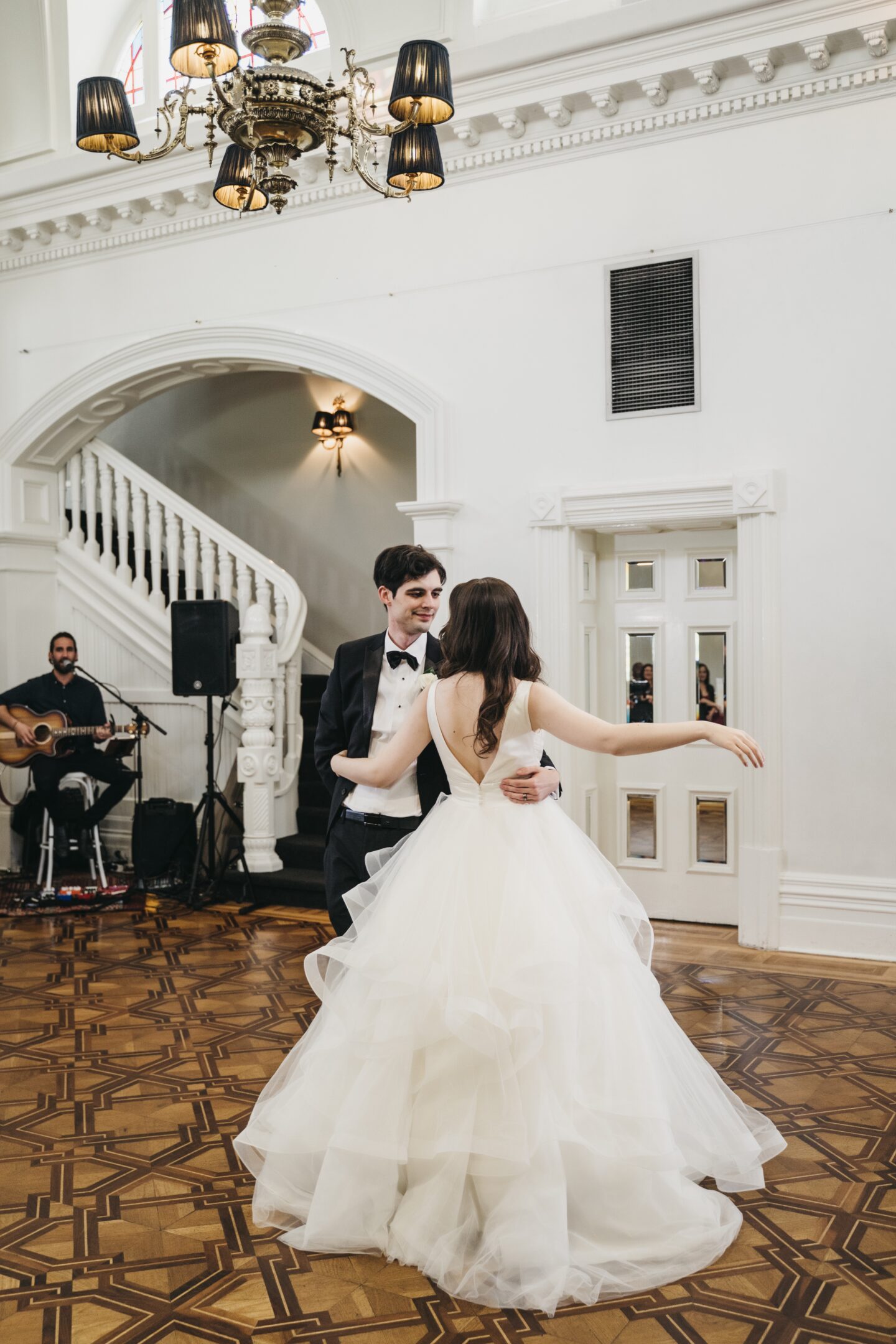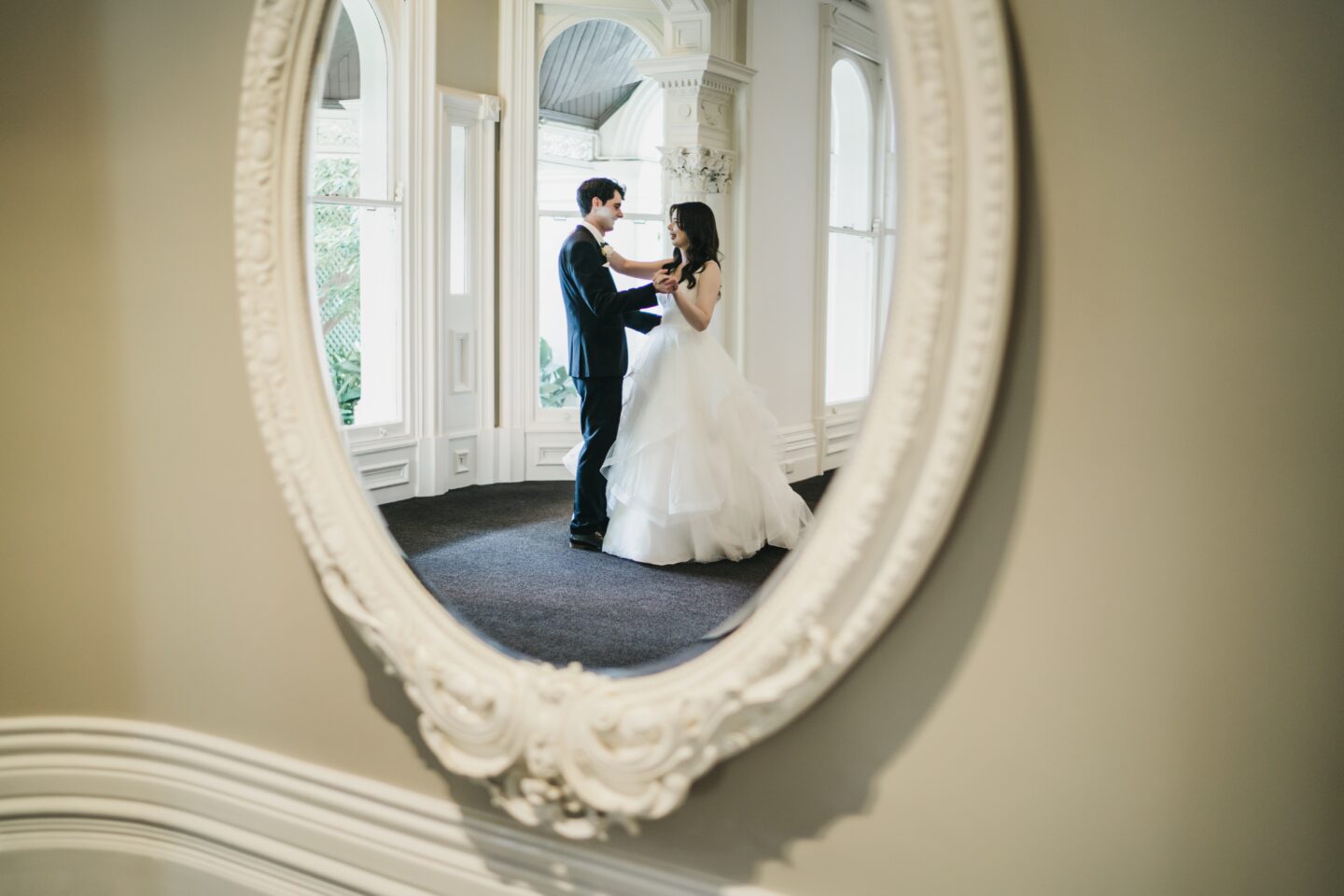 Words of Wisdom
"It took us two years to finally have our wedding ceremony… Trying to plan a wedding amongst a pandemic is indubitably hard. There were times we were tempted to give up, but it is definitely worth having the ceremony and celebration with your loved ones. We have no regrets! It was sad not having Queenslanders come, as we both had many loved ones there, but we found a way to have them there by playing their pre-recorded videos on the day. My advice would be to try and not overthink things, it's not worth the stress. Enjoy the moments leading up to it… it will all work out. I promise!"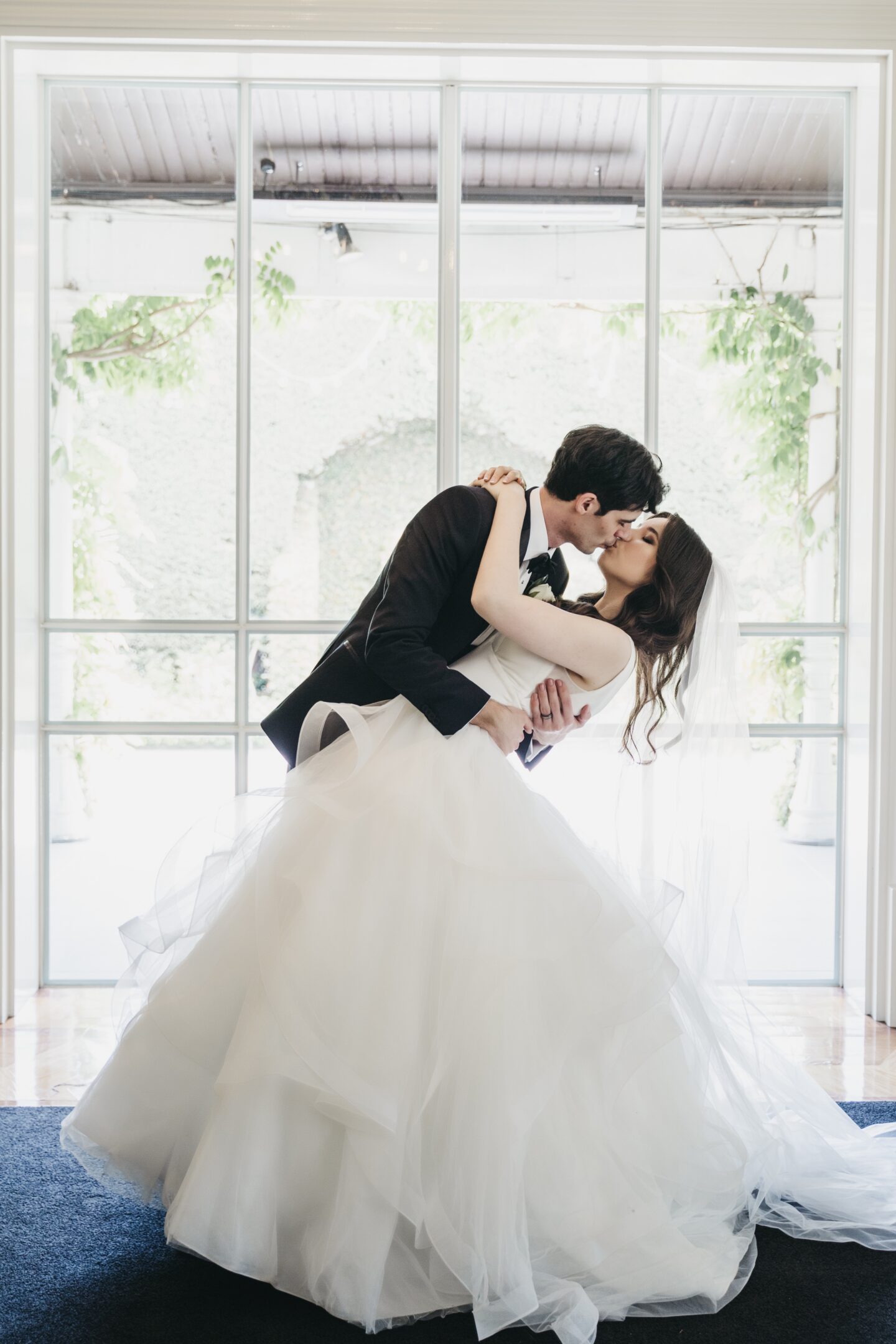 The Team – Australian Destination Wedding With Monochrome Styling
Photographer & Videographer Kairos Works @kairosworks.au
Hairstylist: Shannon Sophia Hair @sshairr / MUA: Shiree Collier @shireecollier_mua / Cake: Cake Creations By Kate @cakecreationsbykate / Dress: Christina Rossi @christinarossiaustralia / Bridesmaid dresses: Oleg Cassini @olegcassiniau / Jewellery: Christian Dior @dior / Florist: Flower Head Events @flowerheadevents / Candle styling: Southern Lights Candle Co. @southernlightscandleco / Suit: Menswear Warehouse @menswear.warehouse / Stationery: Giant Invitations @giantinvitations / Entertainment: Andrew Rozen @andrewrozen.music / Bonbonnieres: @swe.ee.te / Transport: Celebrity Cars (1955 Jaguar MKVII sedan) @celebritycarsmelbourne / Venue: Quat Quatta @quatquatta
IF YOU LOVED THIS AUSTRALIAN DESTINATION WEDDING PIN IT!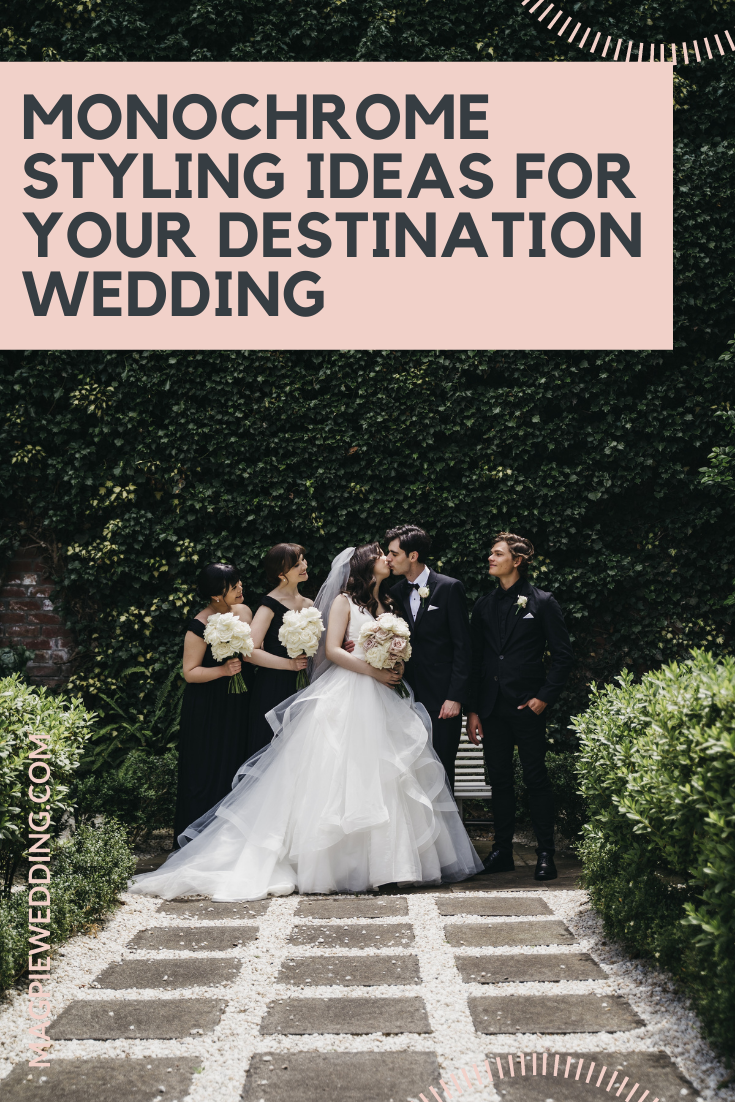 If you loved this Australian destination wedding you may also like;
Wedding Planning – What to pack for your destination wedding
Beautiful Orange Grove Destination Wedding at Finca Biniagual, Spain
10 Top Tips For Planning A Quick Destination Wedding