You would have to be living in a cave to not know that the 2019 colour of the year is Pantone's Living Coral. It has caused quite a lot of excitement amongst the world of weddings as it leads itself to bolder palettes and brighter tones, so expect to see lots of creative ways to use this bold colour filling your Instagram and Pinterest pages. As a wedding stylist I get asked all the time about what colours I feel strongly for over the coming year so I am here to offer you something different and look slightly closer at the other key colours dominating 2019.
Blush Tones
Firstly blush tones; timeless and romantic, muted pinks sit against ivories and silvery greens Choose relaxed informal flowers such as ranunculi and garden roses surrounded by silver dollar eucalyptus. Arrangements are loose and hand tied, velvet ribbons and floaty chiffon drapes add texture and further soften the look. Scrawling calligraphy on hand made deckled edge paper lends itself perfectly to beautiful invites and place names. Fill your tables full of cut glasses and vintage candle holders with hand dipped candles.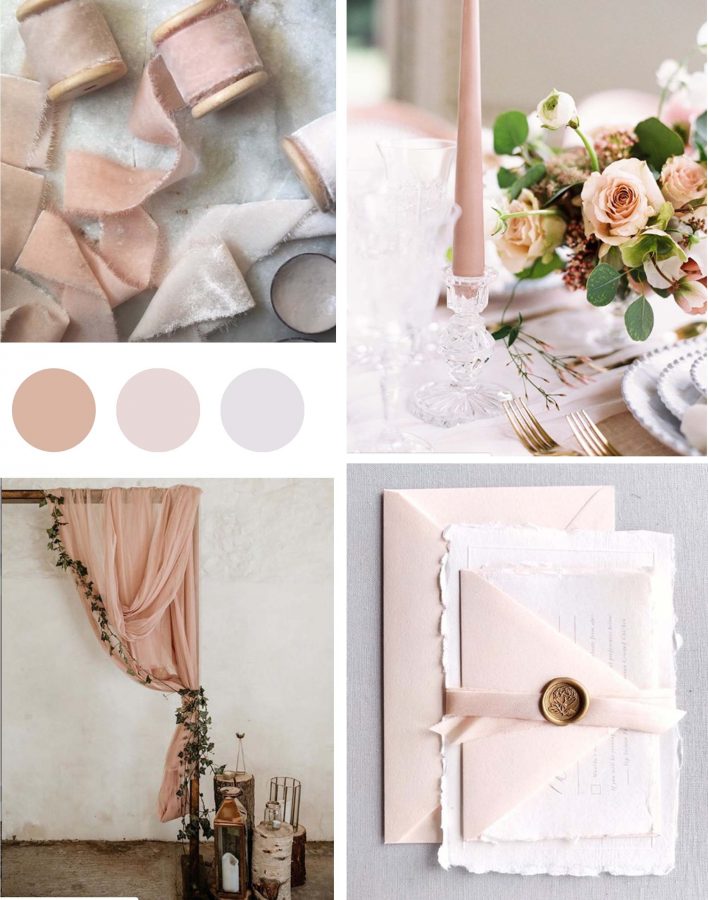 Images L-R – Top to bottom-
Contrasting Colours
The rich tones of Marsala contrast perfectly against whites and pale pinks to make a striking contrasting palette. Subtly add some Living Coral to lighten the palette and add a modern feel.
Naked cakes adorned with flowers, hand painted floral details and vintage glassware make for a rustic luxe feel. Navy and gold add the perfect colour highlights against this slightly elegantly moody palette.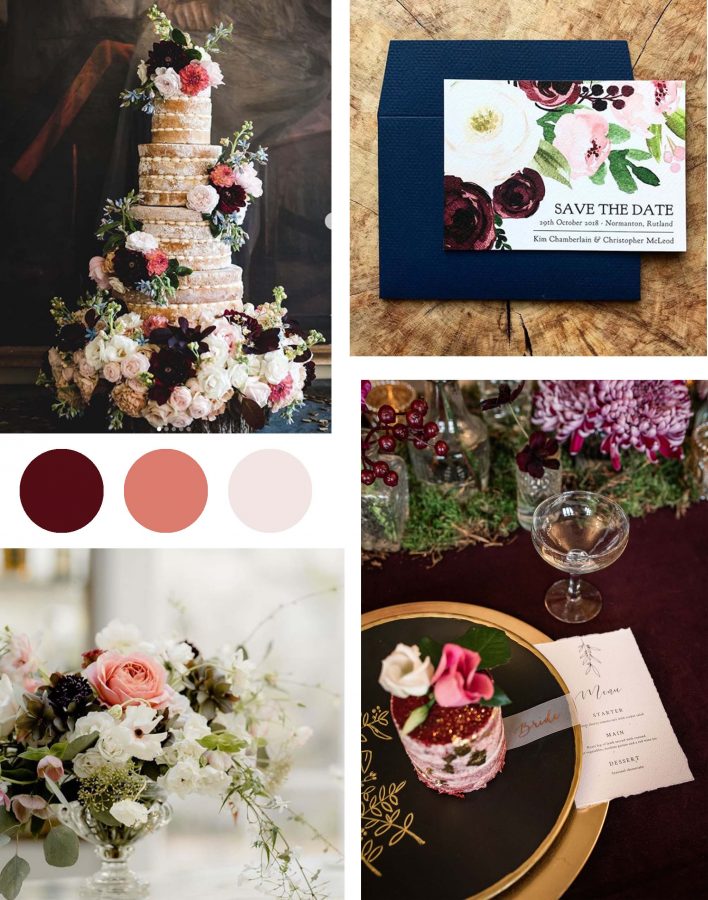 Photo credits L-R top to bottom –
Earthy Tones
This by far has to be my favourite palette not just for weddings but interiors and fashion as well. I love a strong mustard and a warm russet. These colours work so well together and can add the perfect colour pops through mens accessories and candles if you fancy a more subtle look. Tying in perfectly with the organics movement, brass, wood and stoneware are the perfect material additions. I love the versatility of these colours, either going for the modernist take with striped back minimalist tablescapes and adding in bright whites and orchids for a modern contrast. Or getting all the bare foot vibes, with greenery garlands, Persian rugs and oversized loose hand tied bouquets.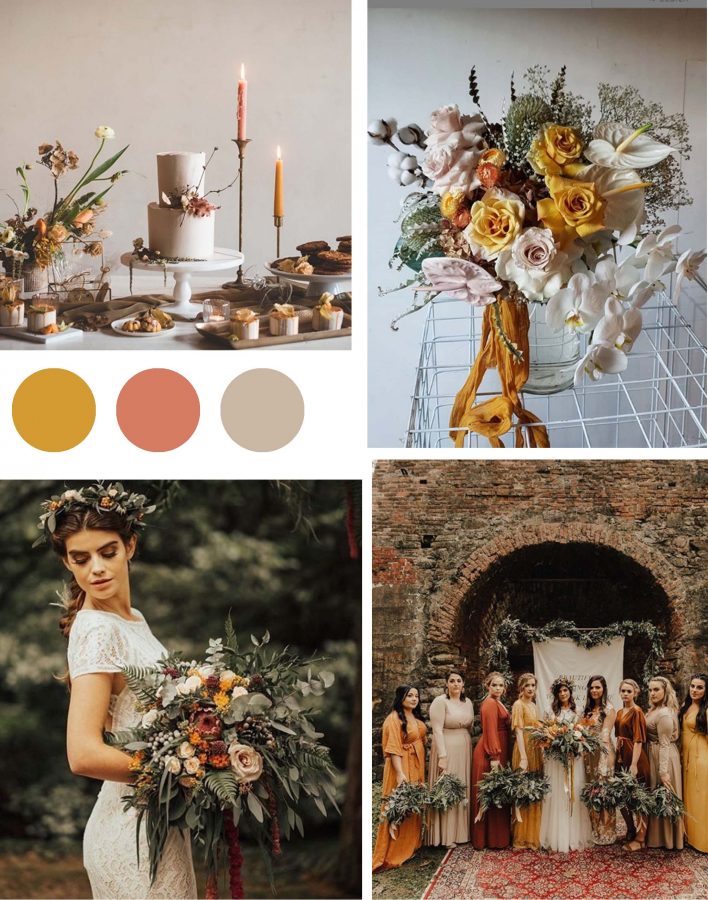 Photo Credits L-R Top to Bottom
Cool Greys
These icy grey tones can't help but make a subtle cooling palette. Perfect for layering hand made papers over velums. Layering textured plates and mixing in the warmth and dry handle of grasses and seed heads. Cool to the hand cheese cloth fabrics, silks and linens are the perfect fabric addition. This is a sophisticated striped back palette that would suit large light venues with a slight industrial edge for an elegant modern feel.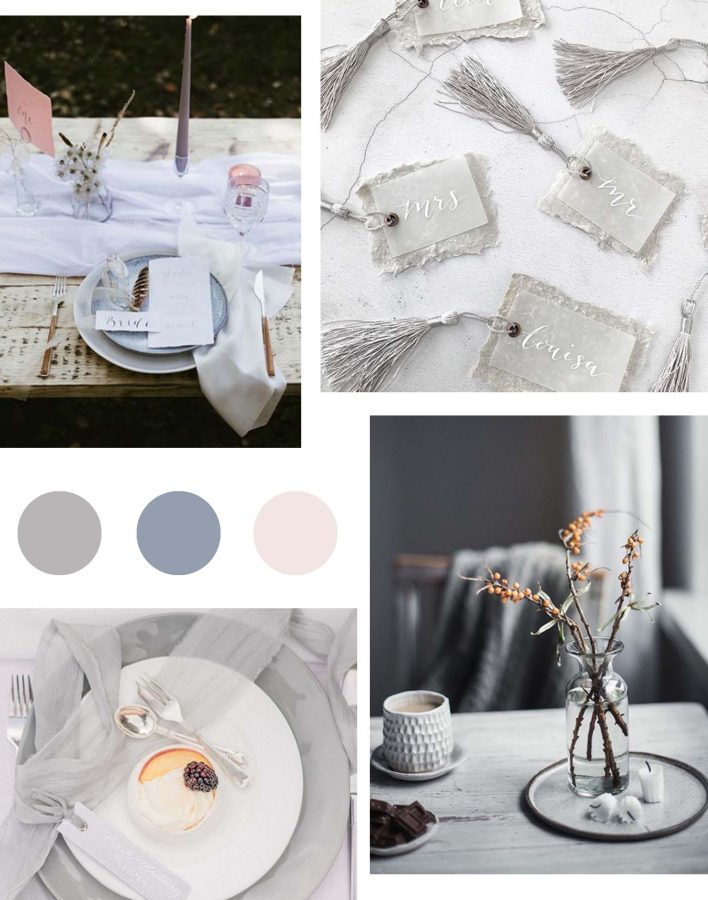 Photo credits L-R top to bottom –
Styling – www.thewhiteemporium.co.uk Photography: http://jasmineandrews.co.uk/
stationery: https://www.whiteolivedesigns.co.uk/ cakes: https://monanniecakes.com/ styling: https://www.alexandraroseweddings.com/ Photography: www.cristinailao.com
@nordic_stories
Read more of my styling ideas and the 2019 styling trends here.