Flowers play a huge part in the majority of weddings and can have a real impact on the overall look and feel of your wedding. They can also be one of those decisions that can get a little overwhelming. With so much choice and so many options, it's sometimes hard to know what to include. The amazing thing about flowers is that they are so adaptable and so creative. You can create so many incredible designs and installations with a floral-filled vibe. From big dramatic floral installations to smaller, more delicate yet stunning wedding floral installation and arrangements.
During your wedding planning, you will have seen so many floral backdrops that have caught your eye. There is so much inspiration for backdrops and sometimes you might not know where to start when it comes to deciding what you want for your wedding vision. If you have your heart set on a floral backdrop then here are some of our ideas…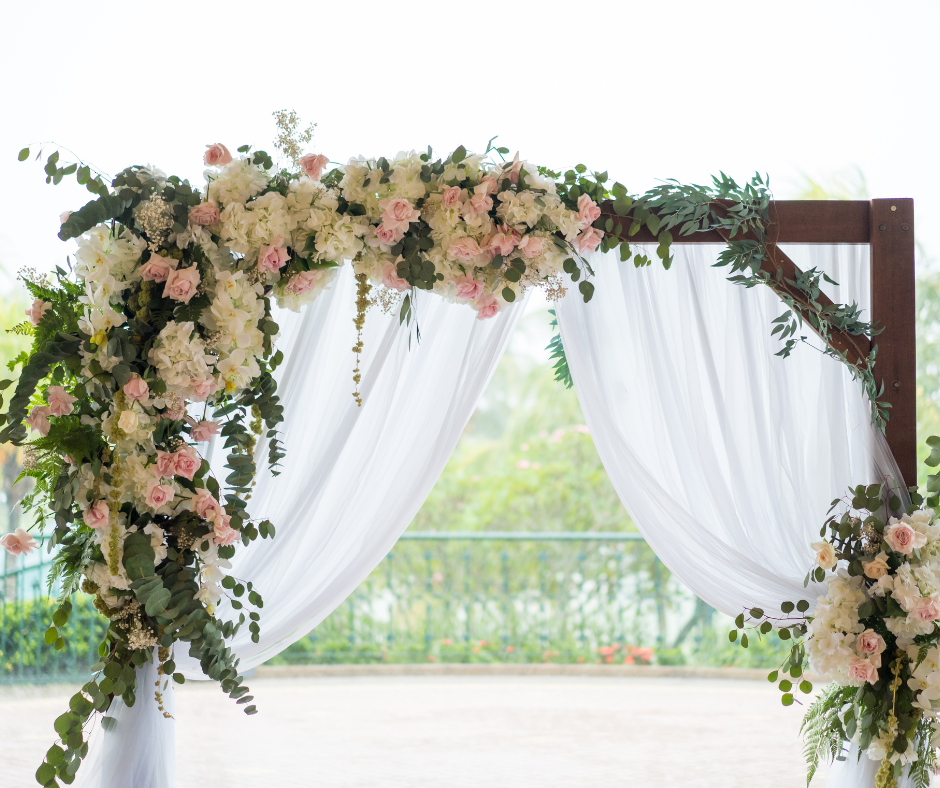 Frame Backdrops
These are still as popular as ever and can take shape on any type of frame, from copper pipe frames to wooden frames. Generally, the flowers are either attached to the legs of the frame from the floor or attached to the corners. That is a choice you can discuss with your florist. You can simply just have flowers on this or you might want to add some draping fabric too.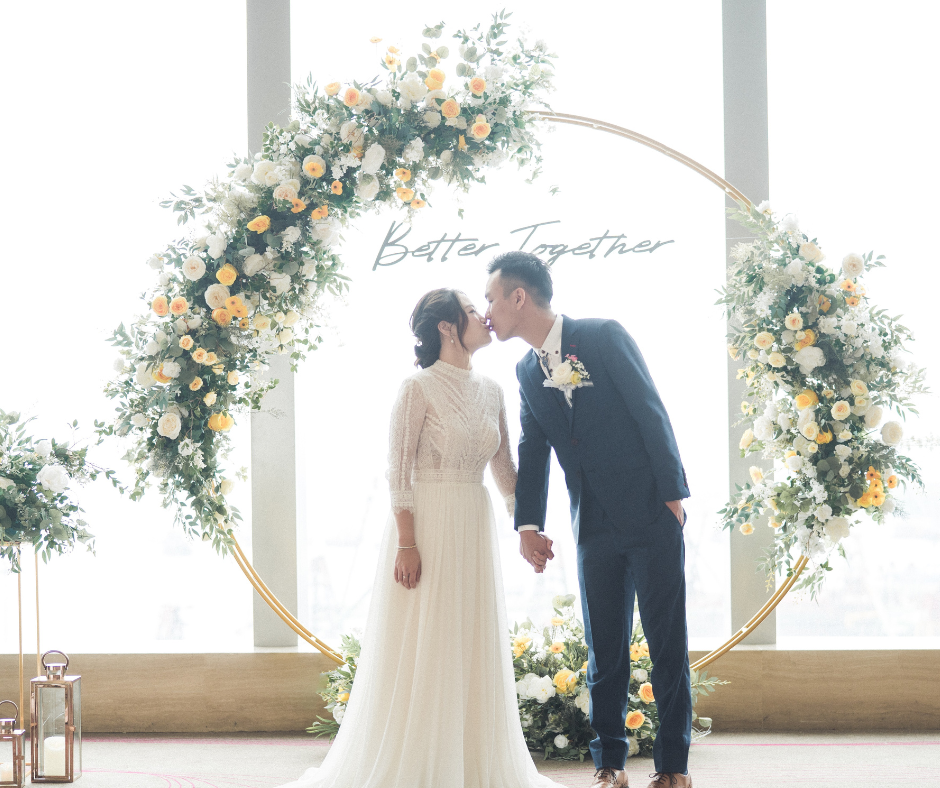 Floral Installations
Have you ever seen an amazing floral installation in a gallery or an event and thought that is something I would love for my wedding? Floral installations are an amazing way to add drama and creativity to your wedding day. Whatever the type of flowers you want to use, there is something beautiful your florist can create for you.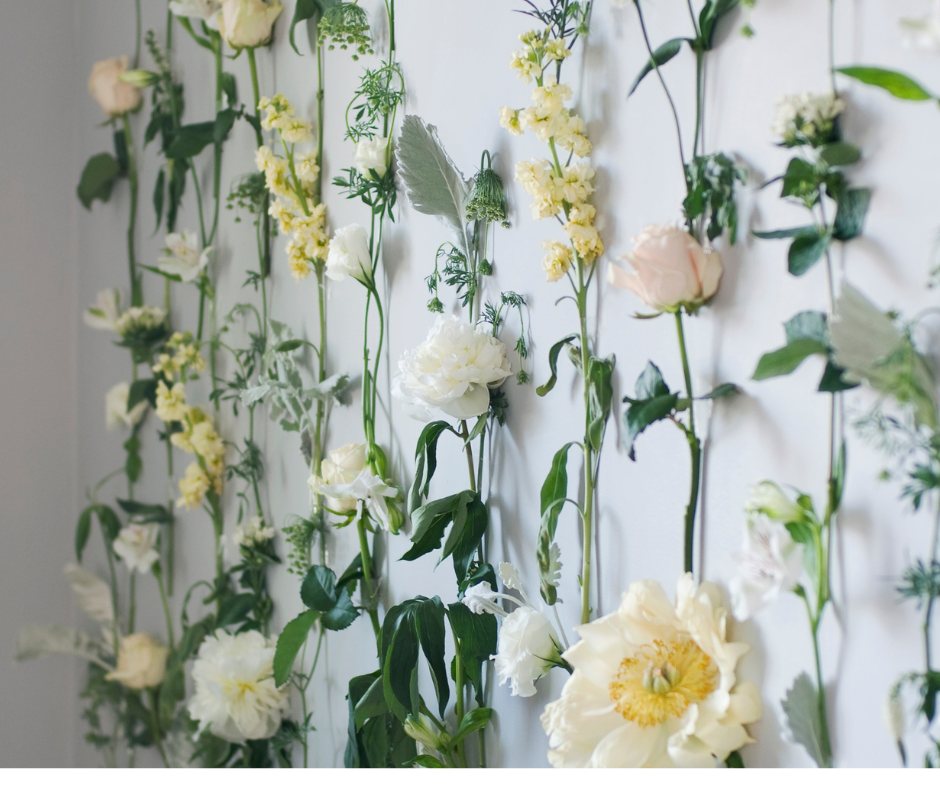 Flower Drops
Maybe you want something more delicate for your backdrop? If you want some drama but in an understated way why not try creating a flower drop.
This is a hanging display where single flowers are cascading in a pattern from a point on the ceiling and form a stunning backdrop. You can have them cascade from ceilings, beams or a frame.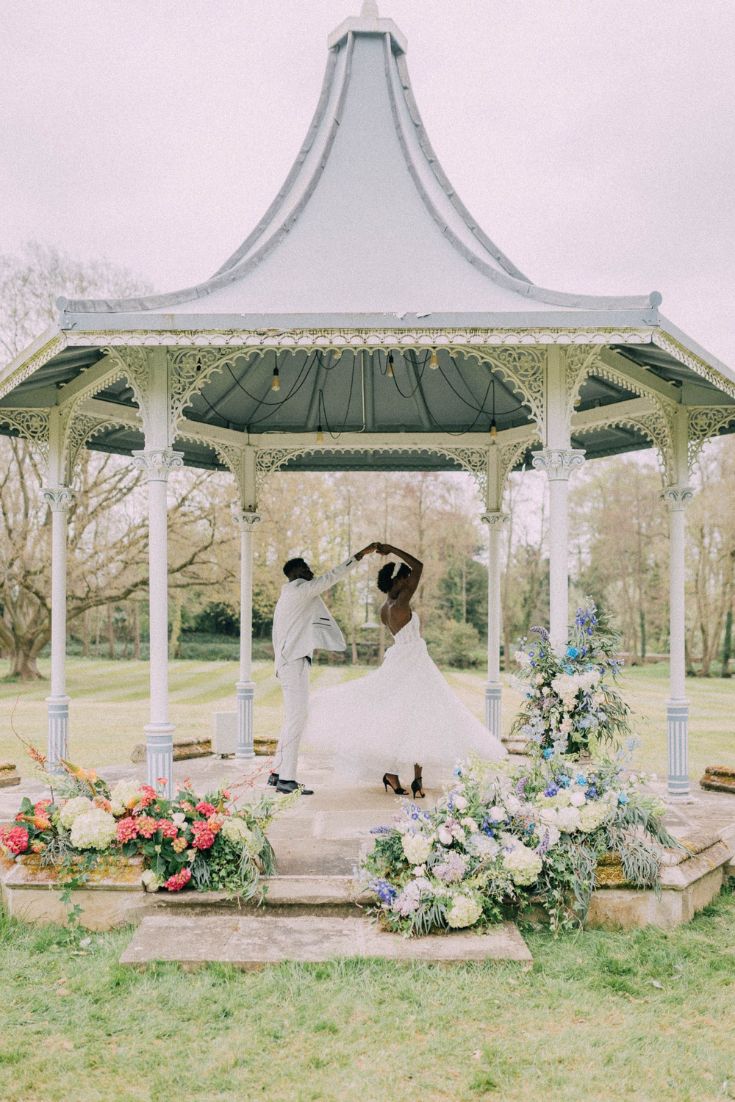 Steven Macdonald Photography / Dreamboats and Carousels
Meadows
If you love the idea of a floral installation that stems from the floor then why not consider having a meadow arrangement? Meadows are absolutely stunning and are definitely something with an unexpected edge.
They are also really versatile and can be created wherever you like. You can have them at your feet for your ceremony, have them at the ends of your tables or anywhere else that you think will create that statement.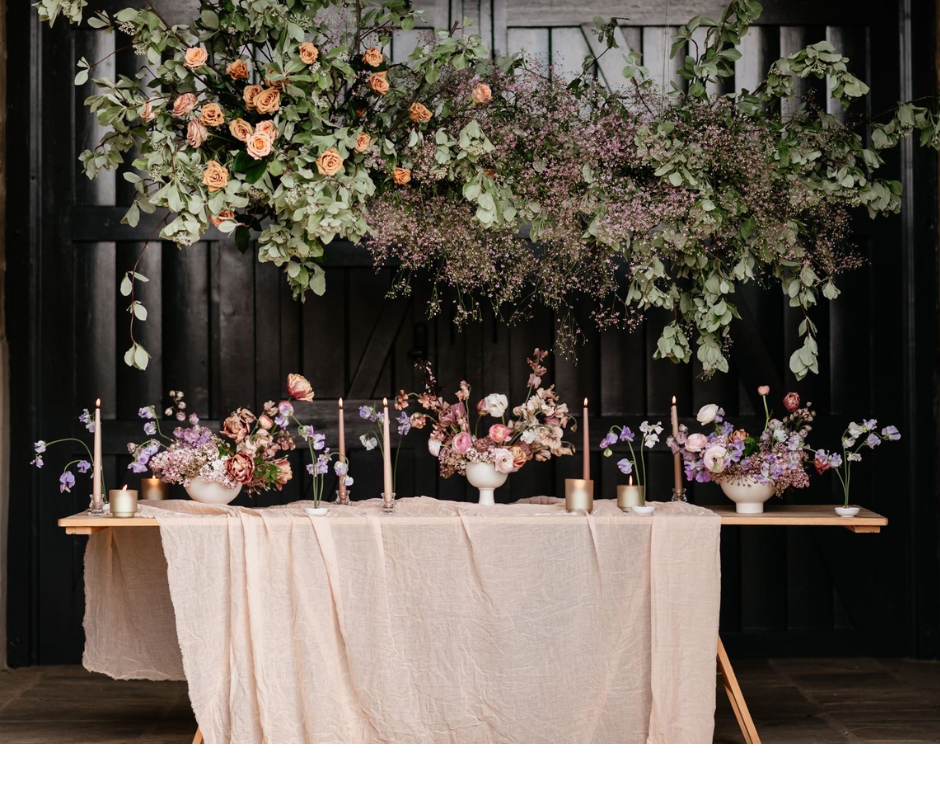 Laura Martha Photography / Clementine Moon / Liberty Lane
Hanging florals
If you have a venue that allows, overhead installations can bring a real sense of atmosphere. You can go for a cloud installation that you might want to hang over you in your ceremony, in your main area or even over your table at the wedding breakfast. You can also create hanging overhead installations that create drama and spectacle. You might want to choose one area that this can go in to add that extra something. You can use an array of flowers for this but dried are stunning and work really well for these types of displays. Another type of floral installation for overhead is a floral chandelier. These are your circle shape style displays that hang just like a chandelier above you. They make such a statement and you can also vary them in size too.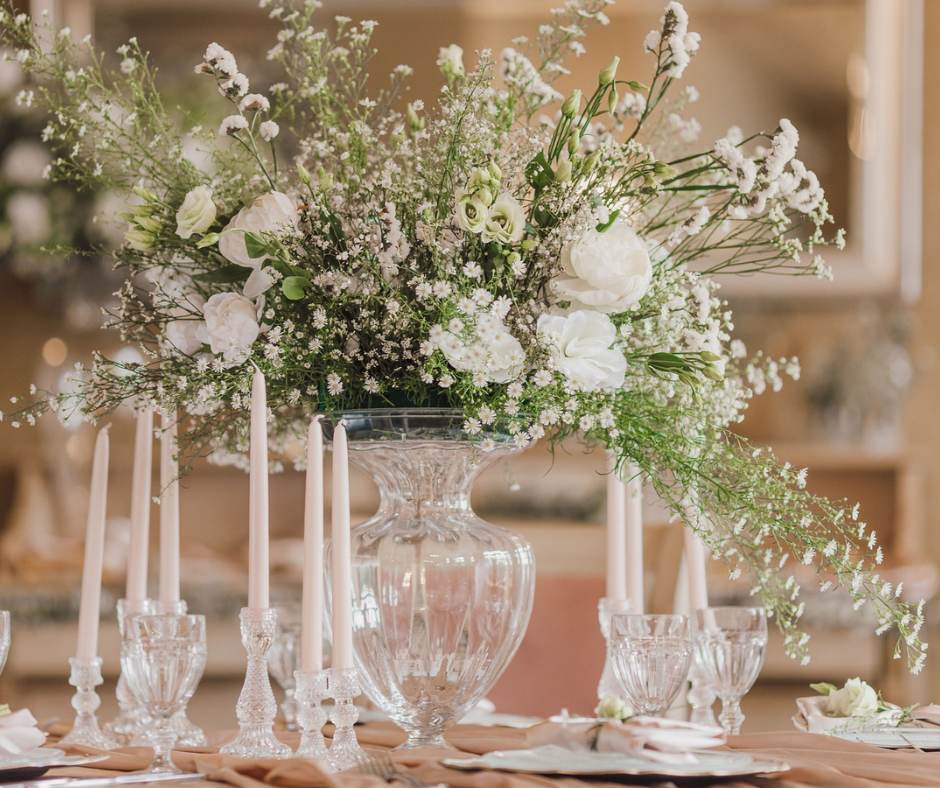 Table Arrangements
You might not necessarily think of table arrangements as being installations but they absolutely can be. This is a great option for anyone but especially for those of you whose venue might not allow for larger hanging installations. Table arrangements can be long and dramatic or small and compact. Either way, they add a stunning stylish vibe to your wedding decor and are much easier to transport, reuse and repurpose either on your wedding day itself or afterward.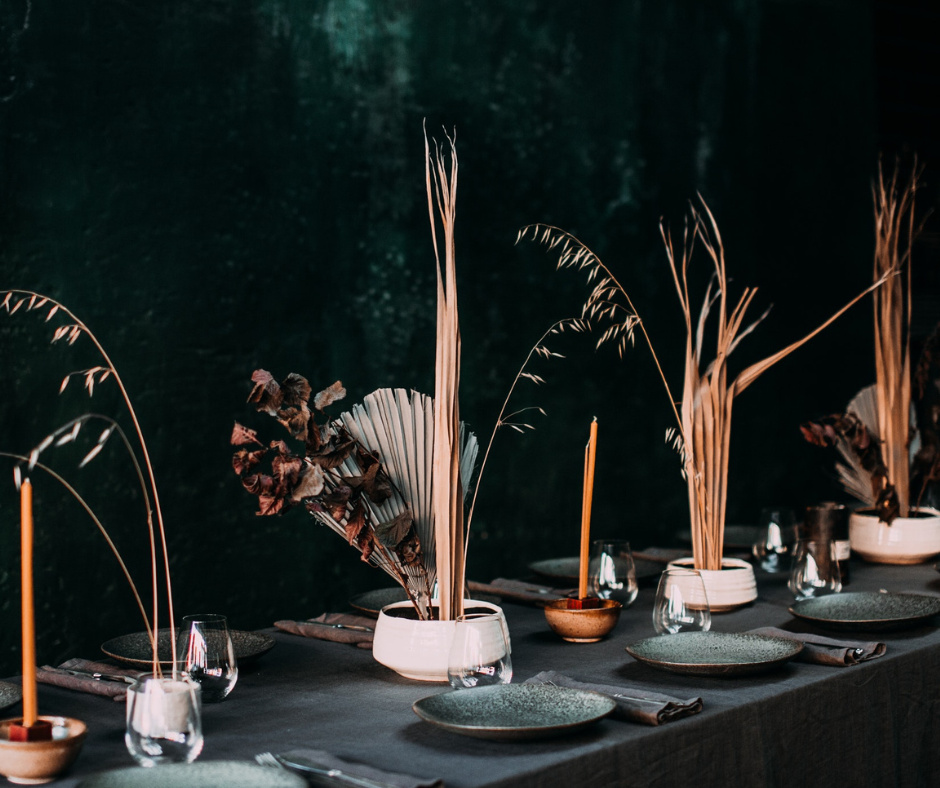 Bowl Arrangements
Bowl arrangements come in all shapes and sizes and can be created in so many variations and styles. You might not think of bowls as being a floral installation but they can be pieces of art. This is a really great option if you are a fan of minimalistic decor and floral arrangements. You can find florists and designers who specialise in creating more minimalistic designs. You can also find inspiration for this from Japanese Ikebana.
There are so many options for wedding floral installations and arrangements and the choice comes down to what you are inspired by and you love. Always make sure you ask your venue if they have any restrictions on hanging etc (it is a good idea to do this when you visit and choose a venue if you have an installation in mind). Whatever type of flowers you go for there are lots of the above options that work really well for each.
Written by Stacey Hartley Florals for BOND Bride Issue 5 magazine.
IF YOU LOVED THESE WEDDING FLORAL INSTALLATION IDEAS, THEN WHY NOT PIN THEM?