With the Government set to review the law regarding outdoor weddings (who knows when this will happen but it's promised it's in the pipeline) we can expect to see a lot more personal outdoor ceremonies taking place. Under current legislation, to have a legally binding outdoor ceremony it must take place under a structure with a permanent roof and be fully licensed. As a stylist, I get shown images all the time of gorgeous ceremony inspo from America and Australia and it can be quite upsetting having to explain to couples that what they intend to happen isn't actually legally binding. However, cross fingers, this could all be a thing of the past and instead of my social media feeds being full of breath taking shots from abroad we could be creating more of our own home grown ones.
I wanted to share with you some stunning outdoor ceremony inspiration all from UK real weddings and styled shoots (not all legally registered locations) as well as some practical advice and tips.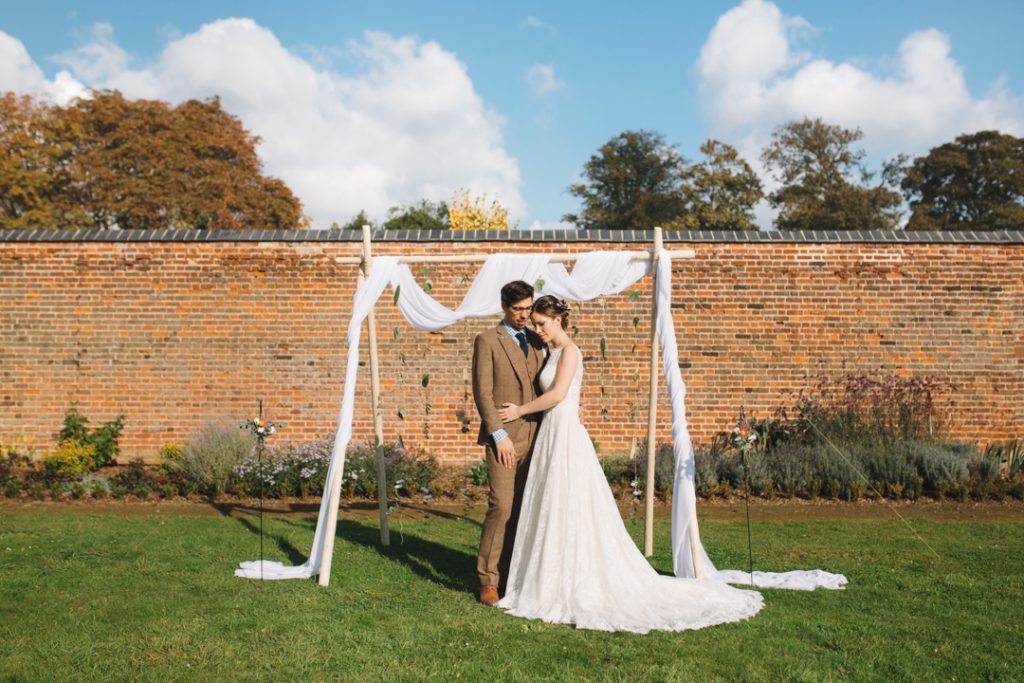 Image Source – Cat Lane Weddings Styling The White Emporium
The great benefit of an outdoor ceremony is there is often so much existing beauty in place, so don't fight against the backdrop, work with it. Trees can be used to hang lanterns, lighting or create a natural aisle. Are there already existing flowers? You don't want for your arrangements to get lost amongst what already grows so instead of smaller arrangements focus your effort into one larger breath taking display.
Without the restrictions of space, building requirements and colour schemes of an indoor ceremony you can really let your imagination run wild. Outdoors there isn't usually a natural aisle so think about how this can be created; Persian and monochrome rugs make great aisle runners and amazing way to inject colour.
If you aren't having a legal ceremony you aren't restricted to standing under a structure so I think it's important to create a backdrop for you to stand in front of. Something that provides a mark for guests to look to and a feature to frame you. Naked tipis, wooden arches and fabric draping are all versatile, eye catching and a great photo op.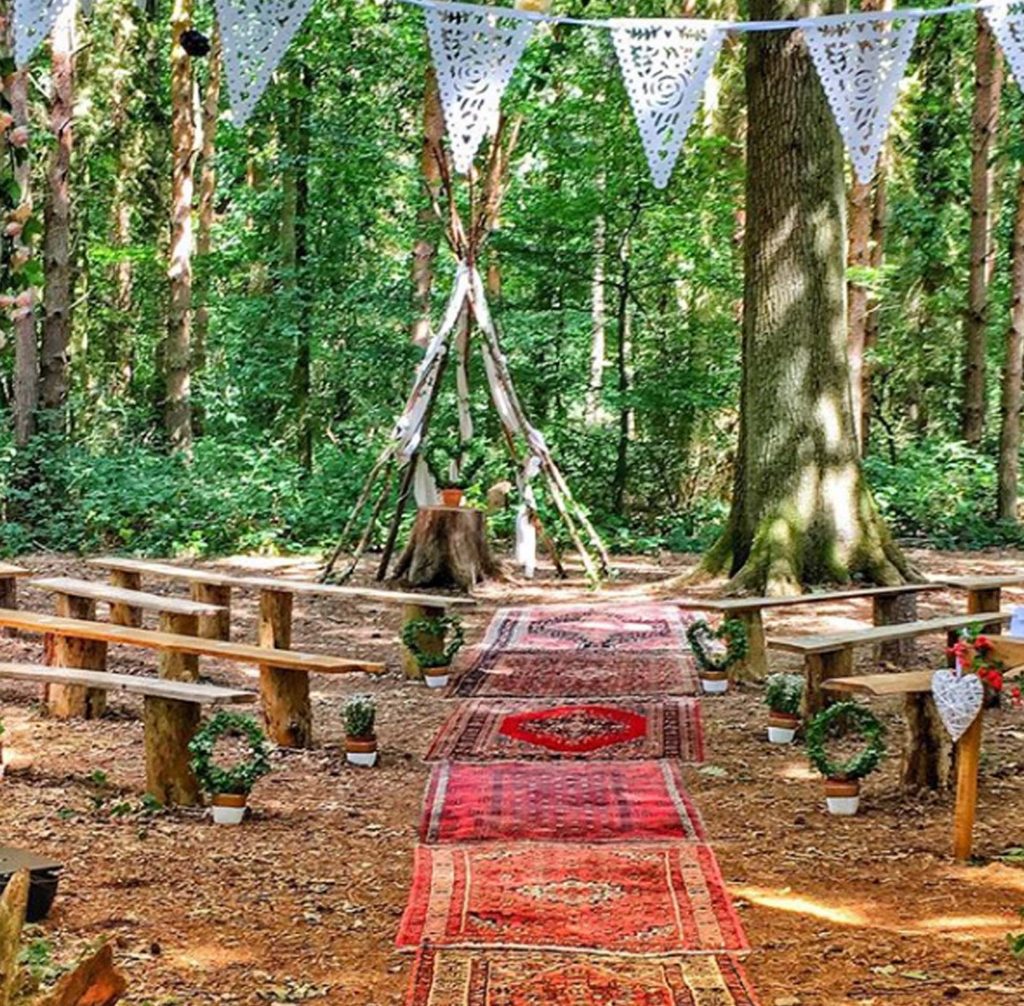 Image Source – Hummingbird Weddings and Events Planner: Hayley Jane Weddings
Think practicalities and logistics; you will need seating and your guests will be sat for far longer than you so ensure it's adequate for all ages. Outside ceremonies call for something more quirky than your average chair, so instead choose wooden benches, hay bales or mismatched vintage chairs. Some of these may need covering for comfort so crochet blankets are always a good addition.
Sound often gets lost outside so be prepared to speak loudly or accept that the guests in the back probably won't hear. Make sure your guests are aware the ceremony is outside so they can be prepared with suitable footwear and coats in case it's a little chilly, or provide flip flops, umbrellas and blankets just in case. As much as I love candles, they aren't always practical in outdoor settings so think about tall, enclosed containers. We are always praying for sun during a wedding setup but make sure you know it's position during your ceremony as you don't want it to be blinded so you're squinting in all your photos – work with your photographer and venue to work out the best location and make sure you wear sun cream!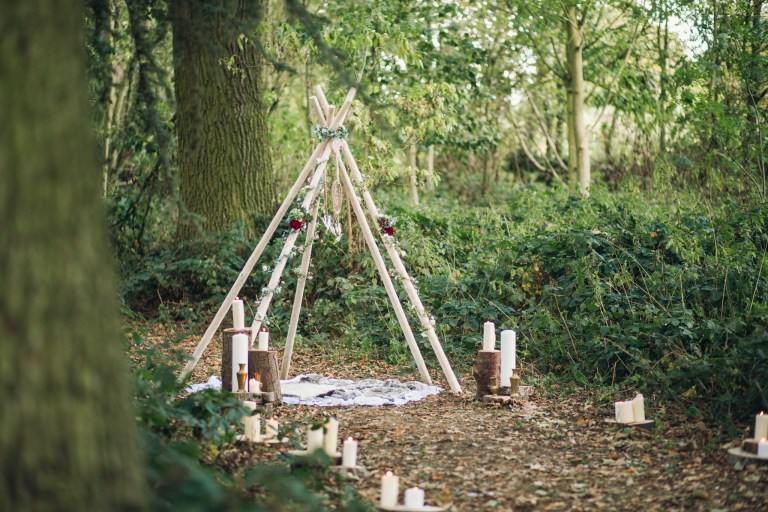 Image Source – Cat Lane Weddings Styling The White Emporium
If you are having a blessing and getting married away from a traditional venue make sure your guests are directed and can manage the walk. Calligraphy signage, festoon lighting and walkways made of rugs can all be used as directional aids.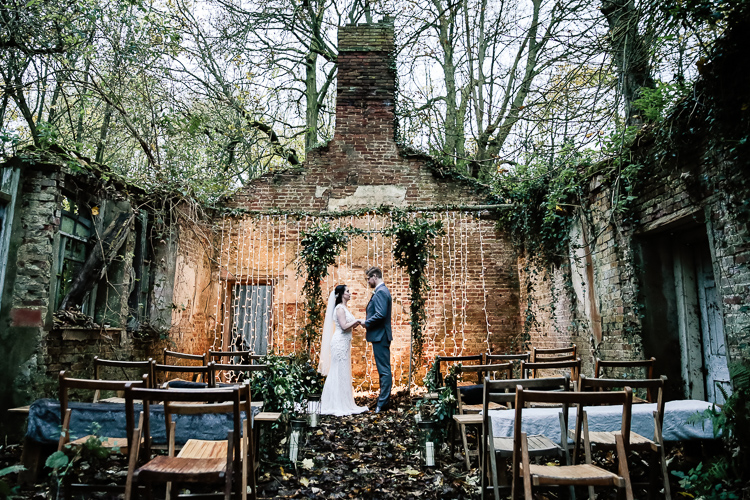 Image Source – Sarah Brookes Photography Styling Song Bird Weddings and Events
And finally, always have a plan B, this is England after all and as much as we all cross our fingers for sunshine it doesn't always work out. No one wants to get soaking wet on their wedding day so make sure you have thought about an alternative ceremony space and have briefed suppliers and the venue. (Here are some more ideas for coping with the British weather!)
I love an outdoor wedding for the freedom and relaxed nature they instantly create, what's not to love about an intimate ceremony nestled amongst the trees covered in soft lighting.