Starry eyed and vintage alternative glamour is the order of todays styled wedding inspiration set at the beautiful cabaret club The Lucky 7 Club in Devon. With modern vintage styling, alternative bridal gowns, feather capes and and art deco cakes it has details galore and lots of dreamy wedding inspiration for a day as unique as you are. Here we catch up with shoot coordinator Lynsey Beardsmore of Dandelions & Pearls and the rest of the team to find out all about how this vintage cabaret wedding at The Lucky 7 club was created…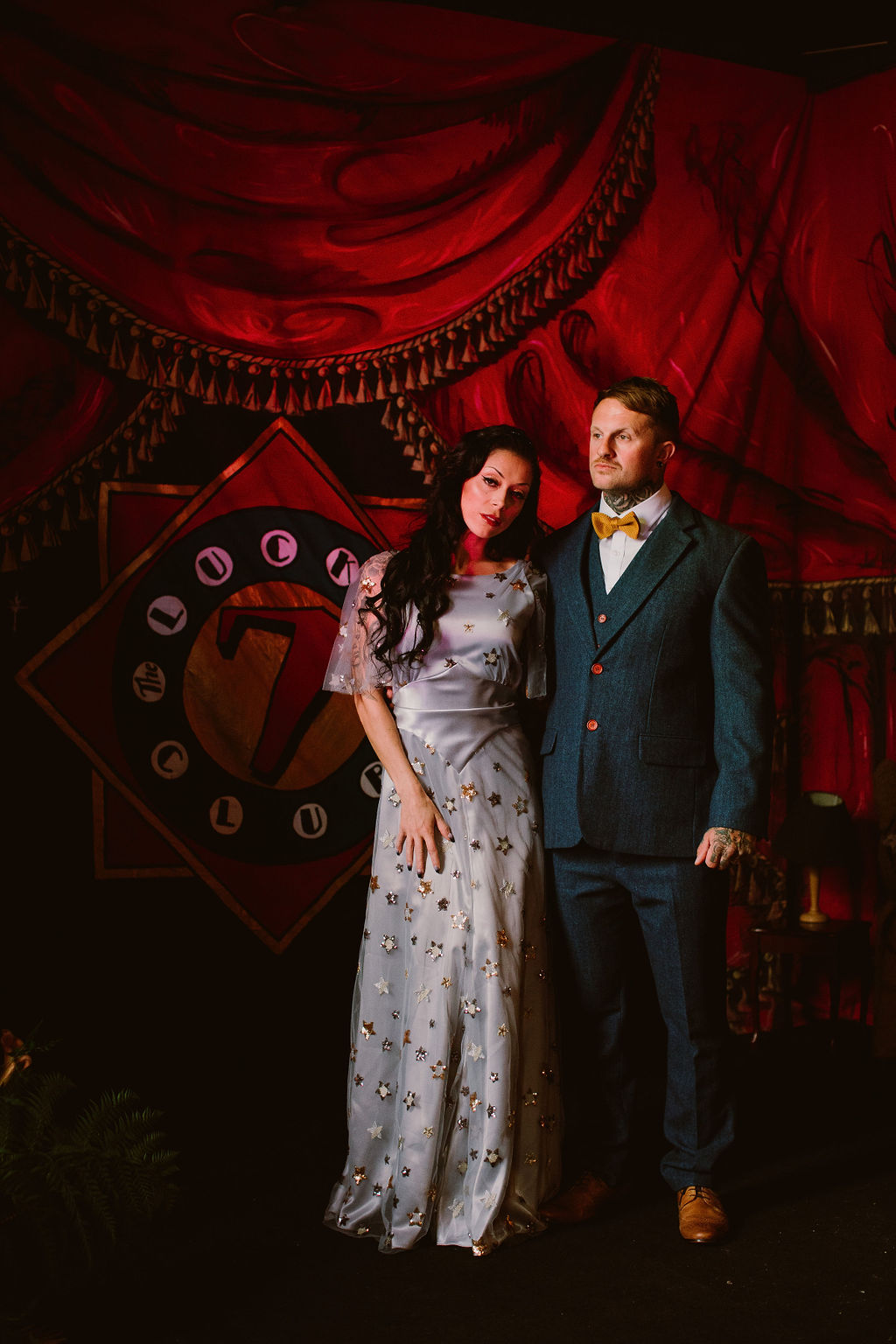 "For this shoot we wanted to create a fun alternative starry night theme with vintage styling, incorporating Deco details with lots of old Hollywood glamour using a bold colour palette of midnight blue, emerald green and deep purple with ascents of metallic gold and silver. I adore the celestial theme that's been a hugely popular wedding trend recently and I don't see it going away any time soon. With the festive period just around the corner it's a great way to add some sparkle to your winter wedding."
[line]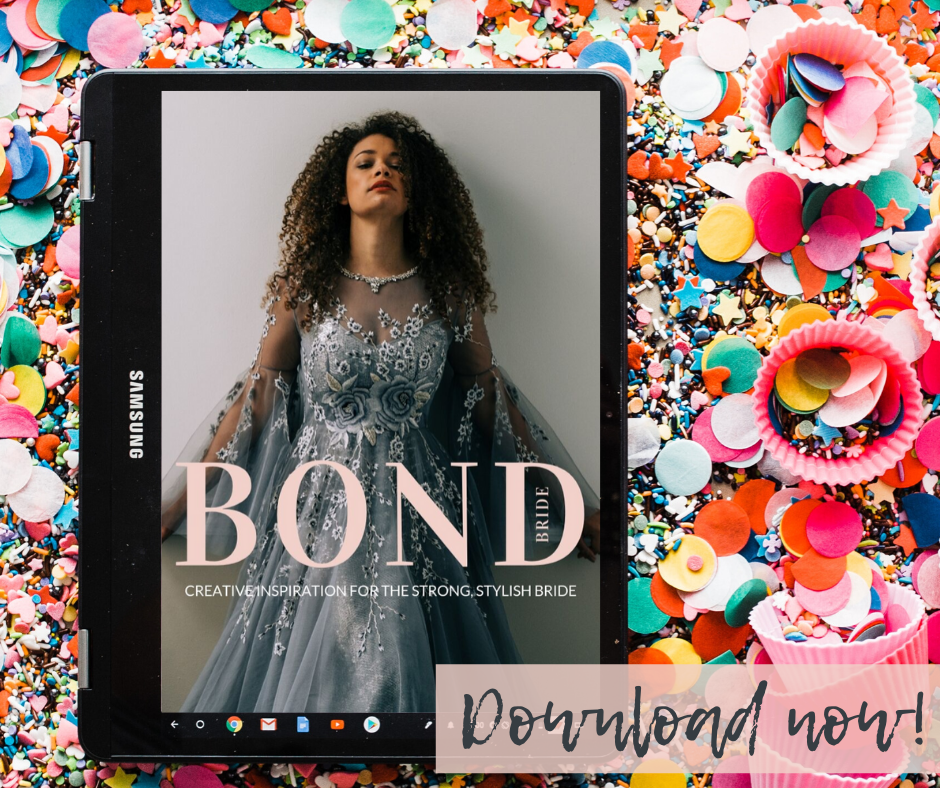 DOWNLOAD BOND BRIDE MAGAZINE ISSUE 2 HERE
[line]
"With this shoot it was important for us to inspire people to throw out the rule book, be unapologetically themselves and just have fun when planning their wedding. Hopefully it
illustrates how to take a wedding theme and inject your own personality into it, much in the same way that we work with brides to design and create their own totally unique wedding
outfit."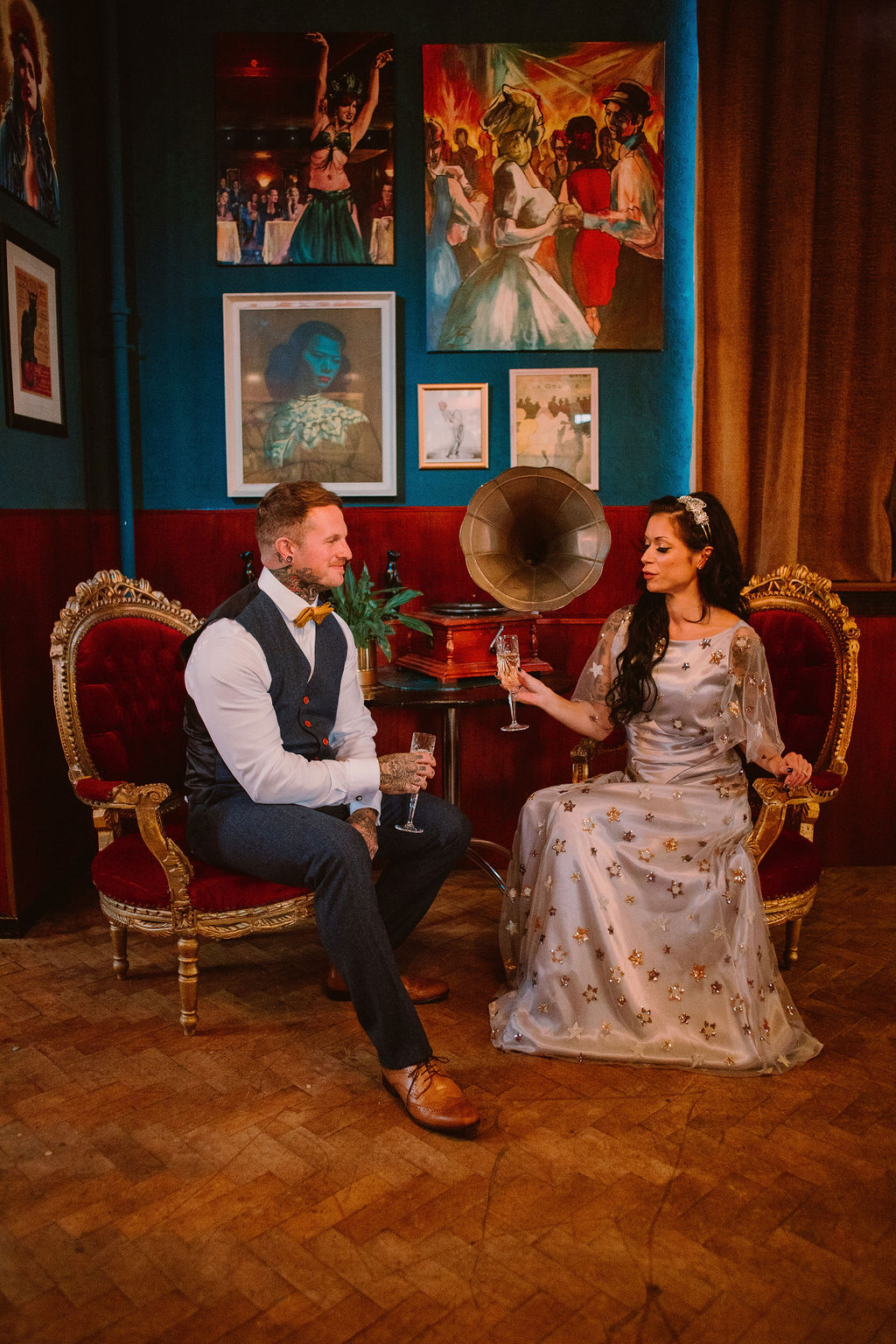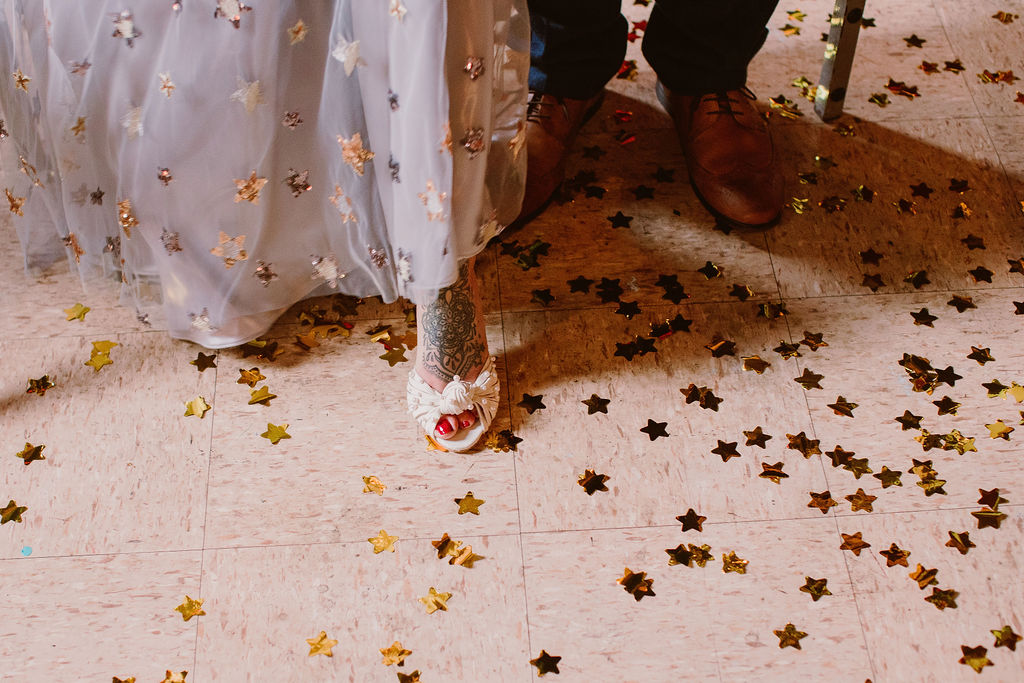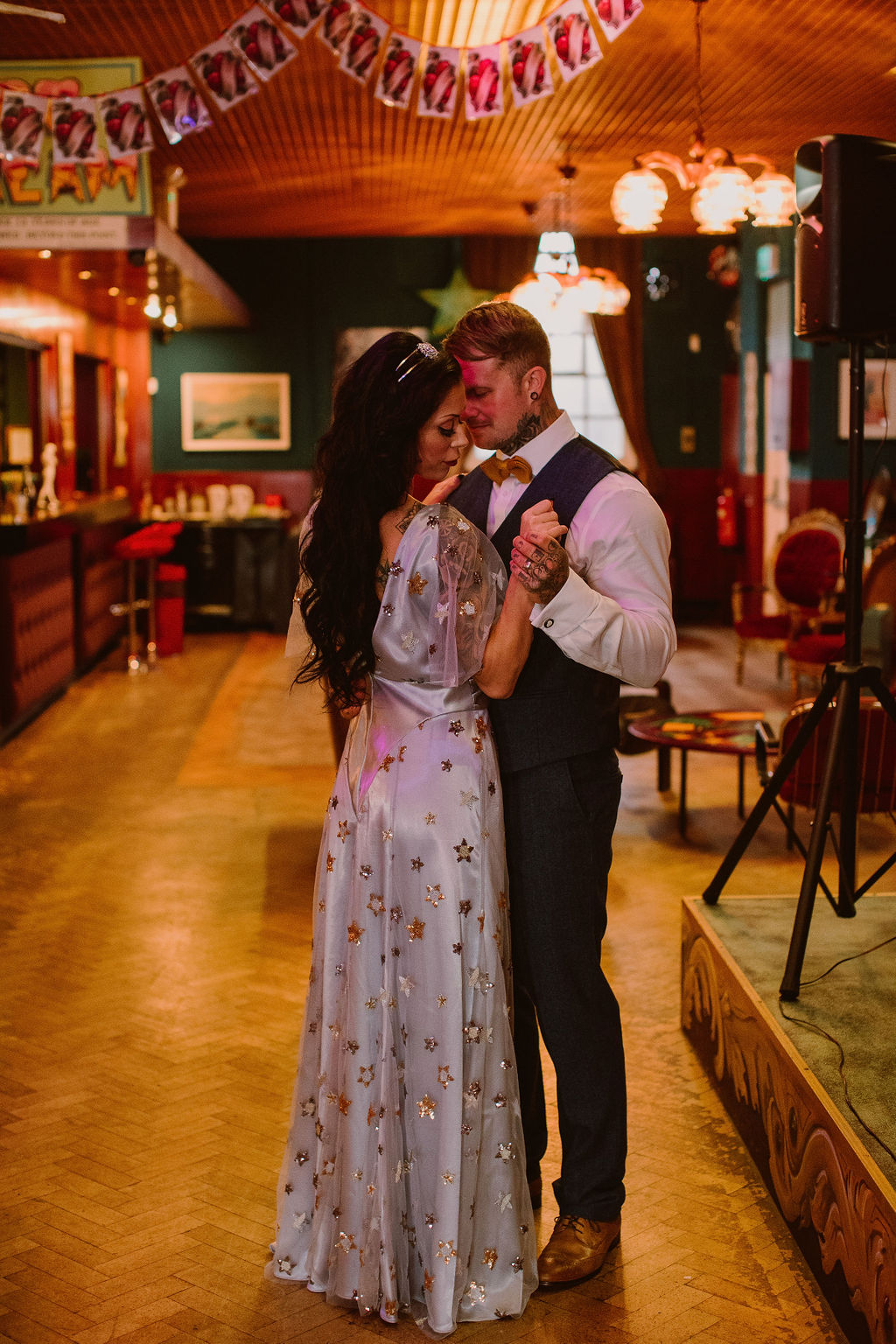 Venue – The Lucky 7 Club
"For the venue we choose the wonderfully quirky Lucky 7 Club. A speakeasy burlesque and cabaret venue hidden away in the heart of Paignton. It's a real eclectic mix of retro, vintage
glam and edgy rock n roll, that's inclusive to everyone and totally inline with our brand philosophy."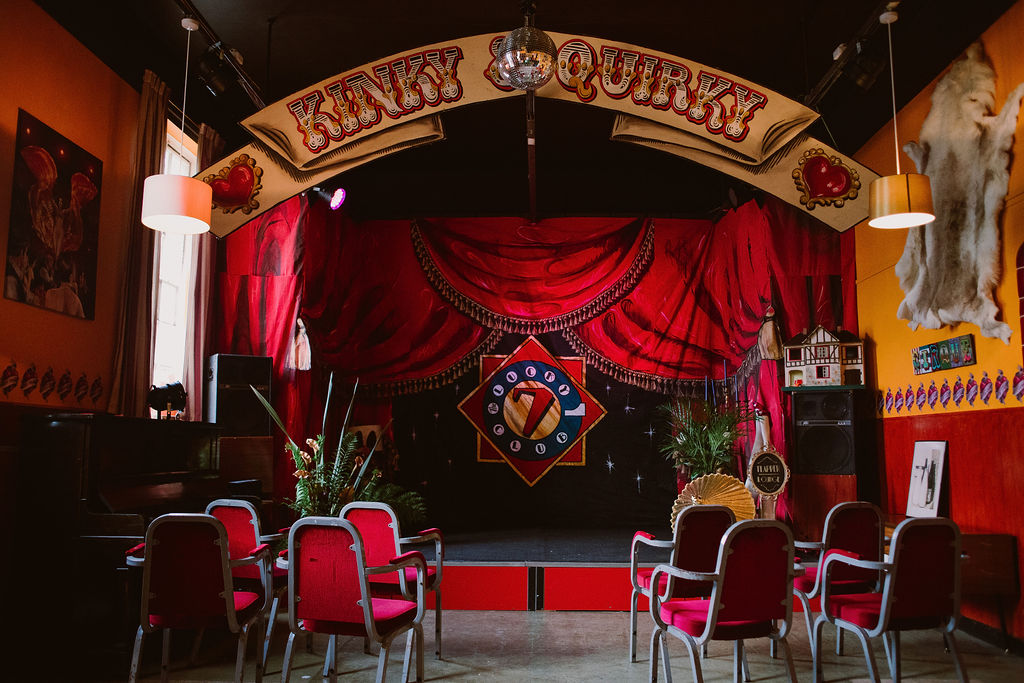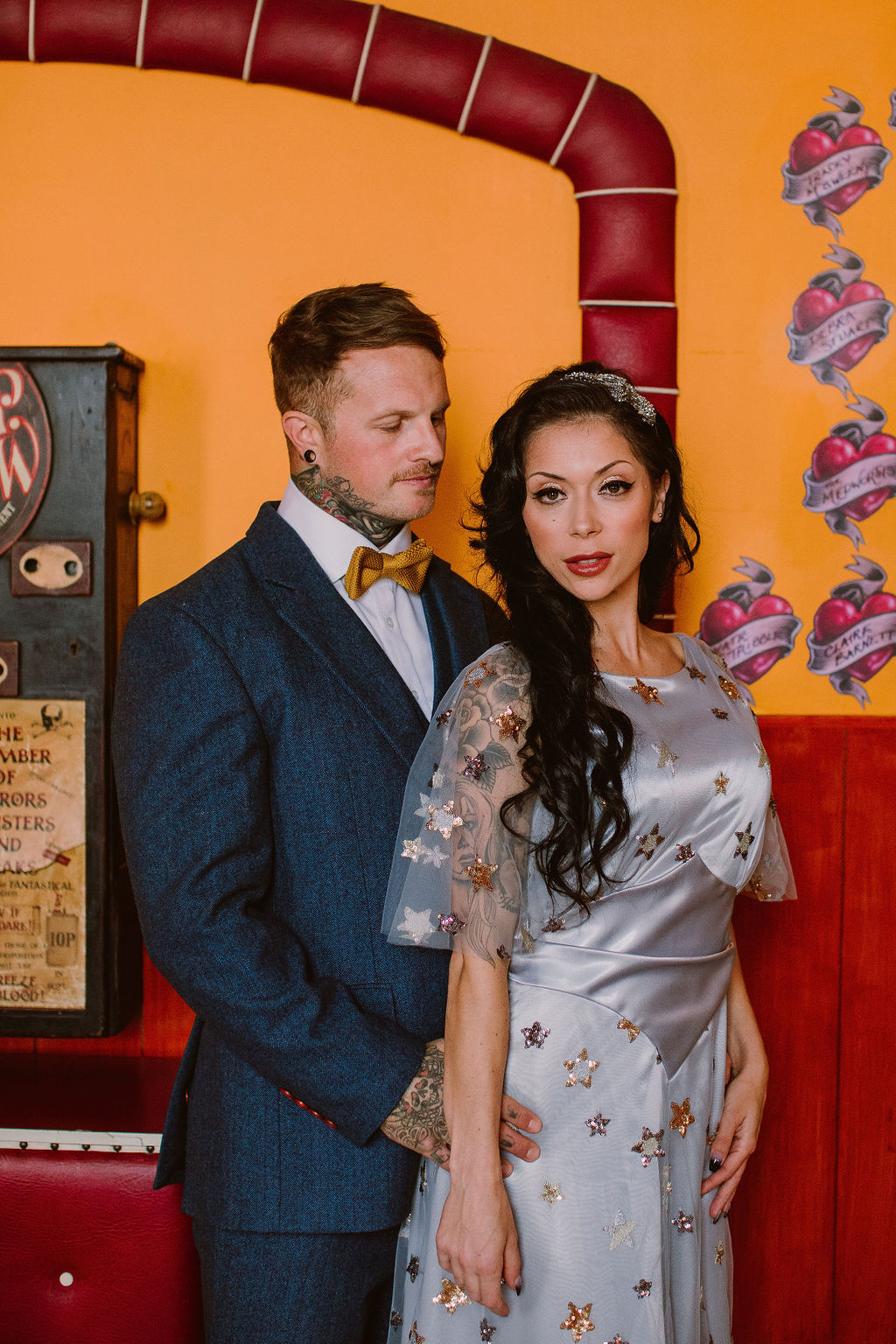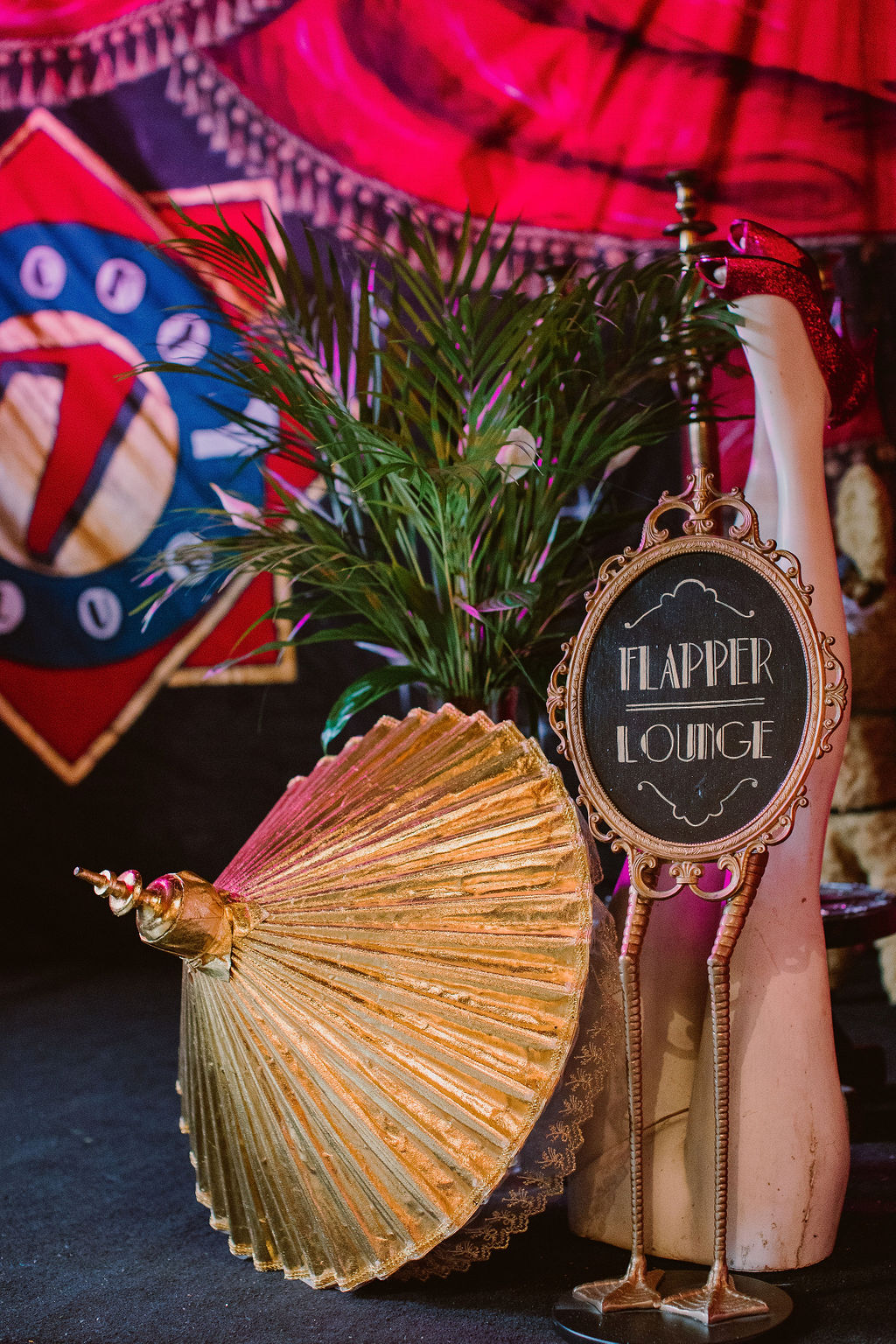 "After attending a friends wedding reception at the club I just knew that it would be a perfect location for a styled shoot and thought that our alternative, bespoke dresses would look great against the quirky character of the venue which is filled with vintage furniture, oddities and original artworks. The stage in the Lucky 7 Club's smaller room made for a dramatic setting for an intimate wedding ceremony for our real life rock and roll couple."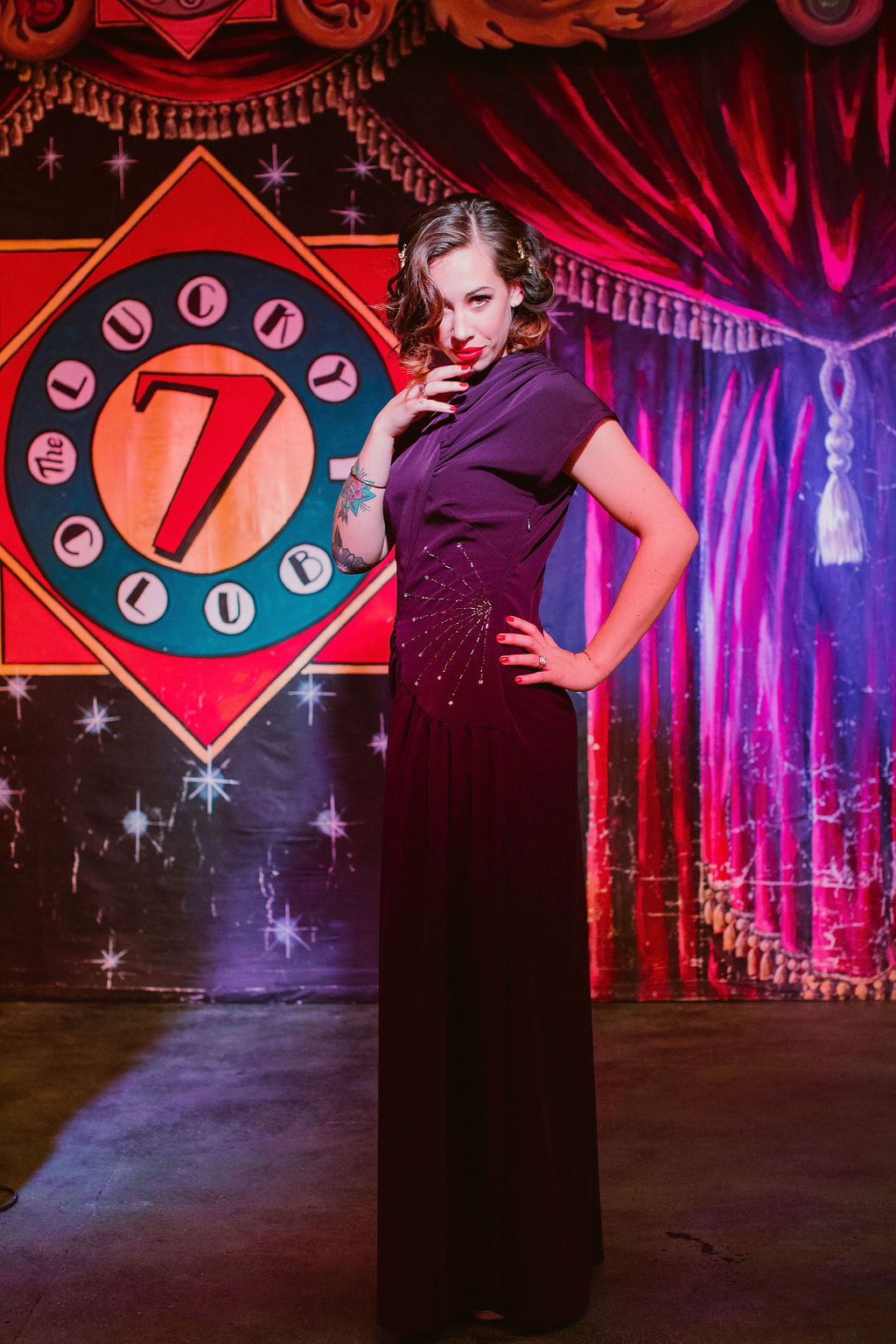 Photography – Ruby Walker Photography
"Lynsey's work caught my eye and I knew I wanted to work with her, I think we have the same idea about weddings and doing them just the way you want without social influence. Her pieces are made to stand out and show others that they can do whatever they like for their wedding day. My photography does exactly the same. I was most inspired by the venue, Lucky 7. I knew it was a club and was used for burlesque nights so I knew the photography had to be fun and playful.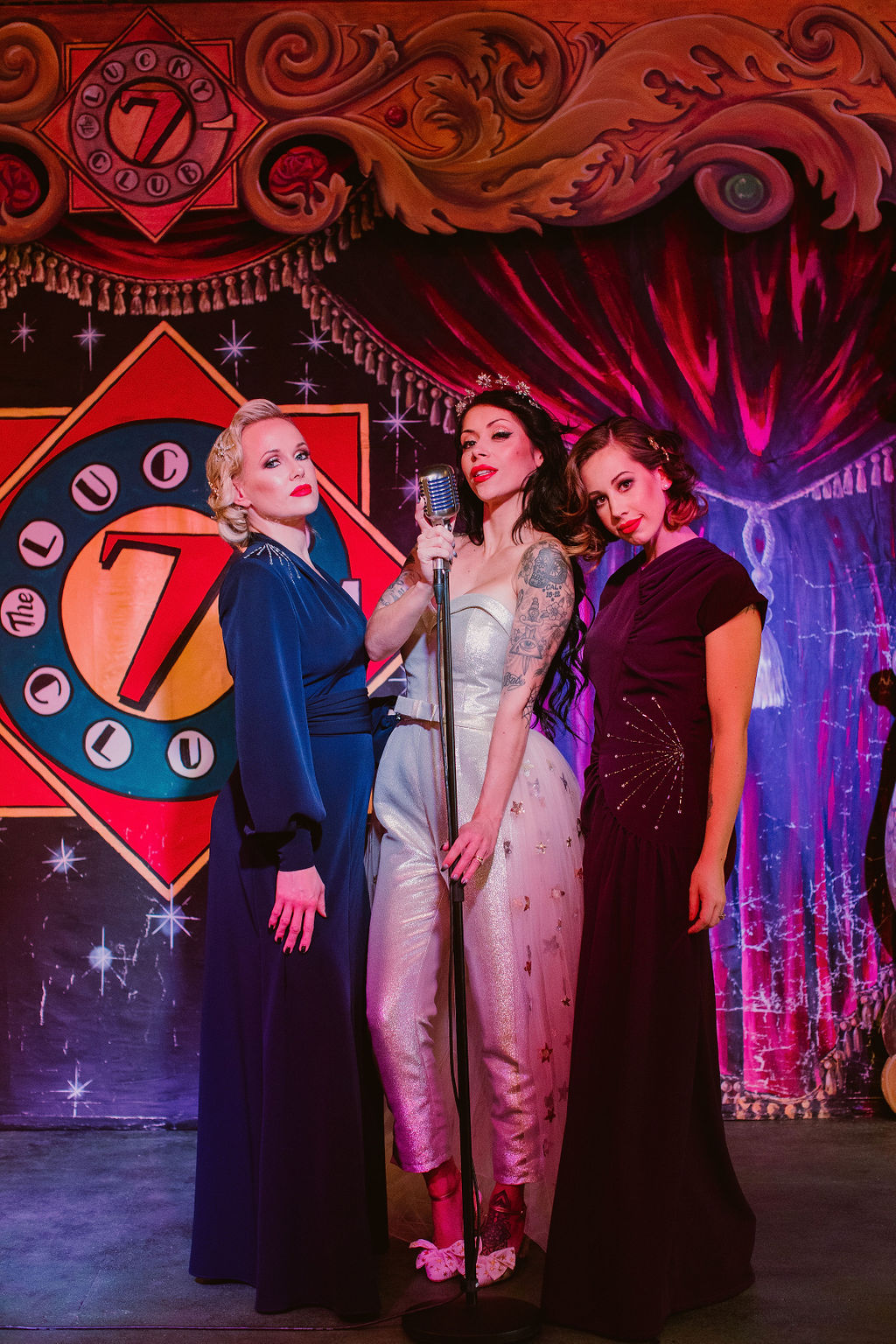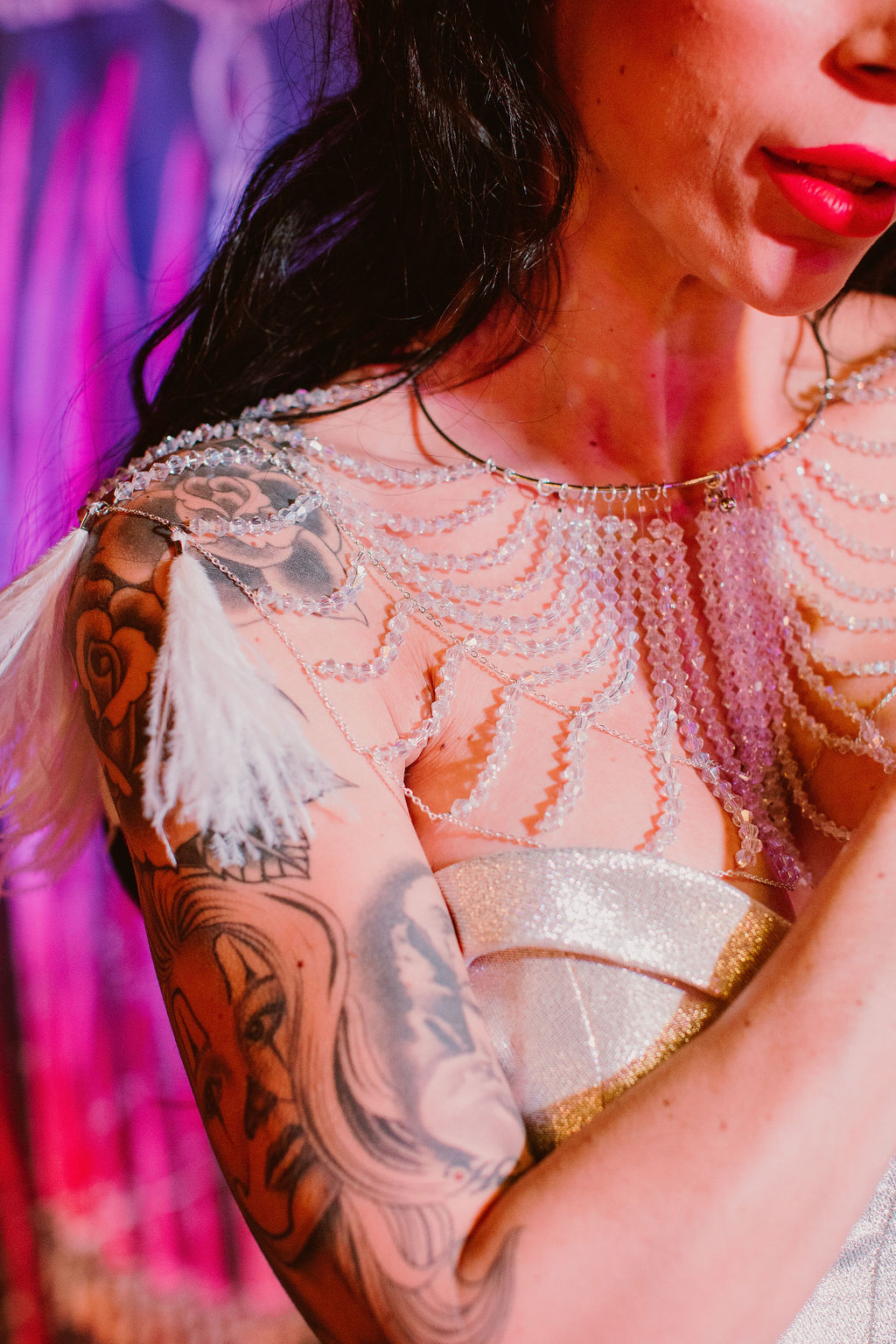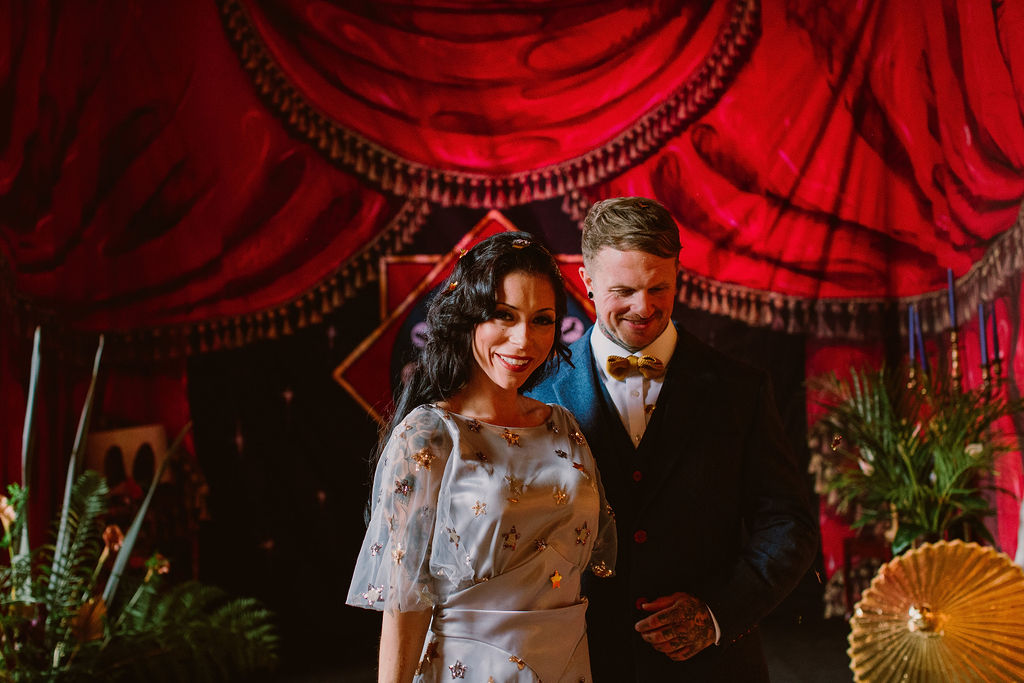 "I love all things colour so I used a lot of the venues quirky colours and the stage lighting when considering where to photograph. Hopefully the shoot broadens peoples minds when they're thinking about planning their wedding and makes them feel like they can do it totally their way."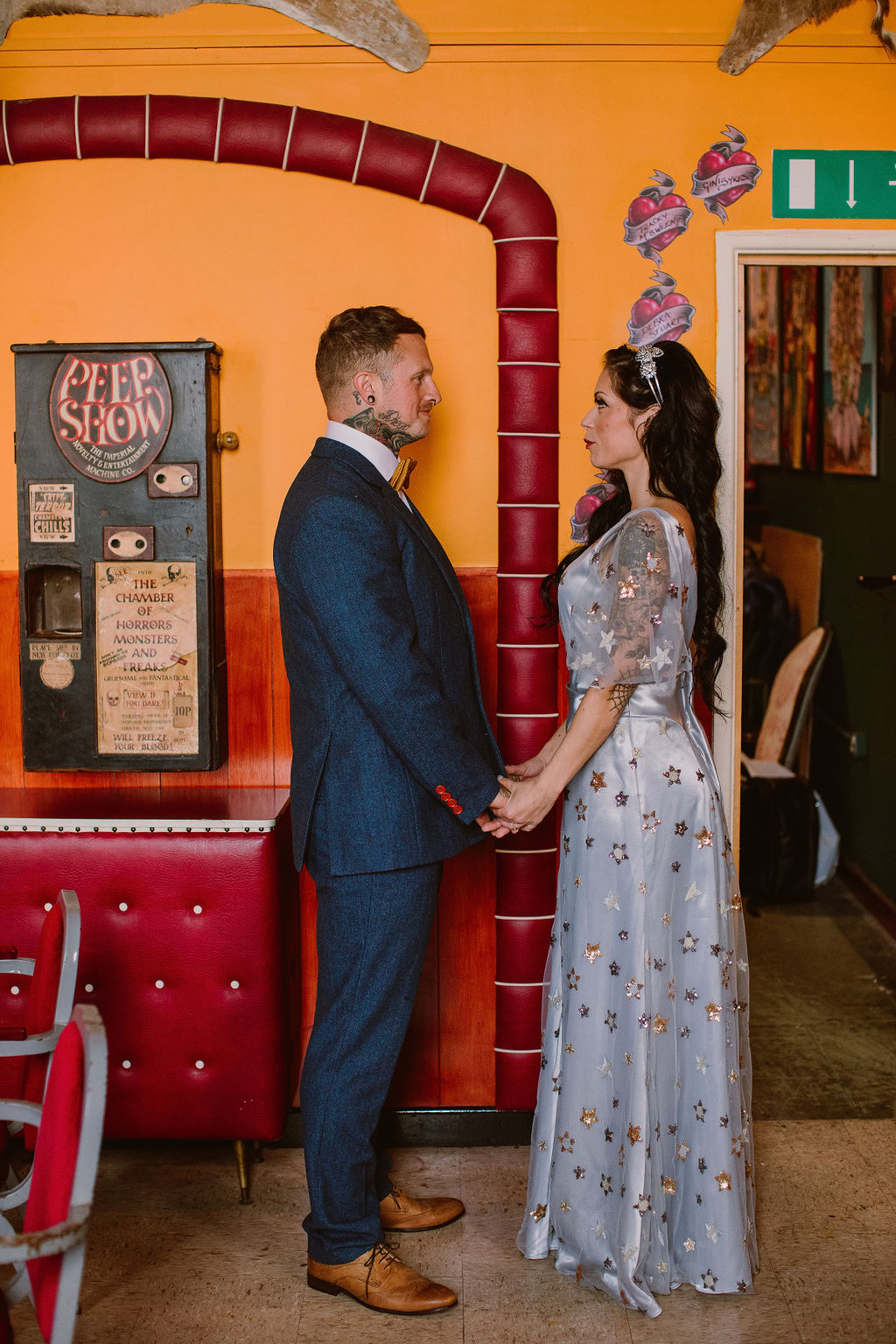 Styling – Danielle Donnelly, The Wedding Hub
"I had so much fun styling on this shoot. The venue itself needed very little help on this front, because it's actually full to the brim of props, colour and quirky areas to use, which made showcasing everyone's items easy. From displaying shoes and jewellery in vintage drinks cabinets to giving the cake Centre stage!"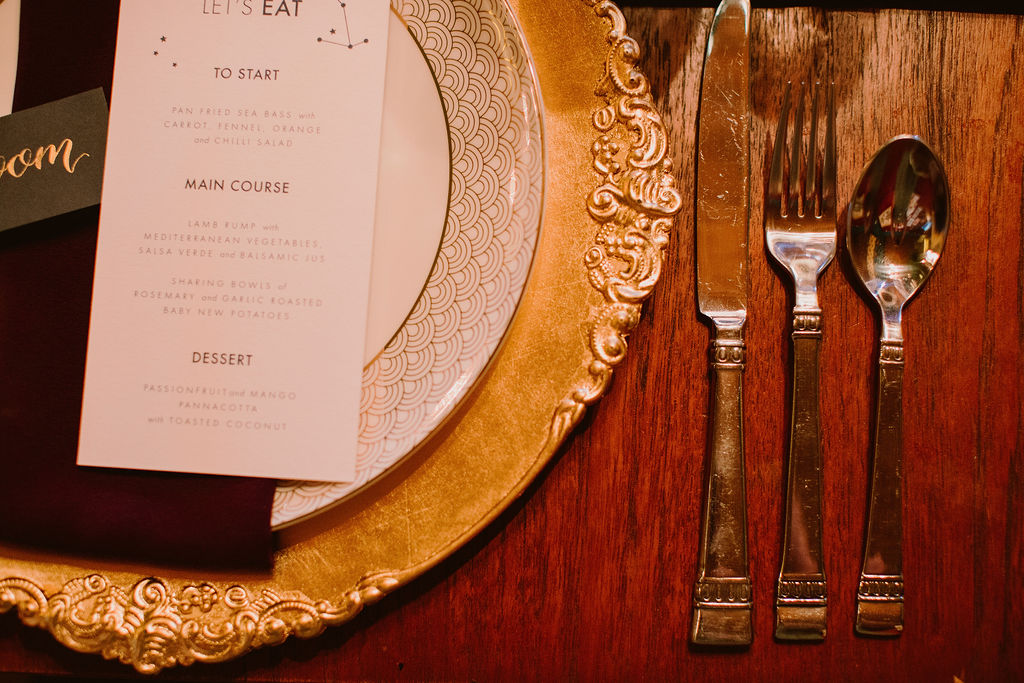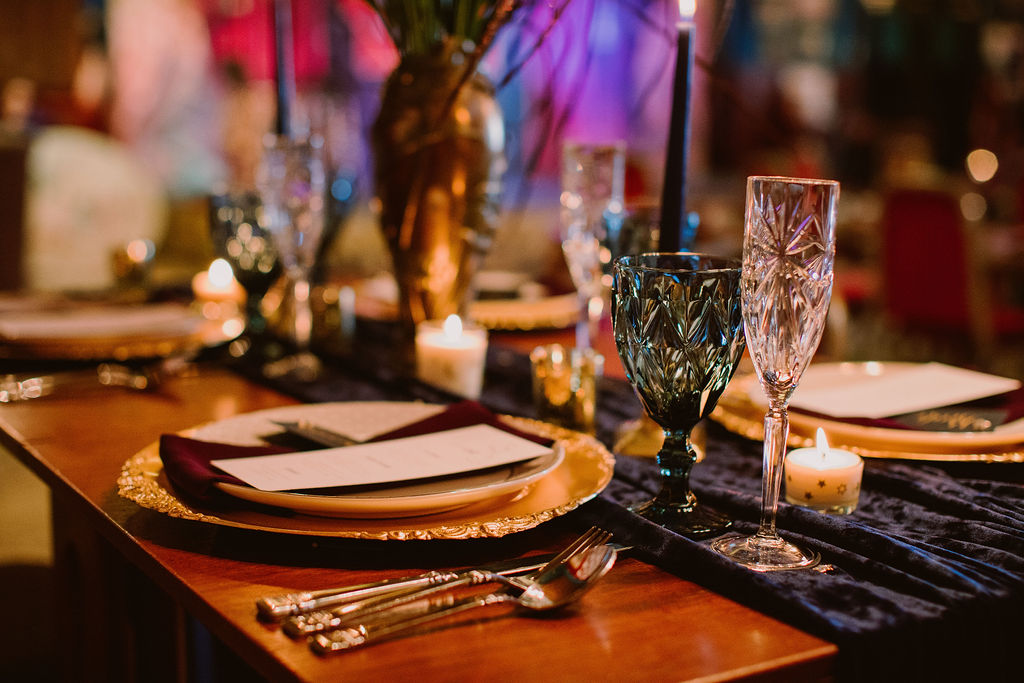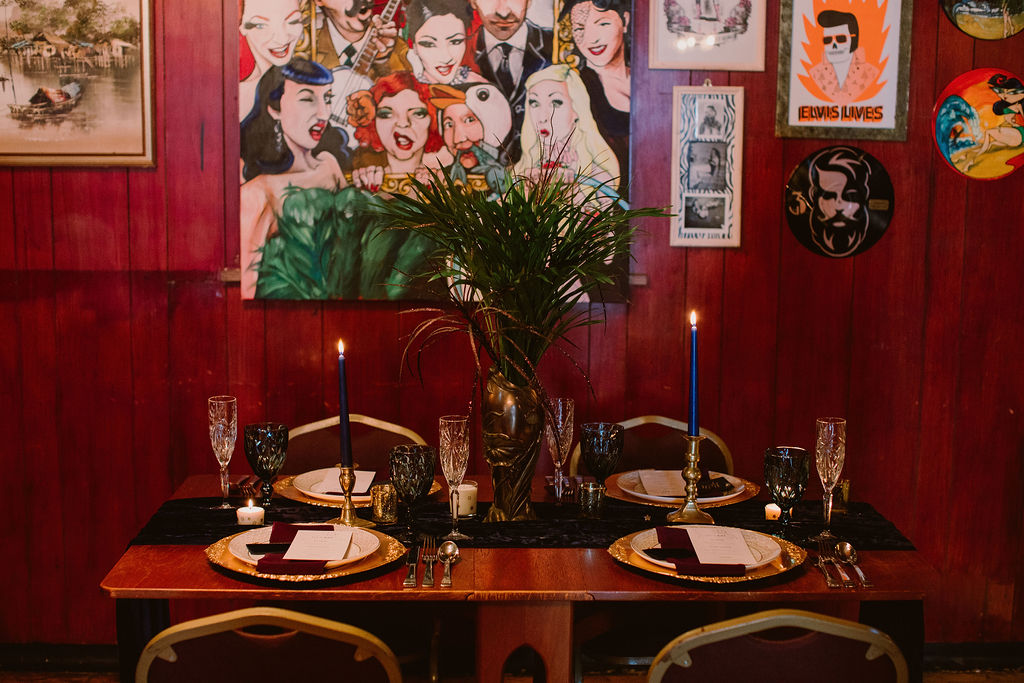 Bridal Attire – Dandelions & Pearls / Cape – Electric Plume
"We encourage our brides to be as unique and "extra" as their heart desires on their wedding day, so for this shoot we created two looks for our bride. Lucy wore a bespoke silver silk satin gown, with glittering star sequinned tulle overlay. The design was inspired by the glamorous bias cut gowns of the 1930's. It features long sweeping lines, a seductive deep V back and flutter sleeves."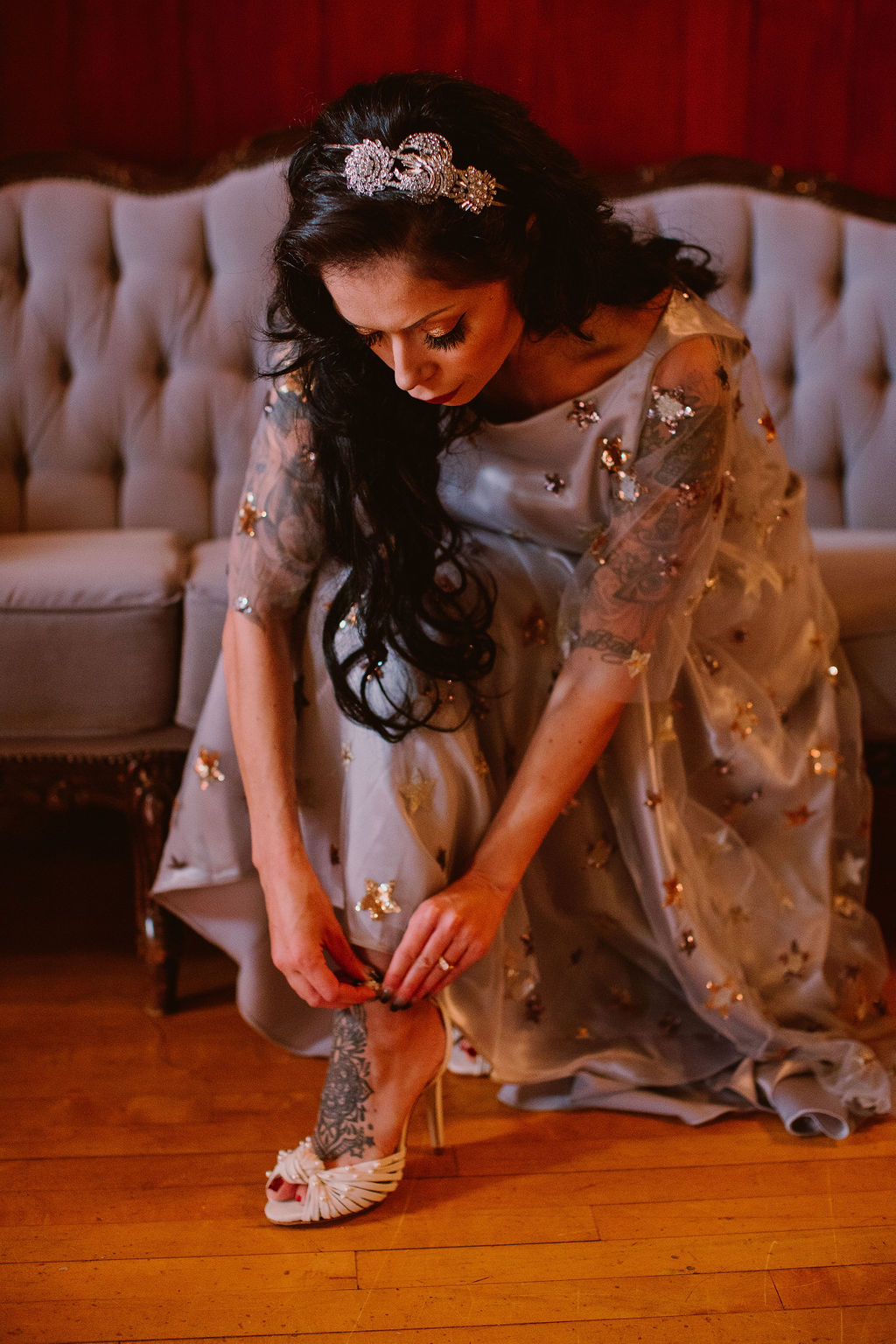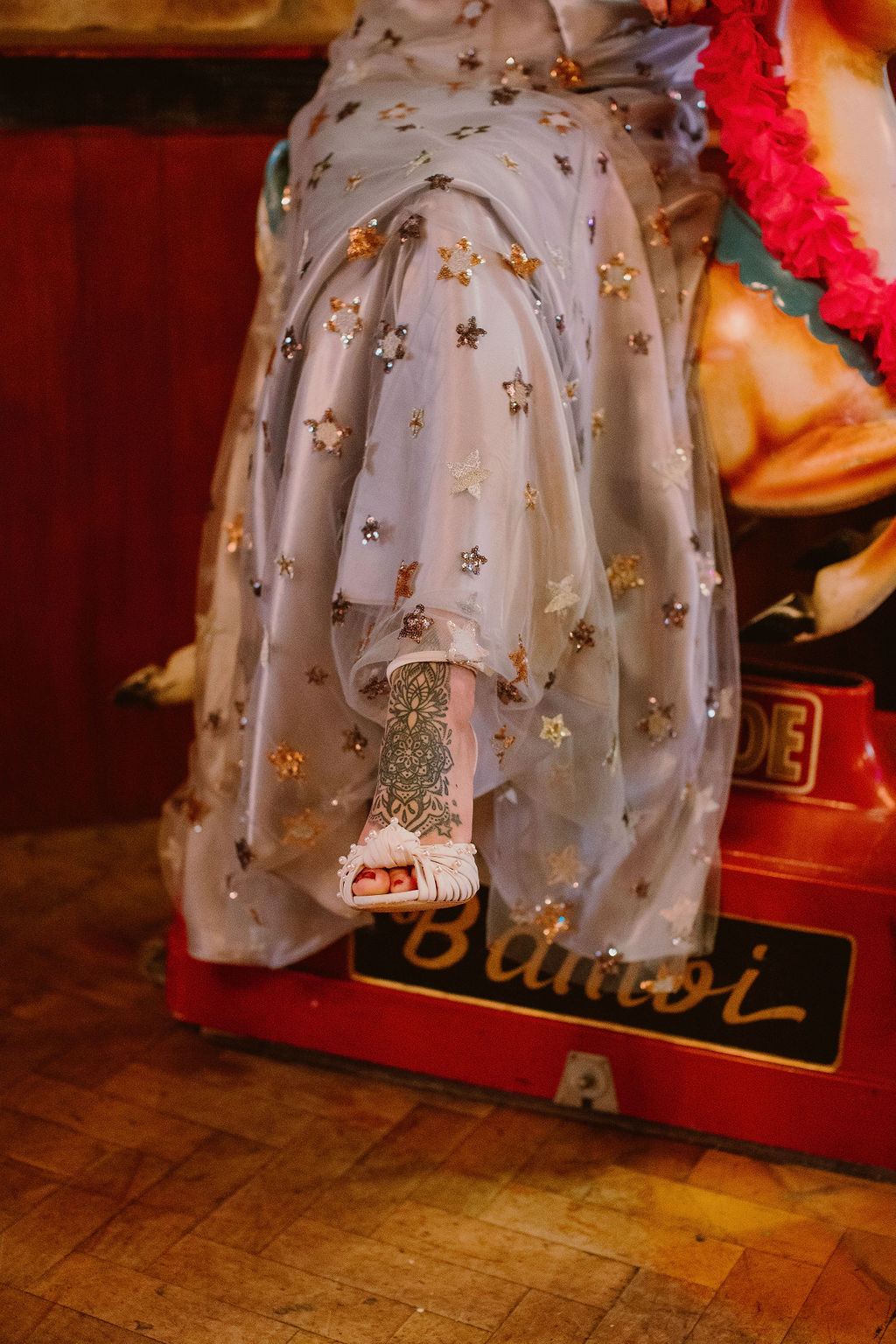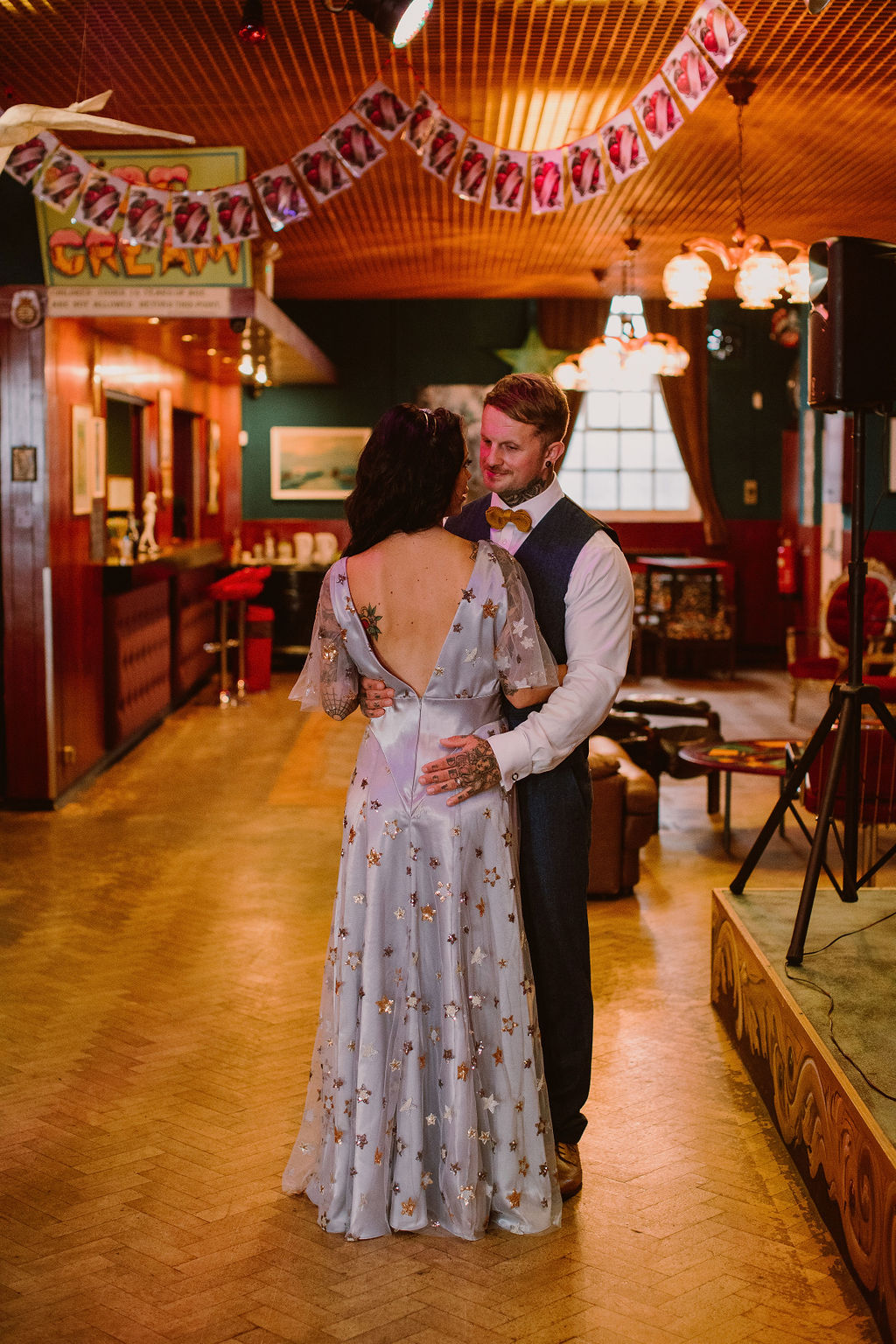 "For a fun evening look she wore a bespoke pinup style metallic lamé jumpsuit and detachable star sequinned tulle overskirt, channelling her inner femme fatale, which was perfect for dancing the night away."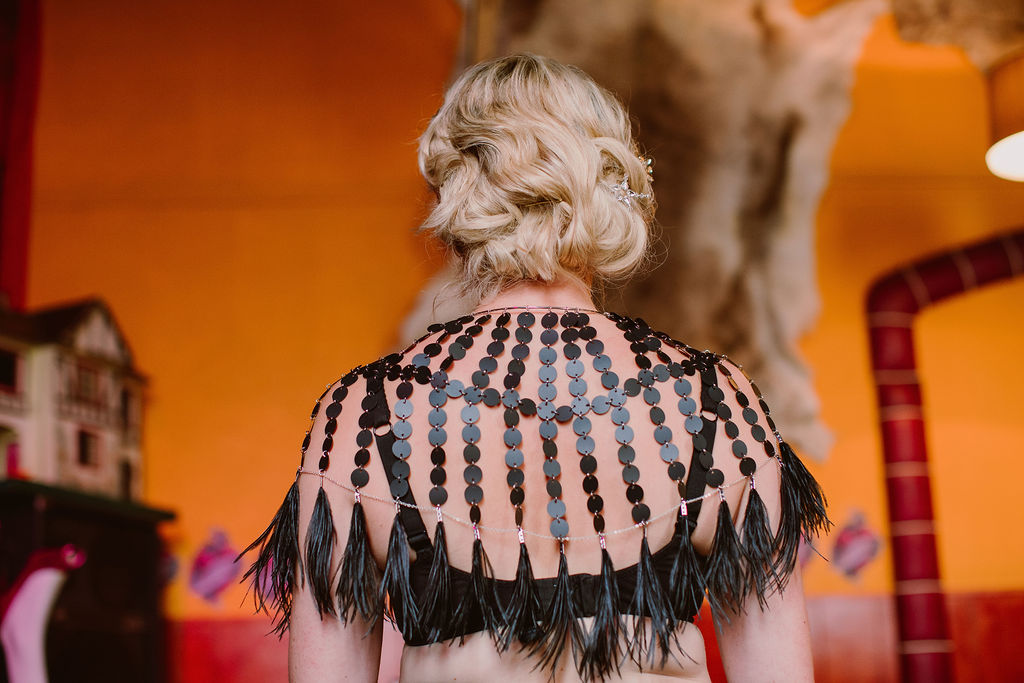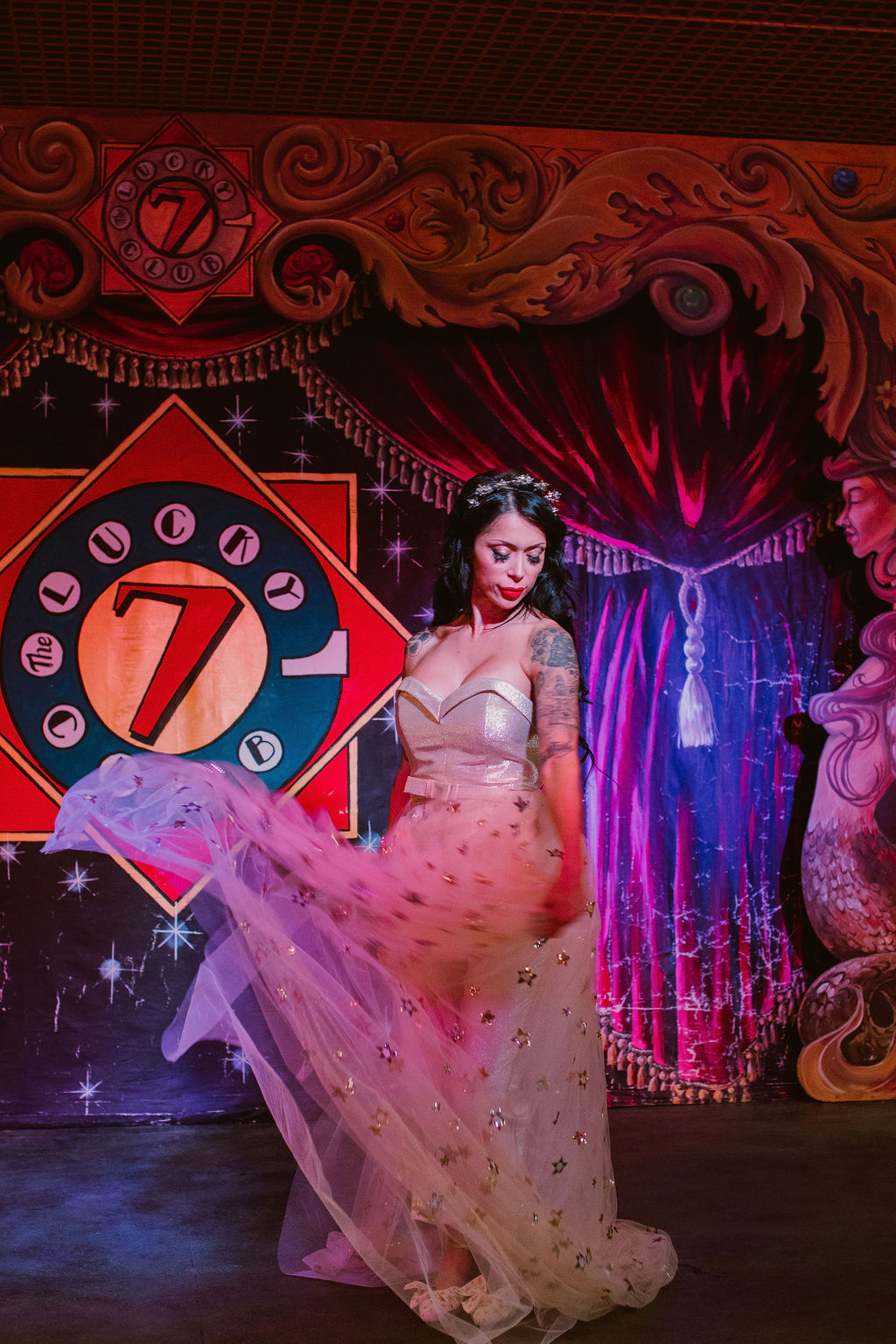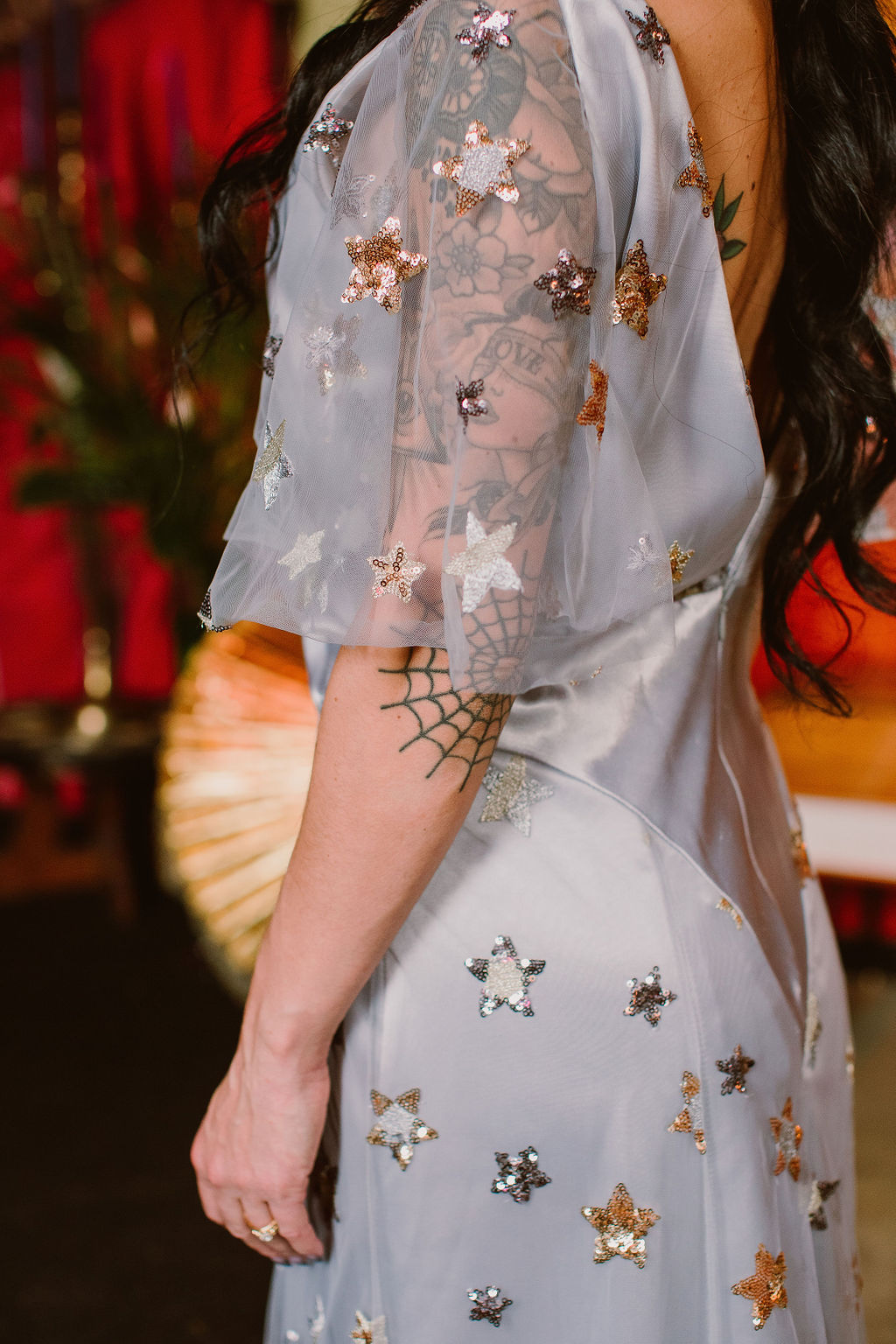 "Later we changed the look up by swapping the overskirt for the most fabulous handcrafted
crystal and feather cape from Electric Plume, who's collection of made to order sequinned feather and crystal capes are a fun and unique way to add some vintage sparkle or festival vibes to your wedding."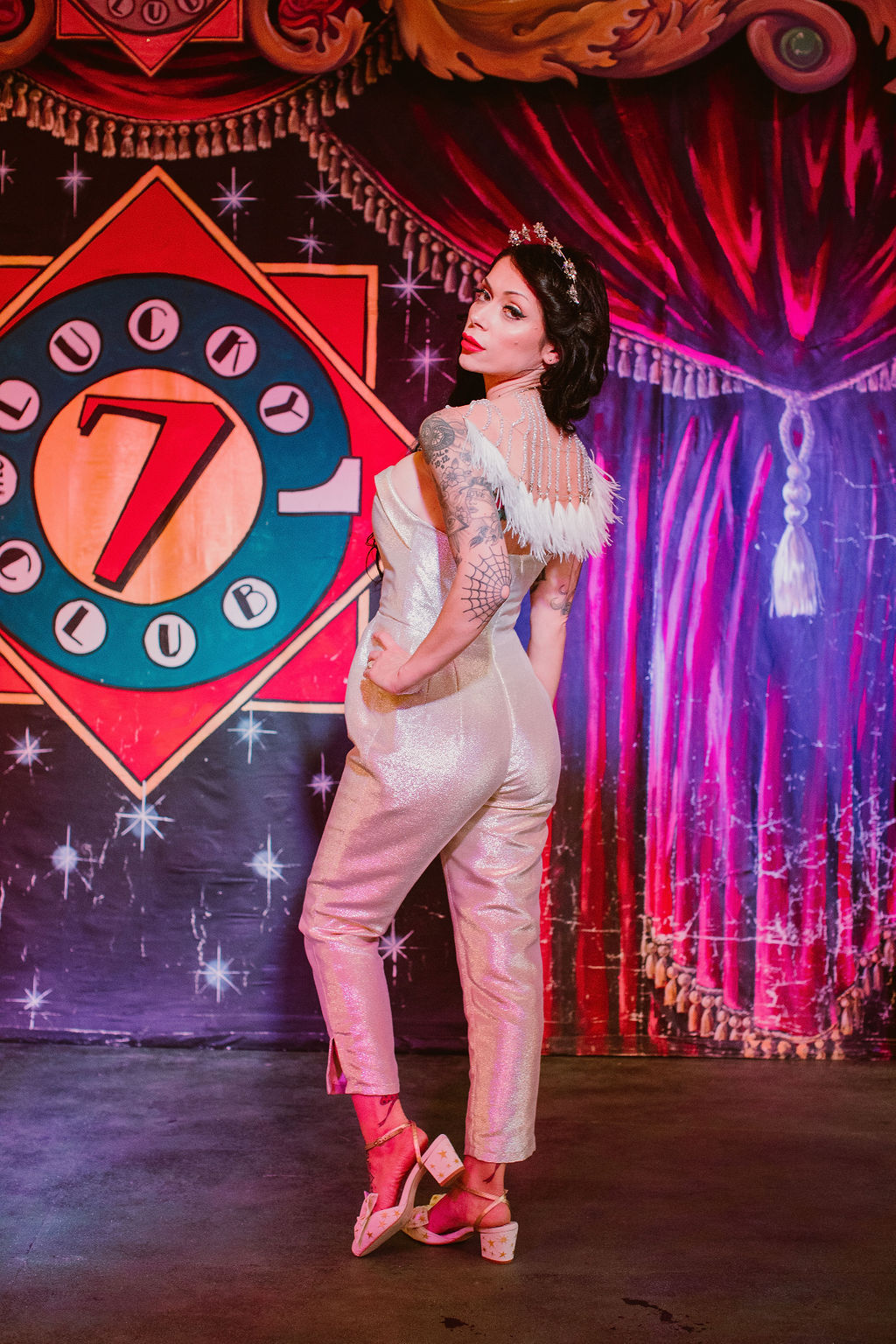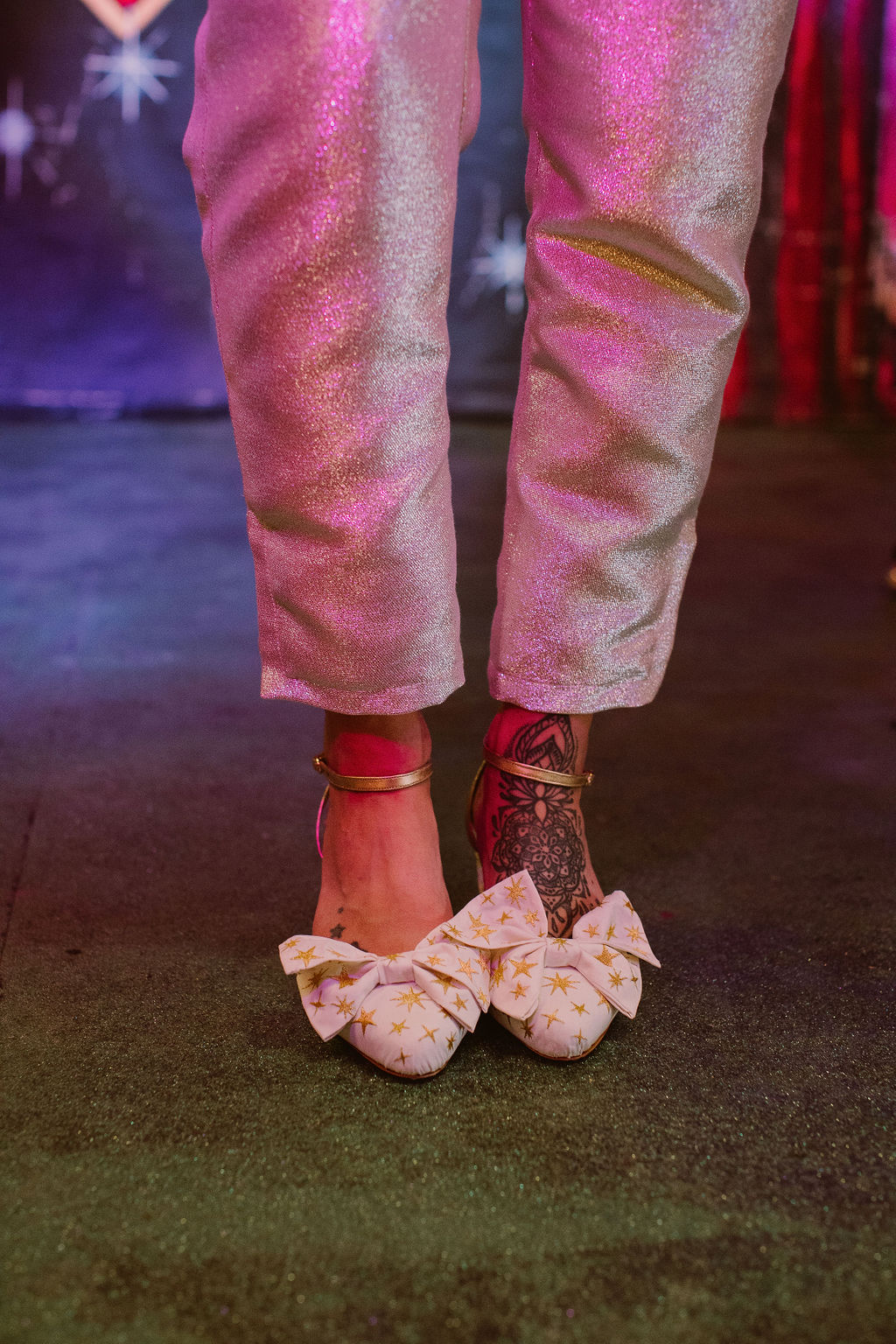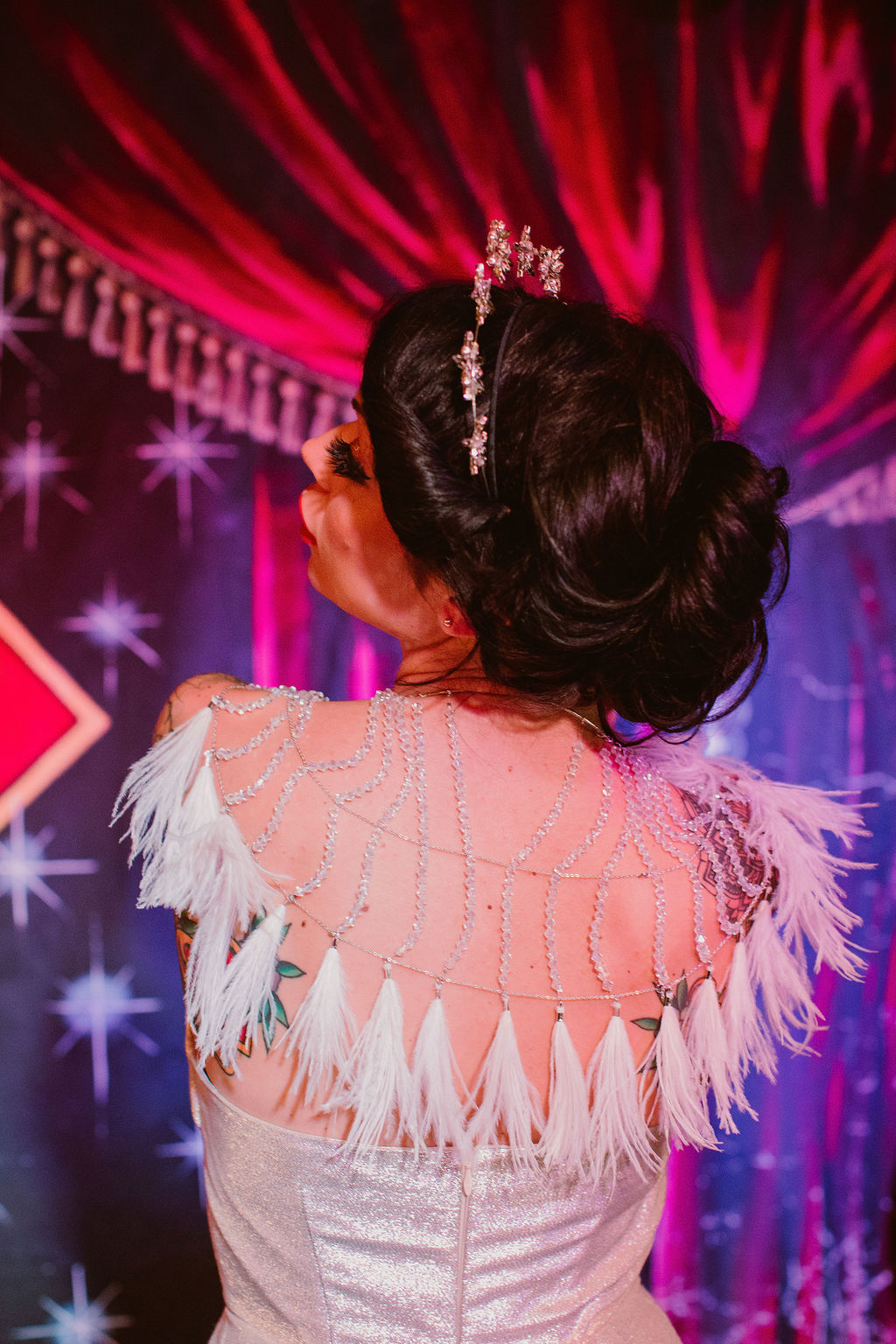 Bridal shoes – Sasha Archer Shoes
"Sasha Archer is in the midst of launching her first footwear collection. Her focus? Producing slow fashion and Bridal shoes, hand crafted in Leicestershire, England. Beautifully made using sustainable fabrics and leathers superfluous to industry. Expect to see luxurious footwear with a whole heap of vintage glamour coming from her soon." Grooms attire – The Vintage Hire Suit Hire Company, The Wedding Hub Our groom wore a blue tweed style suit from The Vintage Hire Company at the Wedding Hub accessorised with a dapper gold bow tie."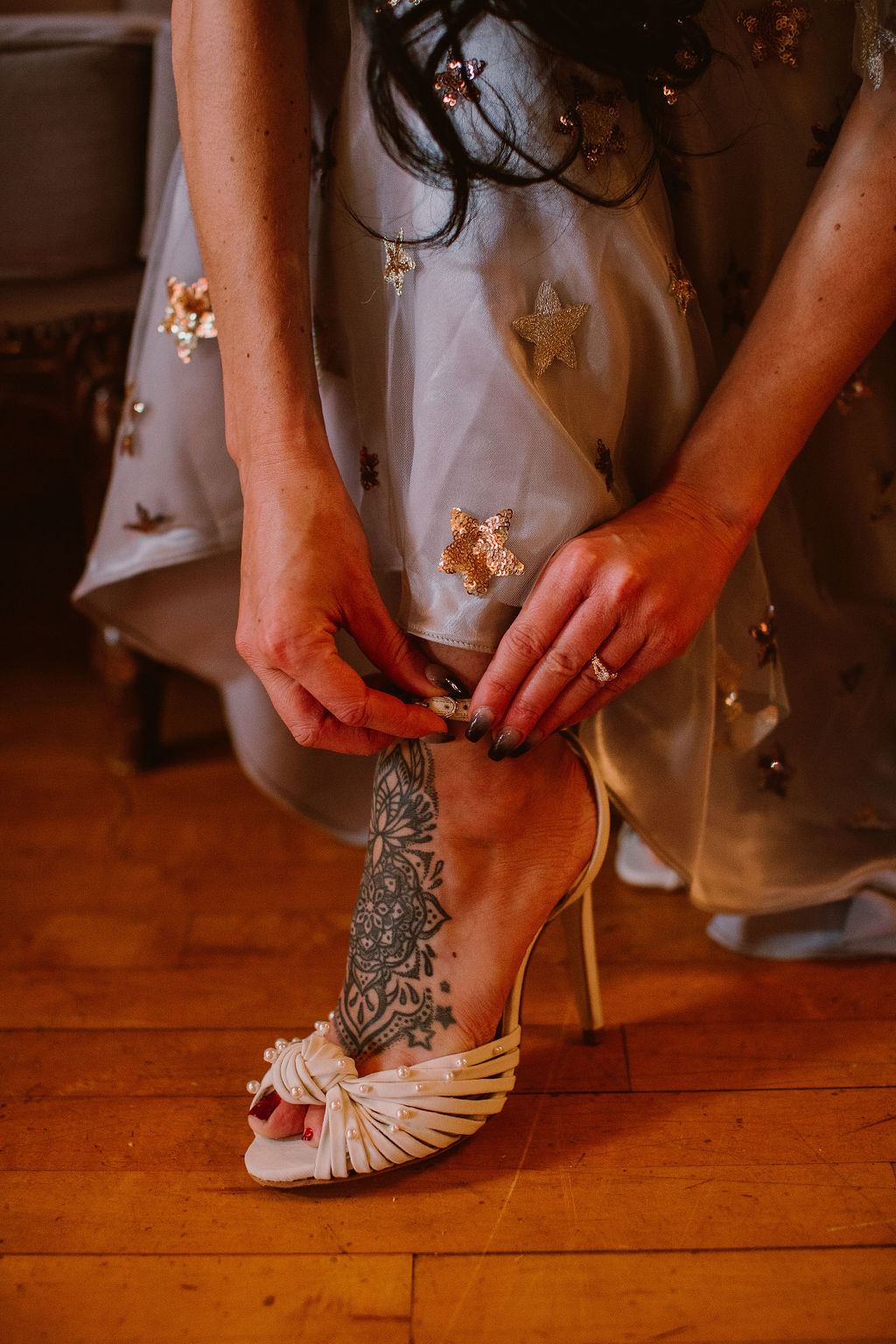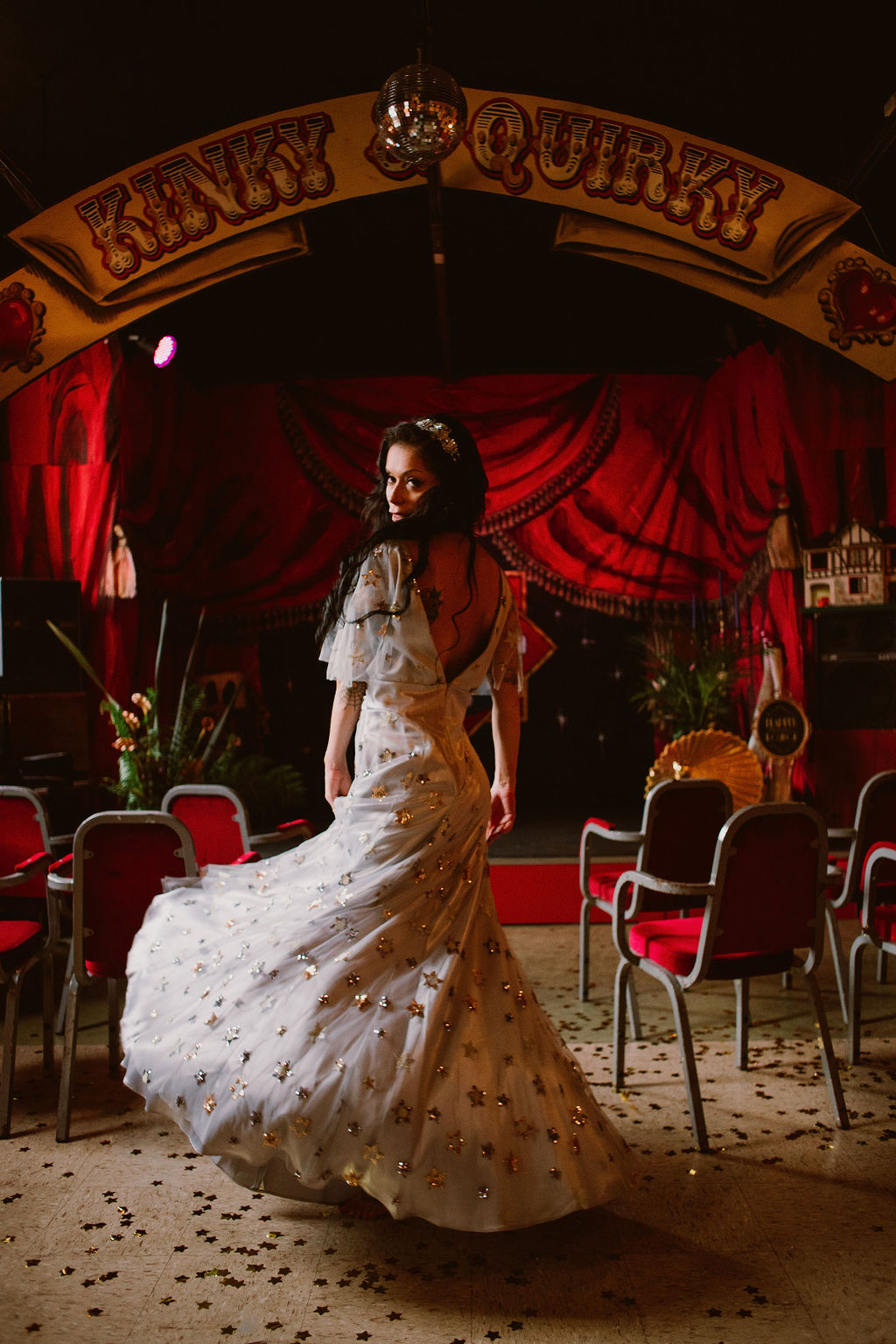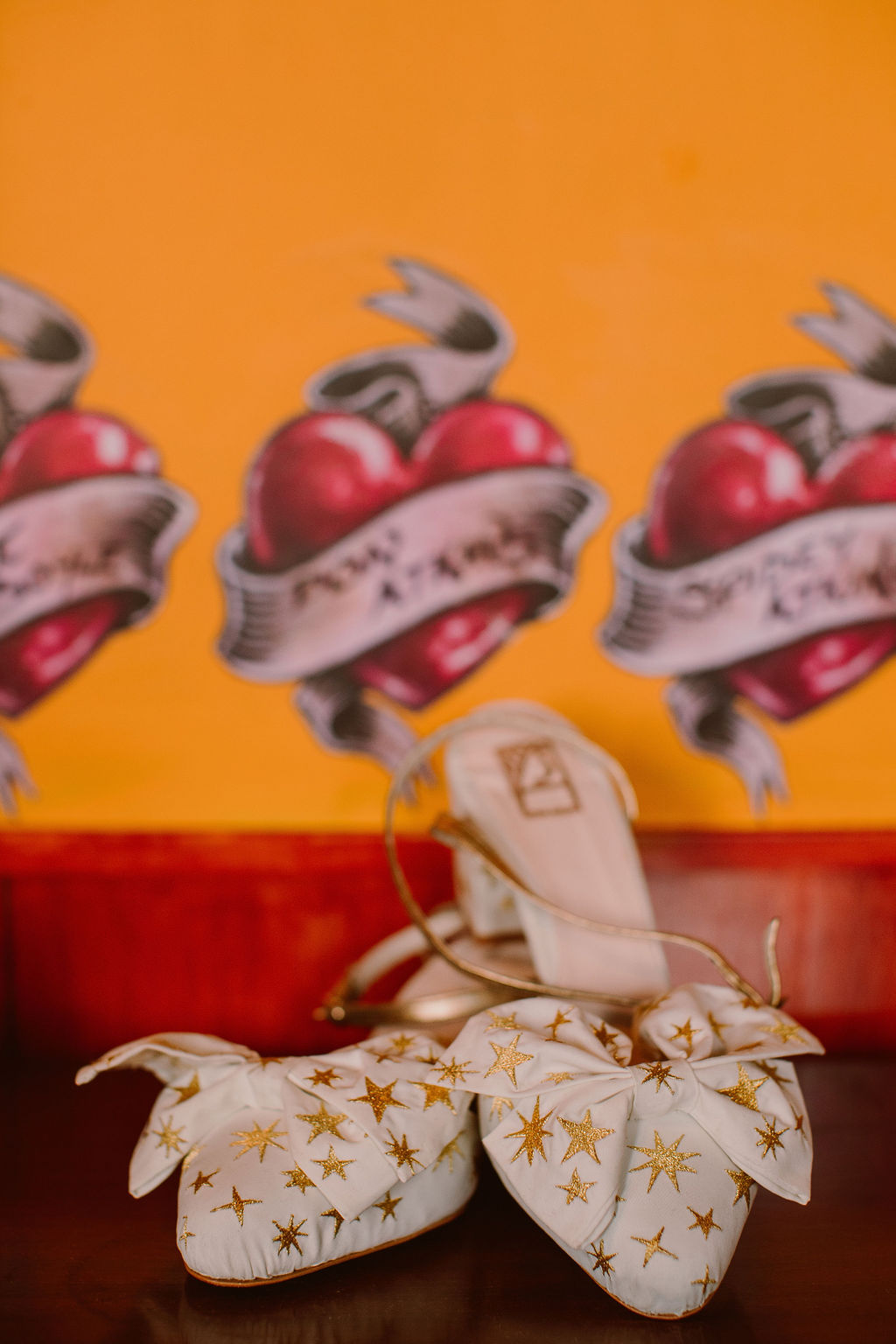 Bridesmaid dresses – Dandelions & Pearls
Our beautiful bridesmaids wore bespoke silk velvet 1930's inspired gowns in sumptuous midnight blue and emerald green tones for daytime. Later changing to 1940's inspired crepe gowns featuring hand beaded and rhinestoned star burst designs in deep purple and midnight blue from our Dandelions & Pearls Starry night made to order collection.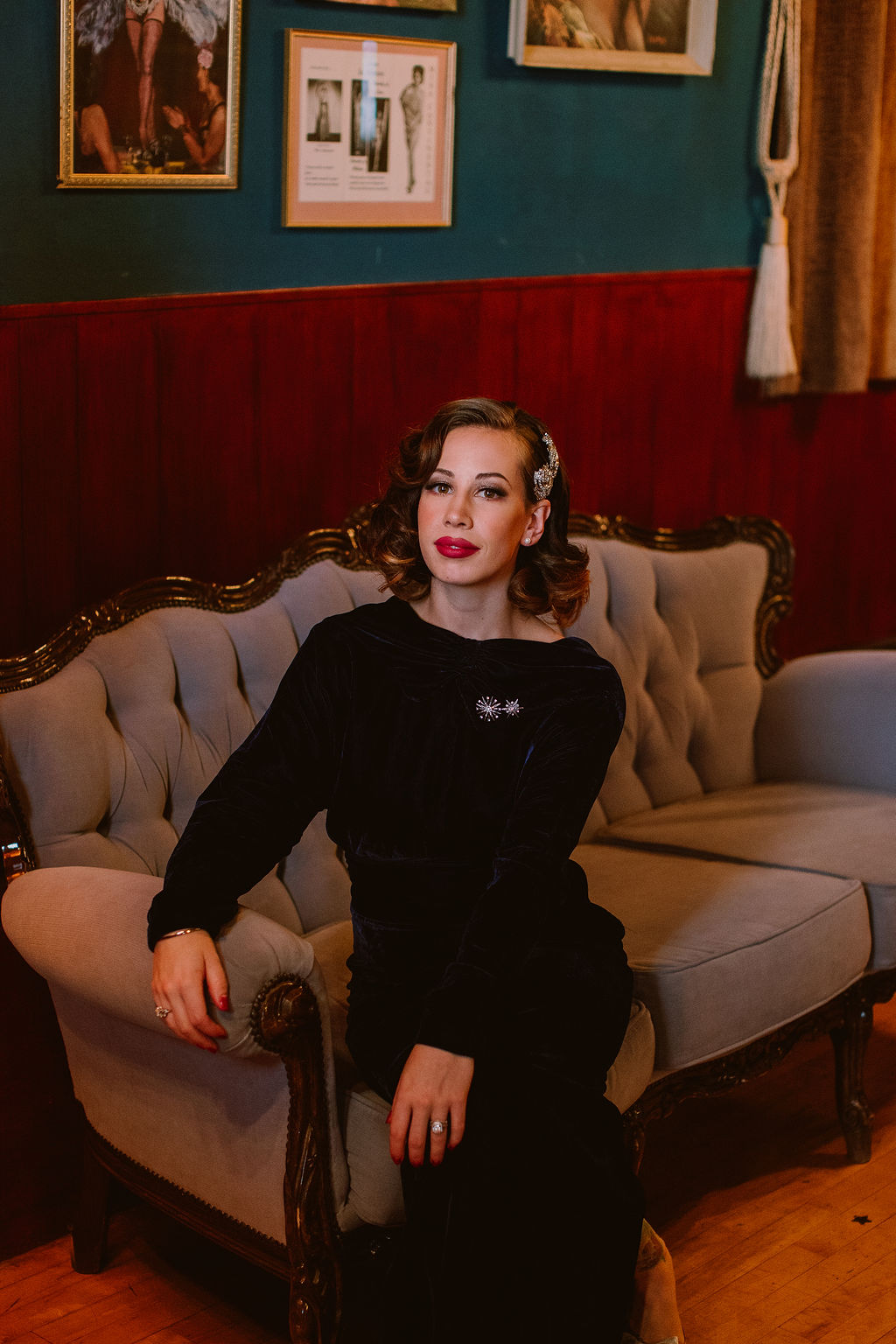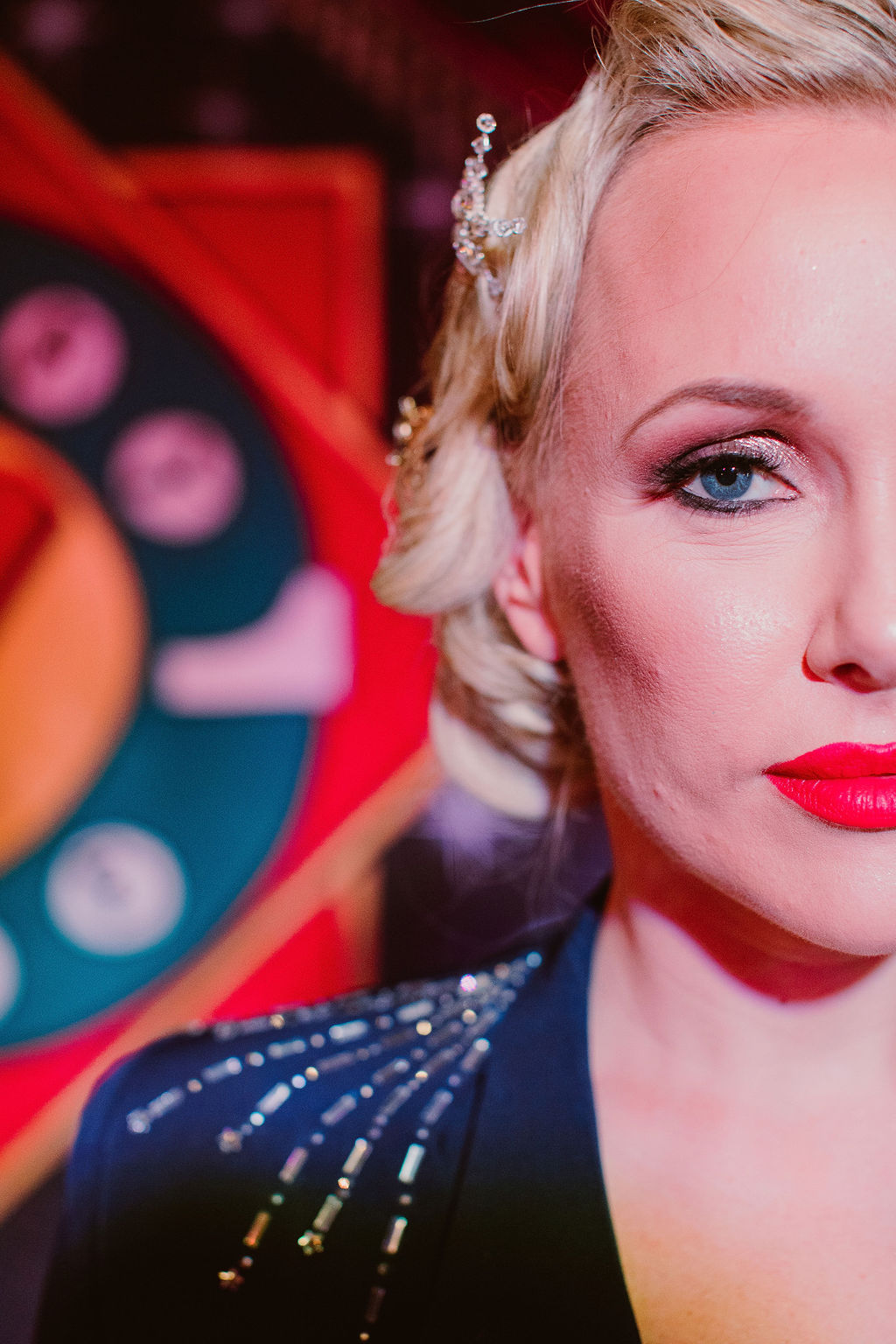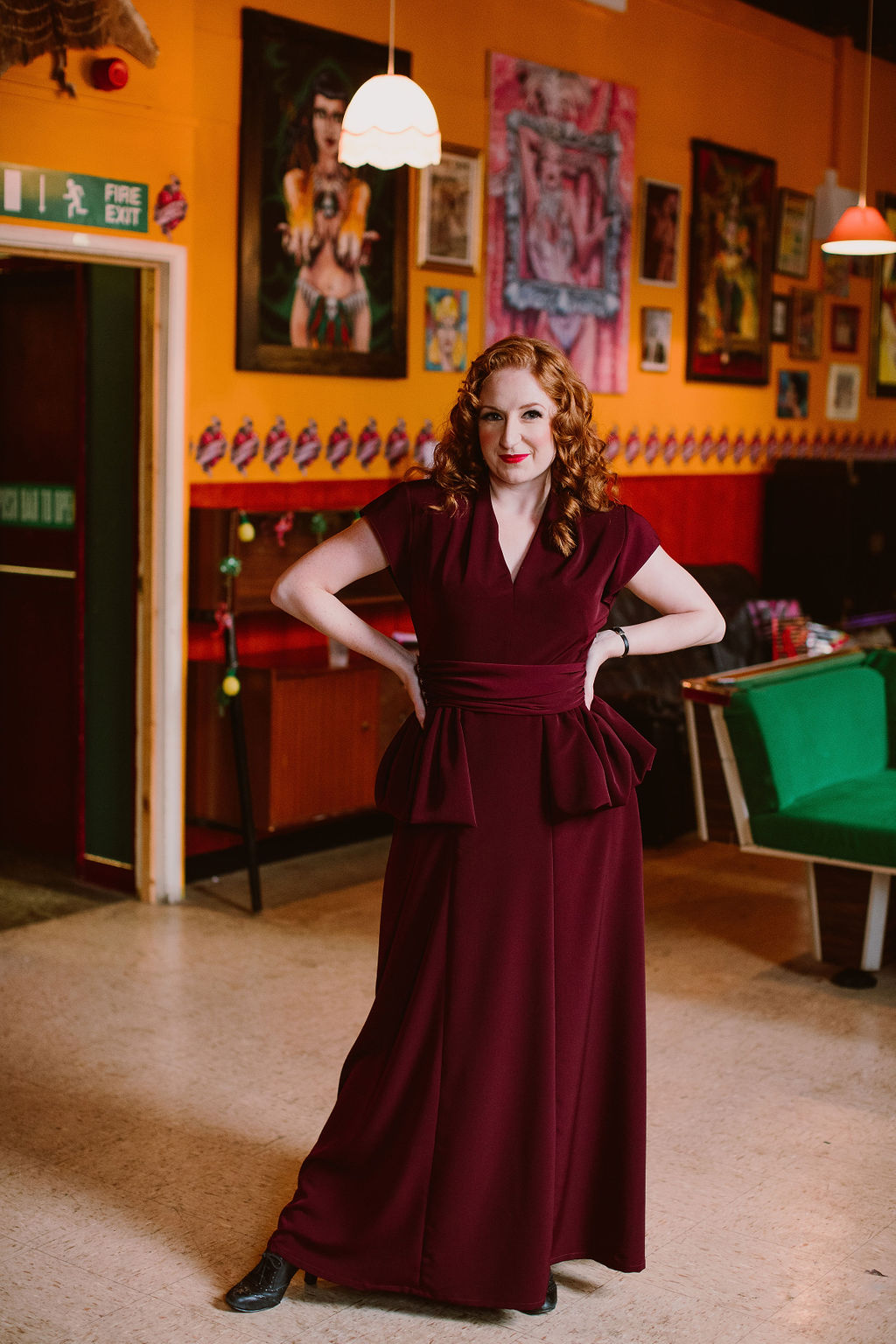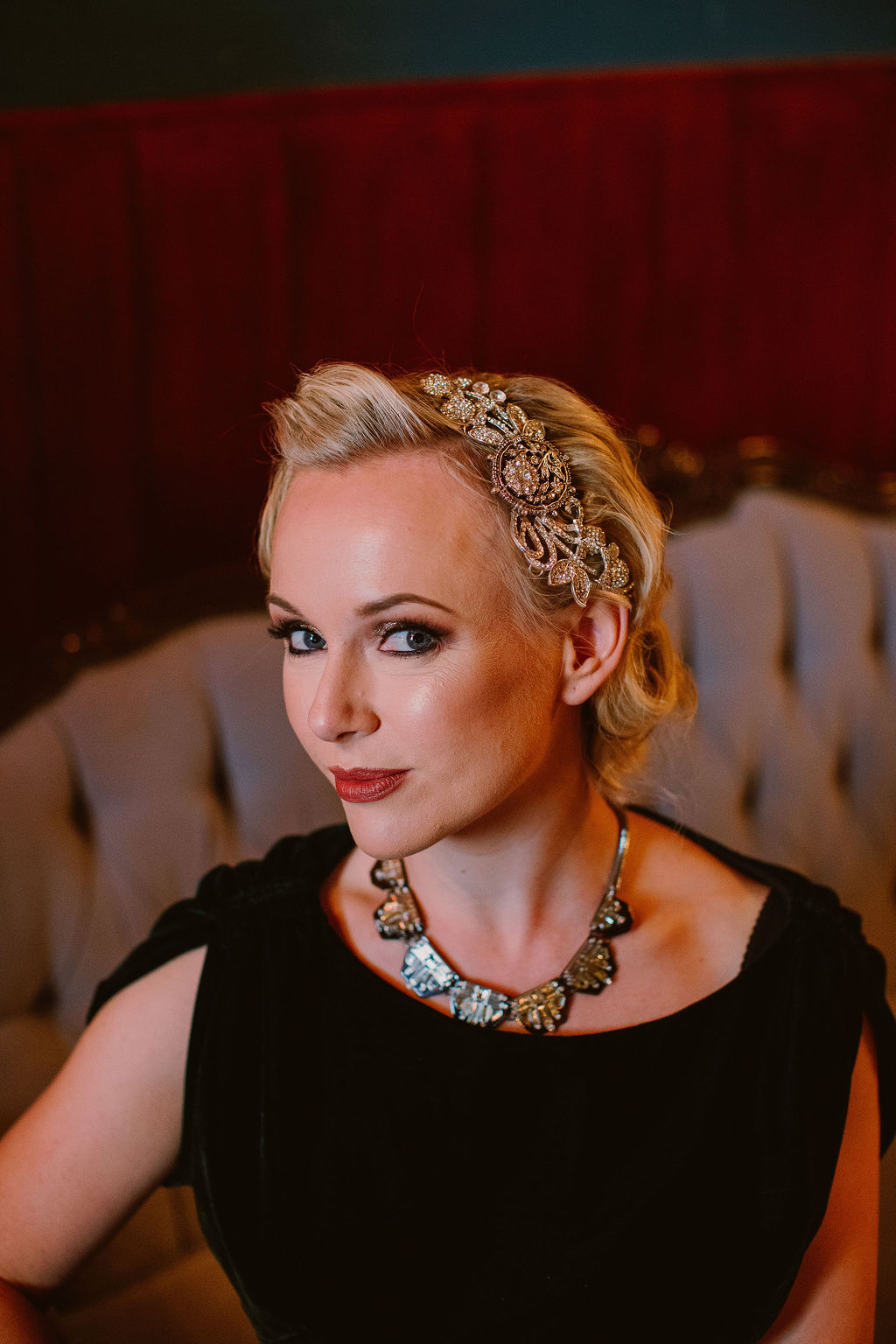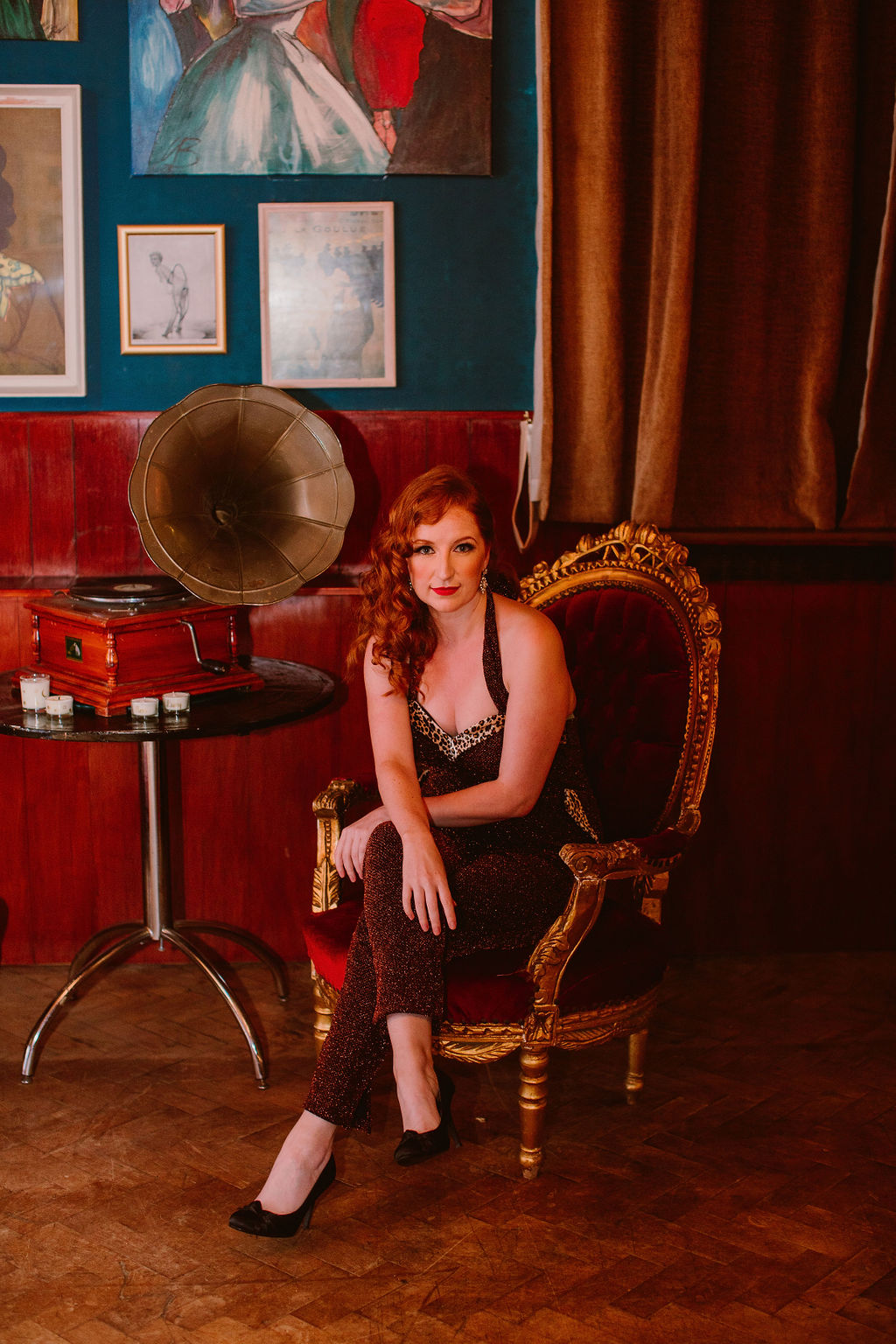 MUA – Rose Forrest Hair & Makeup Artistry
We knew that we didn't want your traditional wedding makeup look for this shoot and MUA Rose Forrest didn't disappoint. She created stunning old Hollywood glamour looks for our bride, bridesmaids and singer, with deep berry and bold red lips, smoky eyes using shimmering metallic eye shadow and seductive feline winged eyeliner.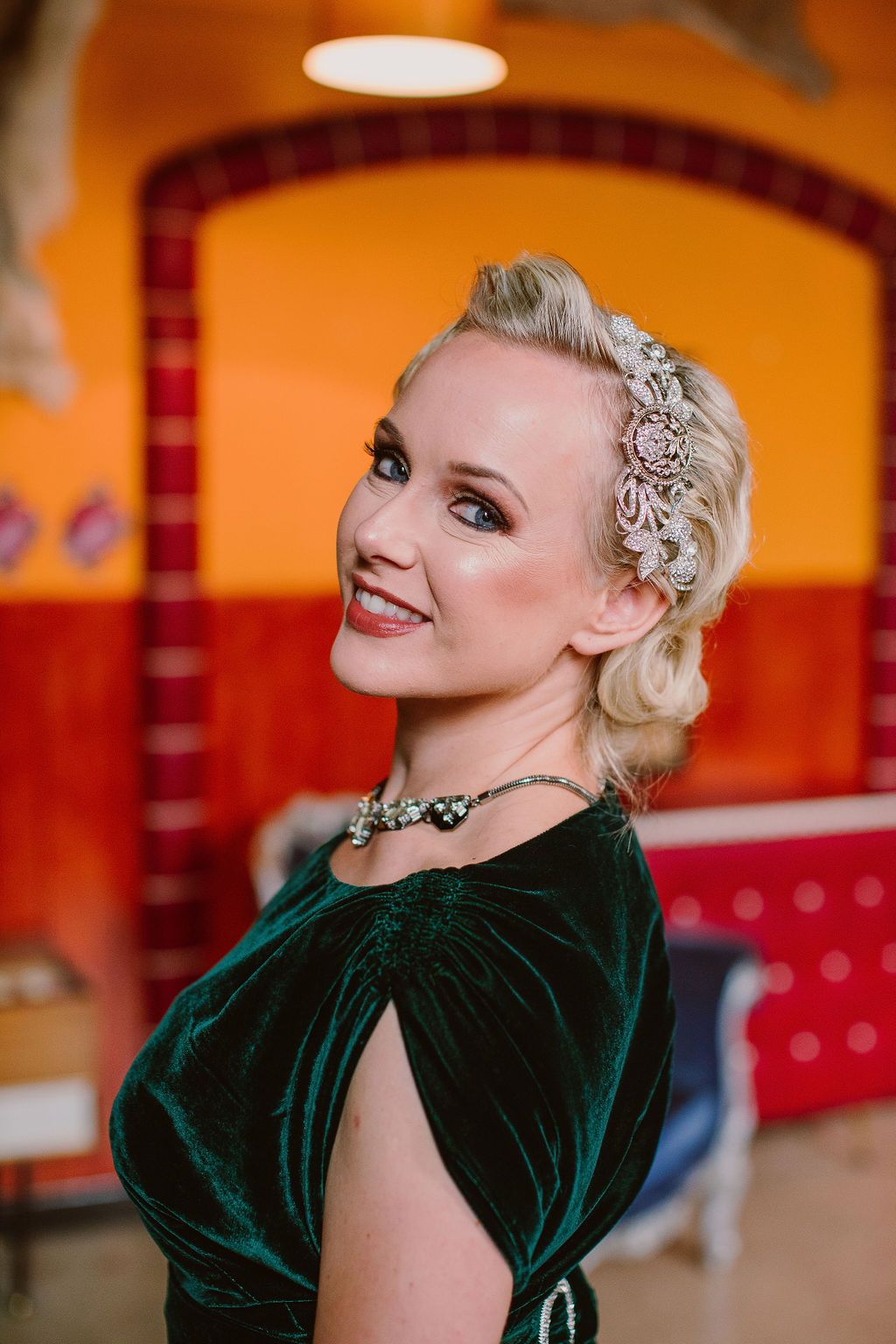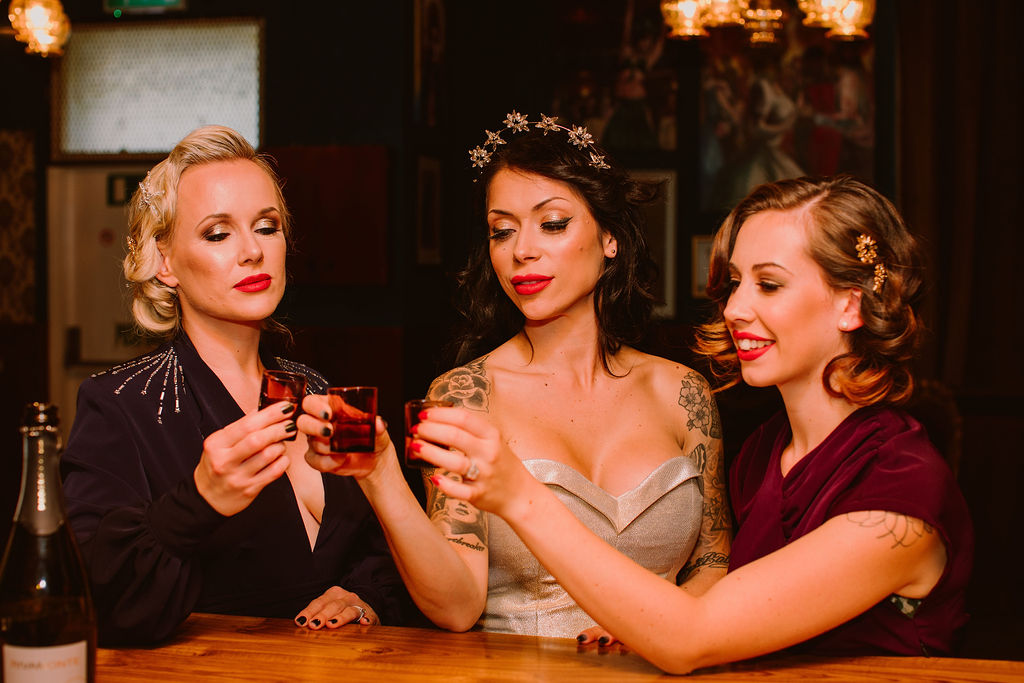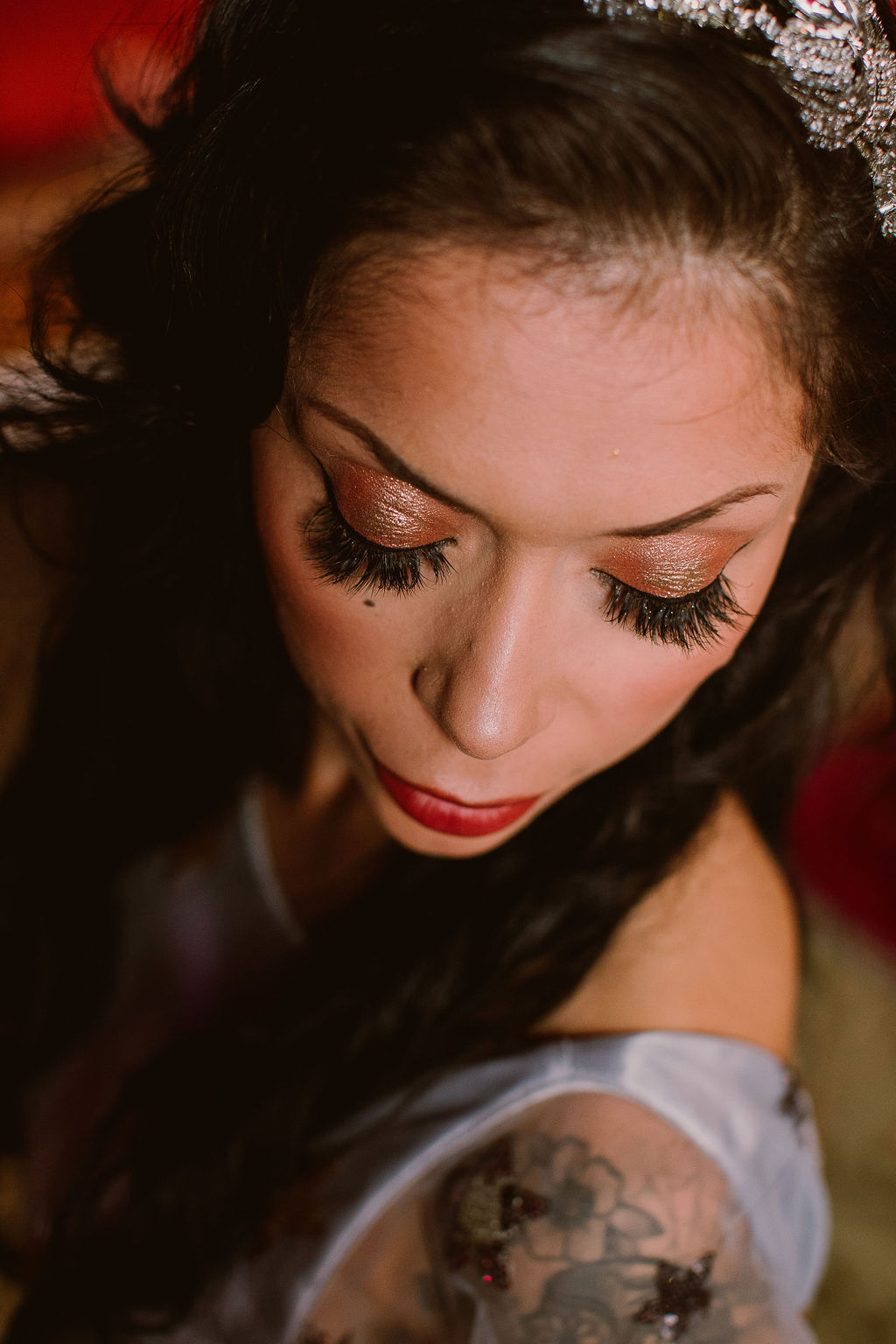 Hair – Rebekah Etoe, Katie Boon, Becca Eynon, The Pop Up Salon
"The shoot's 1940's vibe took me back to our roots. When myself and Makeup Artist friend Claire first set up The Pop Up Salon it was just the two of us, and an amazing freestanding vintage hairdressing station. We focused on vintage hair & makeup and it was really important to me to perfect traditional hairdressing techniques from each era, from finger waving, to pin curling, setting & the dressing of hair. Although vintage hair is only now a small part of what we do, my style is what I describe as anti wedding hair! Rather than force hair into unflattering shapes I prefer to tap into my brides personality, and create something that enhances her style and her wedding perfectly."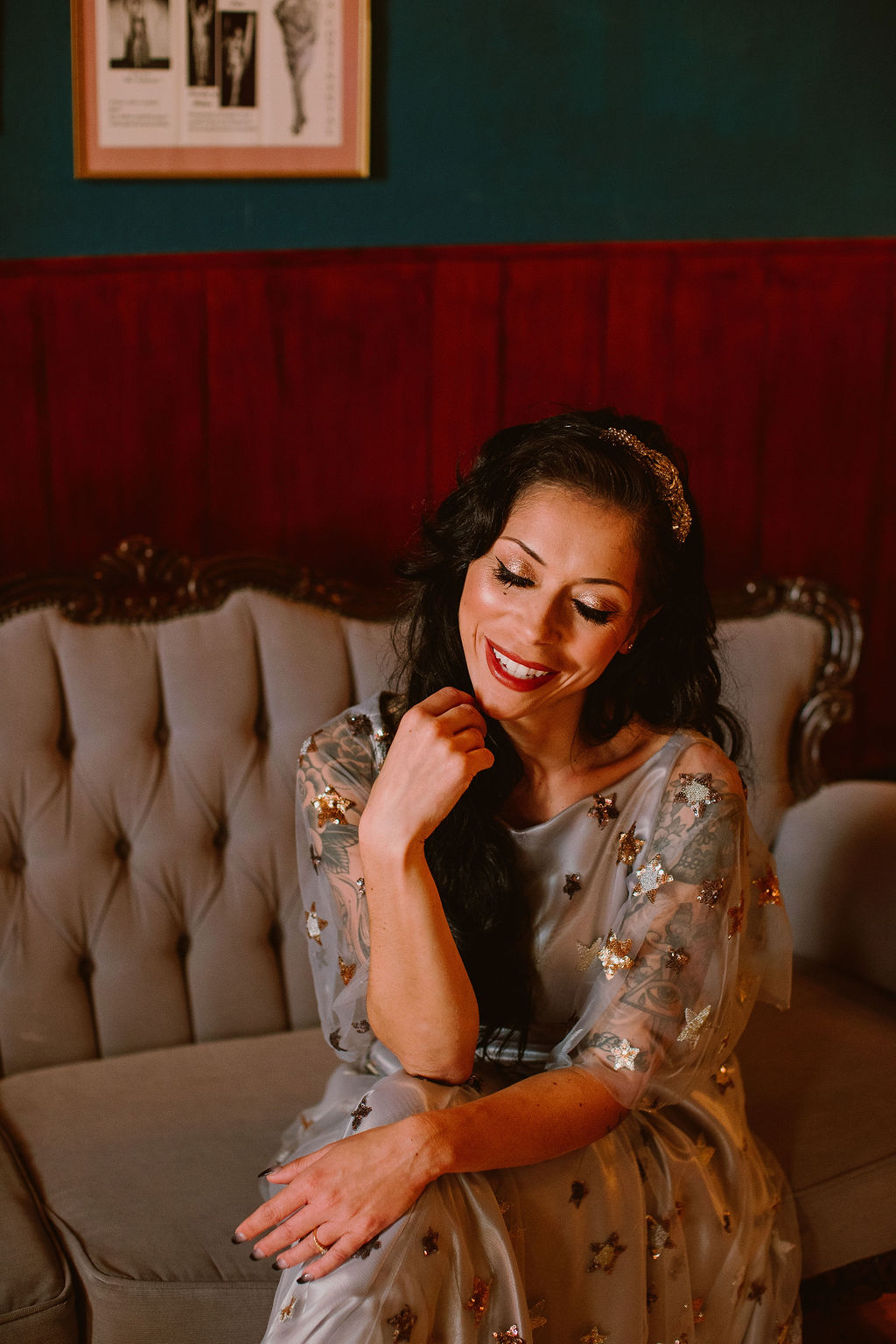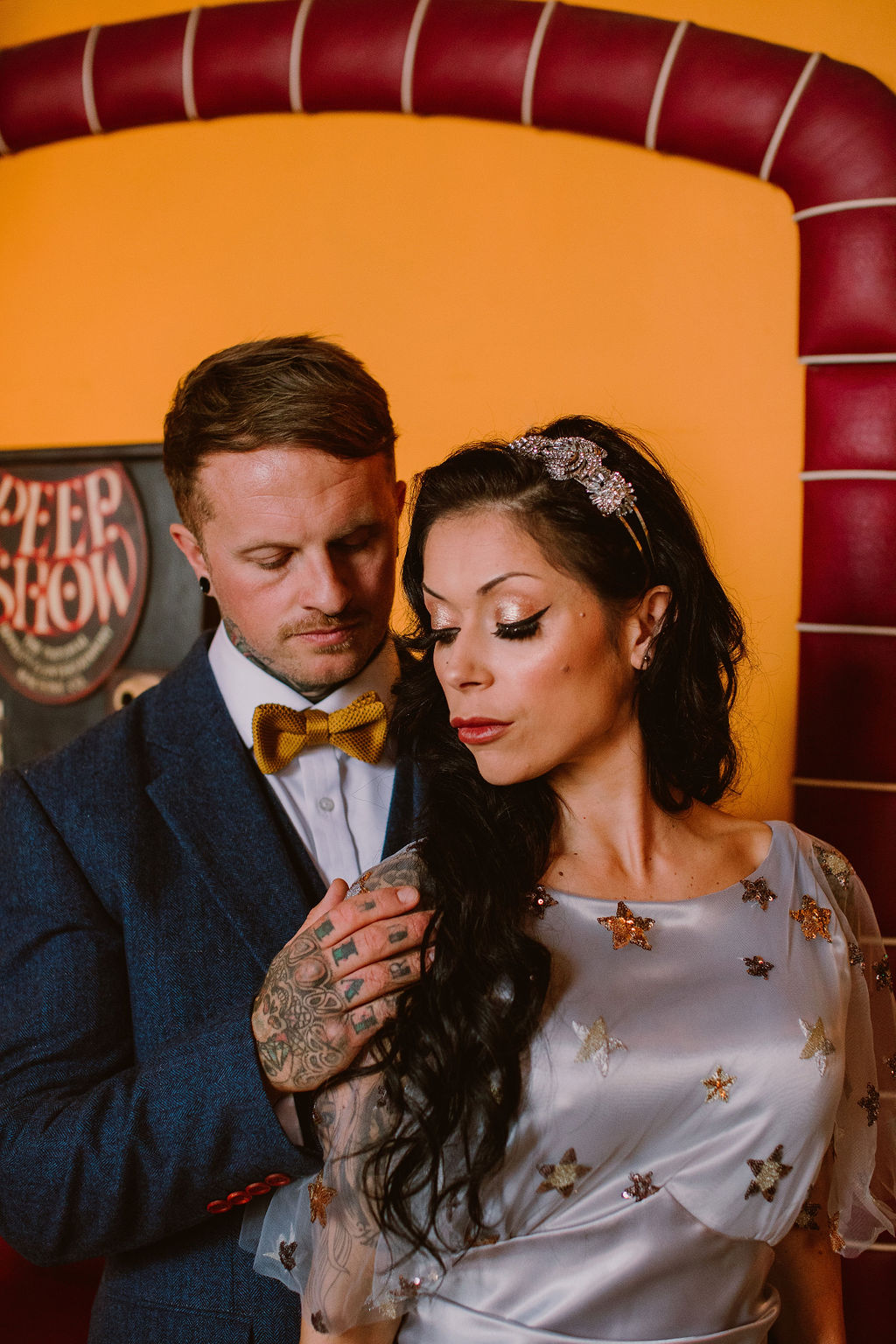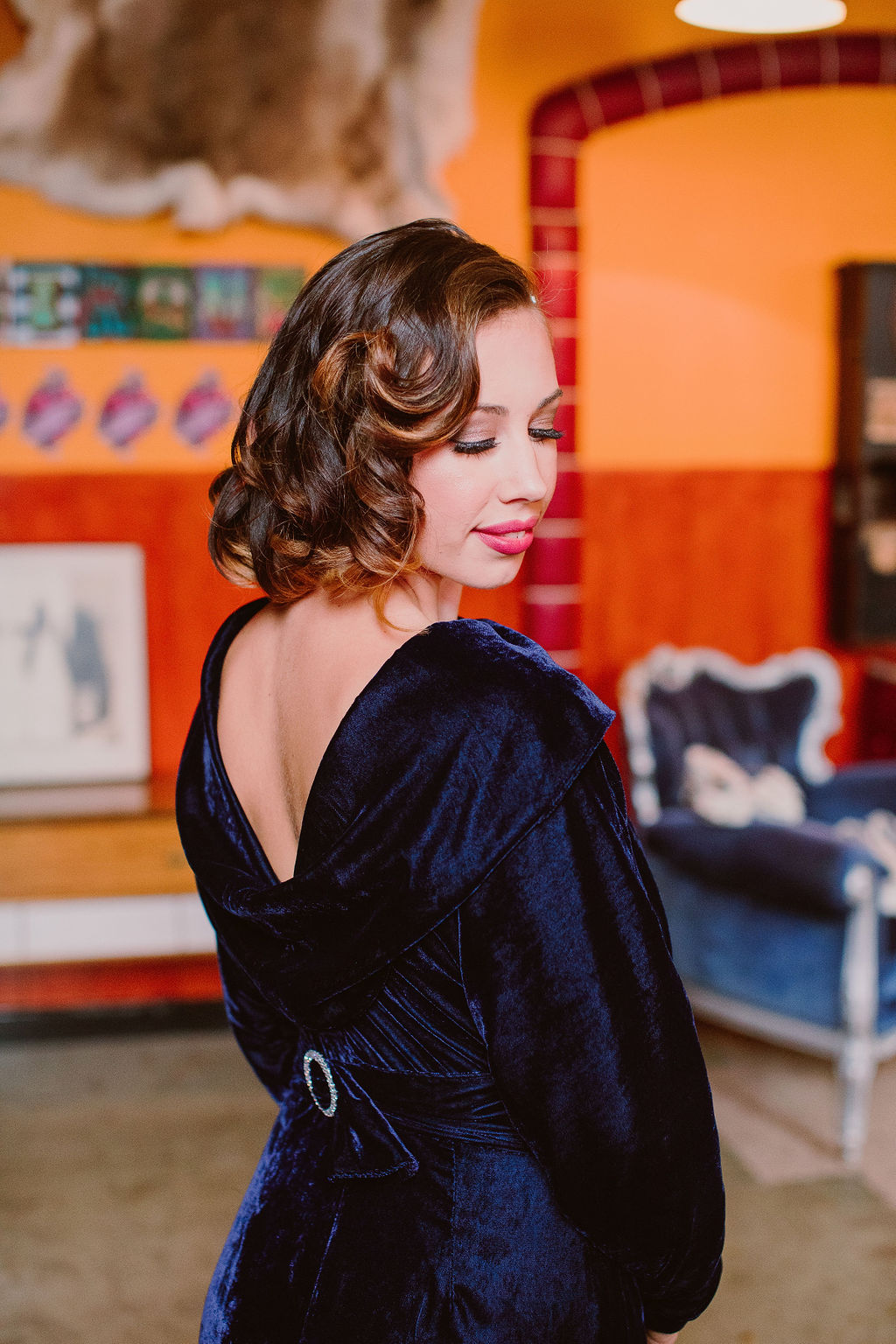 Headdresses – Janie Wolverson, The Lucky Sixpence
"For the more Hollywood glamour I decided to use true vintage pieces. I use a lot of 50s pieces as they are built to last and have such striking sparkle. An elegant band with vintage brooch pieces was used, along with statement combs with reworked designer vintage elements. I hand beaded stars with glass diamanté and Swarovski crystals to create sets of pins which could be mixed and matched. These stars were also used to create the contemporary celestial crown. I'm thrilled with how everything was styled and how the looks came together."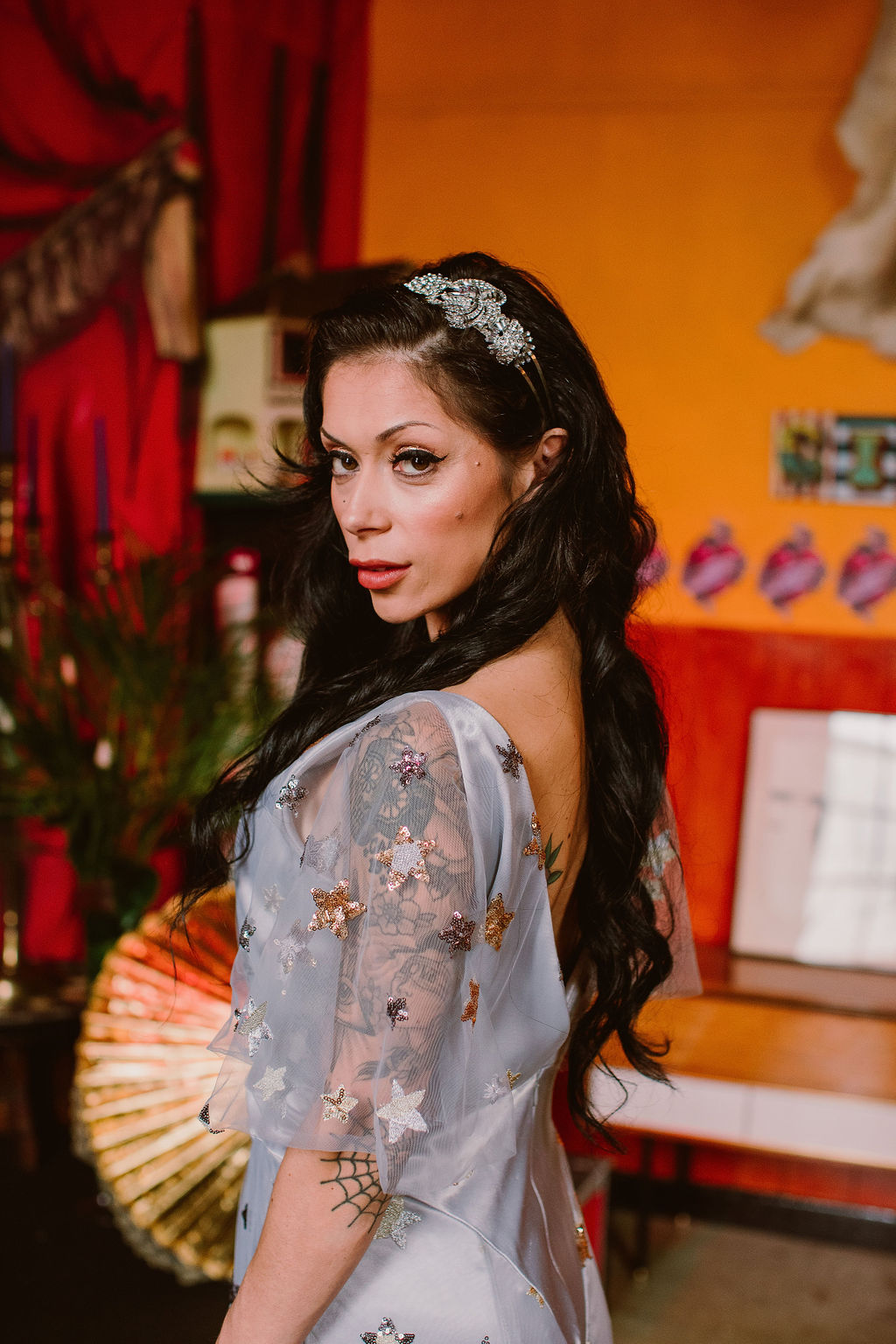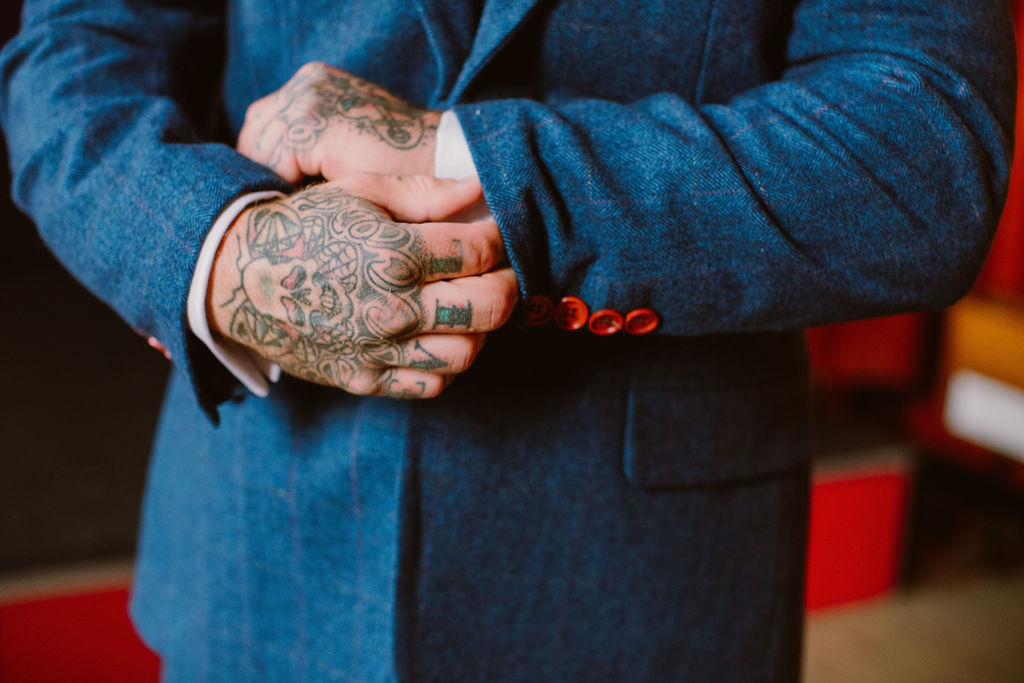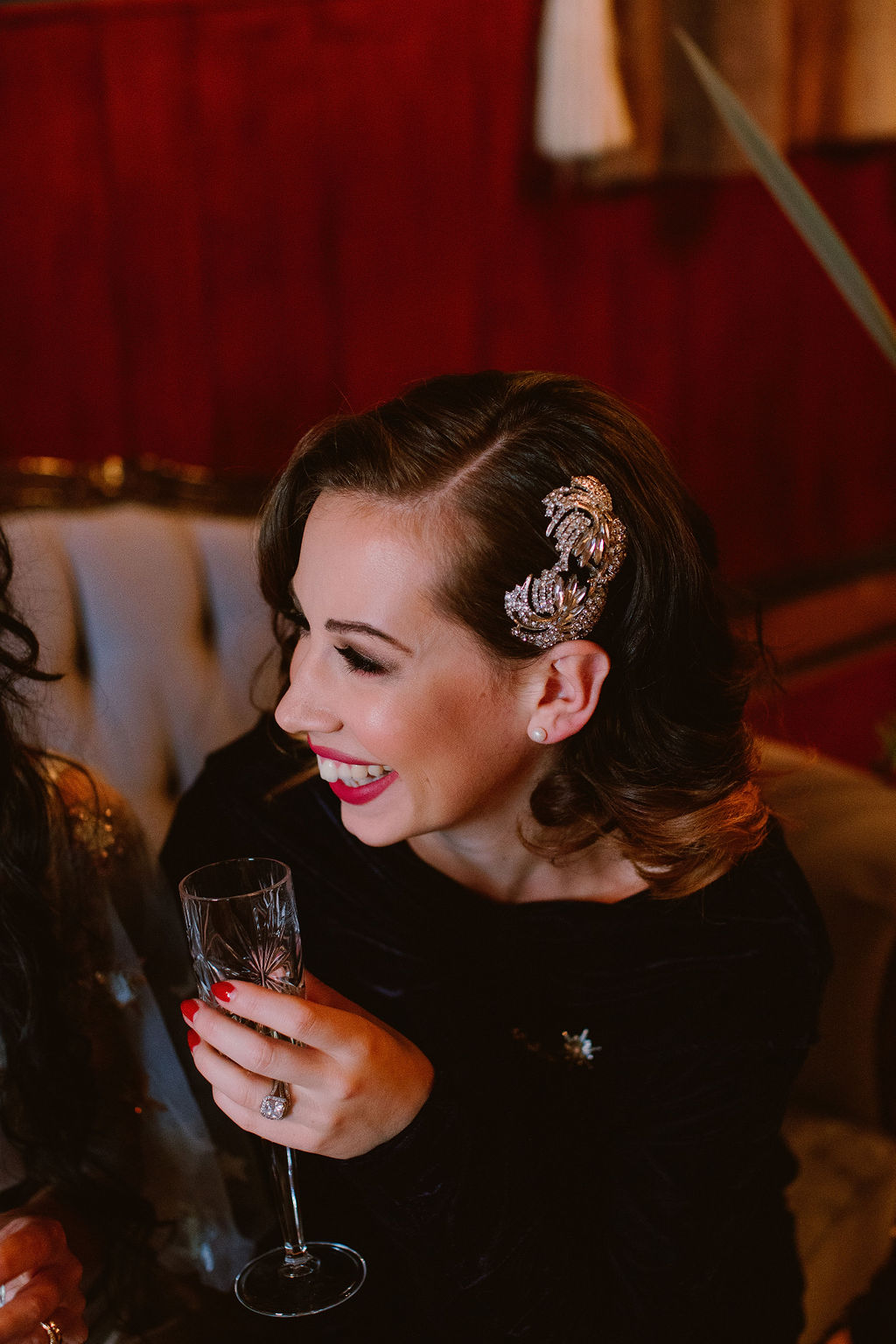 Alternative bouquet – Greenleaf Artworks
"As an alternative to a fresh floral bouquet we had the beautiful hand crafted copper metalwork from Greenleaf Artworks. Working principally in copper, aluminium, steel and bronze, their bespoke sculptures have been used at weddings and other special occasions, making their way into the hearts and affections of their customers, ensuring their special moments are even more memorable."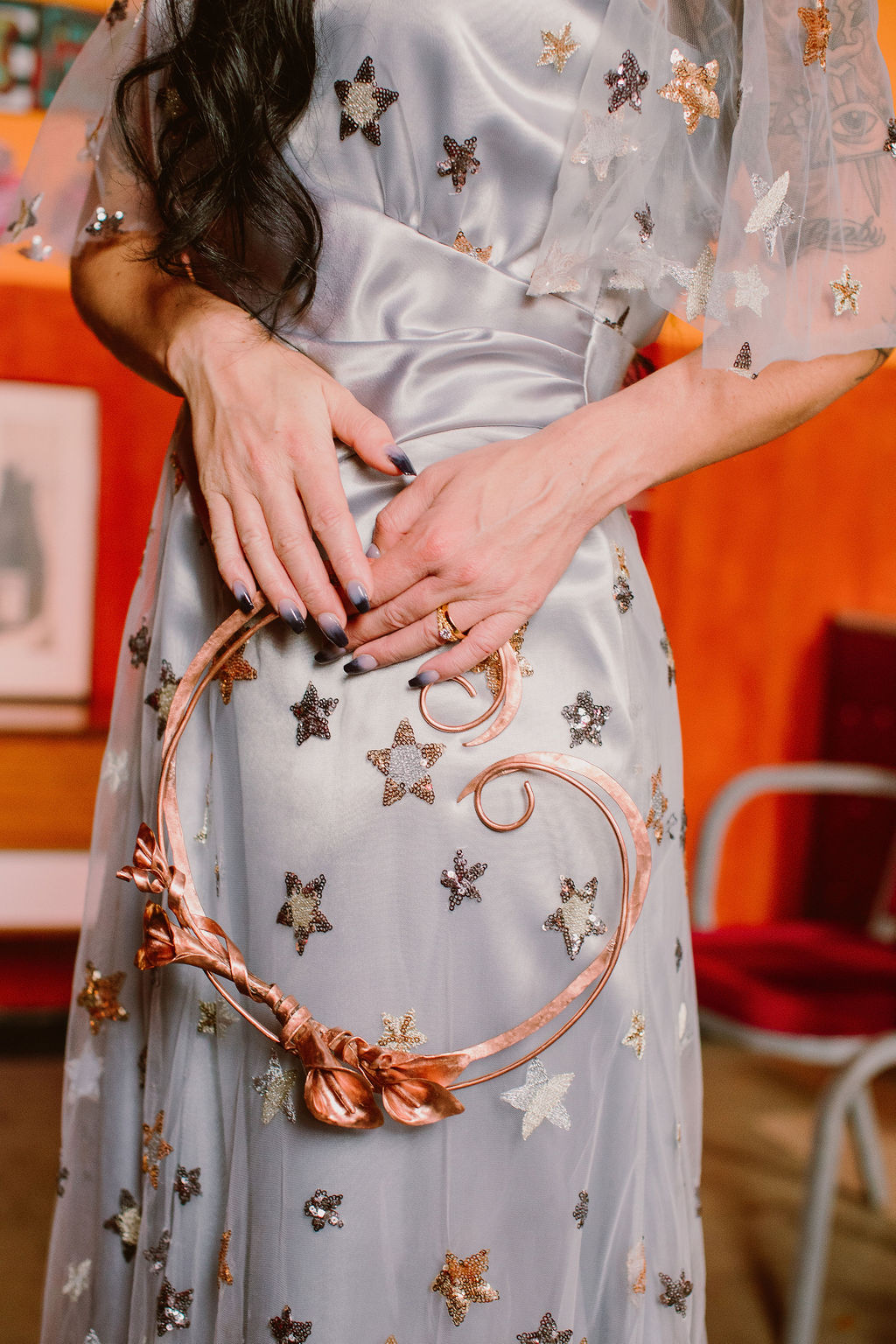 Entertainment – Terrie-May McNulty, Nightingale Music
"The bridal party were serenaded with the heavenly voice of Terrie-May McNulty from Nightingale Music, who brought us more glamour with her vintage sounds. With songs ranging from smooth jazz from the 1940s right through to more upbeat Motown classics from the 60's. Terrie wore one of my 1940's inspired crepe gowns with sculpted shoulders, nipped waist and dramatic peplum, then later wore a dazzling 1950's inspired pin up style metallic bronze jumpsuit."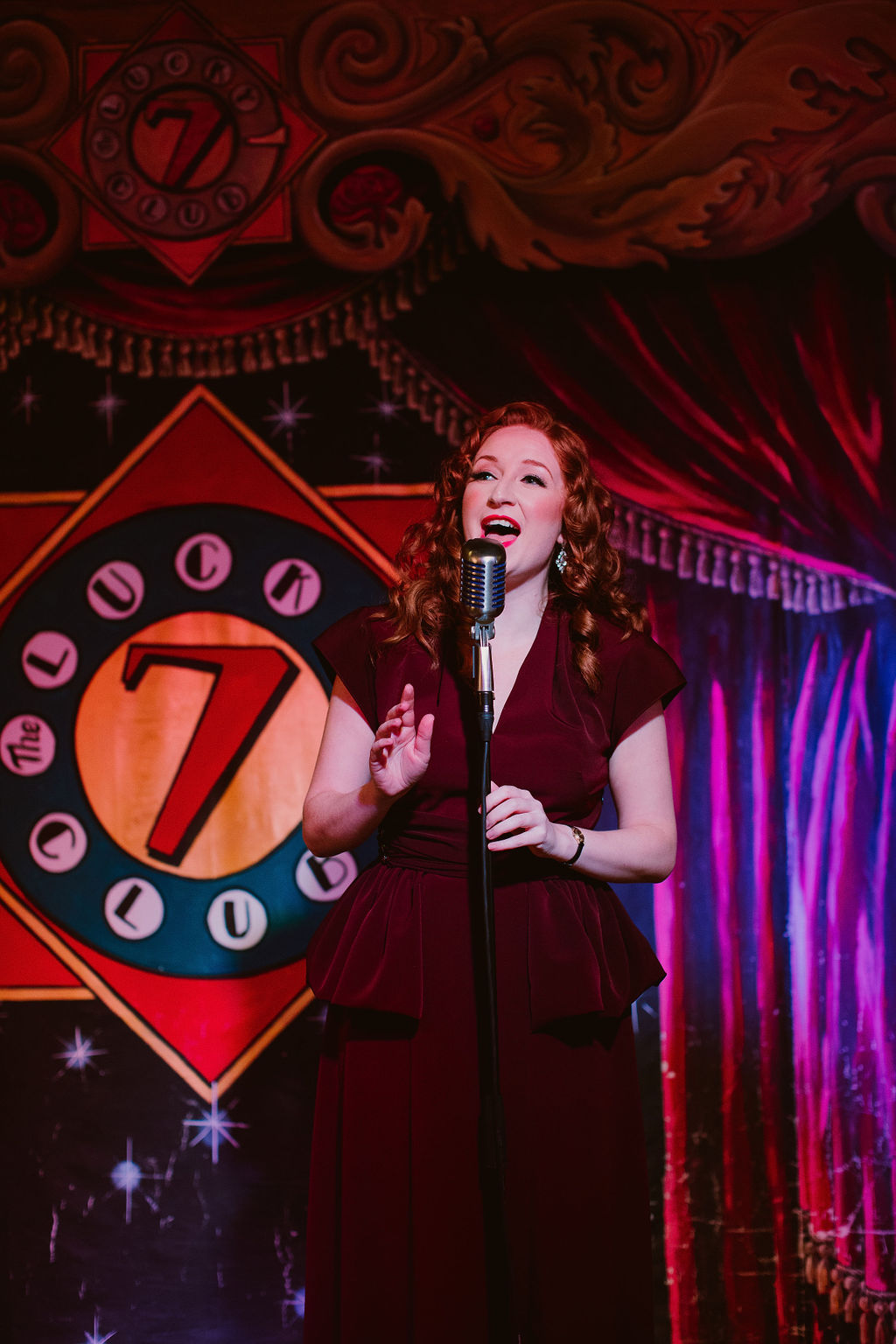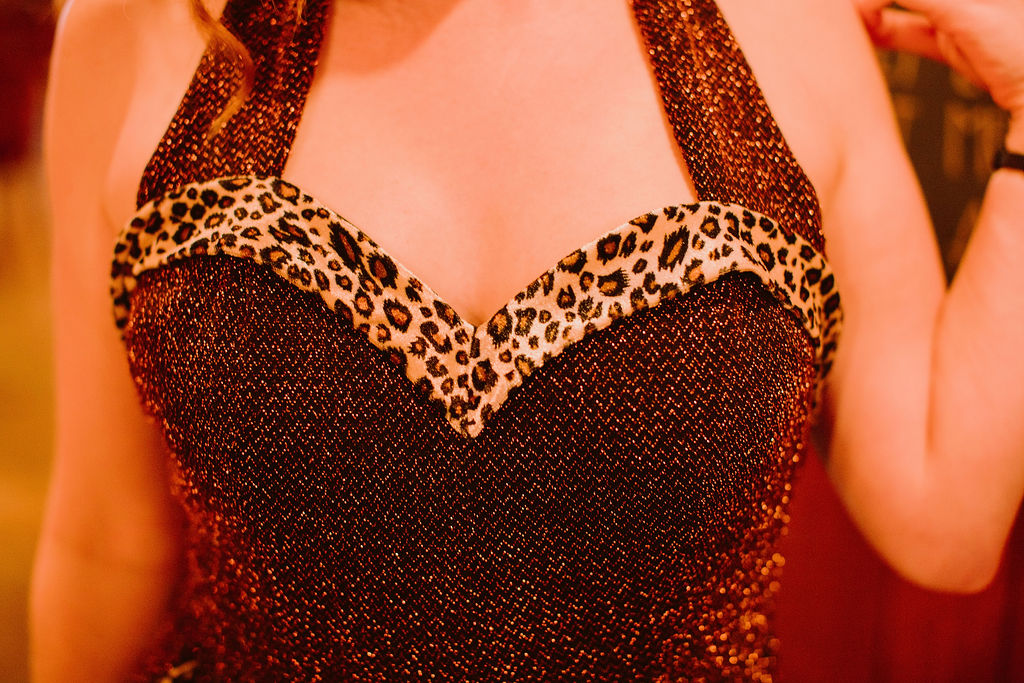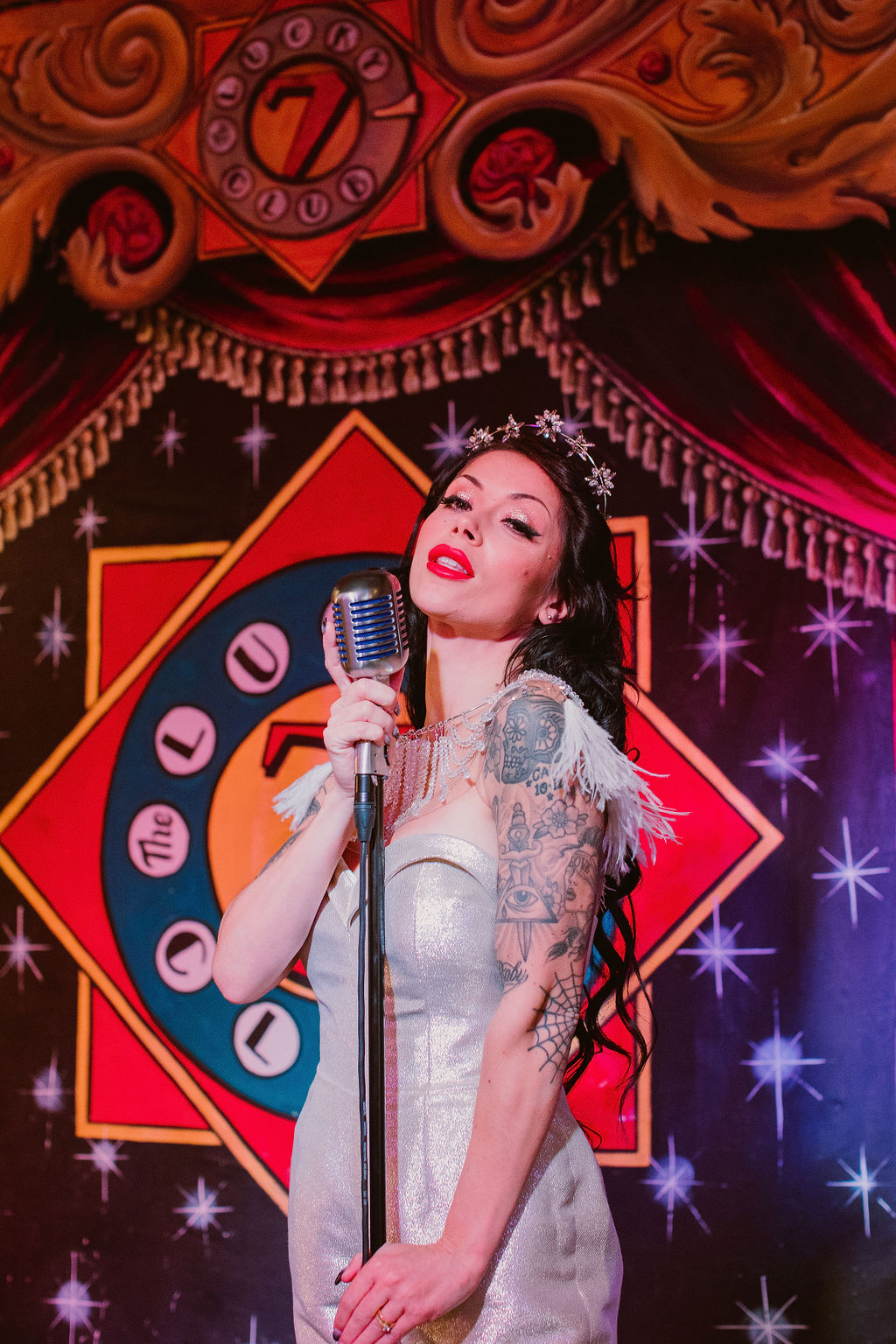 Stationery – Vicki Minchener, Flourish & Lace
"The stationery included an invitation suite with details card, RSVP and vellum wrap, along with menus and place cards for the table. The stationery is a modern interpretation of Art Deco with minimal Art Deco style borer and geometric typography and constellation designs. I added metallic gold calligraphy to the envelope and place cards."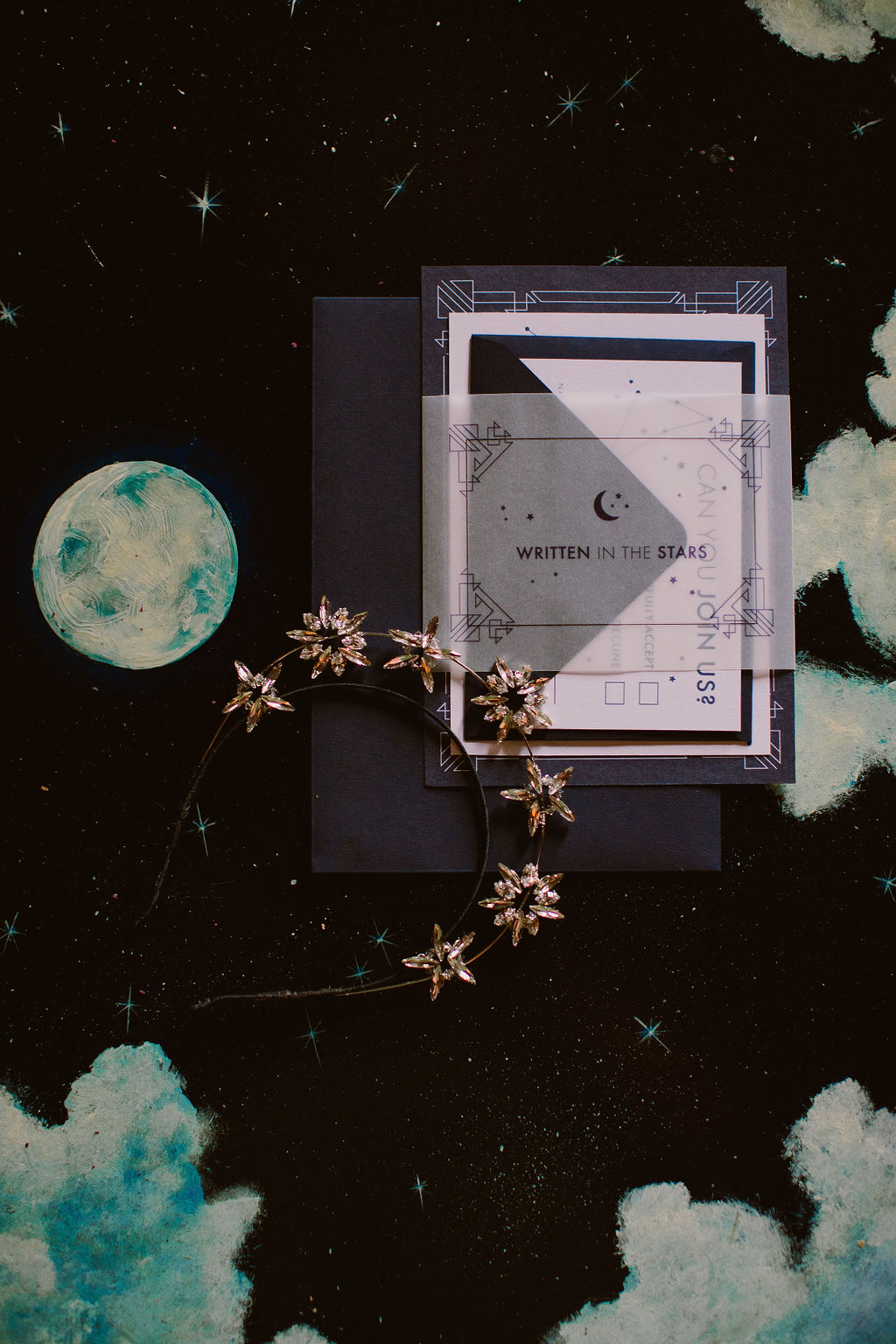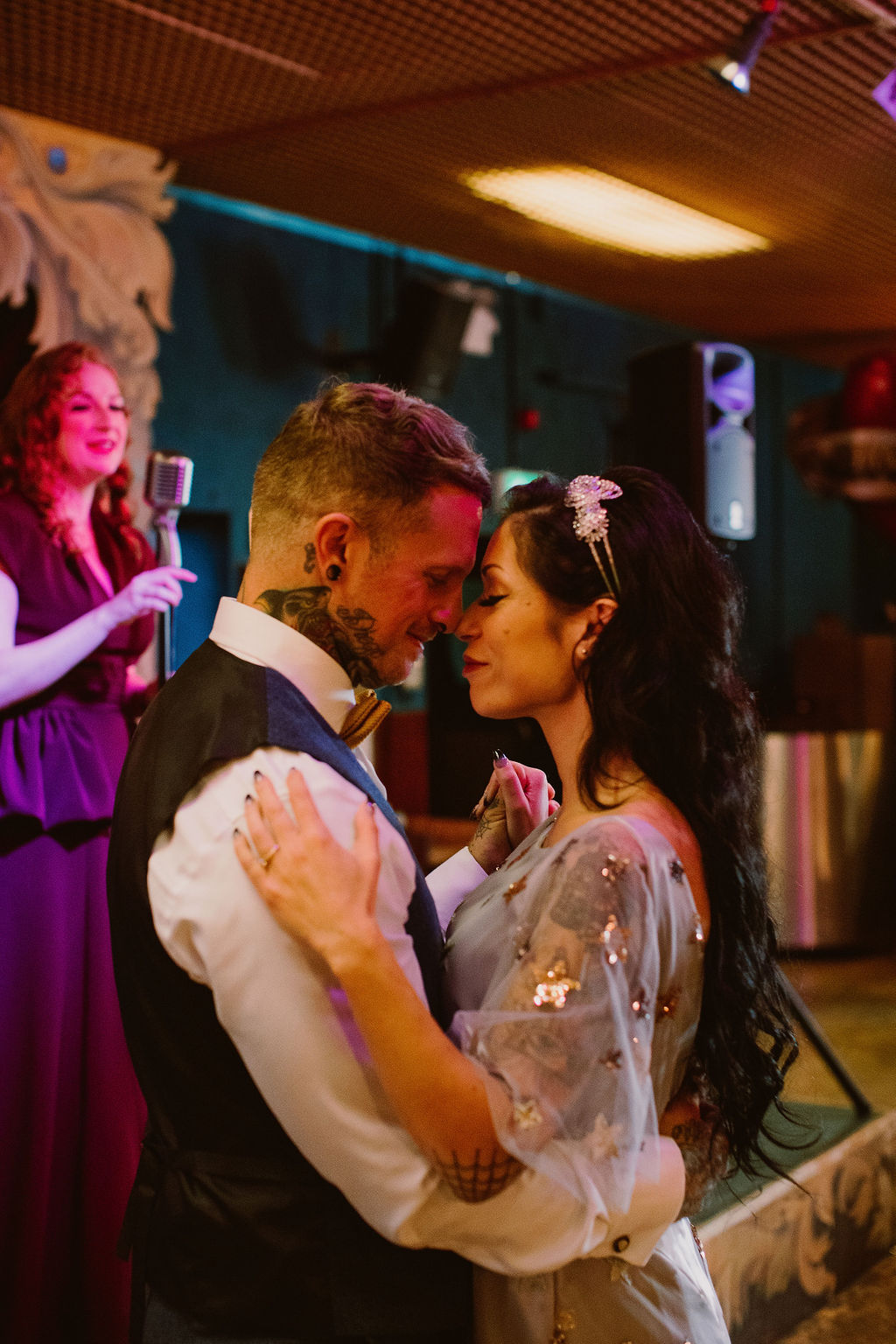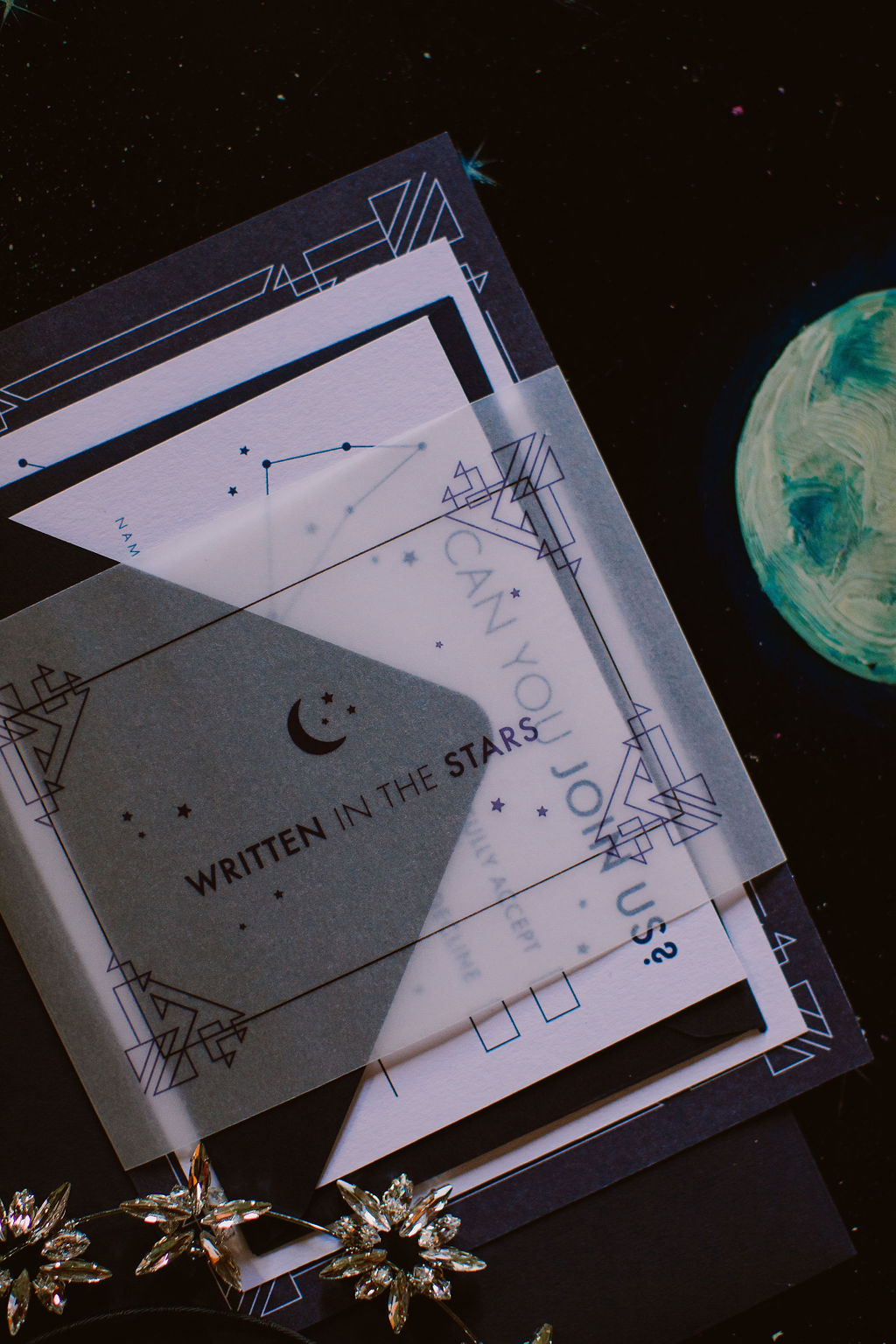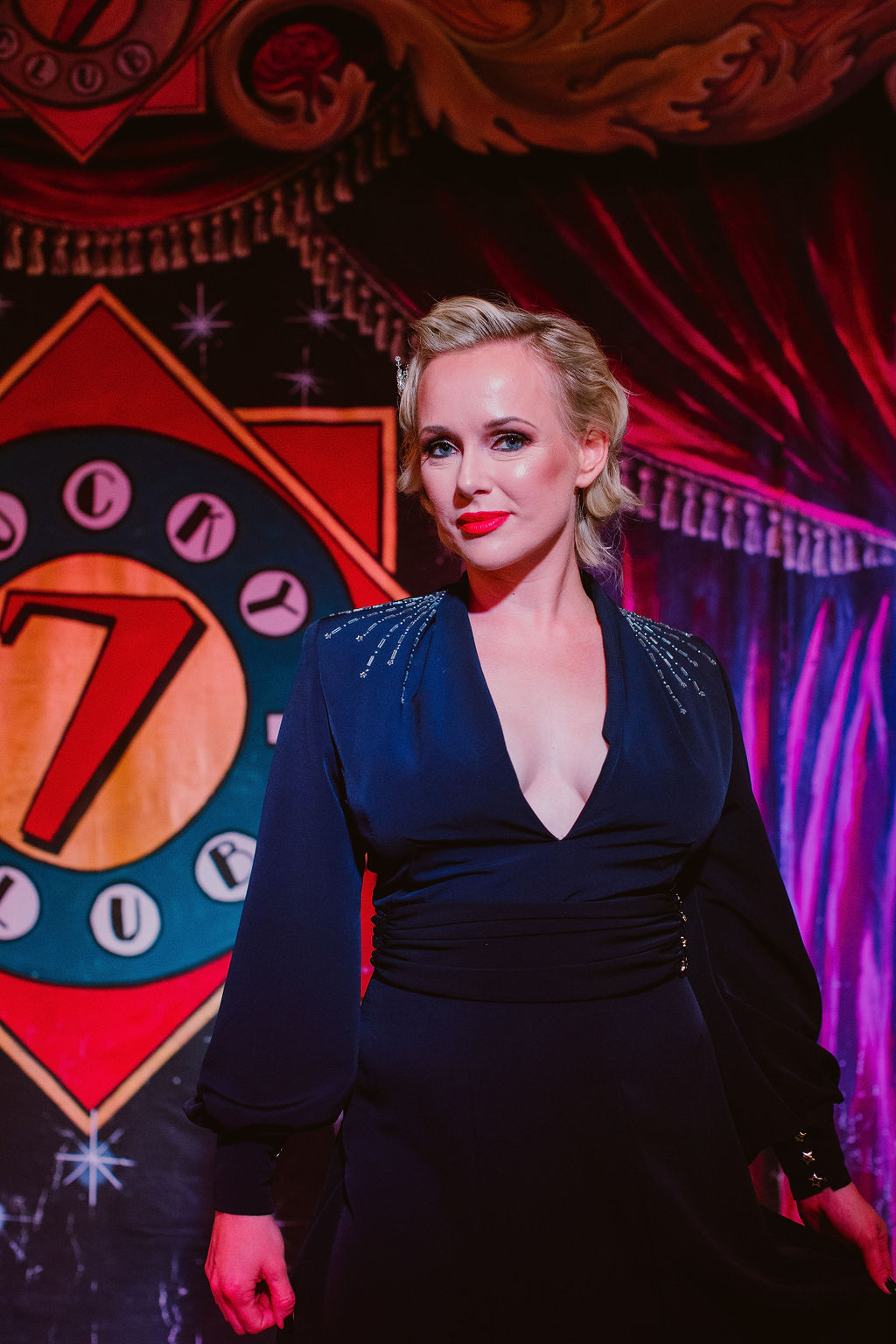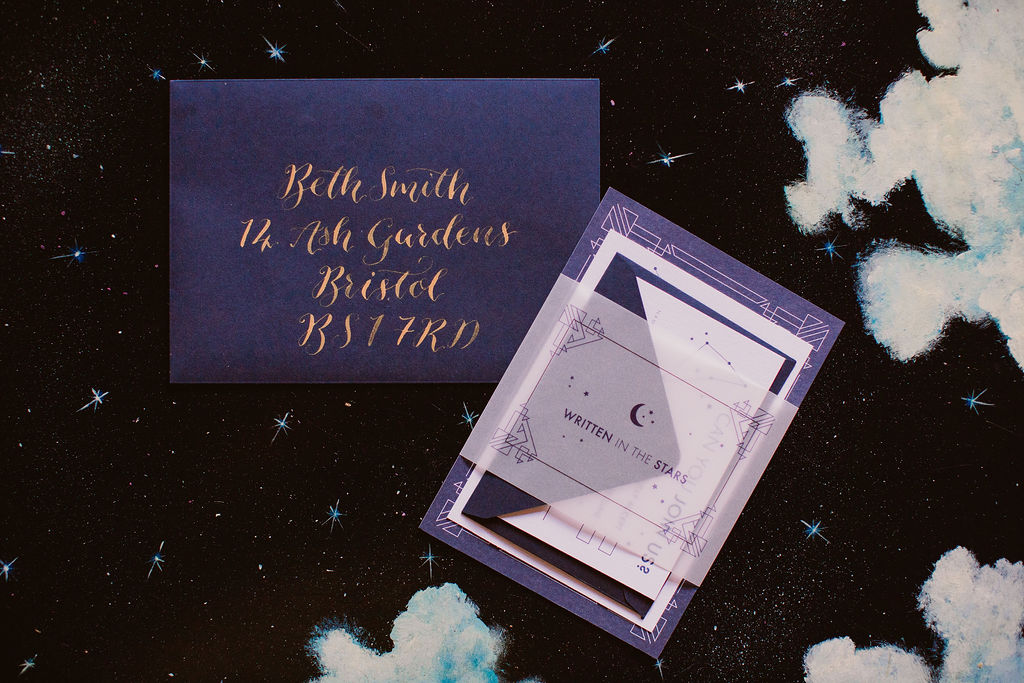 Cake – Claire Potts, Claire's Sweet Temptations
"I love to create cakes that are a little out of the ordinary. I strongly believe the cake is a great
way to introduce personality and fun into a wedding, and that they should reflect the couple as well as the setting."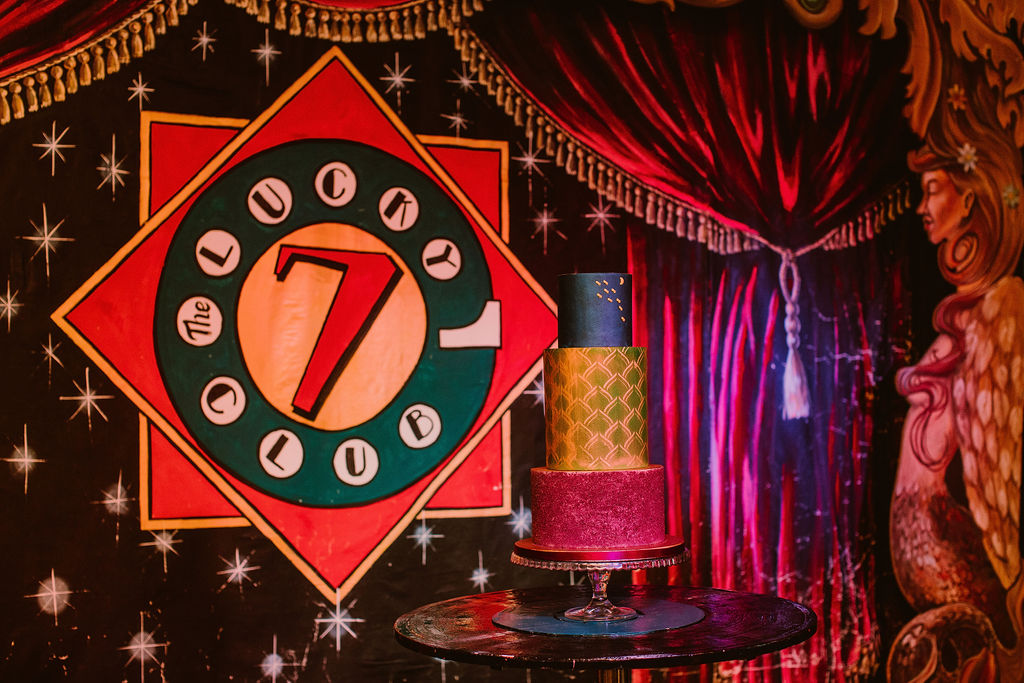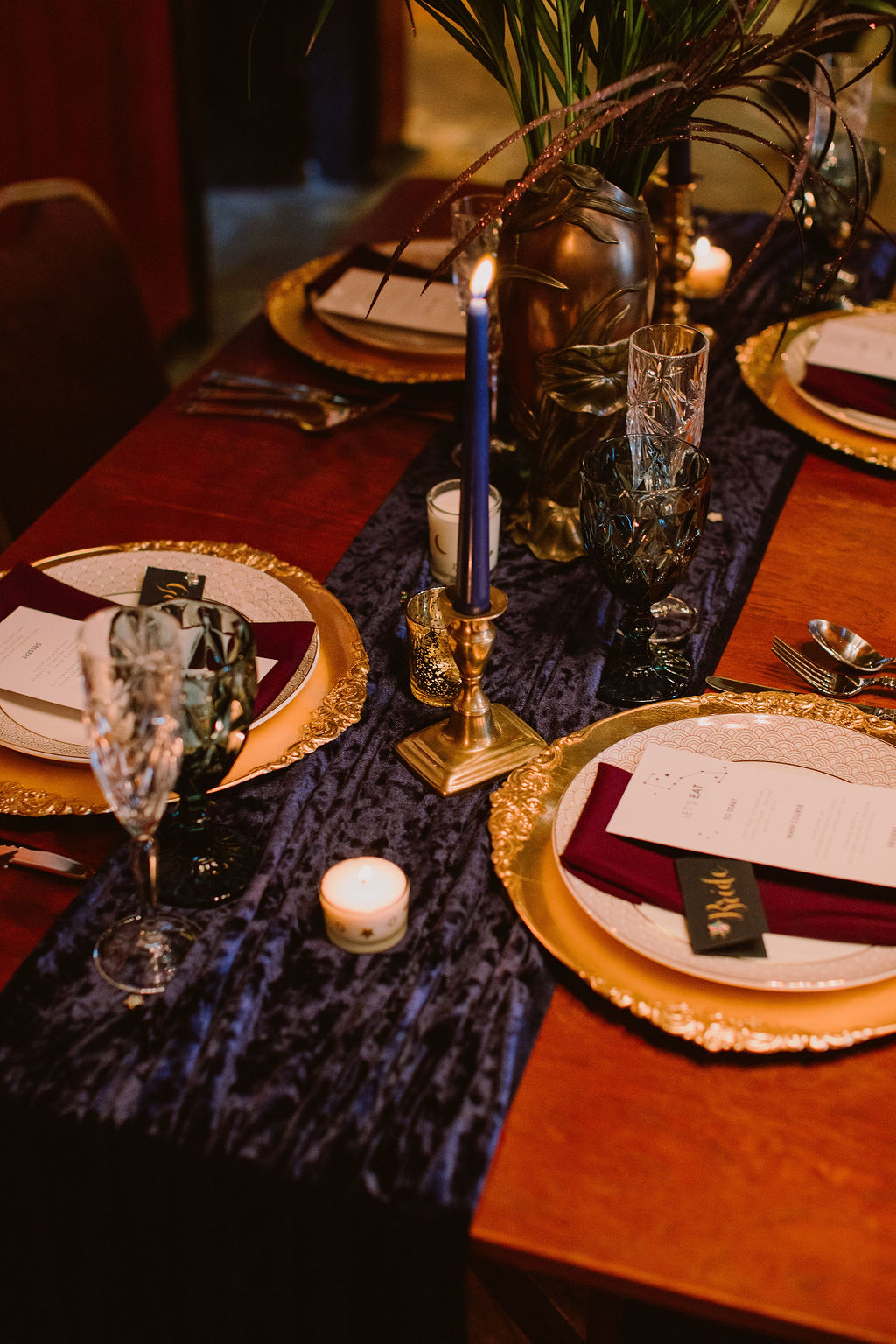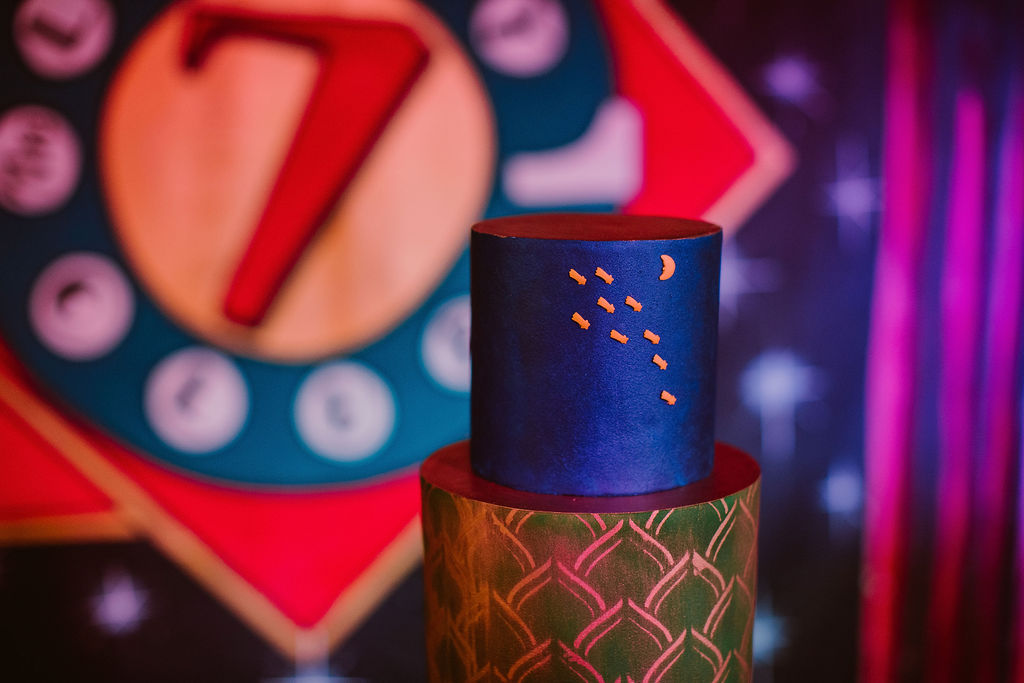 "The theme and colour scheme of the shoot allowed great scope to be creative. I used finely ground wafer paper to give a flocking effect on the bottom tier, and edible gold for the stencil. The top tier is a beautiful lustre that gives a depth and a dramatic touch."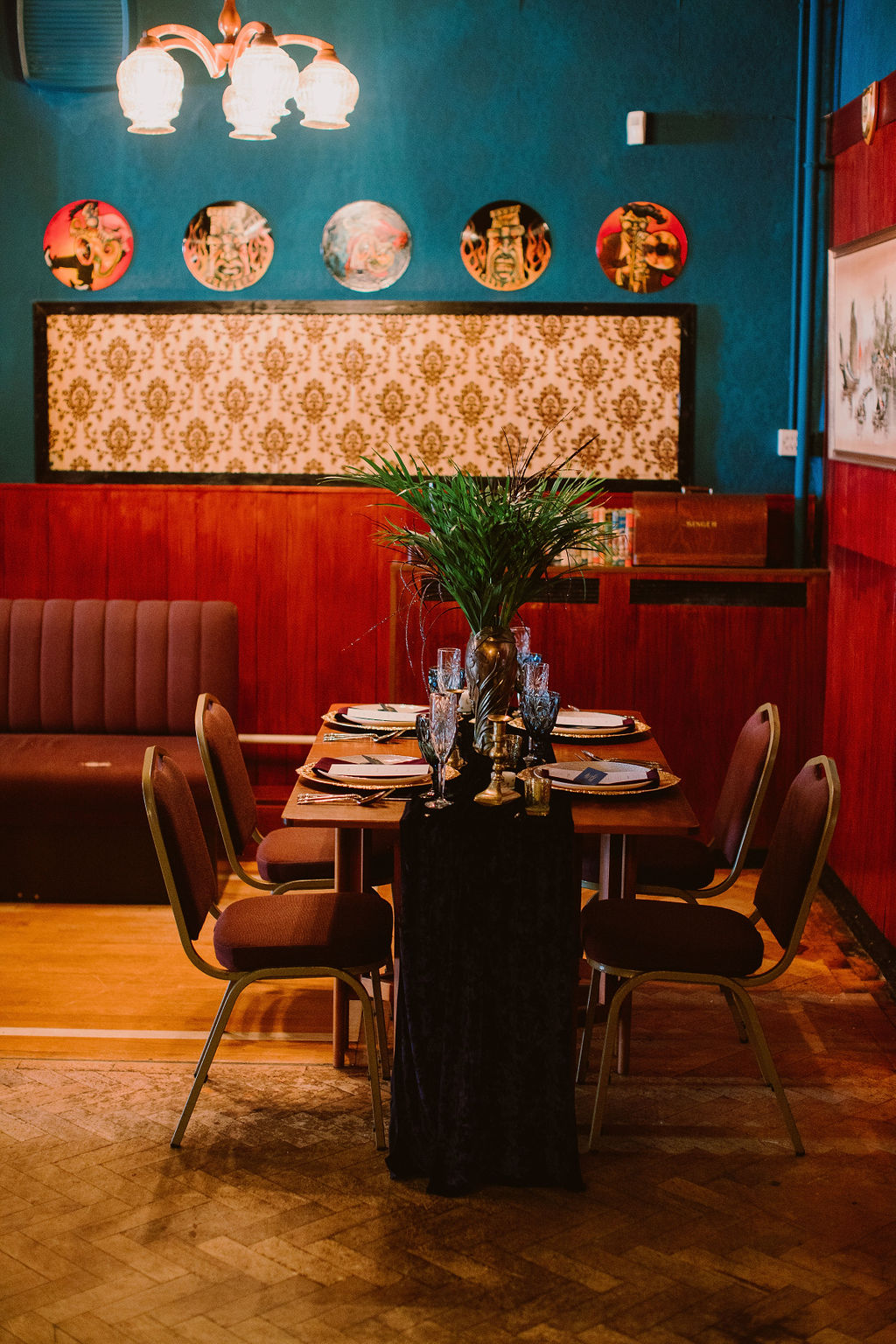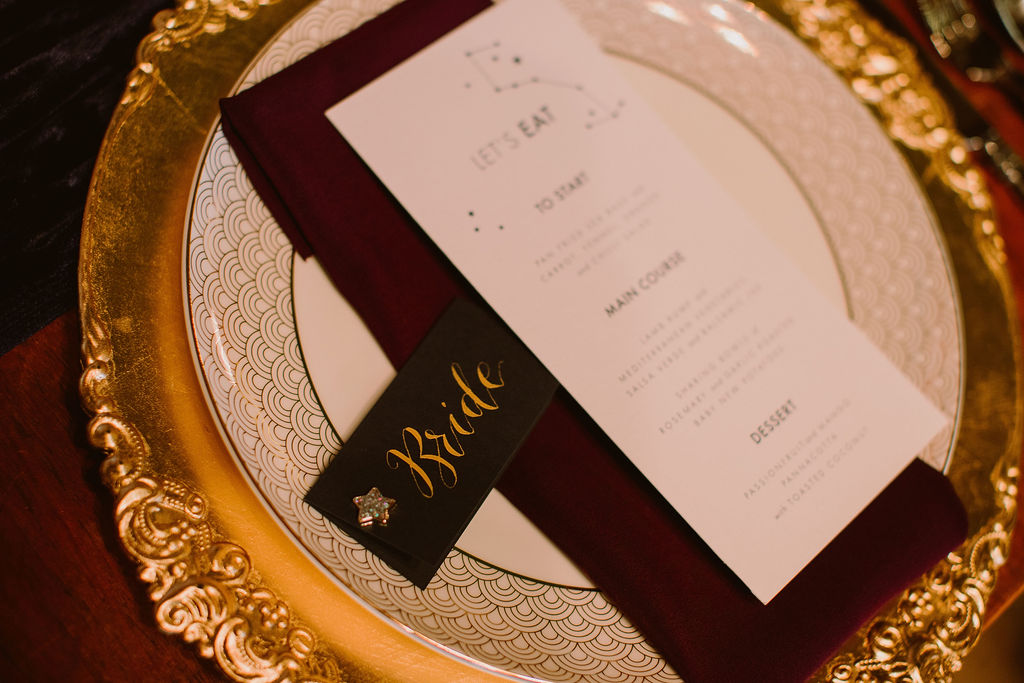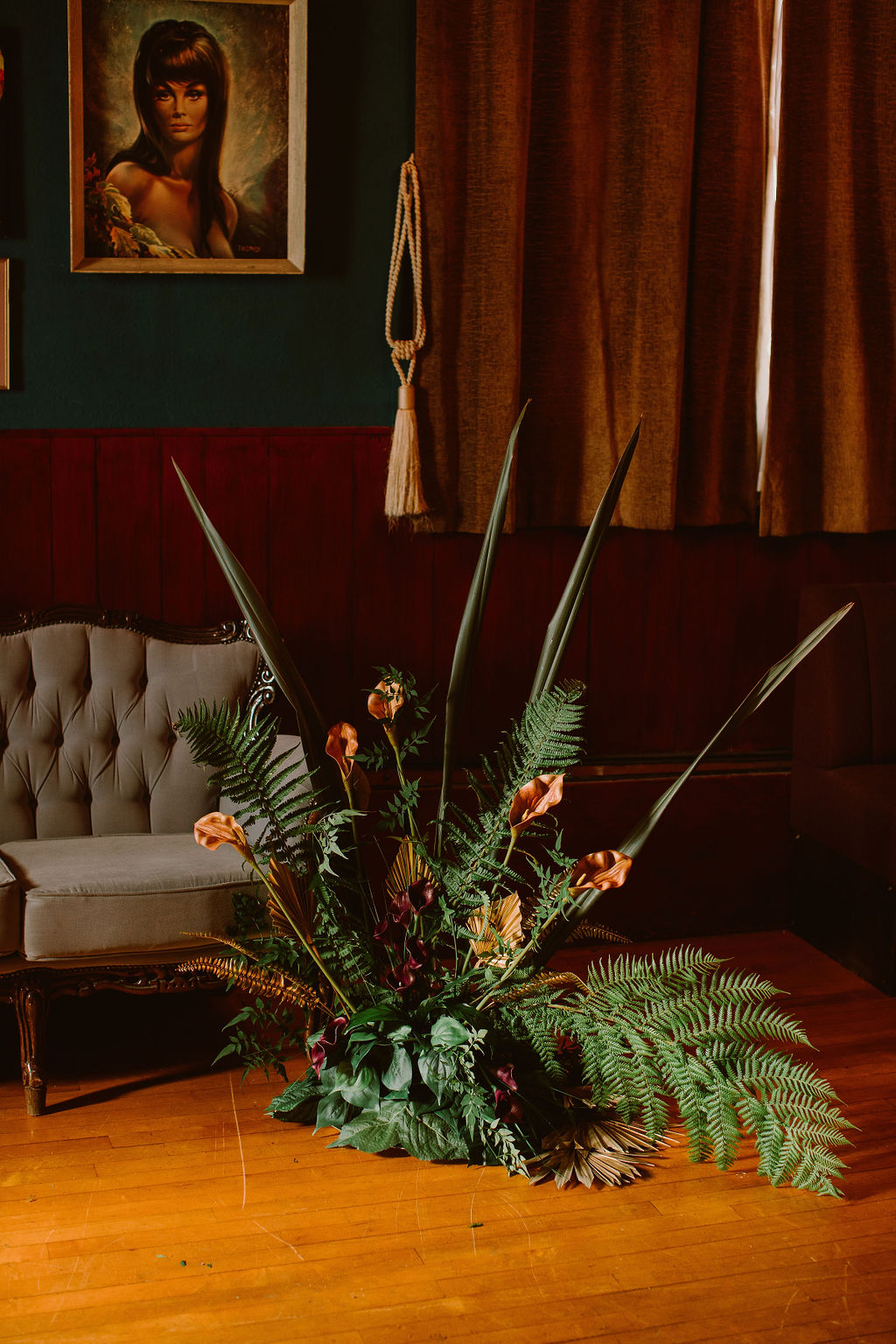 DIY Flowers
"We didn't have a florist, but wanted to incorporate some kind of art deco inspired floral display that could be moved from the ceremony to other parts of the venue. My Mother In Law kindly offered to help, so we went full DIY and scoured Pinterest to research art deco florals. Much of the greenery came from ferns and palm leaves foraged from her garden, with a few hand dyed silk Calla lilies mixed in. We added some gold accents using dried palm leaves sourced from Etsy which we sprayed gold, adding a sculptural element to the arrangement. I think she did a fantastic job and goes to show that couples on a budget don't need to spend a fortune to make an impact."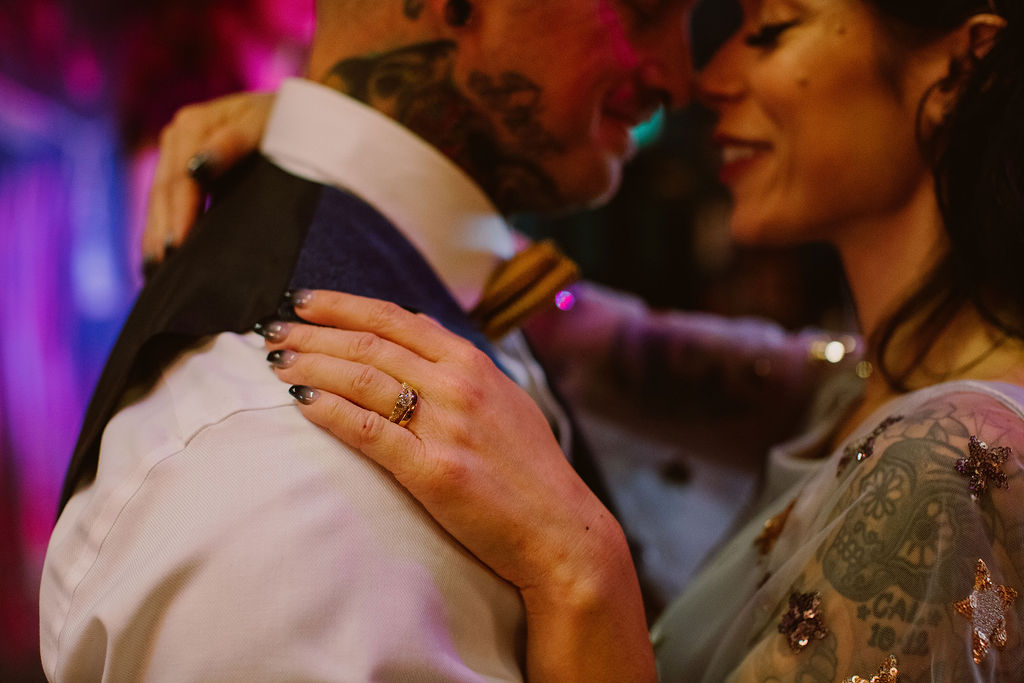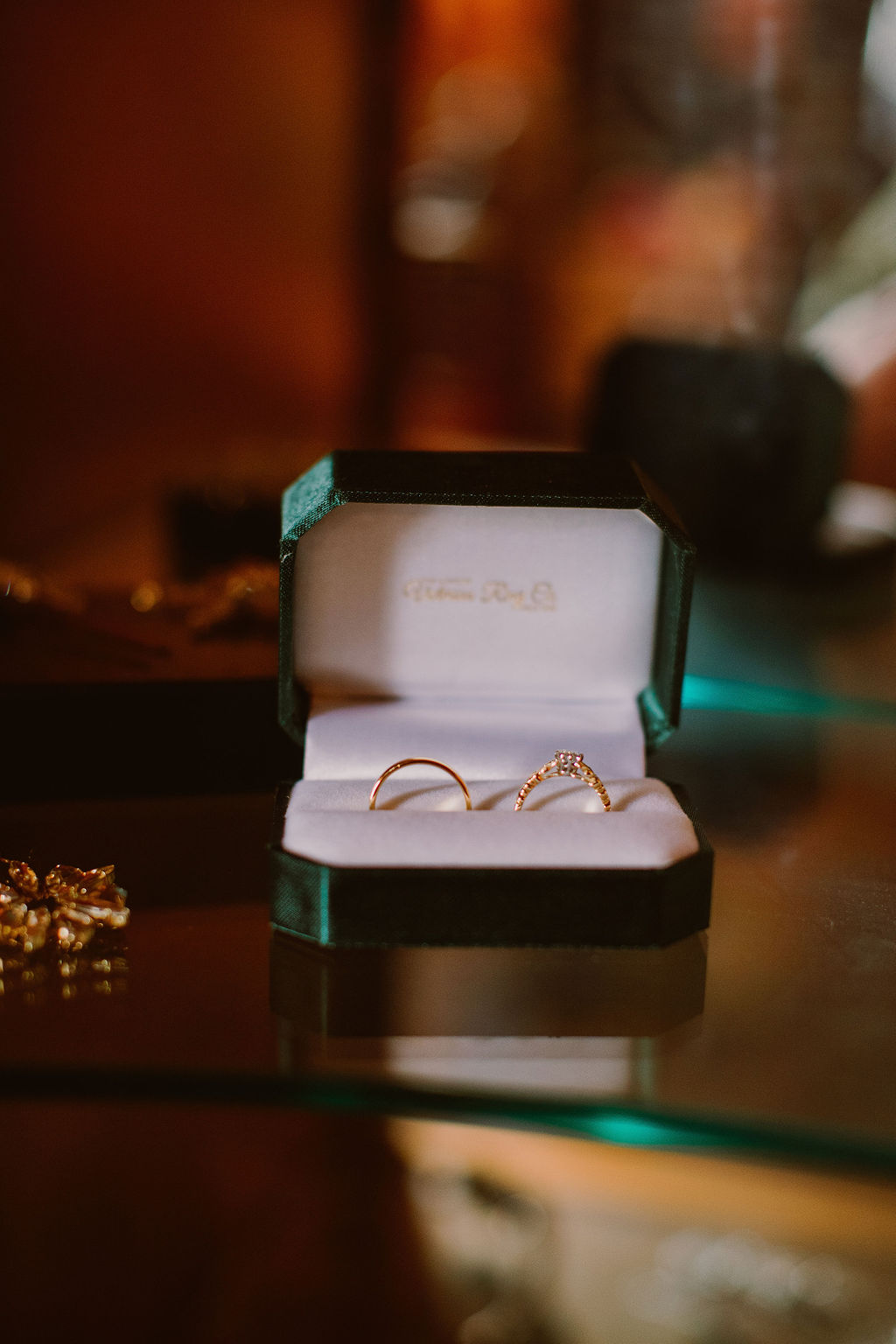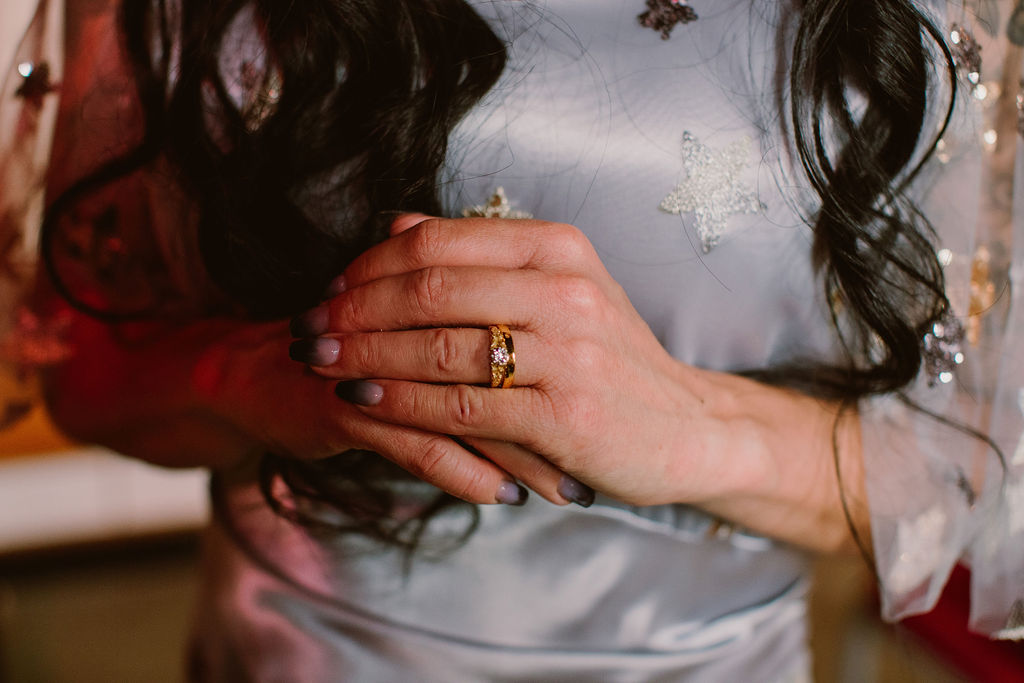 Rings – London Victoria Ring Co
"We had a unique vintage inspired hand engraved yellow gold and diamond engagement ring featuring golden leaves cascading along the finger with a beautiful golden rose on either side and simple gold wedding band supplied by London Victoria Ring Co."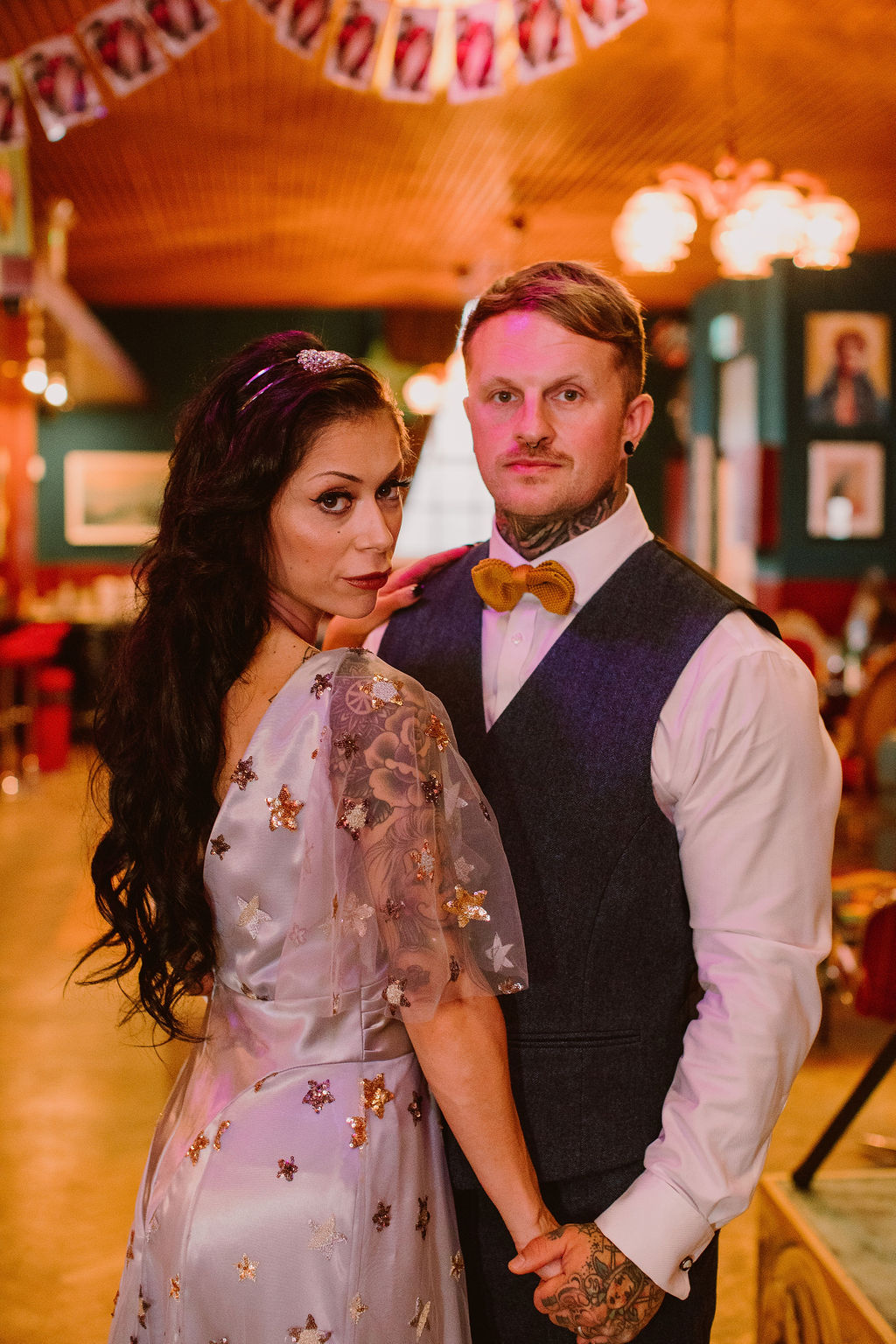 The Suppliers – Vintage Deco Wedding Inspiration at The Lucky 7 Club Devon
Photographer – Ruby Walker
Bridal gown, jumpsuit and bridesmaid dresses – Dandelions & Pearls @dandelionsandpearls I Styling – Danielle Donnelly @thewedhub I Venue – The Lucky 7 Club I Props, Velvet Sofa and armchair – The Prop Factory @thepropfactory I Tableware – Keeping it Vintage I Singer – Terrie May McNulty, Nightingale Music Nightingalemusic.co @nightingaletm I Headpieces – The Lucky Sixpence @thelucky6pence I Hair – The Pop Up Salon @the_pop_up_salon I Make up artist – Rose Forrest -Bristol @roseforresthairandmakeupartist I Cake – Claire's Sweet Temptations I Bridal Shoes – Sasha Archer Shoes I Feather and Crystal Cape – Electric Plume @electric_plume I Metal Alternative Bouquet – Greenleaf Artworks @glartworks I Stationery – Flourish & Lace Stationery @flourishandlace I Bride's Engagement ring and wedding band – London Victorian Ring Co @london_victorian_ring_co I Personalised tea lights – Kiss Air Candles I Videography – duodigital I Groom Suit – Vintage Suit Hire
IF YOU LOVED THIS LOOK PLEASE PIN IT!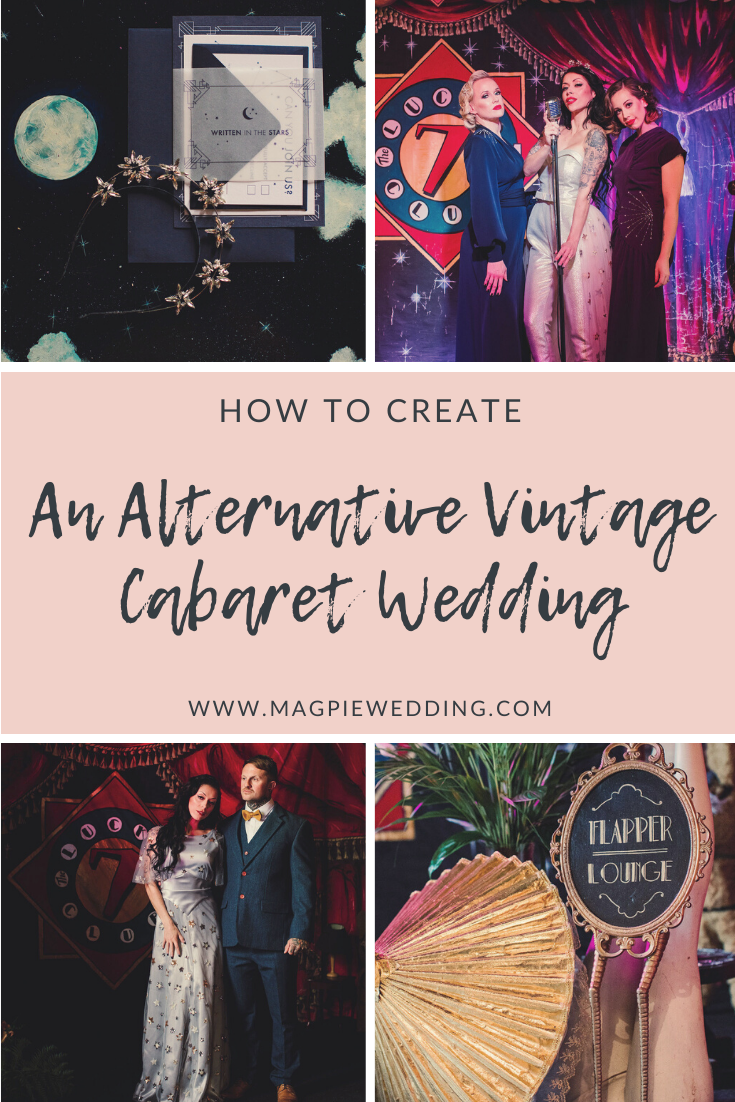 If you love this The Lucky 7 Club Devon Wedding you may also like;
1920 VINTAGE WEDDING INSPIRATION AT MANCHESTER VICTORIA BATHS
MODERN VINTAGE WEDDING INSPIRATION WITH ETHICAL BRIDAL GOWNS
A 1920'S ART DECO WEDDING AT HEDINGHAM CASTLE
[line]