Dreamy, romantic and a call for the wild with todays styled shoot, swimming in beautiful styling, a pink tulle bridal gown and details a plenty. Set at Oaklands, Yorkshire Wedding Venue, it's sure to give you lots of inspiration for the big day, take notes and enjoy! We catch up with shoot coordinators Rosanna from Rosanna Lilly Photography and Kate from The Destination Wedding Co. and the rest of the team involved who tell us all about how this dreamy, romantic wedding at Oaklands, Yorkshire was created…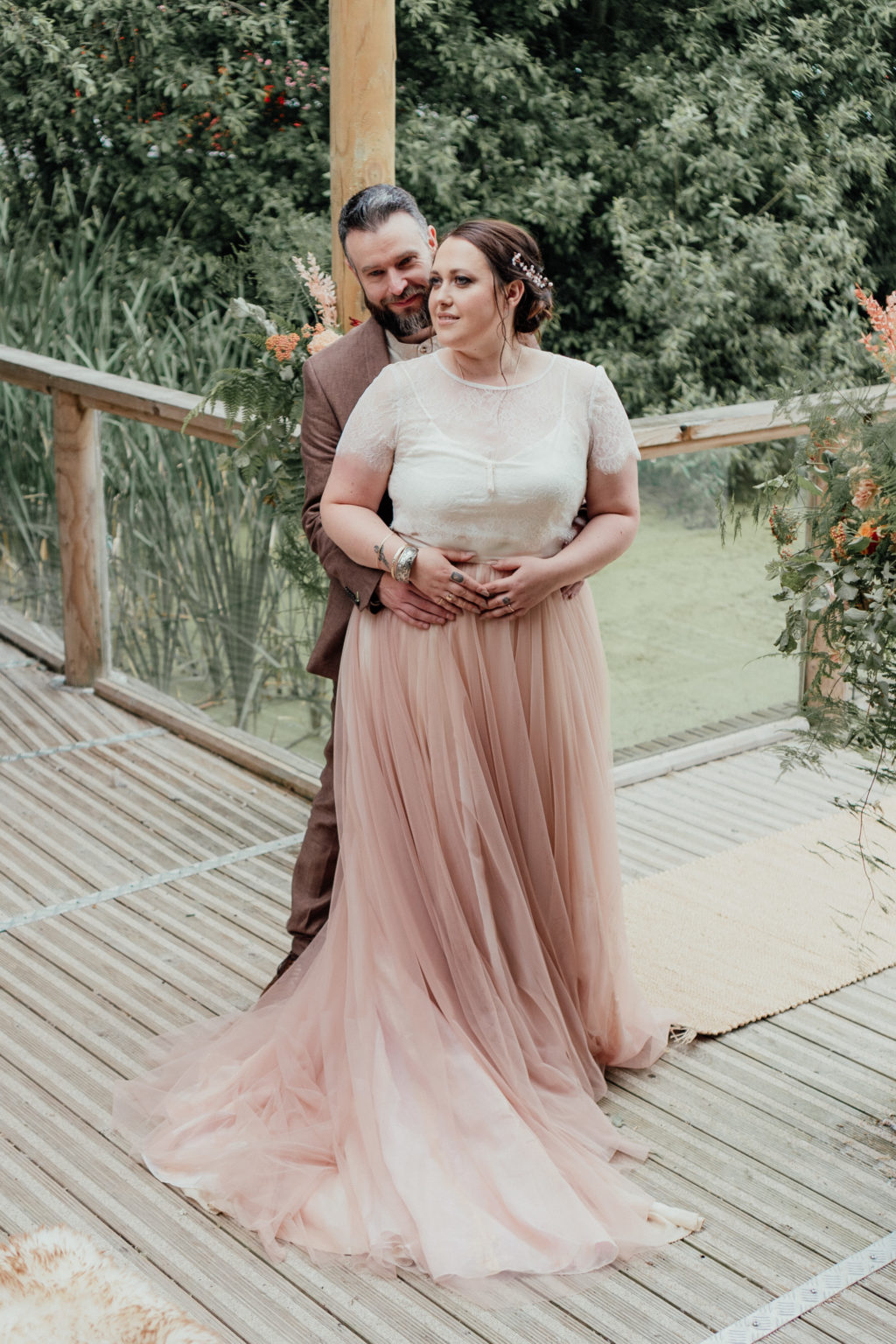 Concept & Photography: Rosanna Lilly Photography
"Kate & I came together with the idea to create inspiration for UK couples wanting the feel of a destination wedding that's a little bit different from the usual traditions whilst being full of adventure, authenticity & wild nature. Even though many couples would love to elope or travel abroad, sometimes family ties and commitments mean this isn't always possible. Therefore we focused on a UK venue that embodied the wild spirit of a remote Canadian venue, but based here in East Yorkshire."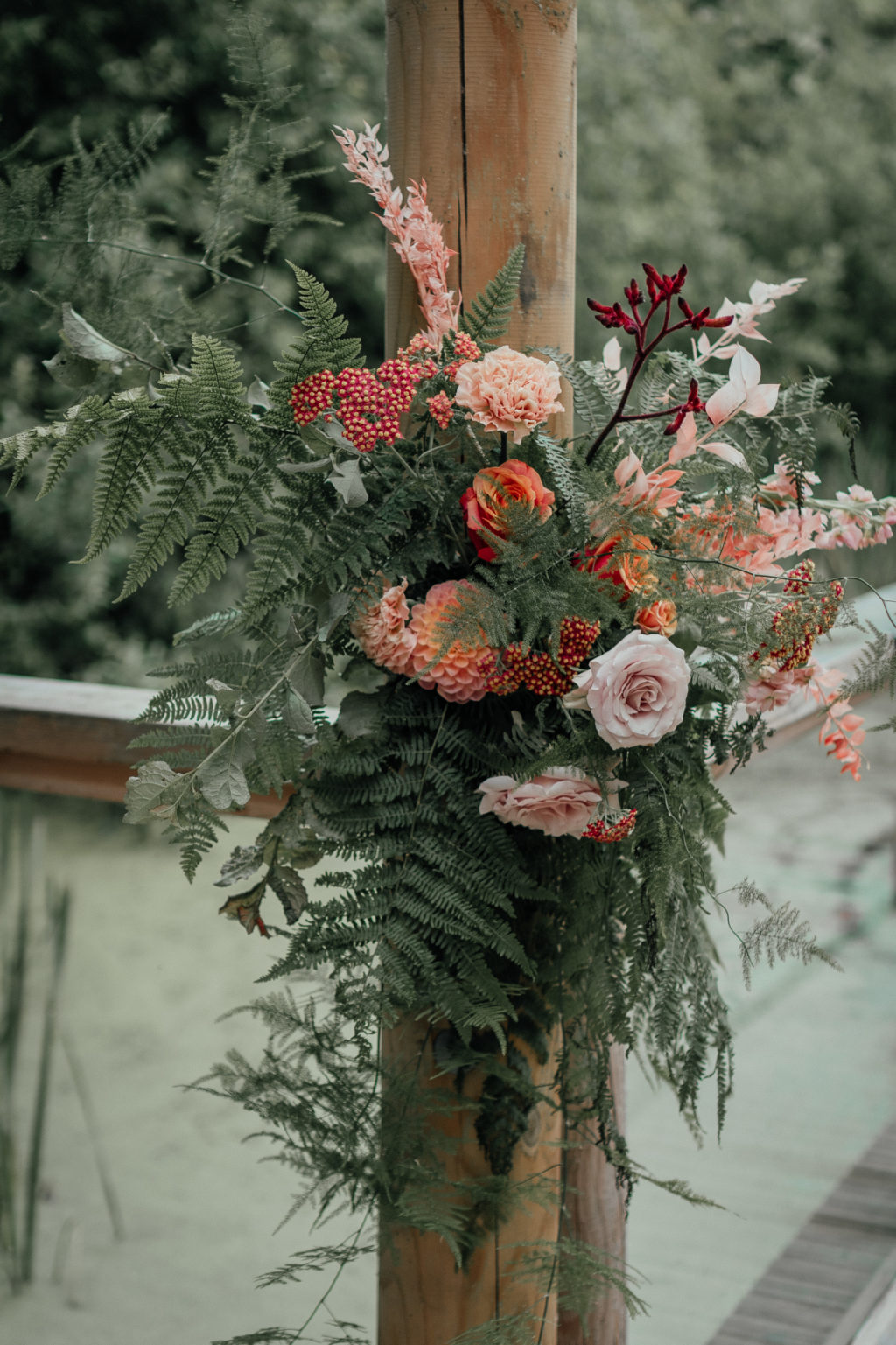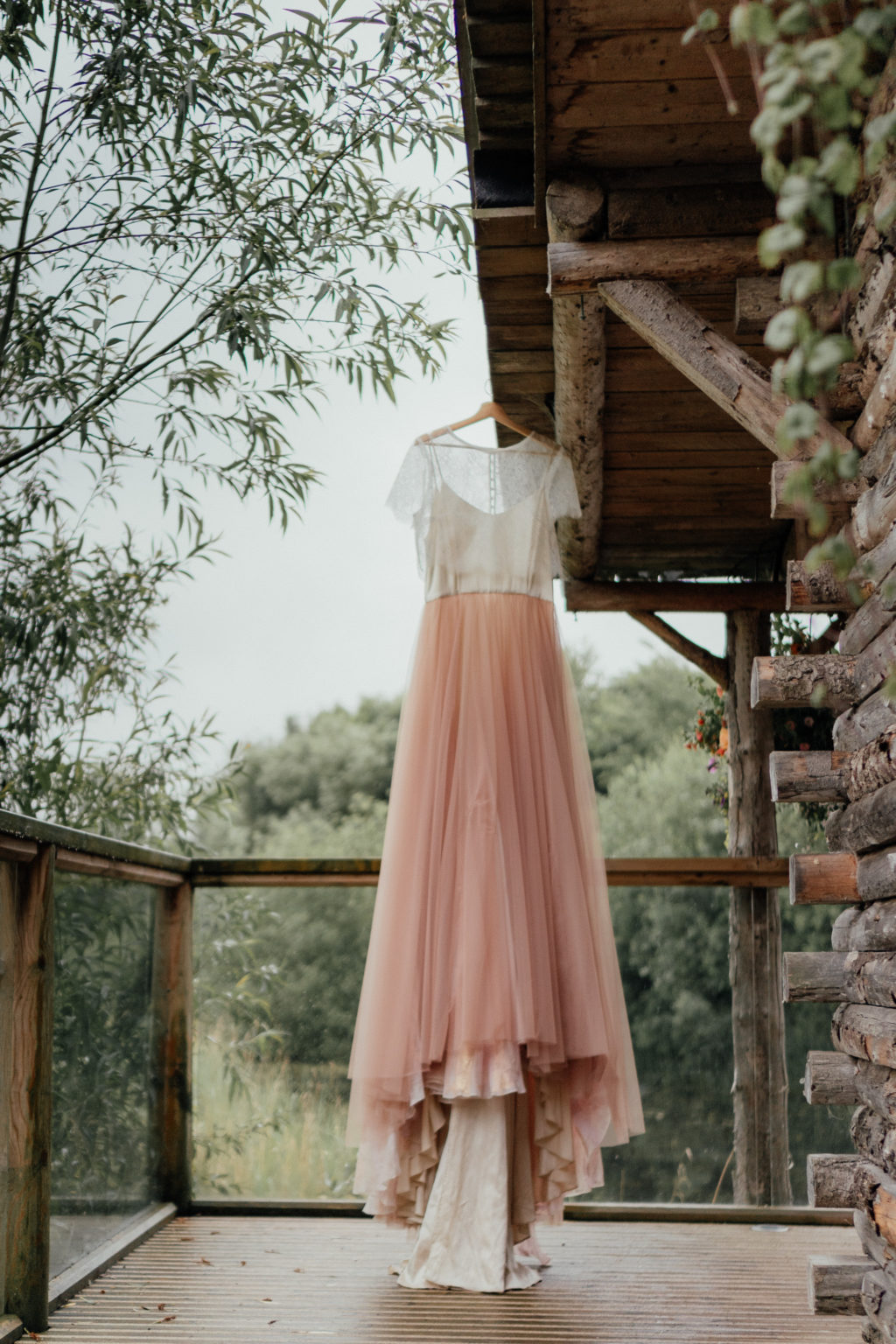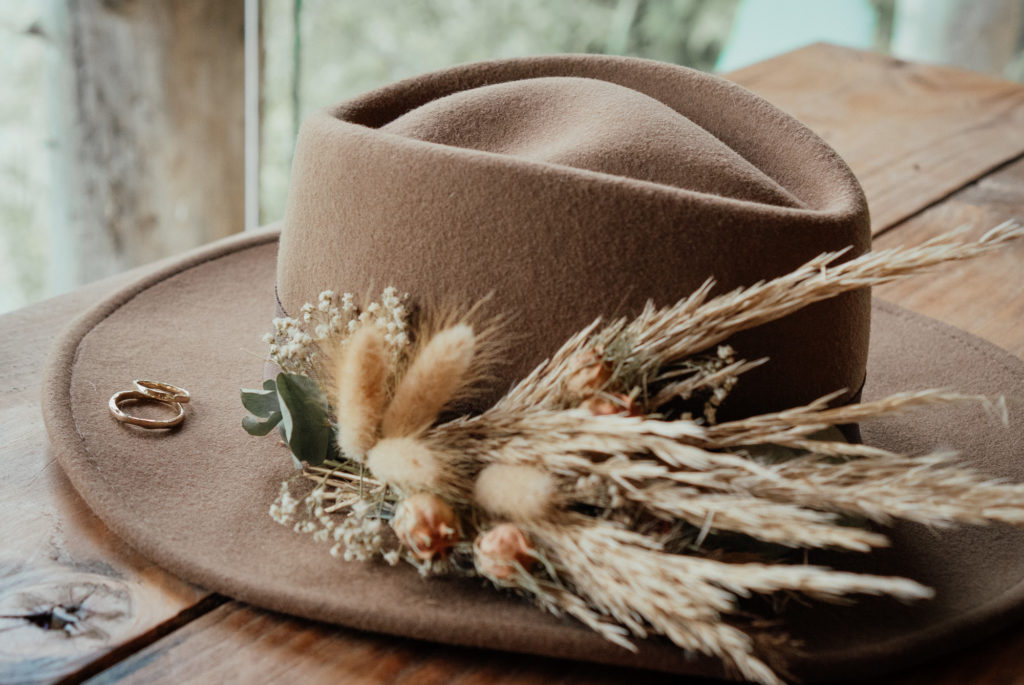 "In this case, with real-life married couple Jen & Craig, we featured a vow-renewal, placing equal importance on the lasting nature of a marriage, rather than just the initial celebrations of a wedding day. A hand fasting commitment ceremony (in which the hands of you and your beloved are wrapped in ribbon as you 'tie the knot') gave a different take on the usual ceremonial celebrations, harking back to ancient rural traditions of marriage blessing."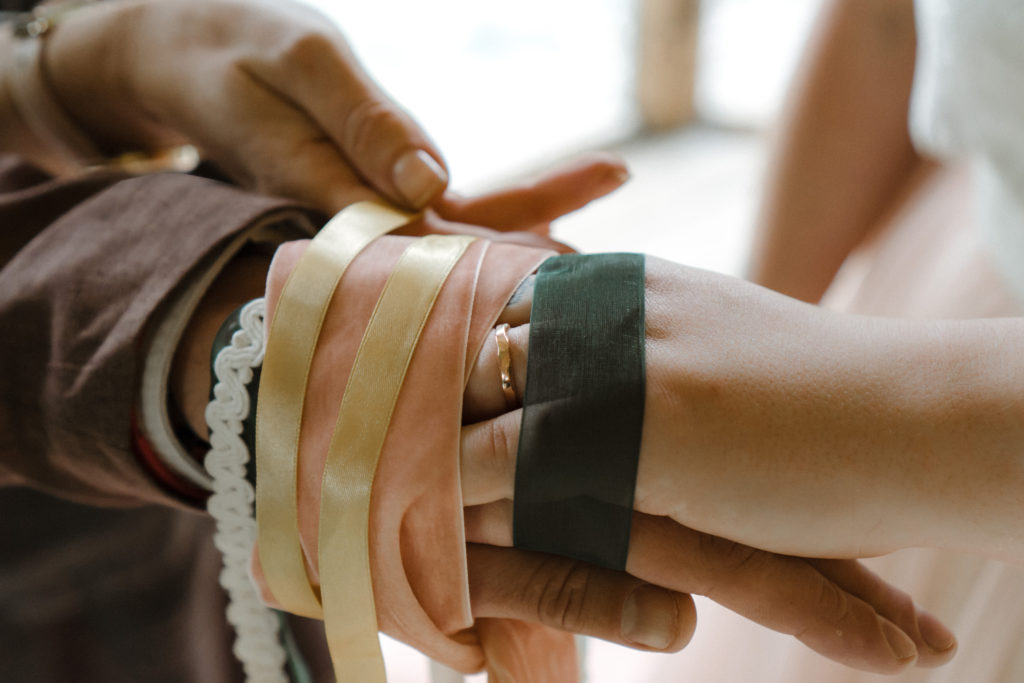 "We showcased some of the key wedding trends for 2019 & 2020, with a talented team of like minded local creatives on hand to feature a fairy-tale dress & statement headpiece, dusty pinks & terracotta's, grazing table & tipi, wild florals, as well as feathers & ferns."
[line]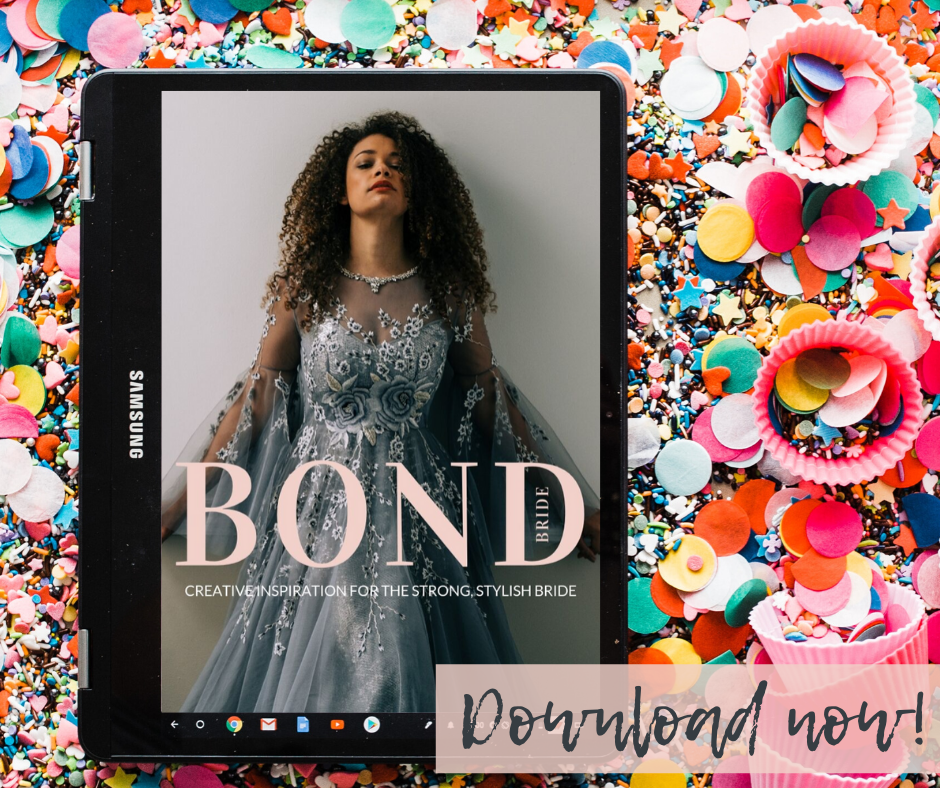 DOWNLOAD BOND BRIDE MAGAZINE ISSUE 2 HERE
[line]
Concept & Planning: Kate at The Destination Wedding Co.
"Our key inspiration for Call of the Wild, was the wilderness of nature complimented with soft ethereal textures. Feathers & ferns are key motifs peppered throughout, along with faraway natural backdrops."
"As a wedding planner, the aesthetics are only part of the puzzle. With a strong emphasis on curating a harmonised team; preparation & a relaxed atmosphere were key. On the day, we facilitated a free flowing creative atmosphere & trusted in the amazingly talented team we sourced."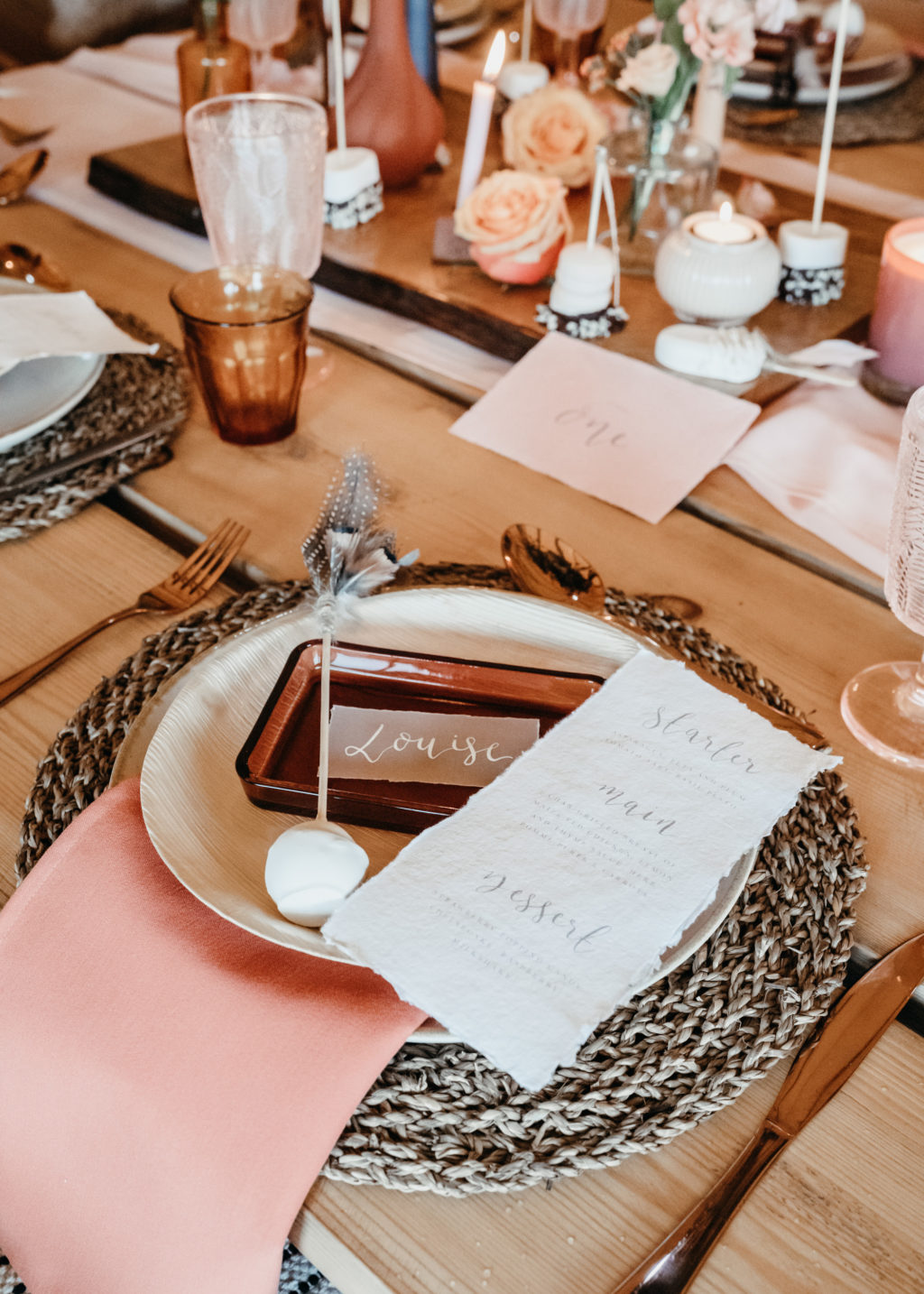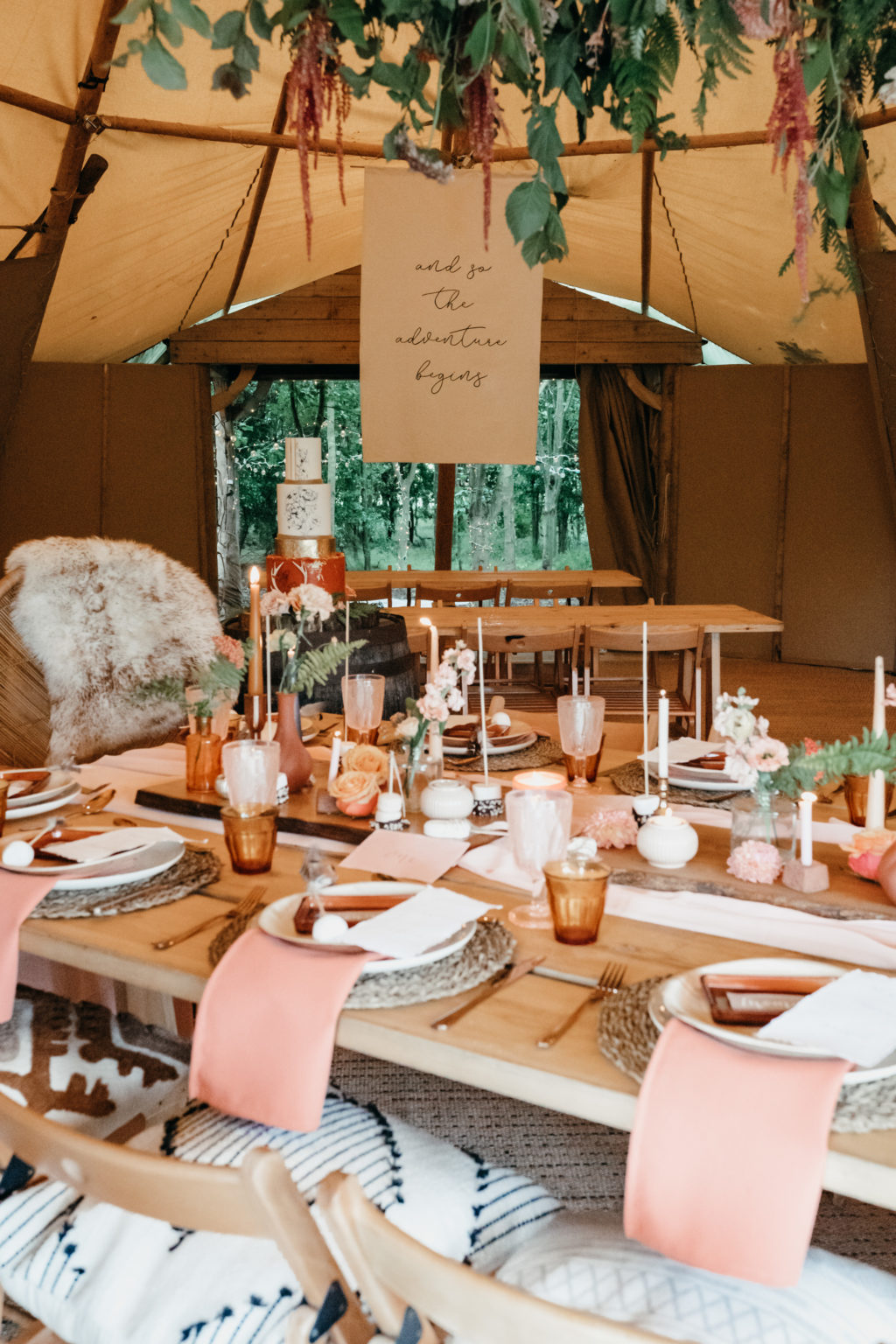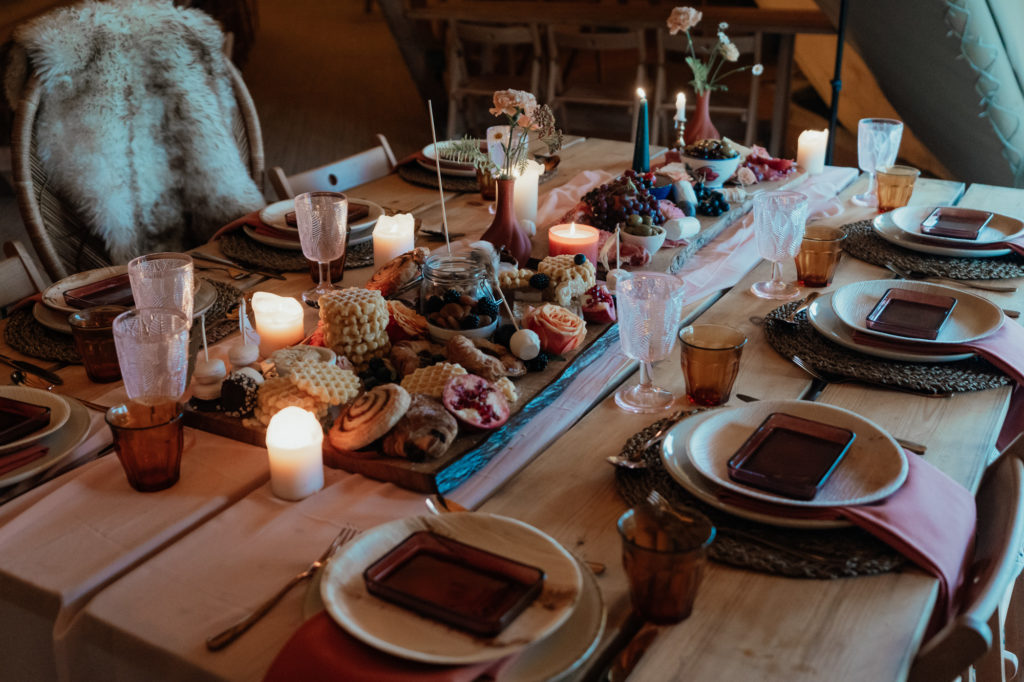 "Culinary delights are a big feature in this shoot – and in my destination weddings, where couples really want to show authenticity to their location with the best of the area's local delicacies. I had wanted to incorporate a grazing table for some time & we had a lot of fun setting up Canadian waffles, maple syrup, berries, autumnal comfort foods & a scattering of dried fruits & sweet treats… and just as much fun to be able to sit with the supplier team around the beautiful table scape & enjoy the grazing table after all the hard work!"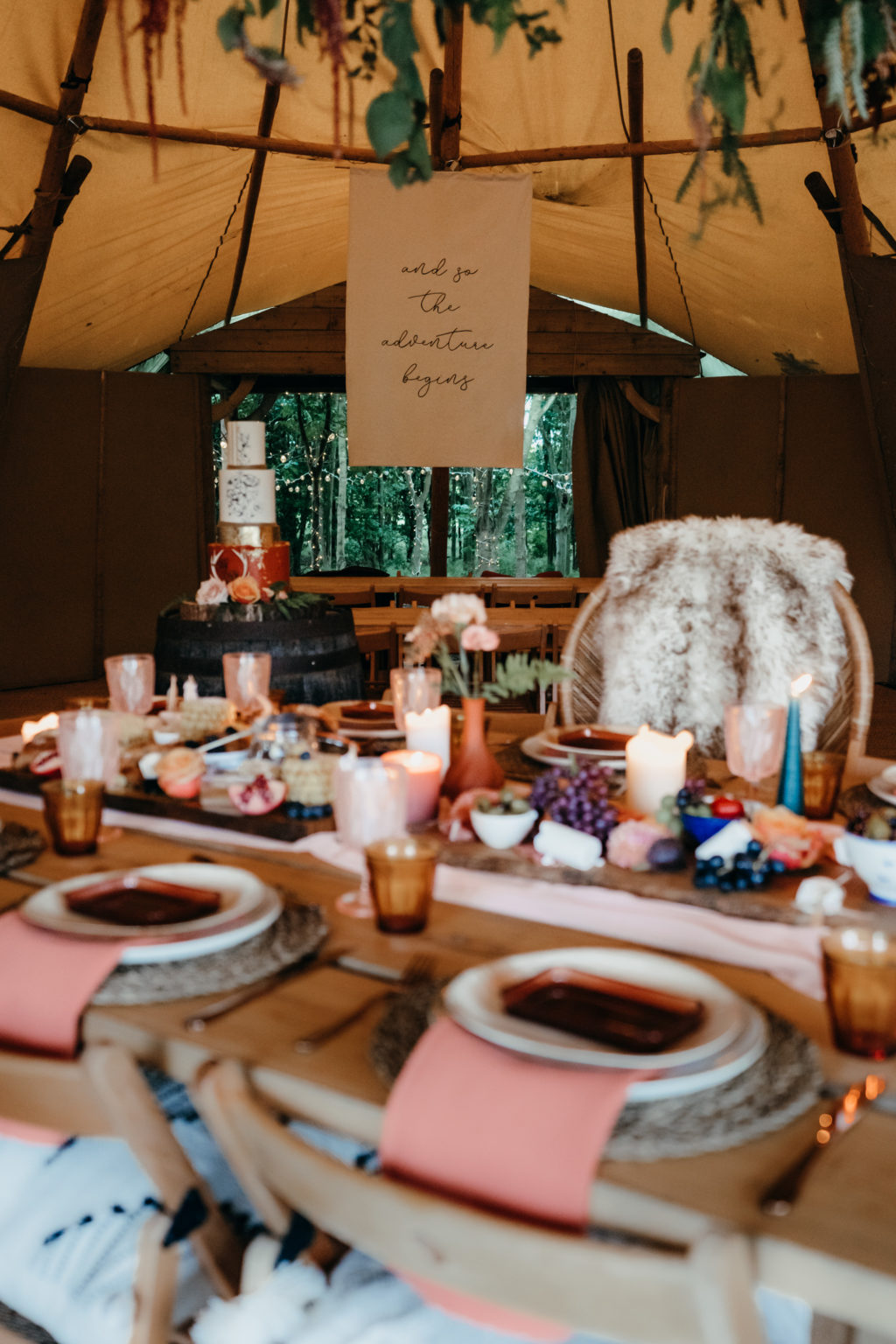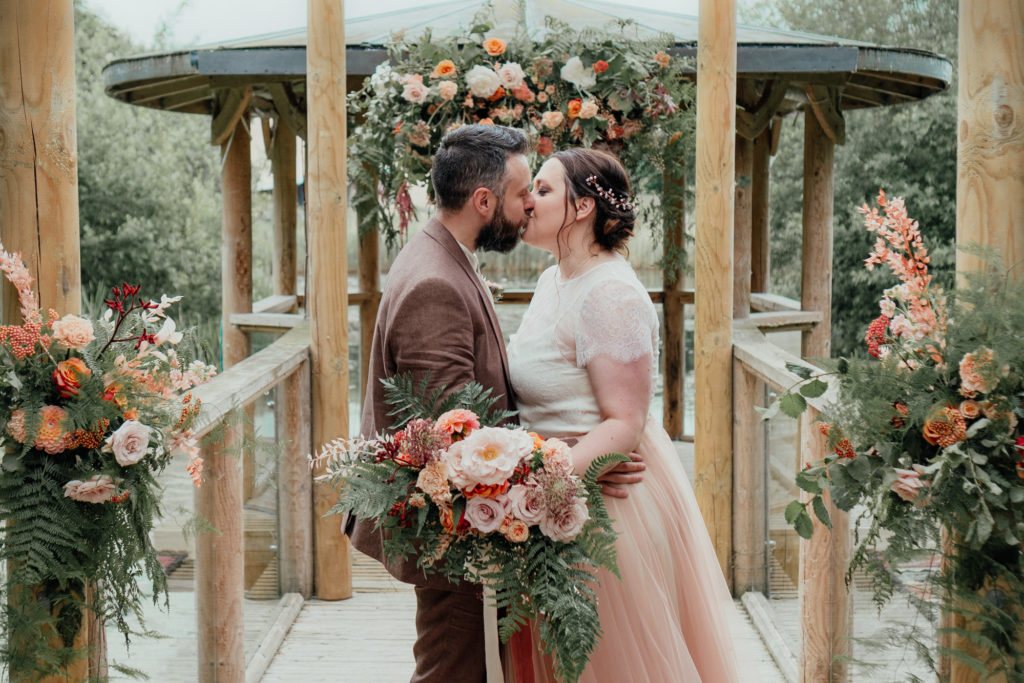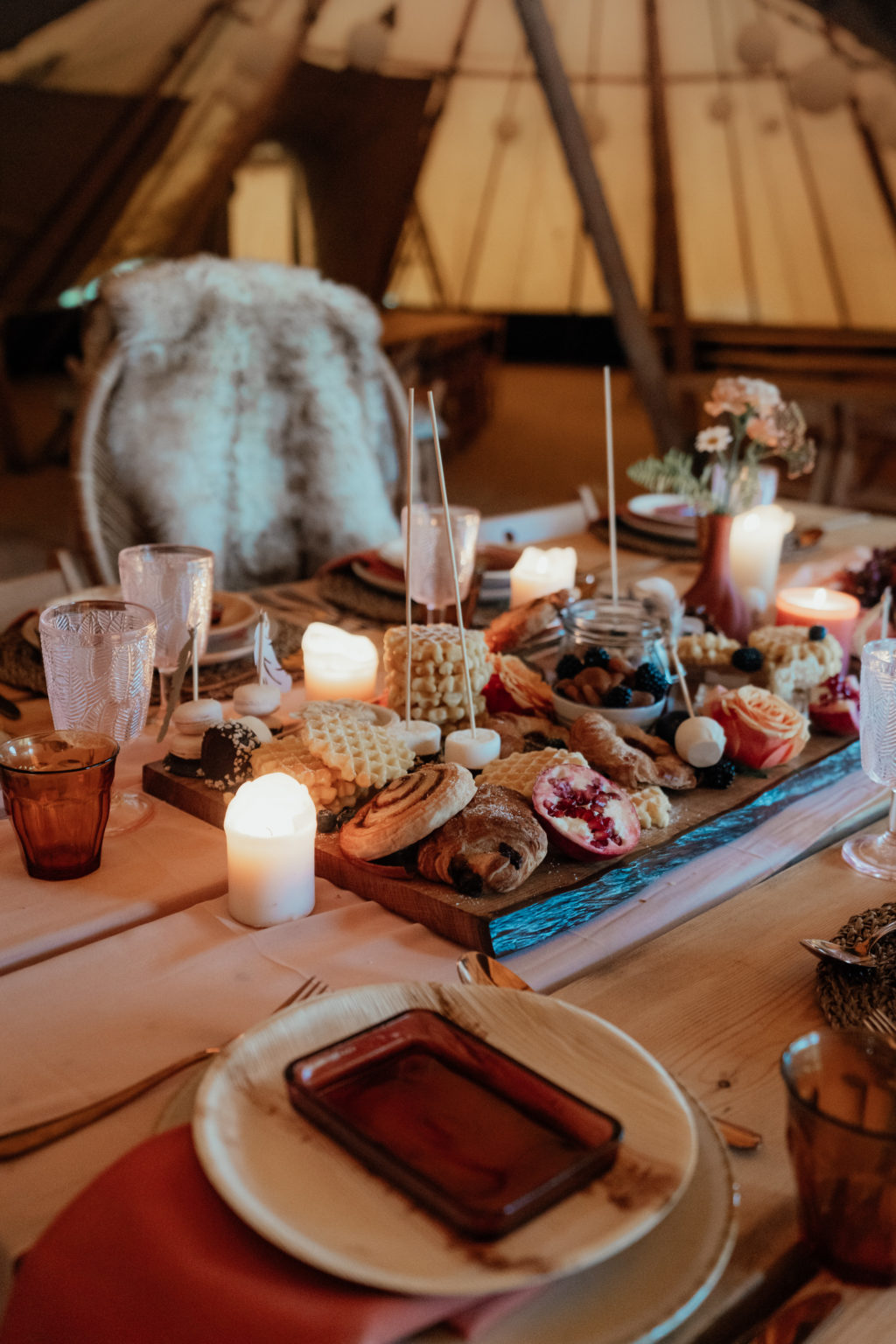 Venue: Oaklands, Yorkshire Wedding Venue
"We had been looking for a local venue with an enchanting setting in the heart of nature which had the romantic feel of a destination wedding. Oaklands, Yorkshire was a hidden gem in the heart of the countryside and ticked all the boxes with the remote location, ceremony area overlooking the lake, the wooden hunting lodge & a festoon lit forest – which is more than perfect for a first dance. To add to the intrigue, Sophie at Oaklands is currently building a treehouse to replace the tipis in summer 2020, for an even more magical one-of-a-kind location!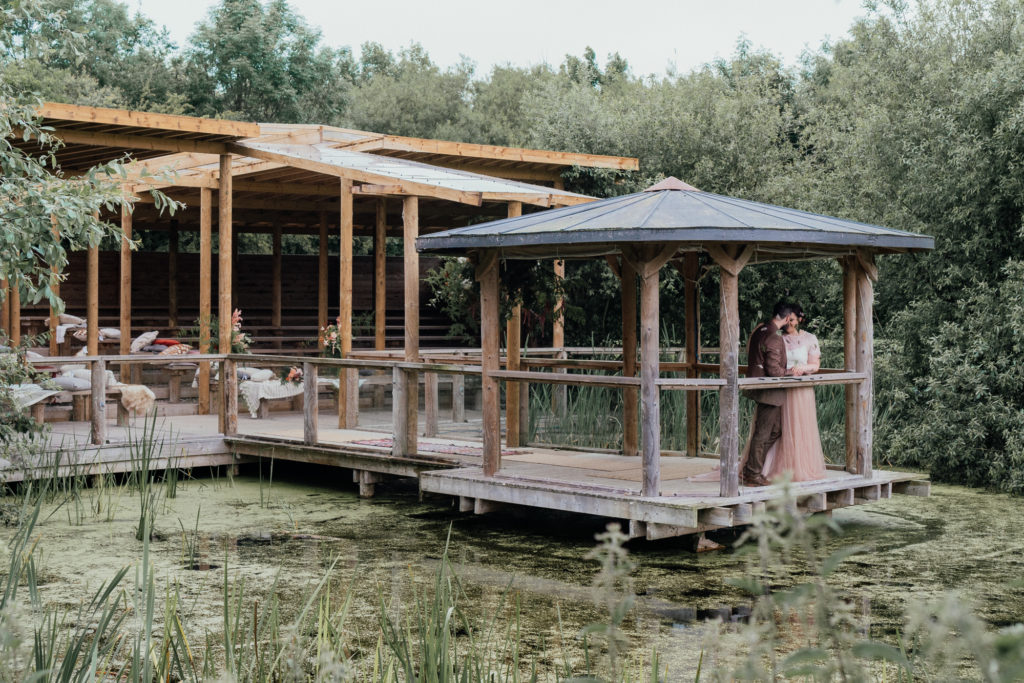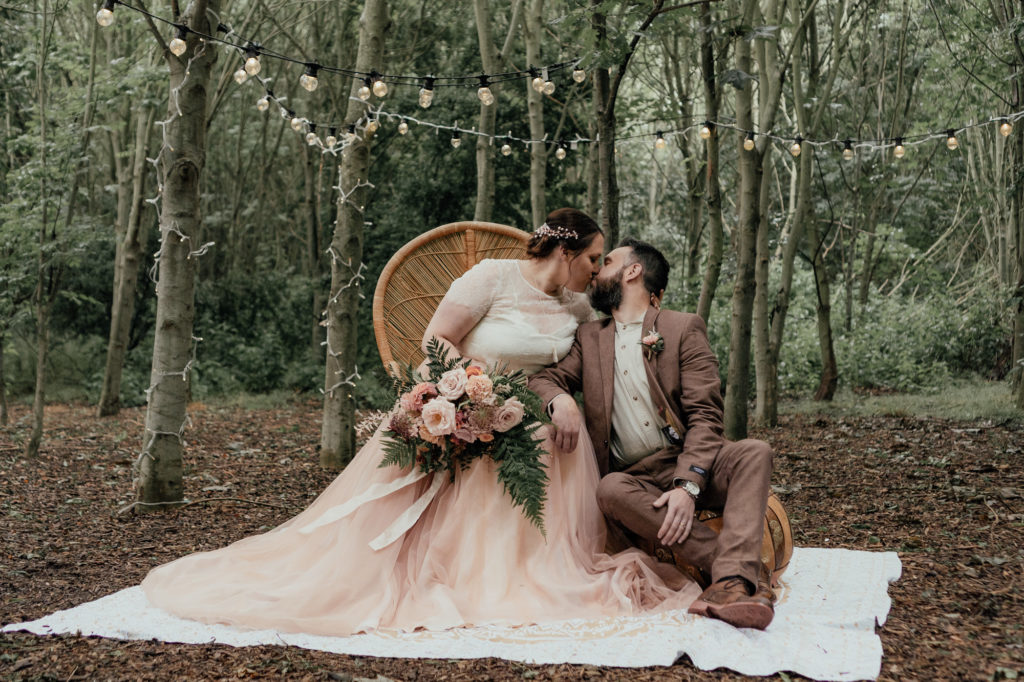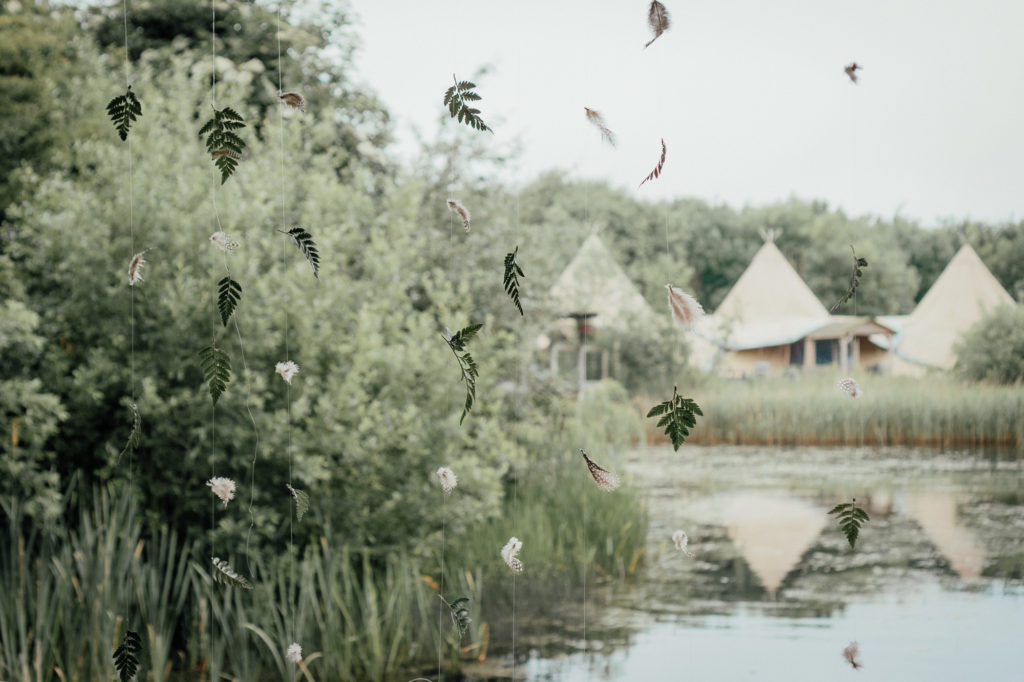 "As a destination planner, most of Kate's couples at The Destination Wedding Co. opt for a short break away with their guests, with weddings often spread across 2-3 days & Oaklands venue is an ideal location for couples looking for such an escape in the UK."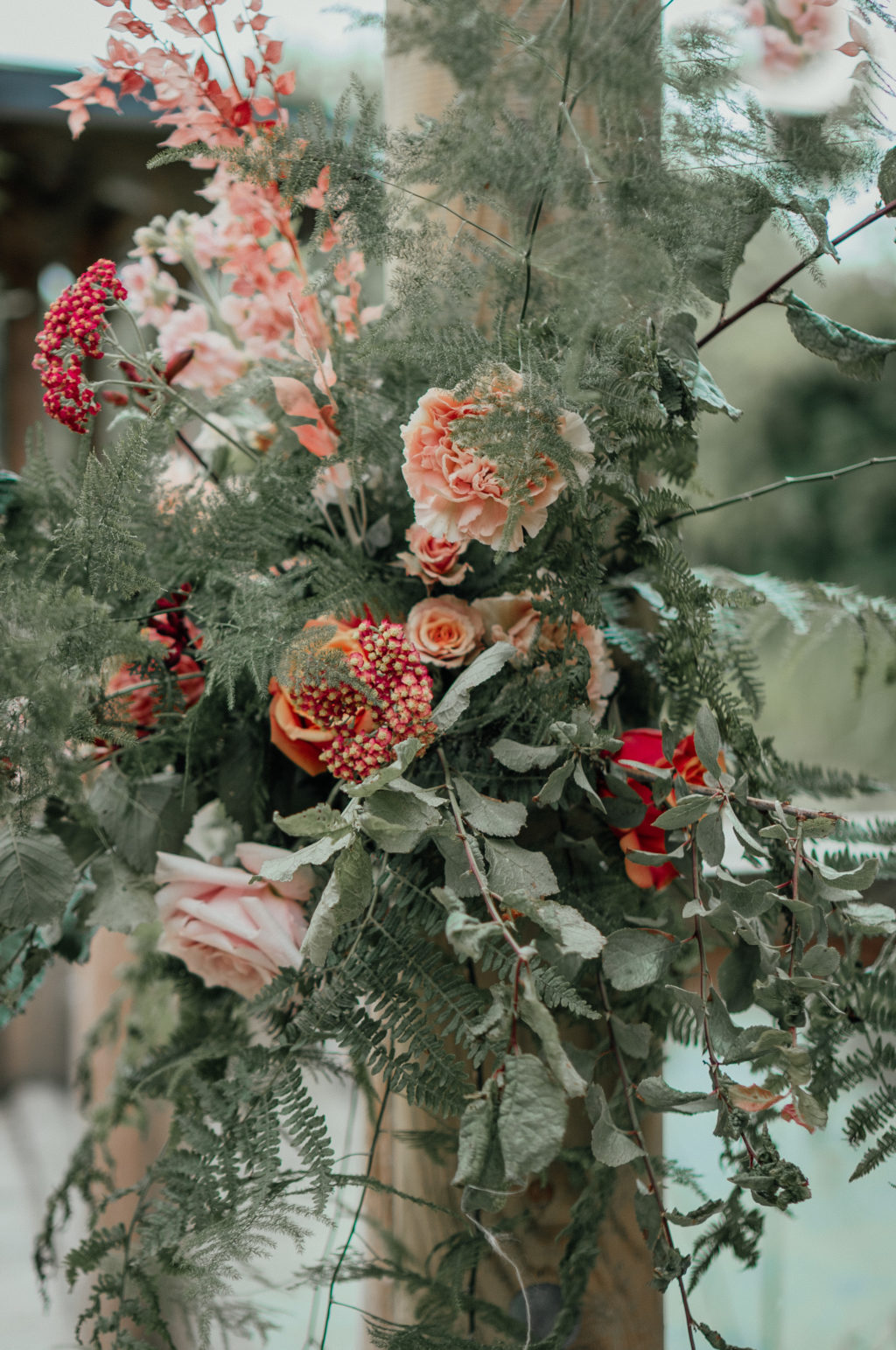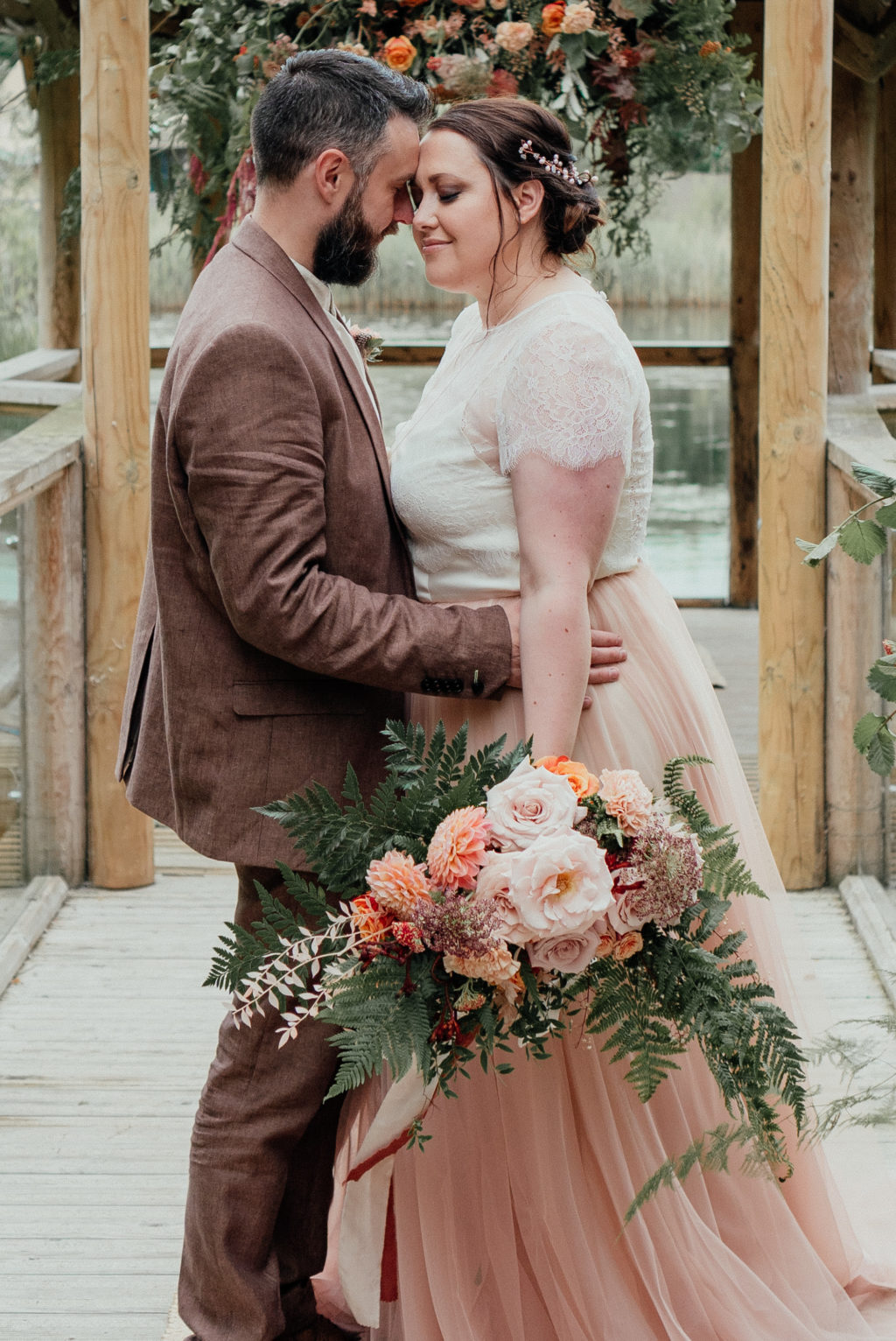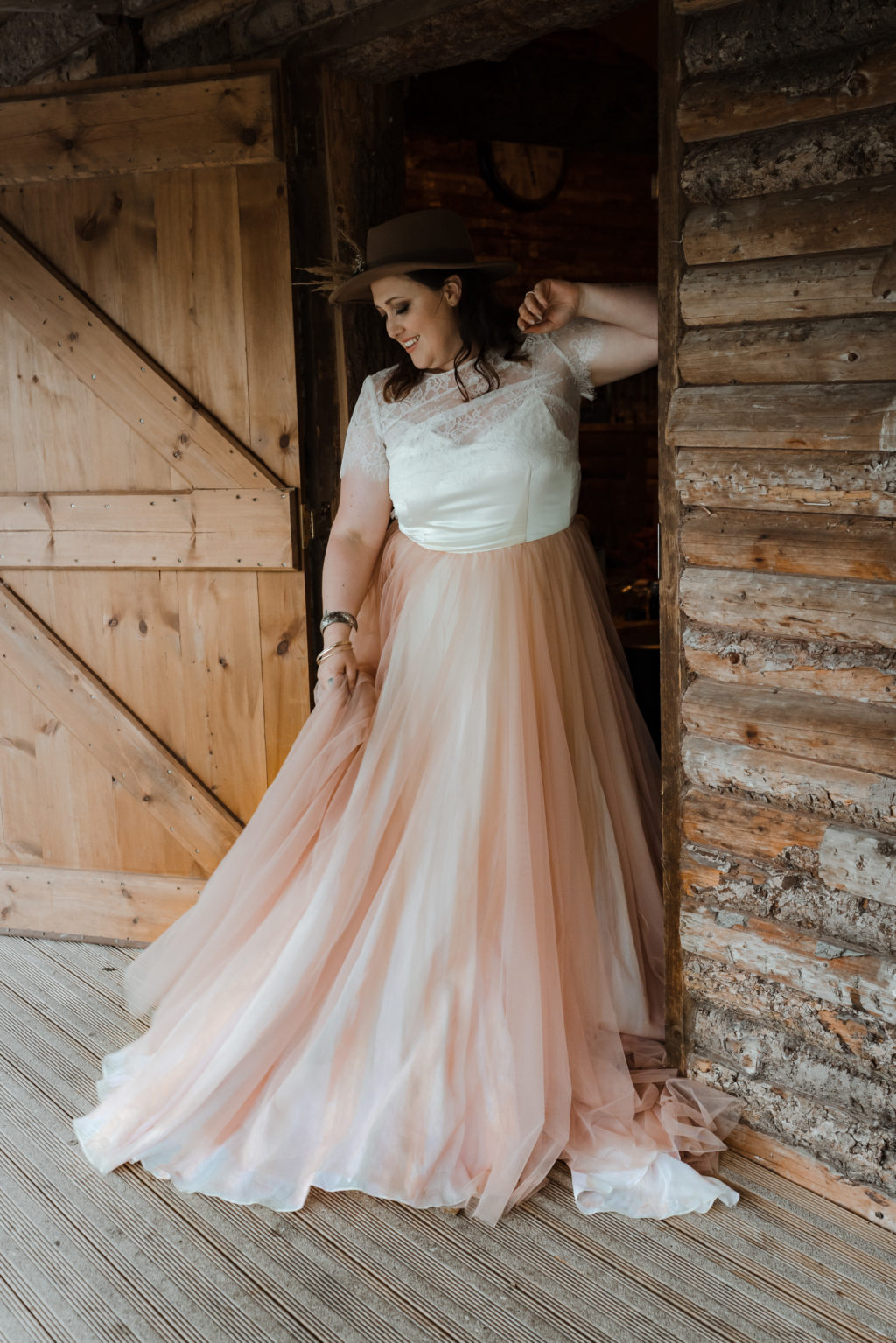 Florals: Bloom & Bridal
"To achieve the most beautiful blooms for your effortless, relaxed & nature filled wedding, work with a good tonal range to help soften the overall look. Make sure you don't get too hung up on one colour. Just because your bridesmaids dresses are a particular shade it doesn't mean that you have to match completely. We used blush, rusts, oranges ,and burgundy to create a soft & warm palette with plenty of depth and interest. This colour scheme leads the way from the summer into autumn, and into 2020 perfectly. Our approach was to create a natural looking design that wasn't too contrived."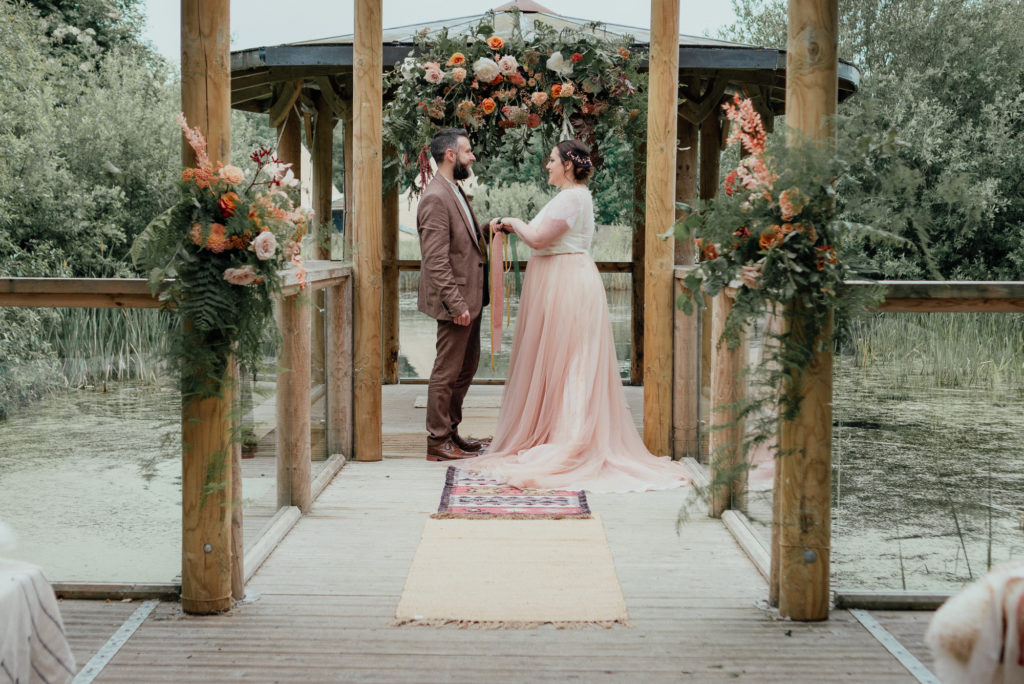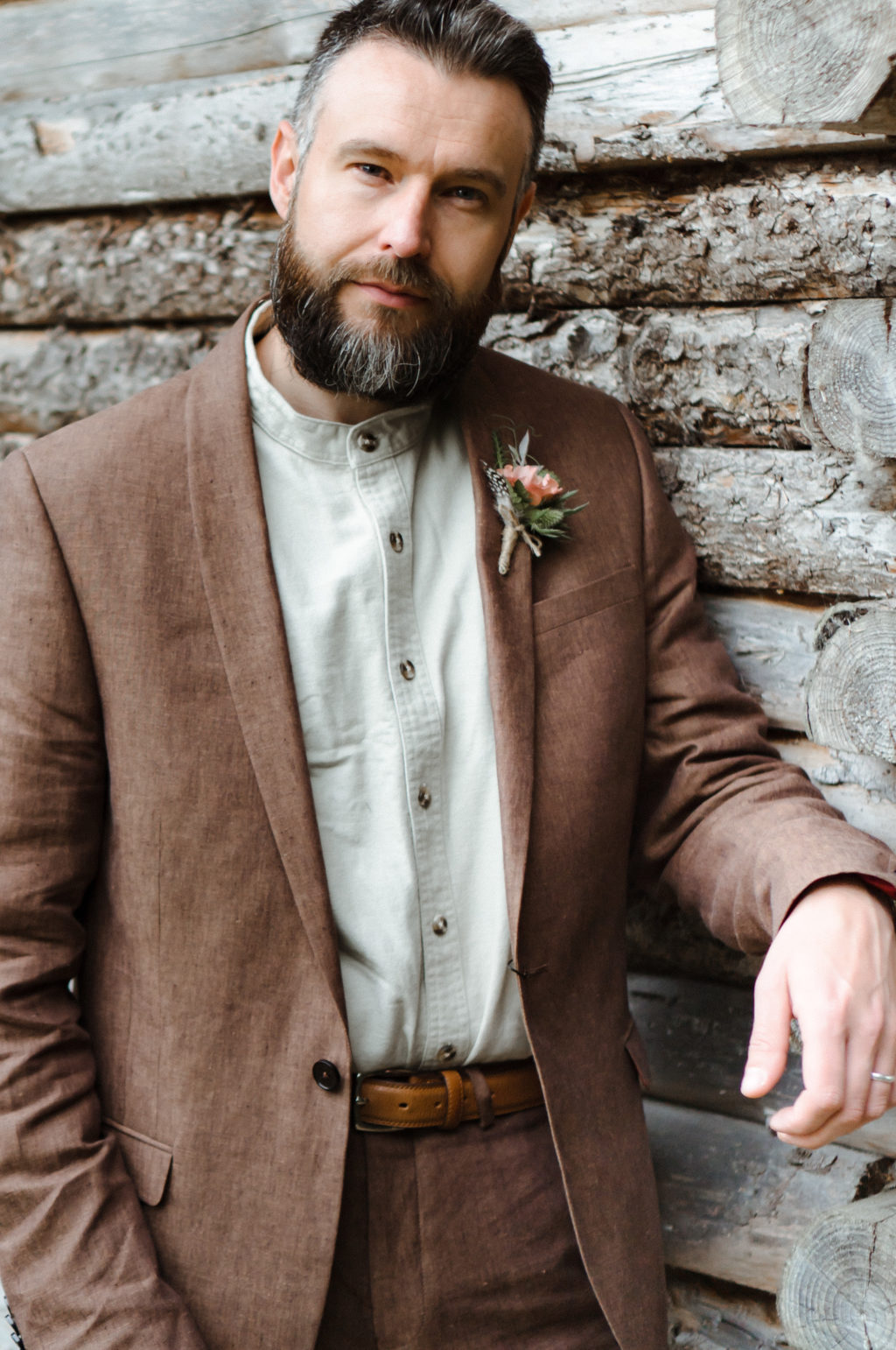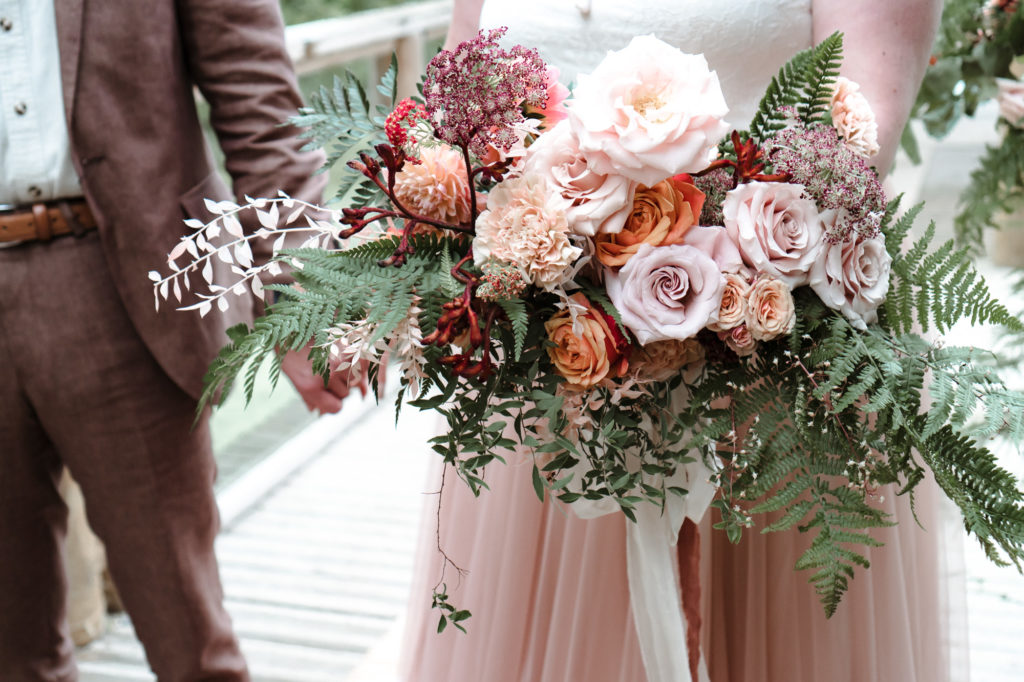 Table Styling & Modelling: Jen at My Pretties
"Jen's ethos is all about the details; soft fabrics, the most elegant candles and earthenware vases make for a great blend of textures. The mix of colours Jen used to style the tablescape & venue, brought the brief to life with warm ambers, rusts & pink hues matched with rattan, natural textures & patterns, & wooden highlights."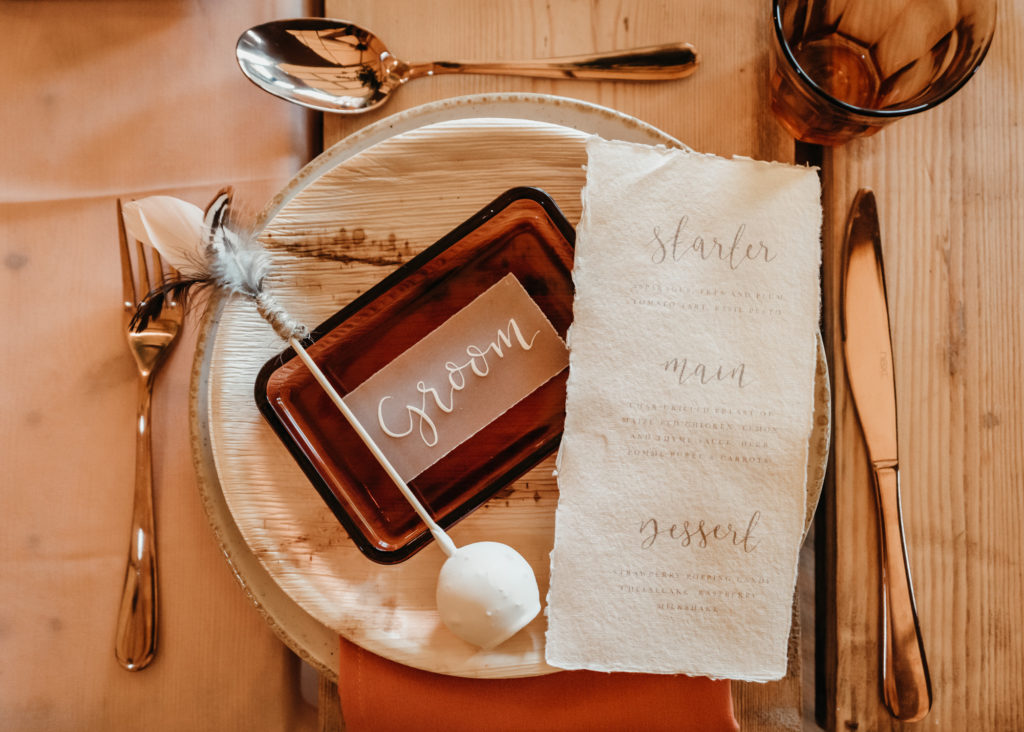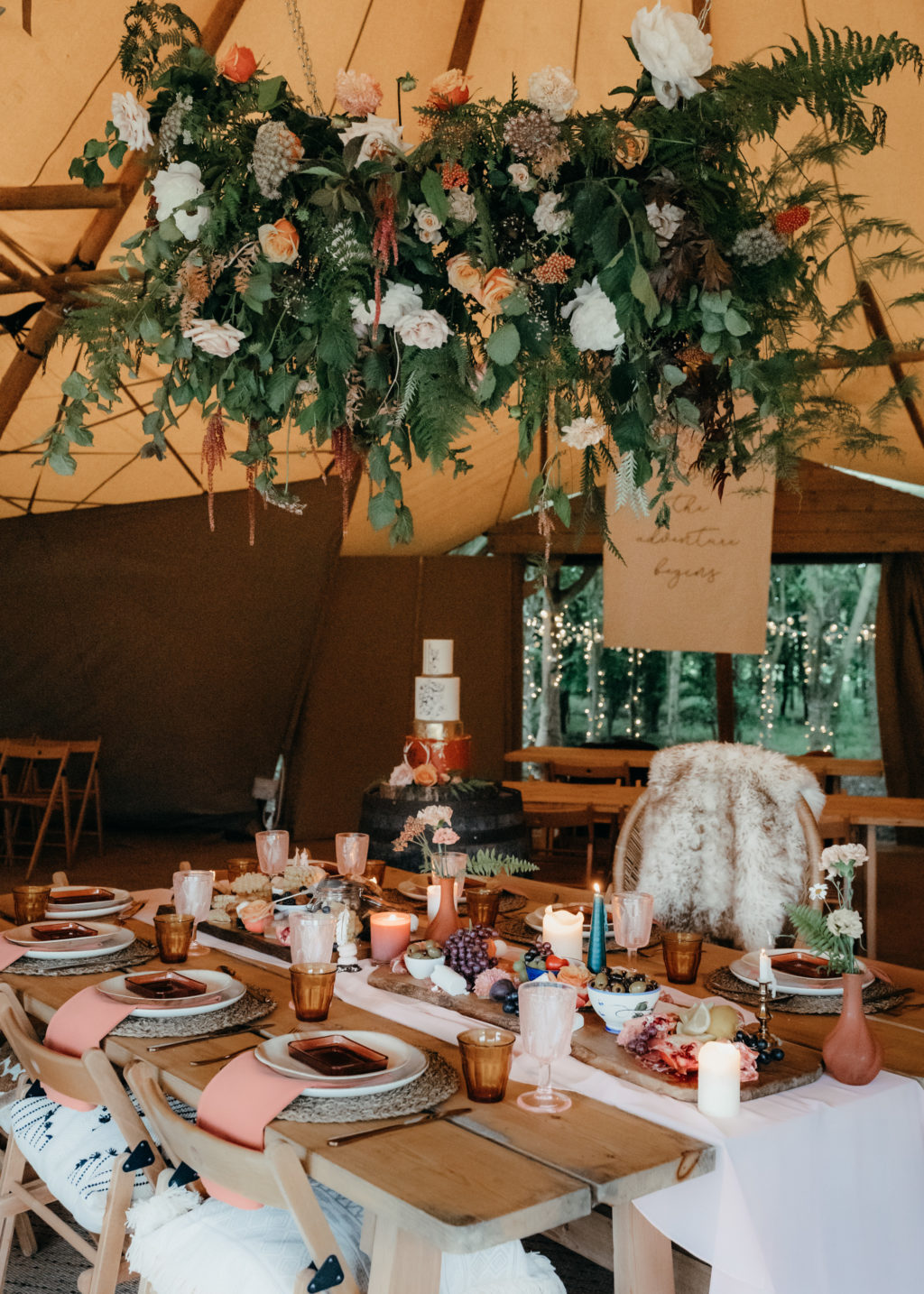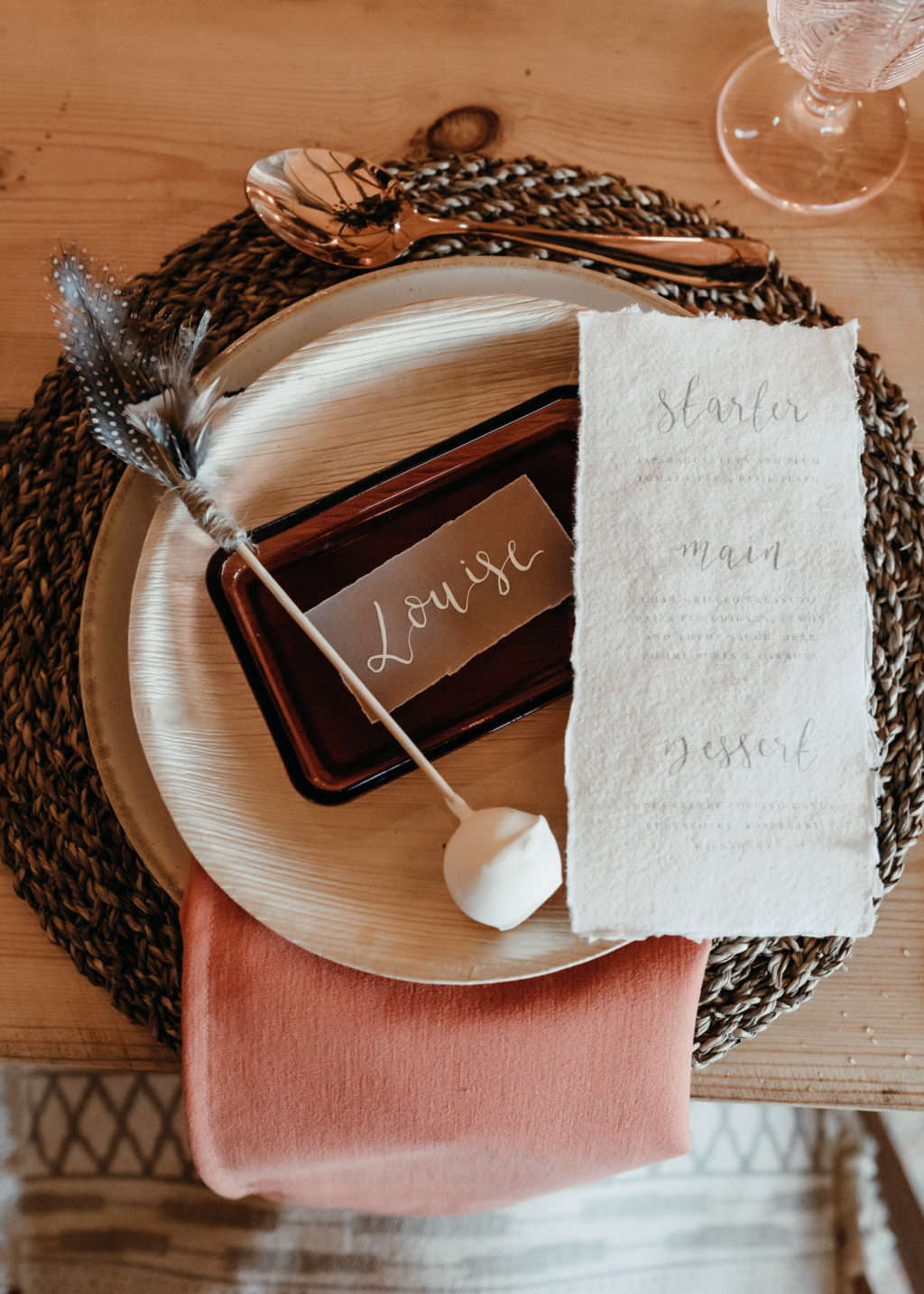 "As strong advocate of all shapes & sizes with real, relatable people being featured in the wedding arena, Jen Sawdon-McKay, along wit her husband Craig – took to the other side of the camera & were the perfect pair to transcend the industries unrealistic expectations. The rural hand-fasting ceremony was the ideal custom for this couple who were legally married a few years ago to renew their commitment to one another."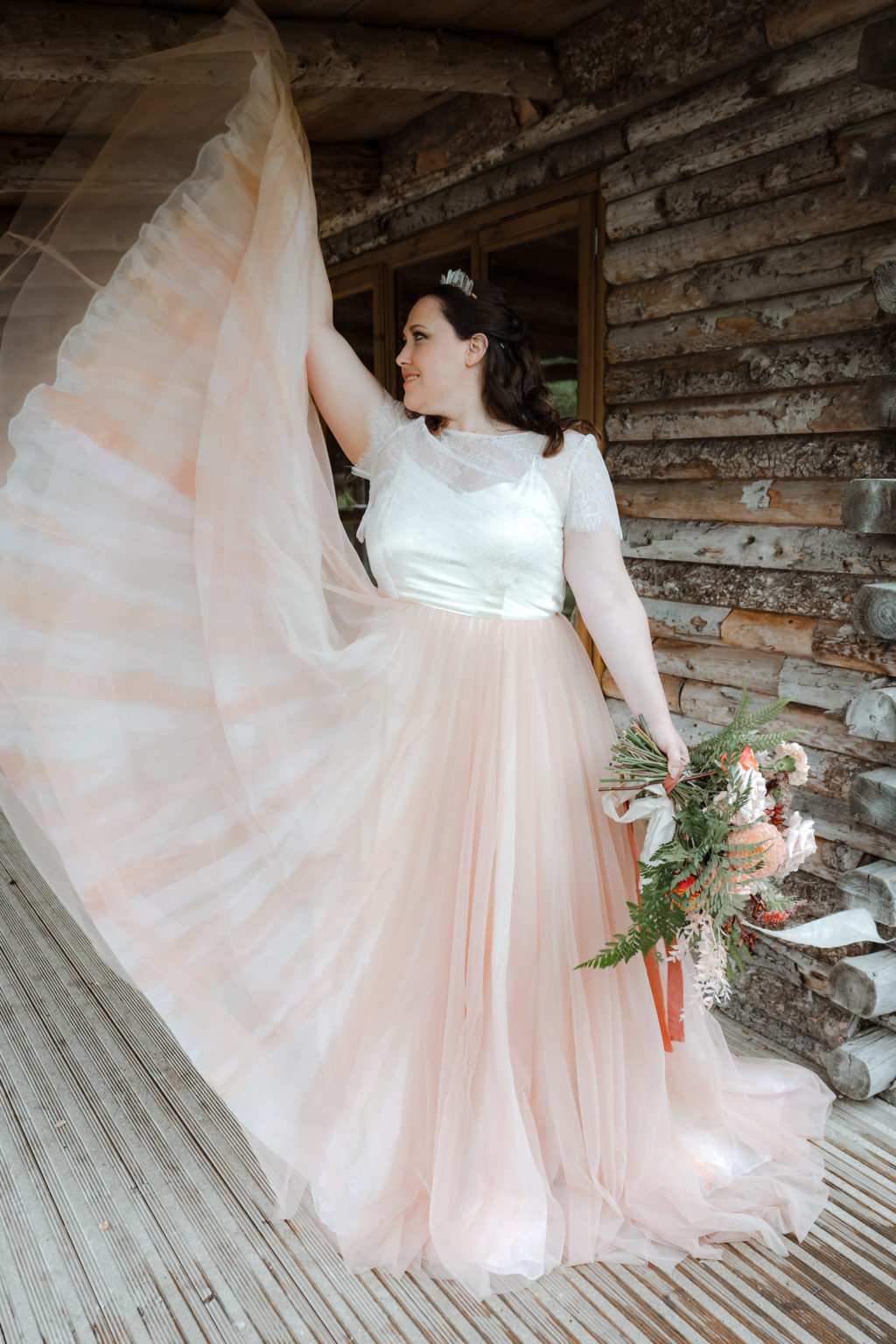 The Bridal Boutique: Ghost Orchid
"Katey at Ghost Orchid Bridal Boutique in Hull curates a collection of truly iconic gowns for spirited wild brides in an abundance of textures featuring world-renowned designers. All lovingly homemade from their Utah base, the Chantel Lauren's Mae dress has a hand-painted, dusky pink Italian tulle skirt for a romantic aesthetic with an alternative edge. The exquisite fabric had a beautiful sweeping and fluid silhouette perfect for whimsical swishing! Paired with a delicate white lace bodice, we accessorised with a cowboy hat, & aged silver bangles to give a wilderness edge for our bride Jen. Our groom Craig wore Twisted Tailor's coarse linen suit for a complementary natural aesthetic, accompanied by a brushed cotton shirt."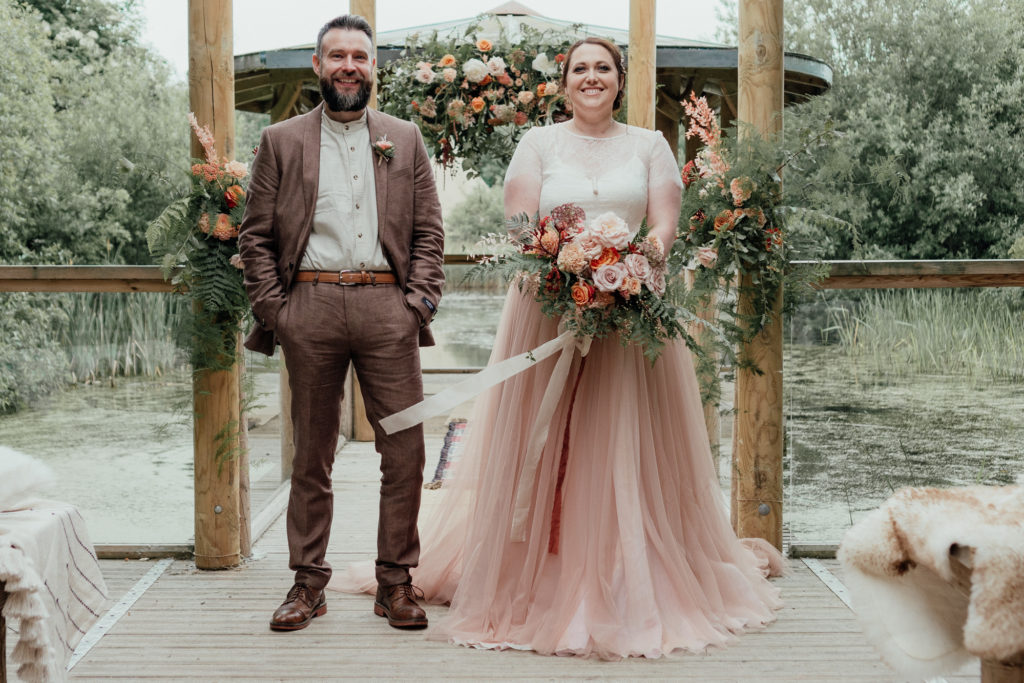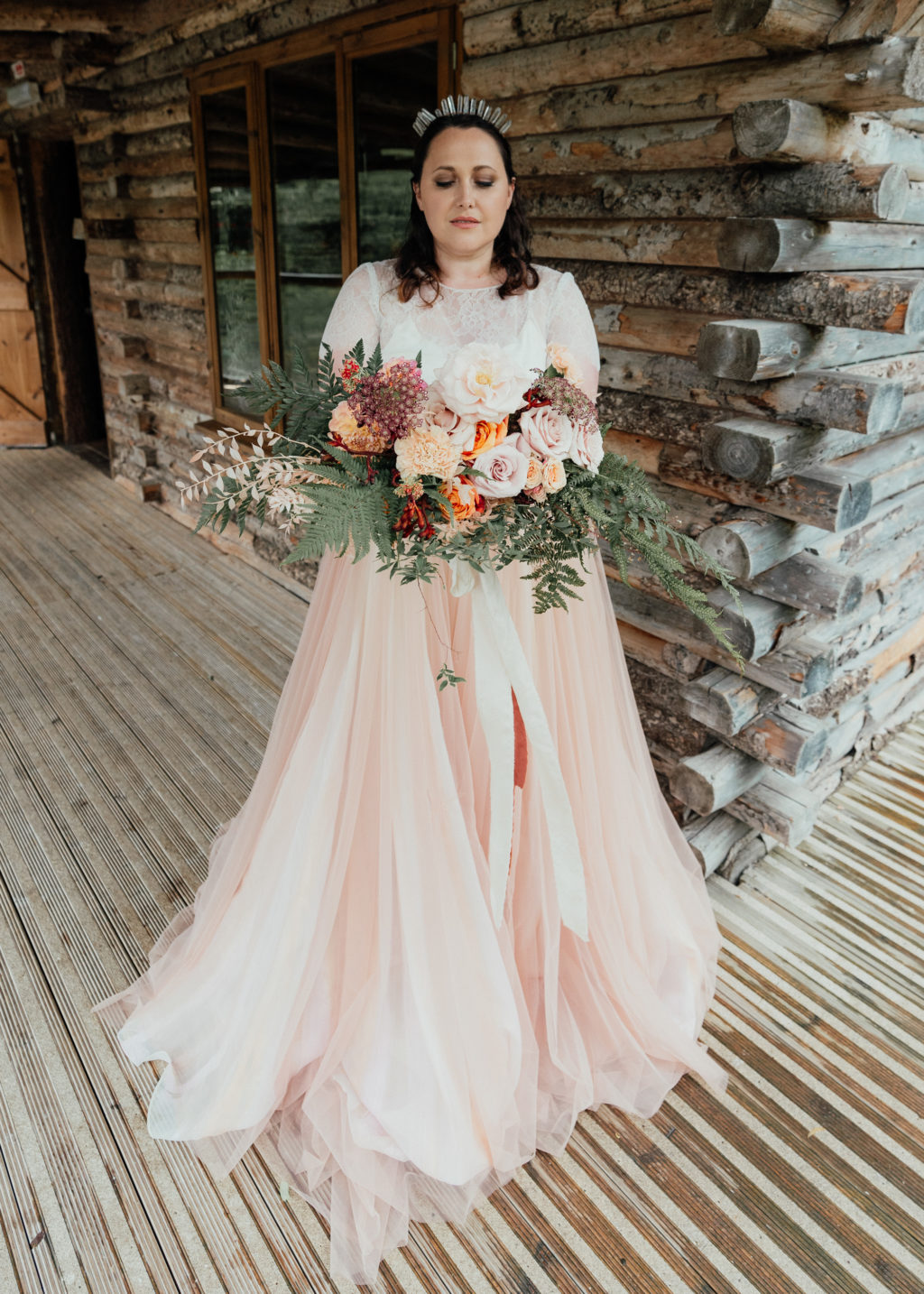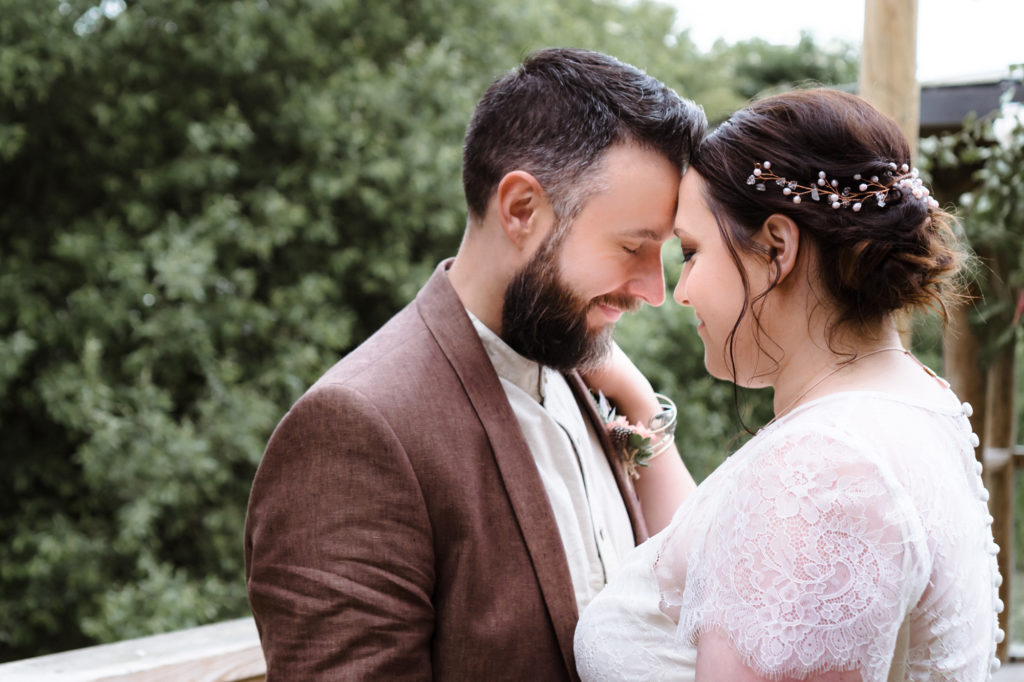 Hair and Make Up: Kate Howard Make Up Artistry
"To get the Call of the Wild look everything wants to be soft and romantic. For hair, a low updo with plenty of softness around the face- adding in some braiding for extra subtle detail will enhance the look! I loved adding the pink & white coloured accessories from Alexandra Boutique to give a romantic feel against the brunette hair."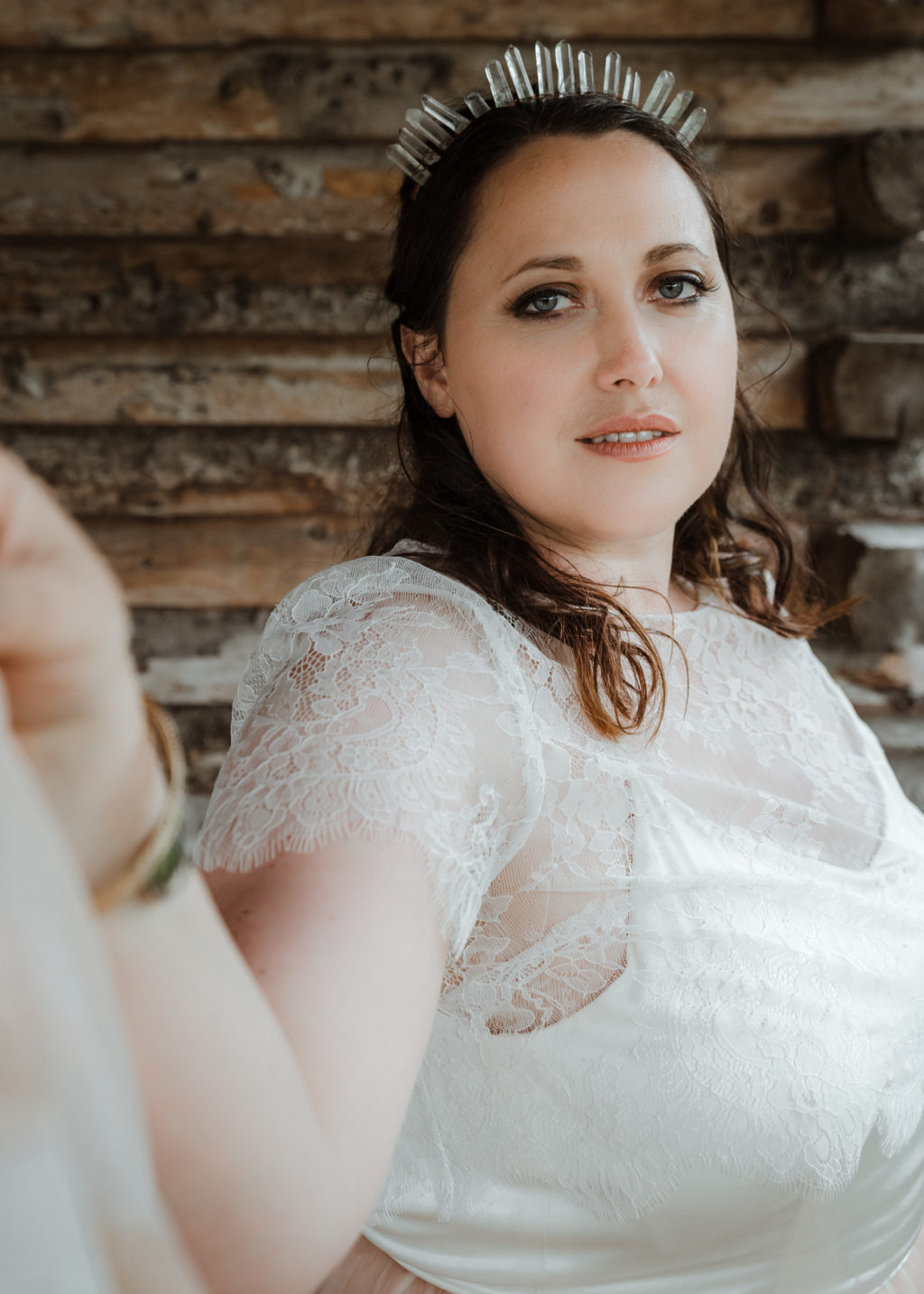 "As for make up, a glowy soft base is a great place to start- followed by a defined eye that is super blended and smoked out, this look has no harsh lines. Using darker colours with a hint of burgundy to define without a structured look. Plenty of colour through the cheeks with a soft glowing blush and finishing with a nude lip to keep the emphasis on Jens beautiful eyes and giving this soft and wild look."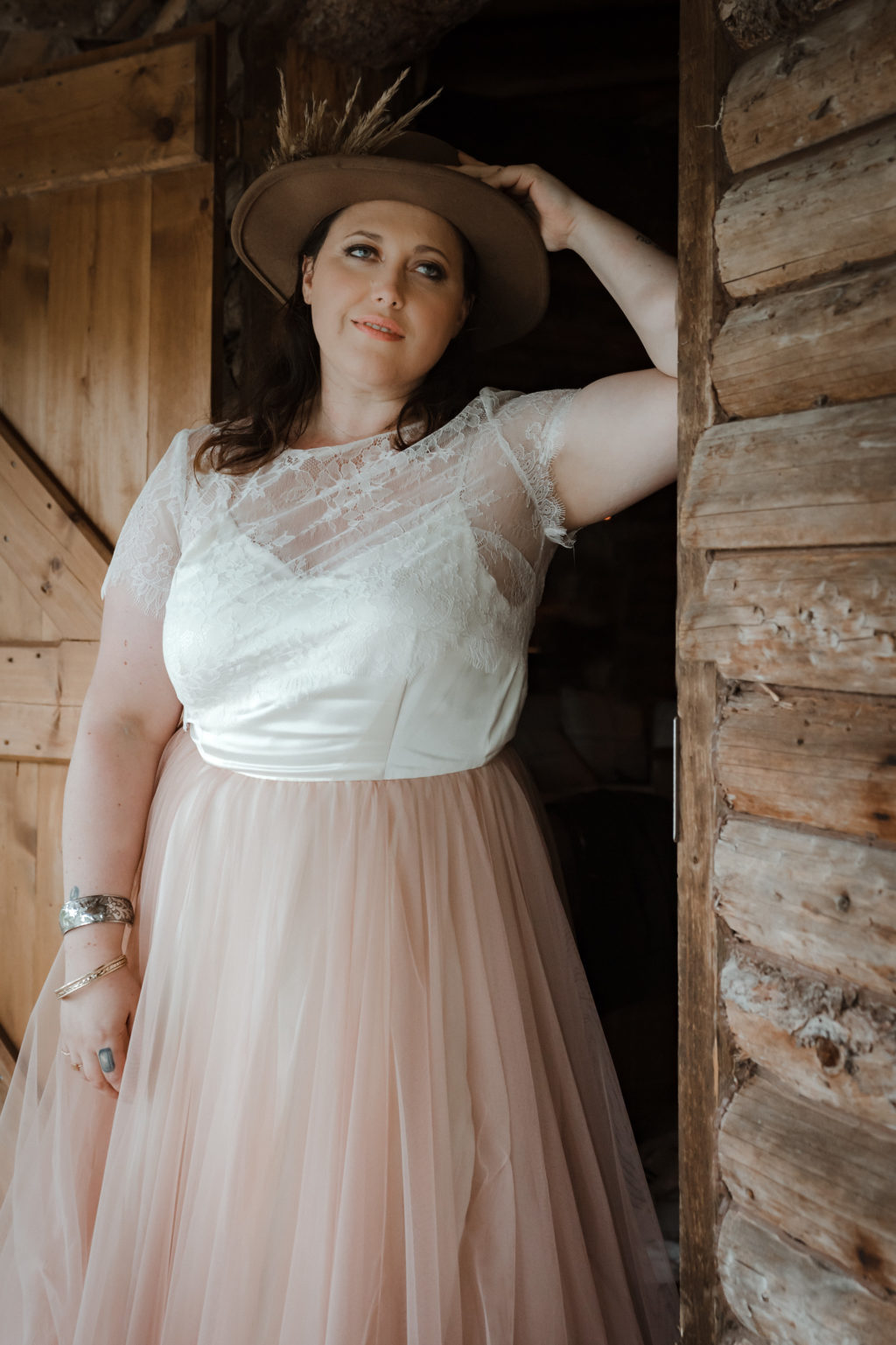 Cake & Confectionary: Where The Ribbon Ends
"Gayle from Where The Ribbon Ends absolutely nailed our brief of a warm hunting lodge inspired wedding cake adding in rust colours & antler details. Adding a touch of elegance with gold leaf decoration & delicate hand painted illustrations really elevated the aesthetic of the cake. Gayle showed that sweet treats can also be that little bit different for your guests by adding a campfire chocolate-dipped marshmallow tipi as centre piece of our grazing table & feather details on the macaron petit fours – really special!"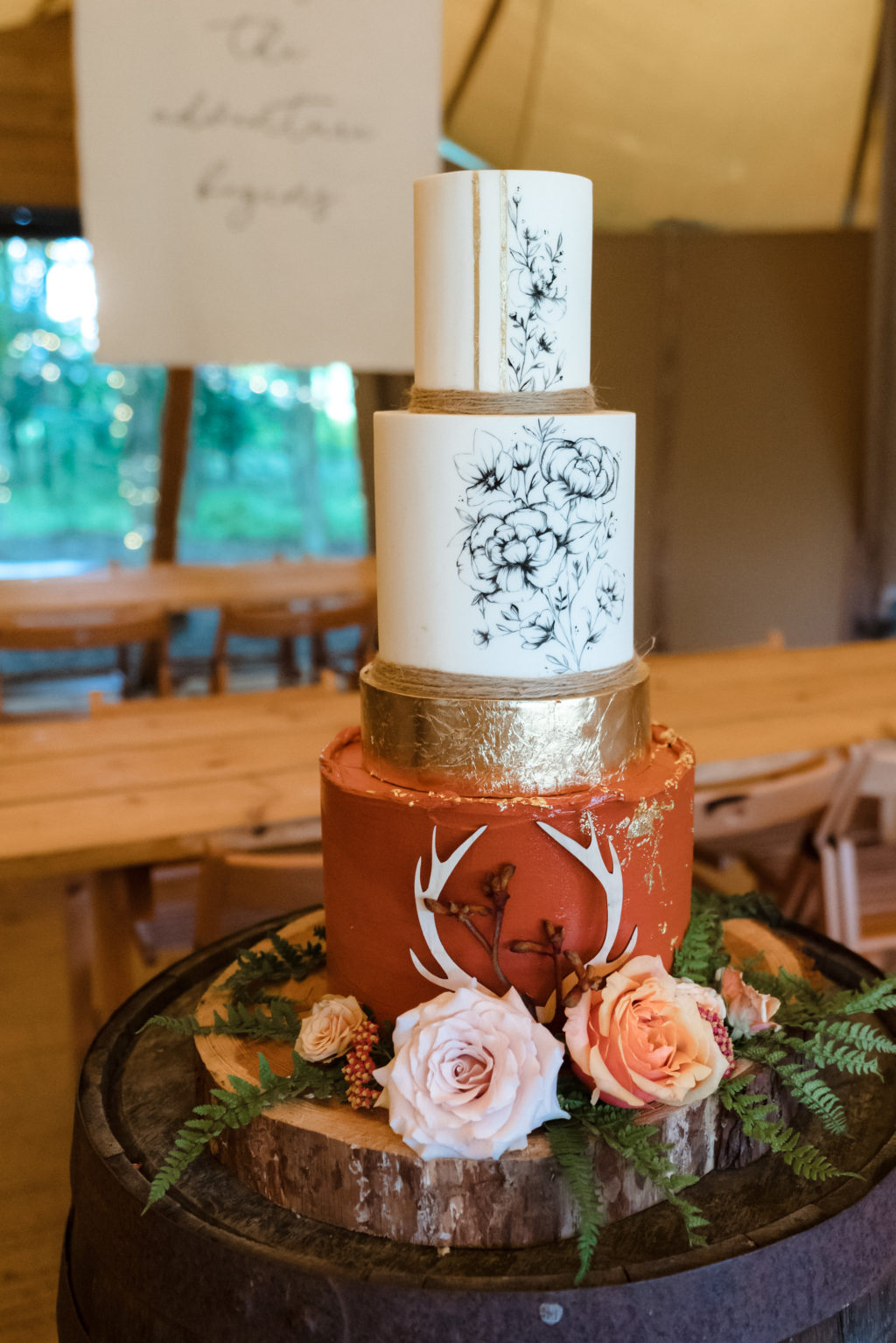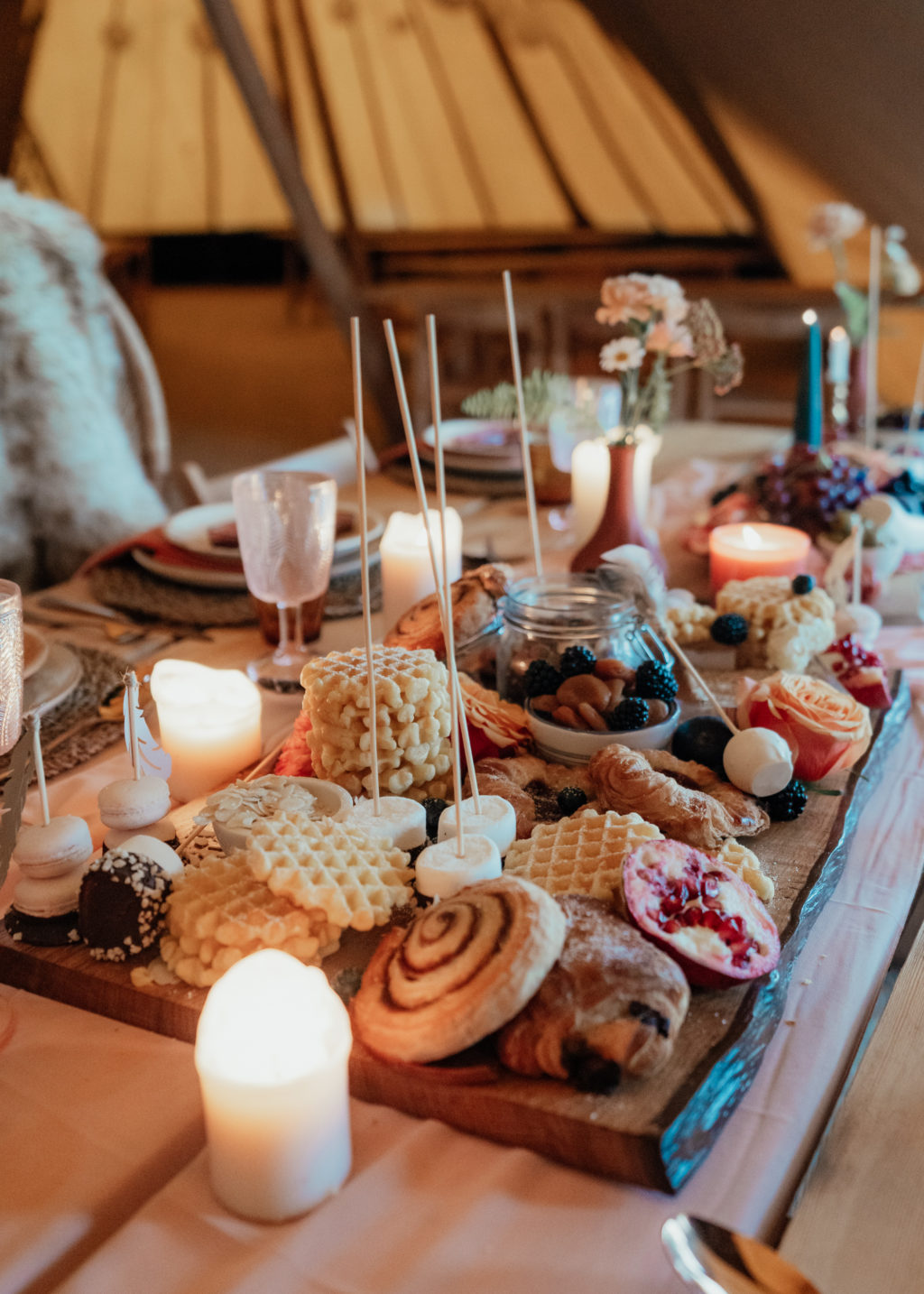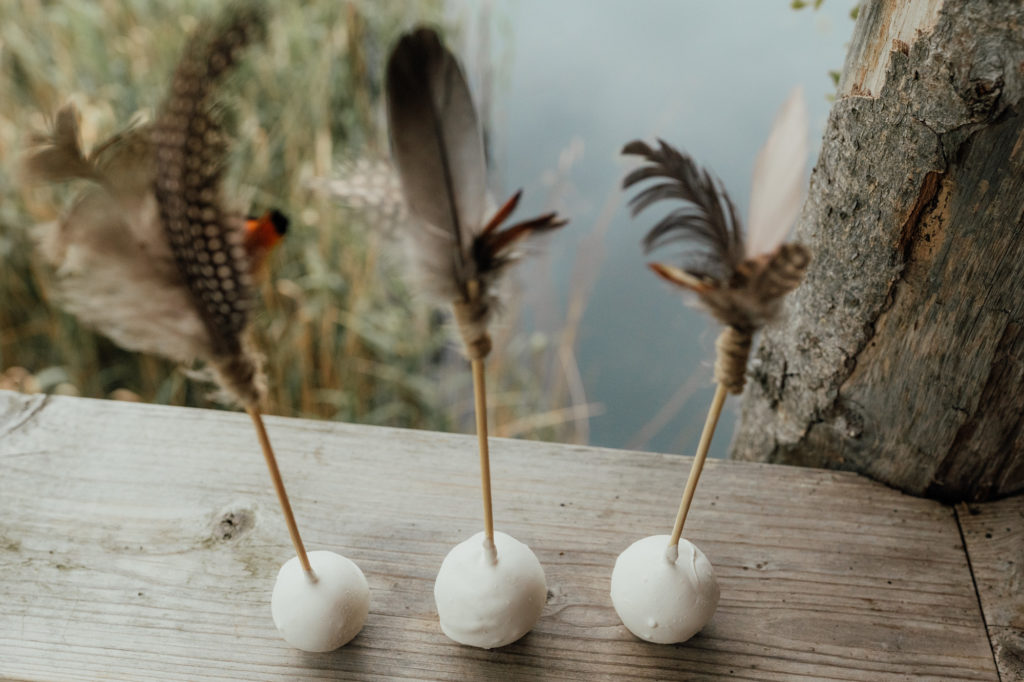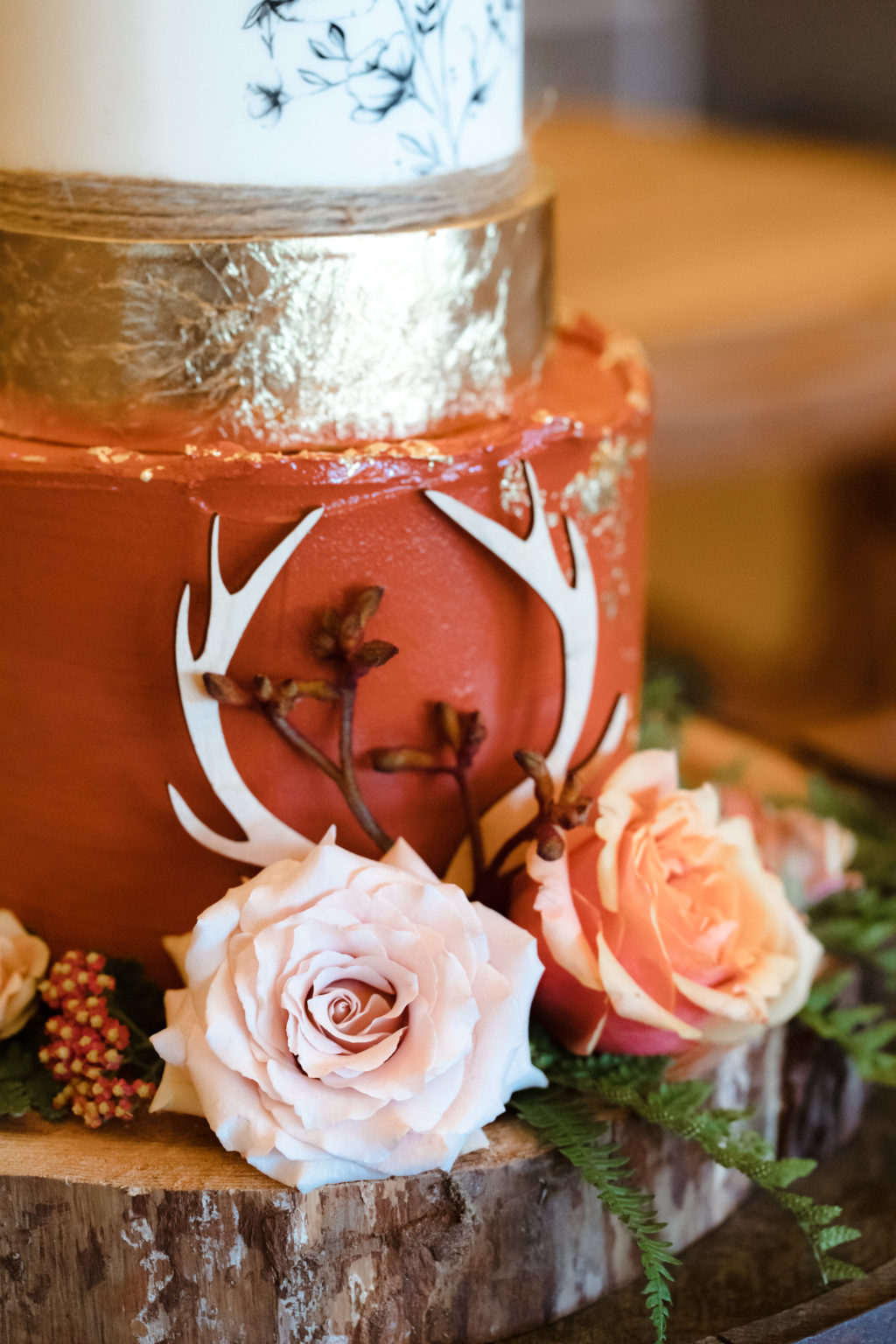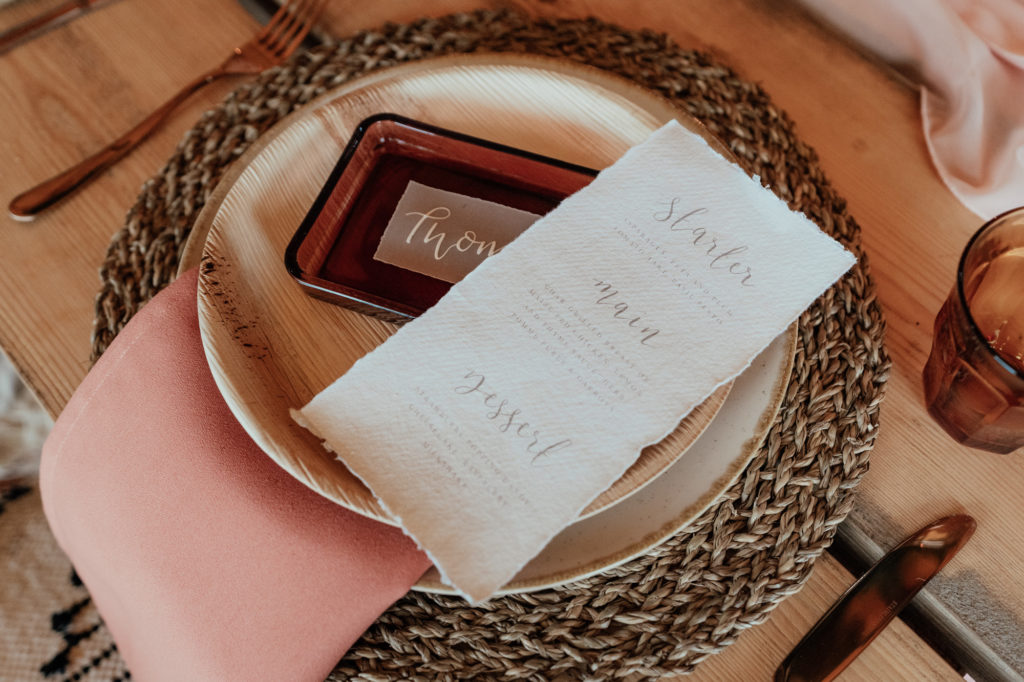 Stationery: Lou Paper
"There's no better first impression of your wedding than ensuring you have the most beautiful in keeping stationery suite with whatever style you plan for. We couldn't have asked for more from Louise at Lou Paper who created a bespoke set of paper goodies that perfectly encapsulated the feel & texture for the day. Louise's handwritten modern calligraphy kept a contemporary style to the overall look of the flat lays with a raw, natural vibe. The combination of the vellum paper styled with feathers & rust twirls of ribbon creates a delicate forefront to the earthy textured base"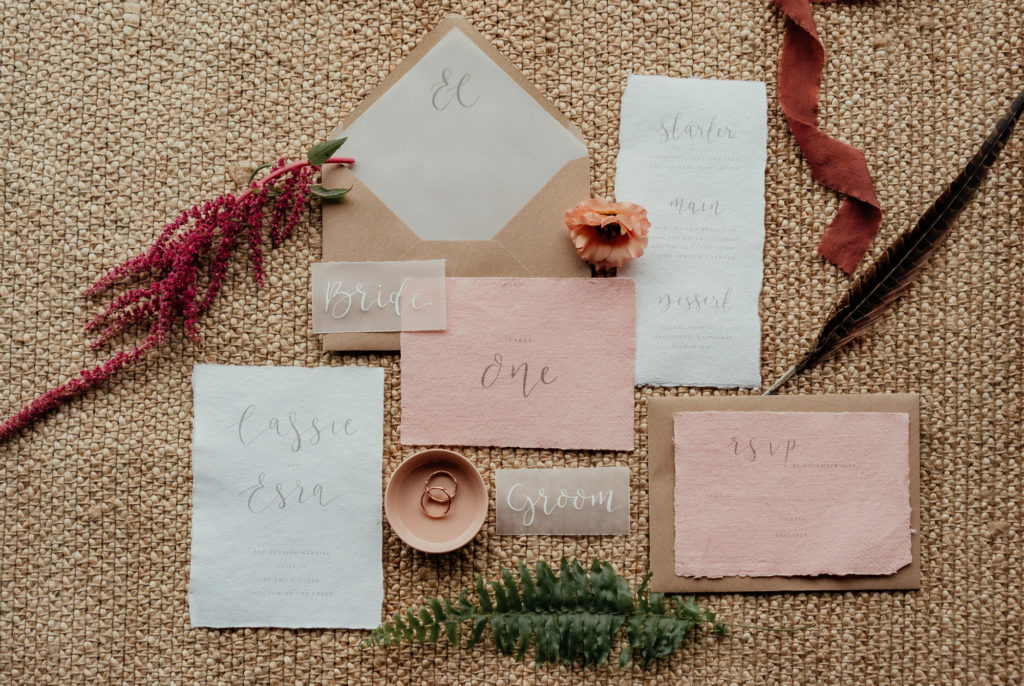 Accessories: Alexandra Bespoke
"All the way from the rural Scottish Highlands, Alexandra Bespoke provided our bride Jen with an exquisite addition to her tousled locks with a tumbled gemstone hair vine. Inspired by foliage, the mix of crystal & fresh water pearls was a stunning addition to the look."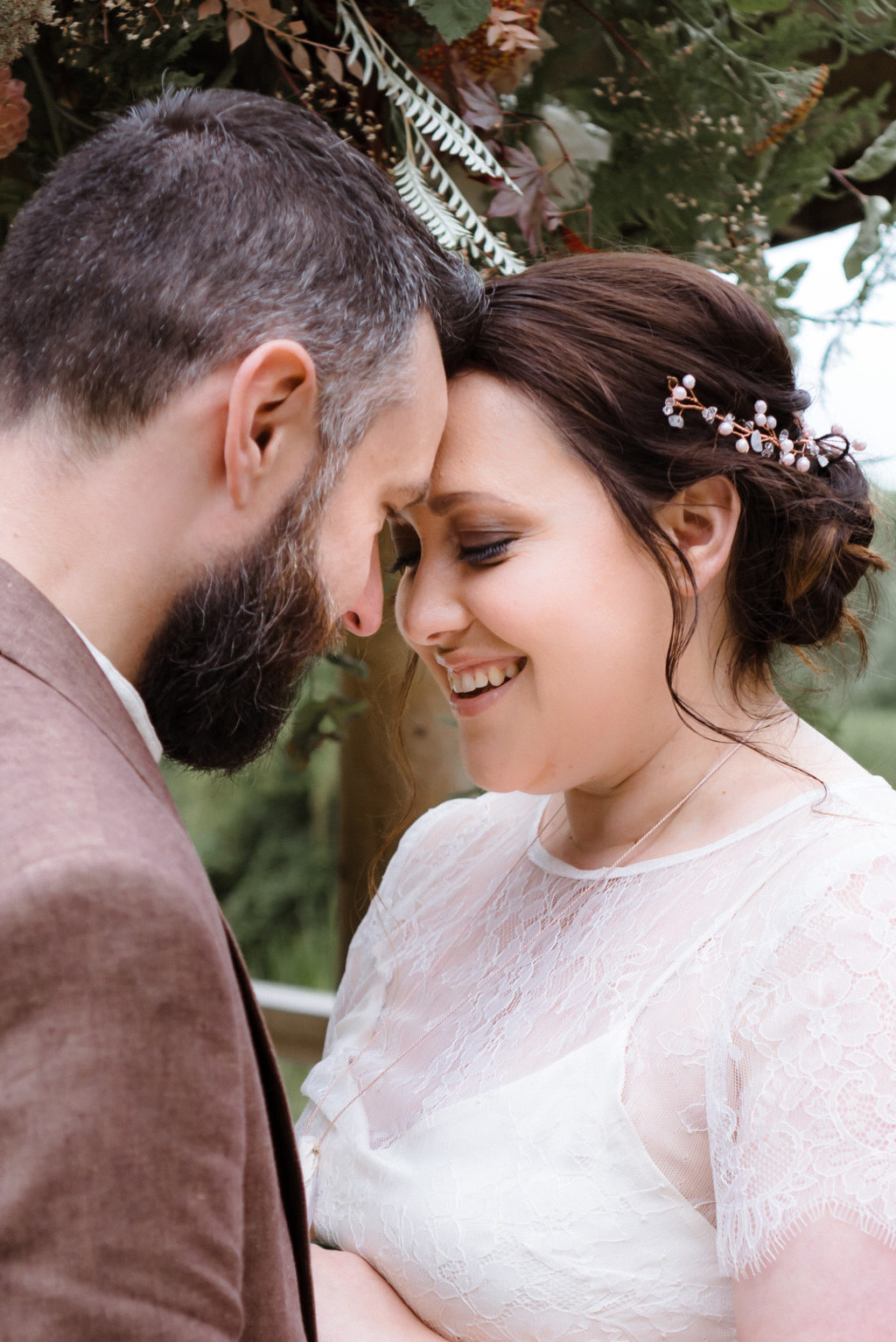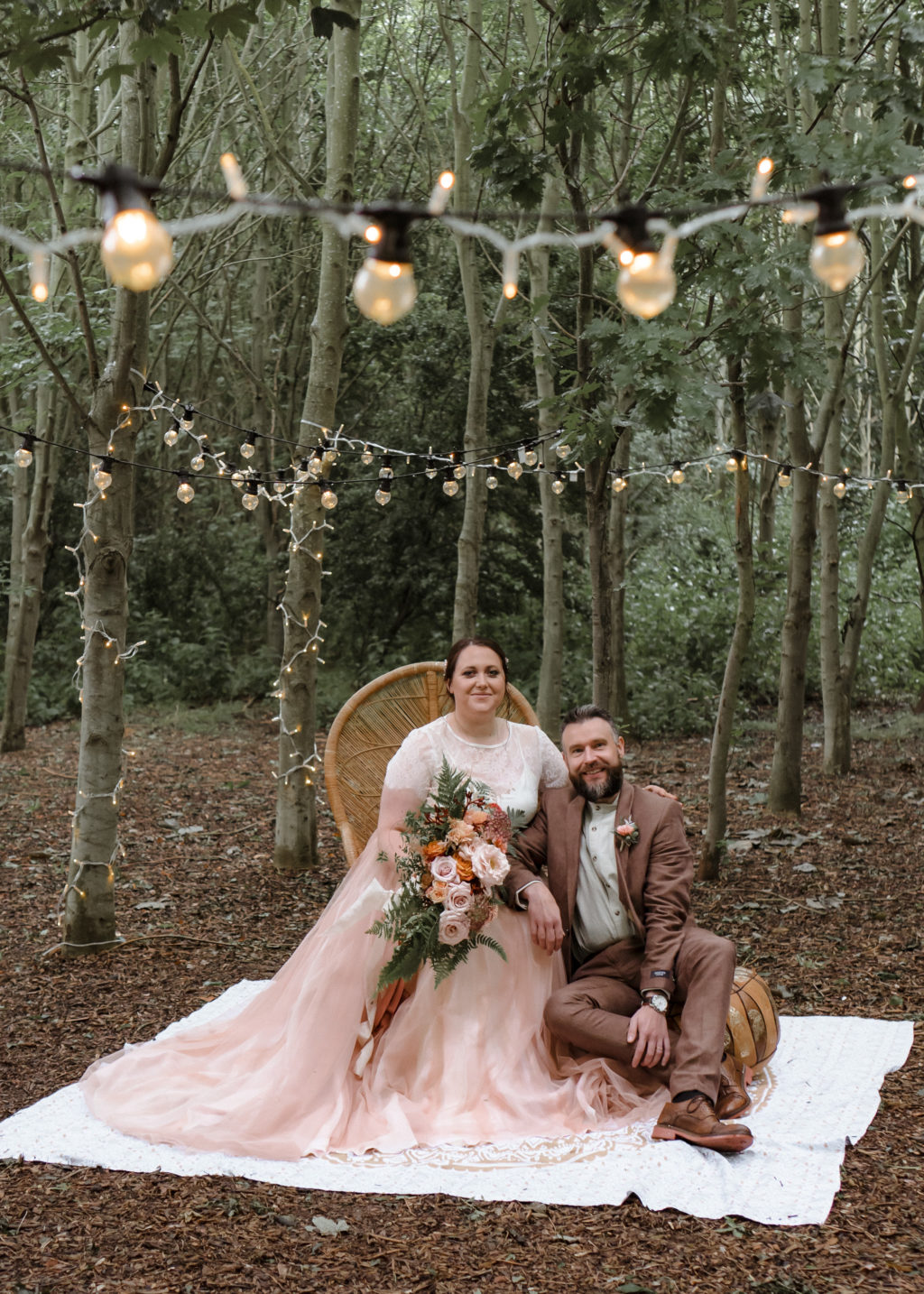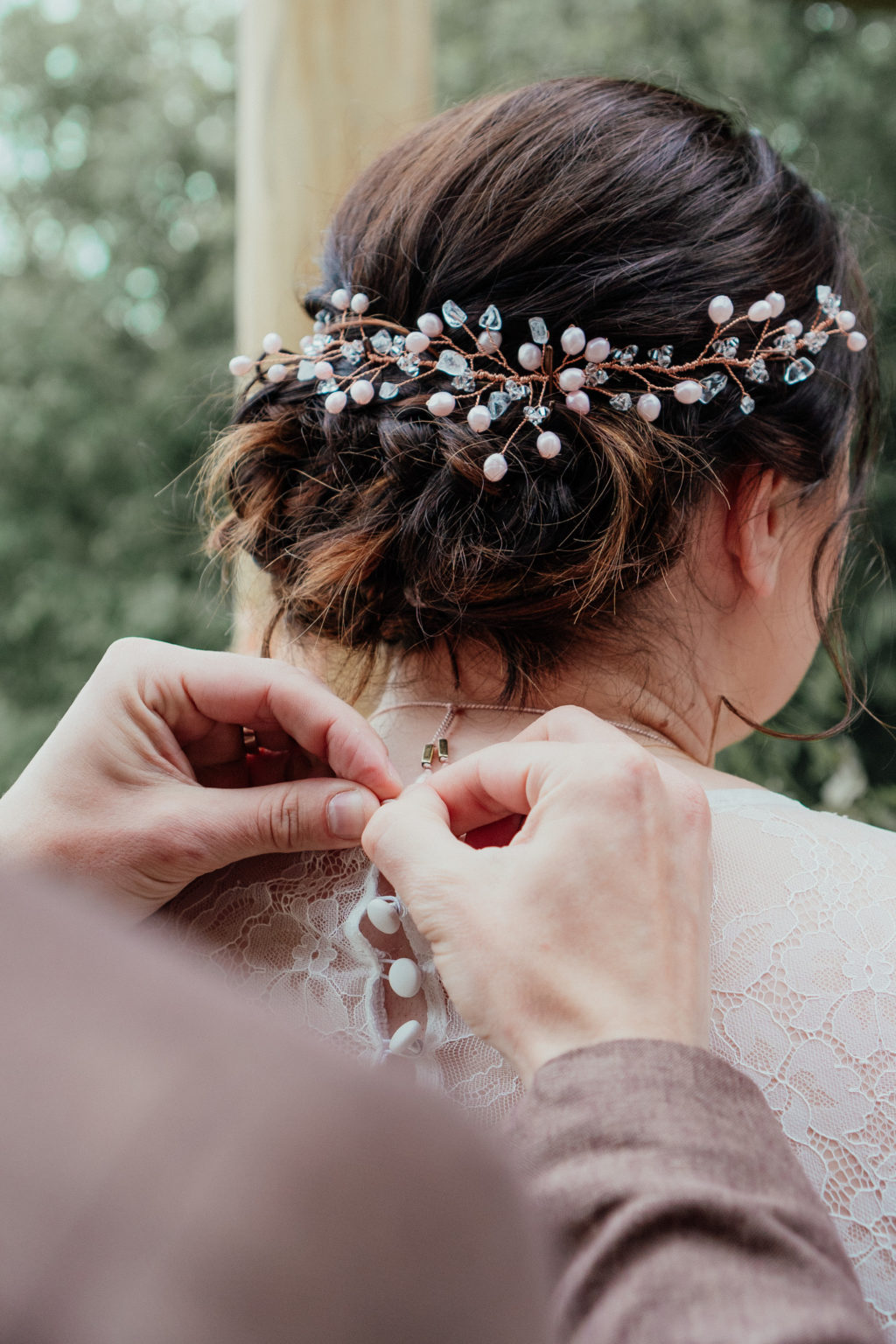 Wedding Rings by Molten Wedding Co.
"Erin Cox has been an absolute gem to work with & provided the most wonderfully raw, unusual wedding bands. Using ethical fair-trade gold, Jen & Craig opted for rose gold. Fully bespoke, the rings can also be engraved. The textured edges are inspired by Erin's wild landscape at her home in Devon."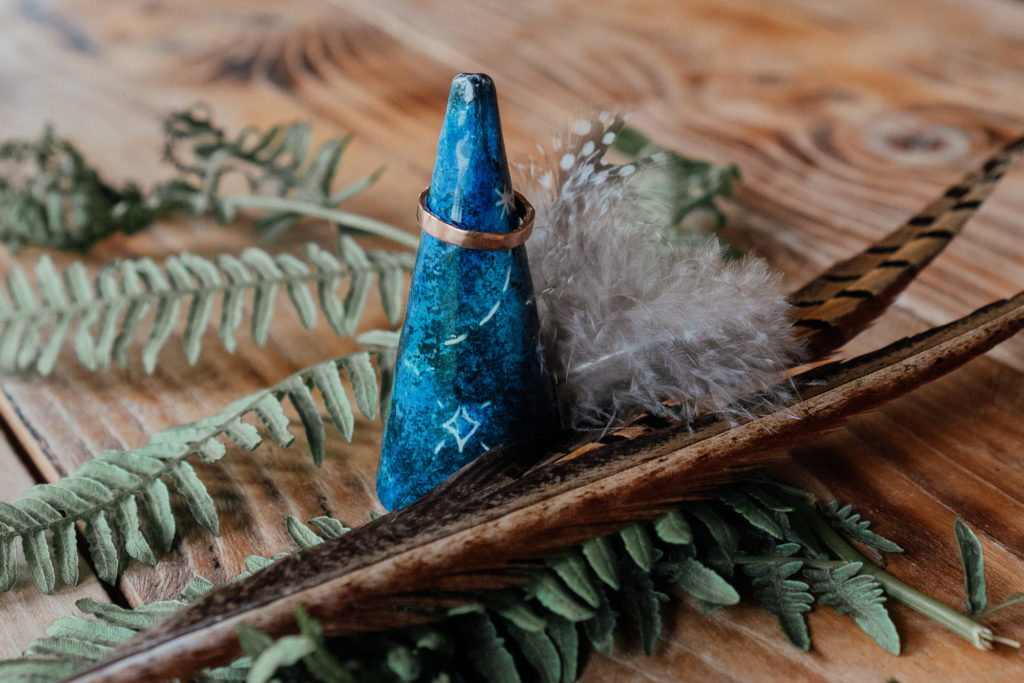 Signage: Head in't Clouds
"An important element if you have guests travelling to your wedding is to intersperse your day with details from your chosen destination & personalised detailing. Becky created stand out signage inviting the couple to start their adventure together – all handcrafted from her beautiful home studio in Harrogate."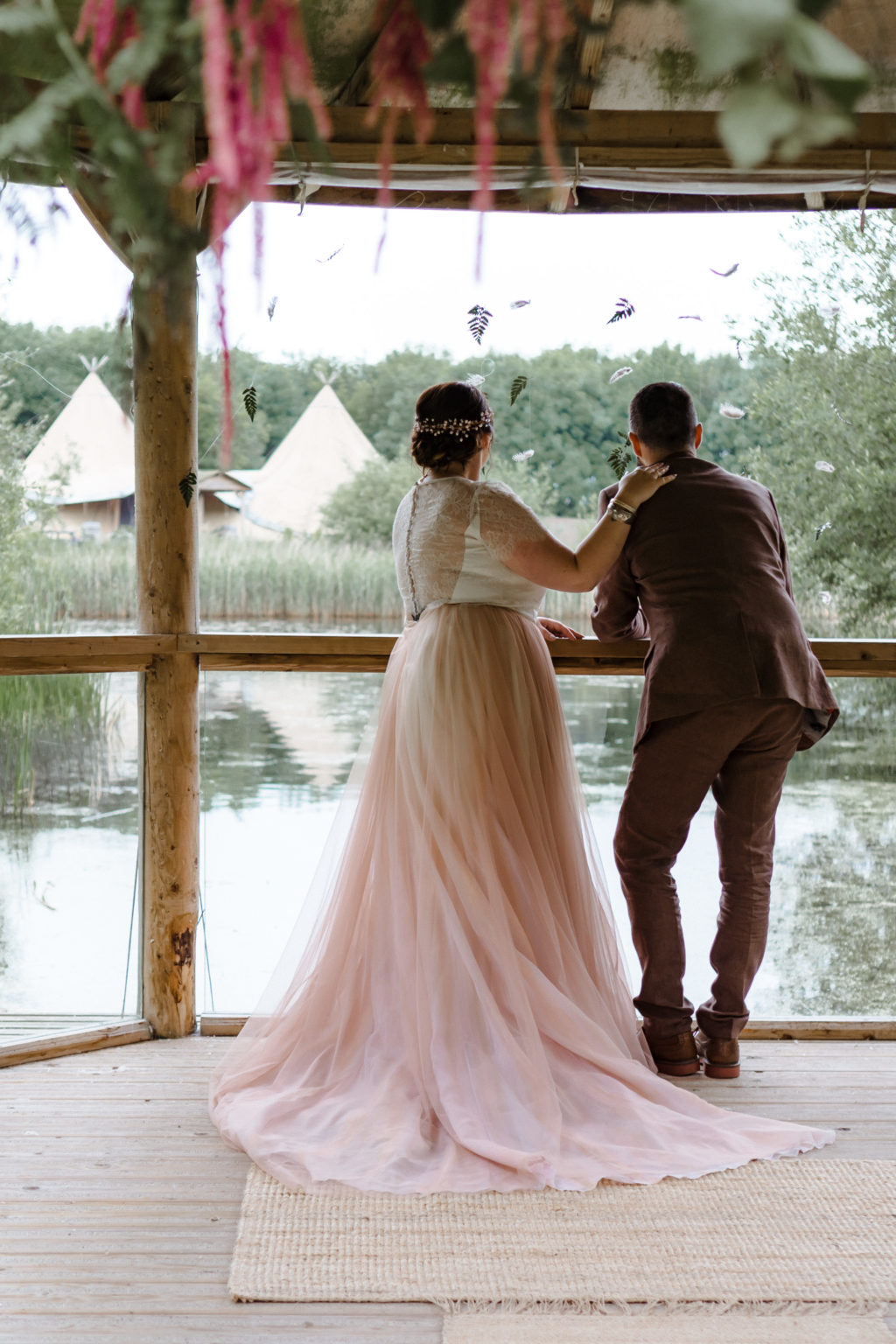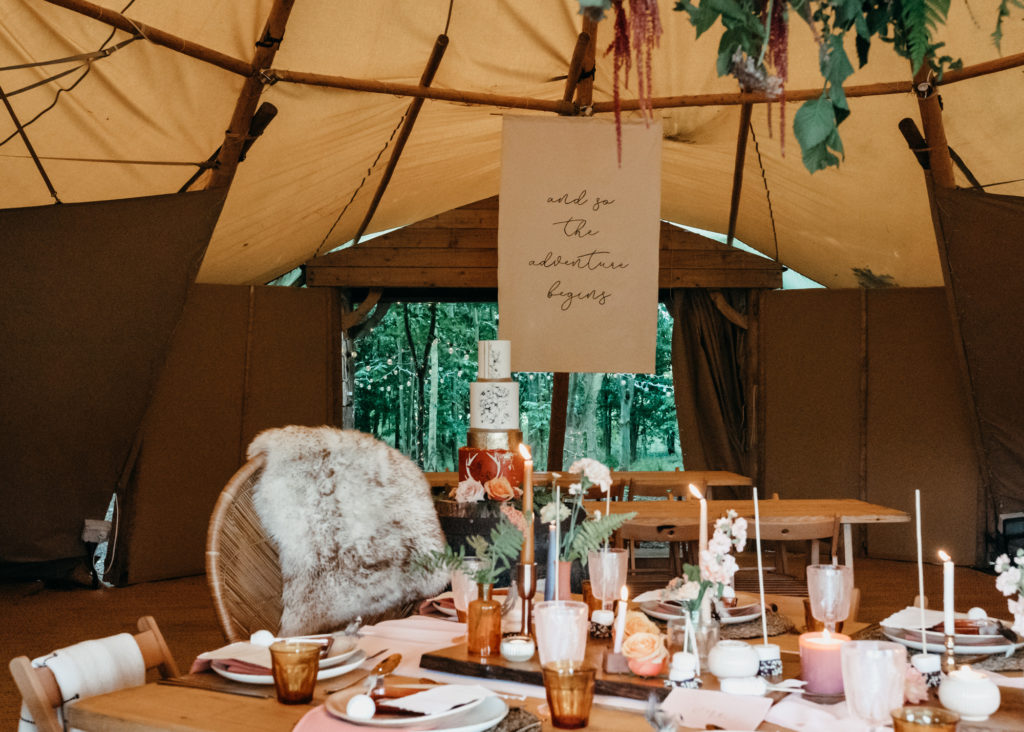 Silks: Cfleursdesign
"Adding mixed textures & materials to add depth to the aesthetic was really key to this editorial. Working closely with Bloom & Bridal, Cfleursdesign provided beautiful ilks to add to our hand-tied bouquet. The organic plant and hand dyed silk ribbons & silk textiles gave a ethereal edge to the wild bouquet."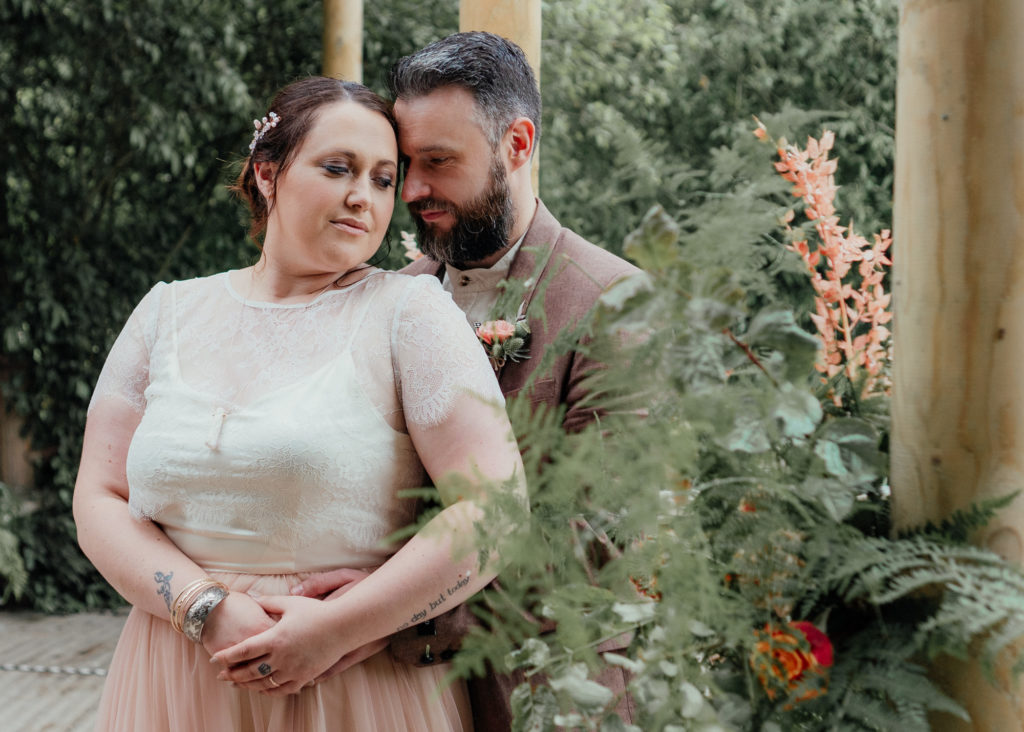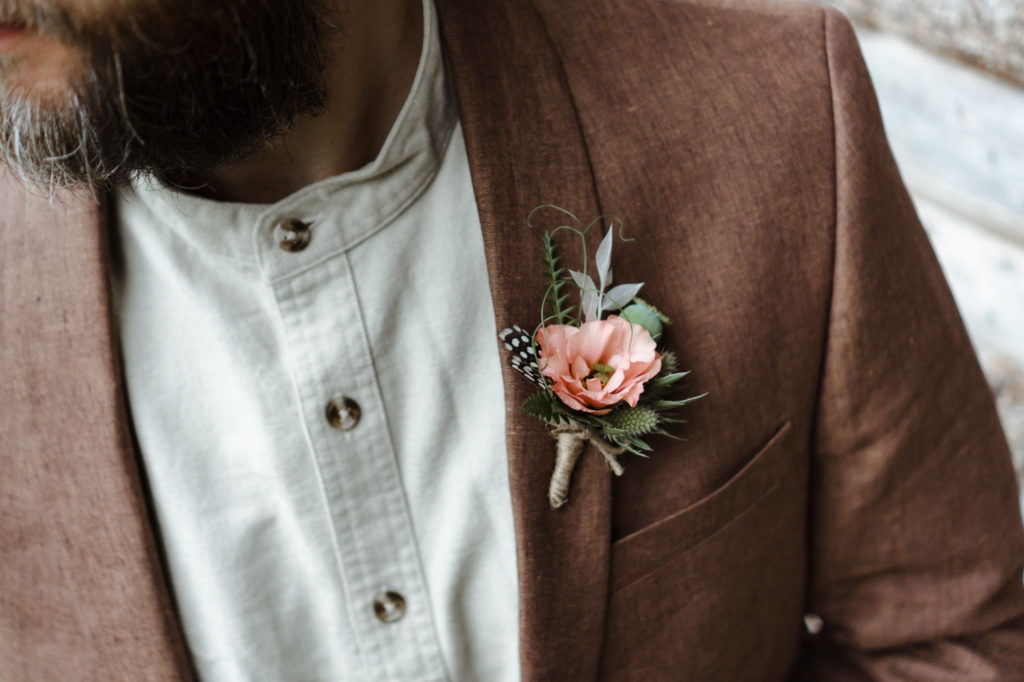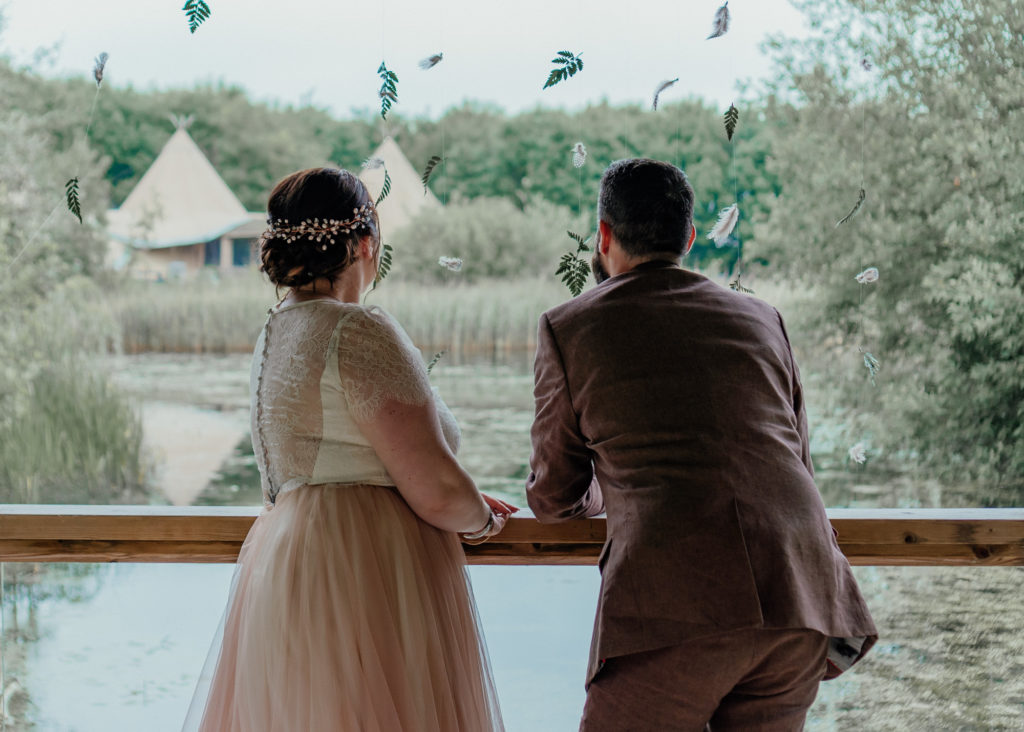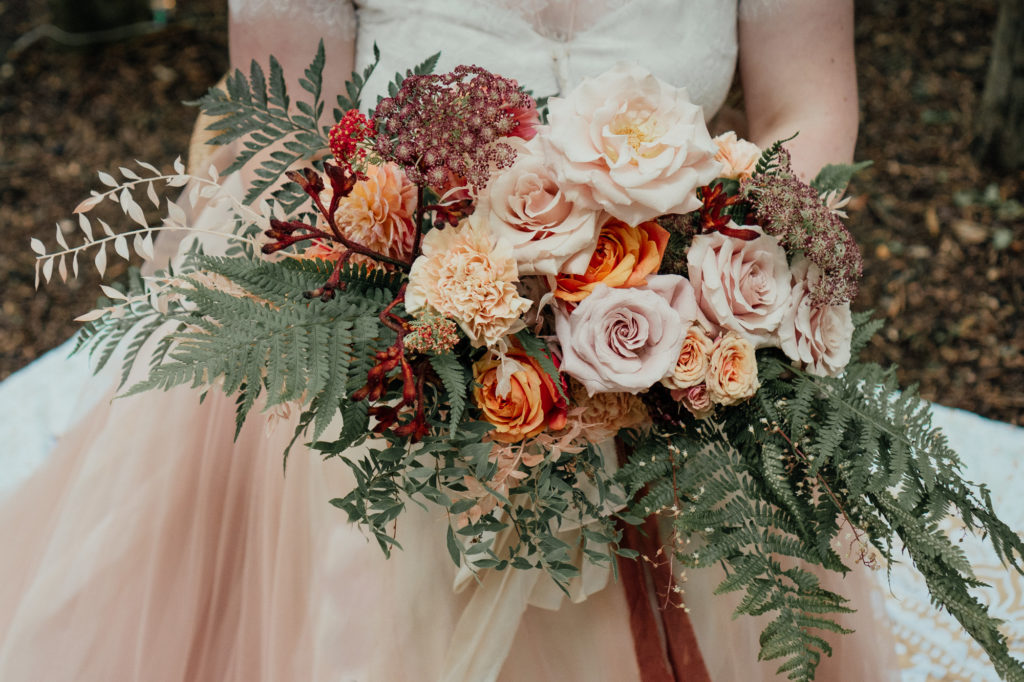 The Team – Wild Romantic Wedding Inspiration at The Oaklands, Yorkshire
Photographer: Rosanna Lilly Photography @rosannalillyphotography I Wedding Planner: The Destination Wedding Co. @thedestinationweddingco I Florist: Bloom & Bridal @bloomandbridal I Props & Tablescape: My Pretties @myprettiesuk I HUMA: Kate Howard Make Up Artistry @khmakeupartistry I Cake: Where The Ribbon Ends @wheretheribbonends I Dress & Accessories: Ghost Orchid Bridal Boutique @ghostorchidbride I Dress: Chantel Lauren Designs @chantellaurendesigns I Stationery: Lou Paper Stationery @loupaper I Hair Accessories: Alexandra Bespoke @Alexandra_bespoke I Rings: Molten Wedding Ring Co @moltenweddingringco I Signage: Head in't Clouds @headintclouds I Jewellery: The Vamoose @thevamoose I Groom Attire: Twisted Tailor @twistedtailor I Second Shooter: Vanitas Life @vanitas_life
IF YOU LOVED THIS LOOK PLEASE PIN IT!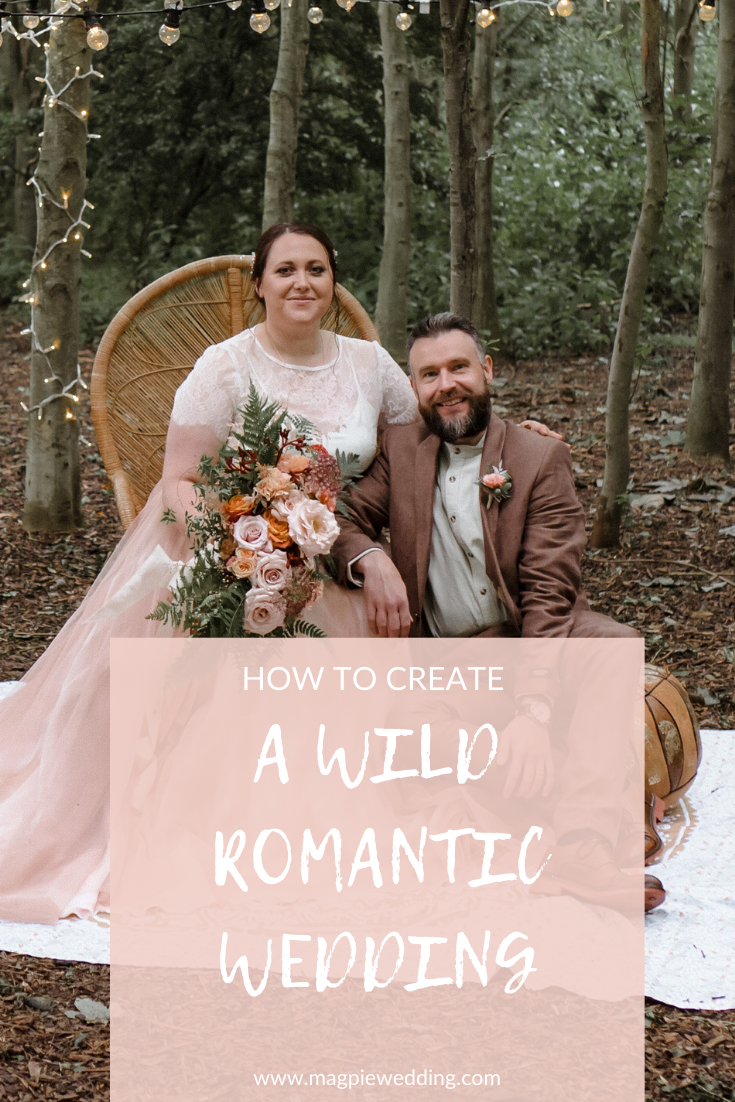 If you love this Oaklands,Yorkshire Wedding you may also like;
ENCHANTING AND WILD OUTDOOR WEDDING INSPIRATION
BRIDAL INSPIRATION WITH WILD FLORALS AND ROCK CHICK WEDDING LOOK