We are seeing more couples choosing to have relaxed weddings and there is nothing more relaxed than holding it in your back garden. We featured one in Vermont, some time ago and in fact we almost had ours in our garden too! It can obviously save on money, but also you can create a look that you want as you have total control – but beware, if you choose to style it yourself, it can turn into a massive piece of work for you on top of planning that day as you will have to clear up too! If this sounds like something you'd like, here are some DIY styling ideas to create a rustic back garden wedding.
The Marquee
Obviously you are unlikely to have space in your back garden for a full marquee but you do need to think about what happens if it rains. If you don't want all your guests in your house you will need to hire or buy a smaller gazebo such as these party tents available at Garden and Camping. They are a bit of a blank canvas for you, ready to be styled and we love that they come in different colours. For a bright wedding choose the red one and cover in bright ribbons or for a more rustic one, choose dark green and cover in macrame.
The Seating
Seating should be relaxed; think scatter cushions, deck chairs and the like. It is also a nice idea, if the weather is good to bring the inside outside such as leather armchairs and chairs. These of course could be hired too. For a real rustic wedding you needs loads of wood – wooden trestle tables can be hired but also consider making coffee tables yourselves with piles of pallets. These can be then stained or painted in the colour of your choice to match your theme. Throw down rugs on the grass too and add piles of blankets to provide warmth if it gets chilly (plus they look good too!)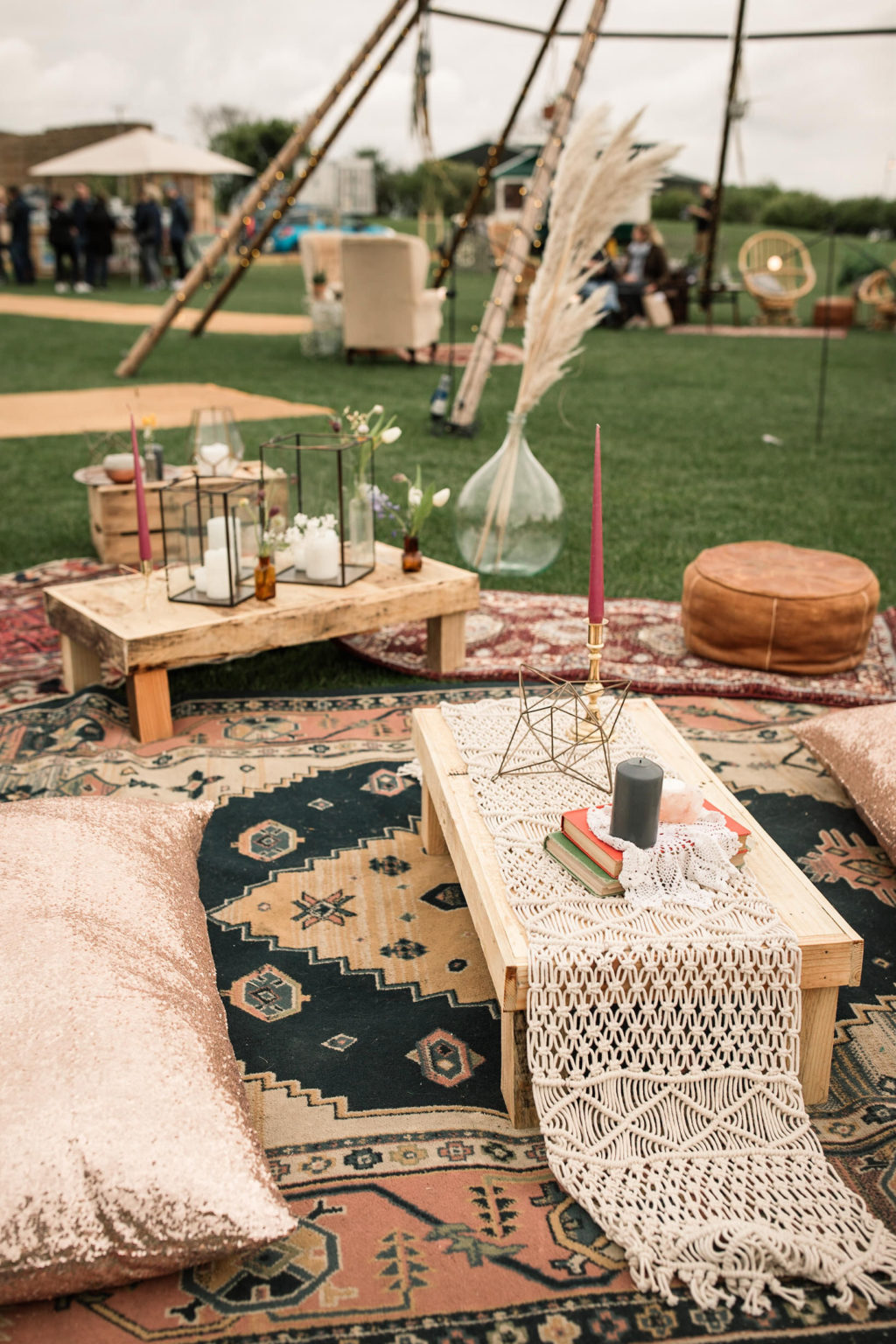 The Styling
The inside of the gazebo or party tent can be styled by draping swathes of fabric from the centre outwards then hang greenery for a really rustic feel. If you want something brighter, hang lengths of coloured ribbon from the sides. Check out our Pinterest board for some ideas.
Continue the theme by hanging lanterns, ribbons or macrame from the trees and even from summer houses or fences that you may have. Solar fairy lights will add some extra sparkle as the sun goes down as well as candles in jars also hanging from the trees.
Create hand made signs on pieces of wood or more pallets pointing to key areas of the day. We still have our bar sign from our wedding in the garden sitting casually in a flower bed!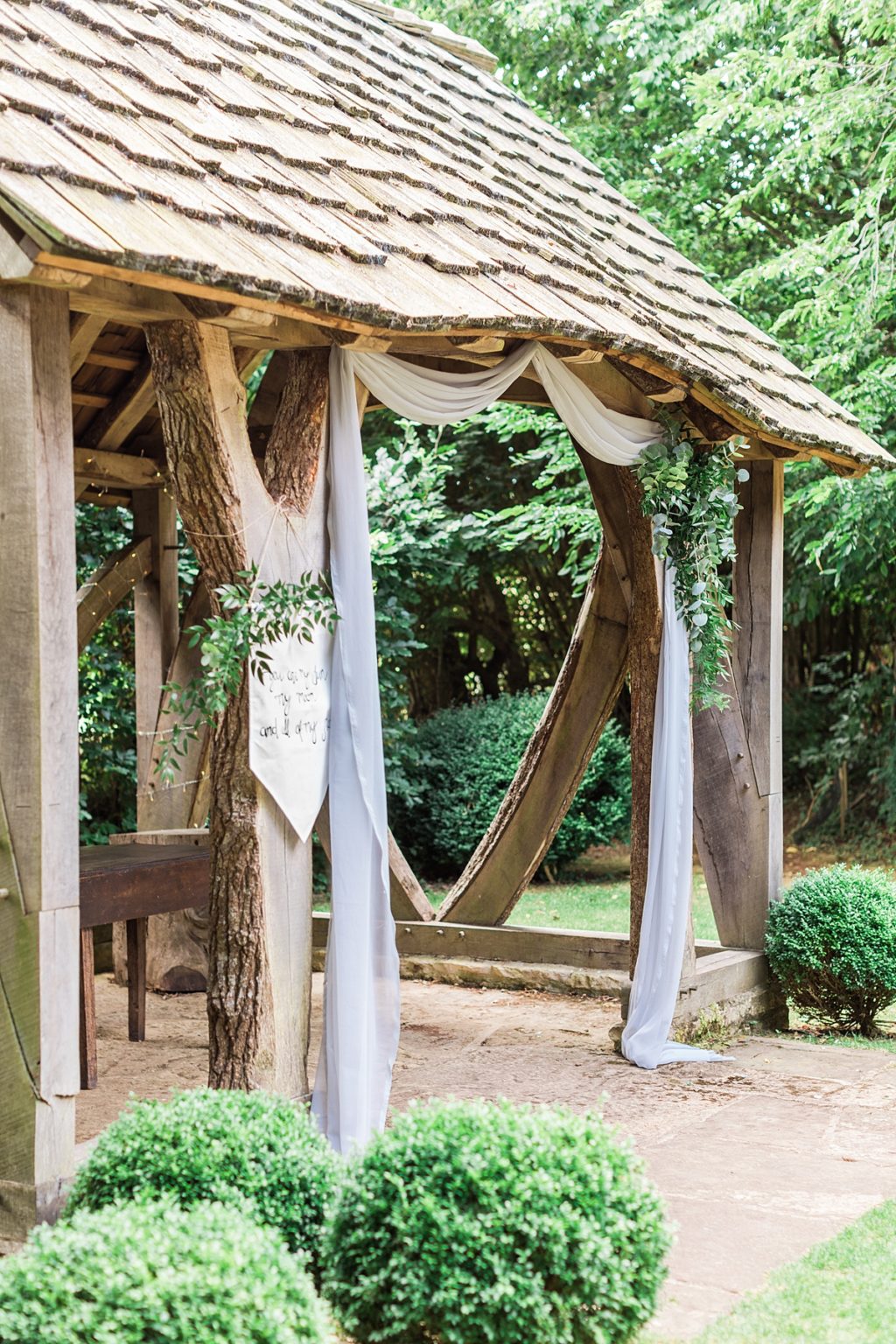 Styling The White Emporium Photo by Summer Lily Studio
The Food and Drink
A rustic back garden wedding calls for eclectic food – maybe a bbq or picnic. The great thing is it is totally your choice so you could also ask for guests to bring a dish for a real home made feel. Ditch the plastic and choose vintage plates, or wooden platters for a grazing table feel. Serve drinks in large jugs or Kilner drink dispensers with fruit to add on plates beside.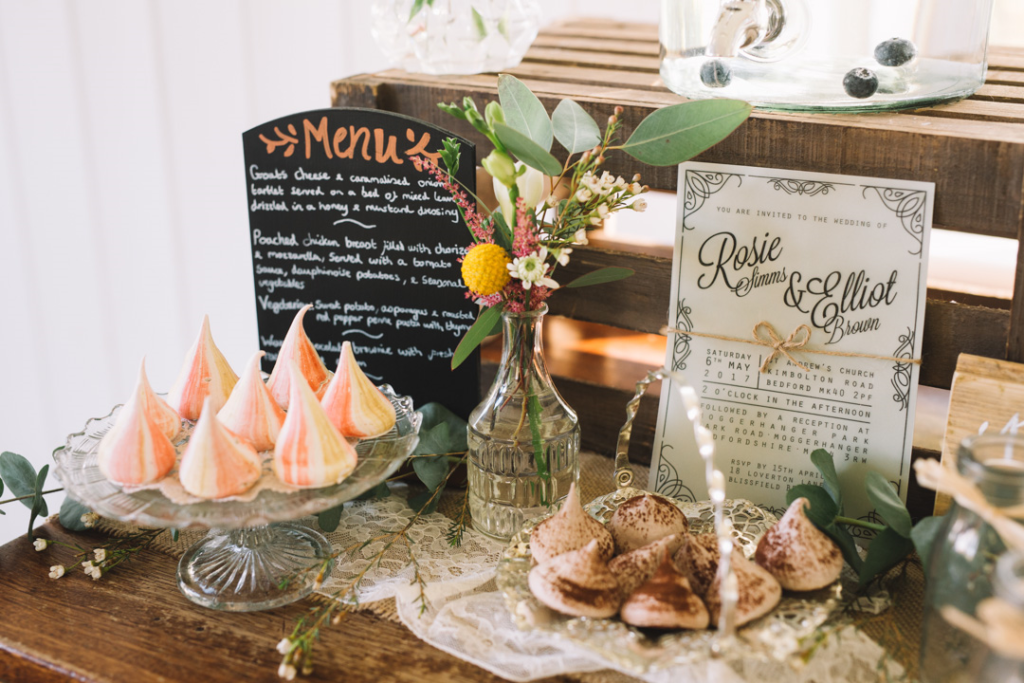 Styling The White Emporium Photo by Cat Lane Weddings
The Games
Carry on the relaxed feel with garden games which can be hired or made; think baked beans cans washed with the labels removed stacked in hay bales or a pile of crates = easy!
Other things to consider
As mentioned at the start, a back garden wedding is a lovely home spun idea but there are some practical things to consider such as:
do you have enough toilets for your guests?
will your neighbours mind the noise?
who will tidy up afterwards?
what happens if it rains hard or is cold?
do you have enough ice or a big enough fridge for all the drinks?
what happens if something gets broken?
are there any off limits parts of your house and how do you enforce this?
where will you have your official photos taken – is there space?
where will you have a dance floor if you want one?
are you happy with all the booze being free (or hire a bar)?
are you getting married in the garden?
where will everyone park?
what is the accessibility like for any disabled guests?
If these don't phase you then this is the perfect chilled out wedding venue!
This is a sponsored post with Garden and Camping