This romantic wedding inspiration has chic vintage vibes, and a super dreamy setting. The shoot has a different take, seeing the intimate journey of a post wedding minimoon with beautiful details, and full of inspirational touches to make your big day into a romantic wedding paradise!
Here we catch up with shoot co-ordinator and vintage bridal boutique owner Siobhan of Cambridge Vintage Bridal who tells us all about how this romantic wedding inspiration with intimate vintage vibes was created…
Romantic Wedding Inspiration with Intimate Vintage Vibes
"I wanted to tell a story about what happens next; an intimate and 'cosy toes' post wedding shoot that shows an elated bride and groom at their most relaxed. They are enjoying being together, letting their hair down and loving their natural surroundings. My vision was that these two have escaped for a pre honeymoon weekend away at a secret location in the countryside after their daytime wedding and party. They arrive at 'teatime' and we follow their story from this point, spanning their jubilant arrival, some epic chilling, mouth watering feasting, swoonful dancing and a bit of fireside reflecting."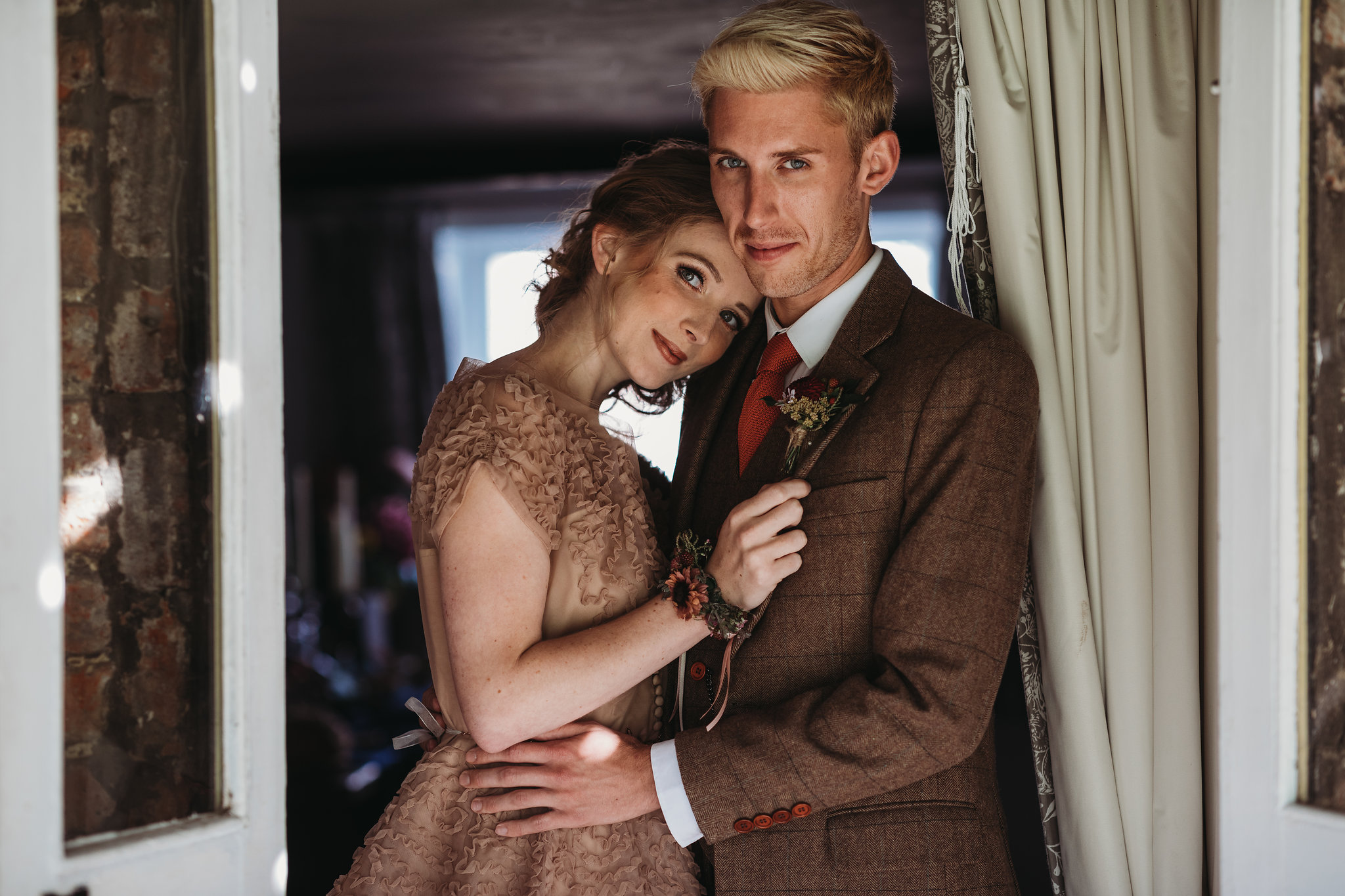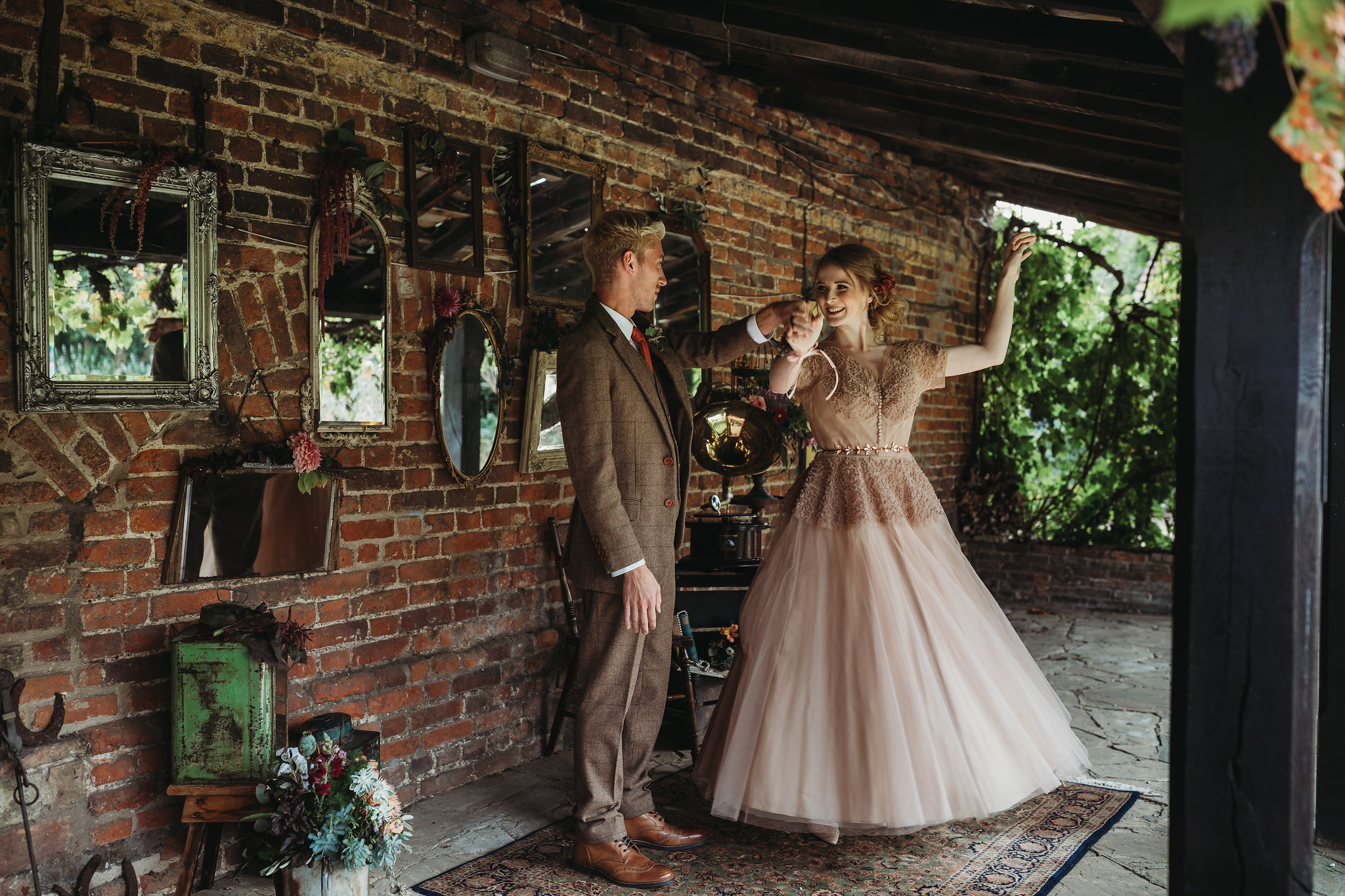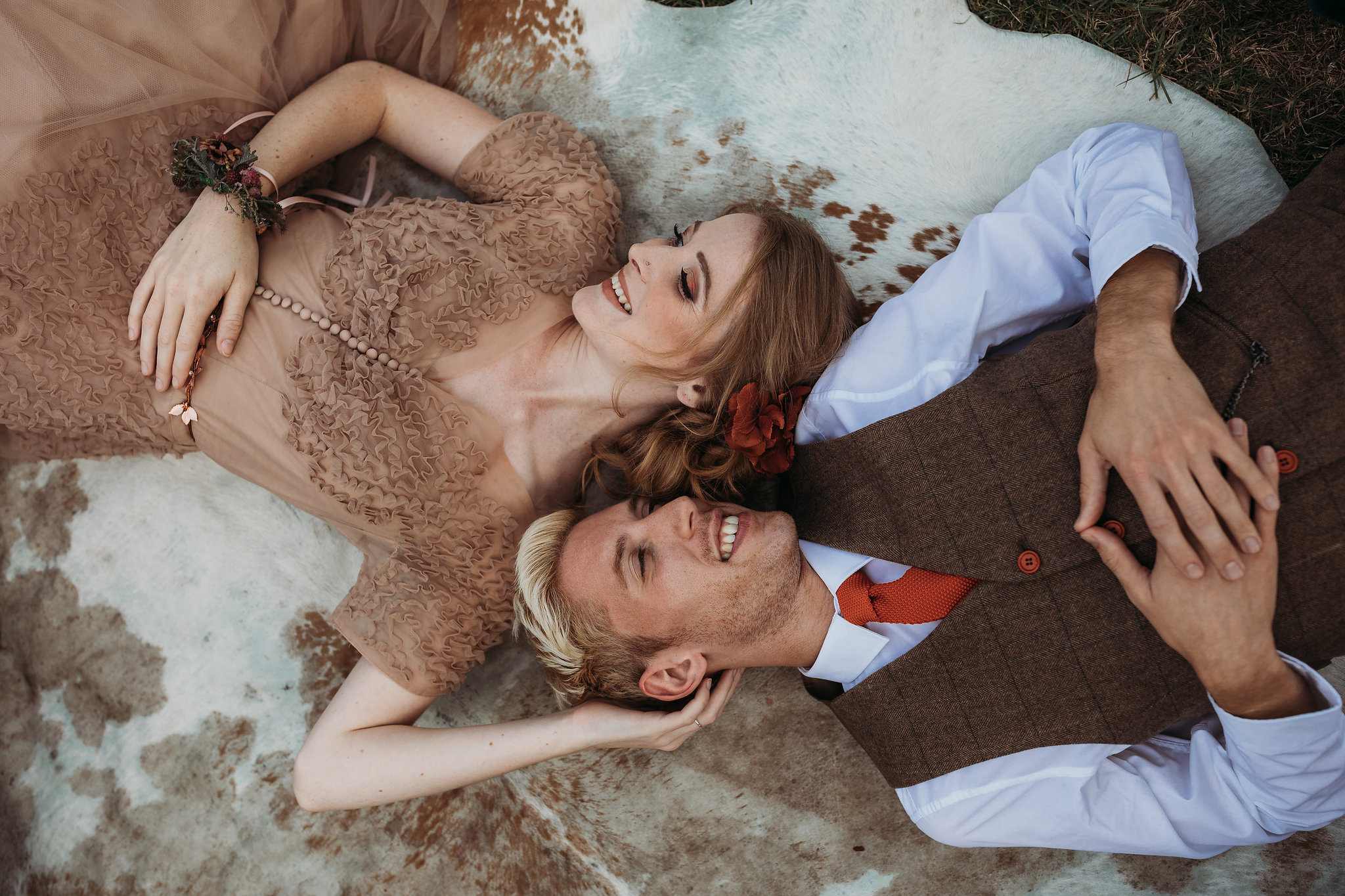 "The dress was my starting point, it's a classic 1950s, silk veil tulle, full skirted bombshell – I've called it the 'Doris' dress as for me it echoes Doris Day's classic silhouette. I love the fact that it is such an unusual 'mocha' colour and that really steered my thinking in terms of  m a non-white wedding dress and how fabulous it would look in a late summer and early autumnal setting. Using both indoors and outdoors was high on my list too in order to tell the story and help showcase all collaborators in diverse ways. I'm always looking at innovative ways to showcase how insanely glamourous and versatile a vintage wedding dress can be and this dress really inspired me and the team  - I hope it inspires others to consider a modern slant on wearing a vintage wedding dress."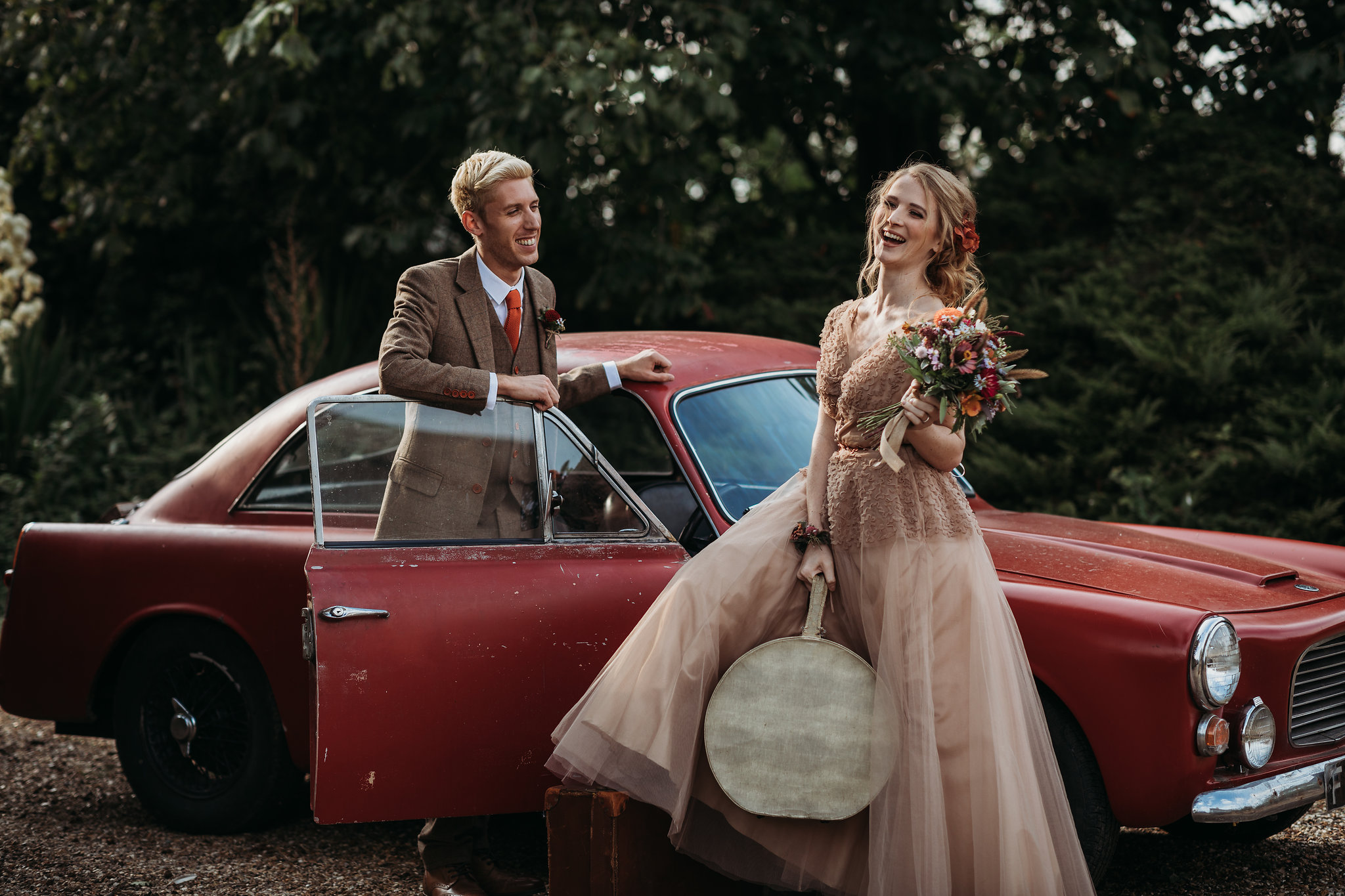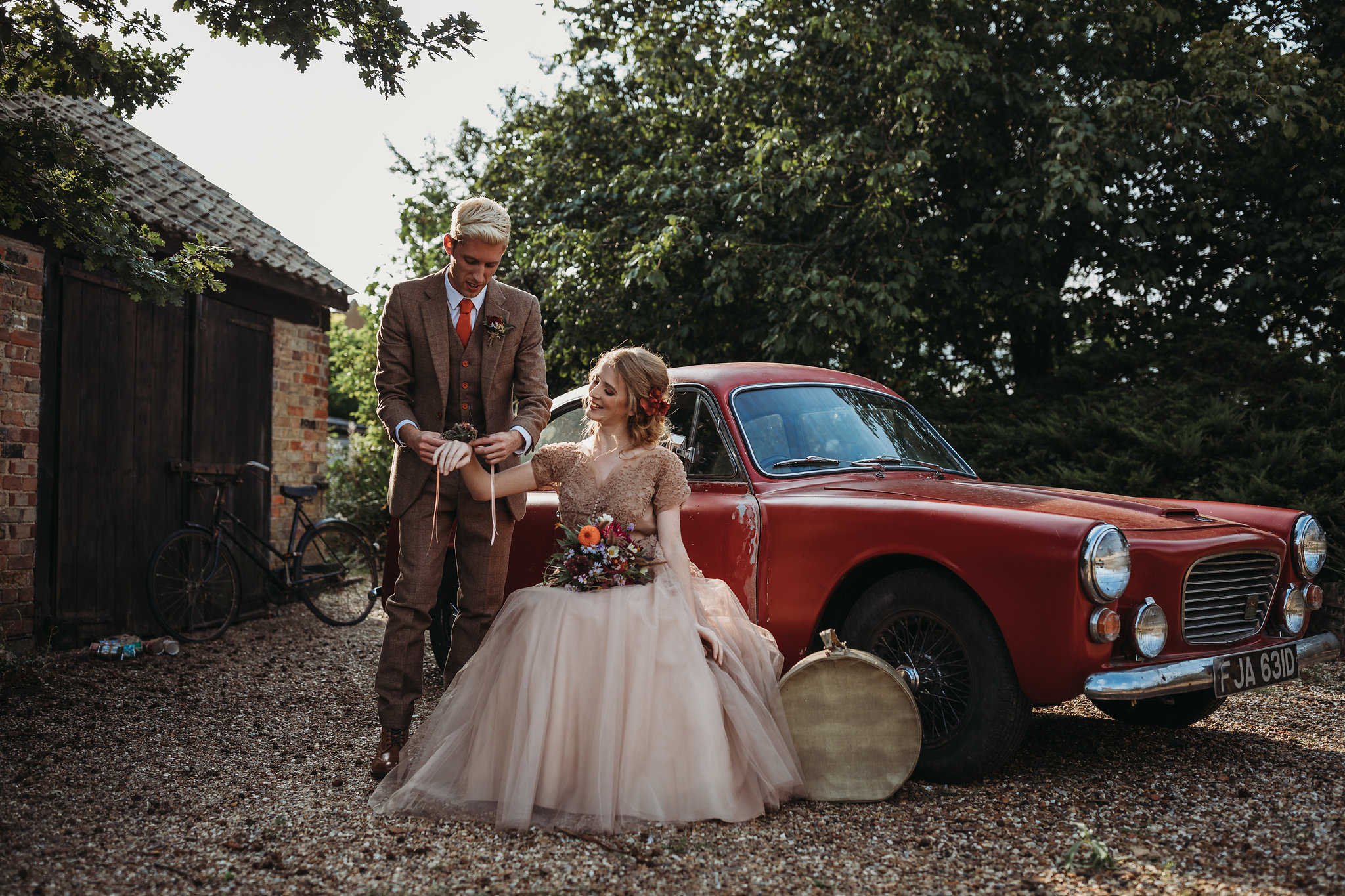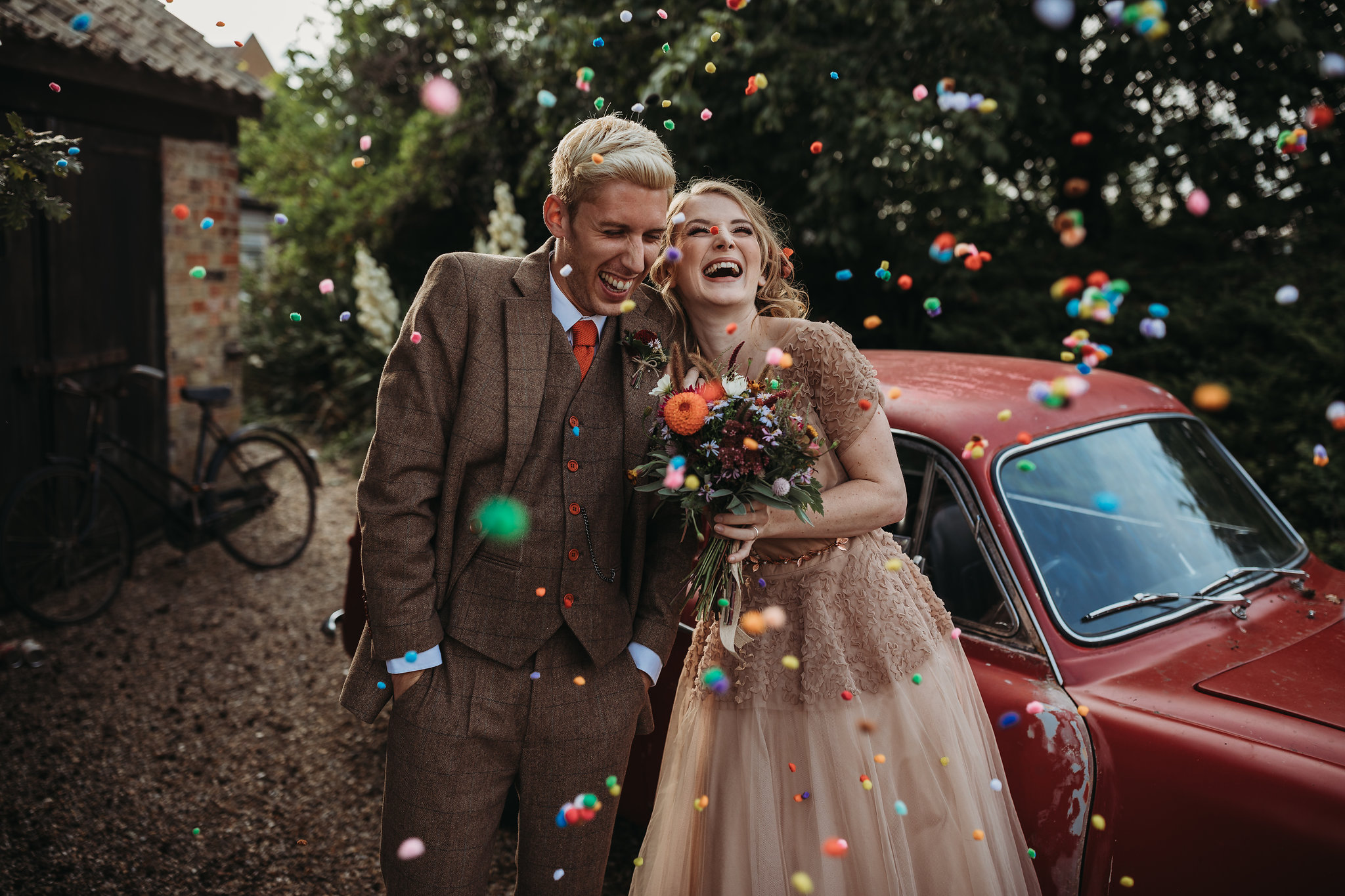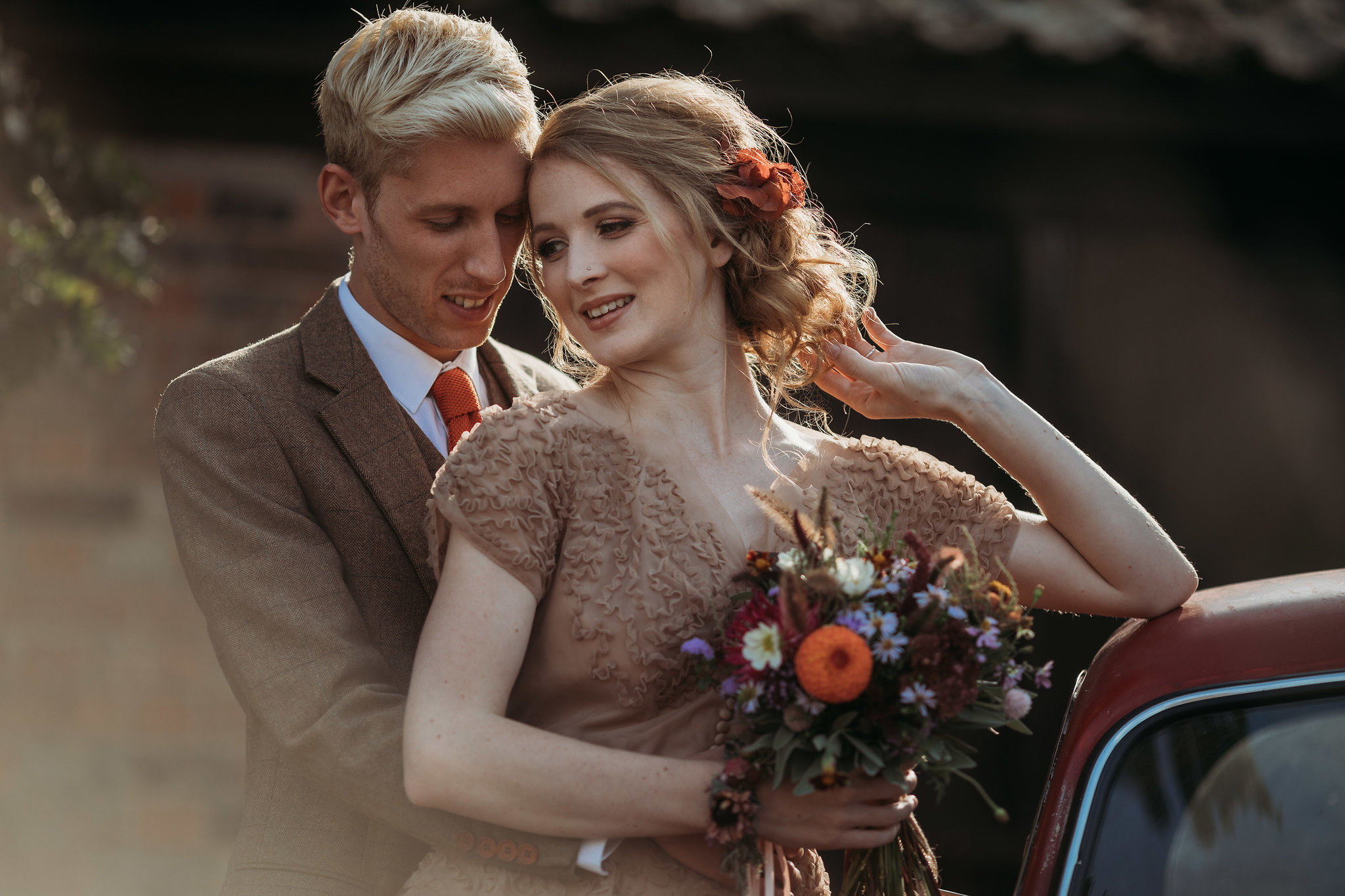 Make up – Make Up by Alison
"Alison wanted to encapsulate the Autumnal feel with the model's makeup, so she took a key product and worked around that. This was the shimmery pigment called Copper by MAC. From there she created a flawless radiant base on Cathy's porcelain skin. With false lashes to frame the eyes and a warm nude lip to complete the look, she felt this complimented the gorgeous flowers in her hair and bouquet. It's always important to do a trial makeup before your wedding day so the perfect look is created for you."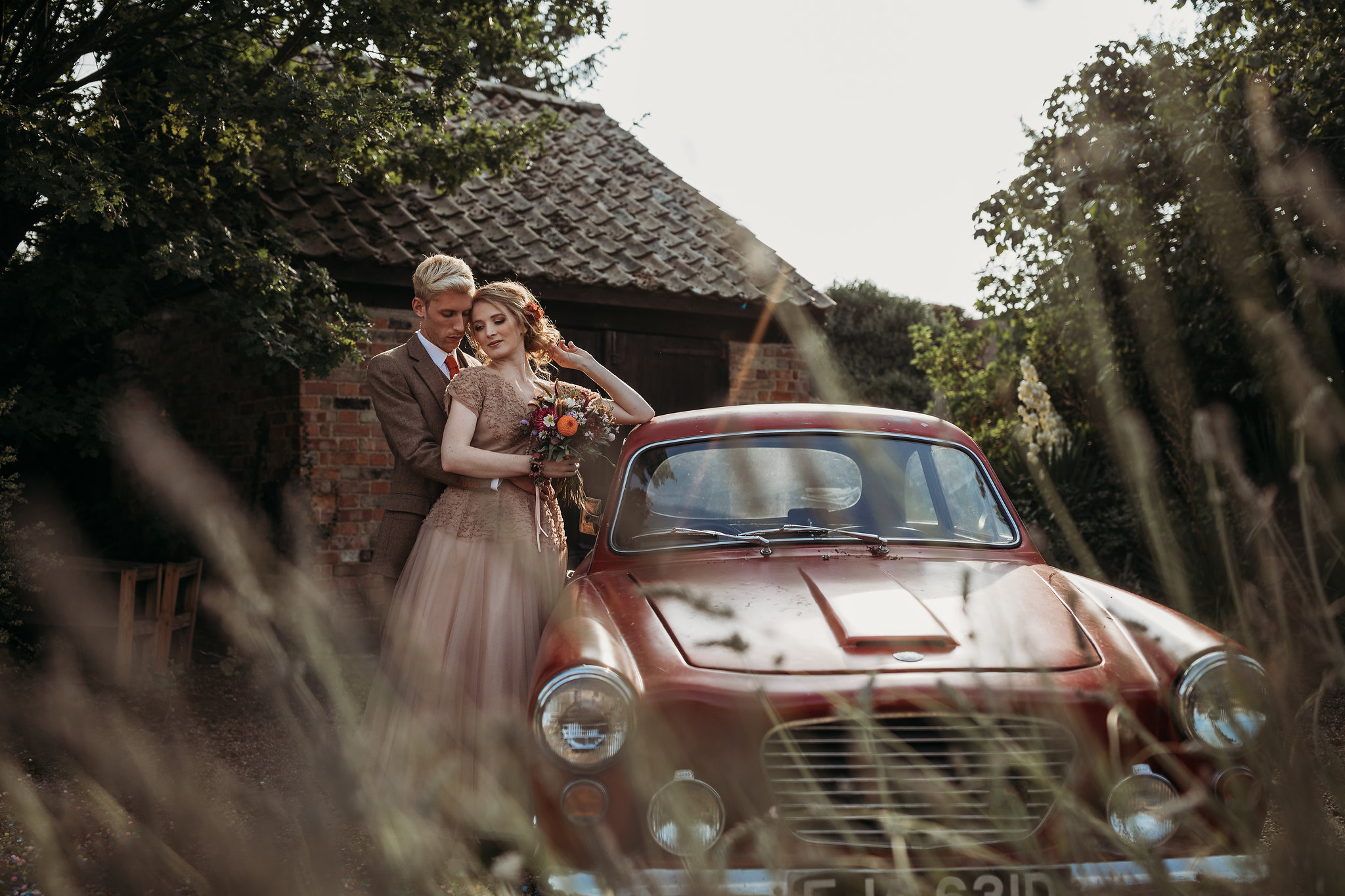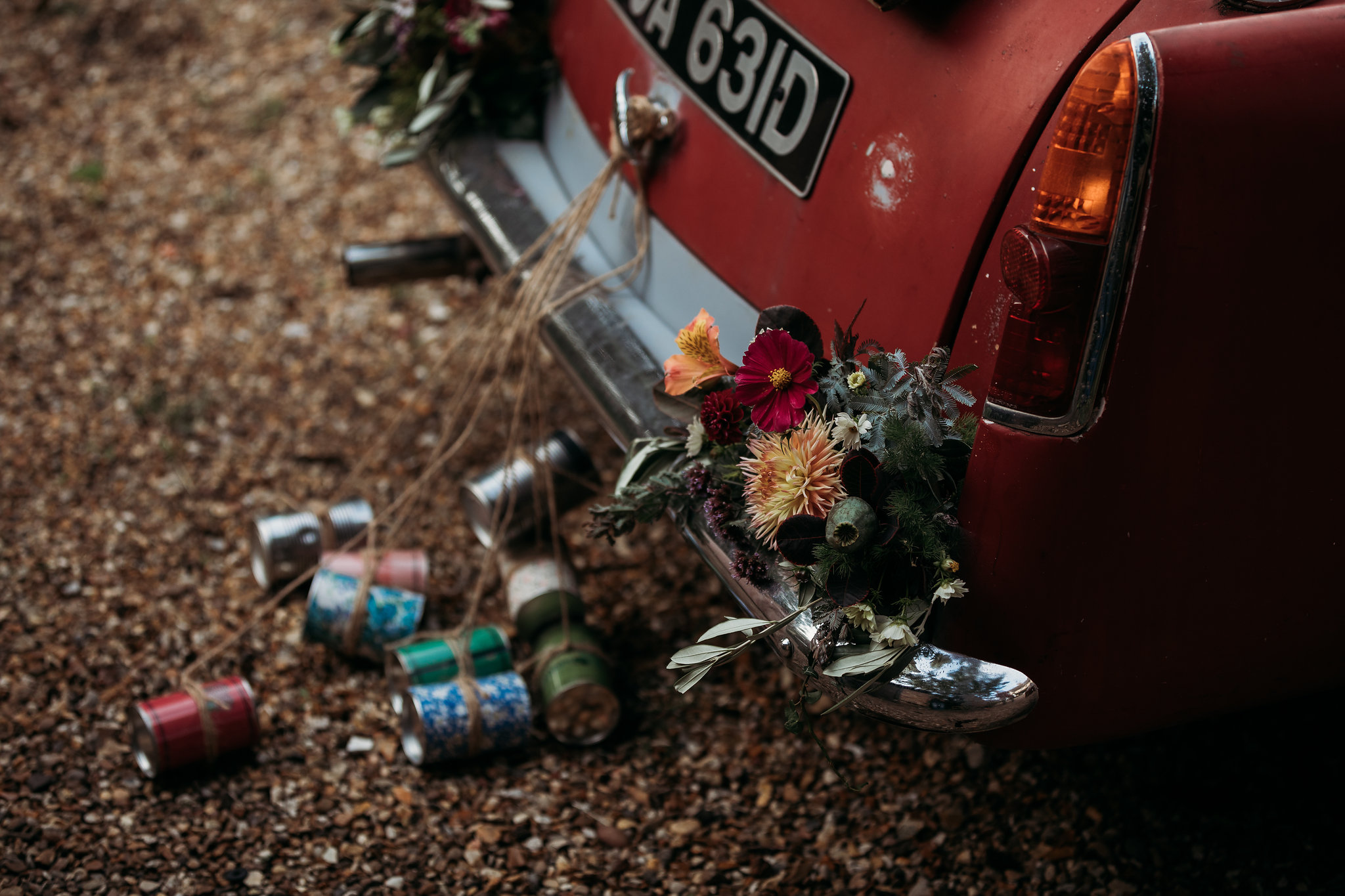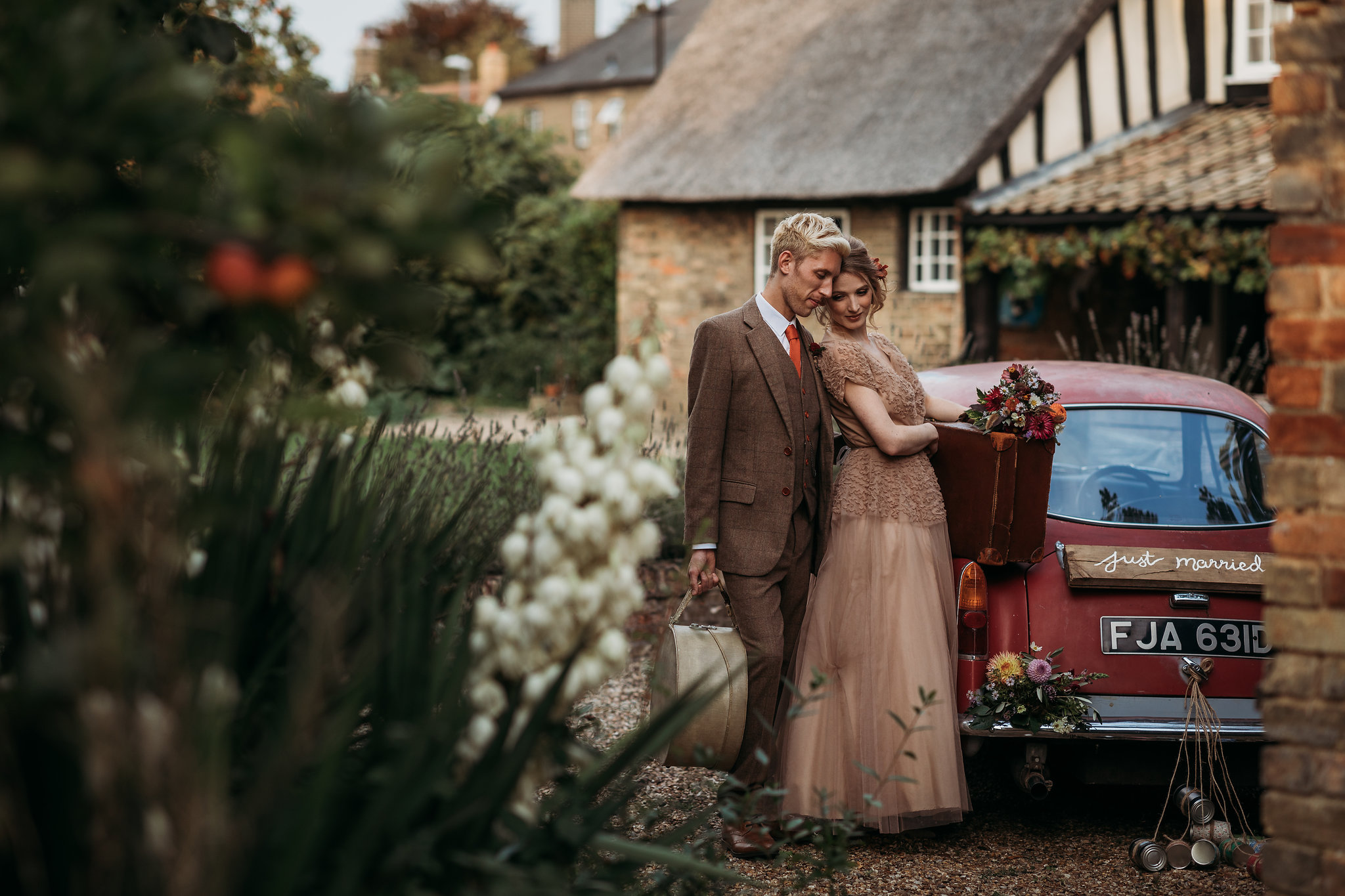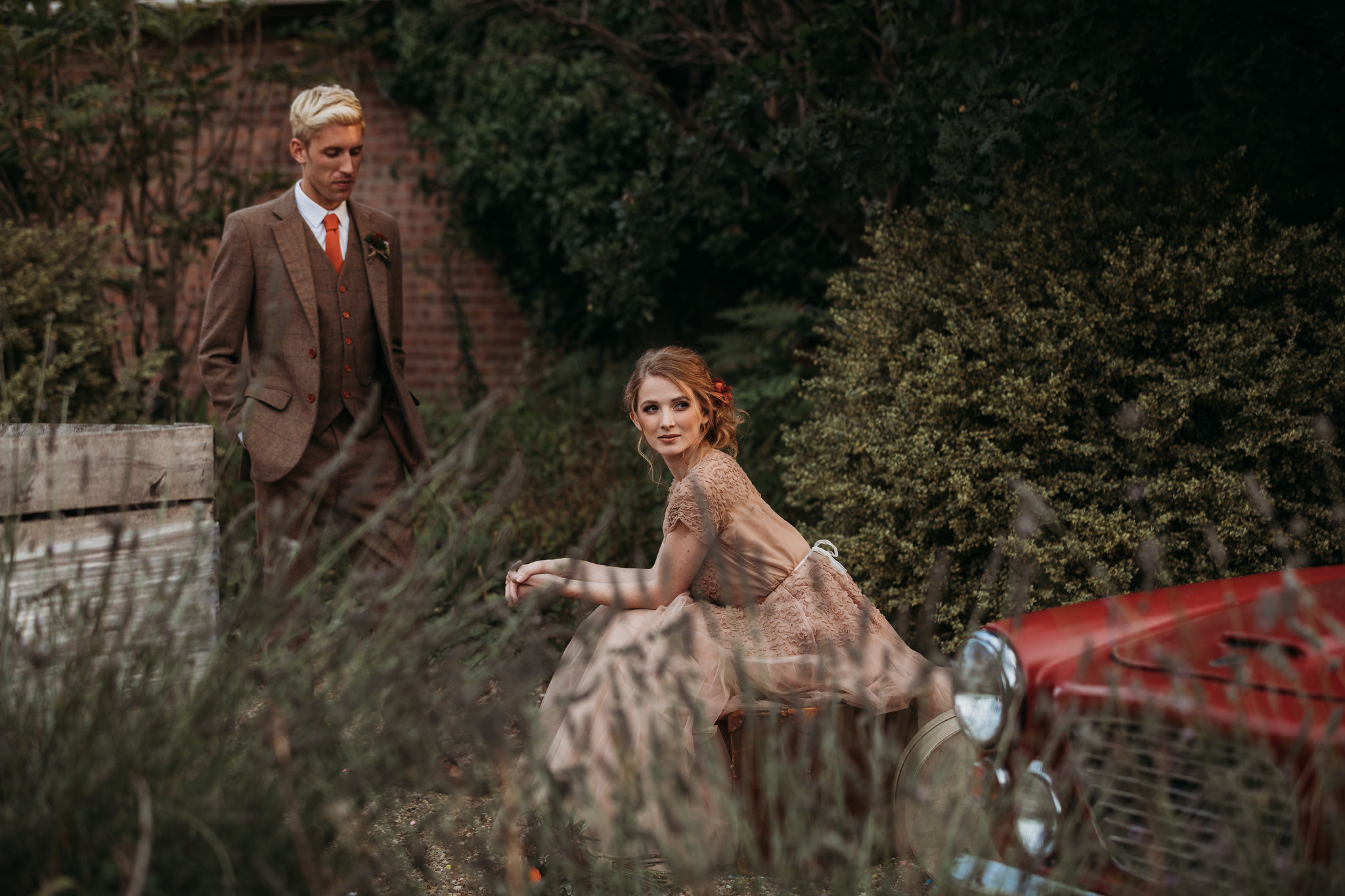 The Groom
"The groom's outfit is based on the warm natural tones of falling leaves, perfect for an autumnal getaway. The Burford mid brown suit was paired with our rusty orange knitted tie to give texture to an outdoorsy event. Our tan leather brogue boots provided a vintage country
feel which added an informal edge to the smart feel of the suit. There's no need to match with bridesmaids' colours when there's other elements of the wedding to draw inspiration from. We recommend selecting bright and fun neckwear which can then be mirrored in other parts of the wedding palette, such as the flowers or décor. This look works really well for more rustic and informal gatherings, like tipis, festival style weekends and barn weddings."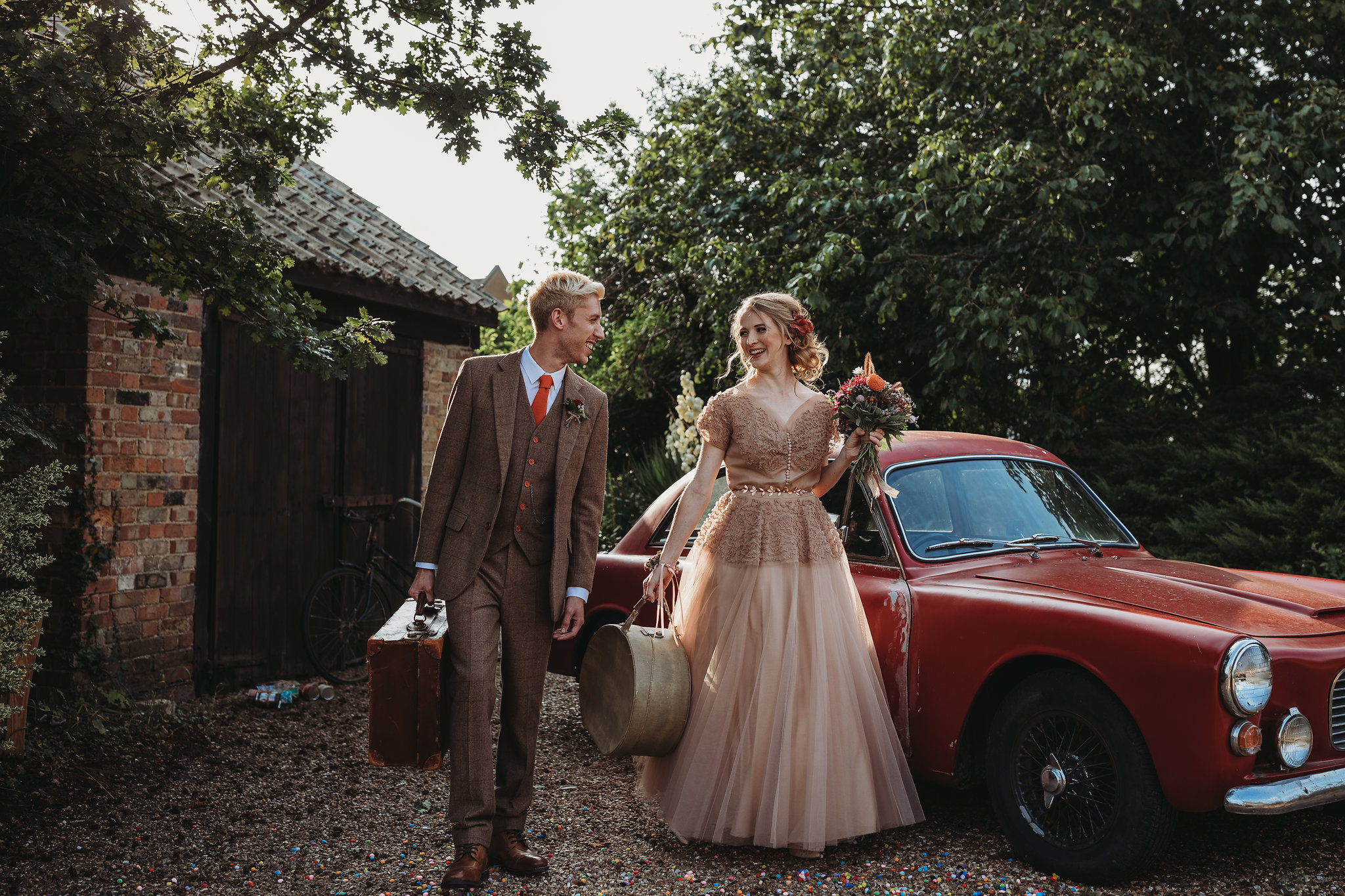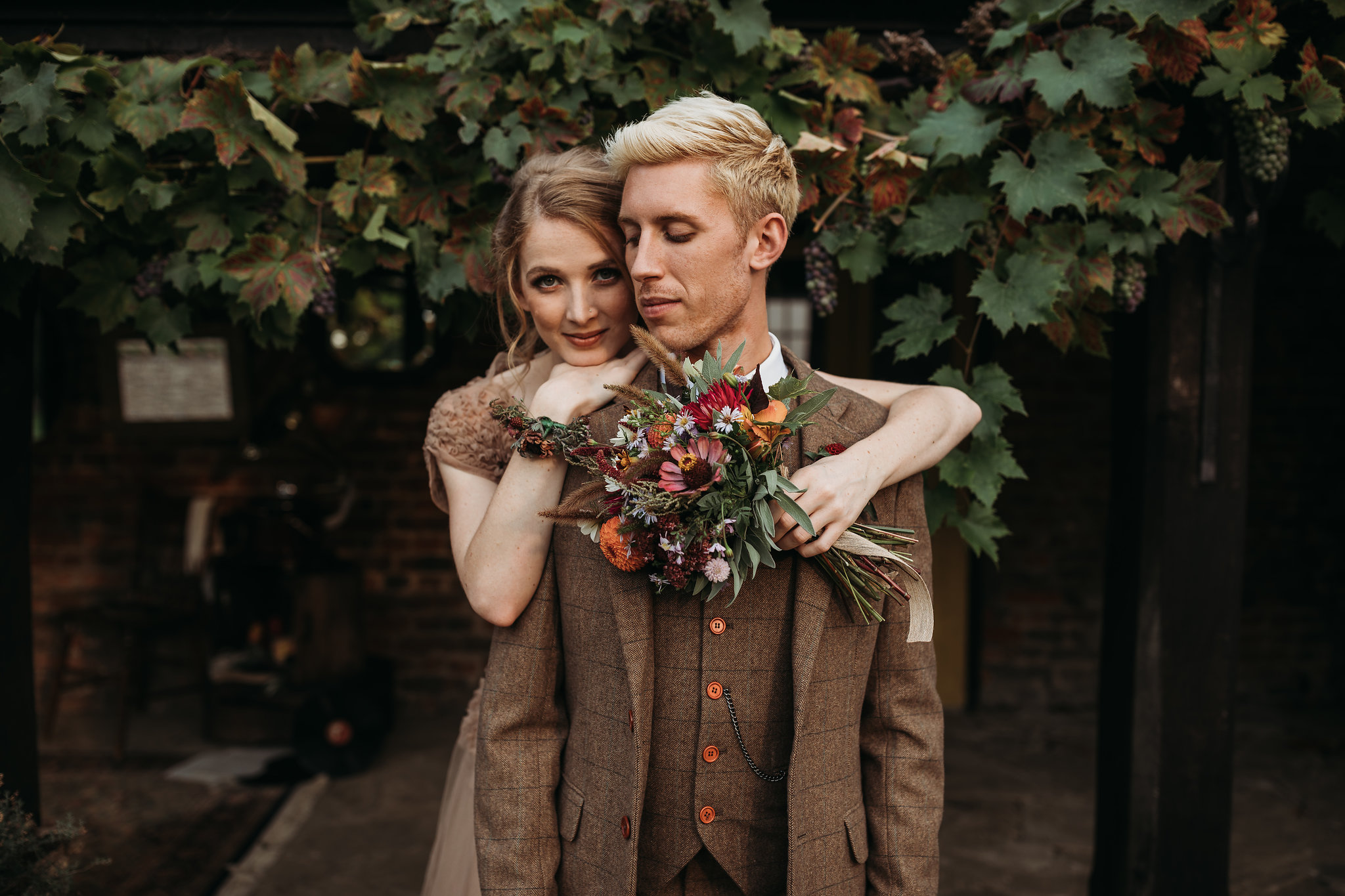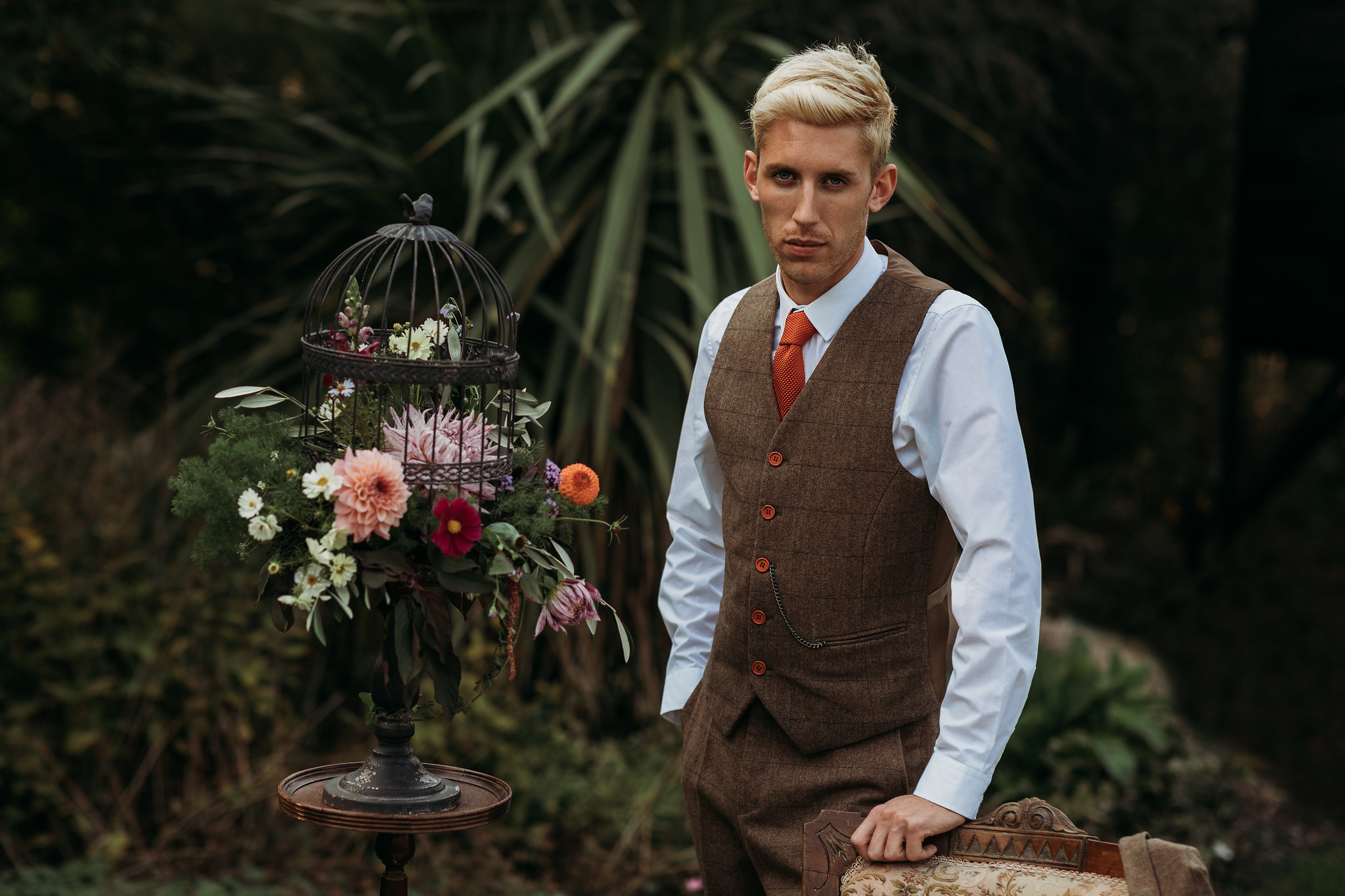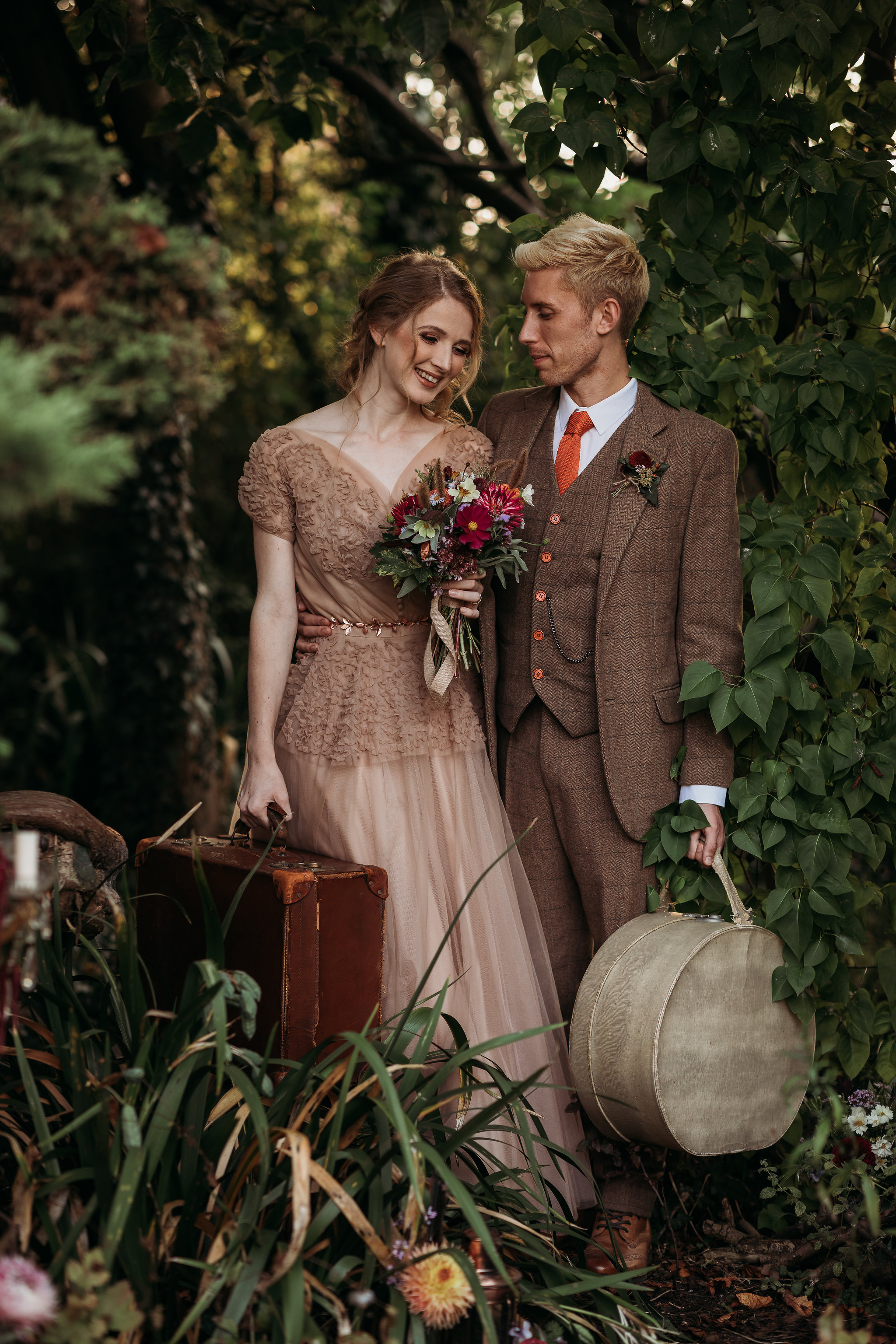 Bridal Shoes – Di Hassall
"This pretty romantic wedding look is achieved by putting together a combination of vintage inspired pieces, the gorgeous lace dress is accessorised with our lovely Betty Anne shoes, tied up with hand dyed blush silk ribbons for a super romantic look, and the low heels make them so wearable and perfect for dancing! The super sheer spotty socks add a fun, whimsical element!"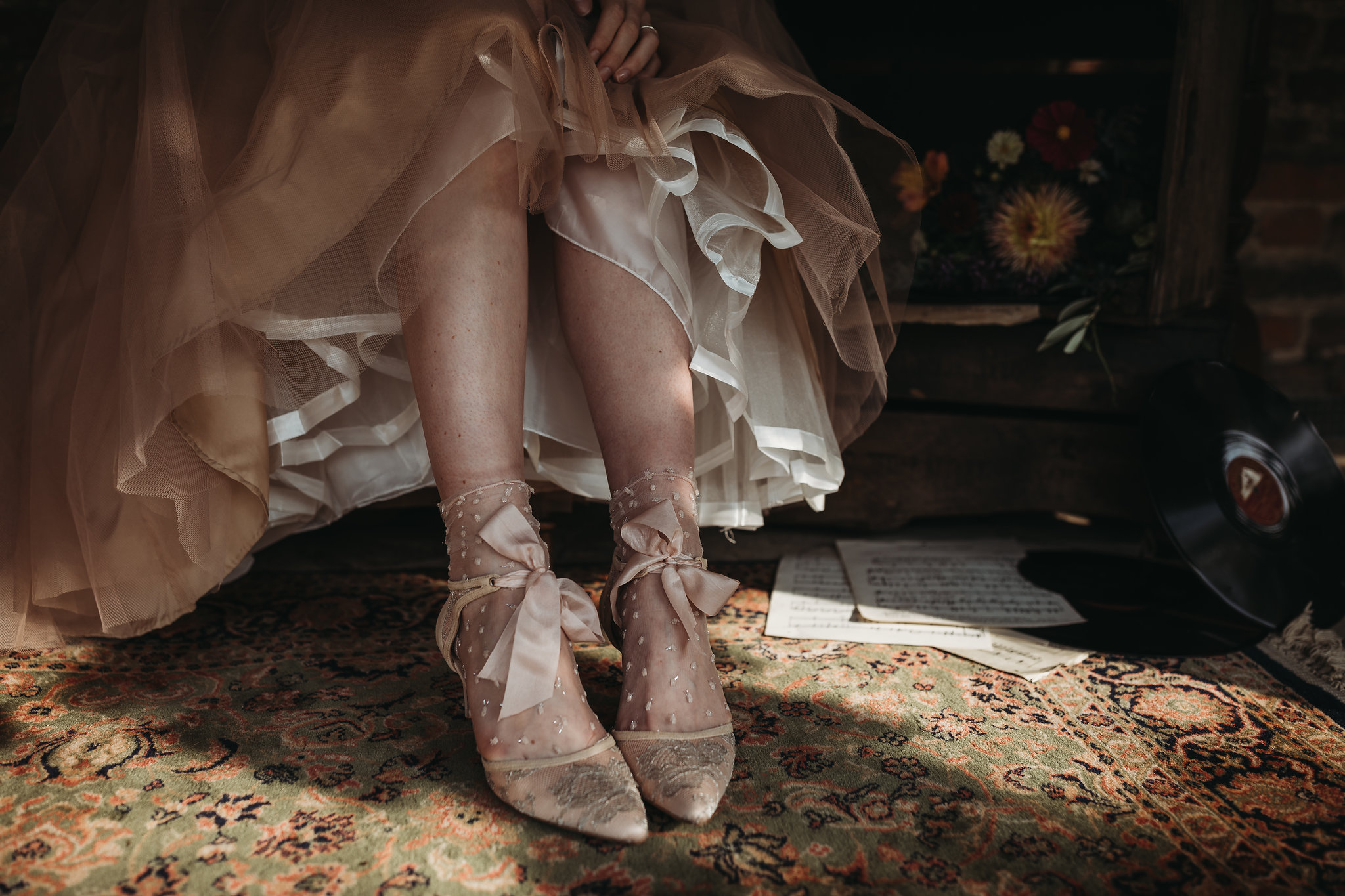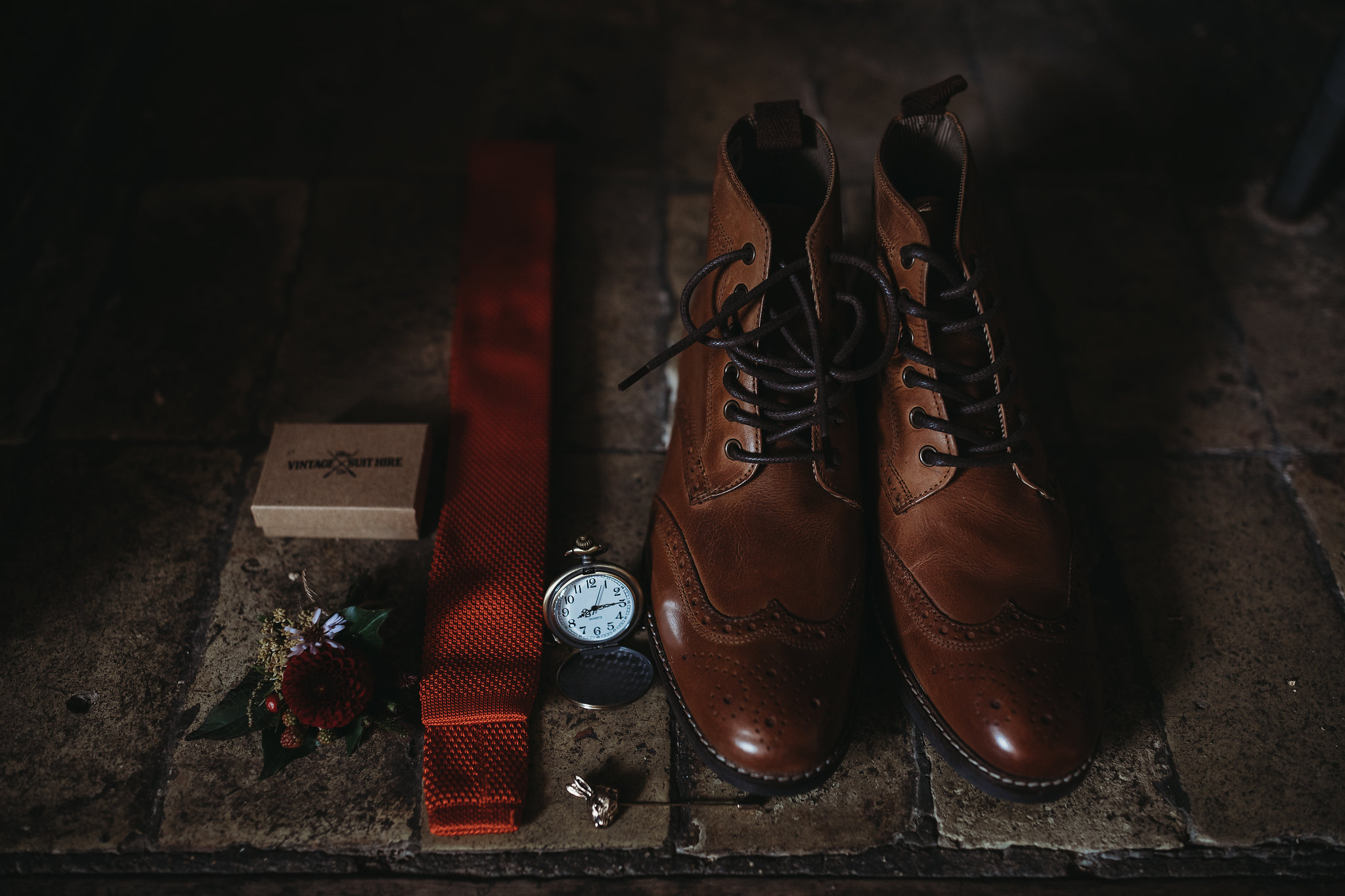 "One thing I always advise brides is to make sure they have walked around in their shoes in advance of the big day so they are used to the heel height and feel totally comfortable in them, many brides make the mistake of choosing a heel so high that they're nervous walking in them and it's so important to be comfortable. The other piece of advice I always give, is during the day when everything is in full swing, to take a moment and stand back from everyone and take in that this is 'your' big day and how beautiful it all is, this memory will be with you for a lifetime"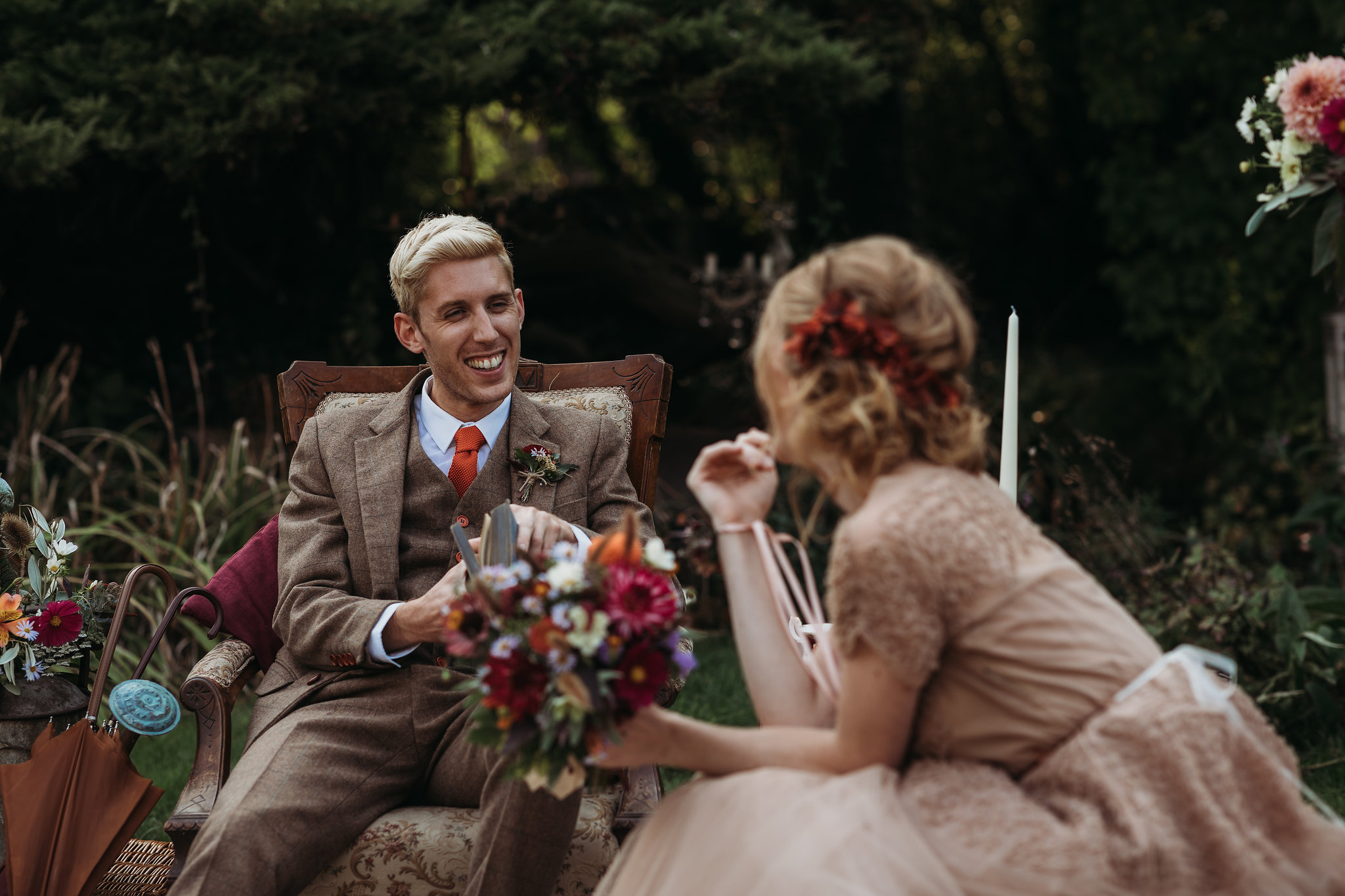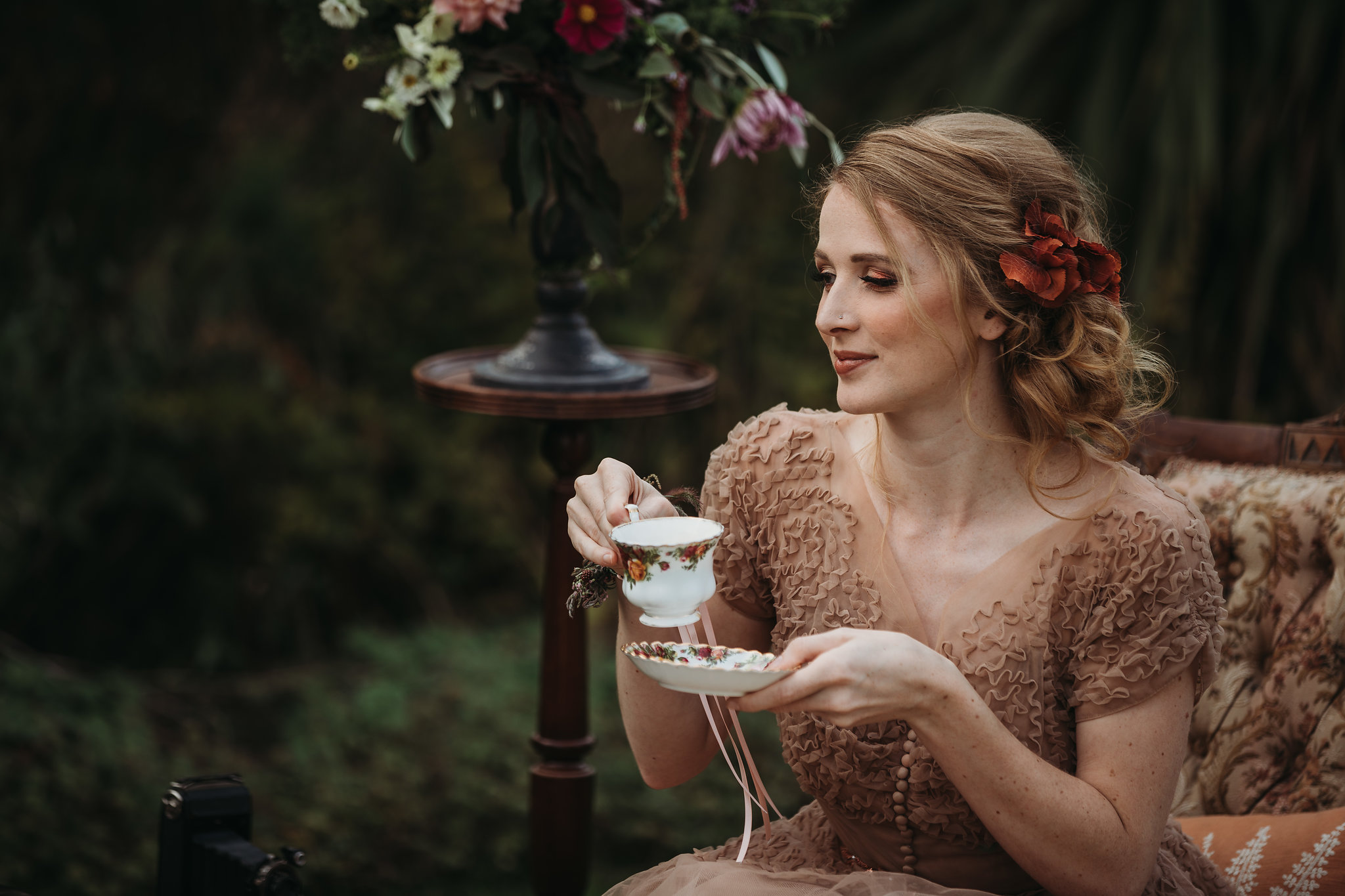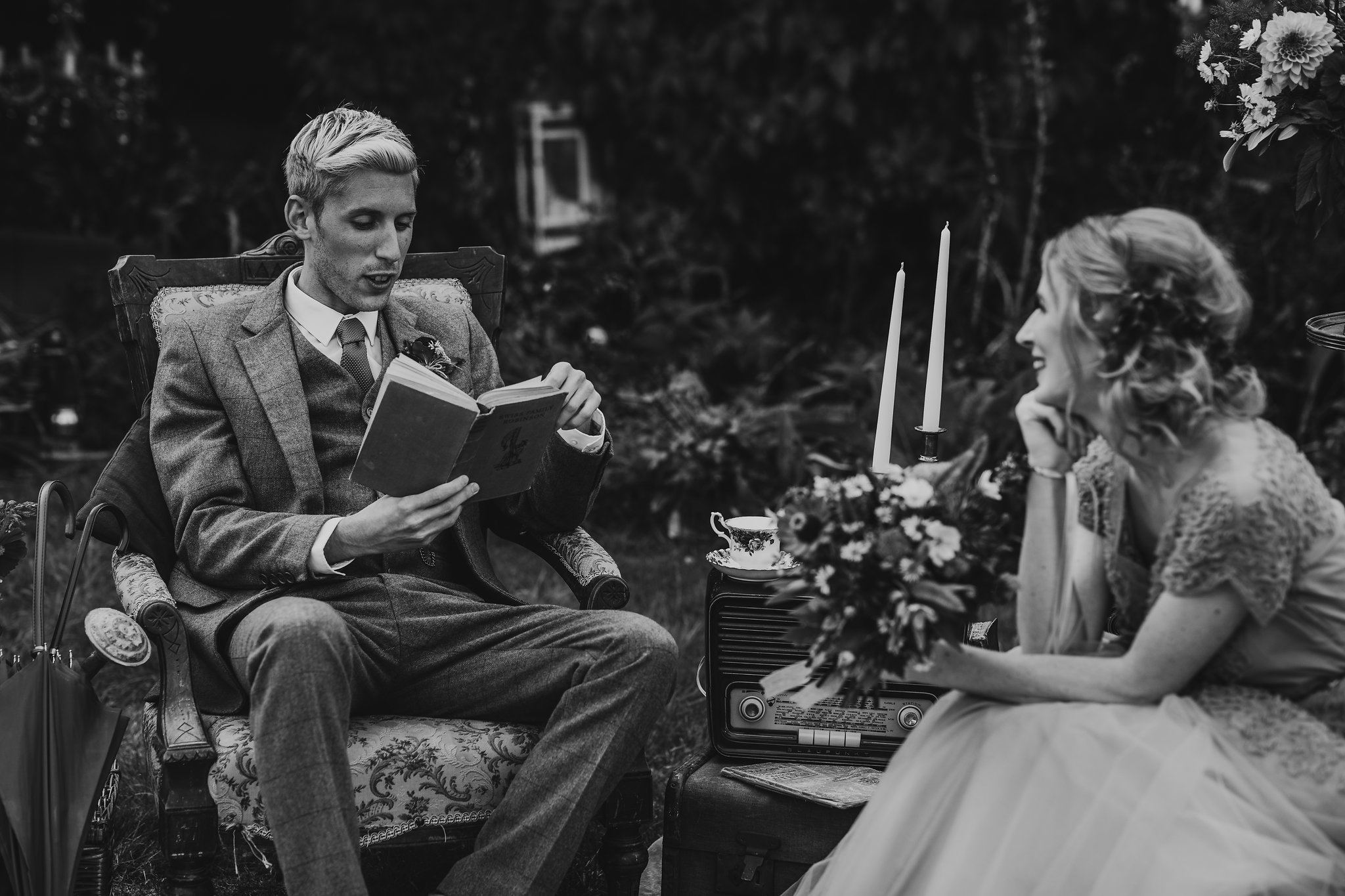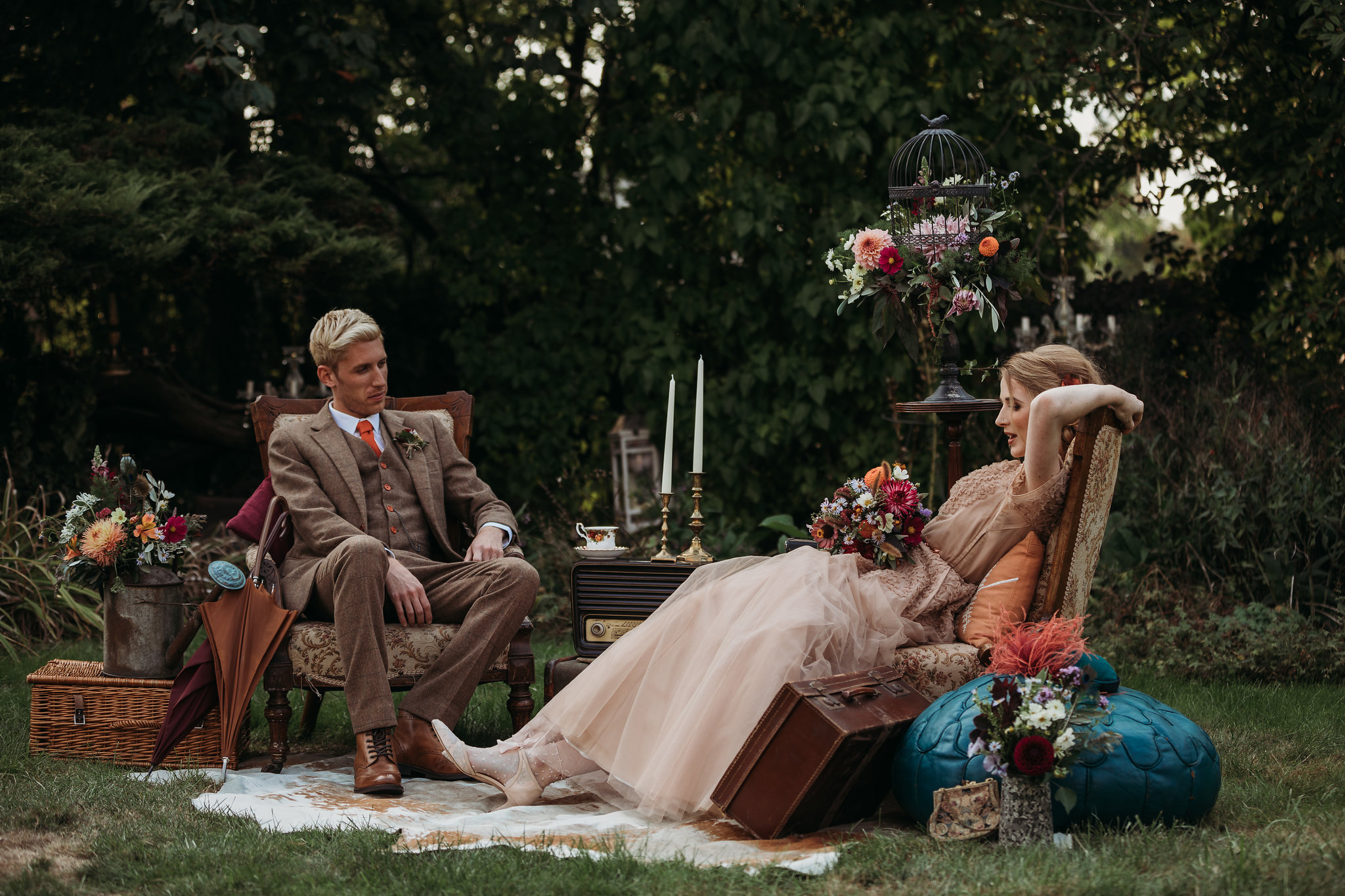 "This super romantic wedding look has a rustic country feel, and of course a modern vintage vibe too with the use of lace and the tie front shoes, it could also be styled to work with a boho theme. It would look beautiful in a garden party setting, or a country house and the gentle hues of blush and golds are warm and flattering, it's a really versatile look which would look stunning on most brides."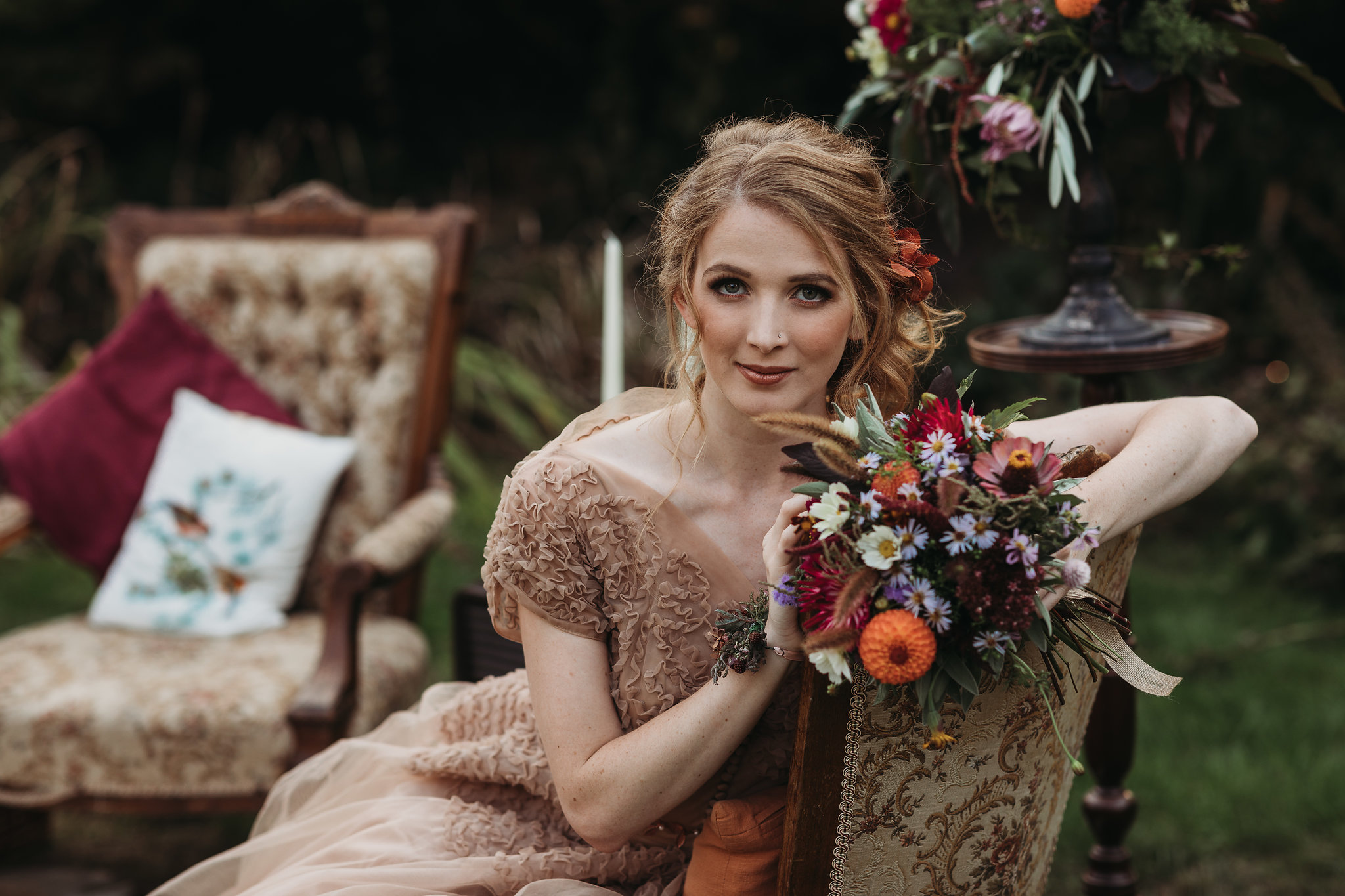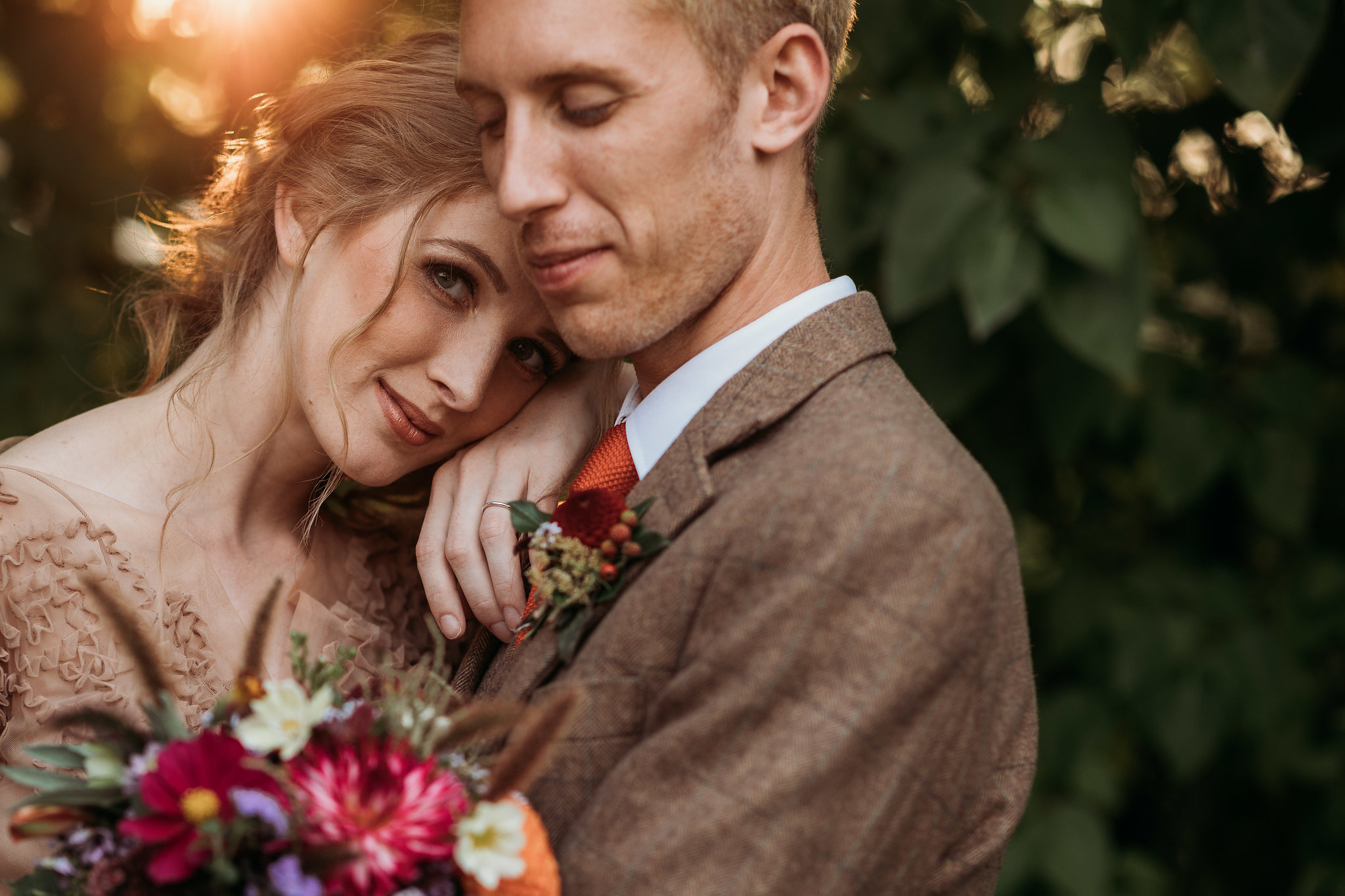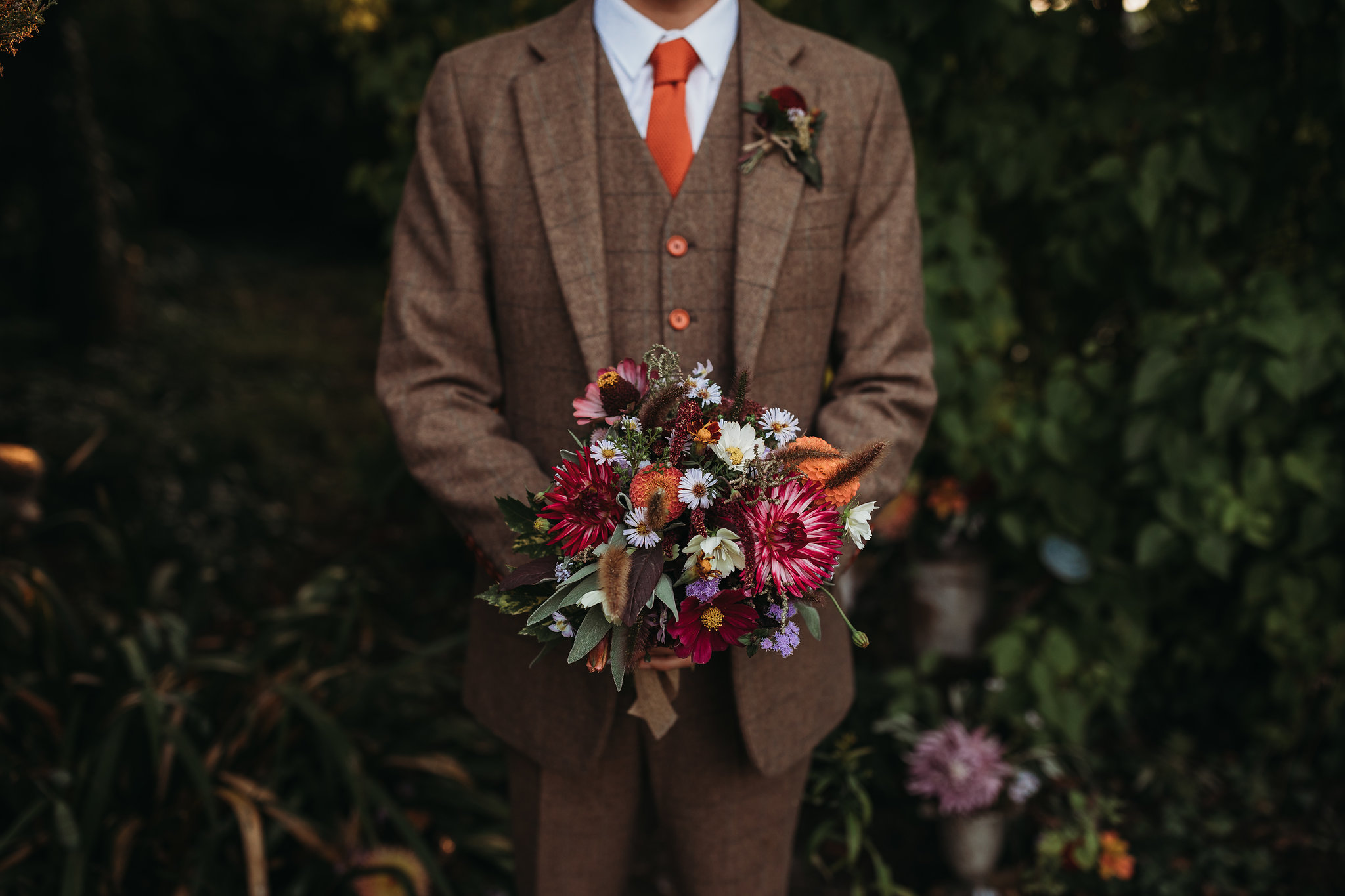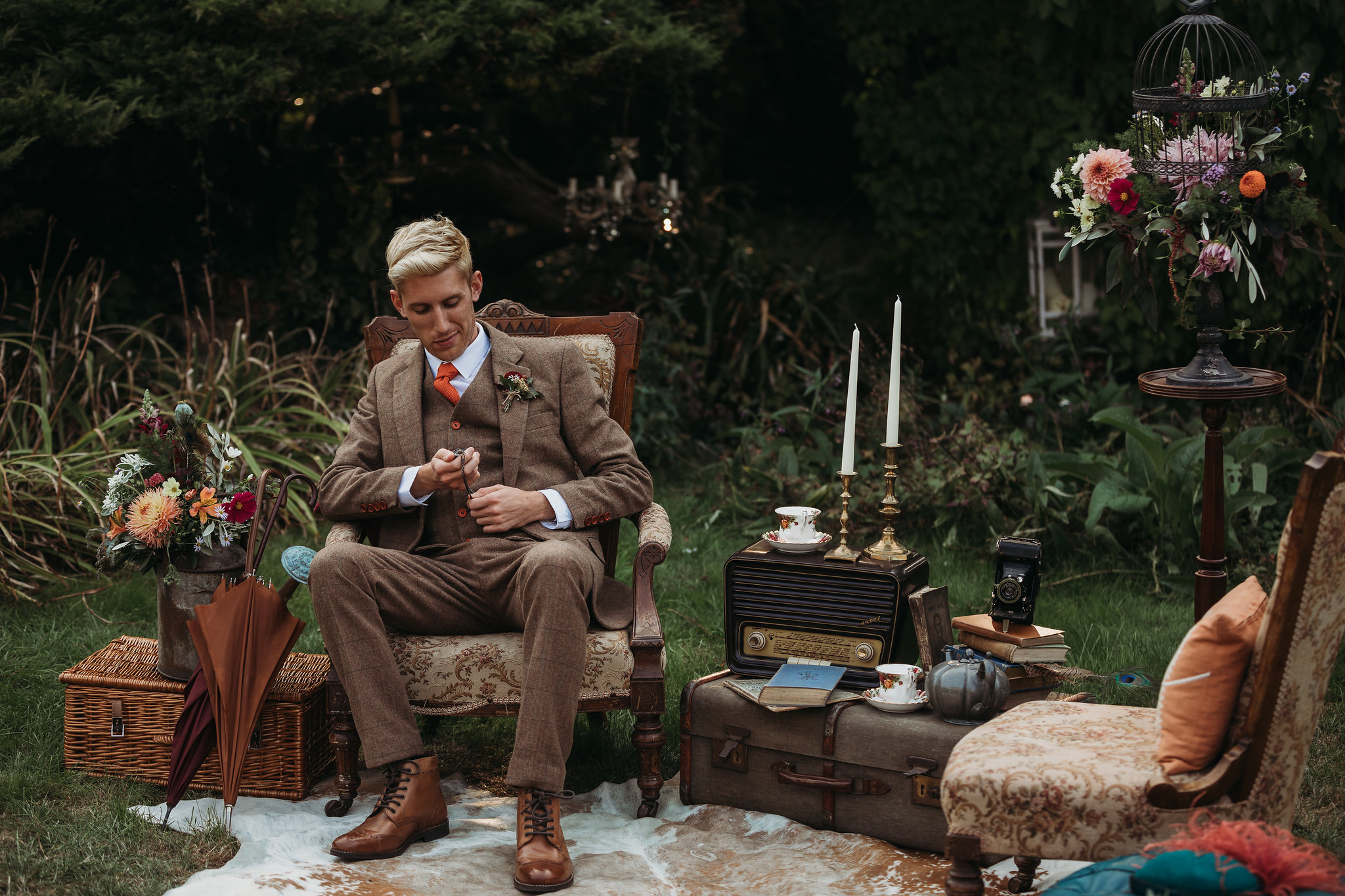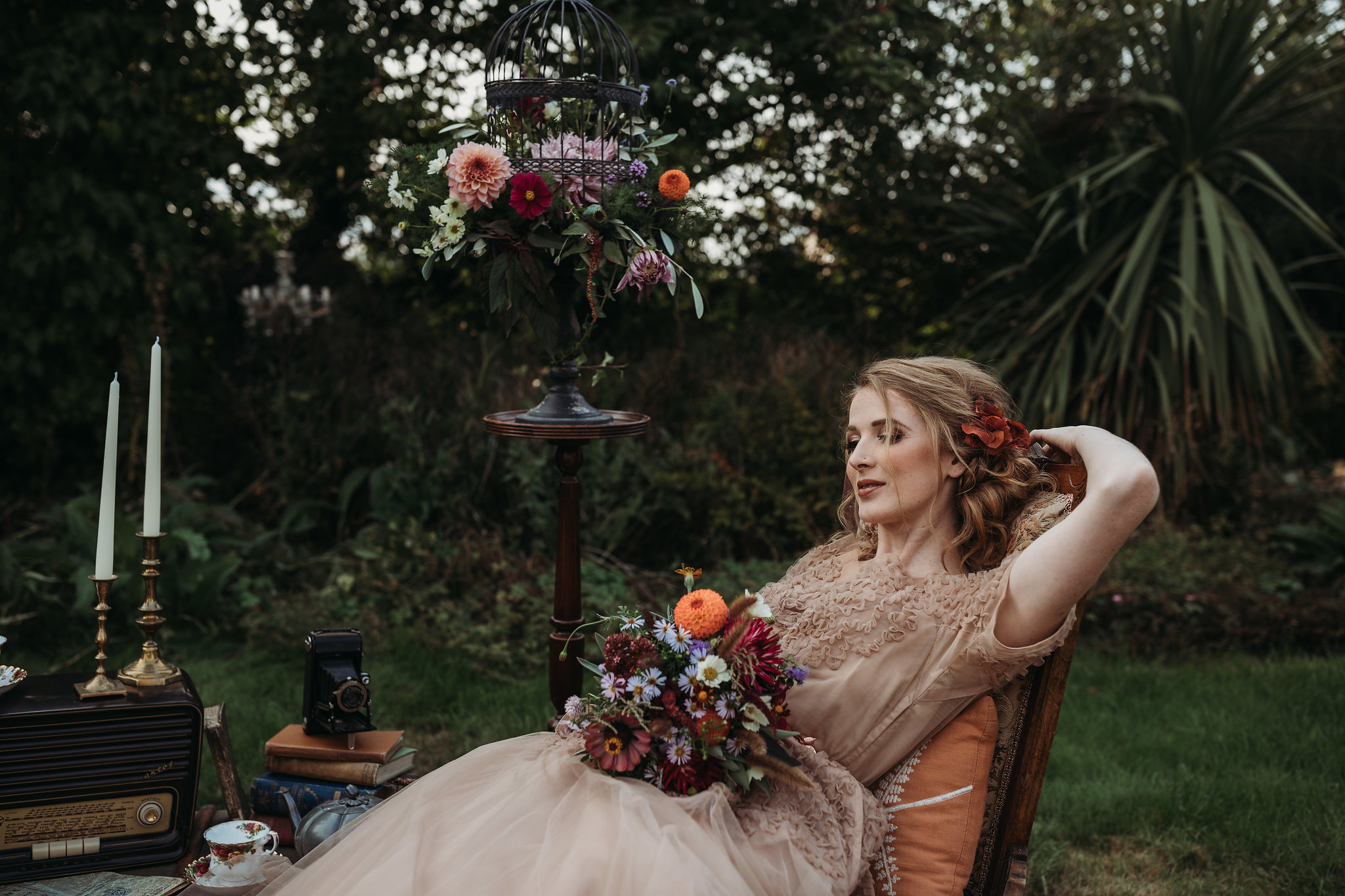 Flowers – What The Fleur
"The couple were 'at one with nature' on their mini moon to the country side, so I used mostly English grown flowers from a local supplier in Cambridgeshire to give an authentic feel of 'handpicked' wild flowers for the bouquet. The bouquet included lots of different varieties of flowers – with only a few stems of each to bring in a lot of interest and variation of colour, as you would see them growing naturally. With the dress being such a gorgeous taupe colour, I wanted to focus on an autumnal base with pops of brighter colours to lift the palette. In the other florals I used larger more blousy blooms to give an almost painterly fashion to the arrangements. I also included seed heads, grasses and feathers to encompass how rustic and rural the surroundings were. My number one tip would be to trust your florist's creativity – give them the colours of the clothing and style of the venue and let them create bespoke florals to enhance the atmosphere of the day."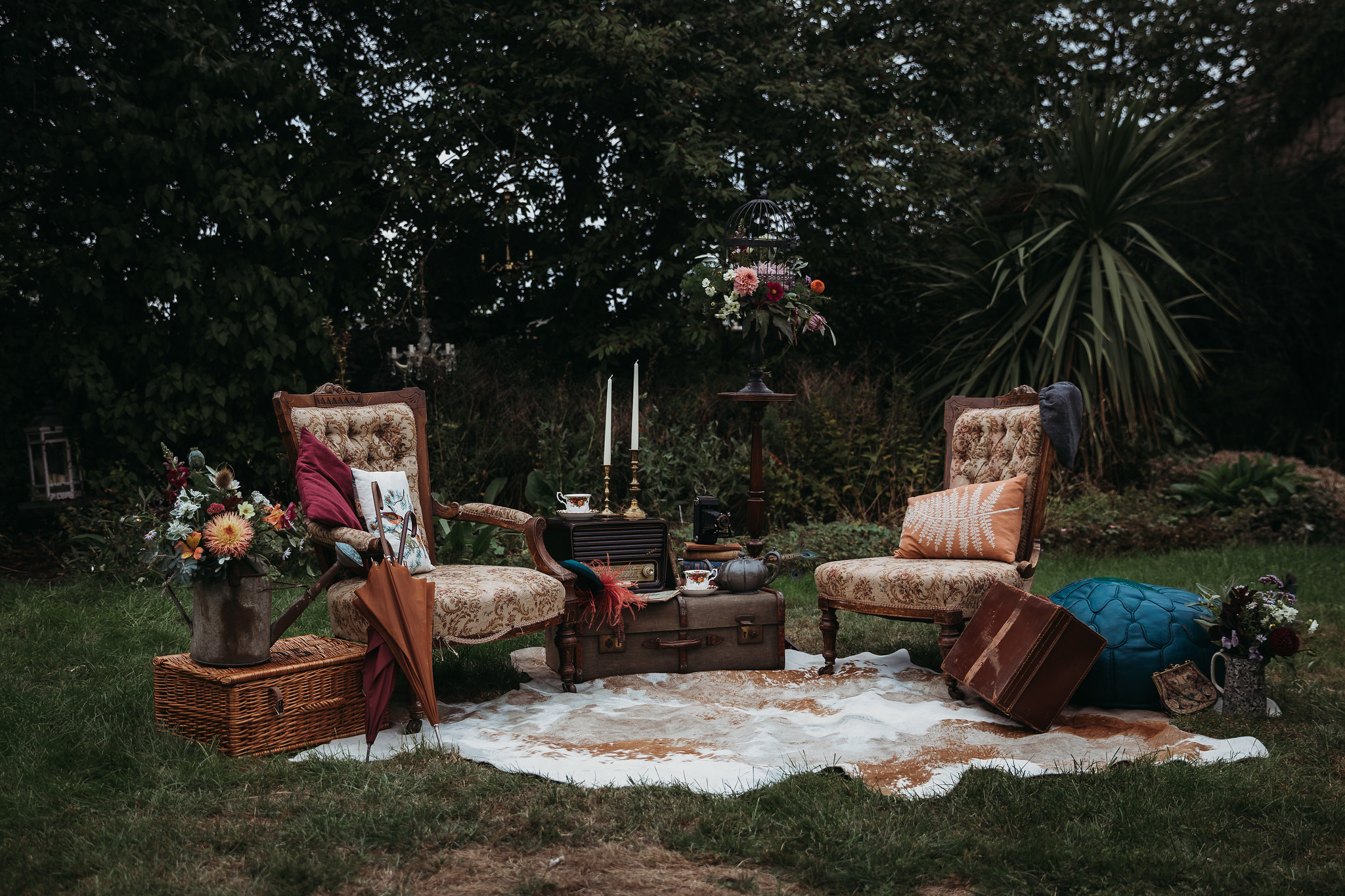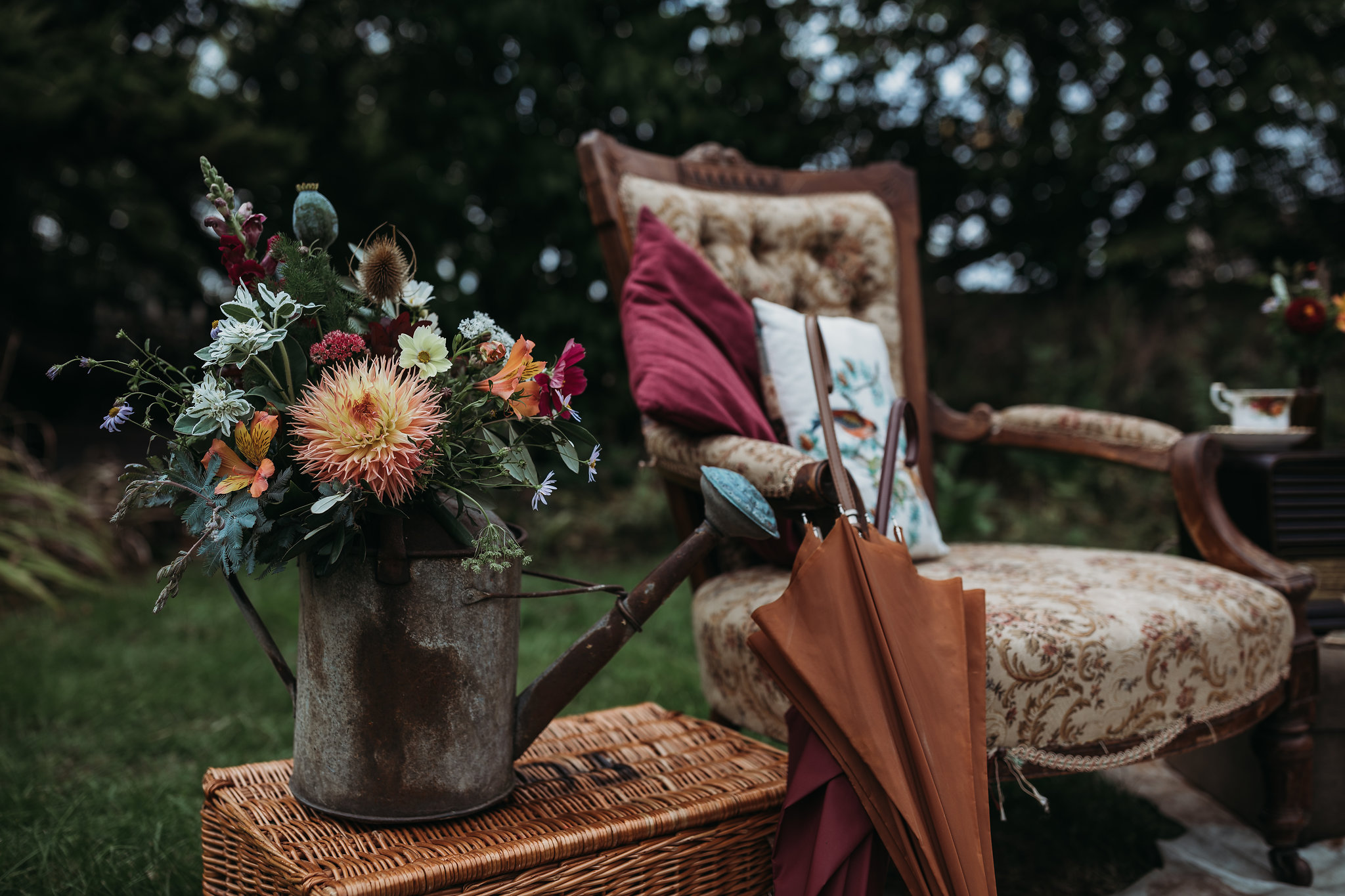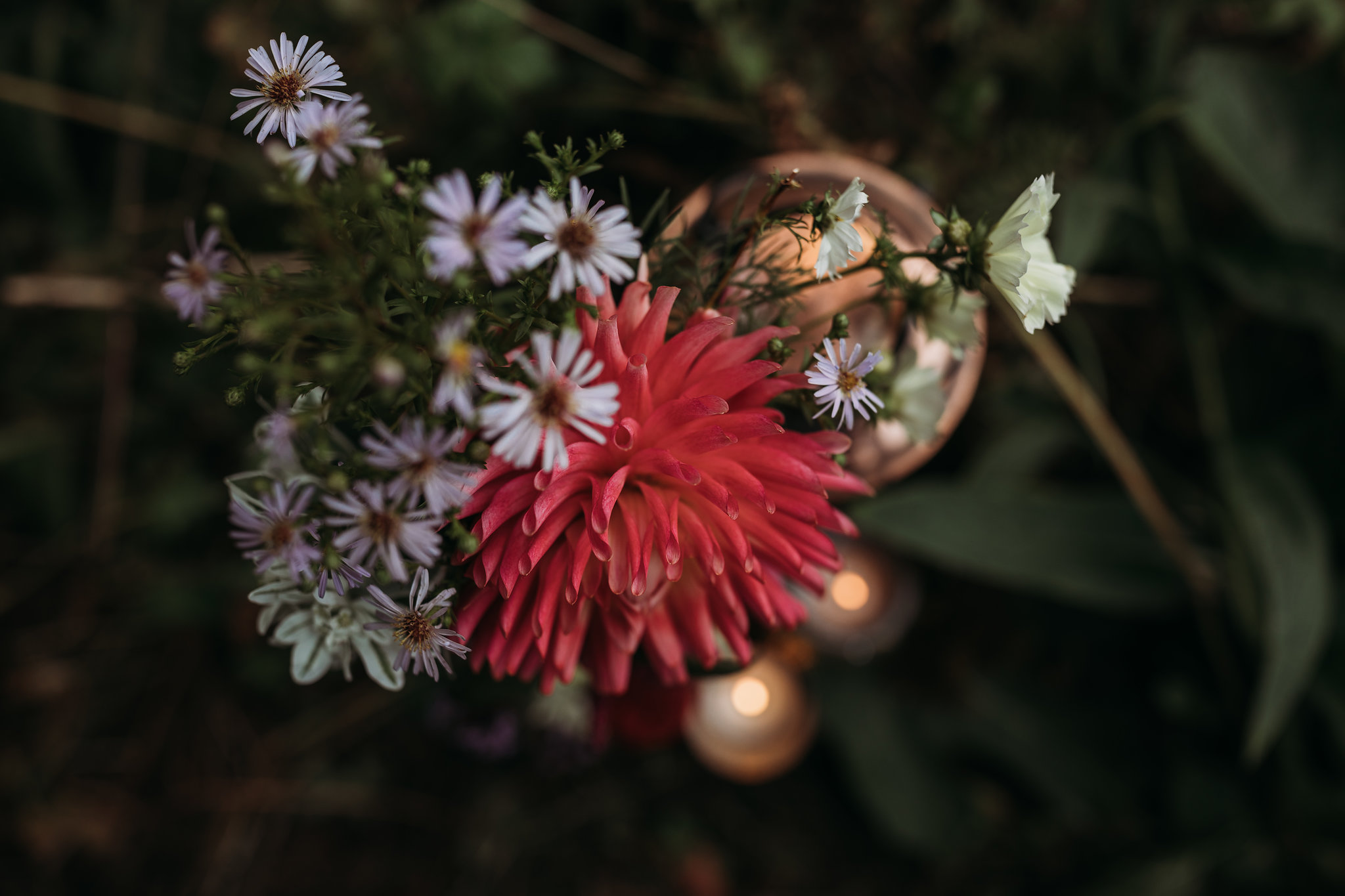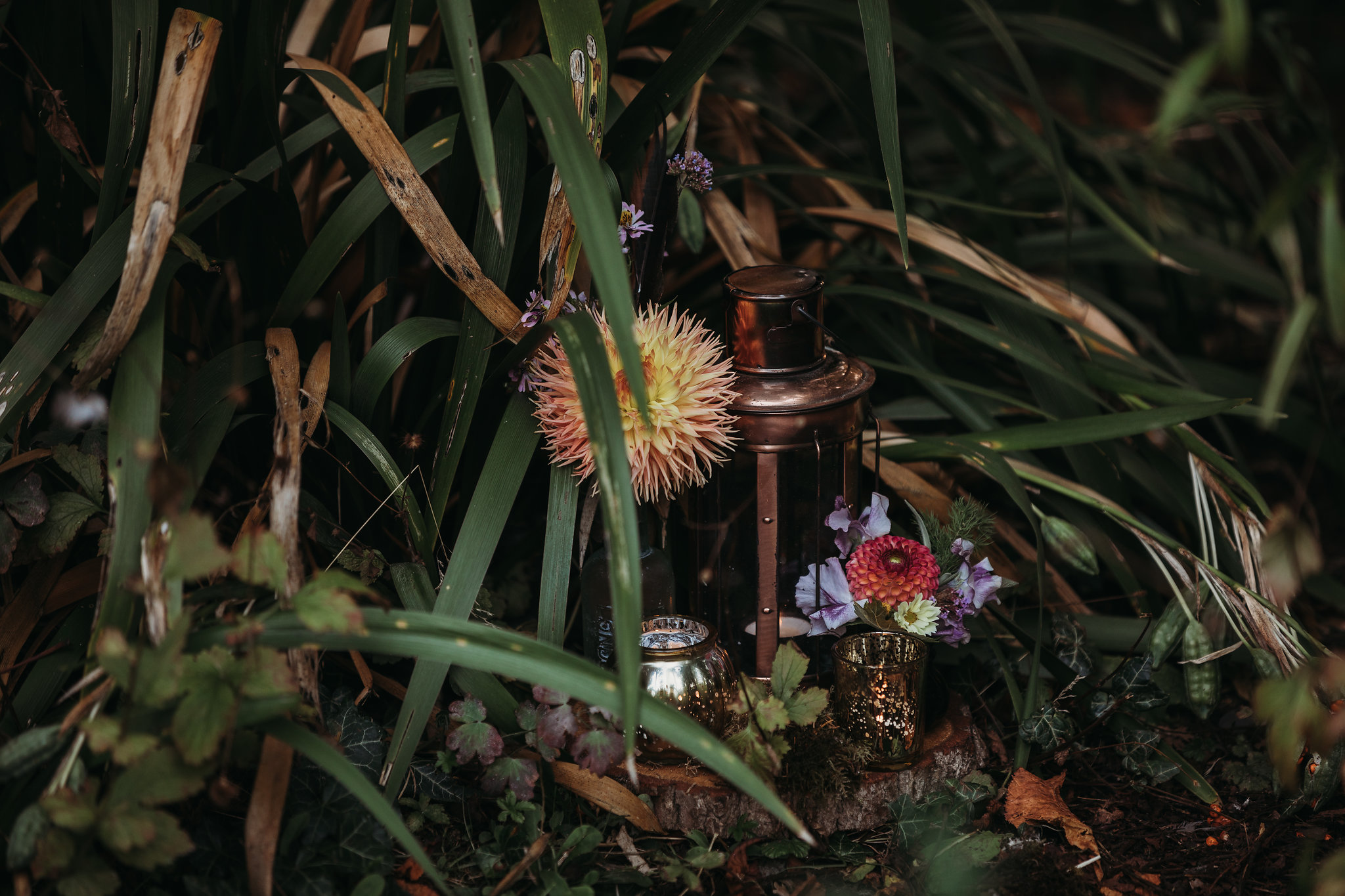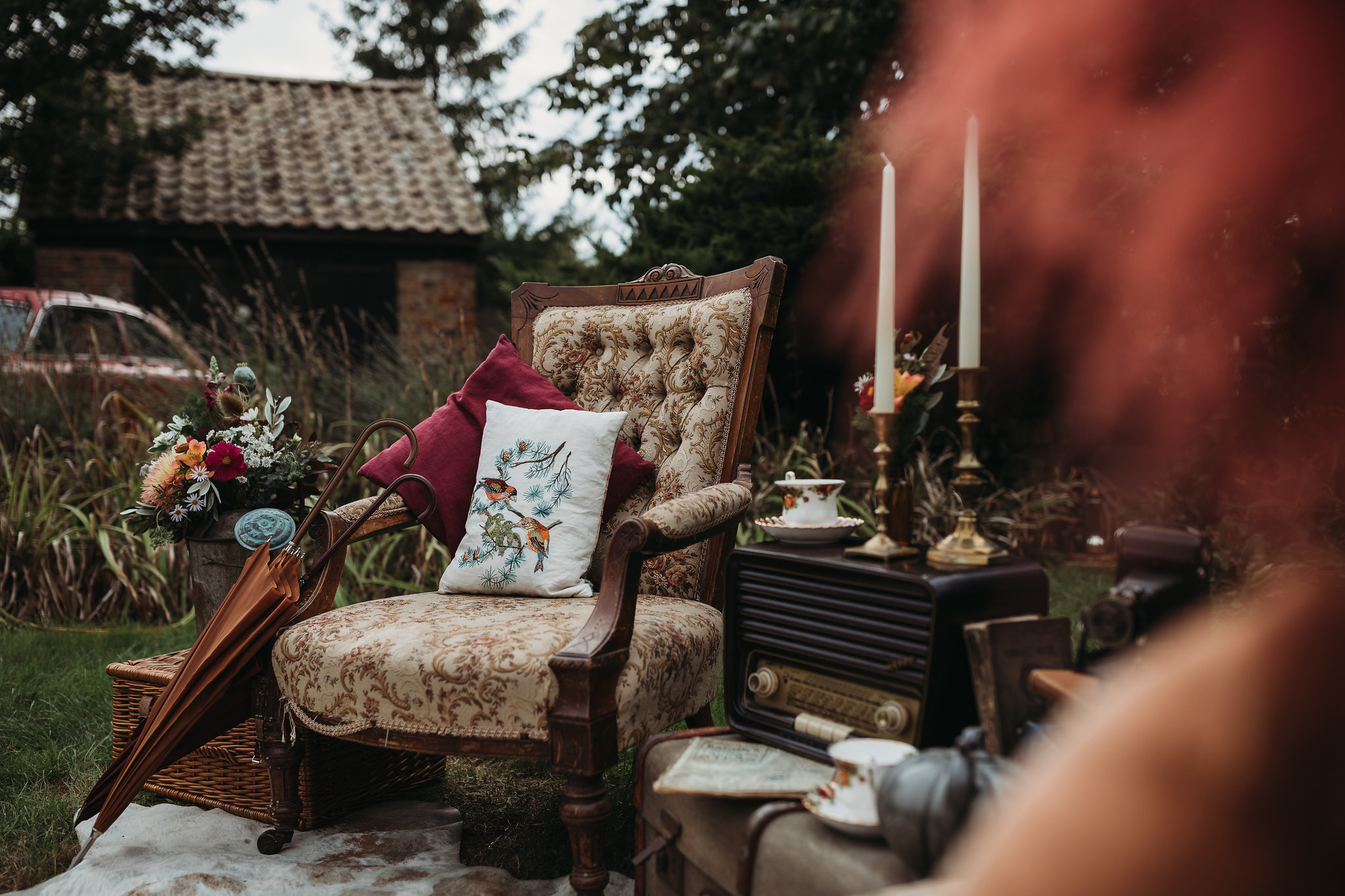 Stylist – Dolly's Vintage Tea Party
"A touch of opulence complimented with timeless décor enhanced this warm and cosy cottage retreat.  My hope; for each setting to sensitively tell an intimate tale of romance.
Beginning with the quirky arrival by classic car and old bike, the couple moved onto the laidback quintessential afternoon tea on the lawn, styled with vintage china, hide rug, antique props and subtle detailing. "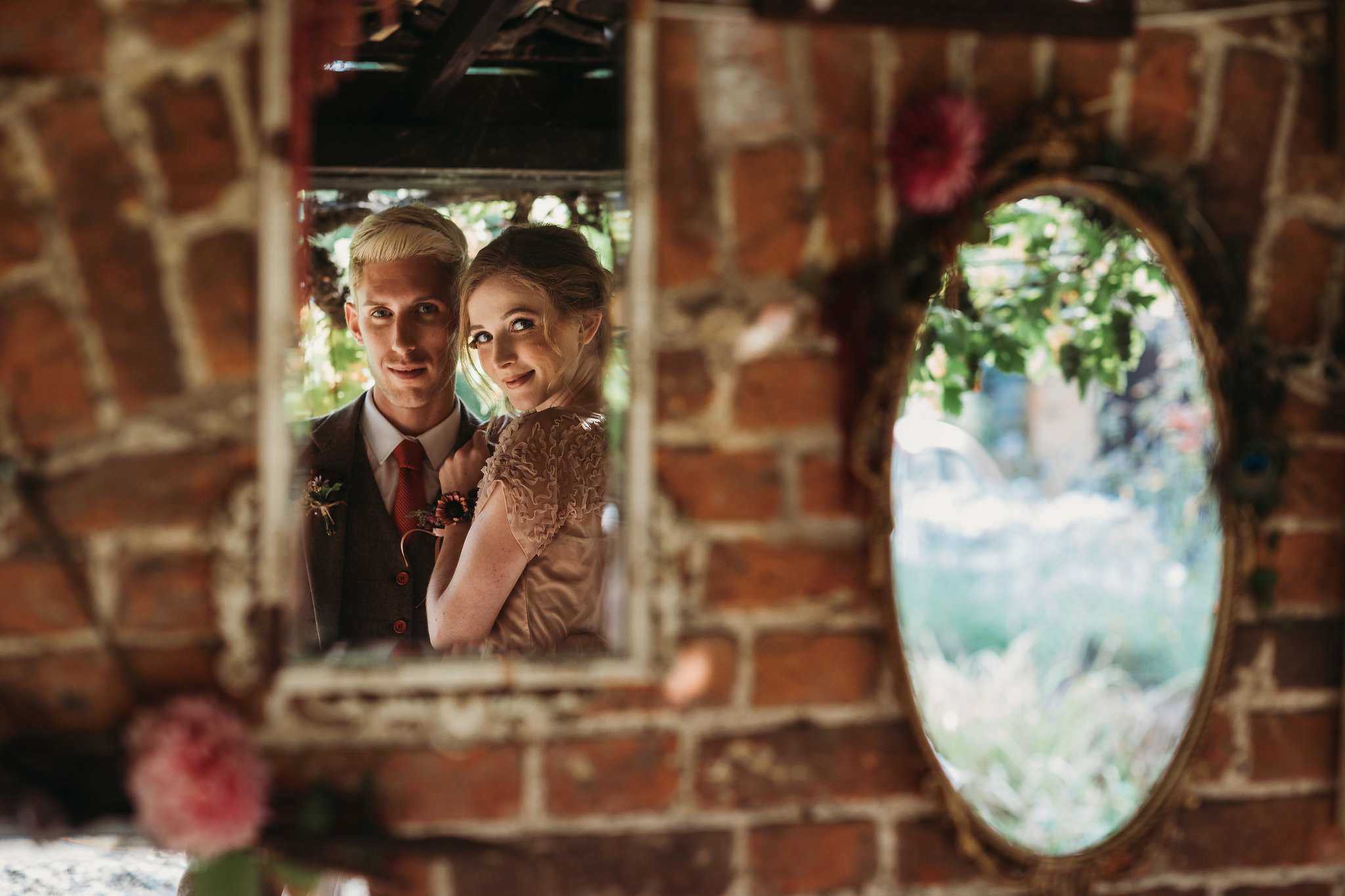 "Gold, natural wood, textiles of velvet, atmospheric candlelight and luxurious autumnal table styling, helped accentuate the heavenly cheese tower and homely fireplace setting.
"And an almost 'fairytale like', woodland walk became the conclusion to their day.  Dressed with exquisite chandeliers and lanterns and enhanced with the vibrancy of florals, an enchanting scene was created.  This, bringing balance to the earlier fun and frolics, where they had danced to the gramophone, surrounded by a backdrop wall of vintage mirrors and flowers."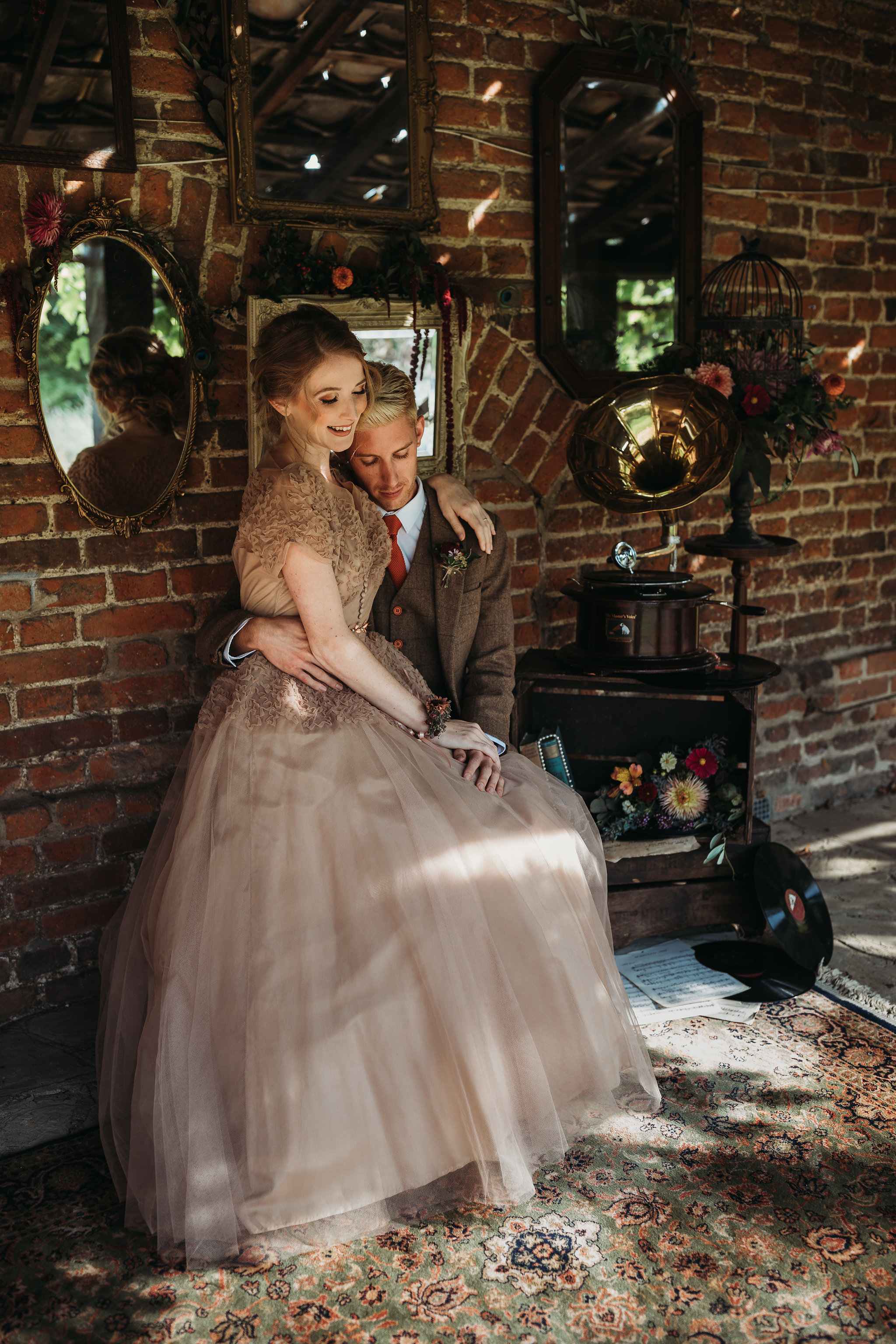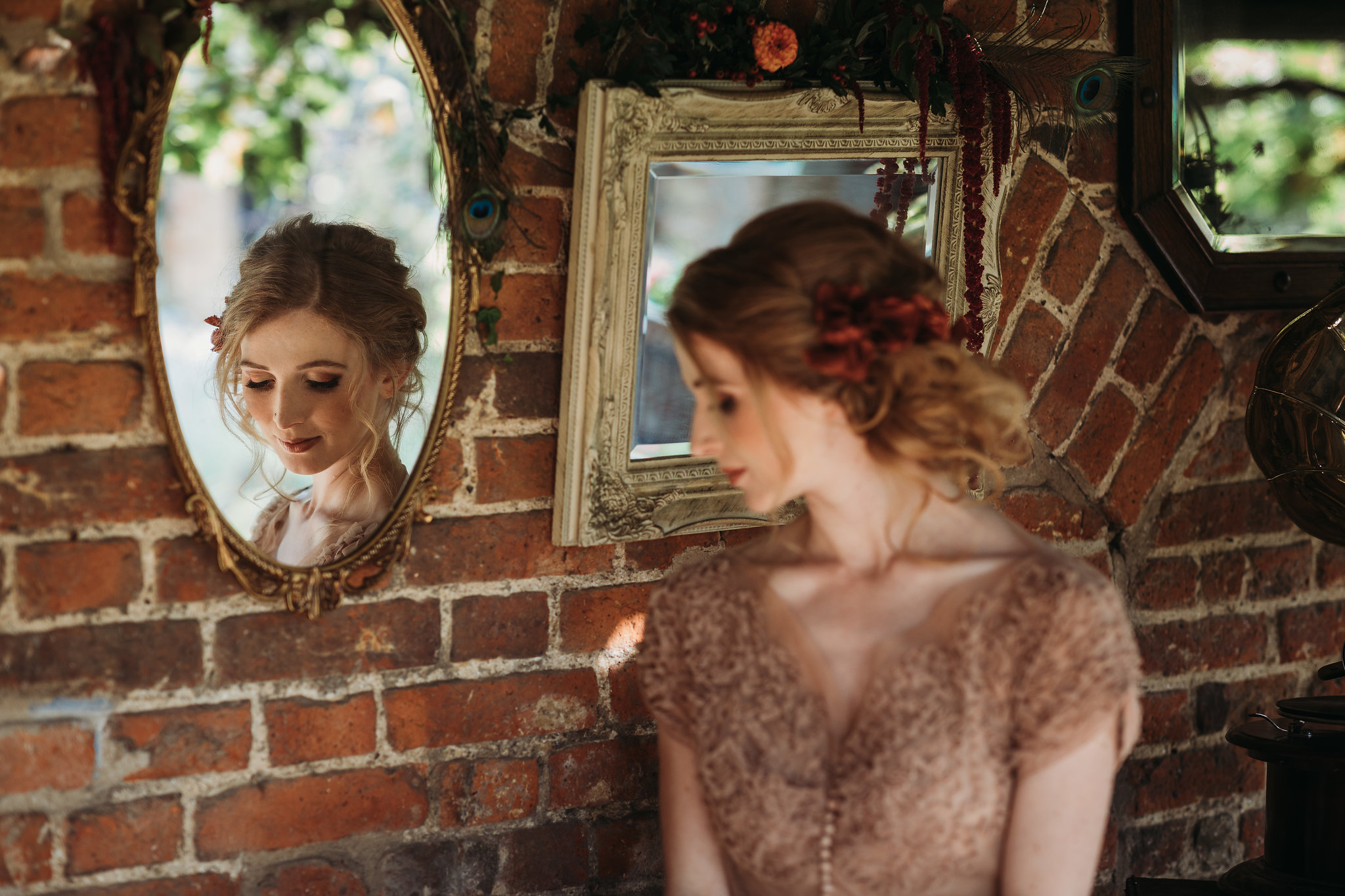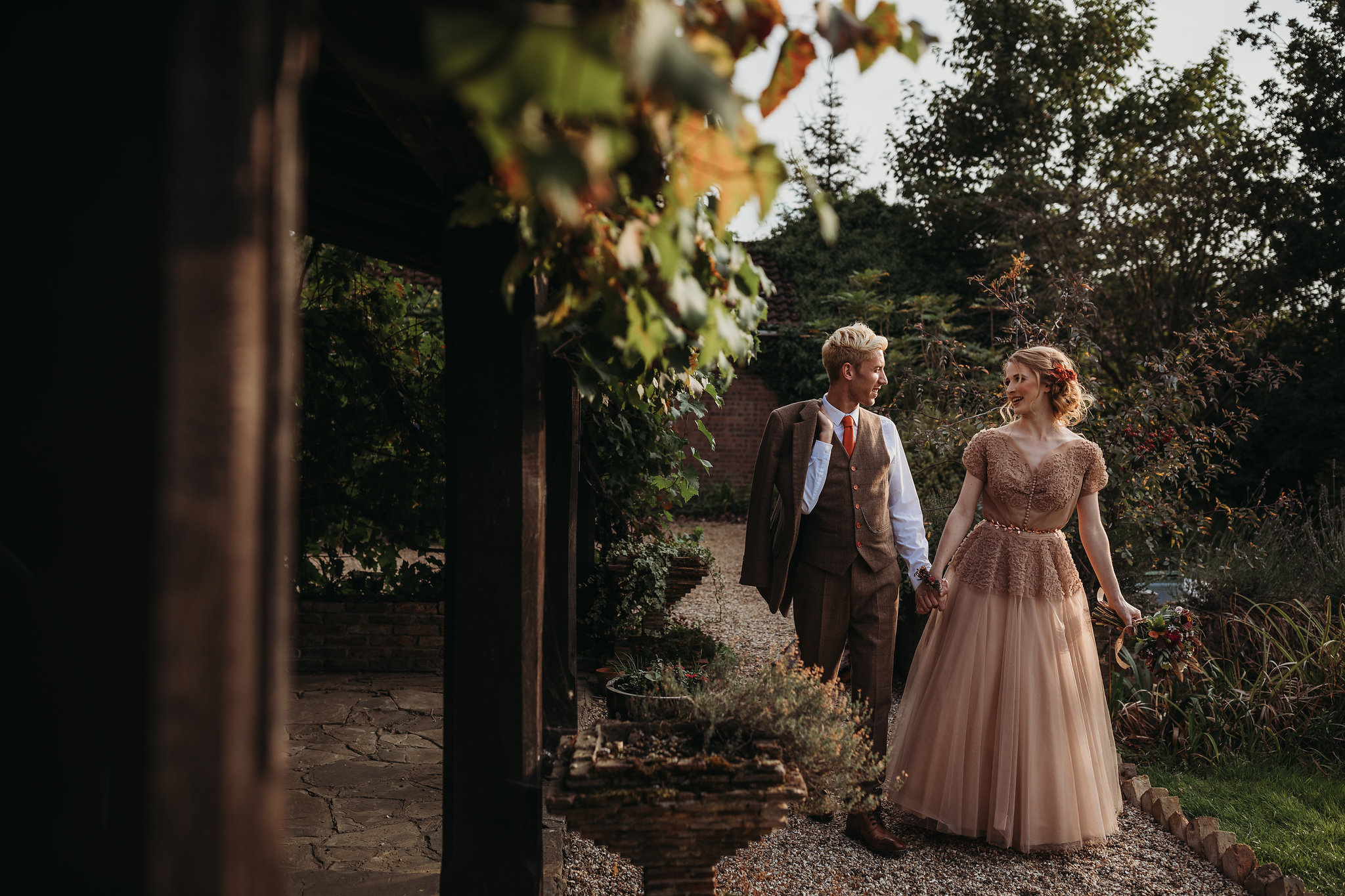 "I endeavour to use nostalgic styling evocative of another era to compliment a couples day, brought to life by always working closely with the florist, cake maker, photographer and other suppliers to create a cohesive look.  Shoots like this illustrate how a seamless collaboration between your team will make all the difference."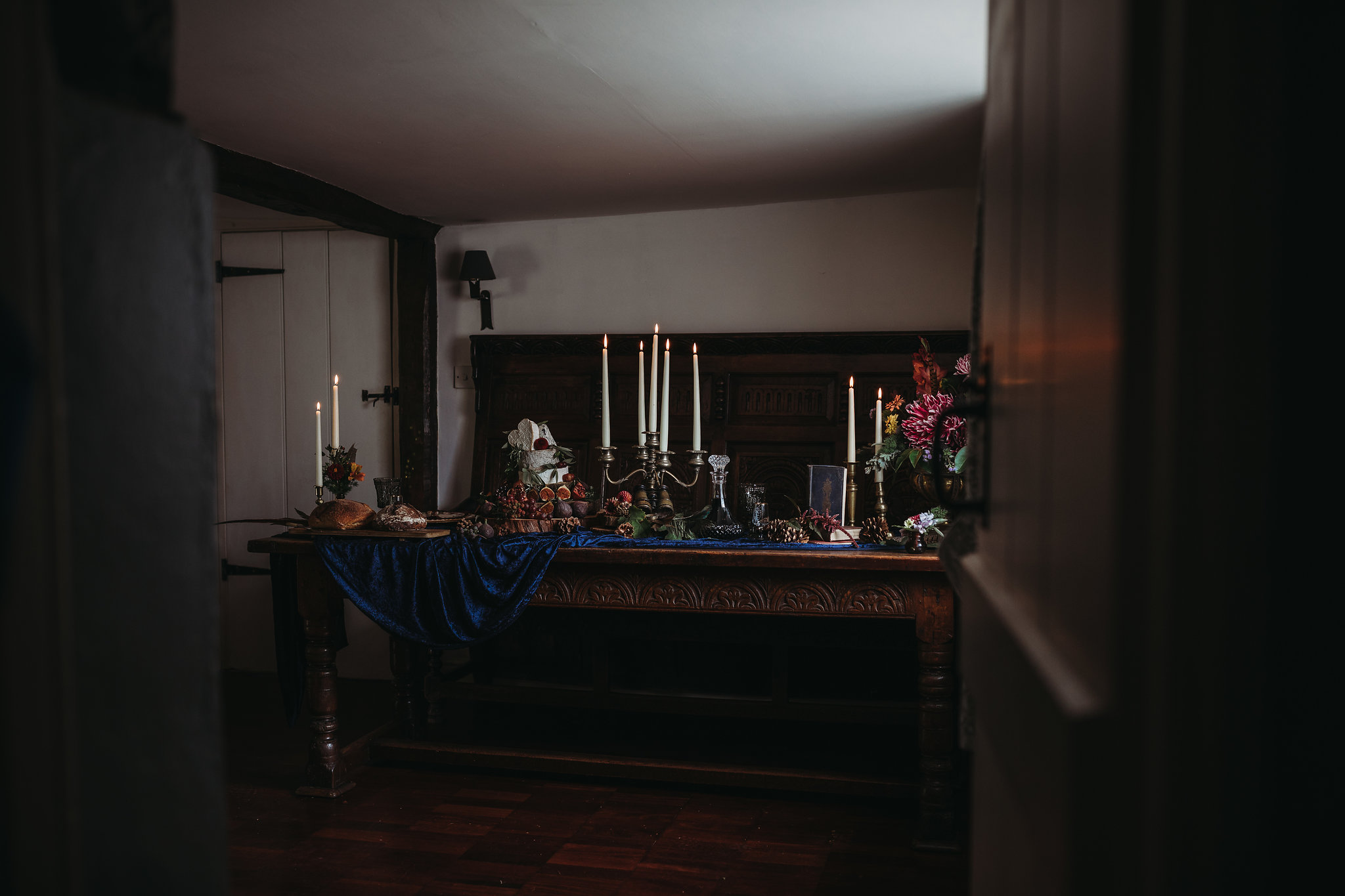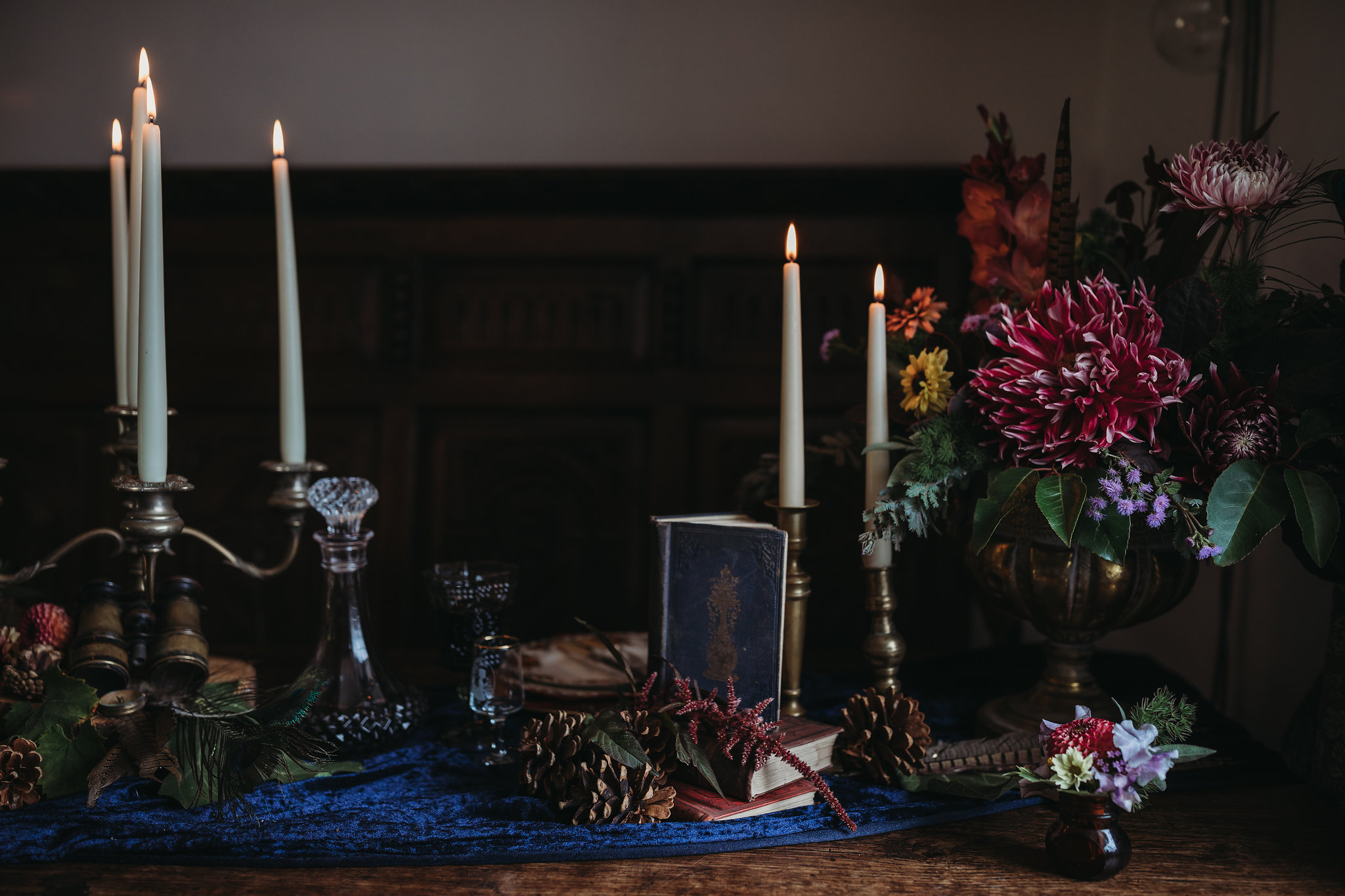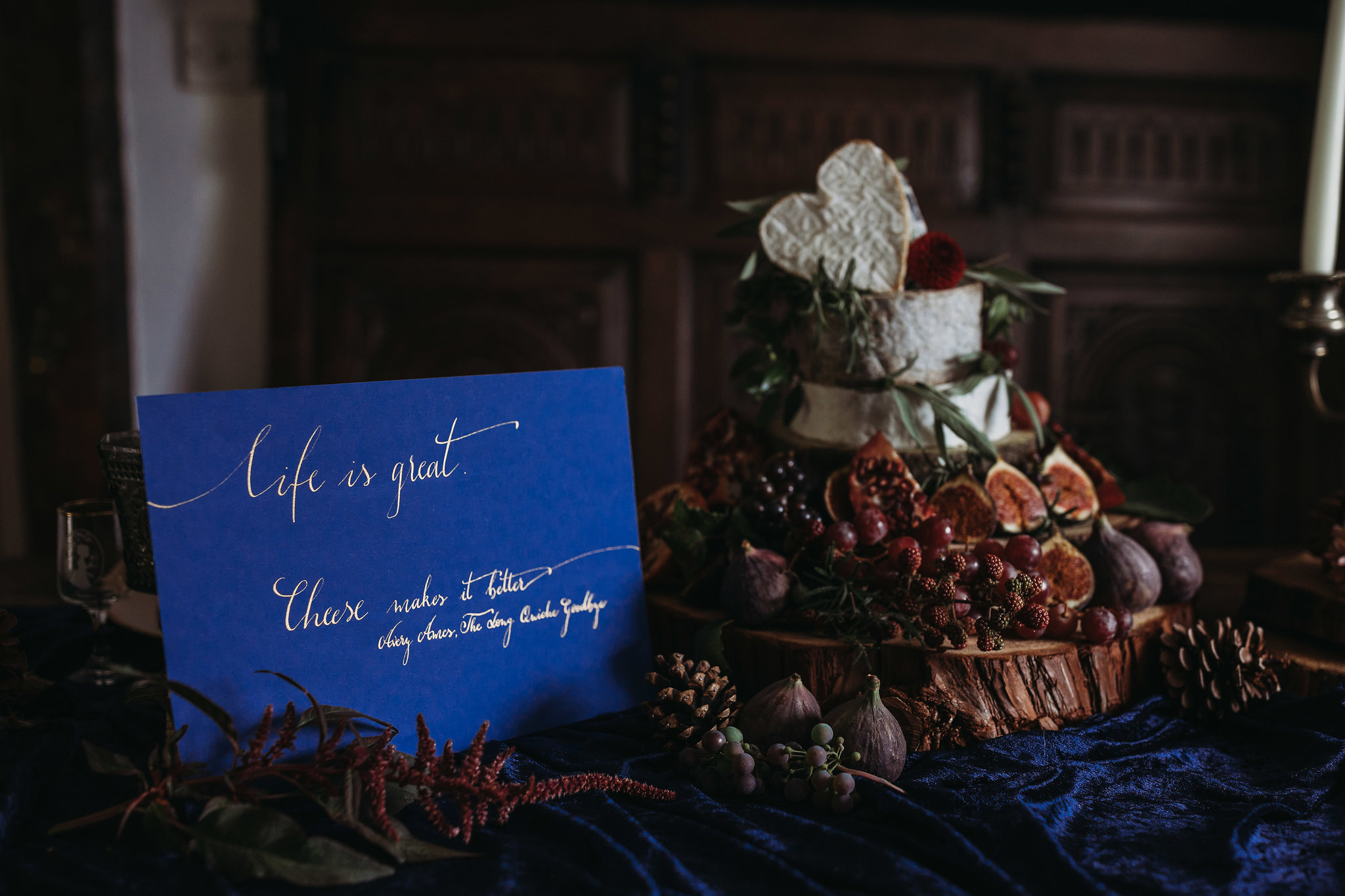 "Let your wedding décor enhance the story behind your day… as you plan, the styling you chose will have its own journey, have fun and indulge in it, make it personal and most importantly keep it honest to what makes you both happy."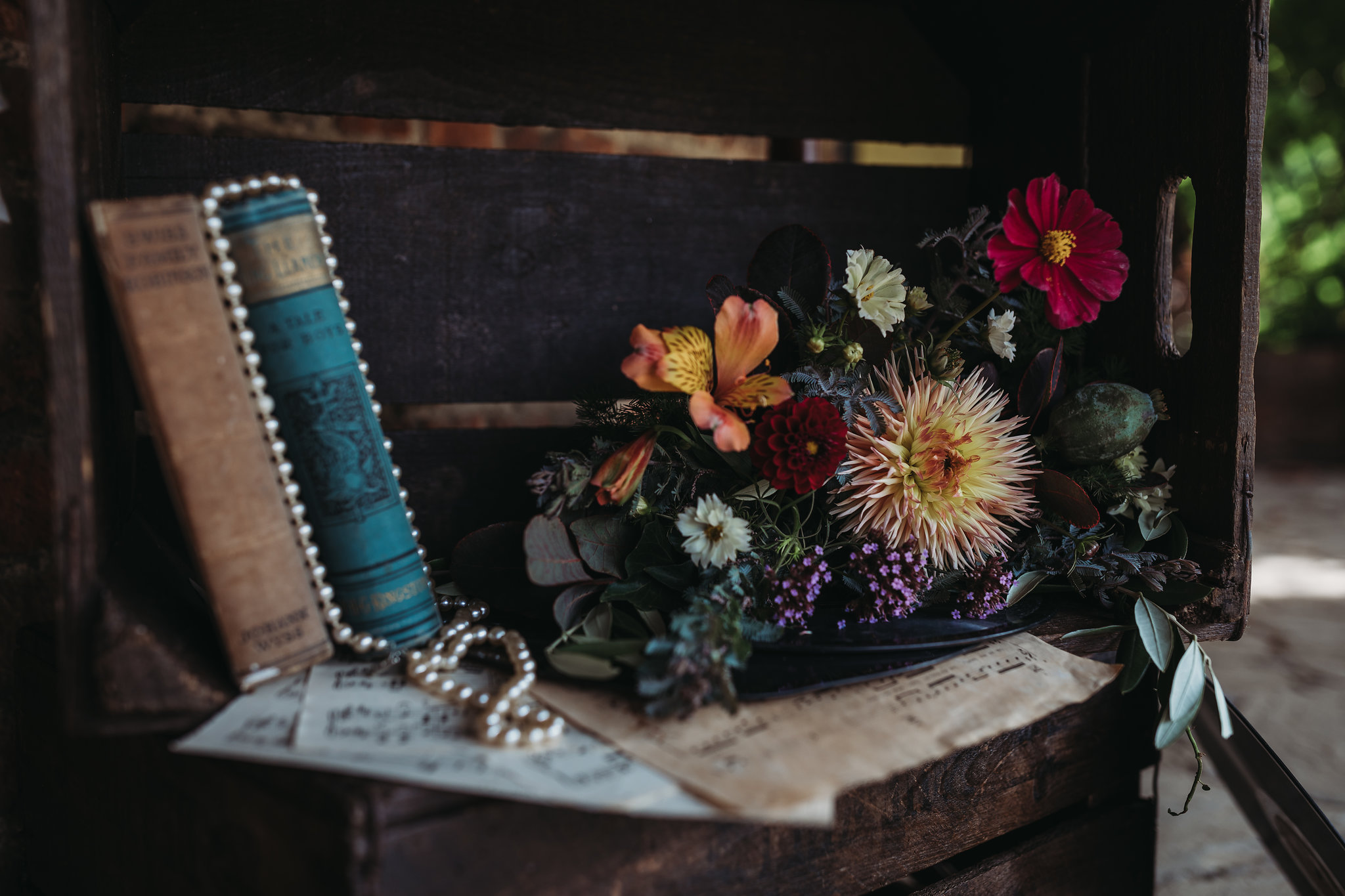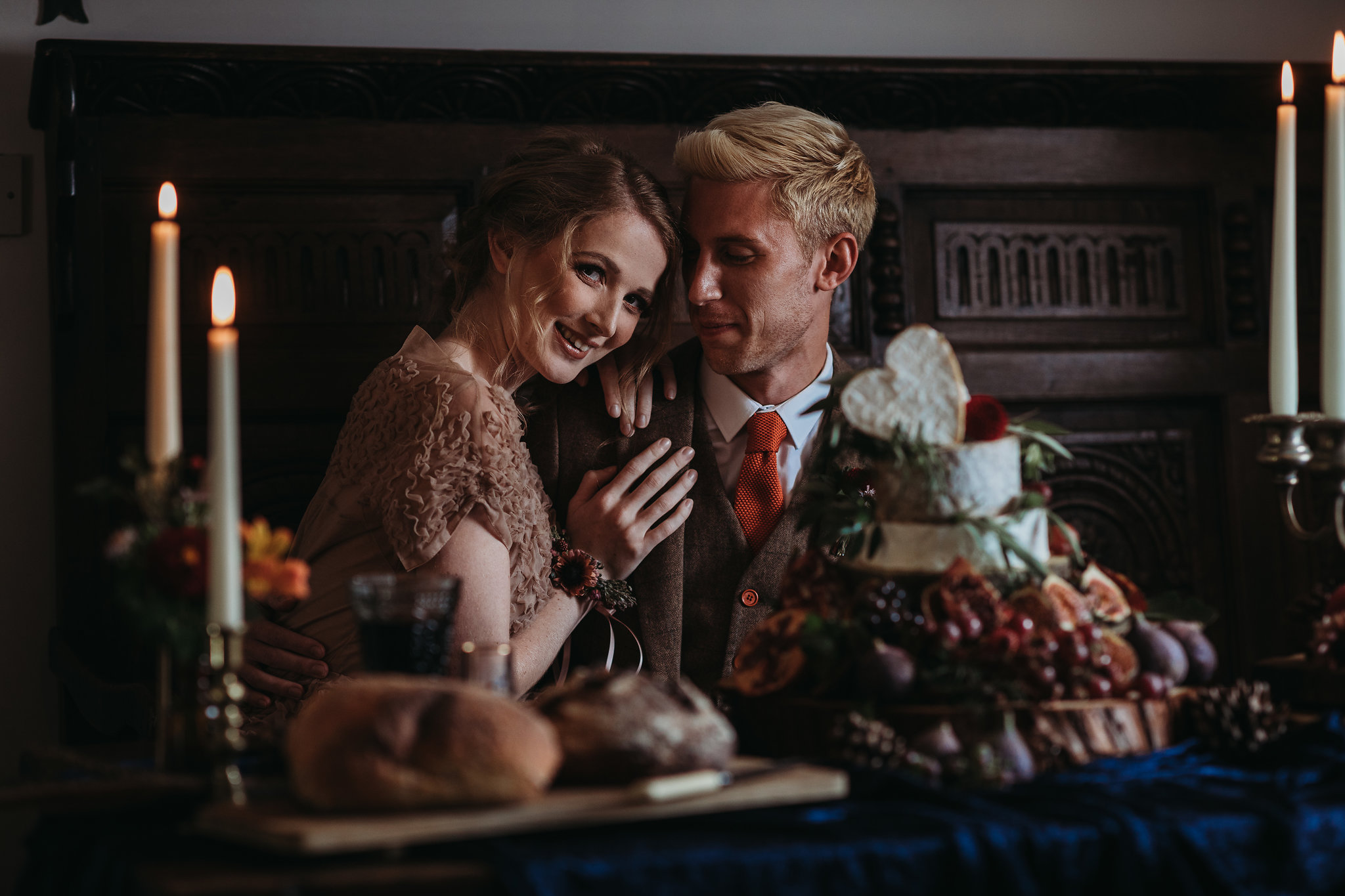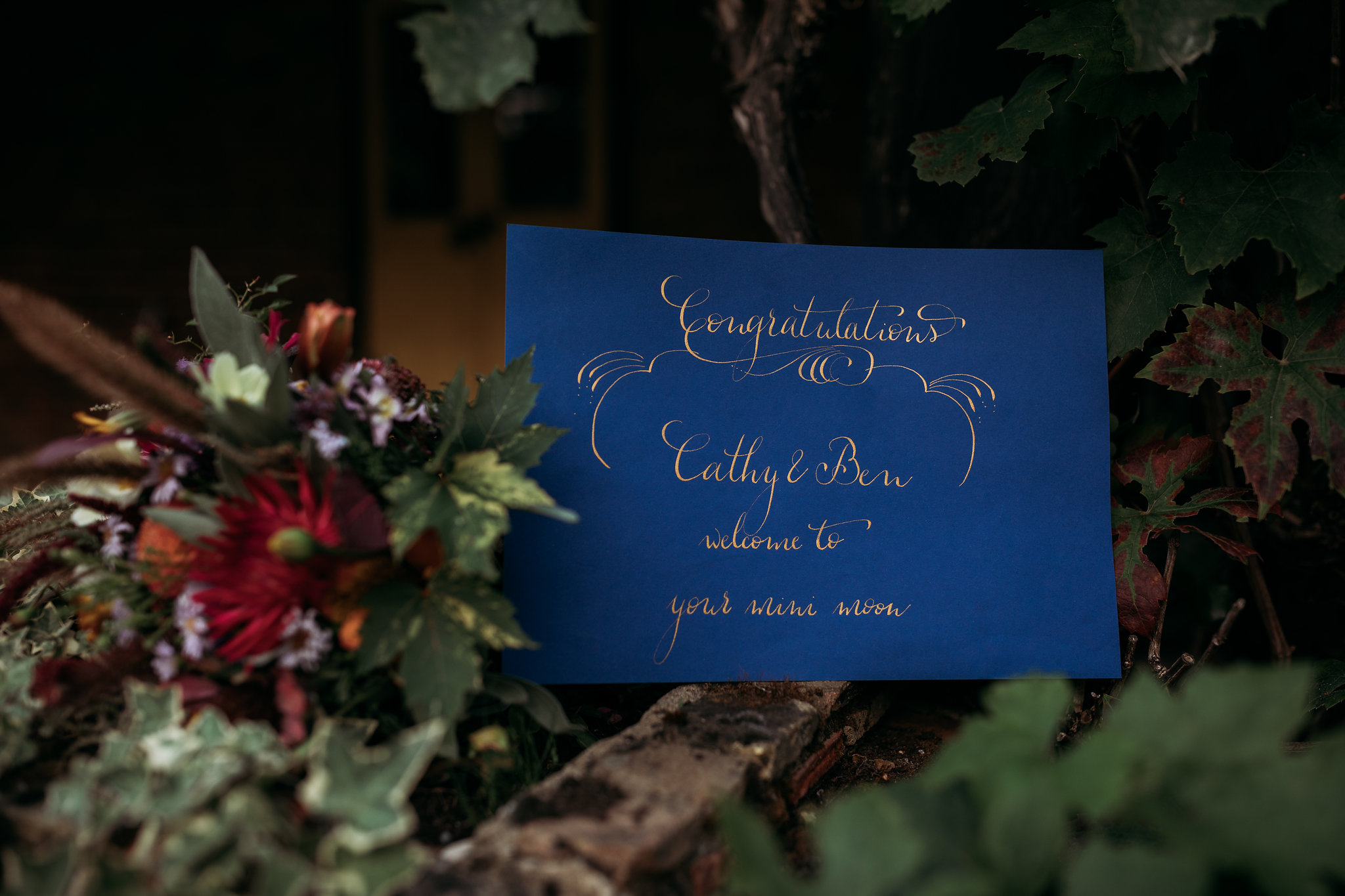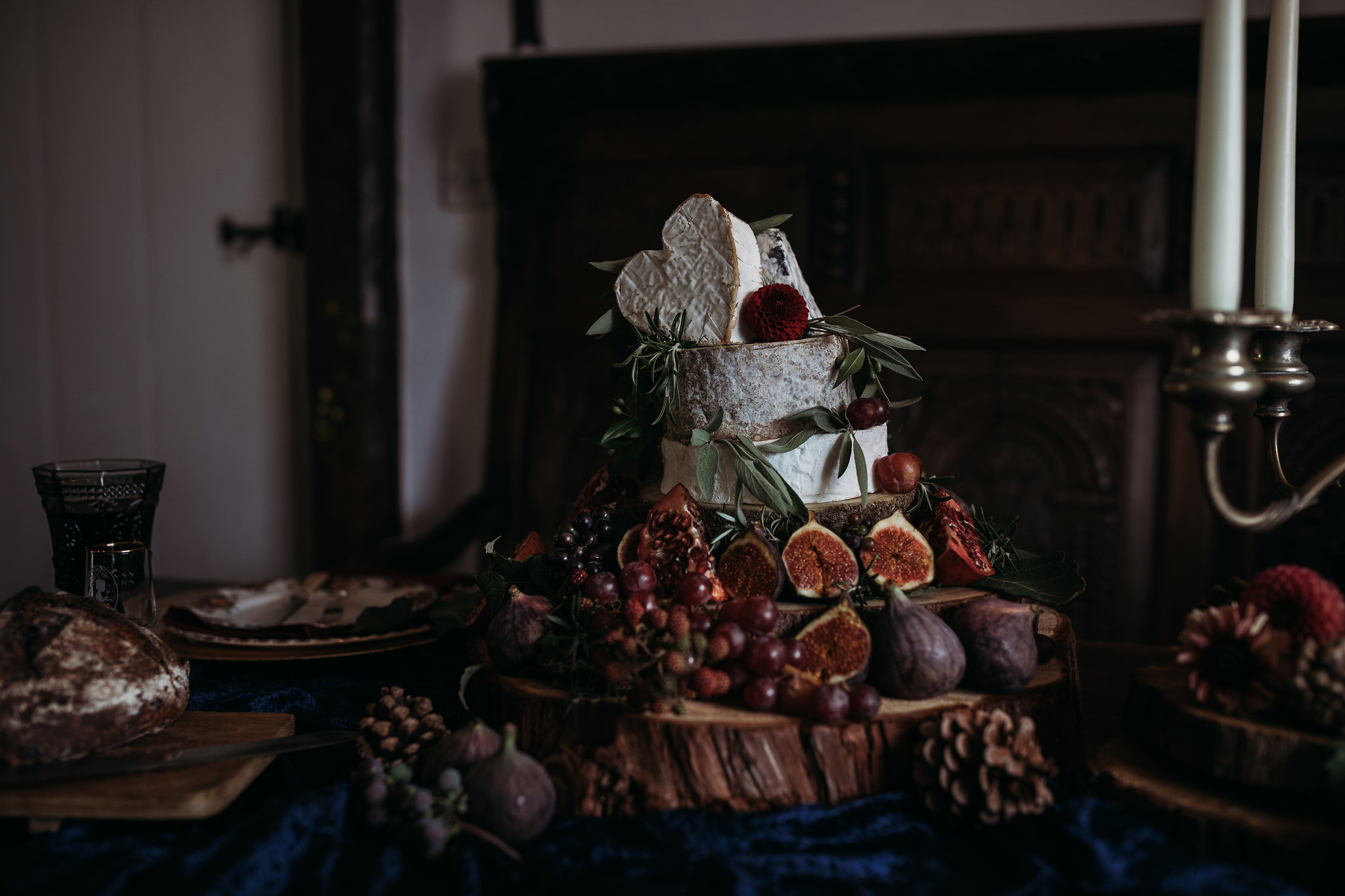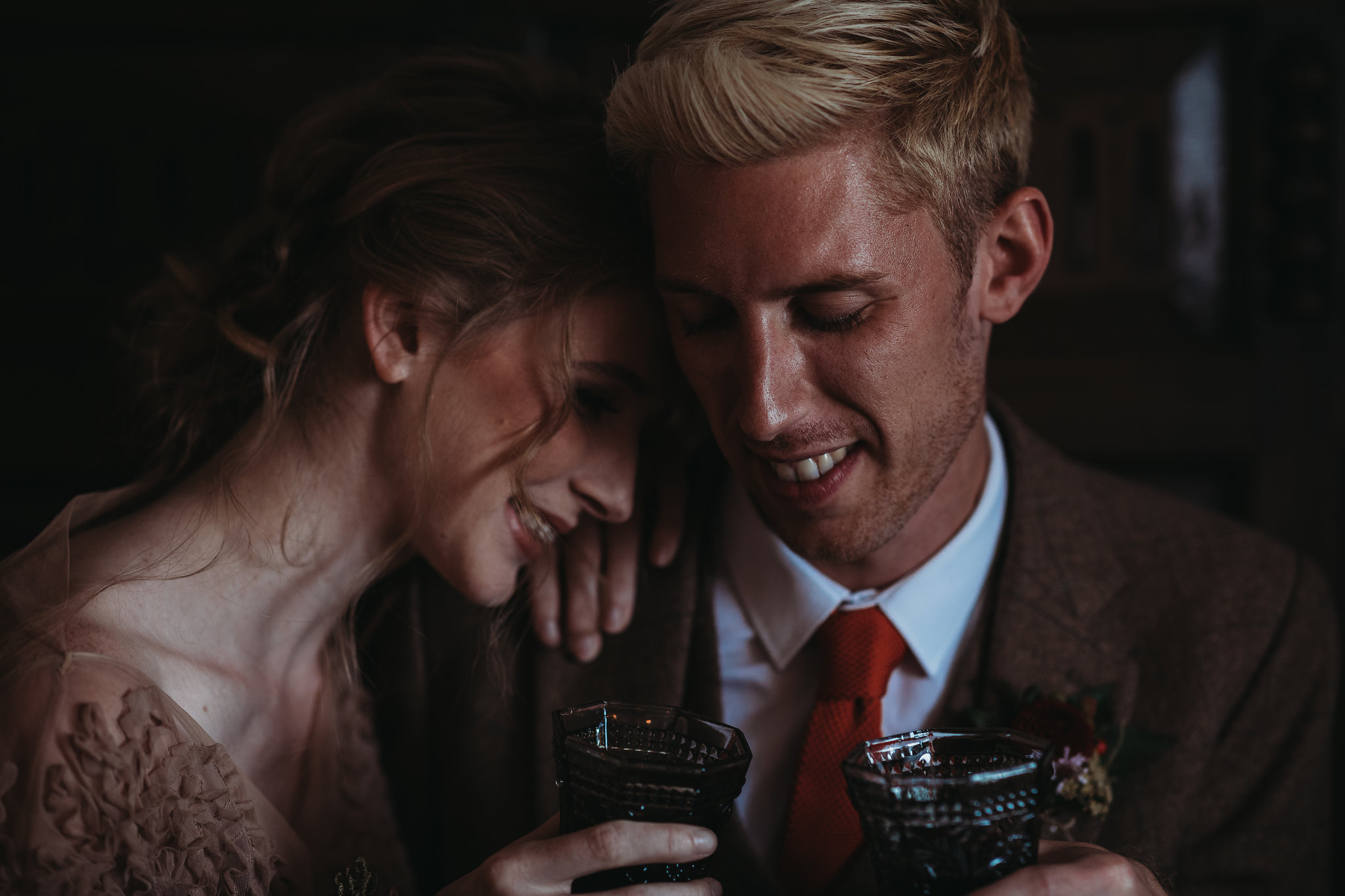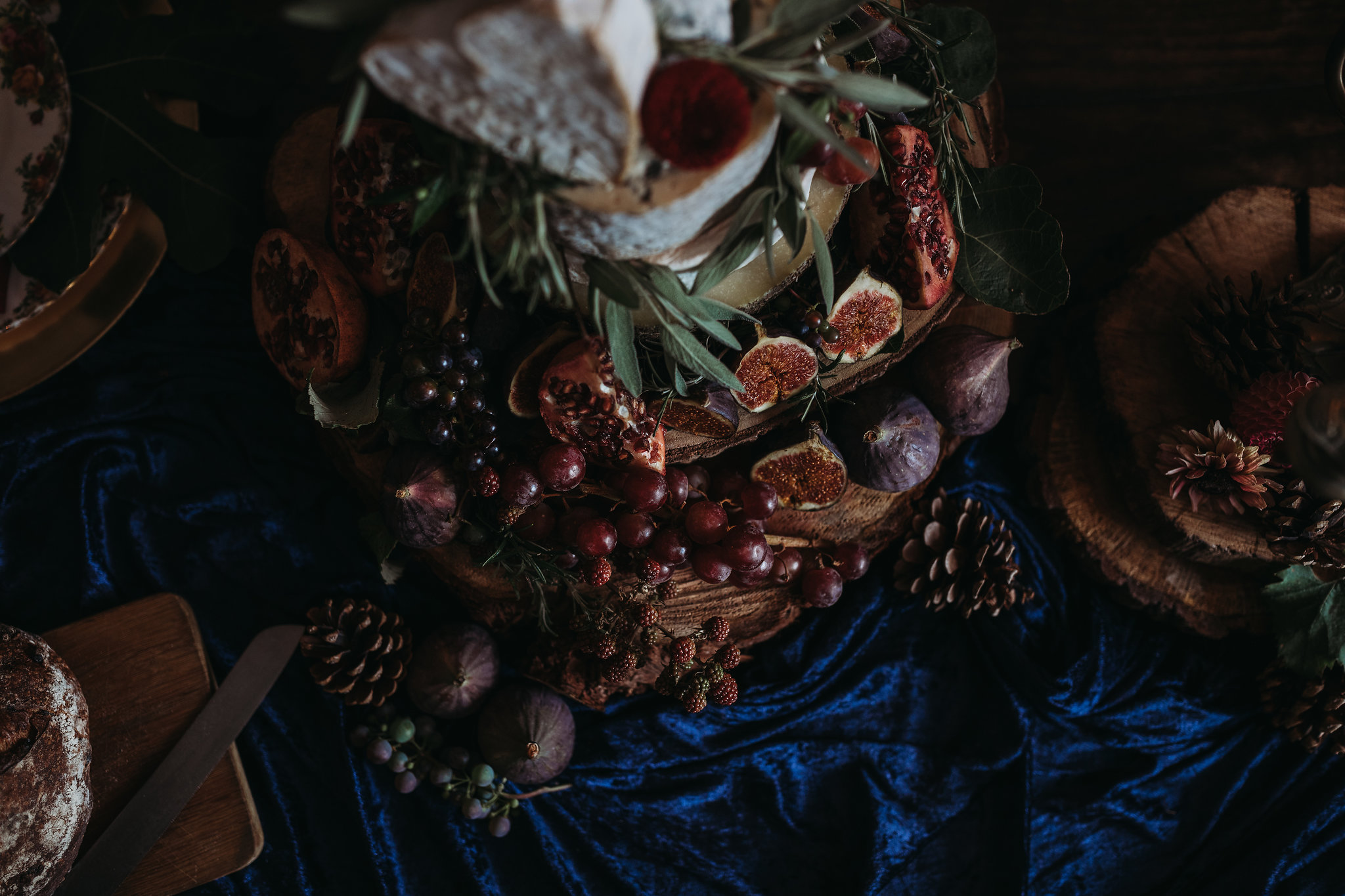 Hair and Accessories – Bridal Adornments
"Accessories are all about finishing touches. The beautiful handmade belt was designed in a nature inspired style . Copper leafy design paired beautifully with a gorgeous vintage dress adding a little touch of charm as well as accentuating the waist line. The matching romantic flower pins are a perfectly finished and adorn this gorgeous hairstyle. For the hair we went for a romantic soft, loose hairstyle. Finishing with beautiful flower pins. Creating natural  effortless looking hair."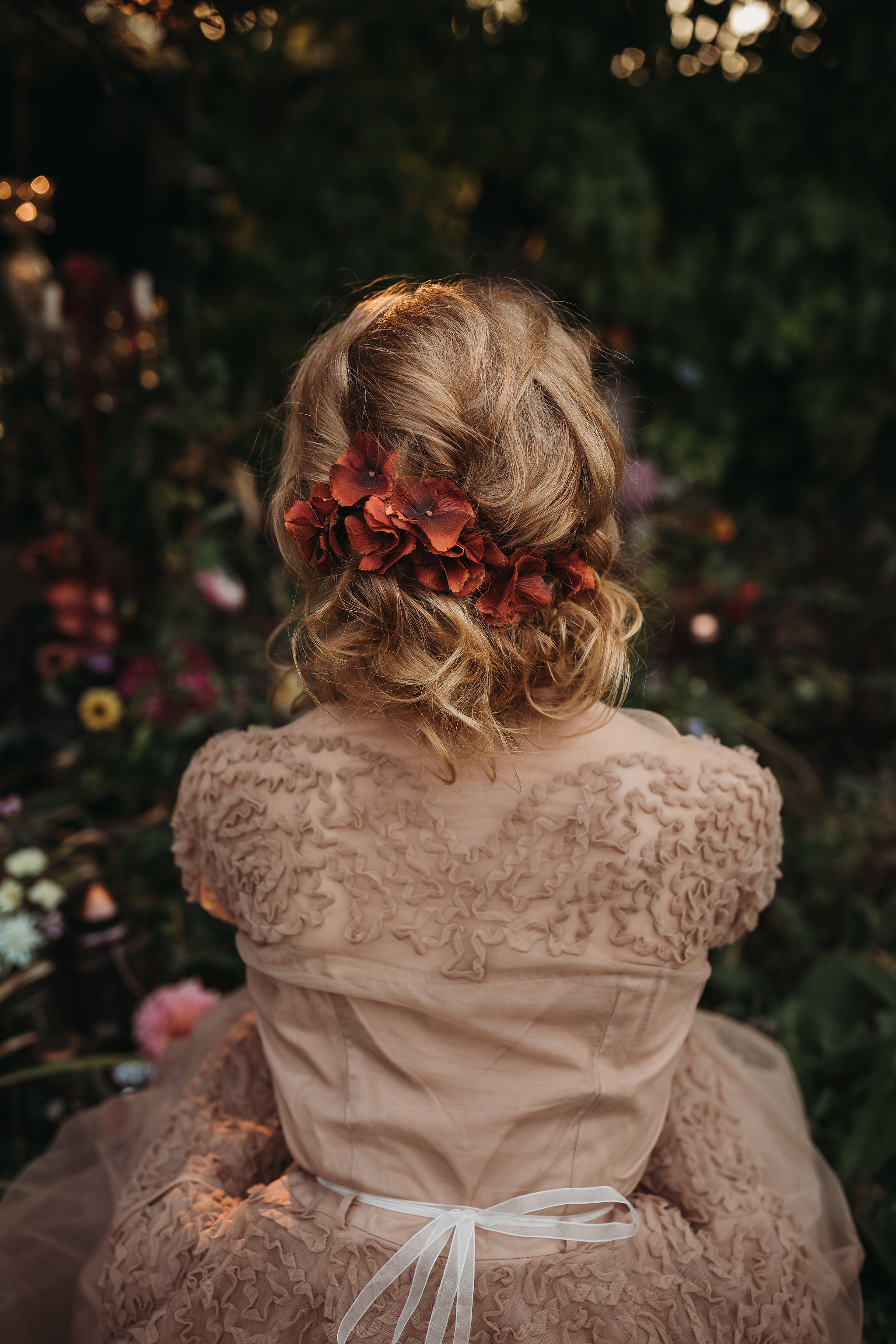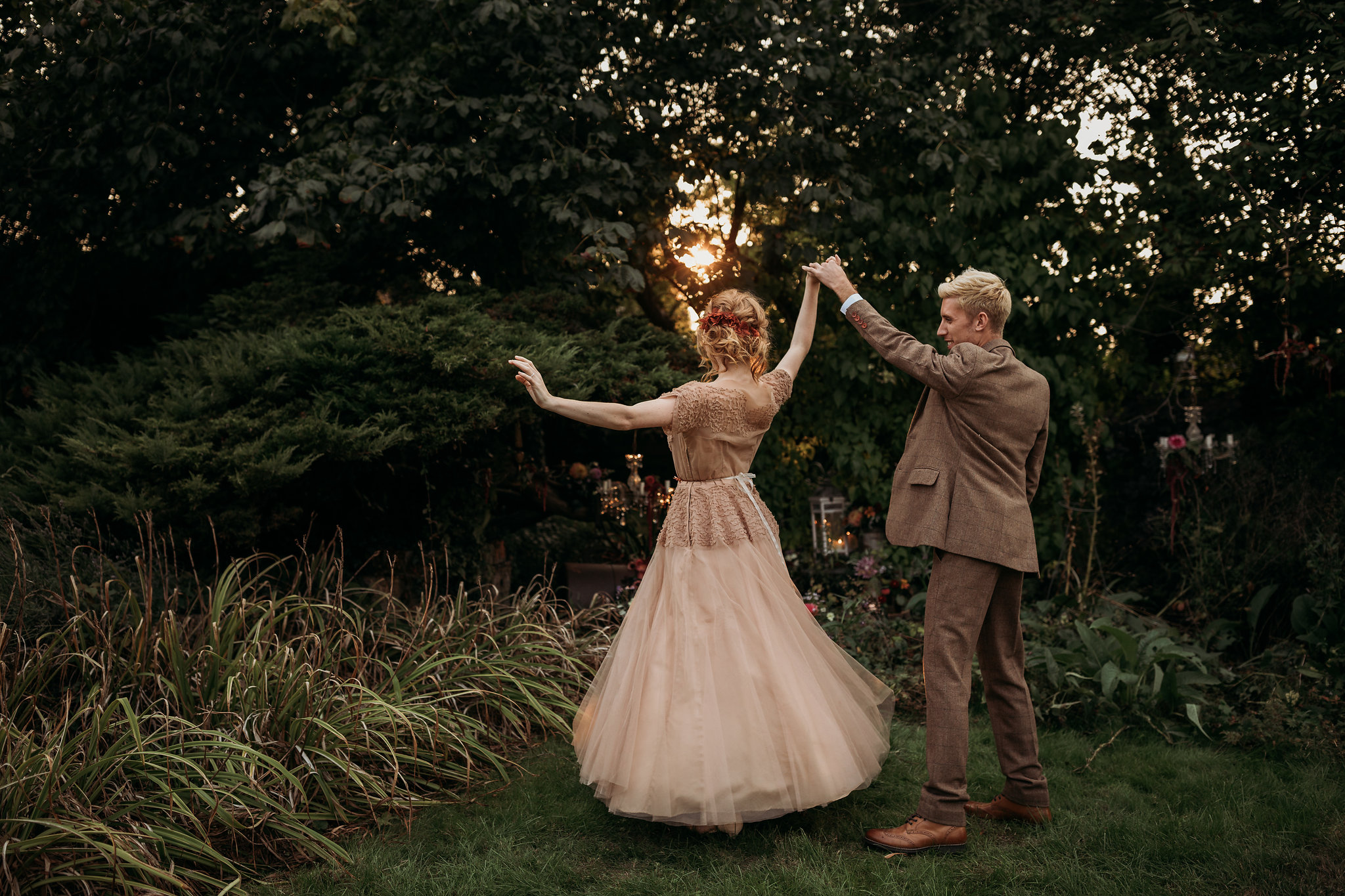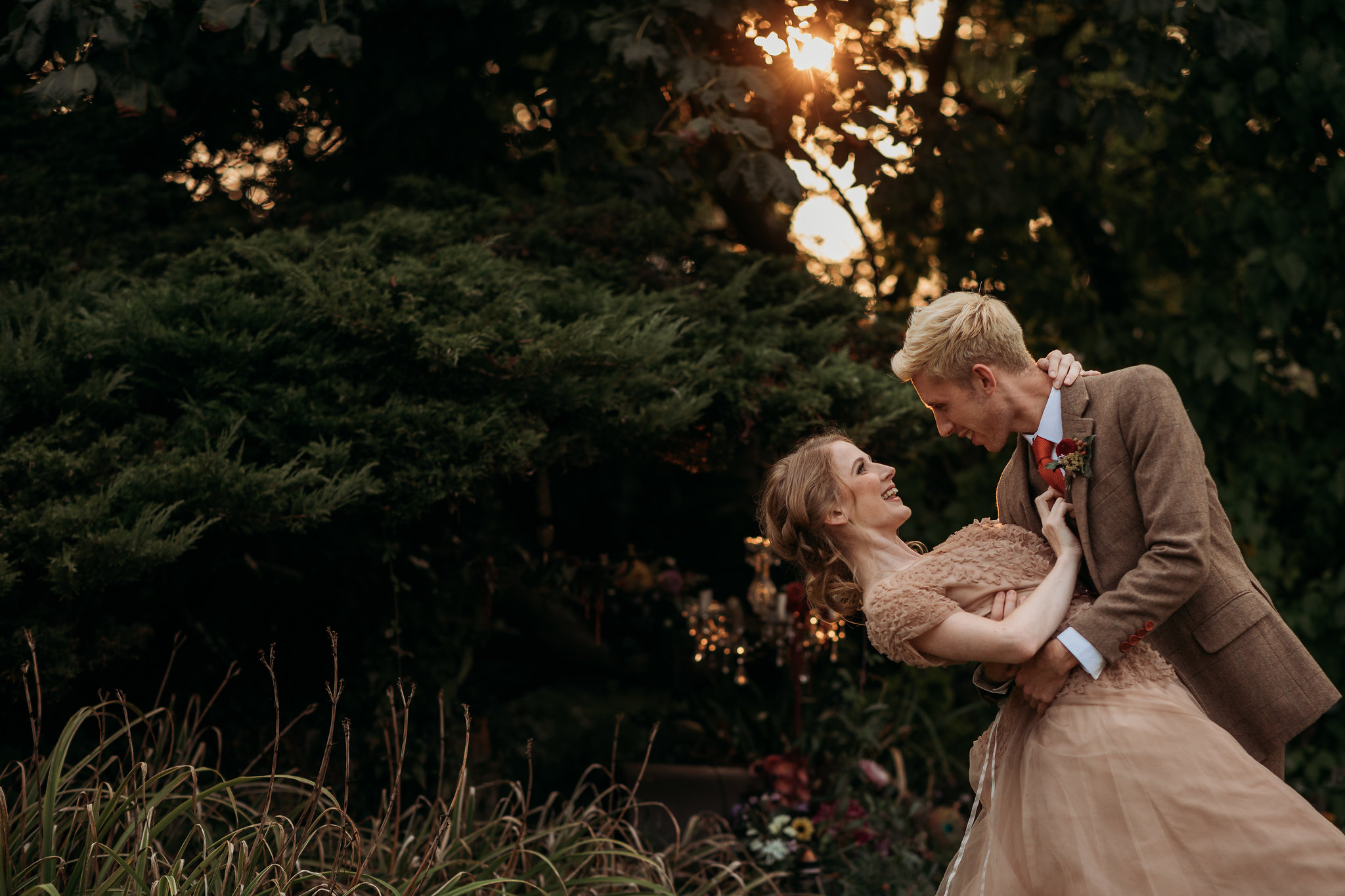 Photography – Thyme lane Photography
"I was absolutely delighted when Siobhan invited me to photograph this shoot, the concept felt very different from many of the styled shoots around, it had a true vintage feel with original vintage props and styling. Recently it has become very fashionable to have vintage accessories and most of the time the photographs of them seem to have a faded tone to them, I wanted to show the rich, deep colours and mood that they can give to a wedding day. I used available natural light indoors and outdoors too so all these can be easily recreated at any day."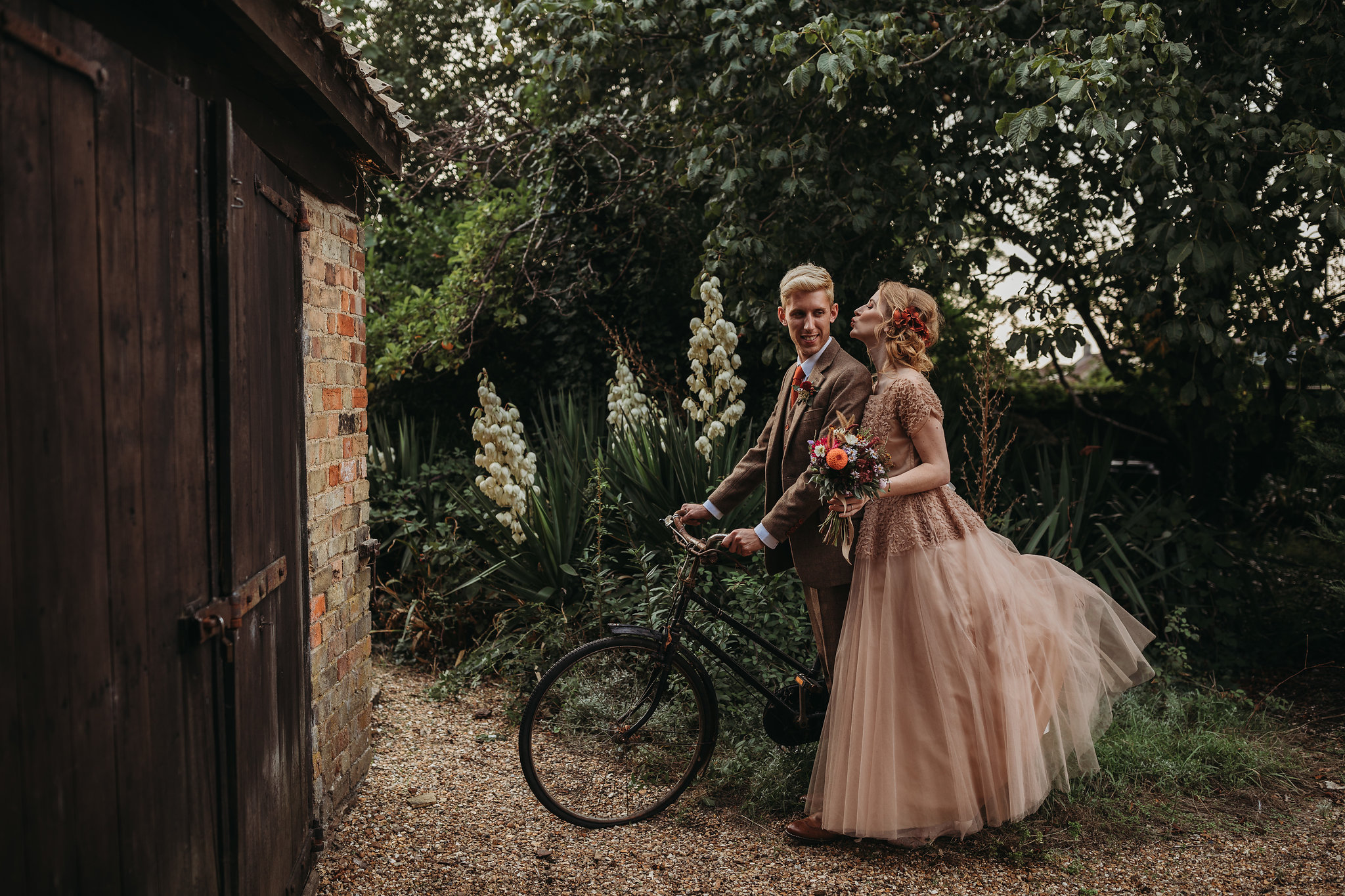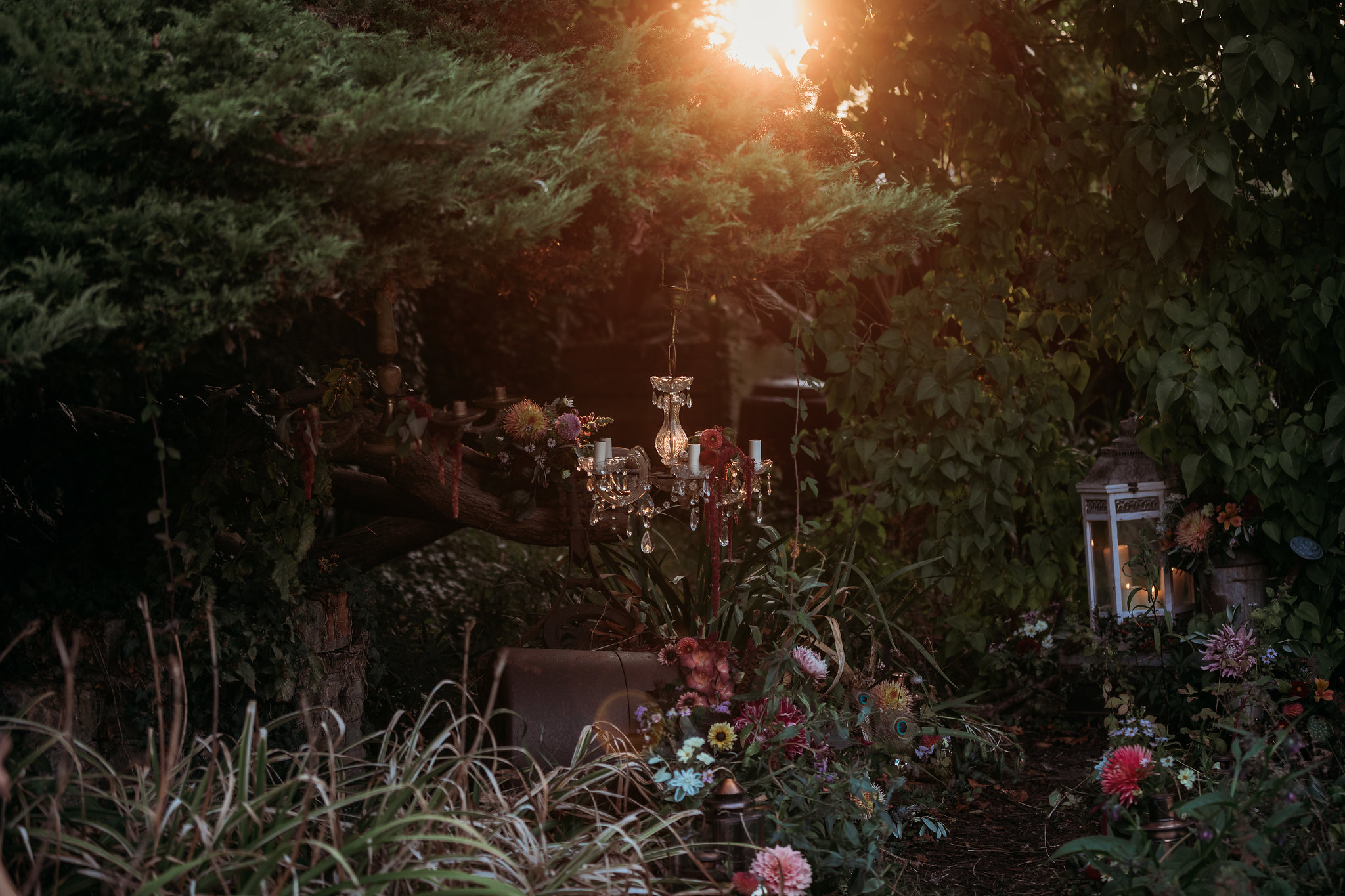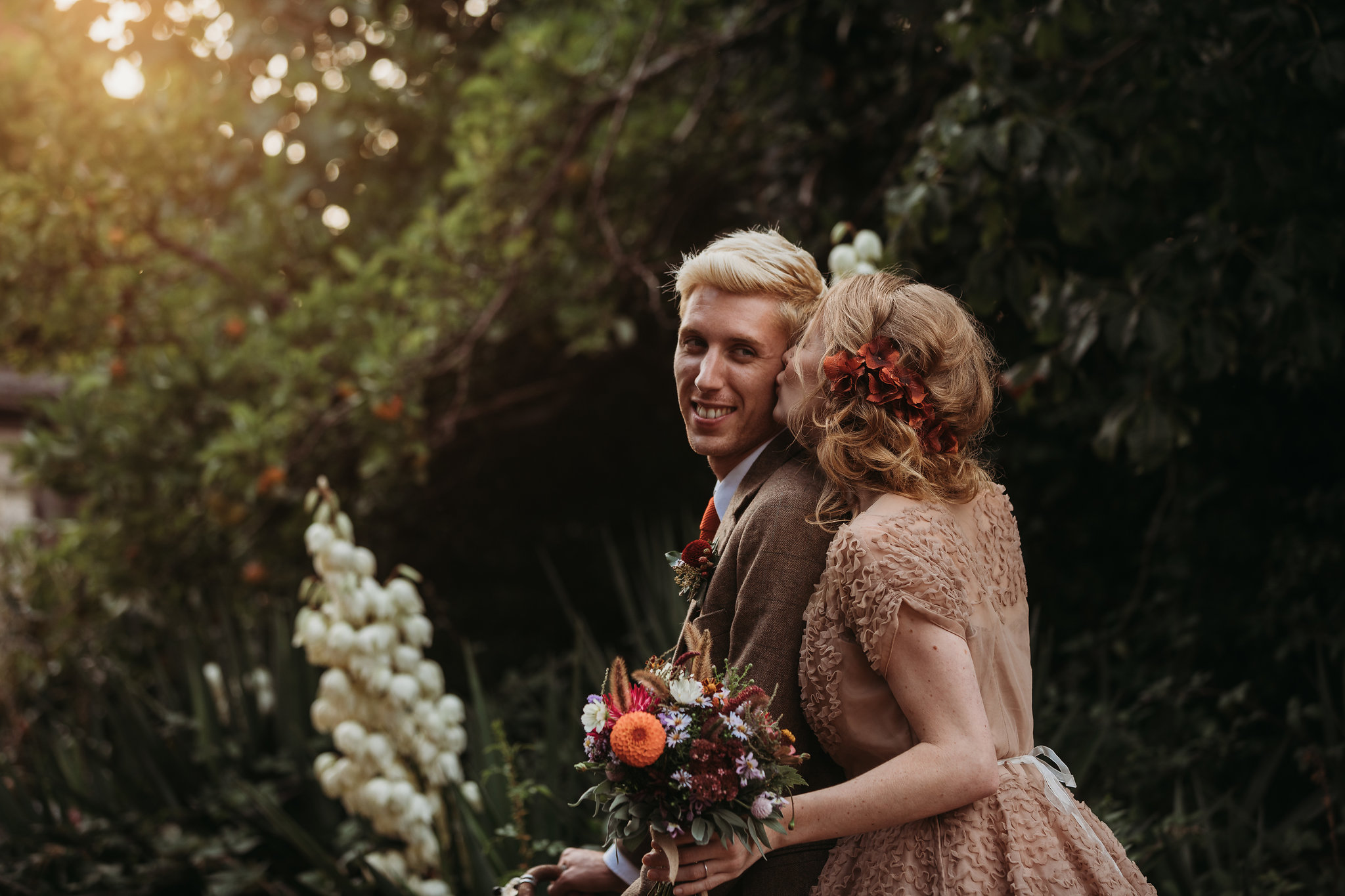 Cambridge Cheese Company
"Cheese is a great way to feed lots people, it's unpretentious and wholesome whilst being simple and delicious. It requires very little preparation on the day and is best served with easy accoutrements like bread and fruit. The cheese towers are so impressive too, they really do give a rustic wow factor! It's important to choose a nice variety with different styles, textures and milk types. It's also crucial that the tower looks beautiful, choosing just the right combination is all part of the fun!"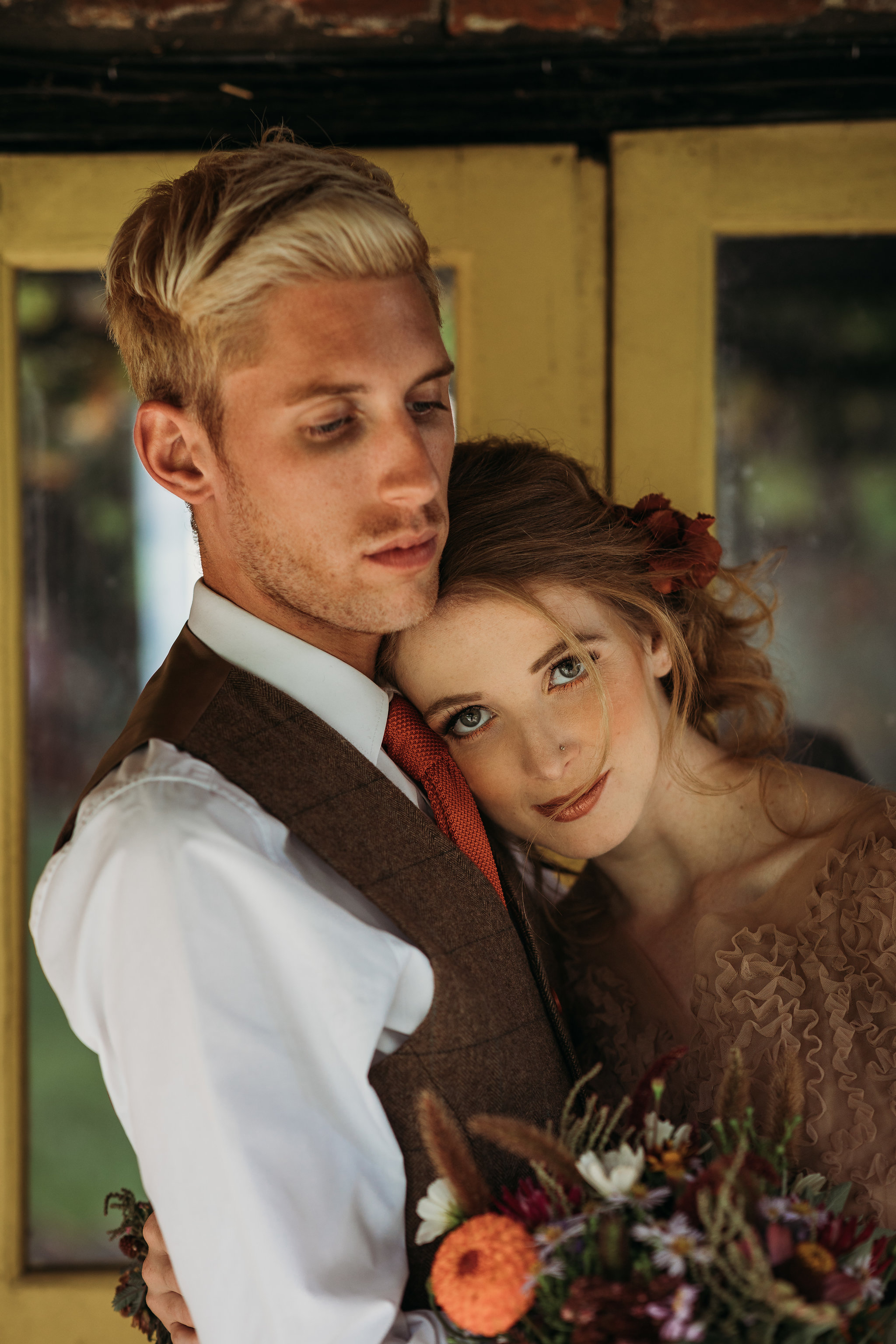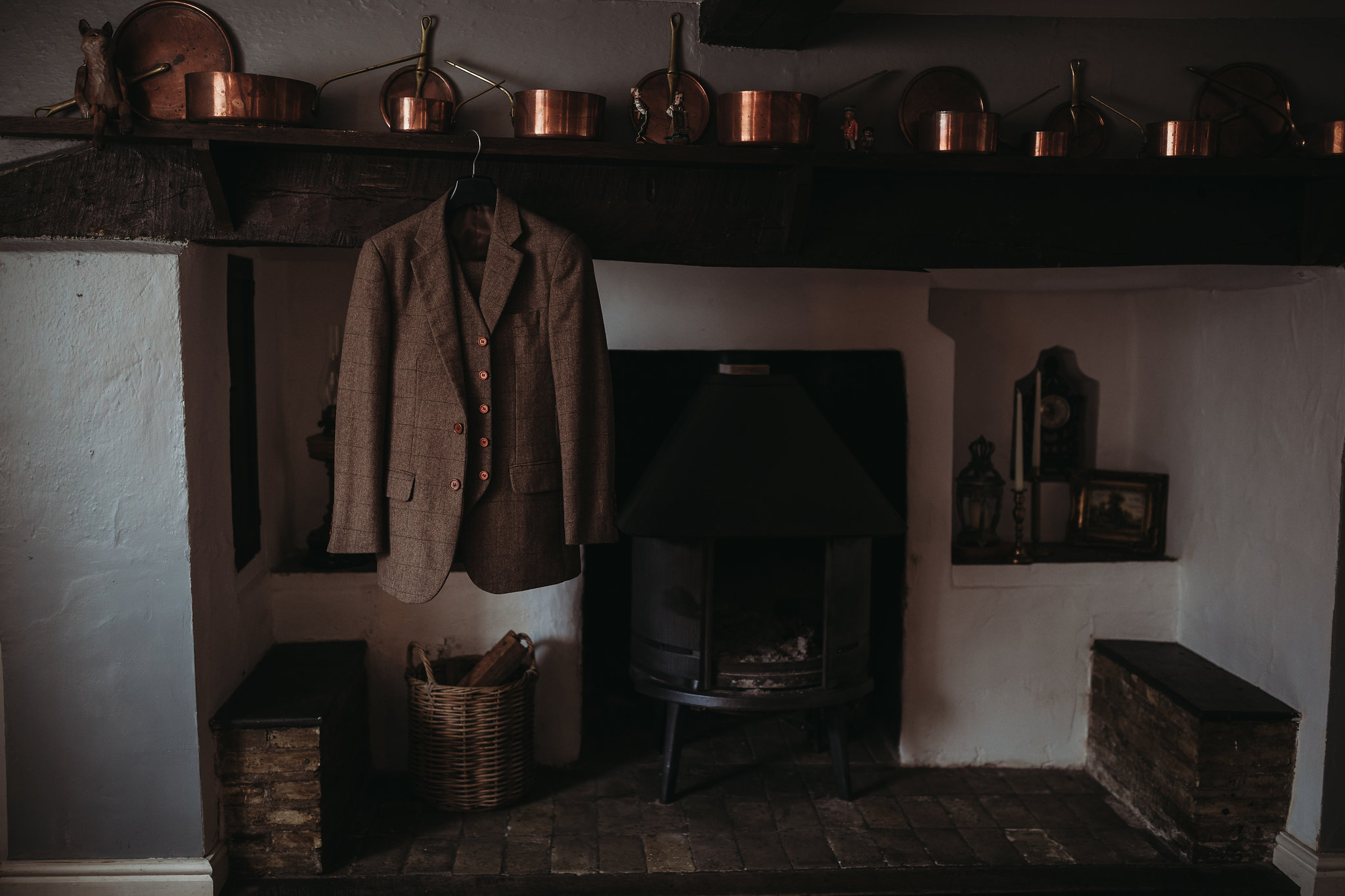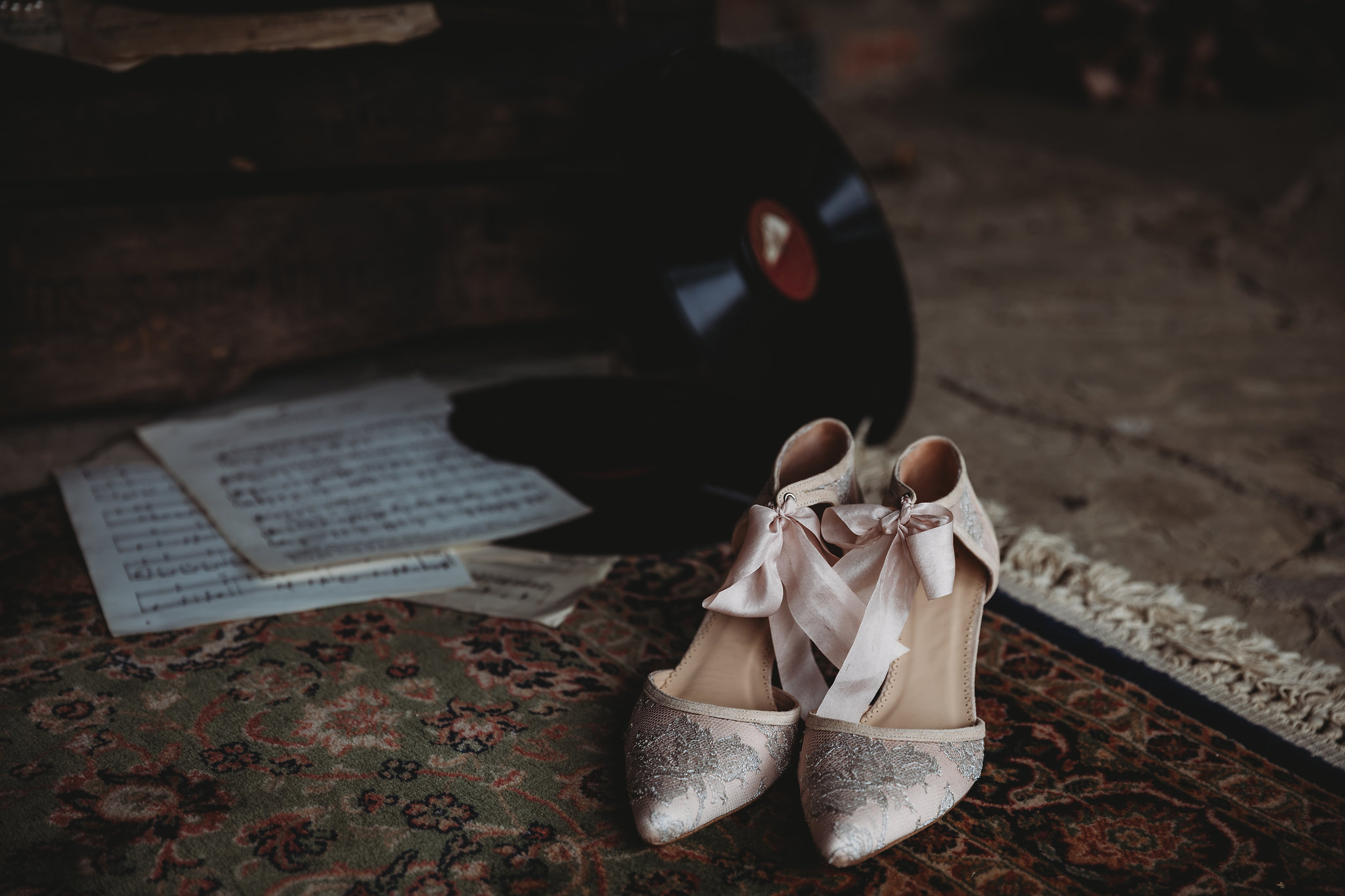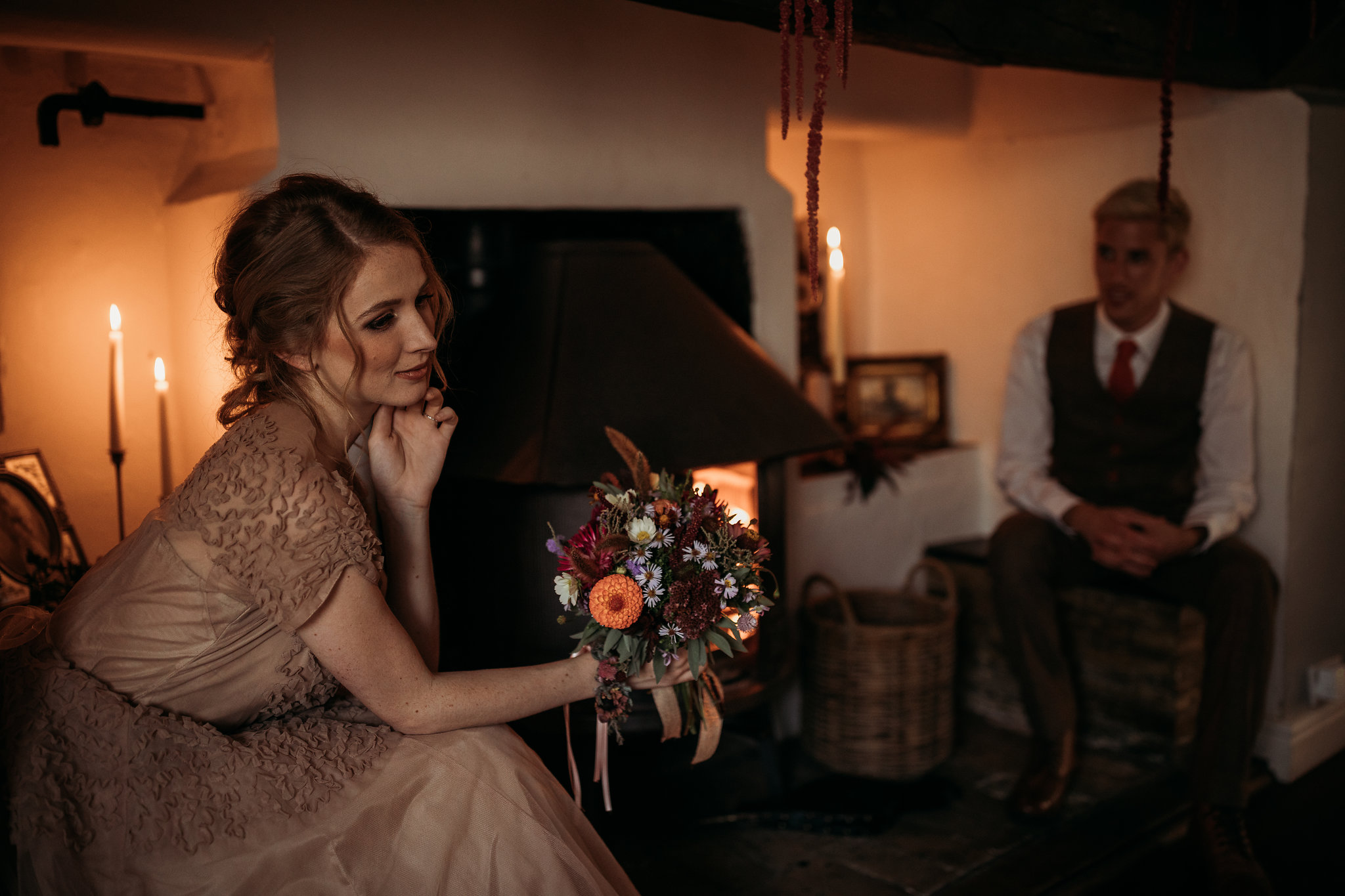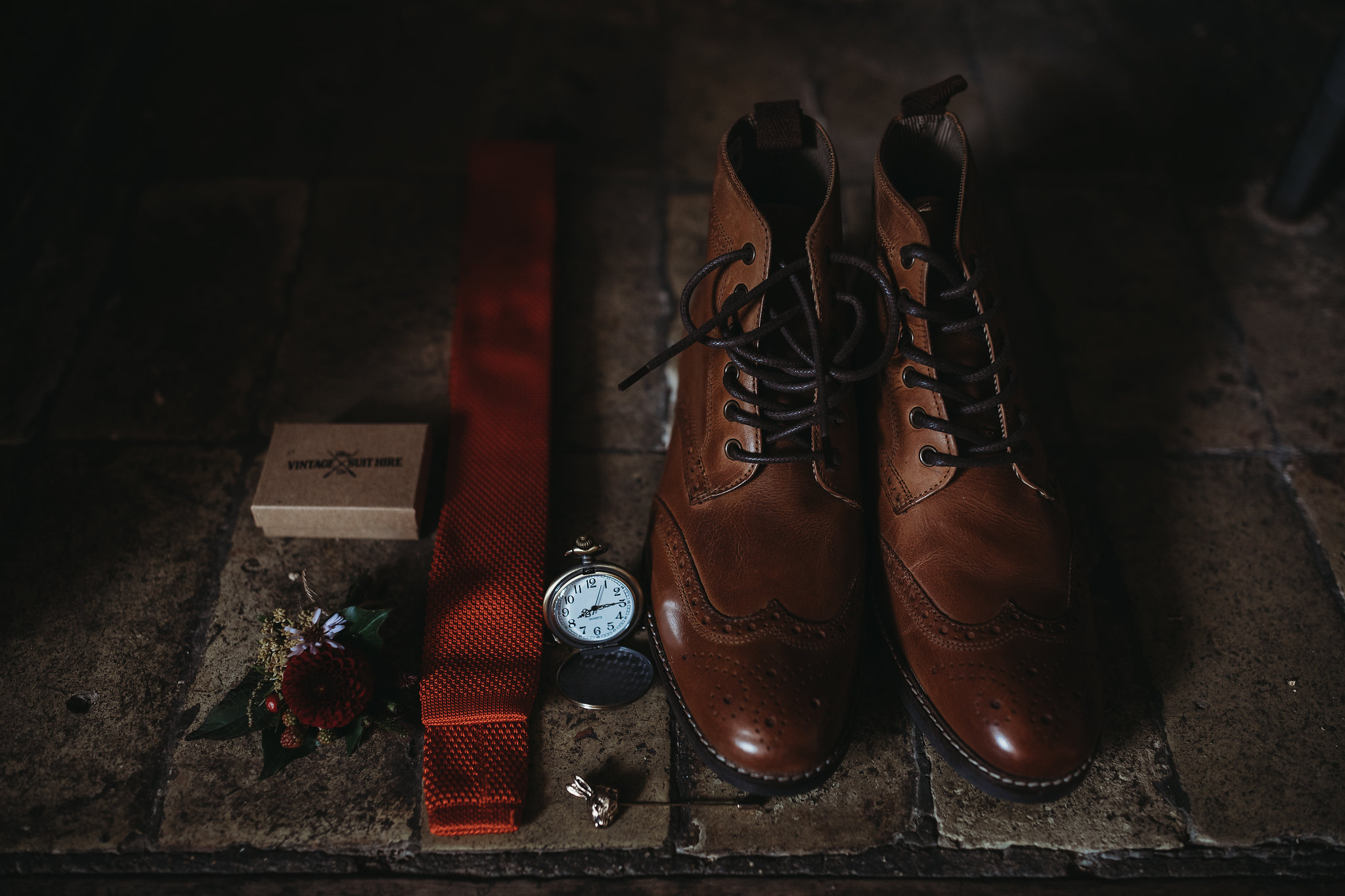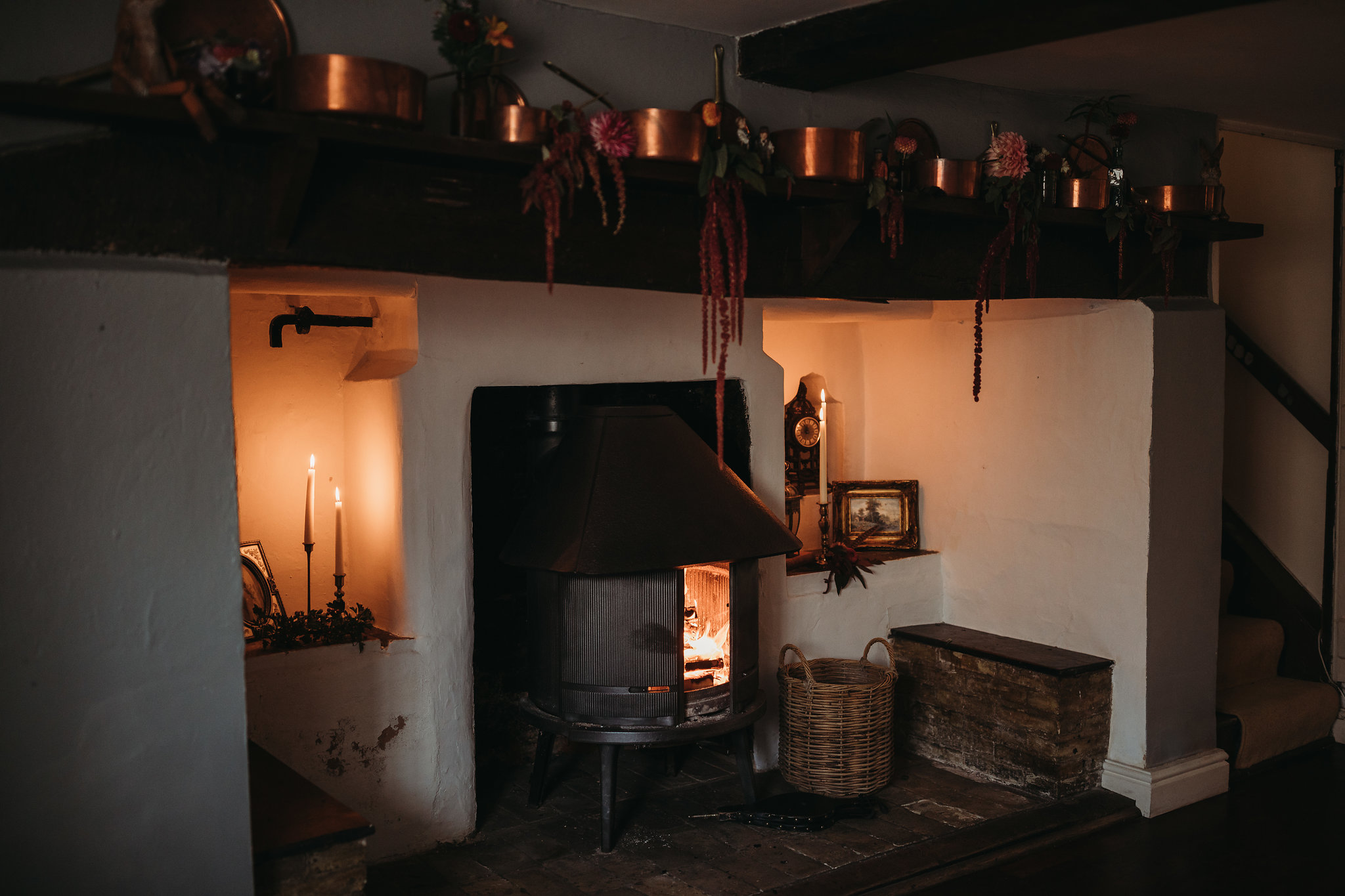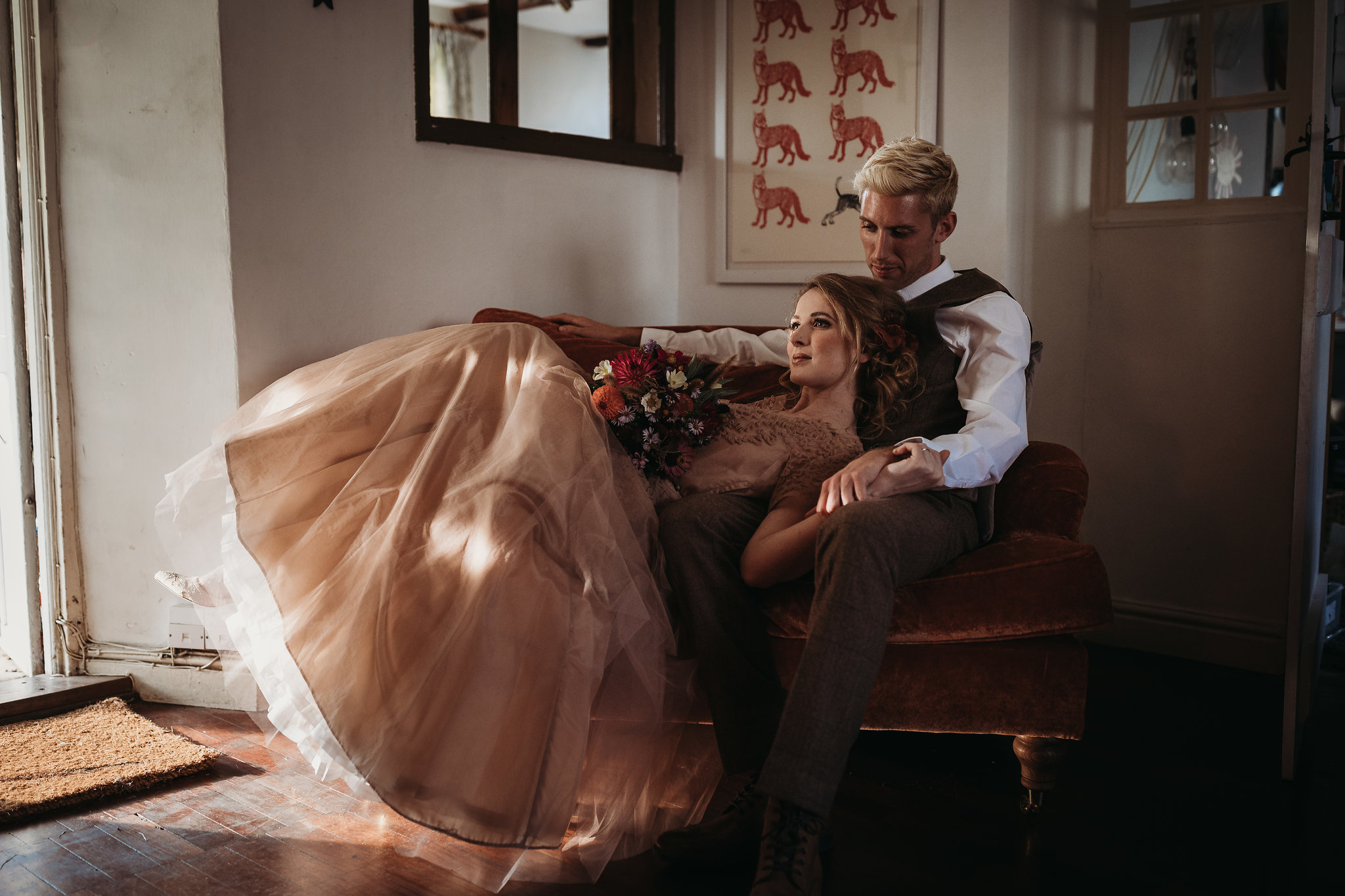 The Team – Romantic Wedding Inspiration with Intimate Vintage Vibes
Bridal Design and Shoot Co-ordinator – Cambridge Vintage Bridal @cambridgevintagebridal
Photography – Thyme Lane Photography @thymelanephoto
Hair and Accessories – Bridal Adornments @bridaladornments
Styling – Dollys Vintage Tea Party @dollysvintageteaparty
Make-up – Make Up by Alison @makeup_and_beauty_by_alison
Bridal Shoes – Diane Hassall @di_hassall
Flowers – What the Fleur @what_the_fleur
Cheese Tower – Cambridge Cheese Company @cambridgecheeseco
Suit – Vintage Suit Hire @vintagesuithire
Stationery – Dorothys Workshop @dorothys_workshop6
Looking for more romantic wedding inspiration with vintage vibes check out Rustic Sunset Wedding Inspiration with a touch of Vintage