The industrial brewery wedding of Ben and Bethan today, set in The Northern Monk Brewery in Yorkshire, it's full of uber cool industrial vibes and tons of personality with a games and crossword theme and the most beautiful embroidered wedding dress! Here we catch up with Groom Ben, who tells us all about how they met, the proposal and how they created this industrial brewery wedding in Yorkshire…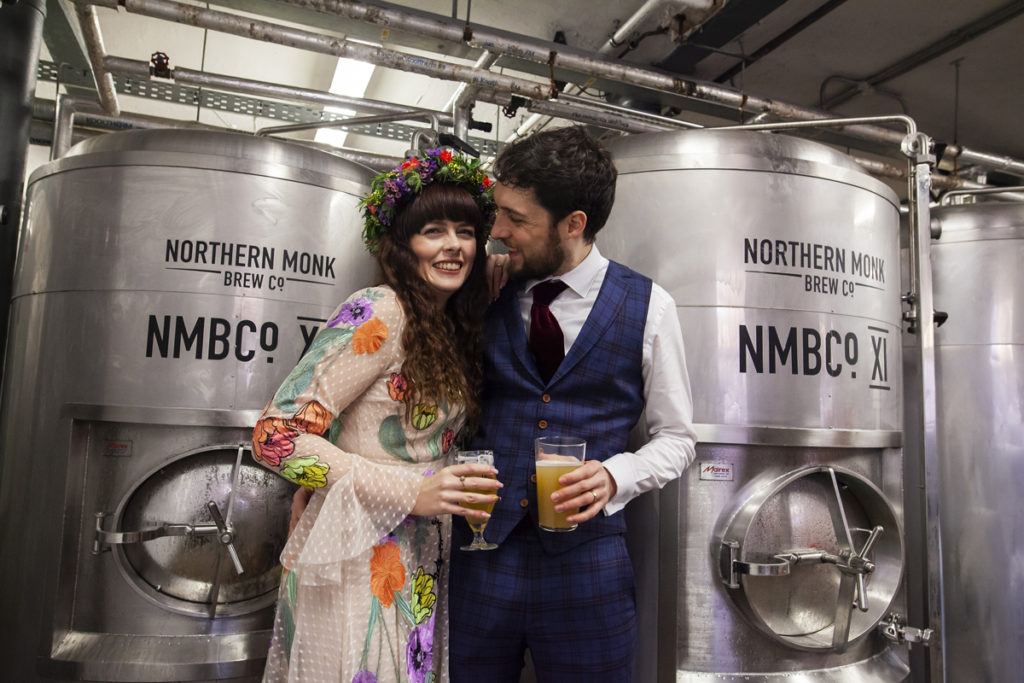 How Did You and Bethan Meet?
"We trained as teachers in Sheffield at the same time. Bethan's twin sister was on the same training programme as me, and one summer Bethan was a last minute replacement on a group holiday to the south of France. That's when she decided I might be alright after all, and five short years later we were an item!"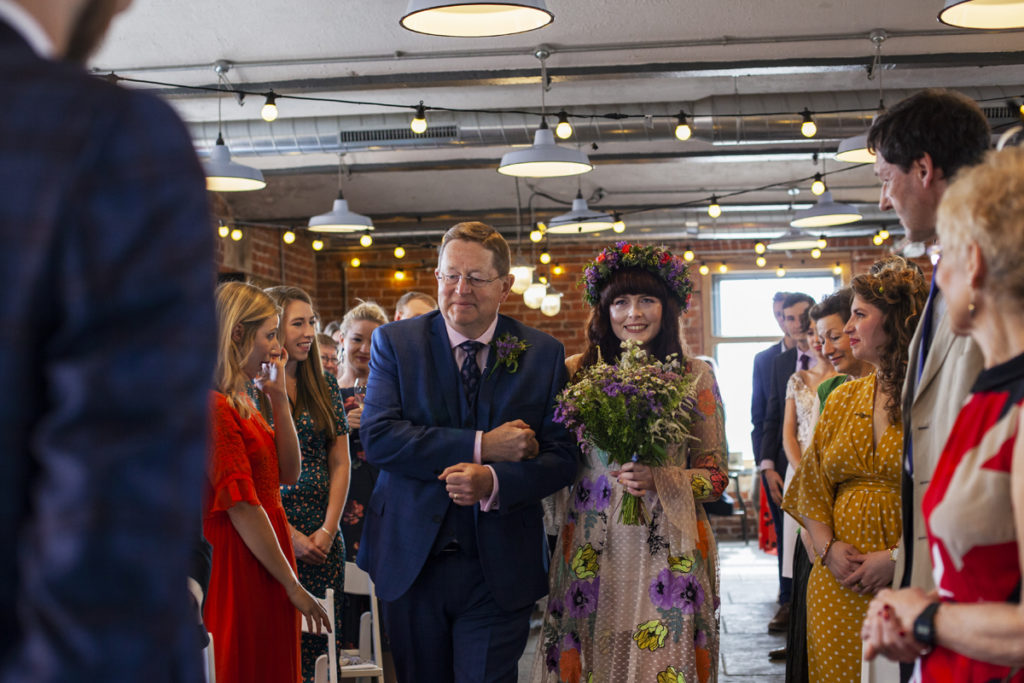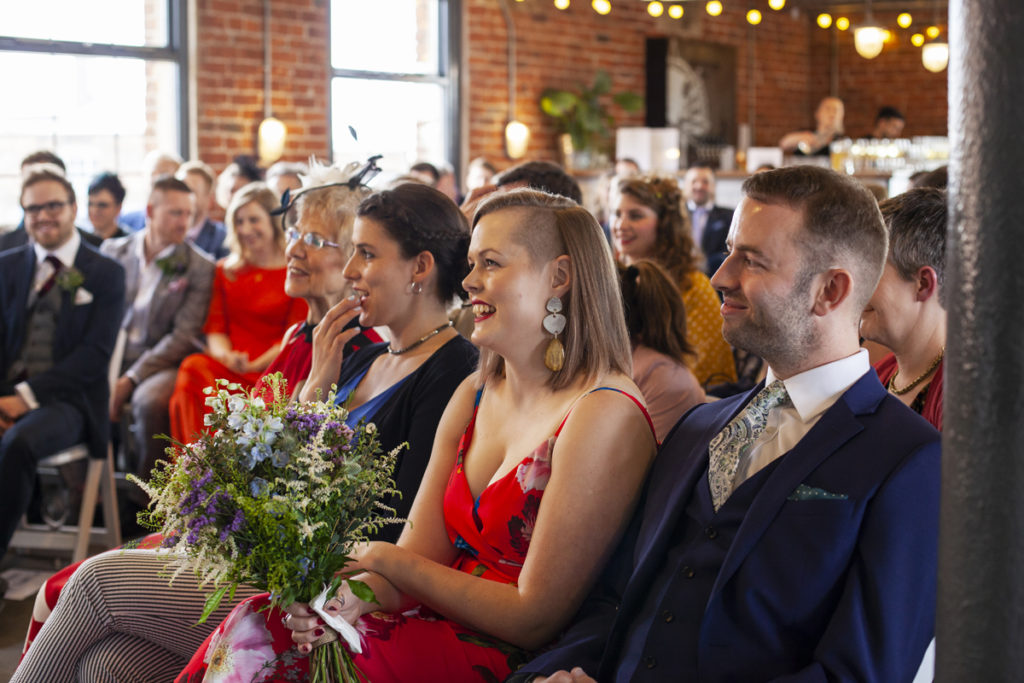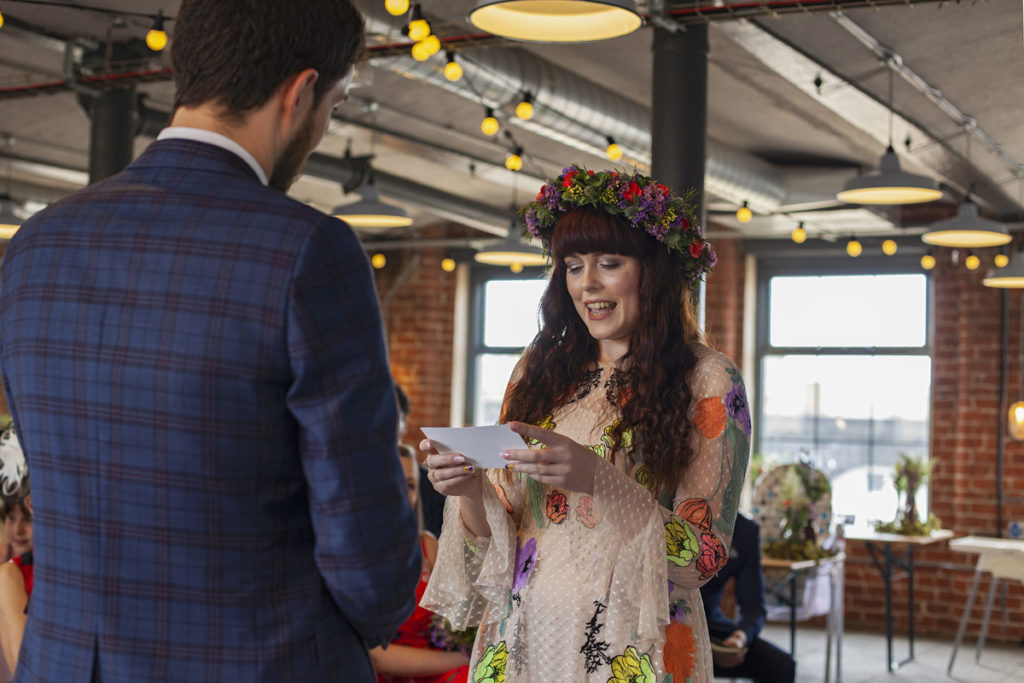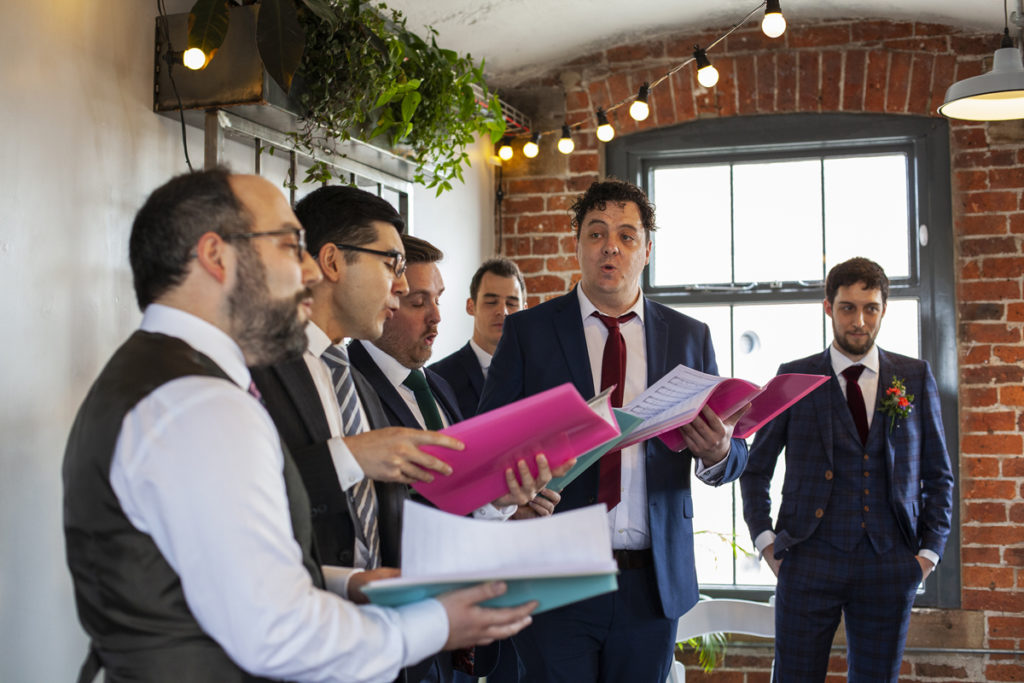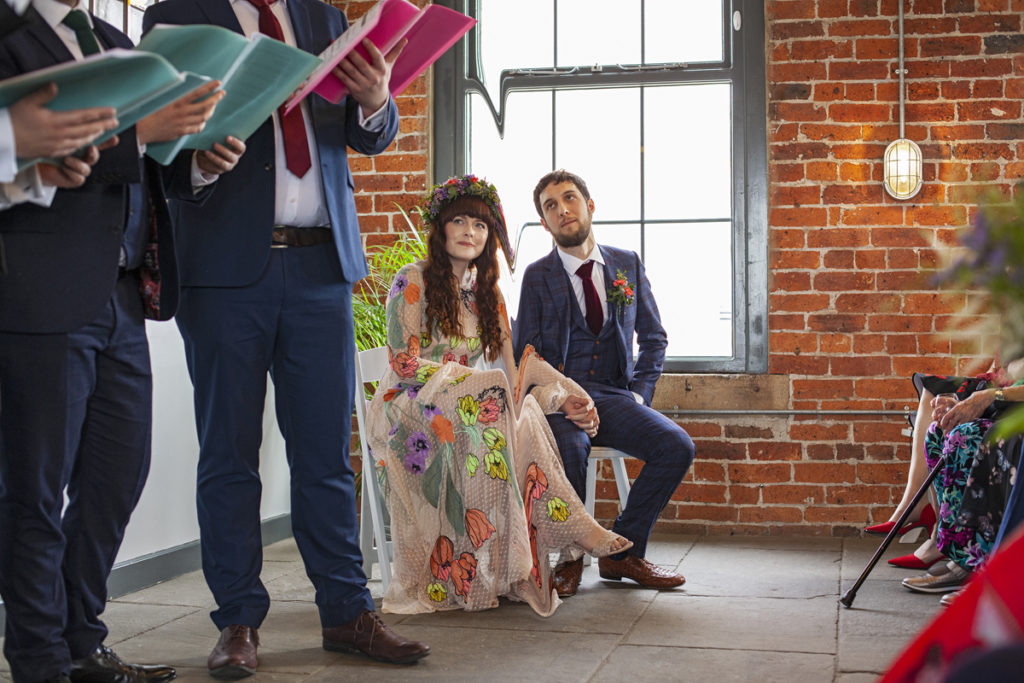 The Proposal
"I wanted to propose when Bethan's sister (who lives in China) was there so they could celebrate together. So it happened on a holiday to Sri Lanka. We stayed in a beautiful pair of cabins on a beach with nobody else around, and I got the hosts to decorate ours ahead of time. When she walked in and noticed the decorations, she turned around to find me on one knee! The hosts then served us a delicious meal and some terrible 'champagne' to celebrate!"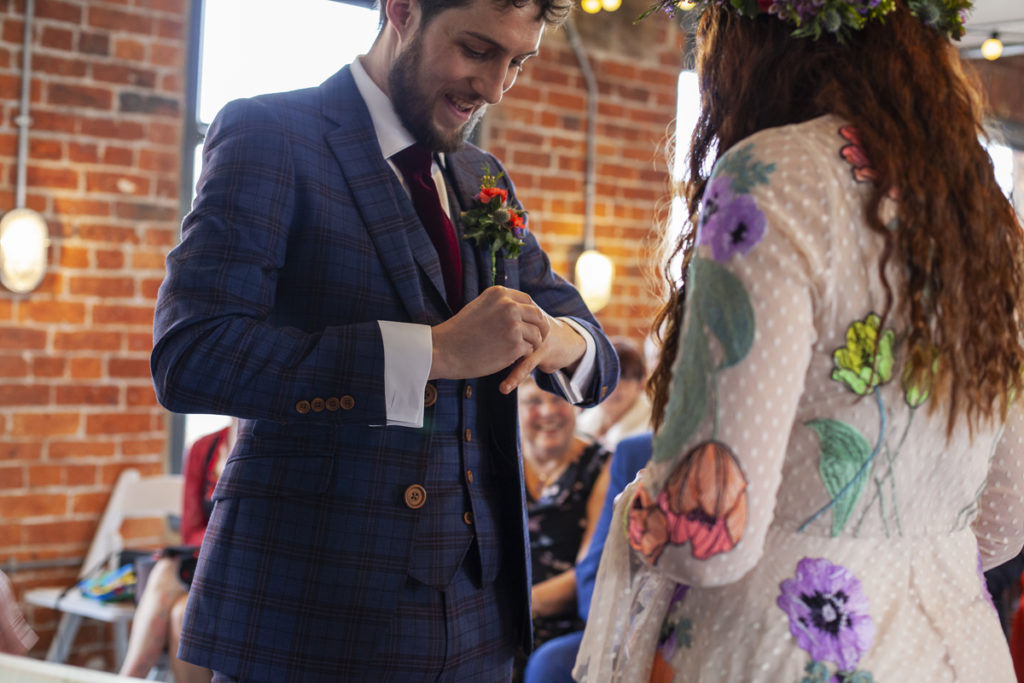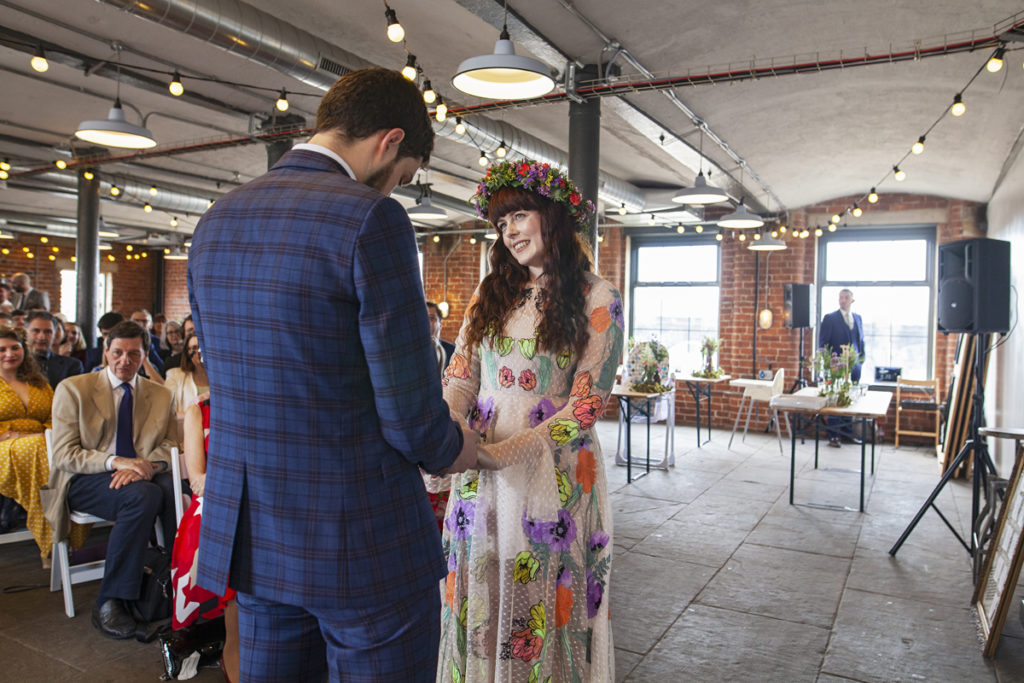 Planning The Wedding
"We definitely didn't want anything too traditional and we are both into industrial-style, rough-round-the-edges decor. We also wanted our love of games and crosswords to feature heavily in the day, for it to feel very personal to us, and for it to have a distinct Yorkshire feel to it as we both love our adopted home! Hence the choice of pie and beer over fancy food and wine."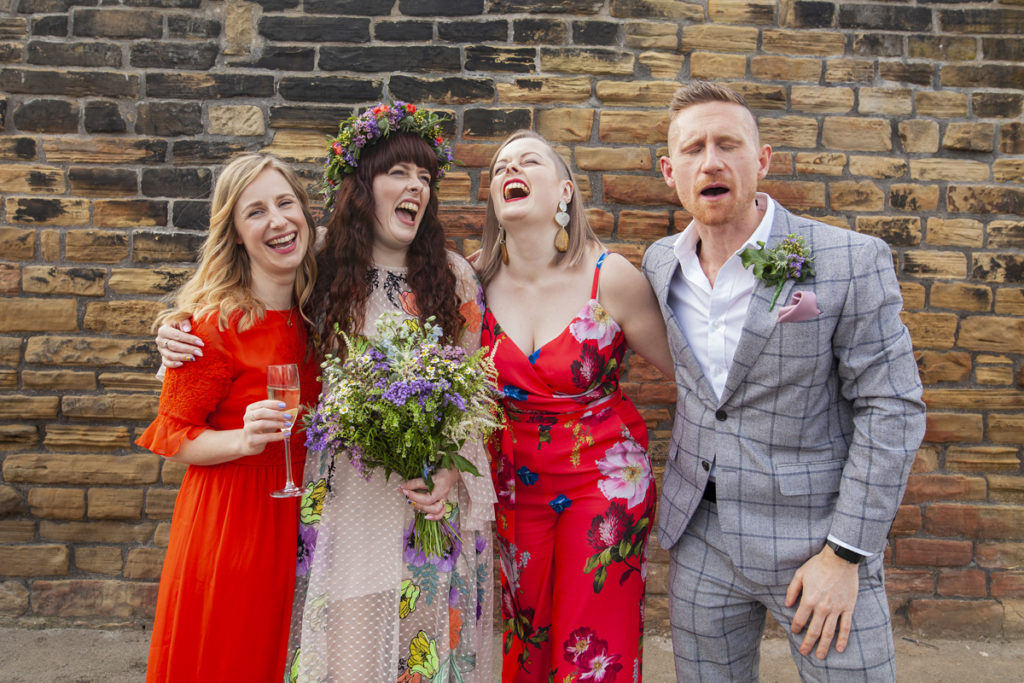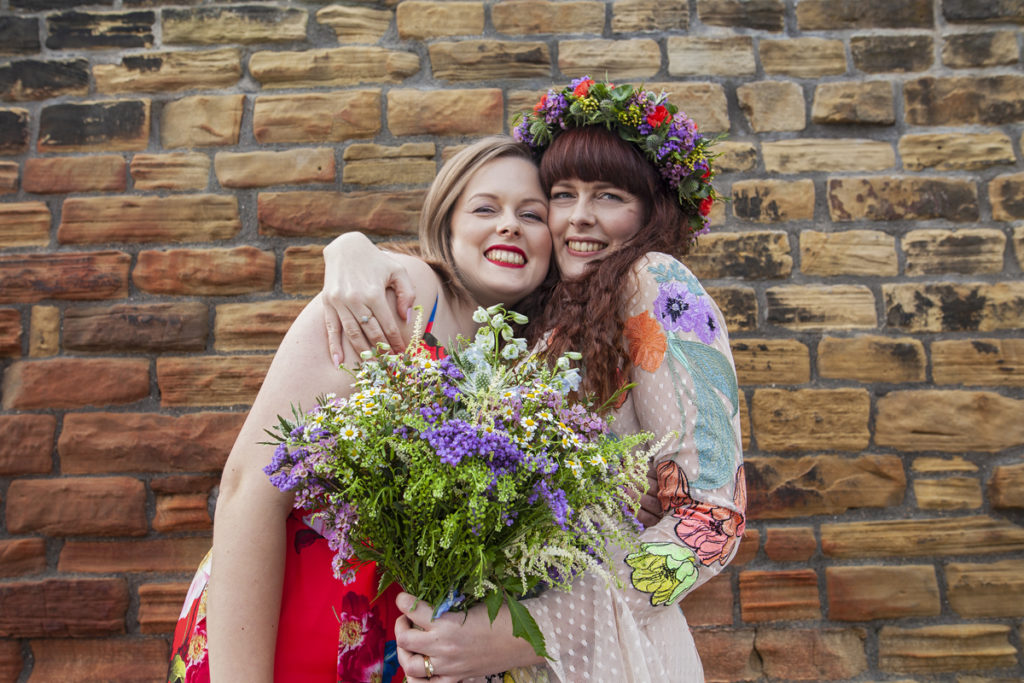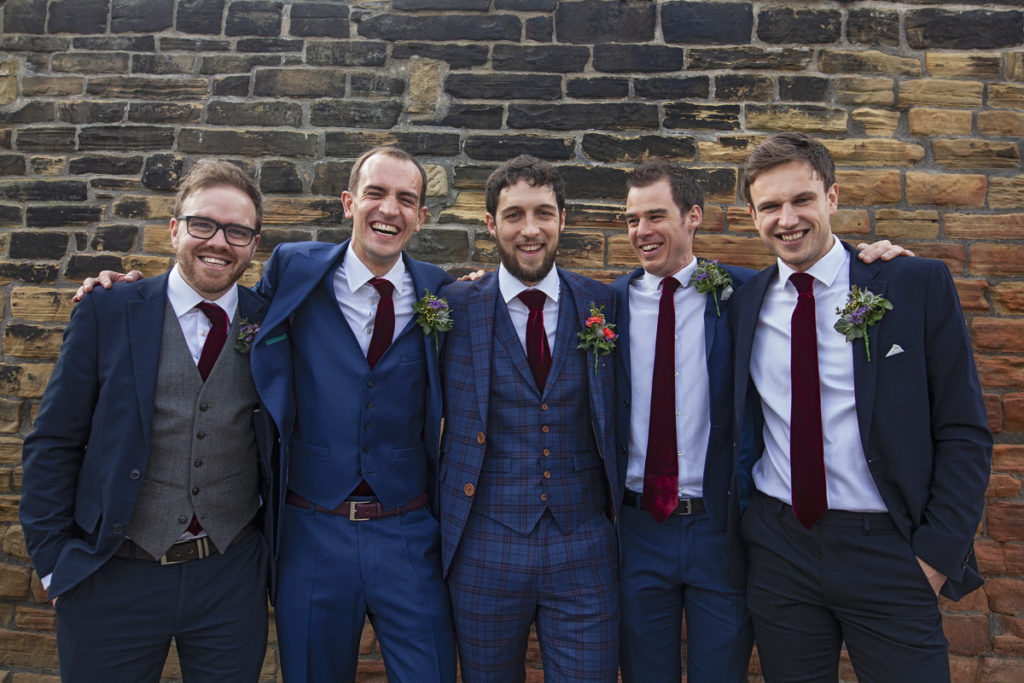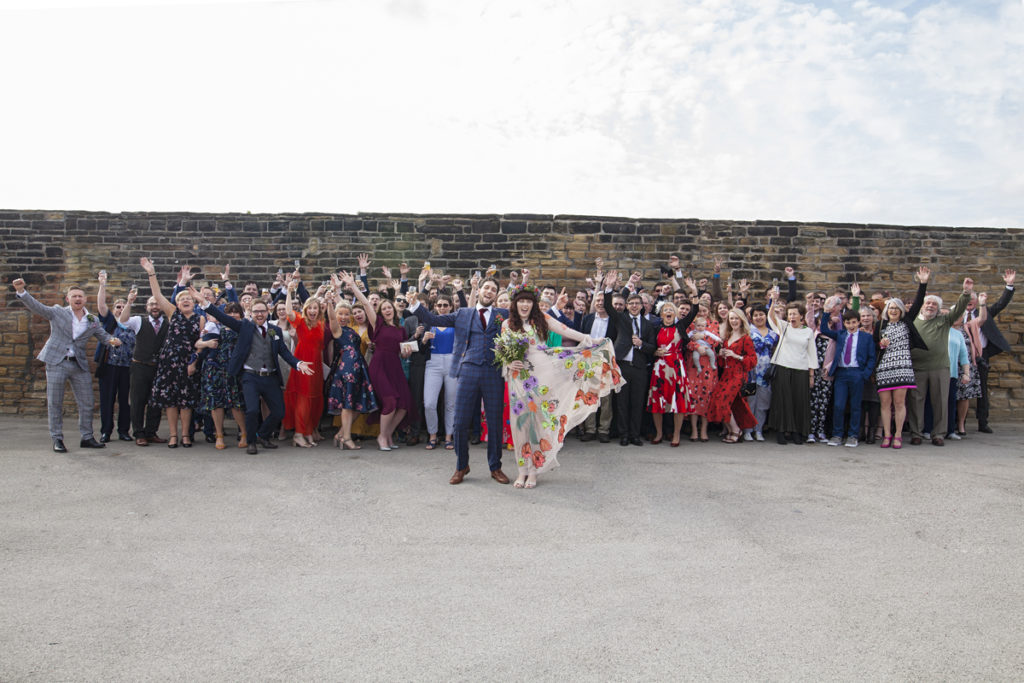 The Location
"What could be easier to organise than a piss up in a brewery? Bethan is incredibly organised (/impatient) so we actually visited the venue when we got off the train from the airport after coming home from Sri Lanka – before we even went home! We loved it straight away – the relaxed, cool, industrial feel, the exposed brickwork, and of course the beer…they even said they were working on a gluten free beer (Bethan is a coeliac) that would be ready in time for the wedding!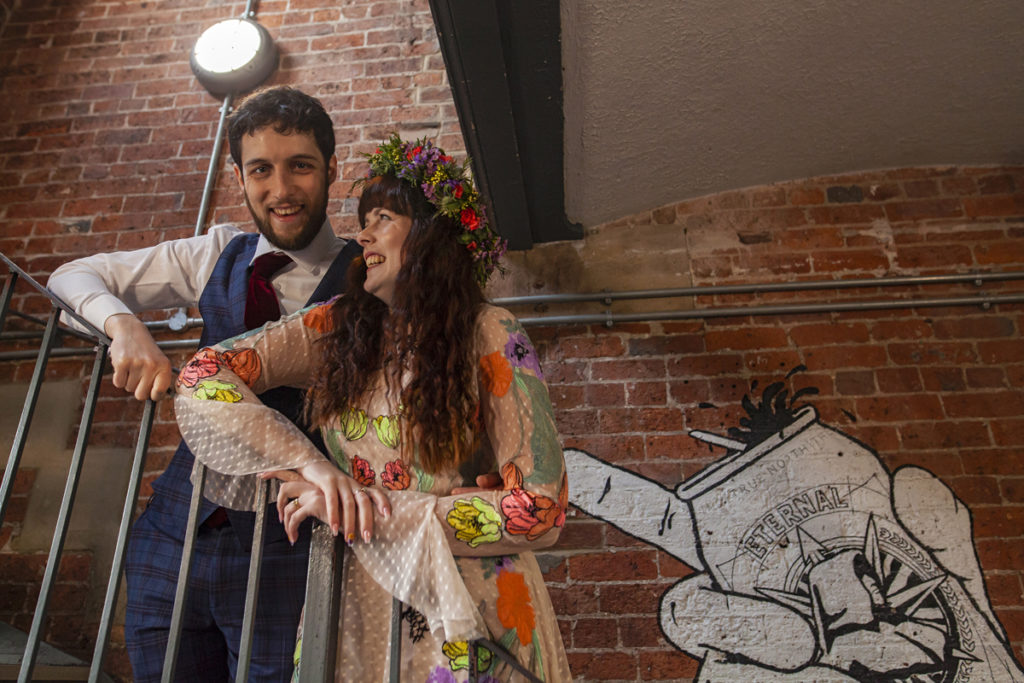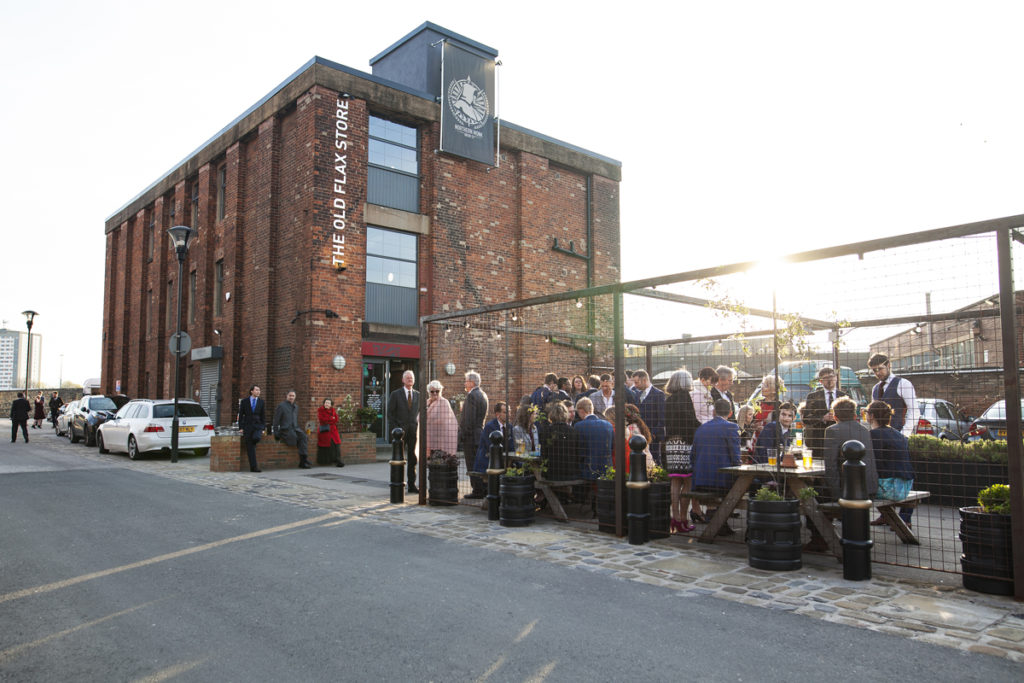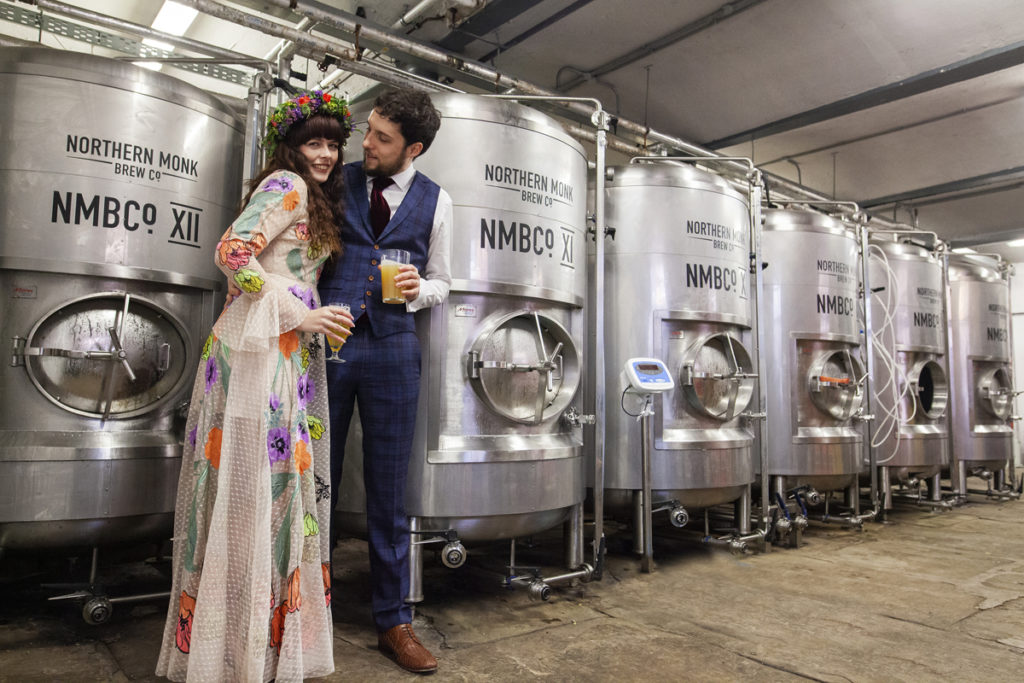 The Dress
"Bethan never wanted a traditional white wedding dress and although she tried on a few, she didn't like any – or the experience of shopping for them! She found it on ASOS and it cost less than half of what I spent on my suit – definitely not the typical way round, but I was greeted for the next six months by a succession of people going upstairs for viewings and declaring it was perfect. I had to wait til she came down the aisle to see it but I instantly agreed!"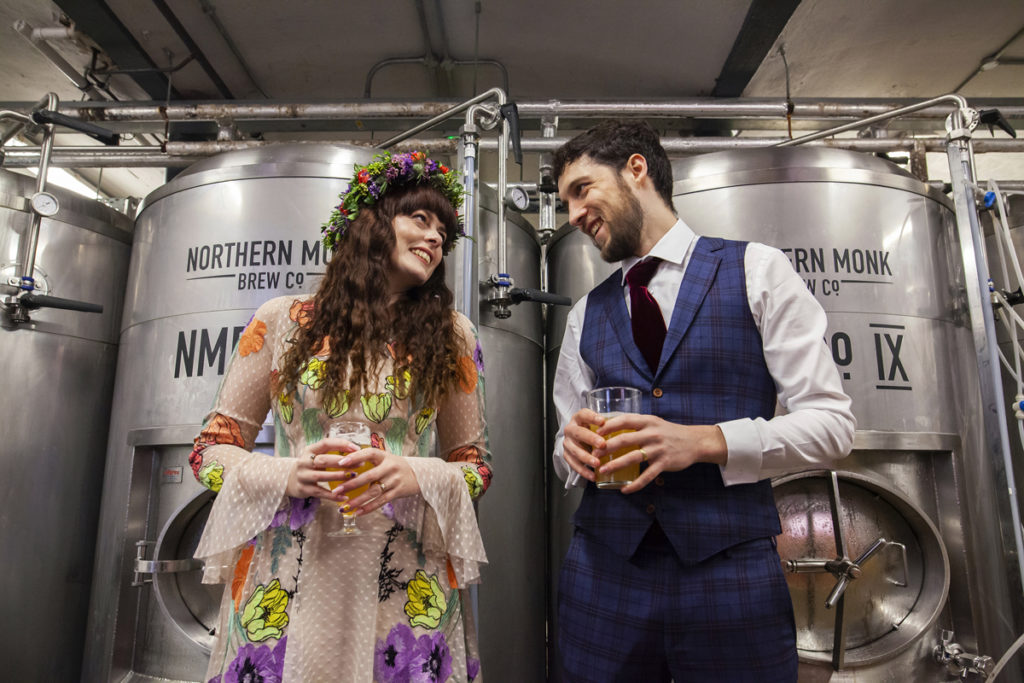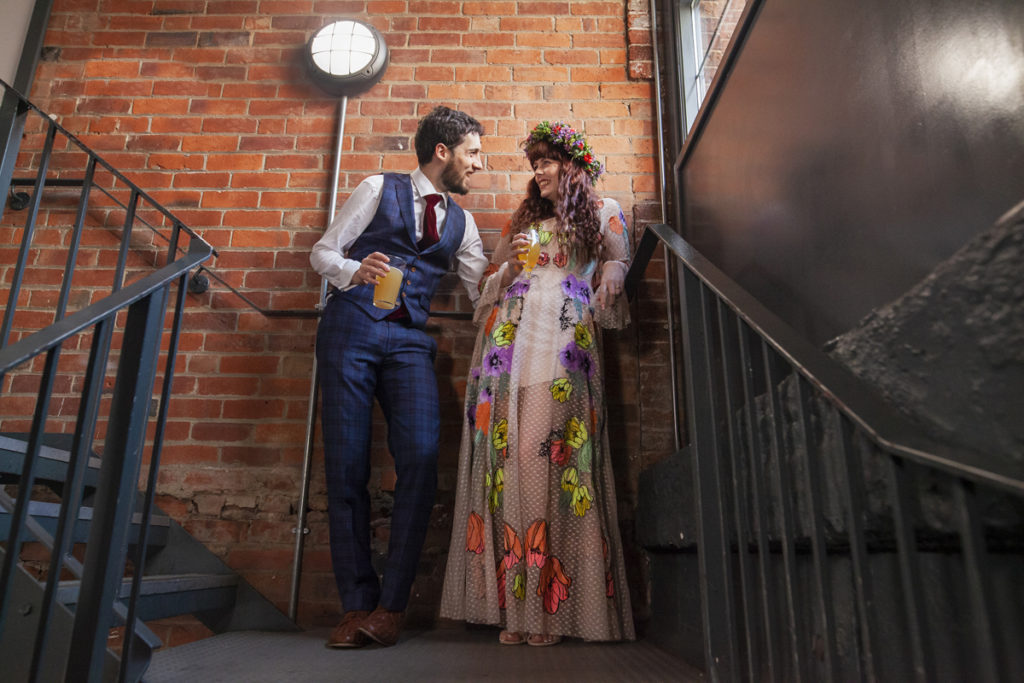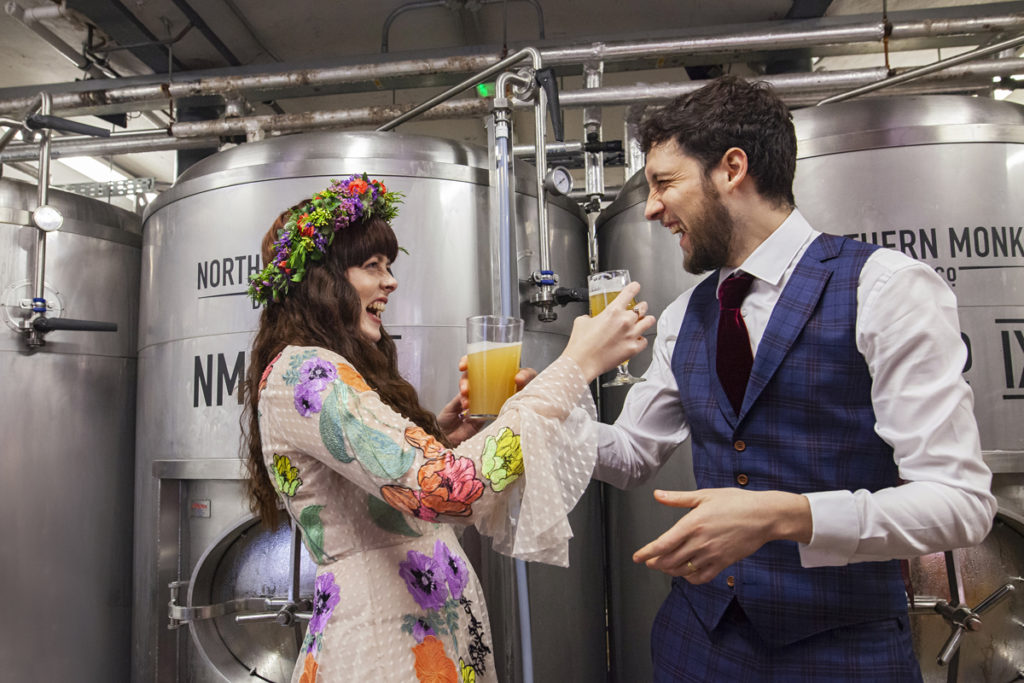 The Suit
"I was let down by an online tailoring service who were so late delivering my suit
that I had to cancel. Luckily we walked into Slaters in Leeds, showed the floor assistant a
photograph of the original and he instantly led us to a suit which looked great and fitted
perfectly! The buttons were my own addition. The tie, along with matching ones worn by my
best men, was handmade by Bethan's friend, who's a tailor."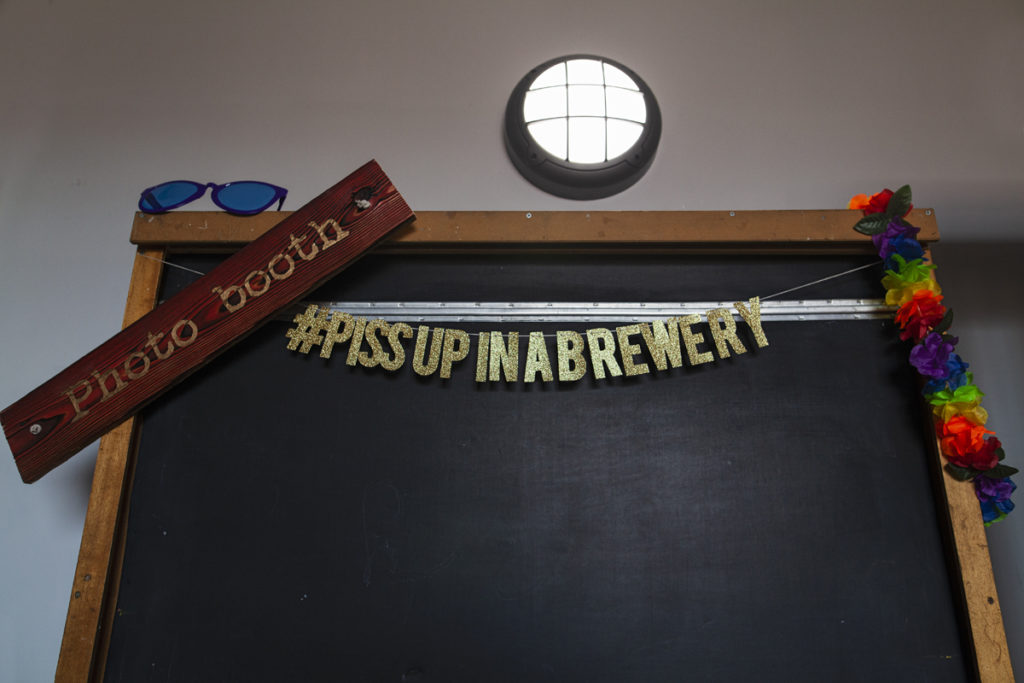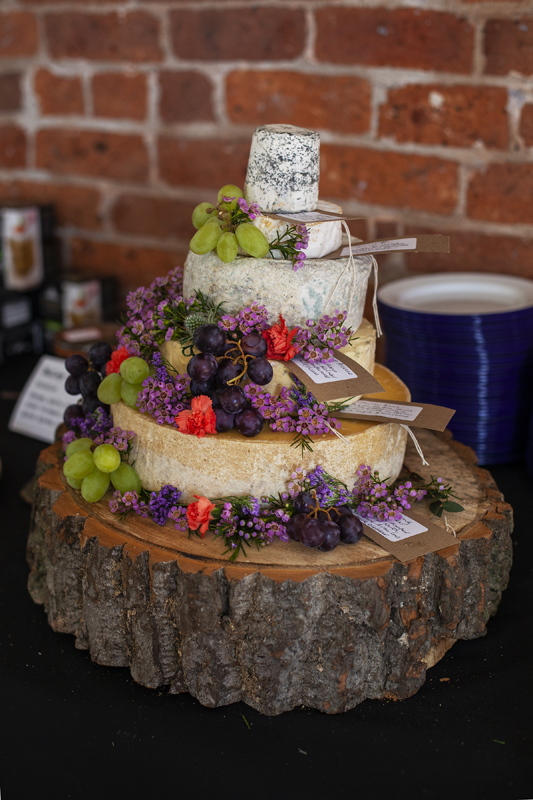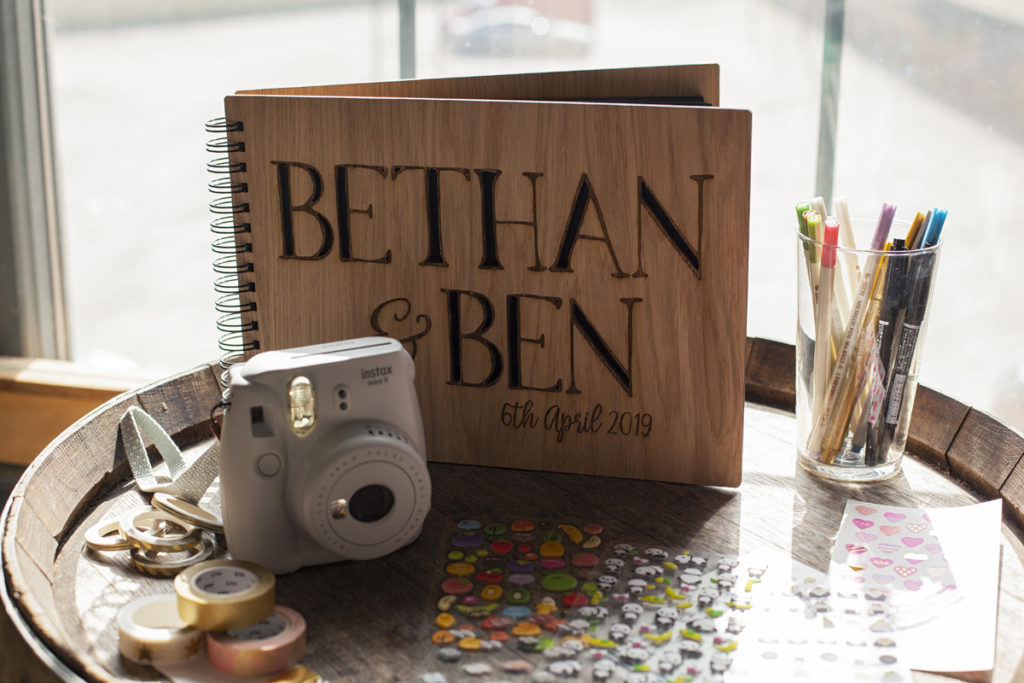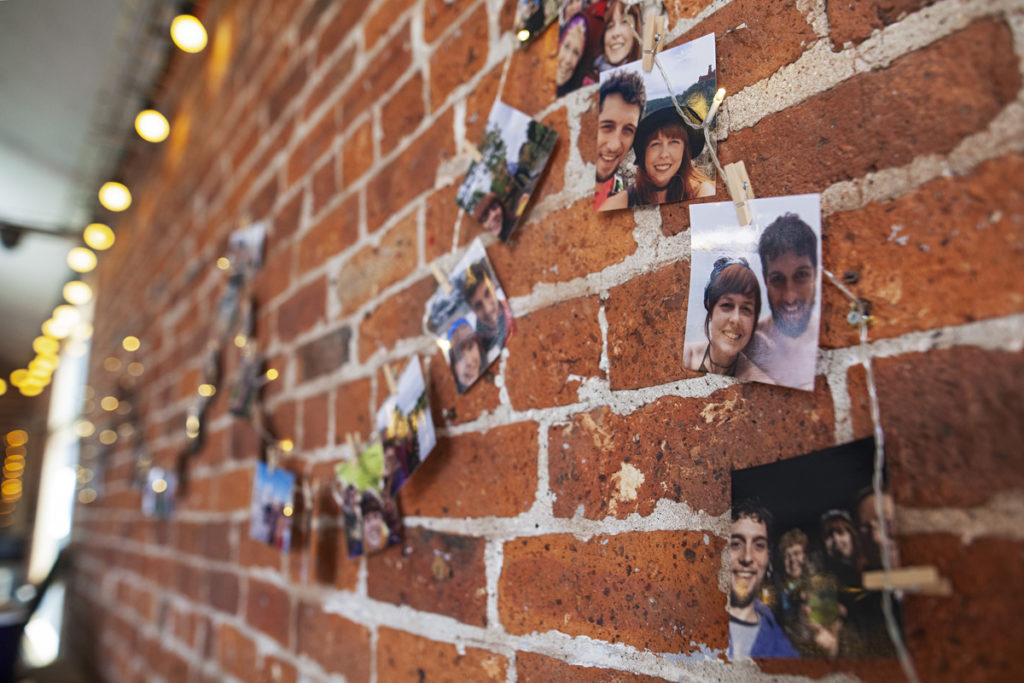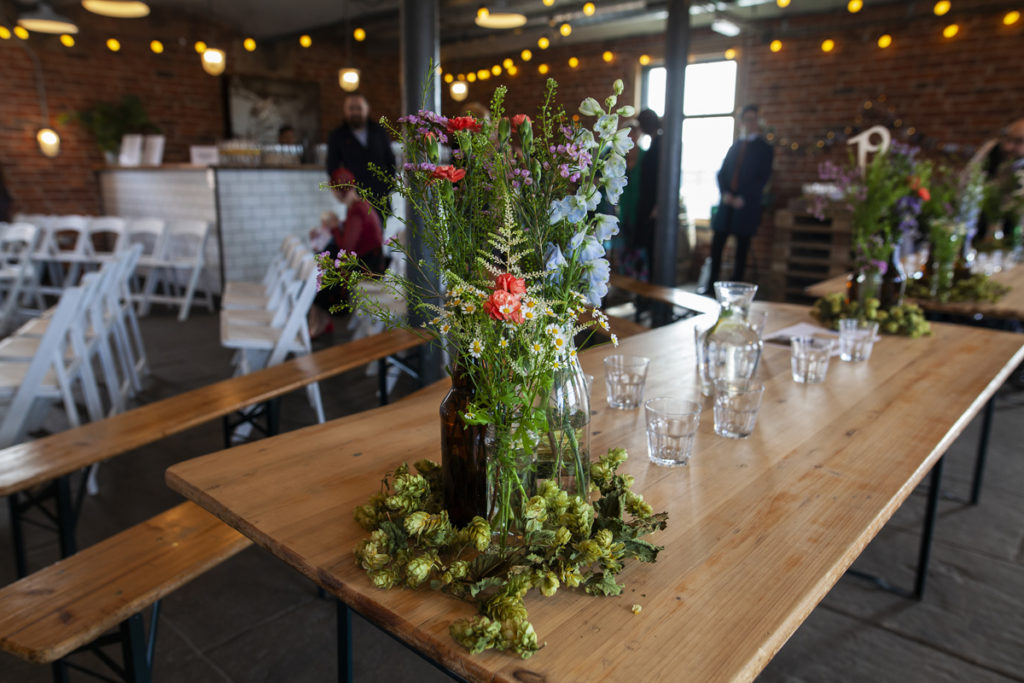 The Details
Neither of us are fans of wedding cake, so ours was built entirely of cheese from an amazing nearby dairy who source all their cheese from small farmers. I made 100+ chocolate brownies so that those with a sweet tooth weren't left disappointed! The flowers were a combination of wild flowers and hops (it was in a brewery after all) chosen and arranged by Bethan's friend Cary's. We got wooden signs, a palette and the log for the cheese-cake from a local reclamation yard, and made most of the rest of the decorations ourselves.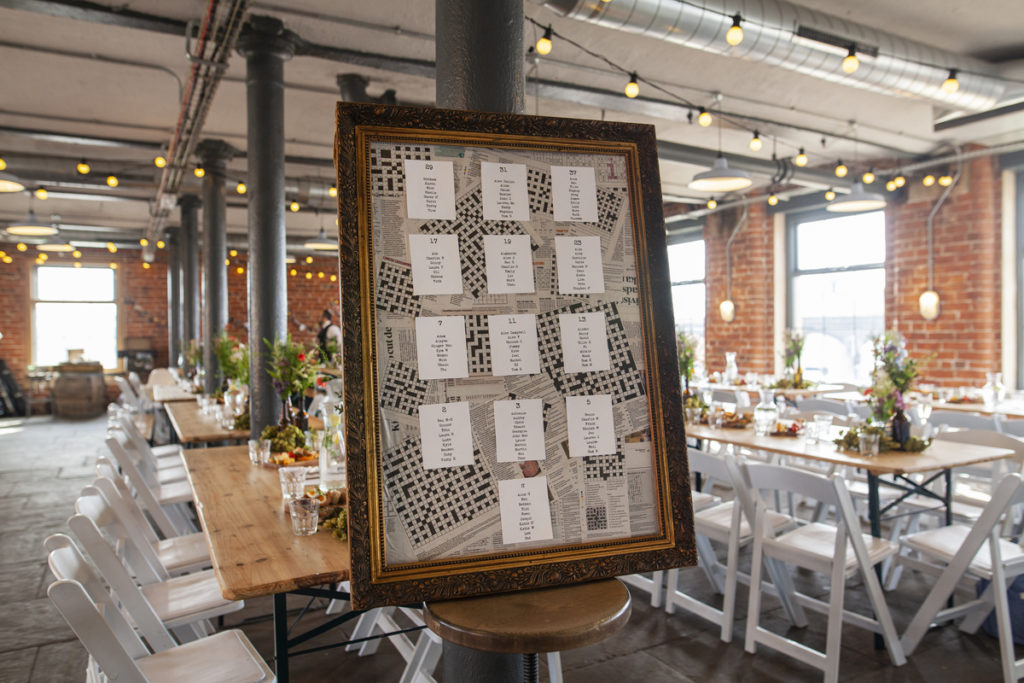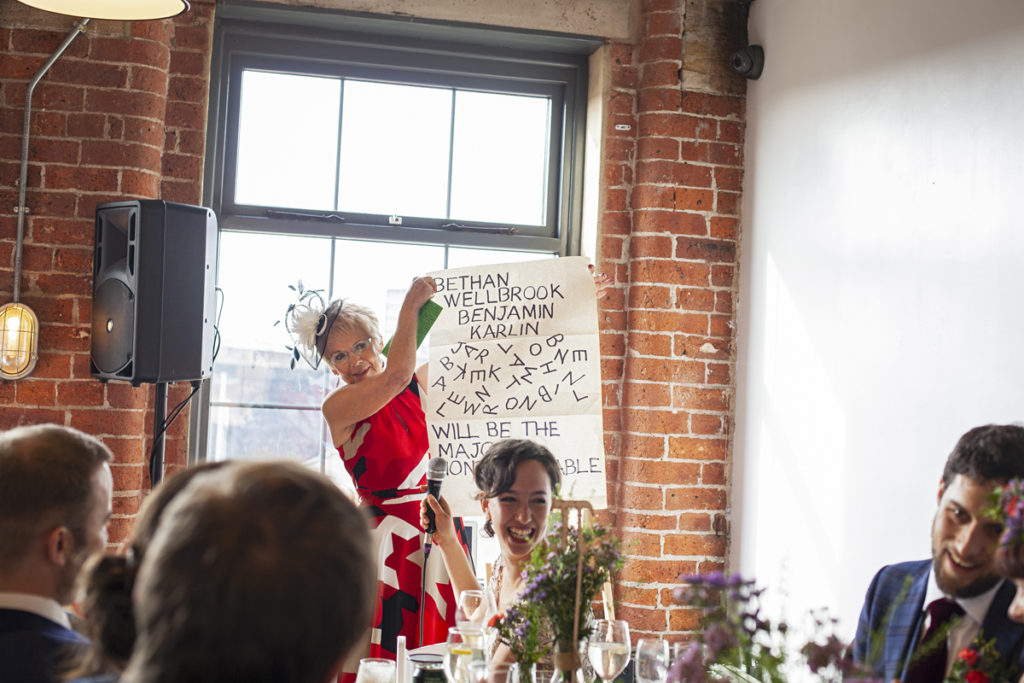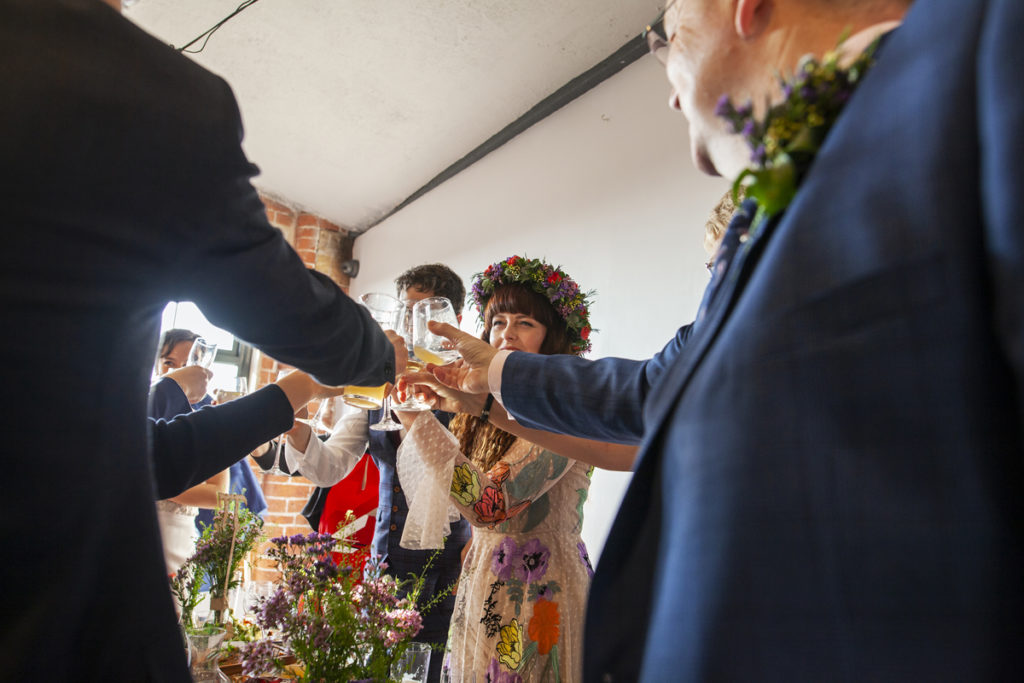 The Best Part of the Day
"So hard to choose! I'll break the rules and pick two: firstly the ceremony. The venue wasn't licensed (we got officially married on the Monday) which gave us freedom to design the ceremony however we wanted. We had a really close friend lead it, four of our friends sang barbershop and we wrote our own vows. It was incredibly personal and felt just right."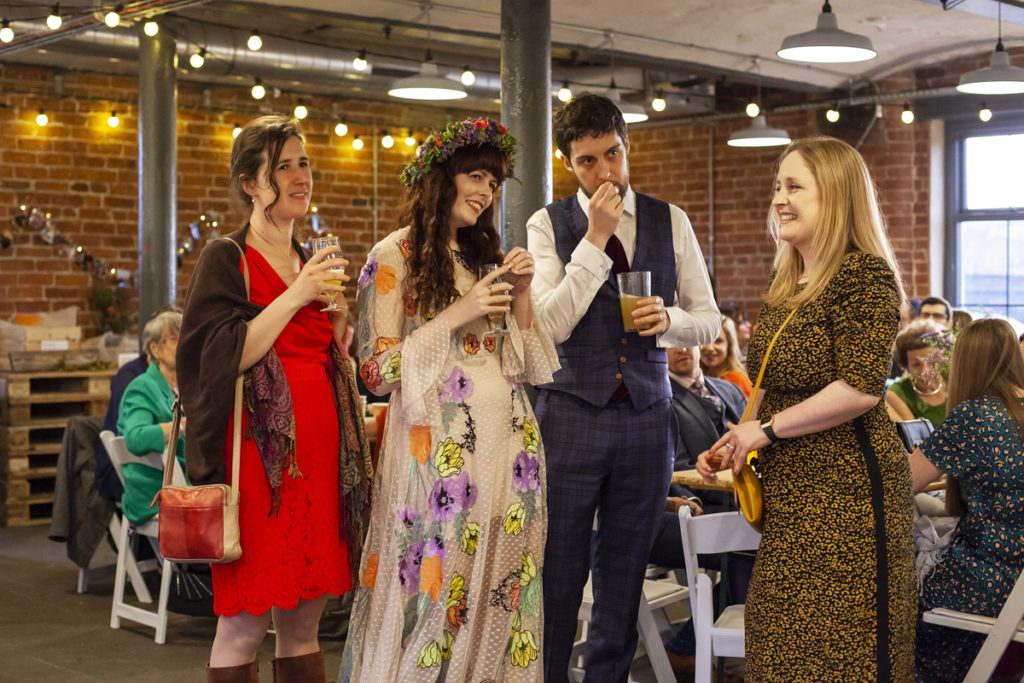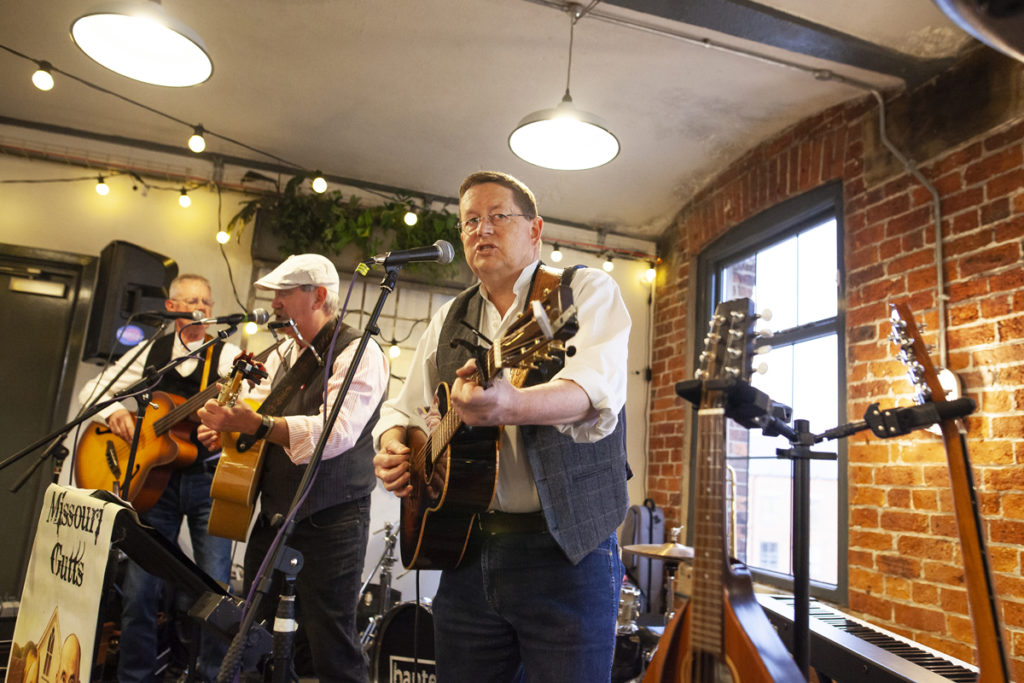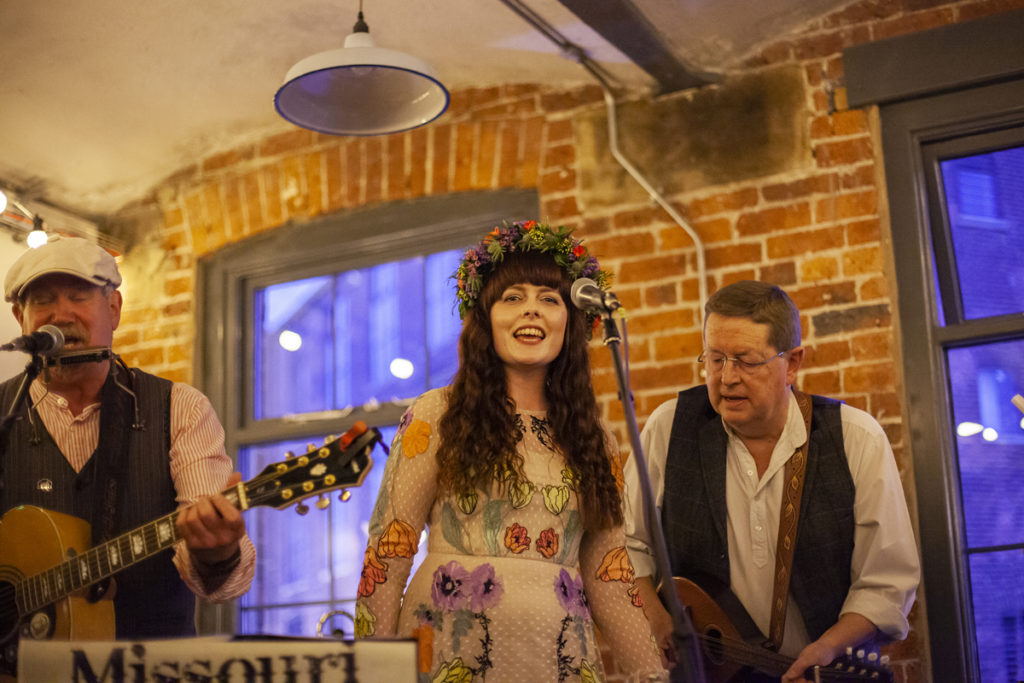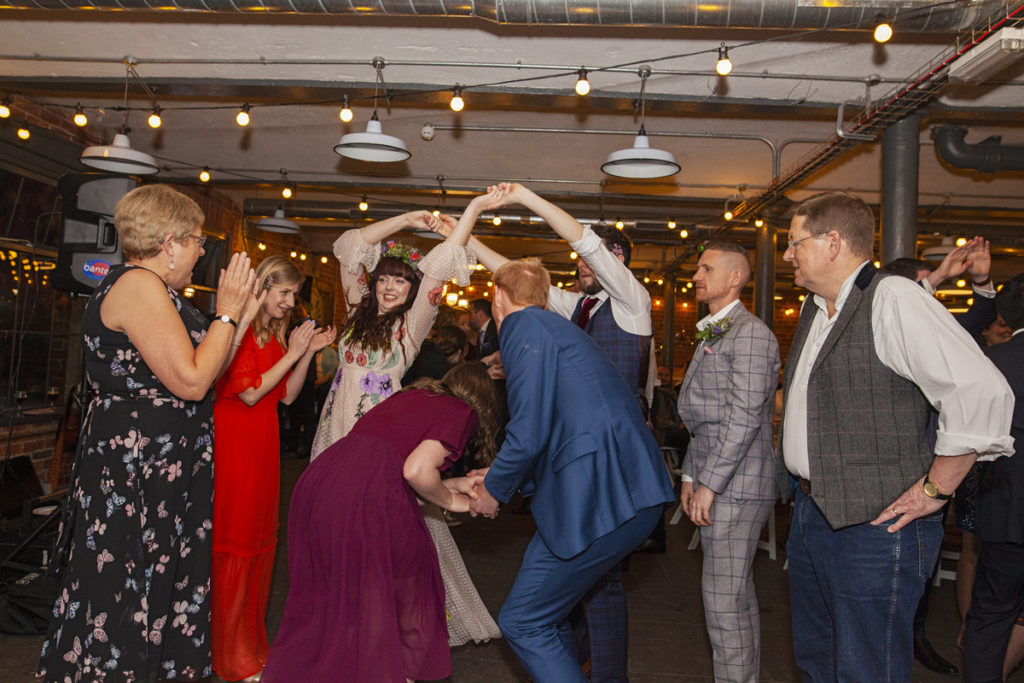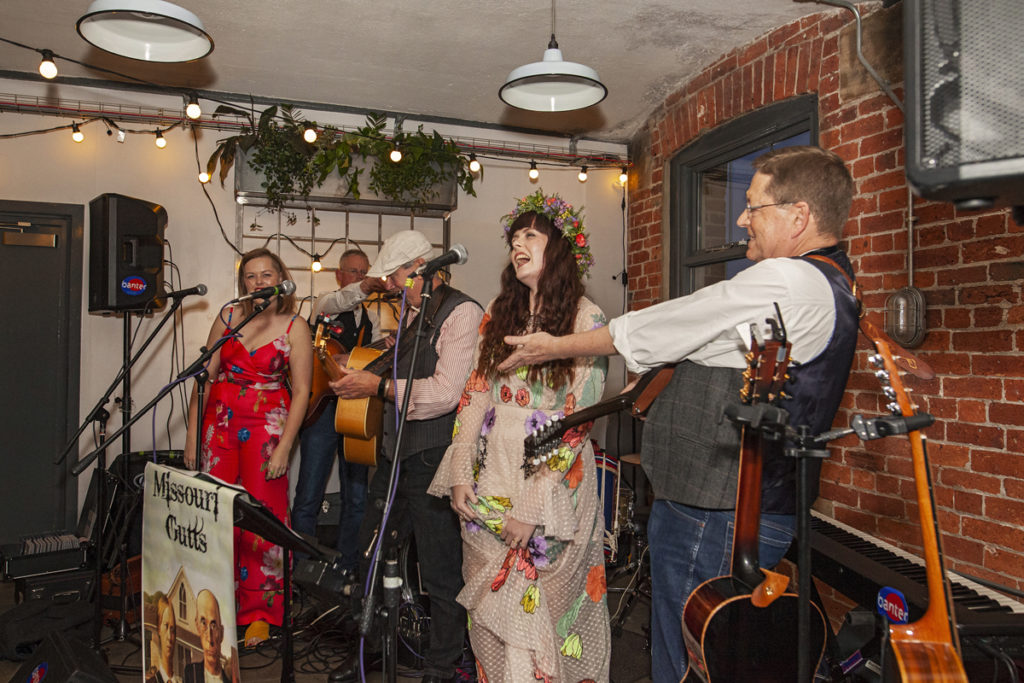 "Secondly – the ceilidh. What better way to bring friends and family together
than have them swing total strangers around wildly to raucous Irish folk music? It was
brilliant – and as the drinks flowed, progressively more hilarious."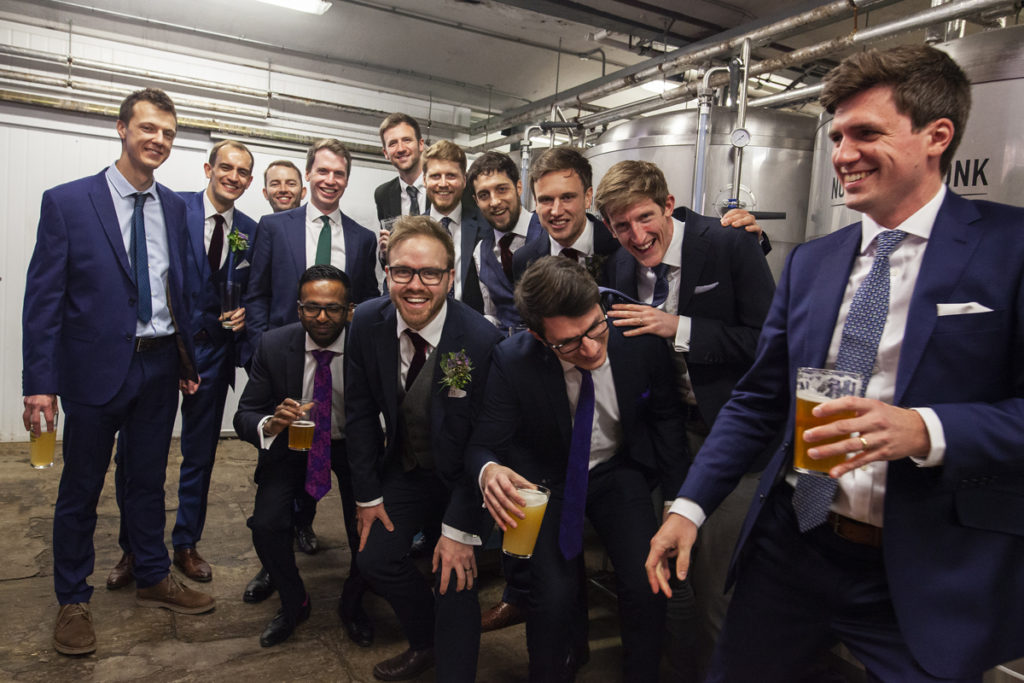 Words of wisdom
(wisdom mostly recycled from far wiser people than us)
"Make it personal. Don't conform to any traditions or expectations unless you actually like them on their own terms. My favourite comment from a guest was that the whole thing was very "on brand"!"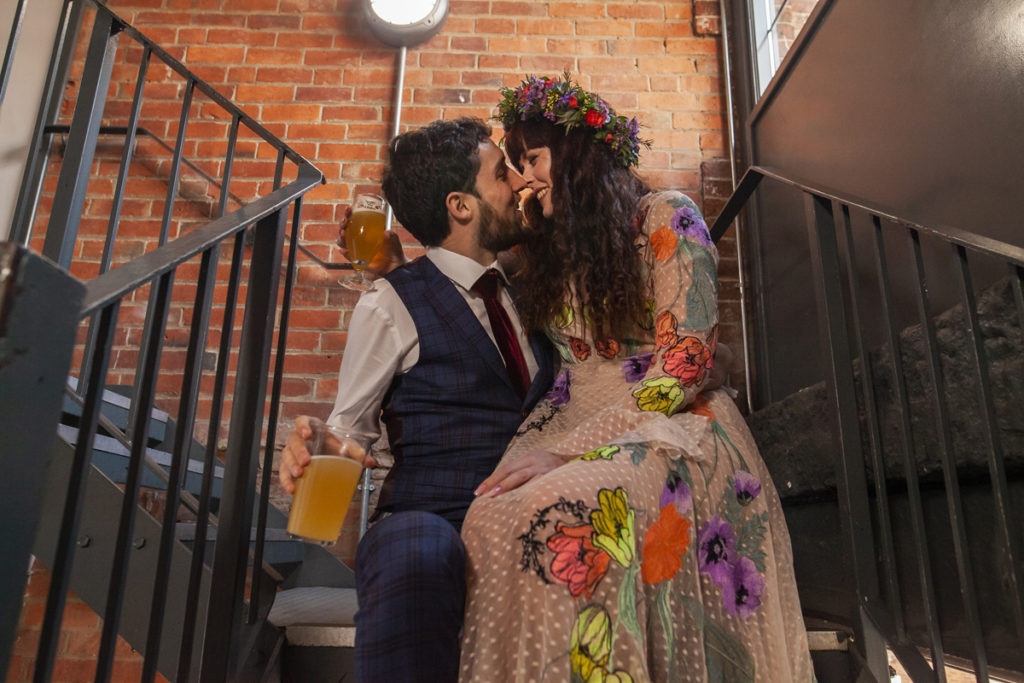 "Of course the little details are important, but don't stress too much – as long as people have a drink in one hand and some food in the other, they are going to be happy!"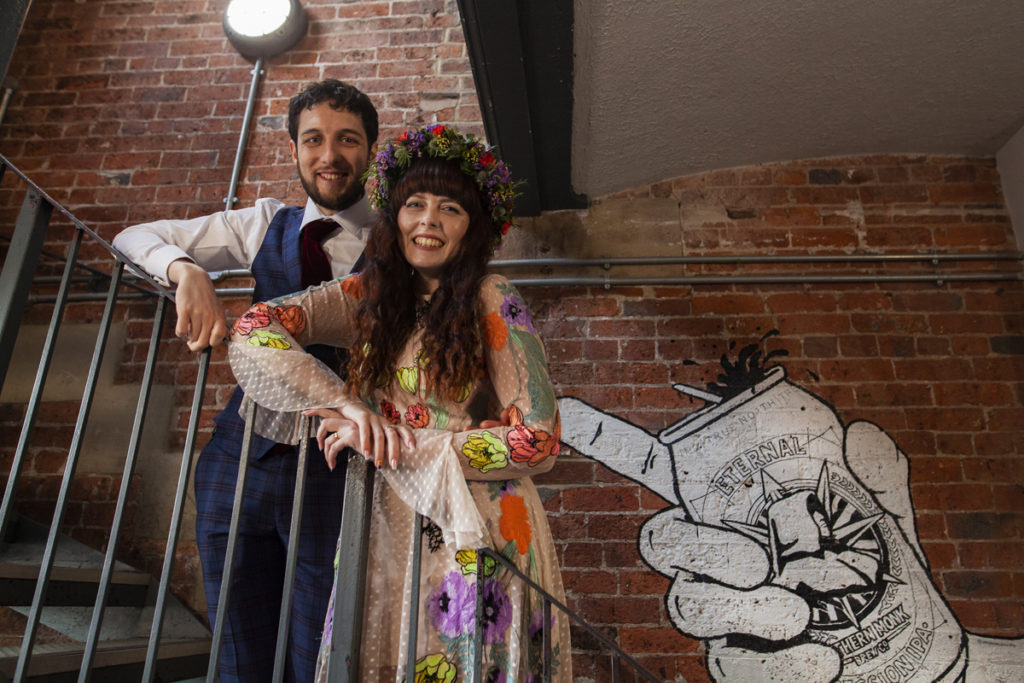 "Best advice I got for the day itself: Take a moment, at least once, to forget the non-stop nature of the day, stand back and just watch for a bit. The sight of all your favourite people enjoying themselves and each other is worth appreciating."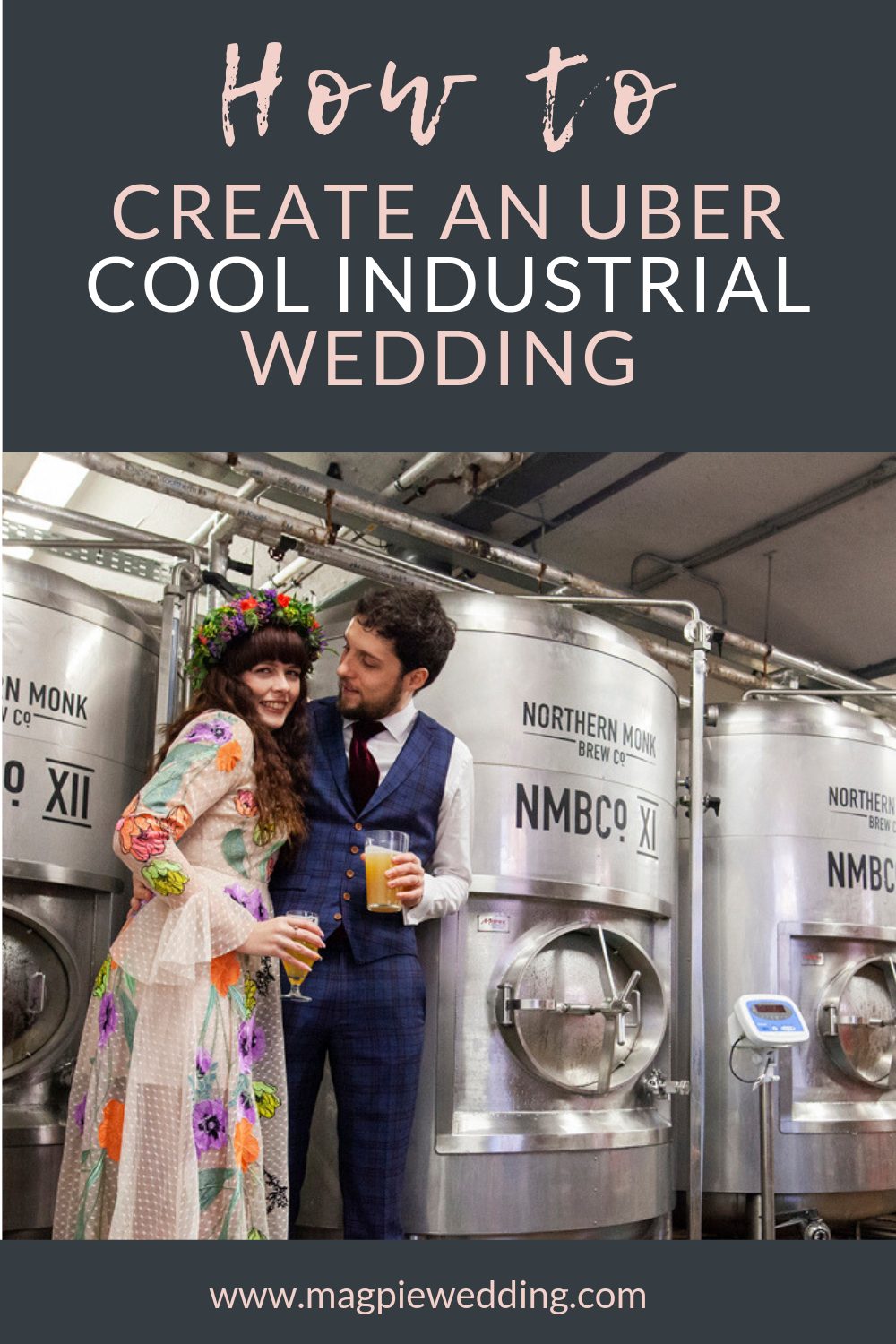 The Suppliers –
Dress – ASOS
Shoes – Shoe Embassy
Florist – Carys Wilkins
Make up – Pippa at Kimberley Brook Makeup
Grooms suit – Slater Menswear
Groom's and Best Men's Ties – Ruth-Frances Cava
Pocket Squares – Mindy's Needle Art
Wedding rings – Jenny O'Neill
Cheese "cake" – The Courtyard Dairy
Food – Pie Eyed
Venue – Northern Monk Brewery
Photographer – Stephanie Butt
Love this industrial brewery wedding and looking for more inspiration for your big day? Check out our online magazine BOND BRIDE