So, you want to add a bit of vintage glamour to your wedding? A dress that reflects your favorite era as well as your individuality sounds perfect, right?
But where to start…..
Allow us to shed some light on the subject – in just 6 steps!
Step 1: Be brave!
We often encourage our brides to experiment a little with different looks to figure out what shapes suit their figures and what details look flattering. Start by flicking through magazines or costume books and maybe watch a few old films – anything that gets you inspired! Once you have visuals running through your mind, it will help narrow down the search and you can be a bit more direct once you start shopping.
We like our brides to be a bit brave though so we do recommend stepping out of your comfort zone from time to time as you never know what gem you might stumble across – a dress that looks plain on the hanger can look epic on so try to remain a little open minded. If we had a penny for every bride who has asked for one thing and picked something completely the opposite….
Remember to have some fun with it! How often can you say you have tried on a wedding dress from the 1930s but then ended up with a 1960s one? Envelope yourself in the splendor of it all!
Step 2: History Lesson
Whether you're planning an era-specific themed wedding or simply looking for a dress with a bit of history or charm, it is always handy to know a little about the iconic styling details attributed to certain eras. For example, if you have an hourglass figure then the 1950s silhouette would be super flattering for you (knowing this can save you so much time – all you have to do is ask the seller to point out dresses in this era).
So, allow me to talk you through some key wedding looks from the 1930s-1970s….
1930s
Following the roaring 20s and all its elaborance, the 1930s took on a more sophisticated and simplistic approach to fashion. Thanks to Vionnet, bias-cut wedding dresses gained popularity, featuring long sweeping lines and glamorous, uncluttered designs. Rayon and satin were popular fabric choices and Art Deco designs from the 20s transferred over to the 1930s with geometric trims, ruching and diamante jewellery/dress clips being favorable finishing touches. Long narrow sleeves were ever-present and the silhouette reflected the wonderfully chic tea dress shape.
1940s
During WW2, 'Costumes' became the most popular type of wedding attire, with brides wearing a tailored suit cut on the lines of a military uniform to show respect to the War Effort. Alternatives included either a hand-me-down gown, your Sunday best outfit or a homemade dress made from scraps of recycled fabric or parachute silk – designs were kept simple and practical so they could be dyed and worn afterward as daywear. Look out for long sleeves and broad, padded shoulders. However, once The War ended designs drastically changed and in 1947 a new silhouette was introduced by Dior known as The New Look. Designs centred on femininity with nipped in waists, broad shoulders and flared skirts. The introduction of this look was set to take off drastically in the 1950s with numerous variations being created.
1950s
In the 1950s femininity was key. Think lace, full skirts, corseted waists, sweetheart necklines, halter necks, asymmetry, brocade fabric, ballerina length hems – the lot! Designs were flirty, fun and perfectly celebrated the hourglass figure! This is possibly the most popular style wedding dress around at the moment so why not get an original! After the bleak war period this is exactly what the fashion world needed and was seen by all as a breath of fresh air. This look is perfect for womanly figures and can also be very youthful.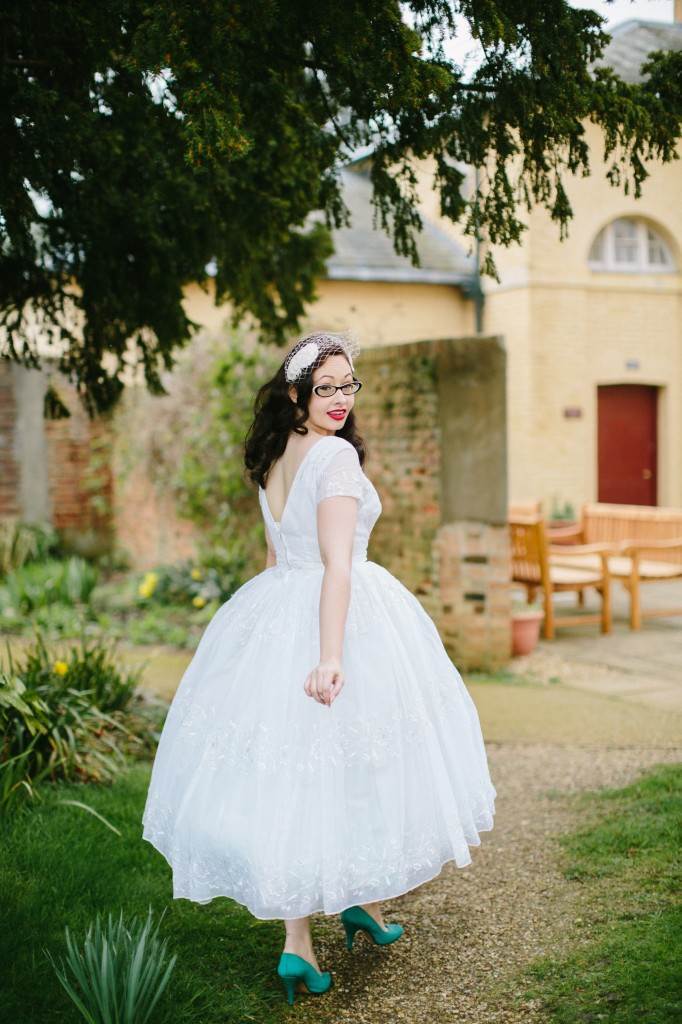 photo by Binky Nixon and styled by us
1960s
The Mini finally hits the world!! Oh yes, short hemlines were rife in the 60s and wedding dresses were no exception! Peter Pan collars were popular additions and designs took on futuristic styling details – think Space Age! On the other end of the spectrum was The Maxi Dress. This was a hugely popular wedding dress style in the 60s that often included an empire line and kaftan/smock top designs – all with plenty of transparent fabric!
1970s
Ahh the 70s! Wedding dresses took on a more ethnic, medieval, romantic and natural feel – think Hippy! Trouser suits were also popular and Punk was also a strong influence – the idea being that anything goes!
Step 3: The Perfect Fit
Due to the nature of vintage clothing, sizing can be a little bit tricky so it is always handy to know your measurements in Inches (especially bust and waist) beforehand. Keep in mind that alterations can be made to suit your requirements. The increasing popularity of vintage wedding dresses has resulted in some incredible replicas being made and all are available in modern sizes. If finding the perfect fit poses as an issue do not fear! It is important to remember that shapes have changed over time and a lot of the gowns you try on were made to the exact measurements of the original owner – this can make finding that perfect fit even more special and well, destined!!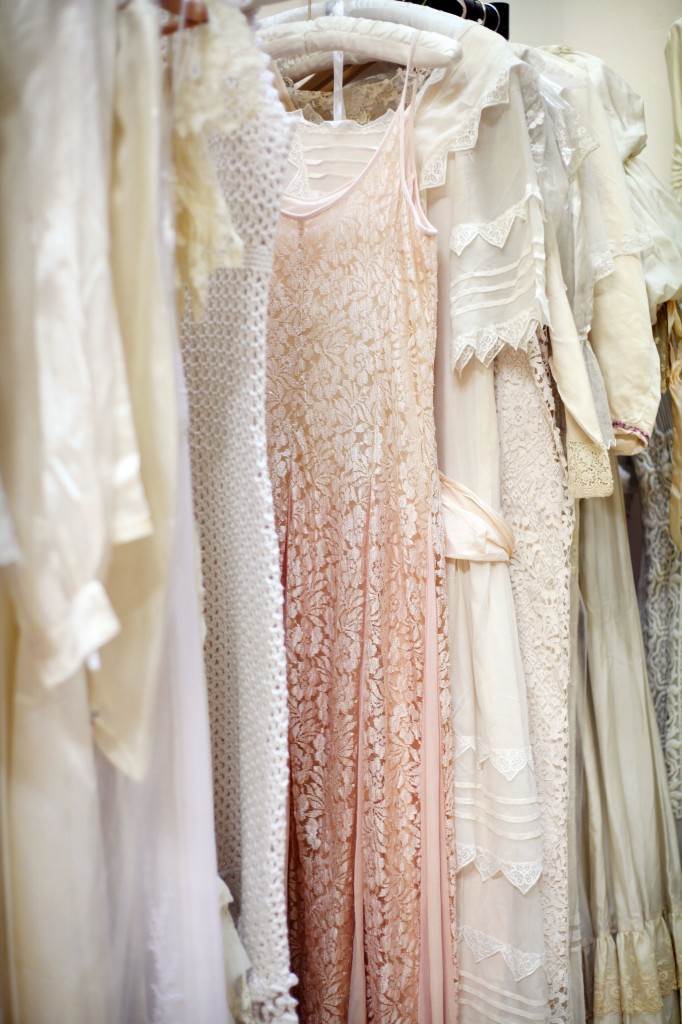 Step 4: Price It Up
Prices for vintage wedding dresses can vary depending on quality and rarity, although you are still more likely to find a bargain with vintage gowns than with modern ones. This makes them budget-friendly whilst still guaranteeing that breathtaking WOW-factor! Prices can range from around £150-£700.
Step 5: Finishing Touches
The fun part! Once you have your dress, you can experiment with different accessories, whether that means staying true to the gown's era or mixing it up – there are soooo many amazing vintage gems to be found (and they can be your Something Old too!).
For everything all in one place, visit our Vintage Wedding Fairs – they are great places filled to the brim with original wedding dresses that you can try on, hats, headpieces, jewellery, flowers…EVERYTHING!!
Step 6: Suit up – Grooms this means you!
Men, you have not been forgotten, there are plenty of options for you too! Start with hunting down vintage menswear specialists and going to vintage fairs – most vintage events try to incorporate menswear sections and there are some amazing finds out there!
The Dress Suit is traditionally popular but there are some quirky alternatives – a lot of grooms like to mix things up with less formal approaches. Vintage tweed suits and 1940's Army uniforms have all been popular choices among the modern-day groom and we bet the photos looked amazing!!
The possibilities are endless so have some fun and be brave! We are always happy to help and will guide you all we can!
So…..are you ready to shop till you drop?