It's widely thought that it's the bride who takes on the stresses of the big day which is simply not true, plus what about the other stresses involved, the ones that are forgotten about, and what about if you're both anxious and nervous grooms? Men's mental health during wedding planning is just as important and it needs to be talked about. Today we want to talk about the things that affect men, in a bid to include and help every single person when it comes to planning the big day and beyond.
In today's blog post we talk about coping techniques for anxious and nervous grooms. If that's you, listen up on how to deal with anxiety and nerves in the lead up to, and, on the actual wedding day itself. We have two relationship therapists, Michael Padraig Acton and Elaine Tarsh who give their expert advice on ways to deal with this and some of the psychology behind it.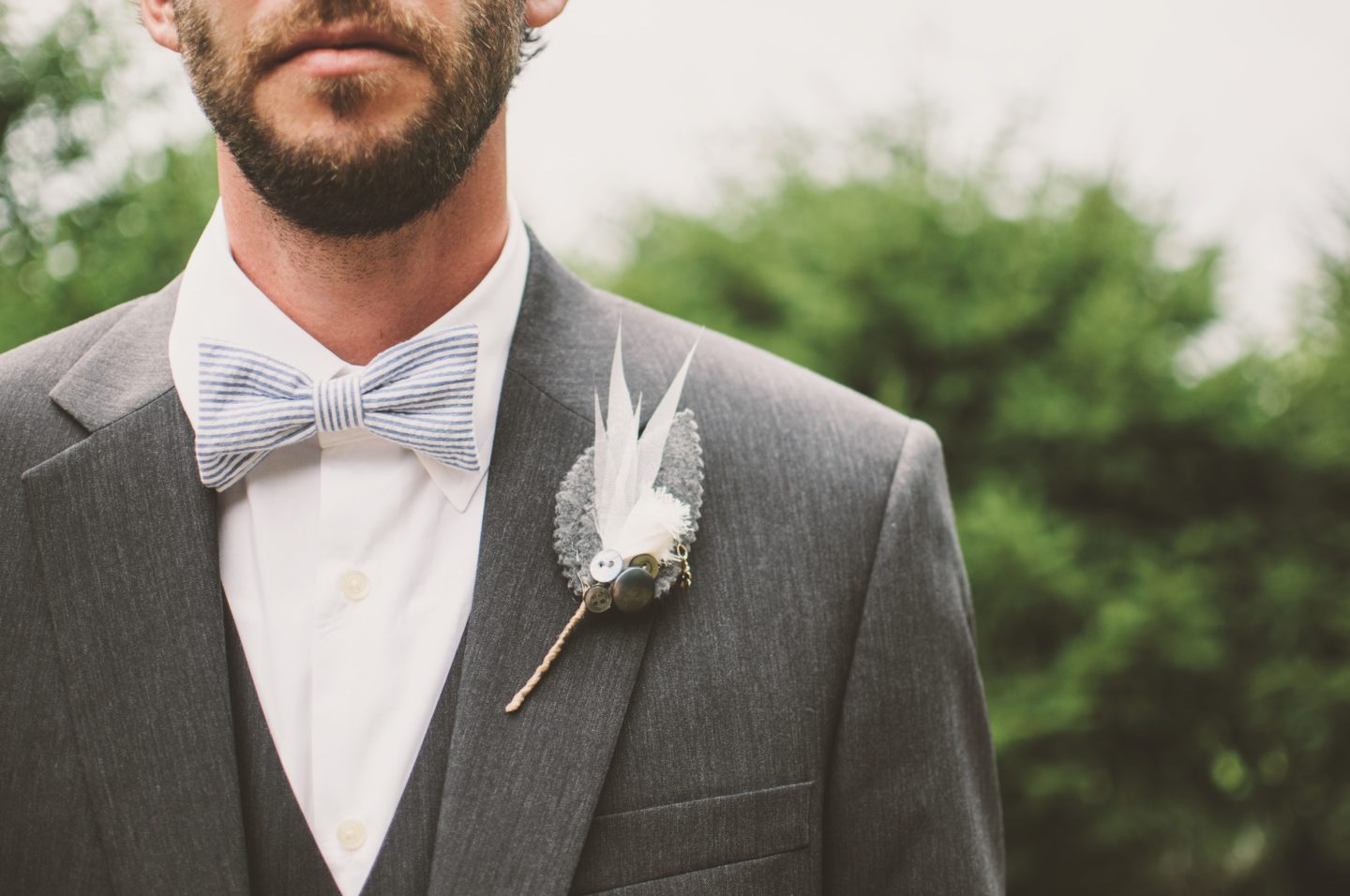 Michael Padraig Acton is a relationship expert and self-help specialist.
"Weddings are often emotionally-charged situations and more often than not are high stress and often confrontational days. The lead-up is full of pleasing others, competition, meeting budgets, how to seat the ever-emerging modern family with countless exes that don't get on, etc, etc. A place convivial to a relaxed couple? Not a chance! Rather than taking a gamble, we need to prepare. By the time the big day comes the reason for two people declaring love and commitment to each other can sometimes have been suffocated by micro-managing the gathering. As men feel they may not be able to share that they are feeling vulnerable, concerned or even left-out, it is important that the pre-engagement, happy couple communicate their truth to each other. Keep date night going weekly and have a mutual understanding that they are equal going into this wedding and remind each other about their life intentions beyond the ceremony. When it comes to the 'how' of talking to your partner (male or female) about it, techniques for this would be to be open, honest and real about experiences. Your life partner is opposite you and they better be the main priority in your life or you are starting off on the wrong foot (not the tittle-tattle of family members or friends even jealous 'frienemies). Keep notes on your phone if something is bothering you and hear each other's concerns. They are real concerns if you are bringing them to date night. Truly listen and do not judge.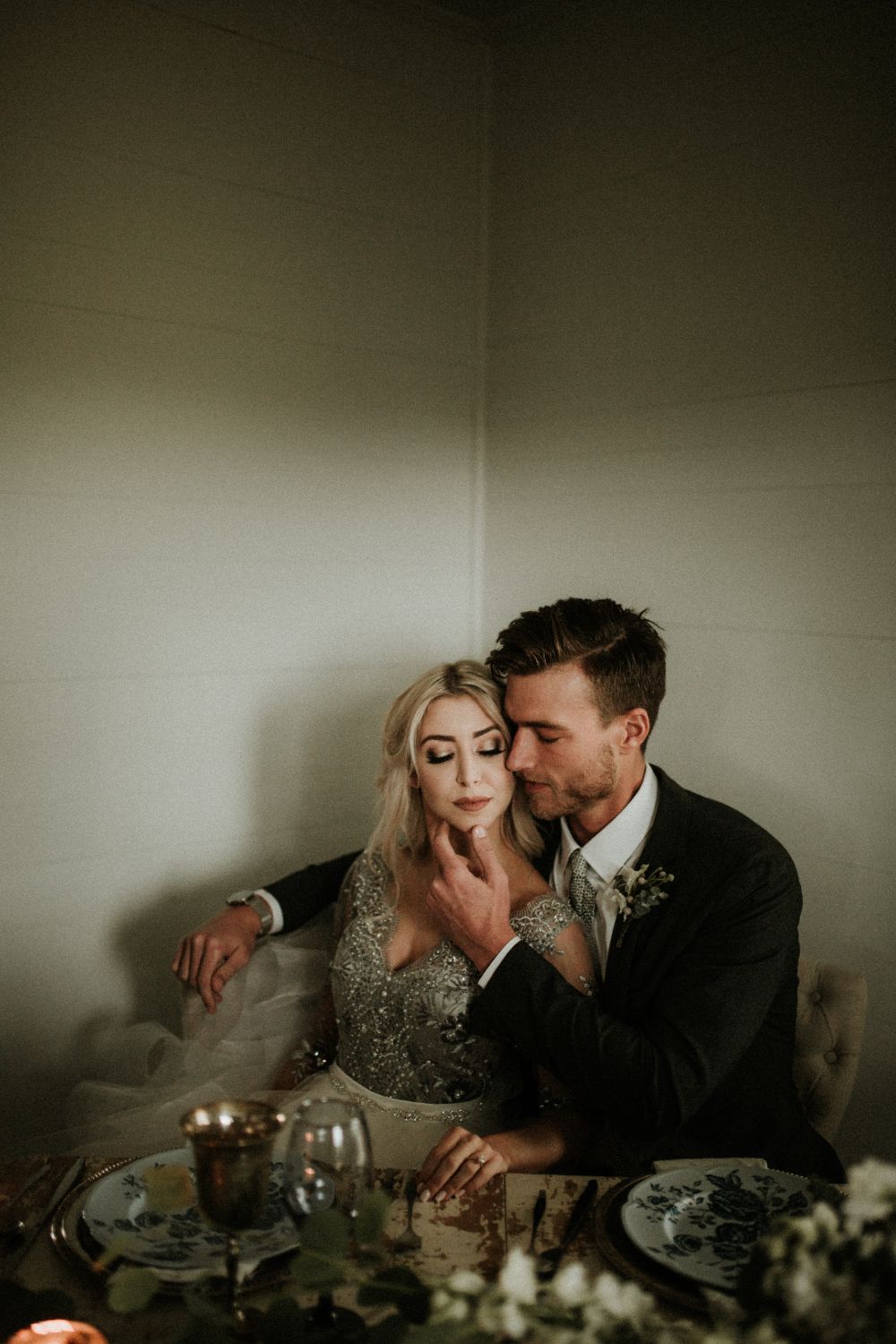 The Wedding Day
"Tips for the wedding day itself whatever gender or sexuality: being real, kind and true to yourself and each other is your public duty for the special day. Ultimately, believe in your day and clarify what it means to you privately. Let's face it, most of us do not often stand in front of a gathering and speak, let alone have all eyes on us like a movie star. It is going to be stressful. Accept this and plan accordingly and you are halfway there. A new trend coming from Covid is to get hitched privately and then have a relaxed cocktail party, BBQ or picnic with friends and family. Always an idea if the family, friends and each other allow or want this. It takes the pressure off for sure. Face the anxieties and talk about them to a trusted friend or family member. Or better still your betrothed."
"Breathe. Very important for life and not making a fool of yourself by fainting on the day! When we are tense our breathing becomes shallow in order to fight or take flight. If you practice before the day taking a few deep breaths and exhaling slowly you'll find the calming benefits. If you haven't arranged everything already, stay within budget. Disappointing someone by taking away an idea or a want is much better in the long run than spending a car's worth of money on a day's party for all. Most people remember very little about talking to people on their day so bear this in mind.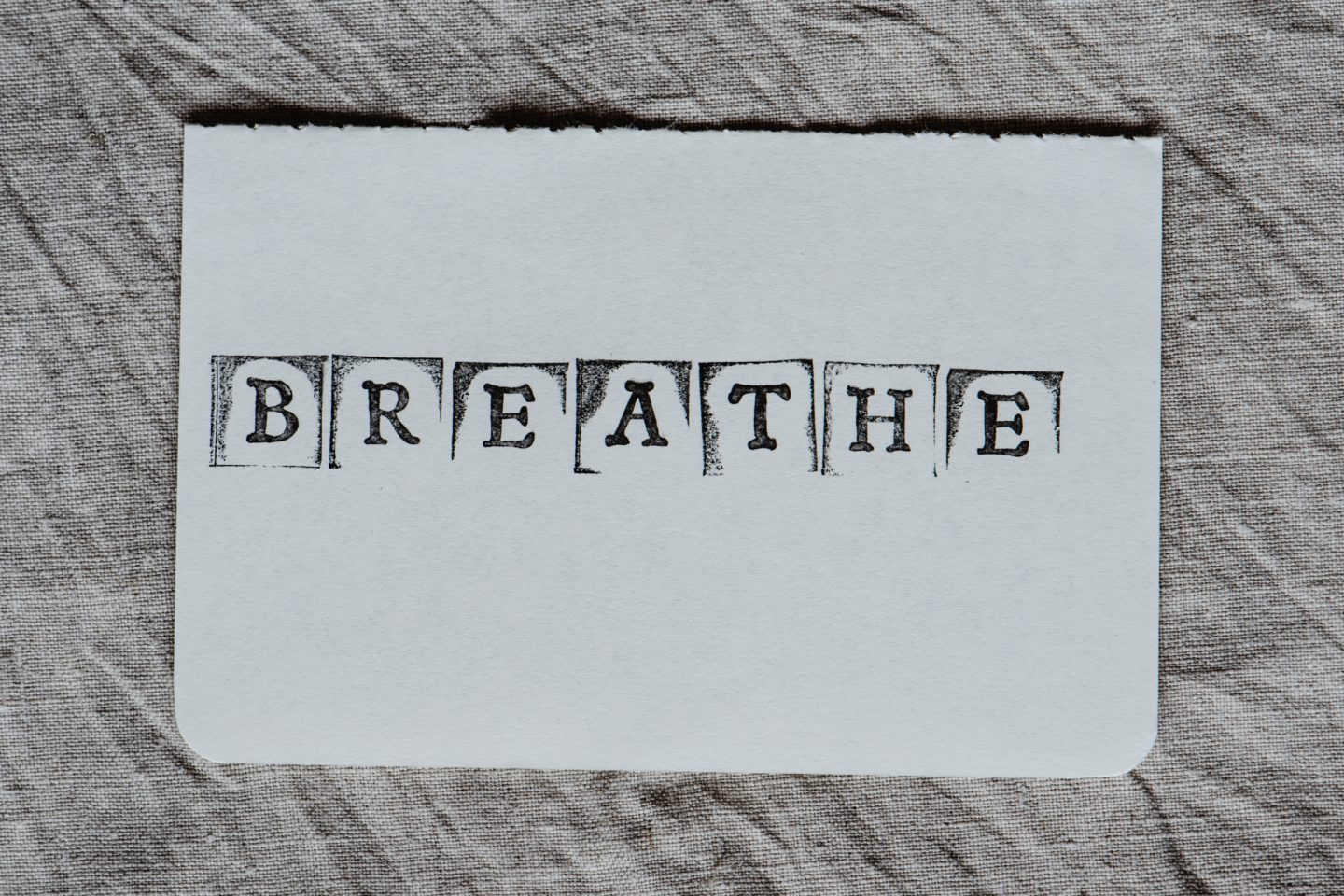 Signs to Lookout For In a Partner
"Withdrawal, quick to anger, disinterest, not wanting to socialise, not enjoying things as much, eating too much or not enough, drugs/alcohol increase… are all signs of not coping. TALK, TALK, TALK is the remedy and be HONEST, HONEST, HONEST with each other. These are all warning signs of not coping and slipping into depression. Love each other before the wedding as much as you hope to after. Truth is your wedding day friend."
After the Wedding
"Plan a special and agreed day after the wedding when you will have simple but special things. Mine was sausage rolls for breakfast and a swim. It can be anything. Have fun planning the together day after and agree and prepare for it. This is all about our wants and needs together. If there are 'Day After' nerves, talk about how to best manage these and take it one step at a time together."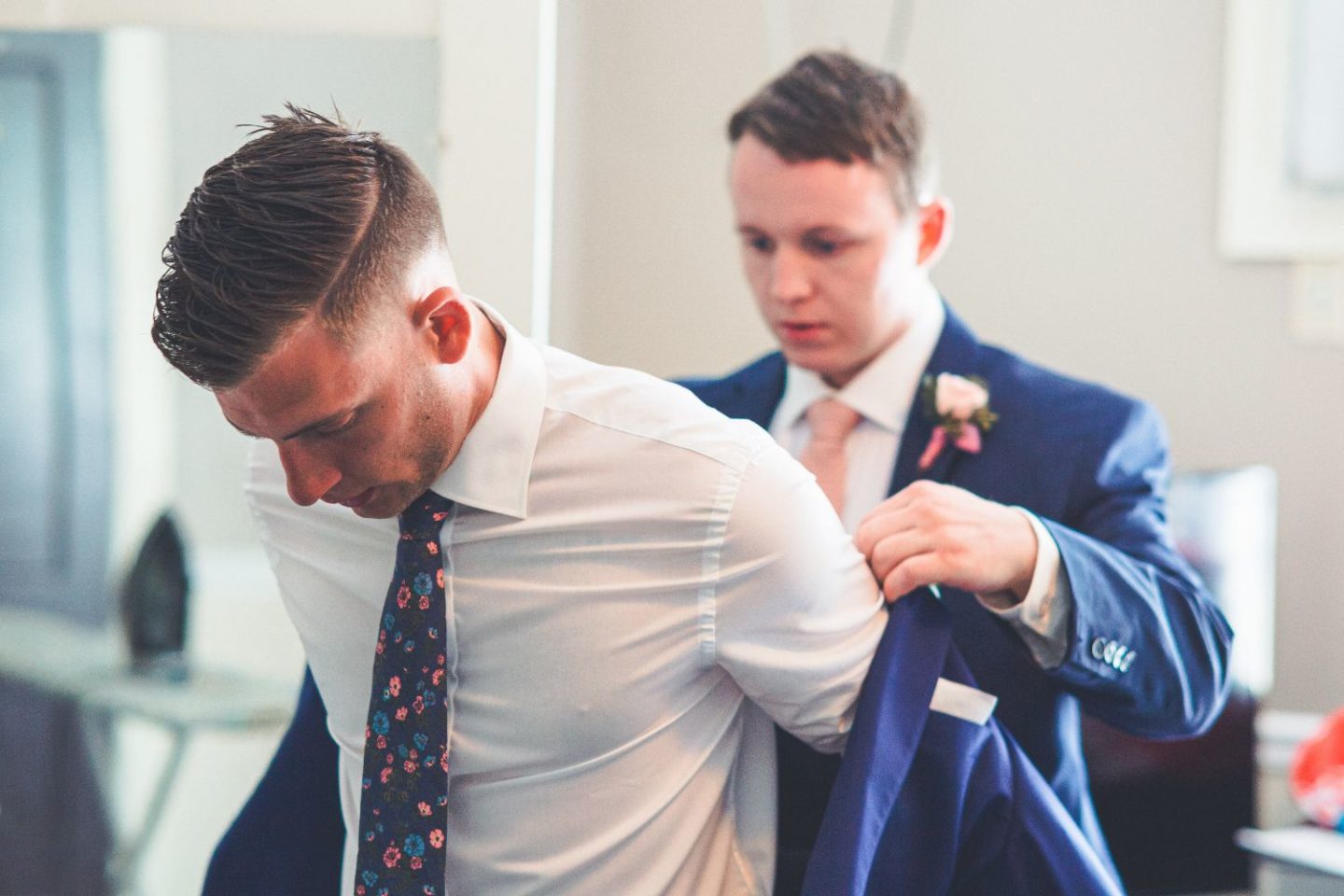 Techniques For Anxious And Nervous Grooms
Elaine Tarsh is a Relate trained counsellor and psychosexual therapist with a Certificate in Relationship Counselling & Psychosexual Therapy.
"Getting married is a huge life stage event for anyone and can be both exciting and overwhelming. Anxiety around major life events normal. In the run-up to the big day, practice the following AWARE technique for managing anxiety"
A – Accept the anxiety
"Notice your thinking, and if your fears are spiralling, remember that thoughts are just thoughts, not facts. If you know on a rational level that you are getting things out of proportion, but on an emotional level, you are feeling uncomfortable, know that the key to reducing your anxiety is to accept it. Decide to be in the experience rather than to fight it."
W – Watch your anxiety
"Observe it without judging it to be good or bad. Be detached from it and be curious. Rate it from 1-10, noticing when it goes up and goes down. Remember, you are not your anxiety."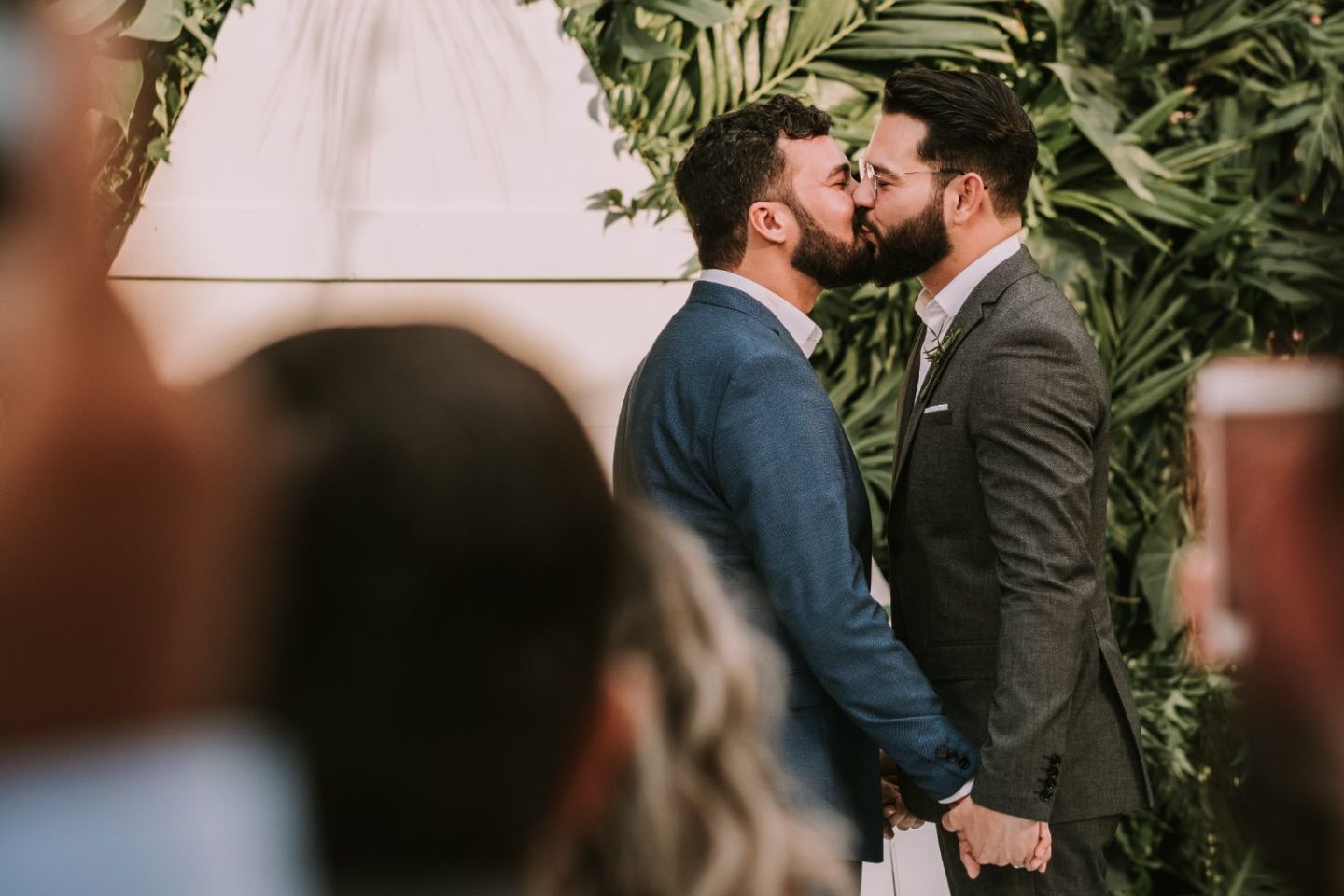 A -Act with your anxiety
"Keep behaving normally and continue with your plans. Breathe in a relaxed way. (Think about doing some breathing exercises such as the Soothing Rhythm Breathing from the Compassionate Mind Foundation or 478 breathing. If you change your plans, your anxiety will go down, but your future anxiety will go up. If you stay, you will learn to manage it."
R – Repeat the steps
"Continue accepting your anxiety, watching it with curiosity until it goes down to a comfortable level. What you repeat gets stronger, so practice when everyday opportunities arise."
E – Expect the best
"What you fear most may never happen. Practising something new will be effortful, to begin with, but will become automatic in time."
"Finally, talk to your partner, and explain how you are feeling. You may find they are feeling just the same."
KNOW ANY ANXIOUS AND NERVOUS GROOMS AND FIND THESE TECHNIQUES USEFUL PIN THEM TO YOUR PINTEREST BOARD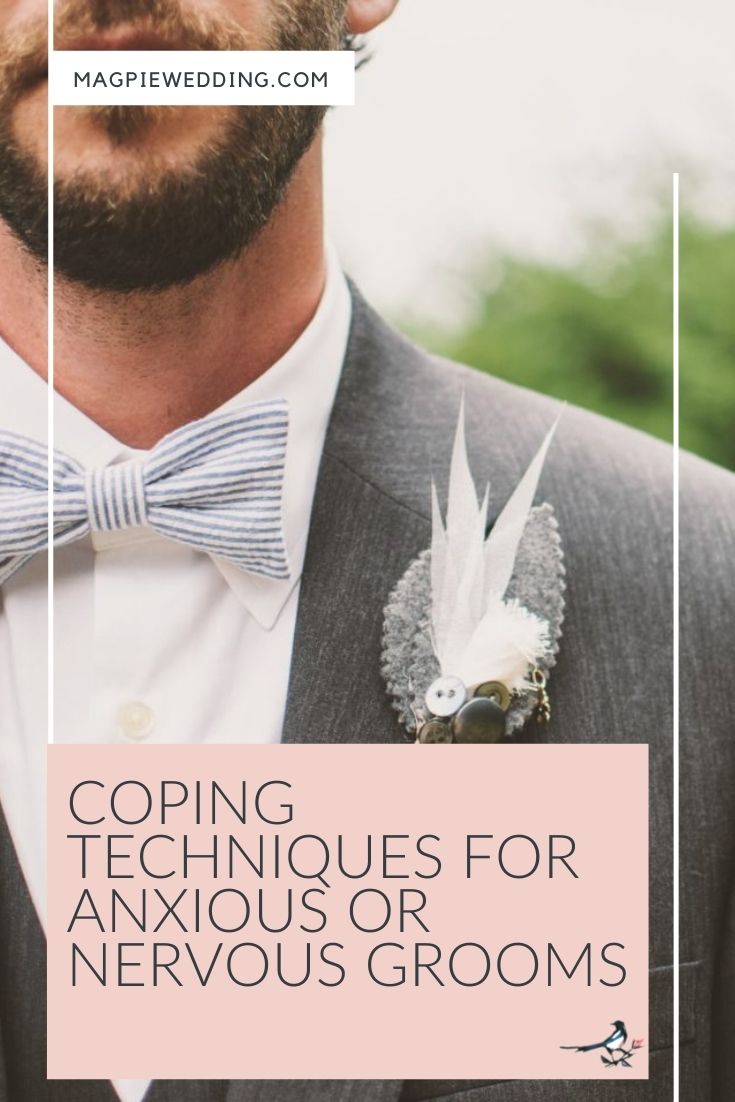 If you're an anxious and nervous groom and are looking for more wedding advice you may also like;
5 Groom Gifts From The Stag Do To The Wedding Day
Pre Wedding Nerves: Top Tips and Techniques For Your Wedding Day