I understand that wedding dress shopping can be a daunting experience at any time, but especially now we have come out of lockdown, there is perhaps a lot of questions which you have; how it will work, will I be restricted to the amount of people I can bring, can I try everything on? On todays blog I'm I hoping I can help you with these, help calm those nerves and give you my top tips for Post Covid wedding dress shopping and wedding dress shopping in general based around my experiences running Rock The Frock Cheshire.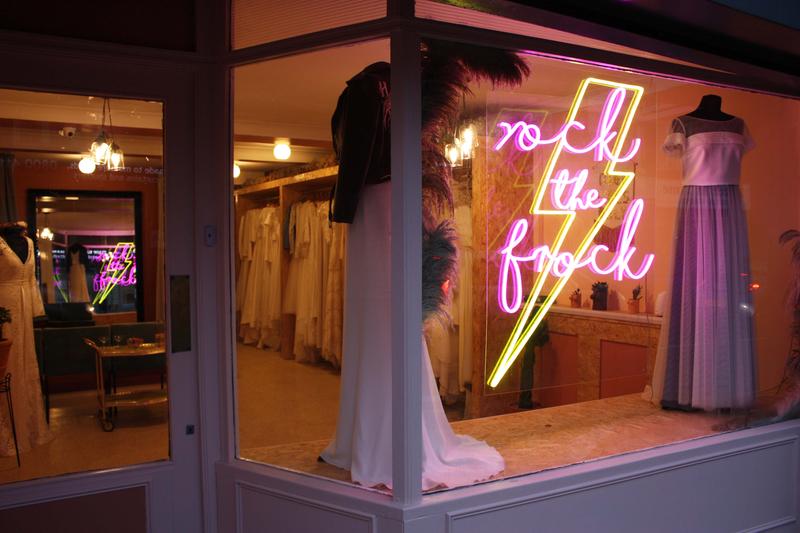 More so now than ever, due to the current climate I would recommend before you book any bridal appointment that you do some research about how you envisage your wedding day and the things that are most important to you, and, what you want from your wedding dress, do you have certain requirements and a vision? Ideally this is something you should do in general, but it makes sense to be as organised as possible at this time.

Styling
Ask yourself whether you want to go Modern, Traditional, Minimal/ Effortless, Princess, Vintage or Boho. From this you can find designers or boutiques which offer these types of styles. If you're not sure on what styles your looking for you can always ring some boutiques for advice on what kind of dresses they have, you will then get a feel for each individual boutique and how they work. You want to try and limit your trips during this period of uncertainty, the less shops you go to to find the one, the better.
Ethics and Sustainability
If sustainability and ethics are important to you i.e how and where your dress has been made then you will need to do some further research before you go wedding dress shopping. If boutiques offer sustainable and ethically made dresses they will be shouting about it – if you are unsure if the dresses are ethically made you can always contact the boutique to find out where the dresses are made. The dresses which I stock are all ethically and sustainably made; for example Leanne Marshall Bridal where all of their dresses are hand made in their Studio in New York City. Their dress linings are made with recycled silk and no fabric is wasted from any dresses.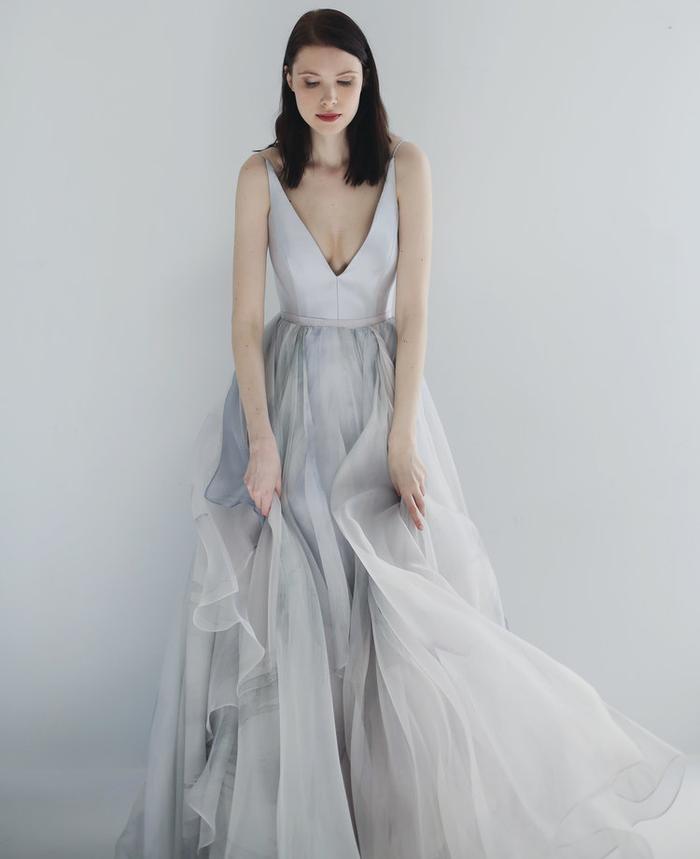 Raincloud By Leanne Marshall Bridal
Budget
How much are you wanting to spend on your wedding dress? Wedding dresses can range in price dependant on designs, designer, how the pieces are made and the fabrics which are used. Dresses at Rock the Frock start at £1000 and range up to £3550 with the average price being £1800. Email boutiques or check their website for prices ahead of booking your visit to avoid disappointment.
Timing
When are you getting married? I would recommend that you start wedding dress shopping one year ahead of your wedding date. This is because most designers have a 6 month lead time and alterations take approximately 8 weeks. The closer you get to your wedding date, the busier your weekends will get with hen parties and venue trips, so I always recommend extra time to allow for you to find your dress initially and to allow for you to book your alterations appointments around your busy plans closer to your wedding date. Don't panic though, due to Covid a year ahead may not be possible, there are other alternatives such as sample dresses, and some designers can accommodate a smaller time frame on delivery, you could also go bespoke as generally a made-to-measure process has a shorter lead time, we work with lots of independent designers so it never hurts to ask the question, of course this is all dependent on the type of dress you are looking for.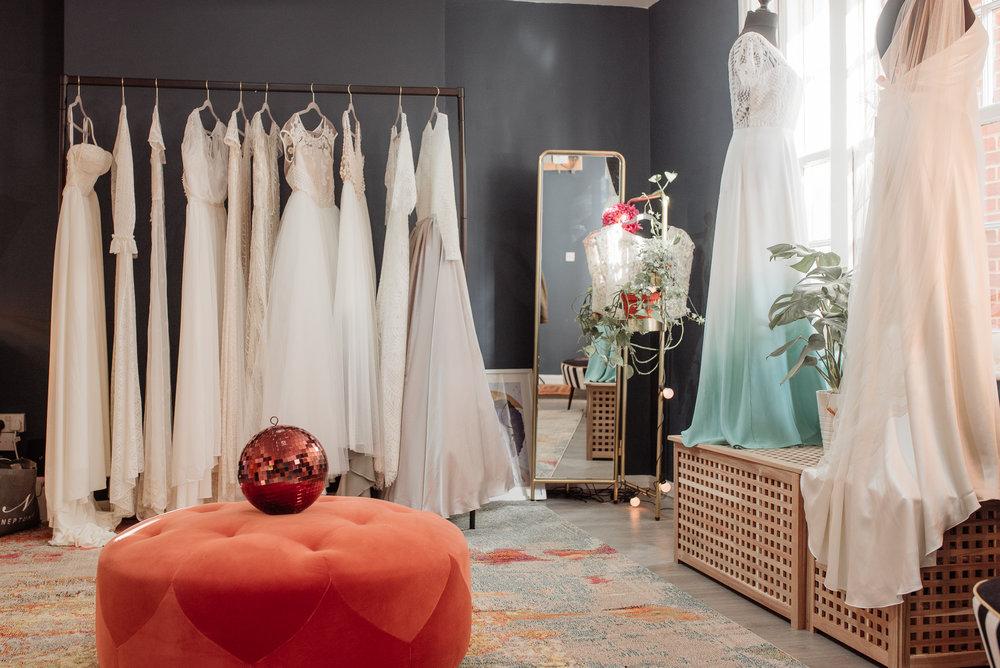 Inspiration
To gain wedding dress inspiration I would recommend that you head to Instagram as all dresses which are posted as available now – the problem with Pinterest is that you could fall in love with a dress from 5 years ago which has been discontinued. Follow blogs which you feel match your personality and wedding vision. From this you can see real weddings or styled shoots which show wedding dresses on a model in a wedding scenario. Bridal boutiques usually are tagged and from here you can stalk their Instagram and see if there are any dresses which take your fancy. Other ways to find dress inspiration on Instagram would be following bridal hashtags for example #bridalinspiration, #coolbride, #realbride. To find bridal boutiques in your area try #manchesterbride #cheshirebride #manchesterwedding.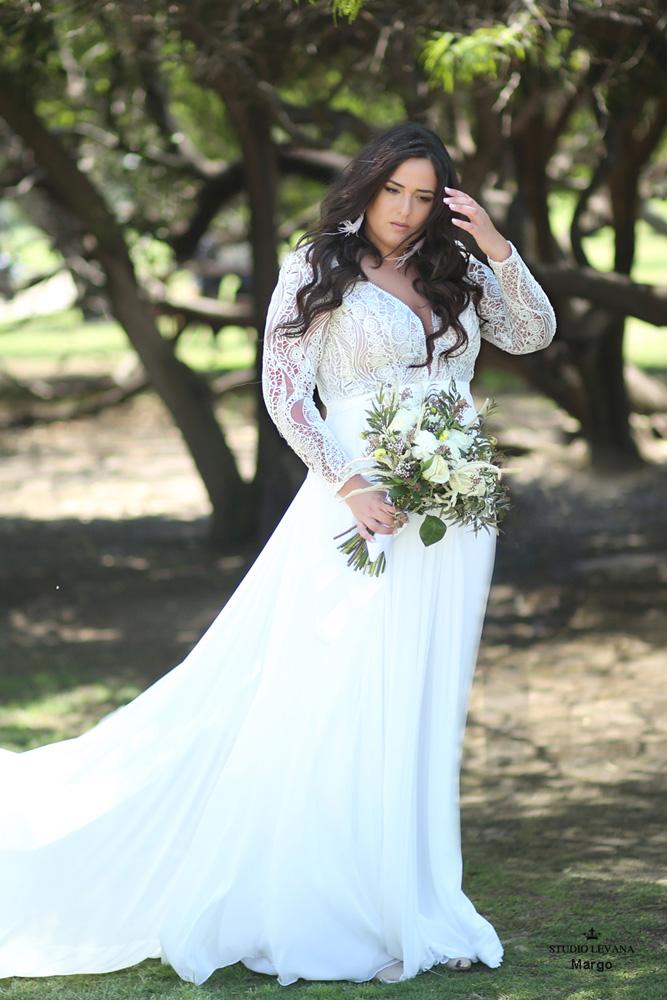 Booking your bridal appointment
Boutiques usually have an online booking system which makes it easy to co-ordinate your diary with when they have availability – if you can call them to have a good chat about dresses (my fave) and book your appointment.
What to bring with you to your bridal appointment
NUDE Underwear! This is not essential but always one of my first recommendations – there is nothing worse than your whole bridal appointment being your mum telling you 'you can see your black knickers' through your dress.
Bring shoes in the same height as you want to wear on your wedding day – this means if you find 'the one' you can easily be measured plus it also means you can see the dresses on you in the height which you will be on your wedding day. For example if you want to wear Dr Martens on your wedding day – wearing a (clean) pair when trying on dresses means you can see how they will look; same with if you had some super cool heels.
Bring Accessories which you have had in mind for your wedding day – if you wanted to wear your mums veil or grandmother's pearls– bring these with you so you can see how these look with the dresses.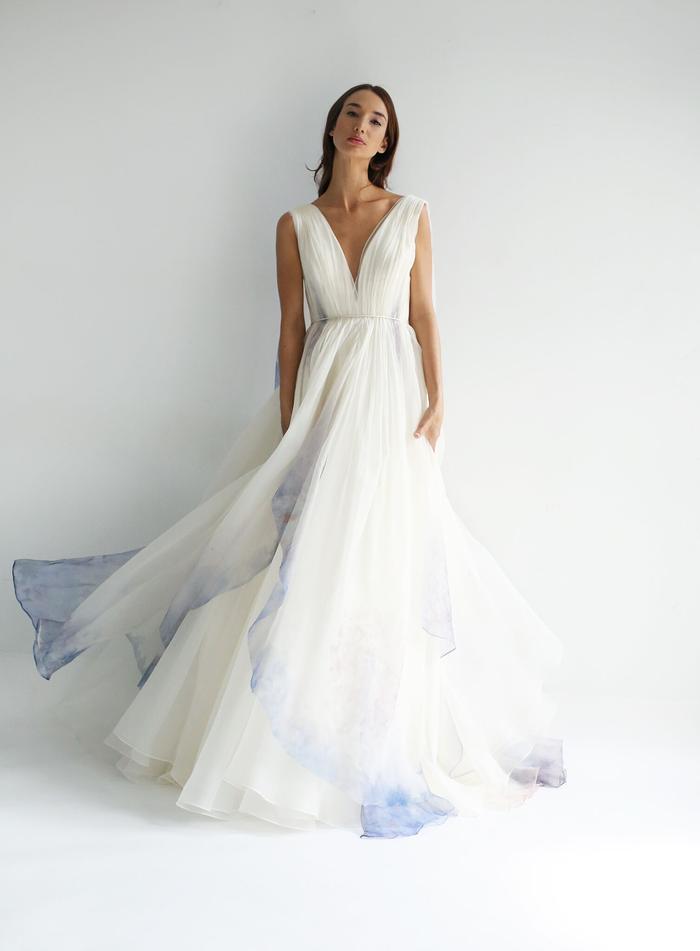 Twyla By Leanne Marshall Bridal
Covid Safety
At the moment to keep in line with Covid safety all bridal boutiques will have done a risk assessment to minimise any risk of covid 19 in their boutique. Here are the recommended guidelines, and some extras we use at Rock the Frock to enhance the experience!
Wearing a mask and gloves at all times when you are in the boutique
One guest per client with you to your appointment
Guests should wear masks throughout the duration of your appointment
Gloves will be available if you want to go through the dress racks
Hand sanitiser is available for you to wash your hands on entry and when leaving the boutique
Dresses and any upholstery will be steam cleaned between appointments and the boutique will be thoroughly cleaned,
A tripod is available for you to facetime your friends and family so it is like they are with you
Wedding dress shopping is a really special experience – make the most of it by selecting a smaller number of boutiques to visit, where you have researched the dress designs, designers and prices. This will avoid any disappointment and will stop your bridal experience being one where you end up visiting loads of shops trying on too many dresses which is super confusing and stressful.
If you have any questions let me know I am here to help!
Big Love
Helen x
IF YOU FOUND THIS POST COVID WEDDING DRESS SHOPPING ADVICE USEFUL PLEASE PIN IT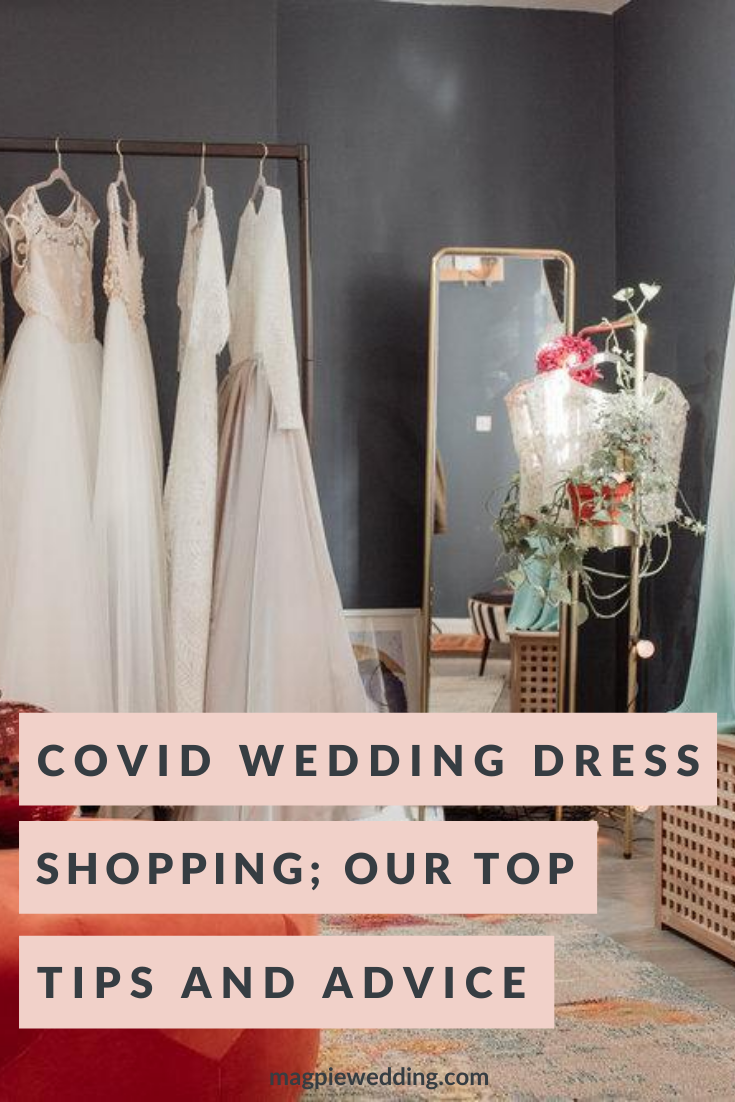 If found this useful you may also like;
Wedding Day Period Advice – Wedding Taboo Talks
How To Set Up Your Wedding Business Pinterest Account In 5 Easy Steps
Alternative Wedding Readings – How Falling In Love Is Like Owning A Dog By Taylor Mali