Pinterest is not only a great place to get inspiration for your life and business, but it is also a great way to be found by your ideal client or customer aka couples planning their weddings. We call it a visual search engine – get Pinterest right, you can be found by 1000's of new people who will love what you do. Research shows that brides actually plan their wedding before they get engaged which means if you use this platform as part of your strategy, you can get your work in front of them really early in the wedding planning process! Our wedding business Pinterest account is crucial to us – it is our number one traffic source and currently has over 4.7 million monthly views!
But before you dive into creating boards and pinning away, there are some simple steps you should complete first so you set up your wedding business Pinterest account right first time.
This posts contains affiliate links.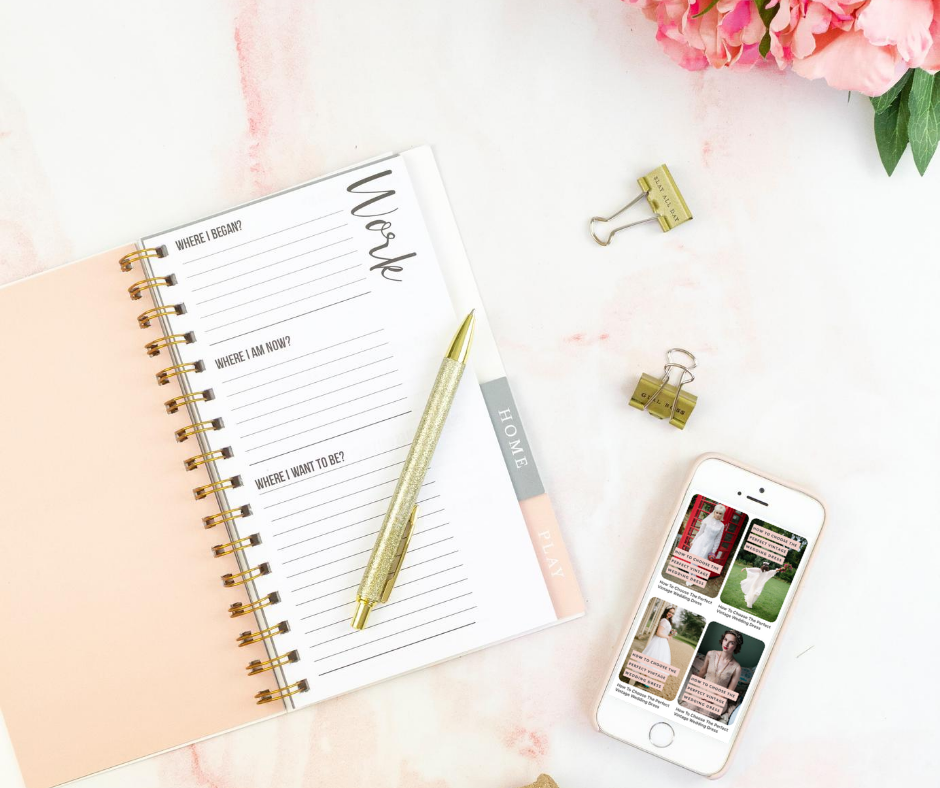 SIGN UP OR IF YOU ALREADY HAVE AN ACCOUNT, CONVERT INTO A BUSINESS ACCOUNT
This is really simple thankfully! Once logged into your personal account, click the three dots in the right hand corner, from this click 'add a free business account' and ensure you fill in at least the required details such as your business name and 1 topic that fits your business – weddings or maybe beauty.
You can find out more info on this here.
ADD A CLEAR PROFILE PHOTO, LOCATION, BIO AND CUSTOMISE COVER
Add a good quality professional photograph of yourself or your product rather than a logo. It is great if your ideal customer can see what you do fast. Add your location too as this can open tons of opportunities and collaborations.
Writing your bio and writing it right is crucial: you've only got 160 characters so let's keep it simple! Here's two steps to follow when writing your bio.
Think strategically, including as many keywords that describe what you do as possible.

Add a call to action and try to convert every profile click to an addition to your email list. Adding your opt in here is a great idea even though it is not clickable.
Next up is customising your cover image to best represent your 'everyday pins'. Think – what does your target market want to see on their feed? We advise you to choose a board that has your work in it so people can see straight away what you do and how amazing you are. To change your cover image/board simply press the edit button in the top right corner.
CLAIM YOUR WEBSITE AND ADD OTHER SOCIAL ACCOUNTS
It's important that in general all your social media accounts are linked to one another in some way – whether it's sharing some of your Pinterest inspiration on your Facebook page, or linking your Twitter to your Pinterest. This is because promotion is key! Take this even further by ensuring all accounts have the same profile picture and have the same text in the bio.
Find out how to claim your website here.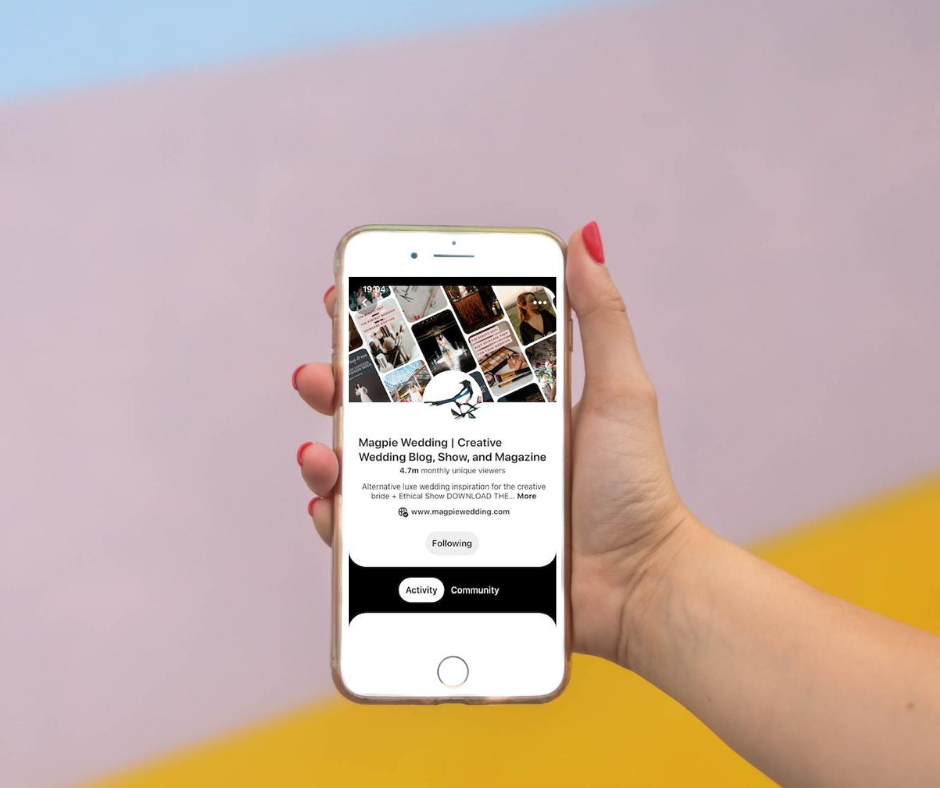 START PINNING REGULARLY AND FIND YOUR CONTENT RATIO
If you've got some spare time on your hands and love to do the odd pin here and there, then you can pin manually.
However, this isn't the idea scenario as new pins show up in chronological order meaning that when your ideal customer log ons, you want and need your pins to be appearing regularly. This means that you'd need to be manually pinning all day everyday.
To get over this, you need to be scheduling using Tailwind. Tailwind is one of the top social media scheduling sites, as it makes pinning easy by recommending the best times to pin and posting for you! Simply spend an hour or so a week scheduling pins to Tailwind and you're good to go!
Sign up for a free trial with Tailwind here.
The general rule of thumb for your Pinterest ratio is 80% other people's content and 20% your own content! However we work to a 50/50 ratio.
CHECK ANALYTICS FOR USEFUL DATA AND CHANGE POSTING ACCORDINGLY
The best way to find out what works for your followers is to invest some time into looking at your analytics, as this way you can define your strategy – making every pin go further!
You can also find out who is looking at your content, allowing you determine your target market in more depth than ever before!
TOP TIPS!
Add the Pinterest button to your search browser, so you can pin your favourite inspiration on the go.
Use key words in your description and put up to 5 broad hashtags per image – any more can appear as spam!
Use vertical images to get the most engagement.
Aim to pin at least 5 times a day if you want to see growth.
Ensure all your boards have 30 pins at least!
Do you want to get more eyes on what you do, so you can convert them to paying customers? Ask us how we can help – we manage wedding business Pinterest accounts as well as offer training packages in it.
We also are launching a new course starting in September called The Indie Guide to Pinterest (Stage One). This is a 4 week course covering:
The Pinterest Basics – setting up your account right first time
Cleaning up your account if you already have one
The Perfect Pin – what works and what doesn't including a What Good Looks Like for pin design and SEO
Multimedia Pins – videos. carousels, story pins and more
Pinterest Strategies – the boards you should be creating and why
Scheduling your Pins – how best
Understanding your Insights to hep with your content strategy
This will be accompanied by a workbook and a pop up Facebook group. We will share how we get more web traffic than all the search engines combined and almost 5 million monthly views. YOU CAN FIND OUT MORE INFO HERE.
It is FREE for Magpie Wedding HUB members -this means you can join and get this plus all our other courses or pay a one off price of £150.To find out more, drop us an email!