Want to make sure your wedding photography is epic? You need our ultimate wedding photography guide from the wedding photographers themselves! For most, wedding photography will be a HUGE part of your day. These are the images you'll share with friends and family, add to albums, show your children and grandchildren and will look back on and cherish for a lifetime. They become part of your story and they're something you want to get right, right? Finding a photographer that you connect with may be an easy or hard task, finding a photography style you both like may cause some friction. In today's useful article, we have 3 wonderful photographers who give you the lowdown on all things wedding photography. From how to choose the right photographer for you to what happens after the wedding, and all the yummy bits in between! We welcome ECO Wedding Collective members Claire of Claire O'Brien Photography, Helen of Gin Fizz Photographic and Becky of Becky Harley Photography who share their expert and ultimate wedding photography tips for your big day…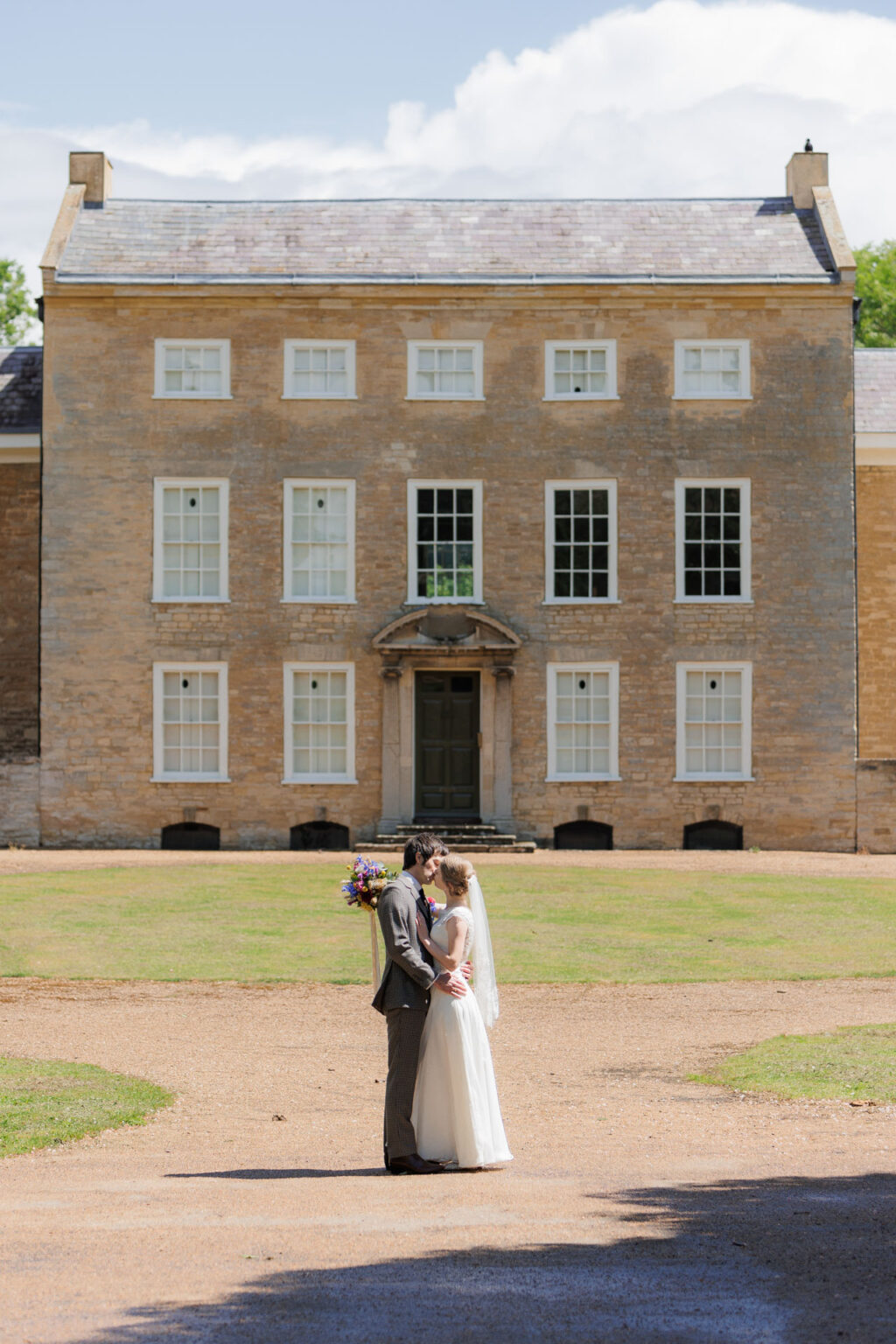 How To Choose Your Wedding Photographer
When it comes to choosing your wedding photographer it's personal! Everyone will look and want something different. Becky says; "Narrow down the photographers whose work jumps out at you the most and you get the best feeling for when looking around websites. You don't have to worry about WHY you like it in particular, just go with your gut. Once you narrow down a few whose work you like the best, get in touch and book a call or a meeting with them to see who you click with and get on the best with. The images are obviously what speaks to you but you have to get on with them too!"
Helen says; "For me, the most important thing is to make sure you get on with your photographer, as they will be with you all day, so if it's someone you like and connect with that will make your day so much more relaxed and fun."
Research is the key when it comes to finding your photographer, like most areas of your wedding the more knowledge you have the better understanding and choice you will have. Claire adds; "It's important to find someone who not only produces beautiful images but also understands your vision and makes you feel comfortable. Take your time to research, compare options, and trust your instincts to find the photographer that best fits your desires and style. Ask questions that are specific to your needs and expectations."
Helen's top questions to ask…
How long do they stay?
What packages do they offer?
What is their approach to the day?
What kind of couples do they like working with?
What their favourite tipple is, this is important for your pre-wedding meet ups 🙂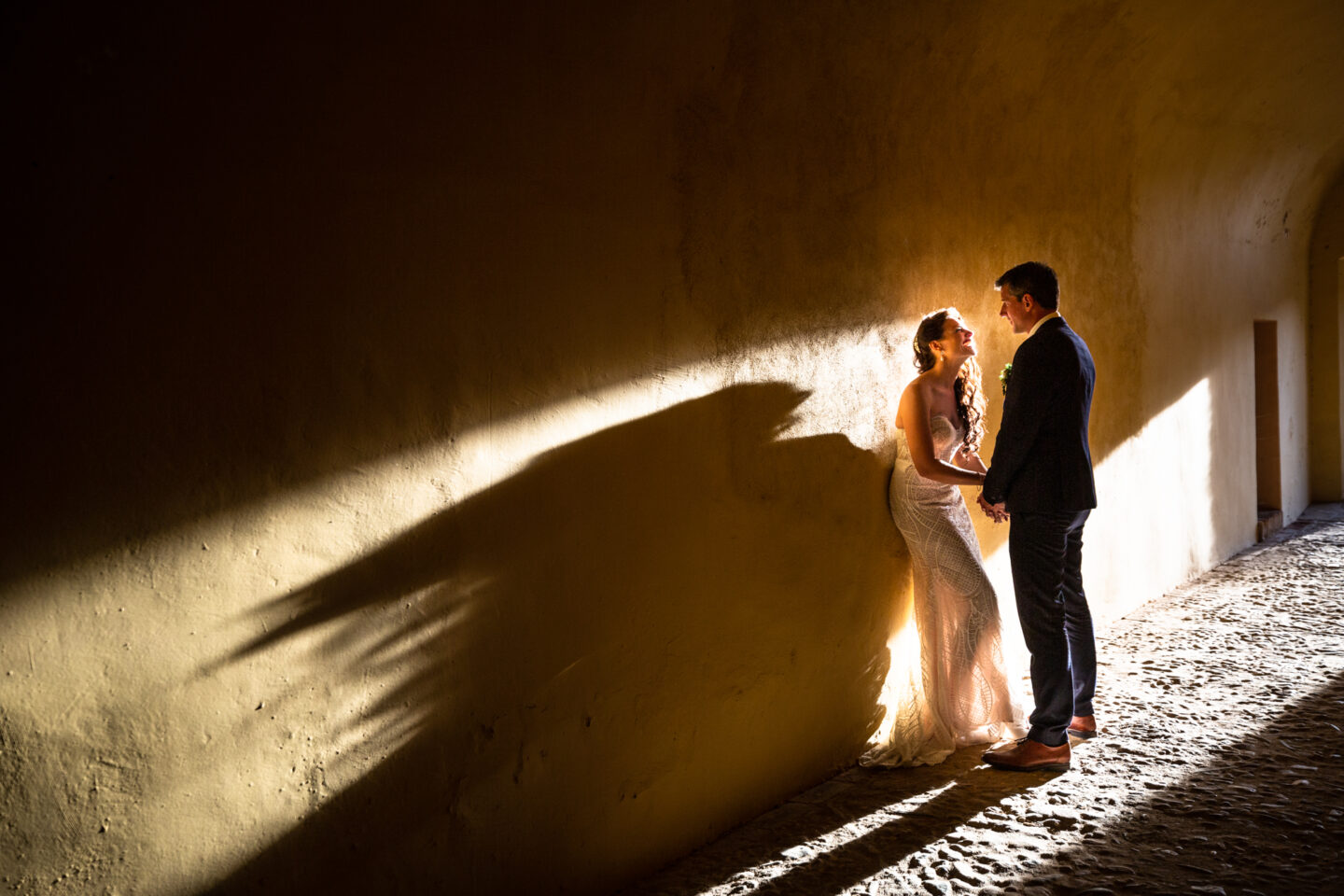 How To Build Trust and Communicate With Your Photographer
Communication is key! Your photographer is a big part of your day so being able to communicate your wants and needs with them is a must and there are lots of ways you can do this.
Becky says; "One of my favourite ways to get to know my couples is by doing a pre-wedding photoshoot. This is a brilliant way of getting to know your photographer better, and a really nice way to get some lovely photos of the two of you together at an exciting time in your lives."
And pre-wedding shoots are becoming more and more popular for many different reasons. Helen says; "A pre-shoot gives us time to get to know each other, and for you to get comfortable with the camera before the day, as well as enabling me to get to know what kind of couple you are, and what photographs suit you the most." For many couples being in front of the camera doesn't come naturally, some can dread it, if anyone remembers 'the one where Chandler can't smile' it's a thing! If you know you know. Claire continues; "If you have any concerns about being in front of the camera, ensure that you discuss them with your photographer. We are professionals and can provide guidance and reassurance to help you feel more at ease. Trust our expertise and allow us to guide you when needed. Many people feel a bit awkward or camera-shy initially so you may want to consider having a photoshoot before the wedding which will help you become more comfortable in front of the camera and build trust and rapport with your photographer. This can lead to better and more natural photographs on your wedding day."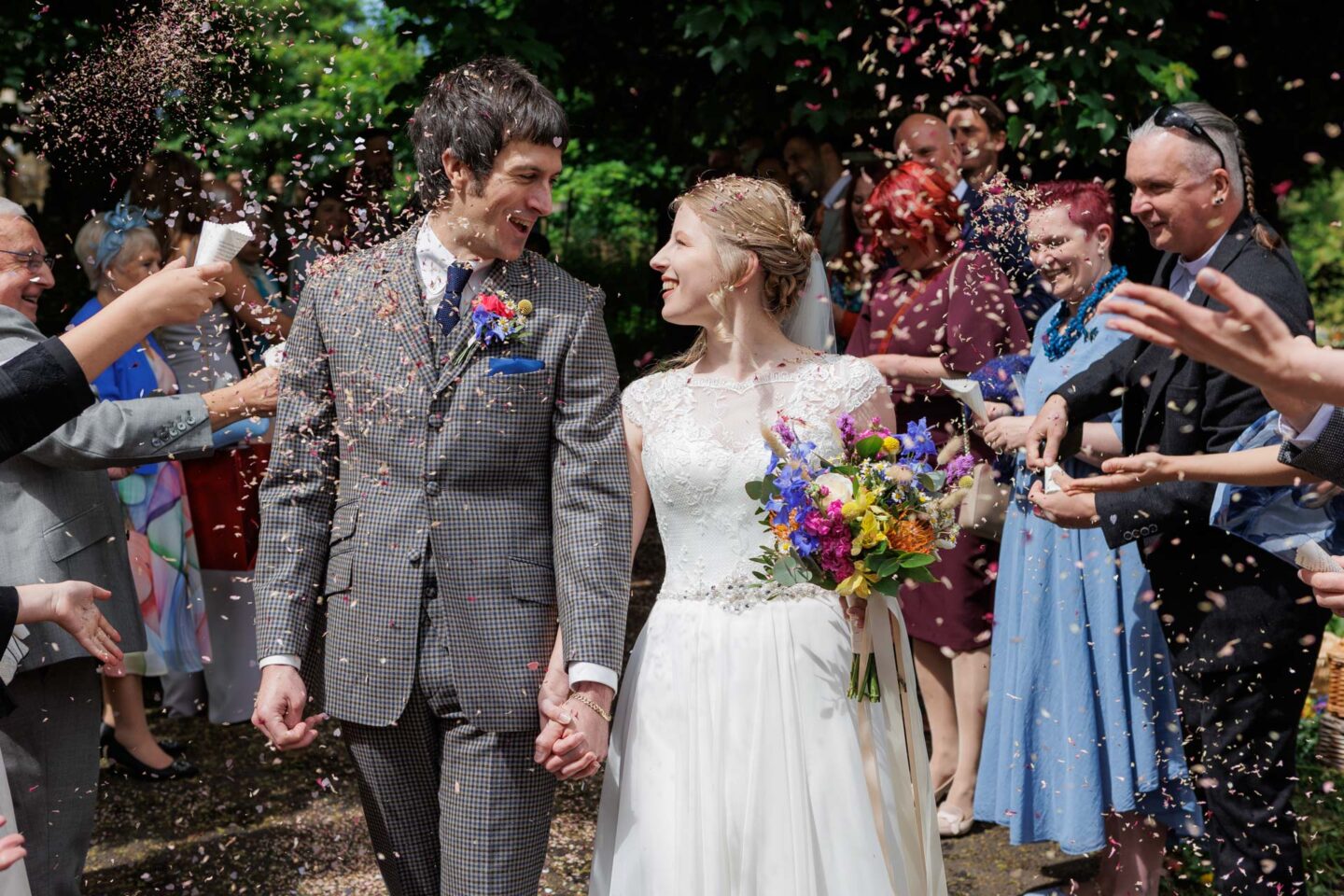 How To Understand Different Photography Styles
You may already know the photography styles that are out there and the ones you love, or you may be overwhelmed with how many different styles there are! Helens says; "The best way to get to know the styles and get an idea of what you want would be to have a look at some articles on your favourite wedding blogs and compare the styles to see which one suits you best." If you're confused by it all don't worry as it's not imperative you know all the different styles out there.
Becky says; "I'd avoid getting too hung up on different styles of photography, as it can be confusing. Broadly speaking, the main areas of photography where you want to think about your own preferences, are the style of shooting you prefer. There are photographers out there who take no, or very few, photos where people are not looking directly at the camera. If you prefer a more posed and 'traditional' approach to your images, then look for this in your photographers portfolio. Consider what is important to you. If you prefer more posed shots of everyone looking at the camera, booking a photographer who specialises in candid, documentary moments won't be for you." The style of photography is the most important thing to get right. Becky continues; "A photographer's style is their style, so asking them to edit things differently once you've got the images isn't the best course of action, it's far better to book someone whose work you like already."
Claire gives us some of photography styles to think about…
Documentary Photography: This style aims to tell a story and capture candid, unposed moments throughout the wedding day. The photographer takes a more hands-off approach, documenting events as they unfold naturally. The emphasis is on capturing emotions, interactions, and spontaneous moments, resulting in a more authentic and unscripted representation of the day.
Fine Art Photography: This style emphasises the photographer's creative vision and artistic expression. It involves the use of creative lighting and composition to produce visually stunning images. Some fine art wedding photographers use traditional film also known as "analogue".
Editorial Photography: This style draws inspiration from fashion and editorial photography. The photographer uses a combination of posed and candid shots to create a polished and glamorous look. Attention is given to details like the wedding dress, accessories, and venue décor. The resulting images often have a high-fashion or magazine-like quality.
"Wedding photography styles can vary greatly depending on the preferences of the couple and the creative approach of the photographer. It's important to note that many photographers incorporate a blend of styles and may have their unique approach that doesn't fit into a specific category. While there are numerous variations of style, here are some of the main differences you might come across."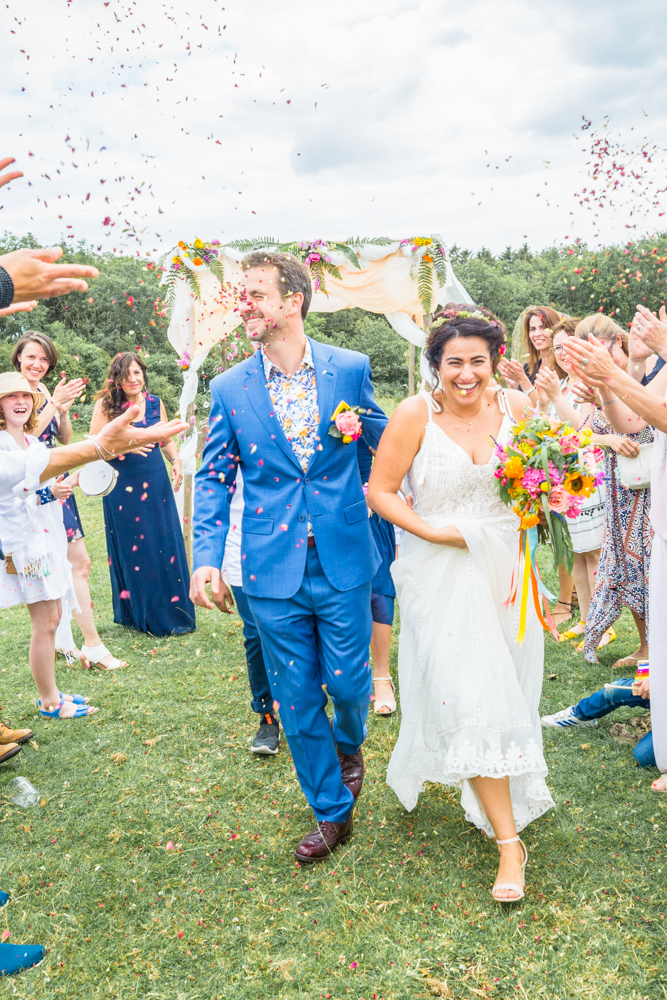 Things To Consider On Your Wedding Day When It Comes To Your Photography
You should include, discuss and as for advice with your photography itinerary for your wedding day. They are there to help. Becky says; "Speak to your photographer about the timings of the day, particularly the length of time between the ceremony finishing and when you sit down for your meal. This is the key time for your photographer to take all the images that it would be difficult to shoot at other times of the day. Consider travel time too, as if you need to factor in travel time between venues this can impact your timeline. Parking for your photographer! This often isn't an issue if you're getting married at the same venue that your reception is taking place, but if you are getting married in a church, parking can often be tricky as if your photographer is coming from the preparation venue, they may have to park far away from the church if a space is not reserved, resulting is potentially missing key arrivals."
Some photographers will excel at different times of the day when lighting plays a big part so indulge in their knowledge and trust their judgment on making sure your photography is epic. Helen says; "Give your photographer a little time during the golden hour to make some absolutely beautiful images of the two of you, that you will absolutely love. Also be willing to be flexible, if the light is amazing but you are due to cut the cake, trust your photographer and push the cake cutting back a wee bit, we know what we are doing, and will make you the best photographs ever, if you just give us a little time."
And for all the photographers present a huge part of keeping them happy is by feeding them hot food! Helen agrees; "Yep. Please feed us. No one wants a hangry photographer. I stay until the end of the party, so it's mostly around a 15 hour day, food helps, especially cheese."
Claire's top things to consider…
Getting ready photos: Consider the room in which you'll be getting ready. If your friends are going to be with you, ensure that it's large enough for all of you and for your photographer to take photos. A room with lots of natural light is advantageous to your photos.
Confetti shots: A must-have action shot for your album! It's worth planning with your photographer and buying lots of bio-degradable paper confetti or petals. When you think you've bought enough, buy more!
Group shots: It's understandable you'd want to have lots of photos with your loved ones on your special day, but larger groups and fewer shots (a maximum of ten groups) will save you time and enable you to enjoy more quality moments with your guests.
Second shooter: A second shooter may be needed for coverage of both of you getting ready at different locations, and for the drinks reception while you're having your couple photos.
Speeches: If you have spent months planning your dream wedding breakfast room which is full of carefully thought-out decorations, florals, and displays, consider having the speeches before the meal so the room is captured as beautifully as you envisioned it.
Dance floor photos: Your opportunity to let loose and have fun with your guests! Dance your socks off, laugh loudly, and enjoy! Your photos will reflect the moment and you'll love them.
Every wedding is unique, and timings can vary depending on cultural traditions, personal preferences, and logistics. It's essential to consult with your photographer to tailor the timeline to your specific needs and preferences.
Should You Include Staged Photos?
Staged, formal photography as it were, now tends to be a thing of the past but for some couples, it may be important to get key photos with certain people. Becky says; "I wouldn't ever want to tell someone what they do or don't need on their wedding day, however, I always recommend doing a few staged group photos as a minimum, with parents, grandparents, siblings and the bridal party, as a minimum." Claire believes that wedding photos are cherished keepsakes and we agree, staged photos may play a part in this for the two of you.
Claire says; "It depends on your priorities and is something to be considered when choosing your photographer. Group shots are a good way to capture loved ones you don't often see and help everyone to feel included in the photos. If you need guidance and help when it comes to your couple shots, trust your photographer." Becky likes to keep it natural however she does think there absolutely space for some formal photography, "I do include a few of what I call the 'mantelpiece shot' which are nice for other family members to have. Otherwise, I much prefer focusing on photos of the wedding couple interacting, and focusing on each other rather than looking at me."
With everything on your wedding day, it's your day, your way. Helen says; "It is absolutely your choice in what kind of photographs you want. Whether you want the day to be completely natural and covered in a reportage style, or would like a few beautiful portraits and family pictures in the mix is entirely up to you."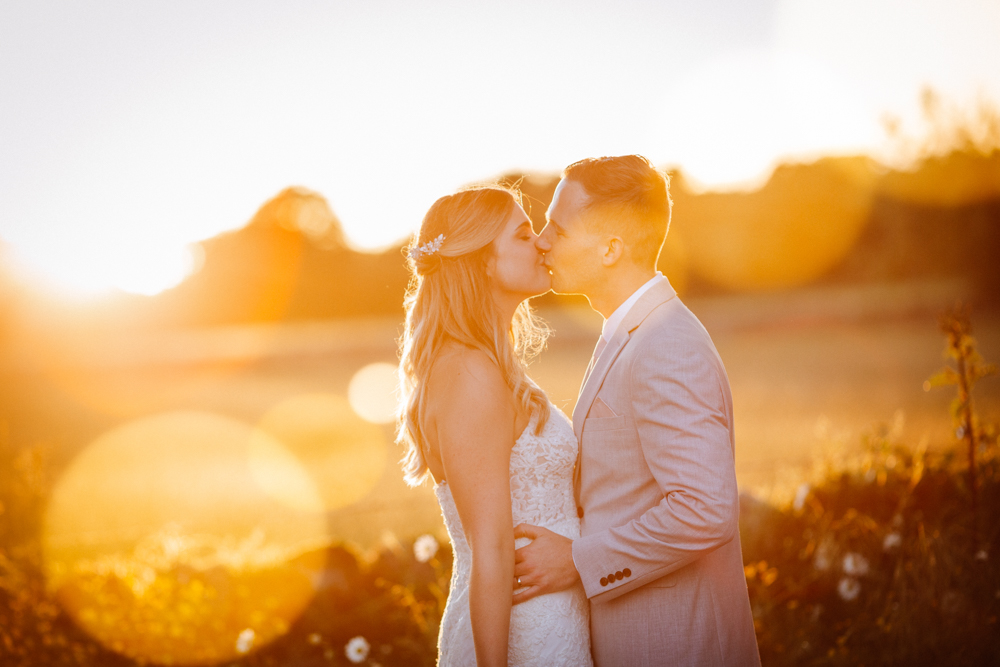 How To Communicate Your Wants When It Comes To Posting On Social Media
Ahh, a common and modern social media problem… or not? Posting on social media can be a personal thing. For some couples they may want to be the first person to post this special occasion for others they may want the world to see immediately. Communicating your preferences with your guests is key, particularly if you don't want it all over social media and if you don't want phones present at all! Becky says; "I think it's lovely to have friends taking photos but it's probably a case of there being a time and a place. Often it's best to advise that people don't watch the ceremony through their phones, they get to experience it properly themselves and it does look better from a photography perspective if there aren't loads of camera phones out during the ceremony. That's what you're paying the photographer and videographer for after all!"
Helen agrees. "There is nothing more distracting than looking down the aisle and instead of catching that first glimpse of your fiancé, there is a sea of smartphones obscuring your view. I think it is so much nicer for people to be present in the moment instead of watching you get married through a phone screen." If you're particular about how and where your photos are taken and used then consider having all or parts of your day "unplugged". Claire says; "Guests will be able to fully immerse themselves in the emotions and significance of the moment and create a more meaningful and connected experience for everyone involved. For us photographers, an "unplugged ceremony" allows us to take clear and unobstructed shots capturing more genuine expressions, heartfelt reactions, and meaningful interactions."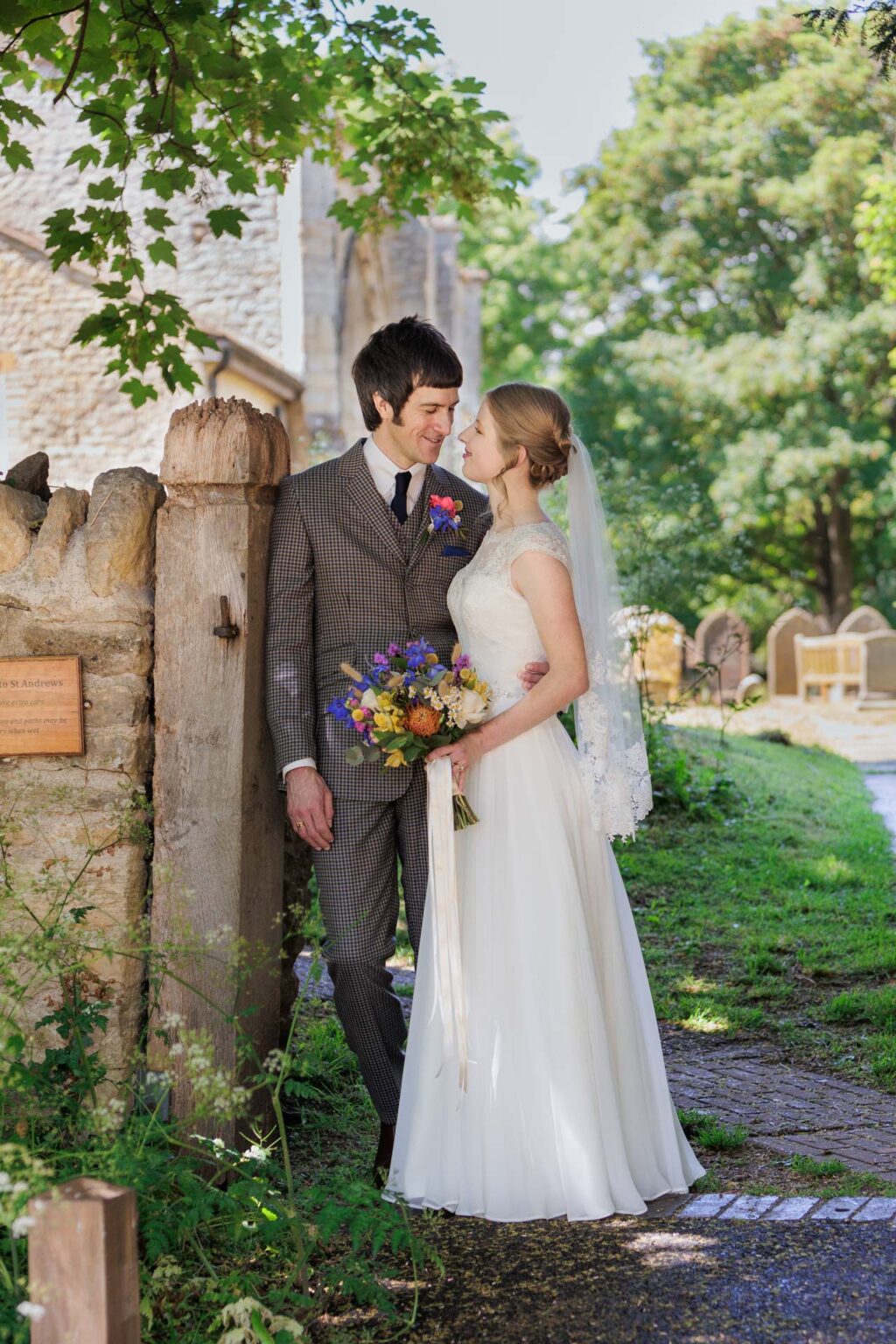 What's the Process and Timeline Of Photography After The Wedding Day
This will ultimately depend on your photographer, their level of business and other commitments. Becky says; "In the summer months, photographers often have a longer lead time on completing galleries. Check your agreement or contract when booking your suppliers to see how long your maximum wait time might be. Your photographer should advise you of the wait time once they have shot your wedding." Most photographers will however send you a preview and if you want to use these for thankyou cards etc; check with them to make sure they will have time to do this and what the timeframe will be.
Claire says; "Once your incredible wedding day has been captured, you'll be excited to see some photos and your photographer may provide a service where they supply some sneak peeks shortly after the wedding. If this is something you want, it's worth researching in the initial stages of choosing your photographer." Being patient and waiting for your full gallery should be expected though. Helen says; "My couples receive taster a few days after the wedding, and then it is a two month turnaround for the wedding to be finished." It's different for Claire, "I provide my couples with their edited photos within four weeks of the wedding, however, any delays in peak times are communicated." So make sure you ask your individual photographer to avoid disappointment.
Once you've got your gallery what you do with it will depend on your package from the photographer. Claire says; "Wedding photos are cherished keepsakes and family heirlooms. Looking at printed photos can evoke strong emotions and nostalgia. Seeing your wedding photos in print can bring back vivid memories and create a deeper emotional connection compared to viewing them on a screen. If you don't have an album included in the cost of your wedding photography service, speak to your photographer about designing your album and the print products they provide. They will have access to high-quality products that will last several lifetimes."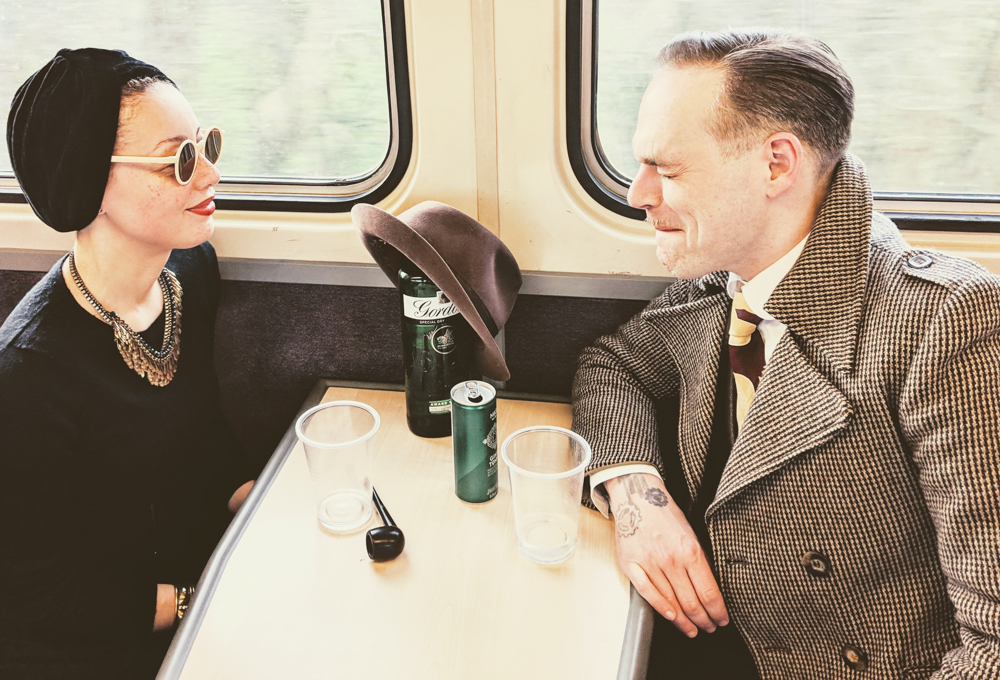 What Happens If I Don't Like The Pictures?
Research research and research. There's a reason why you should do so much research into this important part of your wedding day. Your chosen photographer will have a certain style and it's important that you like it as this is what style your pictures will be! It's important to be realistic too though. Becky says; "It's on you to ensure that you love your chosen photographer's style and the way they shoot and edit, as this should be consistent with the rest of their portfolio you see online. It also helps to keep your expectations realistic – if your Pinterest board is full of sunset shots on a Californian beach and your wedding is taking place in a city venue in the winter, no photographer will be able to create conditions that don't exist."
Again, communication comes into play too. Helen says; "Look at a lot of their work and communicate your vision clearly before the day. Understanding your couple, having a relationship with them, and knowing what they want before their wedding day is a big part of getting this right."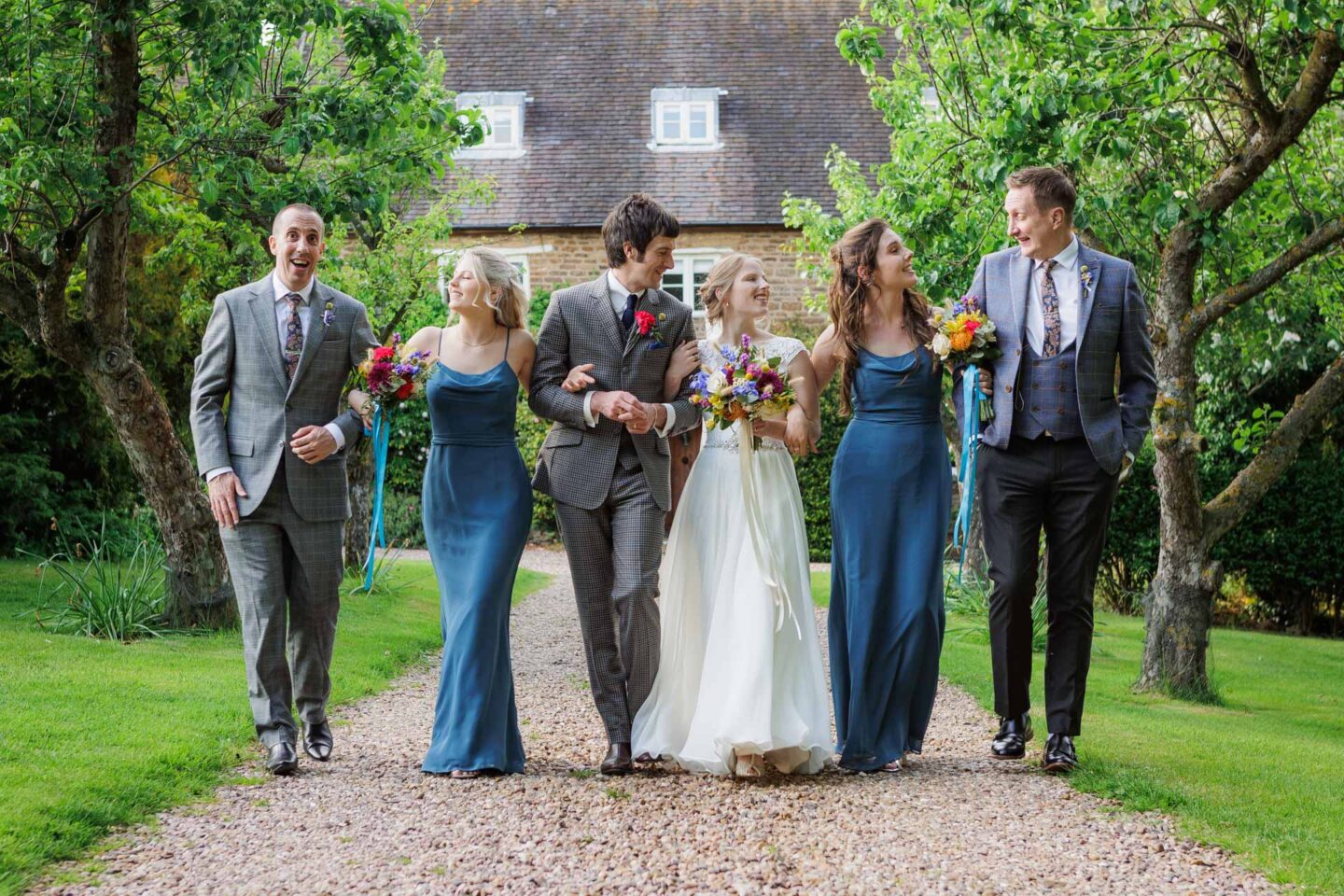 Further Credits For Claire O'Brien Photography Images
Church St Andrews Church / Reception Venue Dodmoor House / Makeup Louise Troy Make Up / Hair Melanie at Changes Hair Salon / Flowers Bloomfields / Shoes Anniel Shoes / Suit Adam of London / Hair Pieces Amore Headwear / Stationery Your Perfect Invite
IF YOU LOVED THIS WEDDING PHOTOGRAPHY GUIDE, PIN IT FOR LATER!
If you found this wedding photography guide useful you may also like;
5 Different Ways To Capture Your Wedding Day Using Photography
How To Get The Best From Your Wedding Photography
How to Choose Your Wedding Venue with the Photography in Mind