We are only 2 years off celebrating the 100th anniversary of the 1920s; a time of hope with a great desire to live for the moment. World War 1 ended in 1918, with 16 million deaths worldwide, making it one of the worst wars in history and as a result, young people decided to throw caution to the wind and enjoy every second of their lives. They partied, drank cocktails and danced the night away earning their title the "bright, young things". Even prohibition in America didn't hold them back; driving dance halls and alcohol underground making it even more fashionable to have a good time. Hemlines shortened as well as hair lengths, women adorned their hair with feathers and their dresses with tassels and beads. A 1920s wedding however, was a more sombre affair, with brides choosing floor length veils and gowns that covered their flesh rather than this new "Gatsby" look. But we say, why not mix the two, like in this styled shoot, dressing tables with feathers and pearls, and adding Art Deco details wherever you can.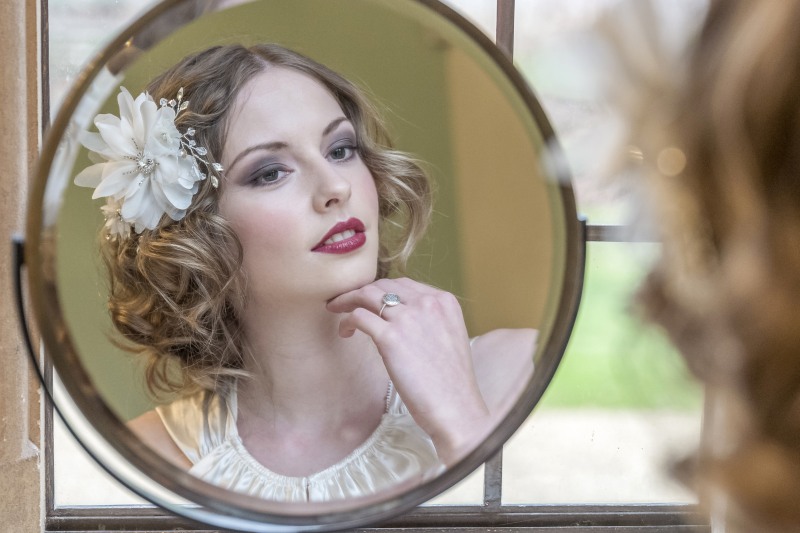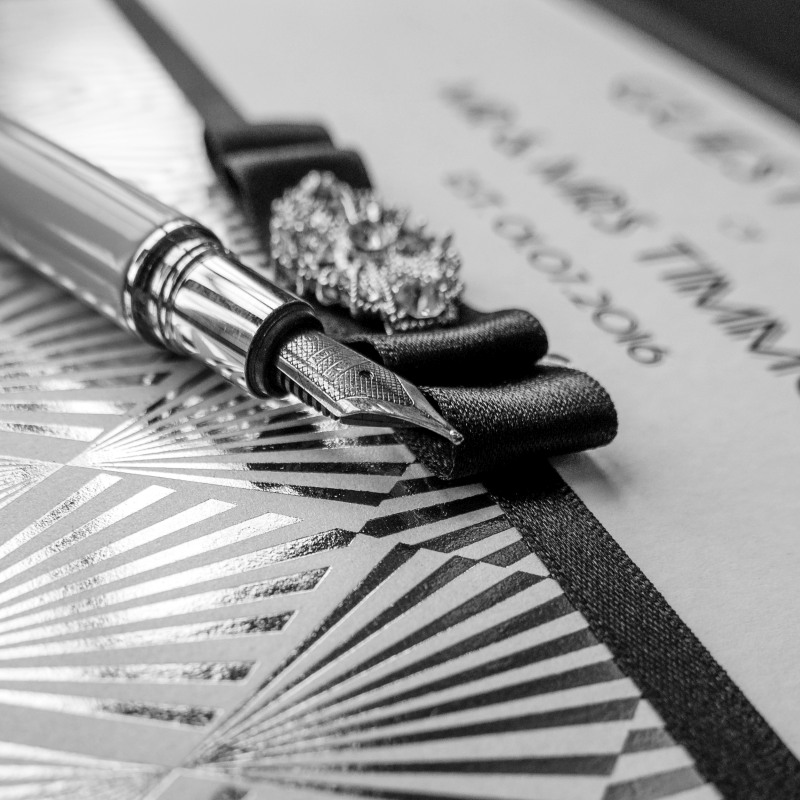 It has been organised by the team behind Lily and Lottie Stationery who have described the shoot for us:
"The Art Deco wedding style is a favourite of mine; the movement speaks of a time where glamour, decadence and luxury were paramount and it's hard not to be swept away by it. I created my handcrafted 'Gatsby' collection of stationery based on my love for the Art Deco style, using a statement crystal embellishment, silver lustre paper and double satin ribbons of differing size to echo key design elements of the time, wishing to marry Art Deco styling with a different medium to the usual graphic design led stationery and explore a more tactile route. From the moment I created this collection, I knew that I wanted to do something special to launch it so I decided that I wanted to put together a styled shoot, to recreate the opulence of the Art Deco movement and capture something really special and authentic with the incredibly talented suppliers I know and work with."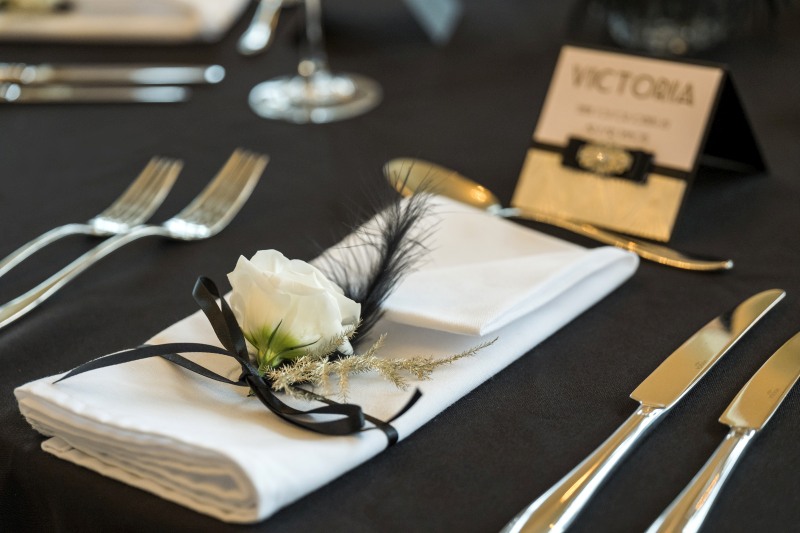 The Venue
"The venue is simply the most beautiful place I have ever visited, the exterior of Coombe Lodge is magnificent – as are the views – but it's not until you go inside that the true nature of this Art Deco palace is revealed: it was the perfect setting for this shoot. The beautiful arched windows, wood panelling, furniture and décor deliver unparalleled luxury."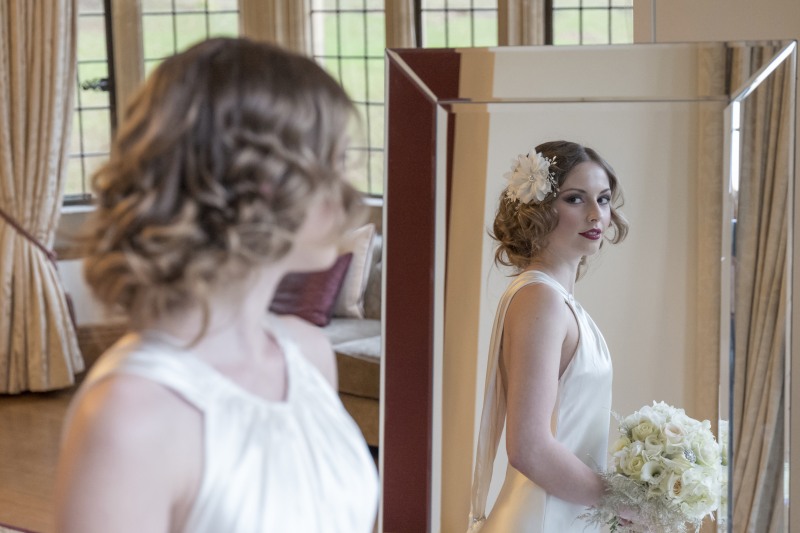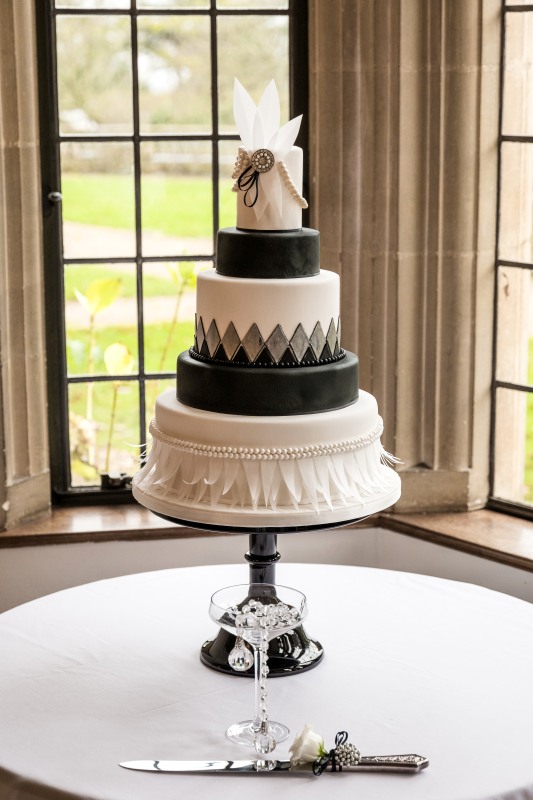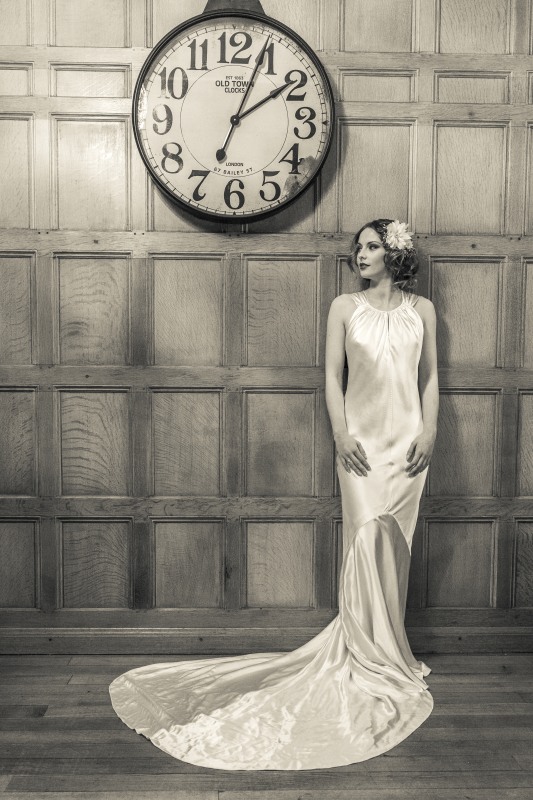 The Photography
!The photography is outstanding, as I knew it would be when I asked Jim to collaborate on this shoot. Jim is a passionate photographer and enjoys finding the slightly unusual shots – the little details that others may miss and creating beautiful art from this. In this shoot, he has captured the bold drama of the Art Deco movement whilst maintaining the elegance and mood one might expect of a beautiful bride about to enjoy the most wonderful day of her life."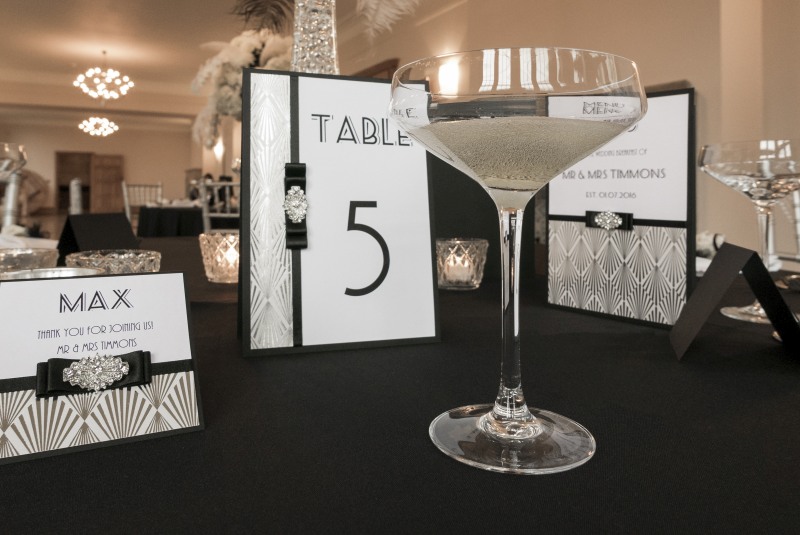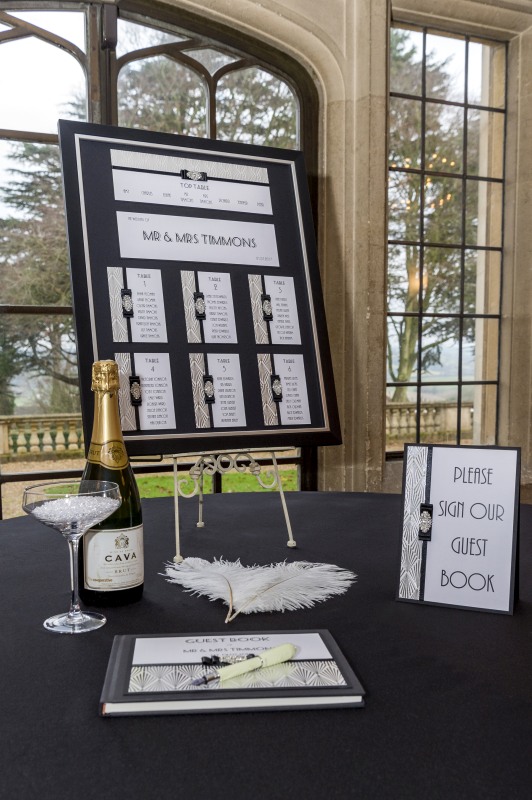 The Stationery
"I set about creating a table plan, complete with black and silver frame, a guest book, invitation suite, place cards, table numbers and menus in a black and silver colour palette that would all coordinate perfectly and carry the design throughout the 'wedding', as all of our designs do. I used a bold, shadowed font to create an impact on key details and a slightly more humble, 'all caps' font to accompany this and yet continue the Art Deco wedding style."
The Tables
"Julia really went to town with the table décor and created three unique displays, drawing on Art Deco's own infusion of eclectic style and the ability to draw from different influences. On one of the tables, Julia created a sumptuous black and white ostrich feather display in an extremely tall glass vase which was surrounded by cut glass votives.
On another, a cluster of silver and black crackle vases were adorned with black feather fringing and strings of pearls, and contained a separate arrangement of single heads of white hydrangea and a posy of white hydrangea, O' Hara roses, lisianthus and avalanche Roses, with a mix of glass candlesticks and tealights to add further levels and visual interest.
The third table offered possibly the largest centrepiece I have ever seen. Atop a clear and black glass vase stood a breathtaking ball of pure white elegance. The display included plumes of white ostrich feathers, strings of pearls, hydrangeas, phalaenopsis sensation orchids, O'Hara and avalanche Roses and Antonov chrysanthemum blooms. The base was then decorated with mixed tealights.
The tables were styled and dressed by Julia and myself using silverware and coupes, black tablecloths and white napkins, which we folded and dressed with a sprig of platinum asparagus fern and a single head of white lisianthus, all wrapped with a thin satin ribbon, tied in a bow. To continue the black and silver styling, we used silver chiavari chairs with black pads and further coordinated the chairs with chair garlands created for this shoot by Lily & Lottie Stationery. The garlands used a large 1920s style embellishment, black marabou feathers and strings of pearls and crystals."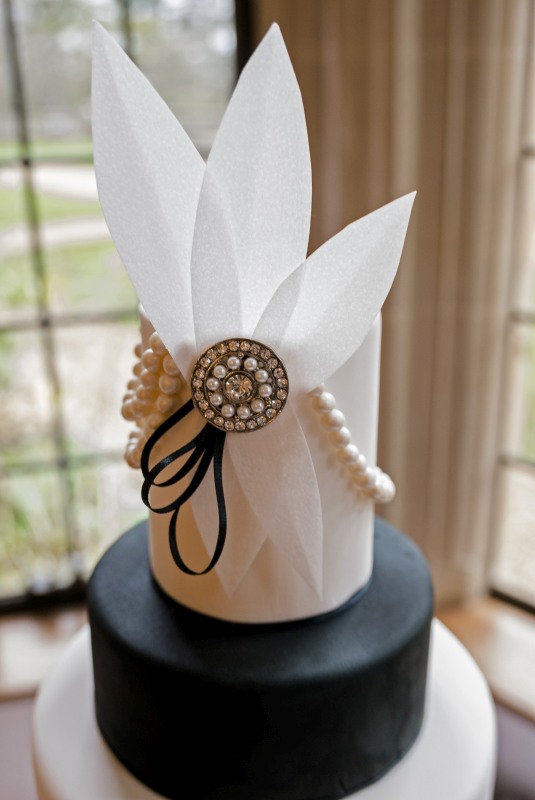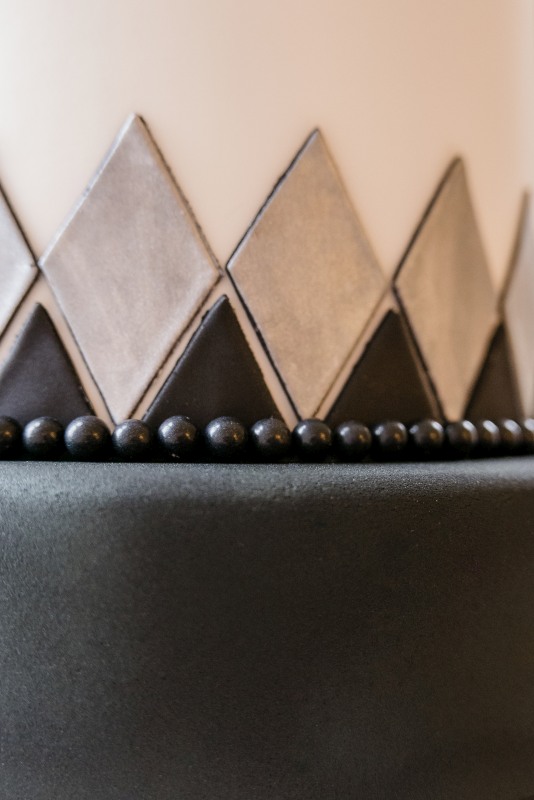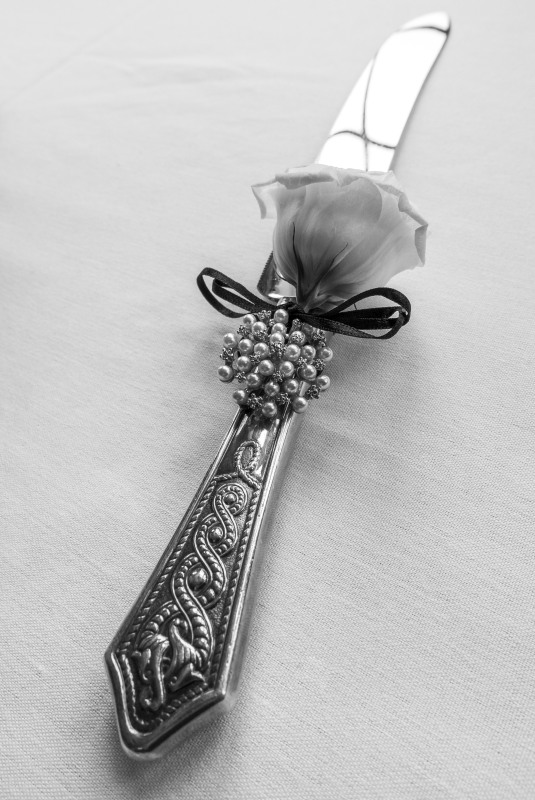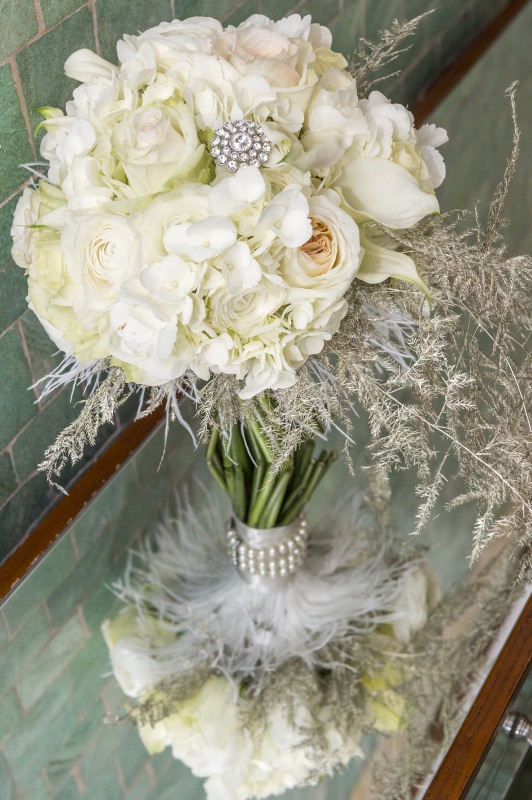 The Cake
"The cake was an Art Deco wedding triumph; Lisa created a black, white and silver cake with beautiful edible pearls and rice paper feathers to capture the theme perfectly."
The Flowers
"The flowers were a work of art. The beautiful bridal bouquet was understated, pure and elegant, mixing white O'Hara roses, crystal blush calla lilies, white avalanche roses, white hydrangeas, white ranunculus, a diamante brooch pin and trailing platinum asparagus fern. The bouquet is edged with white ostrich feather trim and the handle is covered with a pearl satin ribbon and decorated with a diamante and pearl bracelet."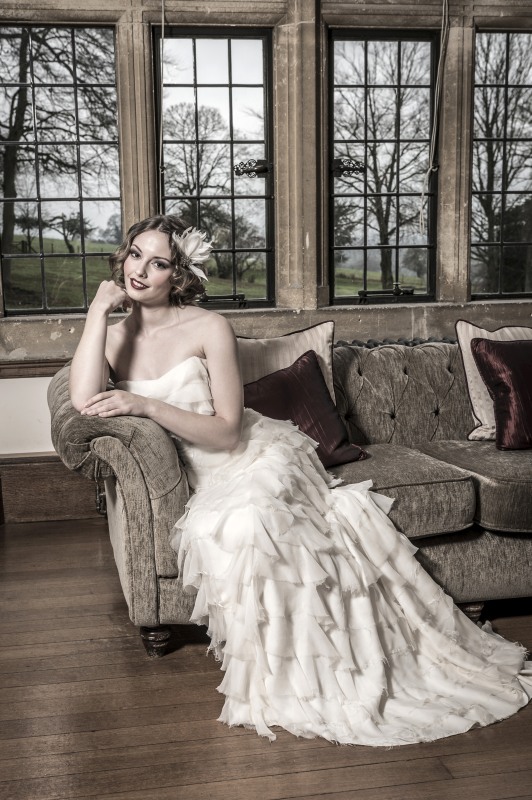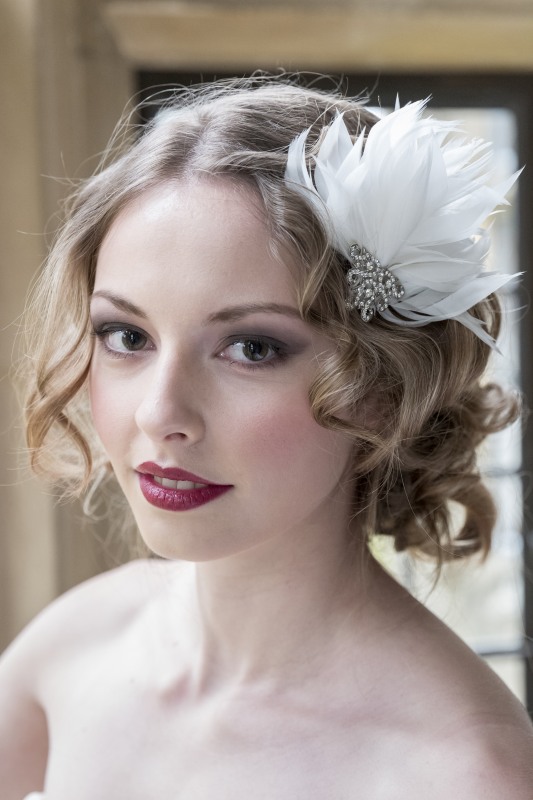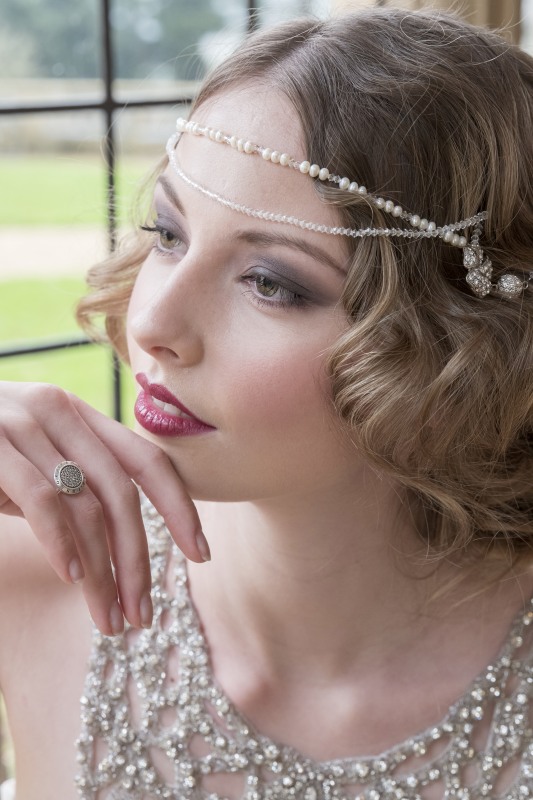 The Hair and Make Up
"Kirsten applied the make-up and styled the model's hair in such a way that was truly authentic to the 1920s. Great care was taken with the colours used to replicate the sumptuousness of the deep plum lip of the time. The model, Bell Norgrove, is a timeless beauty but the styling looked divine on her."
The Dress
The dresses kindly provided by Bridal Reloved were a Jenny Packham, which we loved as it added a hint of the 'flapper' style to an elegant and romantic gown. An Anna Campbell, to really add some sparkle to proceedings! The huge crystal beaded neckline extends to a beautiful belt creating a fabulous waist with sophisticated bling! An Amanda Wakeley, a stunning silk sheath gown with a train to die for! This slinky gown looked so glamorous and worked perfectly in the beautiful surroundings.
The Accessories
"Bell's look was further enhanced by the beautiful Twilight Designs headpieces provided by Wedding Time Bridal Salon, which complemented the glamorous Art Deco wedding look and included a statement white feather and crystal headpiece, and a beautiful pearl and crystal headpiece to complement the different gowns."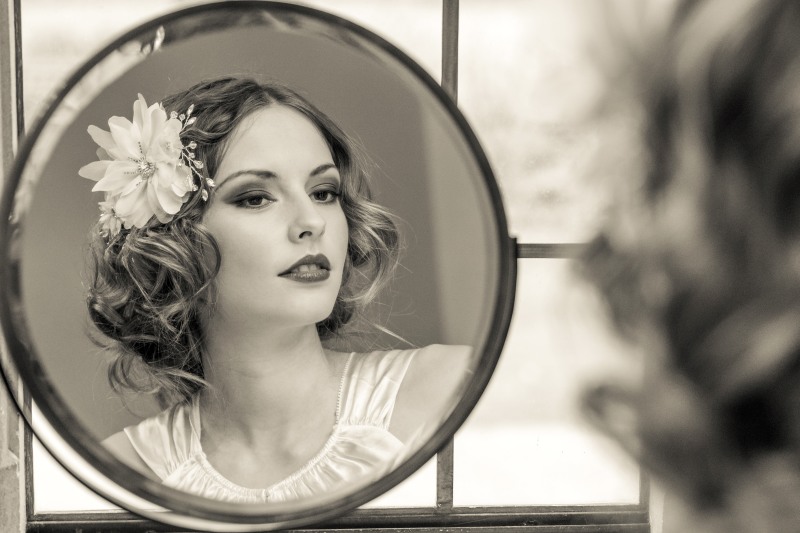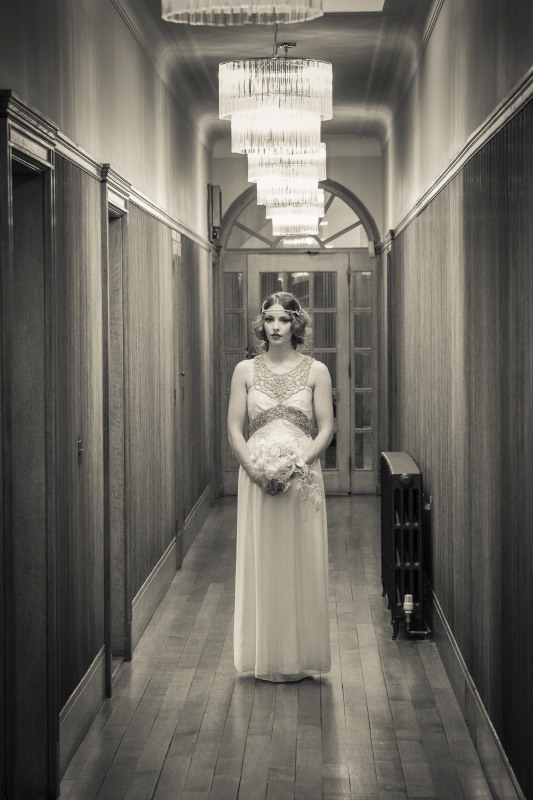 Suppliers
Venue: Coombe Lodge, Blagdon – http://www.coombelodge.co.uk/
Photographer: Photos by Jim – http://www.photosbyjim.co.uk/
Stationery: Lily & Lottie Stationery – http://www.lilyandlottie.co.uk/
Florist: Julia Moore Floral Designs – http://www.juliamoorefloraldesigns.co.uk/
Hair & Make-up Artist: Kirsten Sare Make-Up Artist – http://kirstensare.co.uk/
Dresses: Bridal Reloved Dorchester – http://bridalreloved.co.uk/
Cake: Lisa Notley Cake Design – http://www.cakesbylisanotley.co.uk/
Bridal Accessories: Wedding Time Bridal Salon – http://www.wedding-time.com/
Chairs: Oakleaf Marquees – http://www.oakleafmarquees.co.uk/
Table Linen: 5 Star Celebrations – http://www.5starcelebrations.co.uk/