We are taken to a dreamy ethereal paradise with today's styled shoot set at Palazzo Arabesco, in Italy. Photographed by Assunta Simone and featuring two beautiful brides, it has an art nouveau vibe running throughout. The concept and planning by Elena Pistone shows how the simple theme of flowers can be turned into something spectacular. It's definitely one for all you dreamy romantic couples out there, planning an Italian themed or destination wedding…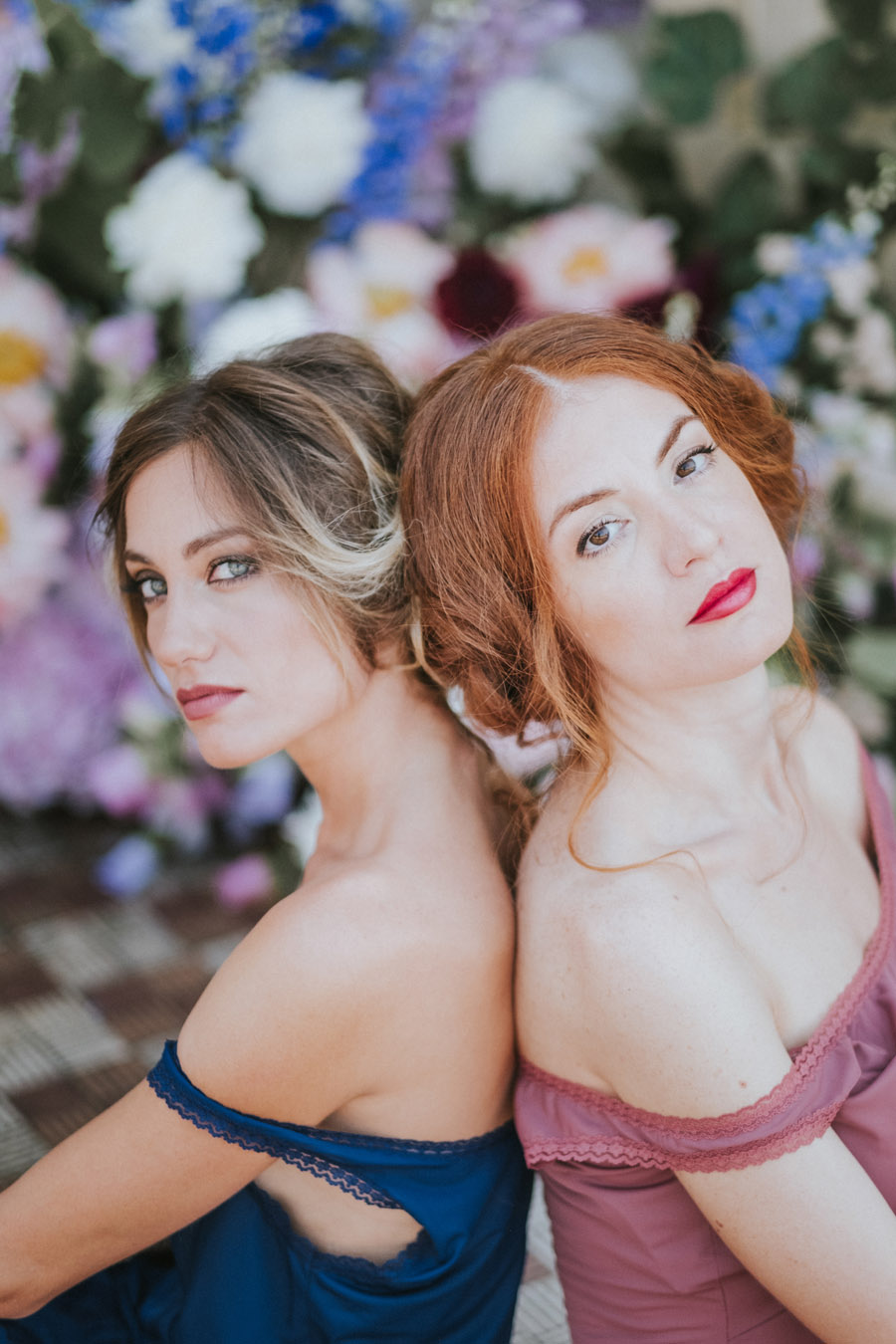 Inspiration
"A photographer, a floral designer and a wedding planner decided to "meet" virtually to think about an inspirational shoot which would have "beauty" as its main point. We wanted to
interpret "beauty" as something light and ethereal, like a "happy refuge" in a dark time for all of us. The theme subsequently became Art Nouveau. We were inspired by Mucha's women,who were compared to water lilies. Around this concept was a dreamy and adorable atmosphere that meets the determination of these wonderful women. Faced with a delicate and courageous beauty but also obstinate and strongly anchored to nature. Flowers were the main element of this project, they are the background of both the harmony of shapes and details that move delicately with each other."
"The aesthetics of this wedding is ideal for a romantic couple who love art history, in particular the art nouveau style and artists like Alphonse Mucha, Louis Theophil Hingre and Gustav Klimt. To
make it happen it is important to choose the correct location. An important detail for the location is the brightness and certainly the presence of large windows. Add dreamy, floaty dresses, laid back hairstyles and lots of flowers to complete the look"
"Set at Palazzo Arabesco Aprile, an elegant mansion renovated in the early 1900s according to the taste of the time. Palazzo Arabesco is located in the heart of Maglie.South of Italy. It is characterized by large halls with wonderful frescoes. The large rooms that characterize it are furnished with period furniture and there is also a beautiful private garden. It is the ideal location for intimate and suggestive weddings as its rooms tirelessly tell stories of the past that still know how to intrigue and charm those who pass through them."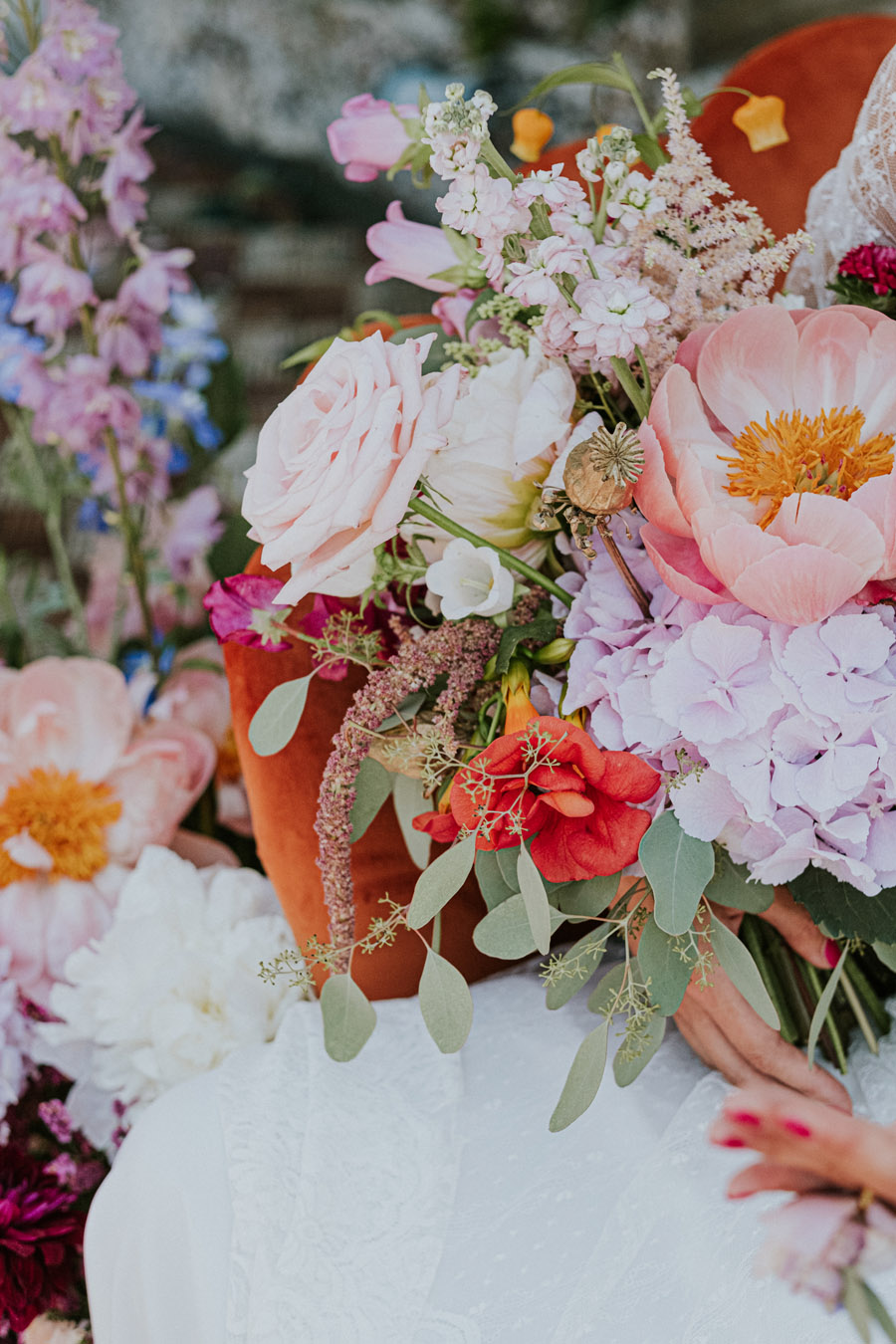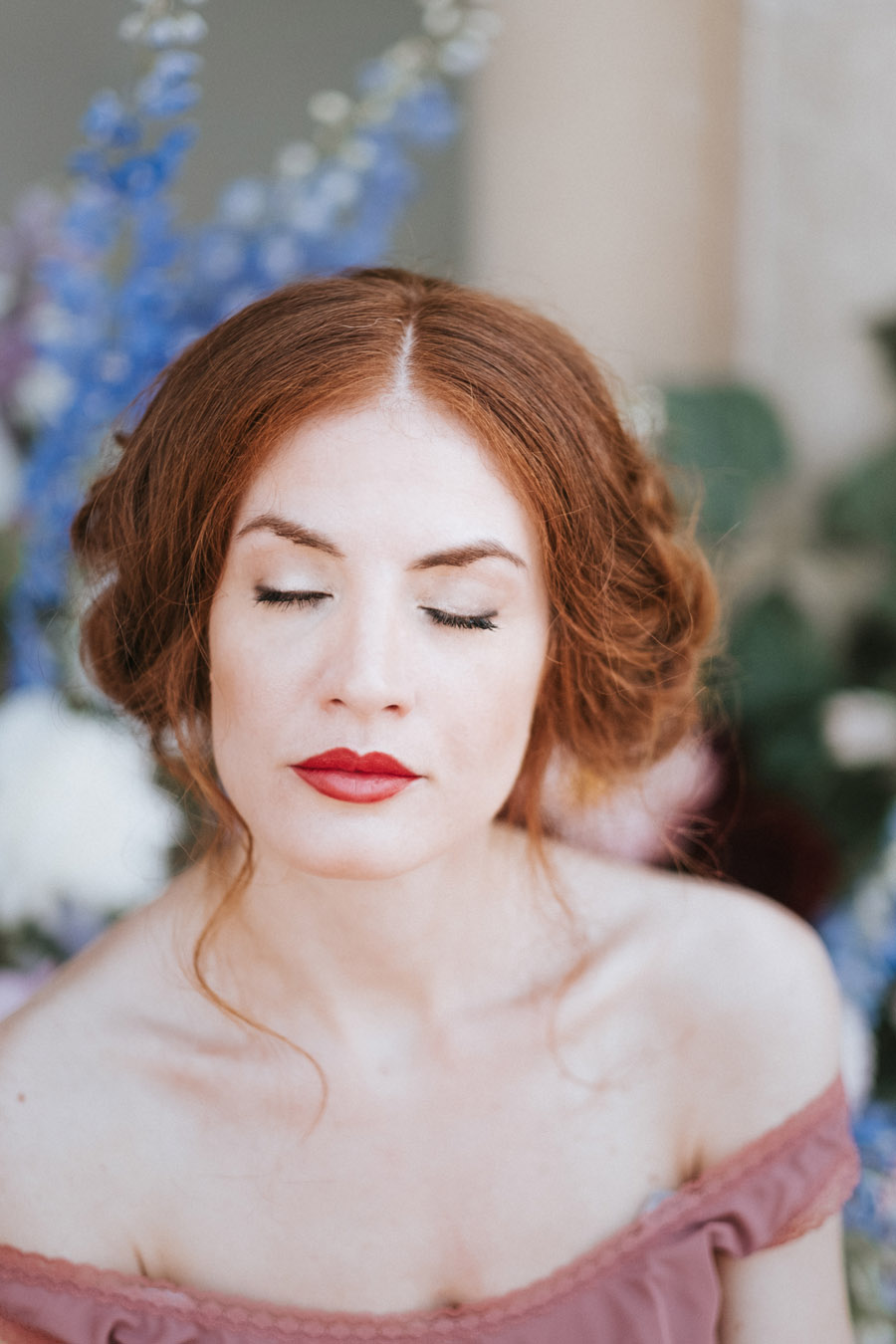 Styling
"For the colour palette, we used joyful, spring and bright colours. We have enriched everything by adding art Nouveau-inspired details like earrings, perfume and vintage champagne glasses. A multitude of flowers literally surrounded each shot, giving our shoot the style of the ethereal and dreamy atmosphere we desired. The mise en place was made with vintage Richard Ginori plates, linen napkins with trimming ring, calligraphic place card with tassel, classic glasses and gold-coloured cutlery."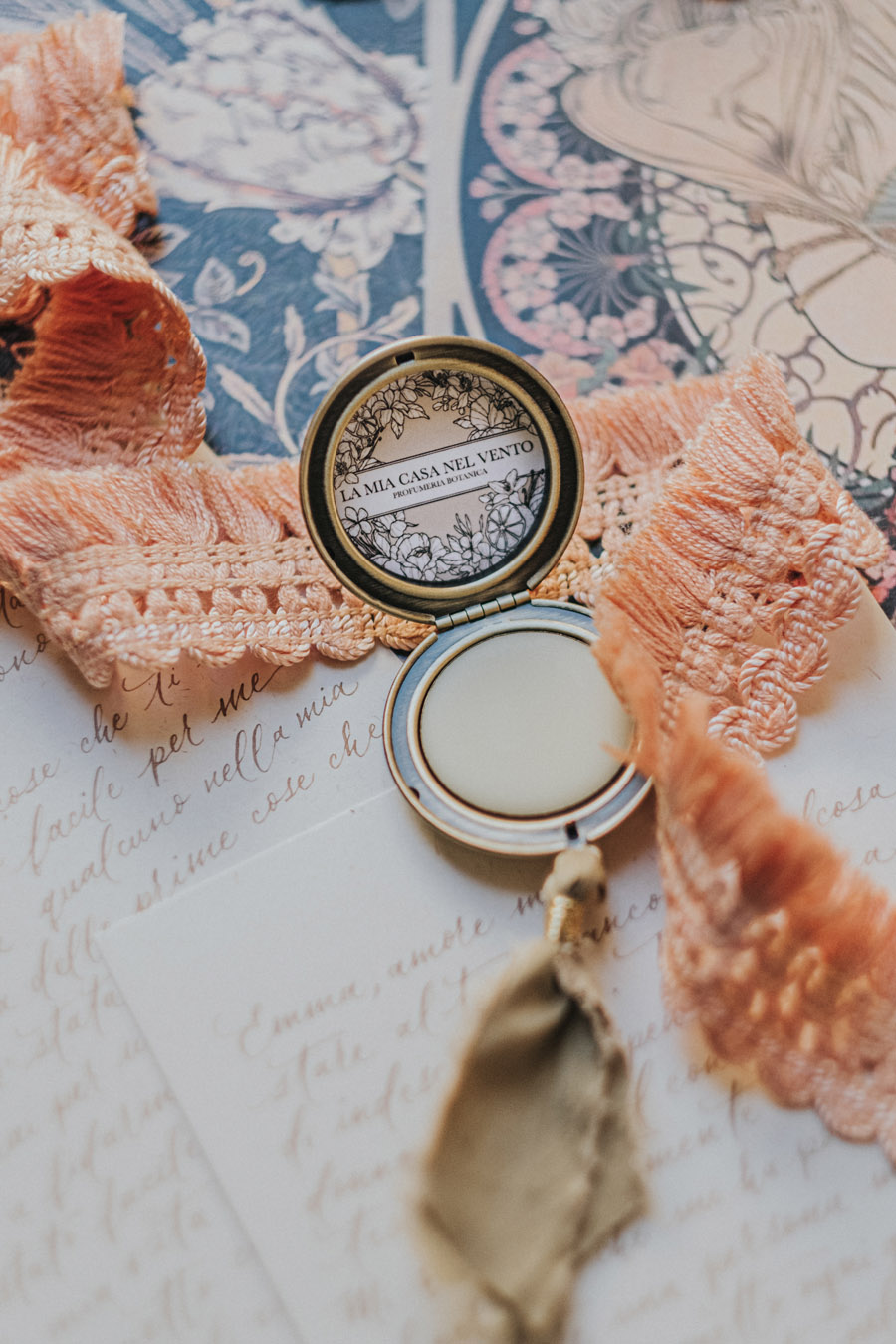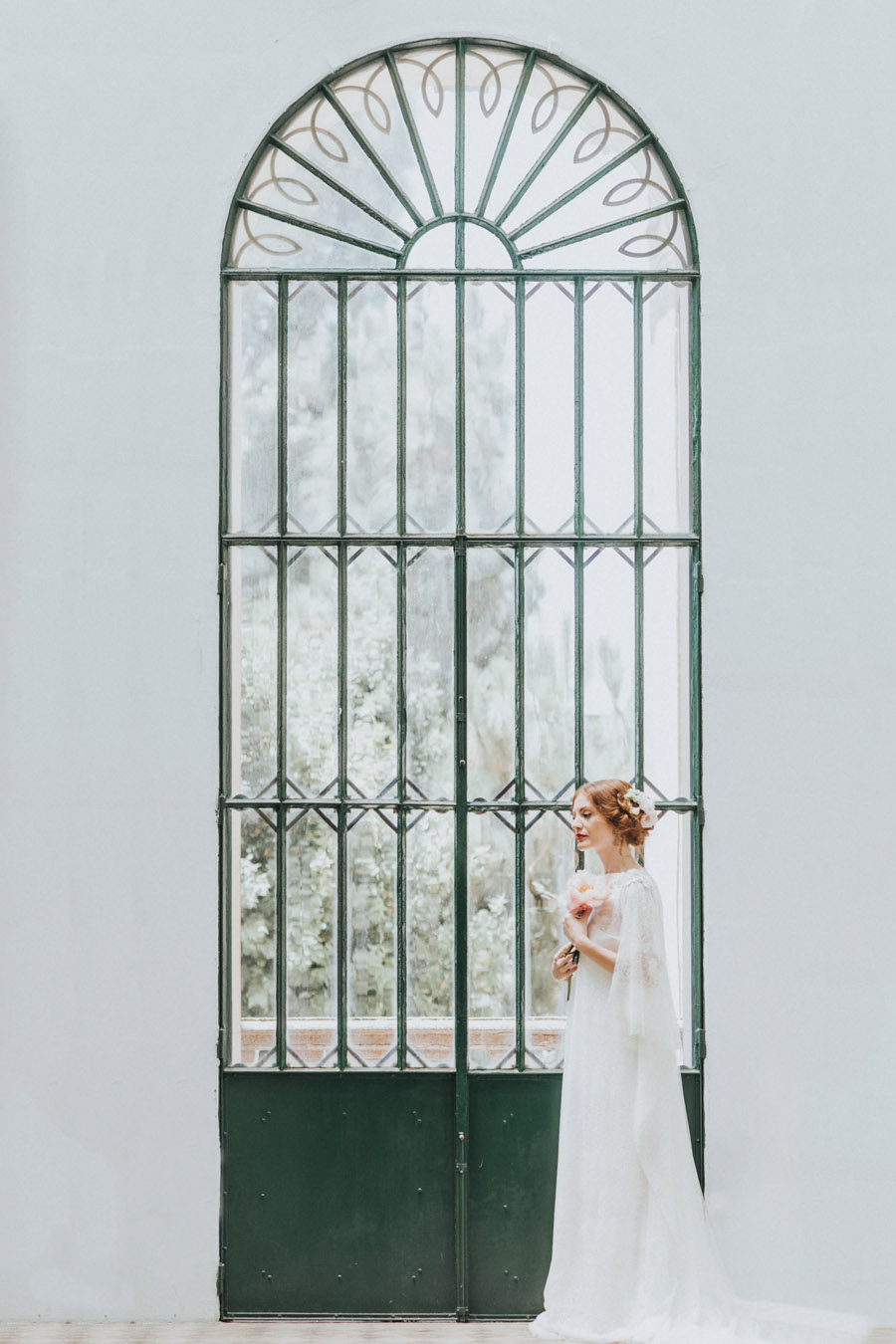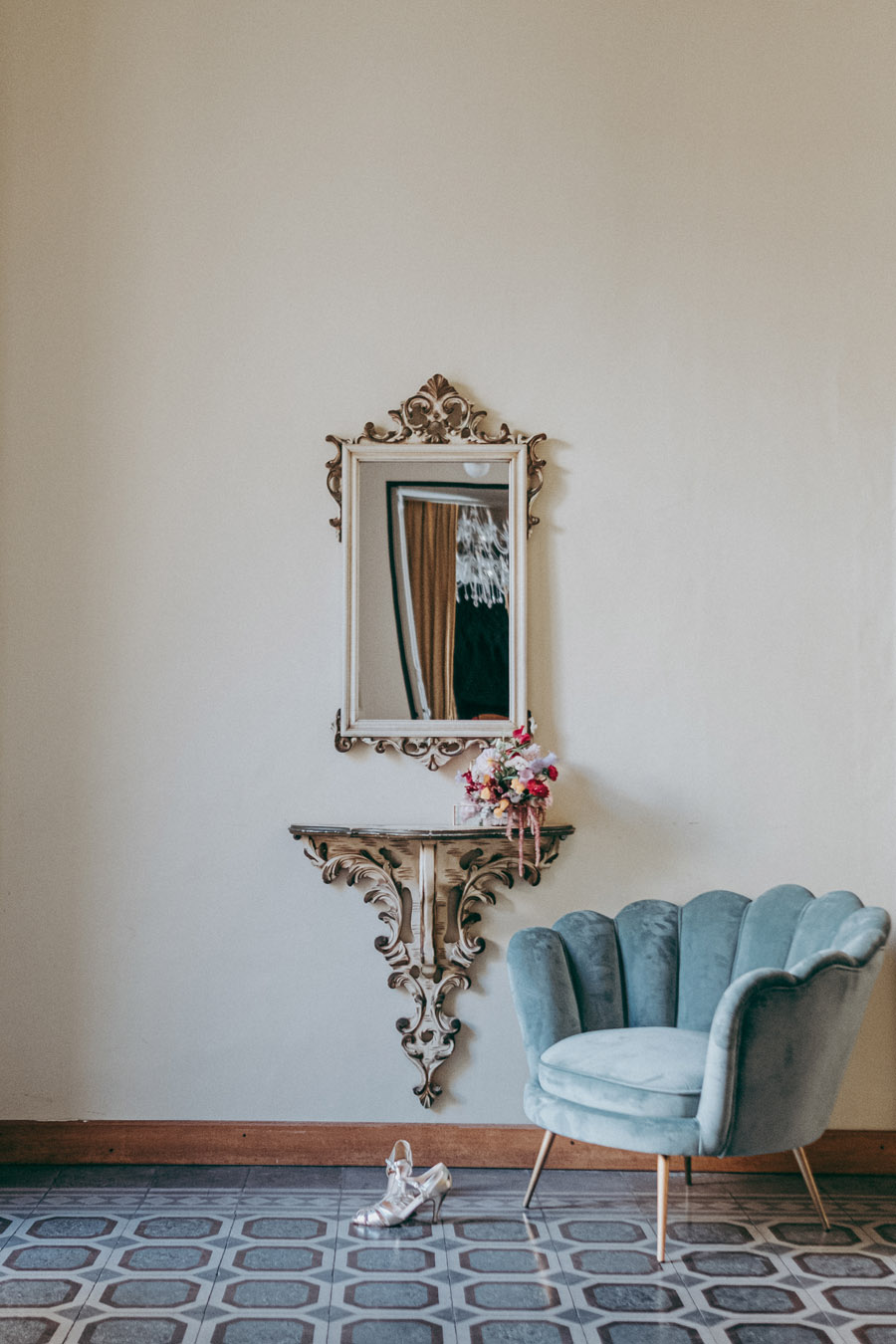 Photography
Photographer – Assunta Simone
"For the inspirational shoot, we chose to work mainly with natural light, a soft and non-invasive light, a light able to tell without stealing the scene, to caress every detail with delicacy and harmony."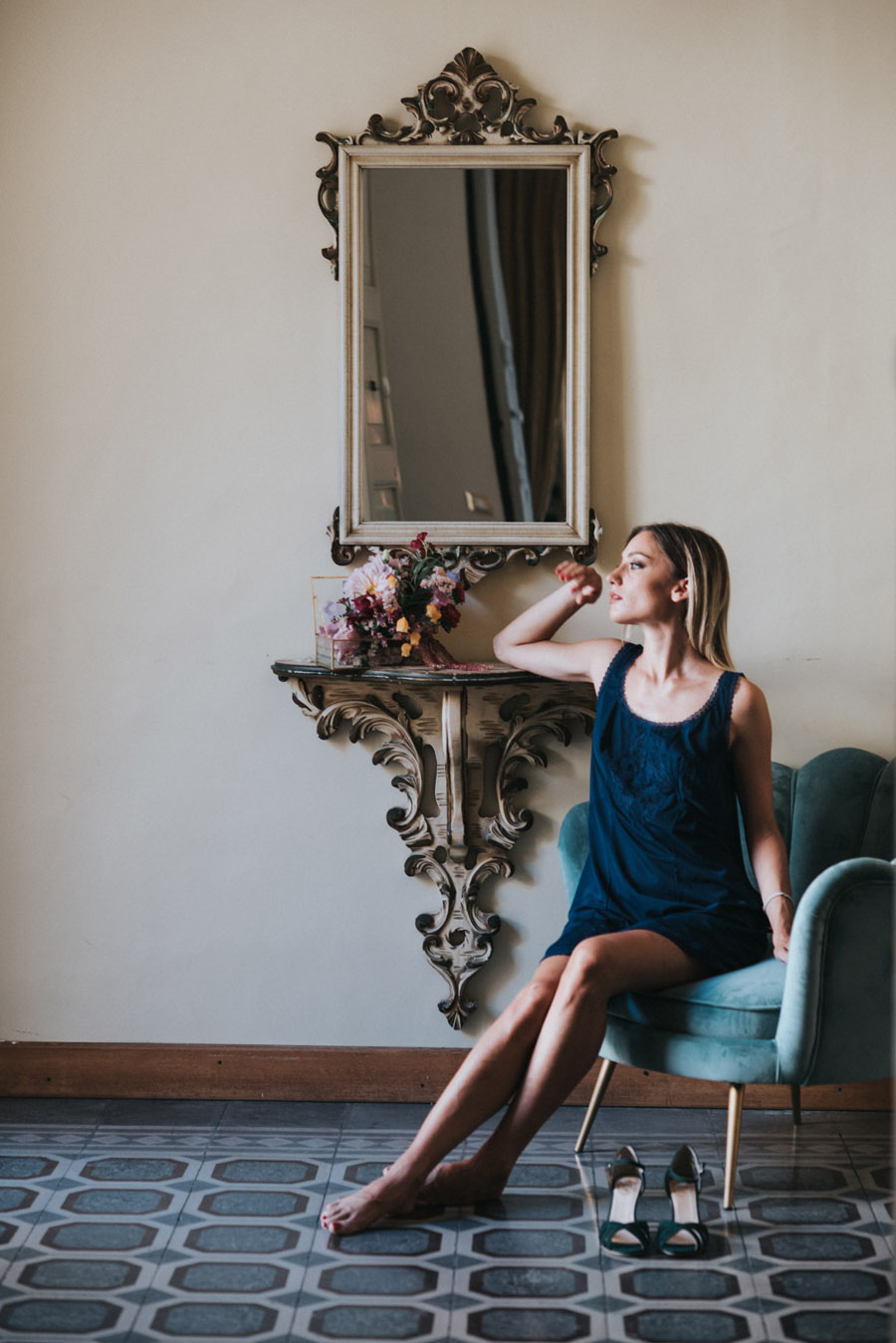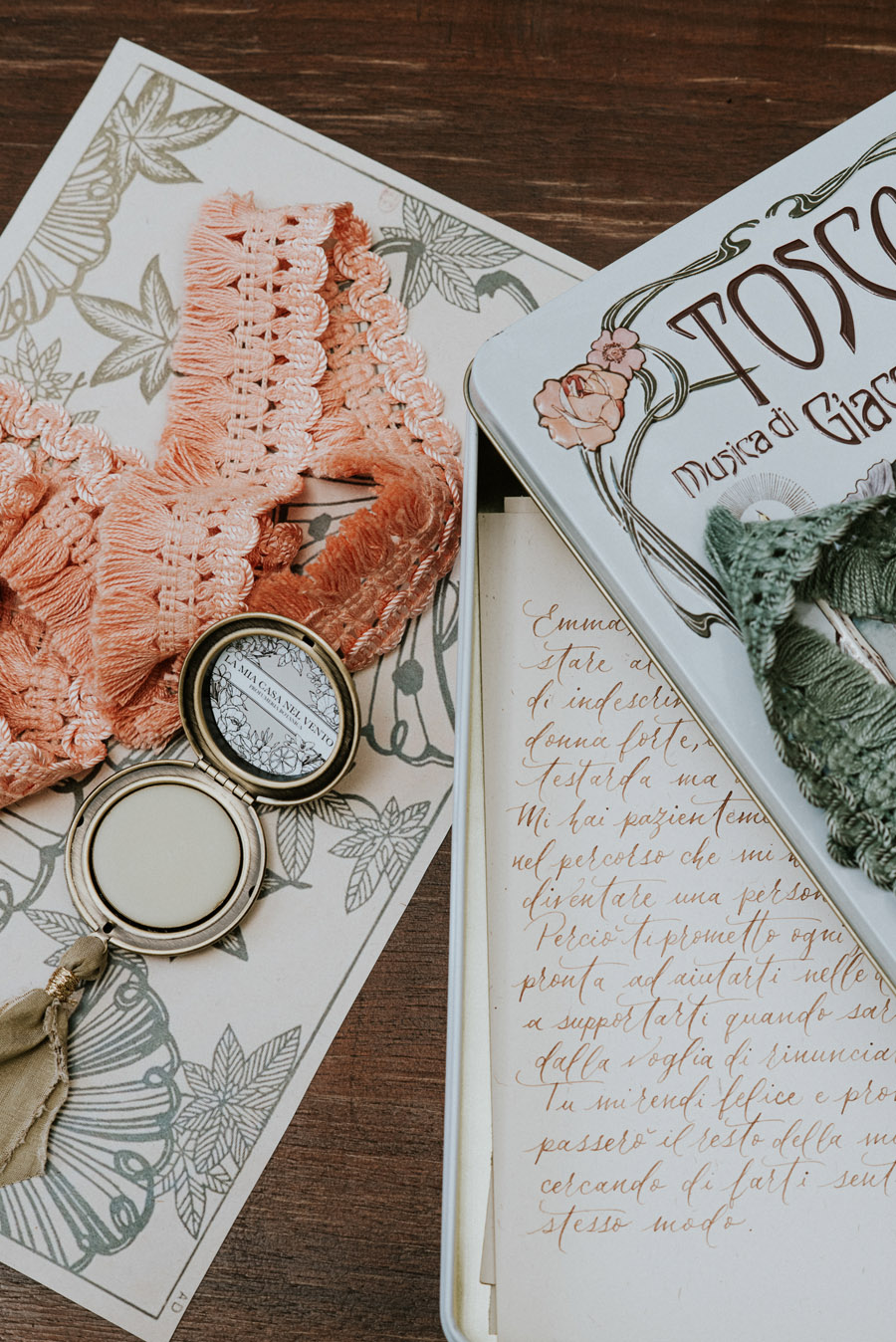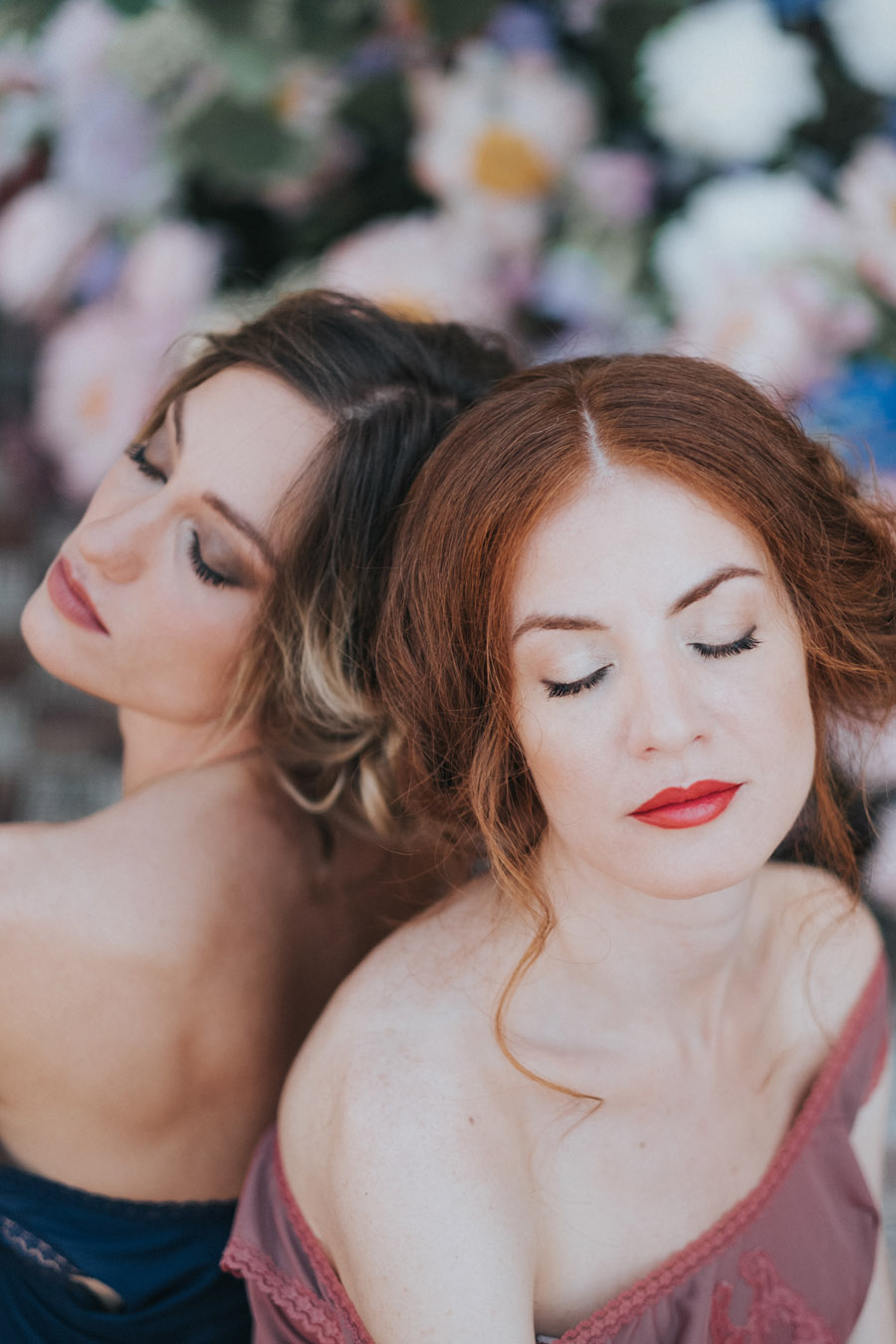 The Brides
Bridal – Pitti Perle Pose
"For the dresses of our brides, we have chosen two models in soft and delicate lace with flowing lines. Both dresses are optic white, perfect for highlighting the two girls always surrounded by colourful flowers. The first is by Jesus Peiro, the second by Bundò Novias."
Hair & Makeup – Alessandro Bardoscia and Vania Tommasi
"For the hairstyles, we studied the hairstyles that were used between the end of the 19th and the beginning of the 20th century through the photos and portraits of a great artist such as Sarah Bernard. Central hairline, voluminous waves hair and intertwined locks gathered delicately at the nape and enriched with fresh flowers. The makeup we created on our brides has tried to enhance them in a different but at the same time harmonious way, underlining their characteristics and peculiarities through the different use of colour."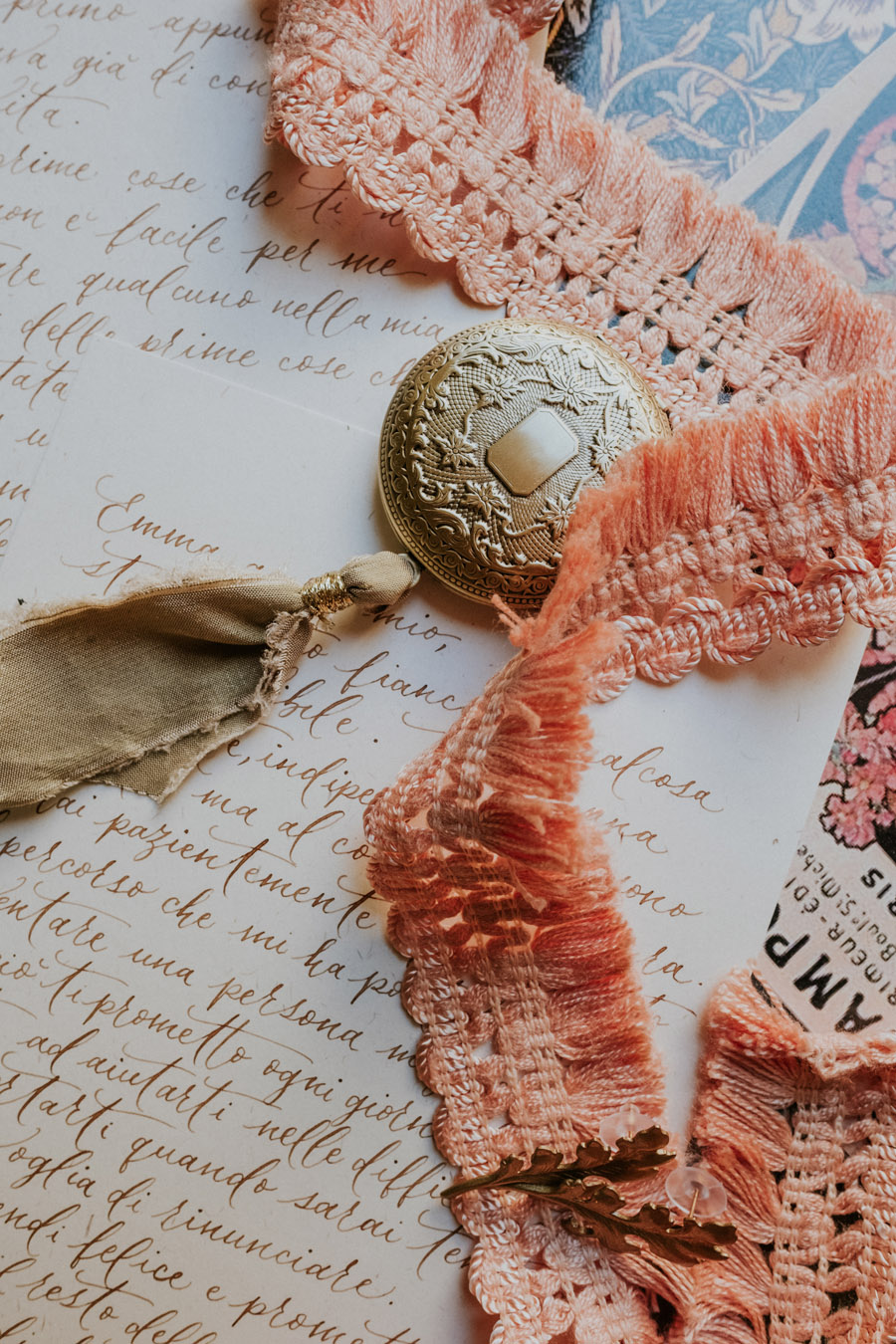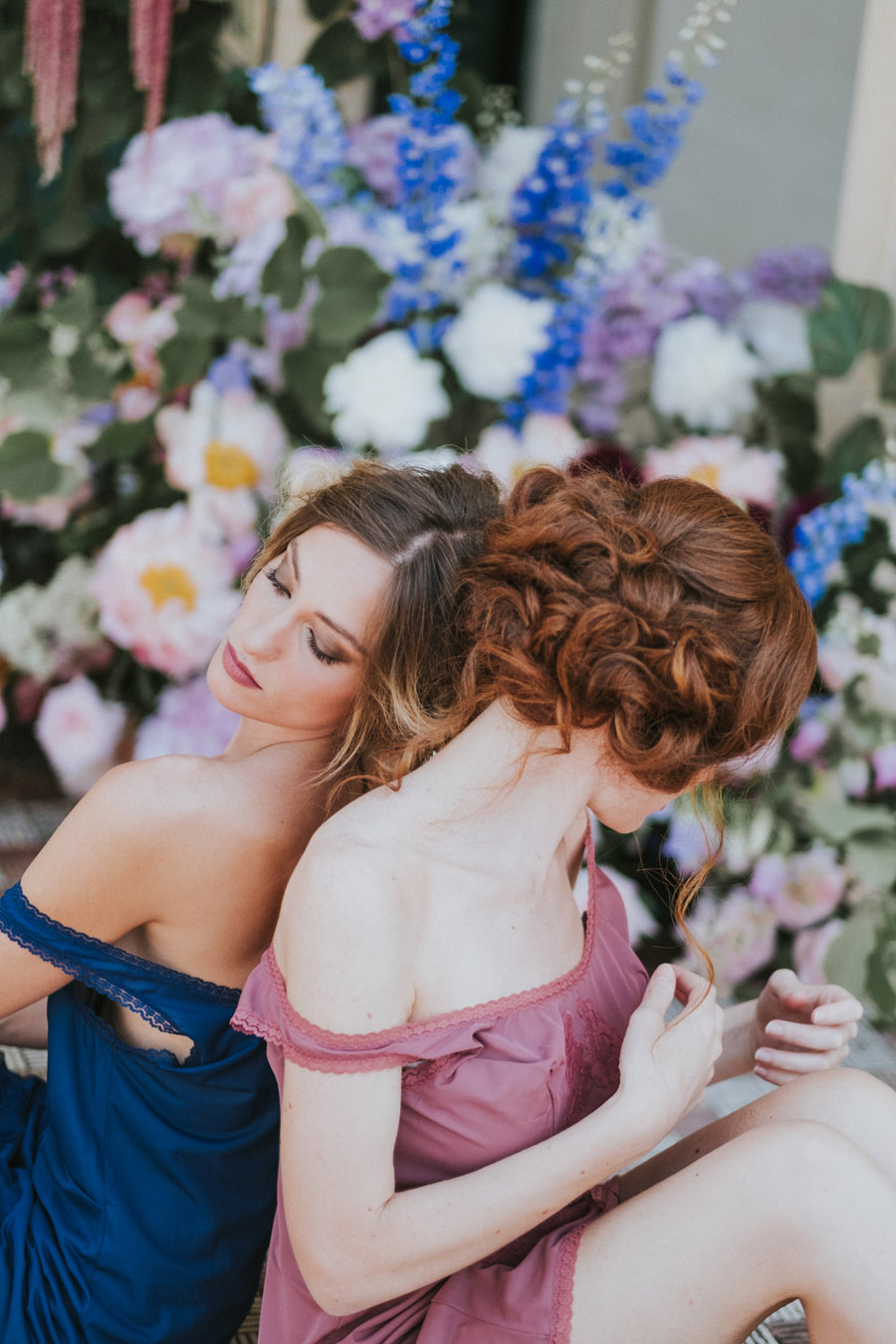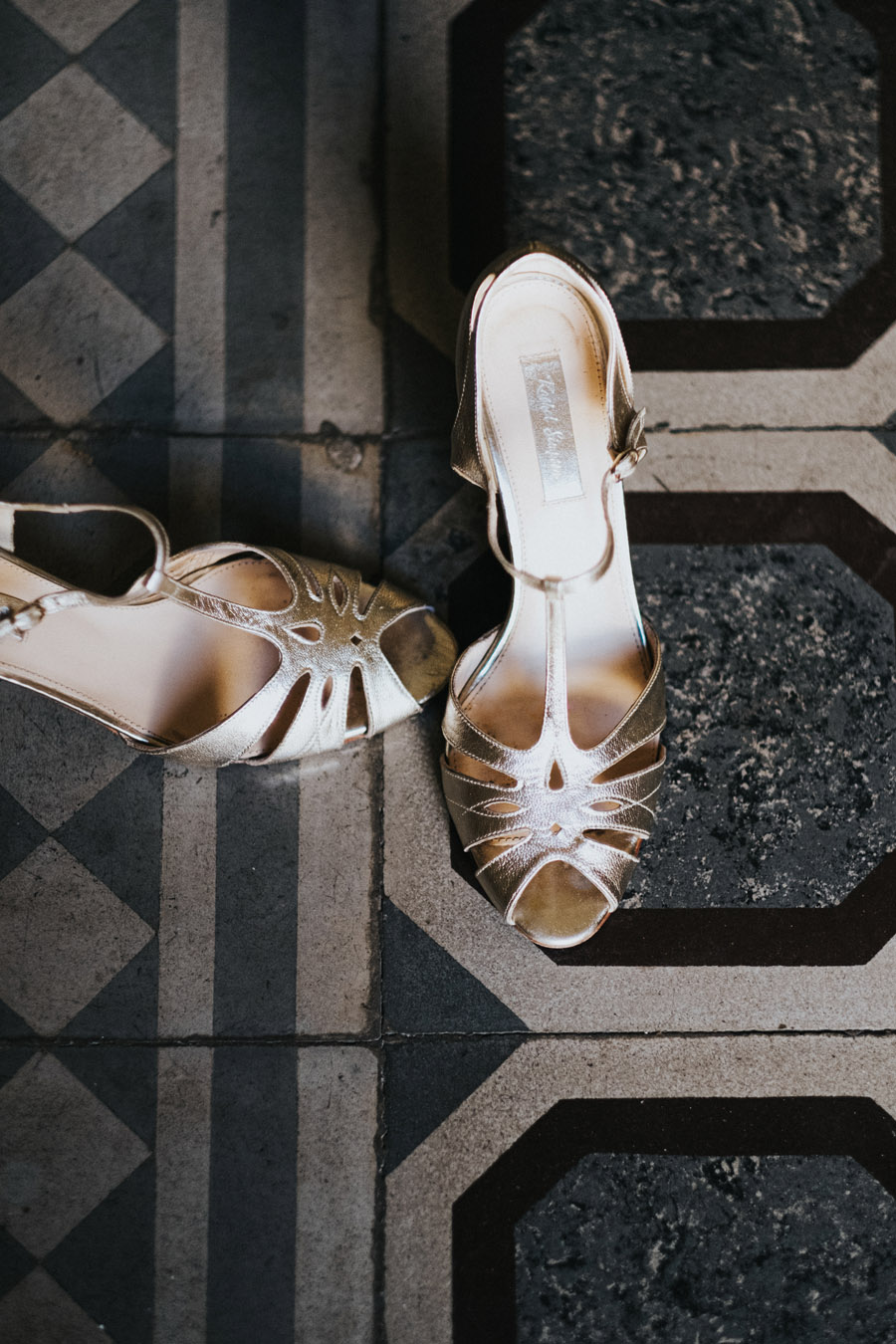 The Details
Flowers – Nunzia Guerino
"Flowers were ultimately an important element in this project. We played by combining the colors and shapes of the liberty style we represented. A concept around a style of freshness, lightness and naturalness without defined shapes. We represented the movements with flowers, with wavy and asymmetrical lines, inspired by the shapes found in nature. Colours predominate pastel shades. Flowers have a precious uniqueness in this photo shoot.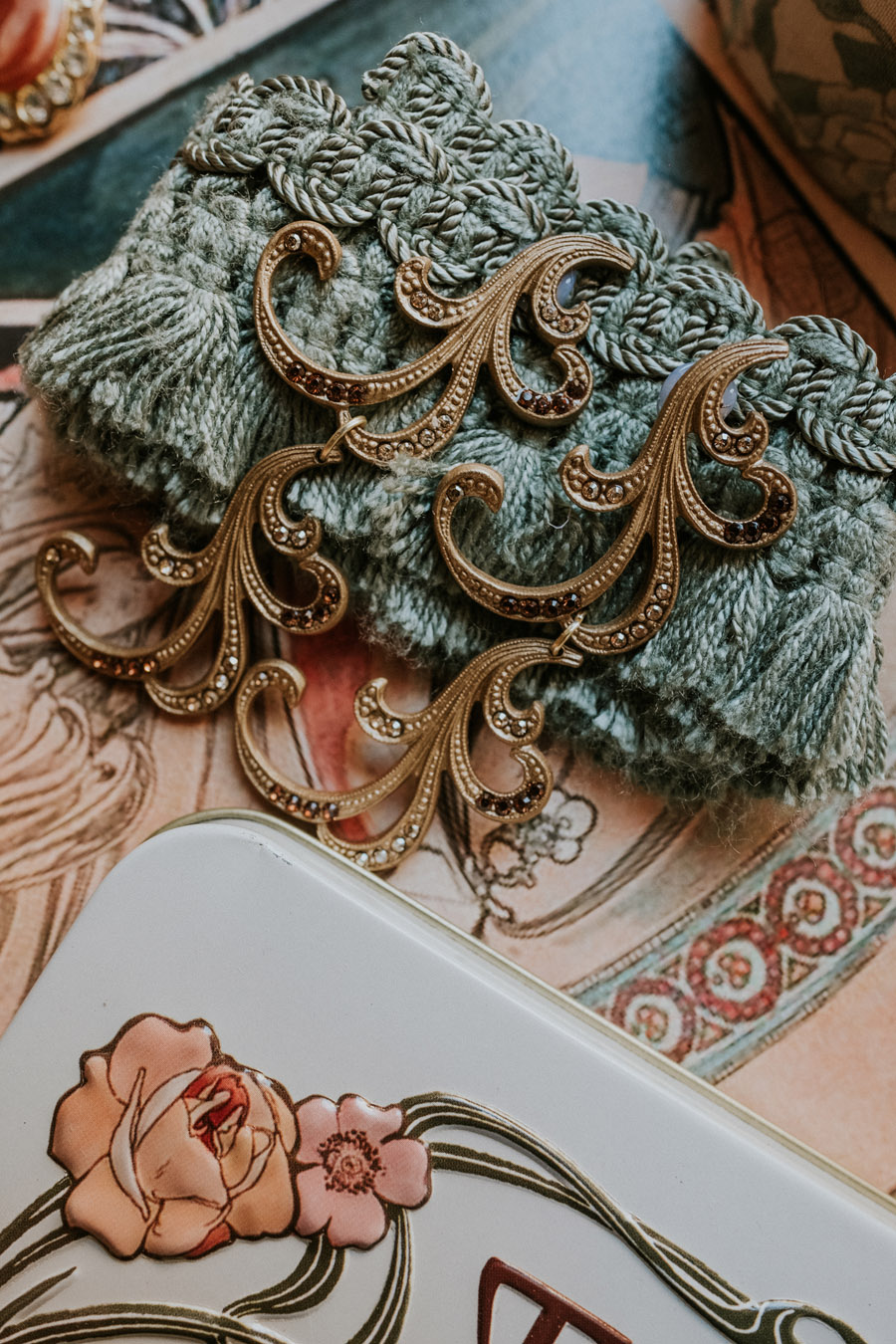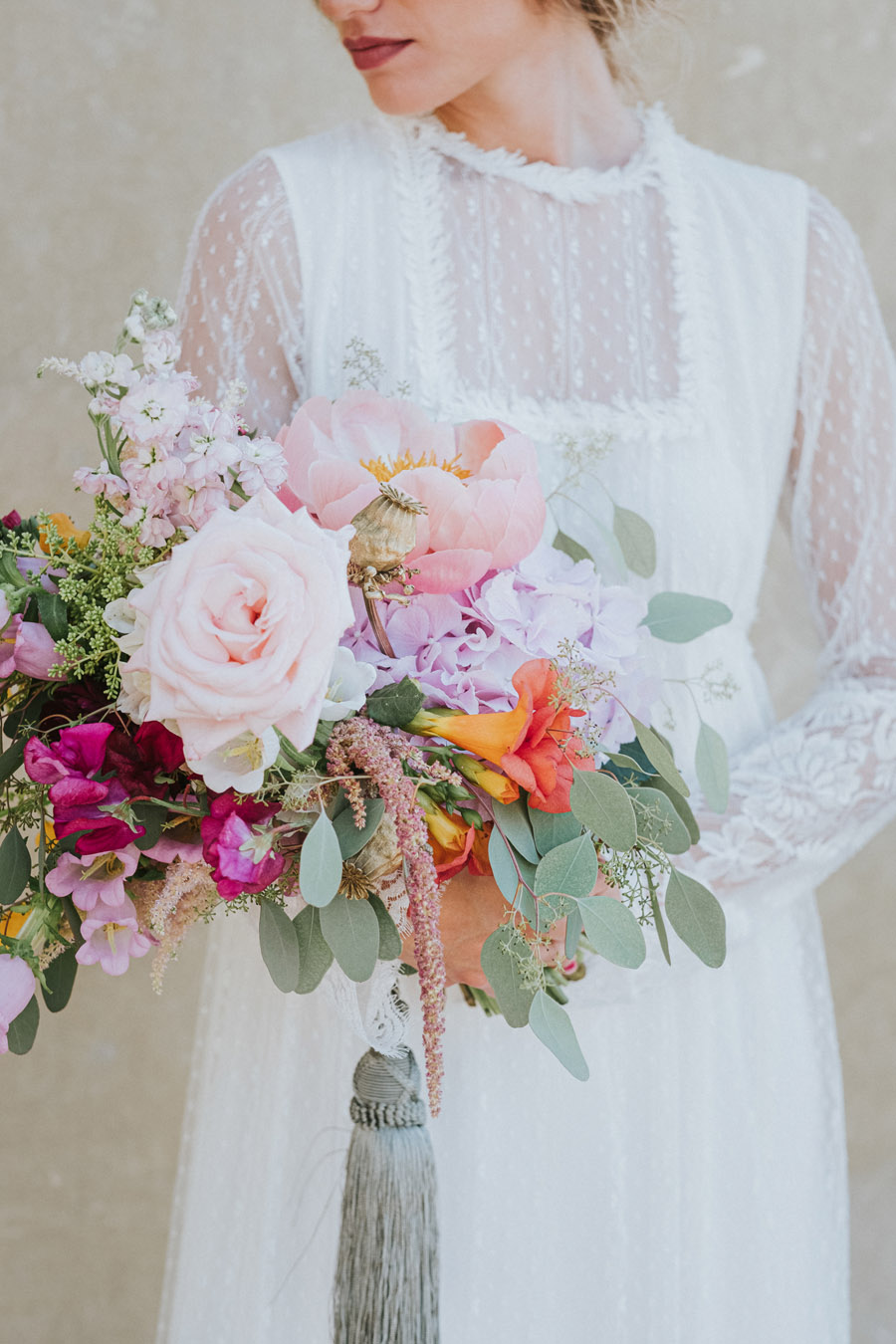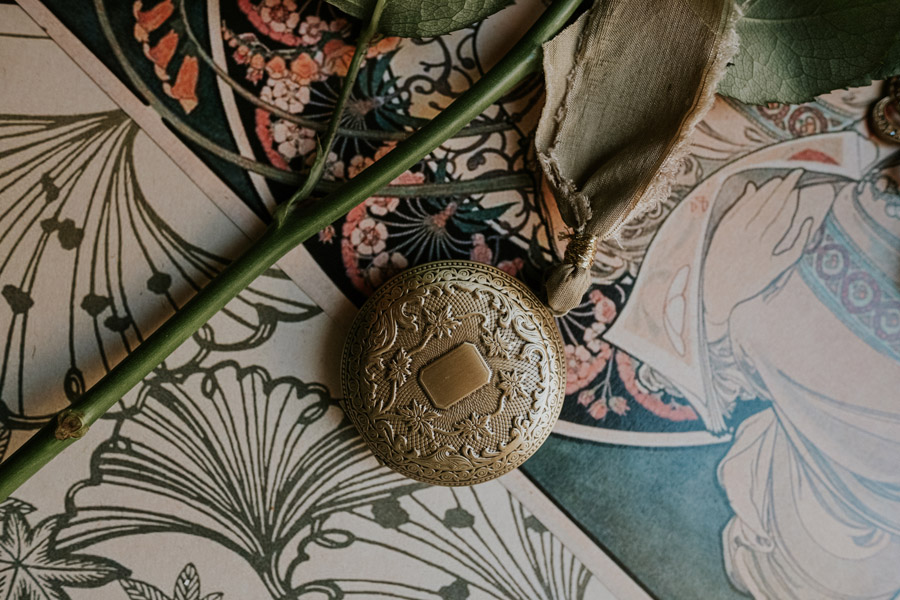 Cake – Leo Alessandra
"The cake was made with a single 25 cm high layer covered with mint green sugar paste, very very delicate. The decoration was created with two peonies. One, two-dimensional, hand-painted directly on the surface of the icing and the other, threedimensional, in sugar paste, which has been placed on top. The design created is inspired by the shapes of the artistic stained glass windows of the art nouveau buildings of the early 1900s."
Illustrator – Simon A Effe
"The letters with the promises of the two brides and also the placeholders were handwritten in calligraphy, as was the custom in those days.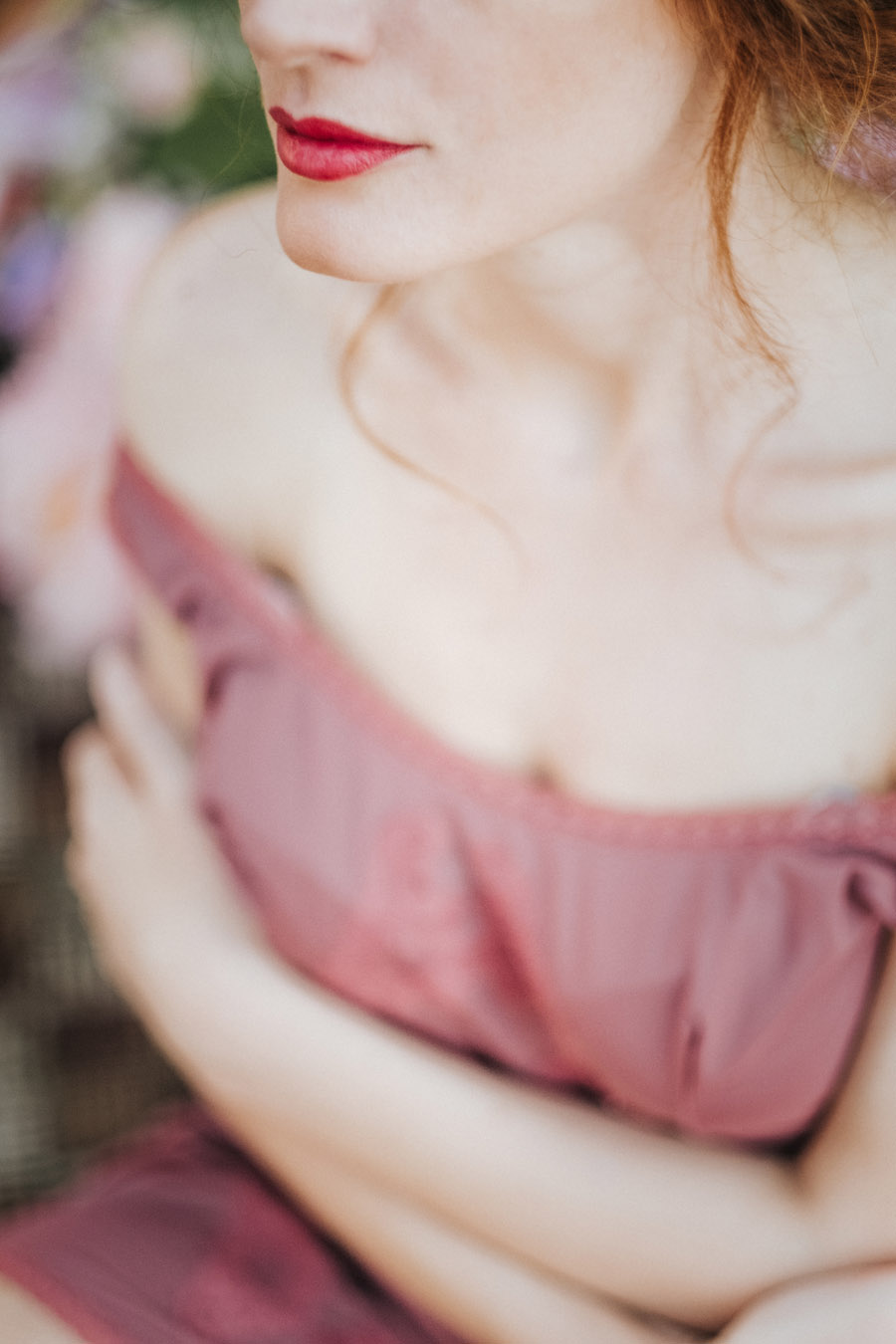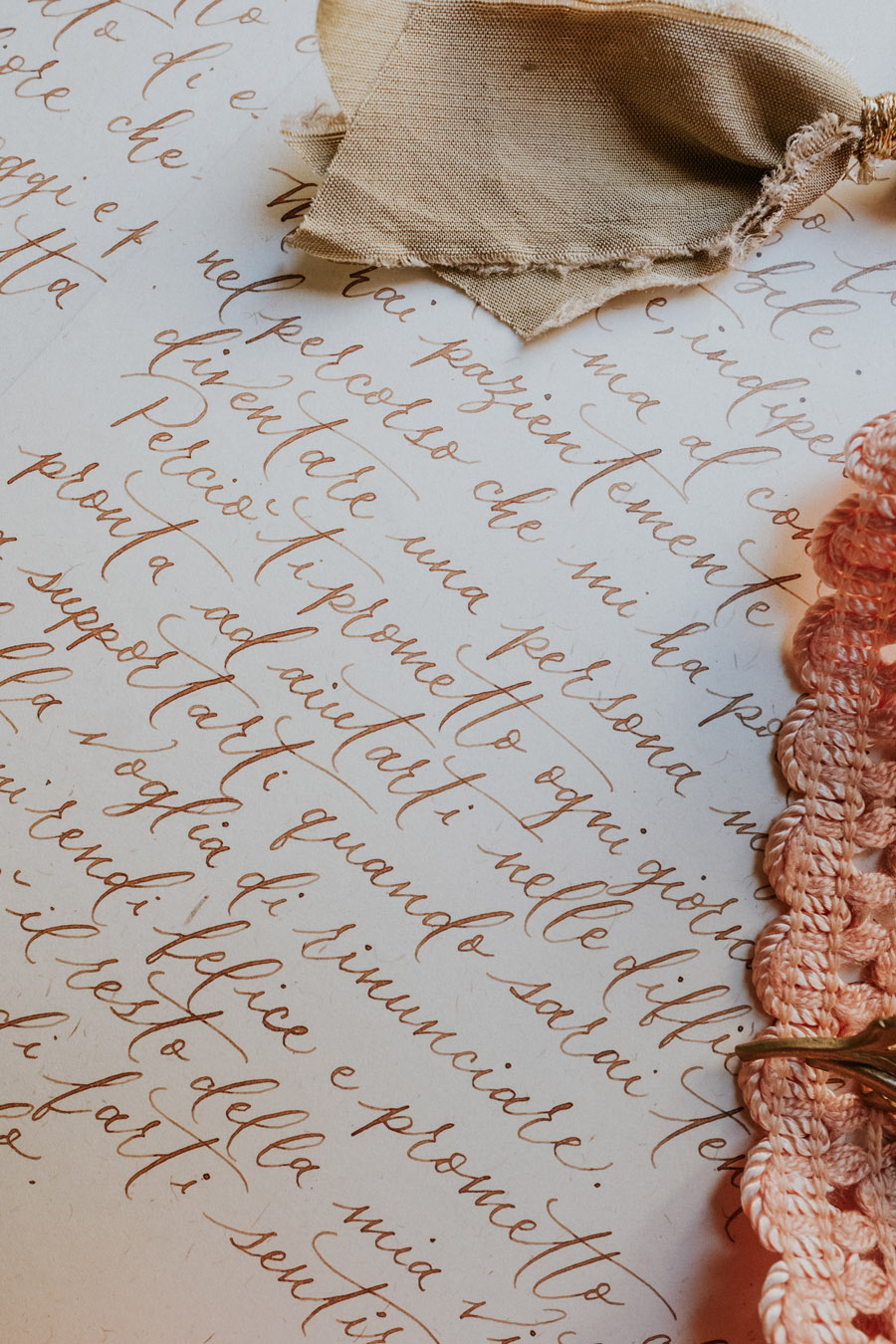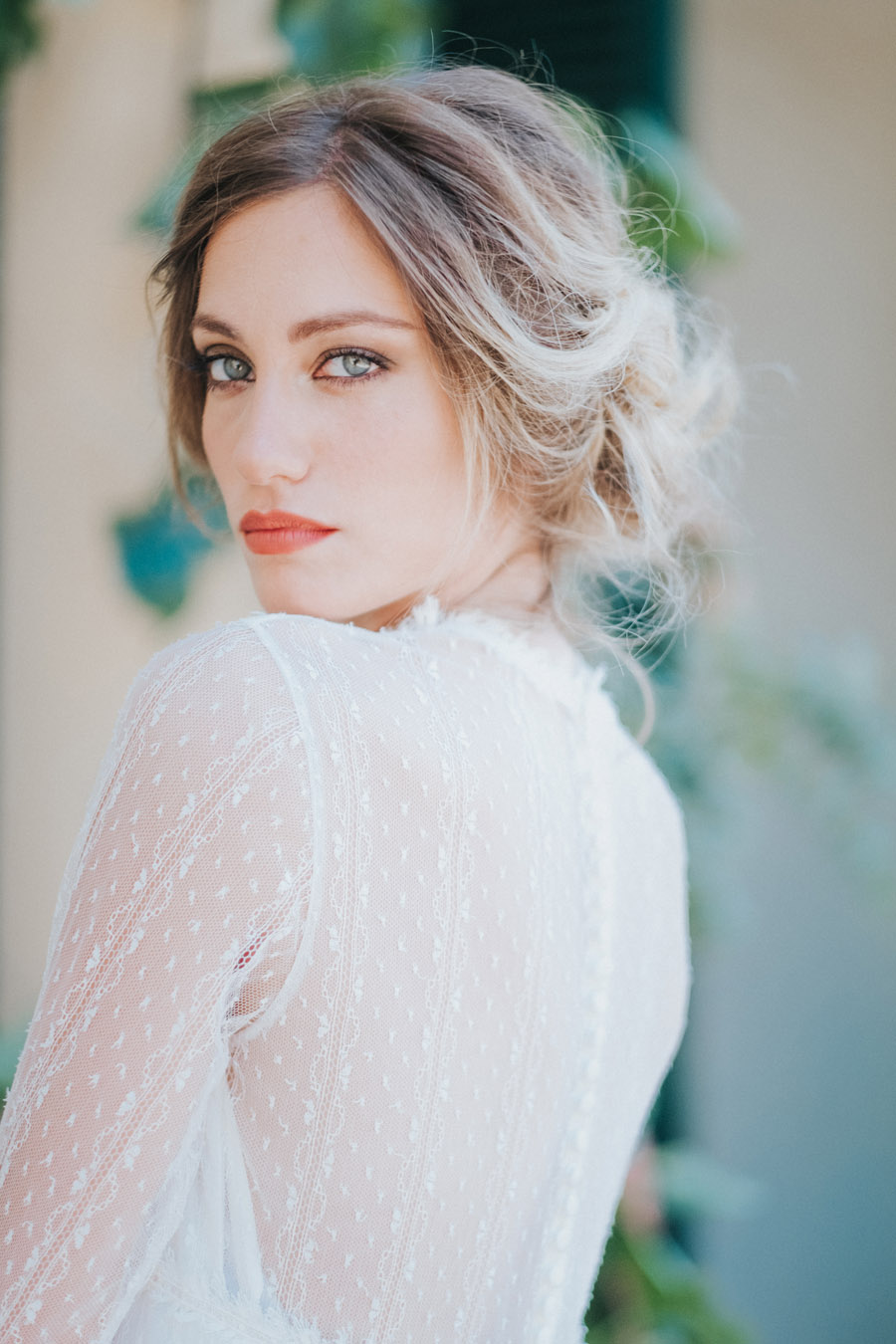 The Team – Art Nouveau Wedding Inspiration With Ethereal Vibes at Palazzo Arabesco, Italy
Photographer Assunta Simone @assuntasimonephotography
Concept and Planning Elena Pistone @elenapistone_events / Venue Palazzo Arabesco @aprilepalazzoarabesco / Florist Nunzia Guerino @nunziaguerinoflorist / Catering Gala Banqueting @gala_banqueting / Hair Alessandro Bardoscia @alessandrobardosciacapelli / Makeup Vania Tommasi @vaniatommasi_makeupartist / Dresses Pitti Perle Pose @pittiperlespose / Shoes Dora Shoes @dorashoes_official and Rachel Simpson @rachelsimpsonshoes / Jewellery Flo Bijoux @flo_bijoux / Cake Leo Alessandra @leoalessandra2018 / Illustrator – Simon A Effe @simonaeffe / Perfume La Mia Casa Nel Vento @lamiacasanelvento / Models Toni Operoso @toni.op_ and Valentica Accarino @valentinacarrino
IF YOU LOVED THIS ART NOUVEAU WEDDING INSPO PIN IT TO YOUR WEDDING PINTEREST BOARDS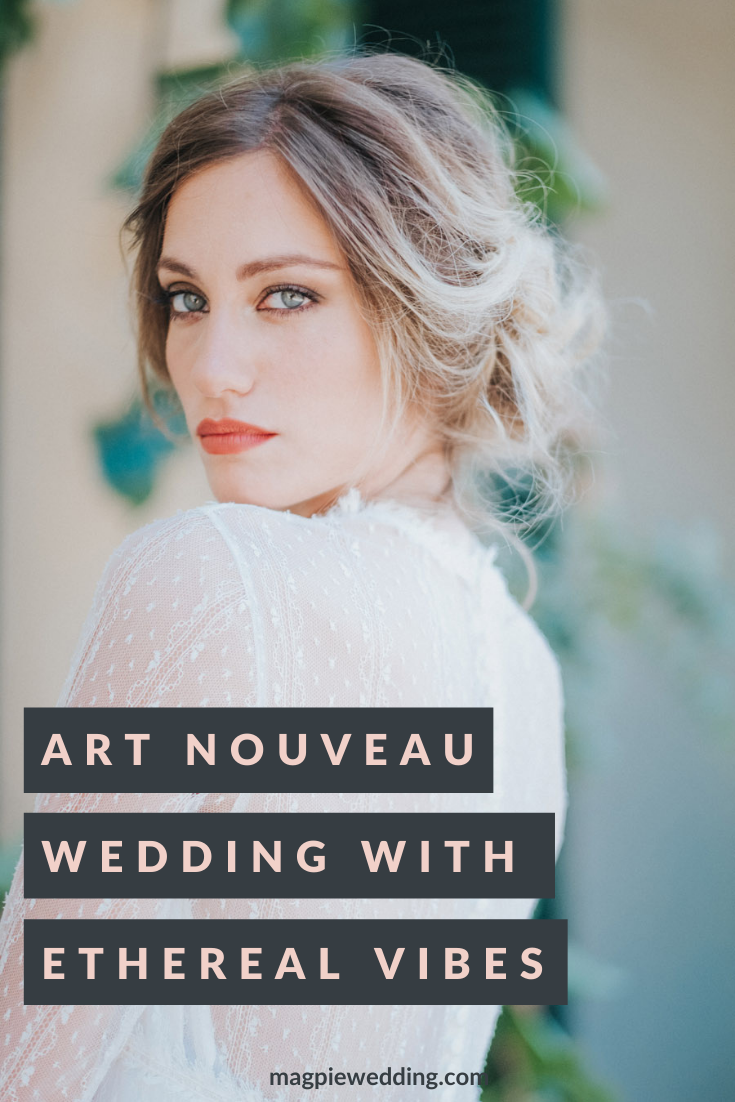 If you loved this Art Nouveau Wedding you may also like;
Yellow and Grey Wedding Ideas; Pantone Colour of The Year 2021
Fairground Wedding With Pastel Styling At Dreamland, Margate
Micro Wedding With Pink Floral Wedding Dress At Manor Farm, Bristol