Want to run away and get married on the beach? Look no further than this BEAUTIFUL ethical beach elopement with a luxury artisan vibe! Full of eco suppliers that care about the planet and have amazing businesses that can bring your wedding vision to life without costing us the earth. ECO Wedding Collective member, Janie from The Lucky Sixpence accessory designer and coordinator of this dreamy beach vibe shoot tells us more, and there are some top tips from some of the other suppliers involved too…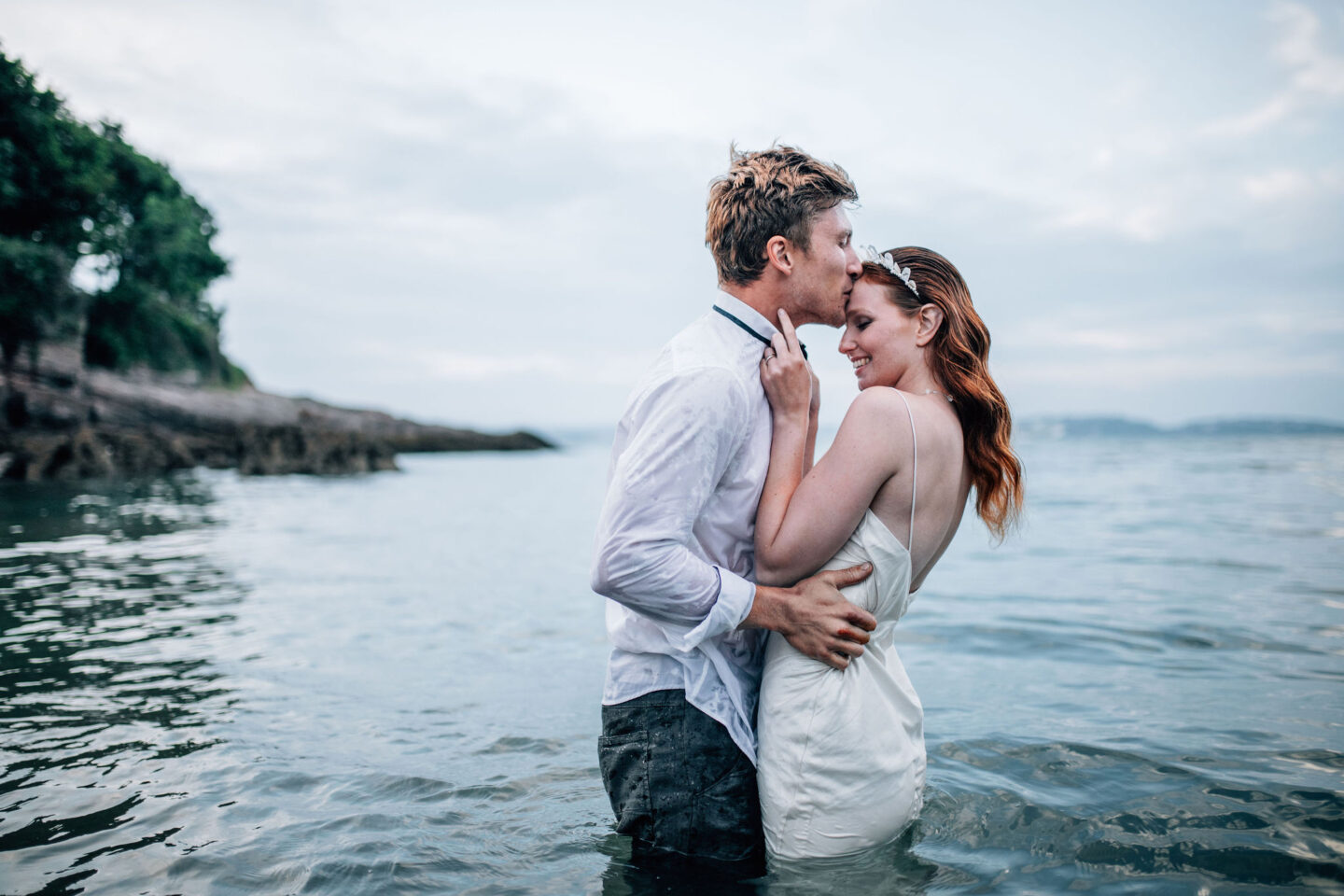 "The aim of the shoot was to showcase the skills of ethical Devon artisan's work and how an elopement wedding can be chic and unique by choosing hand-crafted items. For your own wedding, you can source from independent businesses that handcraft all their items with skill and care. Those businesses are able to talk about the journey of that product and how it came to fruition as well as the sustainable attributes of how it was made. By using independent businesses you can tailor your wedding style completely to you by working with the designers to make bespoke items rather than settling for a 'best fit'; therefore obtaining a look which truly reflects you and that can be worn again after the wedding day."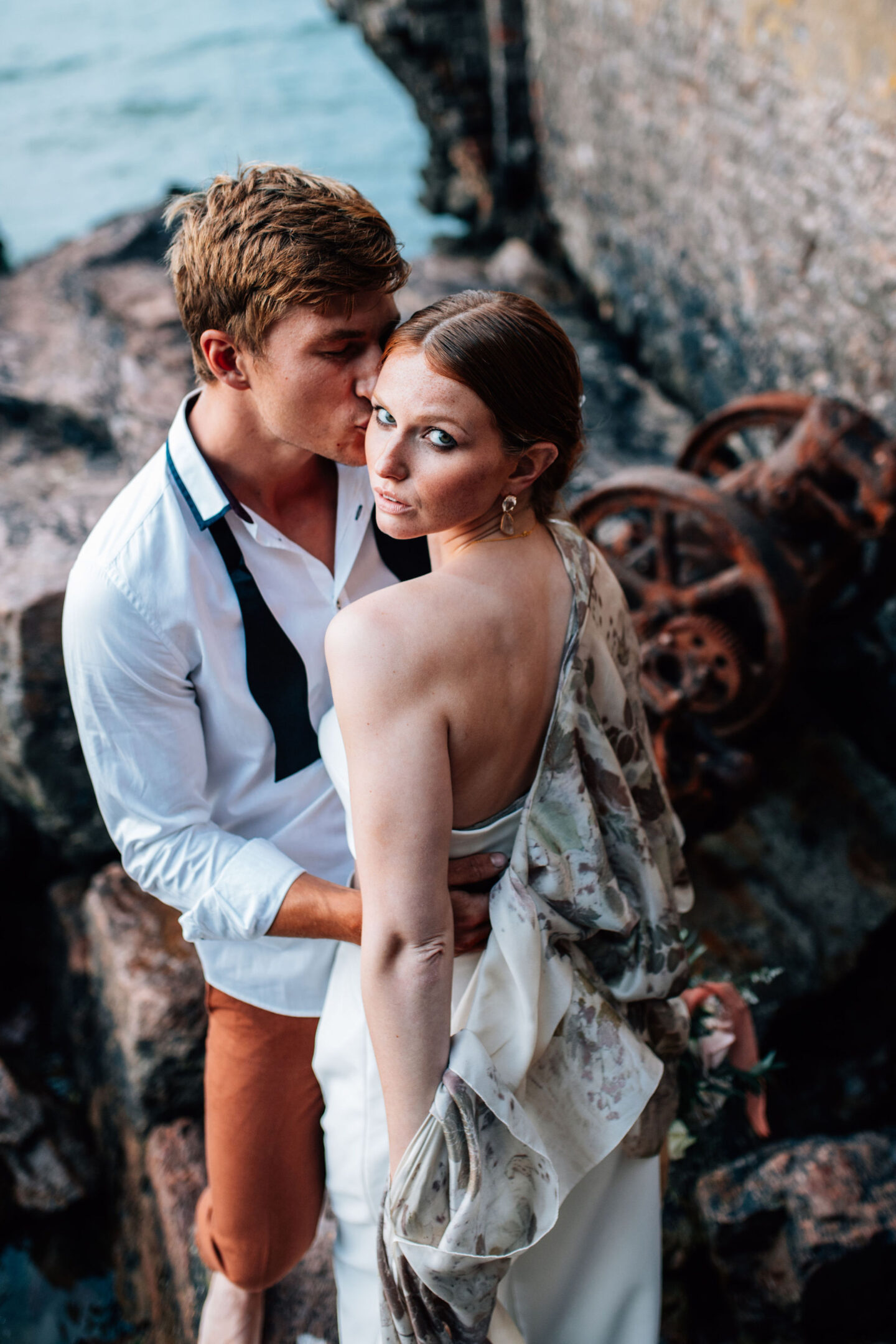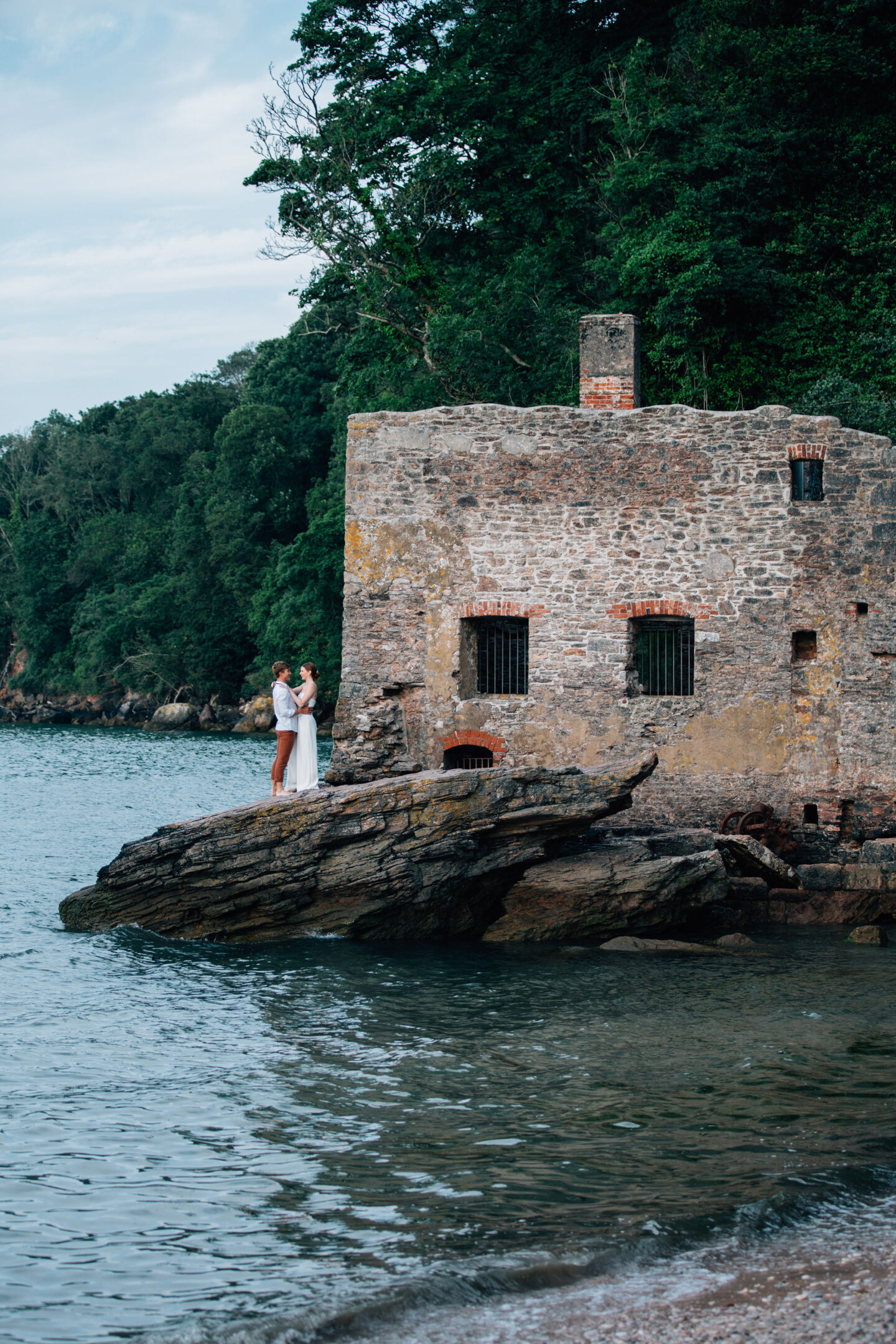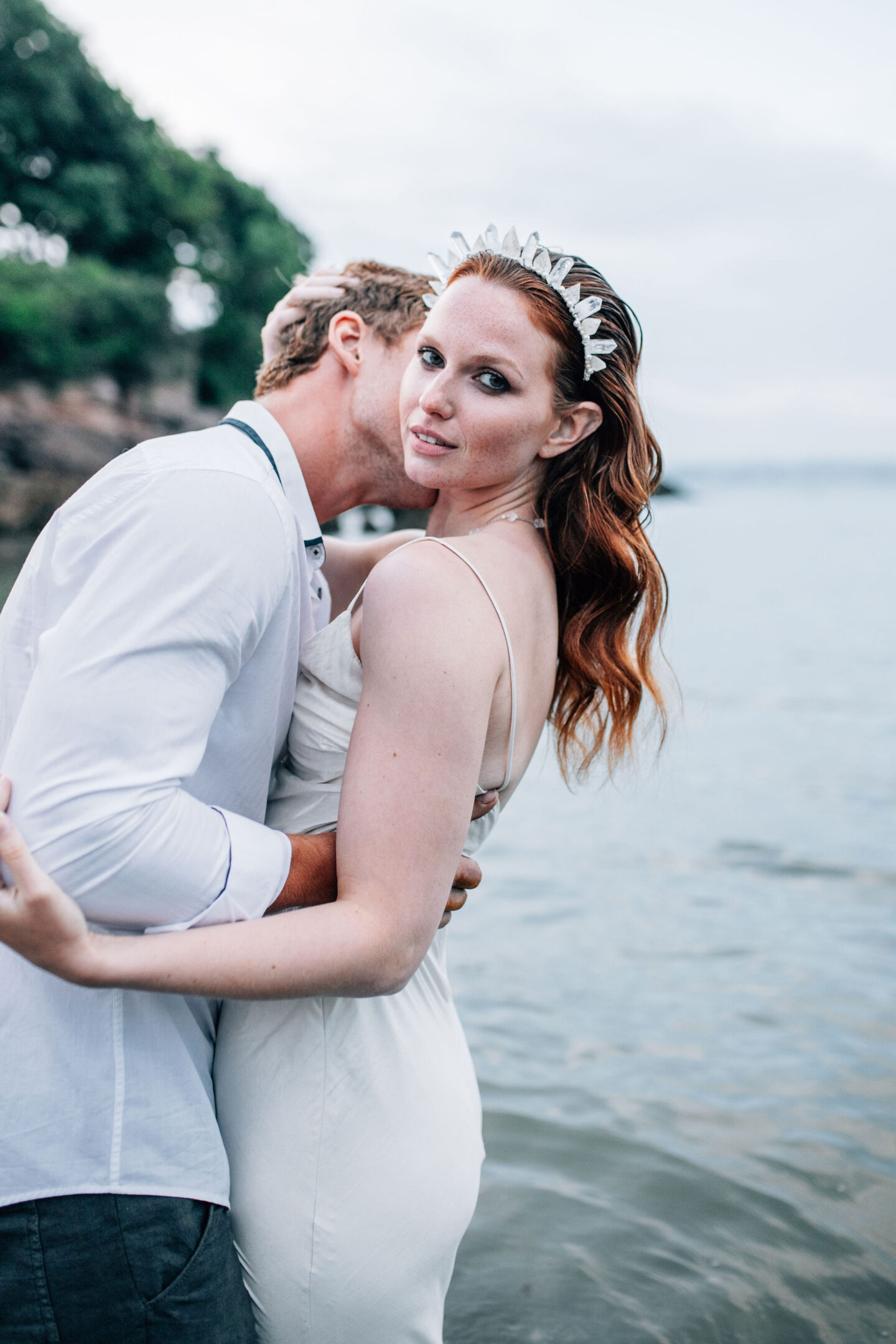 Location
The shoot location was at the beautiful Elberry Cove, a secluded bay which is said to have been Agatha Christie's favourite beach. With a ruined bathhouse and rugged landscape, it was the ideal location for an intimate elopement in Devon.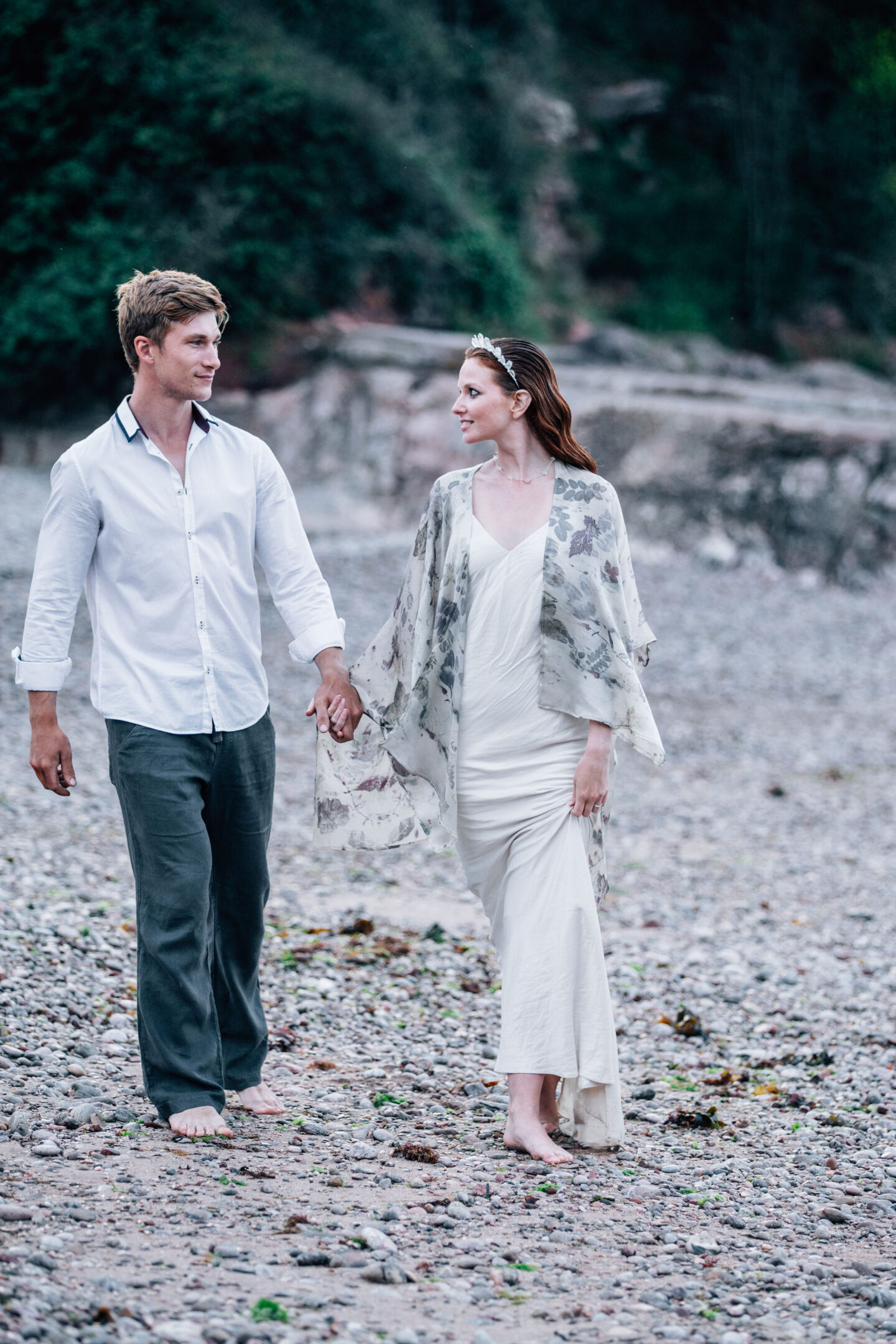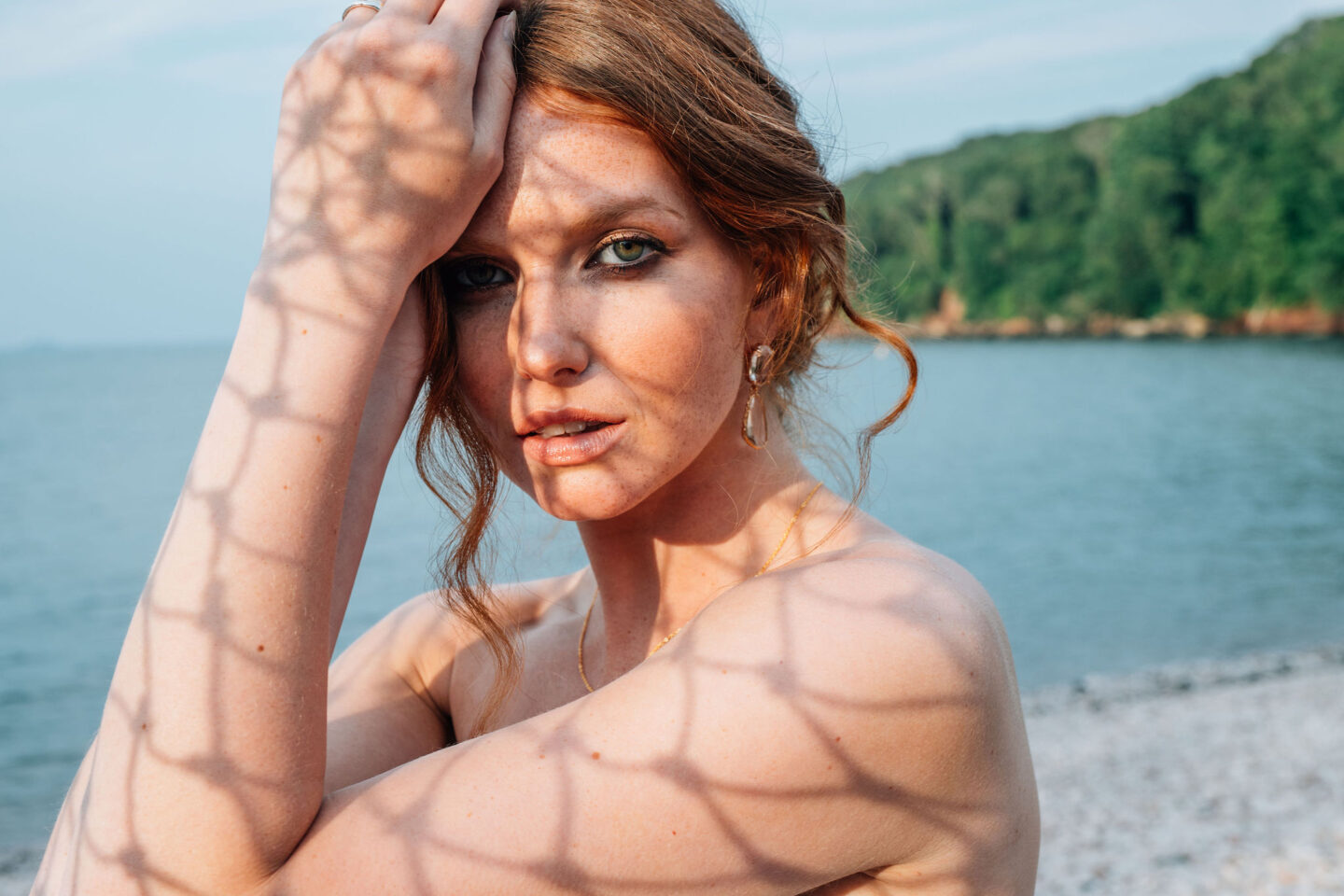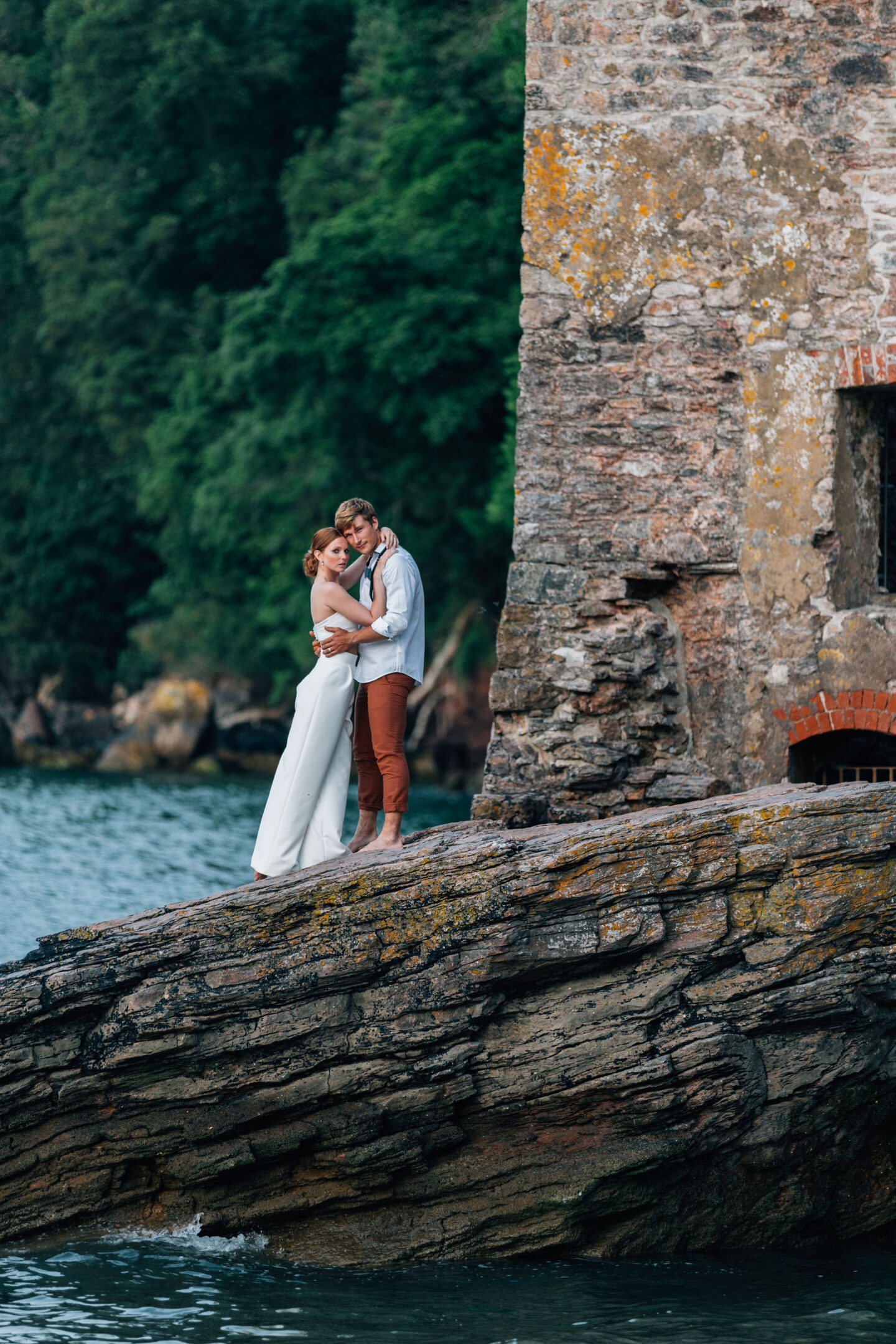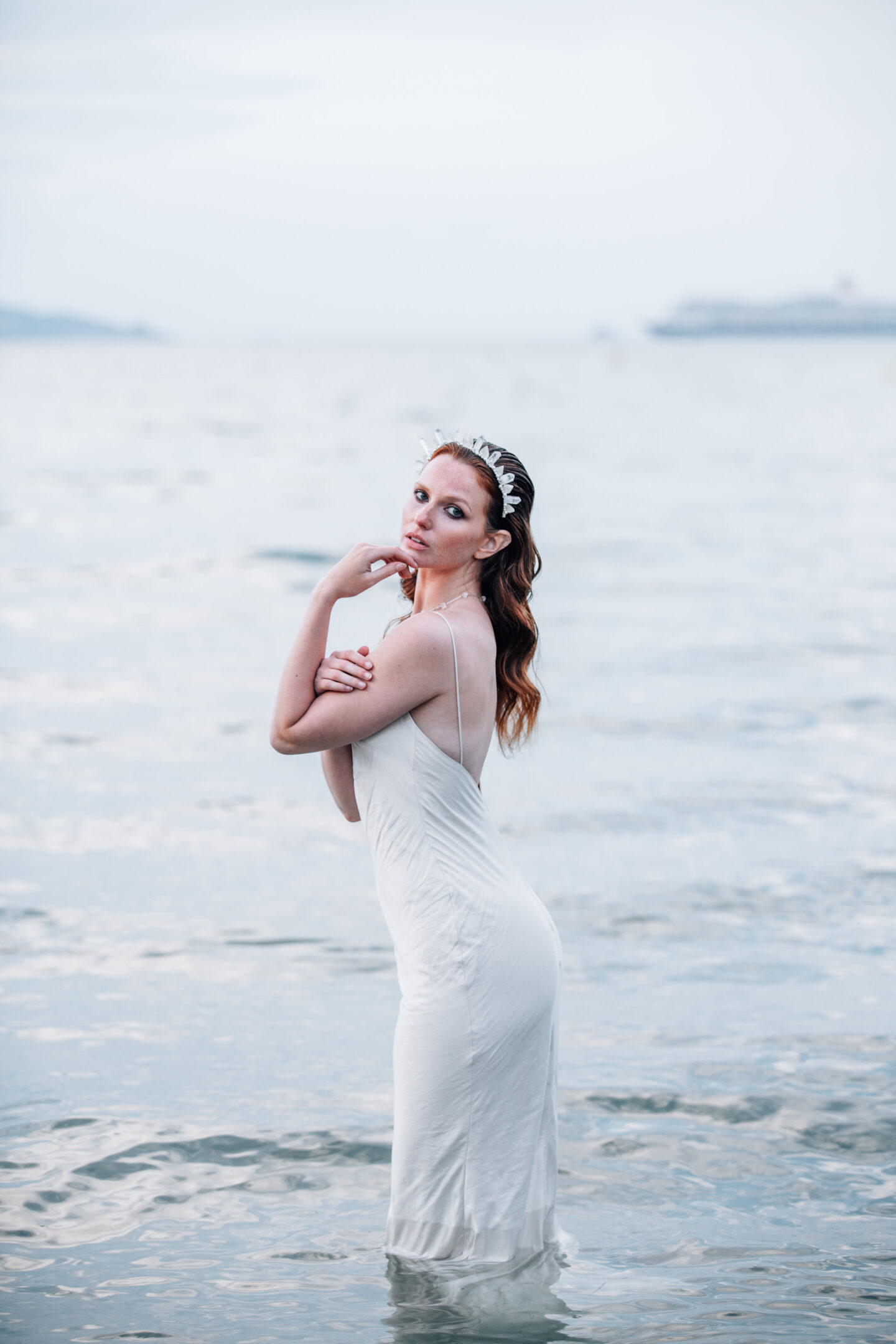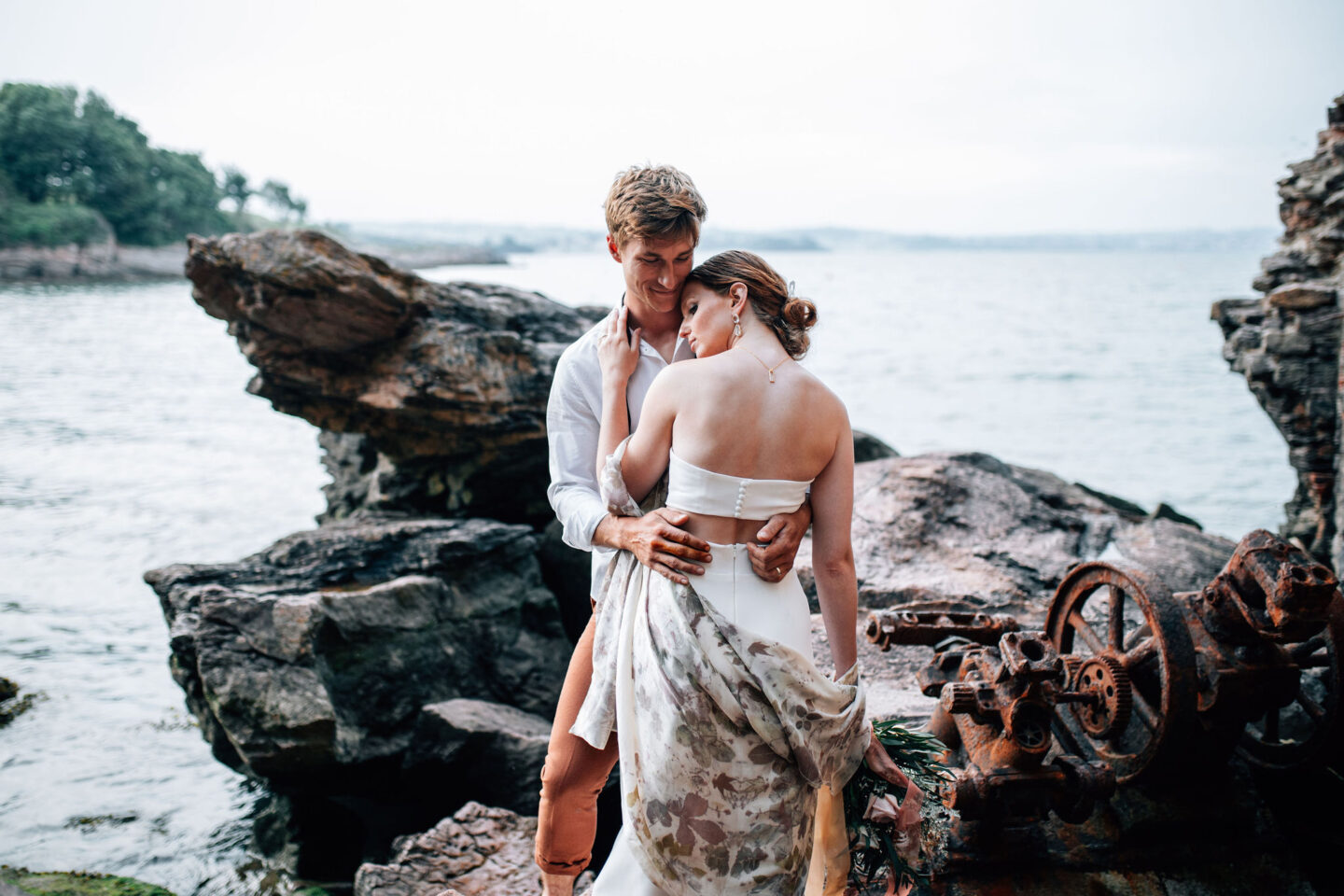 Couple Styling
Janie from The Lucky Sixpence says; "I wanted the model to look chic yet her unique side to shine through. A range of bespoke gowns and separates from Dandelions and Pearls provided modern looks with beautiful textures and lace to coordinate with the landscape. A silk kimono by Penelope's Child was teamed with one of the looks to add further texture and to showcase how colours of the environment can be brought into your look.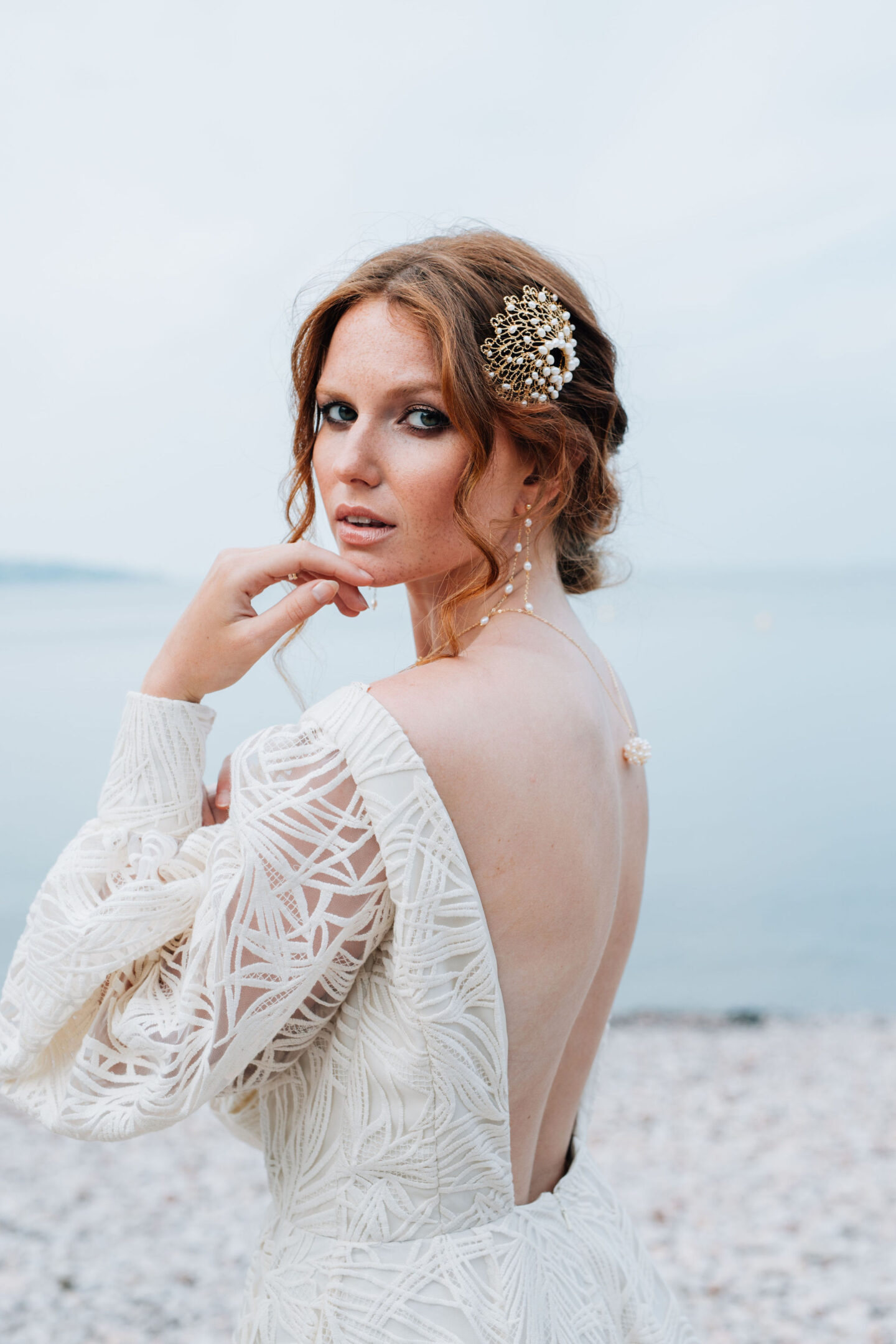 "Emma Roberts Makeup created a make-up look that was fresh and glowing, allowing the model's natural freckles to shine through for a sun-kissed beach feel. Later in the water, the model's 'siren' side came out by taking the eyeliner darker and deeper. For the hair, Natalie Nichols Bridal created a softer updo teamed with a chic plant-dyed ribbon for an alternative to a veil to start with. As the looks became more modern and we moved to the bridal separates the hair became slicker before being taken down to a swept-back wet look style for in the water.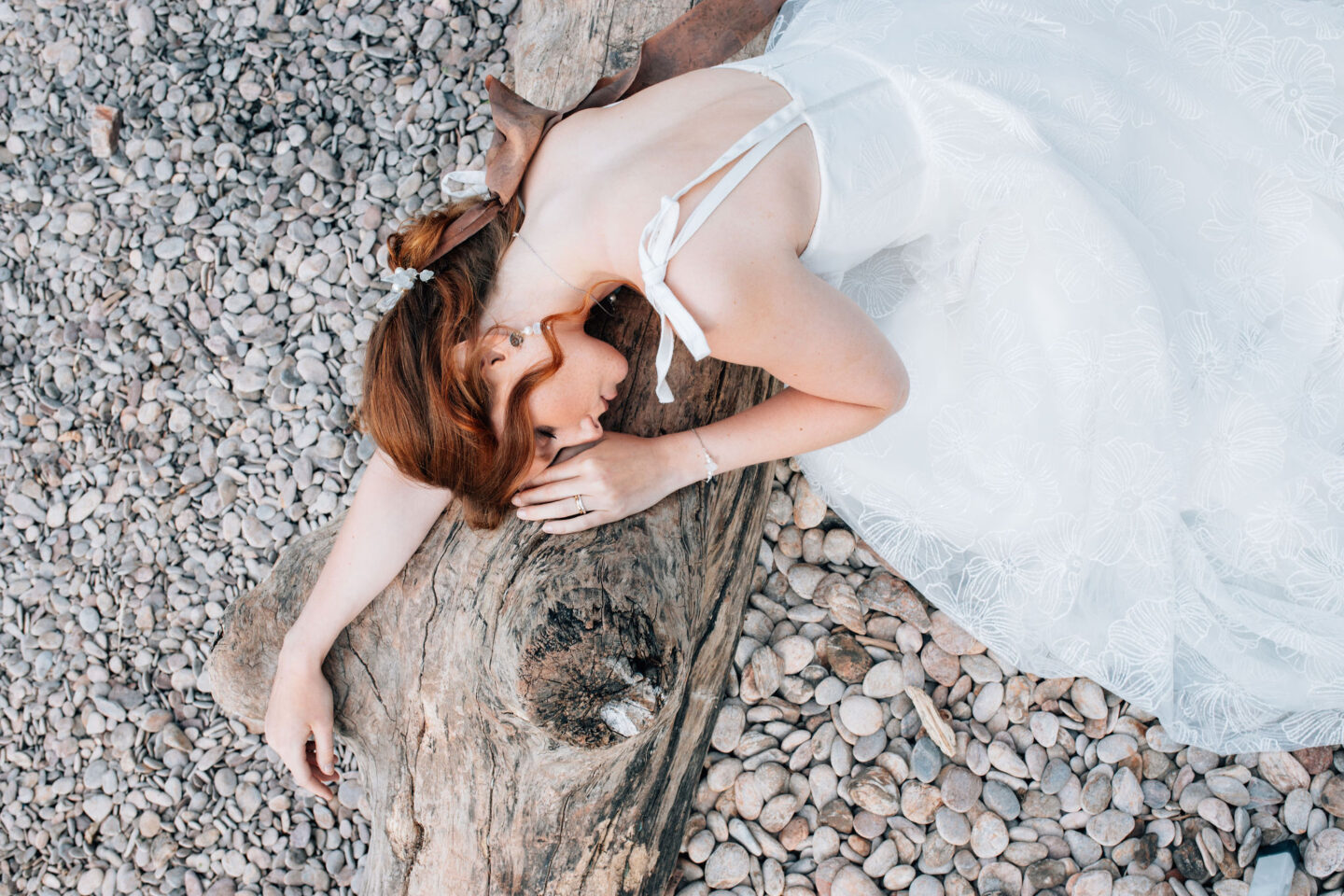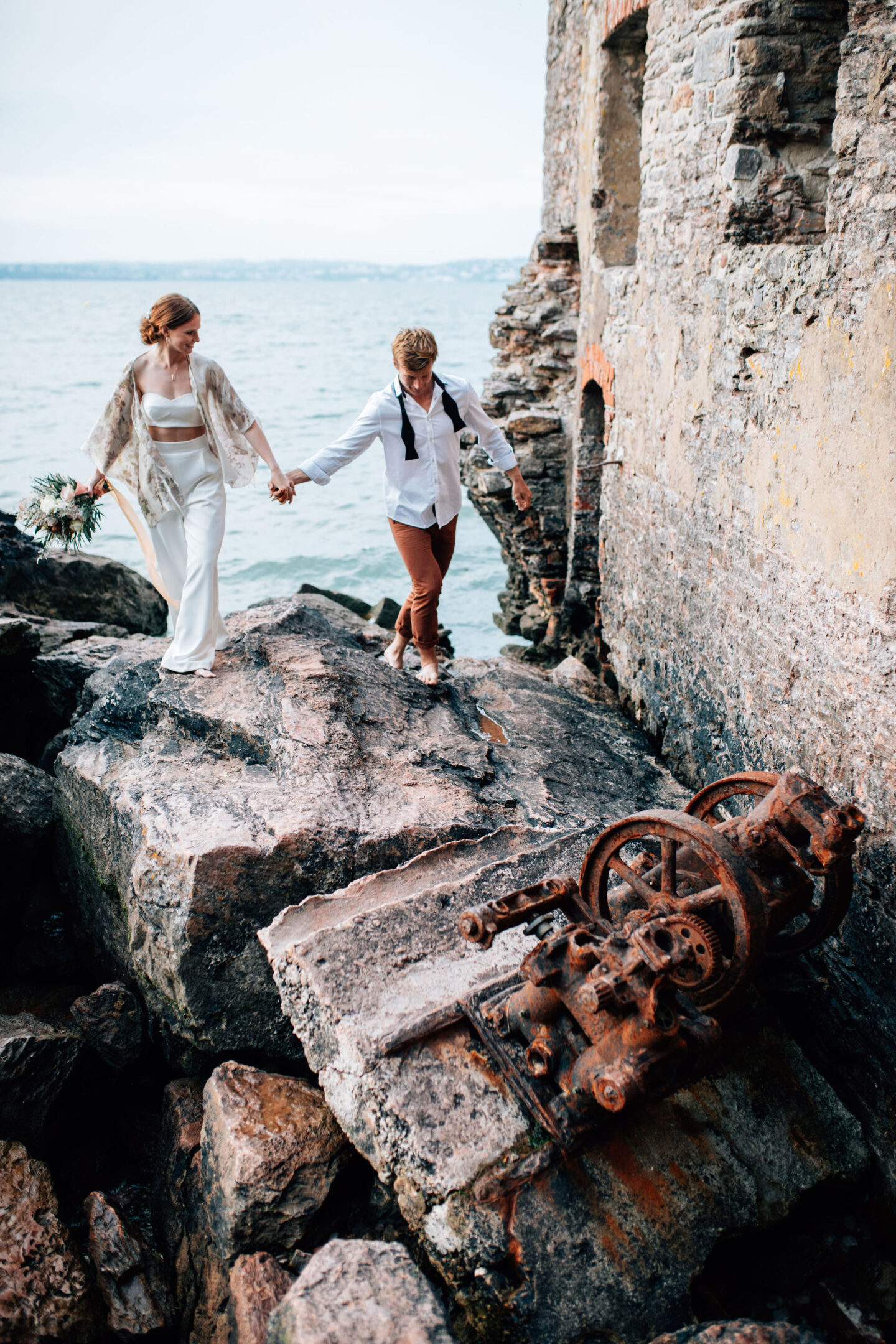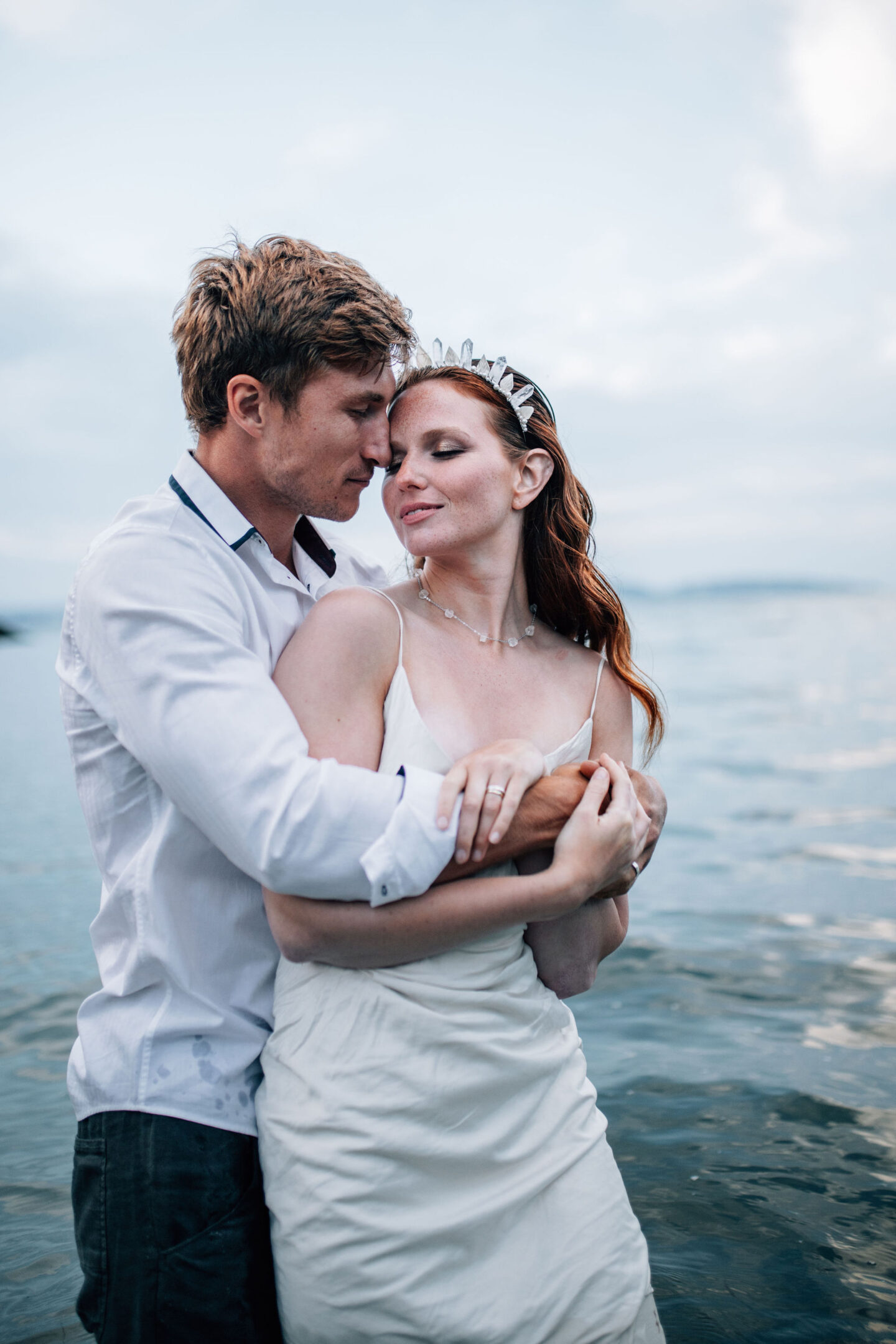 "A selection of hair accessories and jewellery from The Lucky Sixpence's rock and pearl collection was used throughout. These items were chosen to complement the outfits as well as the location. Fresh modern takes on classic pieces such as quartz with pearl pins, layered pearl drop earrings and a mother of pearl with quartz crown gave an edge to our bride showing that you can still reflect yourself in your jewellery choices while keeping them beautiful at the same time."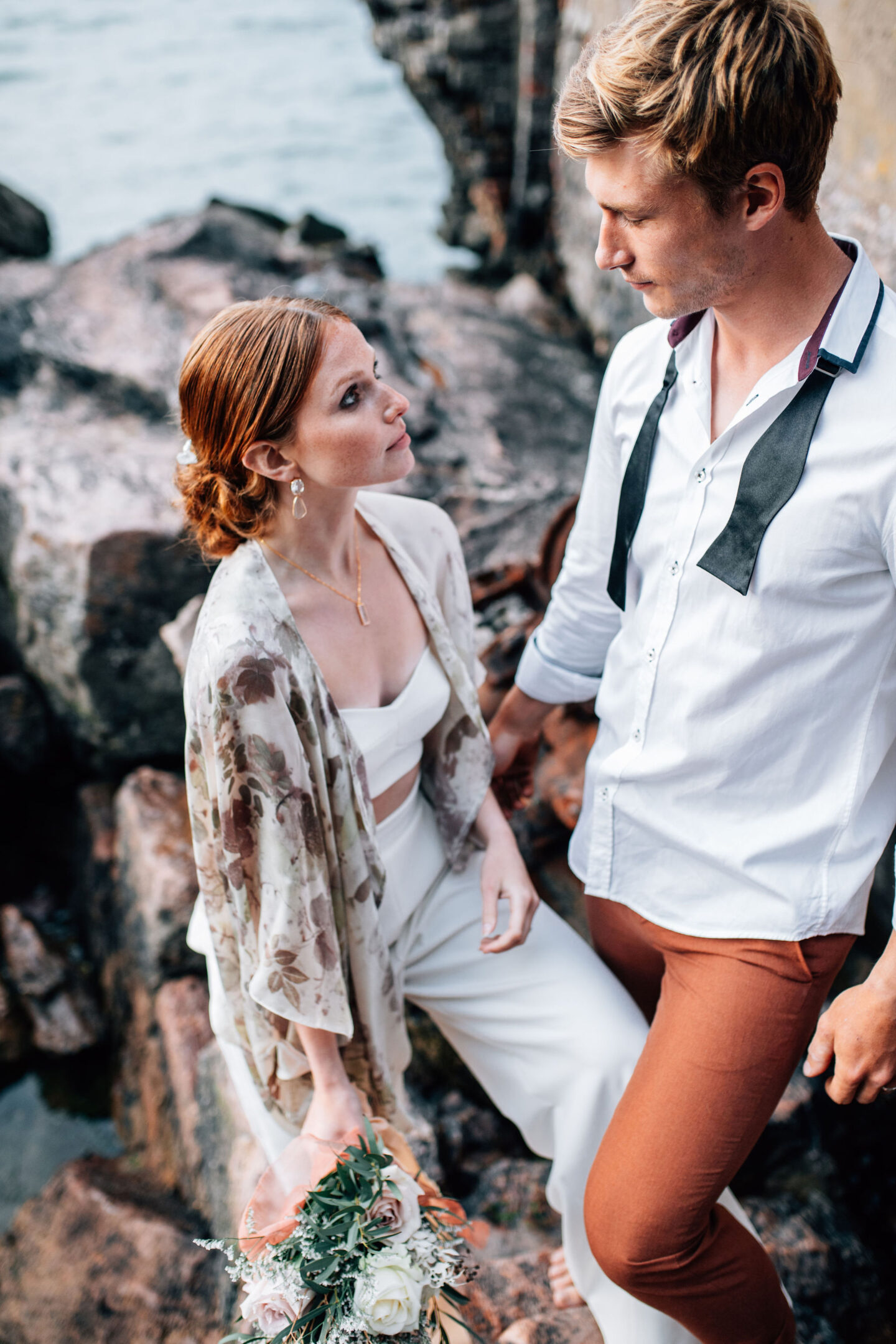 "The groom's look was kept relaxed and modern also. Preloved linen trousers that reflected the colours of the cliffs, and a simple open shirt with an undone bow tie gave a nod to a formal look without being stuffy. Later in the water, he wore relaxed linen trousers."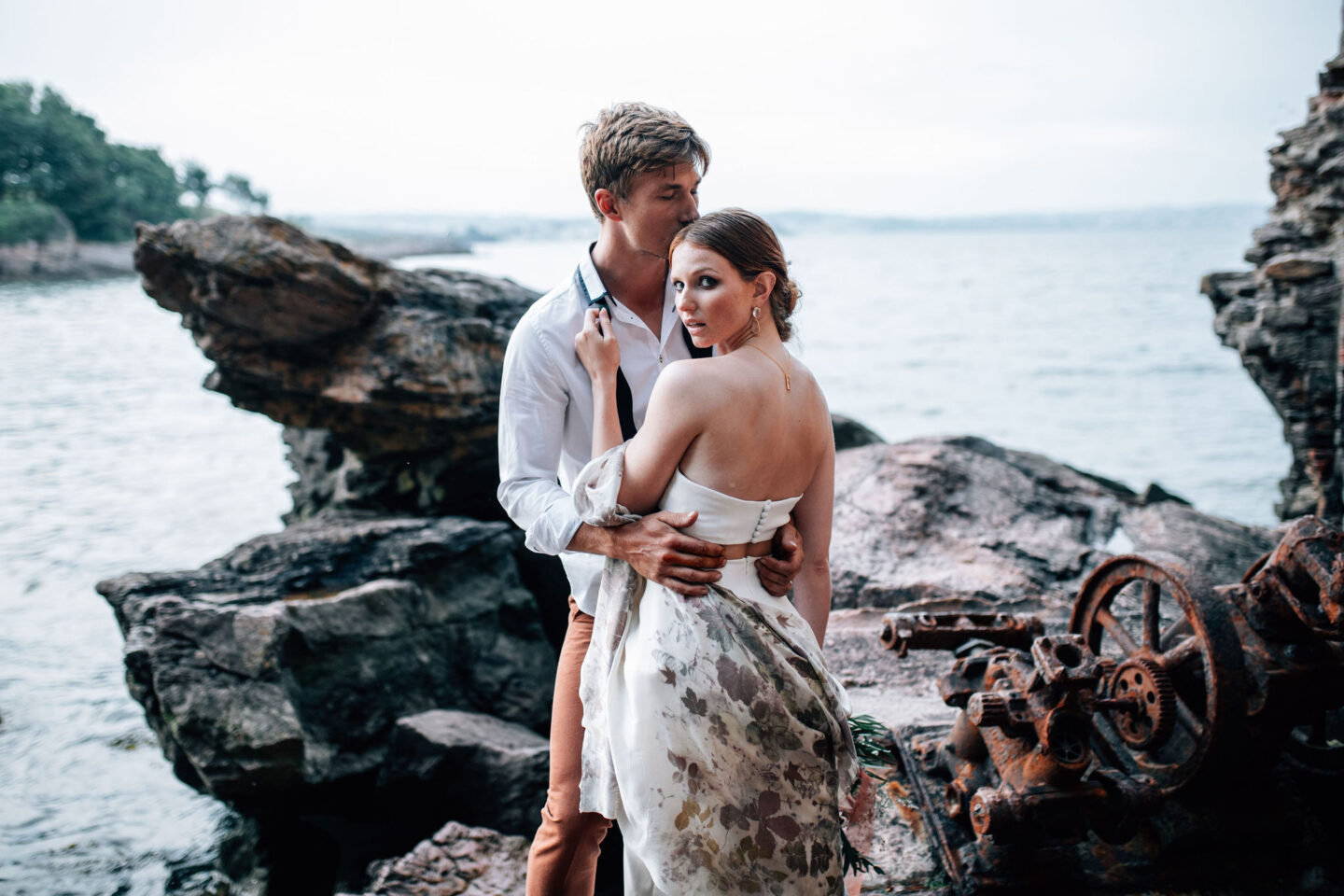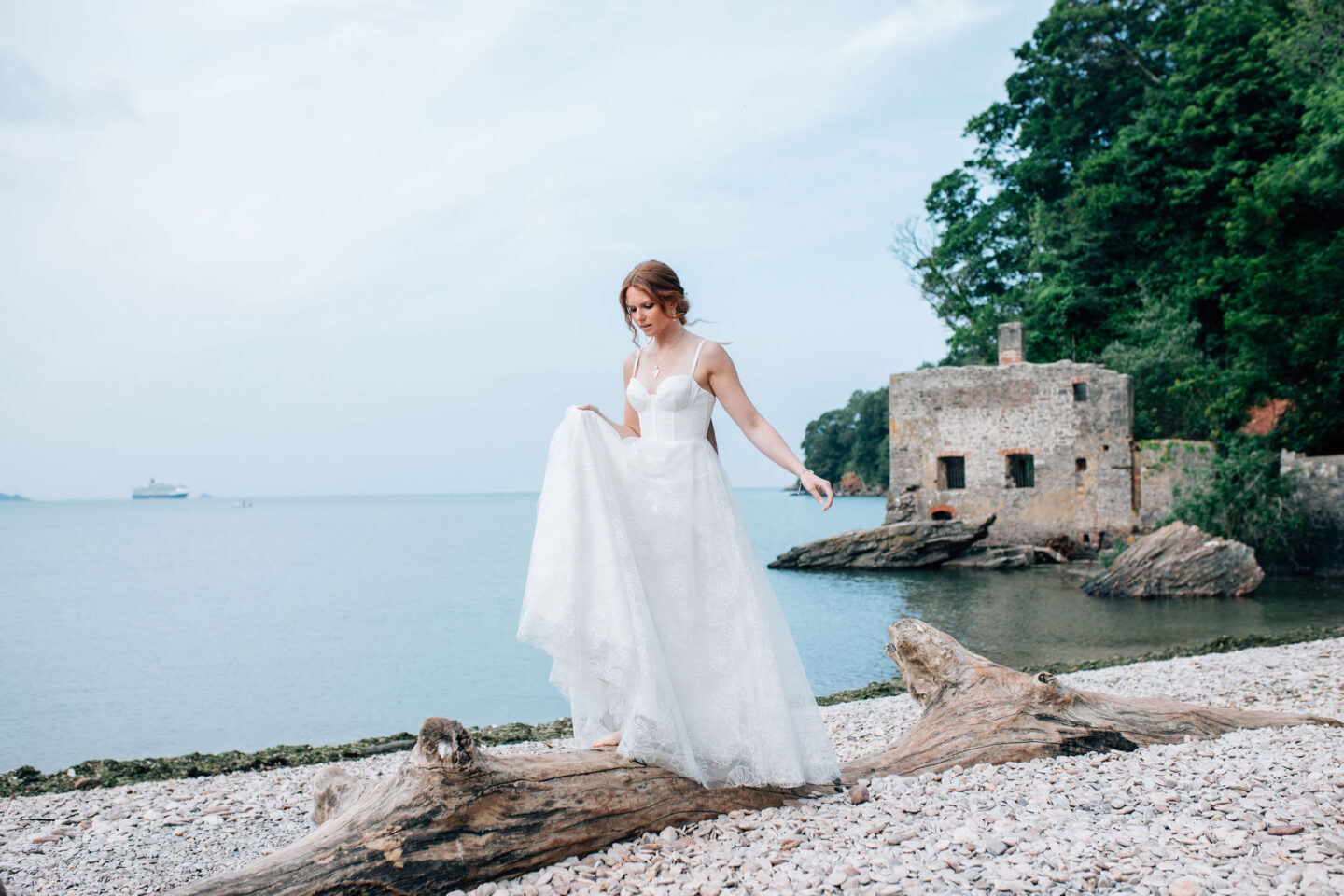 The Ethical Details
"The hair accessories used were from a collection by The Lucky Sixpence who handcrafts every item from her solar-powered studio in Devon. Reworking vintage items, sourcing from local independent businesses where possible and using recycled packaging, Janie tries to remain as sustainable as possible. Creating items that are fresh and contemporary but have an edge allows her clients to create a statement while reflecting their authentic selves. By offering a custom-made service Janie is also able to design and create completely one-of-a-kind items specifically for her clients either sourcing materials as needed or reworking their own sentimental jewellery."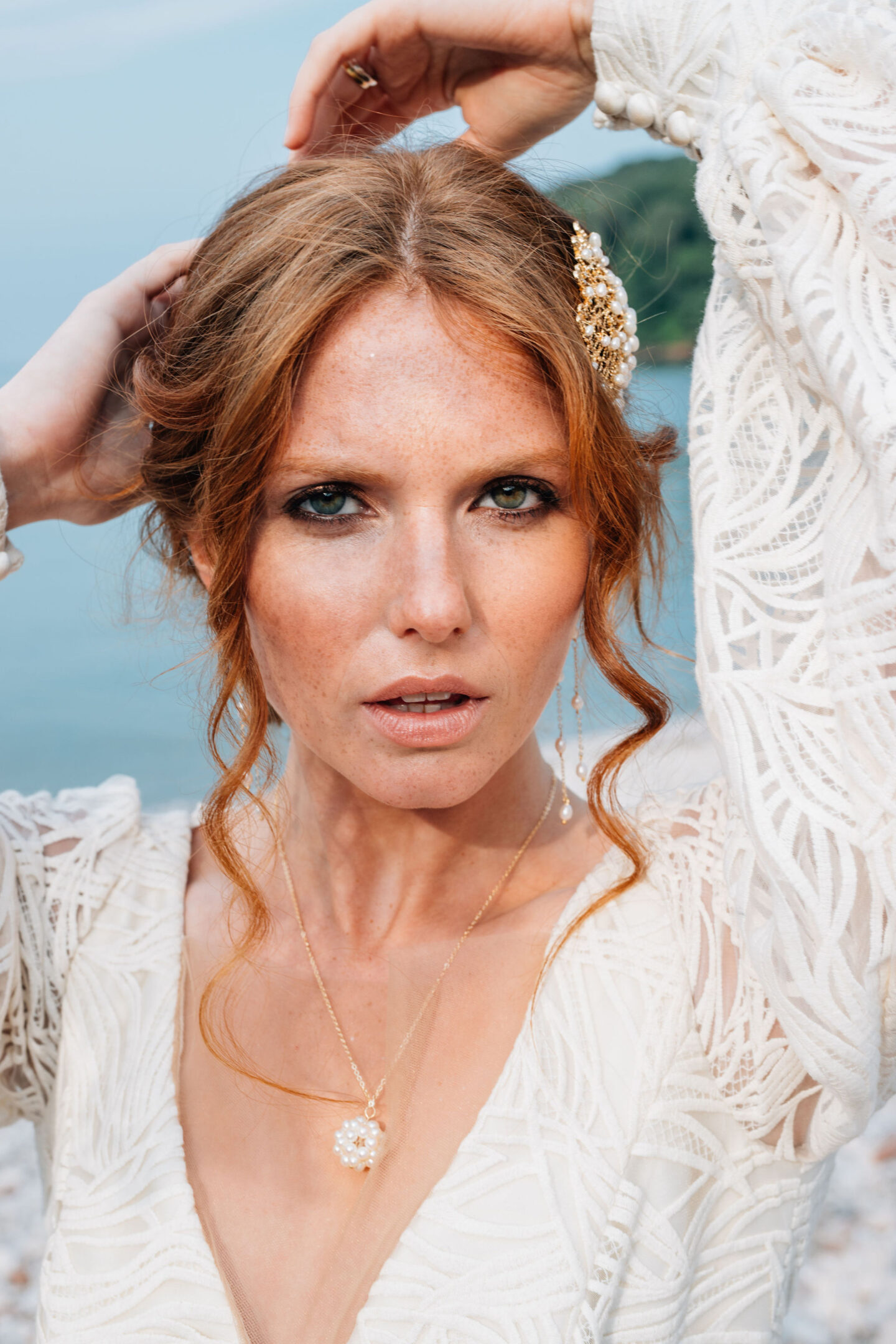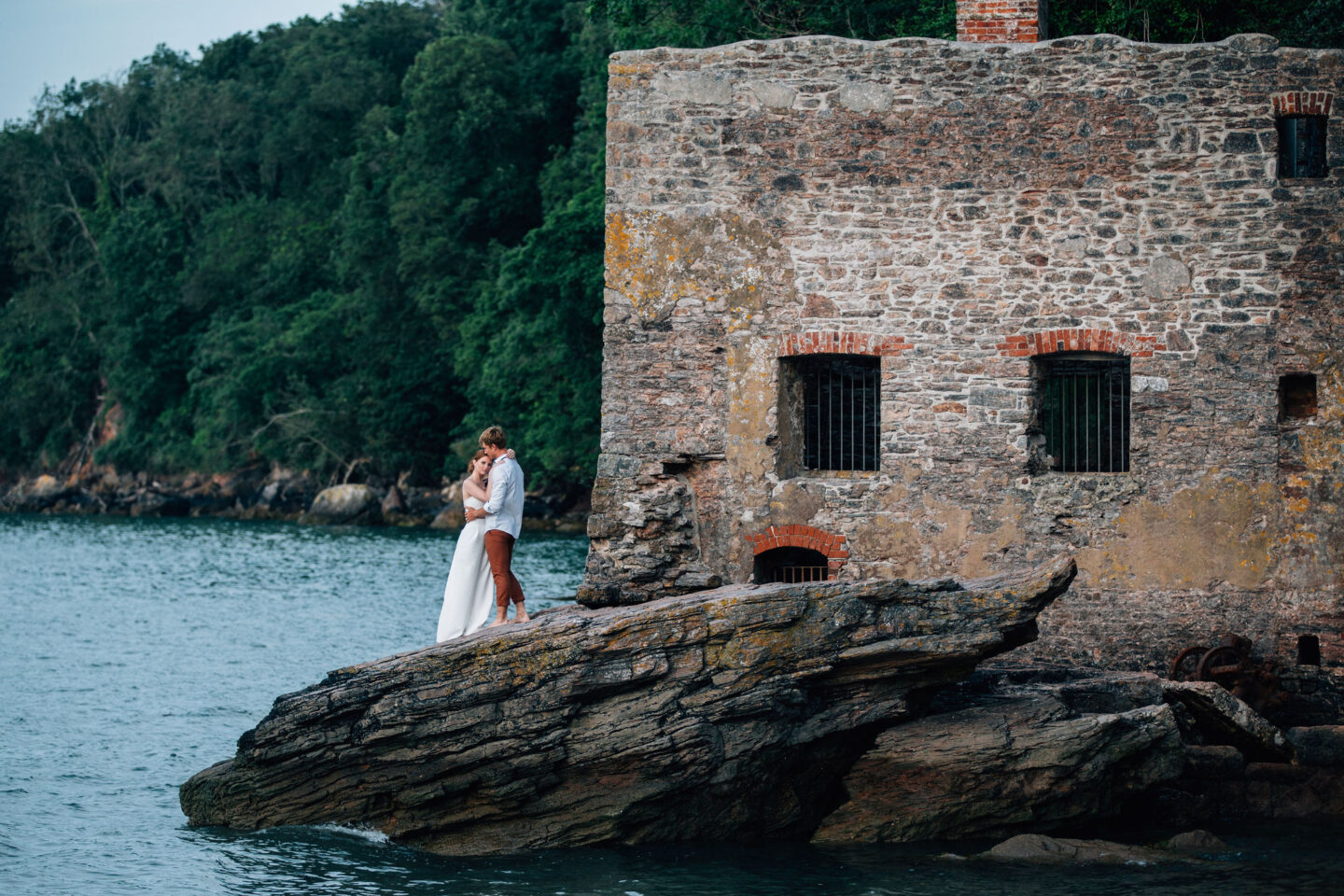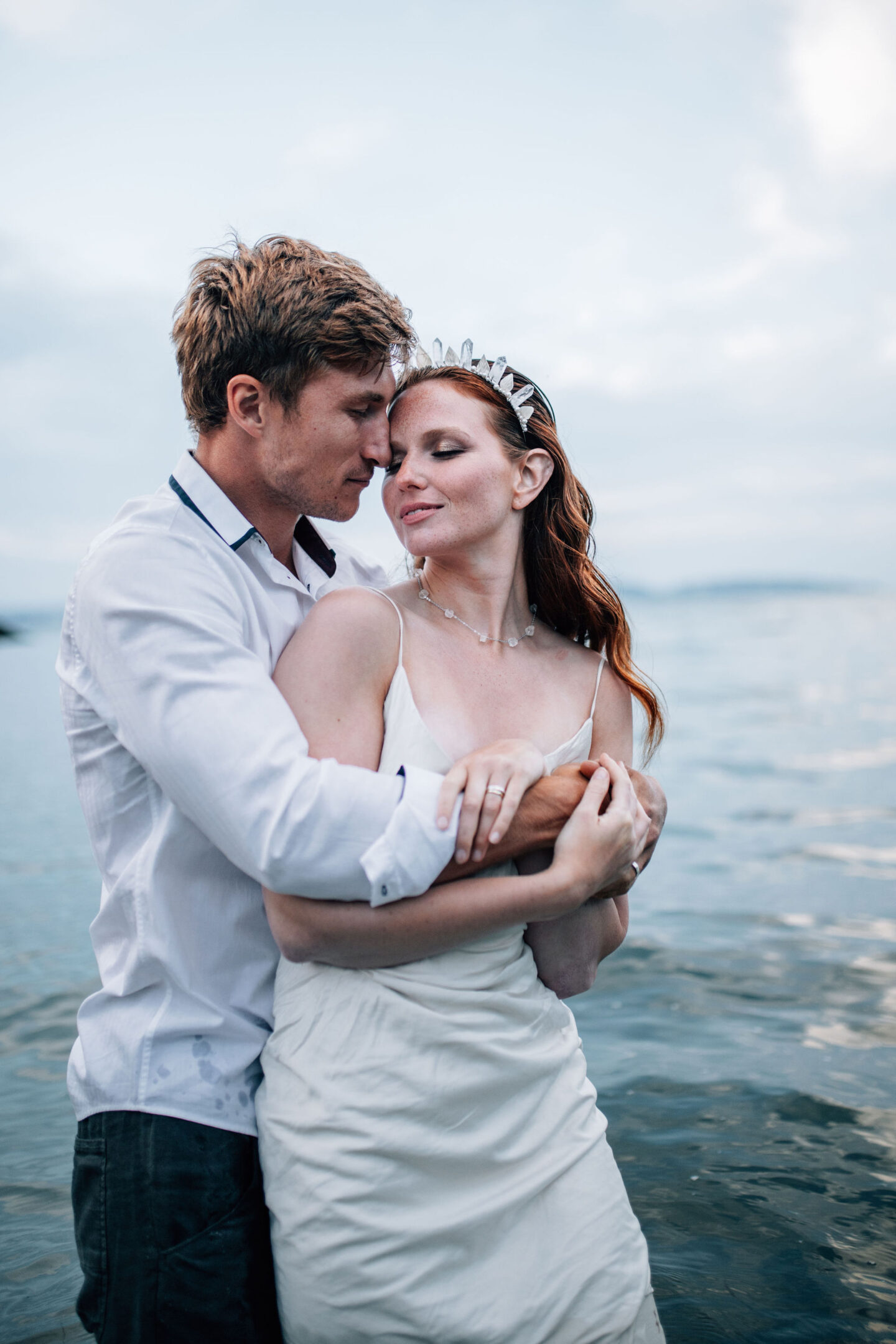 "The wedding rings were handcrafted by independent jeweller Molten Wedding Ring Company, who are also based in Devon. There are 8 unisex rings in their collection. Each in 6 different metal choices. Each ring is created in the UK using recycled gold as the standard. There is also the option to have your ring crafted in Fairtrade Gold or to use your own heritage gold. There are plenty of bespoke options for personalising the rings such as diamond setting, shaping and engraving as well as choosing the finish of the ring. We opted for Molten as the unique texture was perfect for the landscape and the theme of the shoot. We chose to stack a white gold and yellow gold ring together for a modern look."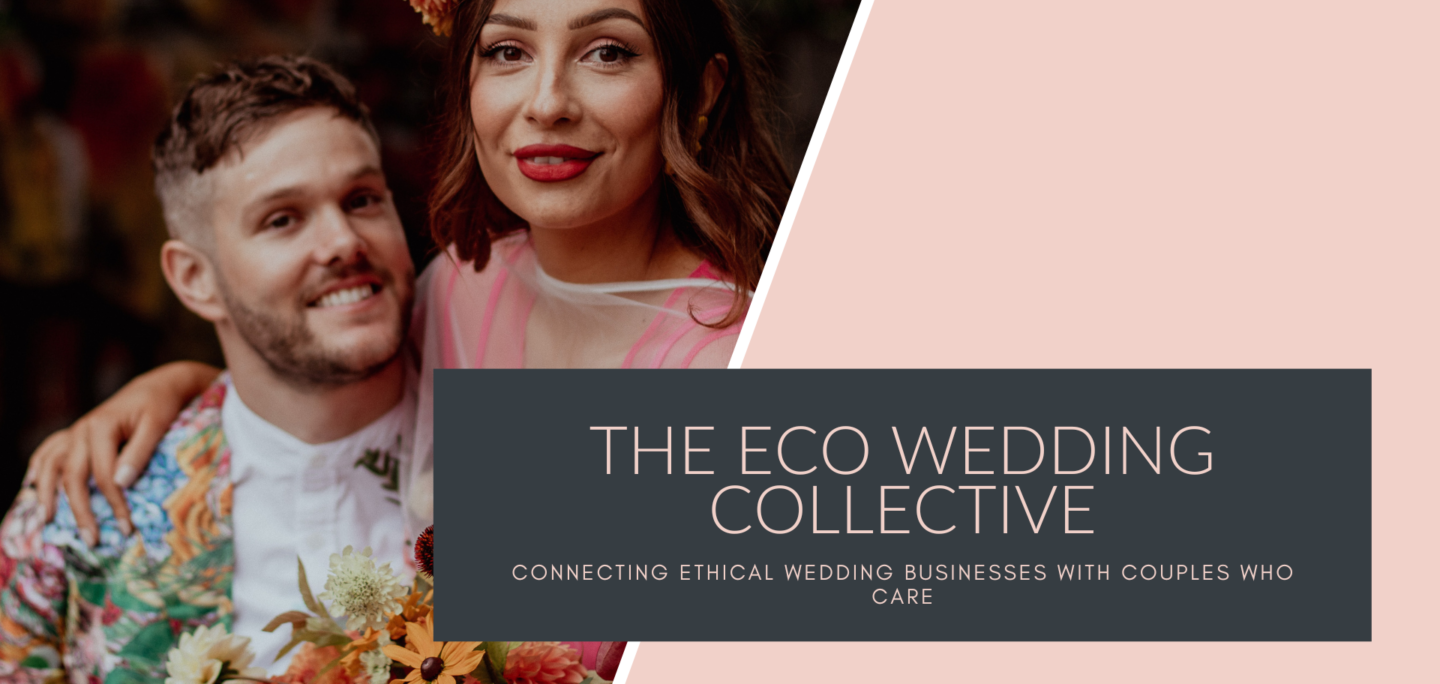 "Daniella at Penelope's Child creates stunning textiles with sustainable organic and non-toxic materials through either plant-based dyes or 'direct dying' with leaves. Working from her Devon-based home she creates unique ribbons and fabrics which are turned into clothing and accessories. We knew Daniella had to be part of the shoot; physically capturing the Devon landscape in her work. Her ribbons were used in the hair and on the bouquet and her custom-made kimono was worn by the model."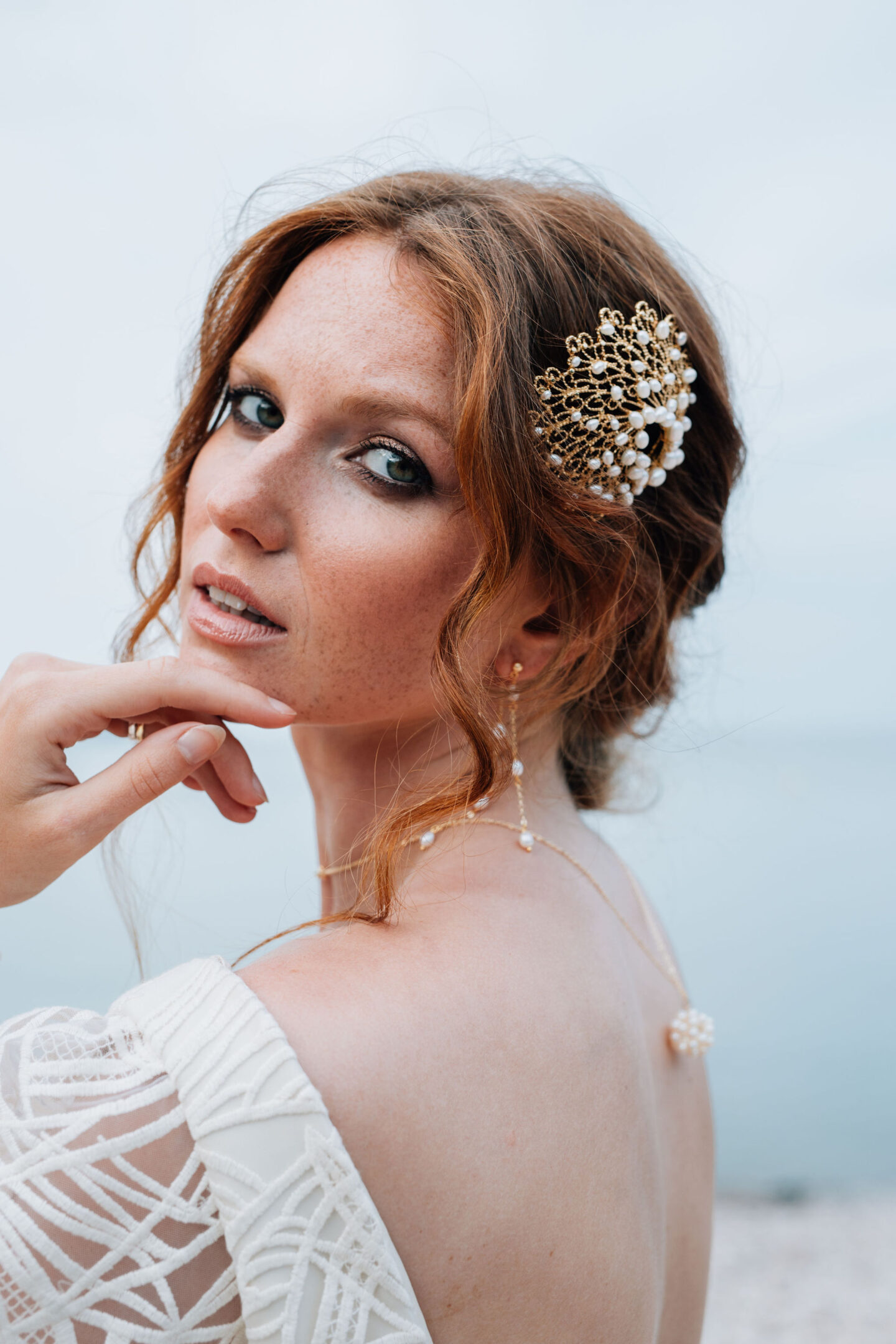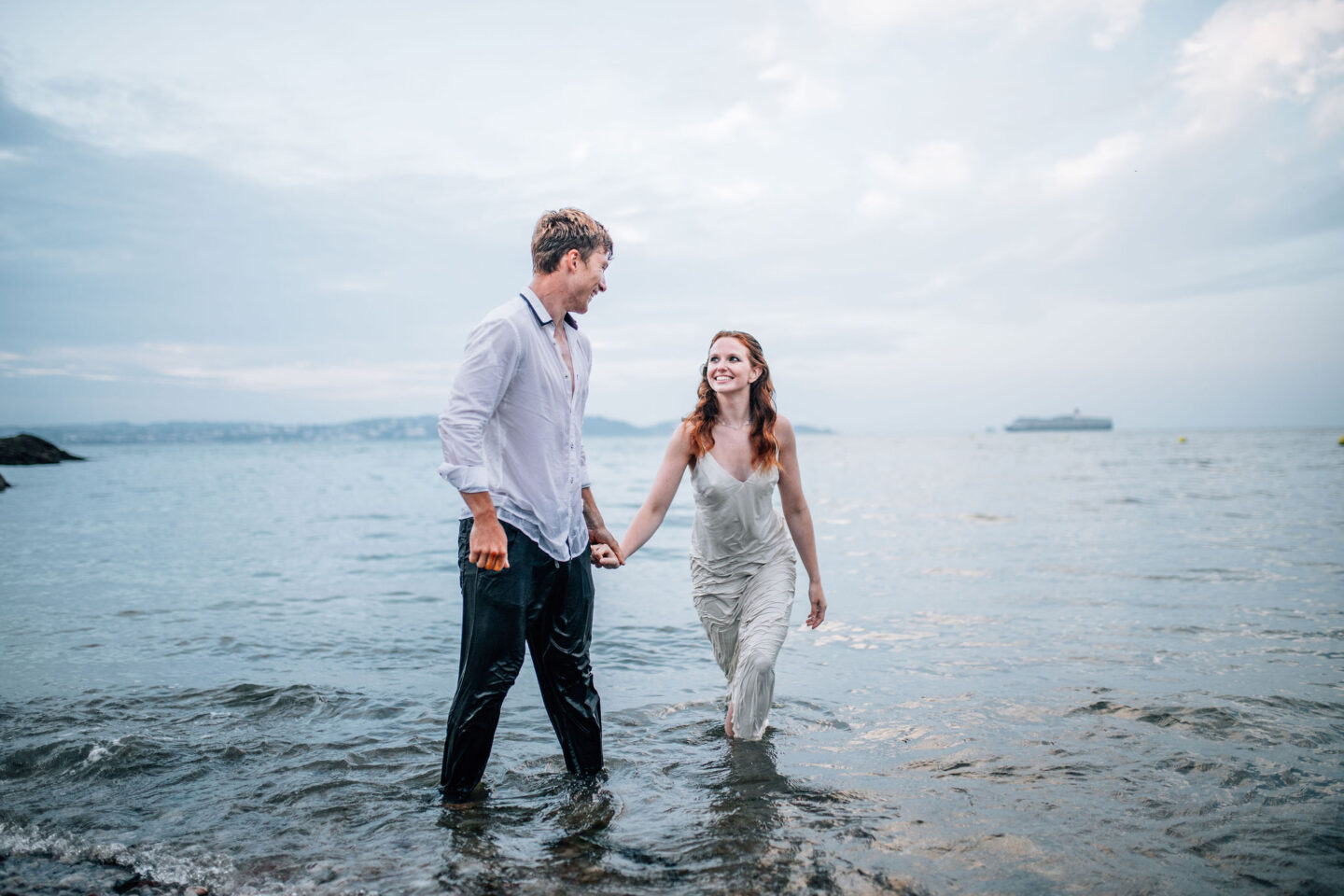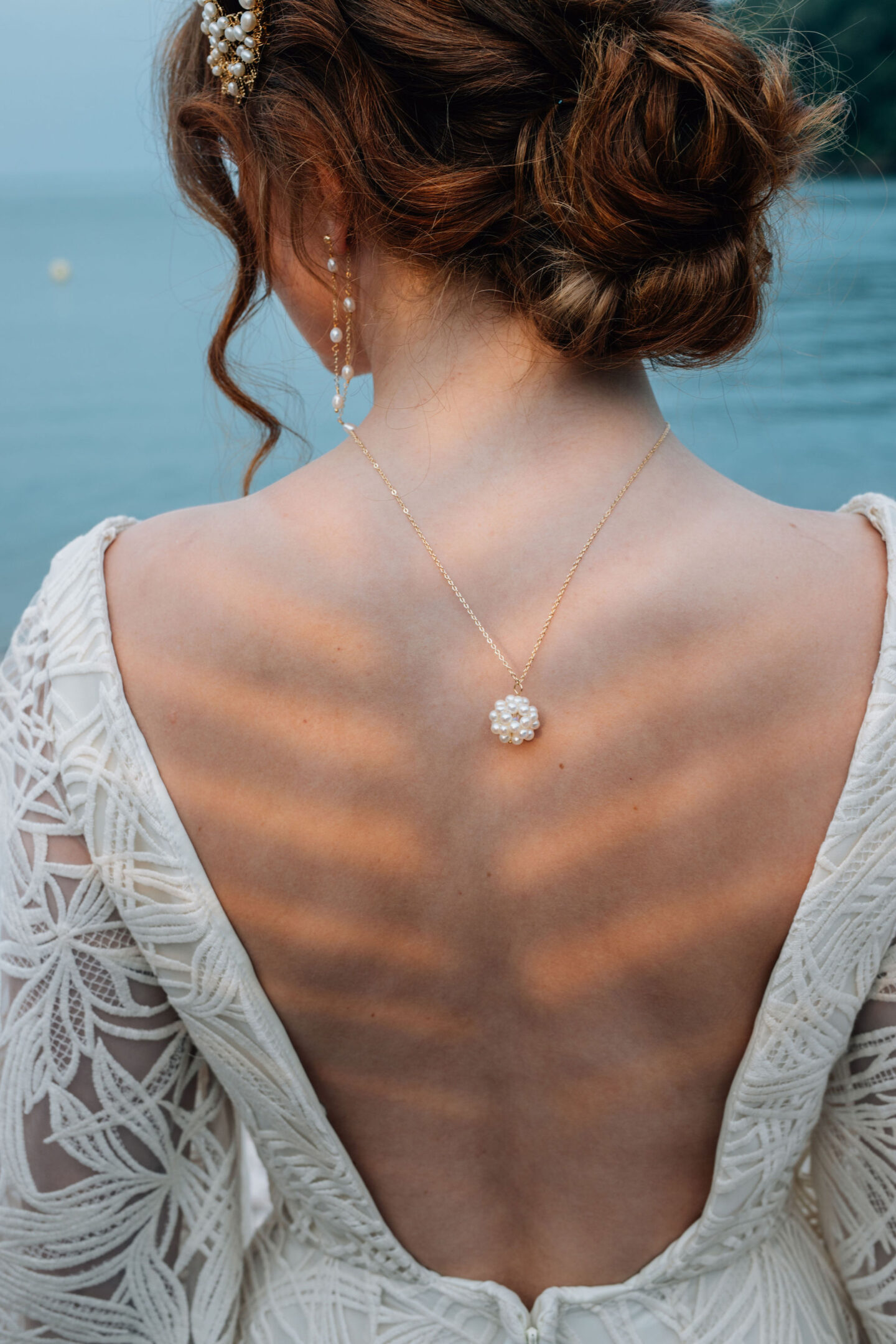 Planning Tips
Maria Madison Photography says; "It is important to look at a photographer's style when looking for someone to capture your day. Each photographer has refined their shoot and edit style so if you want someone who captured bold colours or a whimsical airy look, go for a photographer who does that style. Do not choose a photographer and then ask them to edit in a different way! Go with your gut. Photography is an art so look for photographers whose pictures you would put on your wall. You will be the subject matter of those images and you need to love them. Lastly, get to know your photographer. You will need to click with them as you will be spending a whole day with them. It's important to be comfortable with them."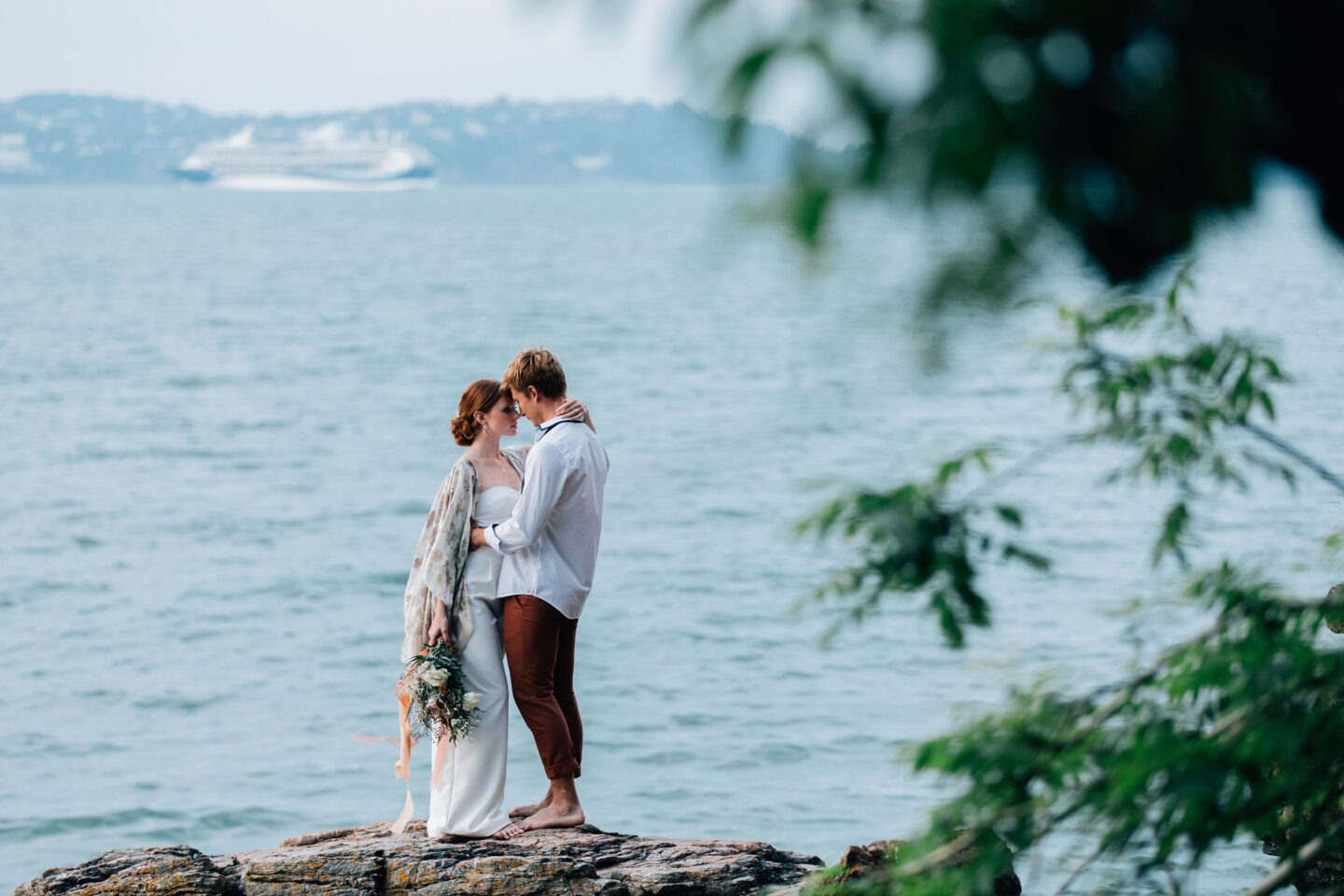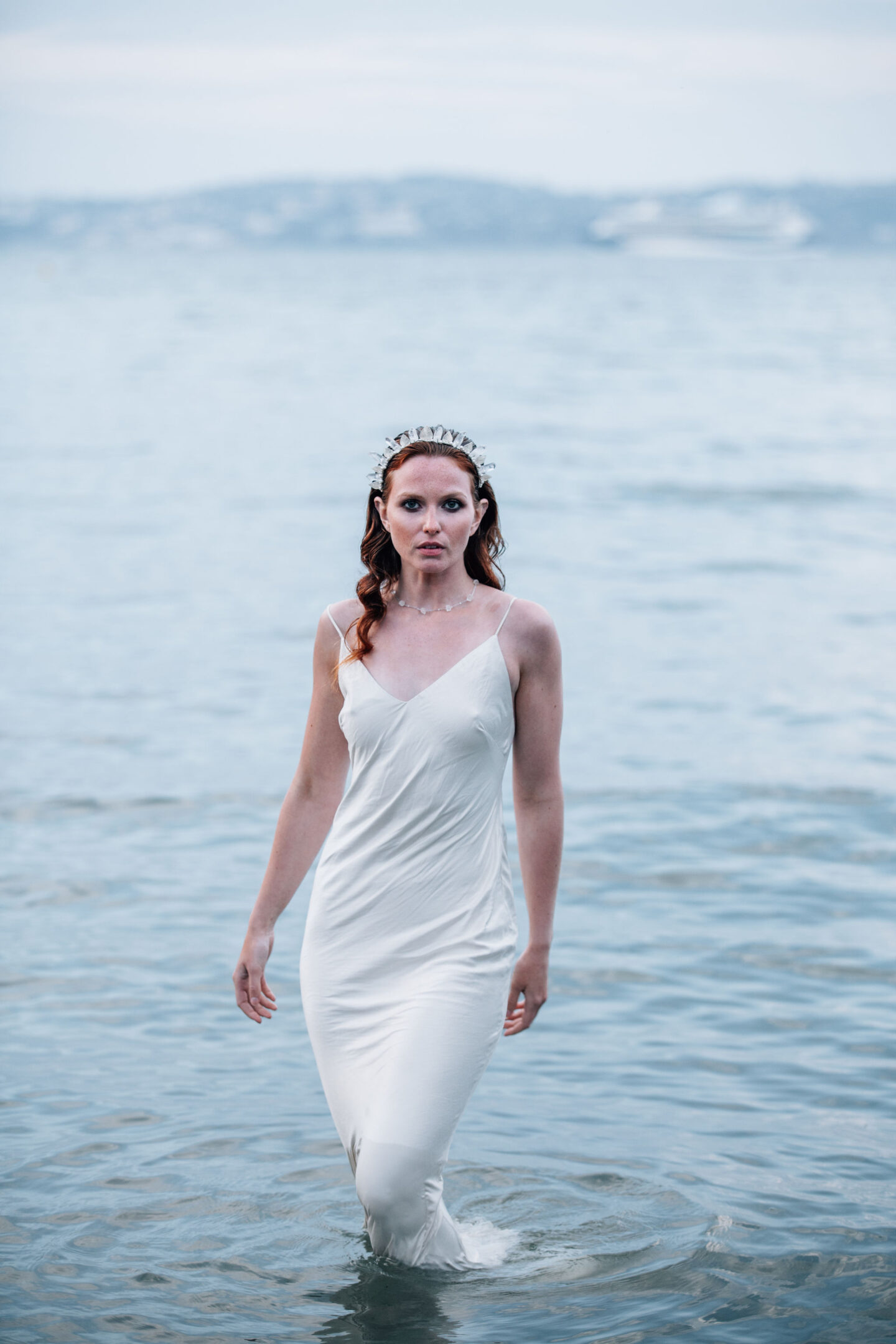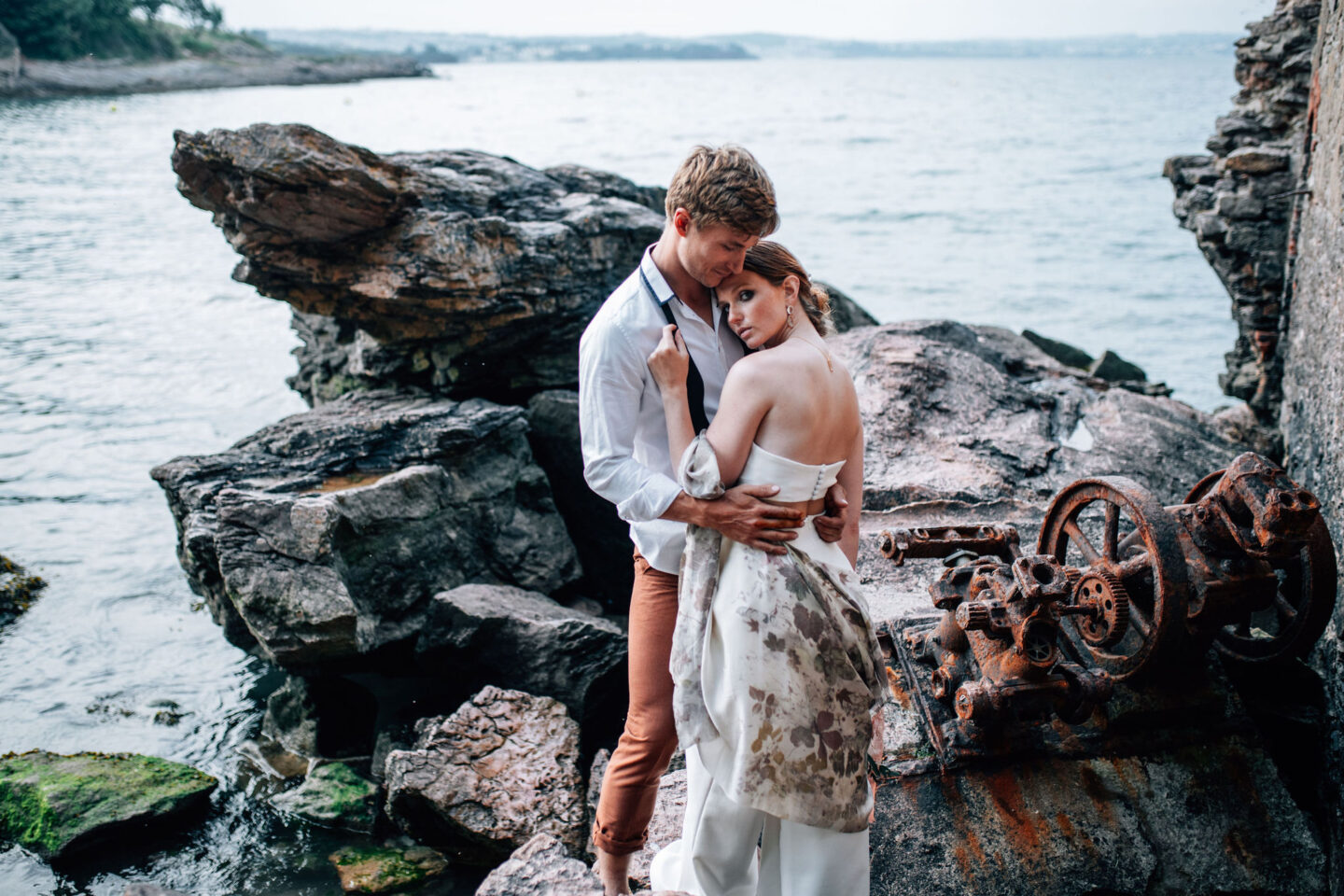 Flowers by Sophie Millington says; For this shoot, we mixed dried flowers with fresh ones to give interesting textures and tones. My top tip when choosing your ethical wedding flowers is to start by searching the web for British flowers for the season to see what catches your eye. Have an idea about the budget as we can work with that to ensure the 'must have pieces' are covered and then discuss extras with any remaining budget. Lastly, order arrangements that double up as gifts for loved ones for example table centres or reworking larger displays into bouquets
Photography Maria Madison Photography @mariamadisonphotography
Hair Accessories, Jewellery and Coordination The Lucky Sixpence @thelucky6pence / Videography Tristan Adams @trisadams/ Wedding Dresses Dandelions and Pearls @dandelionsandpearls / Hair Natalie Nichols Bridal / Makeup Emma Roberts Makeup @emmaroberts.mua / Silk Ribbons & Kimono Penelope's Child @penelopeschild / Flowers Flowers by Sophie Millington @flowersbysophiemillington/ Wedding Rings Molten Wedding Ring Company @moltenweddingringco/ Models Emma @emmafalcon22 and Lance @lanceashton
IF YOU LOVED THIS BEACH ELOPEMENT PIN IT FOR LATER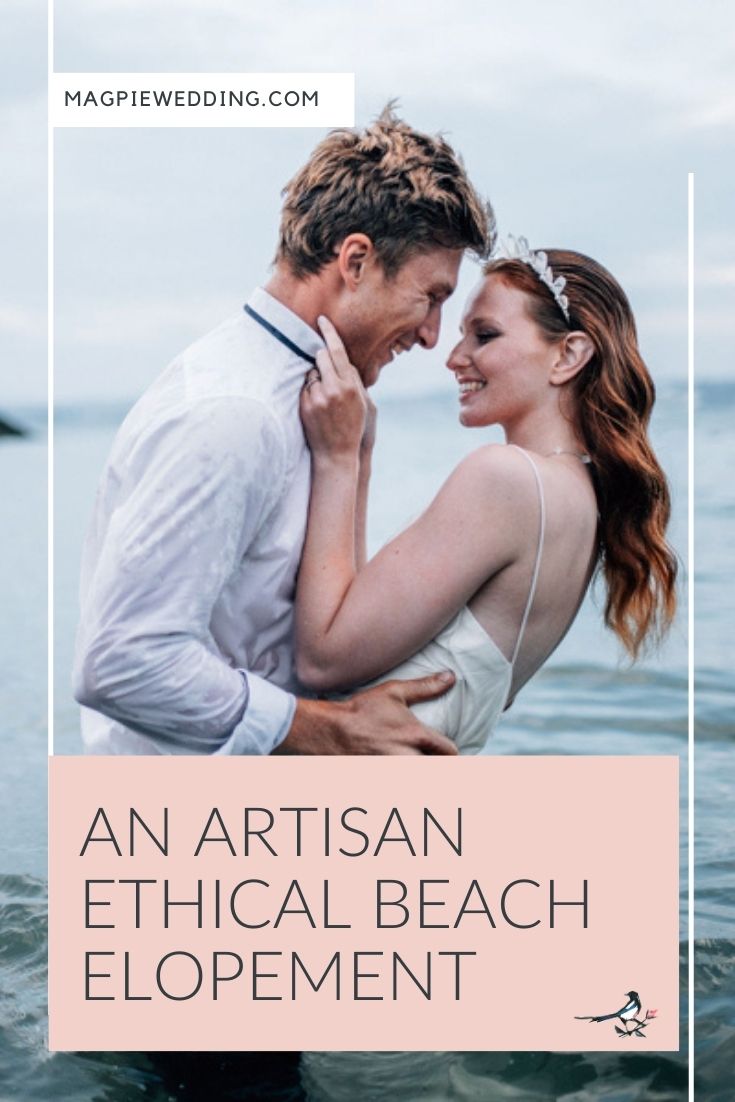 If you loved this luxury beach elopement you may also like;
7 Tips for Planning an Intimate UK Elopement
Alternative Coastal Beach Elopement With Boho Vibes At Eype Beach Dorset
An Elopement Beach Wedding With Intimate Vibes & Pre-Loved Wedding Dress