This boho woodland wedding with ethereal vibes is sure to give you lots of inspiration for your big day, not only does it have two beautiful wedding cakes and the most amazing boho wedding dress it's set in picturesque woodland and it's giving us all the feels here at Magpie. Here we catch up with Ellen shoot coordinator and stylist, and the rest of the team to find out how they created this boho woodland wedding, and there's some top tips along the way for all you brides-to-be!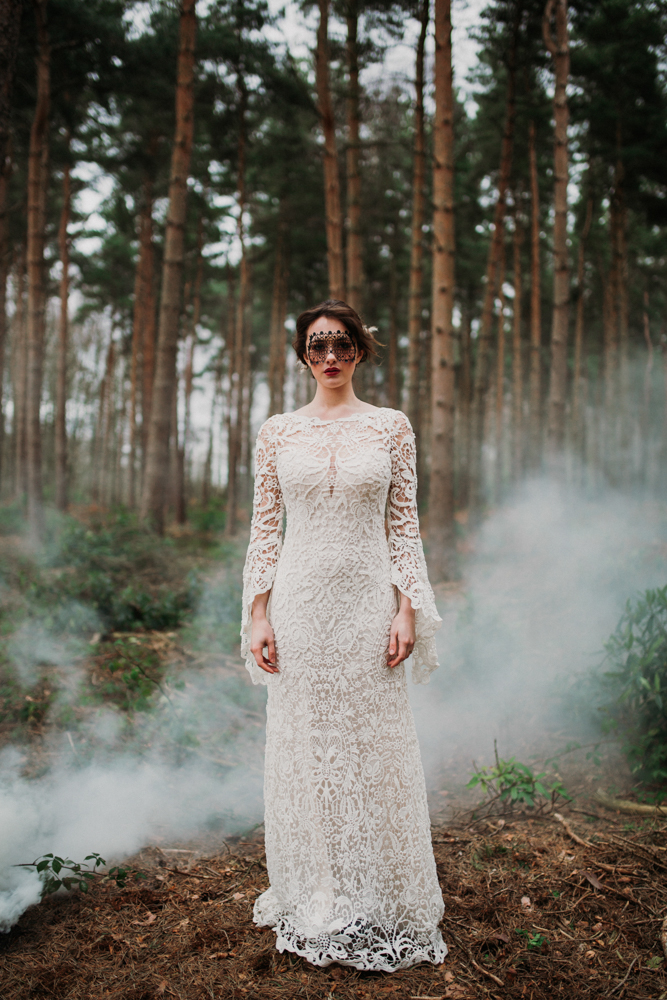 "At the back end of 2018 I (Ellen) was approached by photographer Victoria Baker who I'd had the pleasure of working with a few years back at a wedding. She'd liked another shoot I'd done and thought our style was compatible, asking if I'd like to do one with her. Victoria had some great ideas on a mood board and was looking for some woodland to fit the bill."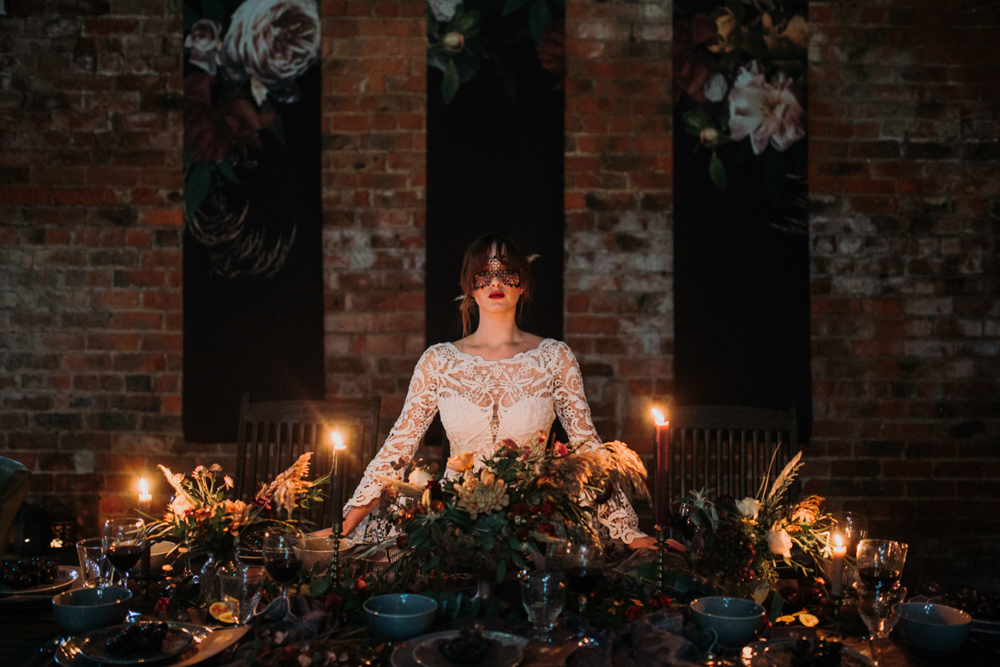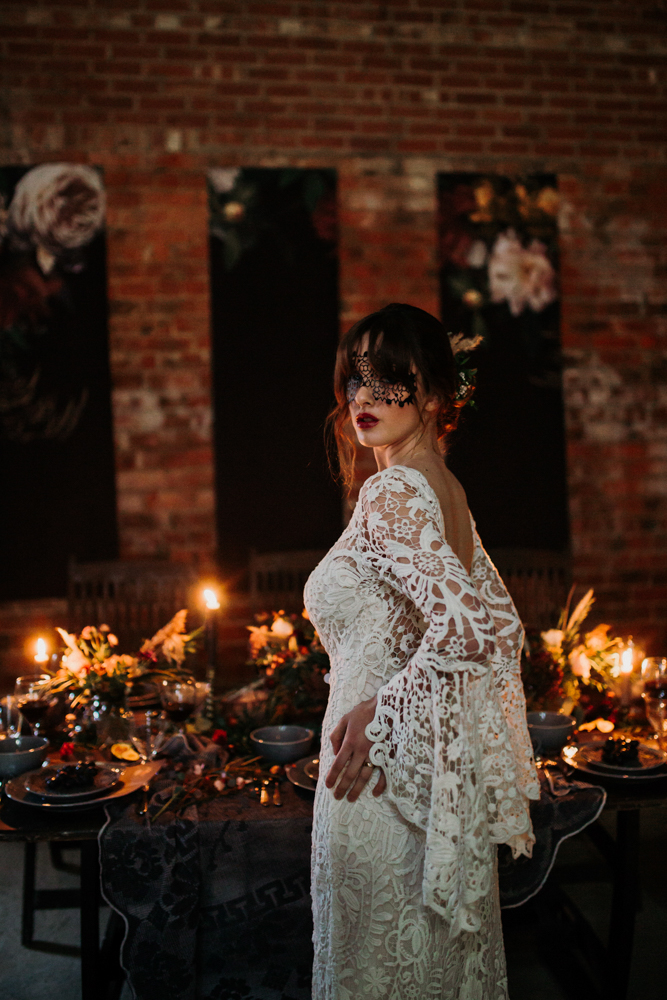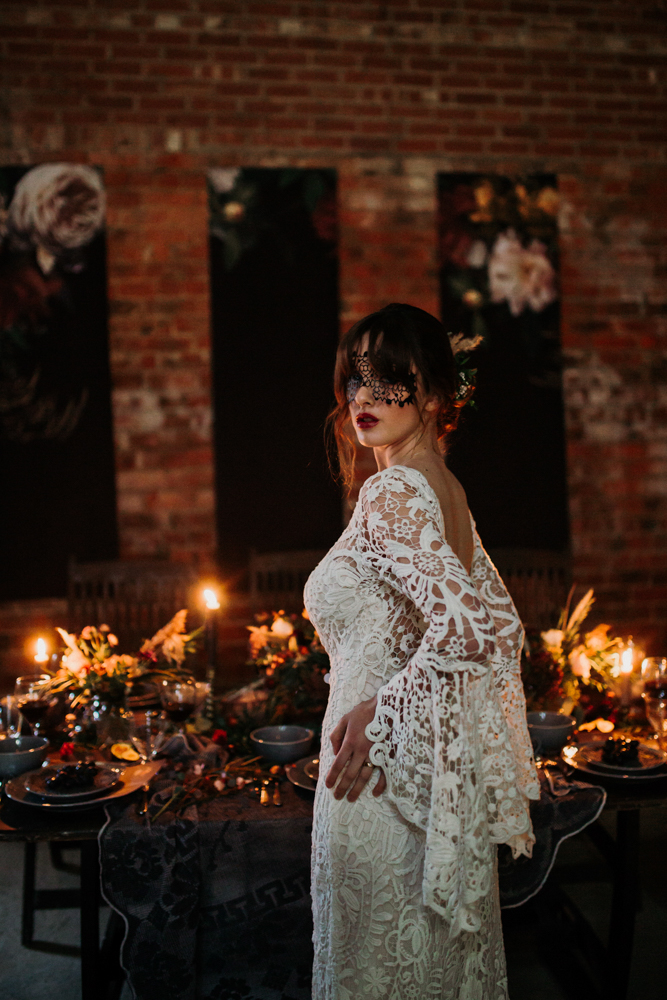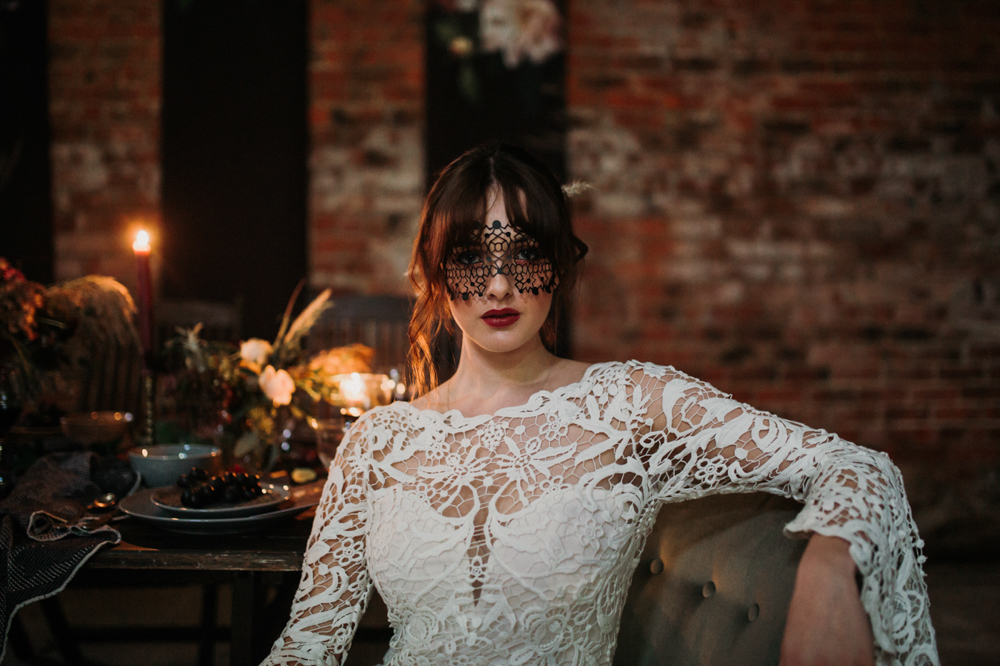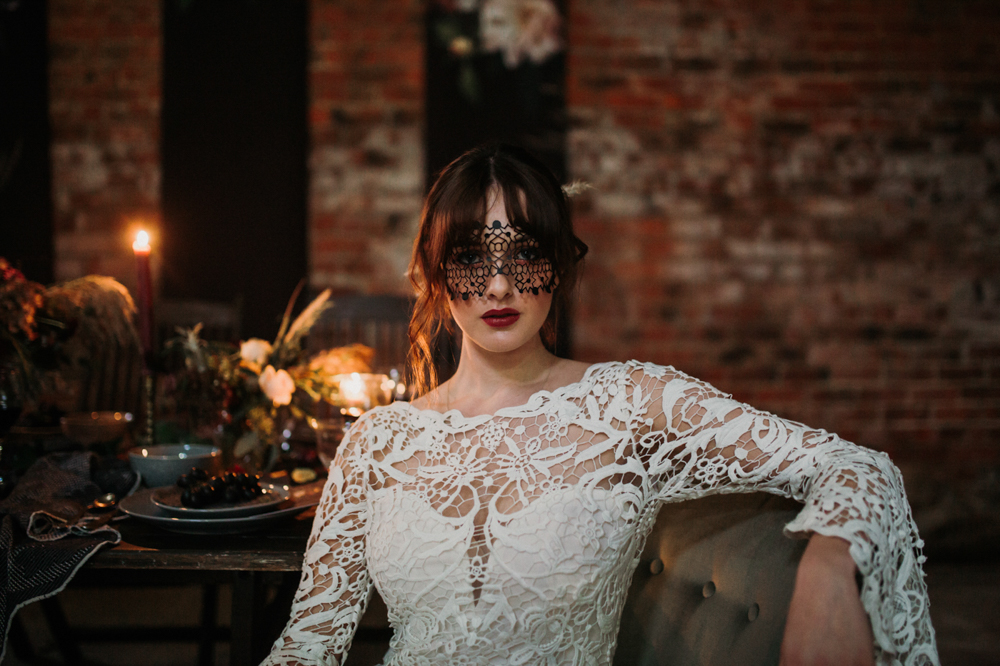 "At the same time, I was looking for a venue for some clients of mine so met with venue owner Charlotte Rooke to see if her farm might fit the bill. She'd only moved into the property a year ago so things were not ready to advertise but she very kindly welcomed me down for a visit. Whilst I didn't think it fit the look my clients were after, I am an absolute sucker for a barn venue and this one was surrounded by woodland so I asked if we'd be able to use it as the shoot location."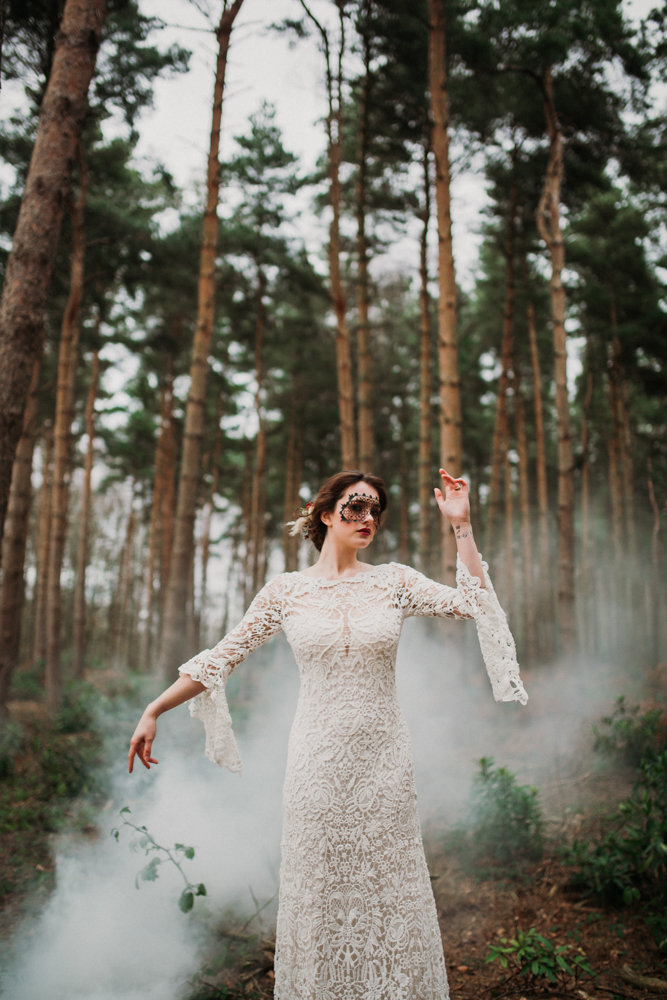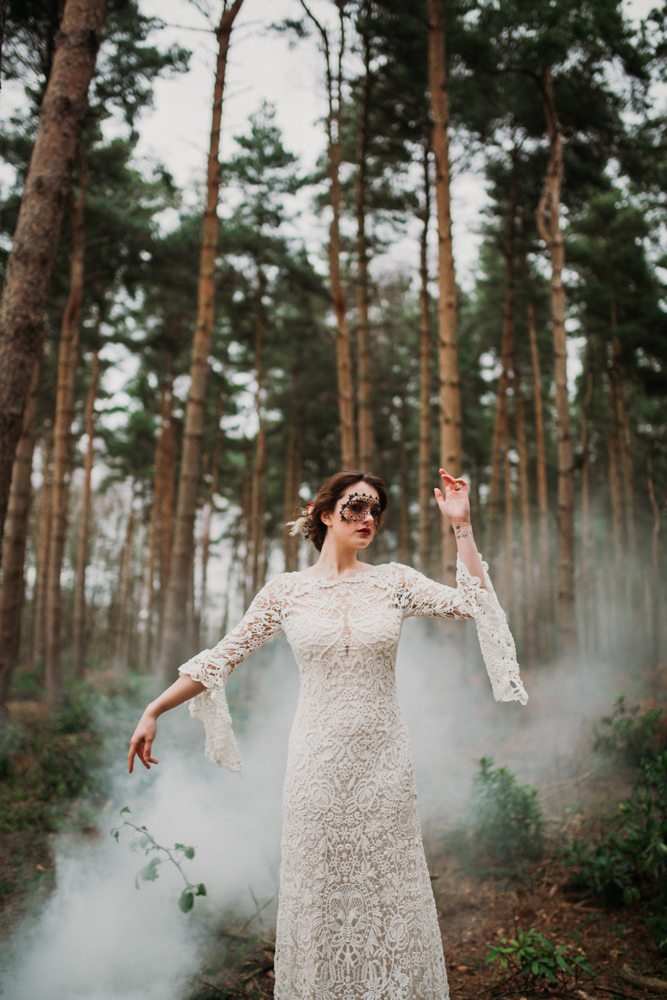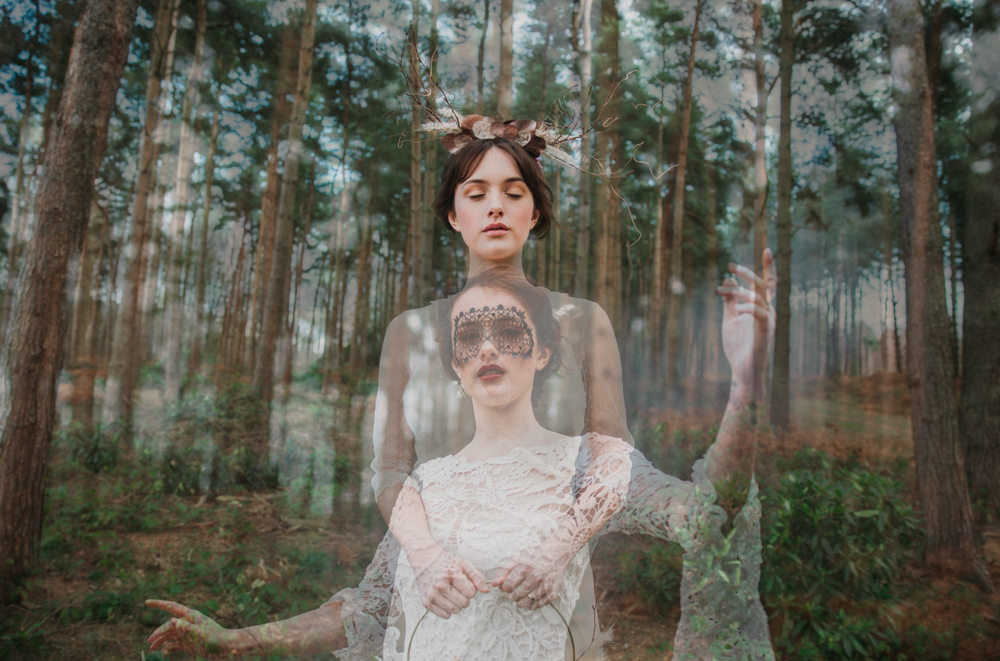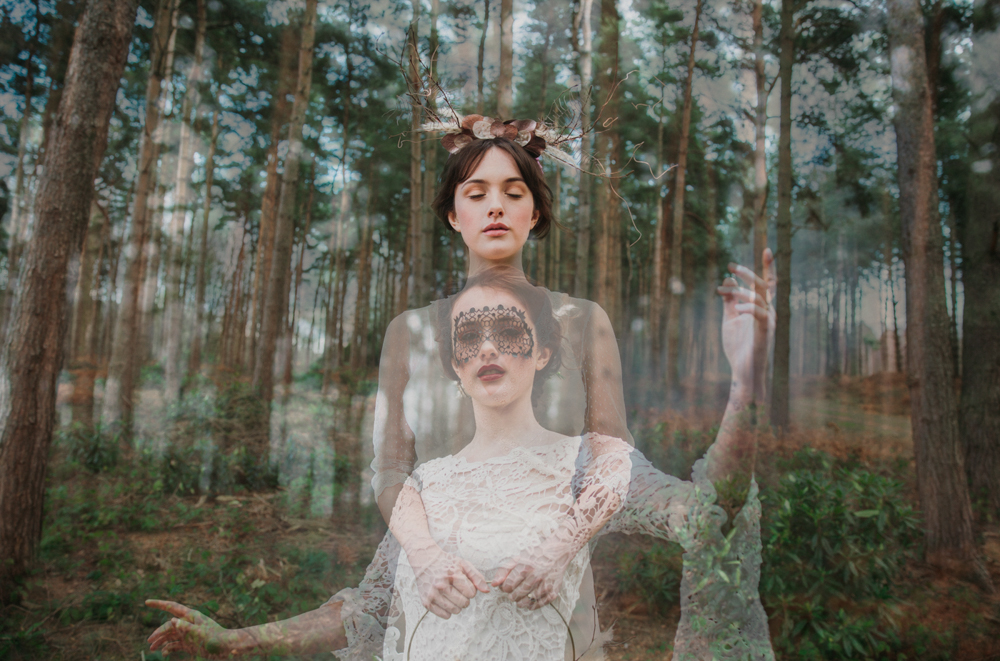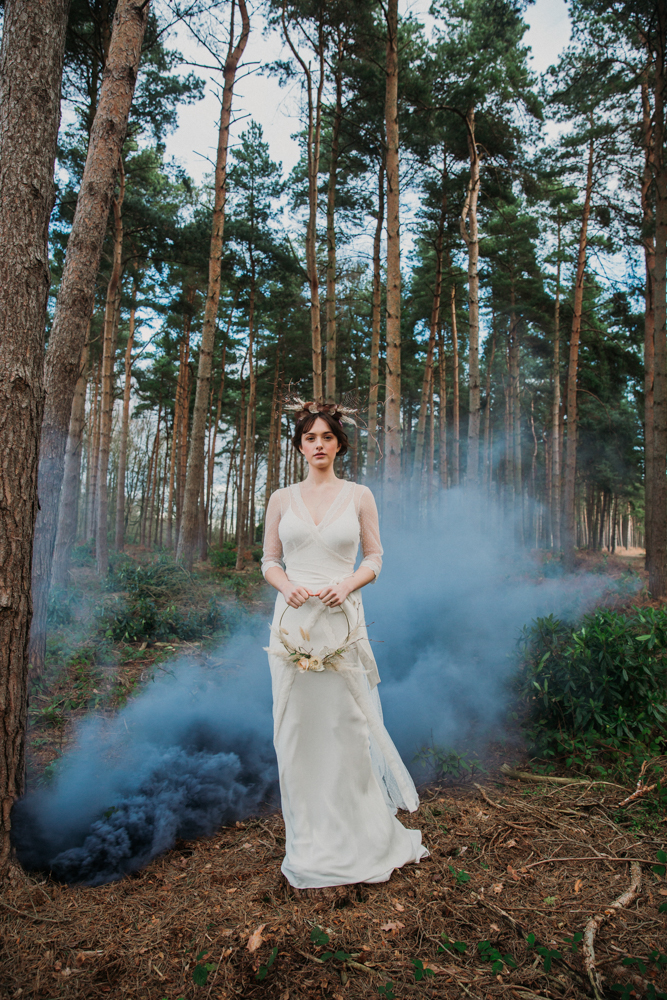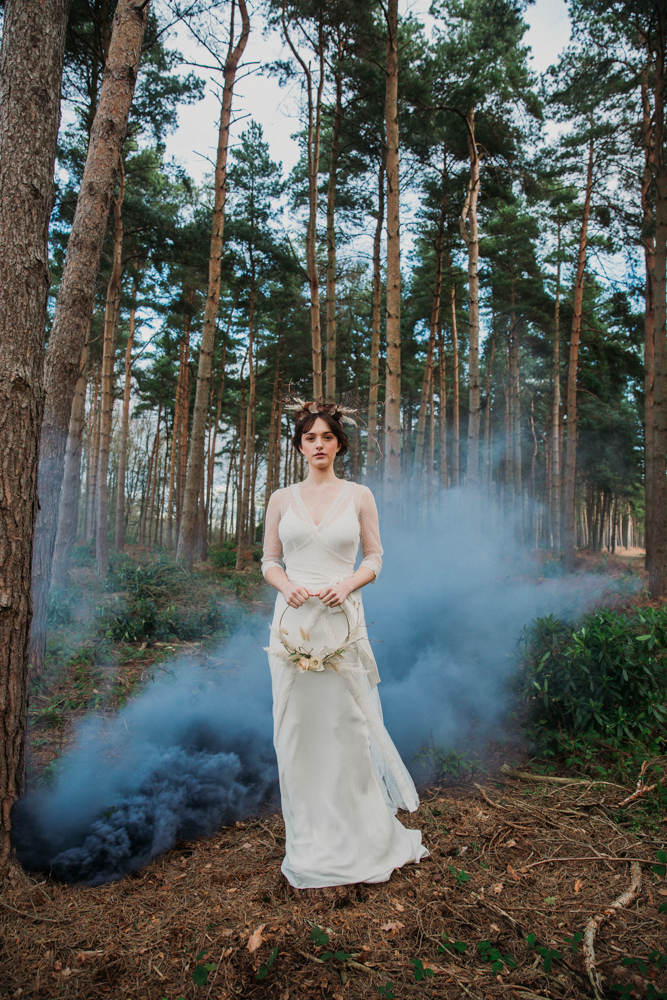 "Based on Victoria's initial ideas, I added to the mood board and came up with the concept of a split style personality; your light, angelic, serene side versus your moodier, darker more mystic side as I think there's a bit of that in all of us; We like to change our images from one day to the next and of course our moods can change so it was trying to show this in a beautiful visual representation. You will see in the double exposure images, the bride is battling with which personality she should go for with her dark side escaping mid-shoot, and then absorbing back in at the end!"
"I was keen for it not to be too gothic but the focus definitely being on the mystic look you could associate with hanging out in the woods."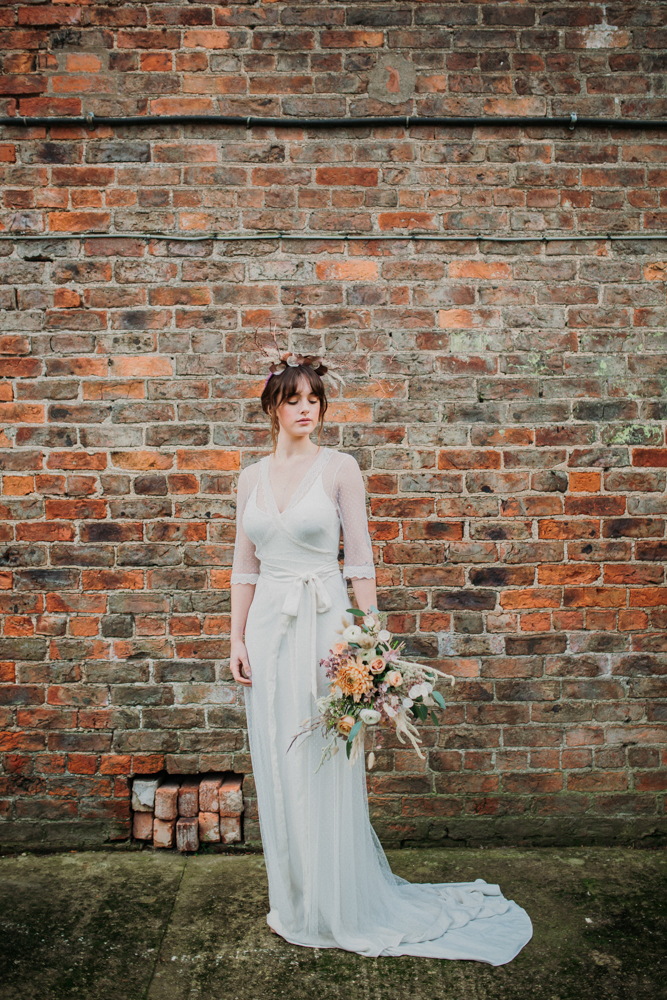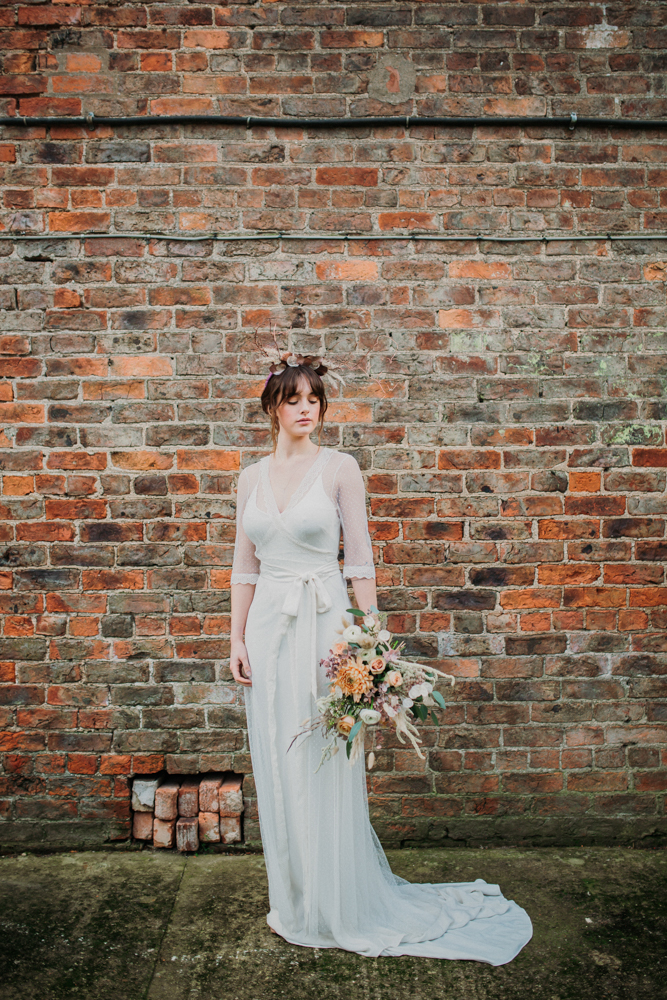 Venue – White Syke Fields – Boho Woodland Wedding
"The venue consists of two barns, which are surrounded by the woodland we wanted to use. Charlotte had made good headway in tidying up what will be a ceremony barn. The walls were painted white and the floors grey so it made a beautiful setting for the light aspects."
"The other large barn – so huge in fact so future weddings will not be disappointed, meant I only wanted to concentrate on a small section of the room to host the table 'dark scene'."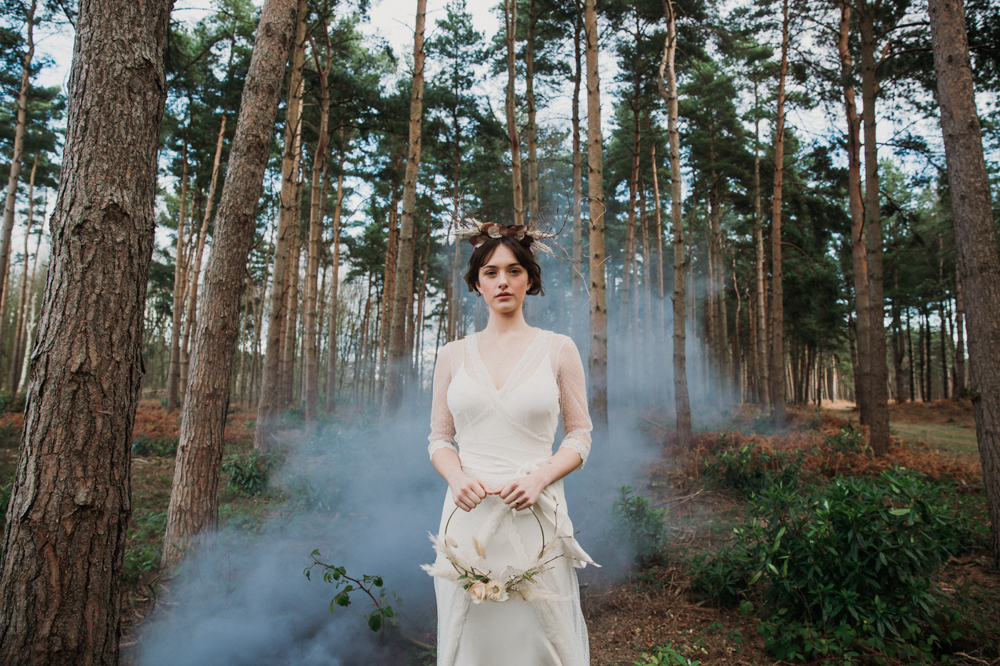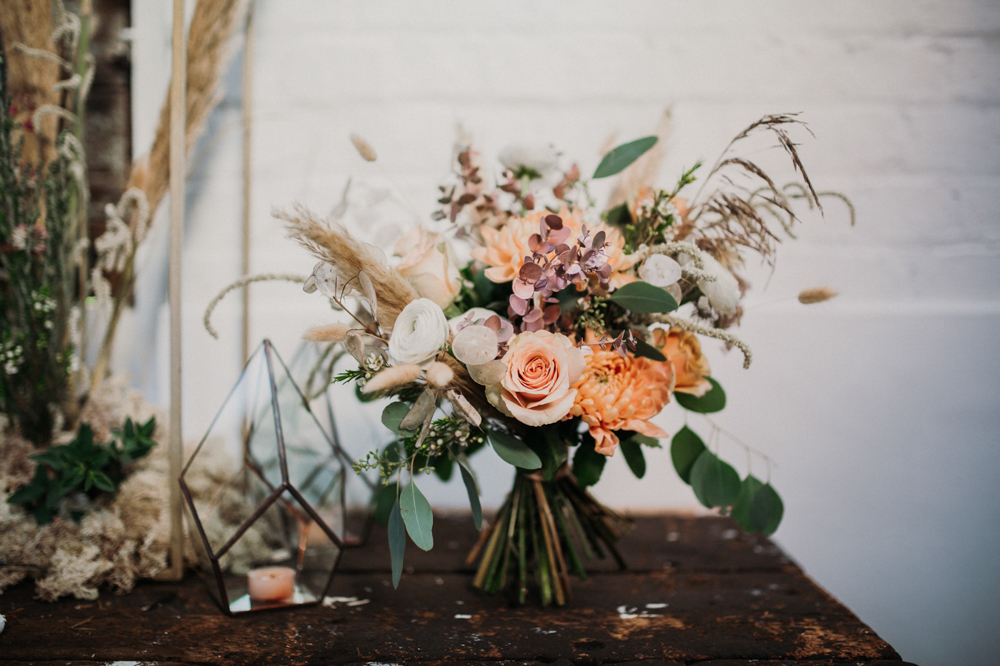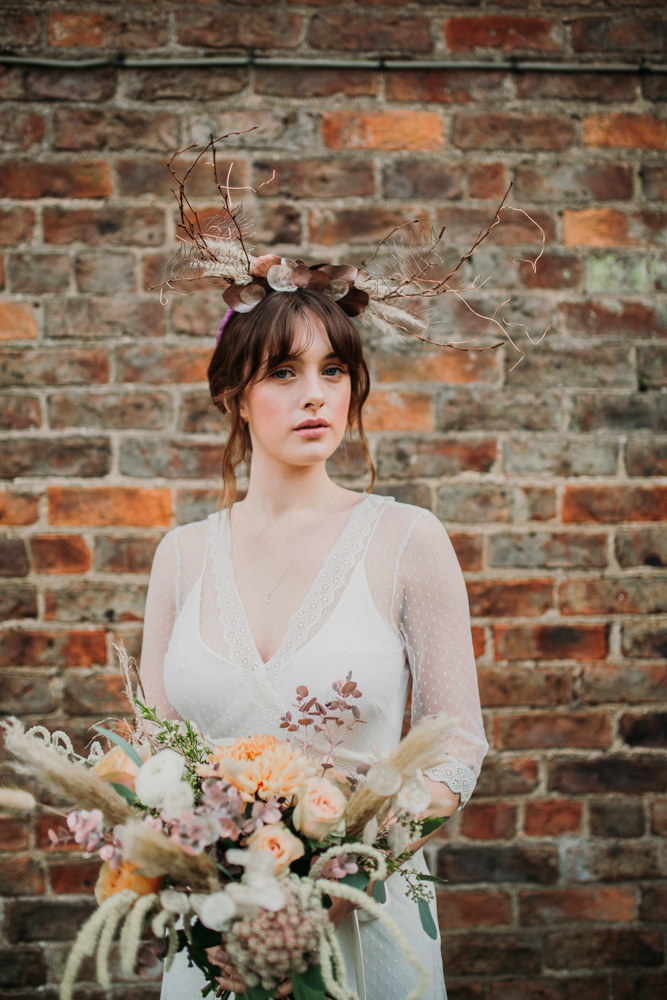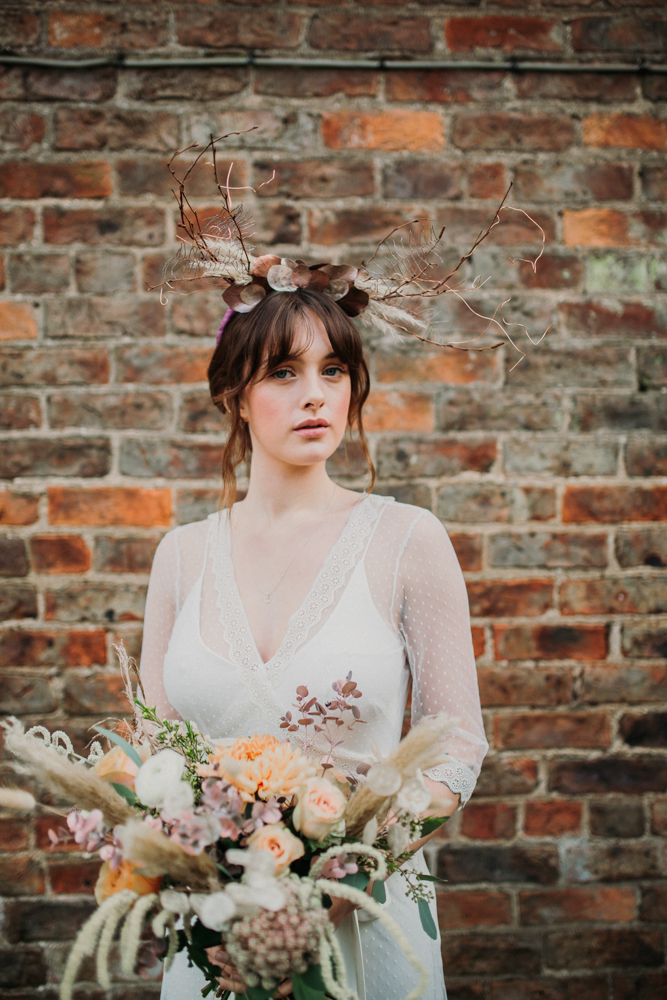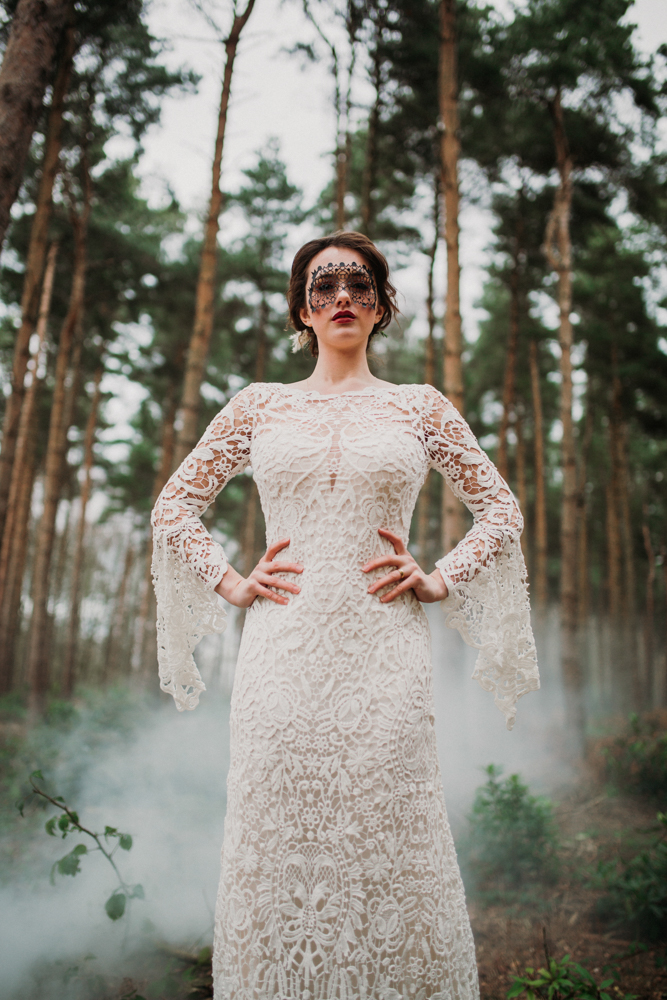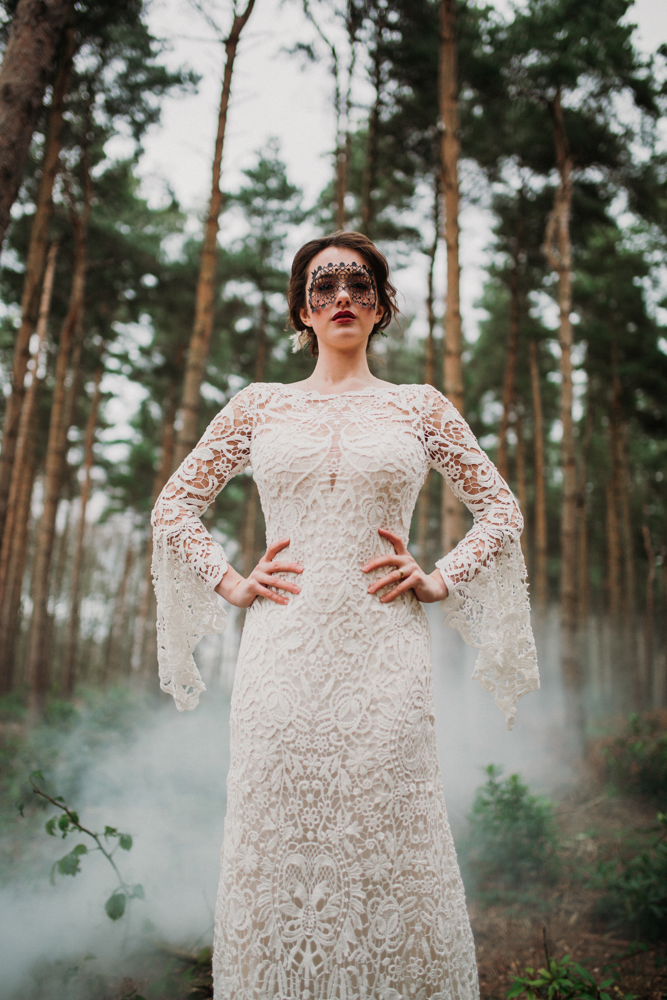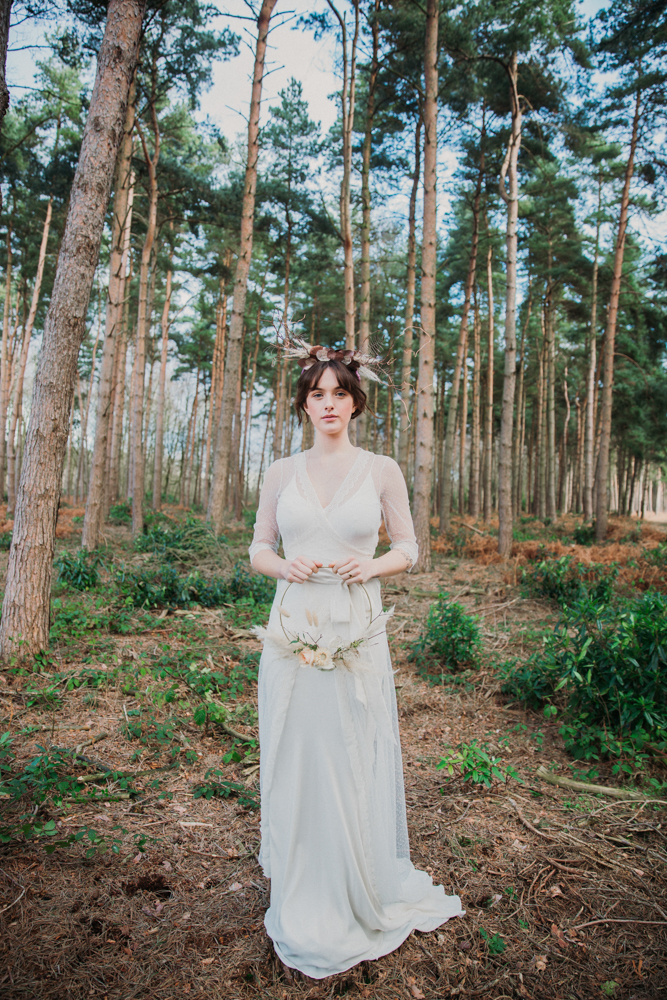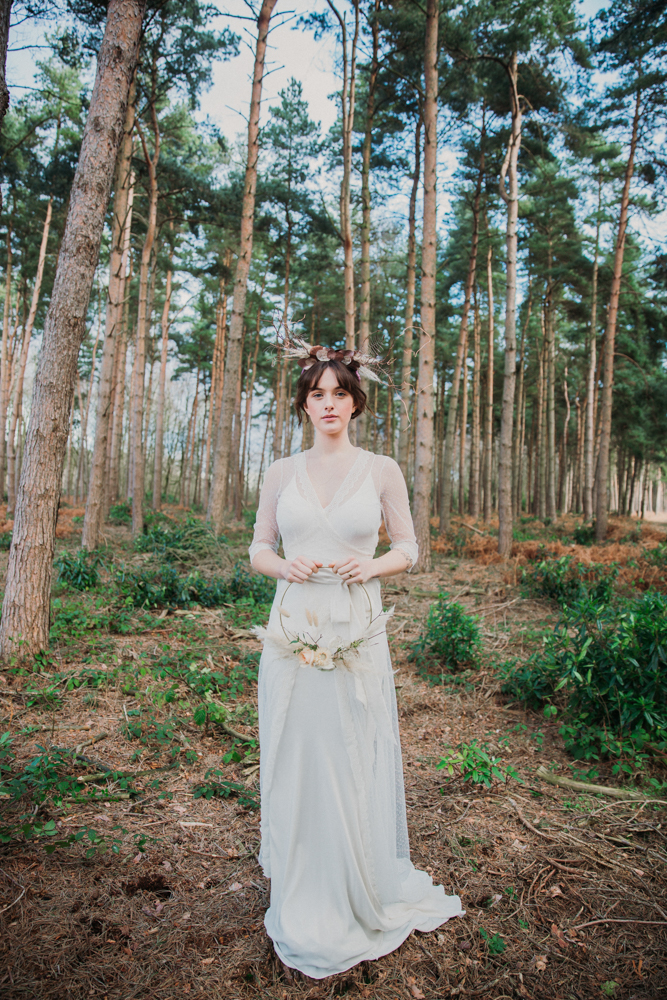 Styling – LND Events
"Victoria had got her hands on a fashion trend report for the year and one big thing is going to be lace. In the wedding world, you'd assume that lace was the norm but actually other than dresses, I'd not really seen it feature and when doing research, it was very hard to get it right without it looking tacky so I decided to set us all the challenge of that being the key, underlying feature to the day."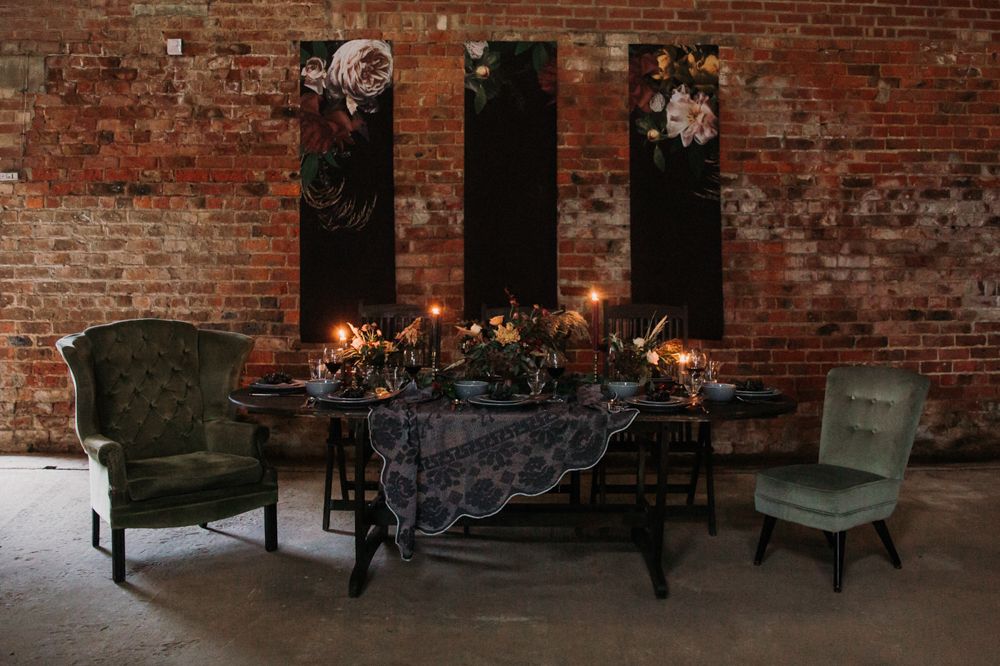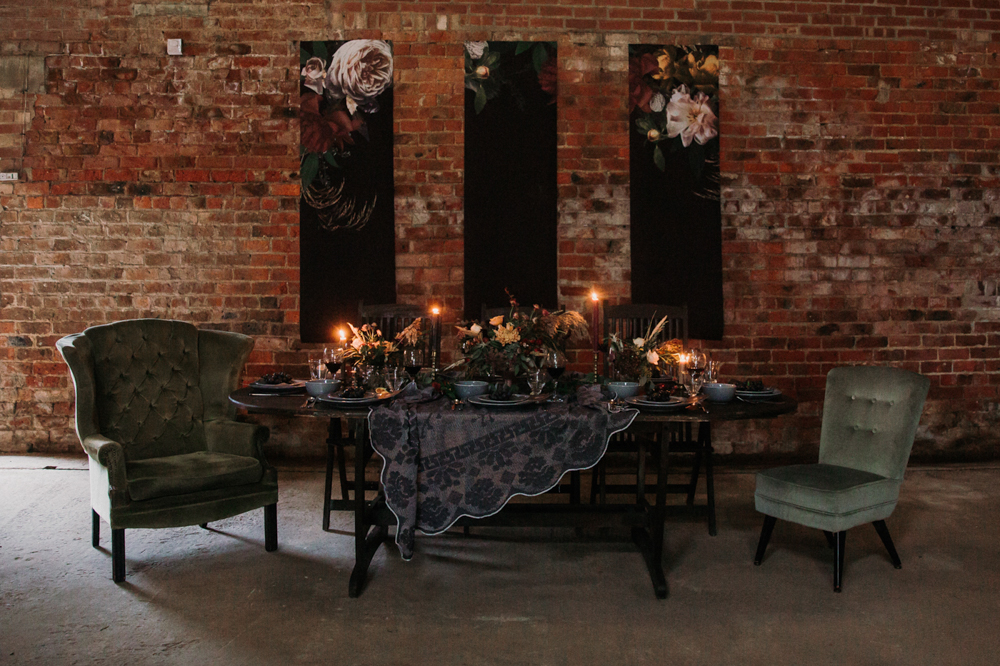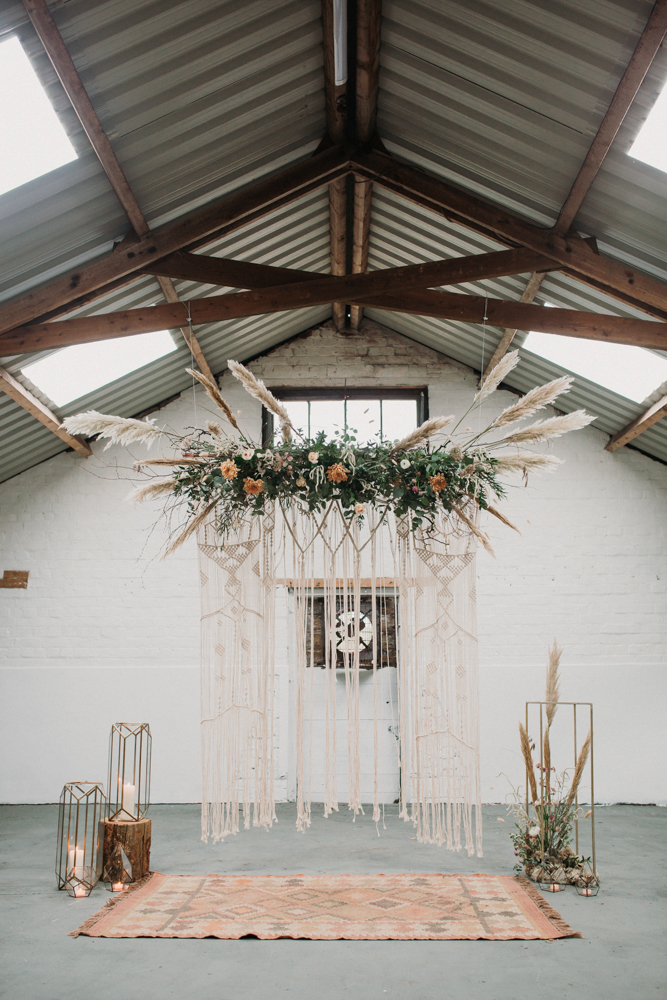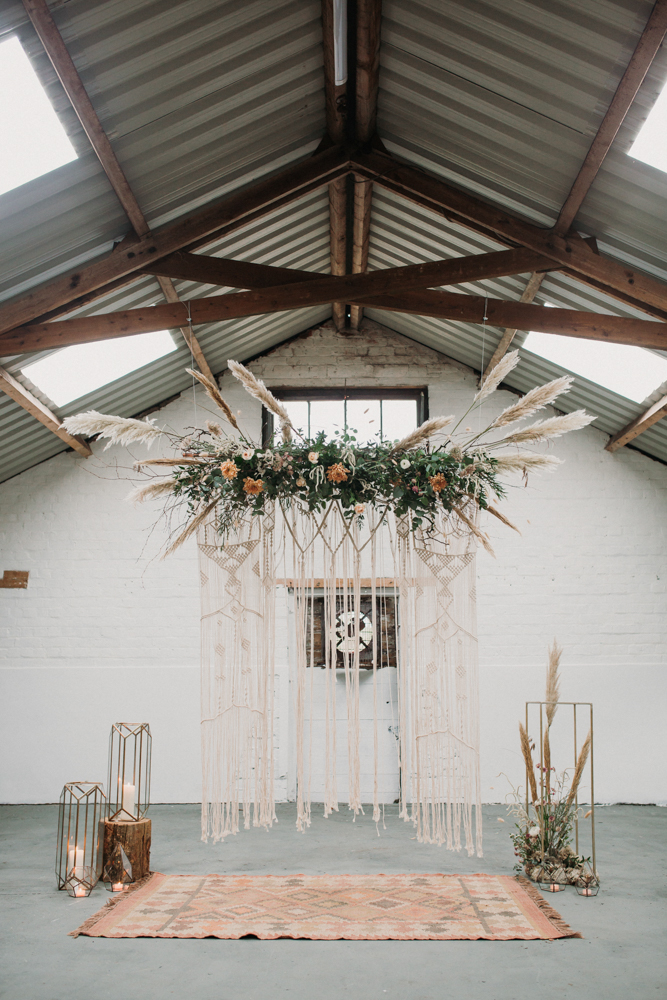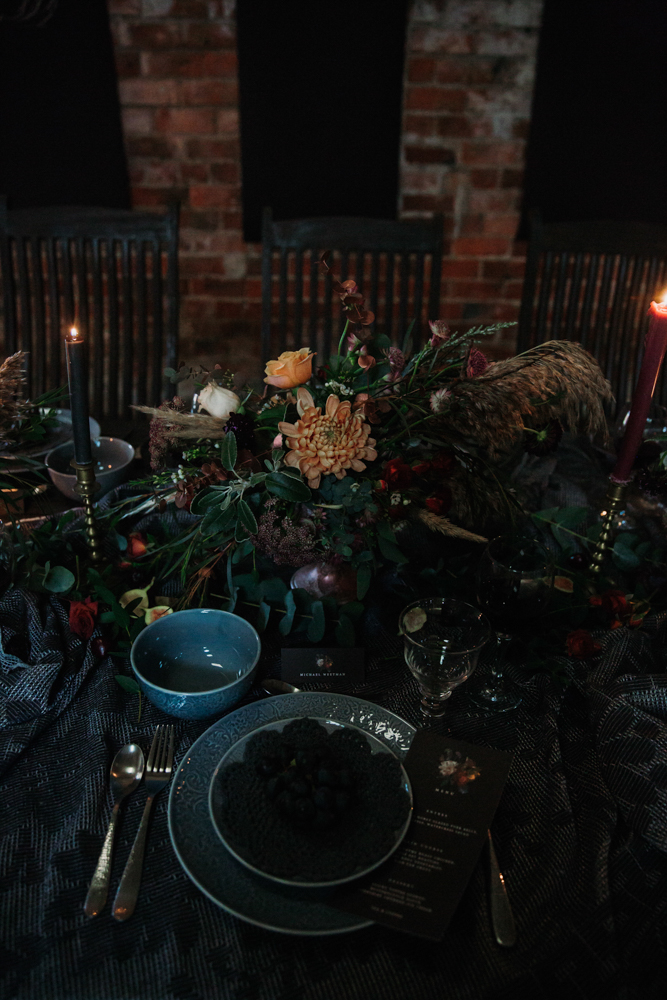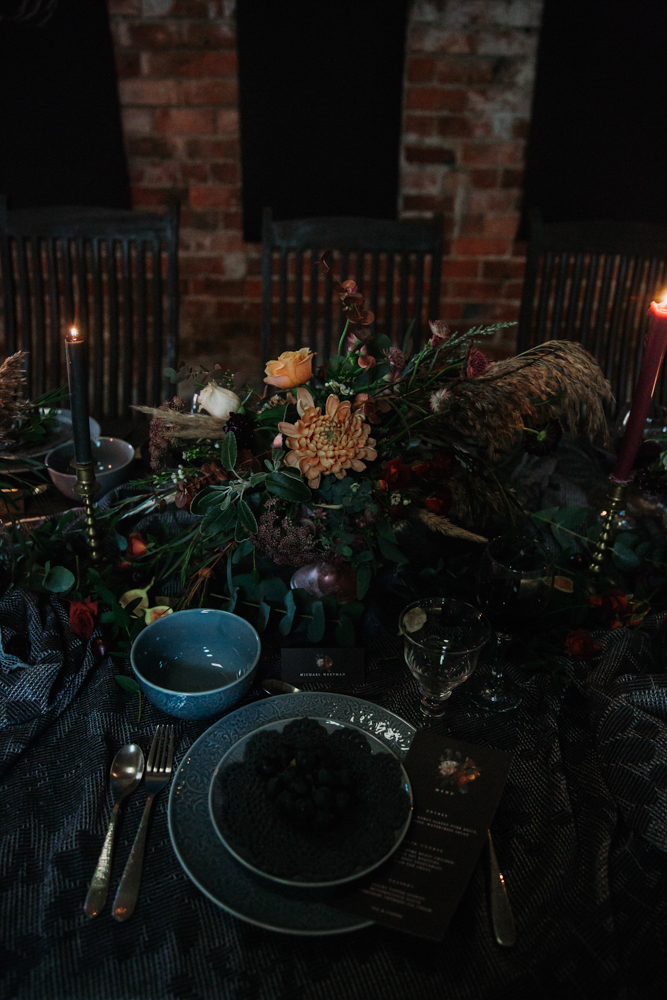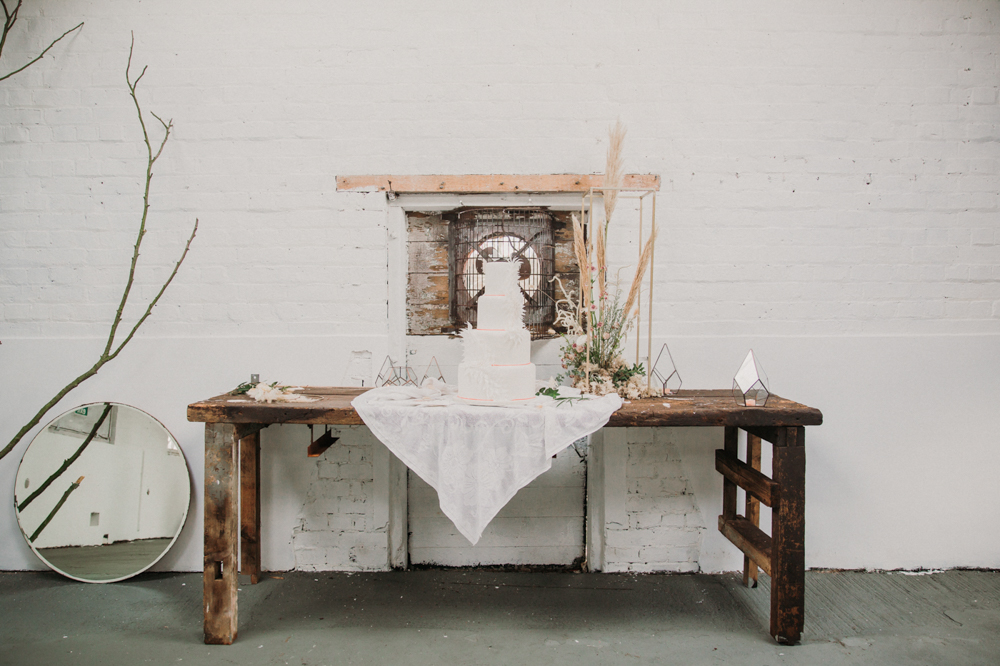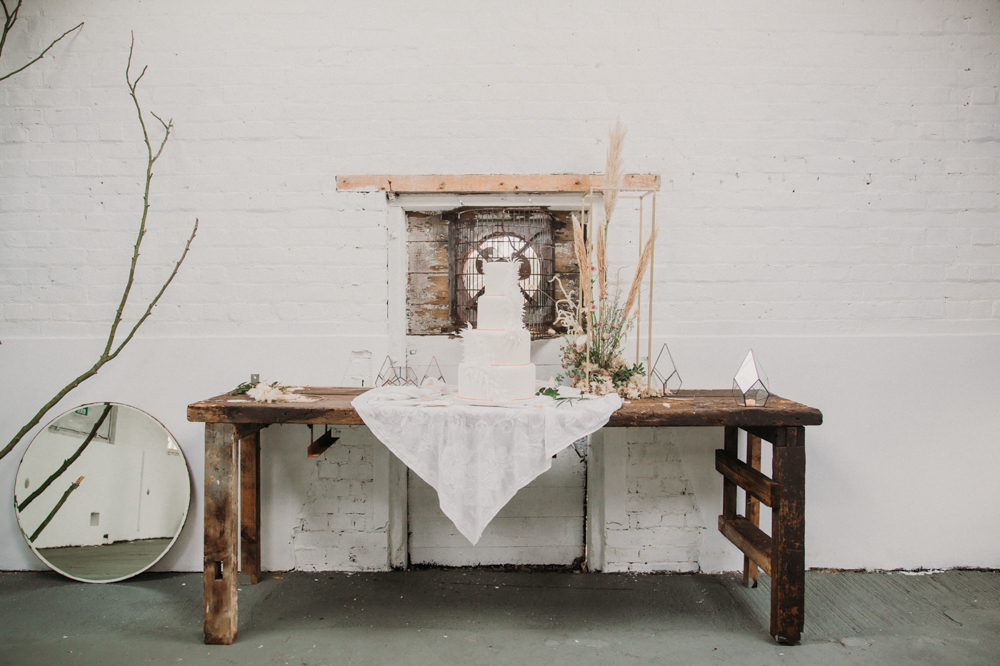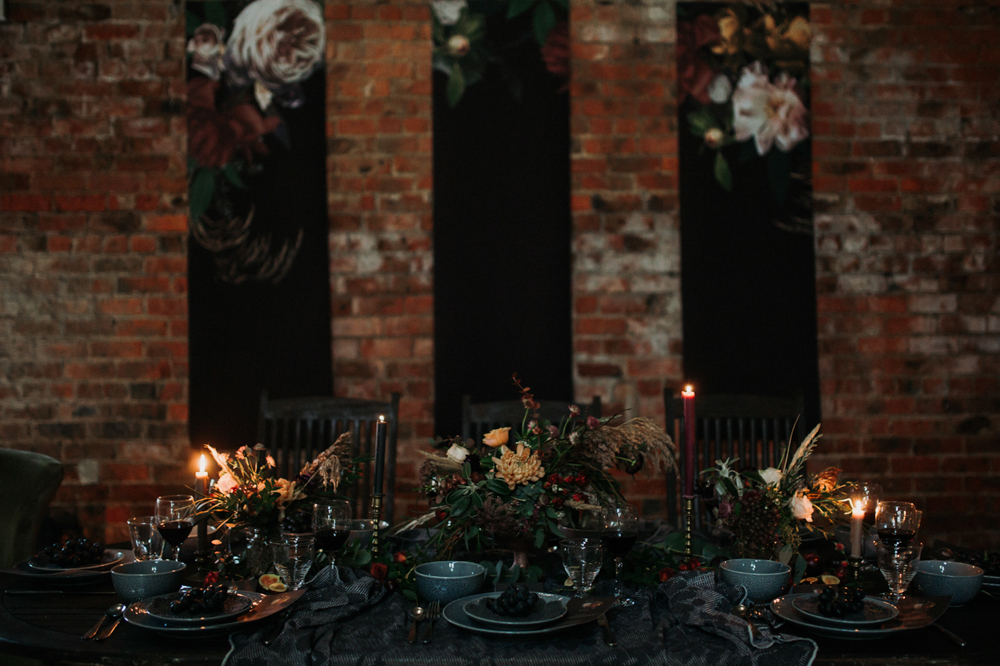 "I wanted to insinuate a ceremony for the light scenes but without laying down lots of seating so I thought about one show-stopping backdrop where the model could stand. Luckily for me, no one understood what I meant, better than Bethan from Bureau Botany who delivered one of the most gorgeous hanging backdrops, I've had the pleasure of working with. It both blended in with the scenery and yet stood out as a talking point and made that whole aspect absolutely enough!"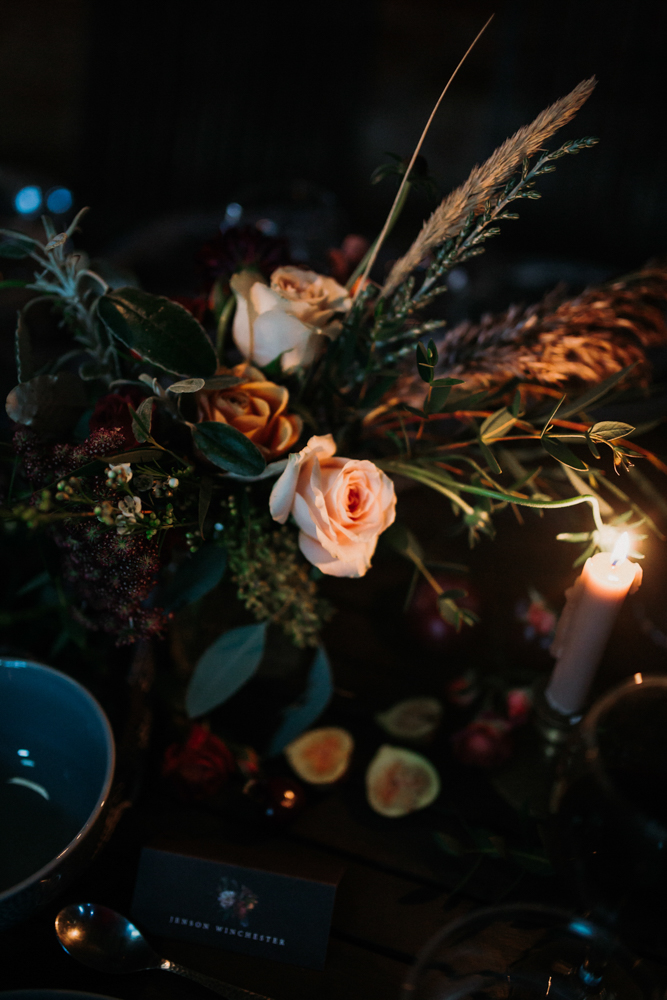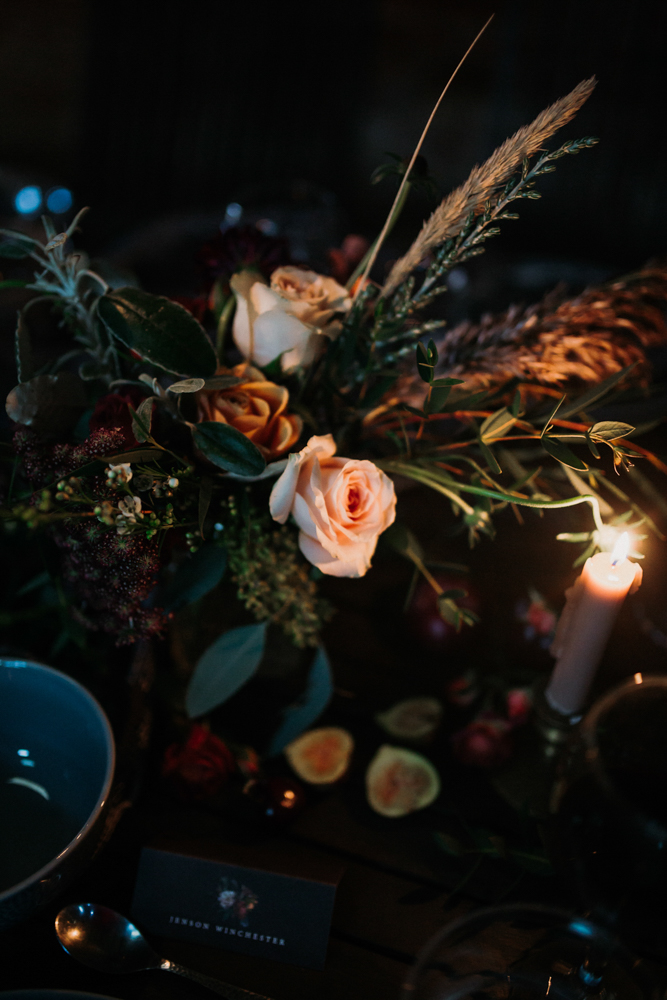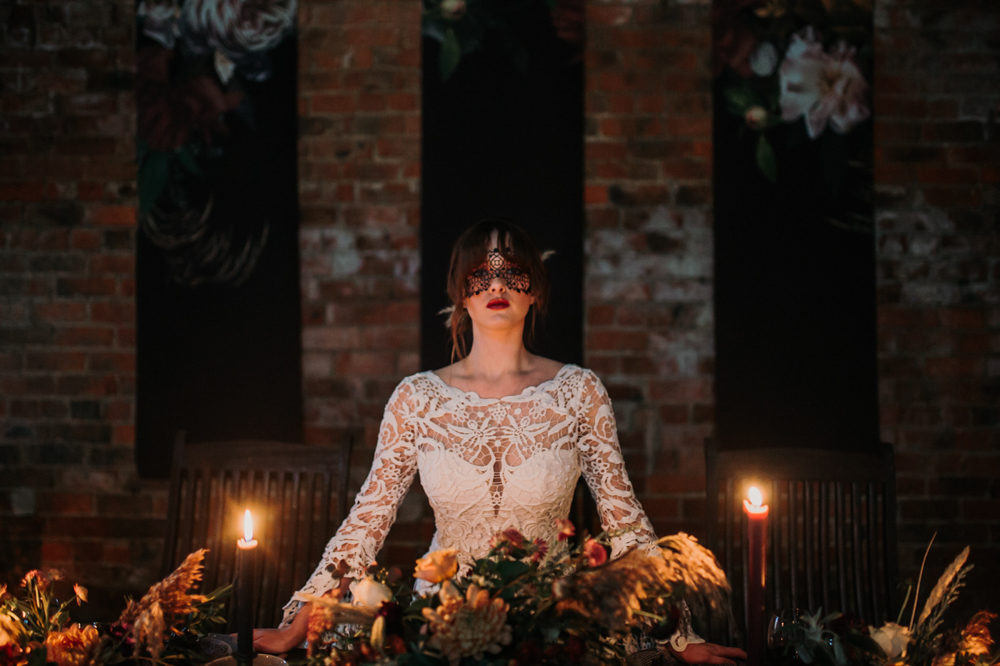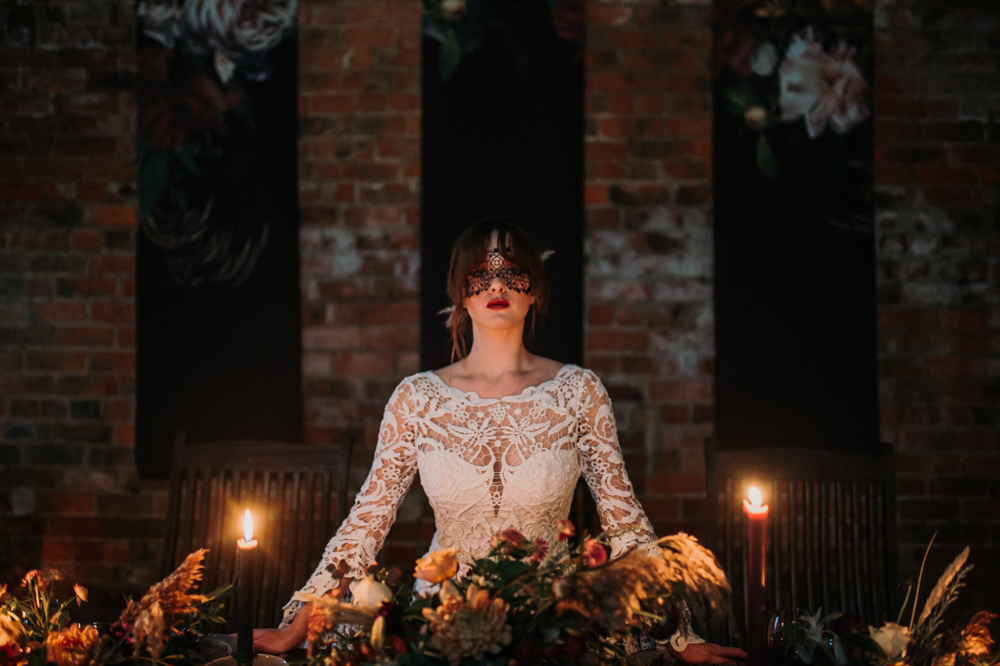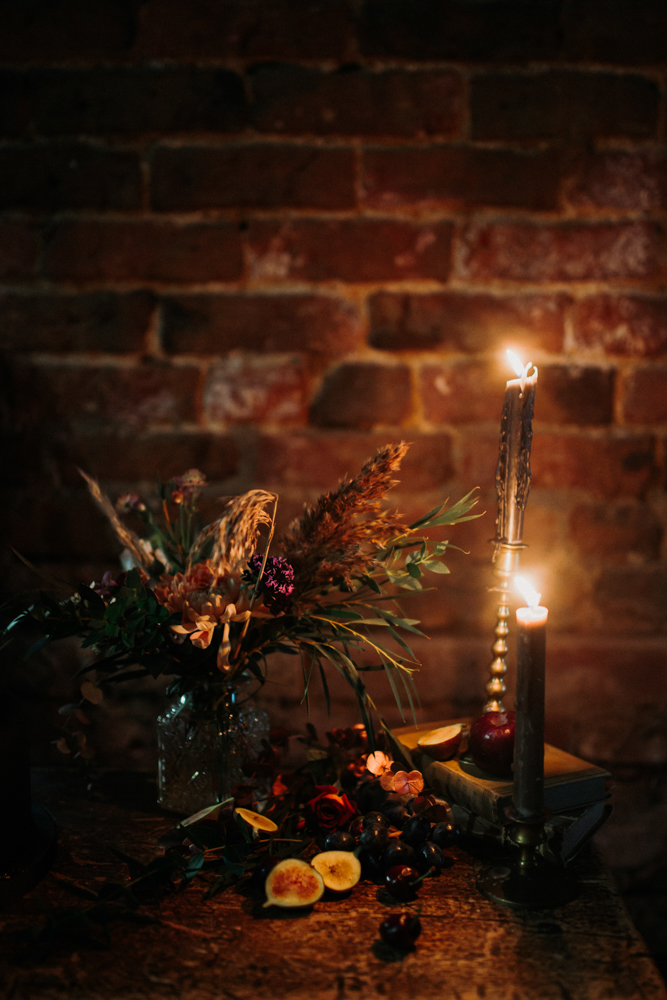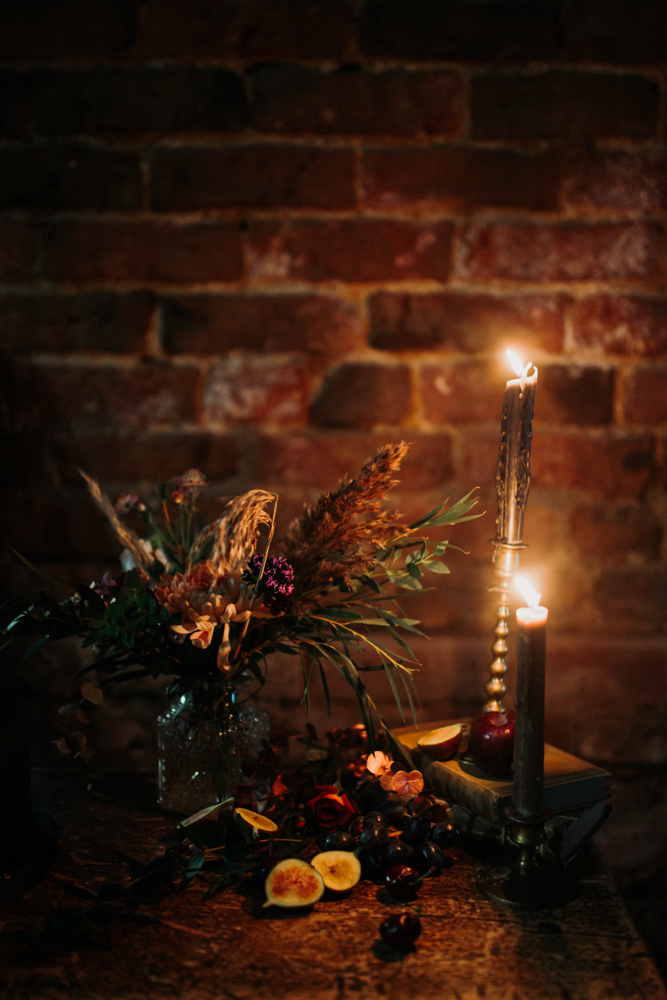 "For the darker scenes, the table was actually a garden table that Charlotte already owned but the colour matched exactly what I wanted. I had purchased some white lace cloths and napkins and tried to dye them black to fit but they'd gone more of a grey in colour which, entirely accidentally, looked really good against the table and crockery which also had a subtle lace detail etched on it. Bethan created three vases of darker blooms for the table to act as centrepieces but with some coral touches, to give nod to the 2019 colour of the year. Extra foliage was scattered on the base of these, which I intertwined with dark fruits such as plums, cherries and black grapes. Each plate had grapes on top to act as a grazing appetizer with the red wine and stationery in the form of name cards and menus, giving more tones to the setting."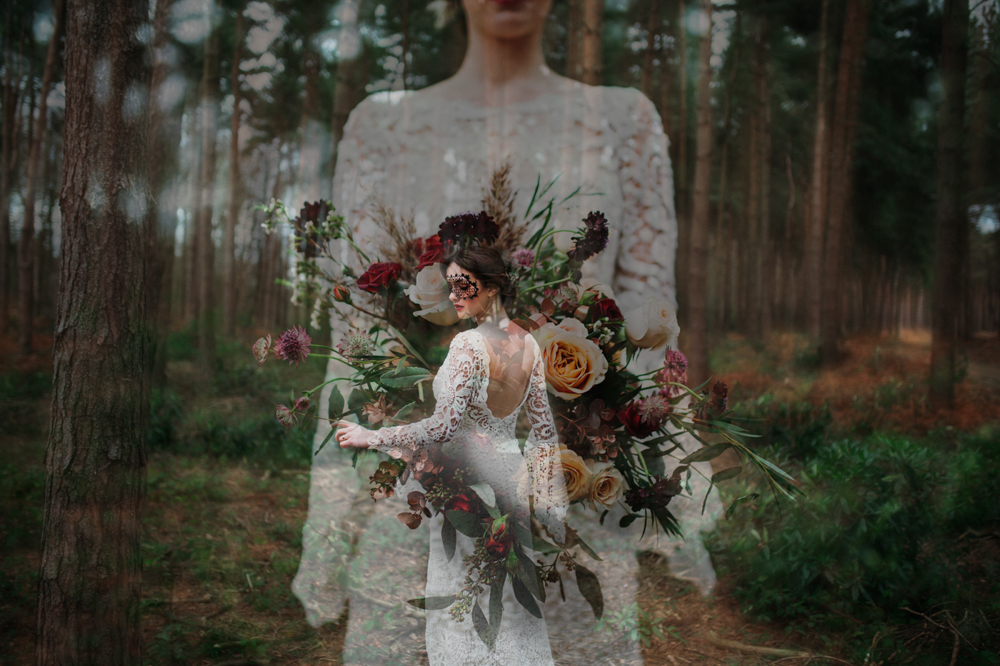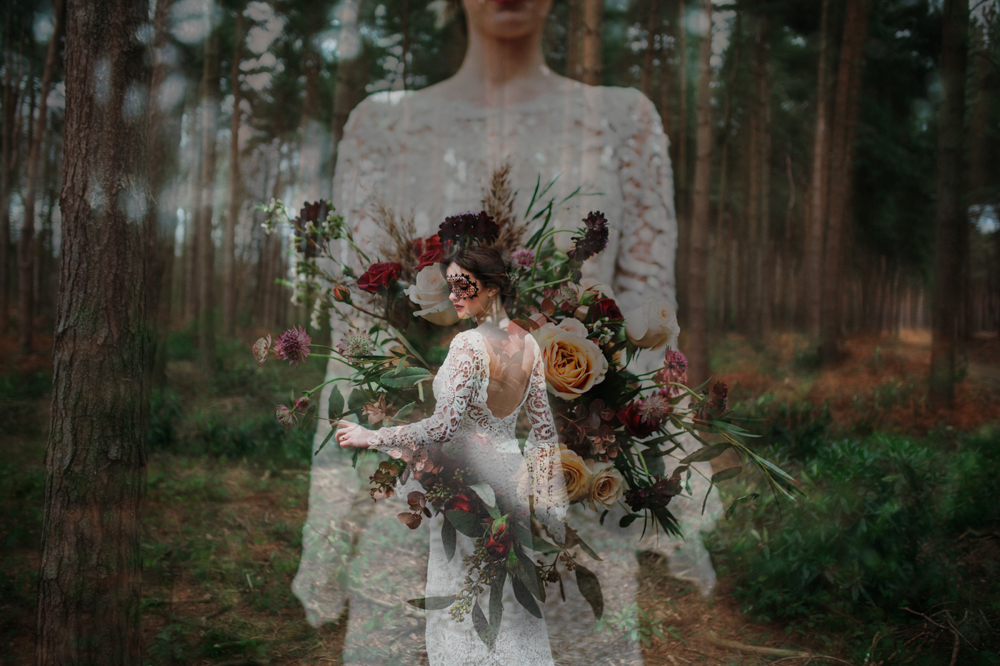 Photography – Victoria Baker Weddings
"My style of photography is creative, natural and colourful. I love deep colours, bold florals and I love to shoot outside in the Yorkshire countryside. I really love exposed brick and rugged backgrounds so White Syke Fields was perfect for this shoot. My style of photography would suit couples looking for really natural and relaxed photography that encompasses the details, the people and the love. My aim to create beautiful visual memories for my couples that last a lifetime."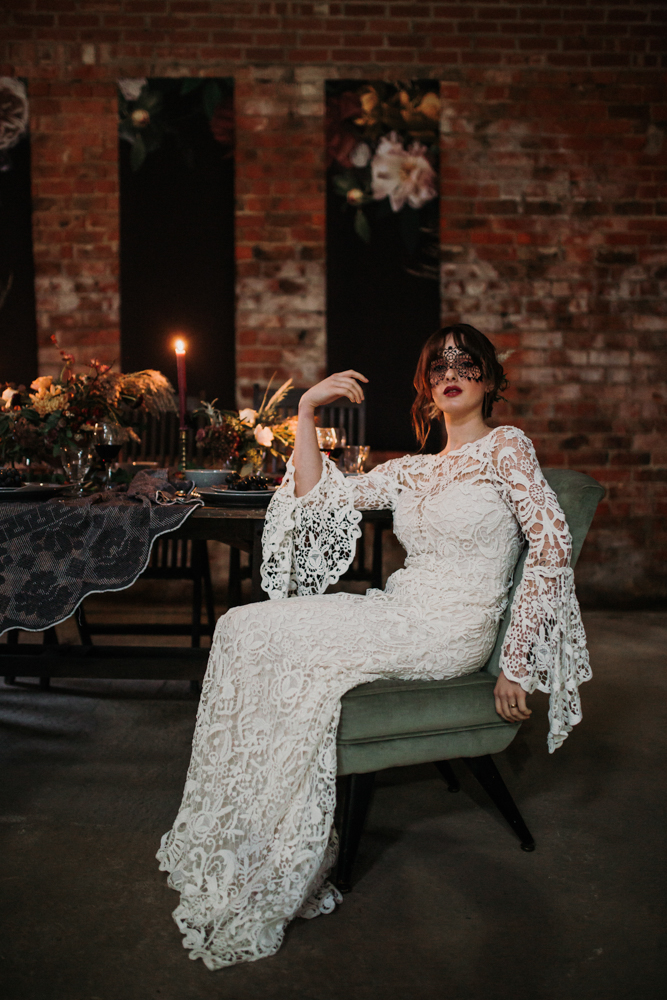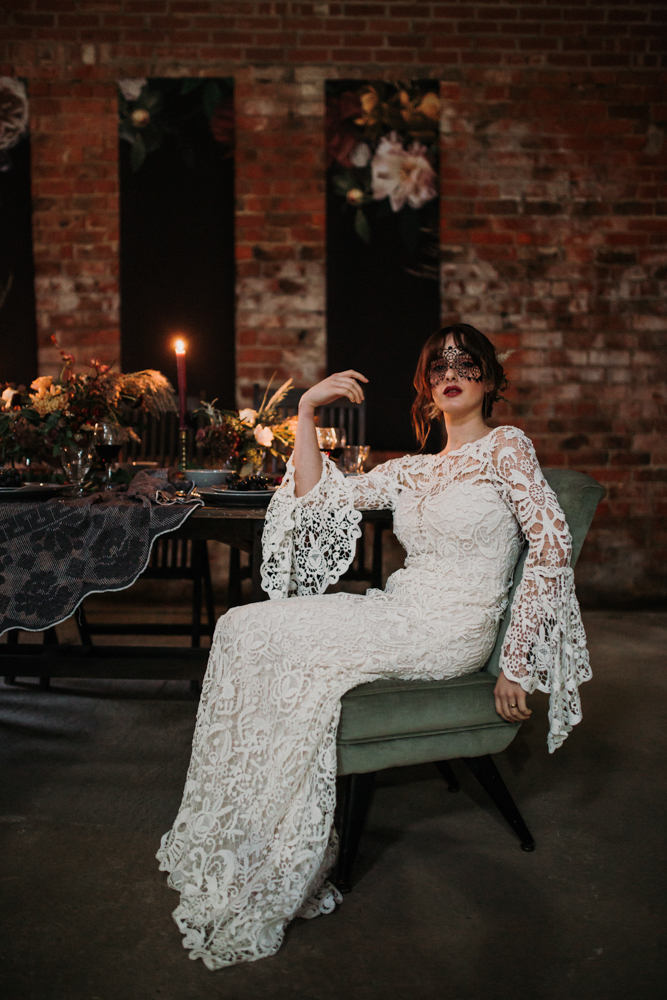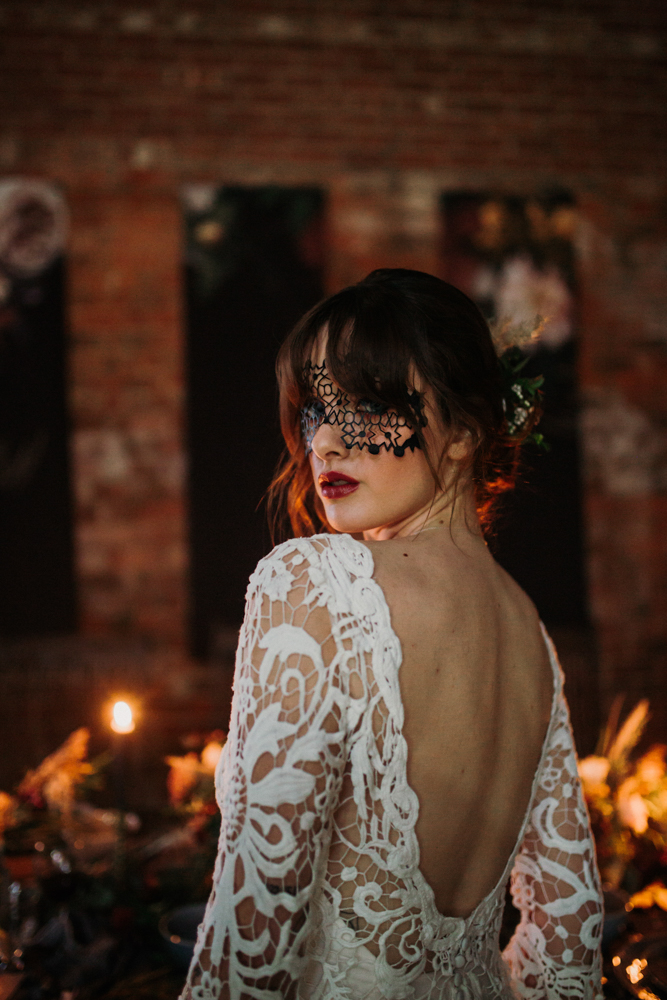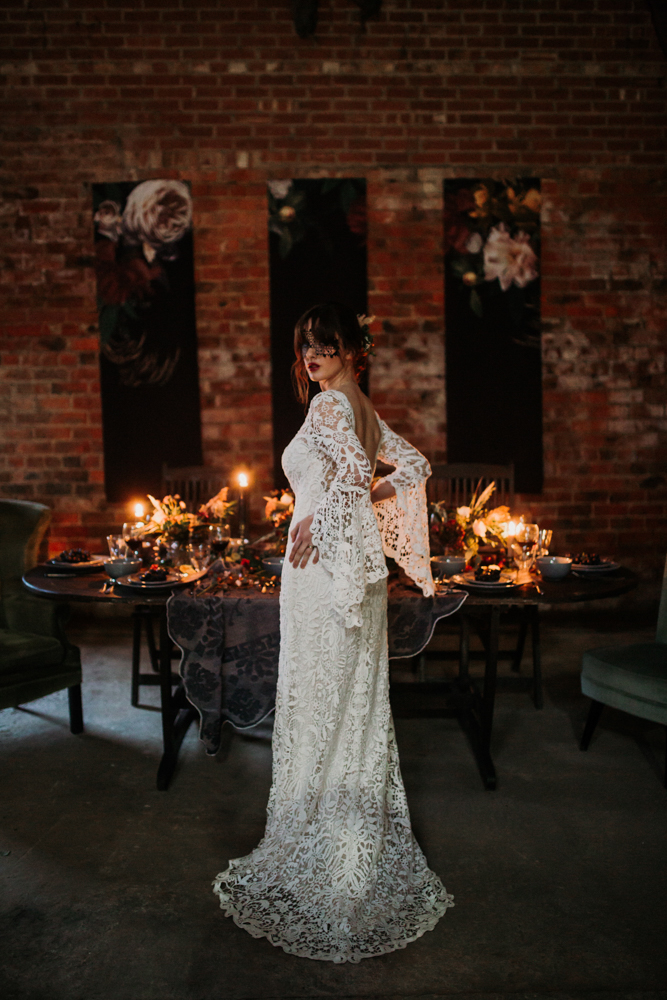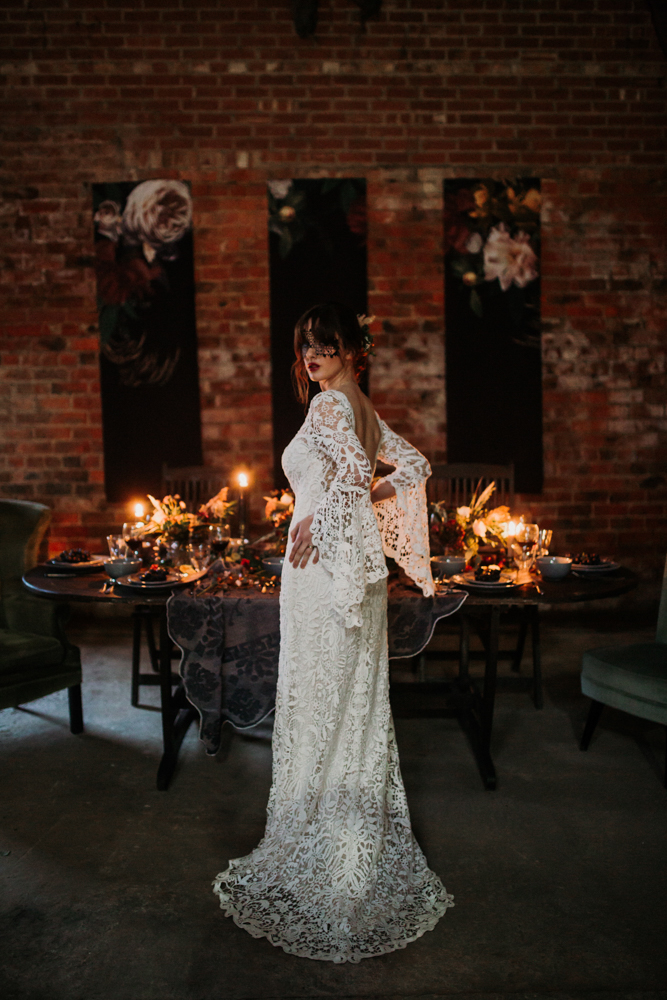 Bridal – The Aisle
"Model Daisy wore a gorgeous Bilene dress by SoonBride for the light section of the shoot. This was a silk slip dress with a lace spot tulle topper that wrapped around the waist and tied with a silk ribbon. For the darker scenes the dress was changed for 'Keanna' by Rosa Clara. The chunky crochet lace and bell sleeves hit two trends in one; the aforementioned lace and the bellowing sleeves which will be big for 2019."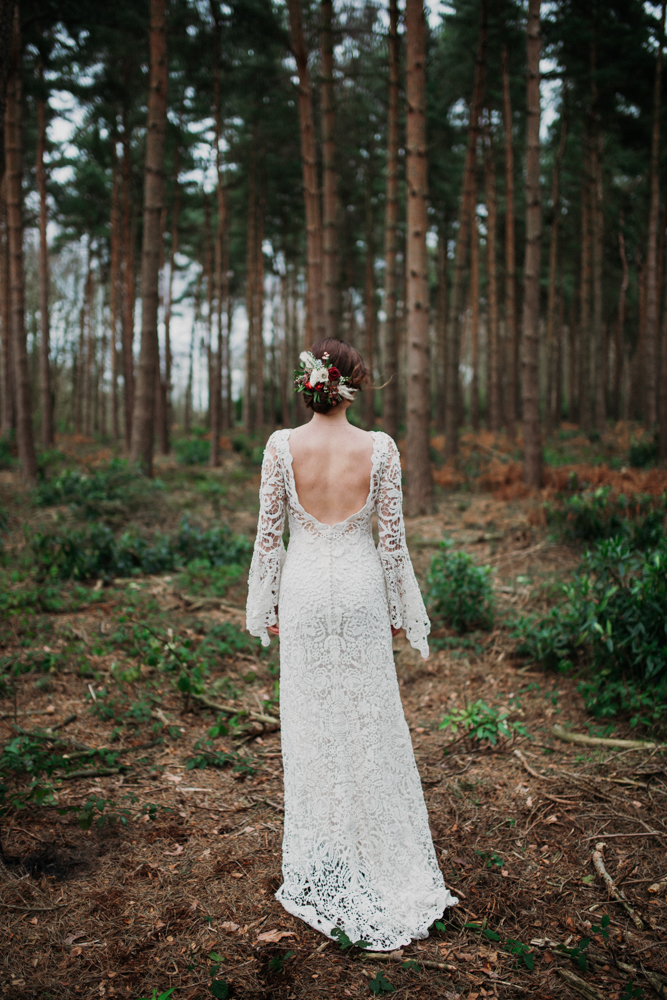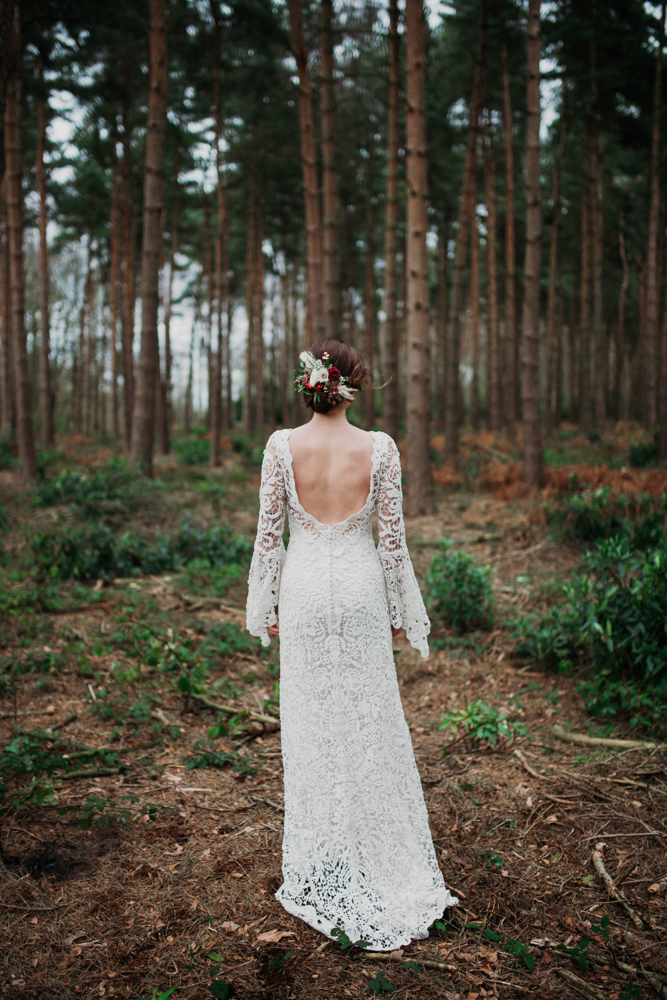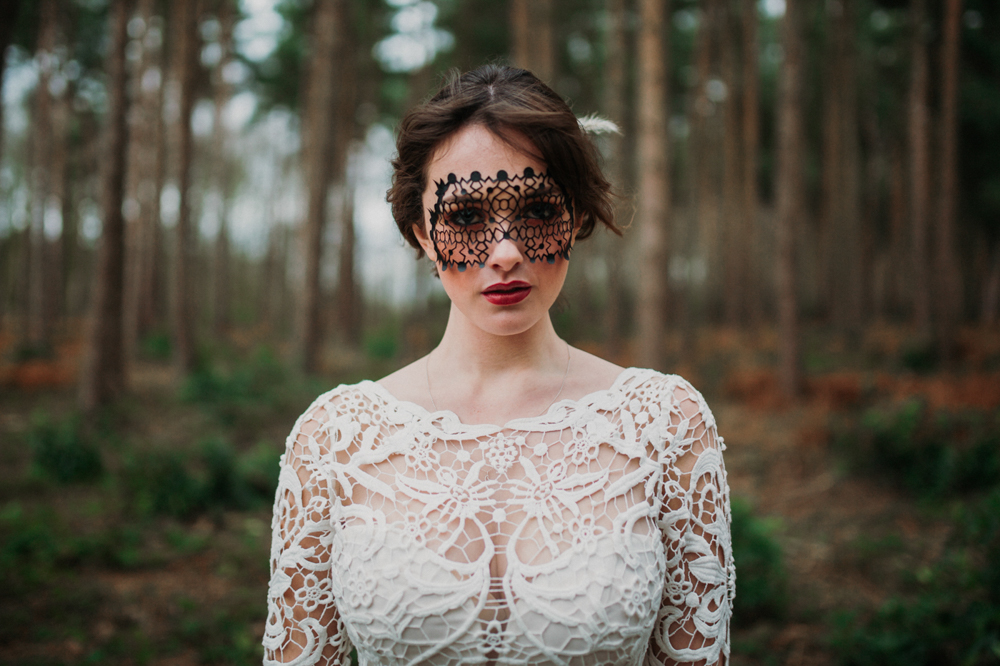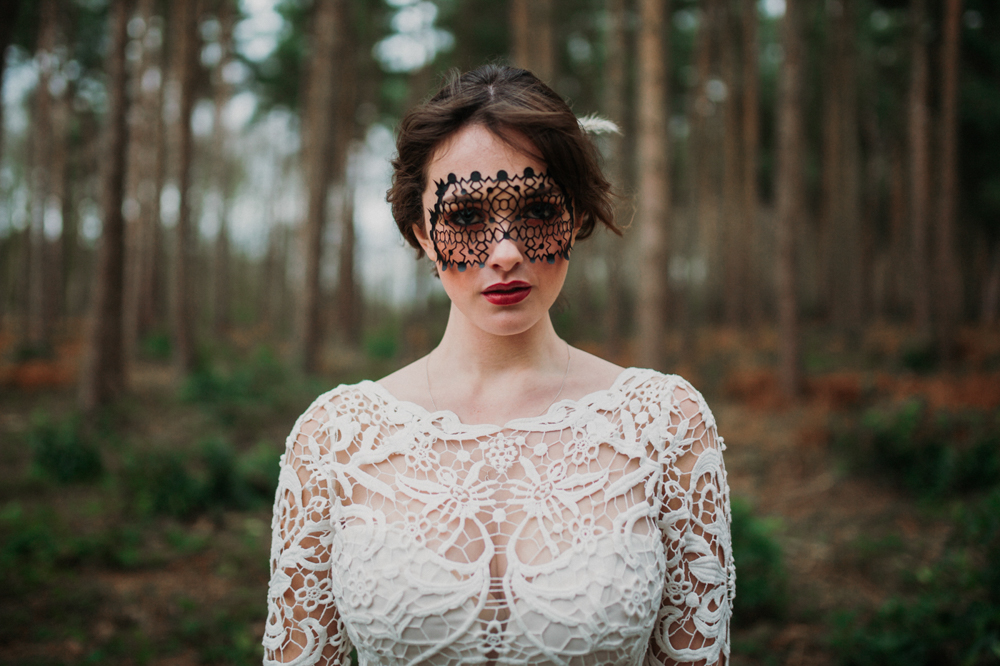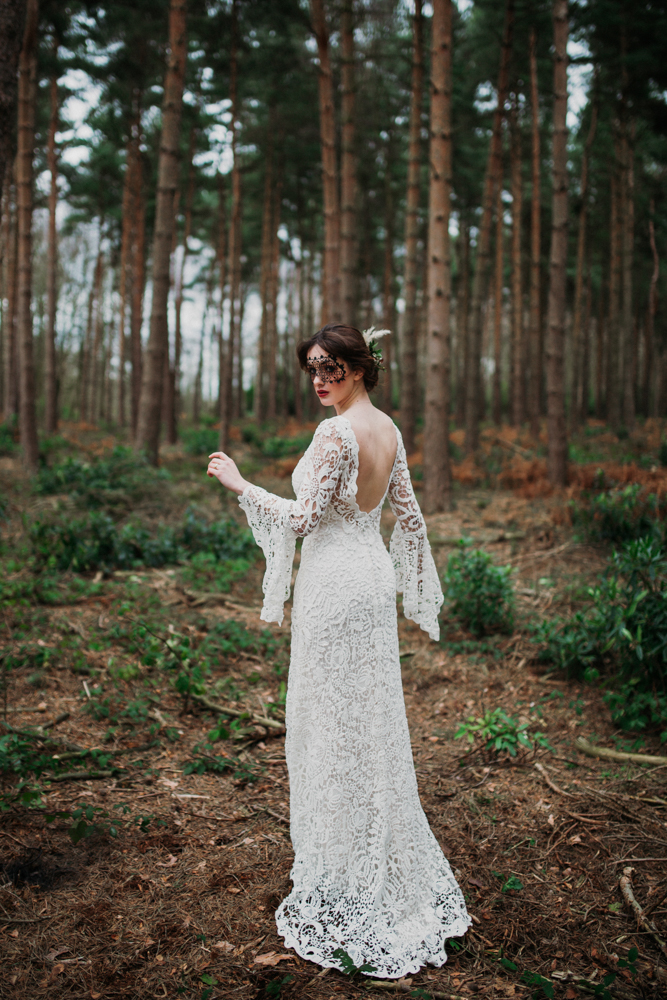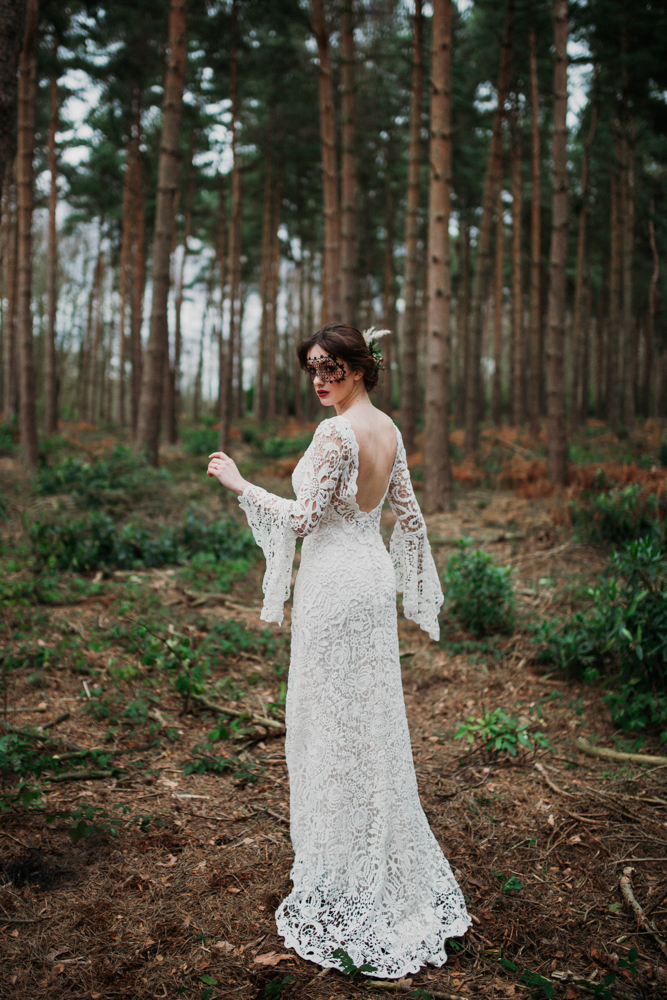 Flowers – Bureau Botany
"The three things I always think about when designing someone's wedding flowers are texture, colour and shape. I love working with a very considered and focused colour palette, so always do lots of mood boards with my couples to get this nailed down. I also love incorporating dried flowers and grasses in to my work, as I think this can create some really gorgeous texture. As for styling, it is so important to remember the smaller details that will really make your day unique and considered. For example; remembering to dress out seating areas with candles or a touch of flowers, rugs or soft furnishings.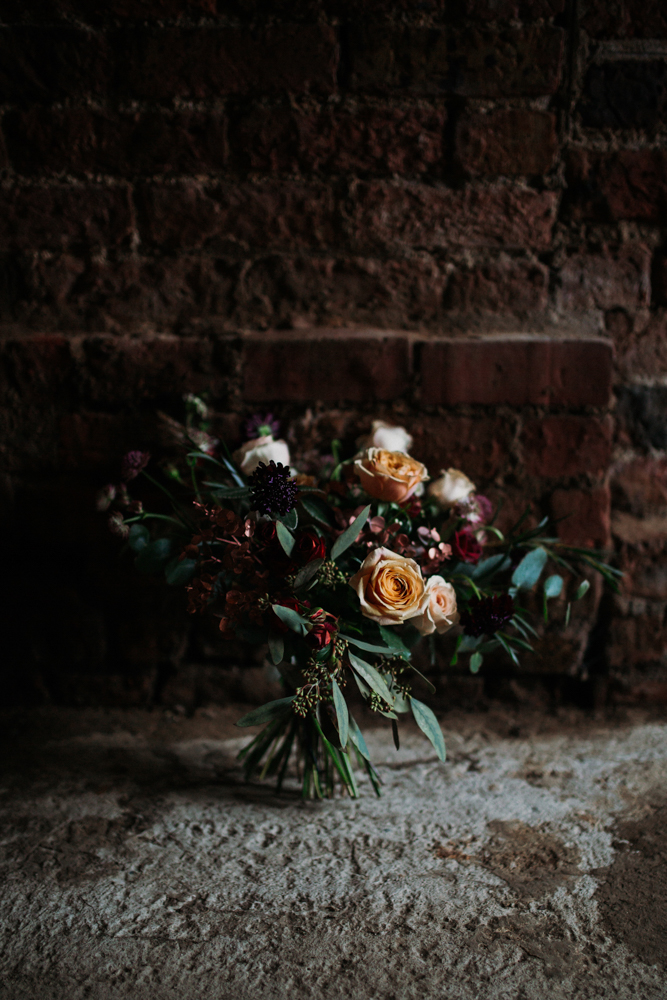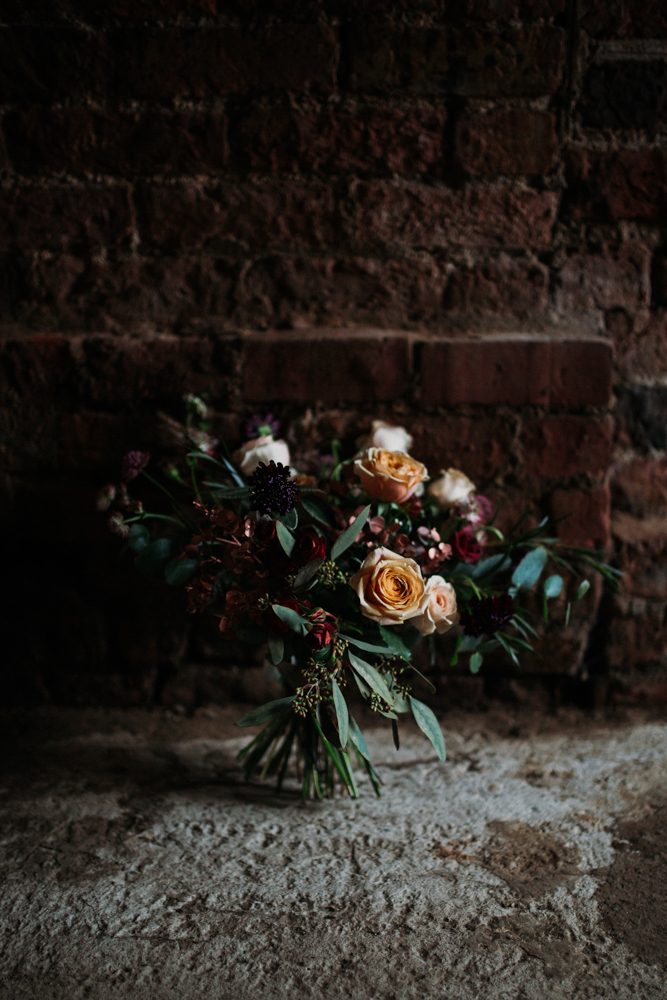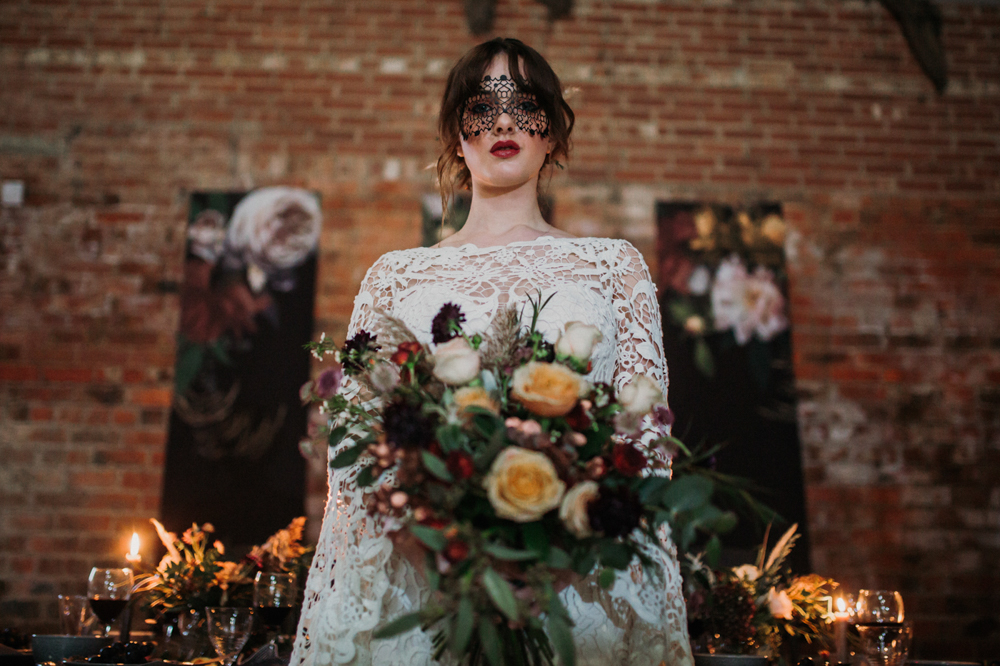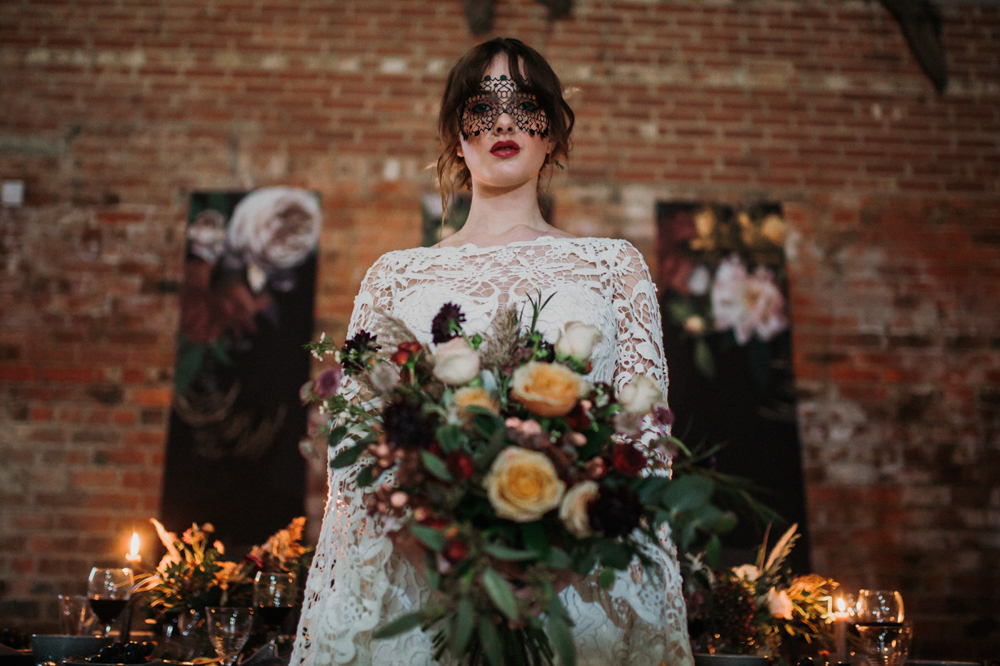 "I am a HUGE fan of candles and lanterns, as I feel these create a cosy, romantic atmosphere- even if your venue doesn't allow real flames, you can get some great LED candles too. I always advise my couples to reuse décor where possible so you get the most out of it – can the lanterns that you had down the aisle be re-used to dress out the reception afterwards? If you're going to opt for a big statement piece like a floral ceremony backdrop, can it be reused as a backdrop behind your top table, or as a photo booth for the reception"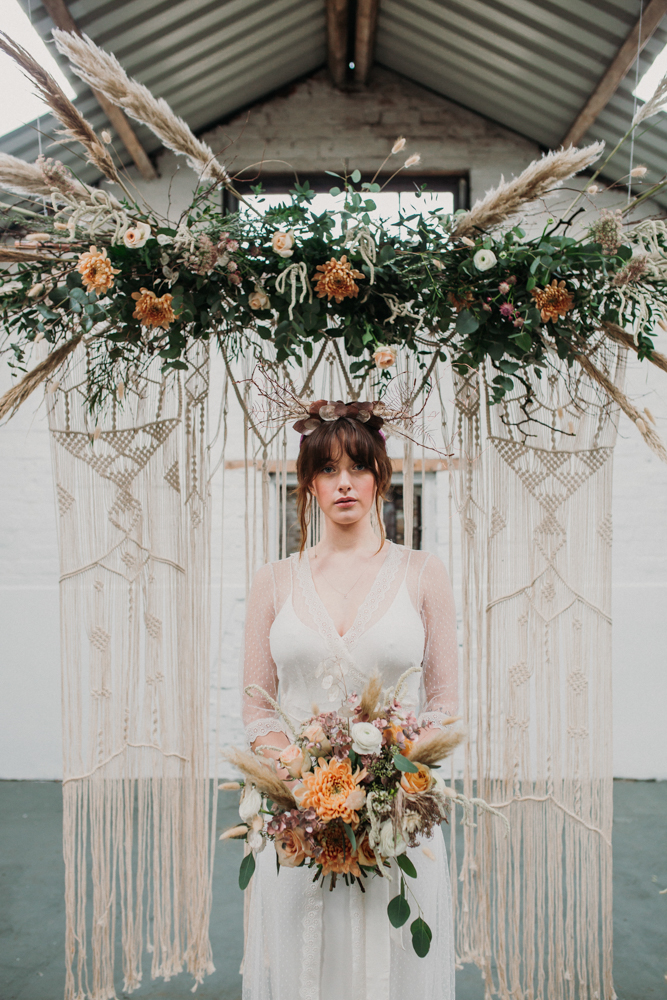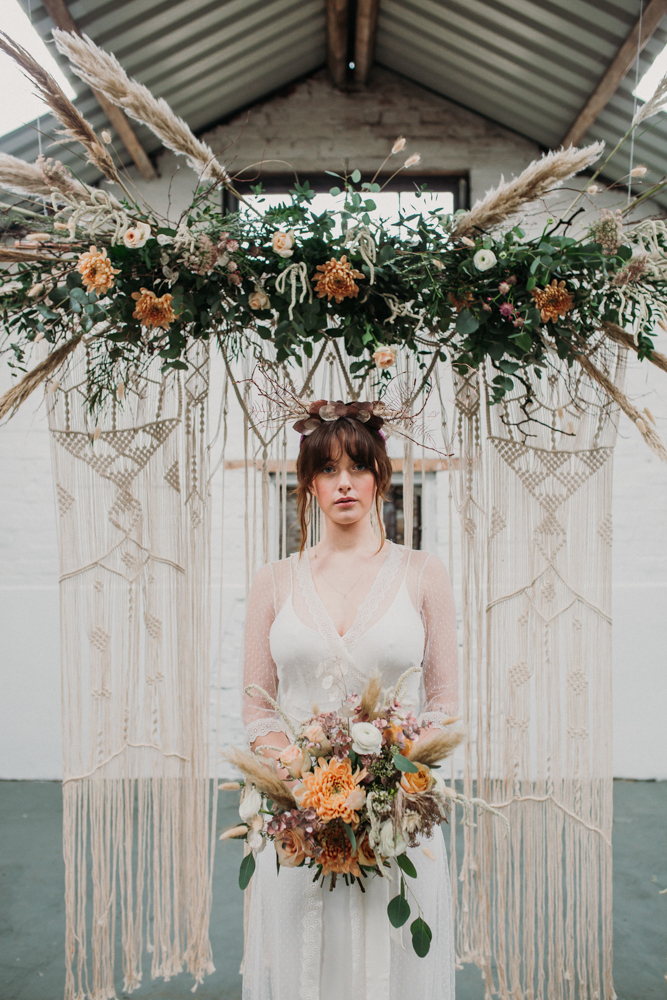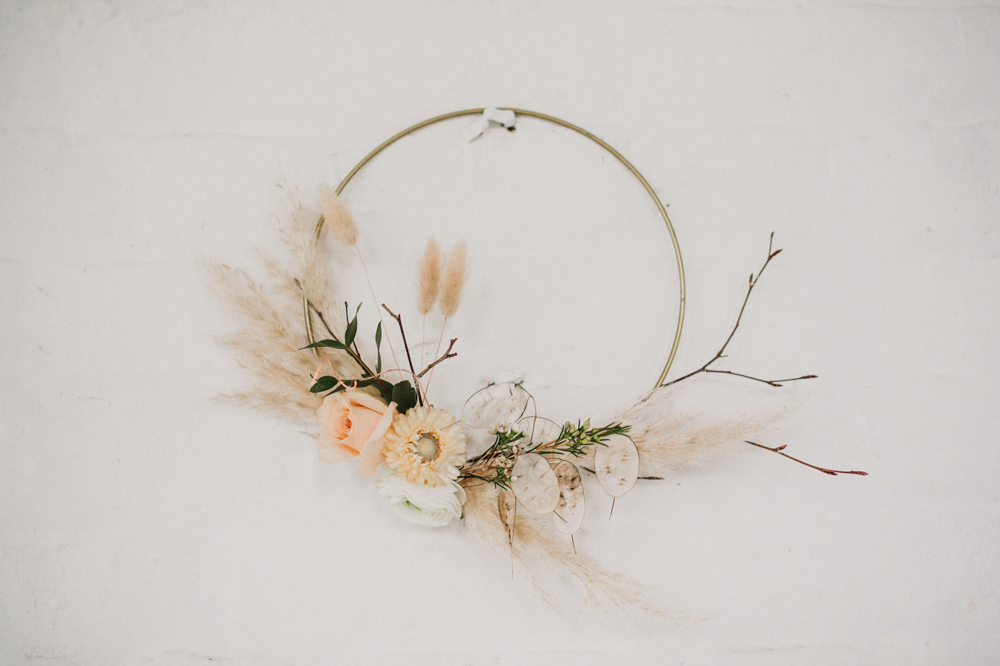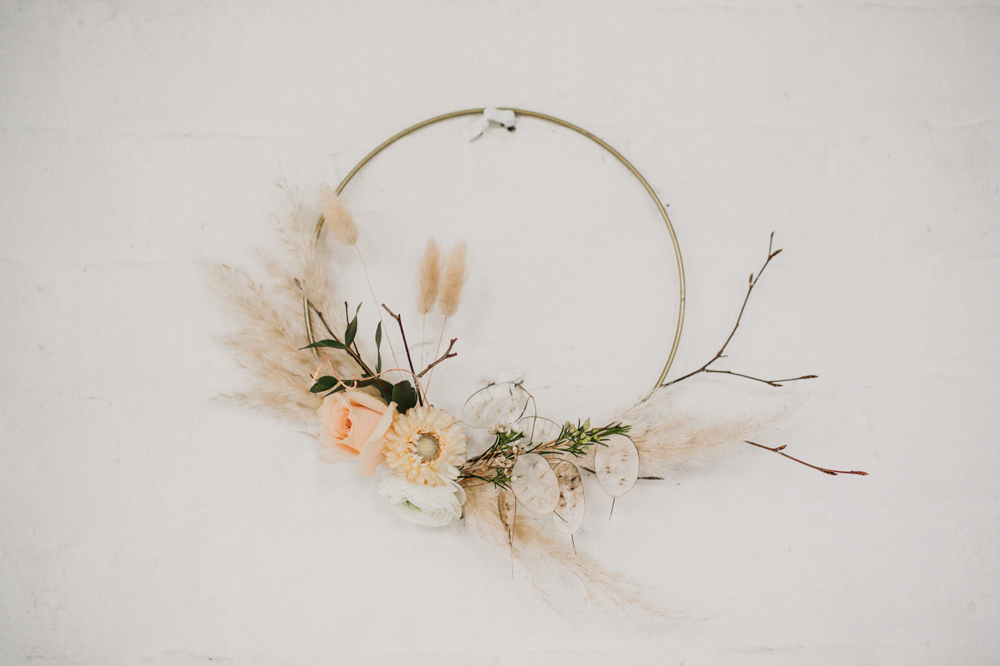 Cake – Apple Charlotte Cakes
"For the feather flower cake the colour palette has been kept a simple monotone, with the tiers trimmed in coloured ribbon in coral. The ribbon colour could be changed to add a pop of colour to tie in with your wedding theme. The detailed flower is made from hand cut pieces of wafer paper, curled and applied to the fondant covered cake with edible glue. This cake would work with Boho, whimsical or a modern wedding theme."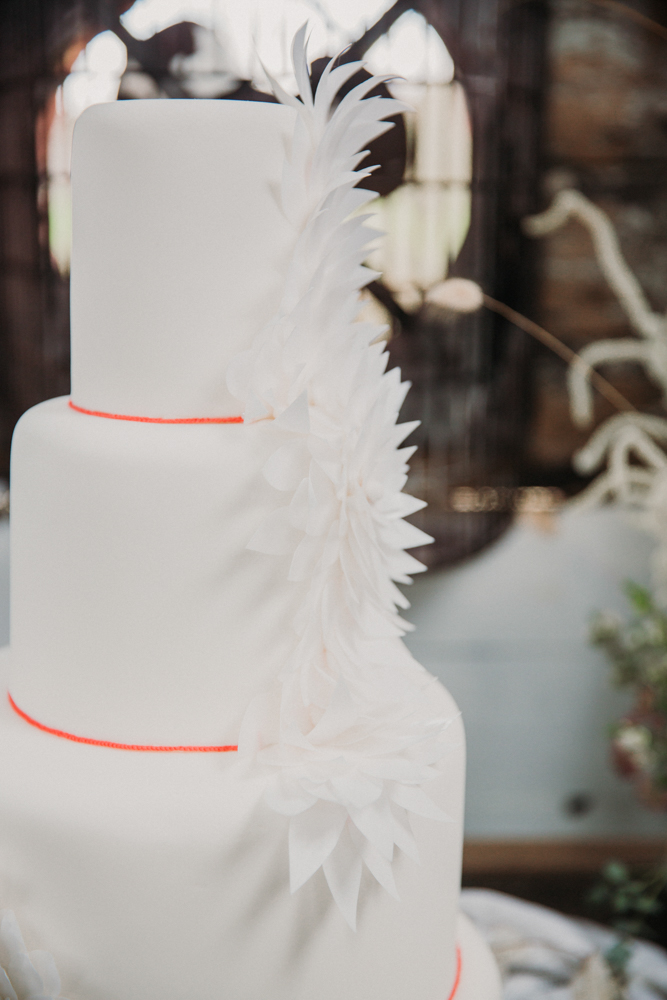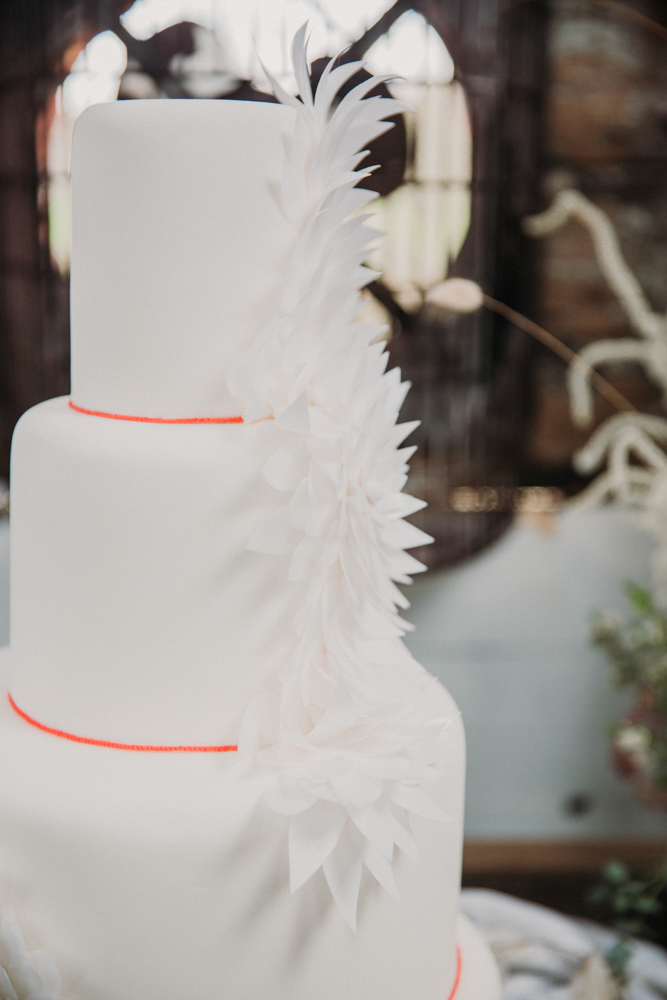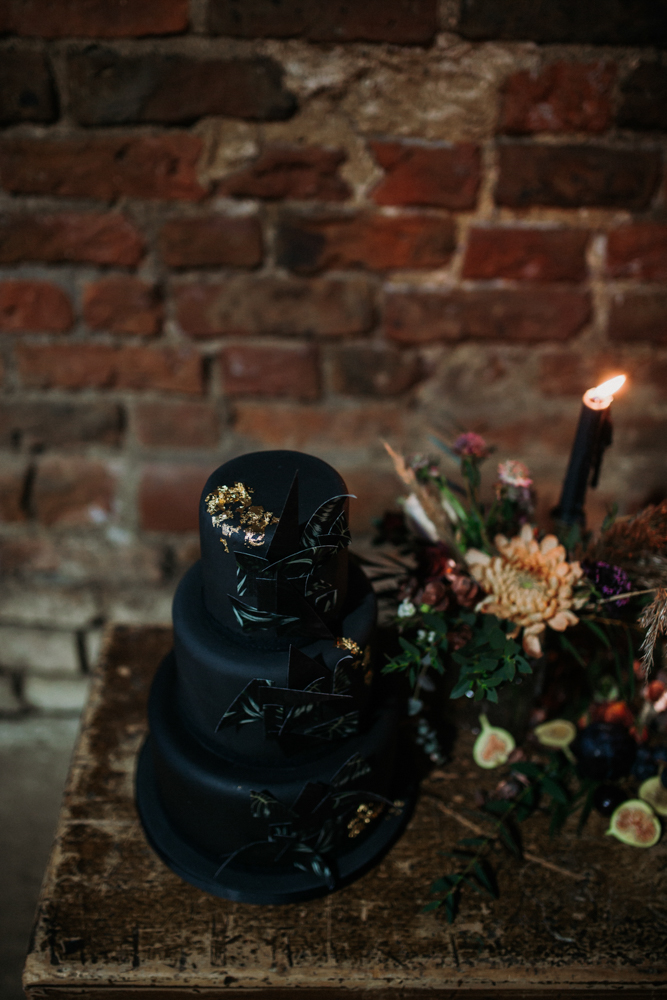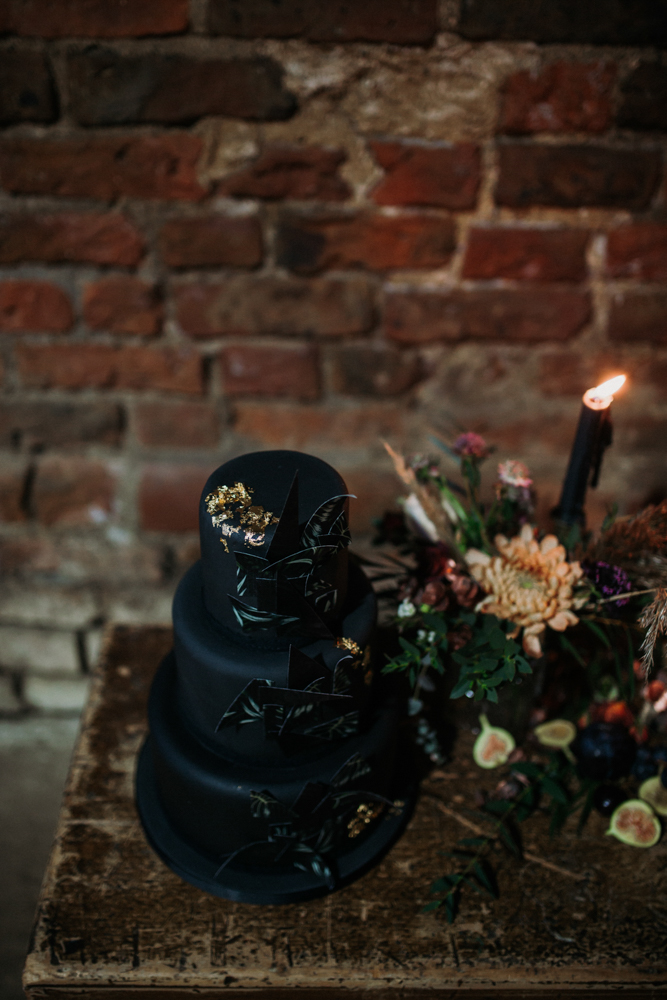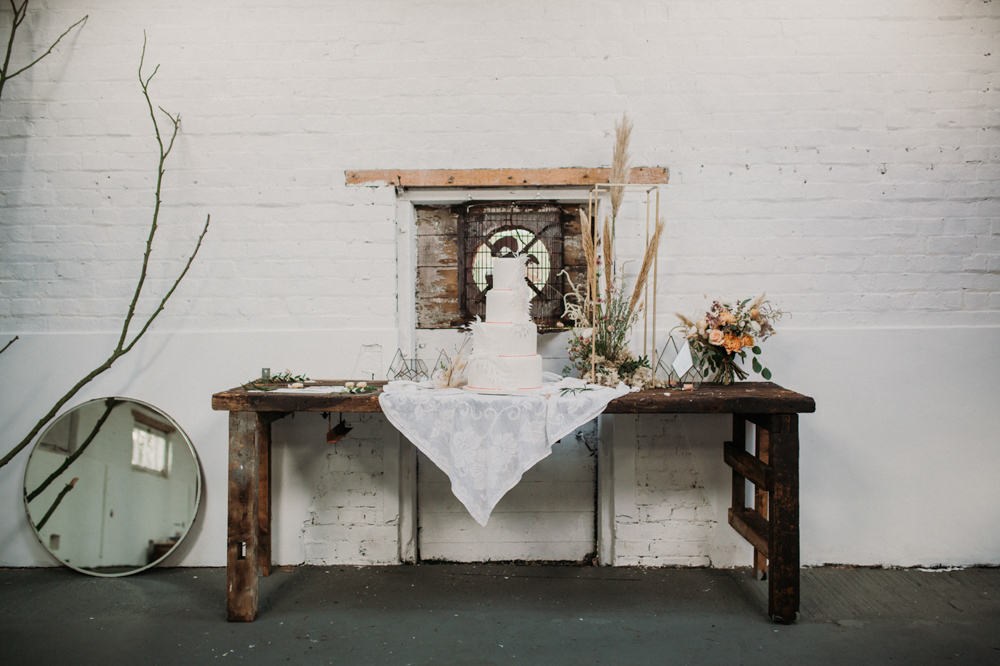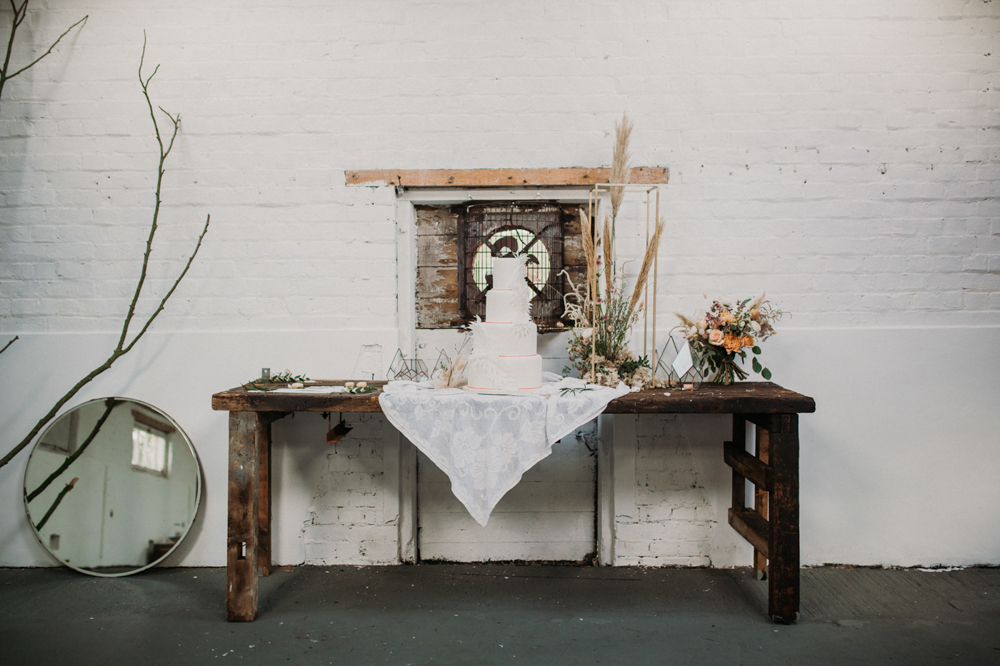 "For the dark cake a dramatic effect has been achieved by using black fondant icing with black lace trimming each tier. The detailing is made from wafer paper, which has been printed with edible ink with a palm leaf print and then cut into geometric shapes. Wafer paper can be printed on with any design or colour, which can be a fantastic way of tying in a pattern, colour theme reflecting the wedding. The wafer paper shapes were then applied and layered onto the cake. This cake could equally fit with a modern or dark vintage theme.
"Tip: If you're open to ideas, ask your cake designer to come up with design ideas, you could end up with something incredible you never thought of. Most cake designers will have lots of amazing original ideas in their head just dying to get out!"
Hair and Make Up – Alison Martin
"With the 'light and dark' theme of the shoot, I wanted to create two different looks that captured both moods. For the lighter look I had ethereal beauty in mind; glowy, dewy skin with barely there eye make up and a nude lip. An antler headdress created by Bethan was then added to the hair. I then added a dark lip and smudgey liner for Daisy's alter ego! This was finished off with a face lace mask, which worked amazingly with the dress for an added mysterious look."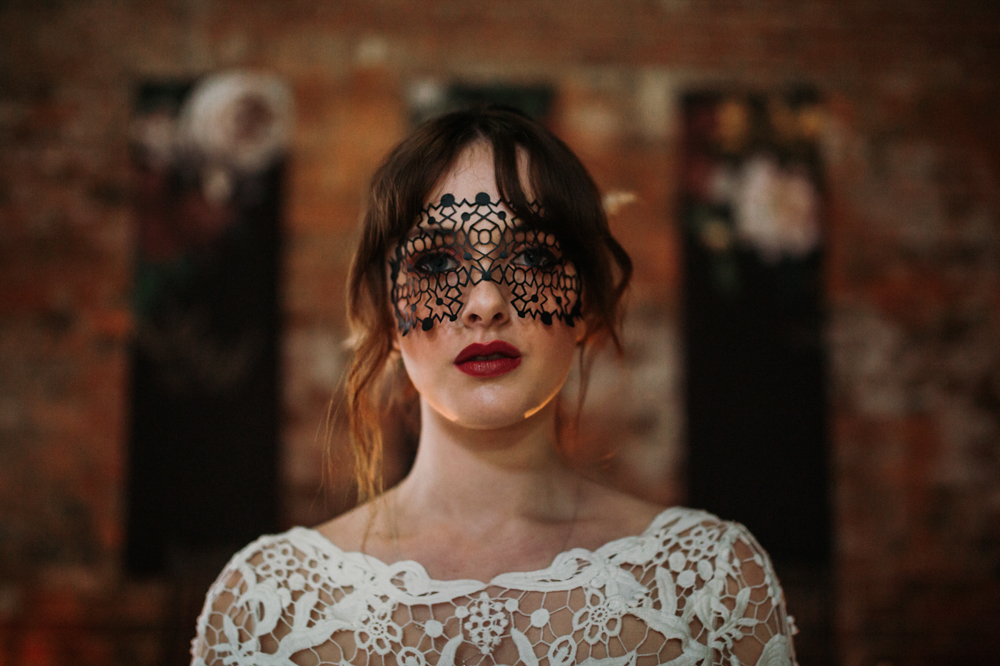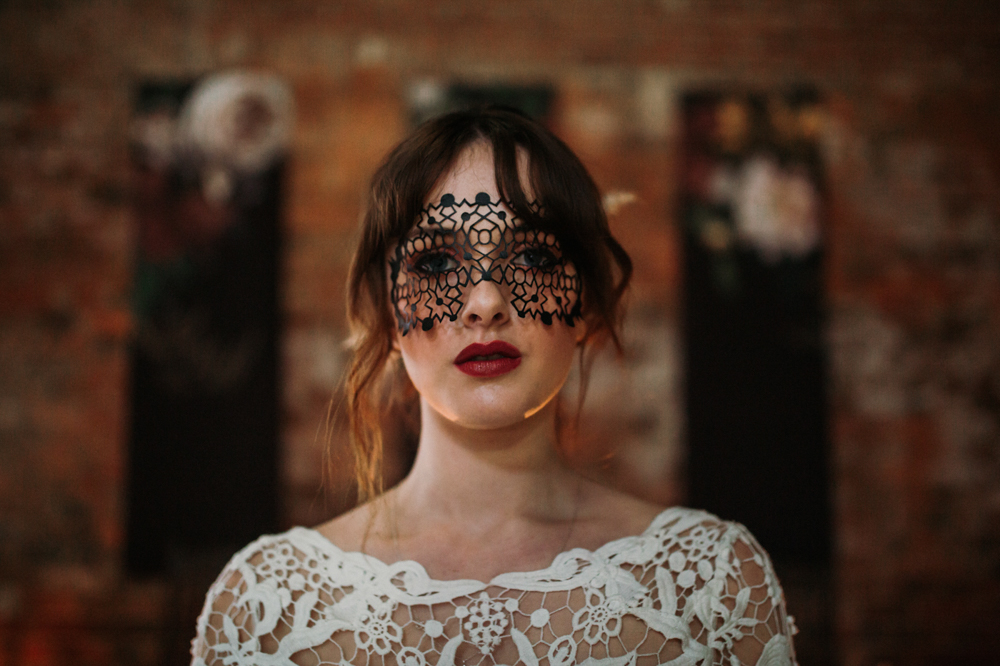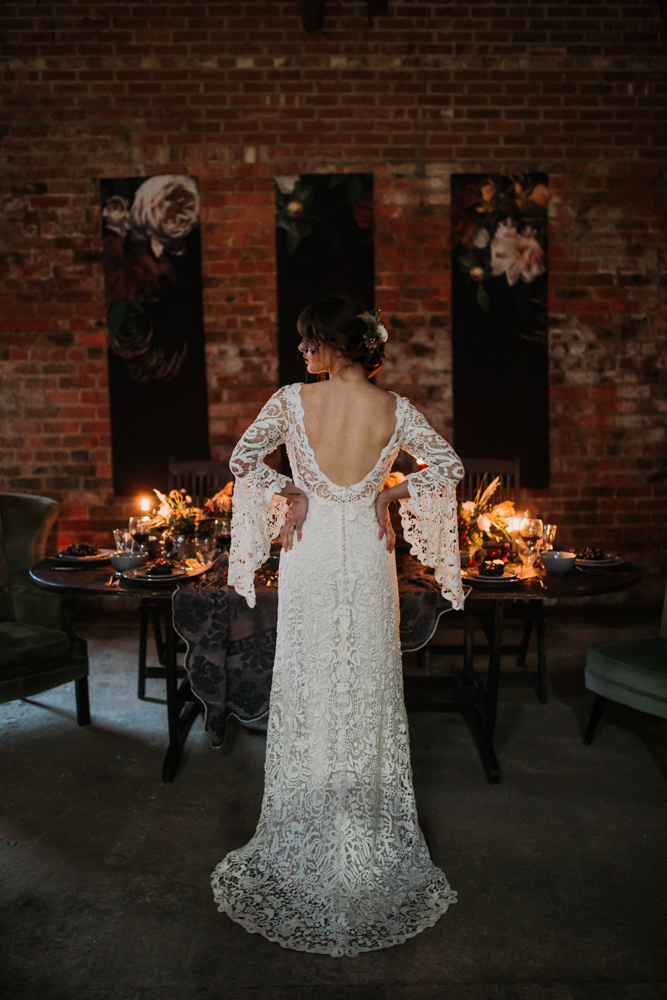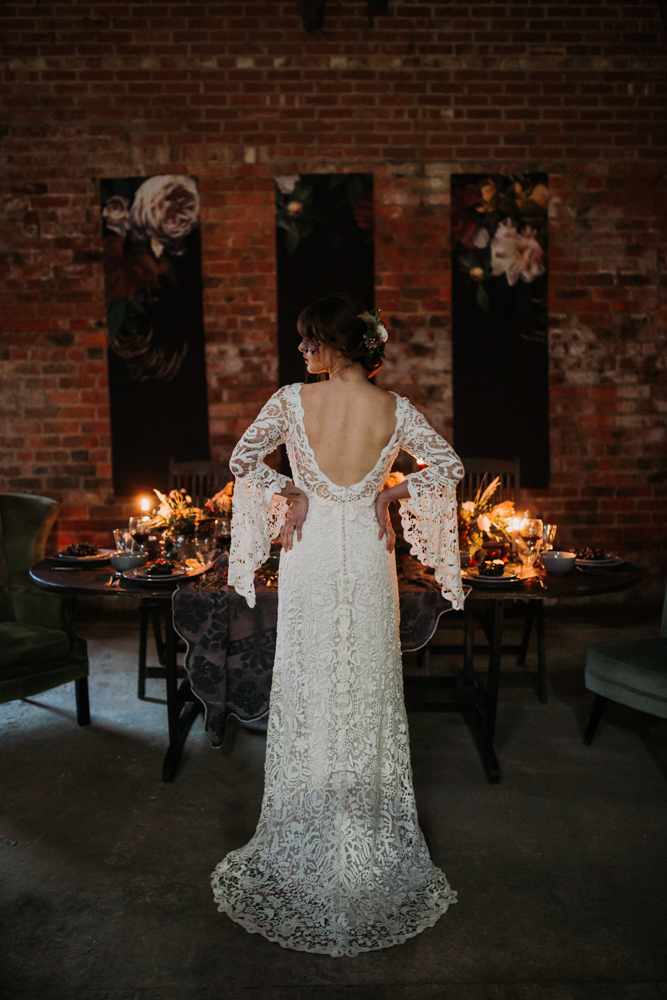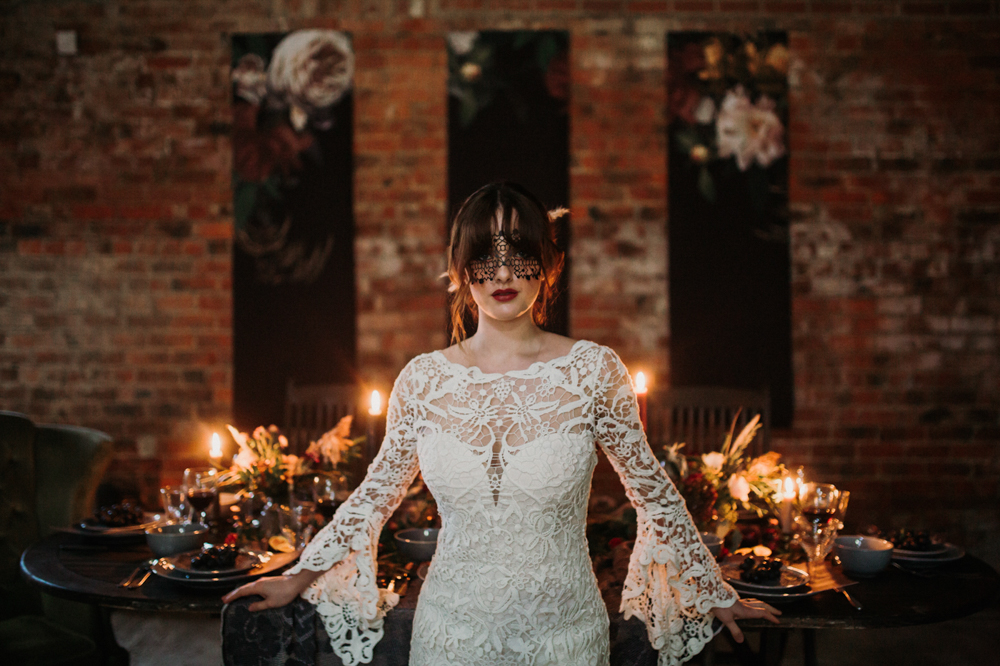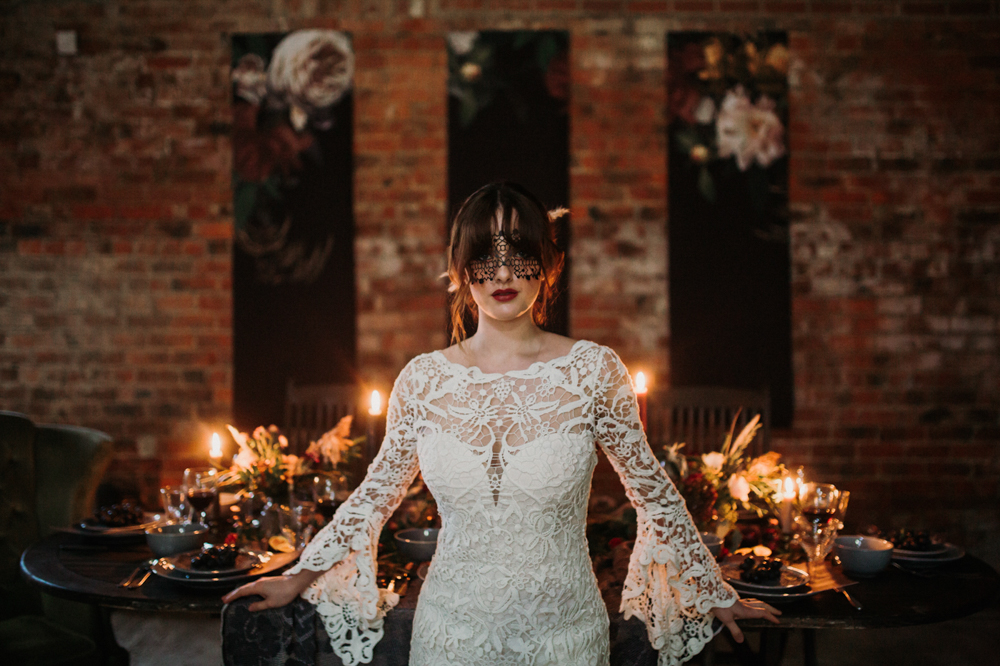 "The hairstyle was an effortless looking boho style chignon, which is proving to be a popular bridal hair choice at the moment. To avoid taking anything away from the masquerade lace, I added a clip, again made by Bethan, instead of keeping the headdress, for the darker look"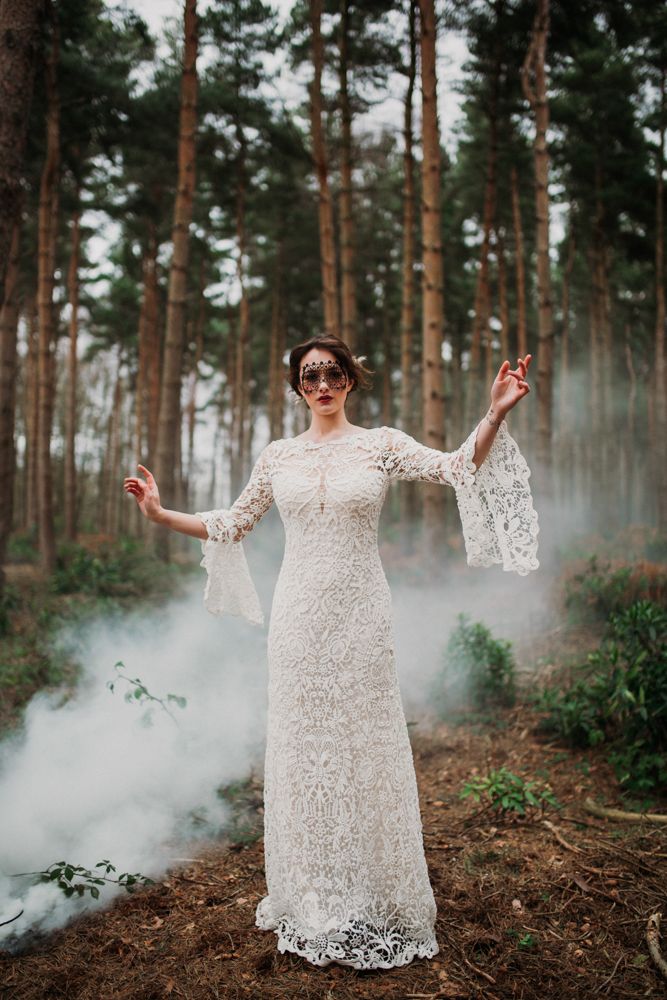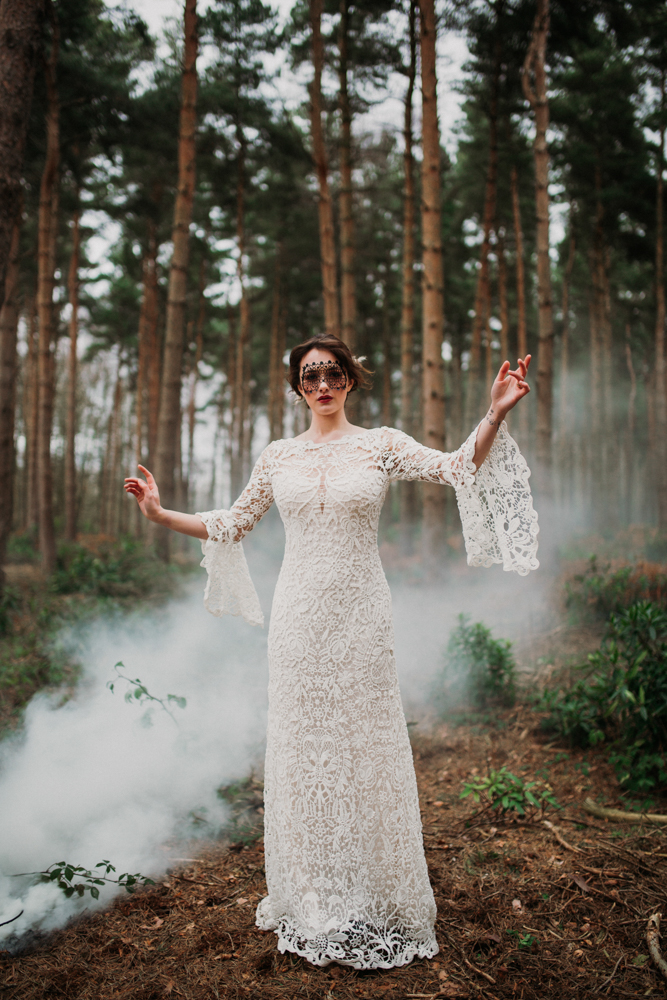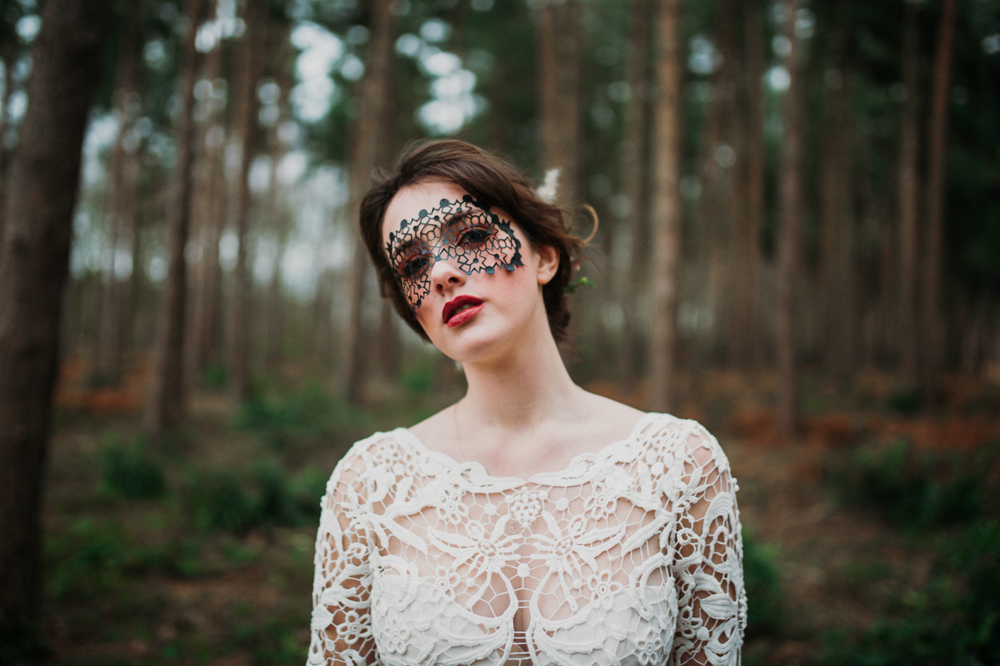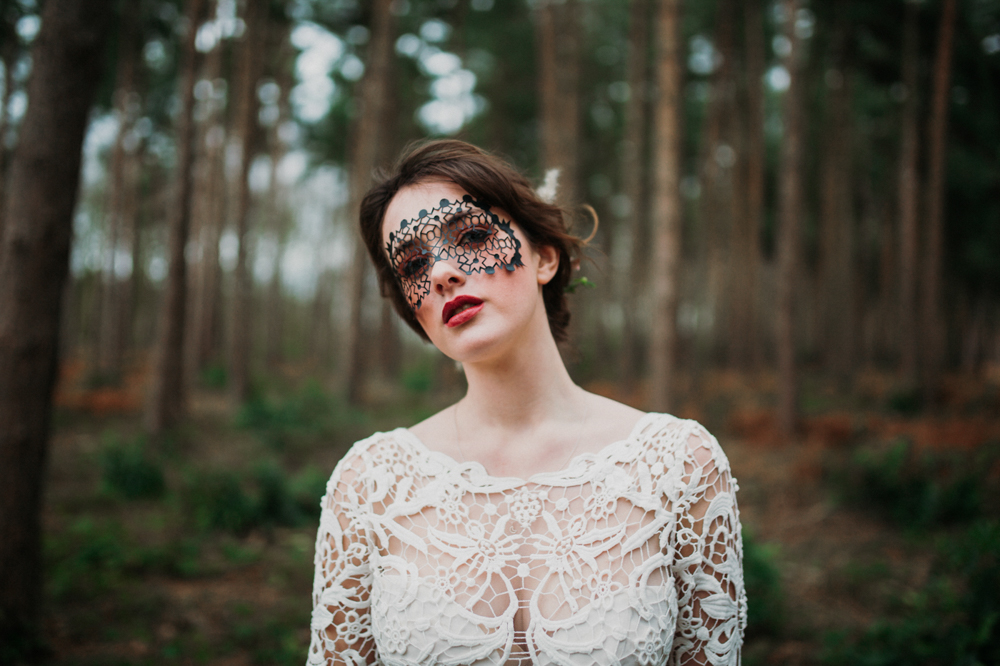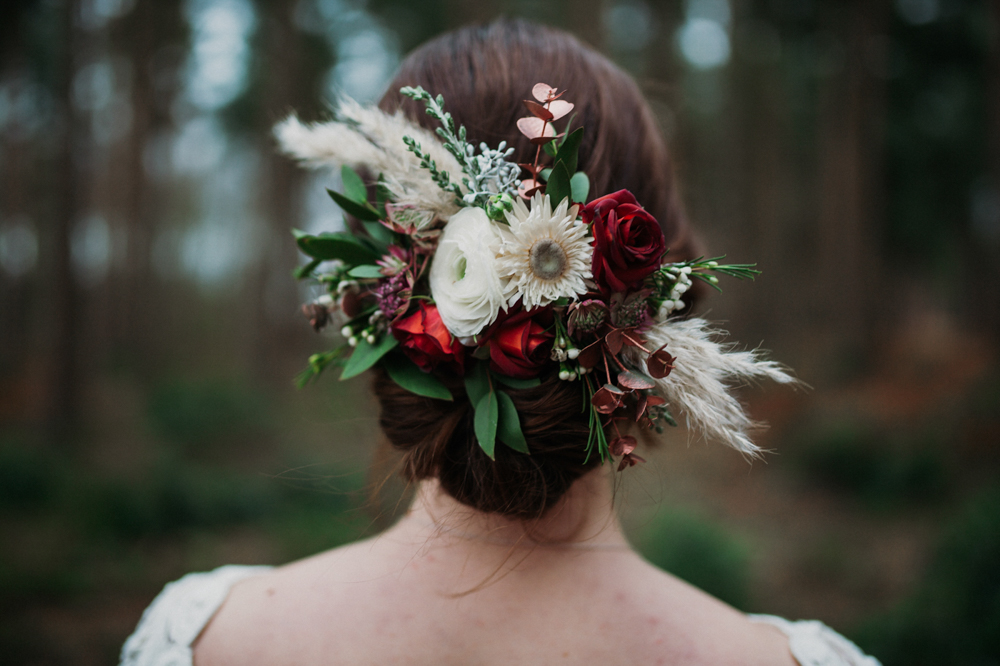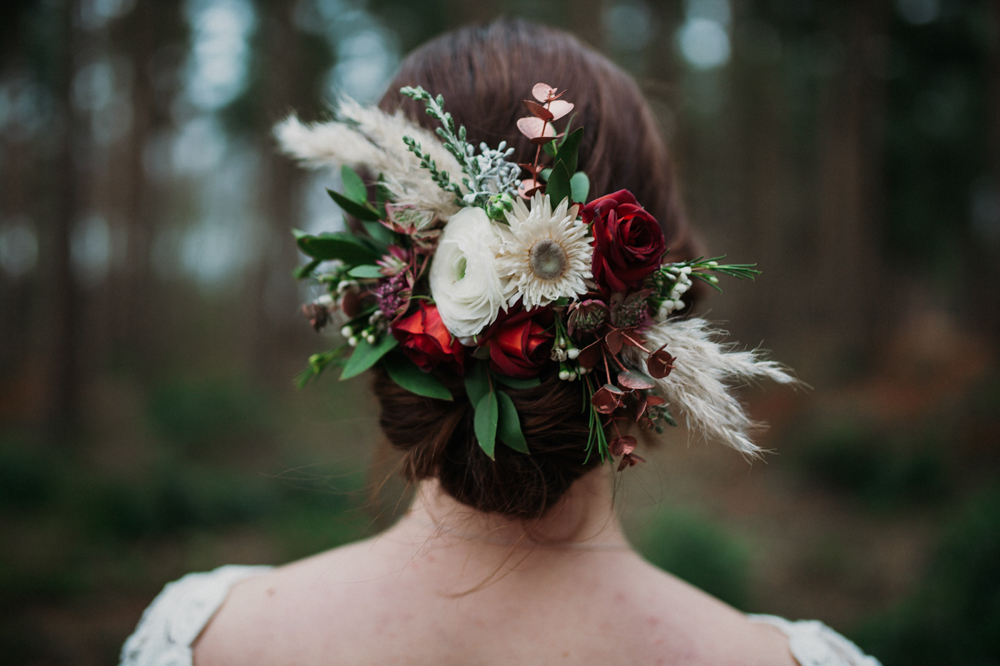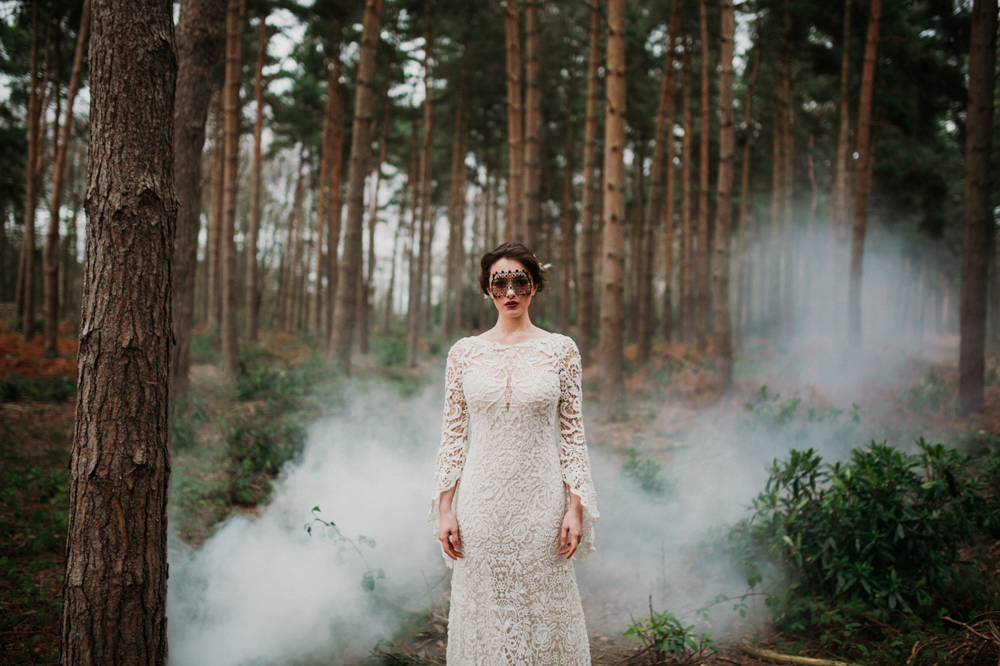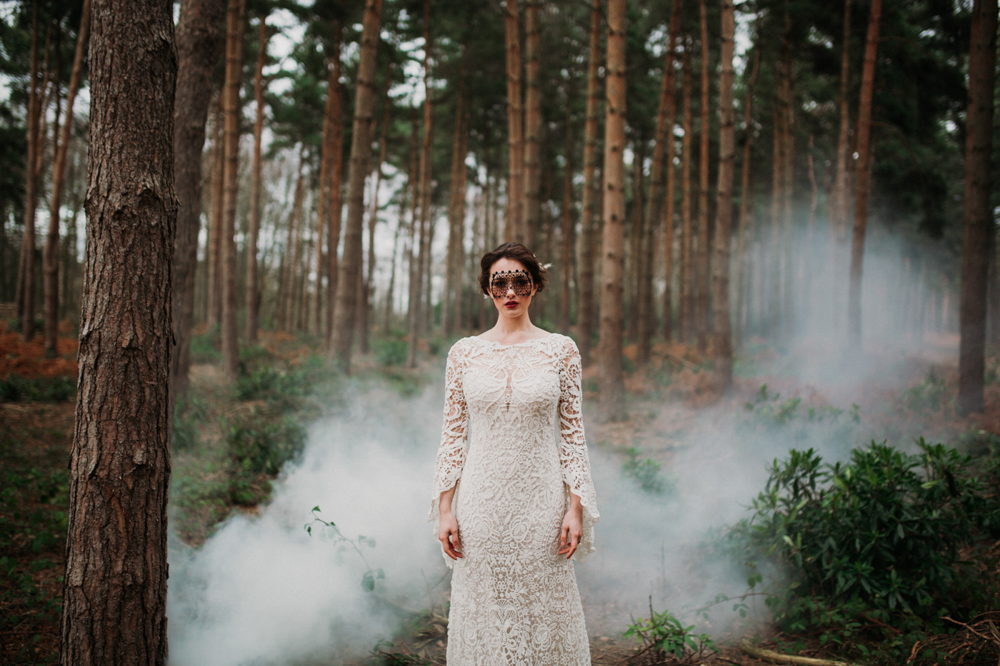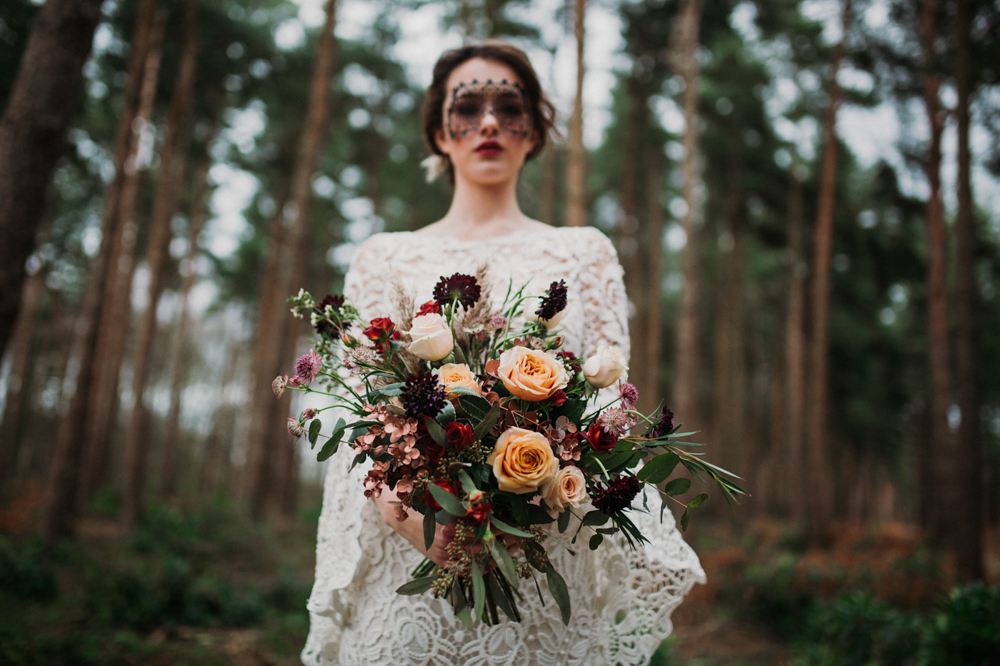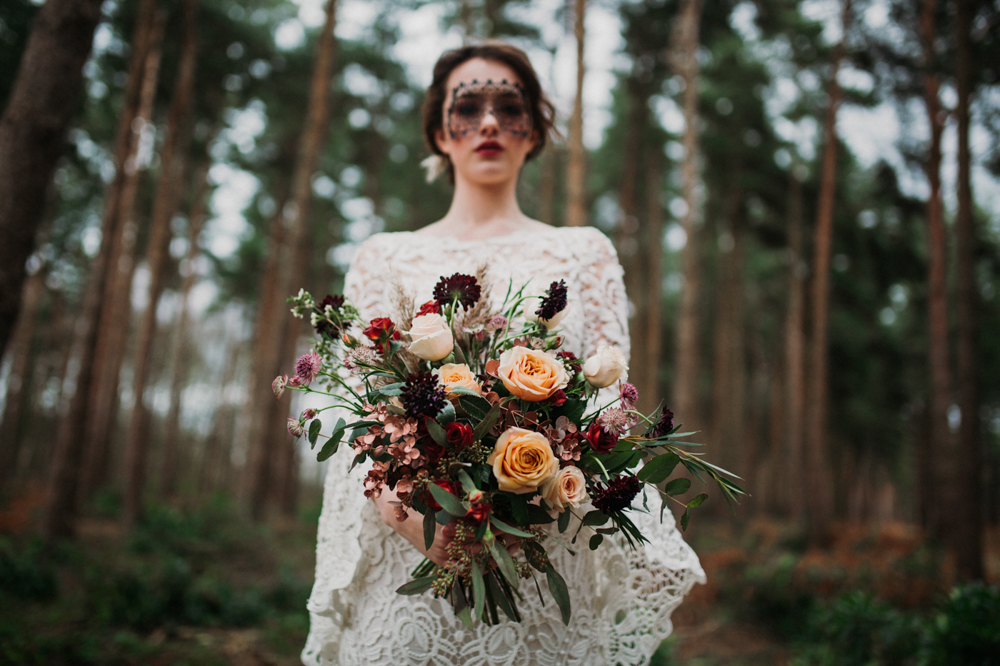 Stationery – Grey Starling Design
"I asked Carolyn from Gray Starling to create both a light look and a dark look for our flatlays. If you look closely at the stationery in the light suite, you will see a subtle lace detail running alongside the gorgeous big blooms, which are another 2019 big trend according to industry experts. To add a wow factor behind the table in the dark scenes, Carolyn created three huge banners with decorative blooms. These were hung, broken up by the exposed brick wall to make it more of an art installation than just a backdrop."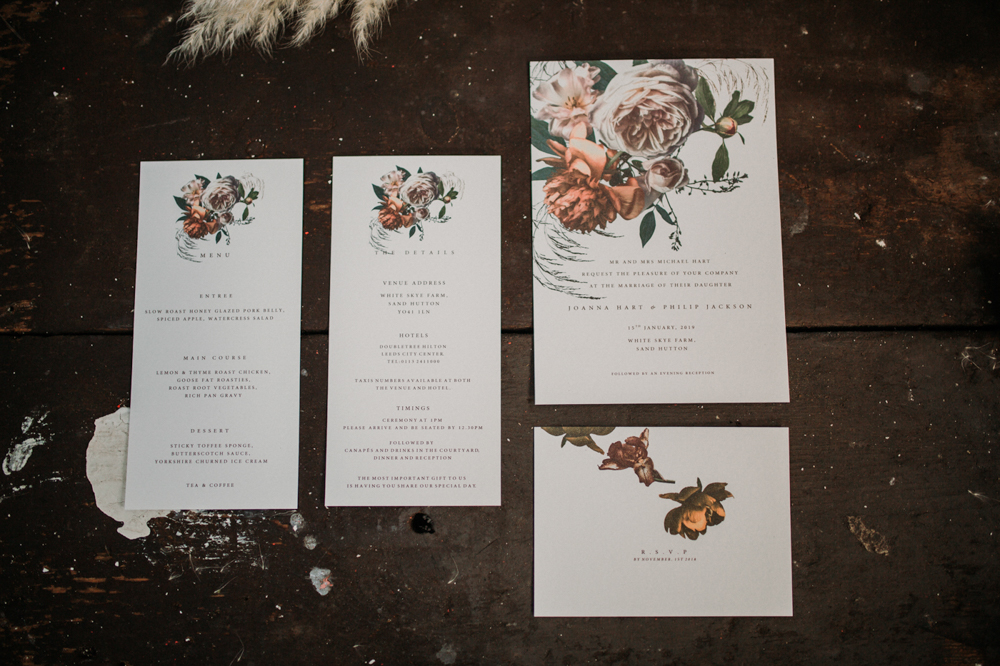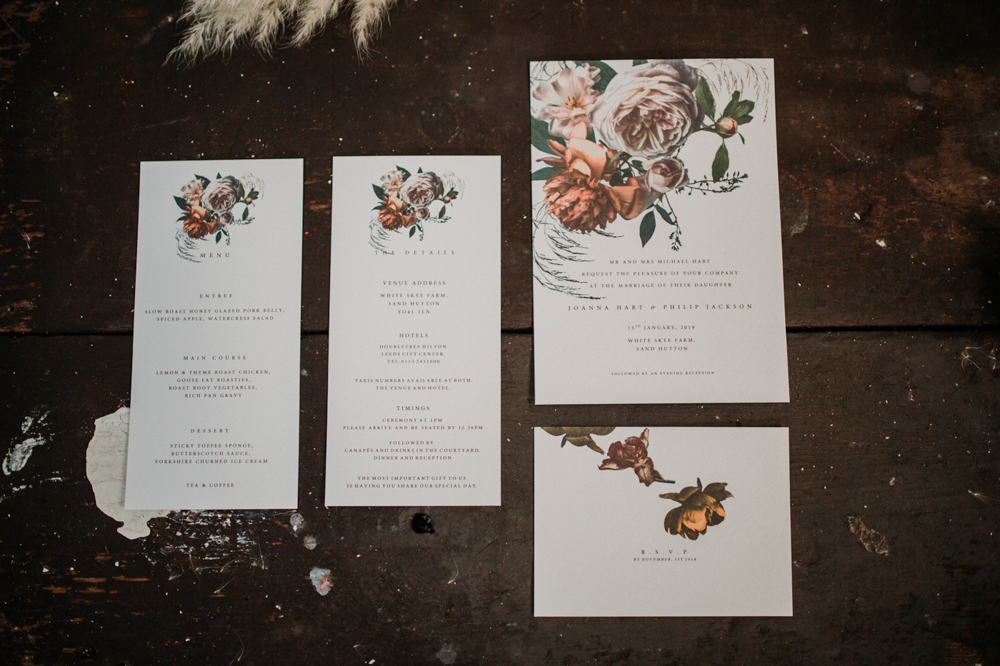 Carolyn said "The stationery collections reflect the difficult decisions and ideas that couples feel they need to over come to achieve the "ideal wedding", to achieve something publication worthy. Your wedding is about you and you should never have to feel you're making decisions based on what others might think, I feel strongly about this, your wedding should reflect your personality. With this in mind the brief from Ellen was right up my street. Both suites featured here show how easily the current Luxe trend can be applied to different personal tastes, light and serene and dark and gothic"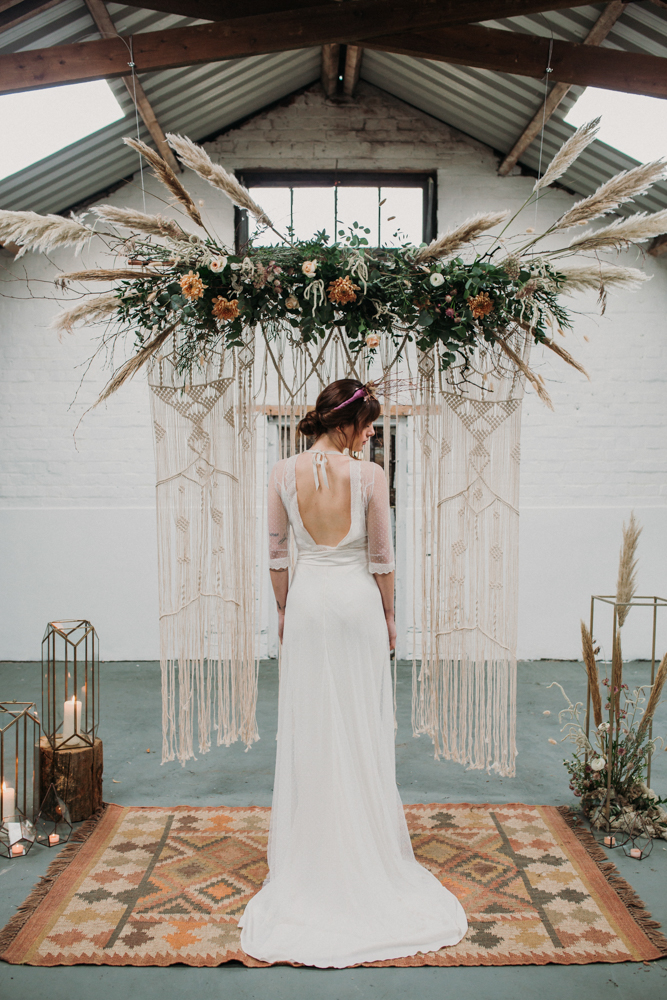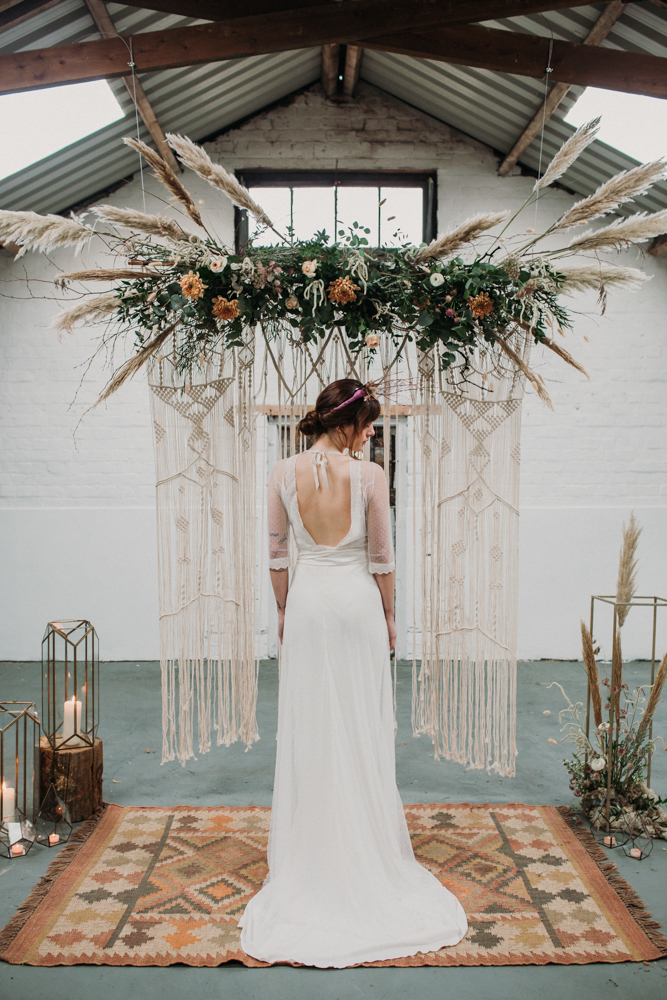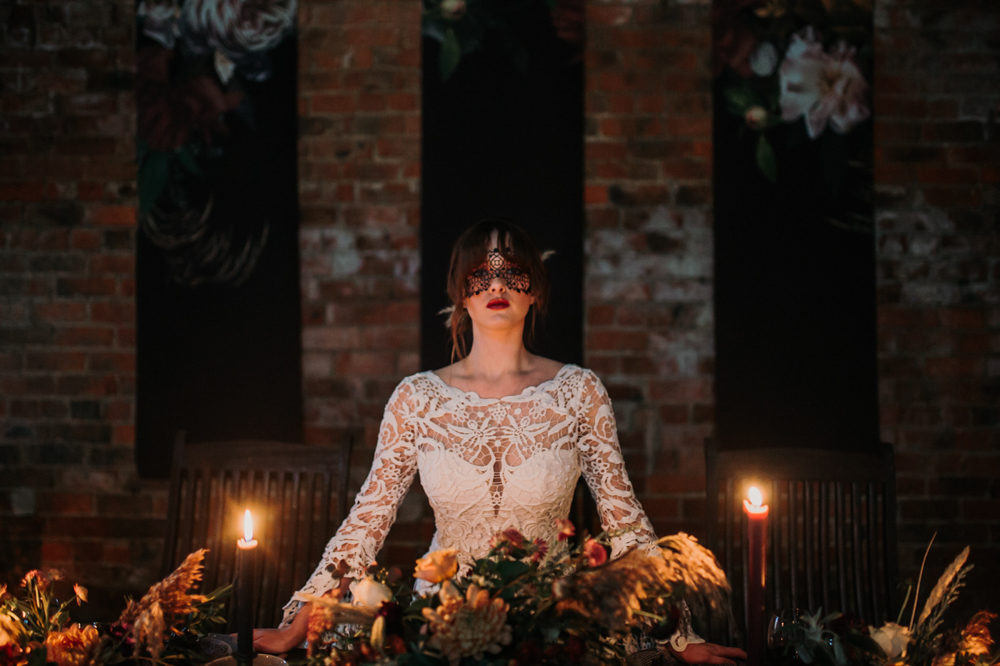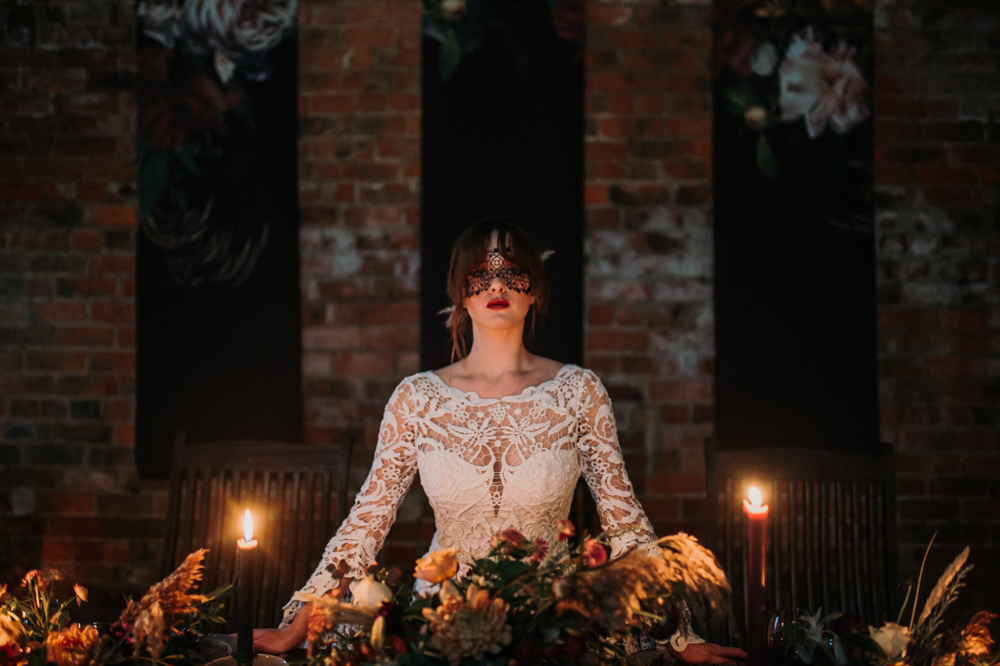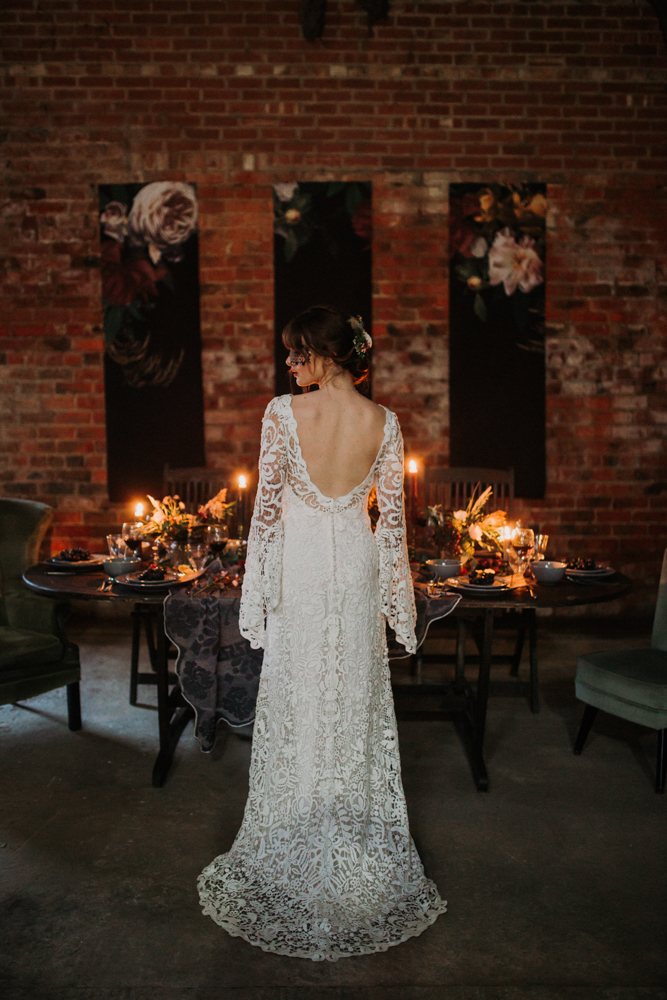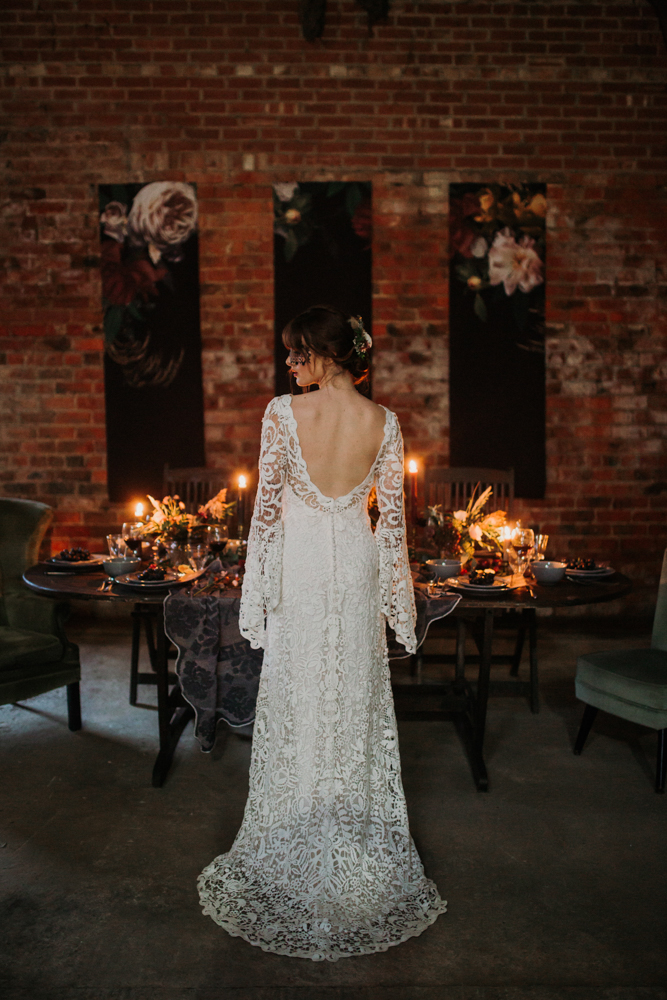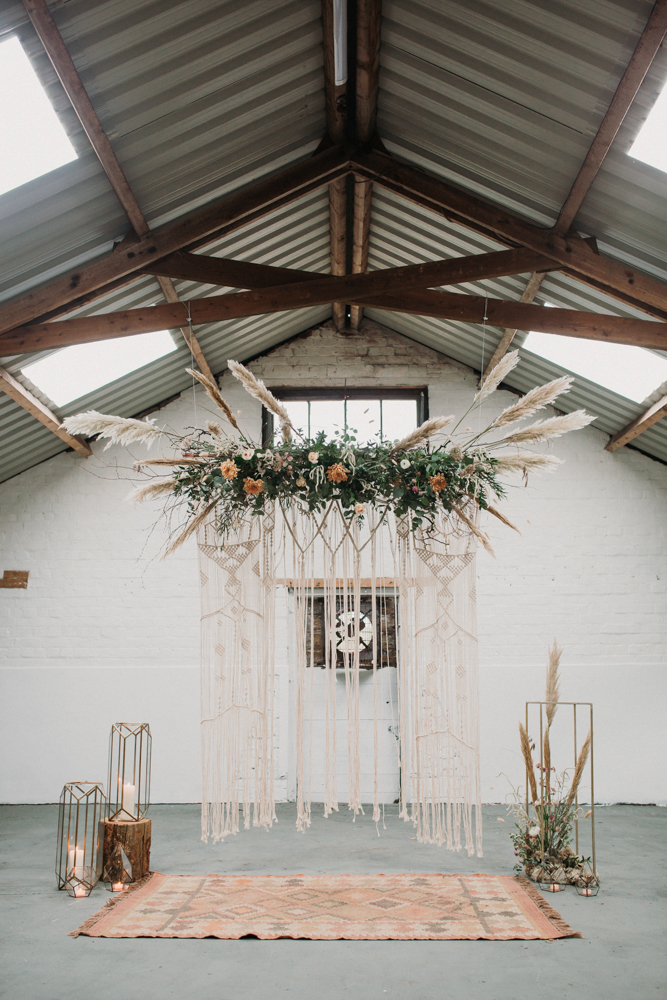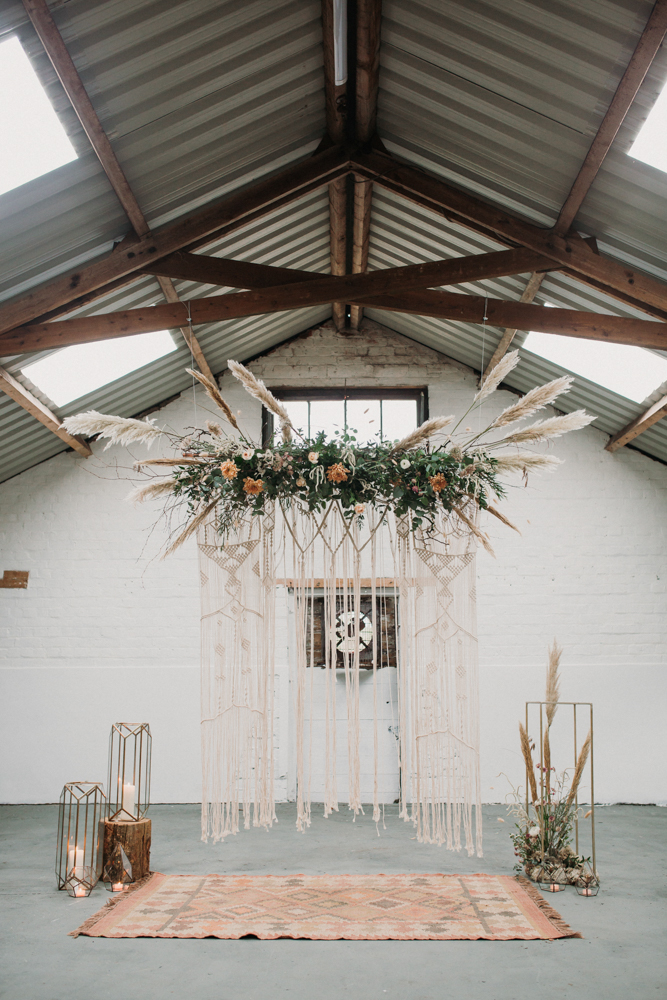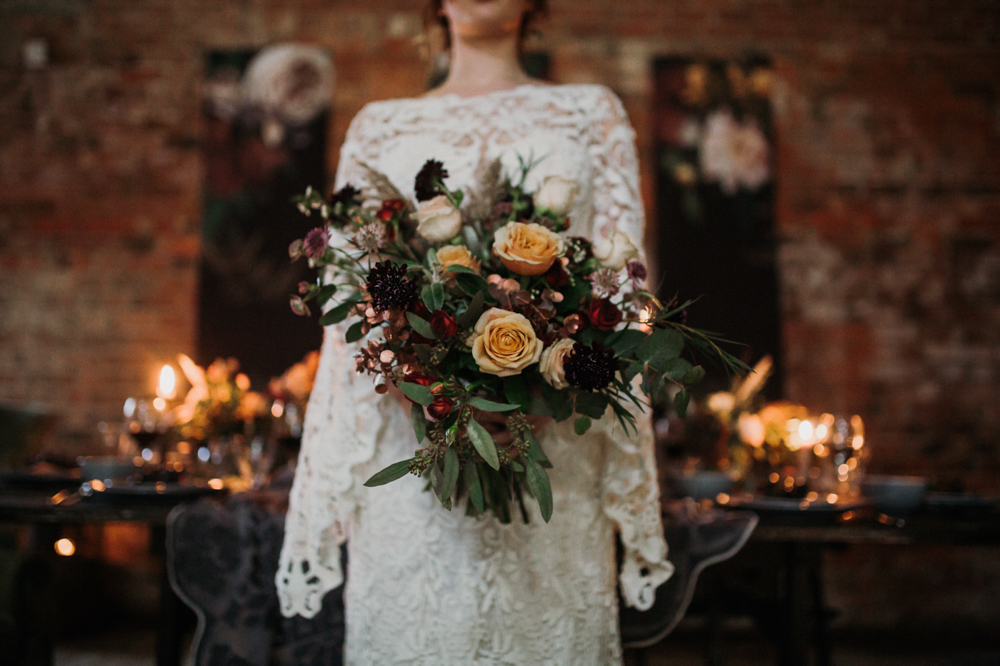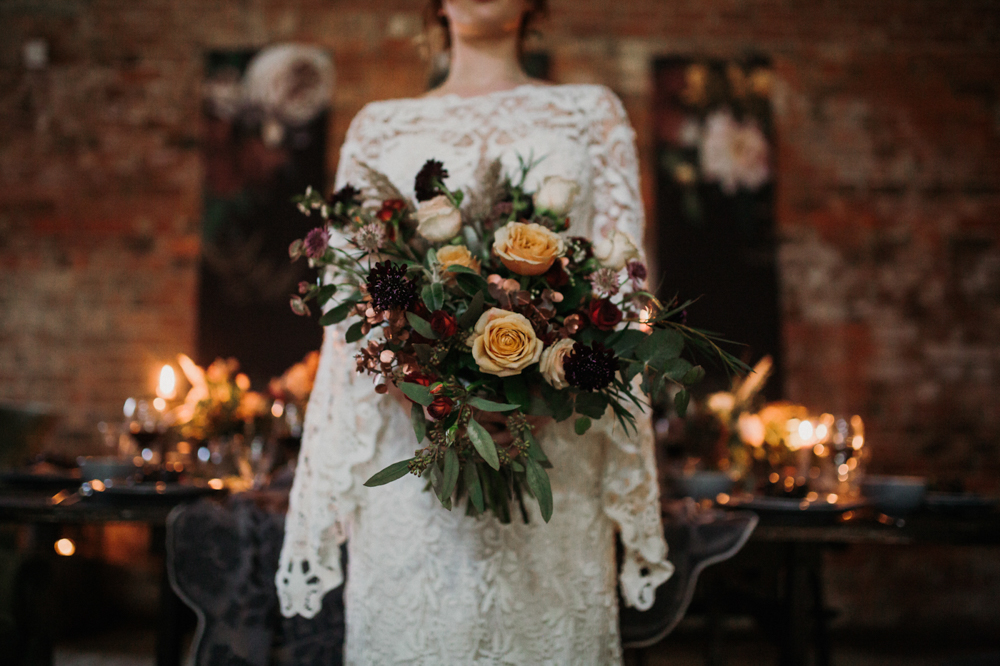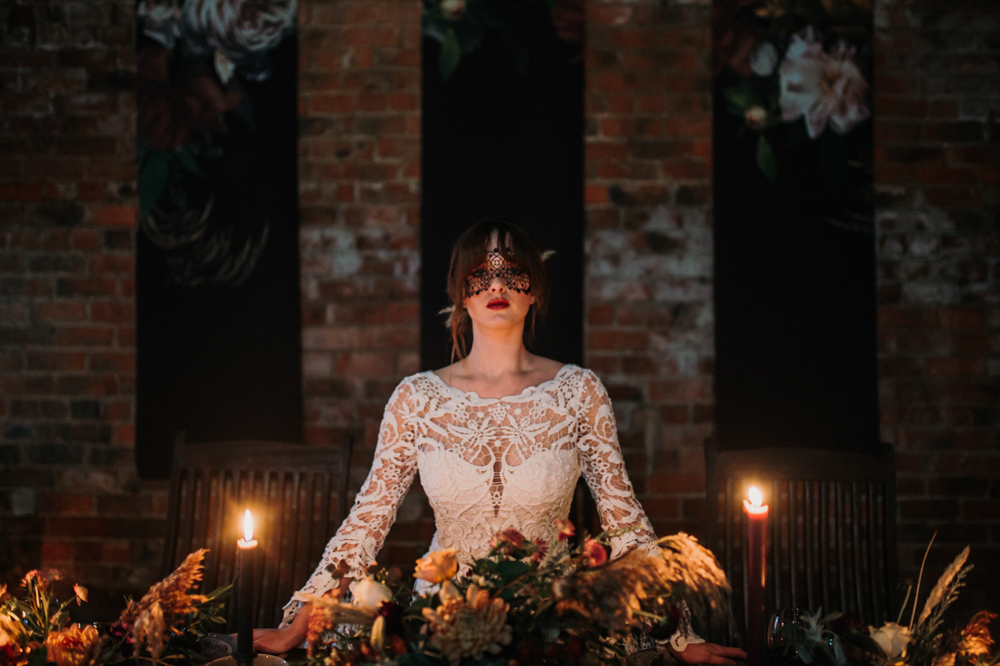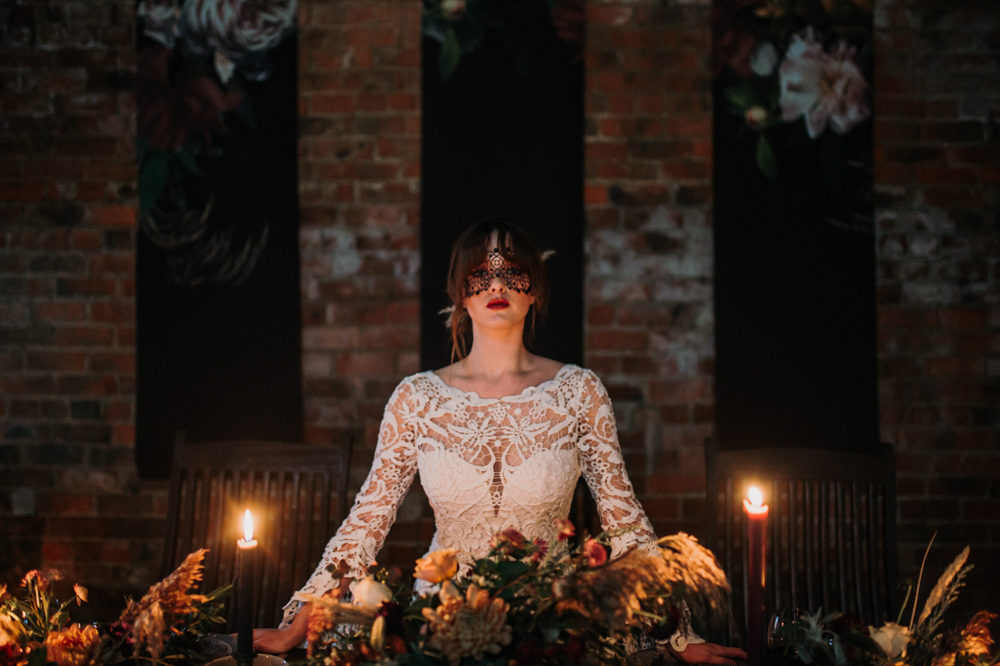 Videographer – Mcpherson Weddings
"A special mention needs to go to our videographer Conor from McPhearson weddings. Conor had approached me about adding to his wedding portfolio, as this was a new area for him. Unfortunately for him, my weddings had just ended for the season but fortunately for me, I managed to persuade him to come and test the waters with a shoot. His footage gave me goosebumps when I first saw it as it just perfectly summed up what I'd hoped the shoot would achieve. It provides another dimension for all the suppliers involved, being able to show off their expertise and so I am very grateful to him for being able to do so."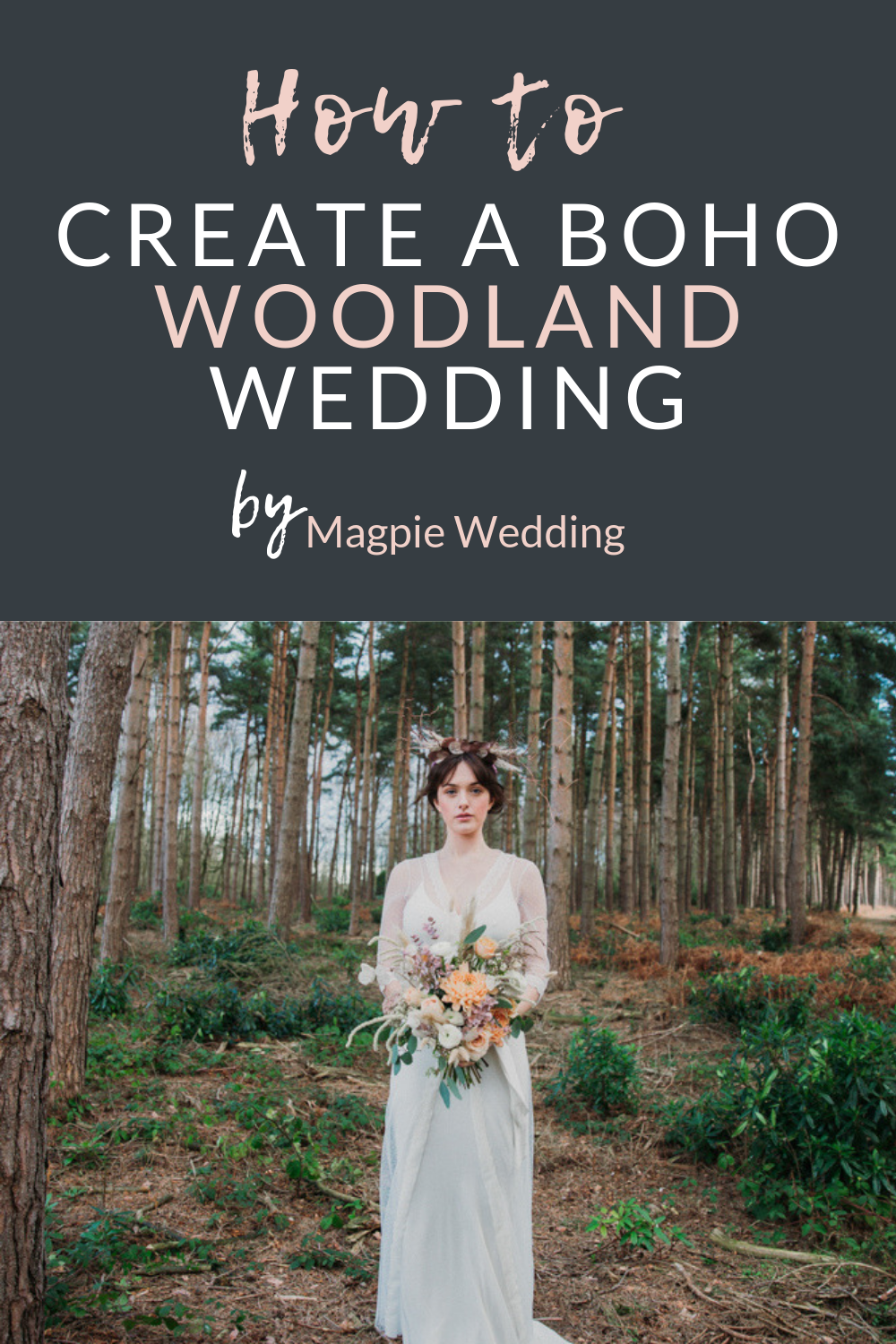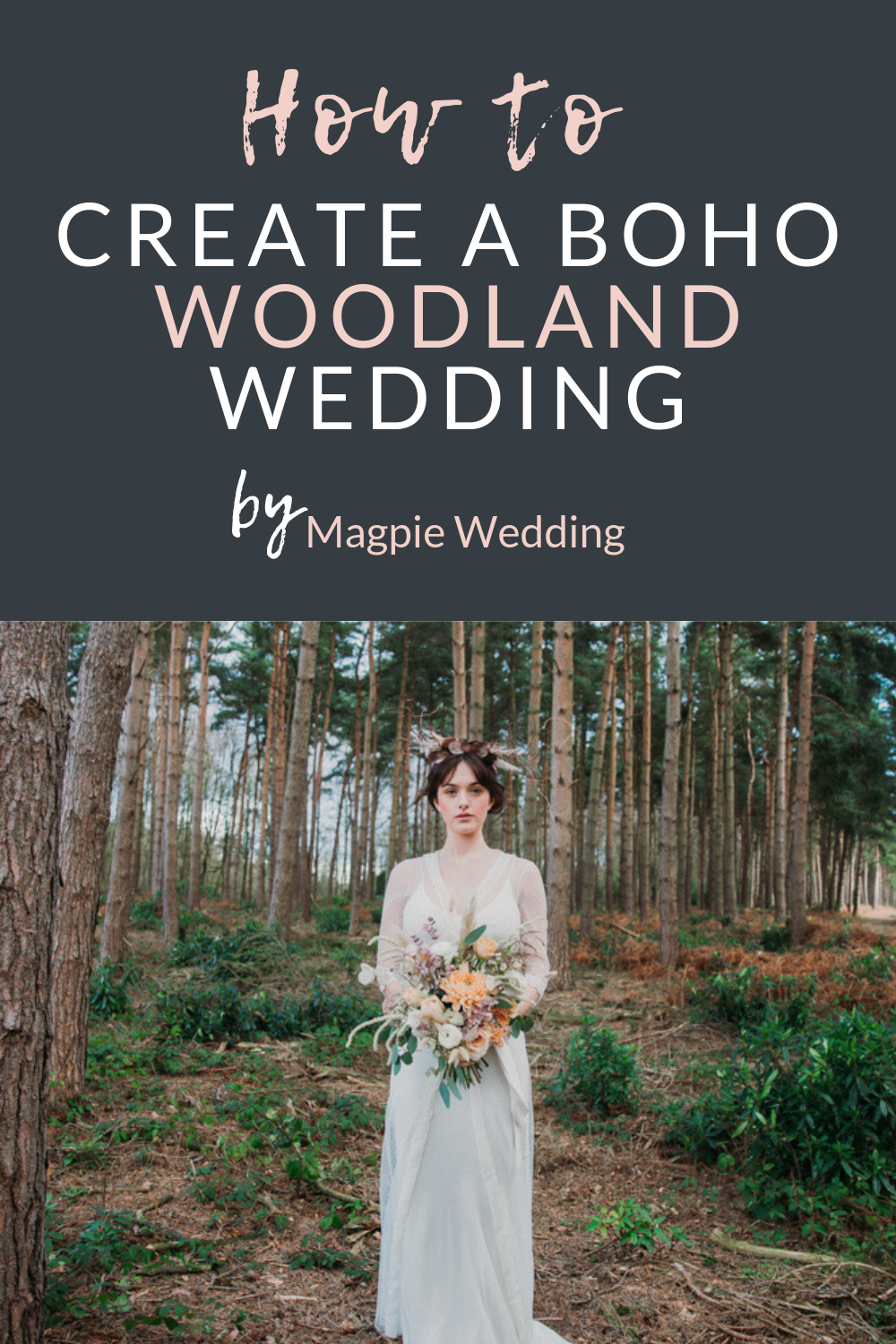 The Team- Boho Woodland Wedding with Black Wedding Cake and Autumnal Flowers
Organisation, concept and styling – LND Events @lndevents
Photography – Victoria Baker Photography @victoriabakerweddings
Venue- White Syke Fields @whitesykefields
Cake – Apple Charlotte @applecharlottecakes
Dress – The Aisle Ilkley @theaisle.ilkley
Floral Design – Bureau Botany @bureaubotany
Hair and Make Up – Alison Martin HMUA @alisonmartin_mua
Videography – McPhearson Weddings @mcphersonweddings
Stationery- Gray Staring Design @graystarlingdesigns
With thanks to model Miss Daisy Blue Ella
Love this boho woodland wedding and looking for more inspiration for your big day? Check out our online magazine BOND BRIDE