Some urban, dark London love today, with this Gothic opulent wedding at The Vaults, Waterloo Station. It's luxury intricate details, amazing accessories and bespoke black wedding dress are the perfect inspiration for alternative couples looking to add a Gothic twist to their big day. Leonie of Leonie May Photography coordinated the shoot and we hear from her and the other suppliers involved who tell us all about the creation of this opulent Gothic inspo at The Vaults.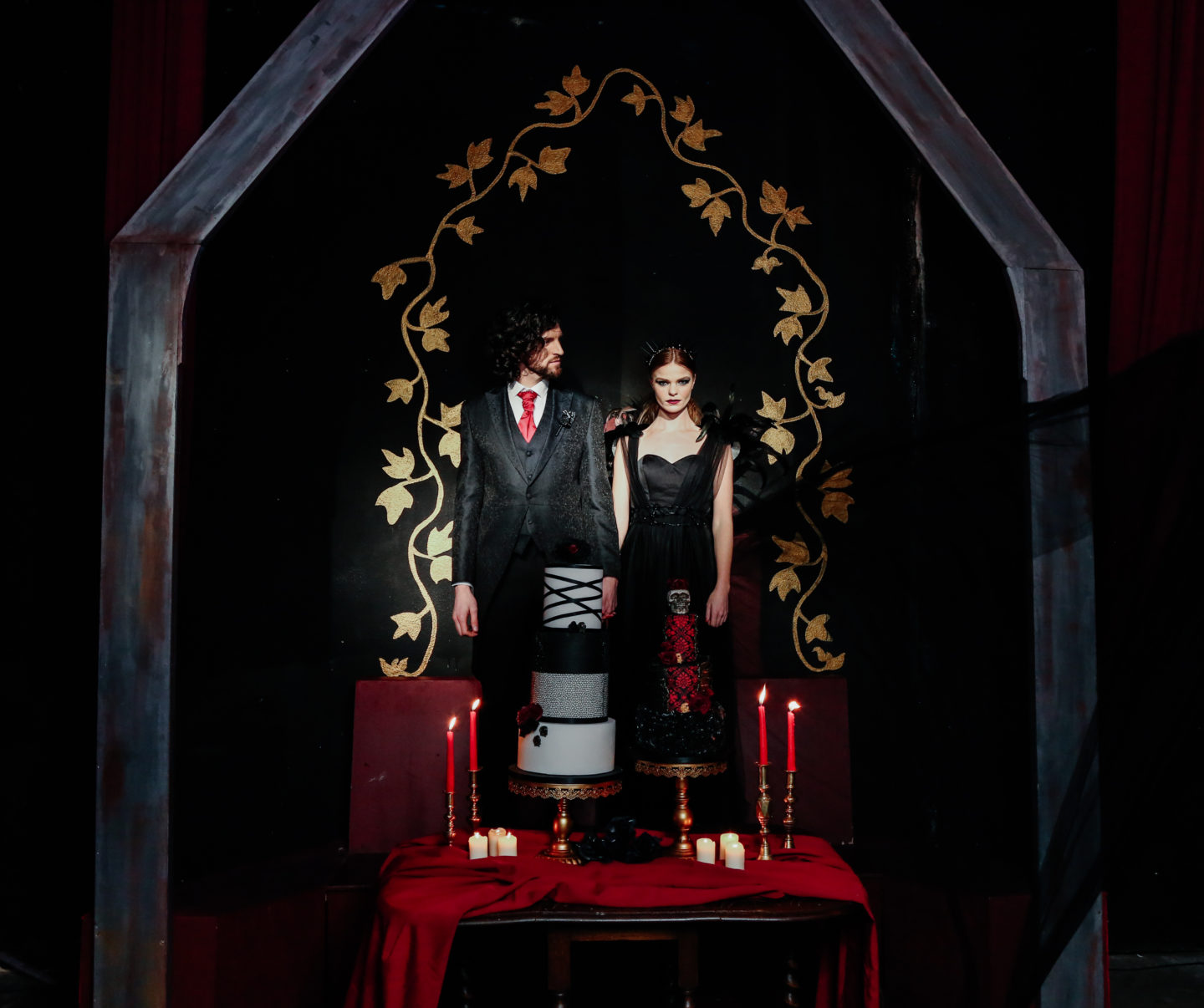 "In January a team of talented wedding suppliers from all over the UK came together to create an inspirational wedding shoot to celebrate Gothic weddings. We wanted to showcase how dark doesn't necessarily mean gloomy and how couples who want to embrace their Gothic side, can still bring love and beauty into their wedding day. This shoot pushed boundaries and showed how you can truly embrace alternative styles, even with suppliers who on the surface, look very traditional. We wanted to push ourselves to create something beautiful that celebrates eternal love and we hope you love it as much as we do!"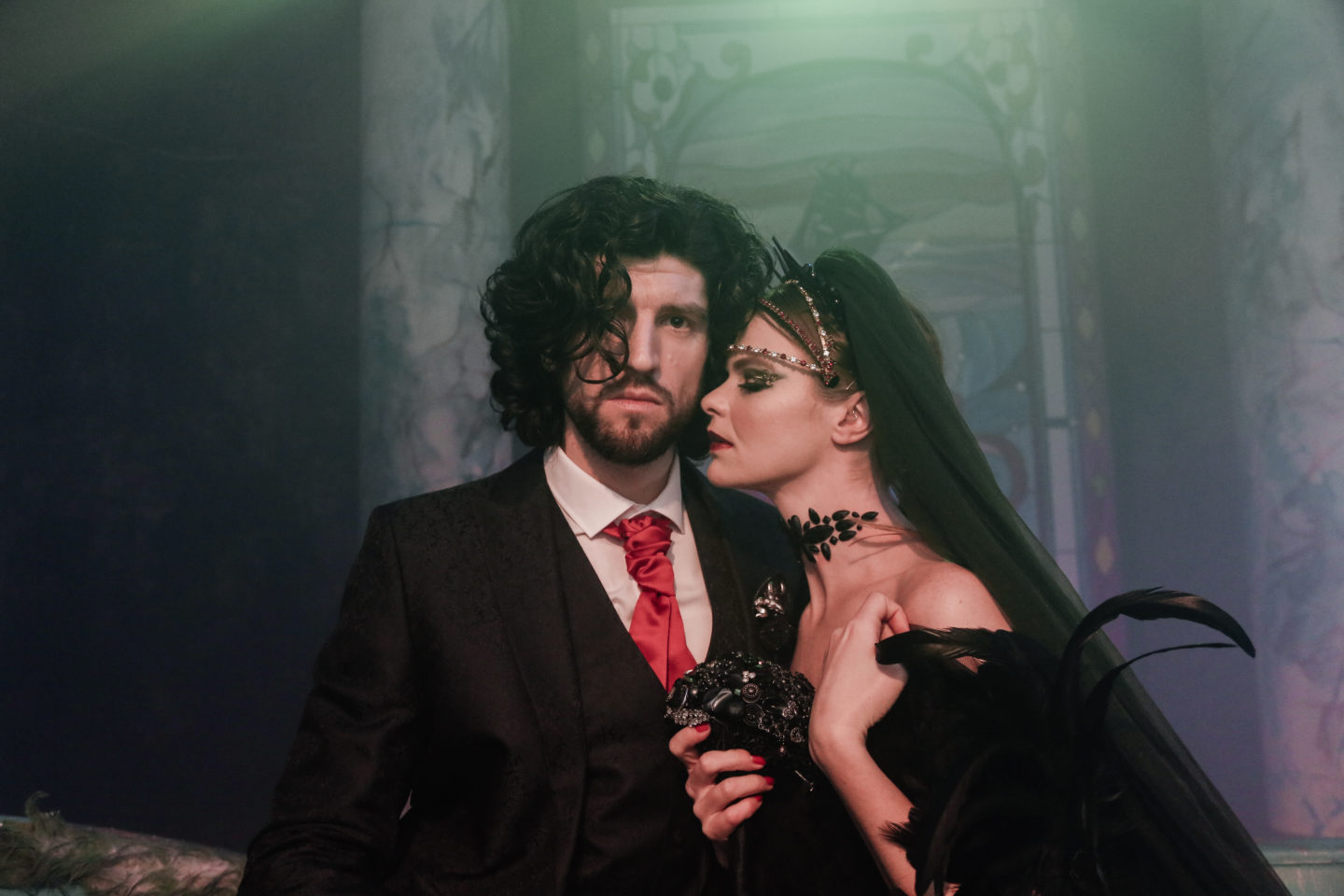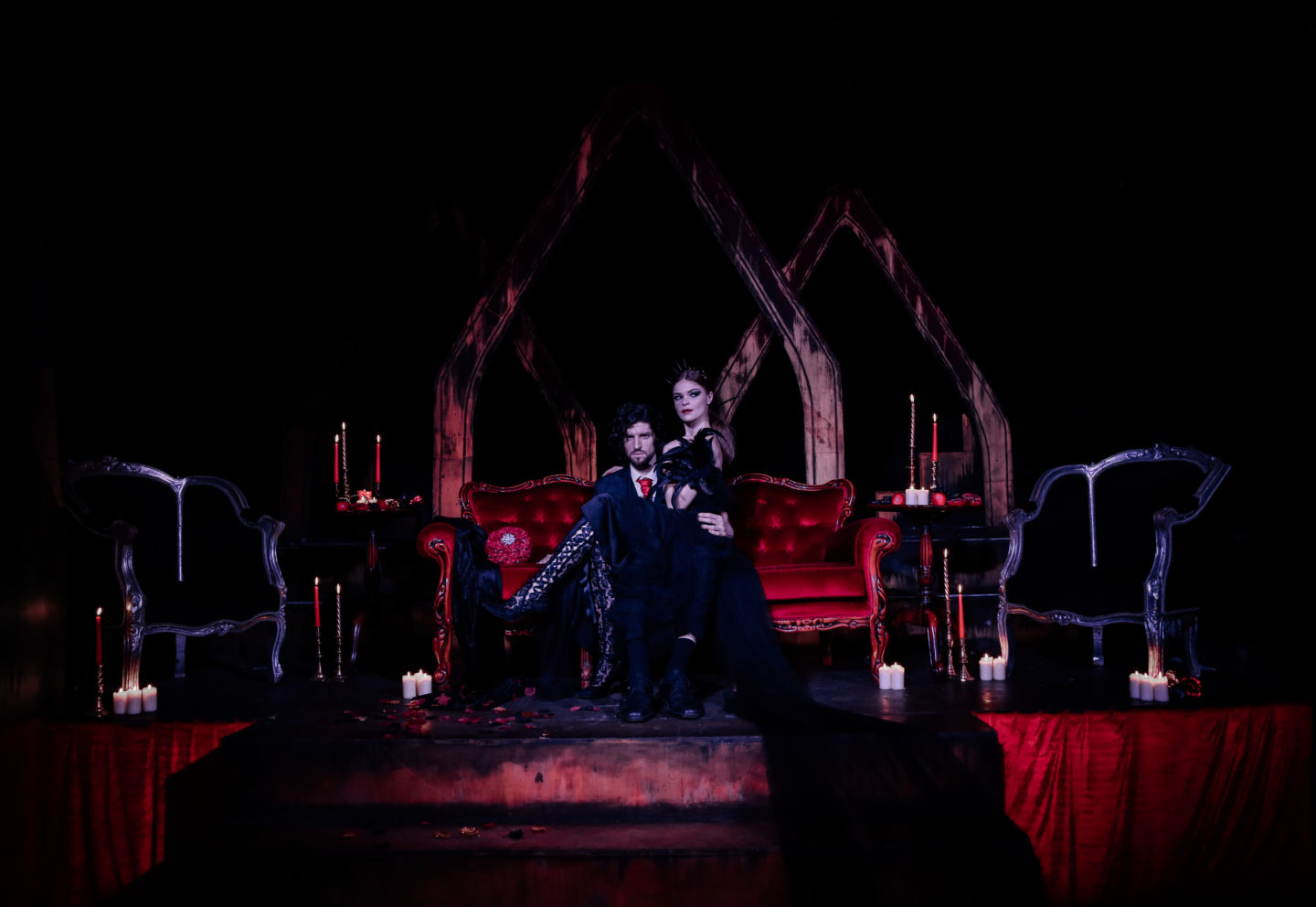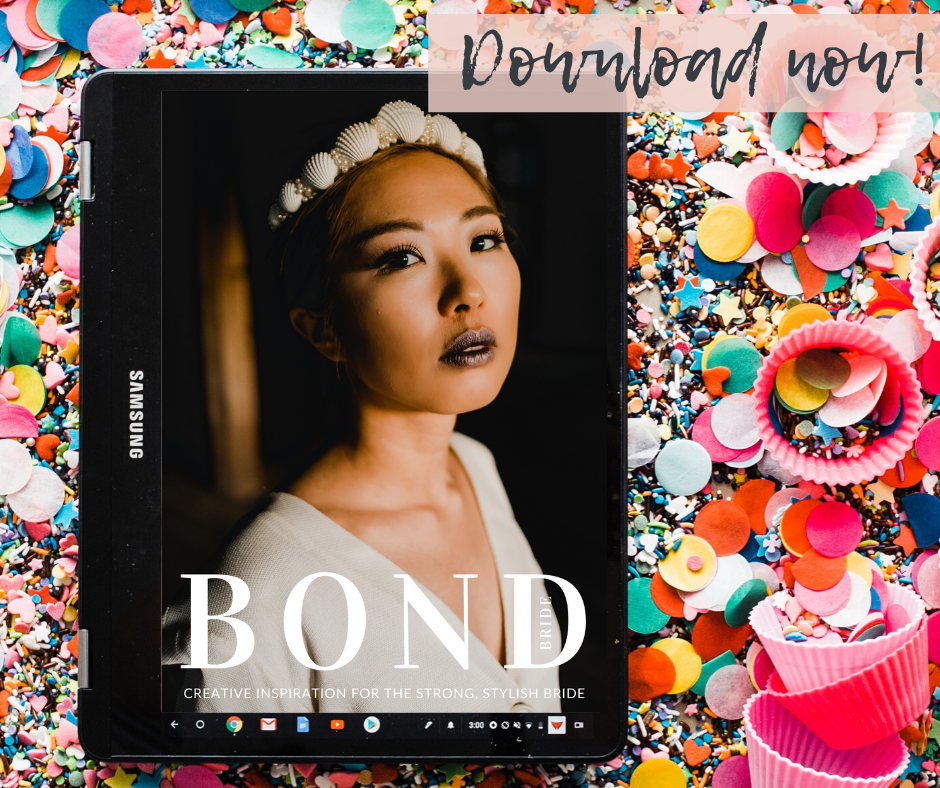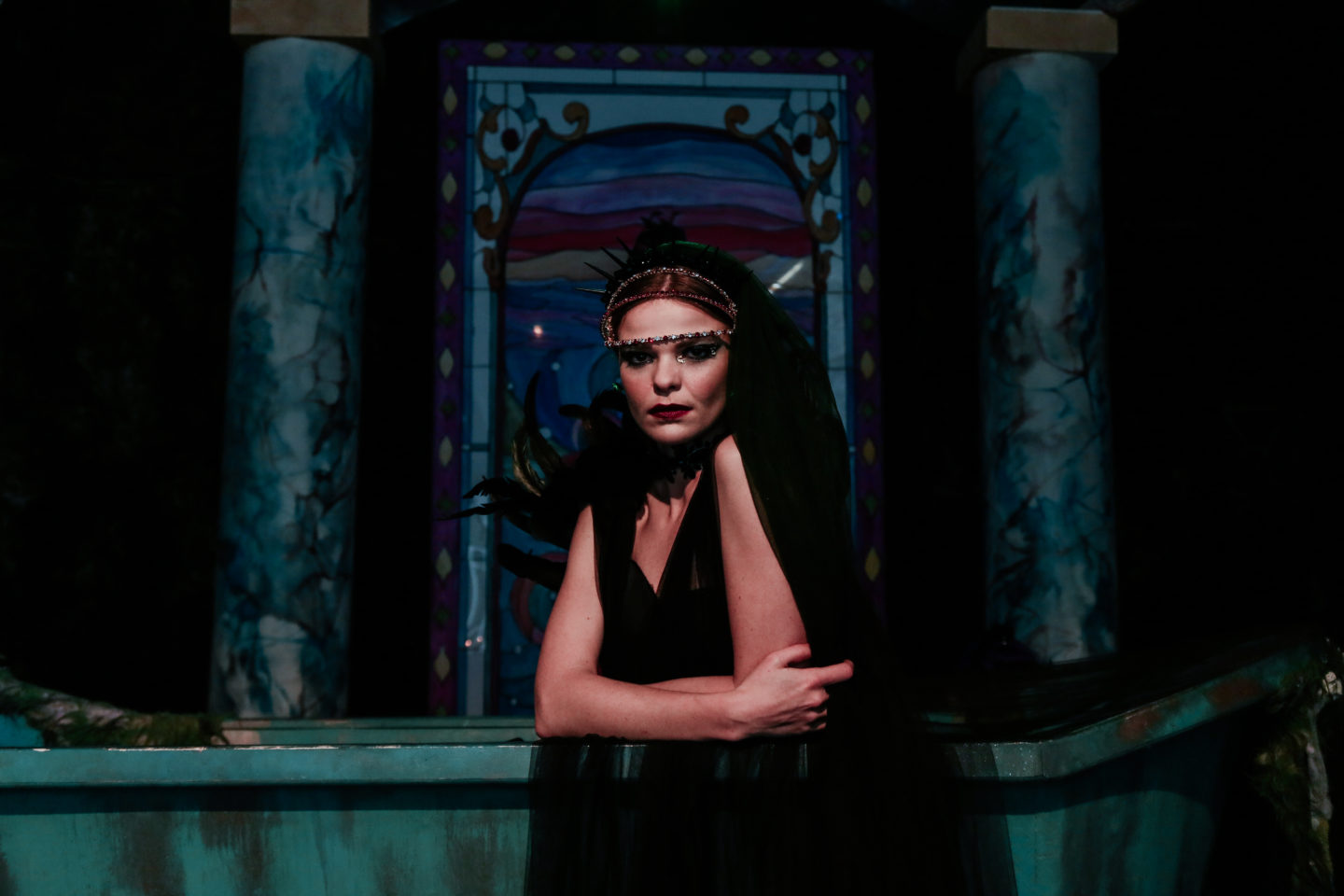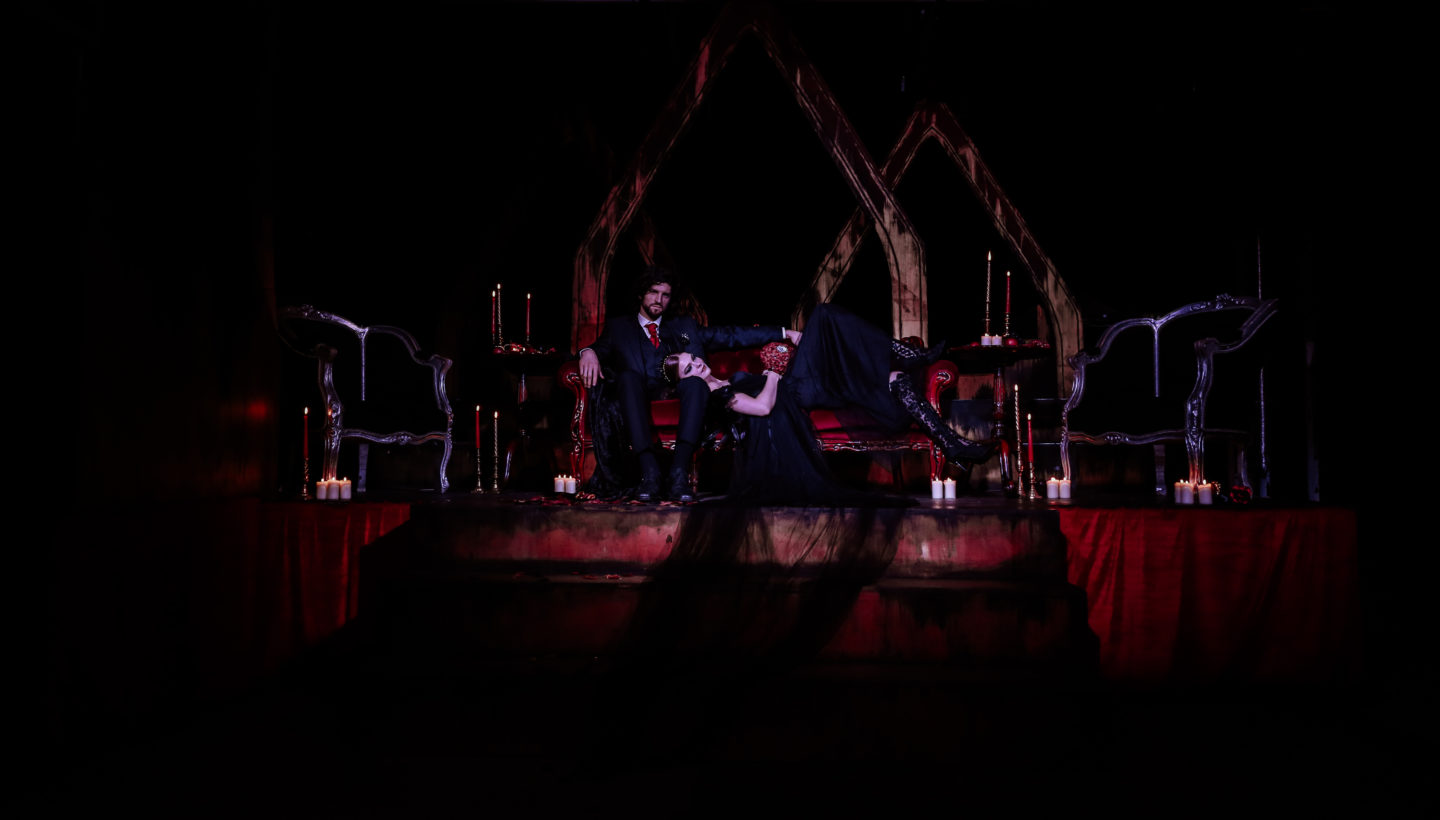 "This shoot was influenced heavily by Victorian Gothic styles and in particular, the opulence of high society. We styled with exotic fruits such as pomegranates, gold leaf candles and gorgeous velvet fabrics. To achieve the opulent look at your wedding you can off set the Gothic black with deep reds and opulent golds and use beautiful vintage furniture like this gorgeous red velvet rococo sofa from the Little Wedding Warehouse."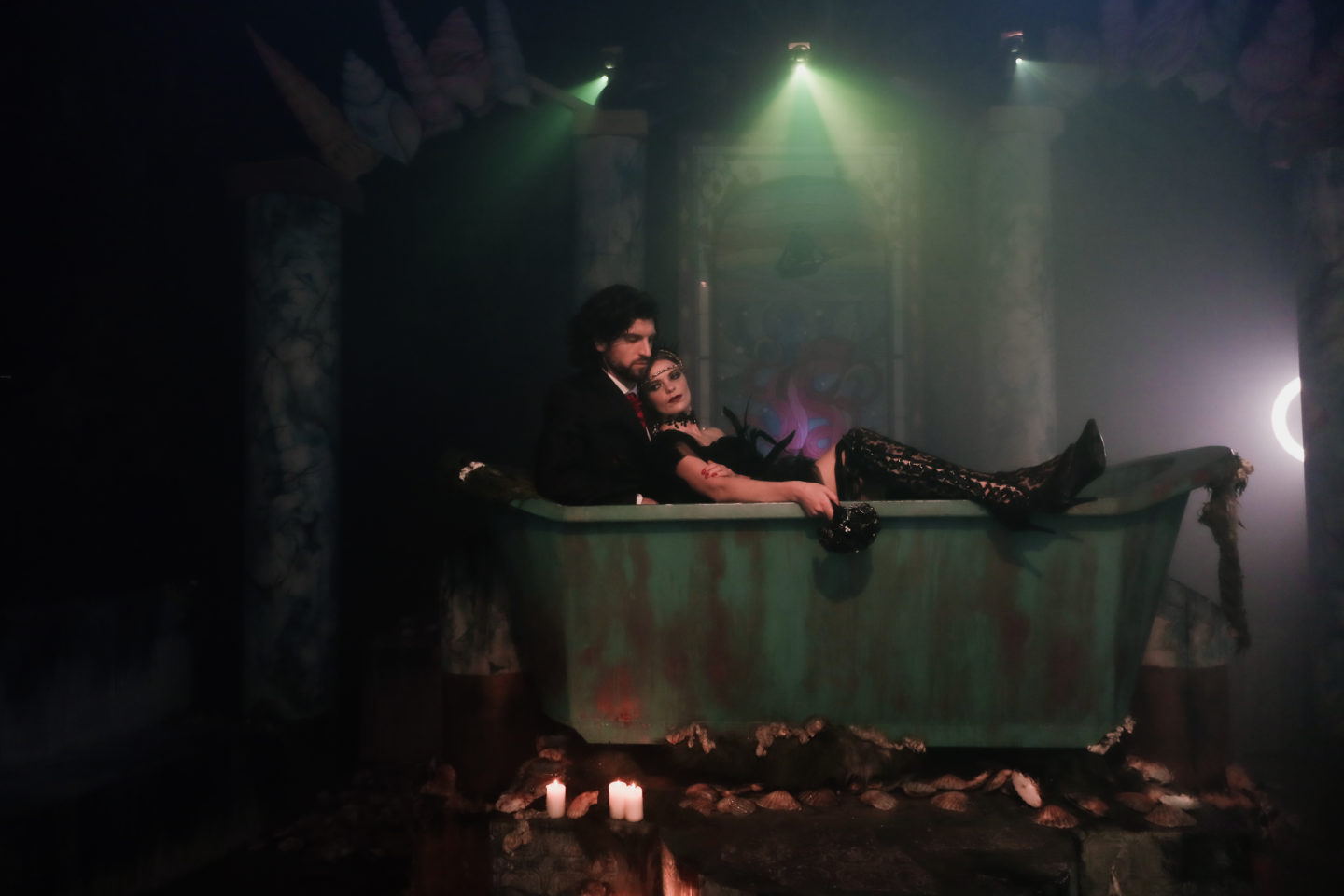 "Hidden underneath Waterloo Station, down a beautifully graffiti-adorned tunnel (founded by Banksy), is the incredible theatre, arts and alternative wedding venue, The Vaults. The Vaults encourage those that have a natural affinity to the unusual, the daring and the unknown and this includes adventurous and creative couples looking for a wedding to remember!"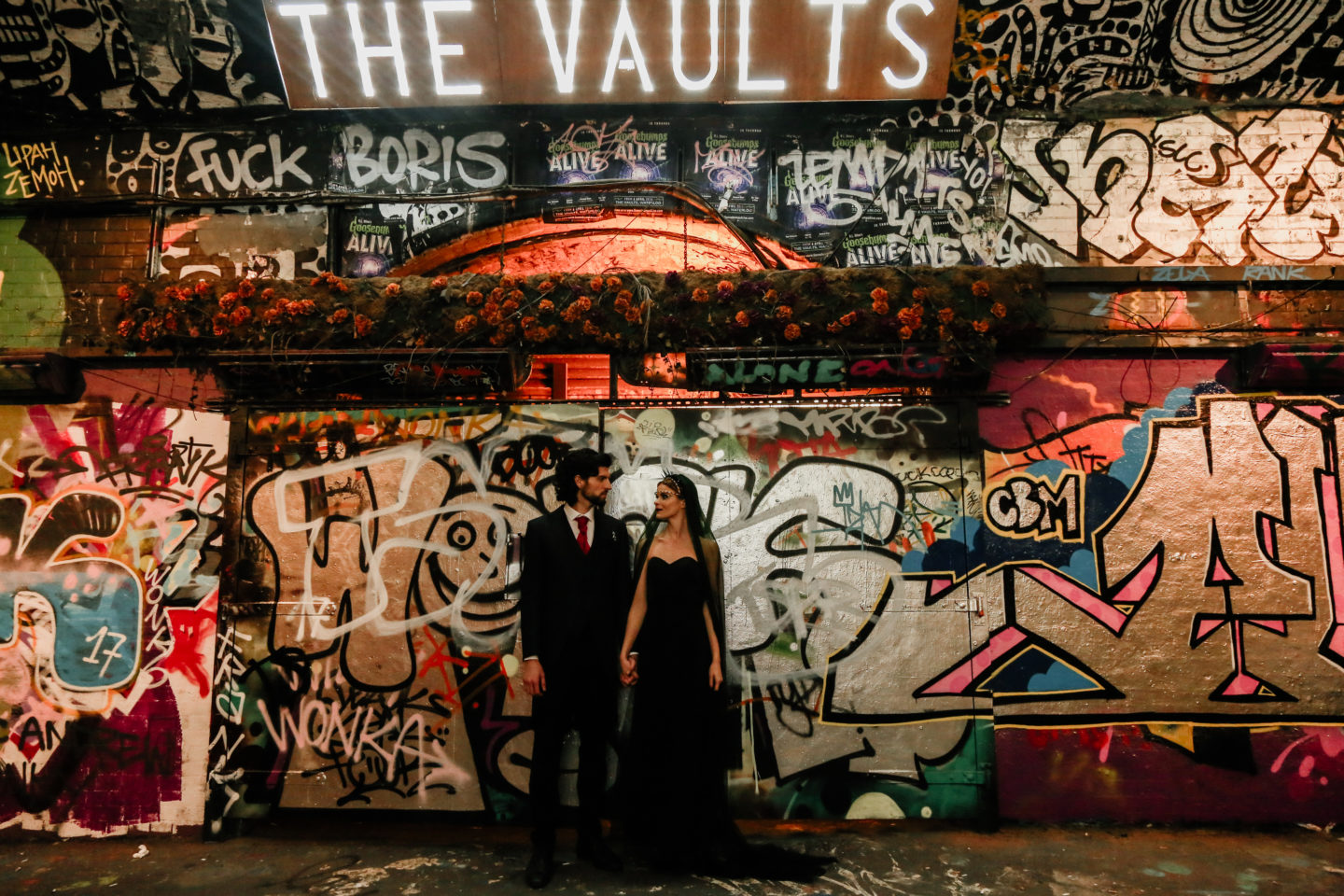 Photography – Leonie May Photography
Shoots for me are about showing not only what suppliers can do but what couples can do. It is incredible to see weddings coming away from the traditional and becoming more about creating something that represents you as a couple. I wanted to showcase a 'wedding' that was more like an alternative Gothic performance. The vaults was the most incredible place to make my vision come to life. Weddings can be whatever you want them to be, it's a once in a lifetime chance for your love to be in the spotlight in the way you want it to be and I adore seeing couples create absolute magic together, it's all part of the fun!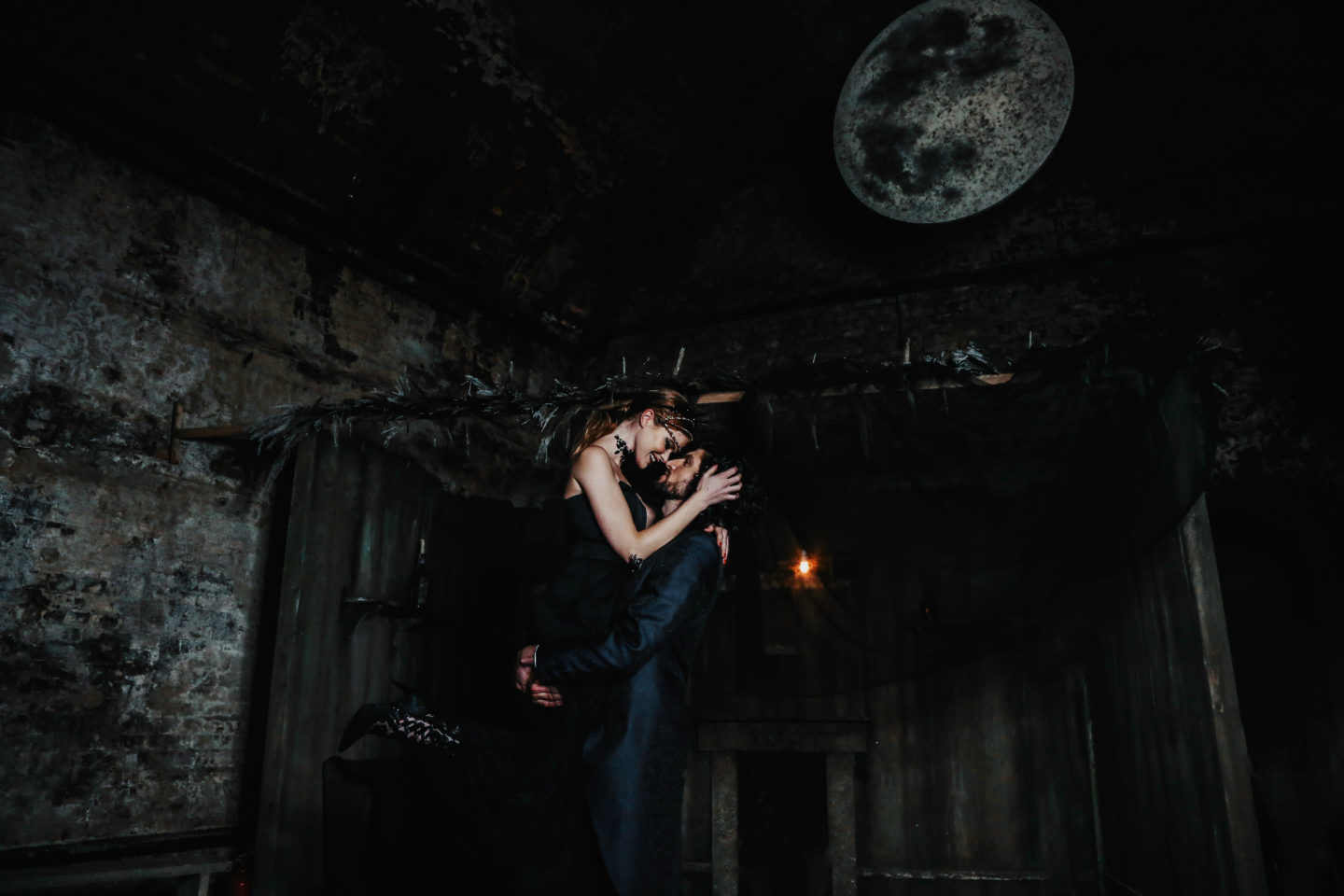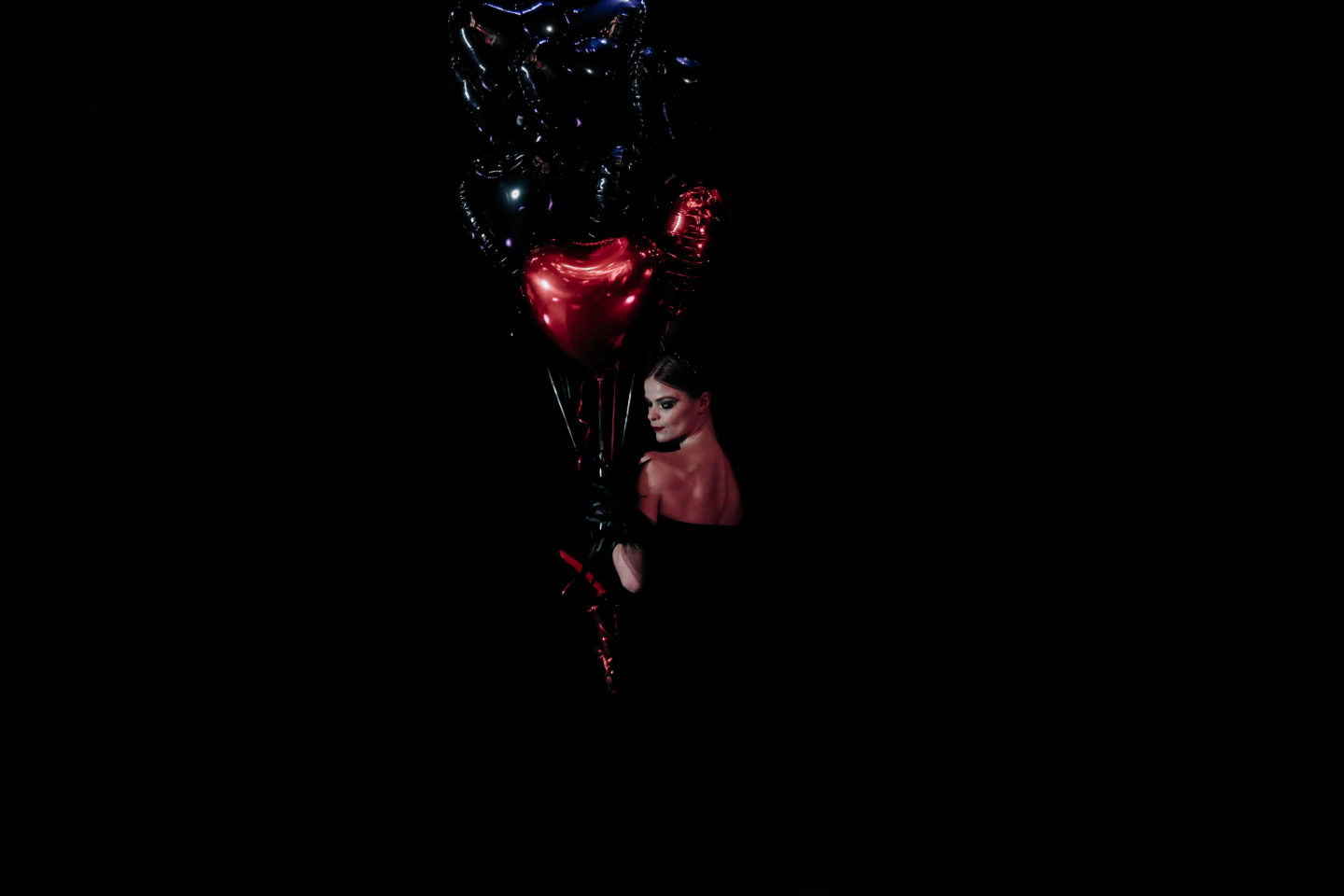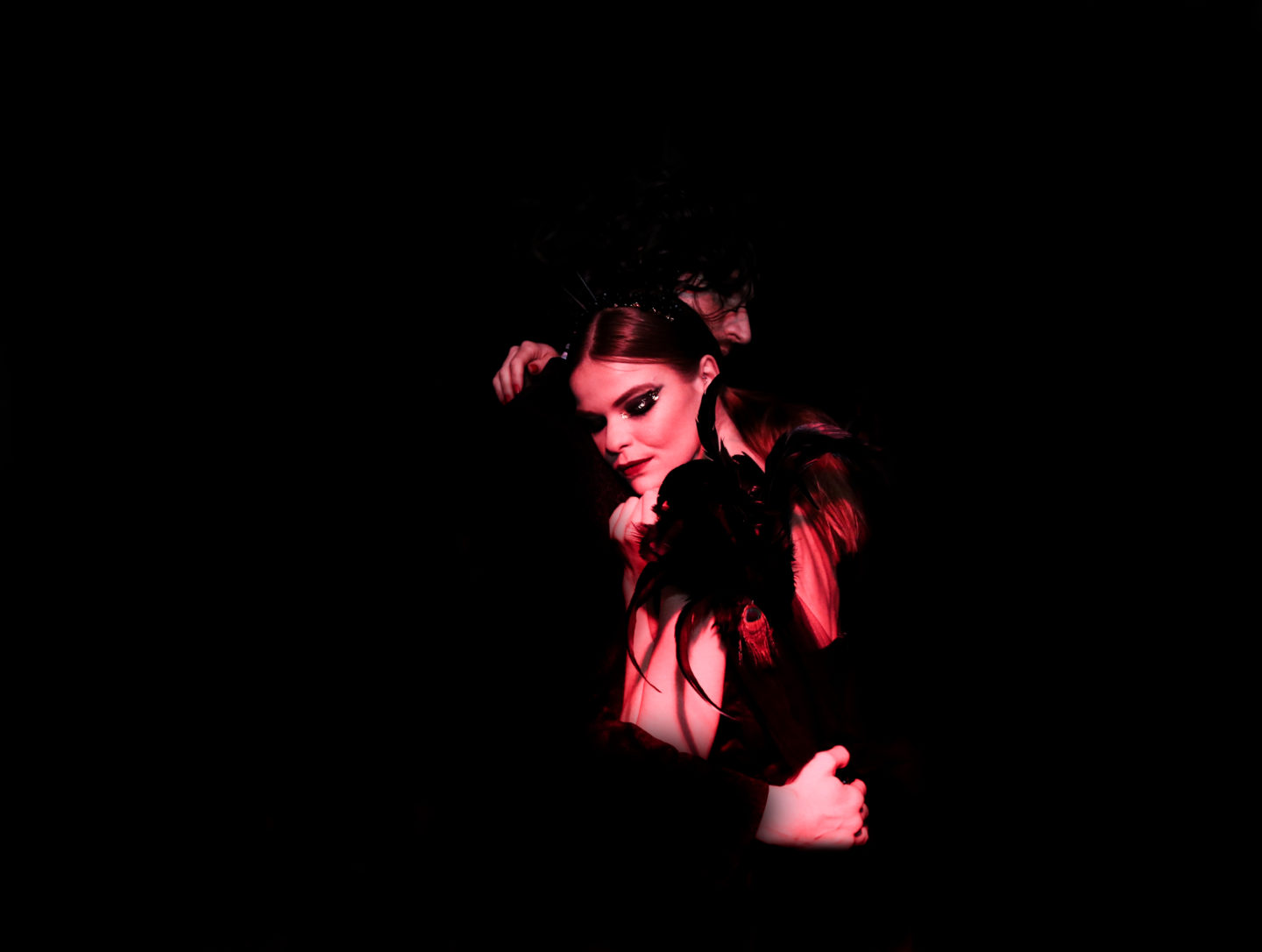 Bridal – Matchimony
"We were delighted to be part of this incredible shoot showcasing such dark and beautiful romance! Matchimony Bespoke created a custom flowing black dress with the softest of billowing tulle skirts and a structured satin bodice creating a dramatic yet elegant look."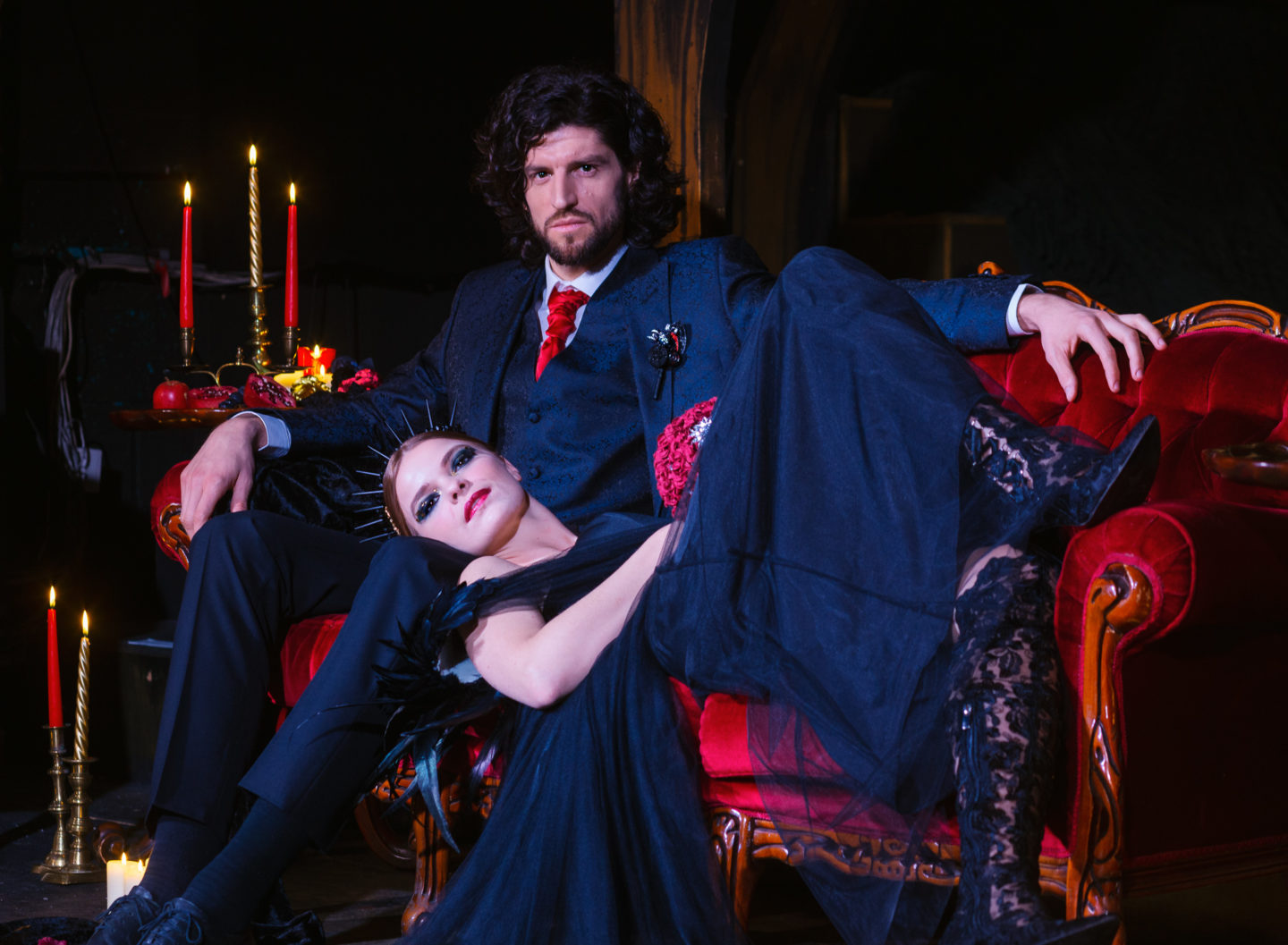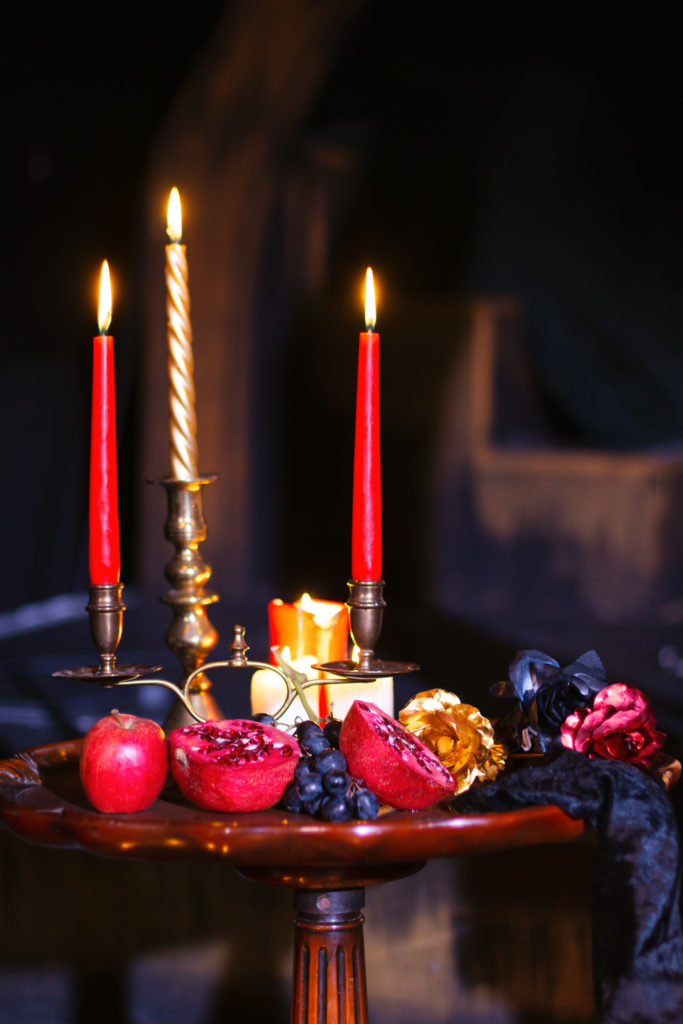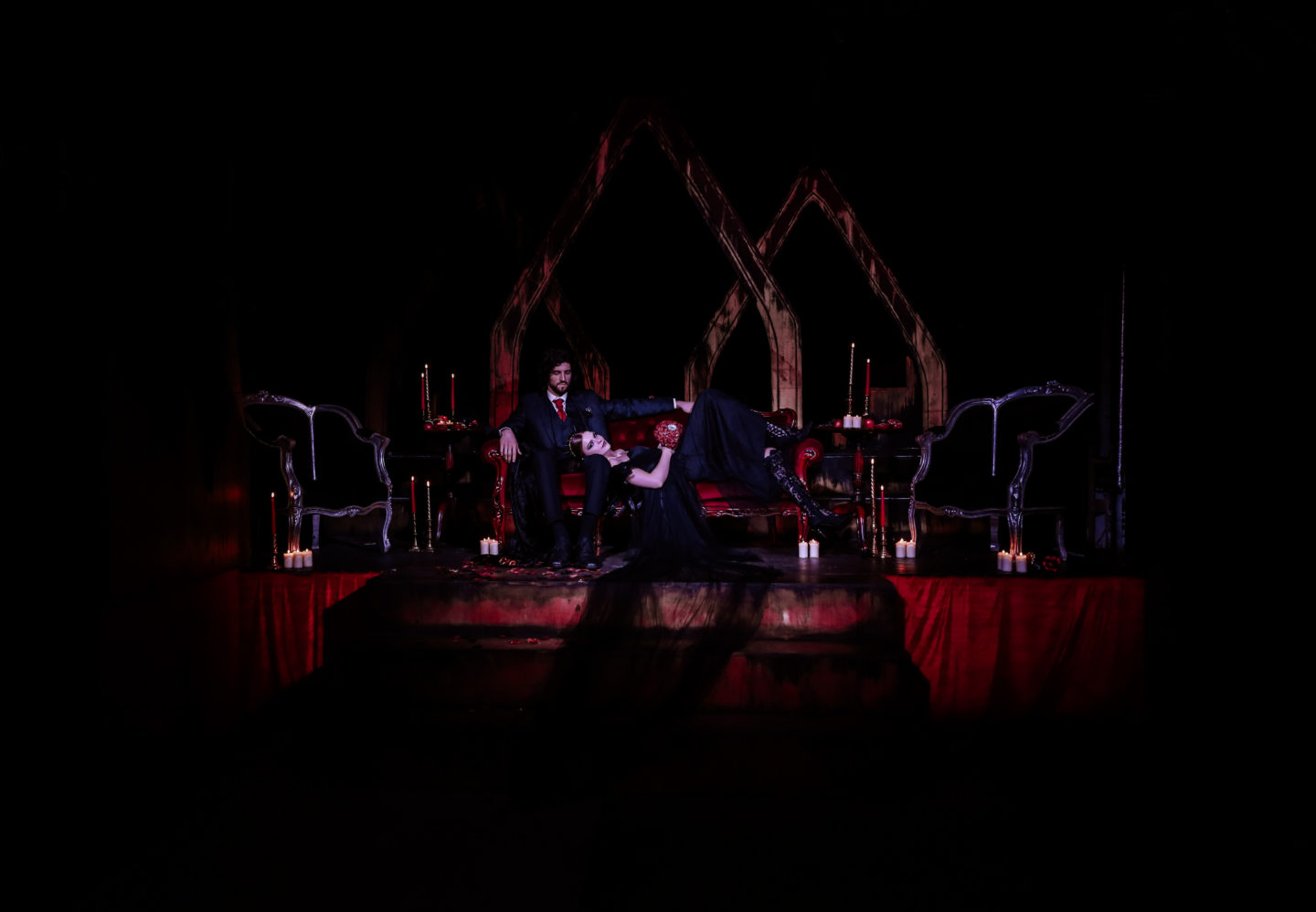 Cake – Silverleaf Cake Company
"Silverleaf Cake Company was born from my love of cake and creativity. A wedding cake is one of the biggest showstoppers alongside the wedding dress. The joy of helping a couple turn their dream wedding cake into reality, creating a statement centre piece that is both luxurious and modern, is just so rewarding."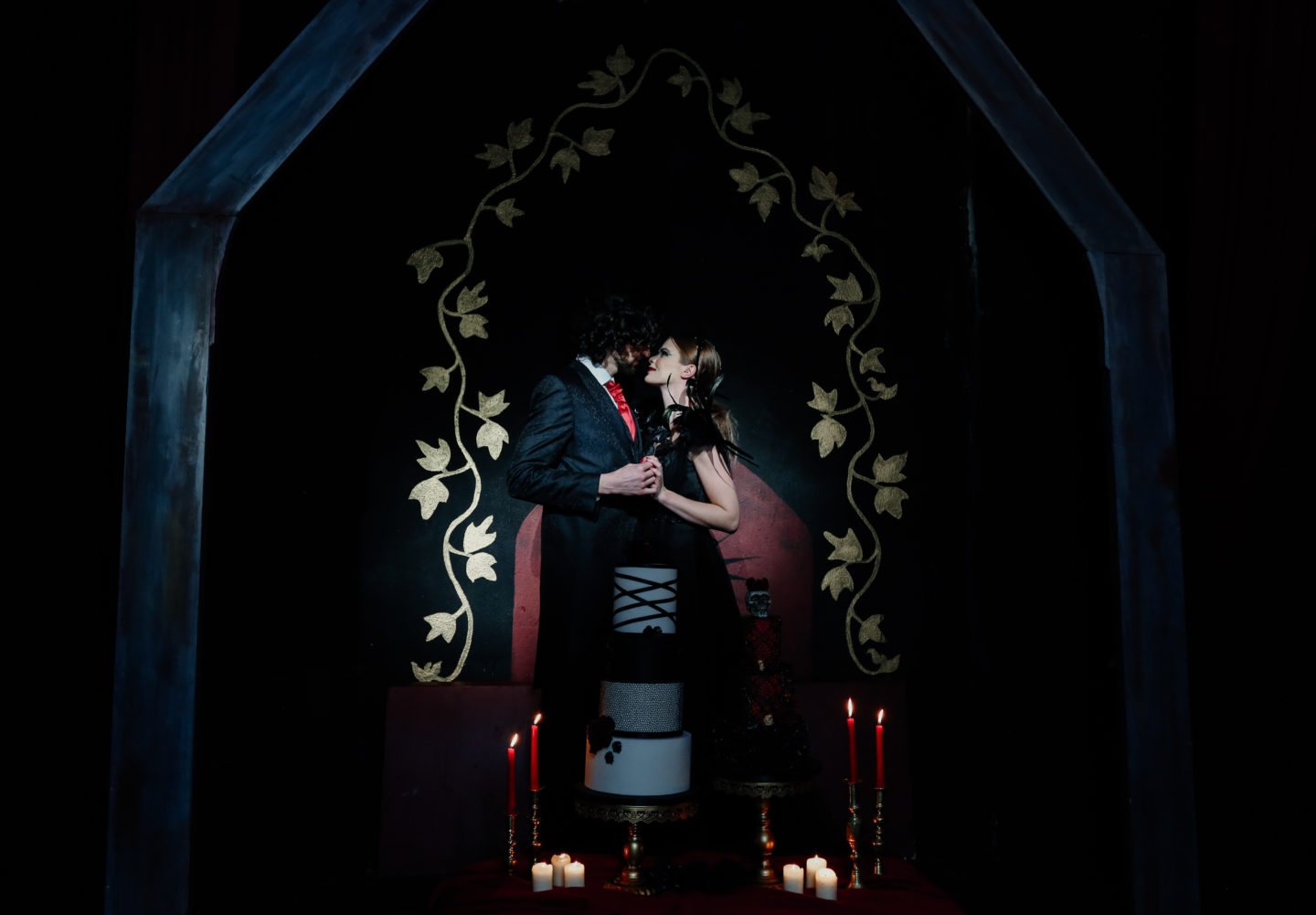 "We created two cakes for the shoot. One, a vivid rich red and black statement piece, complete with a skull and floral topper. The second, a more elegant, serene black and white affair with subtle skull and floral accents – all delicately handmade. Contrasting yet complementing the theme beautifully."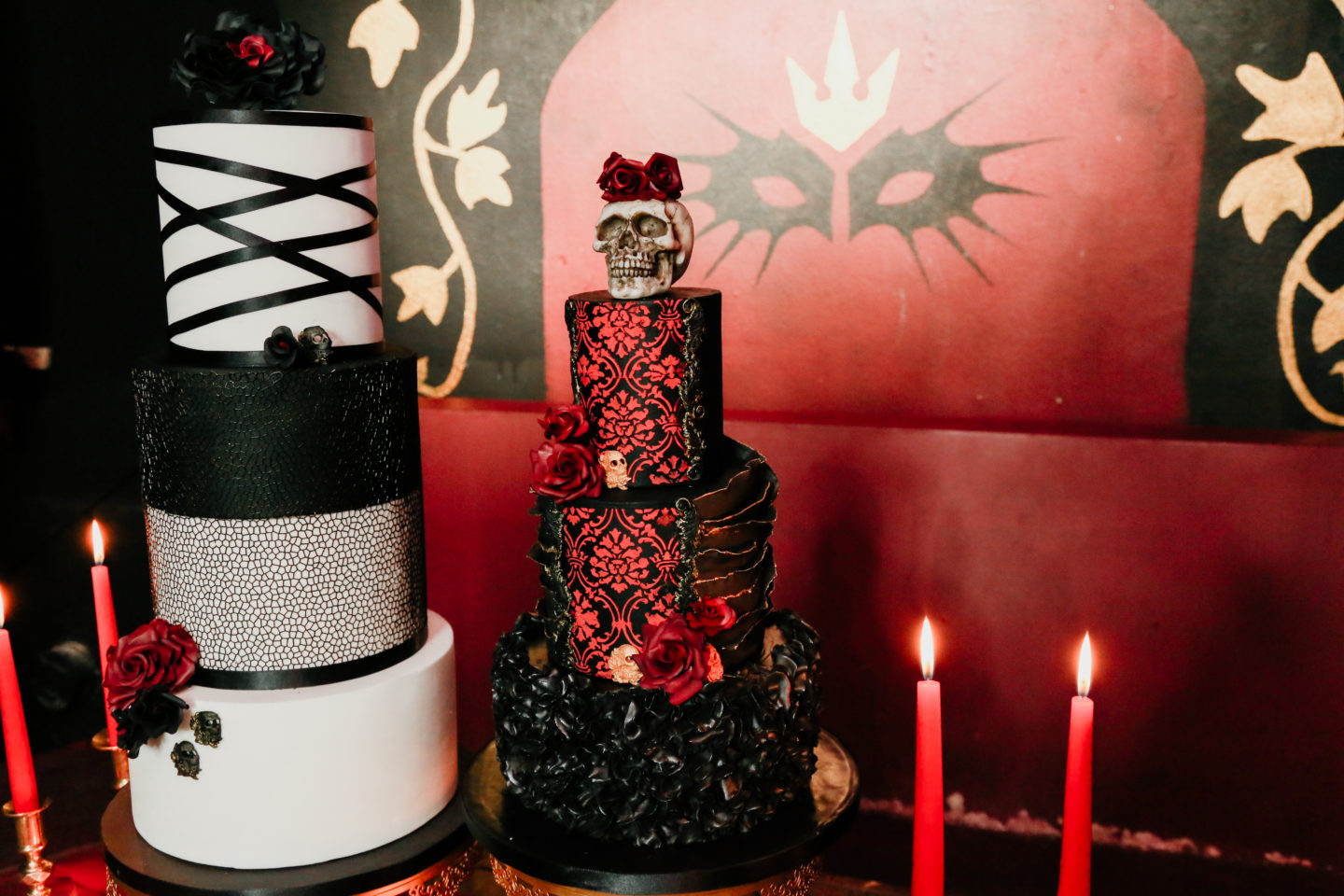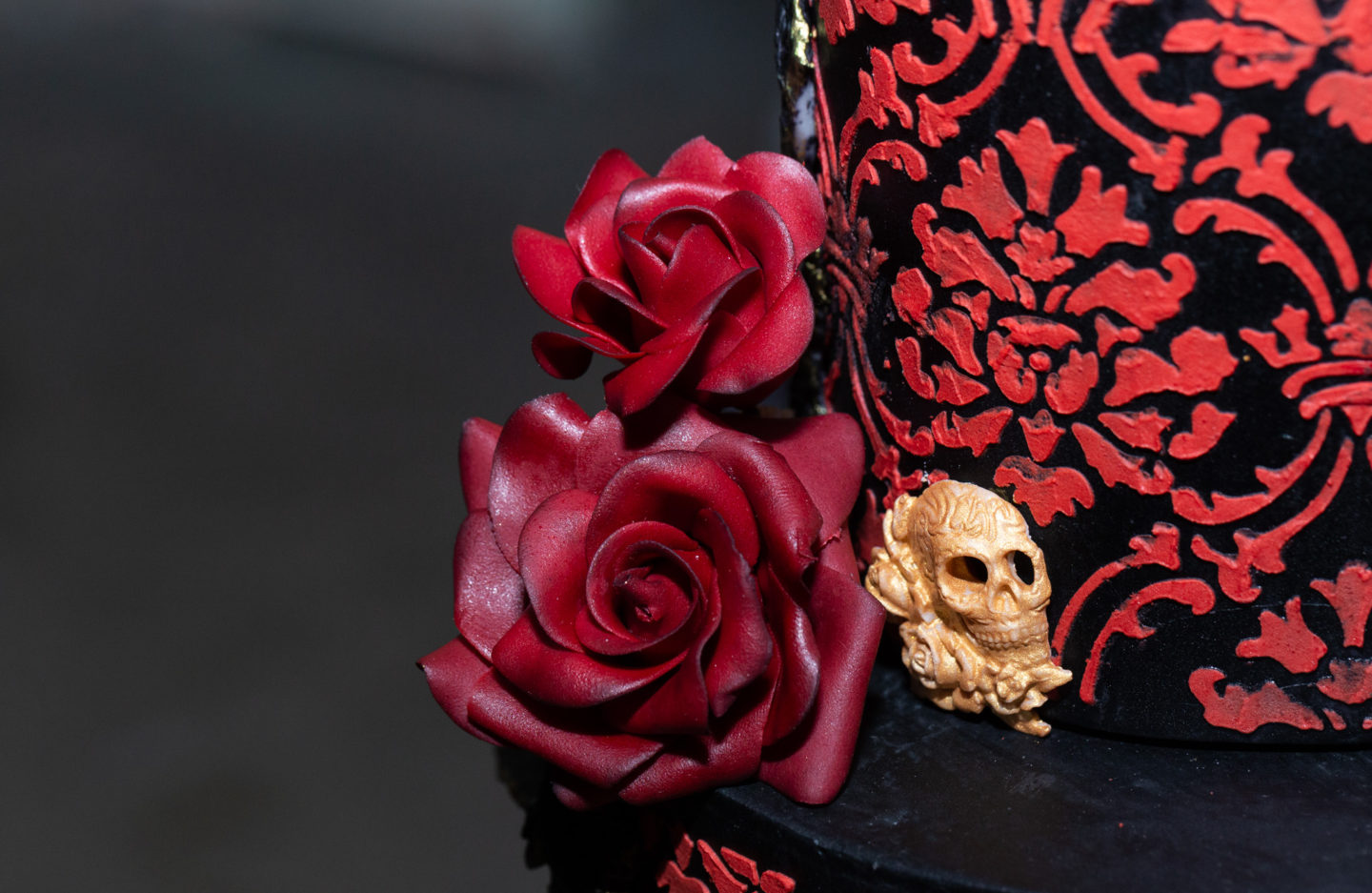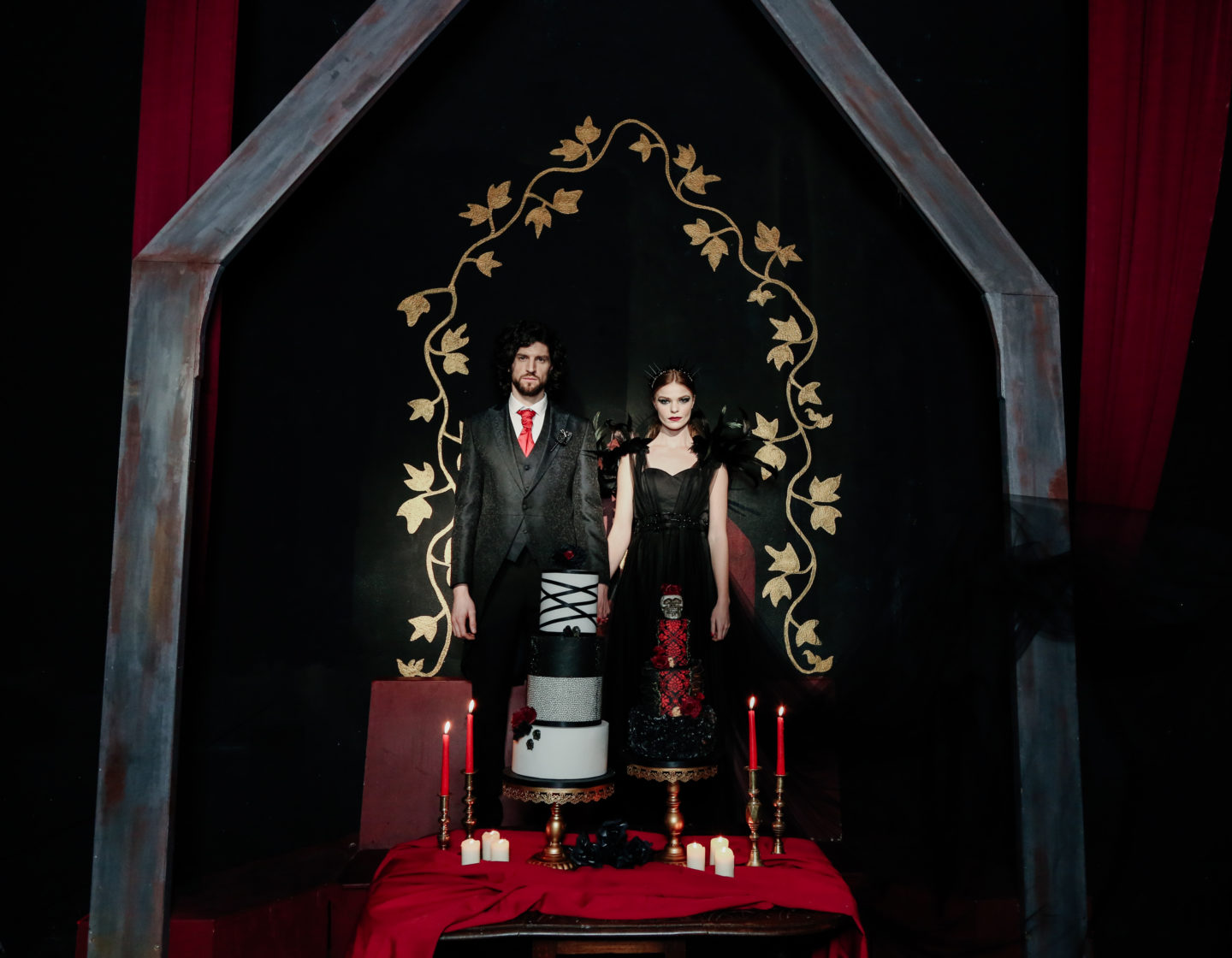 Hair and Make Up
"There was so much to be inspired by, from the venue, the amazing accessories, outfit and the boots as well as my own gothic youth. But it was important to bring a real richness in colour and a high end glam feel to the usual goth feel, so more glam goth a little dark and edgy."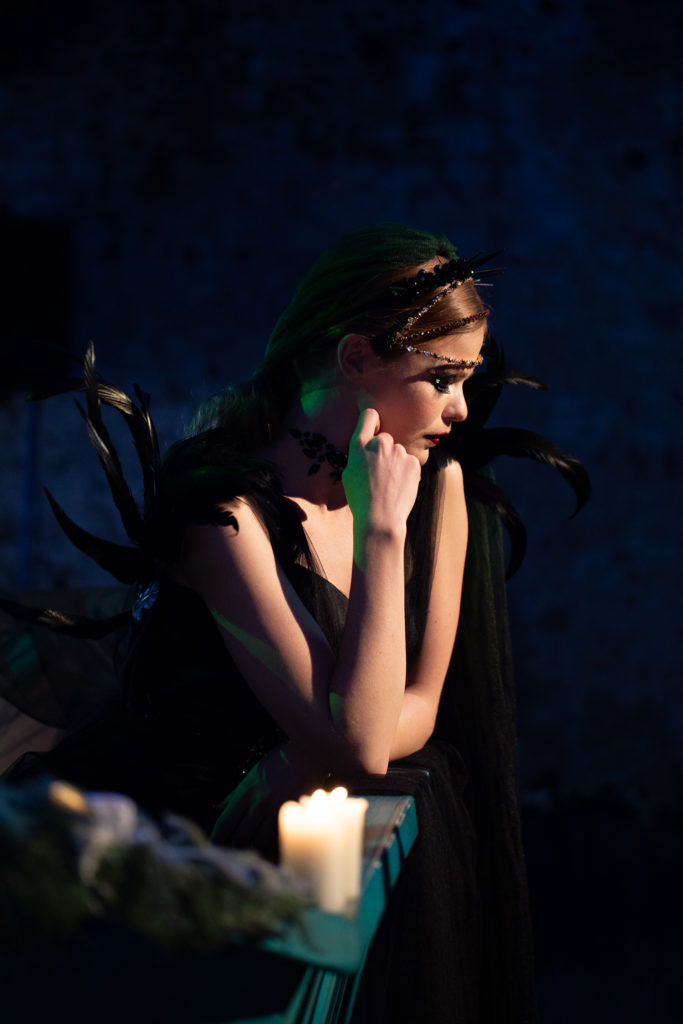 "Using the colours in chosen colour palette, I went with an alternative smokey eye, using a deep bottle green, adding gold leaf in flakes over the top to capture that feeling of opulence and picking up the tones in both the green veil and feathered Cape and for lips were a deep berry red. Hair we kept on trend with a sleek ponytail with finished off with and beautiful black hair jewel."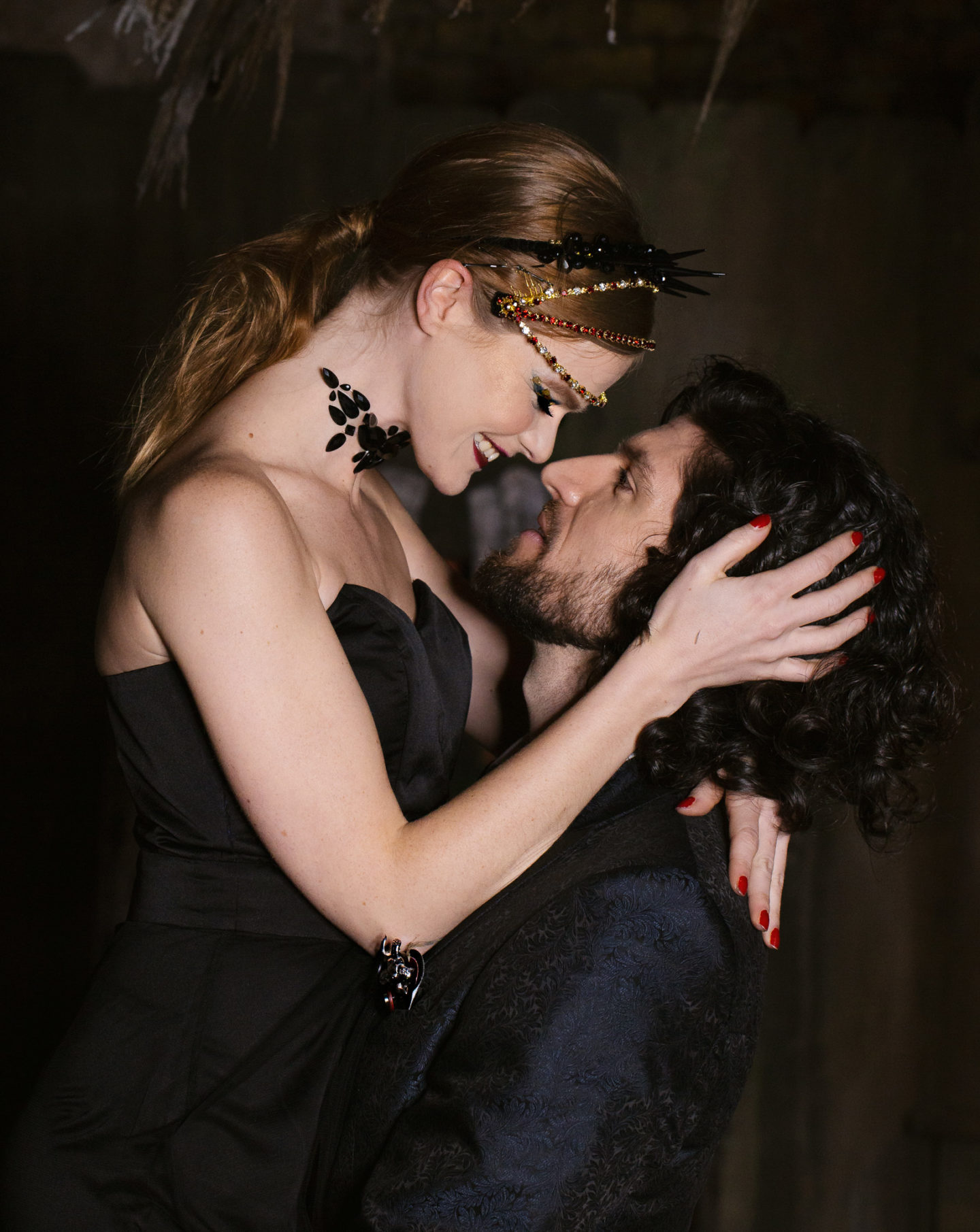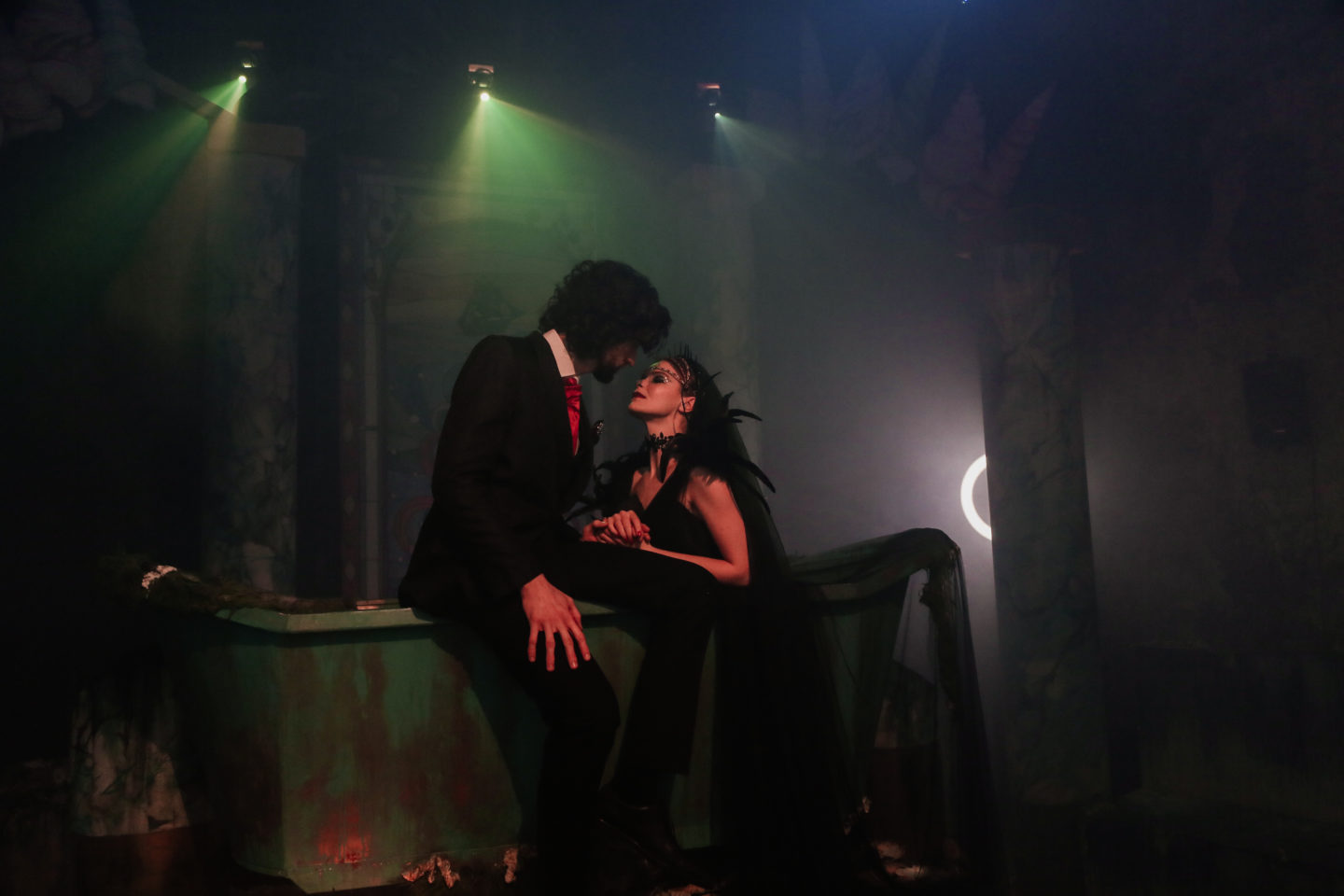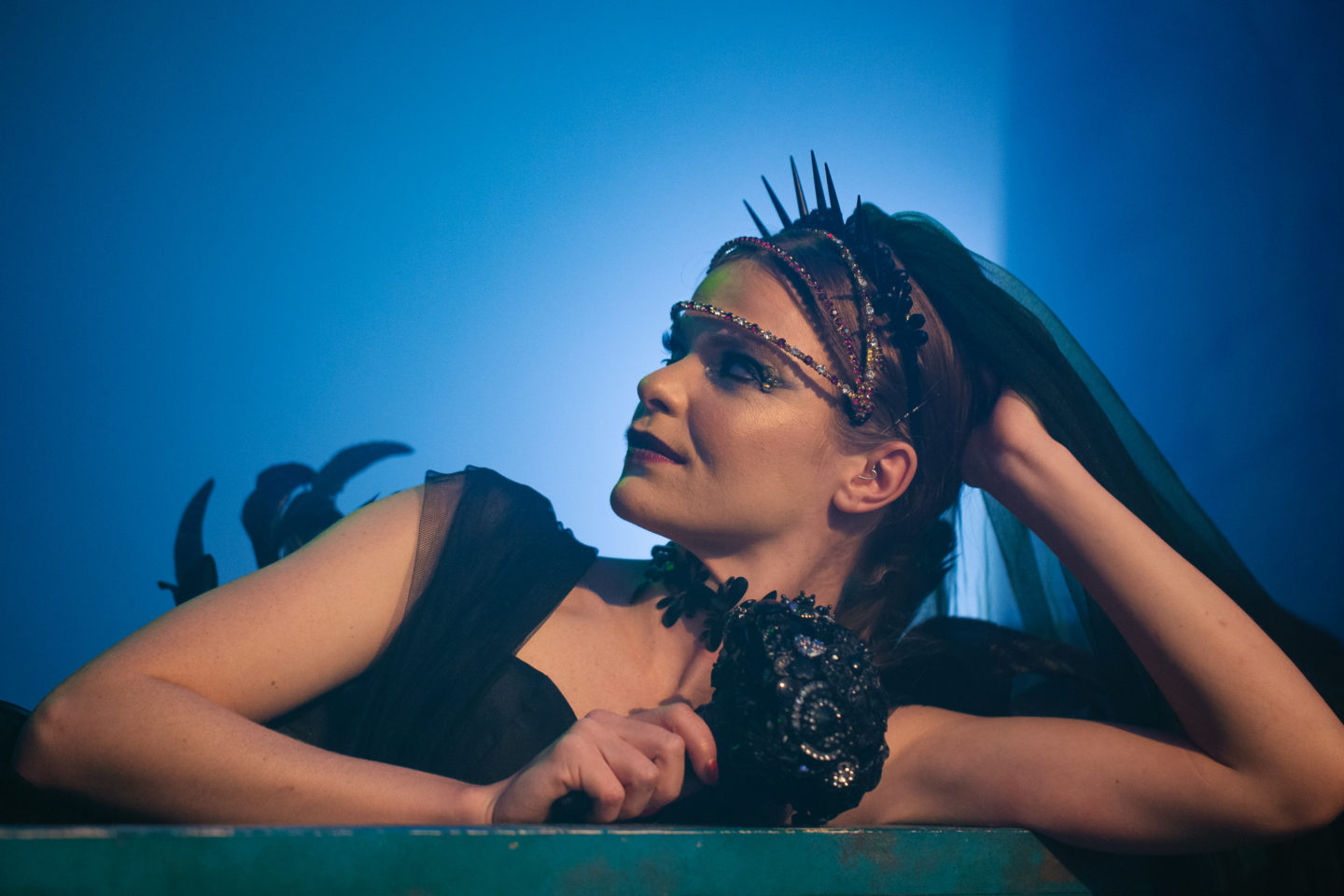 Accessories – Peacock and Pearl
"We jumped at the opportunity to take part in this shoot. The pieces are all concept items – what a bride with a love of all things Gothic might choose to commission. We wanted to show that the idea of 'bridal style' is totally dependent on who you are as a person, not what society dictates, so the headpieces, veil, and especially the cape have a really theatrical vibe to capture this. We really loved having the chance to create something so different!"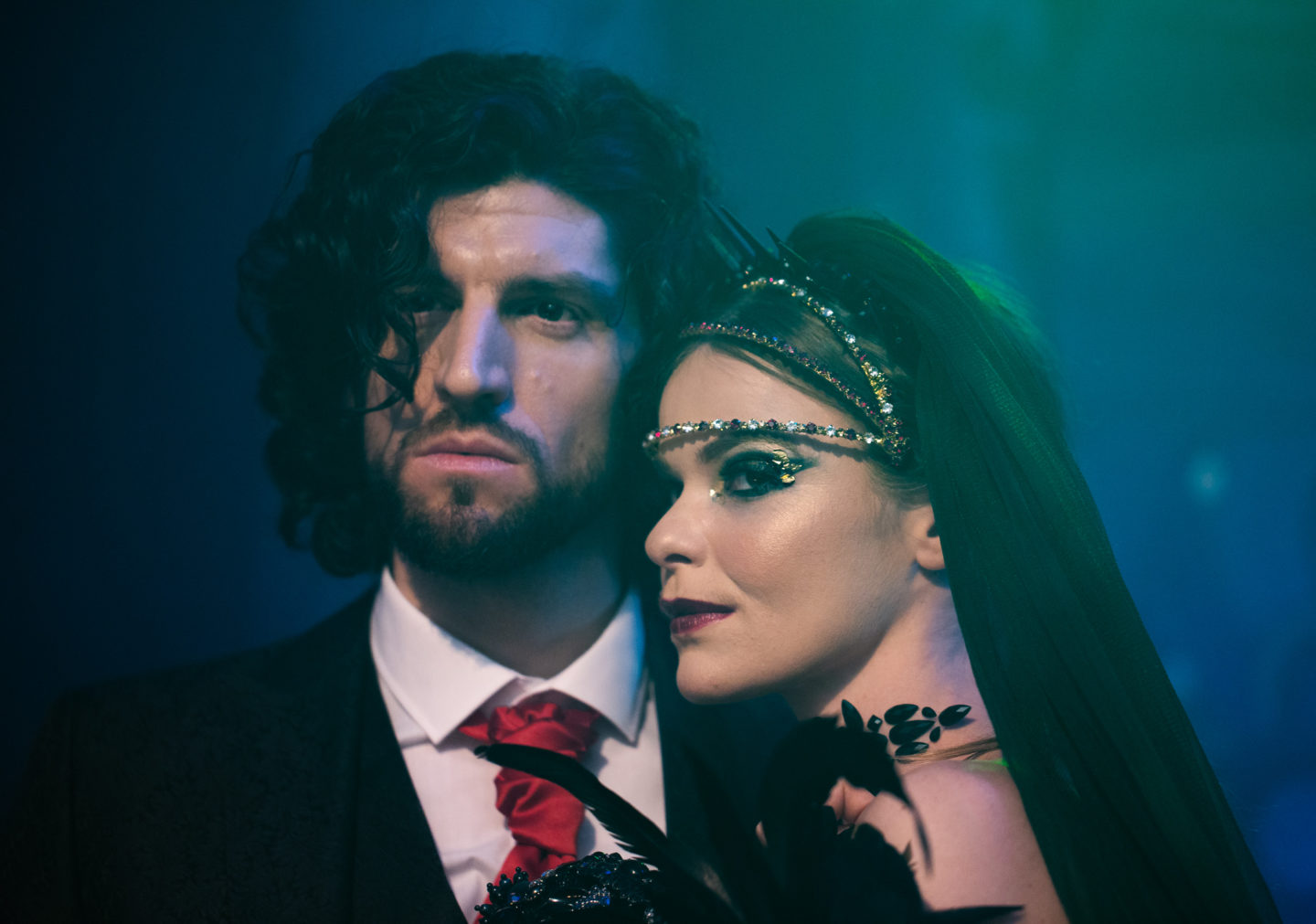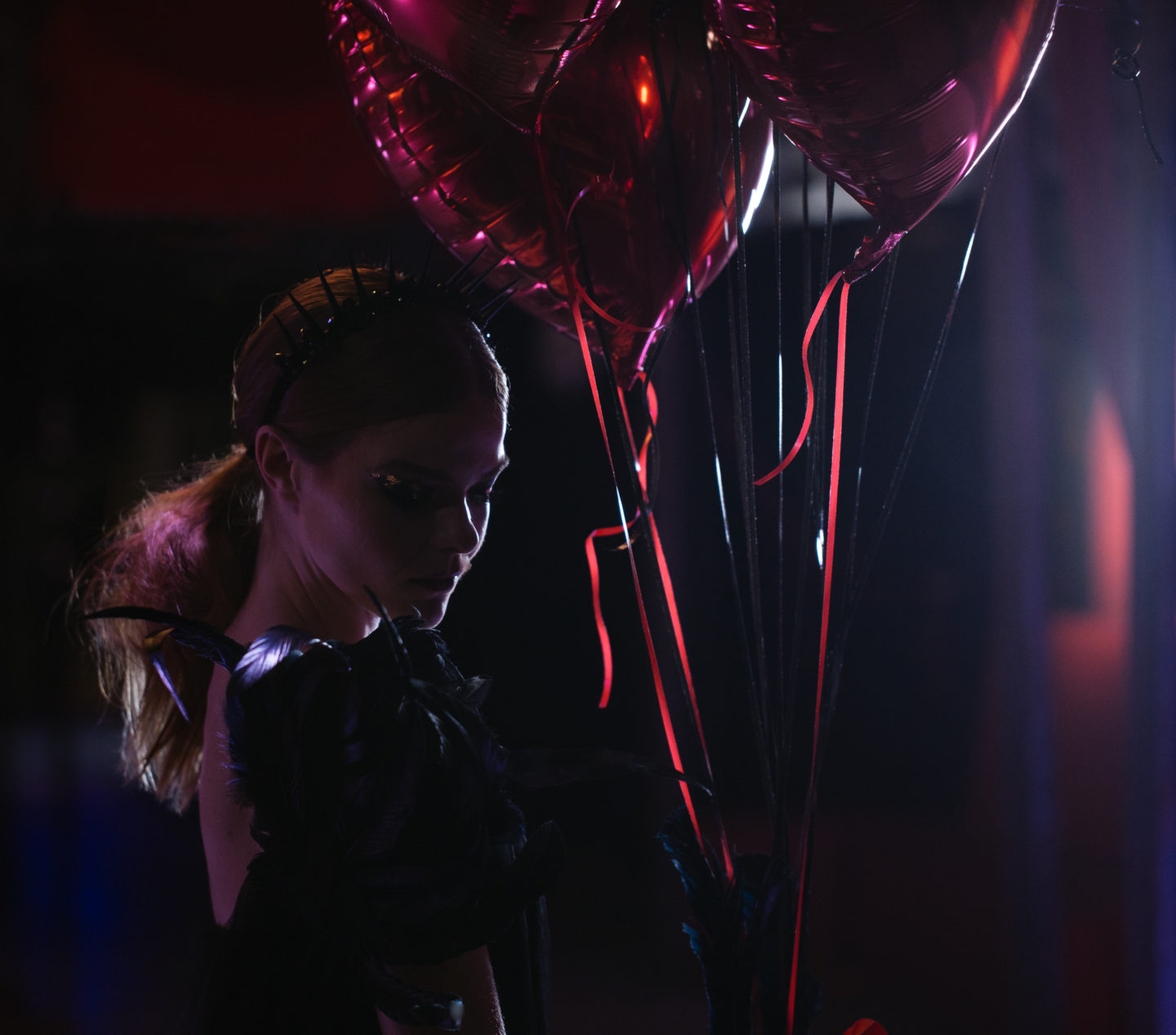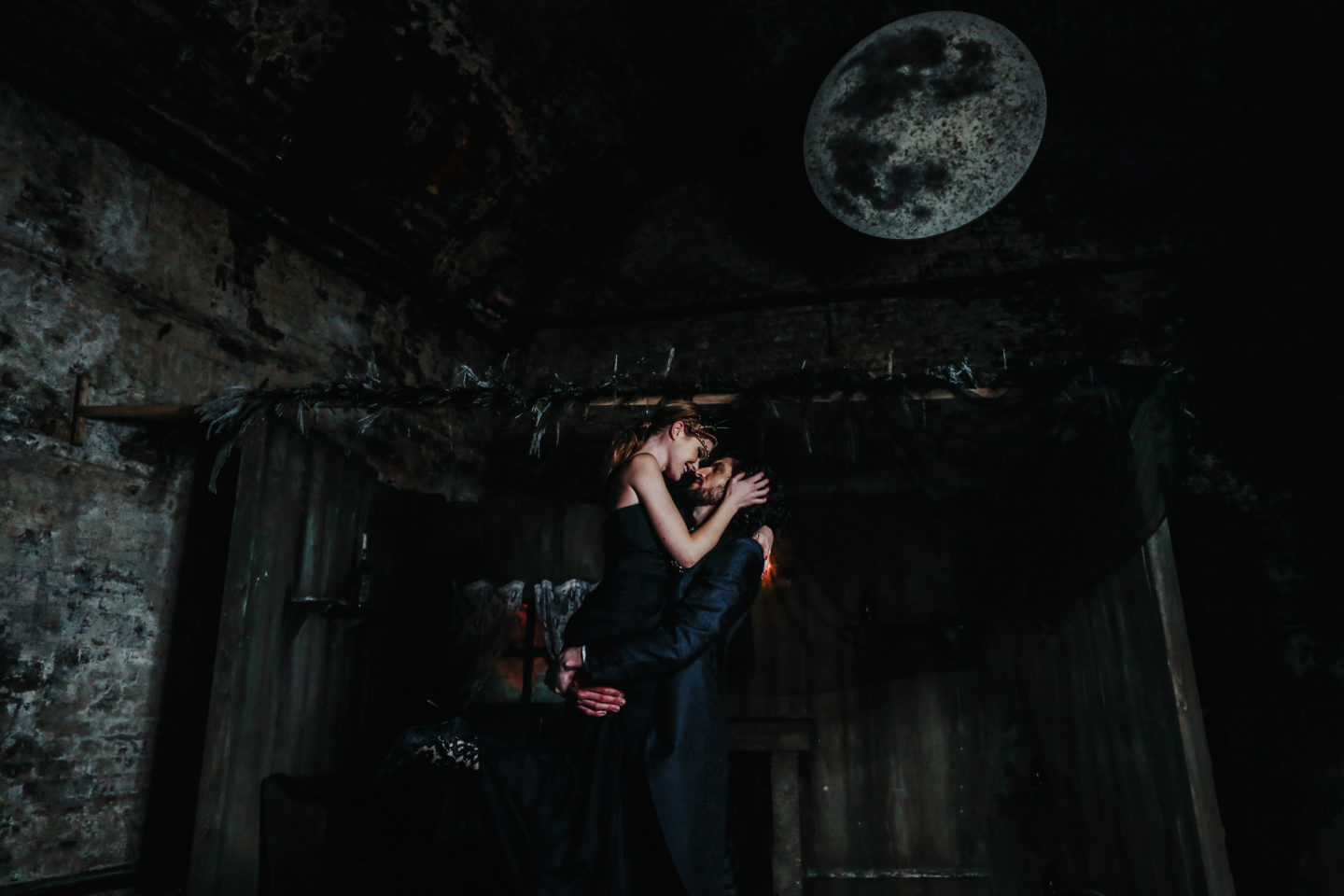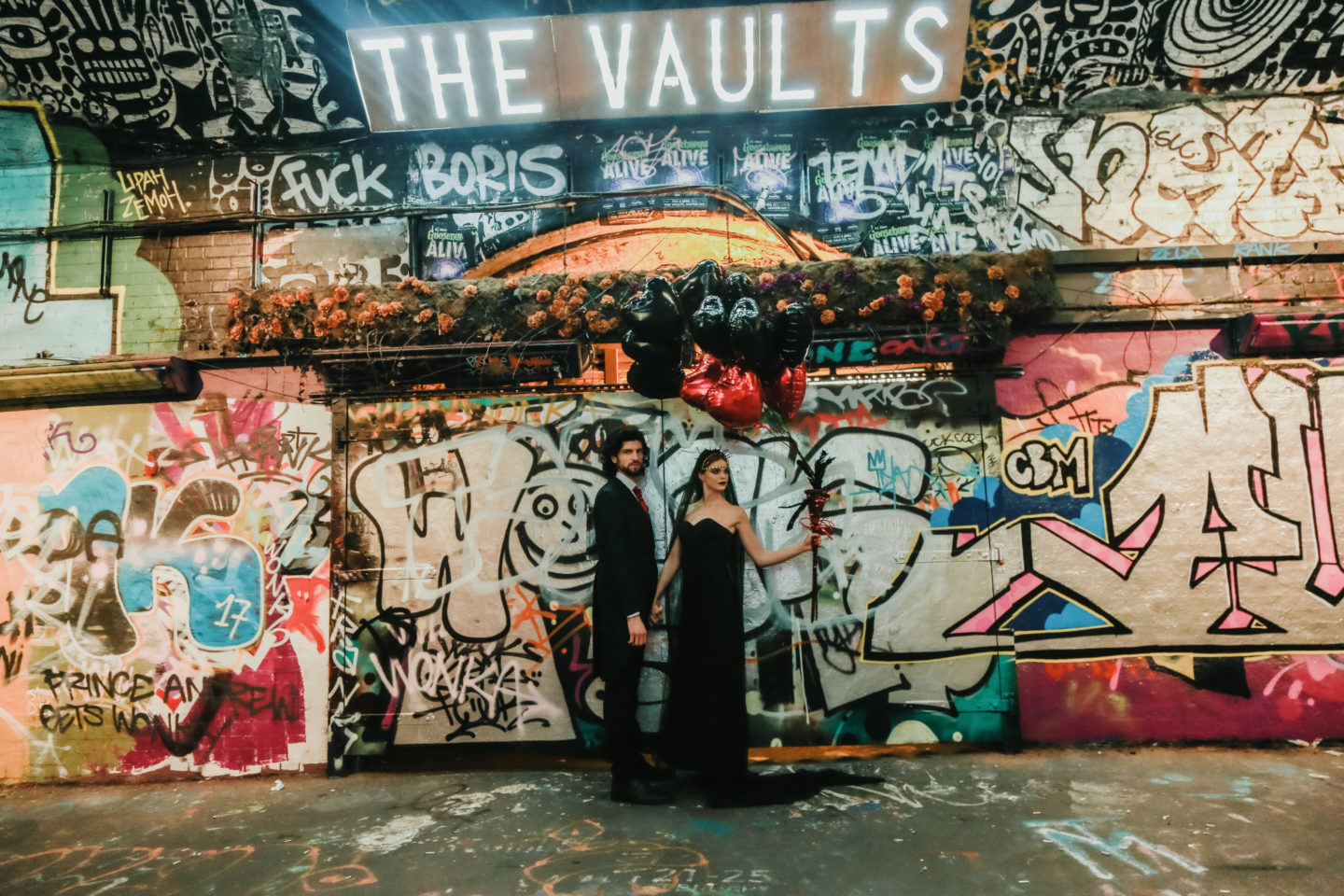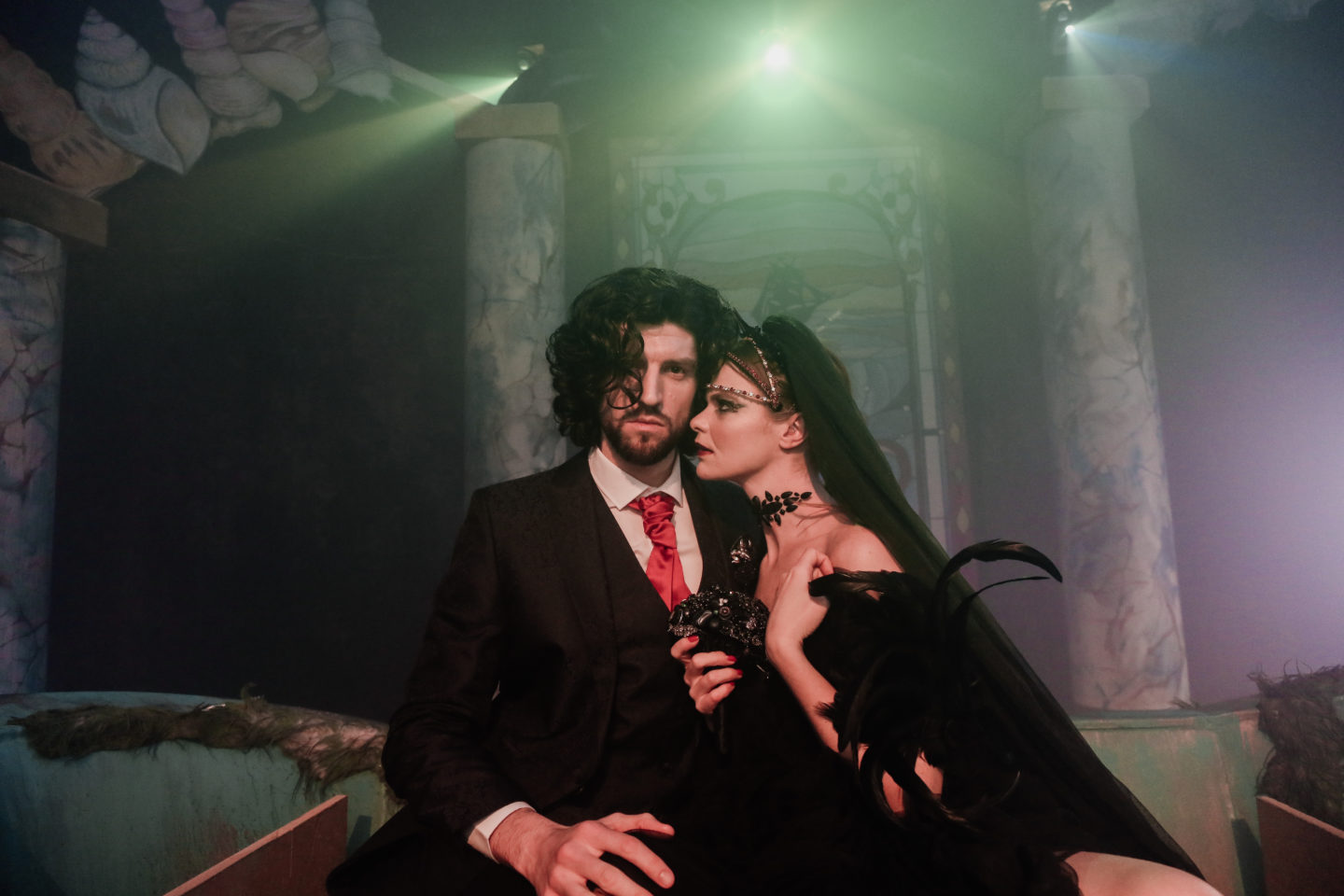 The Team- Gothic Opulent Wedding Inspiration At The Vaults, London
Photography – Leonie May Photography @_leoniemayphotography and Willow by the River Photography @willowbytheriver_uk
Wedding Planner and Stylist- Lily Jones Events @lilyjonesevents / Venue – The Vaults @thevaultsuk / Accessories – Peacock and Pearl @peacock_and_pearl / Videography – Above Arcadia Productions @abovearcadiauk / Props and Furniture – The Little Wedding Warehouse @thelittleweddingwarehouse / Hair and Make Up – SJB Hair & Make Up @sjbhairandmakeup / Cake- Silver Leaf Cake Company @silverleafdesserts / Bridal- Matchimony @matchimony / Suit – Penguin Suits / Bouquets and Buttonholes – I Heart Buttons @iheartbuttonsuk / Lace Boots – House of Elliot @houseofelliotlaceboots / Balloons – Floral Artistry @floral_artistry / Models – Elle Payne @ellepayne.actor and David Meslet @david_meslet
IF YOU LOVED THIS LOOK PLEASE PIN IT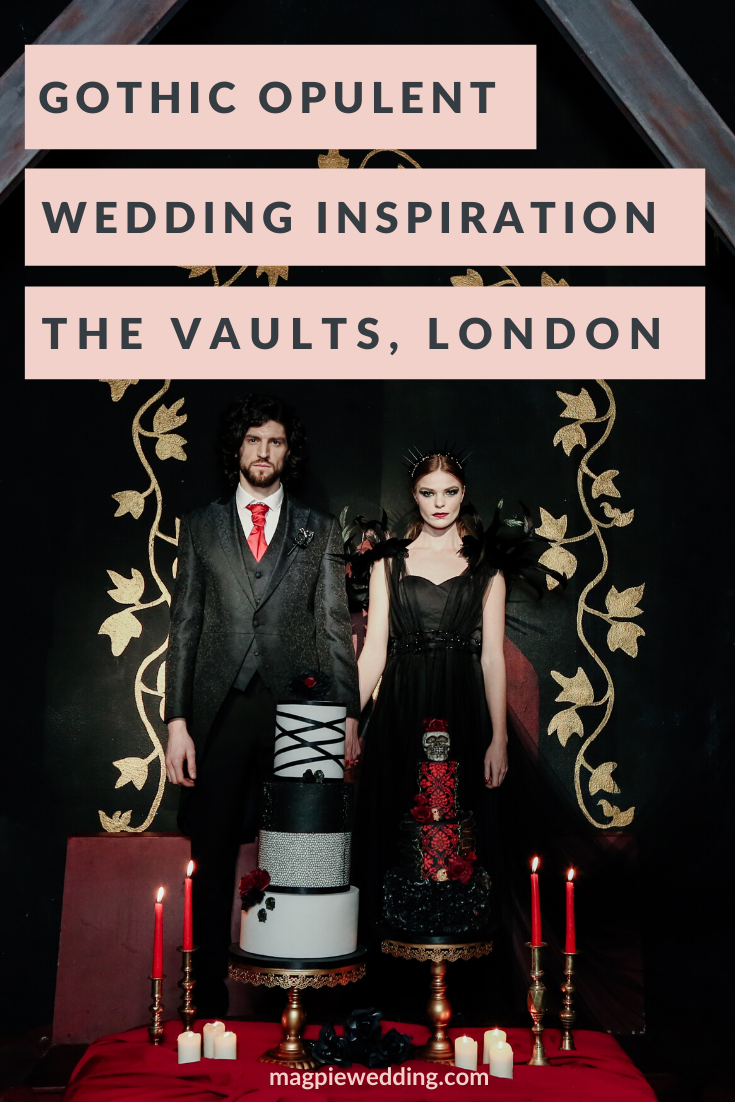 If you loved this Waterloo Station wedding at The Vaults you may also like;
Modern Golden Age Glamour Wedding Dress Inspiration at Poltimore House
Designer Spotlight: Ethical British Bridalwear By Frock Goddess
Northern Cool Vintage City Wedding at Manchester Hall & Fairfield Social Club