Erin from Way Out Wedding has pulled together a team of suppliers and models from all four corners of the UK to create a punk wedding shoot, packed full of inspiration and ideas that you will love. There are so many, so pull up a chair, grab a cuppa and prepare to be taken back to the 1970s and 1980s.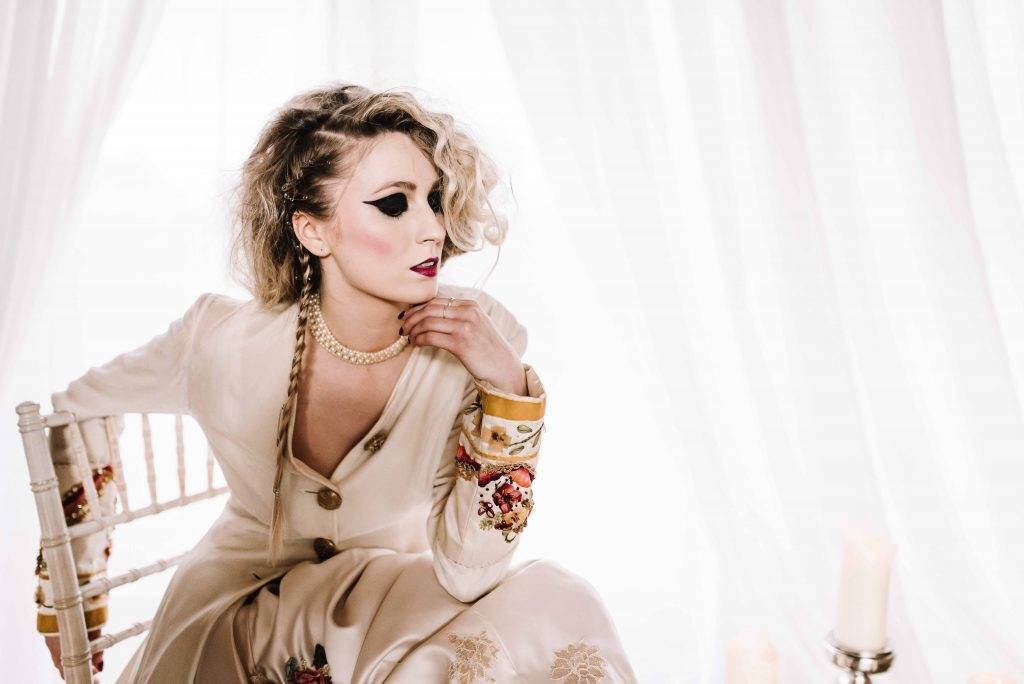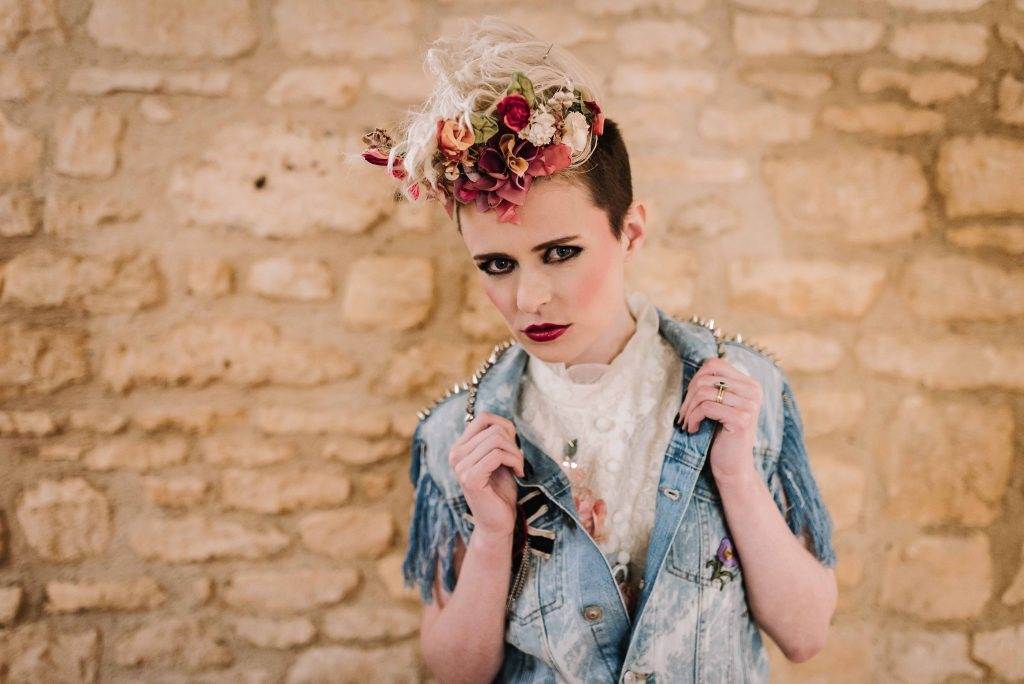 Erin describes the shoot: "I met Sheryl from Oobaloos Photography for a coffee, and we started brainstorming shoot ideas. We knew we wanted to go alternative with the theme, and we settled on a punk idea. Sheryl suggested The Barn at Upcote as they'd been so lovely and supportive the last time she'd worked there. She also had some fantastic local contacts, she immediately contacted Emma at Frock It as she knew she was the woman for this job! Emma, along with Kelly, make, embellish and design the most unique items of clothing, and as soon as I told her our idea she was off and running!
I then remembered that Jan at Atelier 19 had expressed an interest in working with me. With her award-winning embroidery work, I knew we were onto a good thing."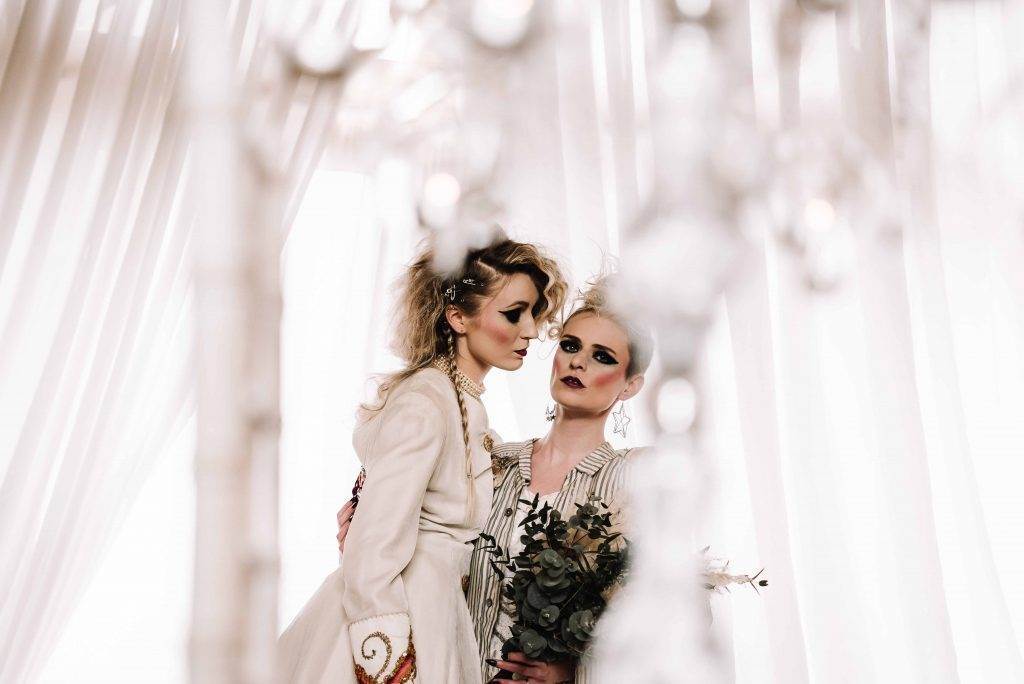 "After our amazing meeting, I went away and started Pinning and giving form and direction to it all. I wanted to explore a prettier and more contemporary incarnation of the original punk subculture of the 1970s and 1980s. How the brides and grooms of today would look back to the era and then reinterpret and appropriate elements into modern day wedding styling.
My vision was full of tulles, embroidered upcycled dresses, separates, DIY'd t-shirts, slogans, song lyrics, androgyny, undercuts, faux hawks, heavy set jewellery, Vivienne Westwood, Alexander McQueen (from Lee's days), a bit of Manic Street Preachers early days, Sid and Nancy!"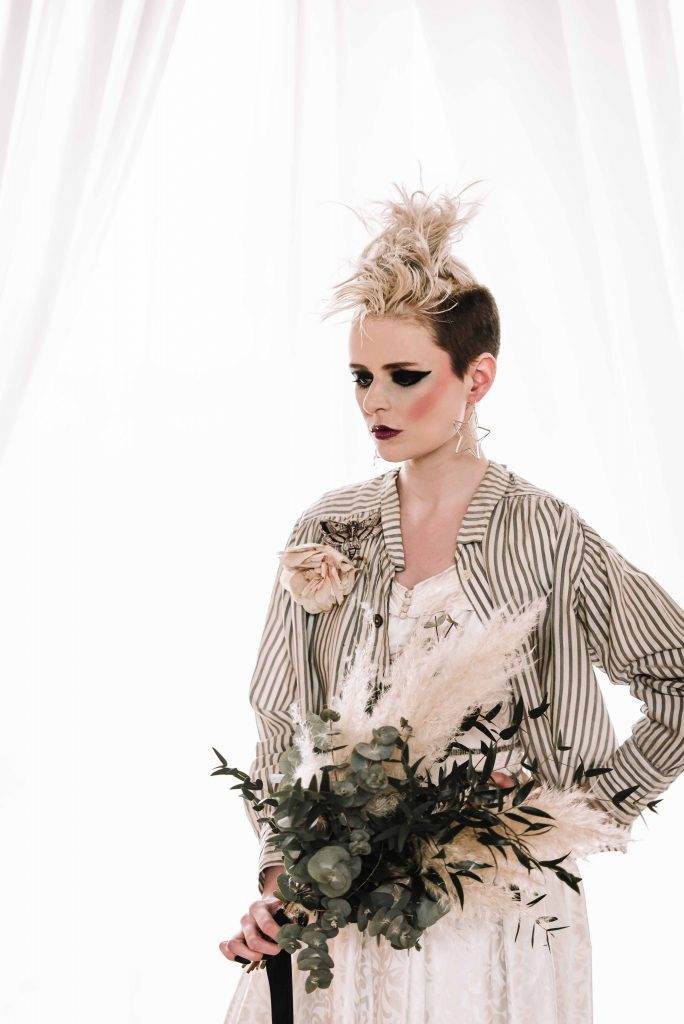 "I met up with Jan from Atelier 19 so we could look at both of our collections and pick relevant pieces. She has such a stunning treasure trove of vintage and designed pieces – I love her shop and was in my element picking pieces like a kid at Christmas! We picked several bits between us, and I left my original 1980s dress and some tulles with her to embellish with slogans, lyrics and generally 'punk up'."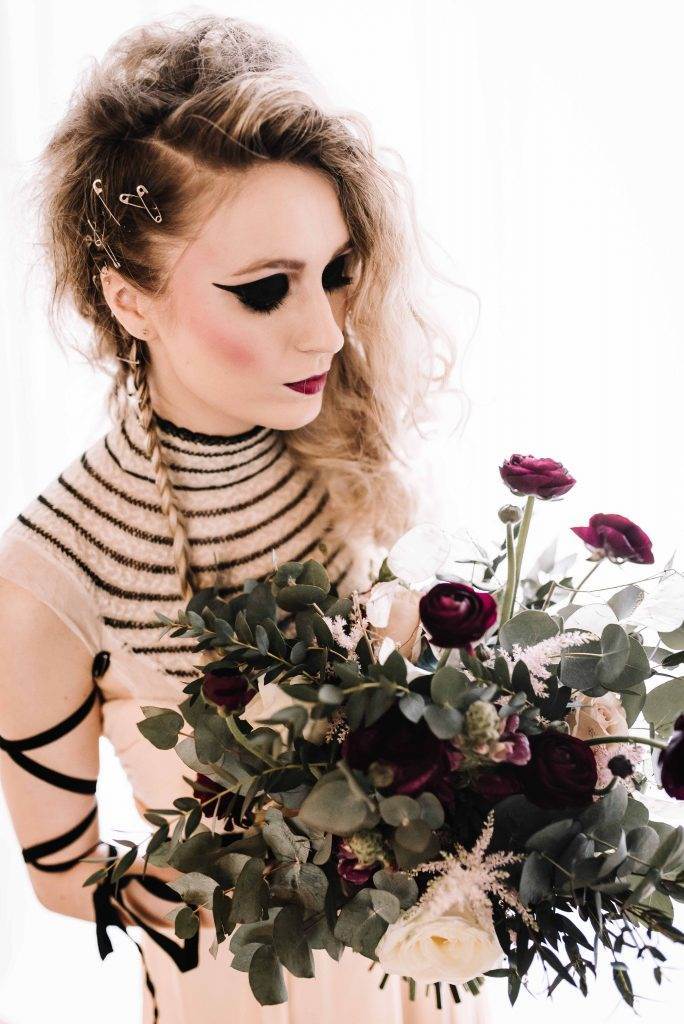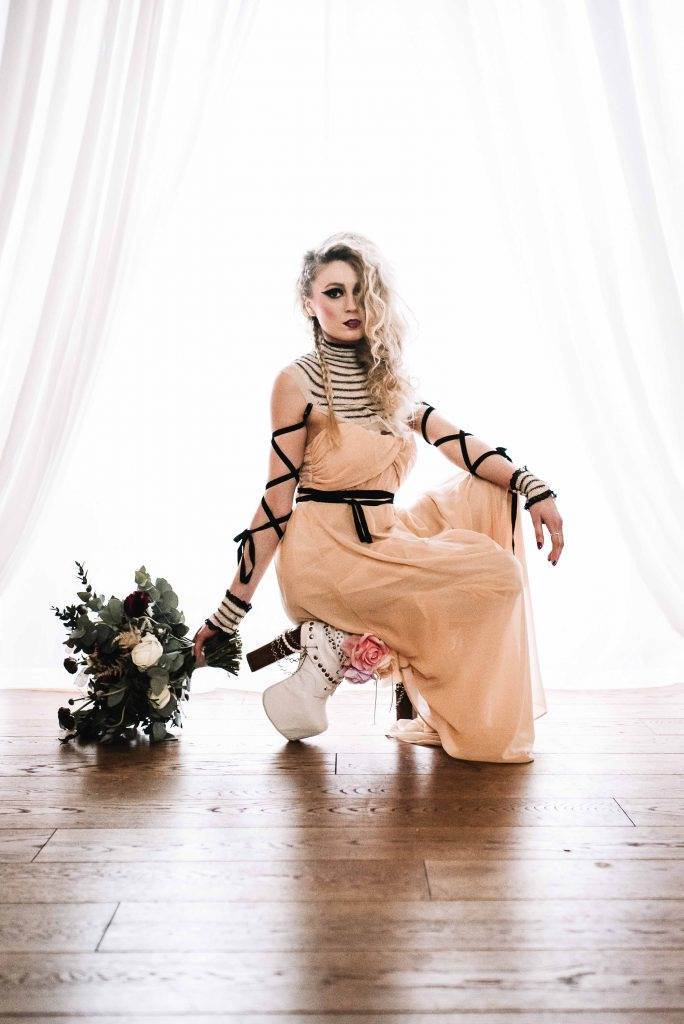 Jan says, "When Erin asked me if I wanted to be involved in a punk wedding inspired shoot, I was delighted and very excited as although my designs are primarily pretty, they often have an edge to them and I've always been inspired by the punk era. I came up with the shoot's title as a twist on one of my favourite films Pretty in Pink. I immediately started research into the softer side of punk, but also couture designers such as Valentino, Vivienne Westwood and Alexander McQueen. I already had a few garments that were suitable, including a hand knitted mohair jumper that I had designed in the '80s, but also sourced vintage '80s dresses, which I upcycled with embroidered images, logos and Patti Smith song lyrics, and an original leather jacket that had belonged to my husband when he was a teenager, which I upcycled with embroidered patches pinned on with safety pins. Altogether a hugely inspirational shoot to have been involved in as a designer."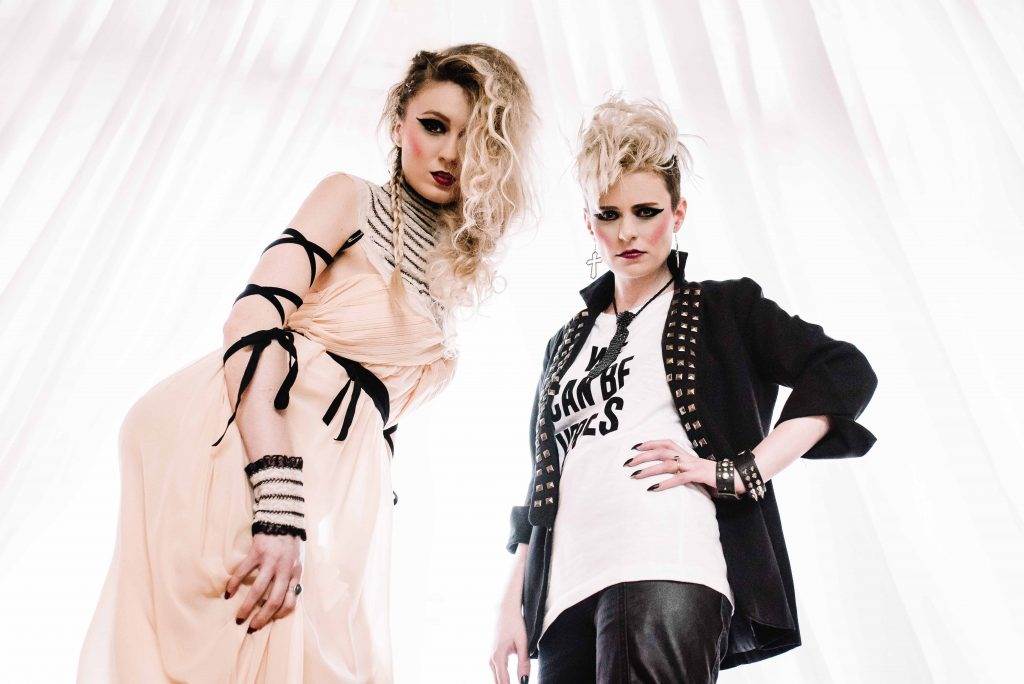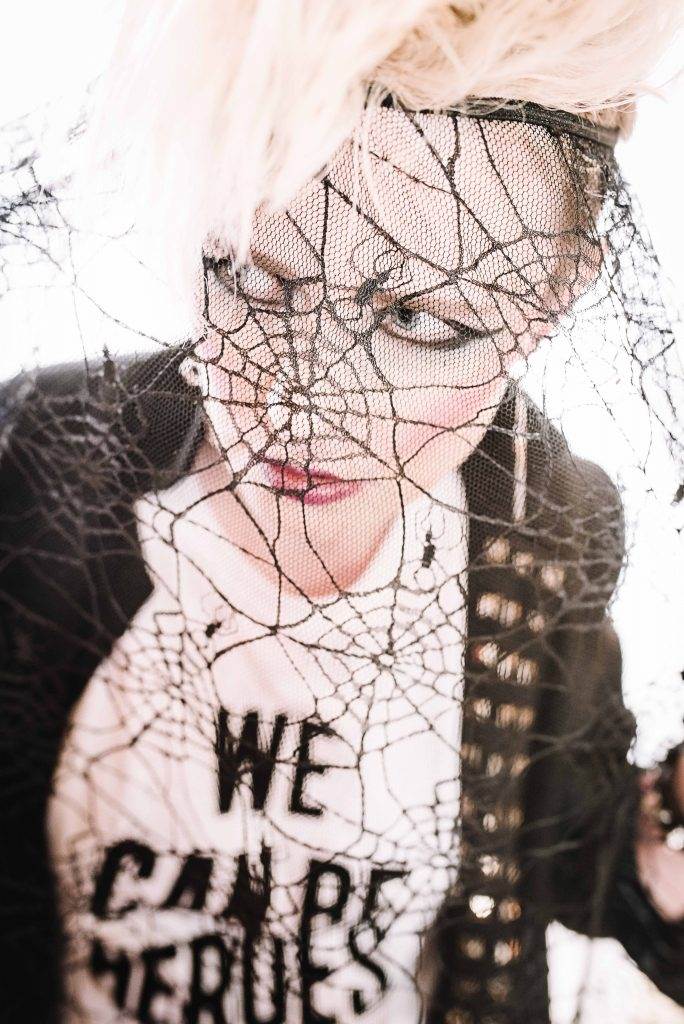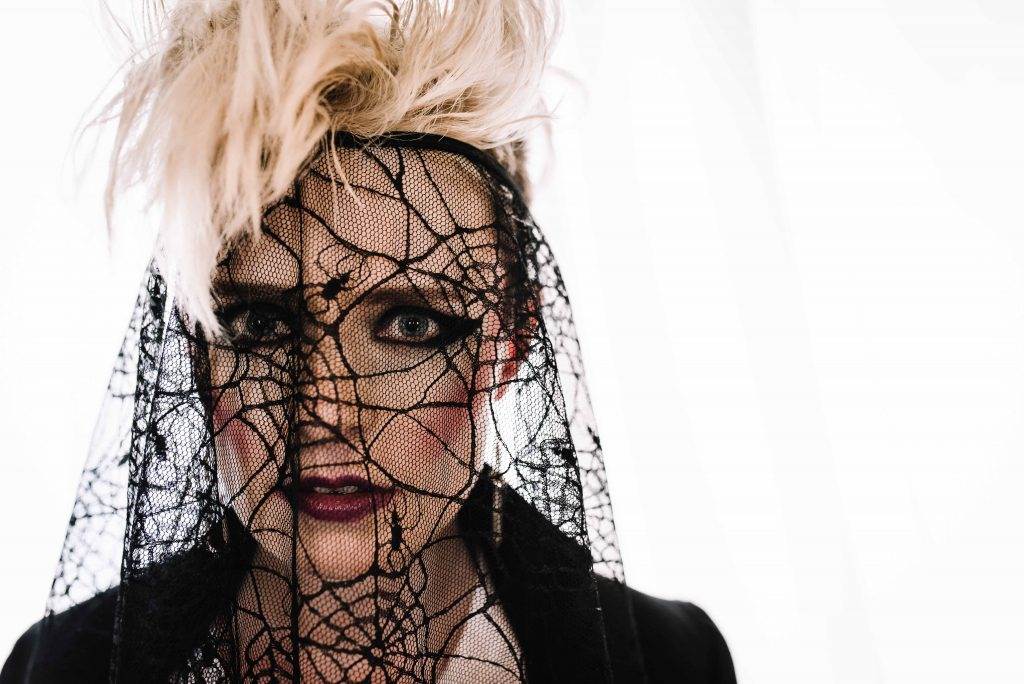 "Emma Adams and Kelly Prince from Frock It Bride provided and made some absolutely perfect punk pieces. I was blown away! Emma says, "Kelly and I were absolutely thrilled when we were approached to provide denim, a suit and punk inspired t-shirts for this shoot. We wanted it to reflect our alternative and slightly gothic style, whilst keeping true to the theme. We found a black vintage slim fitting trouser suit at a flea market, and re-studded the lapels; we styled it with a David Bowie inspired t-shirt from Lush Stuff, a fabulous Cheltenham-based accessories company. The overall look was feminine, yet edgy. Our showstopper piece was the customised jacket made by Kelly. A current season H&M denim jacket was cut down and bleached, studded, fine chains added, and pink hued flower patches added. The finished effect was incredible.
The showstopping tiara by Gemma Sangwine is made from recycled pieces of diamante jewellery, in true DIY fashion, and was inspired by the opulence of John Galliano and the decadence of Alexander McQueen. It added a real glamour – and again a little baroque – to the punk look, meeting perfectly the brief to bring in 'pretty' elements while not losing the edge."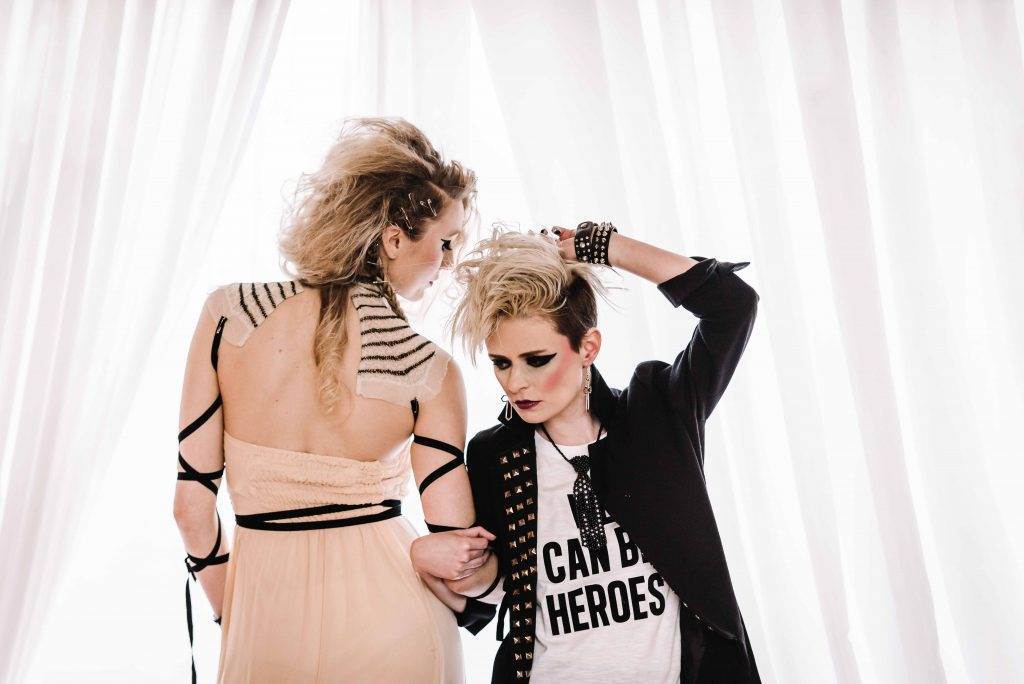 "I had fun looking through the Teapots and Tiaras stock picking out bits that I thought would be punk-like. I think from the bits I chose, the styling also ventured into the new romantic and baroque. I also had a blast painting a charity shop shirt with the lyrics to Pretty Vacant!
I knew exactly who I wanted to make the cake and that was the amazing Lauren at French Made! Her cake was covered in white textured buttercream with black and purple touches in the style of the models' make-up. She also used studded denim ribbon reminiscent of the punk era. It was perfect! Punk in cake form!"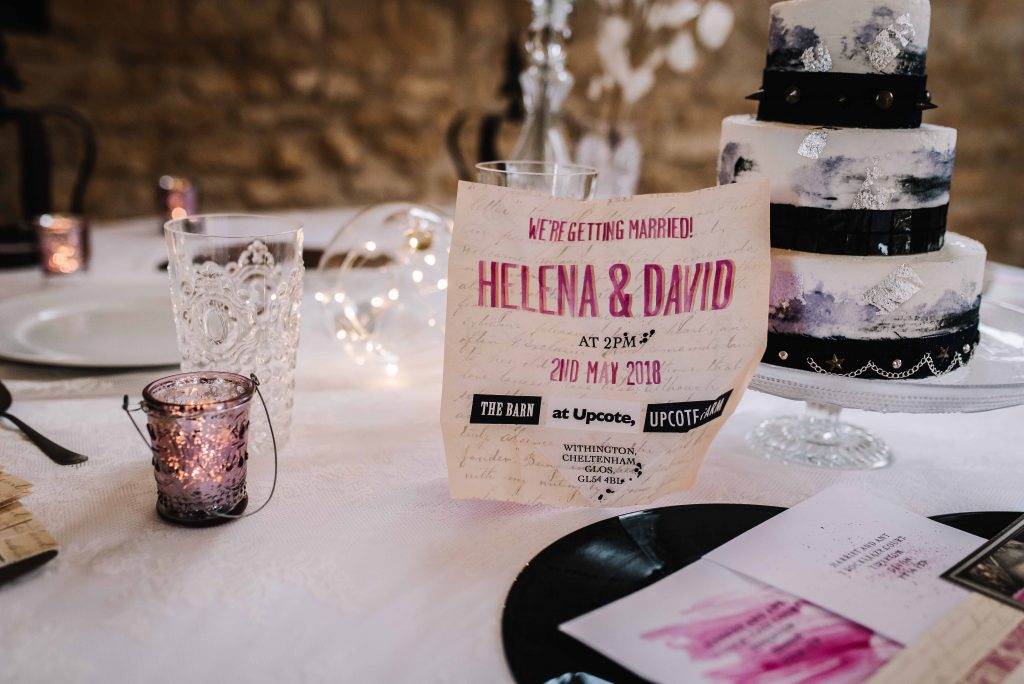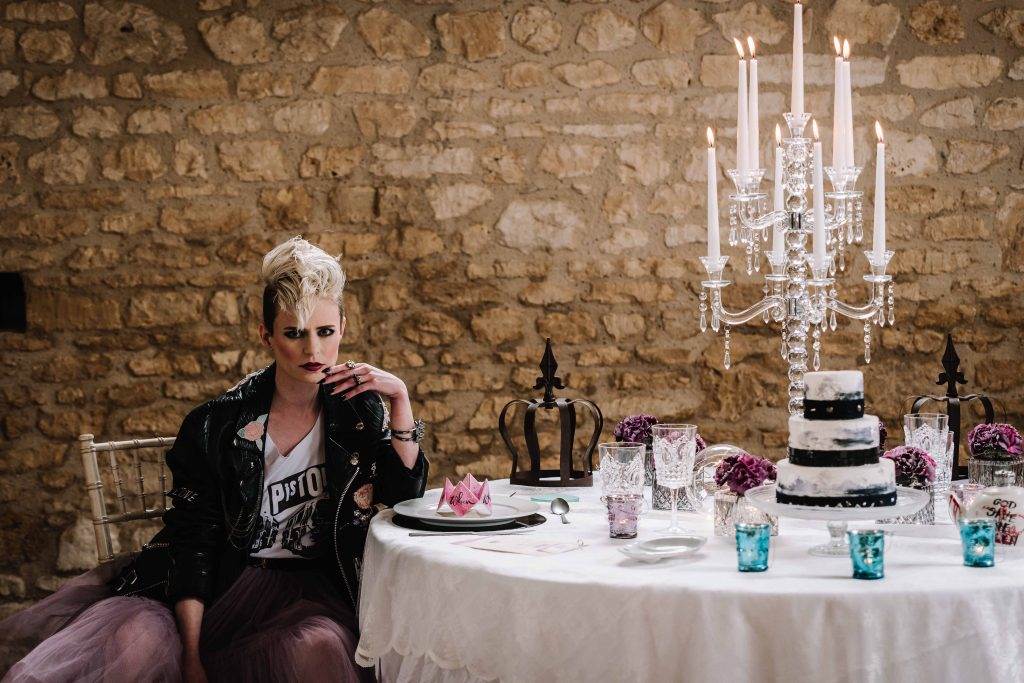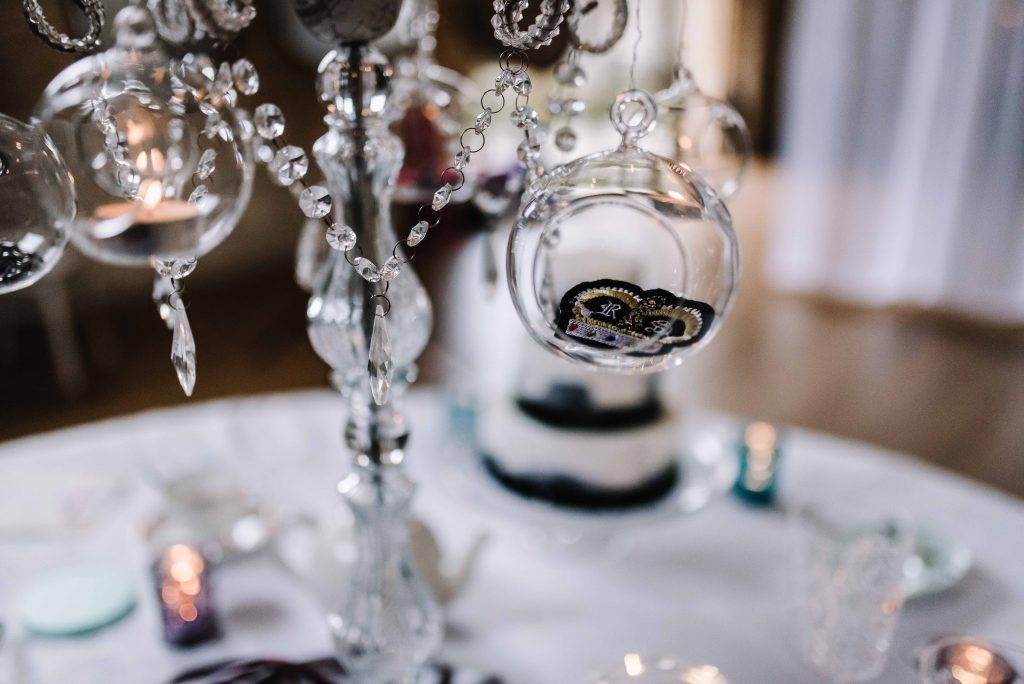 "The brilliant Myriam from La dame au béret was also 100% my go-to for perfect punk wedding styling for the millinery, and some of the accessories, shoes and tableware. She sent me the best parcel that was basically punk in a box! Myriam says, "In the late '70s, as a kid, I liked Disco music and Abba, then I discovered Blondie, and that was it! When Erin of Way Out Wedding told me about the shoot, I loved it. And I loved the pun 'Pretty in Punk' – I obviously saw the film Pretty in Pink in the '80s. Punks were rarely pictured wearing hats, but because of the modern twist on the image of 'Punk', I imagined a kind of 'Baroque 'n' roll' look for the models.
Debbie Harry and Siouxsie Sioux, two of the main female icons of Punk, were my inspiration. I went for a bright pink and black lace pillbox, which could have suited Debbie's bleached blonde hair and sleeveless denim jacket she worn at the time. And I sent a black damask hat, with a slight military feel, for Siouxsie in her fetish gear at the Screen on the Green's Sex Pistols gig."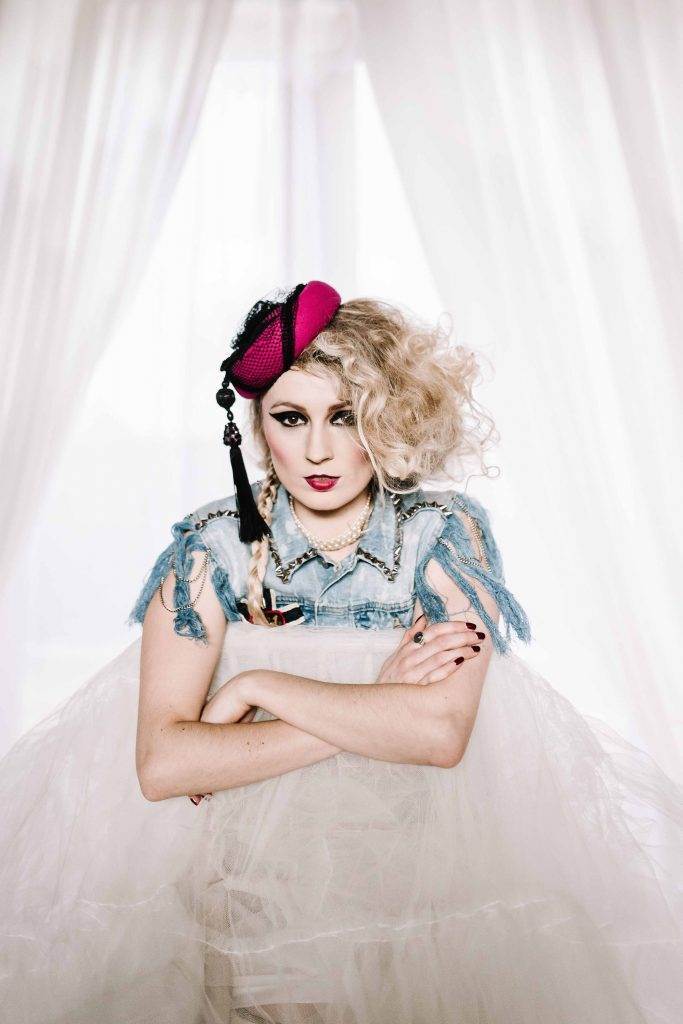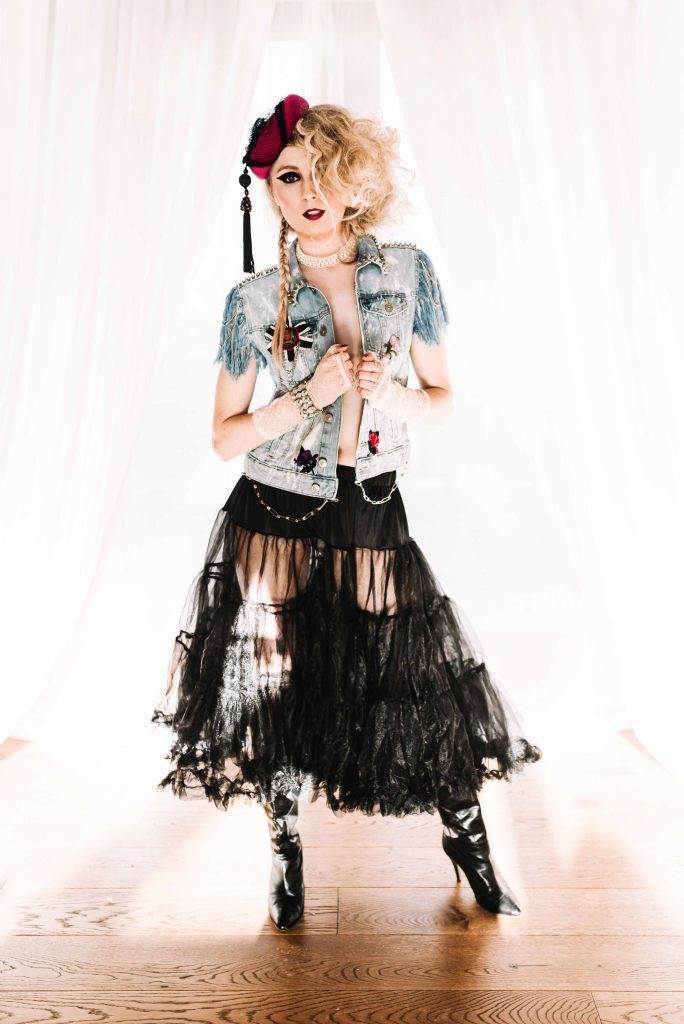 "Sadie, our make-up artist, created some amazing punk wedding looks from the pictures I'd given her, and was just brilliant with interpreting what I wanted (I'm not the most articulate of beings when using words!!). I wanted an avant-garde whited out face, almost like an eighteenth century Versailles look, with strong doll-like lips and streaked cheeks. Other looks stuck to the typical heavy eyeliner detail, and everything Sandie did was just fabulous.
The Barn at Upcote's rustic vibe gave a fantastic contrast to the punk side of things, and also lent a lot to the pretty feel of our styling."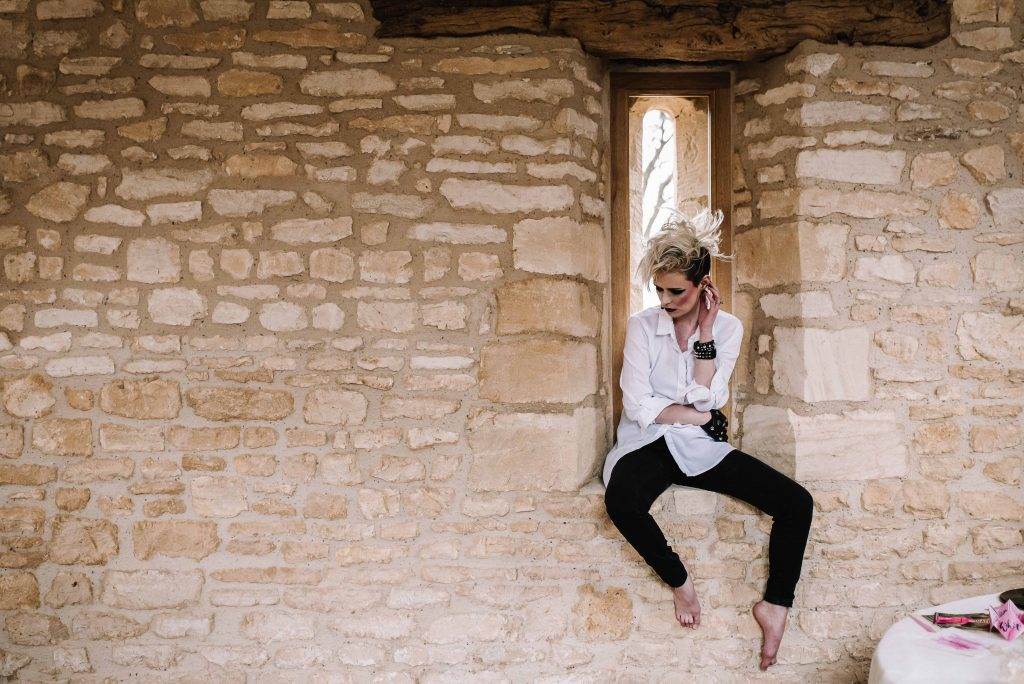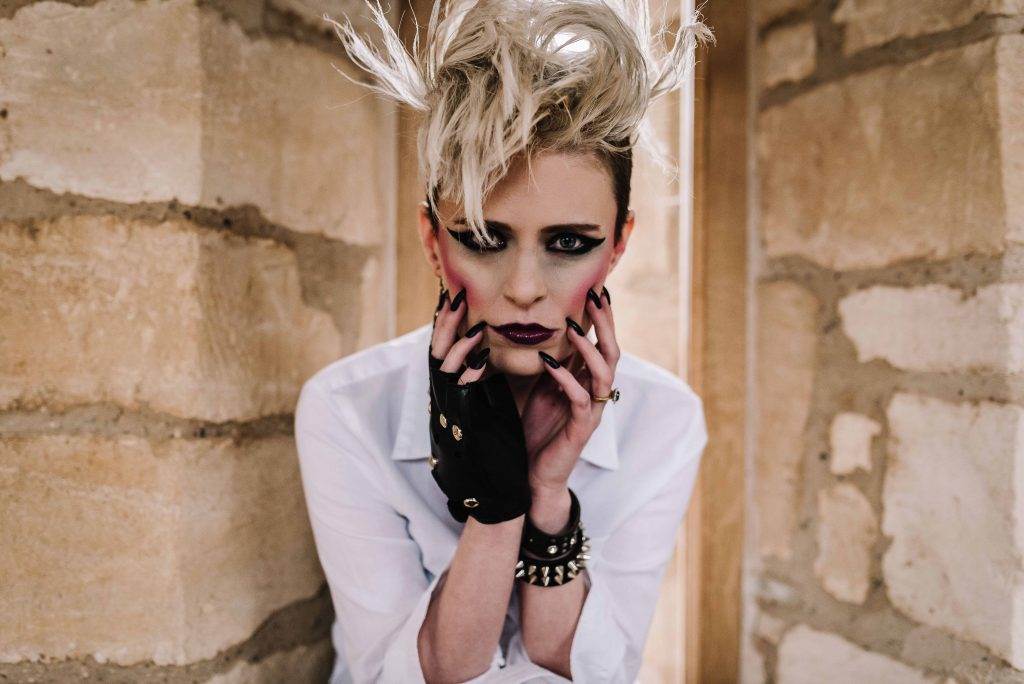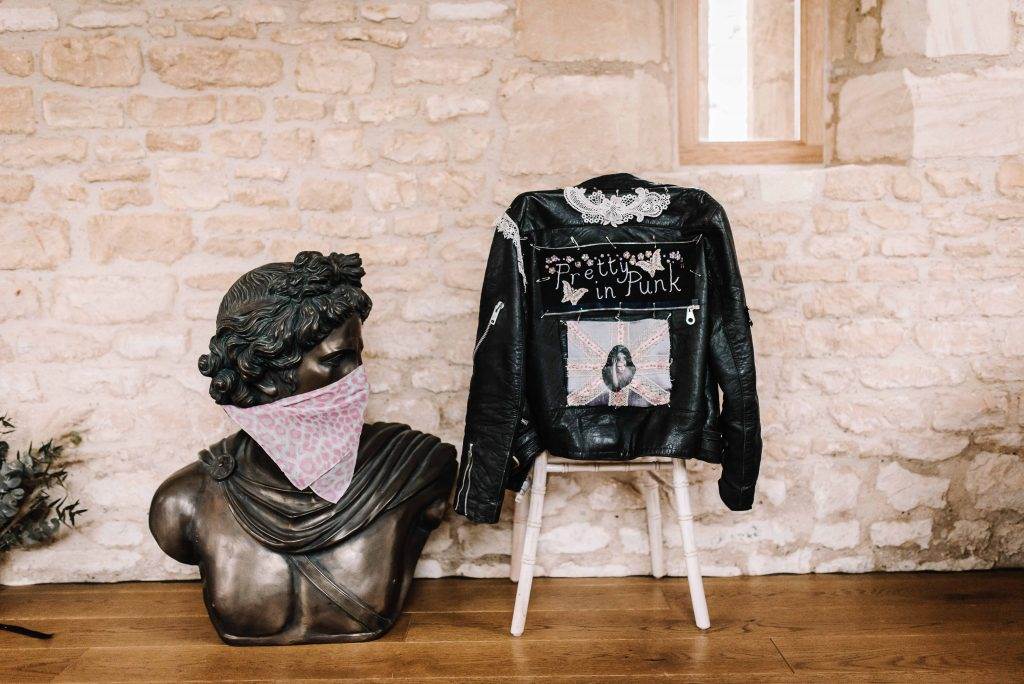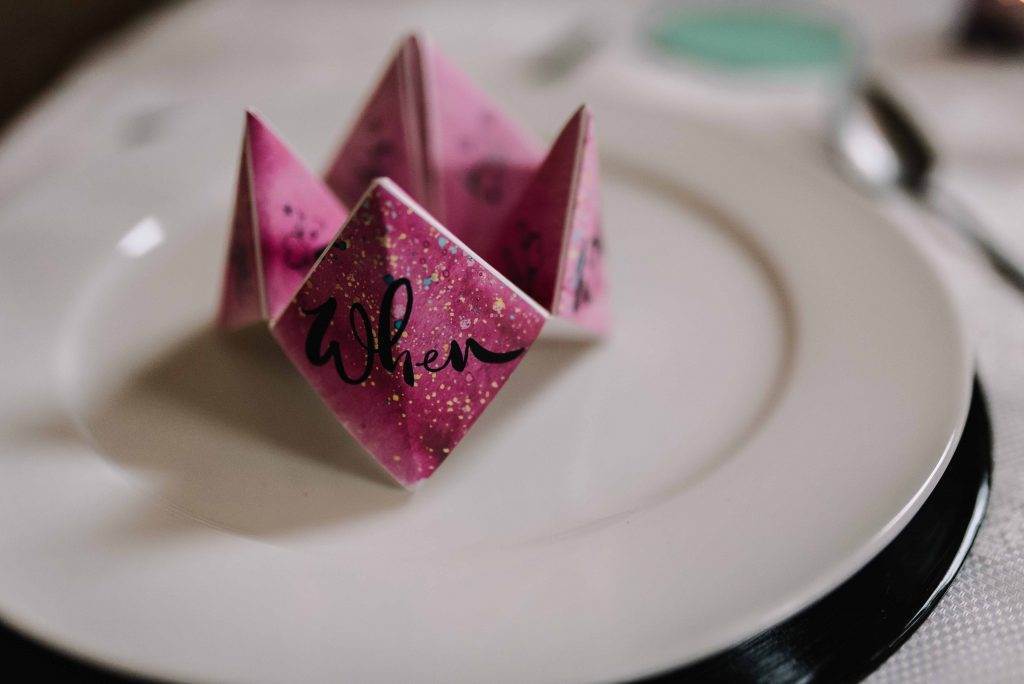 "The stationery by DeWinton Paper Co. was inspired by the subversive, anarchic nature of punk, turning age old traditions on their head and reimagining the wedding stationery in a playful and chaotic style. Harriet combined watercolour, brush lettering and typography from iconic album artworks of the time. I thought 'God Save The Date' was a particularly clever touch!"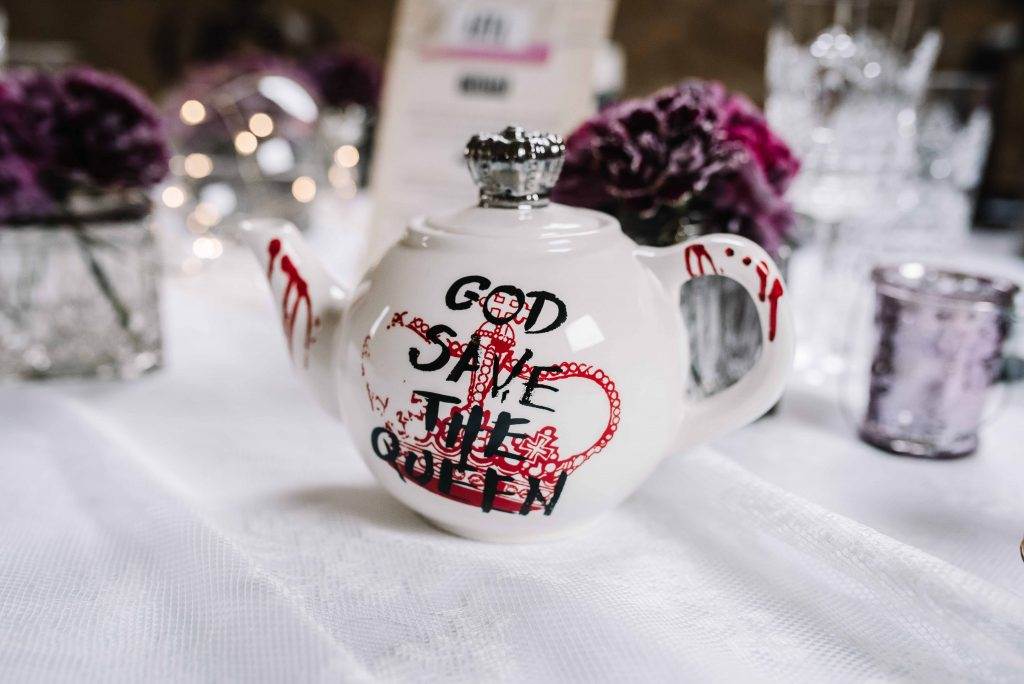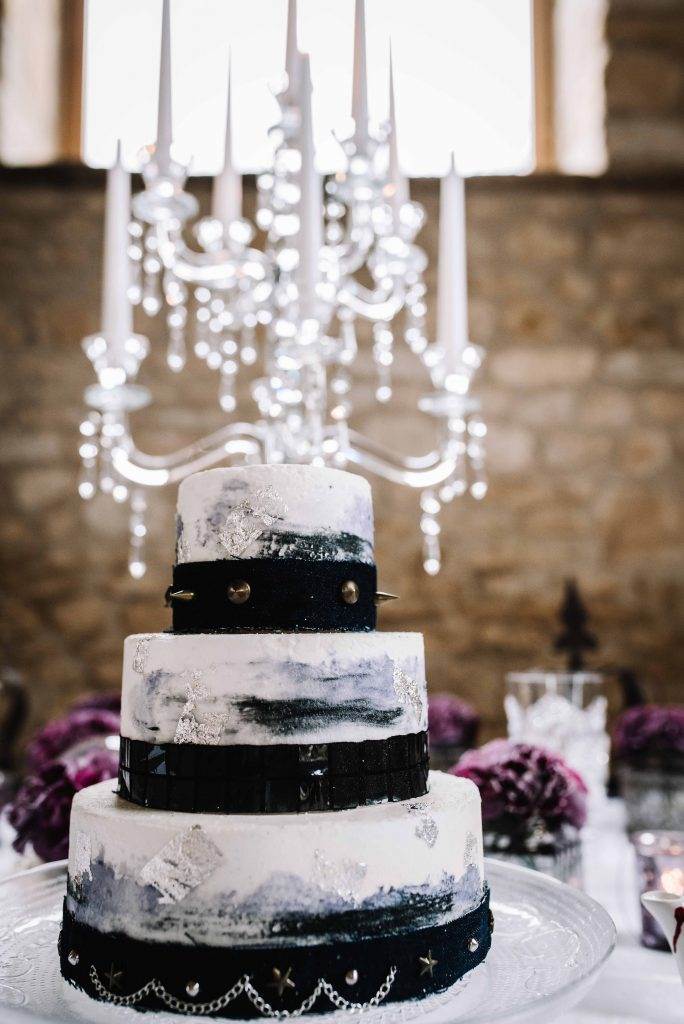 "Emma from The Flower Girls used pampas grass, eucalyptus, burgundy ranunculus & cream roses, and the palette was perfectly dark and dramatic, accented with lighter colours that brought the prettiness. I gave Joanna from Vallender Salon lots of images of faux hawks, pins and studs in hair, traditional punk hairstyles and more modern undercut styles. What she created was incredible – we had safety pins in the models' hair and all sorts!"
The punk wedding shoot on the day was the most wonderful experience: a gathering of talented and visionary professionals, headed by the gorgeous Erin, gathered at Upcote Barn in Gloucestershire, and the end result was truly mesmerising.
If you love Erin's work (which of course we all do!) have a look at other styled shoots created by her featured on Magpie Wedding such as this prom shoot and this 1980s New Romantic shoot.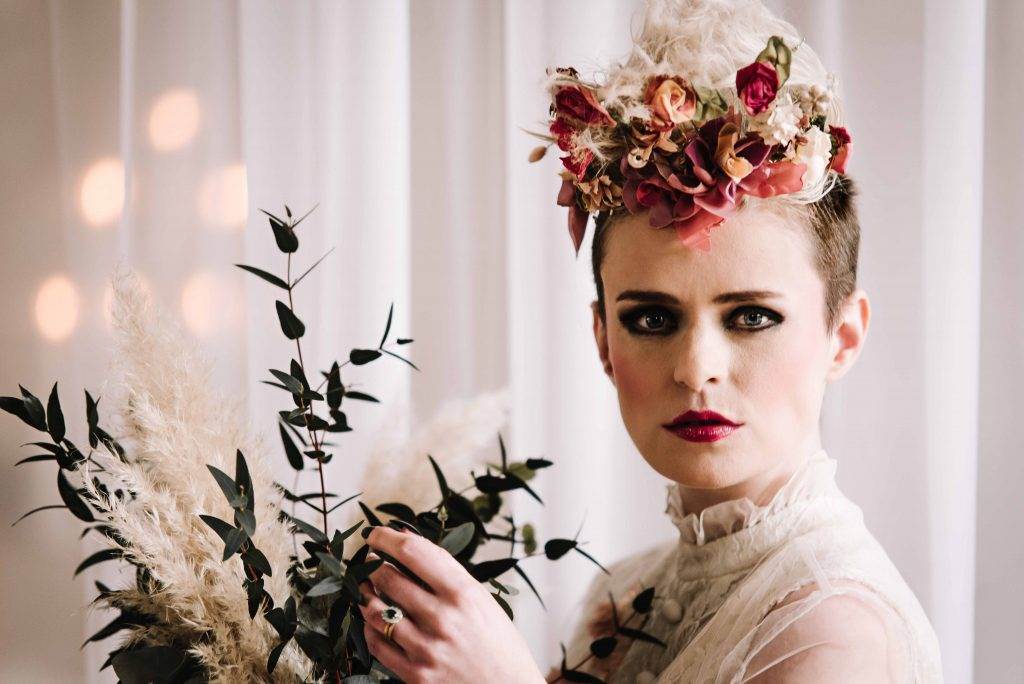 Credits: Creative direction and styling – Way Out Wedding / photography: Oobaloos Photography / Dresses, bustle, jewellery and embellished leather jackets: Atelier 19 / Tulles and DIY 'Pretty Vacant' shirt: No Debutante / Veils and headpieces: Gemma Sangwine / Millinery: La dame au béret / Jewellery and accessories: stylist's own; Atelier 19; Gemma Sangwine; La dame au béret / Suit, embellished acid denim: Frock It Bride / Heroes t-shirt: Lush Stuff / Shoes: Charla Tedrick; No Debutante / MUA: Bella Bridal Hair by Sandie / Hair: Joanna Vallender at Vallender Salon / Cake: French Made / Stationery: DeWinton Paper Co. / Flowers: The Flower Girls / Props: Teapots and Tiaras / Crockery and tableware: stylist's own; Wild & Violet / Venue: The Barn at Upcote / Models: Tammy Jaqueline Snipe; Emily Ball