If you are looking to having a sustainable and eco friendly wedding, it is worth considering your wedding dress in this mix as there are many factors which can affect how sustainable and ethical your wedding dress is. Here are 5 things to consider if you want an eco sustainable wedding dress.
Where is your dress made?
Following the movement of 'Who made My Clothes' it is important to know where your wedding dress is made and who is making it. We have all heard about the recent controversies about exploited garment workers (even in the UK) who are under paid and forced to work in poor conditions and this does not just happen in the fast fashion industries. If you are spending a lot of money on your wedding dress you would hope the money which is spent is fairly distributed down to the dressmaker in the factory or Bridal House Studio.
One of the designers which I stock called Otaduy regularly posts videos in their Barcelona Atelier (workshop) where you can see the ladies making sustainable wedding dresses. You can see the dresses are made in a fun environment where the women are part of a team and each piece is made with love.
What is the carbon footprint of the dress?
Ask yourself, what the carbon footprint of your wedding dress is. Does it travel from across the world to you? How is it shipped?
All the designers which I stock reduce the carbon footprint of their postage when they bulk together orders so no individual dresses are sent.
There is also the carbon footprint of the fabrics which are used in the dress which you choose; natural fibres such as silks, cottons and wool are all bio degradable fabrics. Synthetic and polyester fabrics can take anywhere from 20-200 years to decompose, whereas silks and natural fibres can decompose in as little as 10 months when recycled properly. Using natural fabrics means your wedding dress long term footprint is much smaller than a synthetic dress and is one of the best sustainable wedding dress options.
Consider made to order dresses
Wedding dresses produced one at a time and "made-to-order" minimises over-production, surplus inventory, and waste compared to mass production.
If dresses are mass made there is more likely to be more waste which could lead to large amount of fabric incinerated or sent to landfill.
Consider recycled materials
There has been an increase in the number of bridal ateliers who are using recycled materials to increase the sustainability of the fabrics which they use. Leanne Marshall use recycled silks on the linings of their dresses and state that their dresses may have 'slubs' in the fabric as they don't believe in throwing away fabric because it has small imperfections. Leanne Marshall also send any fabric scraps, trimmings, and textile waste to an organisation called FABSCRAP to be responsibly recycled.
Consider second hand wedding dresses
If you are open to pre loving a wedding dress this is perhaps the most eco way to find a sustainable wedding dress. Wedding dresses are sadly a once worn item (unless you are my Friend Faye who wears hers every wedding anniversary whilst having a takeaway #whatalegend).
Giving a wedding dress a second chance is not only good for the environment but also for the purse! Rock the Frock has a PreLoved store in Essex where you can have access to our usual cool boho vibe of dresses for up to 50% off the RRP. You can also sell your wedding dress after your wedding to preloved stores which means somebody else can feel as magical as you did on your wedding day.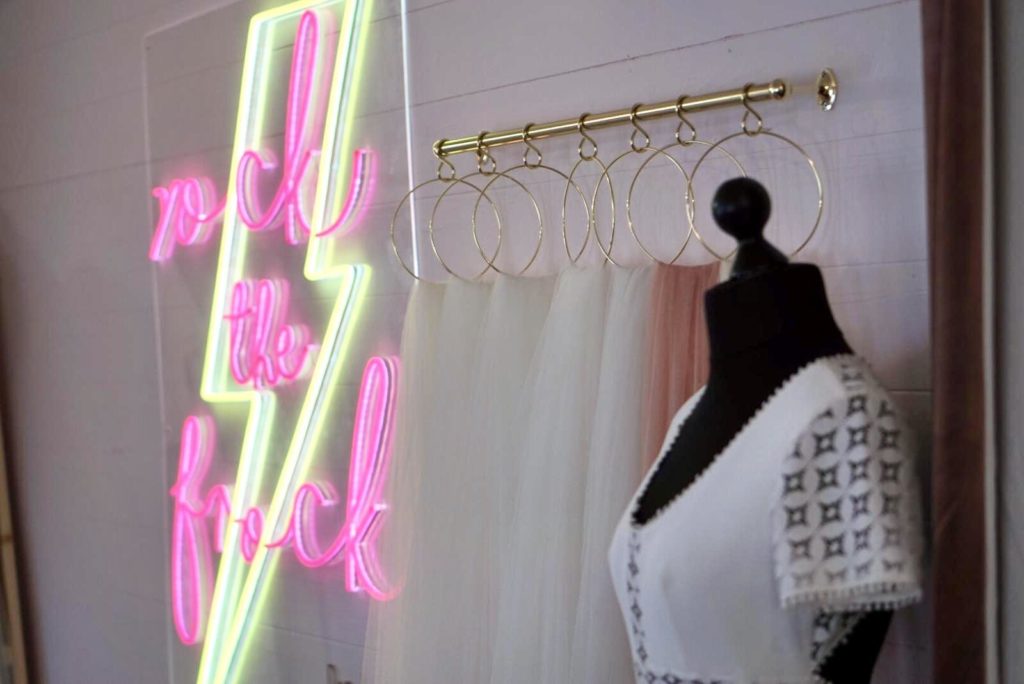 Are you having an ethical and sustainable wedding?
What changes are you making to have a positive impact?
If you have any questions about sustainable wedding dresses please do not hesitate to contact me!
Helen xx
If you found this useful, why not add it to your Pinterest boards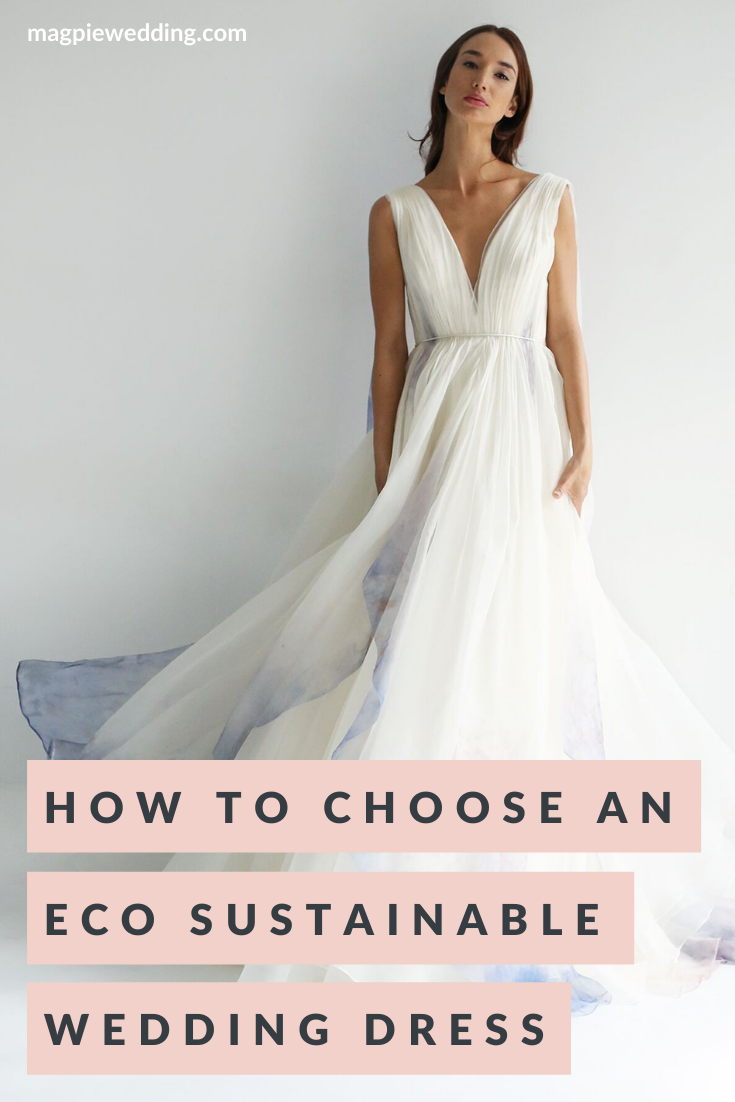 For more sustainable wedding ideas, have a look at these articles:
How to find an eco sustainable wedding venue
How to reduce the carbon footprint of your wedding
Simple swaps to have a plastic free wedding