The perfect ethical wedding dress? Does it exist? We advocate anything ethical here at Magpie and we believe in being more conscious and eco-friendly when it comes to your wedding day, including trying to be more ethical when it comes to your wedding dress, and although a good option, it does not always mean going second-hand or vintage. Our ethical wedding suppliers, are taking steps towards making it easier for you, as couples, to be more conscious when it comes to the big day! The perfect wedding dress is out there for you, whatever that may be, and if it's sustainable. eco-friendly and ethical or even partly ethical, even better -so to help here are some things to consider when it comes to finding the one.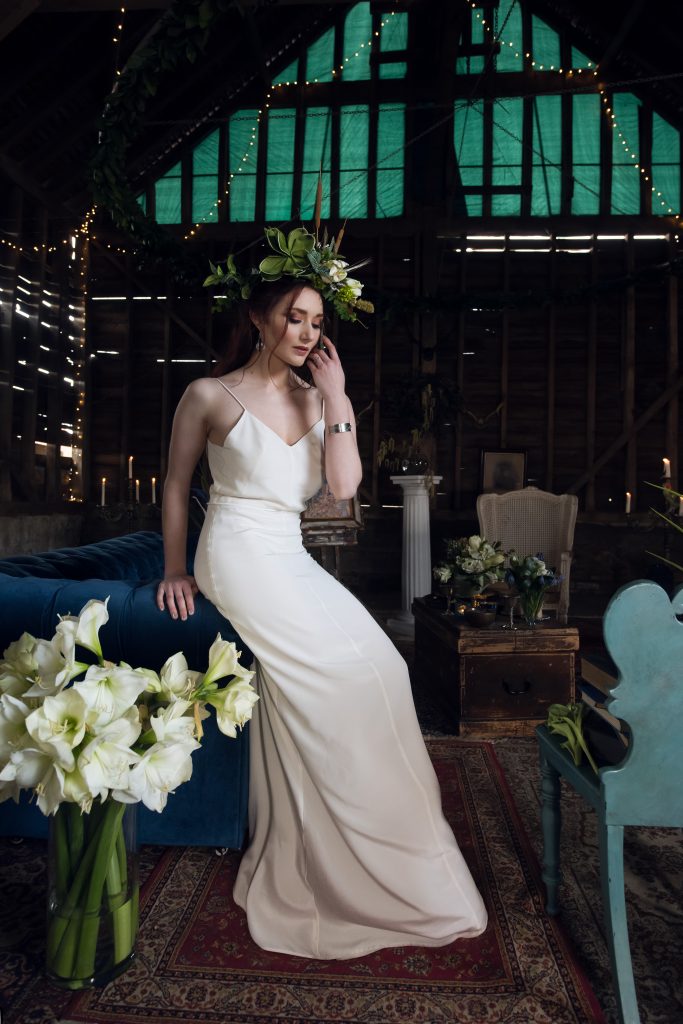 Vegan Wedding Dress: River Elliot Bridal / Photography: Markuza Photography
Preloved or Vintage
As previously mentioned, going vintage or pre-loved is an ethical dream and is the best thing for the environment. Vintage dresses can make a real impact, most of them have a story and if this is your style, finding a vintage number can really make your vintage day authentic and special. Both vintage and pre-loved dresses can be altered, customised, and re-designed to be turned into your perfect gown – just think of the creations you could make!
We understand that patience can be tested when it comes to trawling online and looking for the perfect vintage or pre-loved gown, it can feel like finding a needle in a haystack, or a diamond in the rough, but there are plenty of shops that now specialise in this such as Brides Do Good, one of our chosen charities, who offer a pre-loved gown service, whilst helping vulnerable young girls around the world, one dress at a time.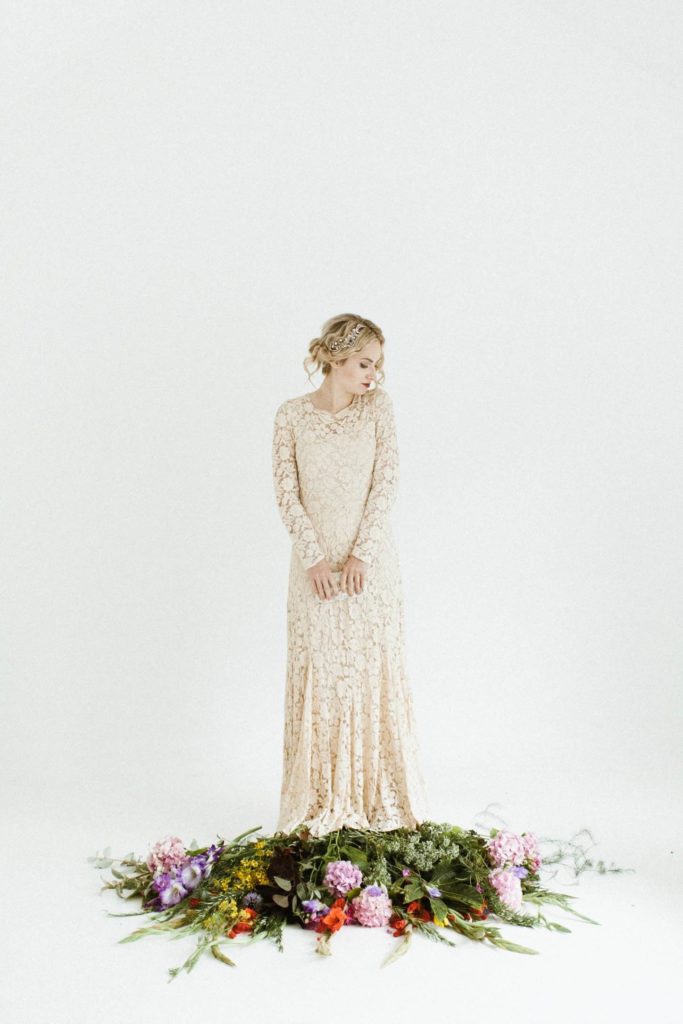 Dress: Magpie Wedding / Photography: Claire Macintyre Photography
Plastic and Animal Free
Go plastic and animal free, yes this includes all manner of non-ethical trims and fabrics including sequins, feathers, leather, wool and silk – you may think this rules out a lot, but there are alternative fabrics out there that are much more eco-friendly and just as beautiful! Think about the single-use plastic involved in your dress, including the packaging and transportation of your dress.
Fabric and Lace
Check where your fabric is from. When it comes to fabric and being ethically minded it rules out a lot of options that may be thought of as ethical, for example, silk. Yes it's made from natural fibres, but that doesn't mean it's ethical; the way it's farmed and the processes and chemical applications mean it's far from this. You can however get just as beautiful alternatives including vegan silk. When it comes to eco-friendly and sustainable lace there are options: British is always best, reducing air miles and carbon footprint and although British lace companies have declined over the years there are still lots of manufacturers out there making beautiful laces – Nottingham Lace is a great example of this.
Overseas Purchases and Working Practices
"It's almost too good to be true" goes the saying and if it's too cheap, it's normally too good to be true, and in most cases, you'll get what you pay for, so bear this in mind! Getting your dress from overseas, whether that be online or from a bridal store means there are lots of potentially unethical and unsustainable practices going on, not to mention the costs, packaging and carbon emissions involved in getting your dress to you! There are lots of overseas companies that have negative impacts on their industry workers, including unfair wages, poor working conditions, and exposure to unsafe chemicals and practices.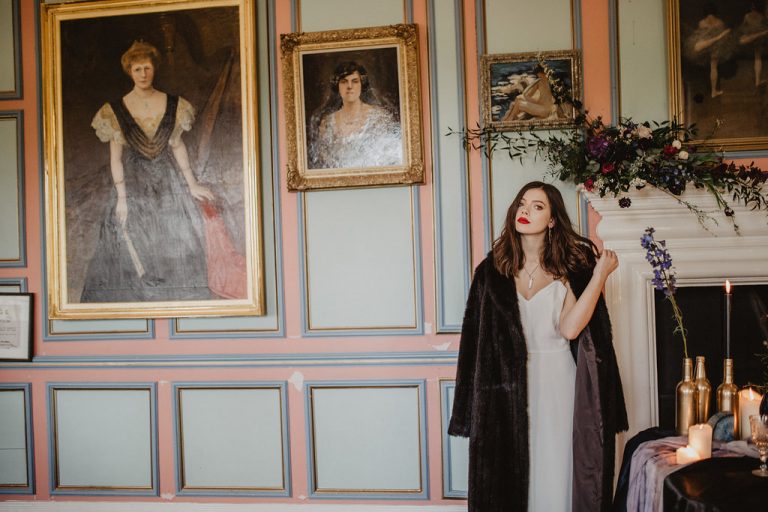 Vegan Wedding Dress: River Elliot Bridal / Photography: Camilla Andrea Photography
Inclusive Practices
Is your chosen wedding dress supplier inclusive in their practices and marketing choices? Brides should not have to lose weight/gain weight/grow their hair or do anything that's not them for the big day. Make sure they are inclusive in their marketing, your and your significant others' well-being is way more important when it comes to planning your wedding day.
Buying Local
Buying local is always best! It means supporting local small businesses, and putting money back into your community, less carbon omissions and pollution from travel and supporting local creatives to do what they love and provide you with amazing services! Not all local businesses are truly ethical but buying locally is a more eco-friendly way to shop. If you're going further, ask the business about its ethical practices and what they do to help protect the environment and love the planet.
If your looking for other ideas on sustainability download our free guide: 35 Ways To Have A Sustainable Wedding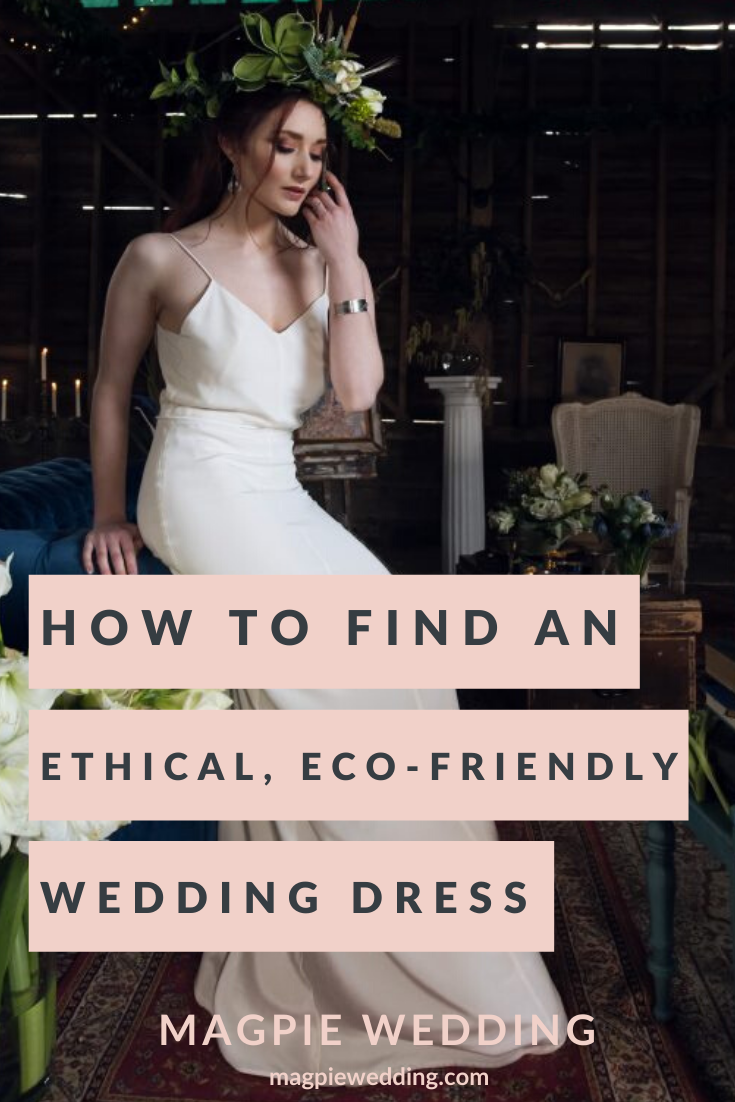 If you love our Eco-Friendly wedding dress guide, you may also like;
10 Sustainable Wedding Ideas – With Our Free Ethical Wedding Guide
Our favourite UK Vintage/Pre-Loved Ethical Wedding Dress Shops
Introducing Our Ethical & Sustainable Wedding Suppliers at our Manchester Wedding Fair