Engagement rings are no longer just about the proposal itself. They've come to represent a true expression of who we are as people, and who we are as a couple. When it comes to designing an engagement ring, anyone getting down on one knee is excited at the prospect of incorporating their loved one's individuality and unique style into their design. But for too long conventions and preconceptions have clouded what such a personal piece of jewellery should really look like. The truth is, there should be no rules! And that goes beyond a ring's design. Even though we're used to seeing a diamond engagement ring being worn by a woman, the 21st century has ushered in a new era of gender expression and freedom to present yourself in whatever way feels authentic. It's time that the mainstream throw out myths about jewellery and gender and embrace a world less on marriage stereotypes. We've created a selection of gender inclusive or unisex engagement ring designs that pay no mind to the gender binary.
Who ever decided that one type of beauty is meant for one type of person? Say goodbye to arbitrary stands and hello to human connection. Here are 16 gender inclusive engagement rings for you to drool over!
Unique solitaires
Single-stone designs have always been a classic choice for engagement rings. It would be hard to dethrone them from the top spot when it comes to engagement ring trends, but a slight twist in the setting makes a solitaire a nice option for any gender and therefore unisex engagement rings. The more common cathedral, crown or tulip settings are replaced by a sleek bezel or tension set gemstone, where no claws (prongs) are visible. The diamond or gemstone can act as a bright accent or serve as an embellishment to an intricately designed band, it's entirely up to your imagination. Solitaires can be surprisingly customisable and have a beauty that defies categorisation.
Three-stone sparklers
For those with boundless imaginations, trilogy designs are an excellent opportunity to play with shapes and colours. For a more gender-neutral unisex look, you might want to go with equally sized or slightly graduated trilogies, but a good bespoke process will show you how versatile a three-stone engagement ring can be.
Engagement Bands
Some shoppers are not satisfied with the traditional idea of an engagement ring. They opt for bold designs which may pass for anything from a promise ring, through a signet or statement ring, to a pavé wedding band. The best thing about those rings is that they blend easily within your wardrobe and lifestyle and have a universal quality that defies all stereotypes. Another bonus: very stackable.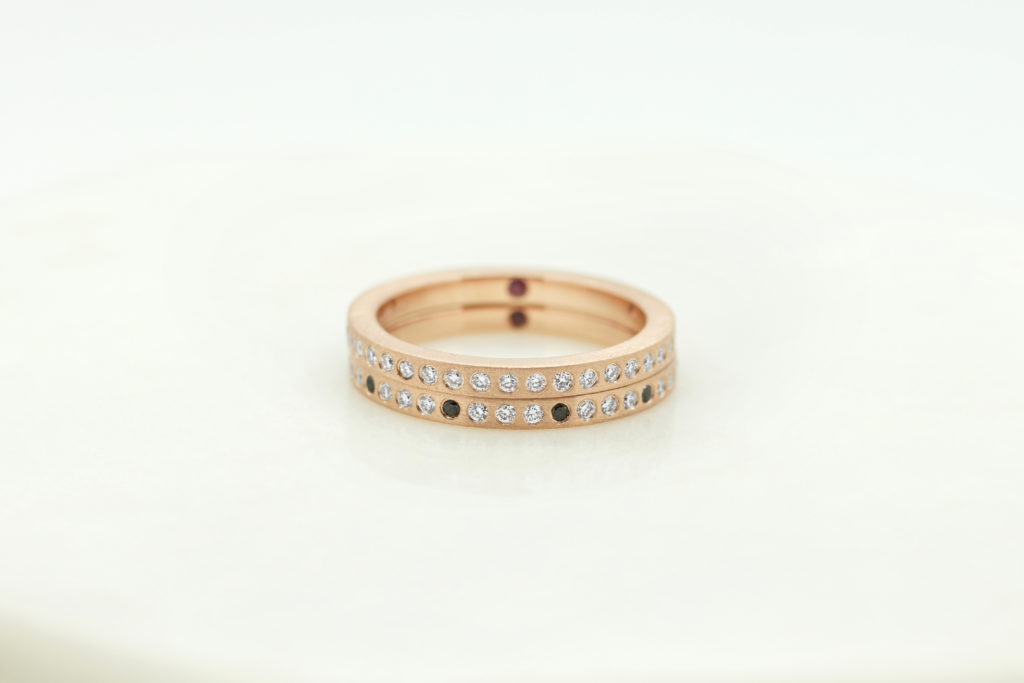 Modern vintage
These designs boast geometrical gemstone shapes like the emerald and Asscher cuts which have linear, straight facets, creating the famous 'Hall of Mirrors' effect inside the stone. This angular aesthetic has the visual effect of elongating the finger, making it a flattering choice as a unisex engagement ring for both men and women. The Art Deco era is a very inspirational period for vintage lovers, a time when platinum and coloured gemstones were the biggest craze.
Check out Taylor and Hart website here and Instagram here.
IF THESE UNISEX ENGAGEMENT RINGS HAVE INSPIRED YOU, WHY NOT PIN THEM TO YOUR PINTEREST BOARDS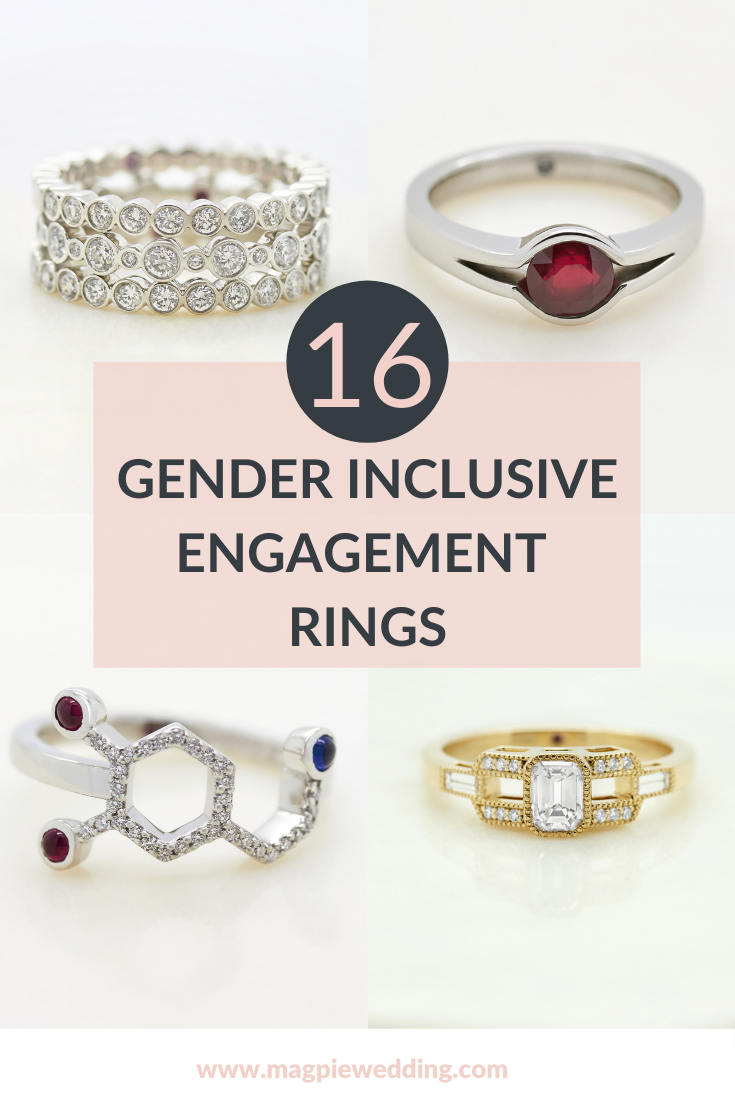 This is a sponsored post.