With the recent announcement that small weddings will be permitted to go ahead, now's the perfect time to get planning that small intimate ceremony surrounded by your closest loved ones. For those choosing still to marry this is the perfect opportunity to strip a wedding back to its core and focus on the aspects that make your heart sore, to have a real intimate and relaxed celebration. I've put together some of my favourite ideas and styling tips for creating a beautifully curated intimate wedding.
Think out of the box; its's amazing when you aren't restricted with large guest numbers where you can take your ceremony. With a smaller wedding the focus is on the ceremony, exchanging of vows and declaration of love and less about the traditions and party of a modern wedding. If you would like a humanist led ceremony, and don't need it to be legally binding there are really no restrictions on where you can go. Find your favourite spot, gather your nearest and dearest and head to the beach, or the woods or next to a lake, write your own vows and create the most magical setting.
No matter the wedding party size I would always recommend getting a photographer; this is a very important day in your life and you want it captured so the memories live on forever. With this in mind it is important to create a focal point with which to say your vows in front of. A backdrop that will define you away from the setting behind you. I love the idea of a simple arch or geometric inspired pyramid, with beautiful seasonal flowers.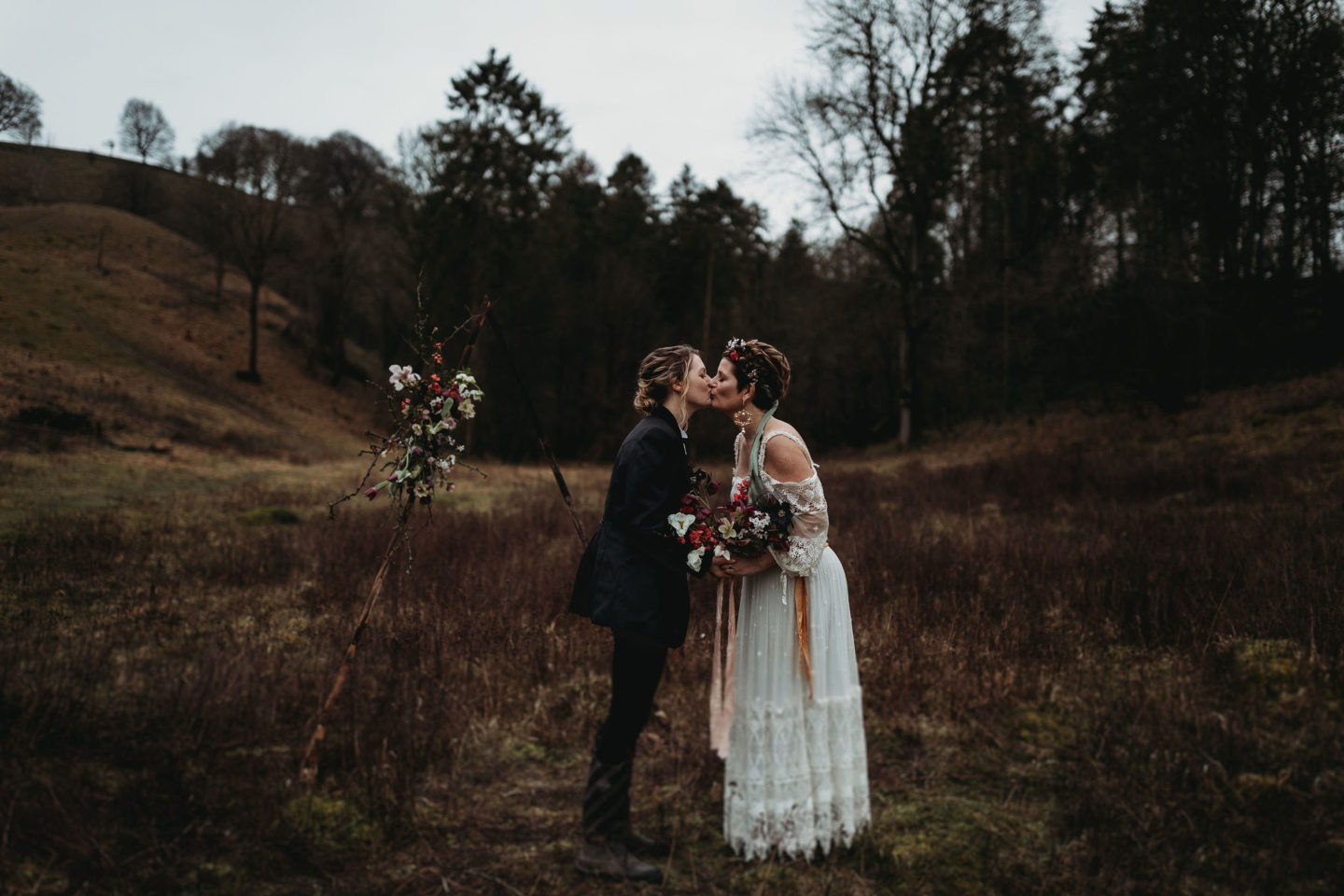 Thyme Lane Photography Arch setup: Nikkita Palmer Designs and Wild Stems
Relax amongst an intimate dining setting. I love picnics, they can be taken anywhere, they are the most relaxed of all dining options – lounge on Persian rugs, amongst scatter cushions and dine off low level tables. Perfect for creating an atmospheric and wow setup even if social distancing is still a must between guests. Family pods can be setup, defined with their own Persian rug and low level table. Surround with lanterns and festoon lights strung on shepherd crooks to carry on into the evening. I regularly hire out low level picnic setups and everyone is always surprised at how they instantly relax and encourage users to interact. It is not very often guests would get to experience a luxury picnic setup.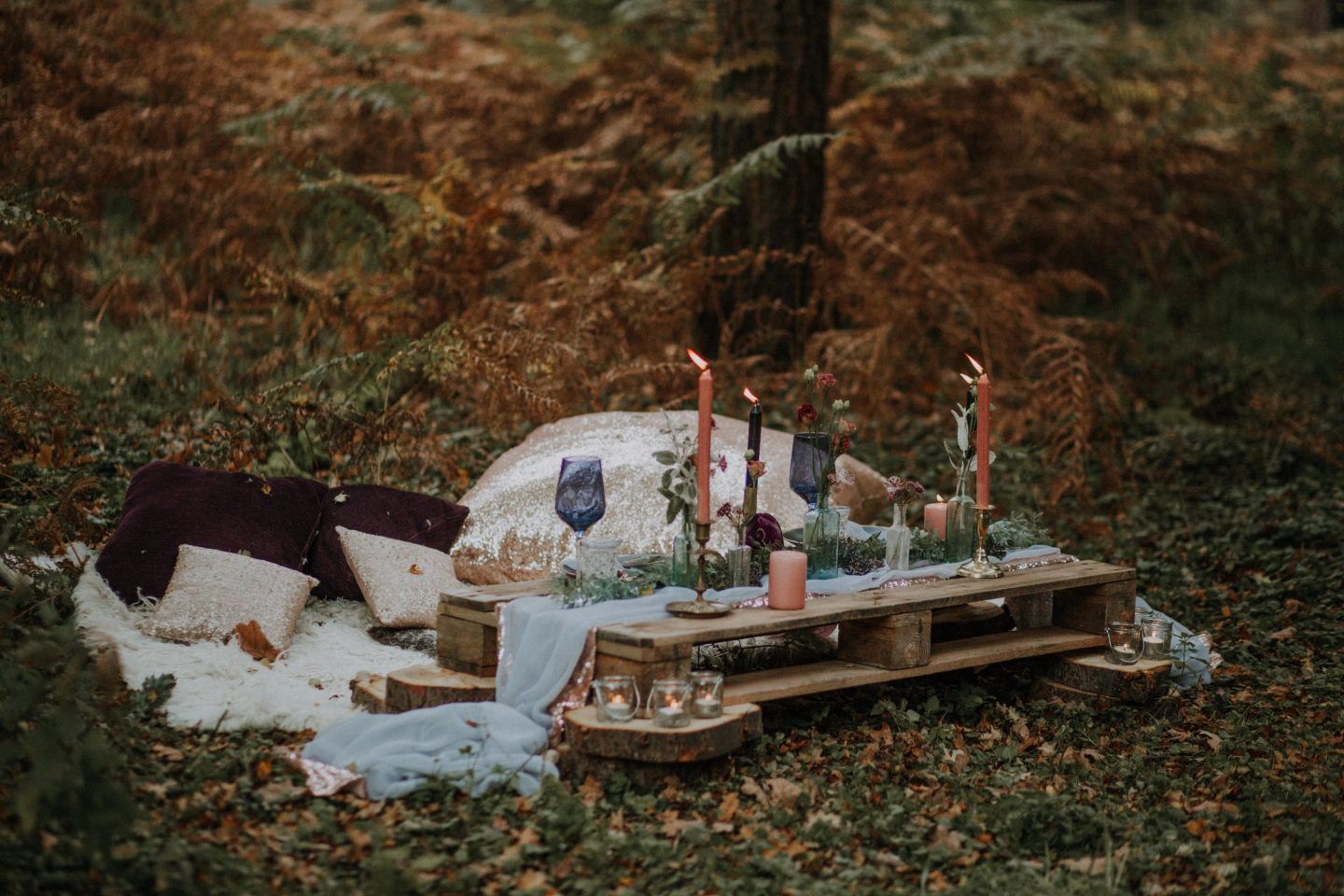 Photographer: Lola Rose Styling: The White Emporium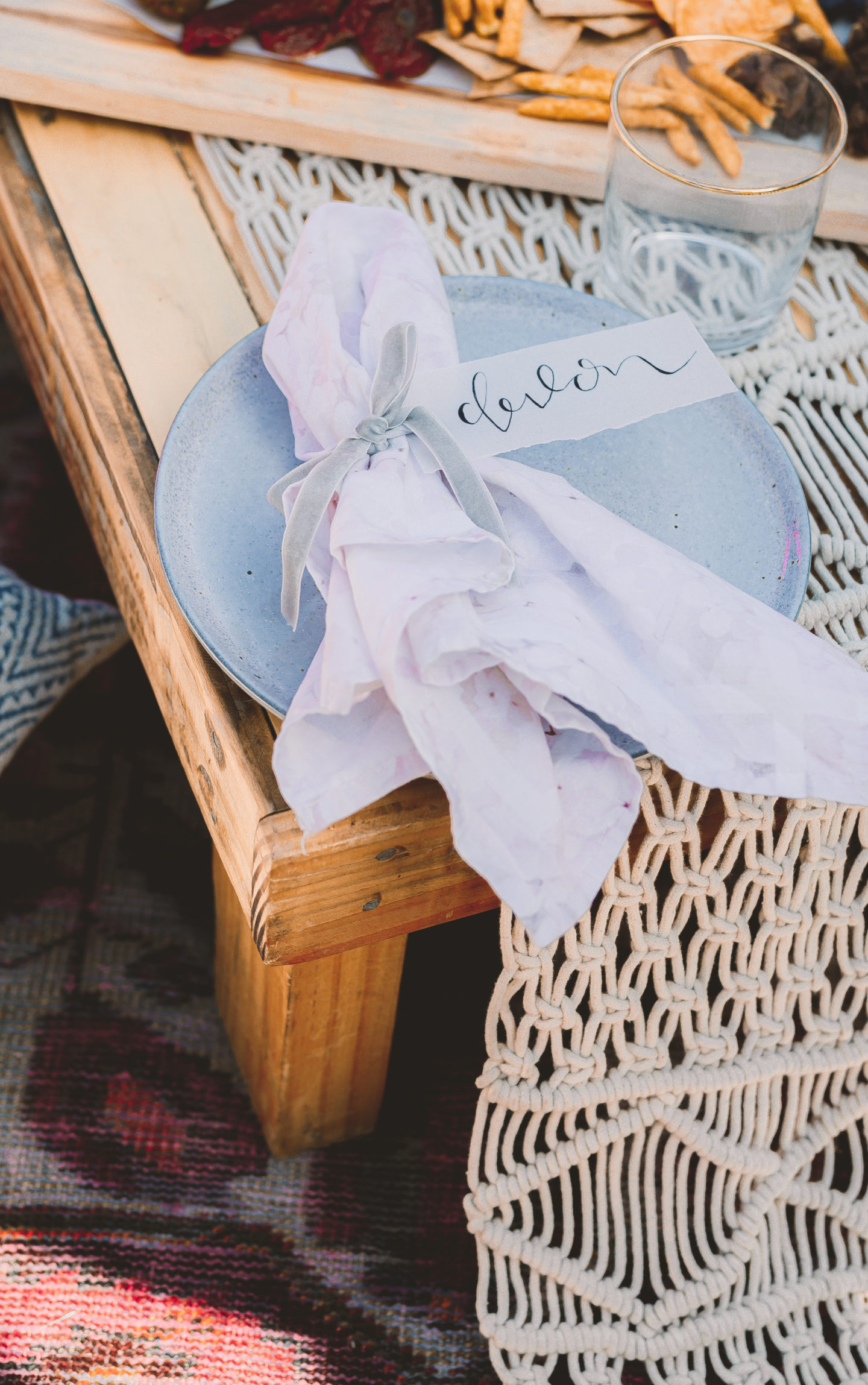 Photographer: Em J Photos Styling The White Emporium Table: Nikkita Palmer Designs
Without large numbers to cater for you can really indulge in foods and drinks that you love. Opt for grazing boards that encourage a slower pace and a more immersive experience. This is finger food at its finest; mix antipasti's, with cheeses, deli meats and hummus. Not only do they taste yum but they look amazing. Without the need for mass catering you can spend more time on personalised place settings.
To create the perfect grazing board, full of all of your favourite finger foods, start by placing some key statement pieces on your board such as cheeses, then gradually build up layers of texture and colours as you add the surrounding food items. Don't place solely one food item together, cold meats or falafels should sweep and curve around the board and interspersed by small handfuls of olives, sun dried tomatoes, nuts etc. Don't be afraid to mix savoury and sweet on a board together – the beauty of a grazing board is the contrast of colours and textures.
Create individual hampers for each table, baskets filled with bespoke cocktails, individual hand finished cakes and grazing boards are perfect for encouraging social distancing and limiting physical guest contact, whilst still producing wow and photo worthy design.
A wedding isn't complete without a drink to toast to, create bespoke cocktails or mocktails, that really capture the eye. Just because you are having a smaller wedding you don't need to compromise on the aesthetics, create bespoke cocktails adorned with edible flowers and serve in vintage glasses, served on antique trays.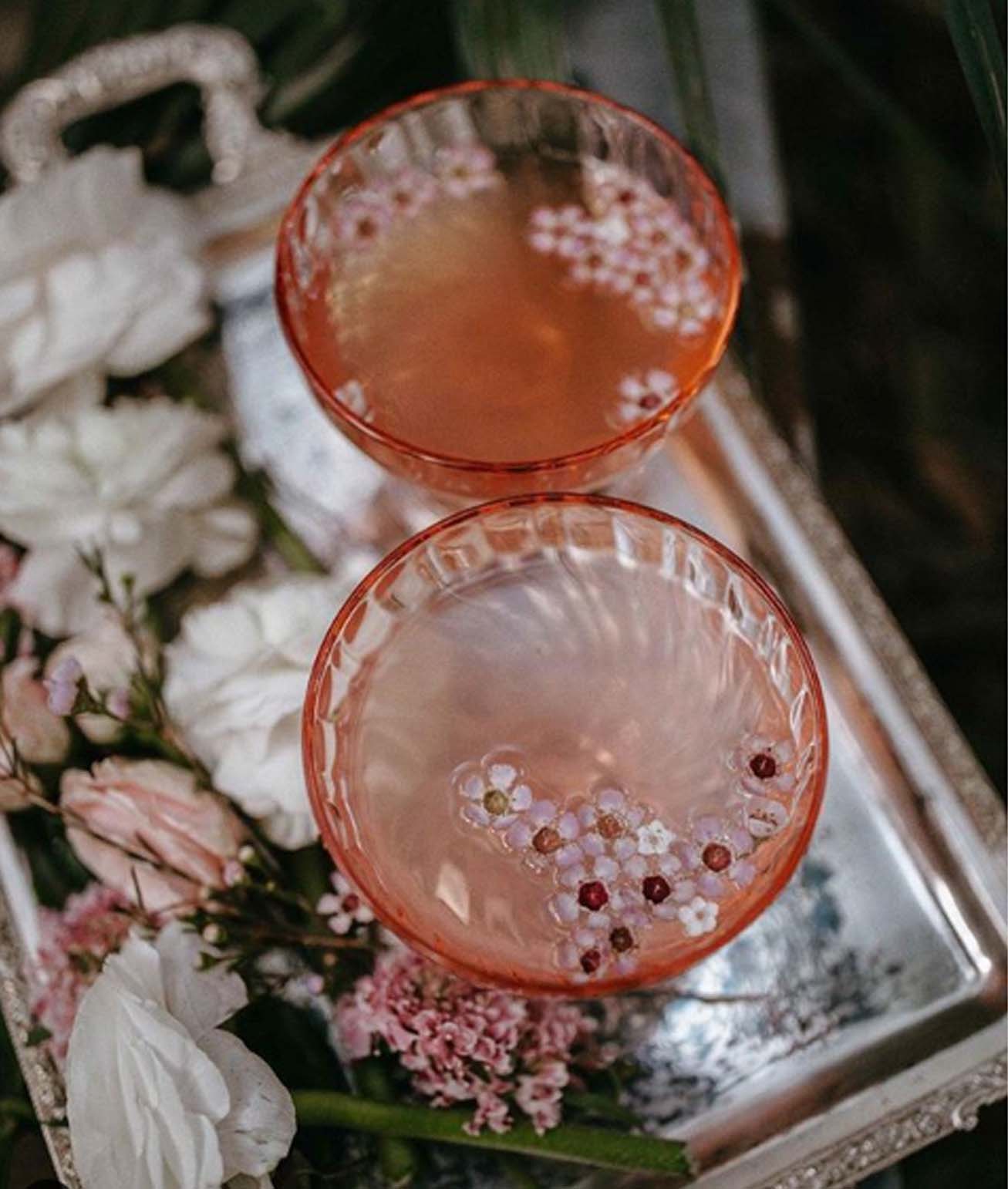 Photographer: Juanlu Rojano Stylist/Planner: Meri La Casamentera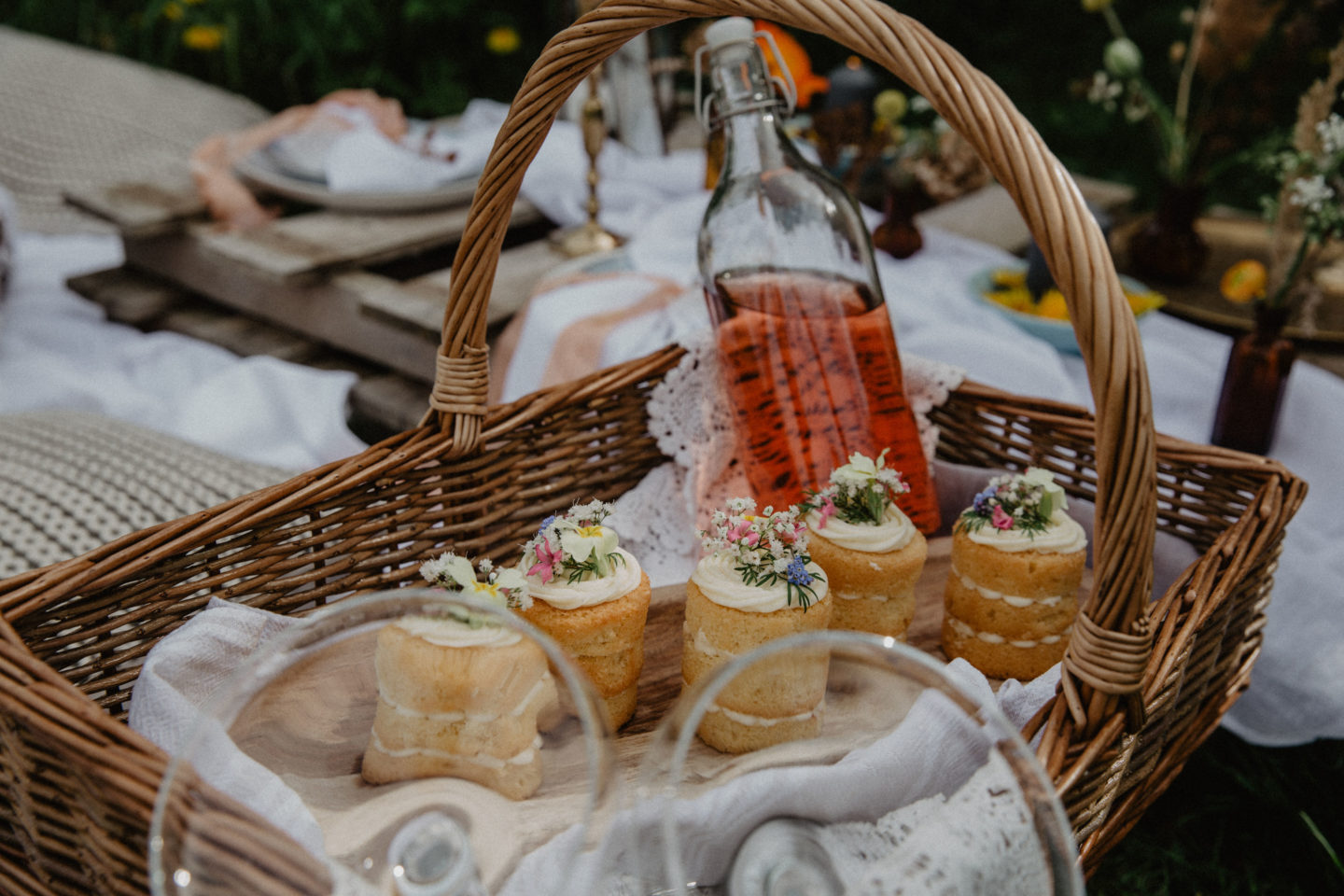 Photographer: Nicki Shea Photography, Styling The White Emporium Cakes: The Beas Teas
Without the pressures of many opinions, it is very much your wedding your way and that works the your attire as well – mix beautiful dresses with comfy shoes and cosy knits for the evening. Ditch restricting ties for open shirts and chinos. One of the biggest plusses to an intimate wedding is it being purely about your comfort and style.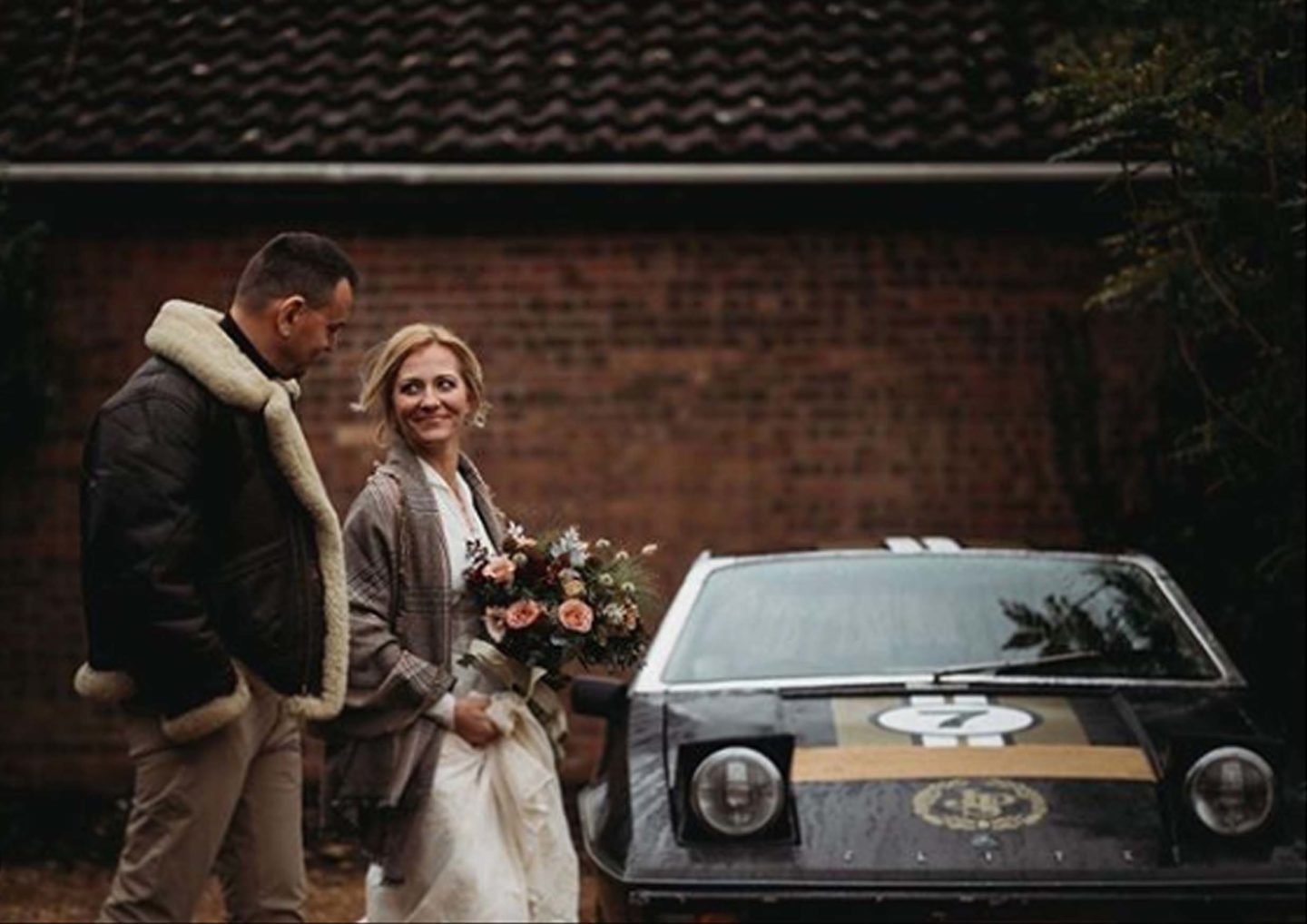 Image credit: Thyme Lane Photography
Small weddings can still be packed full of beauty as there is time to consider all the different elements and details. Without the large scale venues and masses of space to fill, instead of expensive large wow factor pieces you can emphasise all of the smaller details for lots of little wows. As a stylist I can't wait to really explore the intimacy of a small wedding to really strip back everything a couple loves to really understand what matters to them as a couple.
IF YOU LIKED THESE IDEAS THEN WHY NOT PIN IT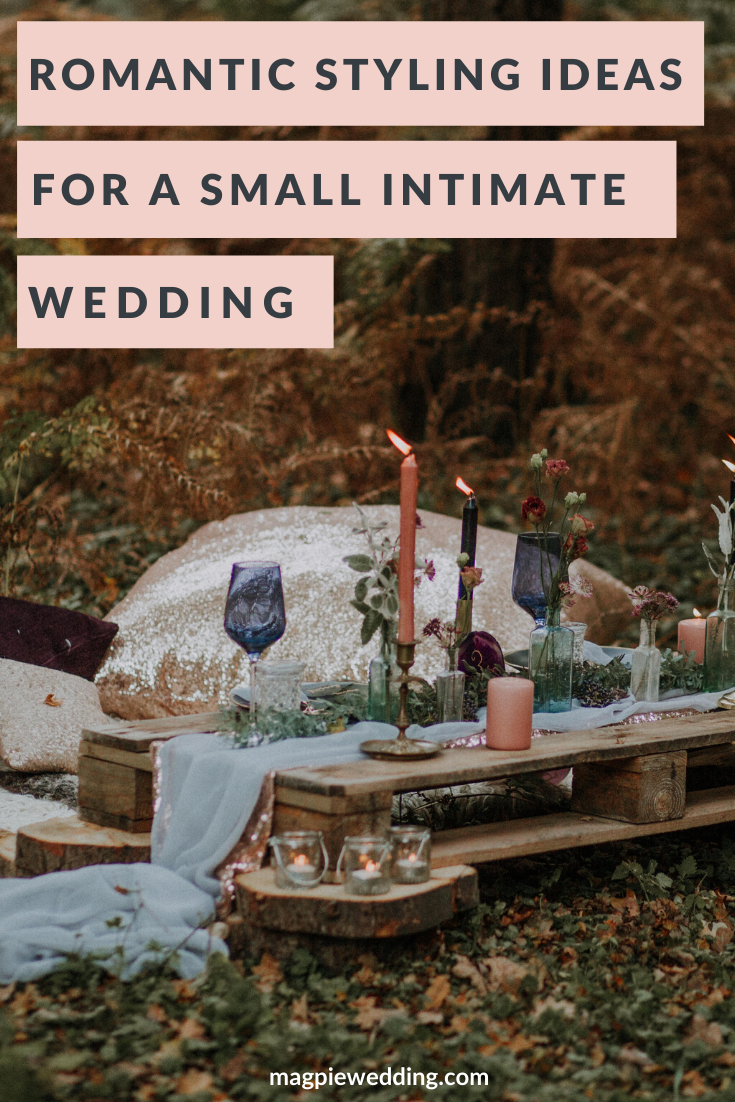 Other helpful blogs to help you plan your small wedding
5 reasons to choose an independent celebrant for your wedding ceremony
6 romantic creative ways to have an intimate small wedding
Mountain Lake Wedding – an intimate and modern wedding