Are you confused about the many different types of wedding suits that are available? Are you stuck between styles? We're here to help. Choosing your wedding suit for most is an important part of the overall look and feel for your wedding day. Many factors can influence your choice, from style of venue to season and more. We've enlisted the help of expert Sharon of Chimney Formal Menswear who help us to take a look at the options for the day and share in detail what type of suits are available and what matches best depending on the type of wedding day you are celebrating. Here's our ultimate guide to wedding suits…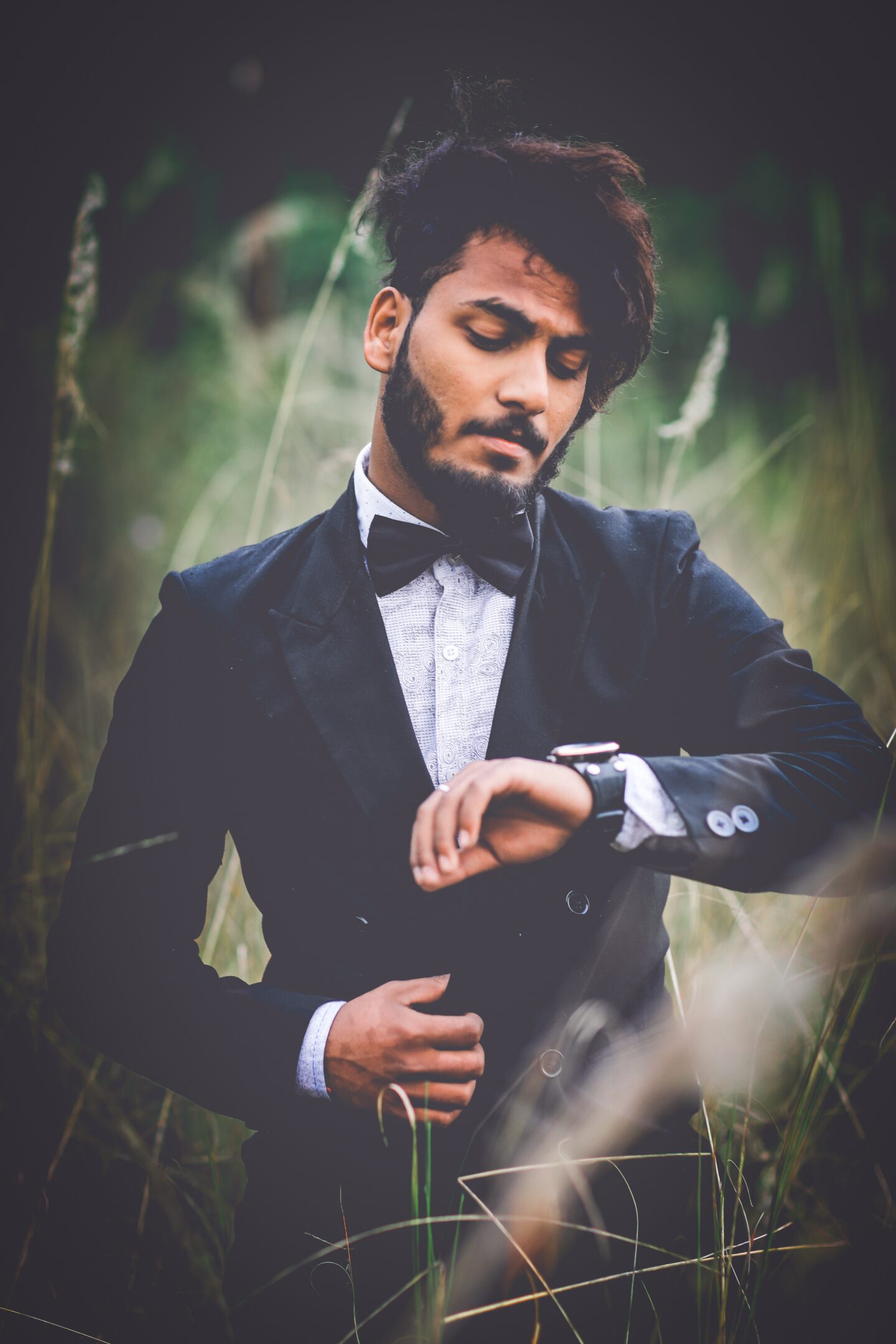 "The groom's decision on the style and colour of his suit and accessories for his wedding day is as important as the choice of a wedding dress and requires a lot of consideration. The choice is wide and can influence the whole feel of the wedding. Your venue, your colour theme, and any styling themes and settings can all affect the style you might choose. Let's take a look at the choices available…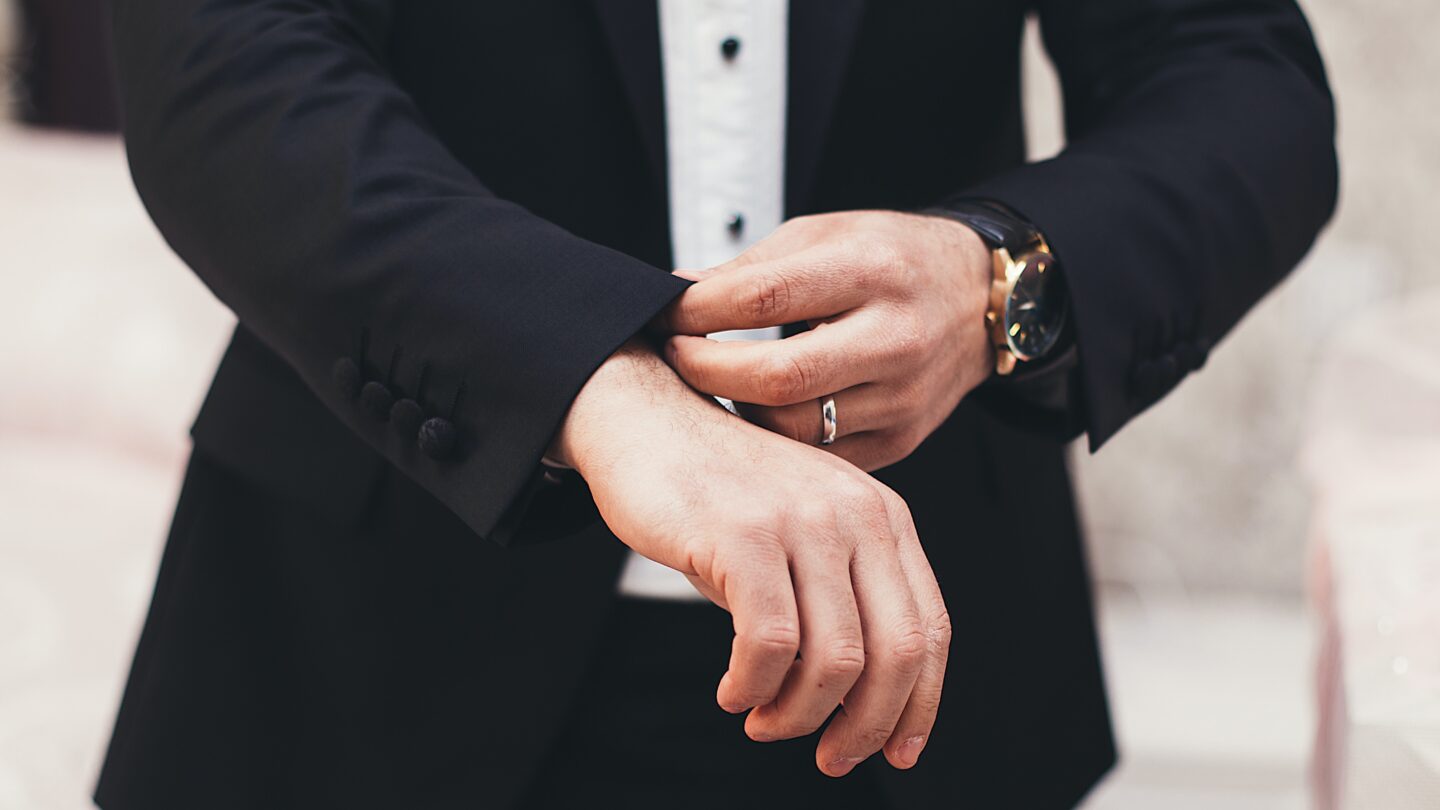 Tuxedo
A Formal Suit
Best for Autumn and Winter Weddings
Perfect for a Church or Stately Home
Should be Worn with Simple Accessories and a Black Waistcoat
"A very smart choice when the colour theme is of a limited palette and ideally suited to formal settings of stately homes, castles and formal glamorous venues. This style is often chosen for Christmas weddings but recently there has been a trend towards black tie weddings throughout the year. With a tuxedo, accessories should be kept simple and smart with black shoes, maybe a touch of colour in a pocket square or bow tie. Black waistcoats are an additional accessory which can elevate the look and can help to identify the groom amongst his best men and ushers. It is vital that the groom should stand out in some way from the rest of his party."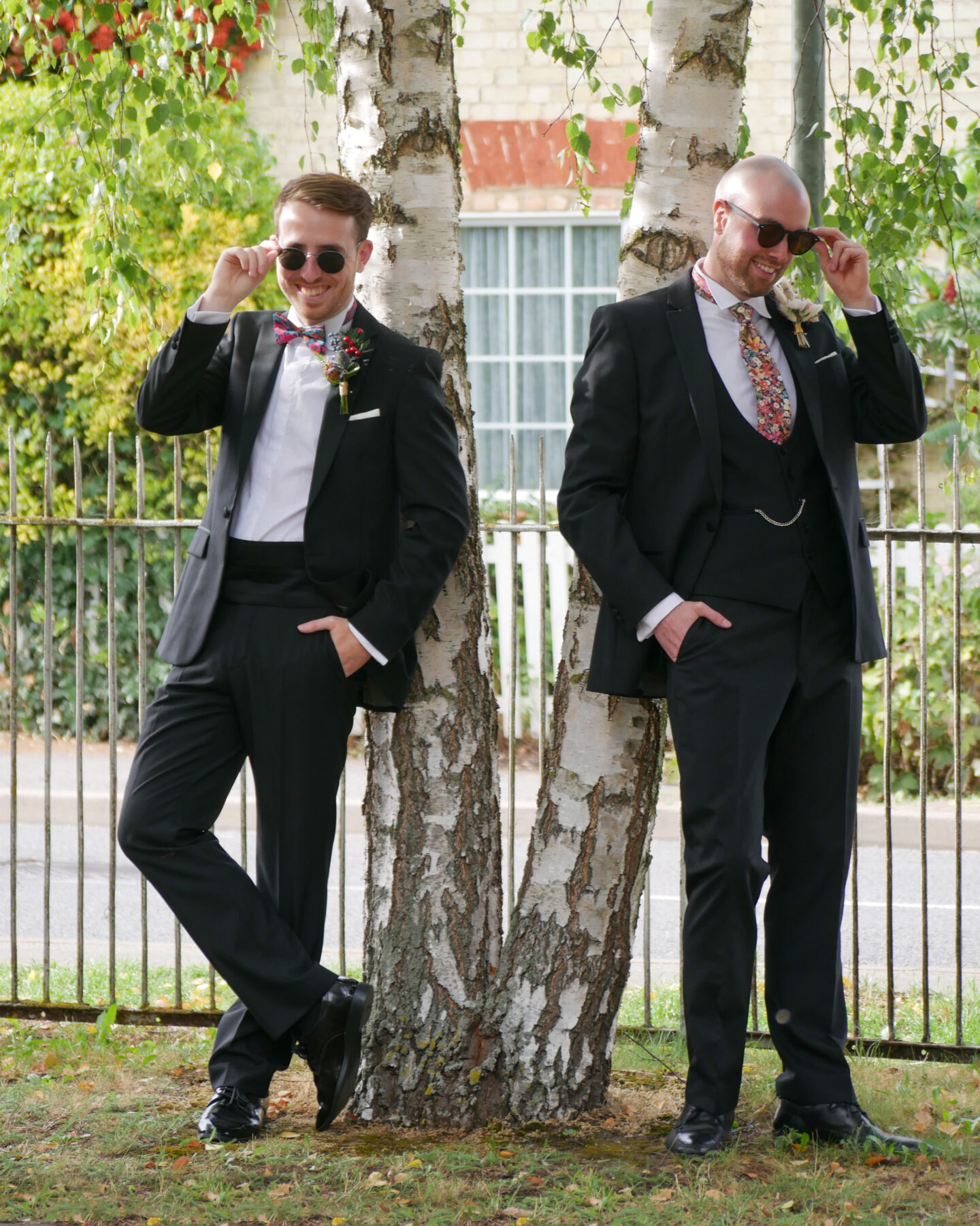 Lounge Suit
A Timeless Classic Look
An All-Season Wedding Suit
Perfect for Church and Civil Ceremony Venues
Should be Worn with a Contrasting Waistcoat
"Here the choice can be almost limitless. Colours can range from dark navy to lighter blues, greys and browns or even green. Choose the most tailored fit available that enhances your figure but avoid skinny fits which will readily date your wedding photos. Timeless is the look a groom should be looking for. Wool suits make for the most resilient fabric choice as they have a natural drape and creases will easily hang out of the garment whereas poly/ viscose suits will be a cheaper option but crease very easily and quickly lose their shape. The lounge suit is suitable for all seasons and a wide range of wedding styles. They look equally good at a church wedding or more casual settings. All should be worn with a waistcoat, preferably a contrast colour waistcoat, and with ties that suit the venue and theme. Avoid a matching three-piece suit which can look very corporate in style.
On the occasion of a beach wedding or wedding in a much warmer climate then wearing without a waistcoat may be preferred but try to add interest to the other accessories such as ties, pocket squares or even braces. Many lounge suits work well with brown shoes and this can soften the formality of the look for a less formal wedding. Adding a tweed waistcoat can create the same effect and once the jacket is removed as the party begins, then the look can be transformed with the tweed on show."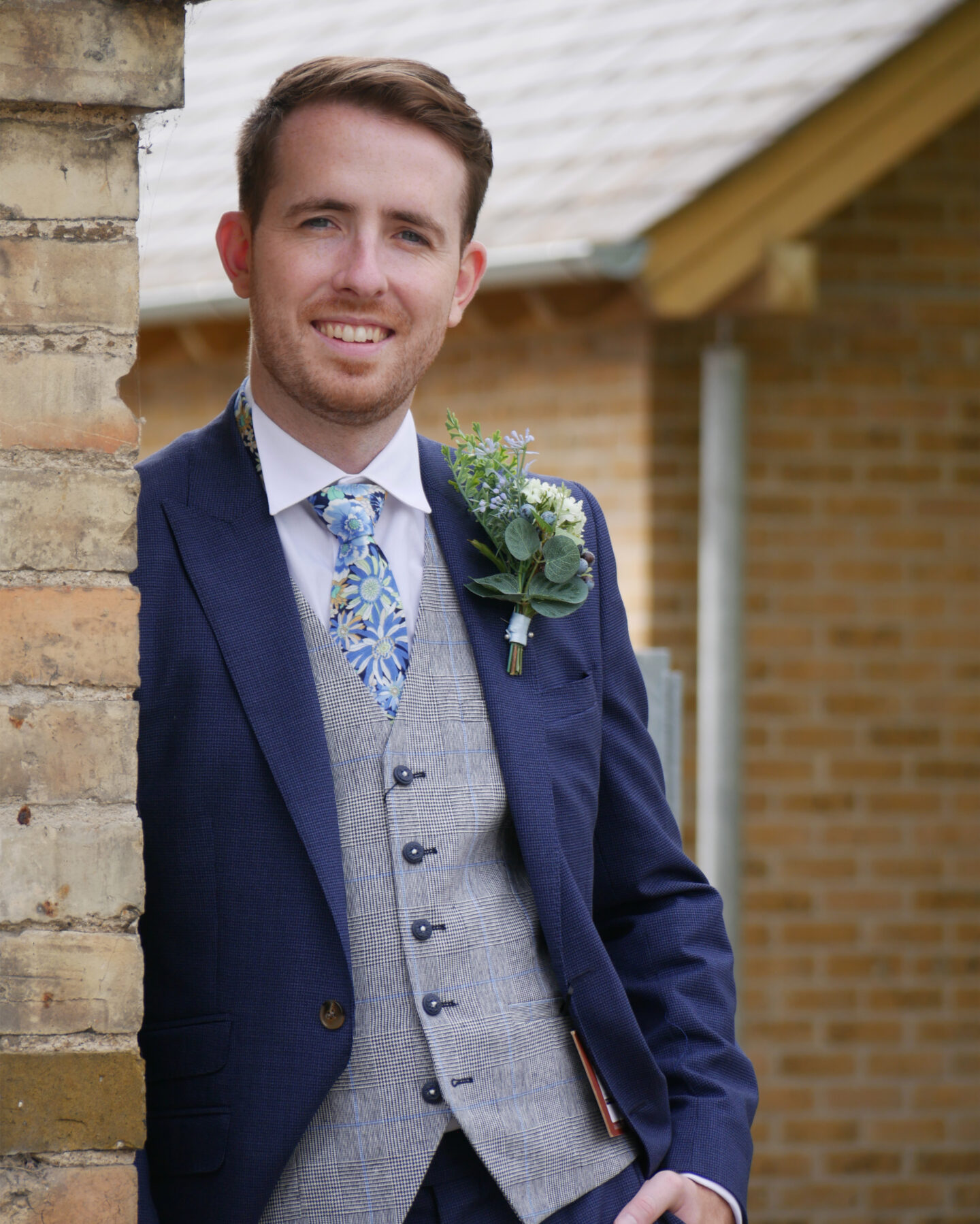 Tweed Suit
A Warm Relaxed Look
Perfect for an Outdoor Countryside Wedding
Best for Autumn, Winter and Early Spring Weddings
Can be worn with Chinos and Waistcoats for an Eclectic Alternative Vibe
Compliments a Floral Tie and Coloured Shirts
"A very popular choice for a variety of venues and styles of weddings. It creates a warm relaxed look very suitable for outdoor, garden, or meadow weddings including tepees, bell tents or barns. Be careful not to choose the colour that closely matches the setting of your wedding as this makes you disappear into the background rather than stand out. You are the most important man there. Brown tweed blends into the barn-type setting and green tweed would be lost in a forest setting. This will dramatically affect how your photos look so do think about this carefully. Tweed is now available in a range of colours – brown, green, light blue, dark blue, grey or even burgundy so there will sure to be one that works for your wedding colour theme.
A popular choice at the moment is tweed jackets and waistcoats of any colour worn with chinos in navy or stone. It is smart whilst at the same time relaxed and very suitable for countryside venues. Worn with a distinctive floral tie and a coloured shirt this would certainly complete the countryside look. Do be aware that tweed is very warm to wear so not a good choice for a summer wedding. Ideally, they are most comfortable to wear in early Spring, Autumn or Winter. Certainly not suitable for a summer of 30 degrees! When choosing tweed to work alongside a wedding dress do listen to advice from those who have seen the dress as ball gown type styles or those dresses with a traditional look will not work well alongside tweed. It will appear as if you are both at different styles of wedding. If the dress is lacy, boho styled or relaxed in shape and style then tweed would work perfectly."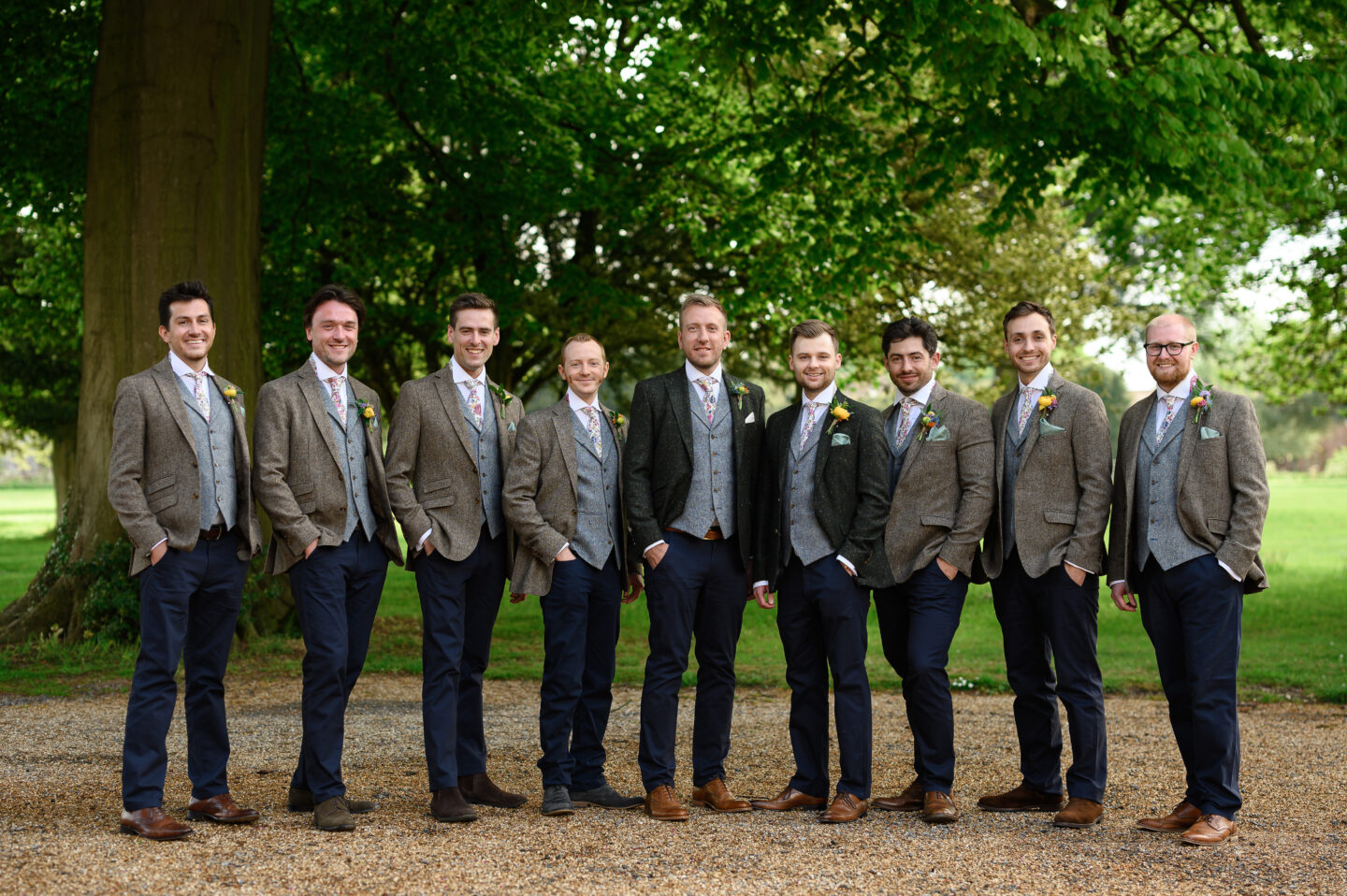 Morning Suit
A Traditional Formal Look
Perfect for Church and Formal Venues
An All-Season Wedding Suit
A Very Versatile Suit
"A popular style for more formal settings and especially church or cathedral weddings. Many choose this very traditional style with grey stripe trousers and a contrast double-breasted waistcoat and either tie or cravat but it works equally well with a tweed waistcoat and floral tie to add a softer touch to the formality. Popular throughout the year. The tailcoat maintains a formal look for the important, serious ceremony part of the day but once removed the waistcoat creates a fun, relaxed look for the party so providing 2 outfits in one!"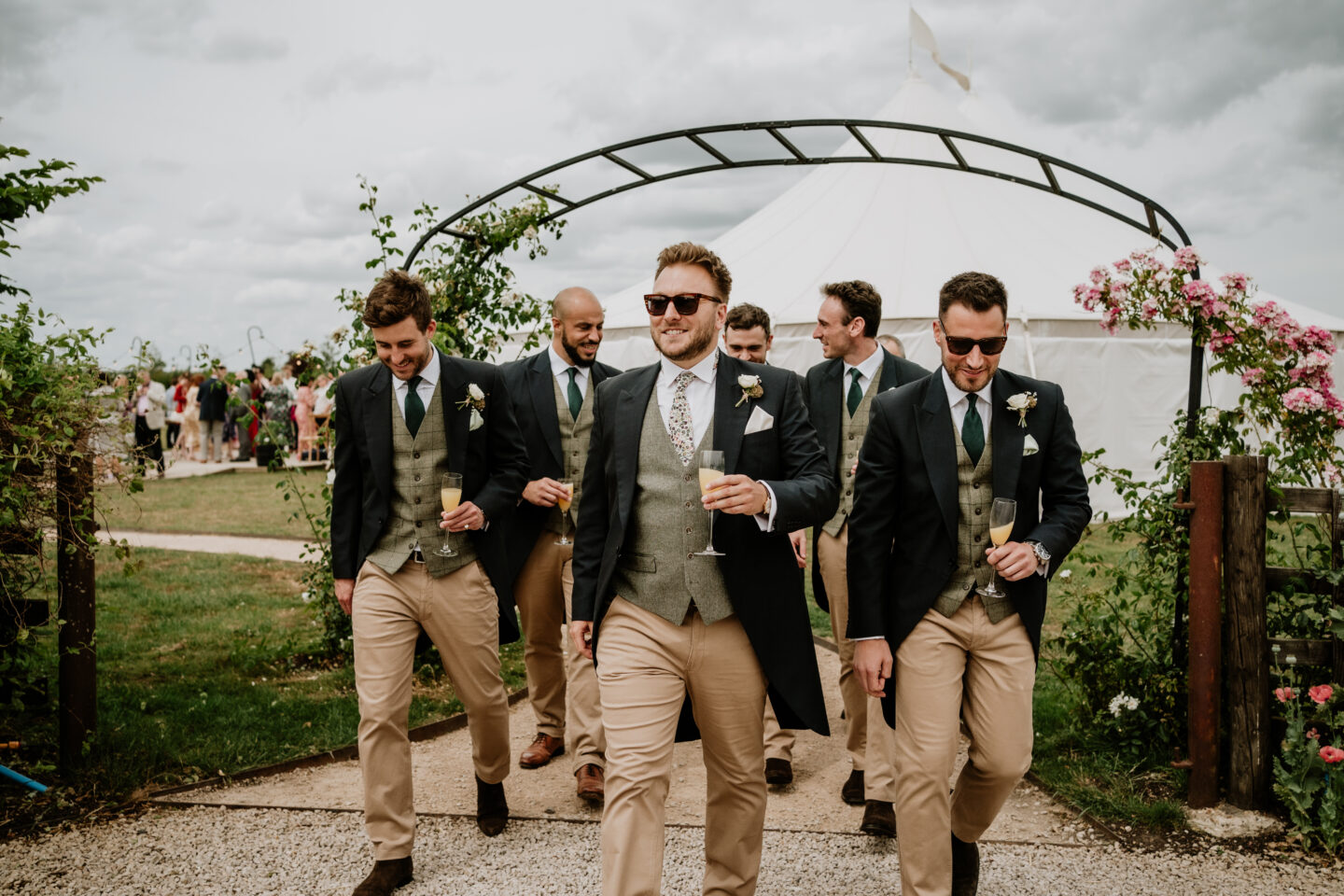 Alternative Wedding Suits
As we know from talking to our couples, for some of you the traditional wedding look might just not cut it! Hurrah! There are other alternative options too! From sequin tuxedo style jackets that could be worn as an alternative evening option or for the main event to floral and coloured and patterned suits too. The most important thing is finding something that matches you, your personality and your wedding day perfectly!'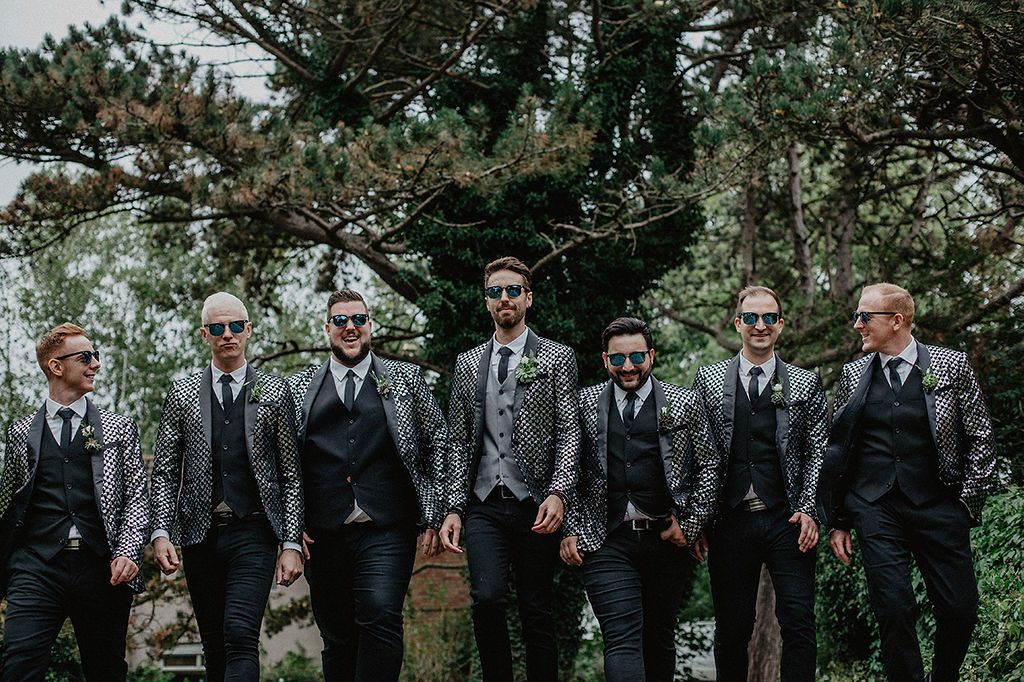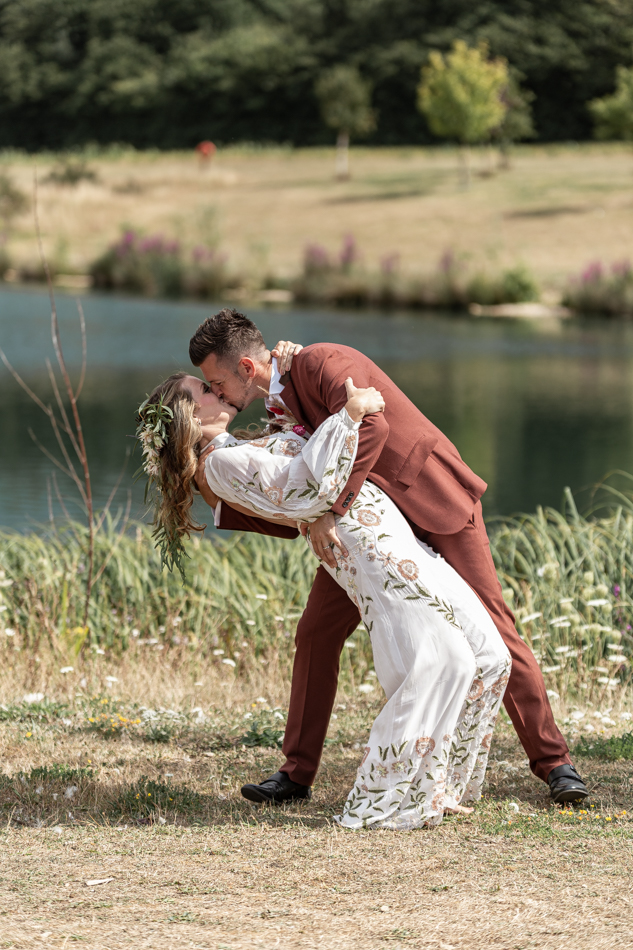 Hire vs Buy
Ah! The continued discussion of buy vs hire will come up in most wedding planning journeys and that's because there is no simple answer! There are so many variable factors when it comes to making a decision on this one. Firstly it will depend on the type of suit you are looking for and how many people you need them for. If you are choosing something more traditional then this should be widely available in multiple sizes from a hire company. You could choose a hire suit and mix it up with bought accessories! If you want a traditional 3-piece suit look that you're going to wear time and time again then then buying is a good idea, see it as an investment! For an alternative suit choice hiring may not be an option, If this is the case try to make your wedding outfit more sustainable by re-cycling or wearing it again. The takeaway question; Will I wear the suit again? If the answer is no, then we definitely suggest choosing the more ethical option and hiring a suit for your wedding day
Closing words from Sharon – "Many factors can influence your choice of a suit so think carefully about your style of venue, colours of walls and setting, how formal you wish your wedding to appear, and if you can get the inside information, does it work with 'the dress'. It is most important that, as the groom, you stand out from everyone else, have your own distinctive style and find a style in which you feel and look confident."
IF YOU LOVED THE ULTIMATE GUIDE TO WEDDING SUITS, PIN IT!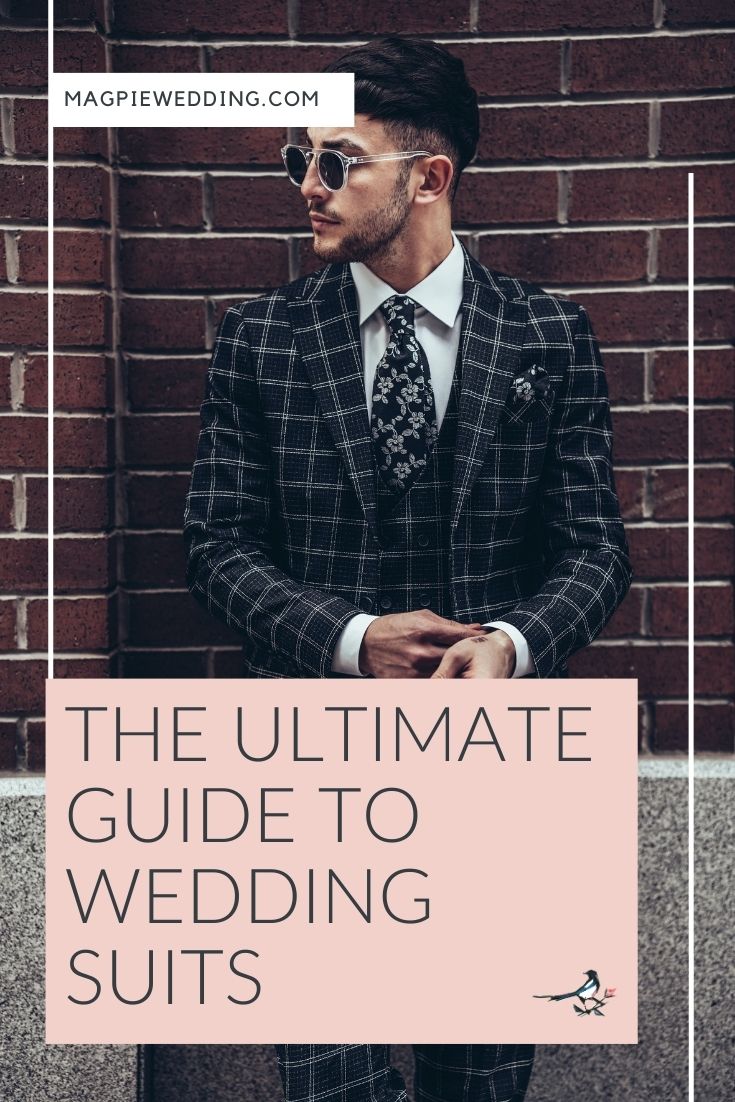 If you found this guide to wedding suits useful, you may also like;
Vintage Style Menswear for your Groom and Groomsmen
A Groom's Guide For Dressing Well For The Big Day