The Roaring Twenties was all about glitz, glamour and opulence, and its elegant, vintage style has seen it return to vogue this year, especially as a wedding theme. Thanks largely to the cult status attained by the dramatic 2013 adaptation of The Great Gatsby, and the stunning success of ITV's pop culture classic period drama Downton Abbey, the decade has found itself in the spotlight, and the prevalence of the era's themes in fashion and on television continues to snowball. Now, vintage decadence is, undoubtedly, the year's hottest wedding trend too. If you're one of the many brides who has fallen for its antiquated charms, here's how to organise the perfect art deco glamour, champagne swilling, anarchistic, pearl-encrusted wedding.
Invitations
The theme should start with your invitations, and there's nothing more fitting than a 1920s style postcard, featuring a little style inspiration for all of your guests. Look for images featuring women with bobbed hair and elegant clothing. For something a little more traditional, choose personalised invitations with an Art Deco style font and border design, printed in dramatic shades of black and gold. Etsy is the perfect place to start your search, with invitations as unique as you.
Décor
The 1920s produced a wave of artwork that inspired the world around it, with ordinary men and women adopting the geometric shapes, sharp colours and bold lines found in populist works. From buildings like New York's Chrysler Building to fashion to the Rolls Royce cars patronised by gangsters, all had a peculiar aesthetic synergy inspired by contemporary artwork. To reproduce the effect, keep an eye out for geometric patterns, dramatic colours and symmetrical designs. Add a touch of authenticity by browsing your local antique shop for vintage cut glass decanters and small 1920s ornaments to feature. You should also take your style inspiration from fashions of the time, so try incorporating ostrich feathers into floral arrangements, and use pearls and beading to decorate tables, chandeliers and vases.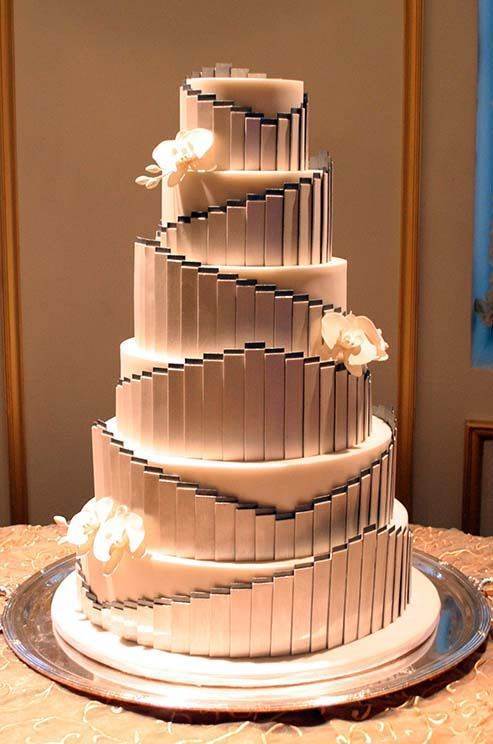 Clothing
Party fashions of the 20s were loose and free, yet their casual fit was offset by intricate beading and fringing. Dresses were accessorised with hats, head scarves and jewelled headbands. Although vintage dresses can make beautiful contemporary wedding gowns, replicas can be as stunning as the originals, so be sure to shop around until you find something perfect, rather than limiting yourself to vintage boutiques and specialist websites. Accessorise with some exquisite antique jewellery, such as that sold by a specialist jeweller like George Tarratt, to complete the look.
For your bridesmaids, consider choosing flapper inspired dresses to add a touch of elegance and give freedom on the dance floor. Styles should feature drop waists, and can be found in vintage stores, online and occasionally on the high street.
For the groom, keep an eye out for light coloured suits like those modelled by Leonardo DiCaprio in The Great Gatsby, as these were really popular in the 1920s. Alternatively, bow tie tuxedos will ensure that your groom looks great without sacrificing any authenticity.
Transportation
The only way to arrive at a 1920s themed wedding is in the back of a genuine 1920s vehicle. With old fashioned tires and long, flowing lines, Rolls Royces provide the ultimate elegance and sophistication, but cars from the era in general tend to be exquisitely designed and effortlessly decadent, so feel free to choose the motor that best suits you.
Cocktails
1920s inspired cocktails are a prerequisite of every 1920s themed wedding. The 20s marked the beginning of prohibition and, more importantly, the advent of bootlegging and speak easies that followed close on its heels. Be sure to have your bartender mix drinks like the sidecar, mint julep and highball to keep your theme in full swing and ensure that your guests have the time of their lives on your special day.