Rustic luxe and full of romantic vibes this 1970's inspired wedding at Bysshe Court Farm, Surrey is just dreamy! Coordinated by photographer Meryl Herniman and florist Claire Moore and inspired by romantic poetry it oozes vintage modern style. Here we catch up with the team behind this Bysshe Court Farm shoot…
"Both myself and Claire Moore, from Bud and Barrow, set the brief for this shoot which was to create a 70's styled wedding, highlighting warm autumnal colours, giving an ethereal bridal look and with a relaxed country vibe. We were lucky enough to have many other fantastic suppliers join with us, working cohesively and combining our creative talents."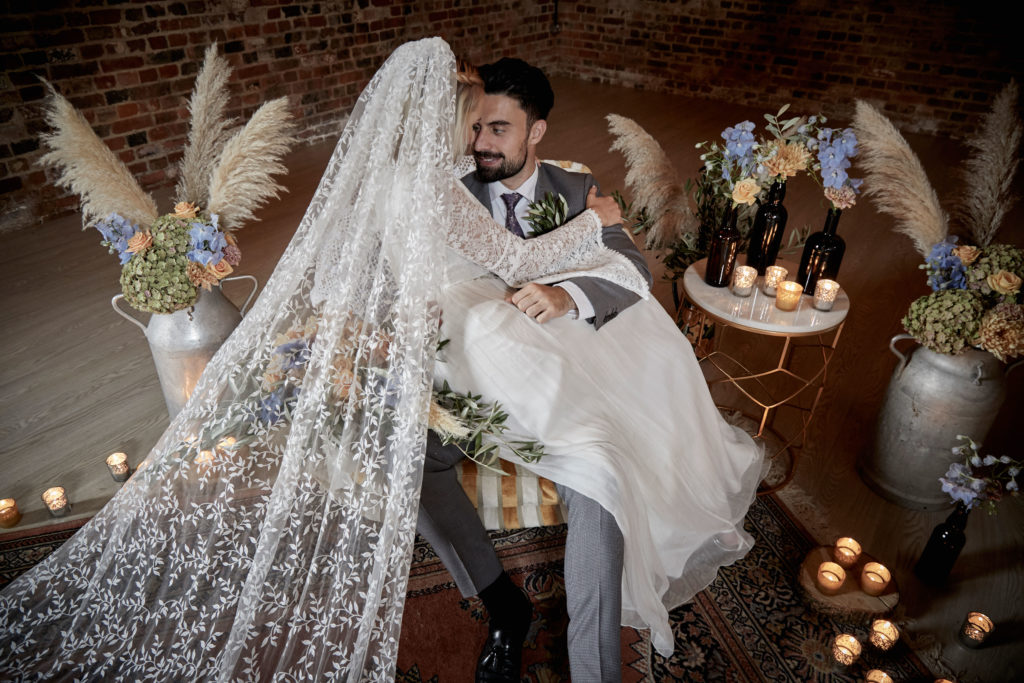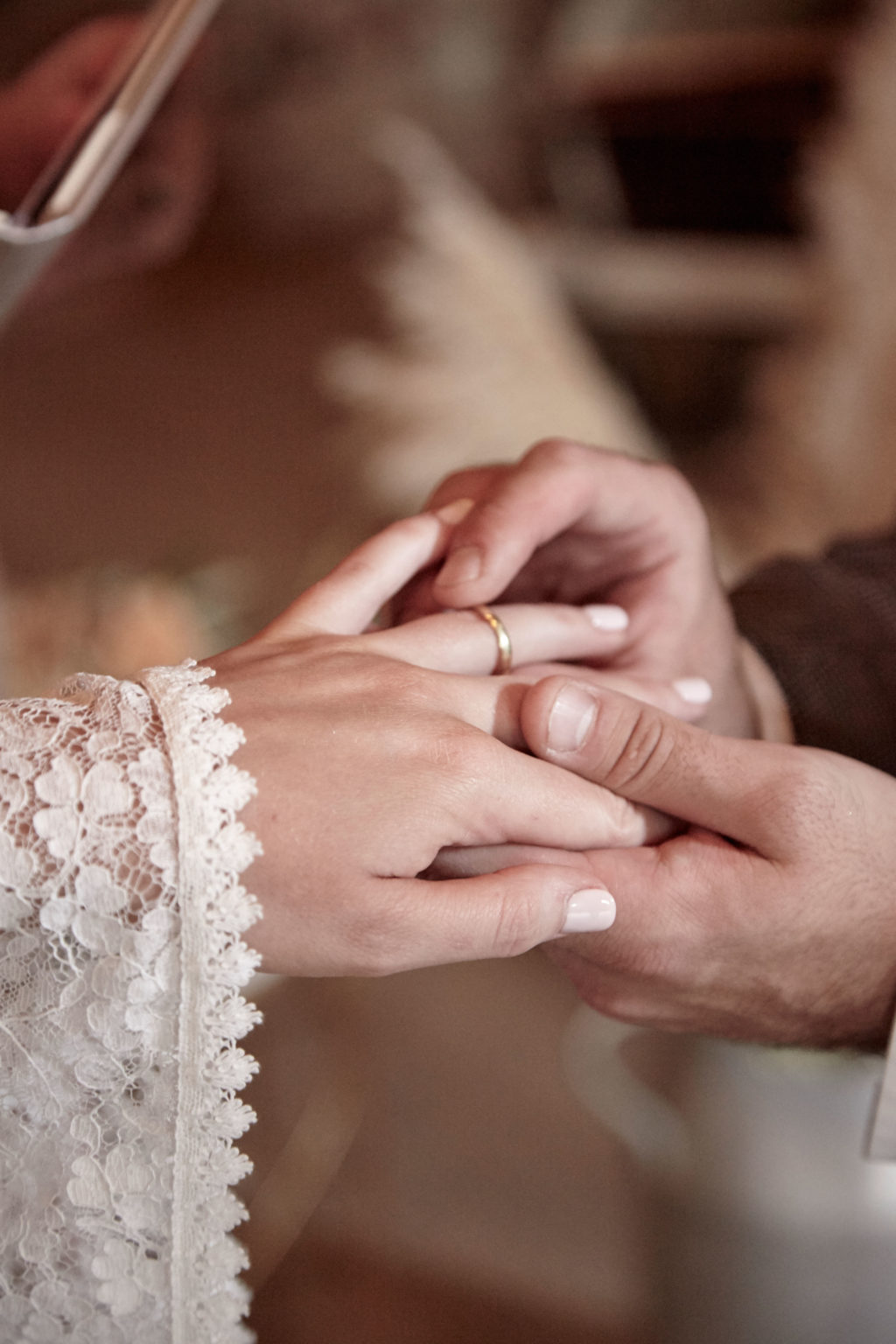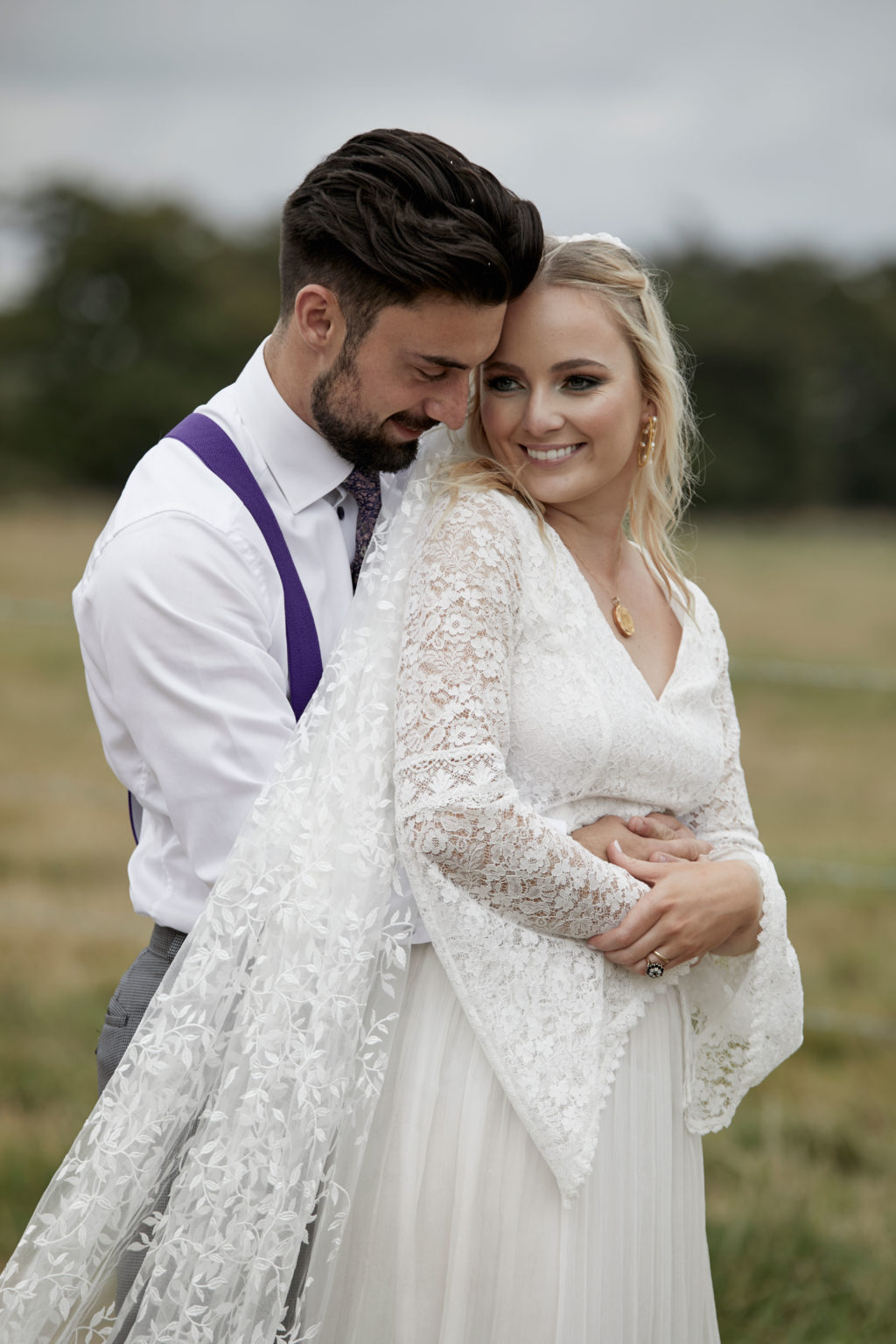 "We first looked for a location that would match our inspiration for this shoot and came across Bysshe Court Barn, Horne, Surrey. This venue had everything we were looking for – a beautiful barn interior of red-bricked walls, which despite the high ceiling with wooden beams, exuded a warm intimate setting. Bysshe Court gives an authentic relaxed country vibe."
[line]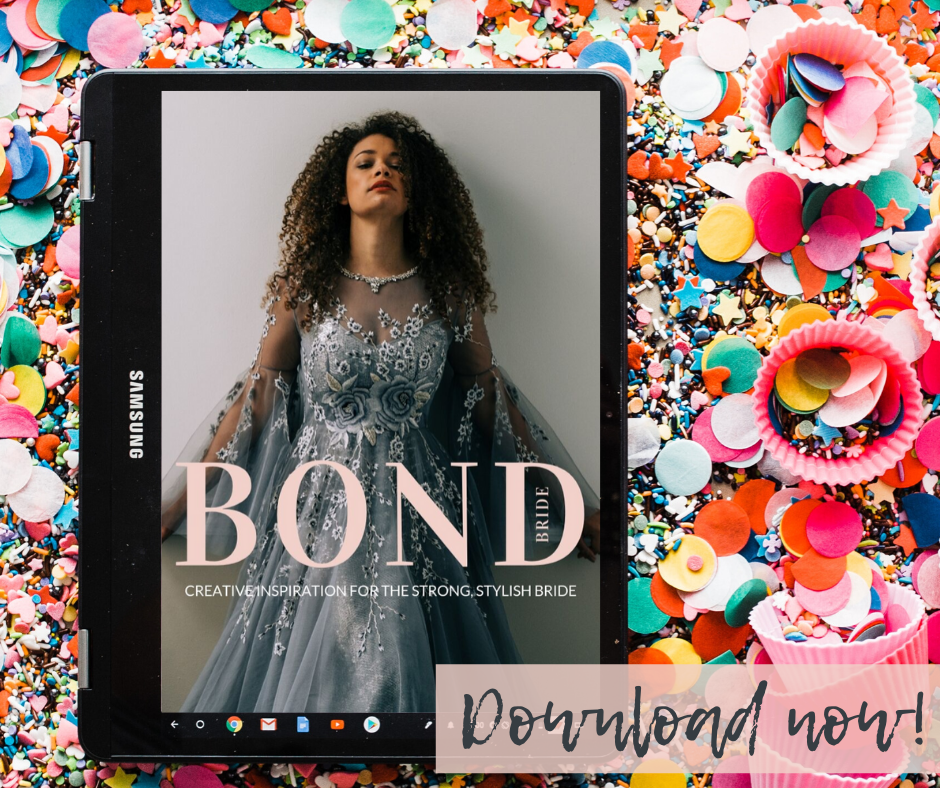 DOWNLOAD BOND BRIDE MAGAZINE ISSUE 2 HERE
[line]
"Set on a working dairy farm, Bysshe Court Farm is steeped in history and legend has it that it is related to one of England's most famous and romantic poets, Percy Bysshe Shelly, who used to live in the area. As a true romantic myself, I loved this idea and knew we had found the perfect location!"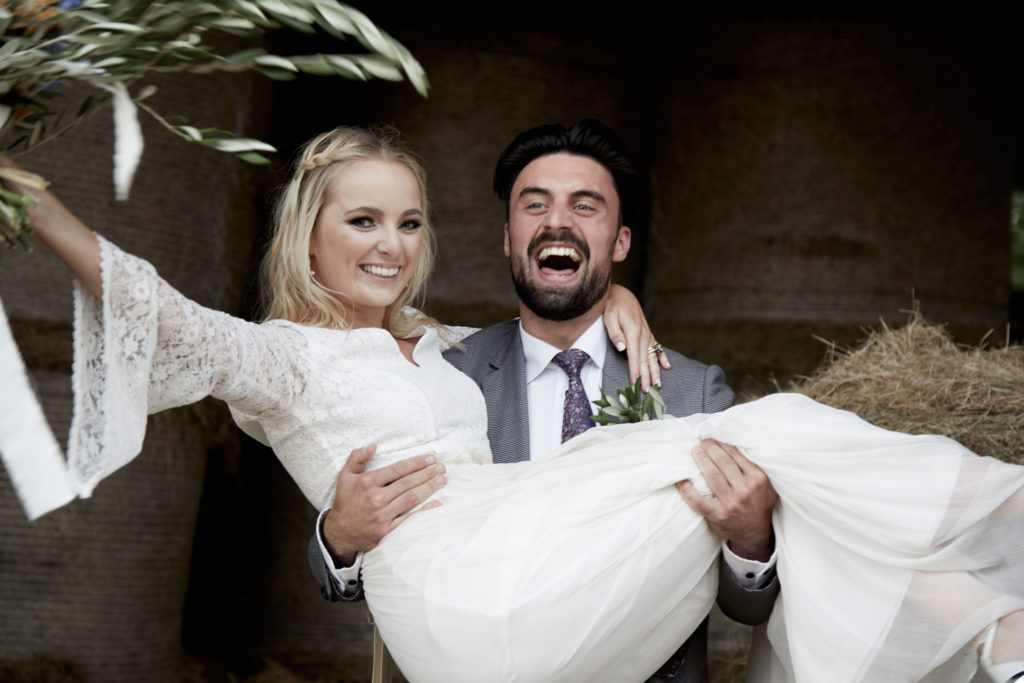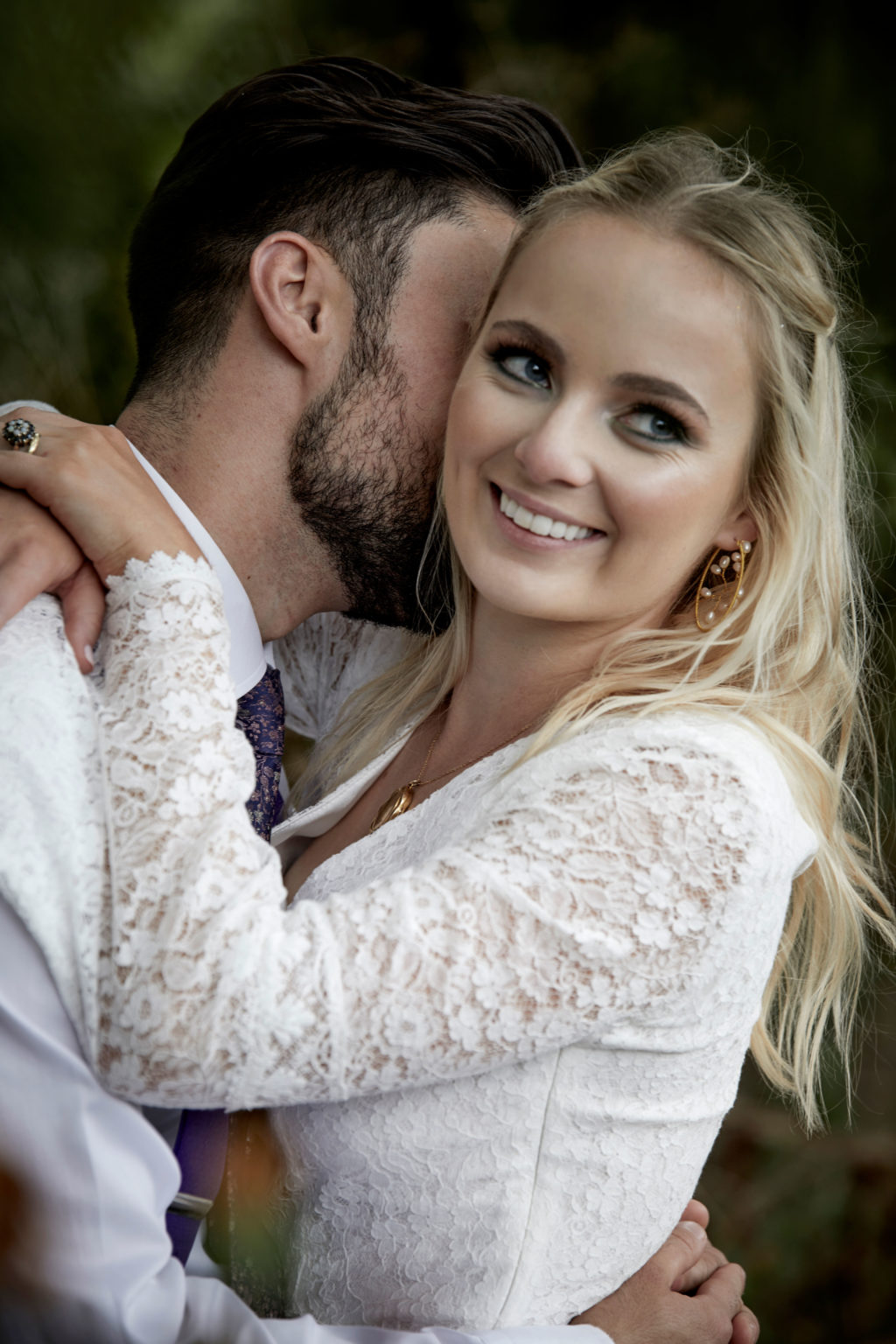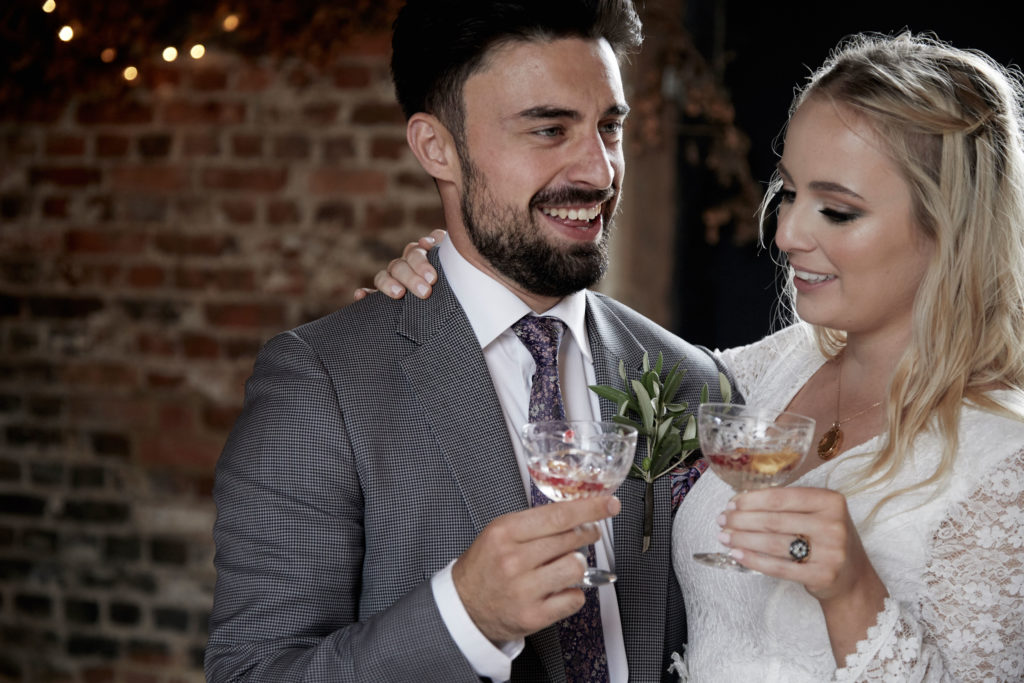 "The models we chose to use were a real life couple, Anna and Jack, which added to the realistic atmosphere on the shoot. We used Anna's Grandmothers sapphire and opal engagement ring accompanied by gold wedding bands and there were genuine tears at the exchange of the rings."
"Our setting for the bride and groom to get ready was a 1911 Arts & Craft style home, which again gave us the perfect backdrop for our theme."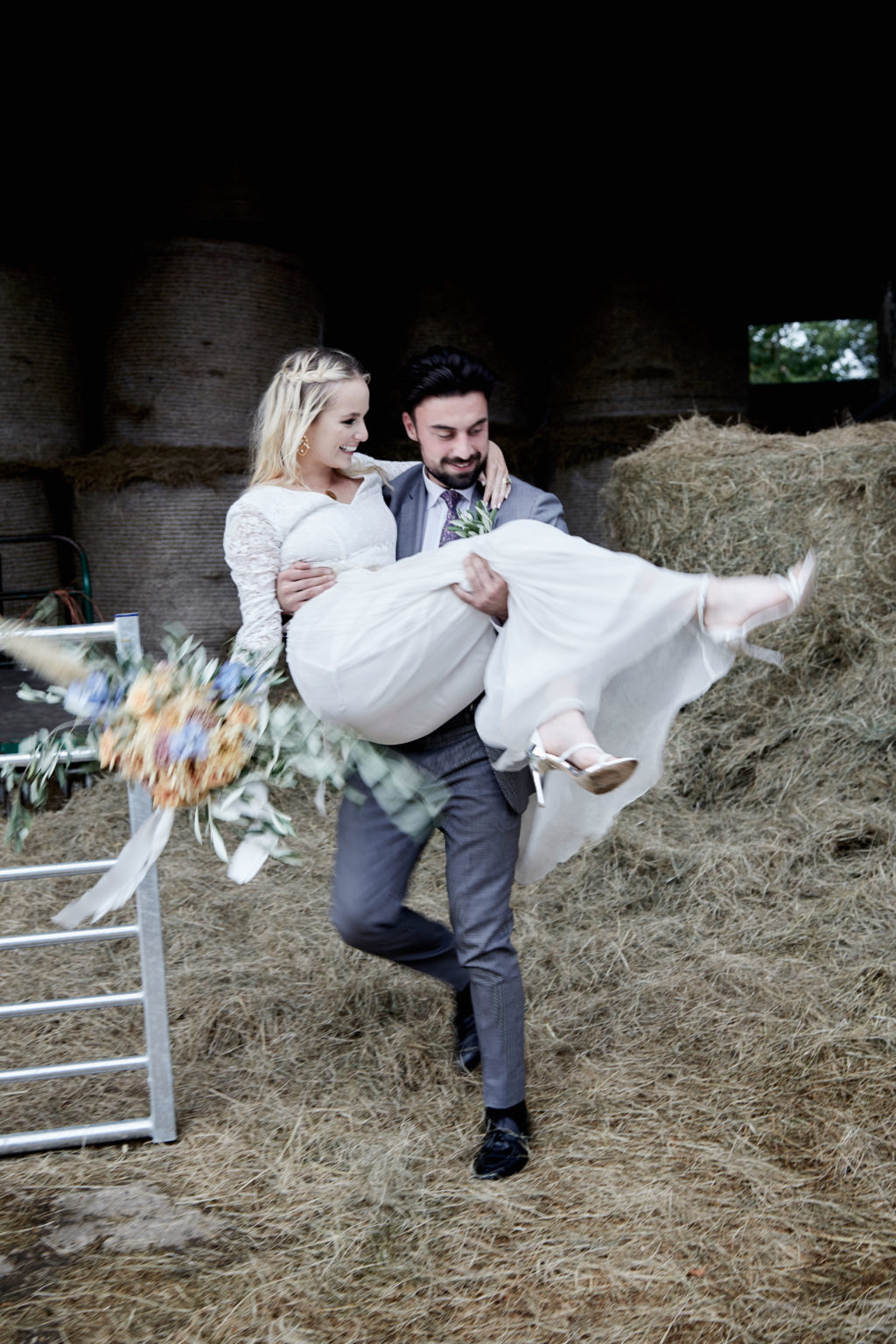 "We designed the wedding breakfast tables that oozed decadence entwined in a candle lit romance. Heidi (from Extra Special Touch) had created beautiful personalised napkins and to enhance the intimate setting, we added a Persian rug and soft furnishings including sourcing an original retro style swivel chair."
"The Persian rug added warmth, along with the autumnal tones of the hydrangeas, peachy roses, pampas grass and a hint of colour added with a soft powder blue. A big money saver was borrowing the rug, and some of the furniture. I scoured charity shops for 70's style accessories which all added to the theme and is definitely a money saving tip!!"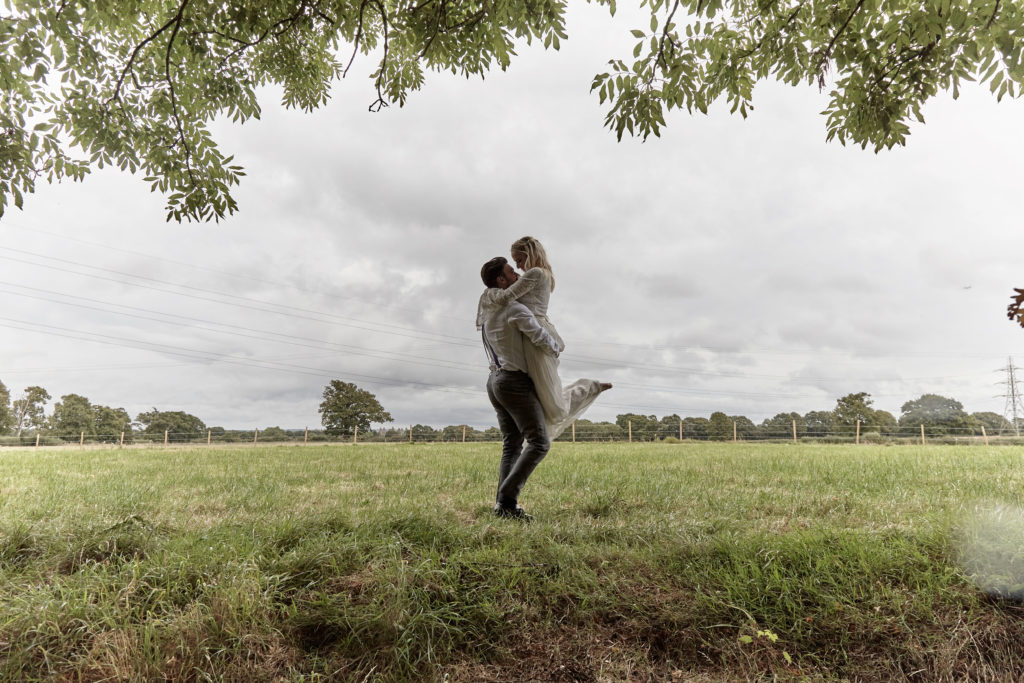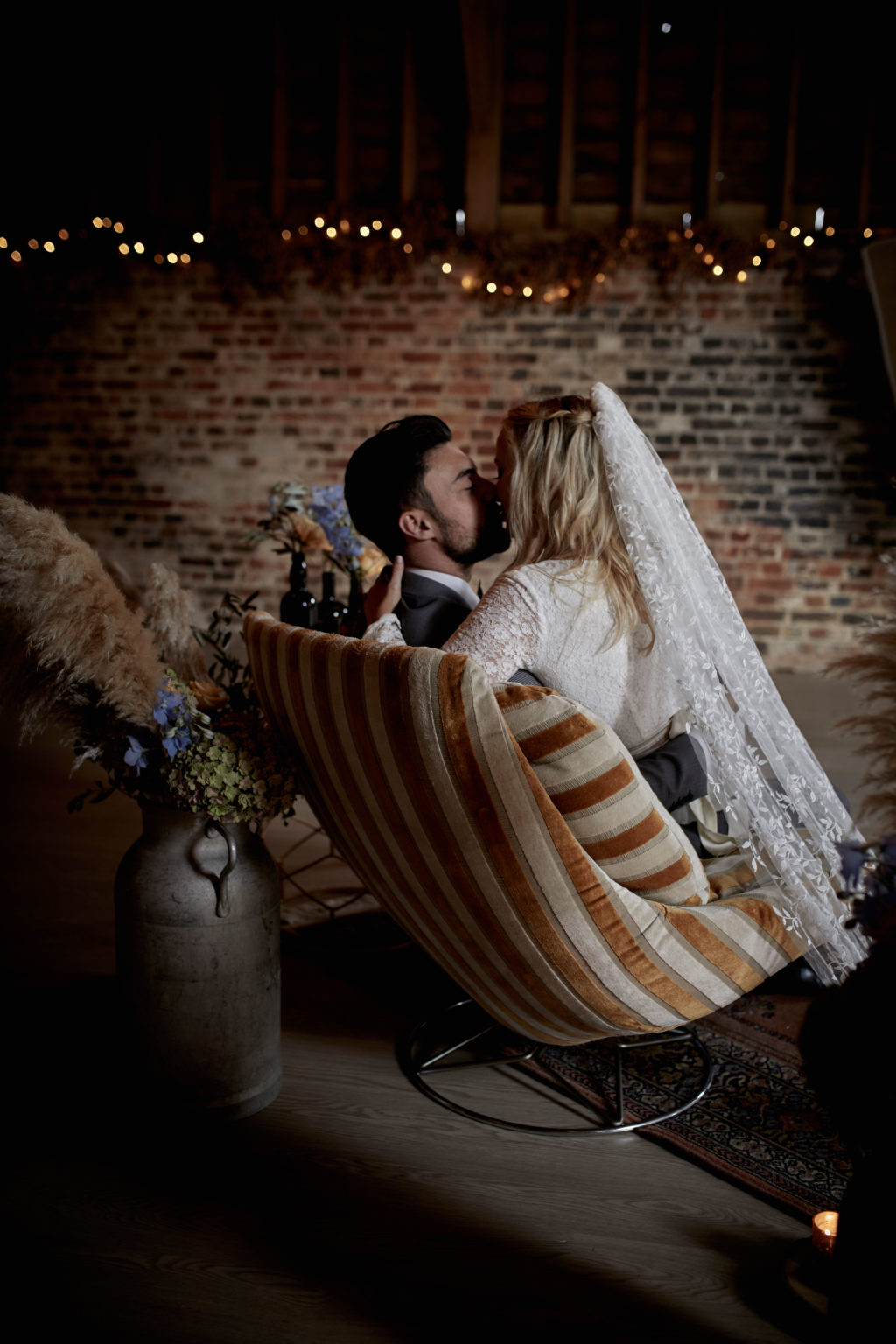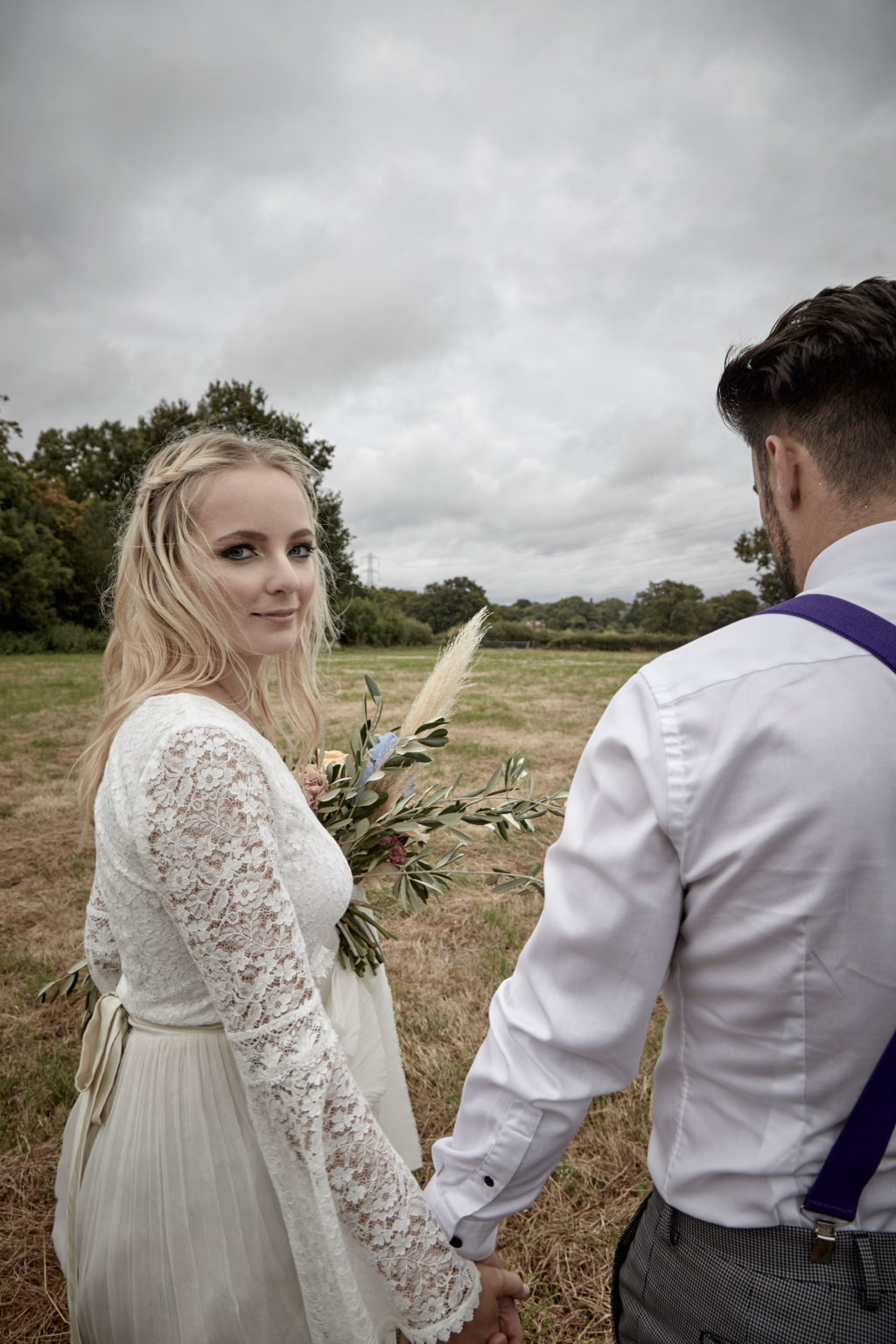 "A neighbour was throwing out the 70's swivel chair and I reupholstered it in a new golden & beige stripe to bring everything together. We used glitter and gold party poppers to add a bit of fun to the shoot with Anna and Jack being young couple so we wanted this to come across."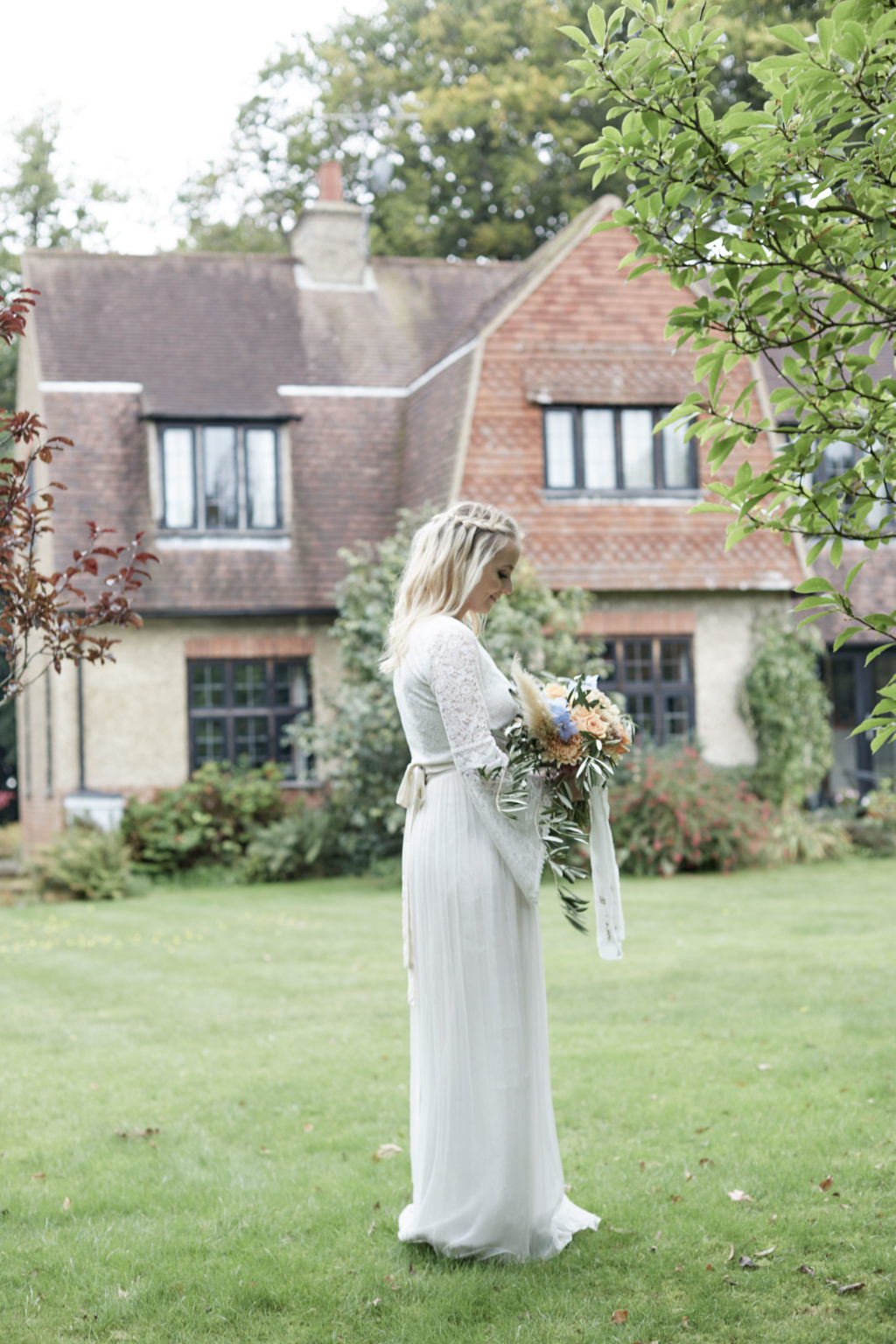 Photography – Meryl Photography
"As a wedding photographer, my aim is to capture pure happiness, love and joy. I work in a non-intrusive style, letting the day unfold throughout (with a bit of help, and guidance when needed). I love to photograph weddings, as it is such a happy occasion. This shoot was such a fun process to lead and with the help of the other suppliers, I feel we cracked the vibe of this shoot. I really wanted to emphasize the love and passion from the bride and groom. With the use of natural lighting, and neutral tones of the images, this helped with the style of the shoot. The 'Bride & Groom' were a delight to photograph, and I really felt the love and connection came across in the images"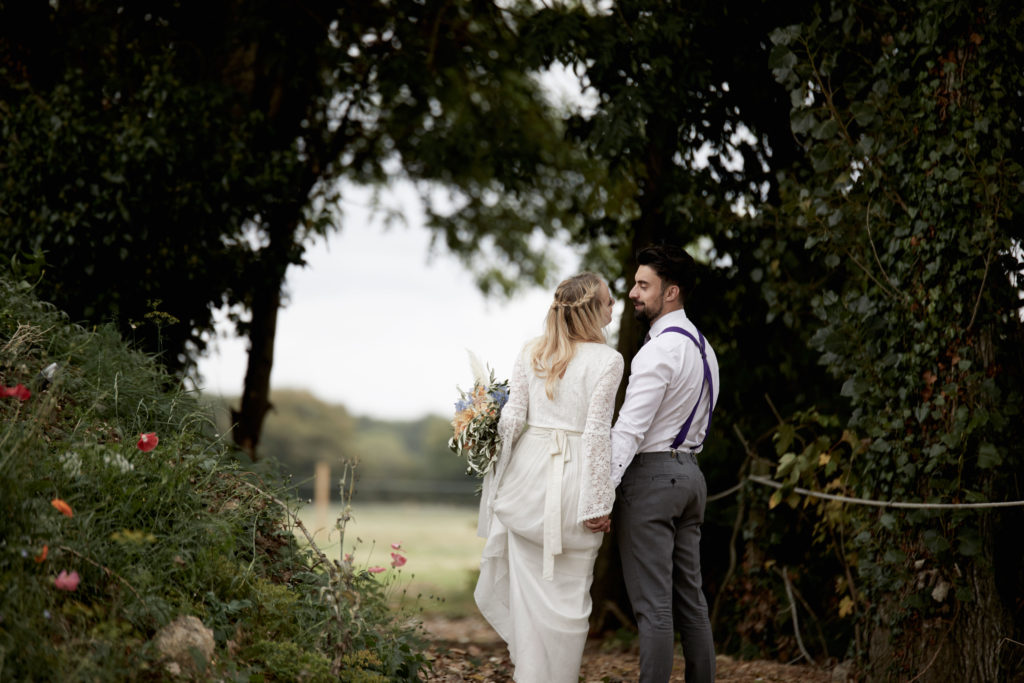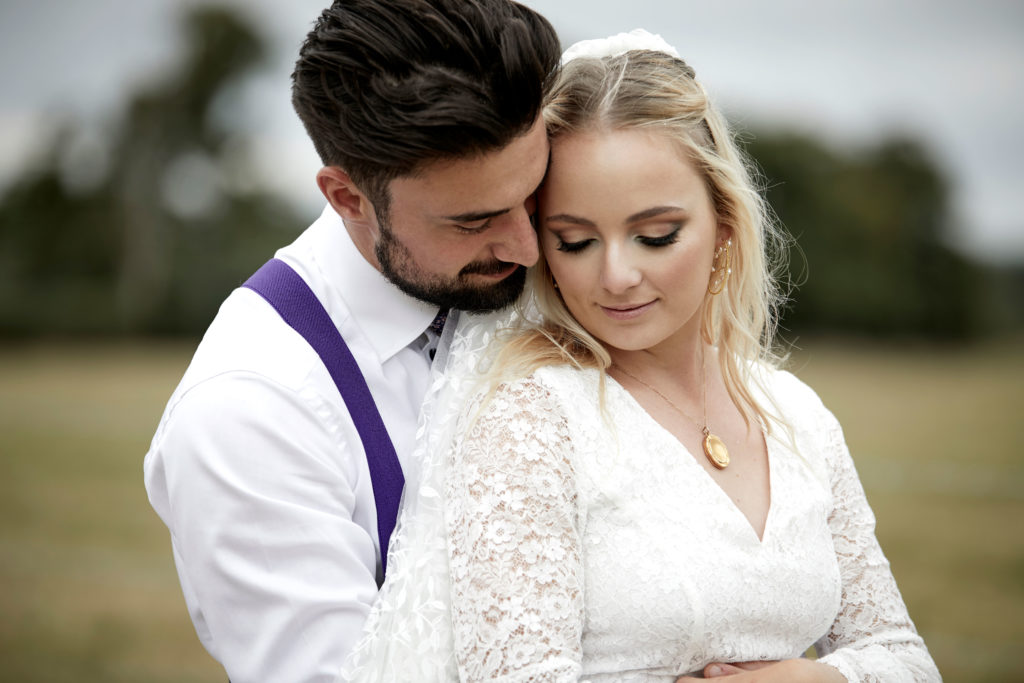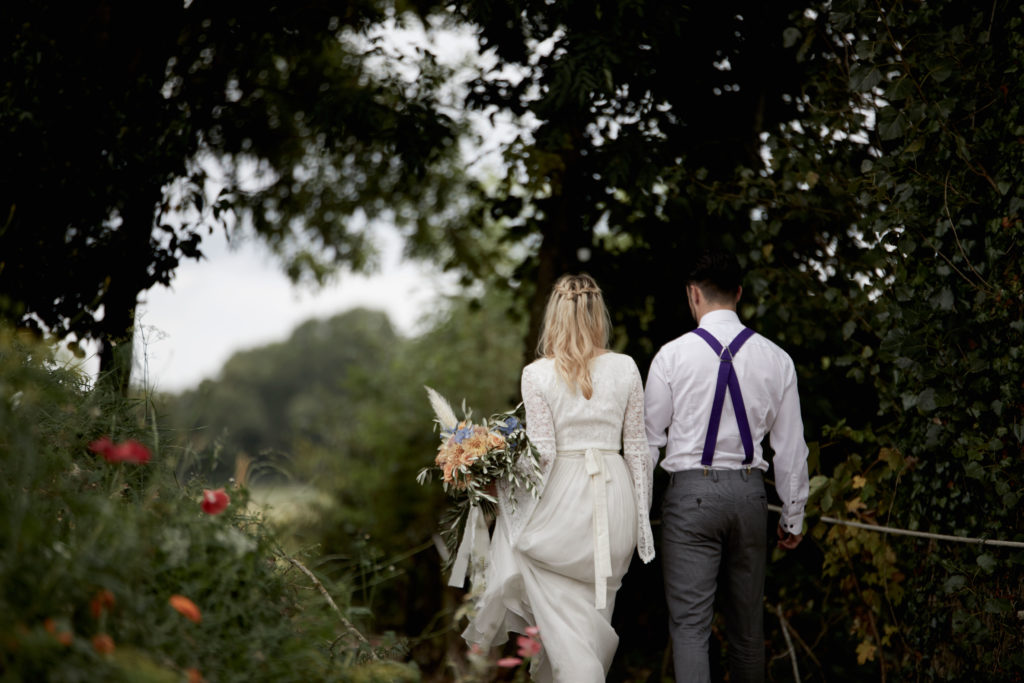 Flowers – Bud & Barrow
"The focus of the flowers was to use a range of earthy and calming tones ,with playful hints of pastel blue to bring in the flamboyance and playful style of the 70s. Claire from Bud & Barrow Flowers used the Prima Donna Rose, Chrysanthemum and Carnations as the focus of the earthier peach tones, with the beautiful baby blue Delphiniums adding a contrast. The Pampa grass and Olive branches ensured plenty of luscious contrast to the bridal bouquet, together with milk urns and brown glass bottles used in the ceremony and table setting to mirror the stunning rustic setting of Bysshe Barn."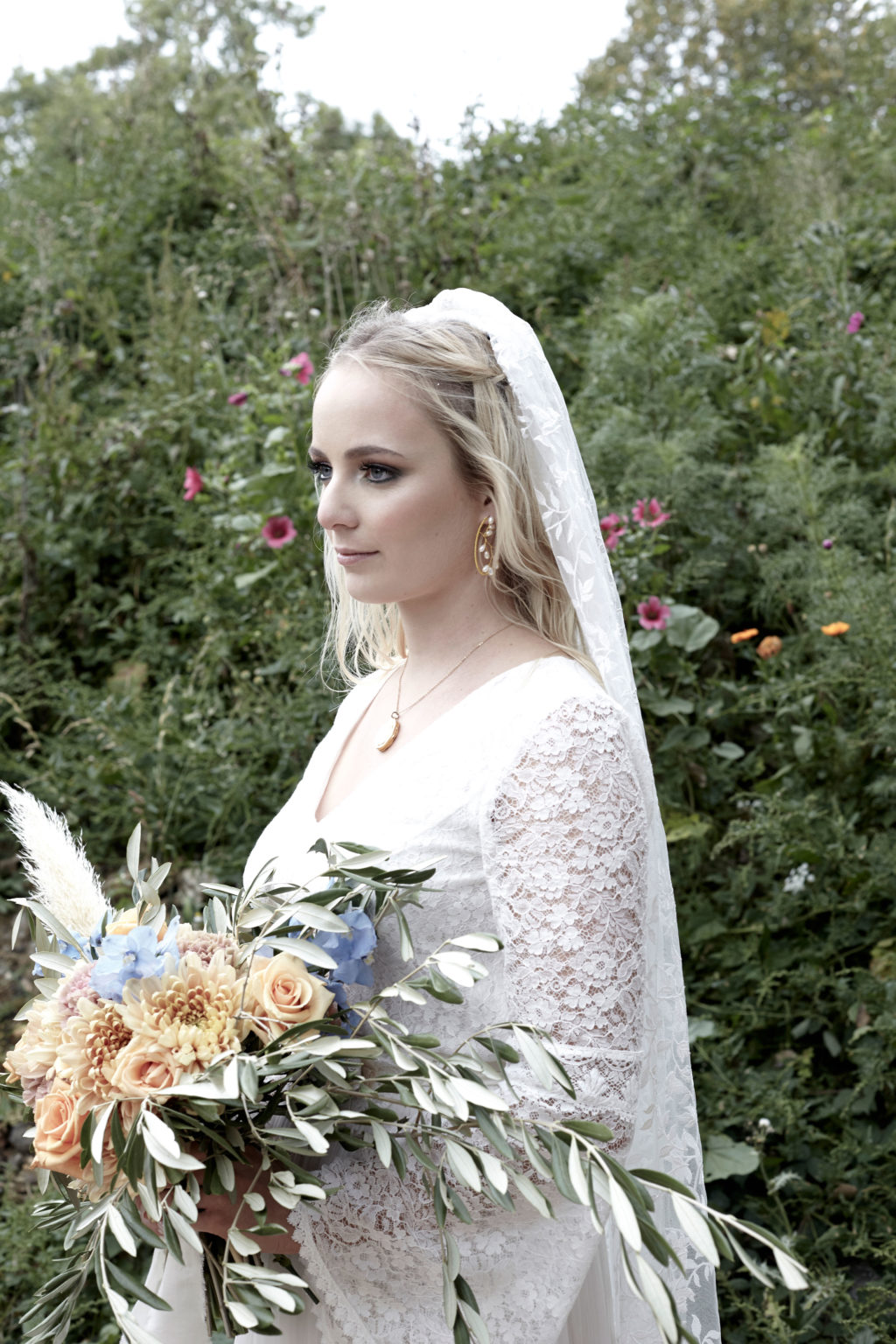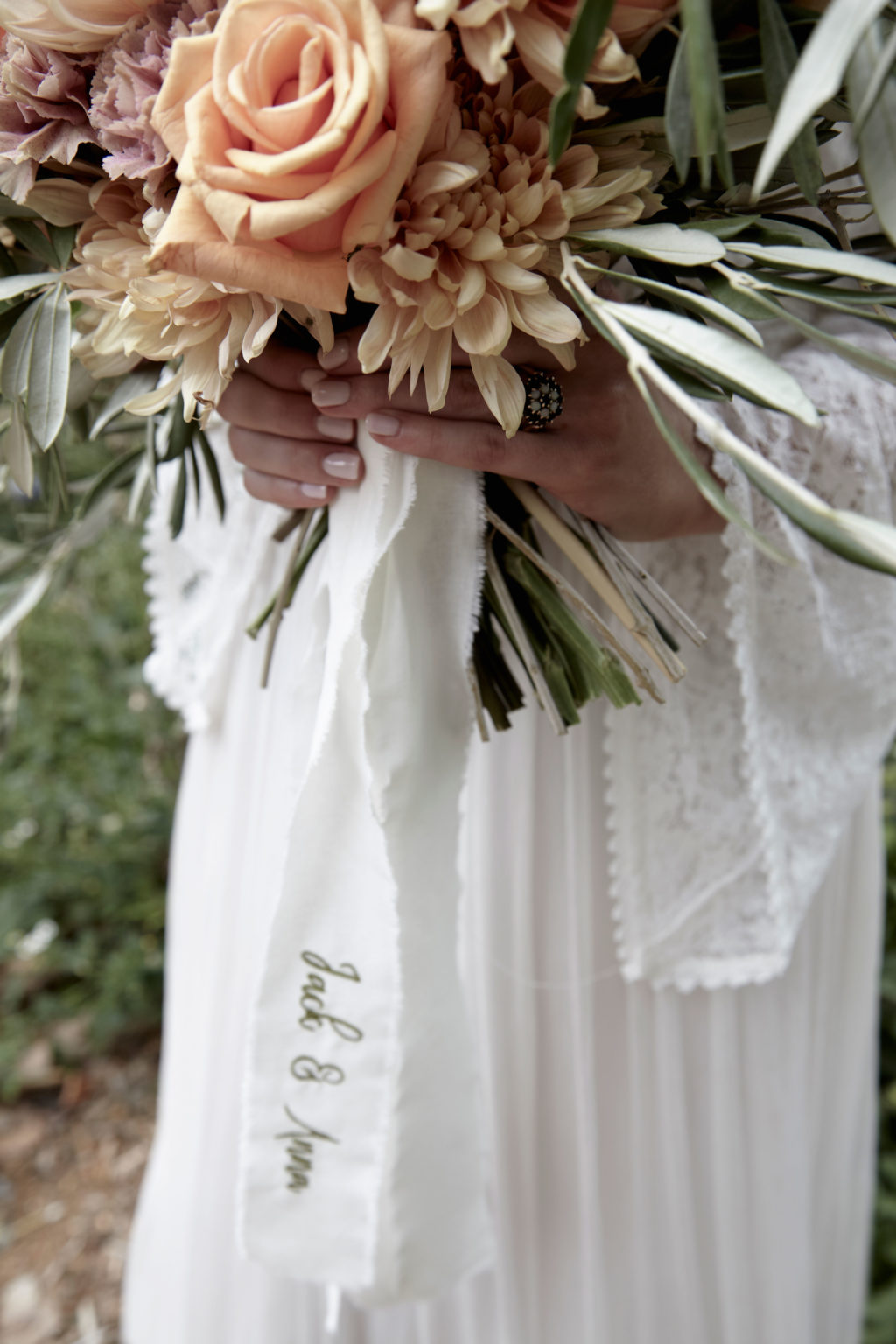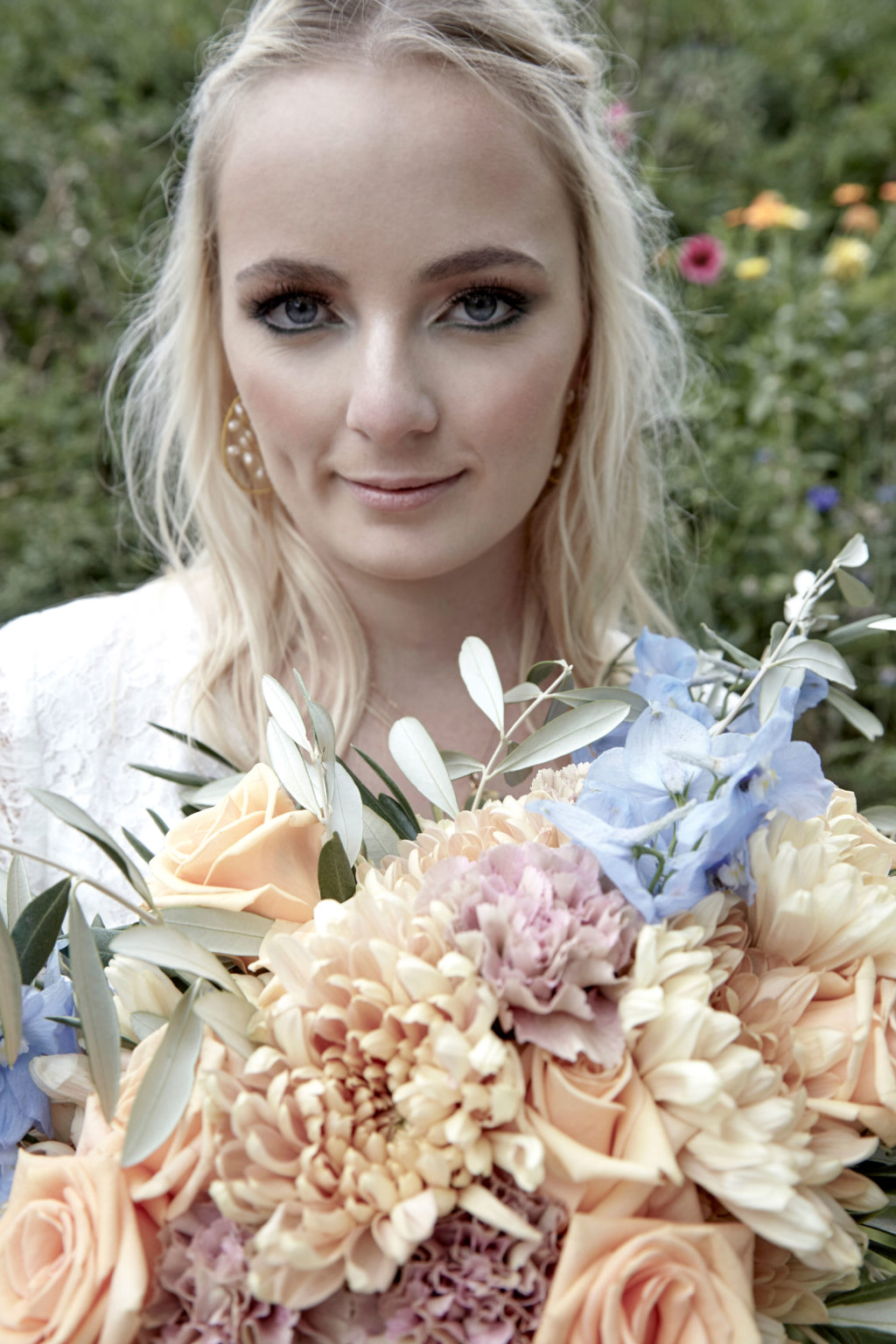 Venue – Bysshe Court Barn
"Bysshe Court Barn is a stunning 17th Century Surrey Wedding Barn, cartwheel chandelier lights & minstrels gallery situated within a secluded walled courtyard. Providing you with a stunning blank canvas to create the wedding reception of your dreams! It's an absolutely charming country wedding venue"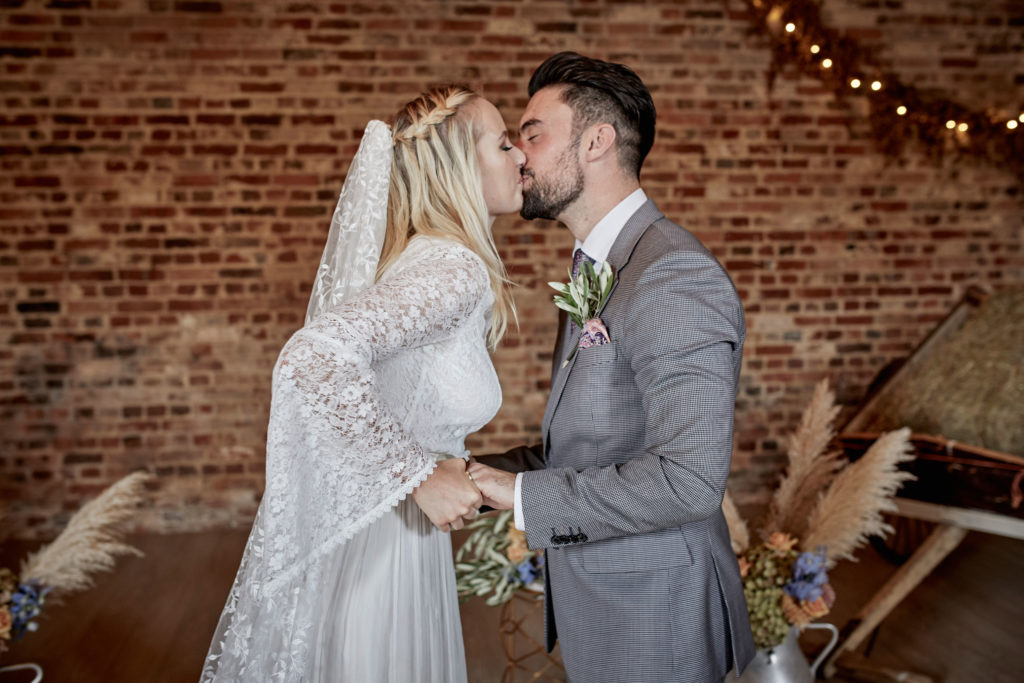 "The wedding barn is yours from the day before your wedding to decorate – to be as creative, imaginative & bespoke as you desire! Table and chairs are included in the rental, along with toilet facilities and ample parking. Bysshe Court Barn is Surreys best kept secret."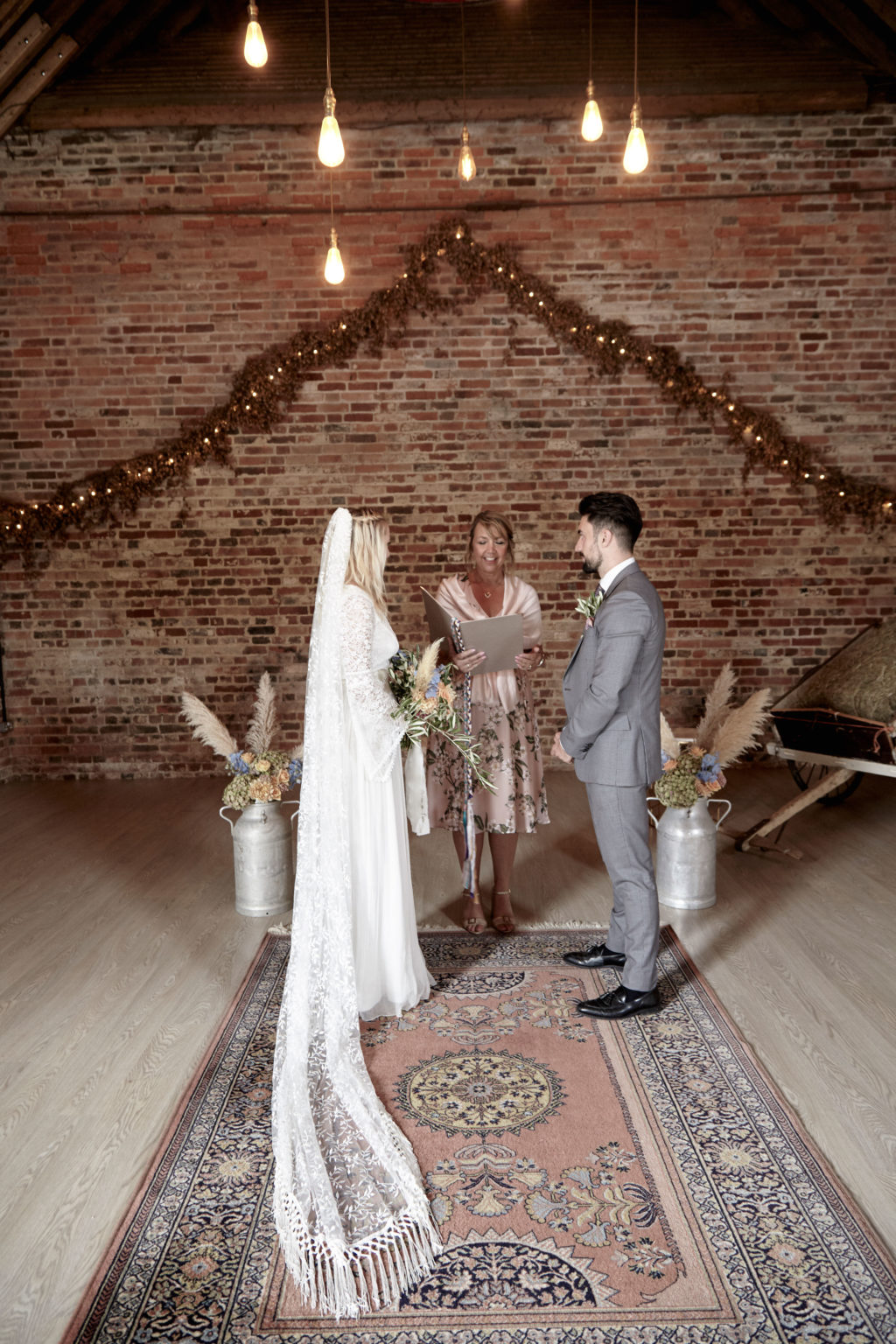 The Ceremony – Perfect Word Ceremonies
"It was an absolute joy to create a beautiful, autumnal themed ceremony with Anna and Jack, the atmosphere was relaxed and very emotional resulting in some fantastic natural shots."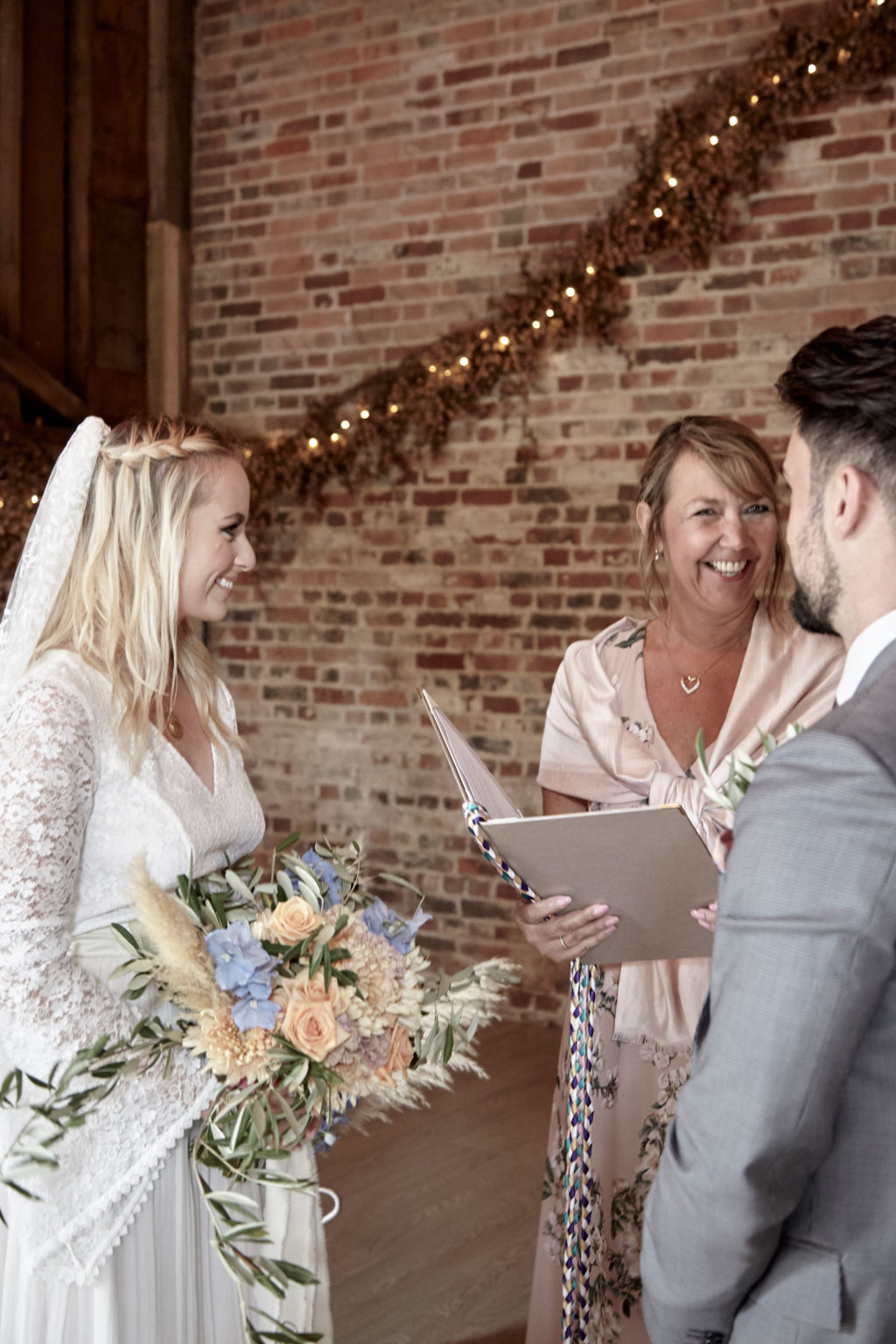 "Your ceremony is the heart of your day and many couples are now choosing to separate the legal registration of marriage, allowing them to have a beautiful, heart- felt Celebrant-led ceremony that reflects their style, personalities, values, beliefs and ideas. Your wedding can be held in the location of your dreams, a woodland, a barn, a field and also at licensed venues."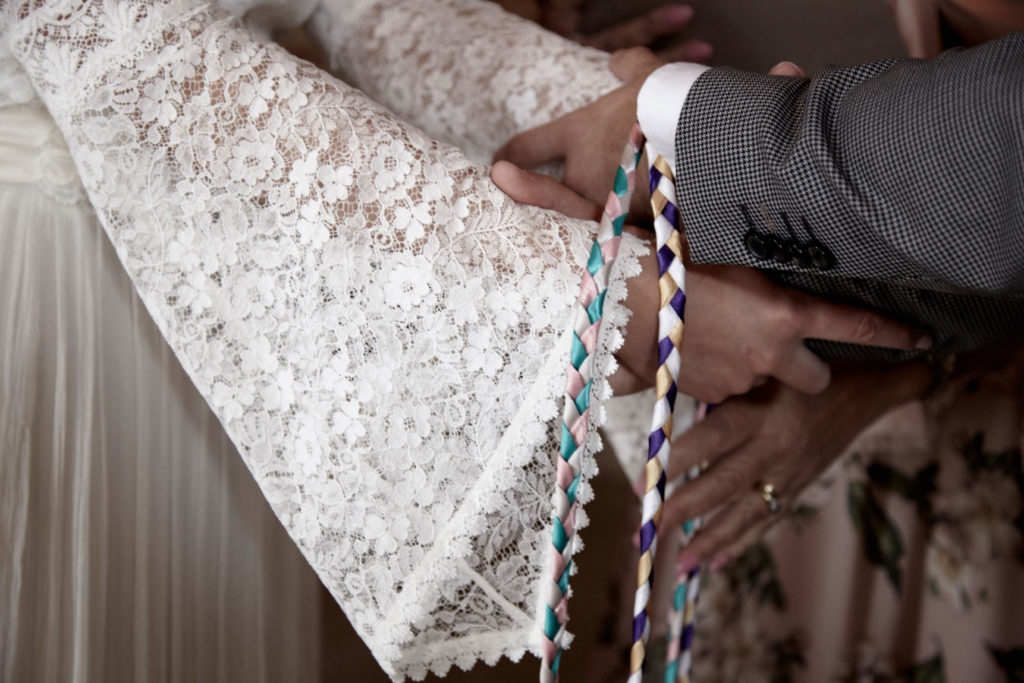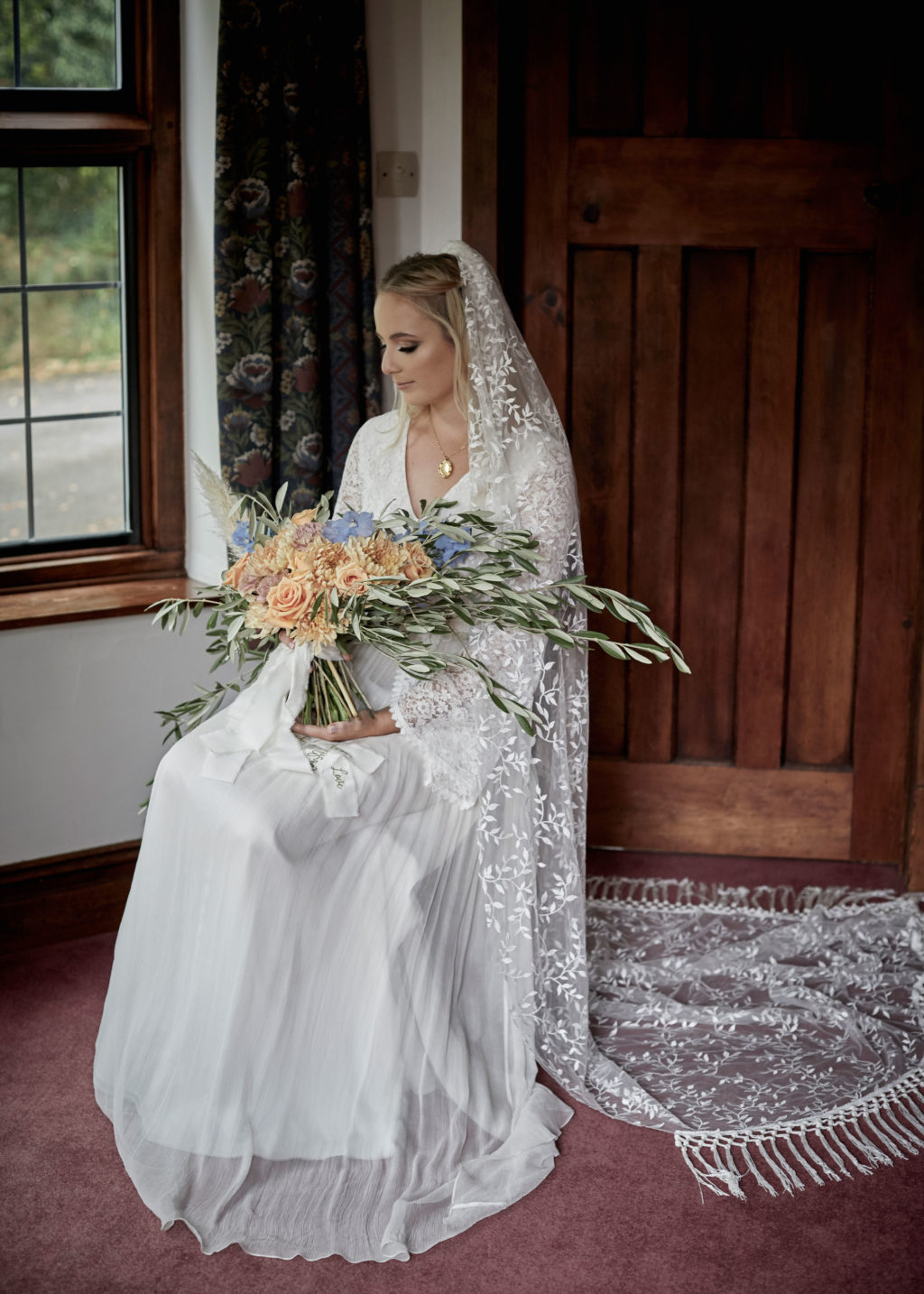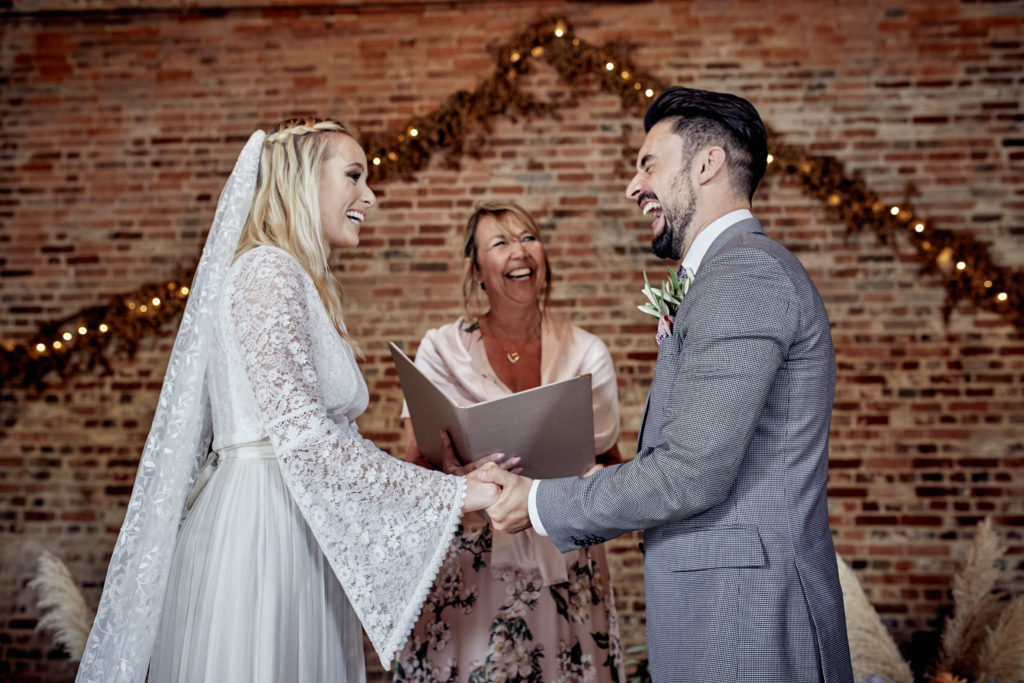 Veil & accessories – Peacock and Pearl
"I needed fabric for another veil, when I came across the most beautiful embroidered tulle! This fabric gave me just what I was after – the usual material (tulle) in the usual colour (ivory), but with a completely different twist. It wasn't QUITE perfect alone, but I soon settled on a macramé fringe to complete it. A 70's vibe is set to be huge for weddings in 2020, and I had that in mind making this veil! The same applied to the earrings – a nod to the 70's with the hoops, but with some gorgeous pearls to bring them up to date. These would be perfect for a number of different styles – the leafy veil could be the statement piece in an autumn themed wedding, or the perfect accessory for a boho beach ceremony. It's just so versatile and I love it!"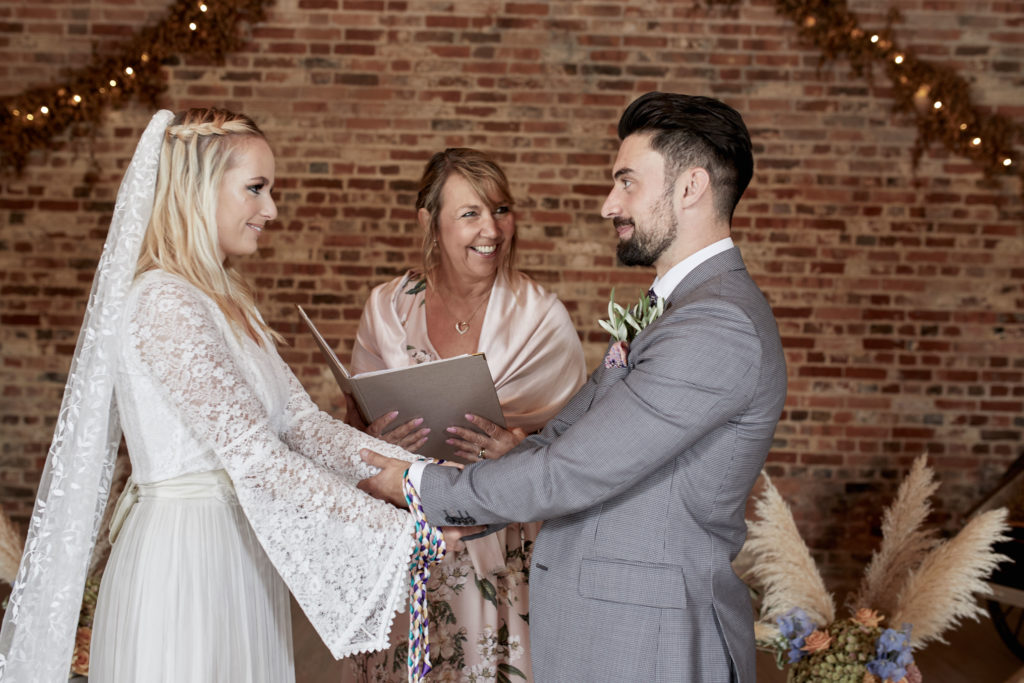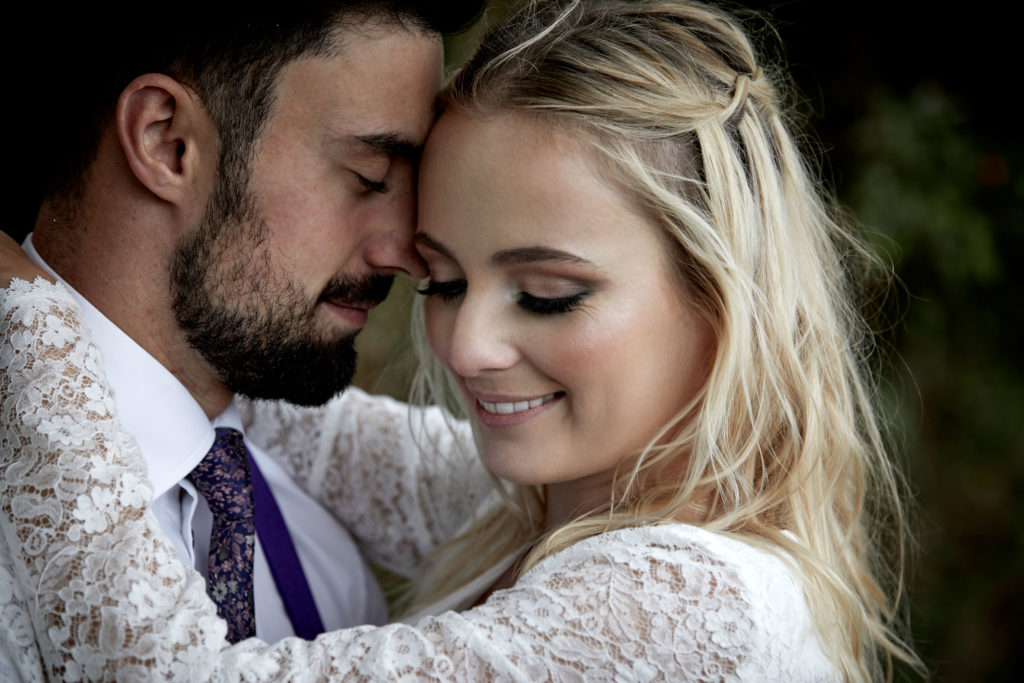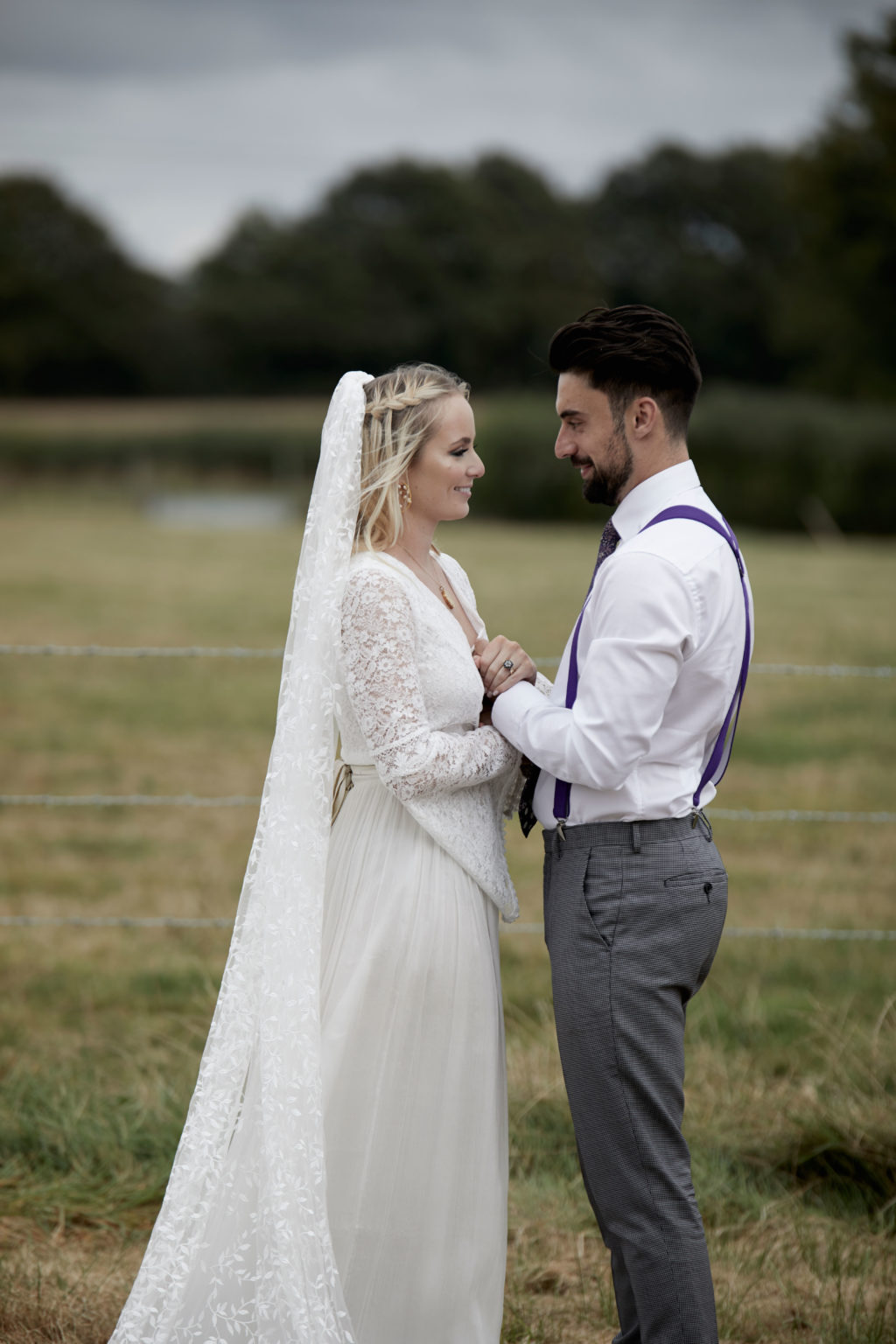 Tableware Hire – Harriets Table
"The crockery, cutlery and glassware from Harriet's Table really is the 'best of vintage'. The crystal glassware gives a timeless elegance and is a perfect contrast in the rustic barn setting of Bysshe Court."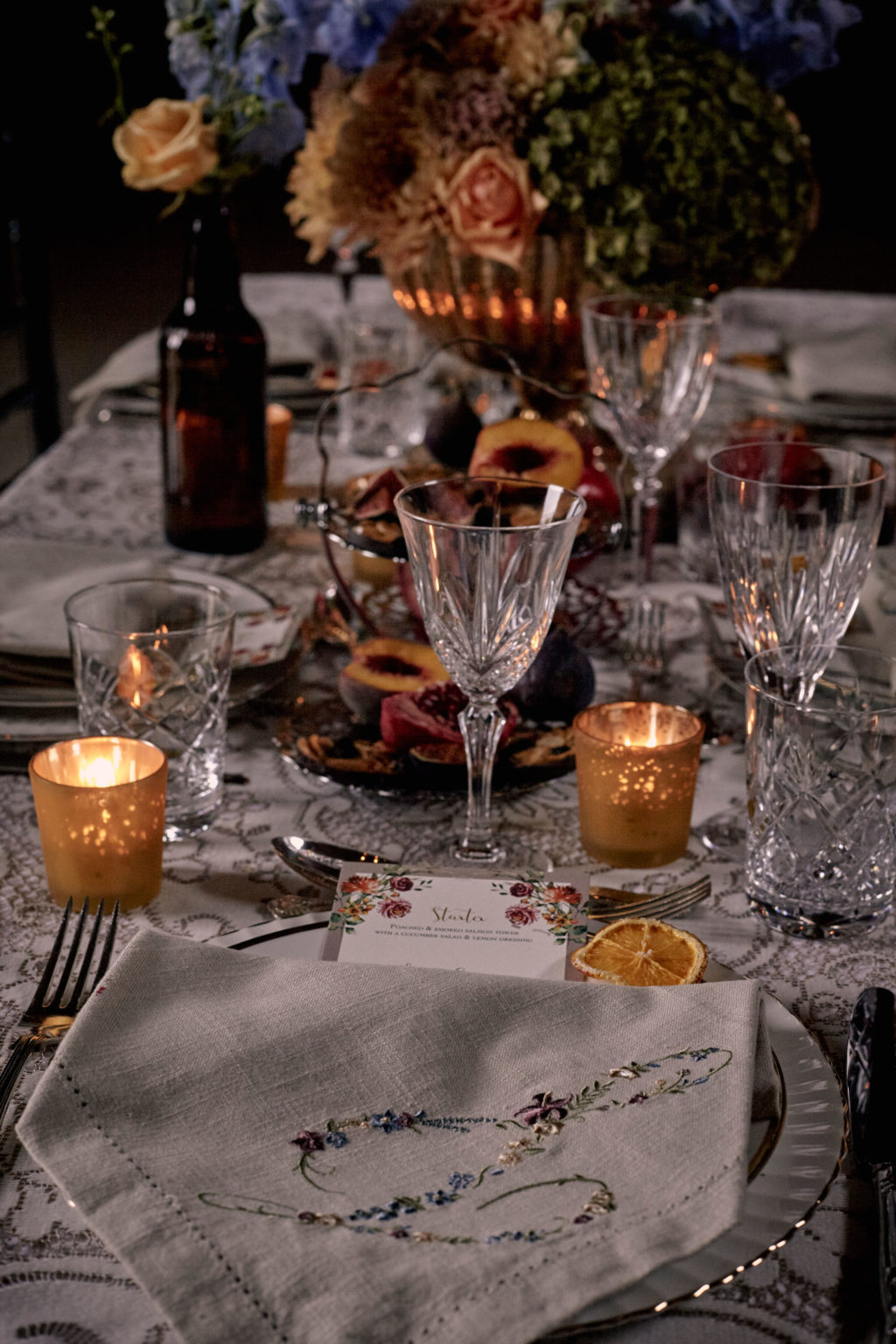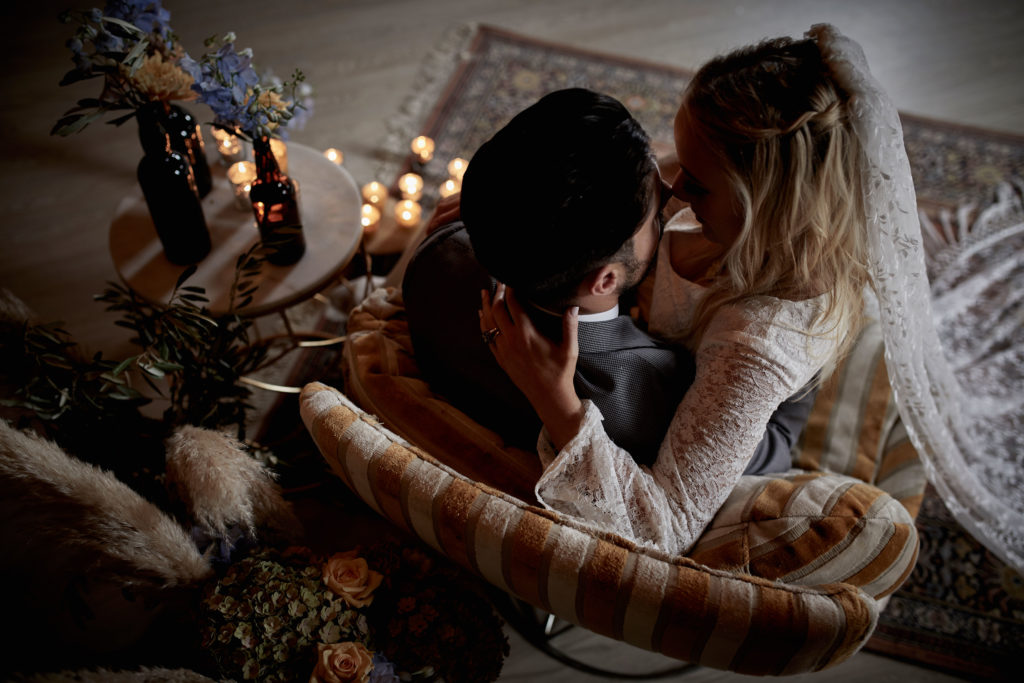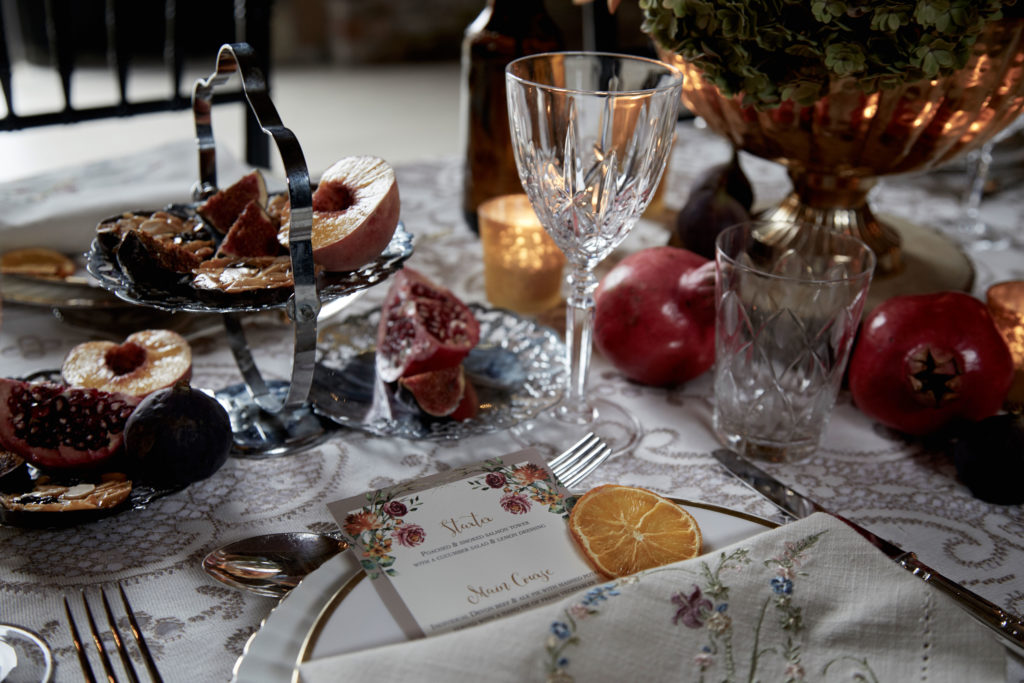 Bridal – Indie Bride London
"Indiebride London is all about comfortable, bohemian wedding dresses with a hint of vintage vibes. These luxurious yet relaxed wedding dresses are made of delicate laces and silks and decorated with lace trimmings. The recently released, latest collection, celebrates ecology with high quality materials such as organic cotton lace, organic ahimsa silk and organic ramie. Designing the collection we concentrated on materials that all have an ecological feature. It is either organic, made in the UK or both"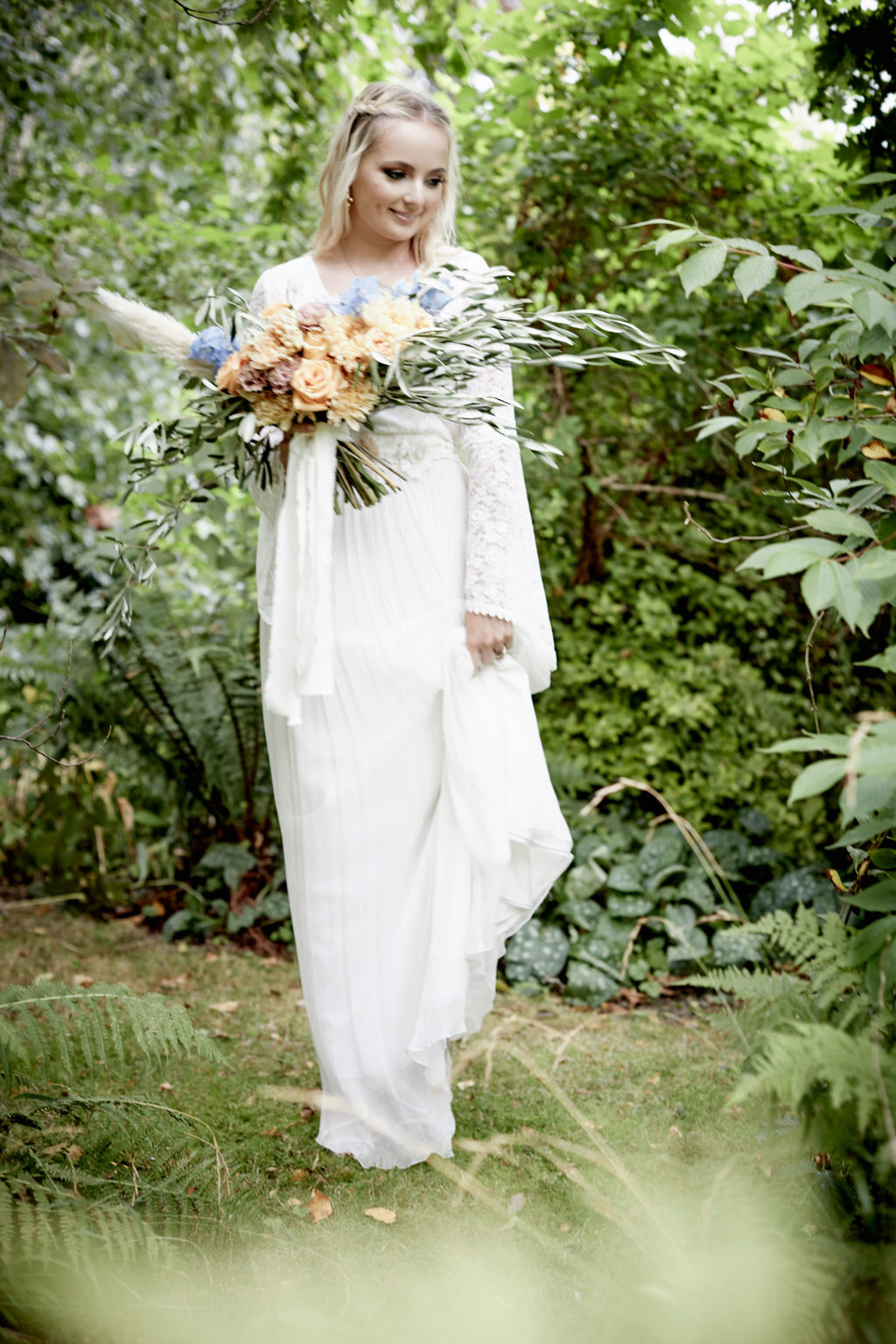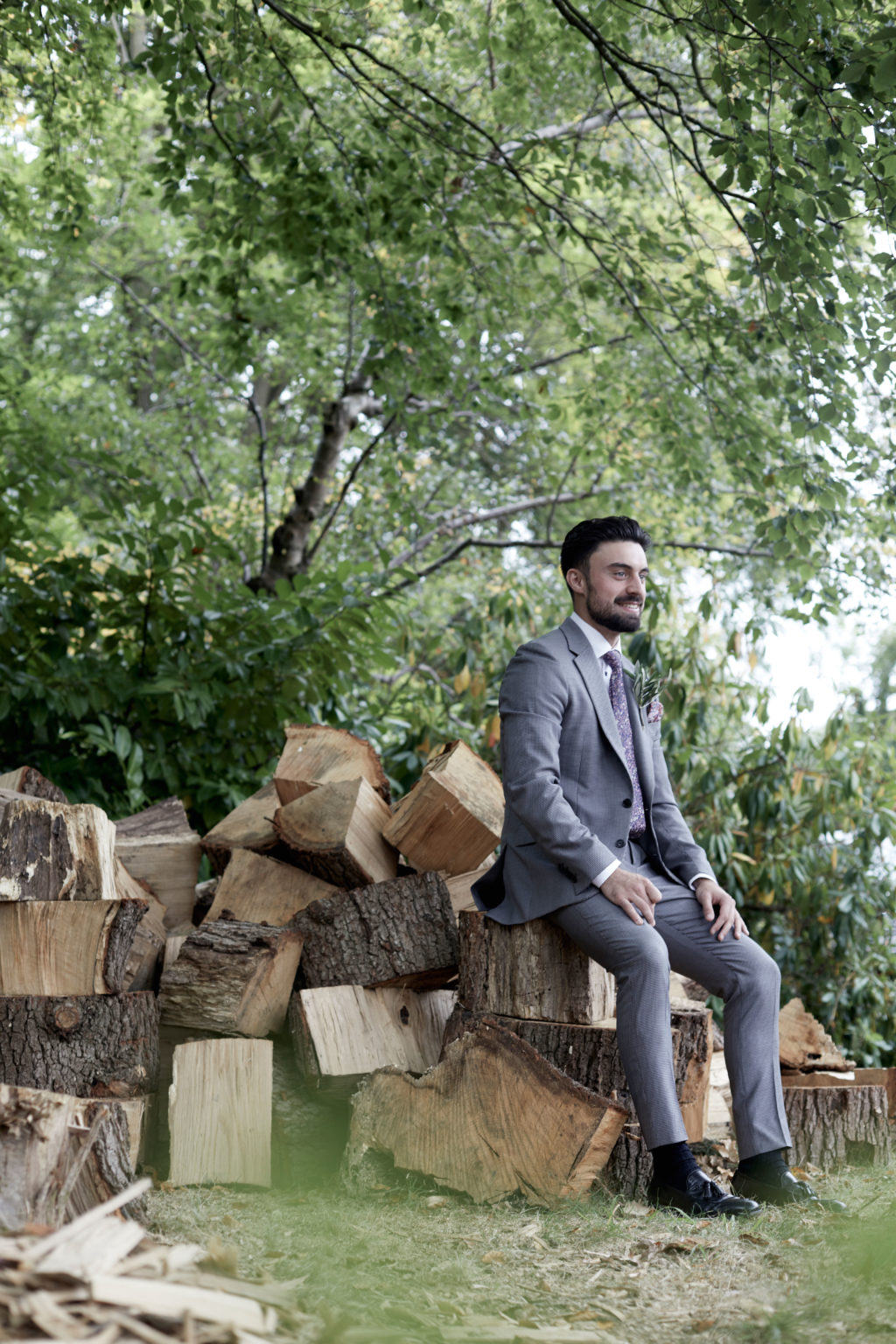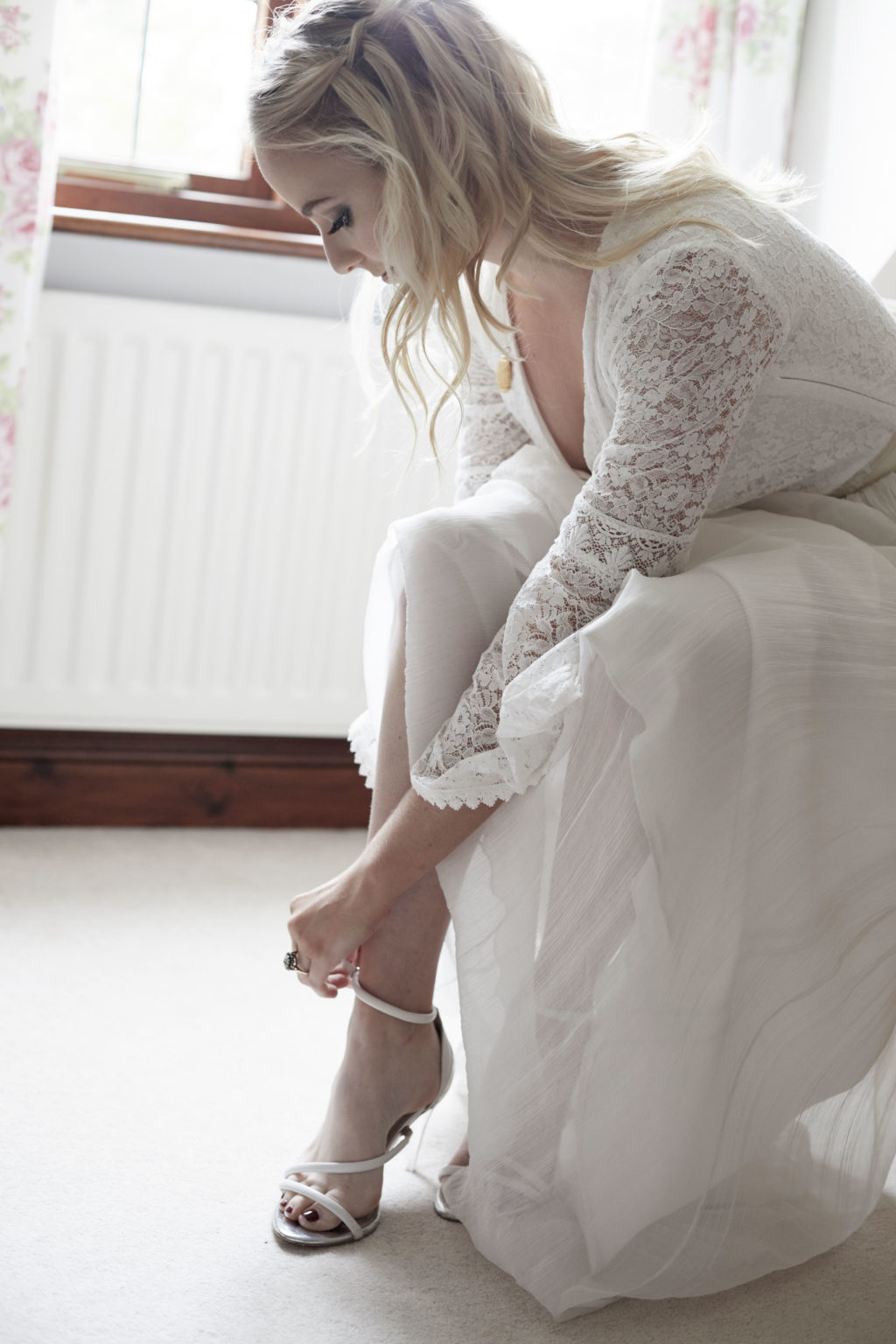 "The Clover top used in the shoot is made of delicate lace made in England and lined with silk. The Anette skirt is made of organic crinkled ahimsa silk chiffon made in England and lined with silk."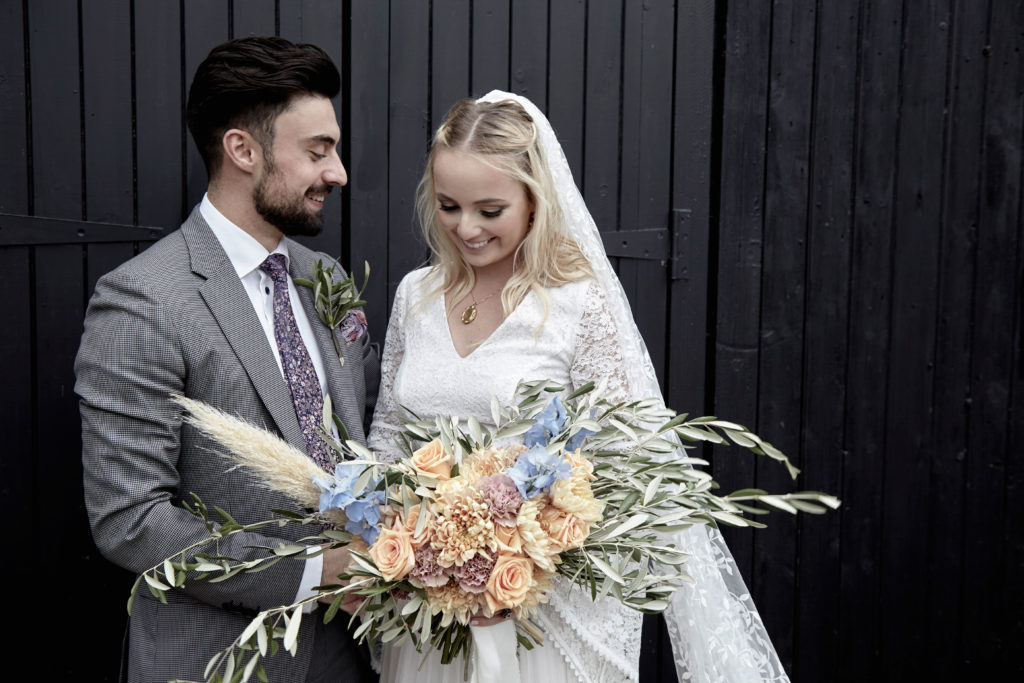 Make-up – Bear Beauty
"We kept with the 70's style of bronzed skin and nude lips but added a brown eye shadow with a beautiful smoky green shade on the lower lash line for a more modern twist. As a make up artist, it is important to harmonize the brides makeup with the style and colour scheme of their wedding as well as enhancing their best features.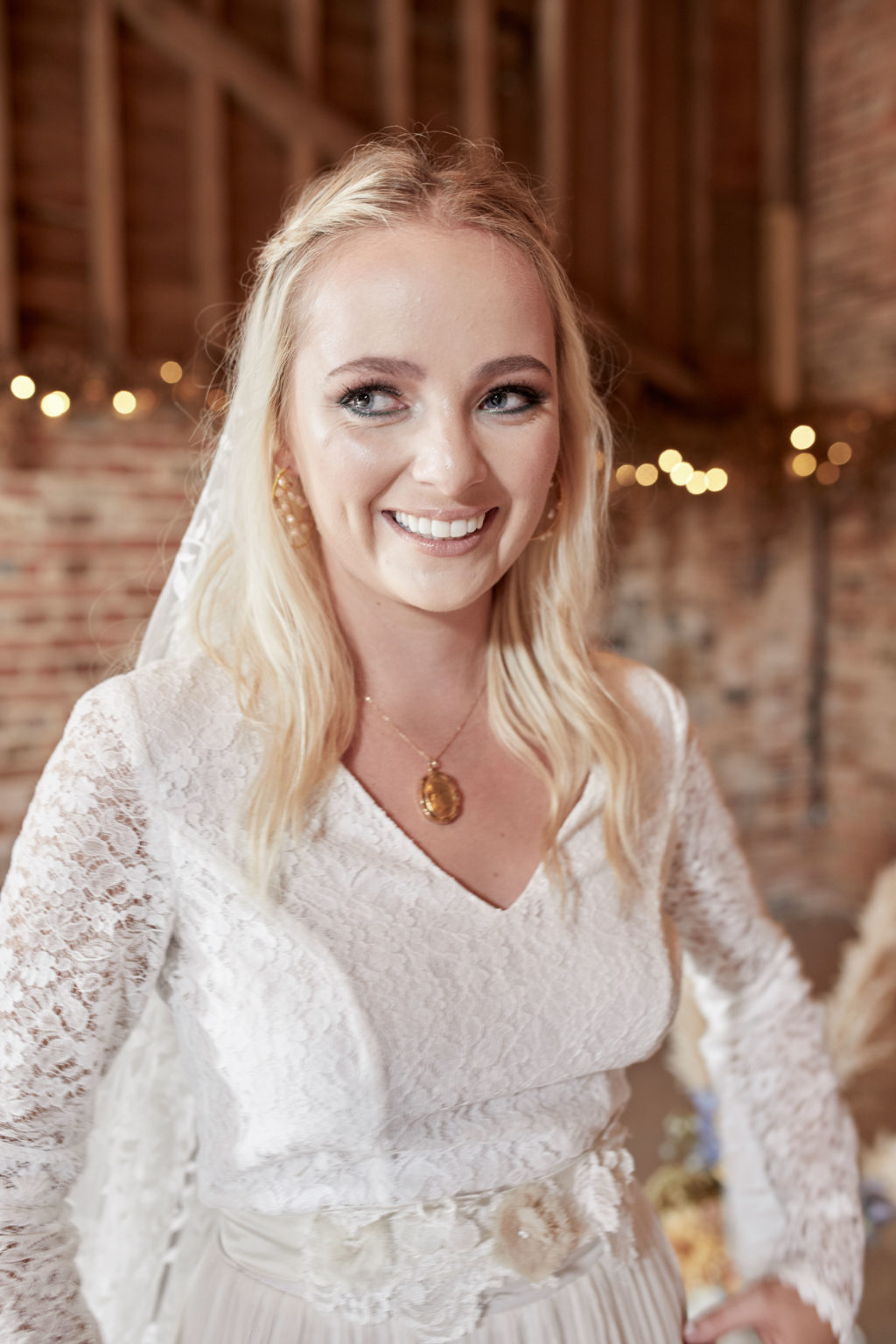 Hair Stylist – Leanne Penfare
"I really enjoyed styling Anna's hair on the day. I loved creating the bohemian 70s look. We went for relaxed undone textures and plaits. I prepped the hair for the style to last and was really happy with the end result. I loved the settings of the shoot and I think the hairstyle tied in perfectly with the weddings theme."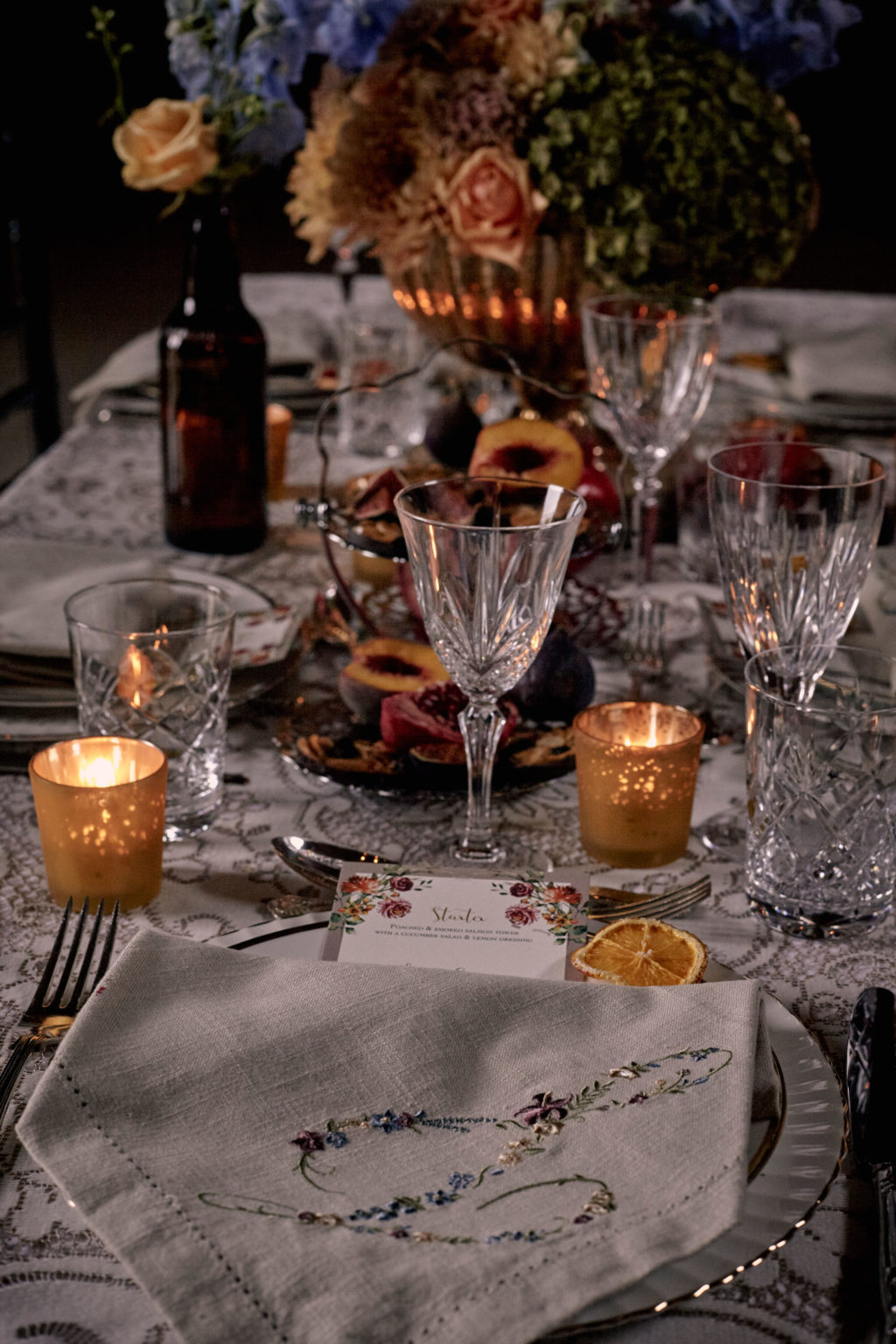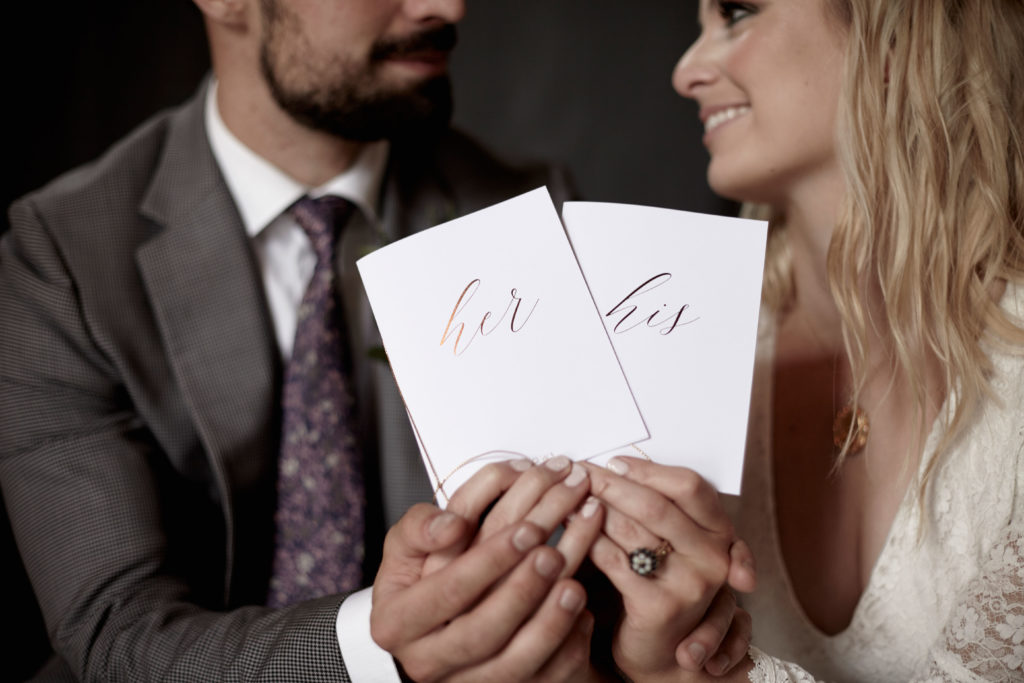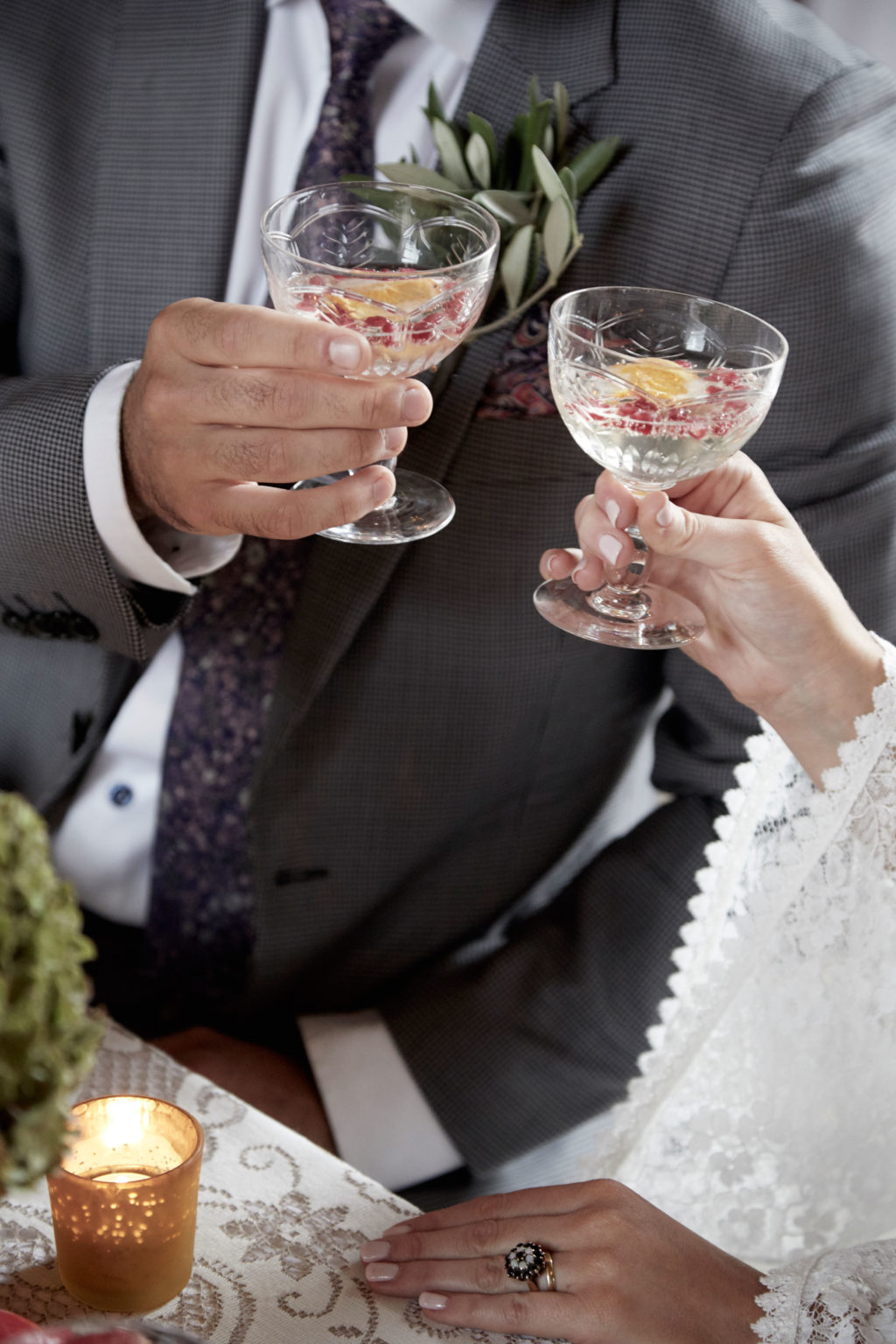 Stationery – Invites By Heather
"Tying in all the elements of the big day, from the flowers, to the cake and all the table settings into the on the day stationery is something I pride myself in. So when Claire from Bud & Barrow recommended me to Meryl to take part in this styled shoot, I knew I had just the right pieces to suit their brief of 70's autumnal boho. The rich colours of the season, mixed with floral illustrations and a pretty calligraphy font, complimented the amazing work of the other artists perfectly."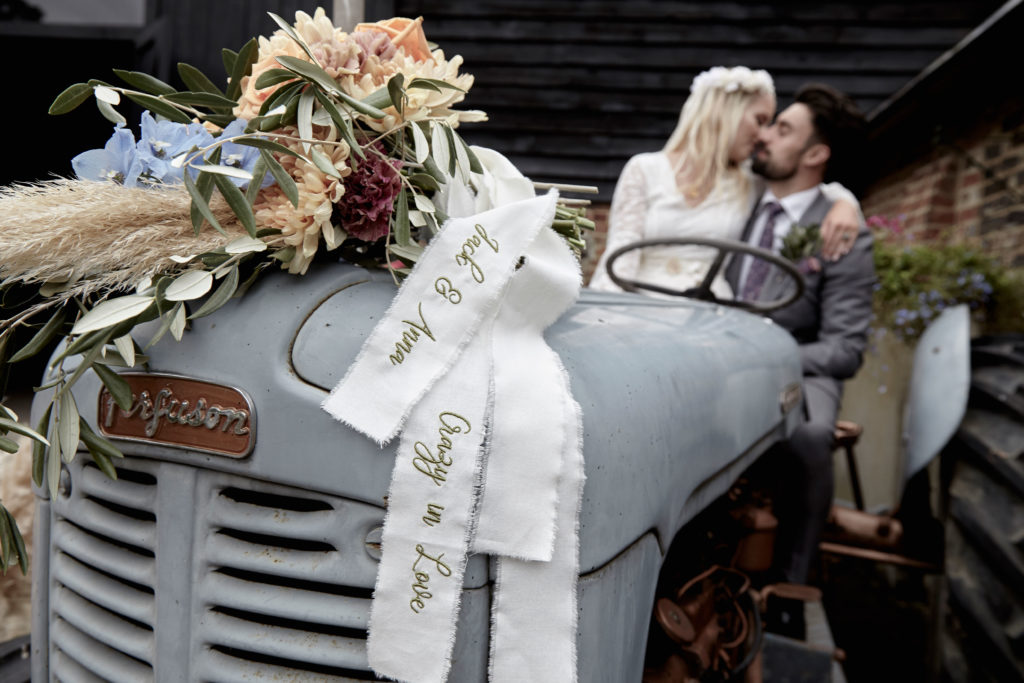 Videography – Jessi Zou
"Jessi Zou is a nature-inspired videographer based in Brighton. She has been drawn to the vintage, Boho and chic style weddings set within natural lighting."
"Jessi was capturing the shoot like a real wedding, especially the emotional tears during the ceremony. For couple portrait in the video, Jessi's approach was to blend the loving and fun movements with the autumnal natural farm. She also used her sense of art to create moody vibes for the young and carefree couple, as well as the warm and ethereal elements of the day."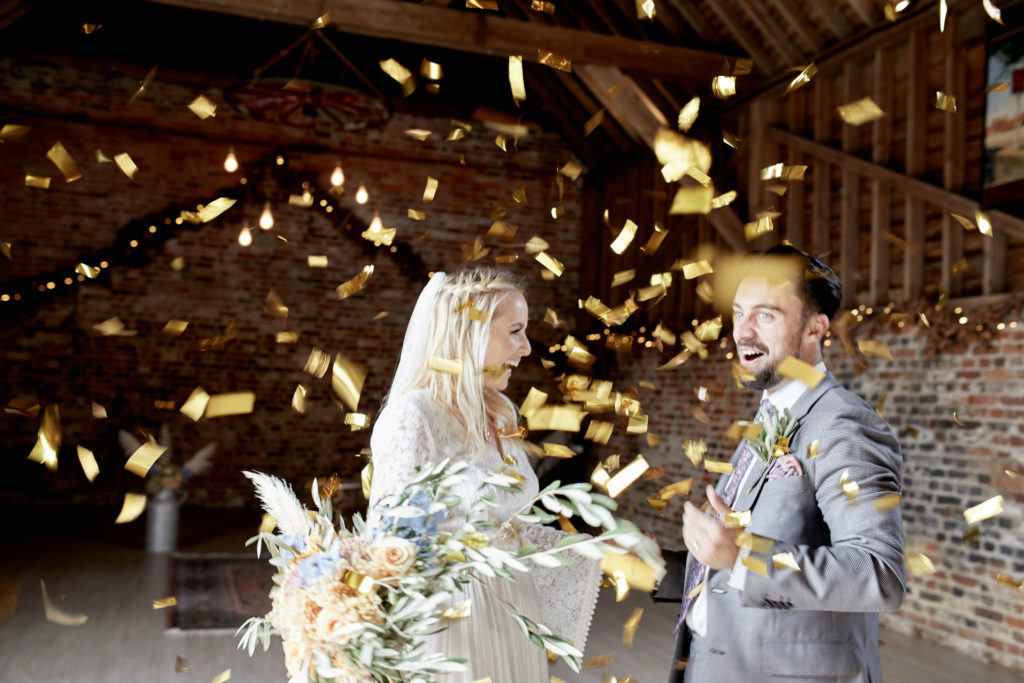 Cake – VanillaCo Kitchen
"To me, a wedding cake is just like any other cake, it needs to taste great not just look great! We went for a chai caramel apple cake, a spiced pear cake, and a crowd pleaser on the bottom tier, carrot cake! Indulgent and warming autumnal flavours to fit the seasonal wedding, you'd want a massive slice to serve for dessert and hope there was enough for seconds!"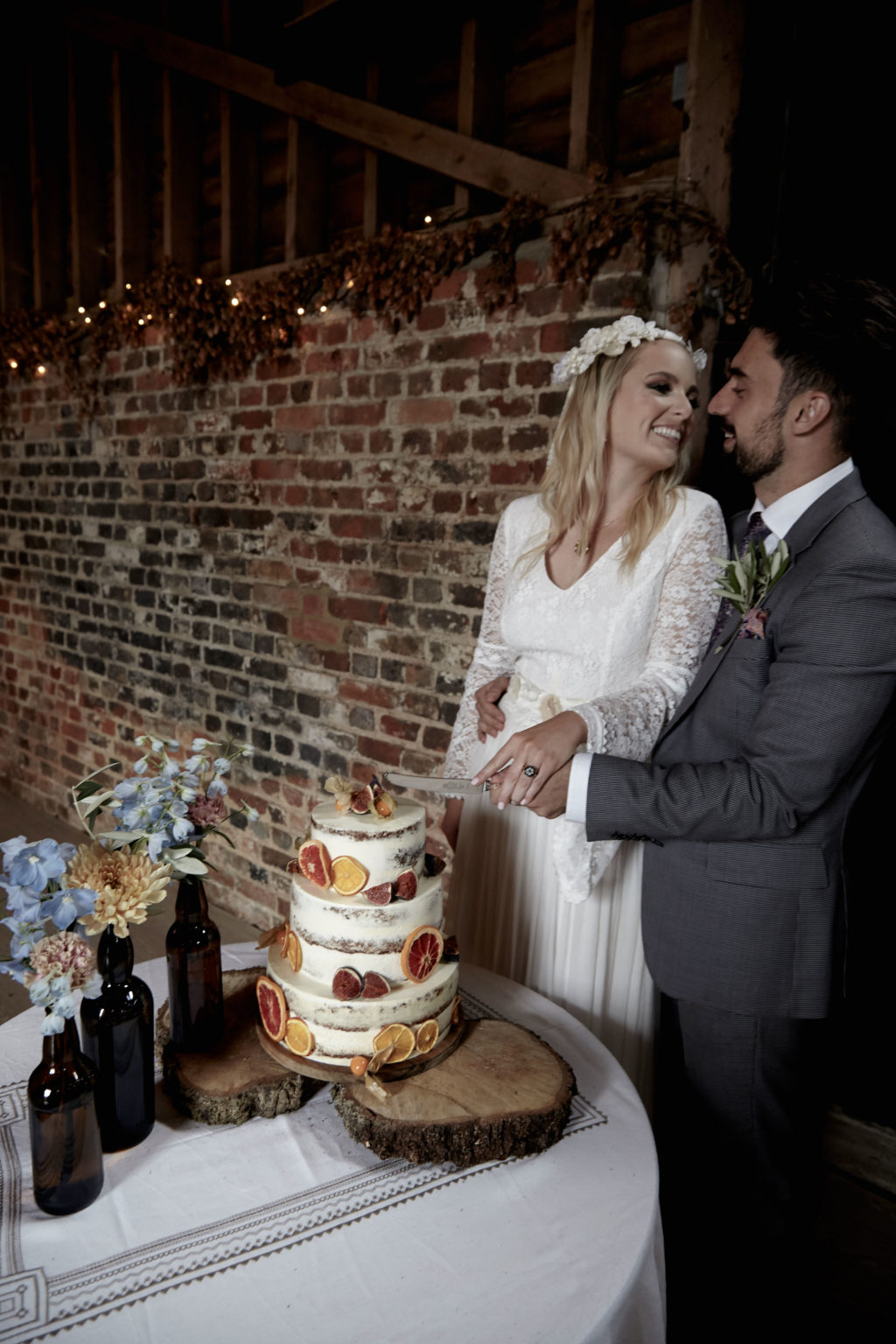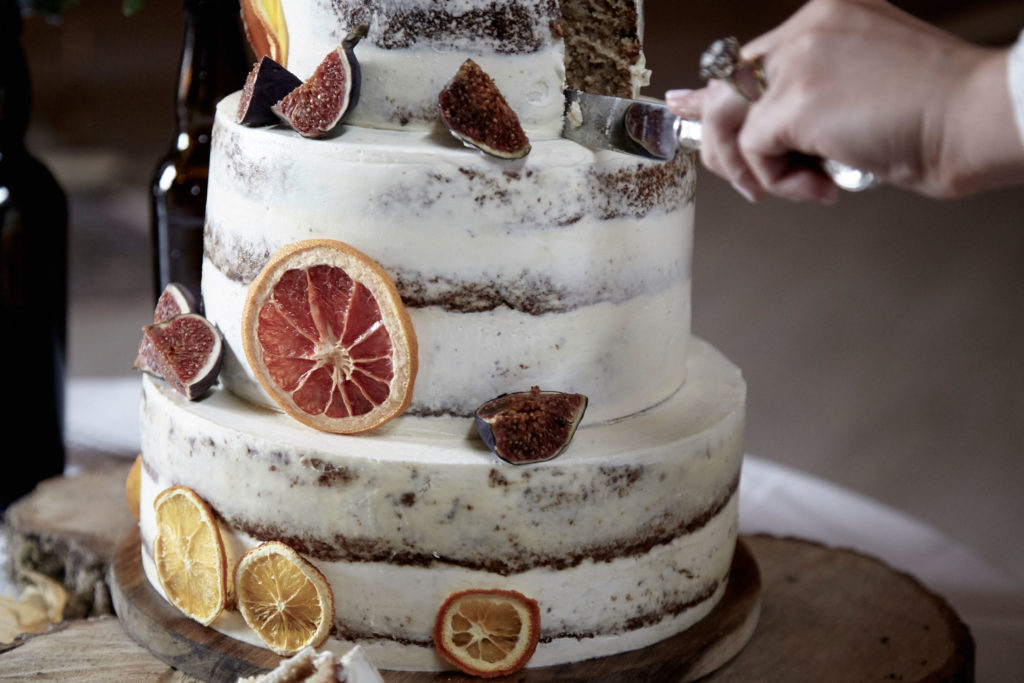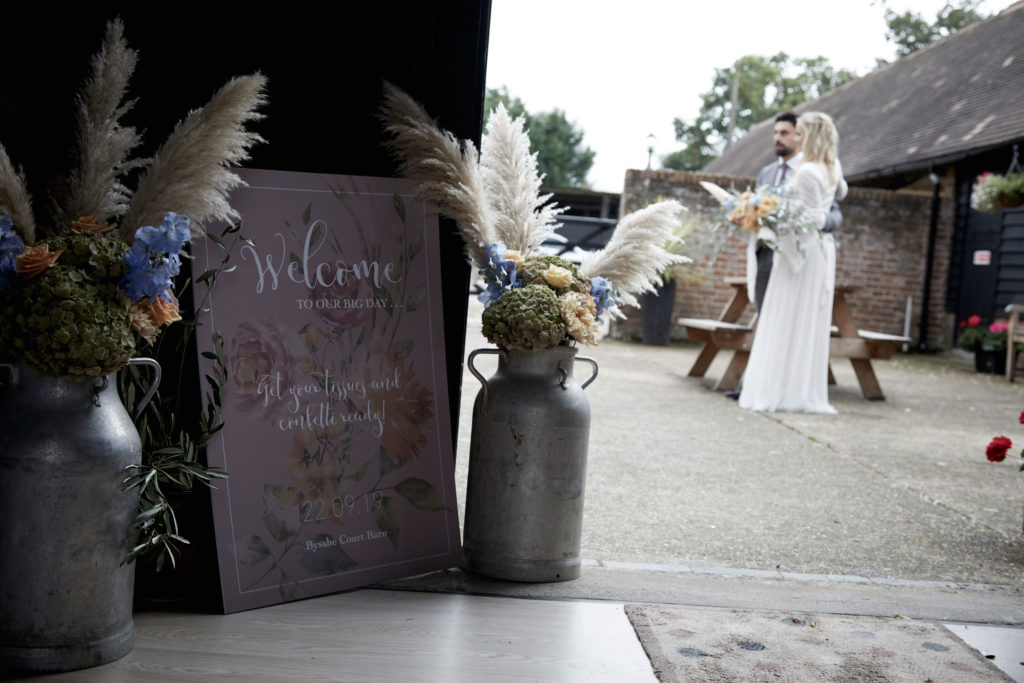 "Decorating this cake was just as much of a delight, we went semi-naked to reveal the dark spiced cake layers creating a warm and rustic canvas, keeping the edges sharp and crisp for that element of elegance and sophistication. On this we dried blood oranges and grapefruits for beautiful tones, then surrounded these with fresh figs and physalis fruits with their rustic leaves. This all created a floral romantic design that continued on beautifully from the table decor of dried and fresh fruits."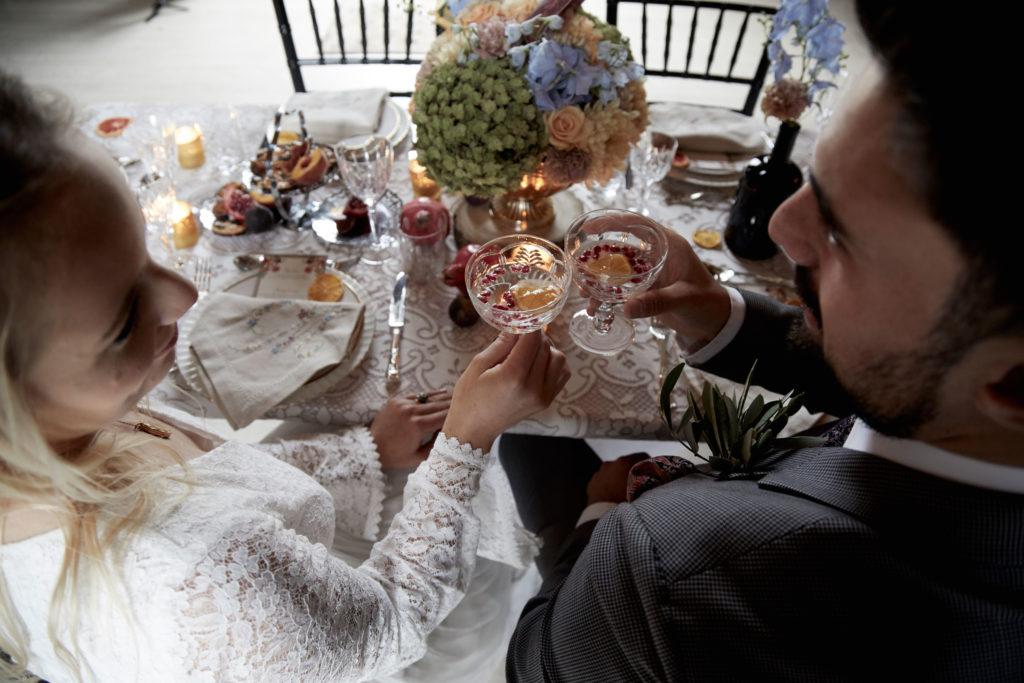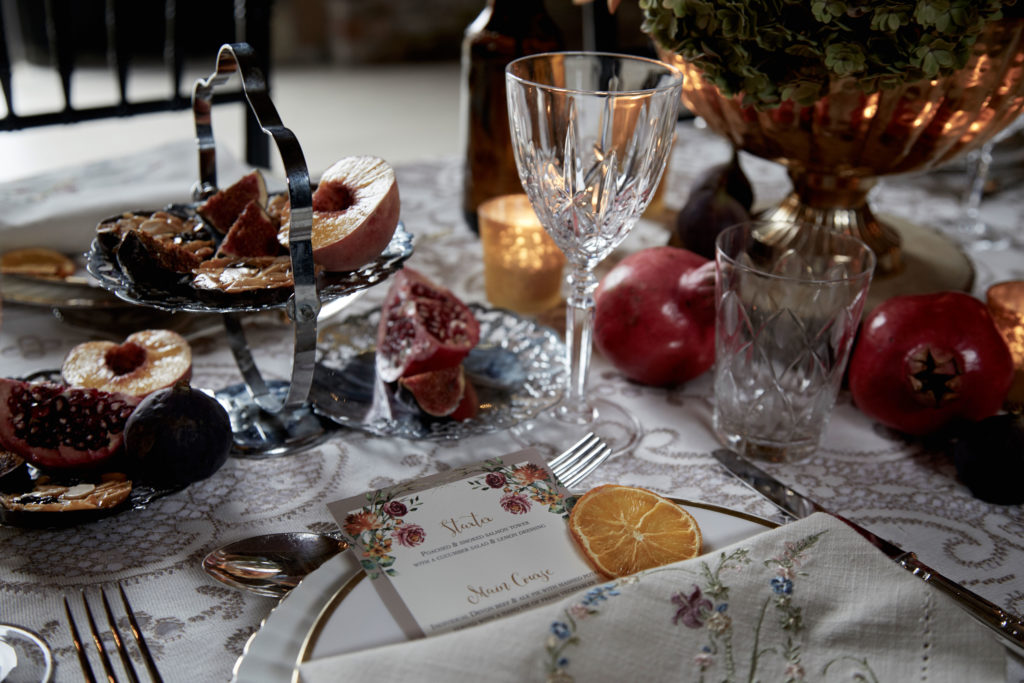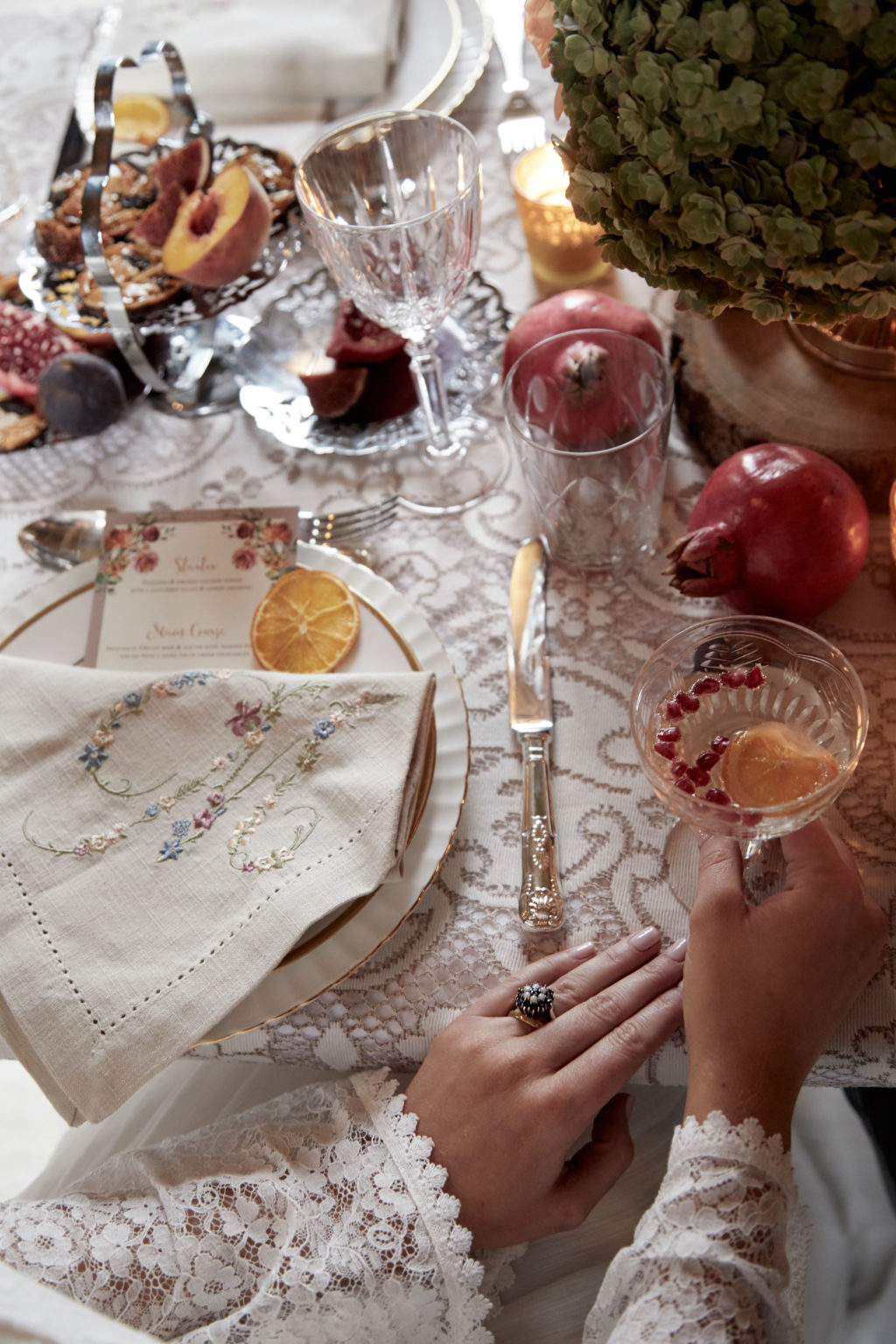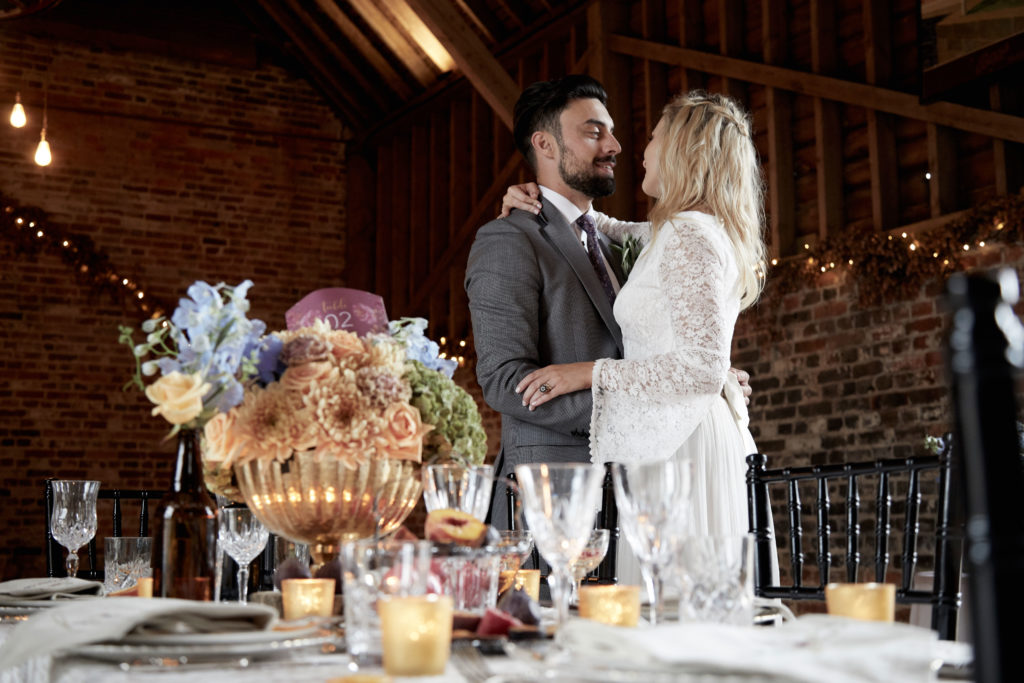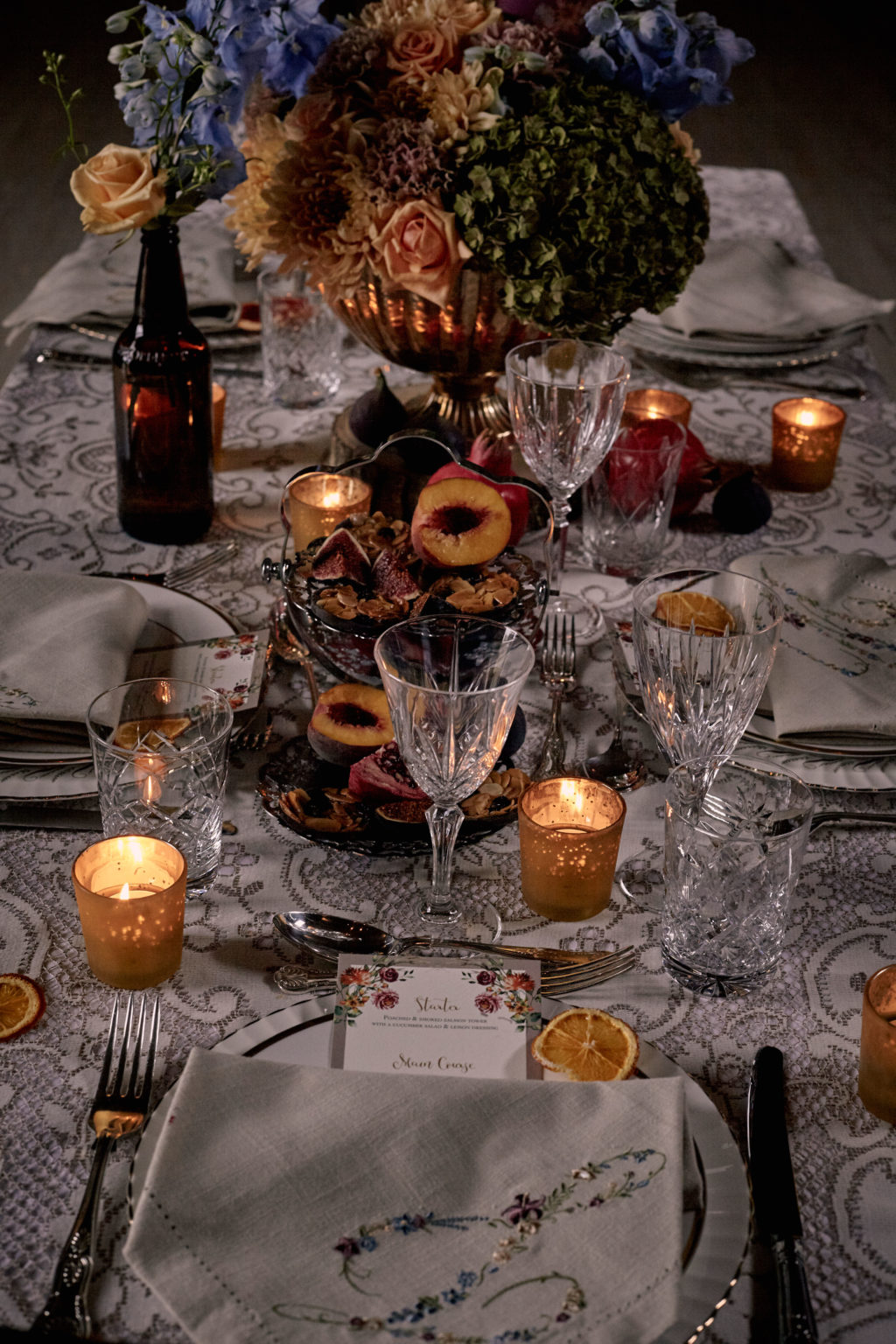 Napkins & Bouquet Ribbons – Extra Special Touch
"Our Floral Monogrammed Napkins worked with the vintage table ware and the rustic barn setting perfectly. We embroidered single initials to act as a vintage place setting for guests and choose complimentary colours to the wedding theme"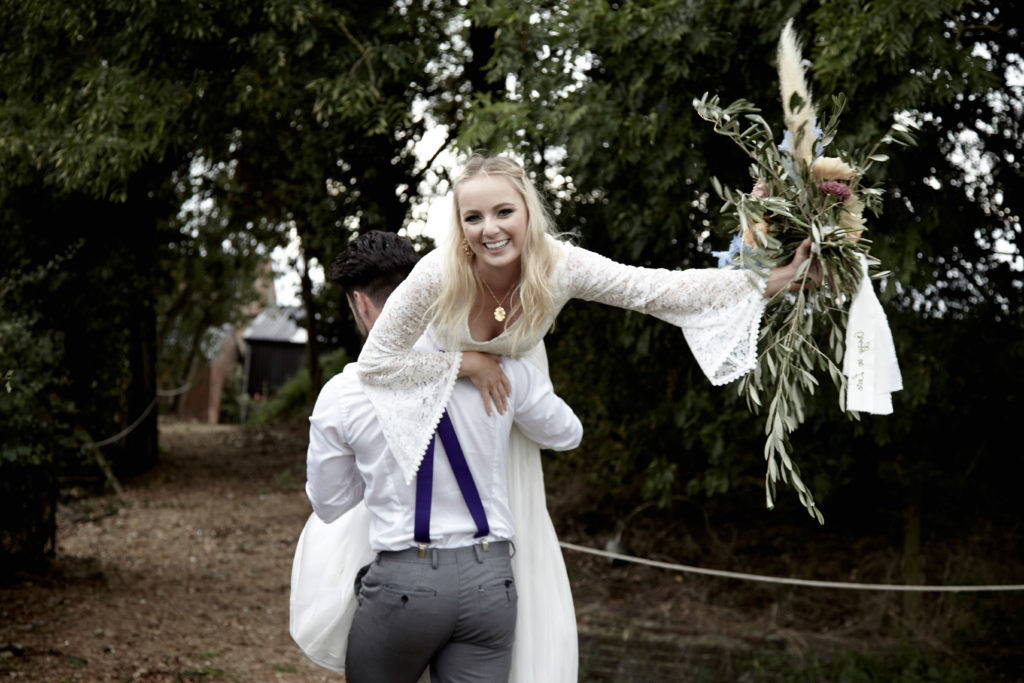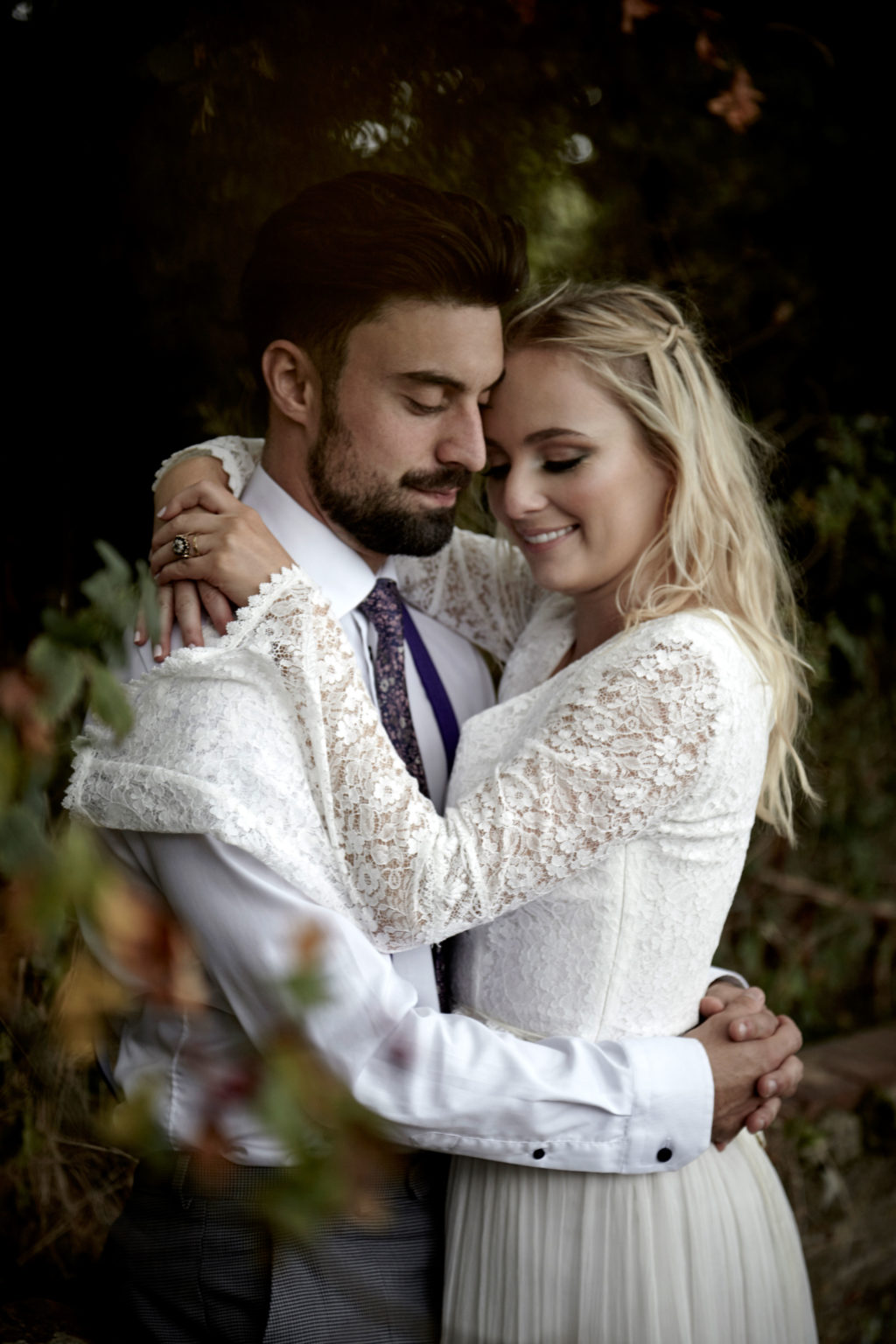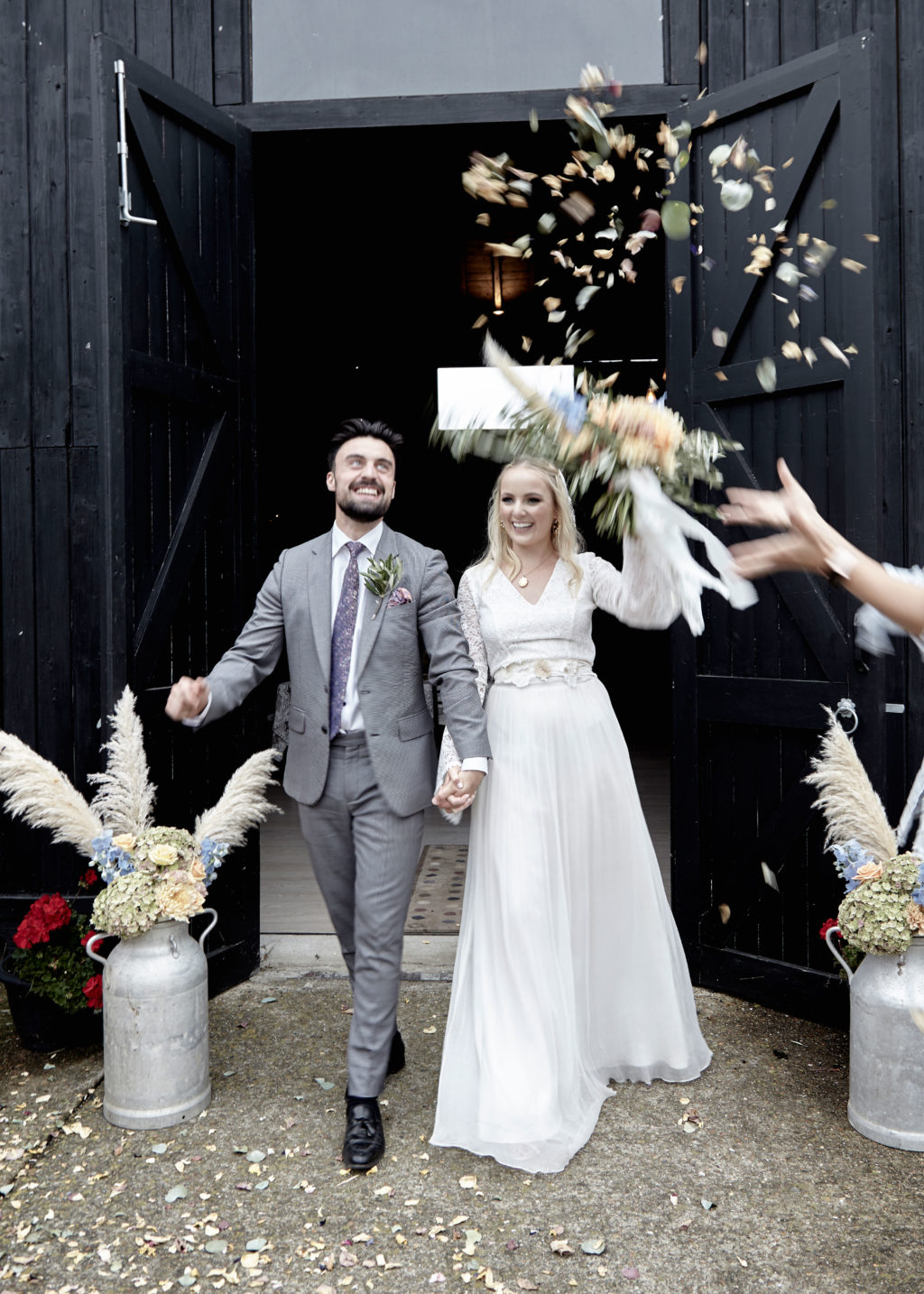 The Suppliers – Luxe 1970's Inspired Wedding at Bysshe Court Farm Surrey
Photography – Meryl Photography @meryl.photos
Location – Bysshe Court Farm @bysshecourtbarn I Florist Bud and Barrow Claire Moore @budandbarrowflowers I Top & Skirt – Indie Bride London @indiebride.london I Make- Up
Bear Beauty @bear_beauty_uk I Celebrant – Perfect Word Ceremonies – Nikki Wood @perfectwordsceremonies I Videographer – Jessi Zou Film – Jessi Zou @jessizoufilm I Cake
VanillaCo Kitchen @vanilla__co I Veil & Earrings – Peacock and Pearl @peacock_and_pearl I Table ware- Harriets Table @harrietstable I Napkins & Bouquet ribbons –
Extra Special Touch @extraspecialtouch I Stationery Invites By Heather @invitesbyheather I Hair Stylist – Leanne Penfare @hairinsurrey I Groom Suit – Paul Smith @paulsmithdesign I Groom's hanker chief- Liberty London @libertylondon
IF YOU LOVED THIS LOOK PLEASE PIN IT!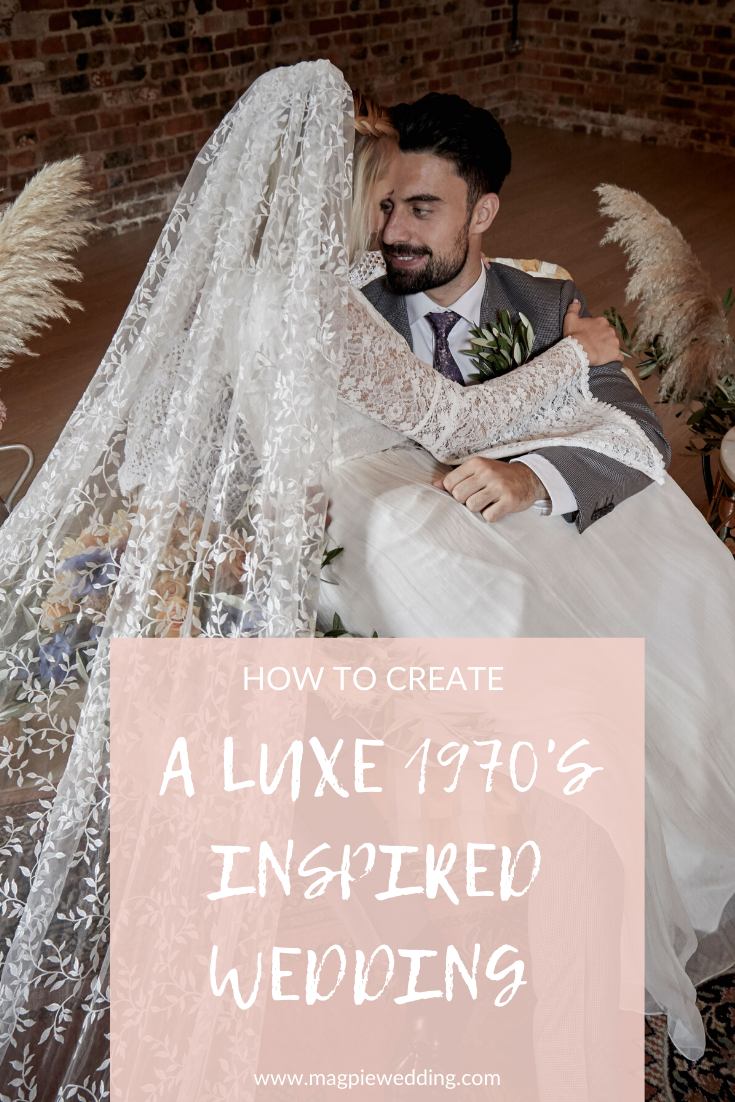 If you love this Bysshe Court Farm Wedding you may also like;
1970's WEDDING INSPIRATION WITH FEATHER HEADRESSES AND BOHO SLEEVES
A VINTAGE VILLAGE HALL WEDDING WITH THE MOST BEAUTIFUL 1970'S WEDDING DRESS
[line]