A beautiful bridal gown, carefully chosen to reflect your personal style and enhance your body shape, is likely to be at the centre of most women's vision of themselves on their big day. But wedding accessories also play a significant part of that vision. They are the elements that pull together and individualise a look – and make it "yours".
Whether you are inspired by an era from the past, or simply love the heritage of old jewellery and accessories, incorporating vintage elements – or carefully designed vintage-inspired pieces – is a lovely way to introduce individuality and personality into your bridal trousseau. So, with this in mind, I've put together a short guide to vintage wedding accessories – with some ideas about what to look out for, and where to find them.
Starting point – what's your vintage inspiration?
Vintage style inspiration is all around us – in films and television, in advertising campaigns, on the red carpet and on the catwalk – offering a wealth of ideas for bridal style and. In your bridal mind's eye, are you a Gatsby girl, a polished starlet from Hollywood's golden era, a seventies siren? Maybe your Pinterest boards are chock full of style icons from the past. What has your dress search revealed to you? What silhouettes are you drawn to? What shape and style of dress suits you best?
When setting out on your accessory search, identifying your theme (however tight or loosely defined) will help steer you through the vast range of options open to you. Do some research on what style of veil, headpiece and jewellery was popular in the era that interests you. There is a wealth of information on Pinterest, blogs and wedding dress and accessory websites to help you pull some ideas together.
Using accessories to pull together an era-specific bridal look
When I look old wedding photographs, perhaps from the 1920s/1930s or from the 1950s/60s, it's not only the wedding dresses that speak of the period. The flowers and, most particularly, the brides' accessories, also encapsulate the era and complete the picture.
When it comes to certain eras, there are some stand-out accessories – a headband to accessorise a 20s style dress, for example. Before shopping for your accessories, have a clear idea of what you are looking for – that way you can target your search and hopefully you won't get overawed by the variety of options available to you. As a general rule, limit your accessories to just one statement piece, to be complemented by a couple of more understated pieces.
Let's take a look at some of the most popular eras for bridal inspiration and the key accessories for each.
The Edwardian era and the 1920s
The early decades of the twentieth century are an appealing reference point for bridal fashion. Late Edwardian fashion was a heady mix of demure femininity and subtle sensuality, which by the 1920s had developed into the daring new silhouettes of the flapper era. Bridal designer Sally Lacock has captured the essence of this era – beautifully interpreting it for contemporary brides.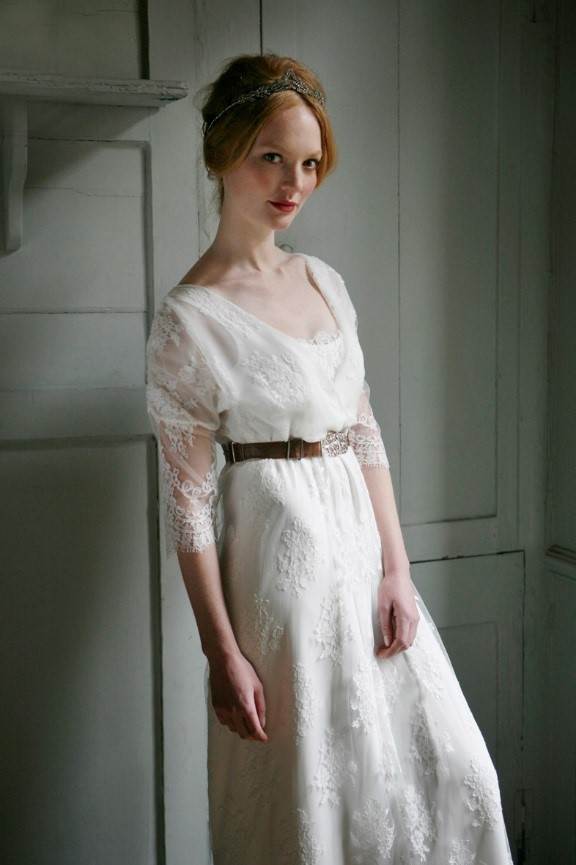 (Original Edwardian paste tiara, for hire at Cherished. Dress, "Violet", Sally Lacock. Photographic credit: Jeff Cottenden)
Accessories are very important in re-creating this look – with headpieces being probably the most important item to consider. Whether you prefer sparkle, pearls, or flowers; an original vintage piece or a new design, the key to referencing this look is the positioning of the headpiece low, close to or on the hairline or forehead.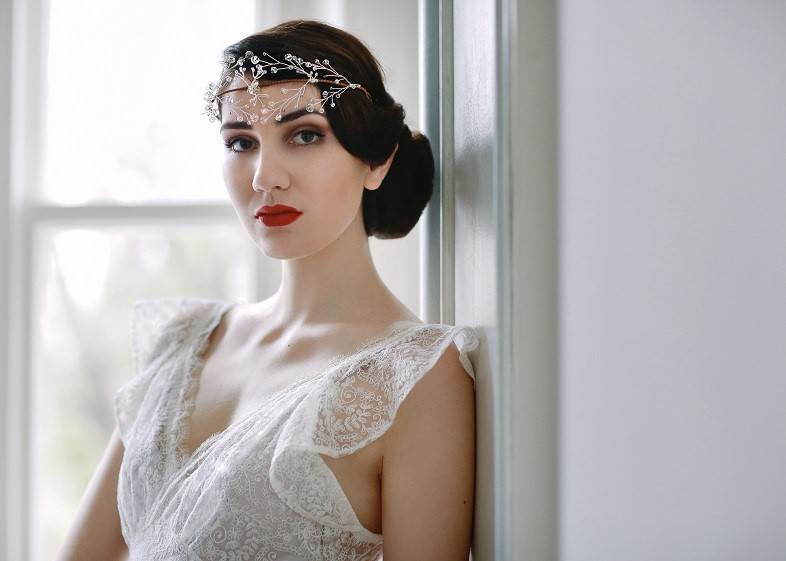 (Myrtle crystal headpiece, Nature's Diadem Collection, Cherished, worn low across hairline. Dress, "Butterfly", Heavenly Vintage Brides. Photography credit: Robert Lawler.)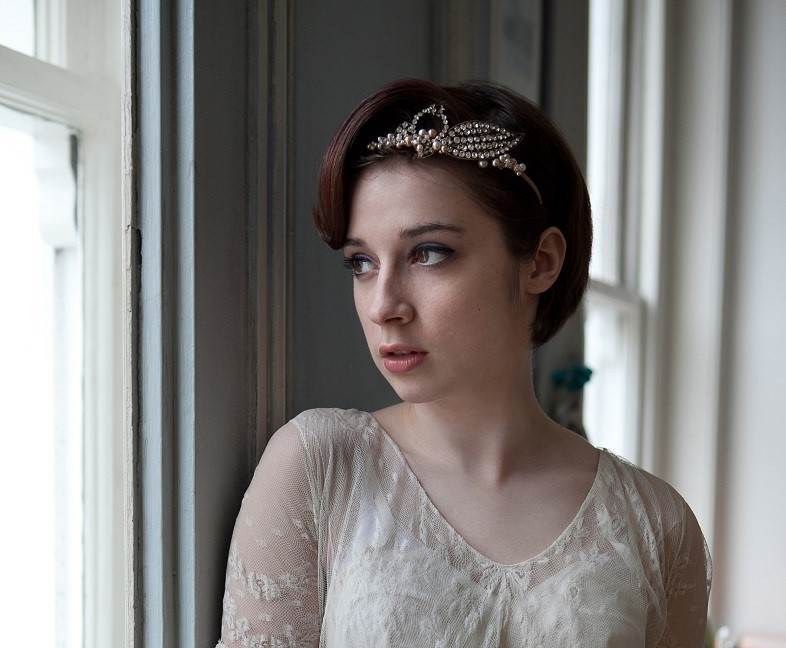 (Reworked vintage Edwardian Leaf headband,
Cherished
. Original Edwardian lace dress,
Heavenly Vintage Brides
. Photography credit:
Robert Lawler
.)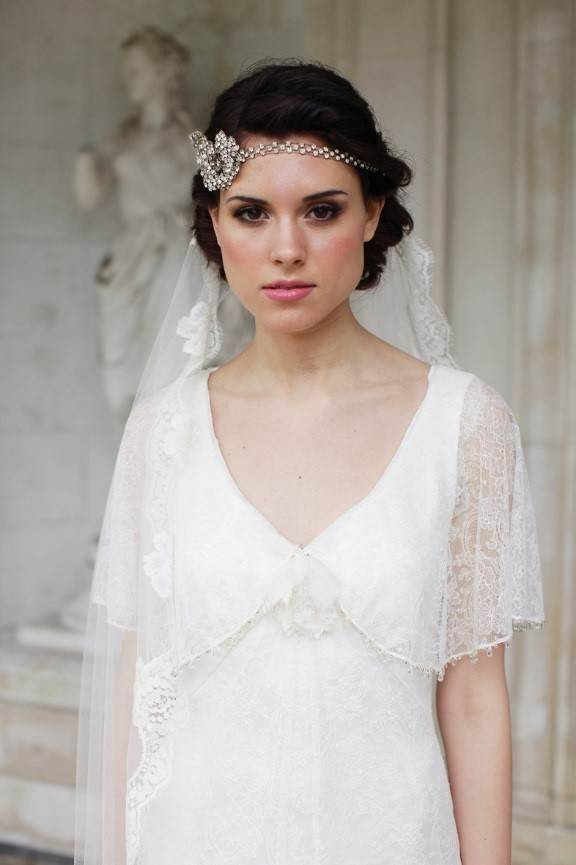 (Reworked vintage paste flower headpiece,
Cherished
for
Luella's Boudoir
. Photography credit:
Chanelle Segerius Bruce
.)
Then, of course, there is the Juliet cap veil – soft and sheer silk veiling works best, with or without lace embellishment. It is still possible to source antique veils from this period, though many will be showing signs of their great age. However, beautiful designs based on this style are becoming increasingly widely available, such as this lovely silk veil by Sally Lacock, seen here with the Mother of Pearl Sunflower headband from Cherished's one-of-a-kind reworked vintage collection.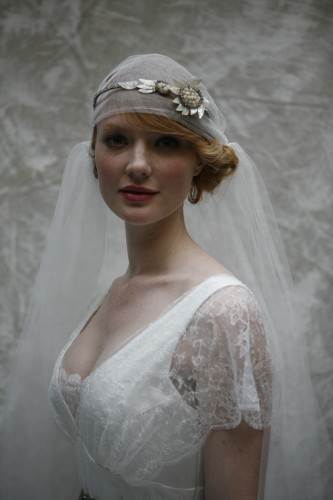 (Juliet cap silk veil, Sally Lacock Photography credit. Jeff Cottenden.)
Why not also consider adding a belt or sash to your wedding dress? One of my particular passions when sourcing original vintage jewellery for my designs, are delicate paste dress ornaments and buckles from the early twentieth century. These offer a delightful way to personalise your wedding dress, and can always be reset on a darker toned sash to wear again and again after your wedding day.
Vintage paste dress ornaments and buckles, Cherished.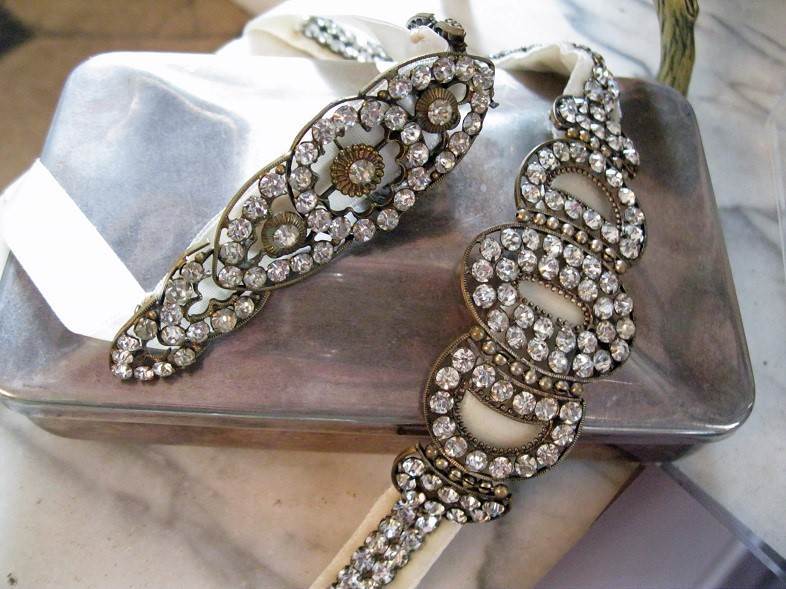 Reworked vintage bridal belts, Cherished.
Hollywood inspiration – the Thirties and Forties bride
Oh, the drama of the Art Deco era, with its iconic and graphic styling – what a wonderfully inspiring era for brides seeking silver-screen glamour! Bridal gowns from, or influenced by, this period are often quite subtle in their design. The focus is on the sensuous fabric and the intricate bias cut of the dress. This gives brides seeking inspiration from this era a wonderful opportunity to go town with their accessories.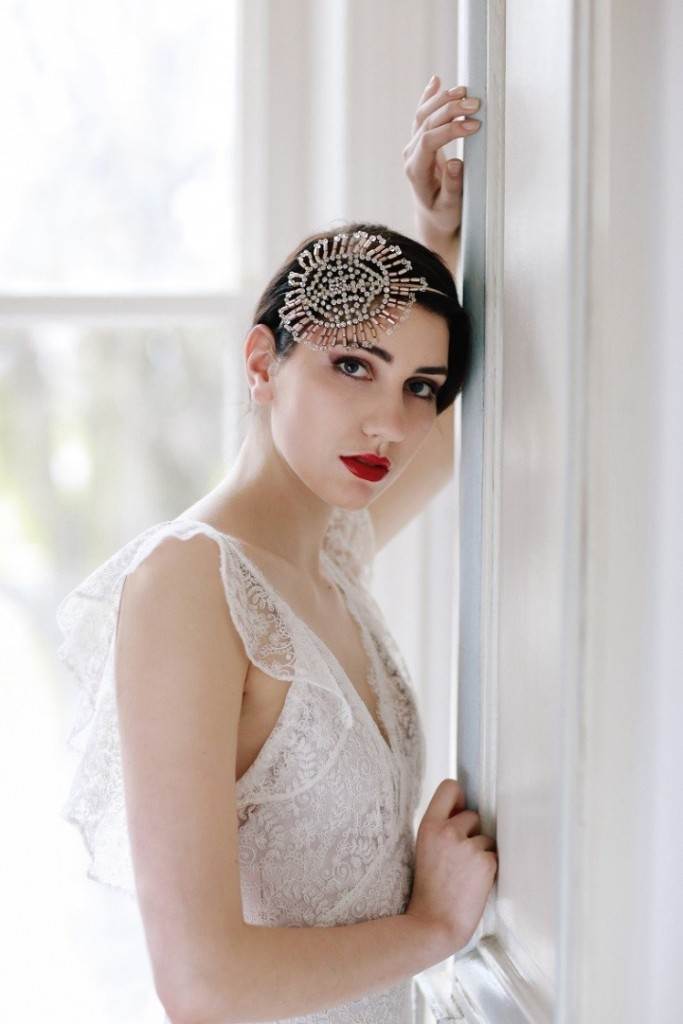 (Pink Beaded Lace headpiece
, Sunray Vintage collection,
Cherished
. Dress,
"Butterfly", Heavenly Vintage Brides
. Photographic credit:
Robert Lawler
.)
And how about a beautiful beadwork bag to carry your wedding day essentials.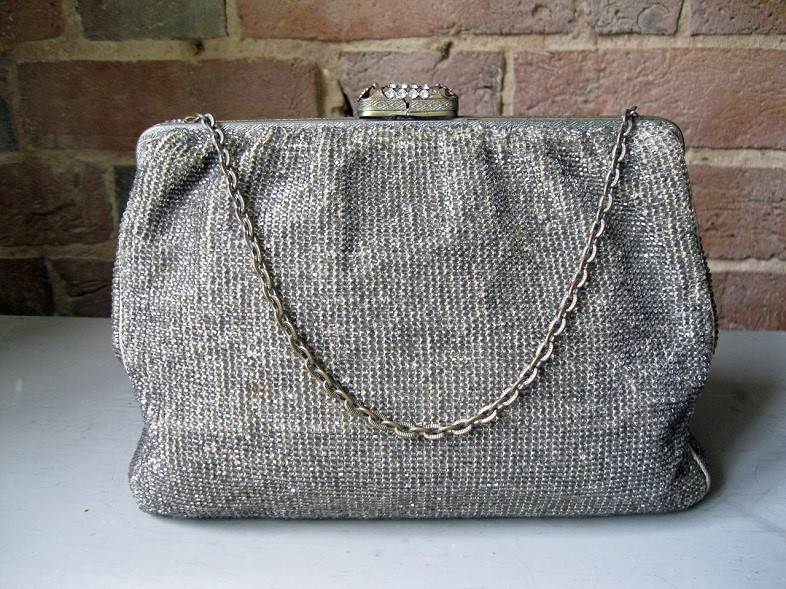 (Beautiful French 1930s silver beadwork bag, from a selection of original vintage accessories from Cherished.)
During the thirties, the long, cathedral-length veil remained a key part of bridal attire. Tulle was increasingly the fabric of choice, somewhat replacing lace. The tiara too was increasing in popularity, and there was a definite trend towards a higher, more upright design as the decade progressed.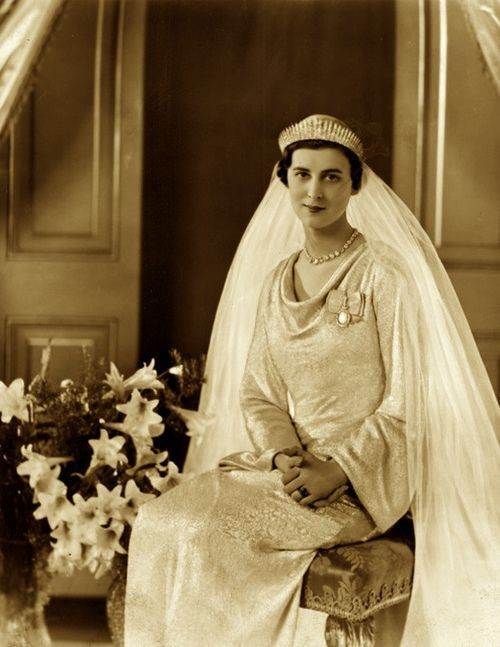 Princess Marina of Greece and Denmark who married Prince George Duke of Kent on 29th November 1934. Source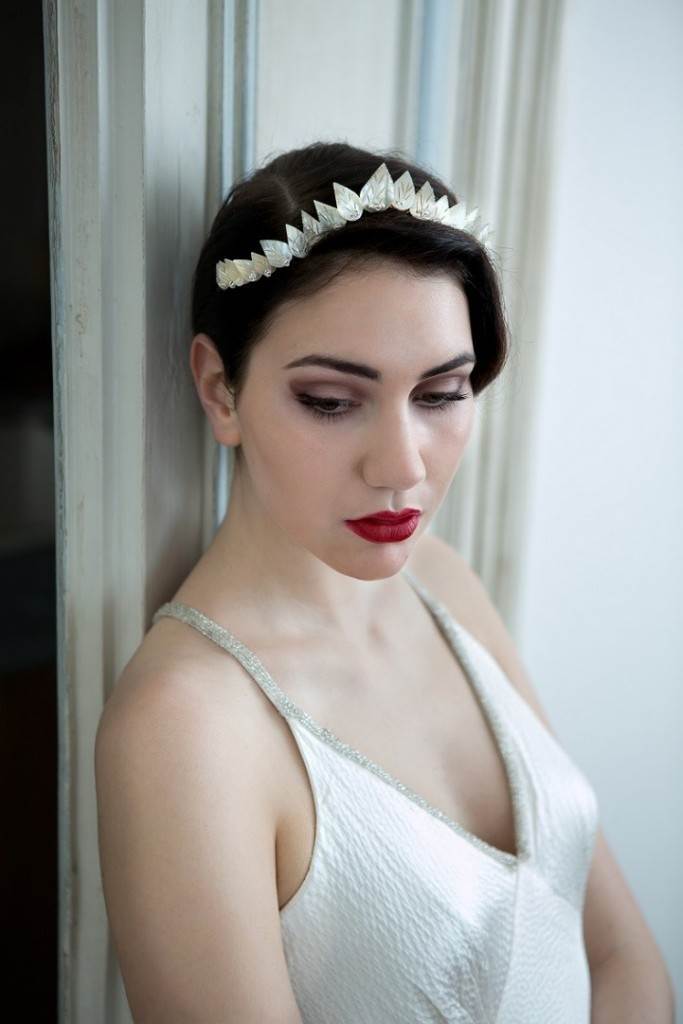 (Carved Mother of Pearl tiara, Cherished vintage collection, Cherished. Dress, "Starlight", Heavenly Vintage Brides. Photographic credit: Robert Lawler.)
Even a simple accessory can convey the essence of an era. Always remember your own personal style and your comfort. If you don't want to wear a statement headpiece, then don't! Think about your hair styling and your make up and use this to help complete your look in a way that fits with your personality.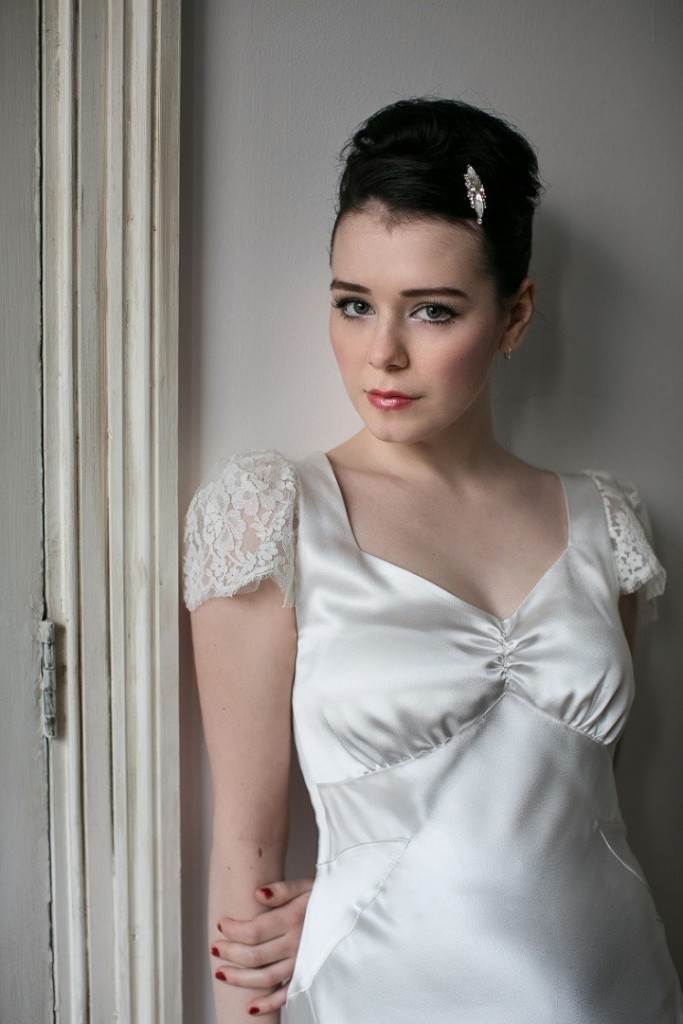 (Vintage-inspired Czech crystal hair slide – from a selection at Cherished. Dress, "Violette" with lace sleeves, Heavenly Vintage Brides. Photographic credit: Robert Lawler.)
The lower cut and draped necklines of 1930s dresses also allow for a statement necklace to be worn, so why not seek out a vintage rhinestone necklace as your principal accessory?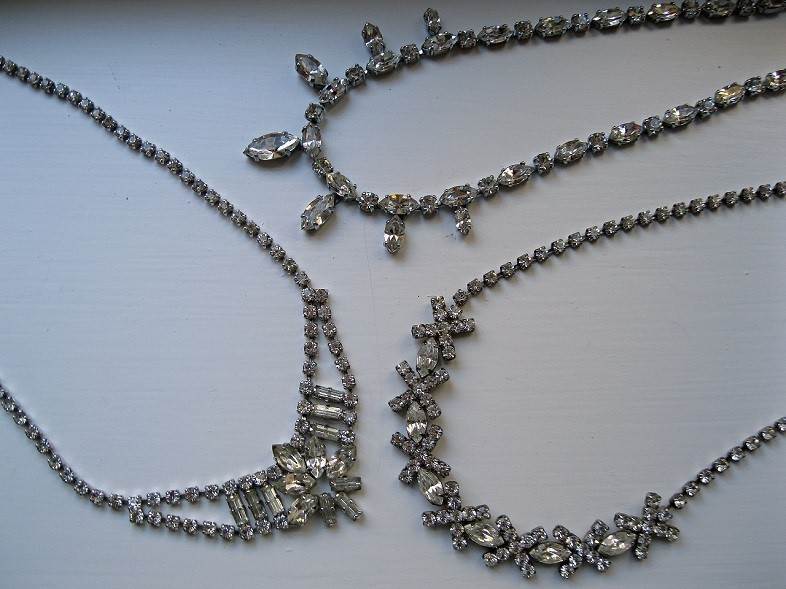 Vintage diamante necklaces, from a selection at Cherished.
And, for the winter bride, how about a fur (faux or vintage authentic, depending on your preference) shrug or capelet?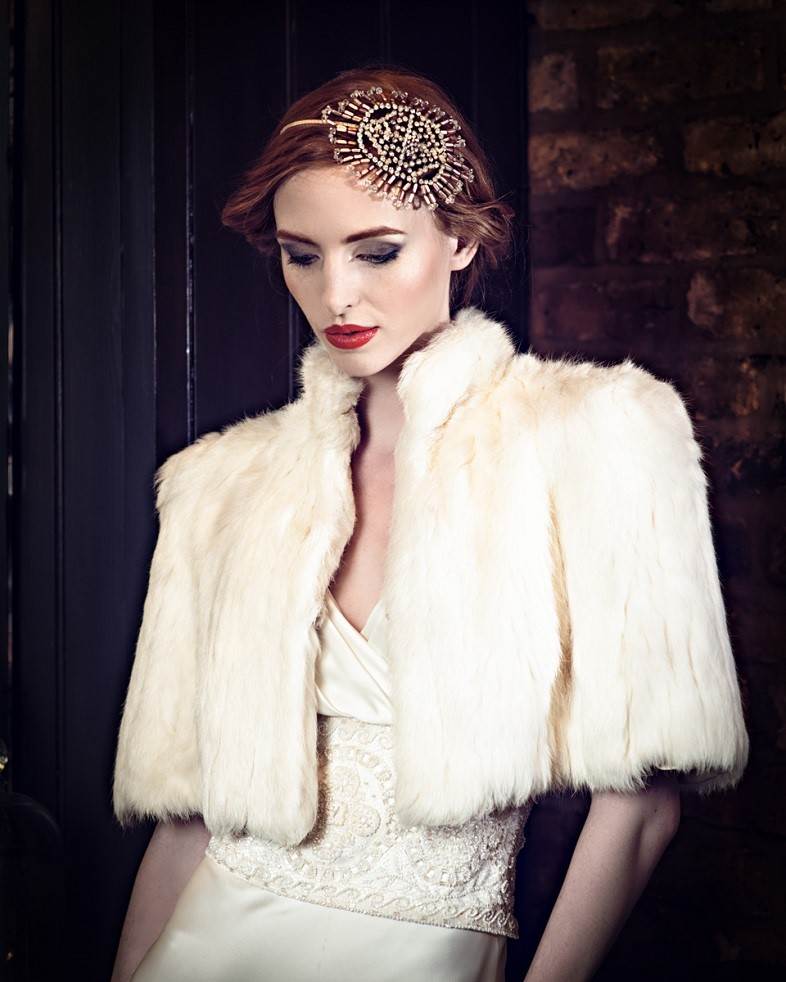 (Original vintage fur shrug from a selection at Cherished. Headpiece, Pinked Beaded Lace vintage headpiece, Cherished. Dress "Helena", Johanna Hehir. Photography credit, Kate Hopewell Smith.)
During the 1940s, inspiration from Hollywood, from couture fashion houses, and from our own Queen's wedding in 1947, fuelled a desire to leave the bleakness of wartime rationing behind and bridal fashion followed the escapist trend towards the picturesque.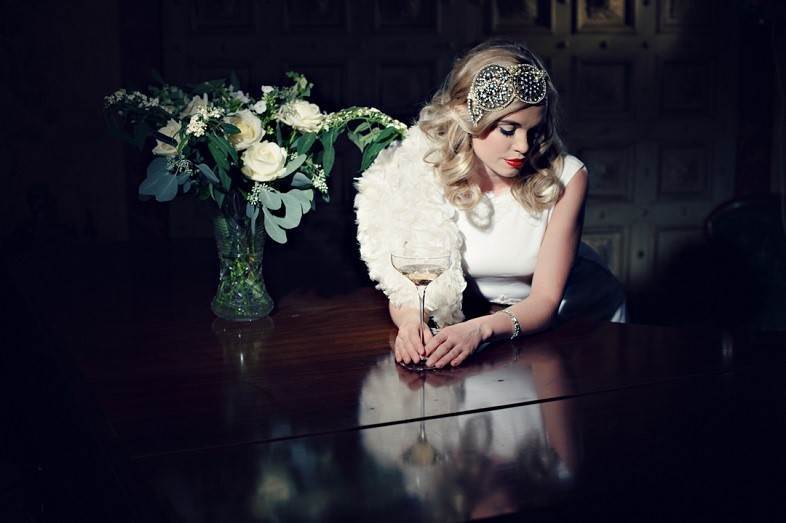 ("Etienne", vintage paste and pearl filigree headpiece, Cherished. Photographic credit: Kate Hopewell Smith.)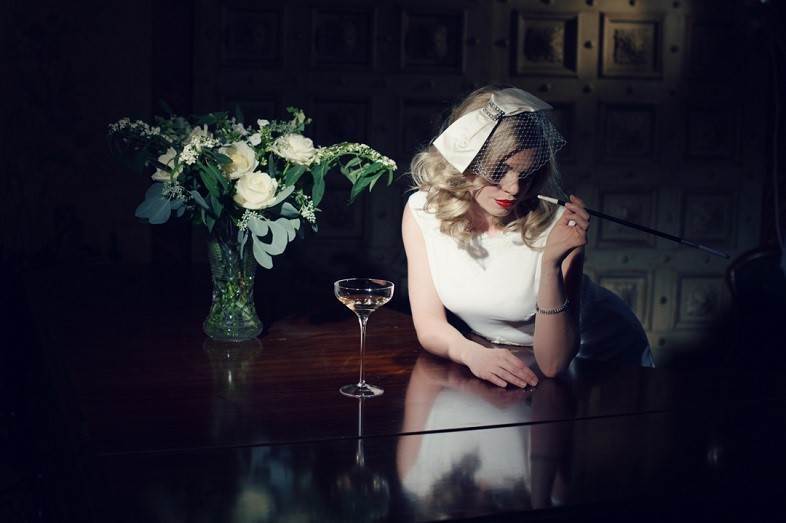 (Duchess satin oversized bow with vintage paste buckle and detachable birdcage veil, Cherished. Photographic credit: Kate Hopewell-Smith.)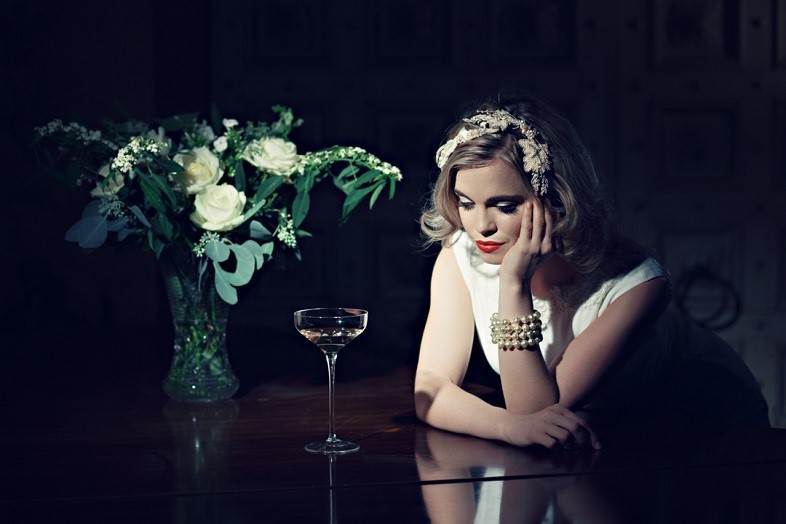 (Reworked vintage pearl beaded headpiece and vintage pearl necklace, worn as bracelet, Cherished. Photographic credit: Kate Hopewell-Smith.)
A string of pearls, worn at the neck, or around the wrist works beautifully with this look, and are a wonderful complement to a demure beaded pearl headpiece.
The 1940s bridal outfit was often completed with matching accessories, such as a hat, often adorned with birdcage veiling and flowers, a fur stole or shrug, handbag and gloves. Long veils also remained popular, though tended now to be worn at the back of the head, secured by an elaborate and headdress, often with a high, coronet design.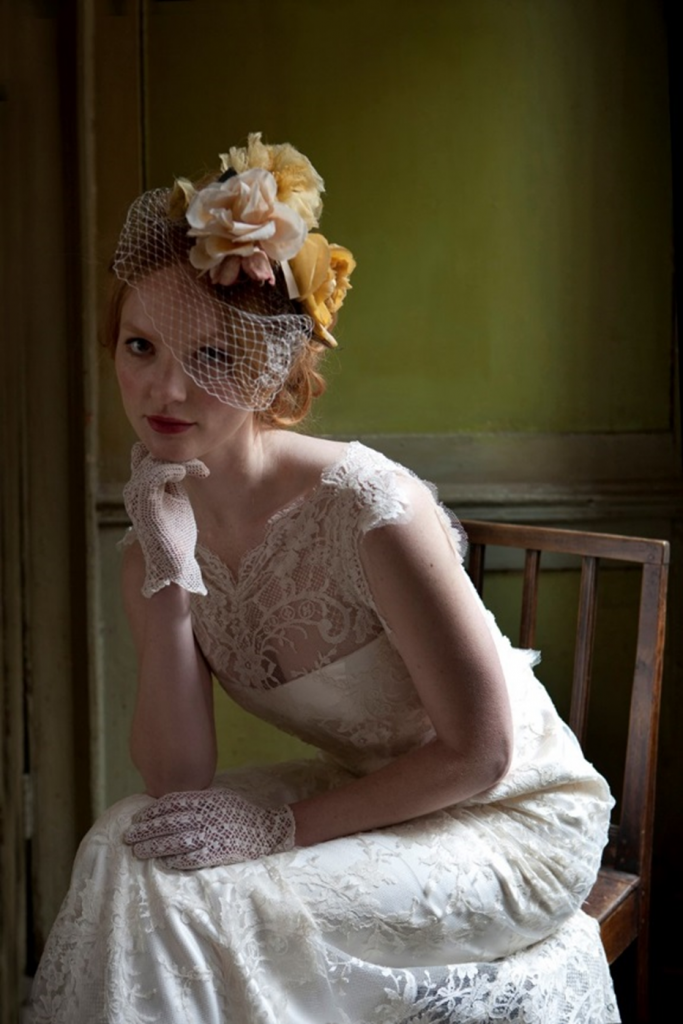 (Floral headpiece with vintage millinery flowers and detachable birdcage veil, Cherished. Dress, Emmeline by Sally Lacock. Photographic credit: Jeff Cottenden.)
1950s-60s
For many modern brides, Fifties and Sixties-style fashion fits well into their idea a fun and relaxed wedding. Original vintage wedding dresses from these decades are quite readily available and affordable. Shorter length dresses were very popular, and whether you are considering an original vintage design, or a modern version, you have a wonderful opportunity to show of a pair of spectacular shoes. For headwear and other accessories, the options are plentiful and offer a great deal of room for flair and personalisation.
Shorter veils, with a more gathered or bouffant shape suit the fuller skirted dresses of the 1950s. These look wonderful worn with a classic, princess style tiara – either diamante or pearl. Original vintage headpieces can be sourced relatively easily from specialist vintage dealers and antique fairs. Or you can draw inspiration from the wonderful costume jewellery of the period and have a jewelled pieces created in a style that works for you.
Pearl headbands work exceptionally well with dresses from these eras, especially lace gowns, giving a lovely romantic and feminine look.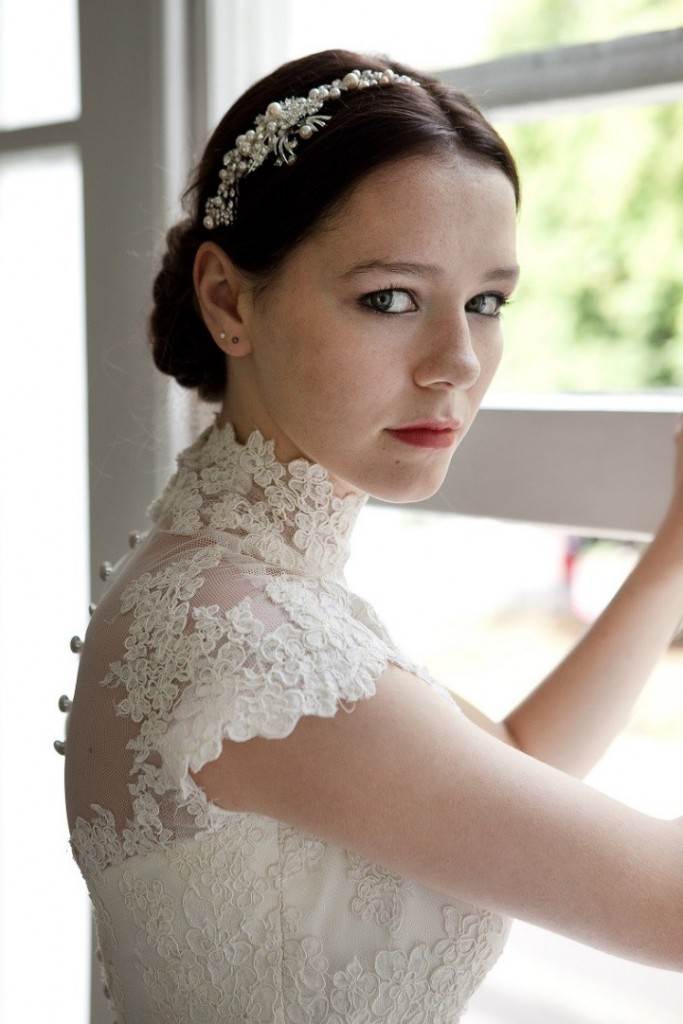 (1950s diamante and pearl hairband, Cherished. Dress, Heavenly Vintage Brides, Photographic credit: Robert Lawler.)
Look out for headpieces that echo the embellishment on your dress. There is no need to be overly worried about precise matching, though. Concentrate instead on the general tones eg silver or gold metal; warm cream or pale ivory pearls.
For jewellery, don't be afraid to bend the rule of having only one statement piece. For Sixties- influenced brides, consider a full 'parure' or suite of jewellery – with co-ordinating necklace, earrings and bracelet. Maybe even go as far as including a tiara. Pulling off this 'more is more' approach is harder than a more minimalistic one, but done well, the effect is stunning. There is plenty of inspiration out there – and not just vintage. Take a look at recent couture fashion shows, where statement filigree or rhinestone jewellery have been used with amazing effect.
There is no reason why you should limit yourself to clear crystal and pearls in your bridal accessories. Why not embrace colour in your accessories? A pretty and playful 1950s inspired dress works wonderfully well with a bold headpiece. Or contrast a demure 1960s style gown with a colourful statement headband.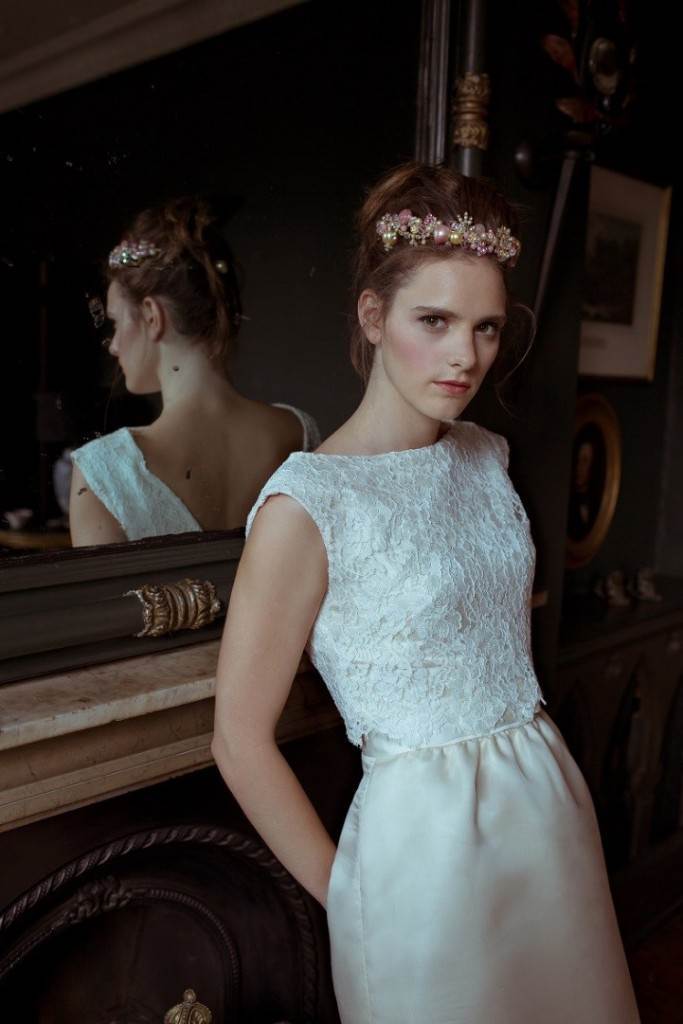 (Candy Pink and Butter Yellow jewelled cluster headband, Cherished. Dress, "Stella", Heavenly Vintage Brides. Photography credit: Robert Lawler.)
And remember, a full and high hairstyle gives you scope to carry a bold tiara. Brides are often surprised by the scale of headpiece they end up choosing. I don't find this all that surprising – headwear, and especially tiaras – are not part of our everyday wear. But when worn in beautifully styled hair and with a fabulous gown, it just somehow 'works'. My advice is to be experimental, and try lots of different styles and designs. It helps if you have a clear idea of how you want to wear your hair when you begin your search for hair accessories, but sometimes, it works in reverse and the tiara you fall in love with, will shape the way you style your hair.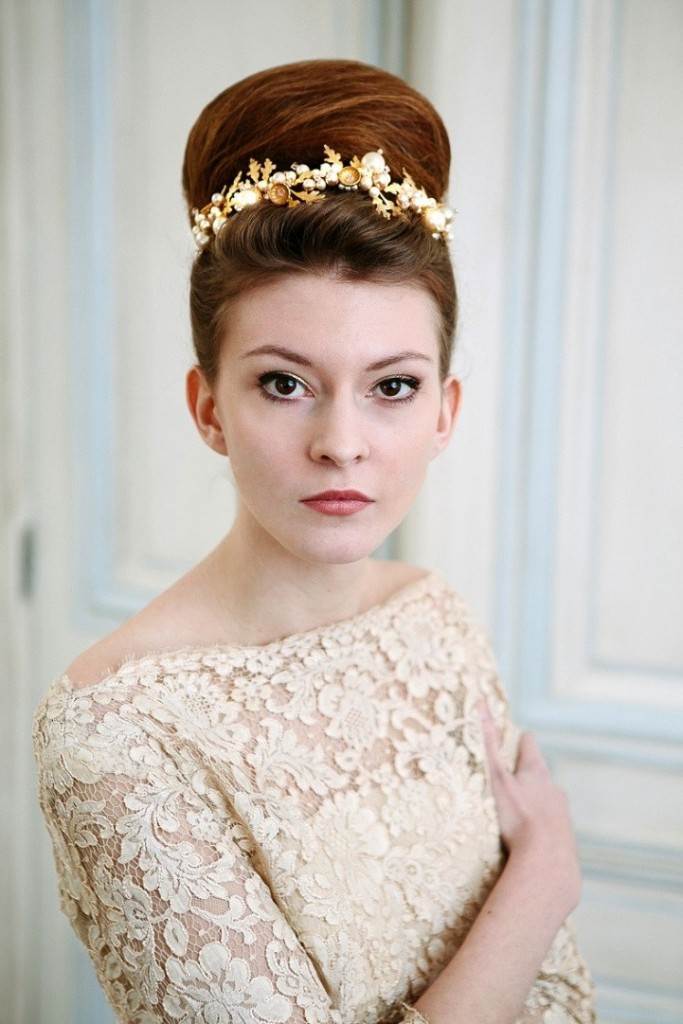 (Petworth Pearl Tiara, Cherished. Dress, original vintage 1960s lace dress, Heavenly Vintage Brides. Photographic credit: Robert Lawler.)
What if you don't have a specific era in mind for your wedding attire? Is there still scope for incorporating vintage accessories? Most definitely, yes! There is no reason why you shouldn't use an Edwardian brooch to accessorise a strikingly modern gown. A vintage diamante necklace or string of pearls can be draped in the hair to great effect. There need not be any desire to reference the fashion preferences of a past decade for vintage to work for you.
The beauty of accessories that feature vintage or antique elements is about more than era-specific styles and shapes. It can be about wonderful craftsmanship and design; it can have an 'eco' dimension and be about using beautiful artefacts from the past rather than purchasing new; it can be about incorporating a family piece of jewellery that is of sentimental value into your wedding outfit. It can simply be about creating something that is unique to you.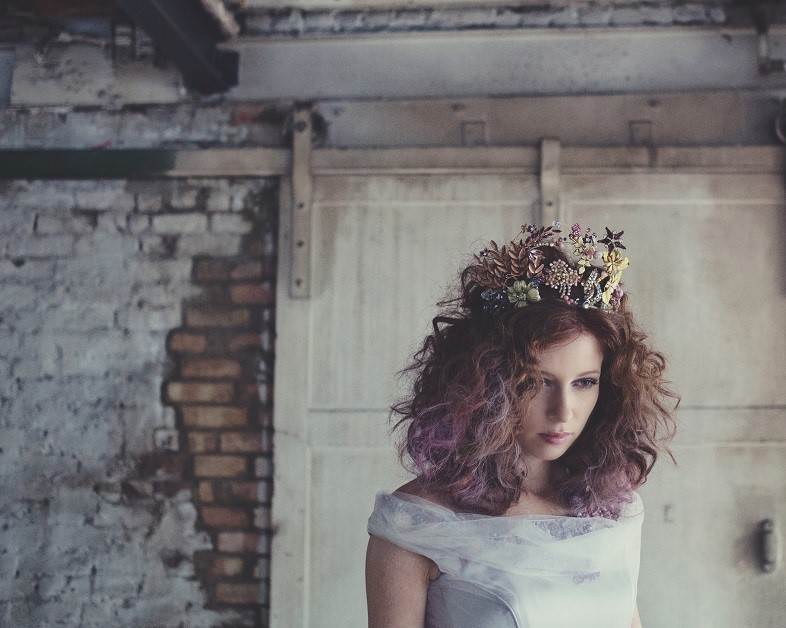 (One-of-a-Kind Vintage Jewelled Pastel Flower Crown, Cherished. Styling, Elbie van Eeden. Photography credit: Lisa Jane Photography.)
Written by Abby Gadd, owner and designer for Cherished Vintage Bridal.